It's time again for Dateline Disneyland. This week we'll check in on the ever-progressing Disney's California Adventure makeover including World of Color, Paradise Park, The Little Mermaid, and Cars Land. We'll also get a first glimpse at Disney's newest Princess, Tiana as she prepares to come home to Disneyland this fall in a new parade in New Orleans Square.
Of course, you can track the progress of the projects you see in this week's update by clicking on the photos with
Project Tracker
watermarks. MiceChat's Project Trackers are where you can find the latest news and discussion on the current projects going on around the Disneyland Resort.
Alright, let's get to it, shall we?
<center><table style="border: 0pt solid black;" width="675"><tbody><tr><td bgcolor="#263778" width="100%" height=""><center>

Inside Dateline Disneyland
</center></td></tr><tr><td bgcolor="#d6d4ac" width="100%">
<a href="#DD1">Welcome to Disneyland!</a>


Princess Tiana gets ready to make her debut

<a href="#DD2">California Construction</a>


The latest Disney's California Adventure construction photos.

<a href="#DD2-1">

Orange, Peeled

</a>
<a href="#DD2-2">

World of Color & Paradise Park Viewing Area

</a>
<a href="#DD2-3">

The Little Mermaid: Ariel's Undersea Adventure

</a>
<a href="#DD2-4">

Cars Land

</a>
<a href="#DD2-5">

Lucky Fortune Cookery

</a>

<a href="#DD3">This and That</a>


Frontierland outdoor vending, Castle bridge refurbishment

<a href="#DDAROUND">Around the Park</a>


Photos from around the park

<a href="#DDNEWS">Weekly News and Information</a>


Weekly theme park hours, closures and refurbishments, news & headlines
</td></tr></tbody></table></center>
<a name="DD1">
WELCOME TO DISNEYLAND!
</a>
Disney has released publicity photos of Princess Tiana, from Disney's upcoming
The Princess and the Frog
, as she will be seen in Disney's theme parks.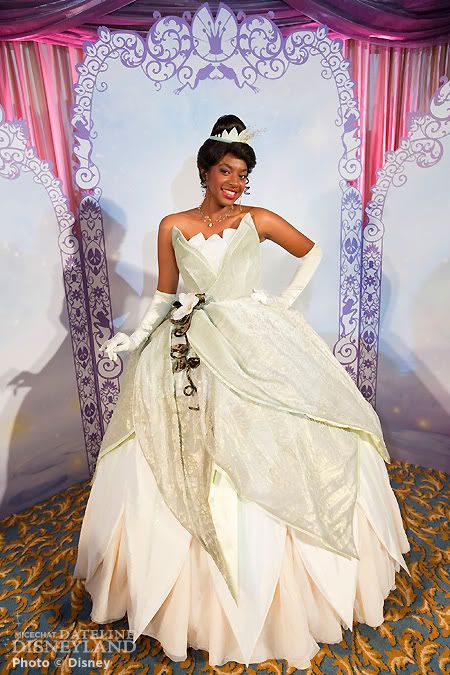 Disney will soon be auditioning for Tiana's Showboat Jubilee!, an all-new daily cavalcade through New Orleans Square and aboard the Mark Twain Riverboat. Al Lutz broke the news on the show earlier this May:
Princess Cruises
The entertainment plan is to debut a 20 minute Mardi Gras style mini-parade and musical show called Tiana's Showboat Jubilee that will perform four or five times per day this November and December. The Showboat Jubilee will start as a procession of two dozen jazzy musicians, dancers and performers in the back alleys of New Orleans Square, marching and celebrating and encouraging people to parade along with them down to the riverfront. When the growing procession finally heads out of New Orleans Square and down towards the water, the Mark Twain will depart from its dock and steam towards the bend in the river in front of New Orleans Square.

On board the Mark Twain for each show will be 50 specially selected park visitors, no doubt picked by the roving scouts because they were wearing one of those "Celebrate" buttons that are de rigueur for any Disneyland visitor nowadays. Along with the hand selected tourist families hanging along the riverboat's railings pounding tambourines and waving flags will be Tiana herself, plus her prince and Louis the singing alligator and comic relief in the movie. The rowdy procession and the Mark Twain will both stop alongside each other at the river's edge, and a 7 minute musical show takes place that is predictably heavy on audience participation and dancing.

Once the show is over, the procession heads back into New Orleans Square and the Mark Twain blasts its whistle and steams on for the rest of its trip around the river. The 50 guests on the Mark Twain will then get a special meet n' greet time with Tiana and her characters while the Mark Twain makes its way back to the dock.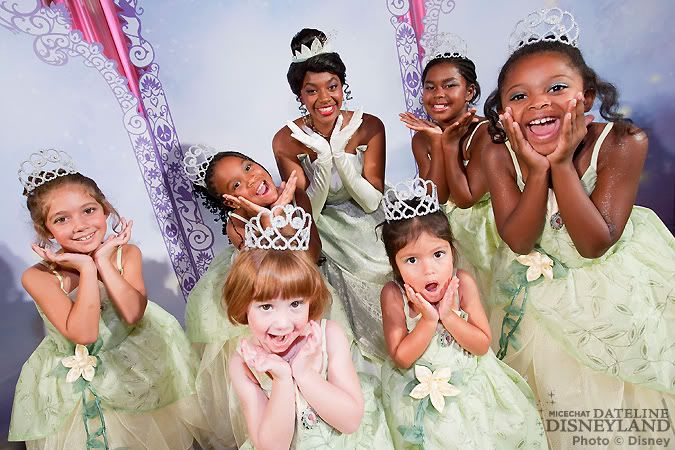 Brady MacDonald at the Los Angeles Times' Funland blog confirmed the new show last week:
'The Princess and the Frog' riverboat show coming to Disneyland, Disney World


Tied to the upcoming "The Princess and the Frog" hand-drawn animated movie, Tiana's Showboat Jubilee will feature a procession of jazzy musicians and performers parading through New Orleans Square at Disneyland and Frontierland at Disney World.

As the "second-line" procession reaches the Rivers of America dock, a group of pre-selected theme park visitors will board the waiting riverboat (the Mark Twain at Disneyland and the Liberty Belle at Disney World) where Princess Tiana and other "The Princess and the Frog" characters will greet them.

After departing, the riverboat will stop along the riverfront for a performance including songs from the film. The show will be repeated several times a day, with viewing areas along the waterfront.
Below, Princess Tiana poses with Tony Award winner Anika Noni Rose (left), who provided the voice for Princess Tiana in the upcoming film.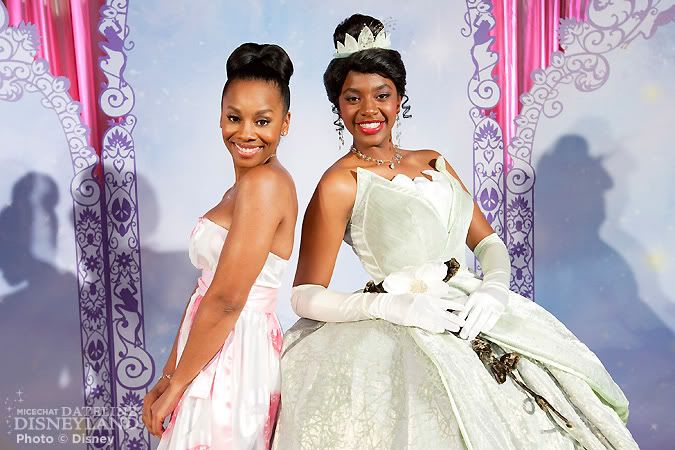 <a name="DD2">
CALIFORNIA CONSTRUCTION
</a>
Time to hop into Disney's California Adventure to check in on the park's $1 billion makeover and expansion.
<a name="DD2-1">
ORANGE, PEELED
</a>
What's missing from this picture?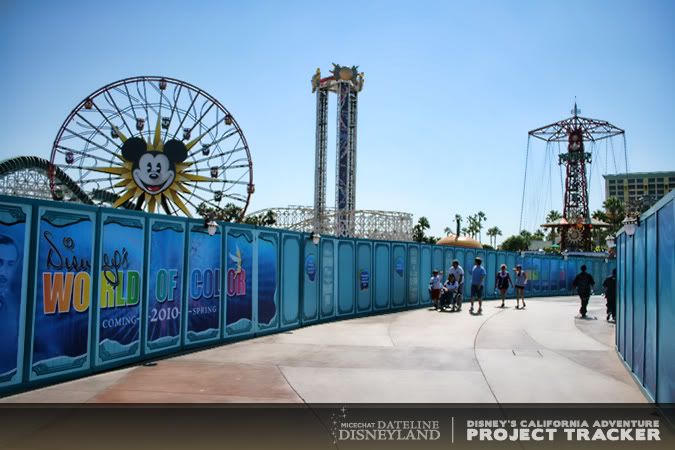 The Orange Stinger is finally a part of
Yesterland
. The peel has been almost completely removed at this point, with only a few pieces left to go.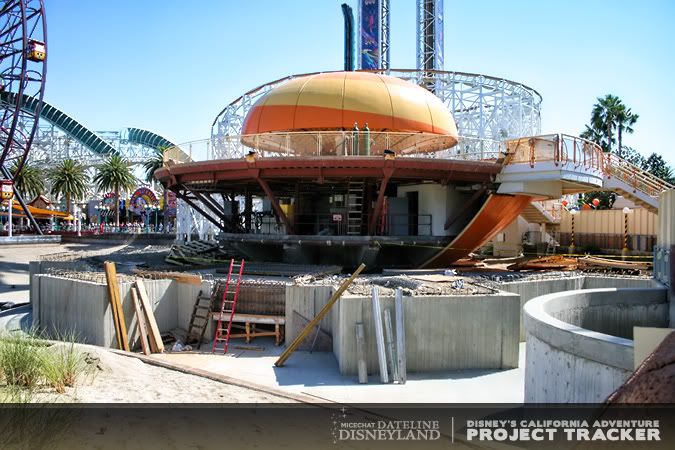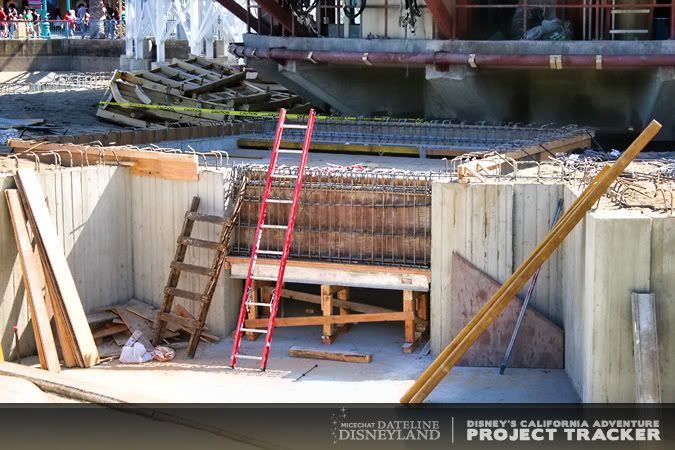 Orange you glad it's gone? I sure am!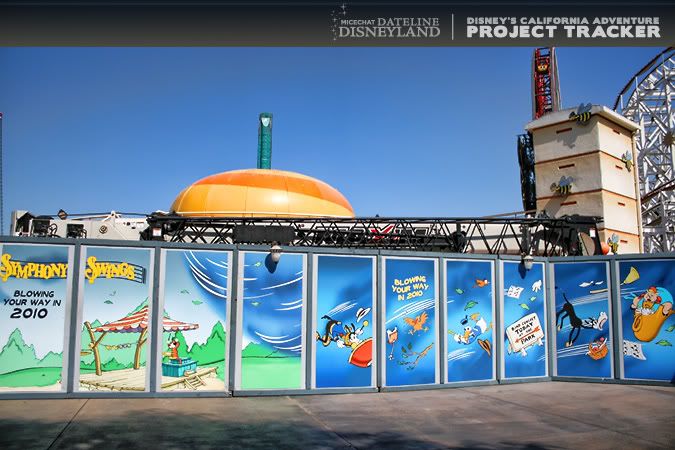 A view from the Fun Wheel.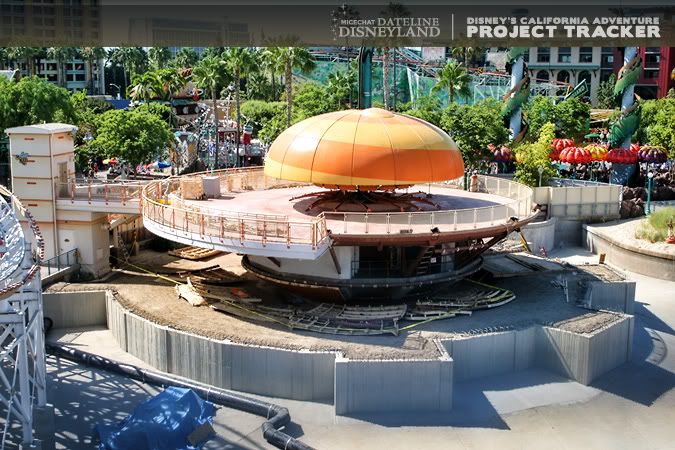 <a name="DD2-2">
WORLD OF COLOR & PARADISE PARK VIEWING AREA
</a>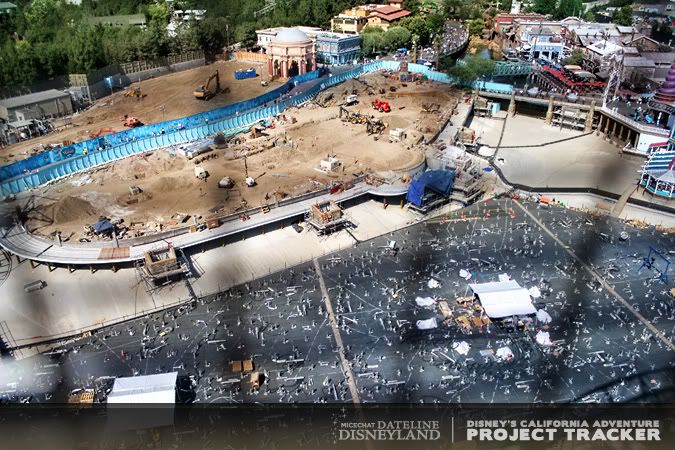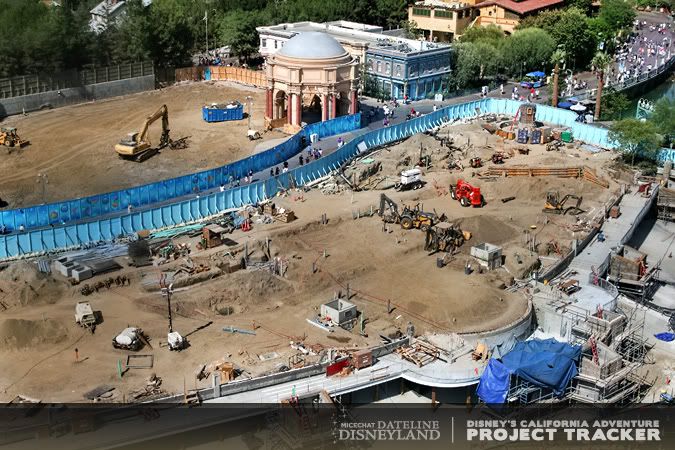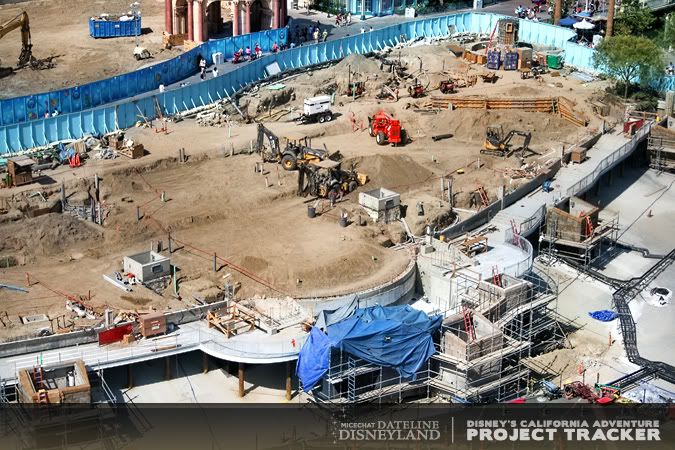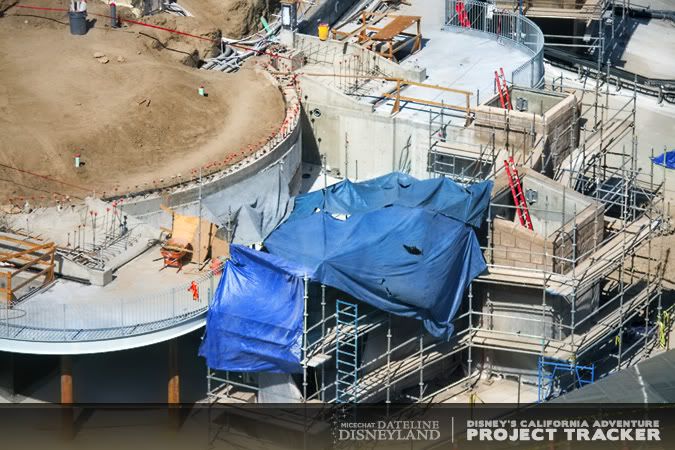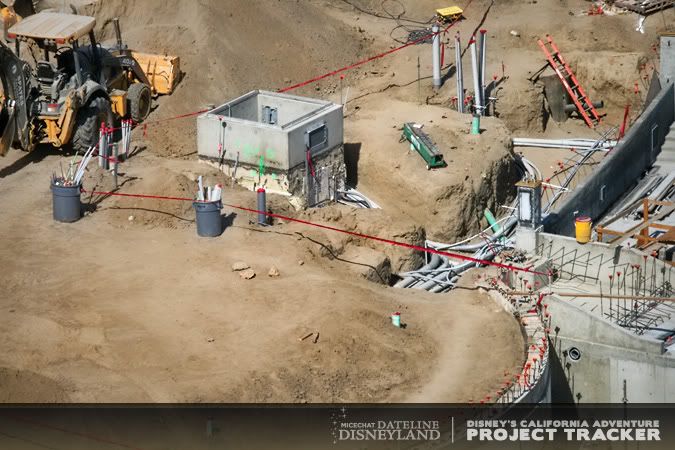 Wood is starting to go down on the viewing area's new extended boardwalk.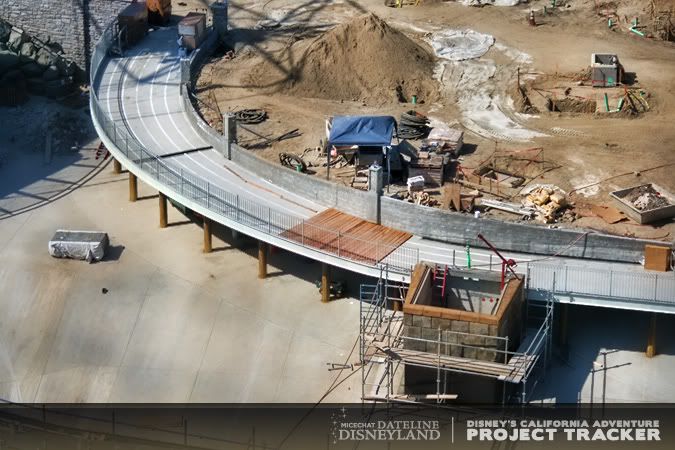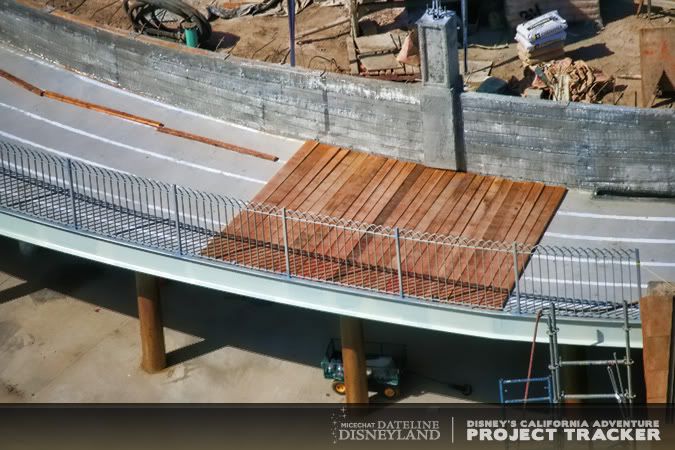 A new seashell design being tested on the lamppost bases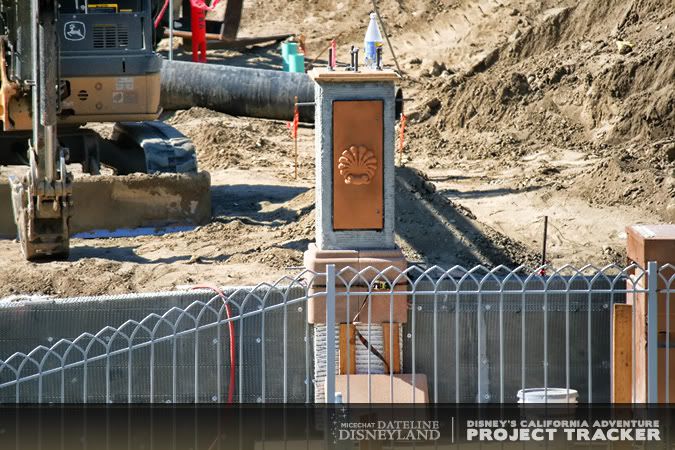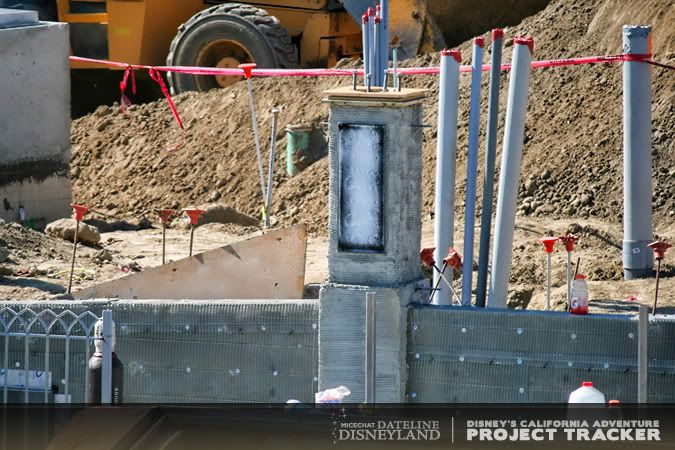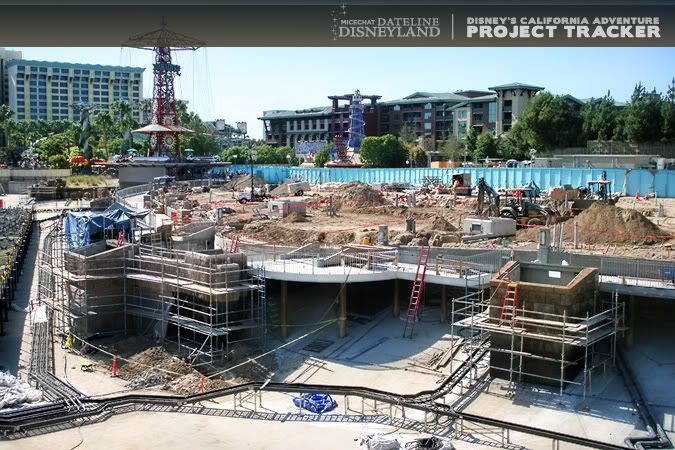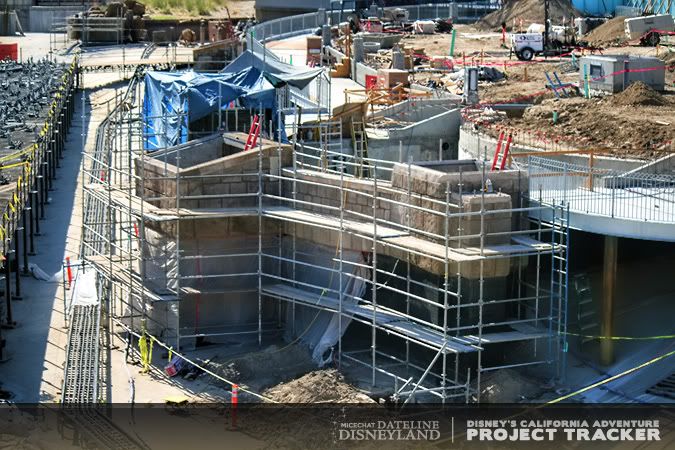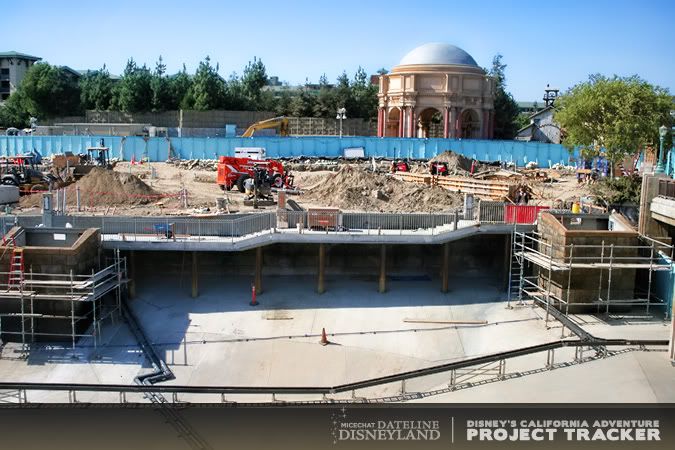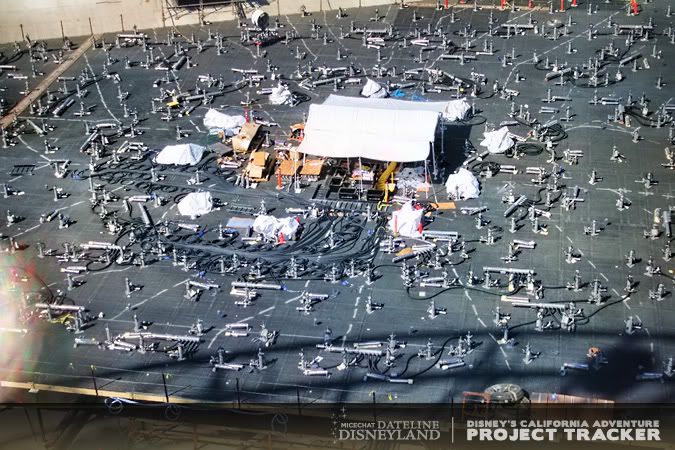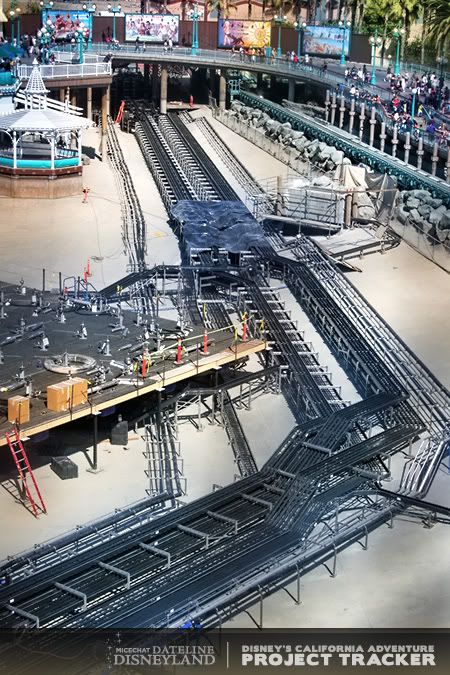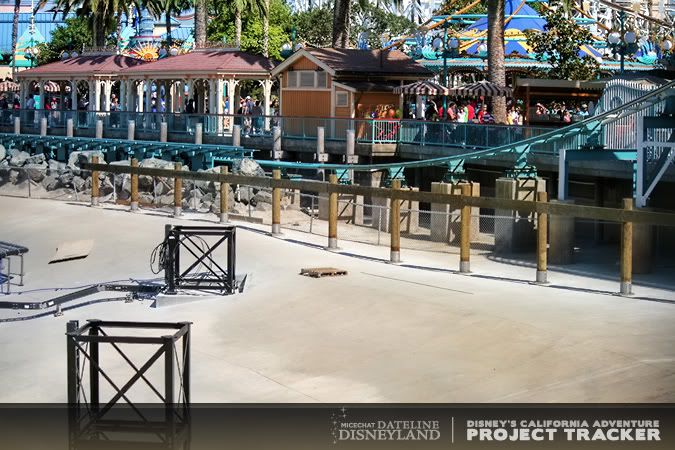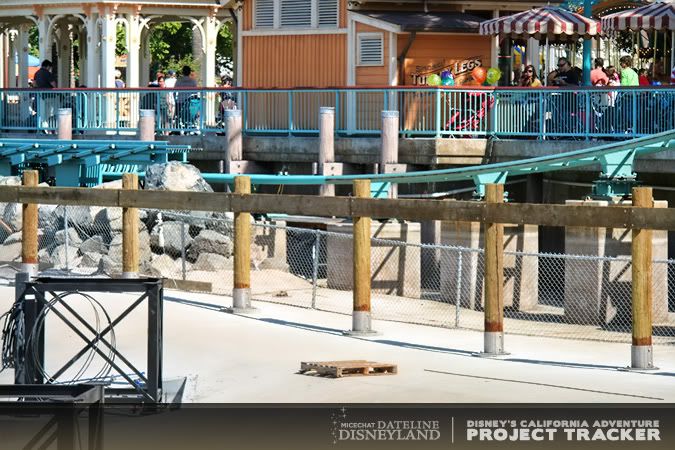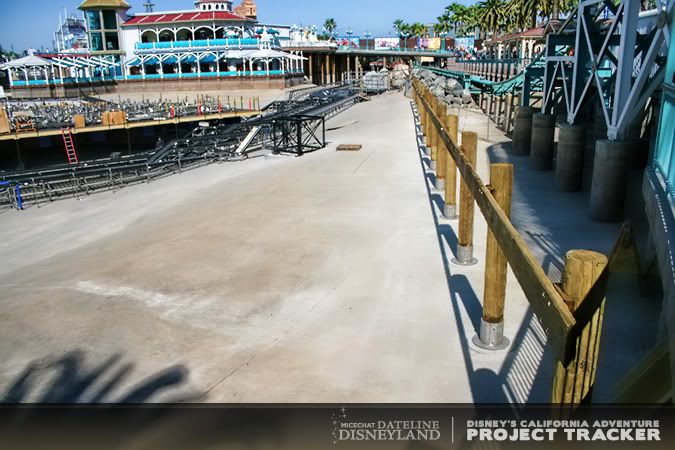 The new Paradise Park sculpture/fountain is going to be a pretty decent-sized landmark.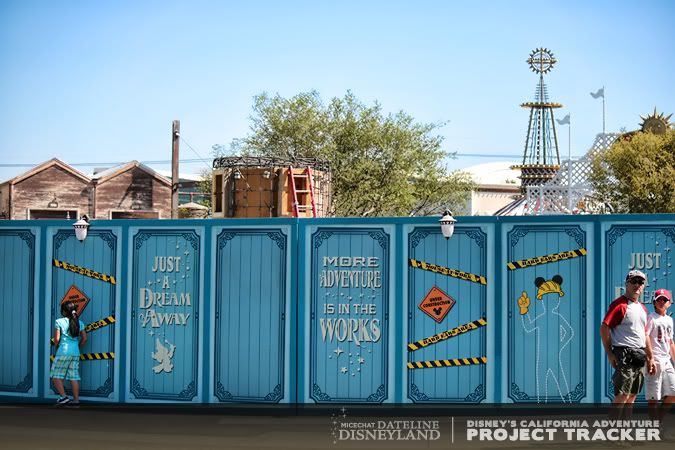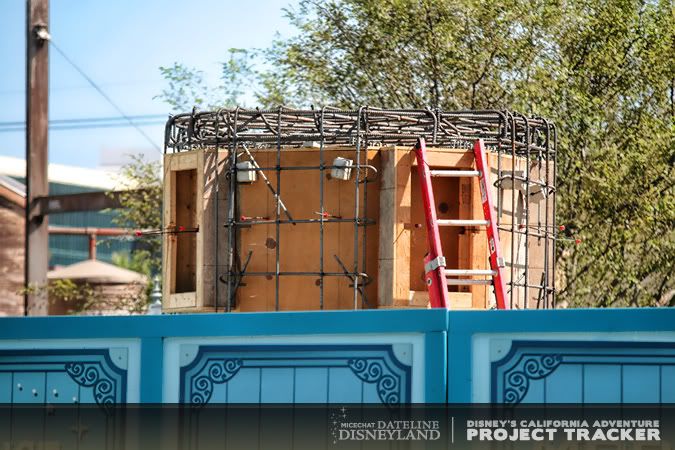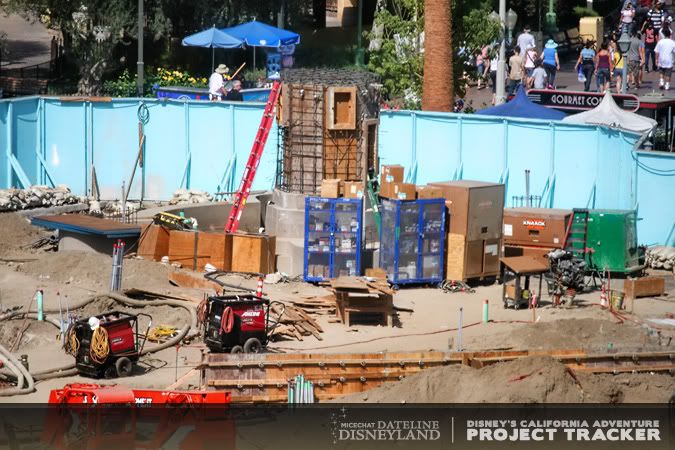 The World of Color utility box between the Orange Stinger and Golden Zephyr is looking good.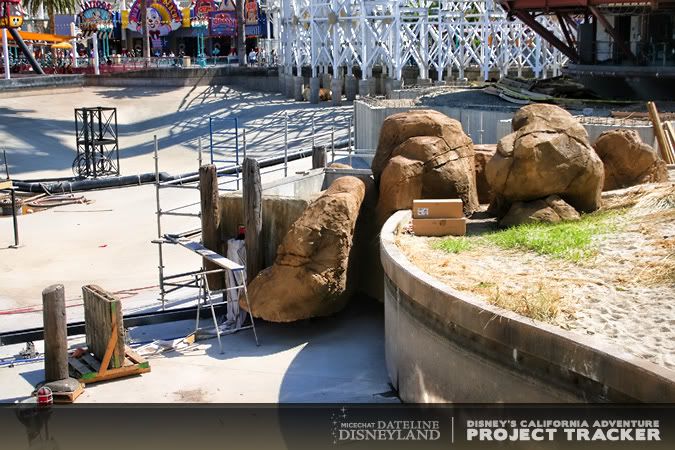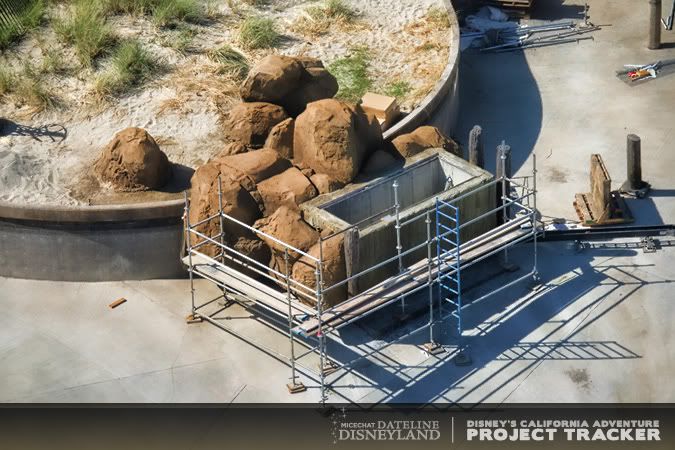 <a name="DD2-3">
THE LITTLE MERMAID: ARIEL'S UNDERSEA ADVENTURE
</a>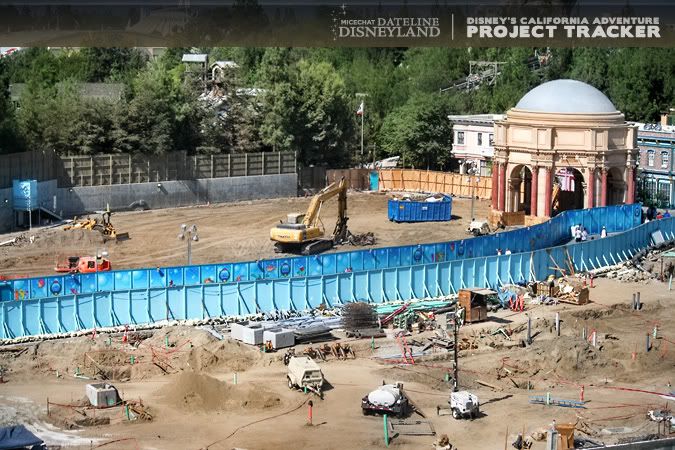 The land is pretty much cleared to begin construction on the new attraction.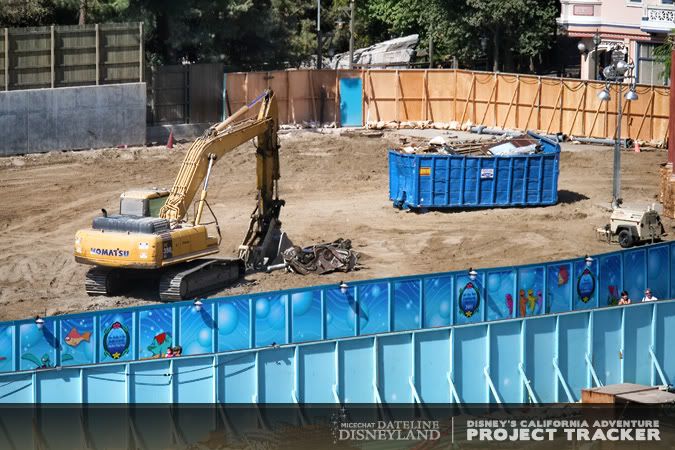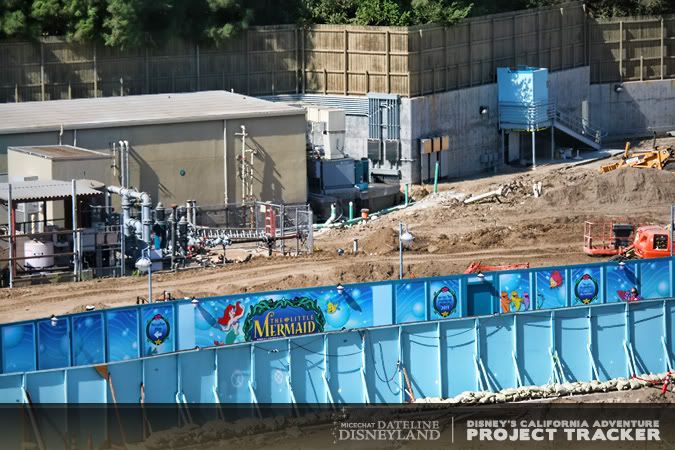 <a name="DD2-4">
CARS LAND
</a>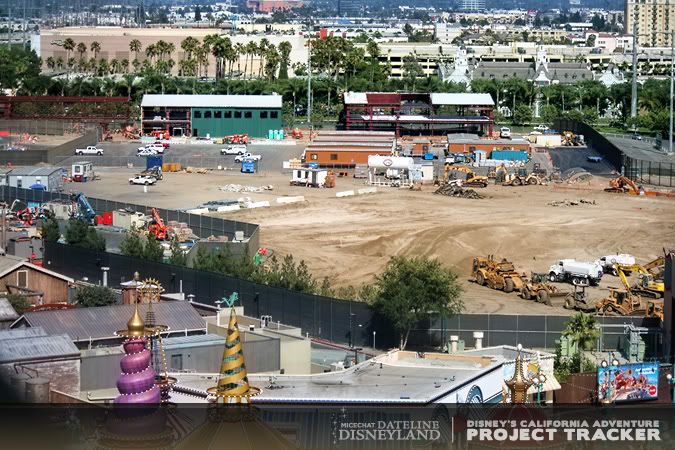 More new structures are going up in the back of the lot. So far, three total.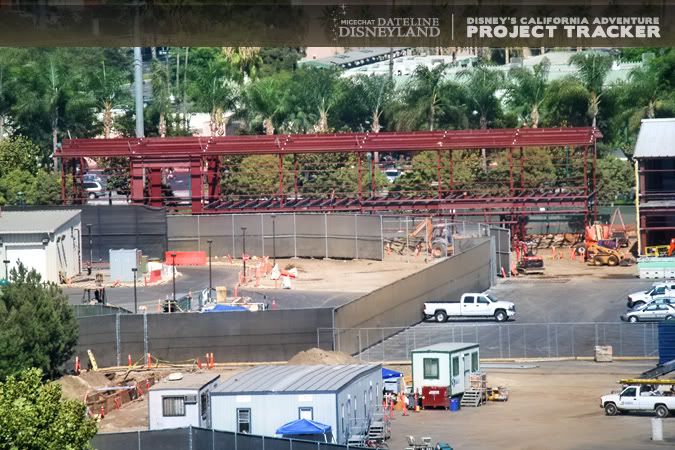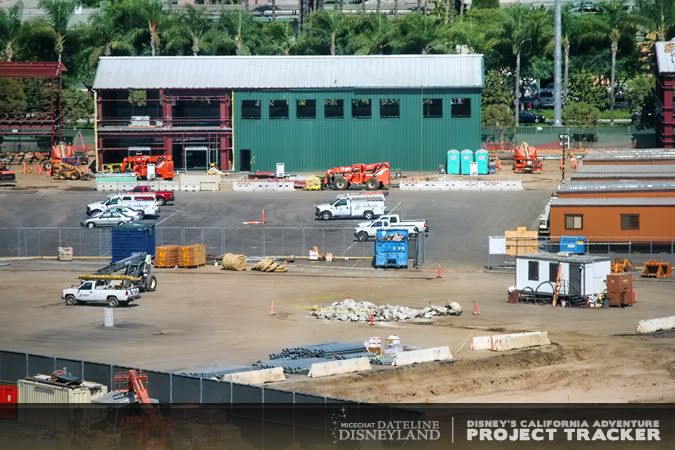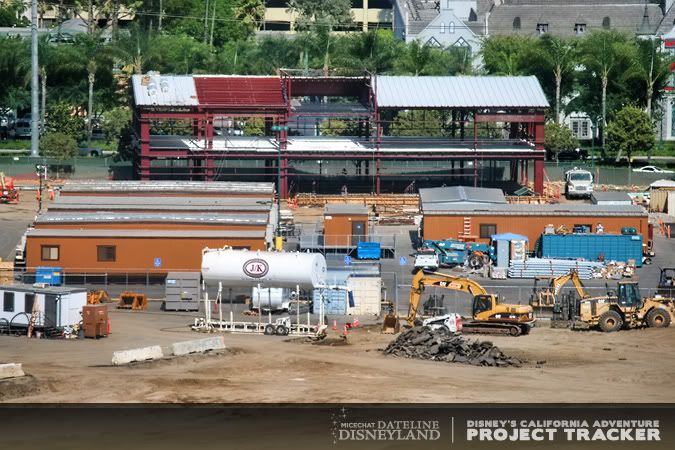 <a name="DD2-5">
LUCKY FORTUNE COOKERY
</a>
The new home of the Lucky Fortune Cookery is now donning new Asian lanterns and has supports up for the new marquee.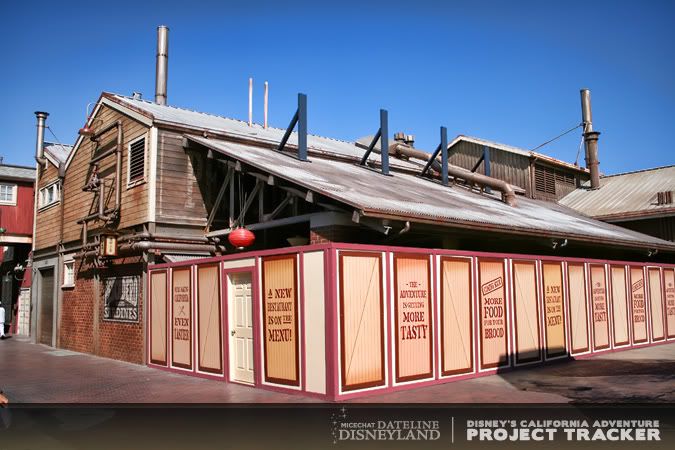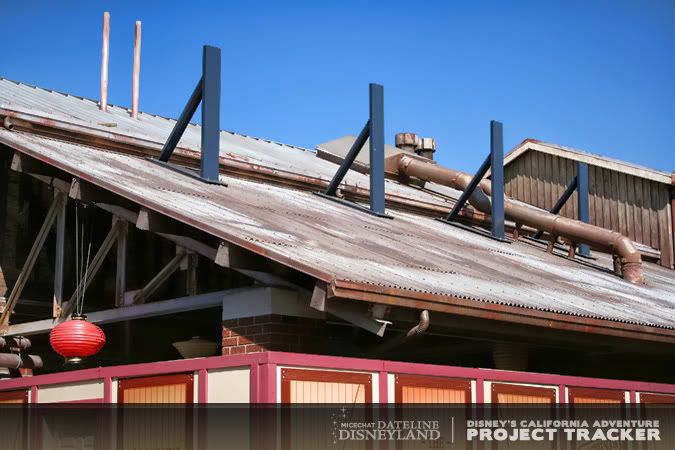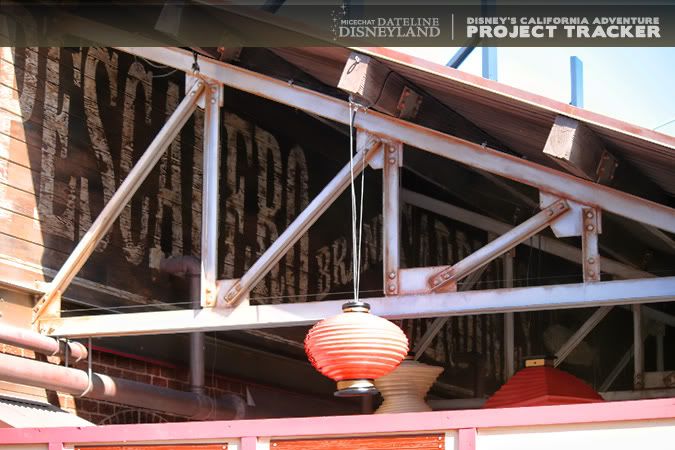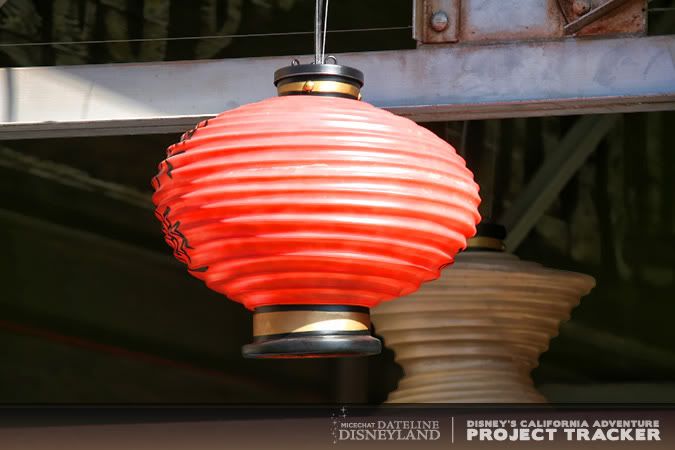 A nice new lamp has gone up on the side of the restaurant. Nice little thematic touch.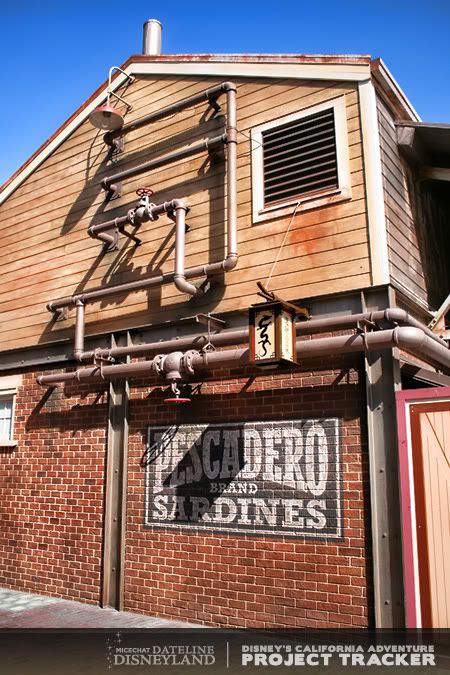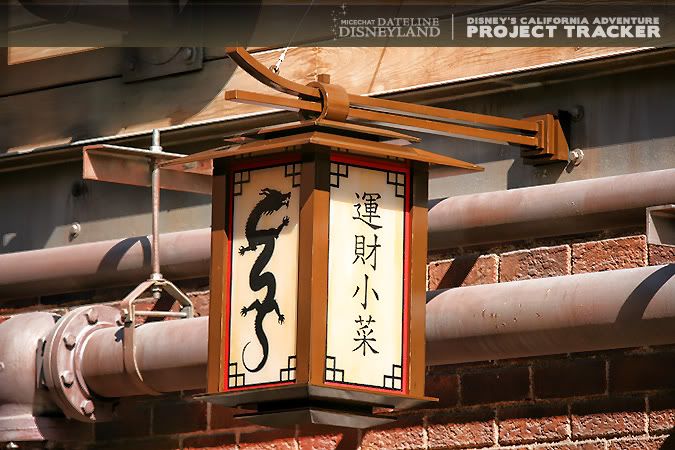 <a name="DD3">
THIS AND THAT
</a>
Over in Disneyland, new outdoor vending carts are selling drinks and cotton candy in Frontierland, across from the Big Thunder Mountain extended queue.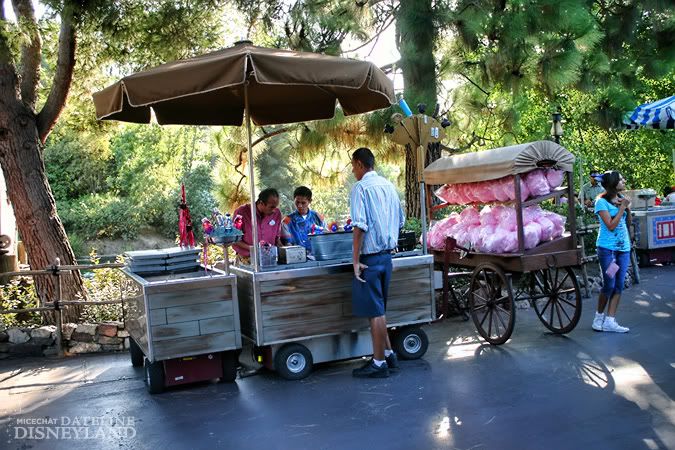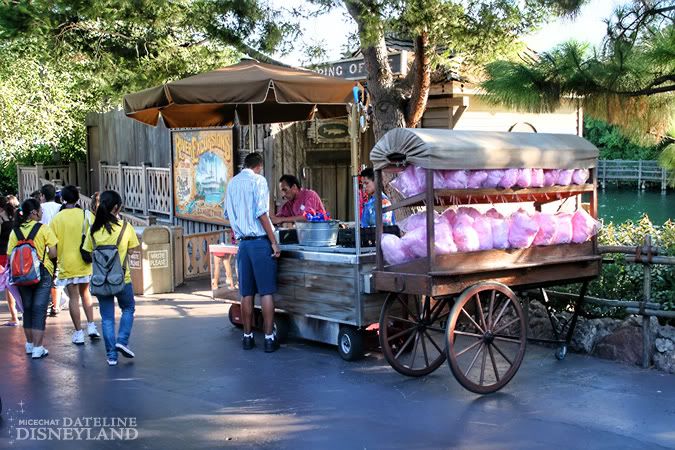 And the white bridge on the west side of Sleeping Beauty Castle, near the Carnation Plaza Gardens stage, is finally behind refurbishment walls getting some MUCH needed work done.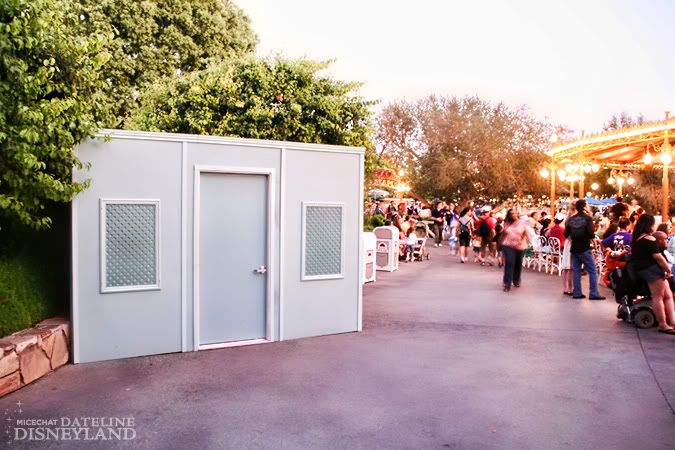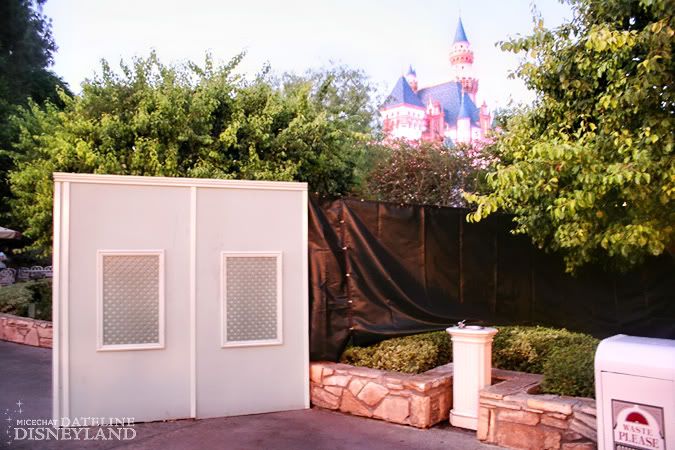 <a name="DDAROUND">
AROUND THE PARKS
</a>
We'll finish up the photos section of this week's update with some shots from around the park.
The Haunted Mansion celebrated its 40th anniversary on Sunday.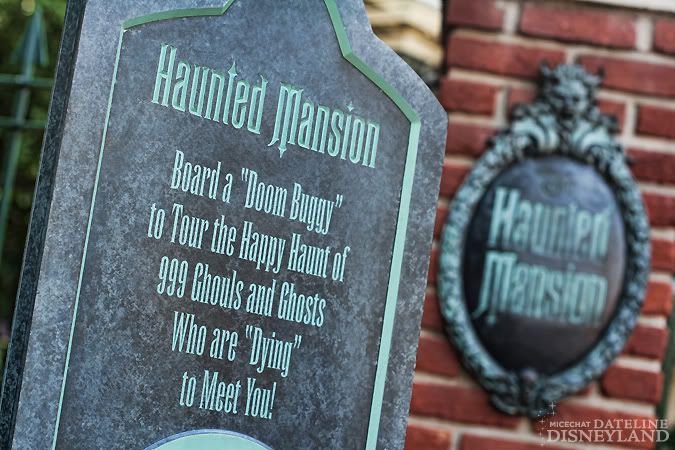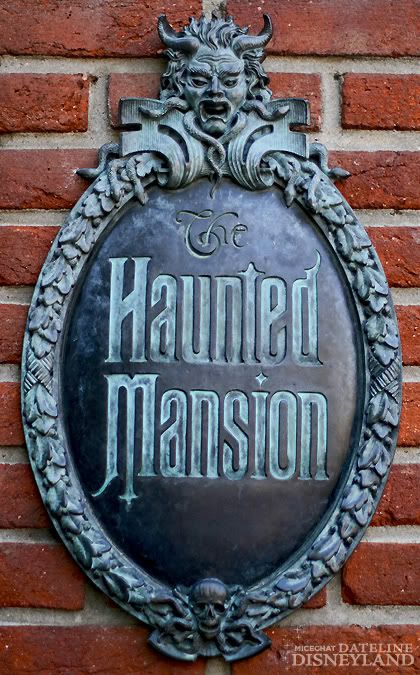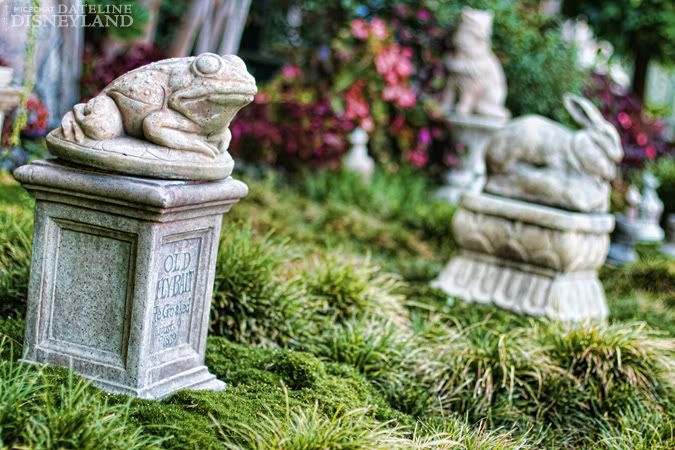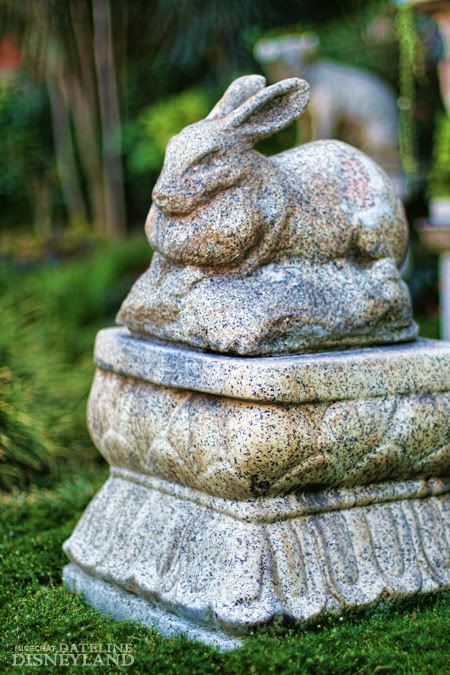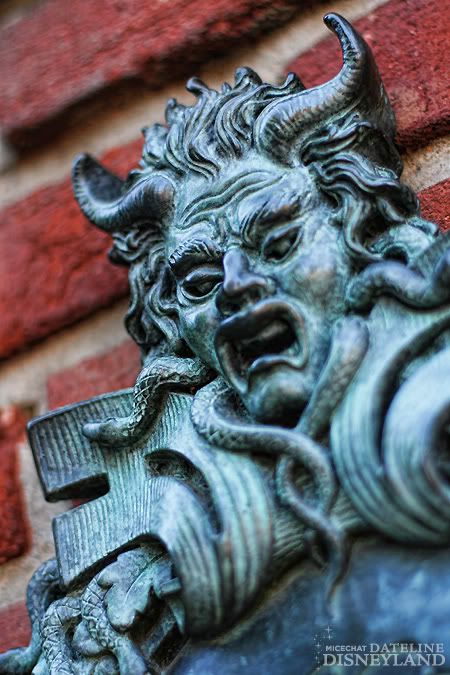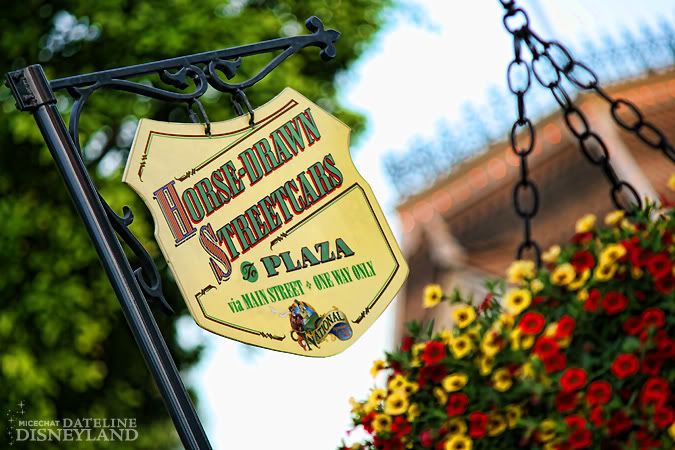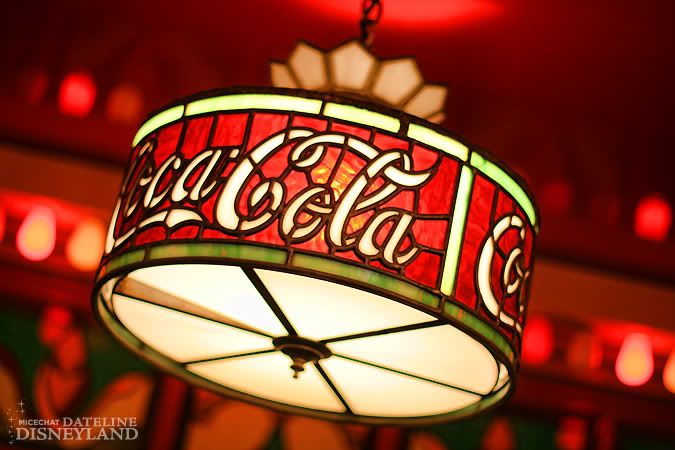 <a name="DDNEWS">
<script charset="utf-8" type="text/javascript" src="http://ws.amazon.com/widgets/q?ServiceVersion=20070822&MarketPlace=US&ID=V20070 822/US/disneylandres-20/8001/defc2f58-fb71-4fe2-b5c3-4f6a4a094641"> </script> <noscript>Amazon.com Widgets</noscript>
DISNEYLAND WEEKLY HOURS AND INFO
</a>
THEME PARK HOURS AUGUST 10 - 16


For a complete listing of theme park hours, please visit the Disneyland.com Theme Park Calendar

Disneyland Park
Monday - Sunday: 8 am - 12 midnight

Disney's California Adventure Park
Monday - Sunday 10 am - 9 pm







CURRENT ATTRACTION CLOSURES & REFURBISHMENTS

Disneyland Park

Pinocchio's Daring Journey: Closed through August 14.
The Enchanted Cottage: Closed through November 17.
Casey Jr. Circus Train: Closed August 24 through November 19.
Storybook Land Canal Boats: Closed August 24 through November 19.
Mark Twain Riverboat: Closed September 8 - 10.
Space Mountain: Closed September 8 - 24 to install "Ghost Galaxy" Halloween overlay.
Minnie's House: Closed September 9
The Haunted Mansion: Closed September 10 - 24 to install Haunted Mansion Holiday overlay
Big Thunder Ranch: Closed September 14 - 24 to install Halloween overlay
Gadget's Go Coaster: Closed September 14 through October 26
The Disney Gallery: Opens September 26, 2009 in the Bank of Main Street
Pirates of the Caribbean & Blue Bayou Restaurant: Closed September 28 through October 2.
Disneyland: The First 50 Magical Years/Main Street Opera House: Closed. Reopens as The Disneyland Story: Featuring Great Moments With Mr. Lincoln December 17, 2009.


Disney's California Adventure Park

Orange Stinger: Closed for retheming. Reopens Spring 2010
Cocina Cucomonga: Food service location closed June 18, when new location opened. Original location reopens with new Asian-style menu September 14.
The Little Mermaid: Ariel's Undersea Adventure: Under construction.
Souvenir 66 and Corn Dog Castle: Store and dining location closed for remodeling through May 2011.
Paradise Bay: Drained for construction of upcoming Disney's World of Color show.
Disney's World of Color Nighttime Spectacular: New show under construction. Debuts Spring 2010.
Golden State Park and Amphitheater: Closed. New, larger amphitheater for Disney's World of Color viewing under construction in same location. The new amphitheater will open December 2009.
ENTER-TO-WIN TRIP TO D23 EXPO!

For all you texters out there, Disney is giving away a trip to the D23 Expo and Disneyland for one winner and three of their friends.




D23 MOBILE SWEEPSTAKES
Text D23 to DISNEY (347639) for a chance to win a trip to the Expo for you and three of your friends!

For the more information and sweepstakes rules, visit disney.go.com/d23mobile

<br><br>


PIZZA OVEN CAUSES SCARE AT GRAND CALIFORNIAN HOTEL
From the OC Register's Around Disney blog:


Smoking pizza oven causes fire scare at Disney hotel
Disney's Grand Californian Hotel was evacuated earlier today [August 7] after one of the pizza ovens started smoking.

Smoke was first seen about 2 p.m., causing a fire scare. The fire was cleared up within 30 minutes.

"As a precaution we began evacuating the hotel, but it's really a non-issue," Disney spokeswoman Suzi Brown said.

The number of people evacuated was not immediately known.

Twitter user @SarahSamudre first wrote about the news of the fire at the hotel on the social-networking site.

"It was just cleared by the fire marshall about five minutes ago. All the guests are back inside, thankfully," she wrote soon after the fire.

"It's now relegated from crisis down to interesting anecdote. Now to resume the vacation," @SarahSamudre 'tweeted.'

For the full article, visit Around Disney: Smoking pizza oven causes fire scare at Disney hotel

<br><br>


GRAND CALIFORNIAN HOTEL GAS LEAK HALTS TRAFFIC
Only a day after the pizza oven fire scare, construction workers hit a gas line at the Grand Californian, causing traffic to be halted between the Grand Californian and Paradise Pier Hotels on Disneyland Drive. Luckily, the incident wasn't major, and the Hotel guests were unaffected.


Disney hotel gas leak interrupts traffic
Traffic was rerouted for about a half hour today because of a brief gas leak at a Disney hotel construction site.

About 1:10 p.m., construction workers hit a minor gas line while digging in the area of the expansion of Disney's Grand Californian Hotel, said Suzi Brown, spokeswoman for the Disneyland Resort.

Police were called to direct traffic off Disneyland Drive — a thoroughfare between the Grand Californian and Paradise Pier hotels. Traffic was interrupted for about a half hour, Brown said.

Firefighters also came to help as a precaution, Brown said.

The hotel and surrounding areas were not affected by the leak, Brown said. No evacuations were necessary and no illnesses were reported.

The total cleanup took about an hour.

For the full article, visit Around Disney: Disney hotel gas leak interrupts traffic

<br><br>

HOTEL CAST MEMBERS REJECT CONTRACT
From the OC Register's Around Disney blog:


Disney hotel workers reject contract proposal by 92 percent


Unite Here 11 – the union representing hotel workers at the Disneyland Resort – have shot down a contract offer by Disney, bringing the long-running labor dispute closer to a strike.

The union released the tally totals today: 92 percent cast votes against the proposal yesterday.

Exactly 1,079 of the current 2,100 rank-and-file union members that wash dishes, clean rooms and wait tables at the three Disney-owned hotels in the resort voted on the contract proposal at the Disneyland Hotel, said Unite Here 11 President Tom Walsh.

Only 89 voted in favor of the proposal.

"It was quite an overwhelming rejection by a majority of 92 percent — a much higher percentage than what I predicted," Walsh said. "Hopefully, this will be something that helps break the gridlock."

The dispute centers on health-care premiums: Disney wants to ease Unite Here workers into Disney Signature, a group of seven plans that require varying degrees of employee contributions. The union wants to keep the status quo where Disney pays into a union trust that provides health care at virtually no cost to the workers — co-pays and prescription drugs are only a few dollars.

This dispute has been running for 18 months, ever since the old Unite Here contract ended.



For the full article, visit Around Disney: Disney hotel workers reject contract proposal by 92 percent


<br><br>

MORE SOURCES TALK ABOUT CAPTAIN EO RETURN
And finally, the OC Weekly reported that their sources are confirming that a HalloweenTime return for Captain EO, Michael Jackson's campy 3D space movie will return to Tomorrowland in time for Disneyland's HalloweenTime. Al Lutz first broke the Captain EO news in his July 28 MiceAge column.



DISHNEY: INSIDER SAYS CAPTAIN EO WILL BE BACK


Good news--kind of. Depending on who or what you want to believe, the Weekly has received an inside tip that the 3D space-y alien thriller starring Michael Jackson will indeed be returning to its former home at Tomorrowland just in time for Halloween festivities and that park officials have been keeping mum on the event just for the element of surprise (and hype).

The tip reads:

"Actually, I was in the theater last Friday, spoke with staff who had said that they ARE in fact planning a return of Captain EO. The creative staff (Imagineering) had been in the theater the day before to see how they could quickly install the old show before Halloween time.

My guess is that they are remaining silent on this issue to keep the element of surprise and to keep the park from being over run if they announce it too early.

Keep in mind, the show closed in 1998 at Disneyland, five years after any allegations. So that was not a factor in it leaving. It was an old show at the time.

A return right now is the perfect choice for Disney because now Michael Jackson is relevant again and there will be a draw. The show will still hold up and will be more well received than Honey I shrunk the Audience. This gives them time to plan a NEW show that will eventually be installed into the theater."


Nice! Now: Can you imagine the lines?? (But, of course, we'll probably be there anyway. We waited three hours for the Nemo submarine, after all.)


For the full article, visit OC Weekly: DISHNEY: INSIDER SAYS CAPTAIN EO WILL BE BACK
<script charset="utf-8" type="text/javascript" src="http://ws.amazon.com/widgets/q?ServiceVersion=20070822&MarketPlace=US&ID=V20070 822/US/disneylandres-20/8001/defc2f58-fb71-4fe2-b5c3-4f6a4a094641"> </script> <noscript>Amazon.com Widgets</noscript>
<table border="0" cellpadding="5"><tr><td valign="top">Okay - that should wrap up this week's Dateline Disneyland. Thank you for reading - be sure to discuss the column in the comment section below!
Don't forget that MiceAge and MiceChat has loads of new content weekly! If Dateline Disneyland isn't enough to satisfy your Disneyland itch, then don't miss
David "Darkbeer" Michael's
In the Parks
column which runs here every Friday and is packed full of Southern California theme park news, photos, and gossip. And if you want even more Disney theme park goodness, don't miss
MiceChat's Weekend Update
, which takes a look at Disney theme parks and other international landmarks, curiosities, and oddities every Saturday!
Your help keeps these updates coming, and without you they couldn't happen. We all know times are tough, so any amount of support helps. If you can donate to Dateline Disneyland please consider doing so via a safe and quick PayPal donation.
To donate, click here.
Don't forget - Dateline Disneyland is on Twitter! If you still haven't checked us out on Twitter, head over there today and see why
4,100
other Disneyland fans have already started following Dateline Disneyland! The Dateline Disneyland Twitter is updated throughout the week with links to breaking news, mini updates, photos, and links to newsworthy MiceChat discussions. Head over to
Twitter.com/DatelineDisney
, or check out the widget to the right to follow us!
See you here again soon!
-Andy
</td>
<td bgcolor="#cccc9a" width="235" valign="top">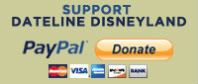 Love reading Dateline Disneyland?

If so, consider donating so the updates can keep coming through a quick and safe PayPal donation. Thanks for your support!



<object classid="clsid:d27cdb6e-ae6d-11cf-96b8-444553540000" codebase="http://download.macromedia.com/pub/shockwave/cabs/flash/swflash.cab#version=9,0,124,0" id="TwitterWidget" width="225" height="335"><embed src="http://static.twitter.com/flash/widgets/profile/TwitterWidget.swf" quality="high" bgcolor="#000000" name="TwitterWidget" allowscriptaccess="sameDomain" allowfullscreen="false" type="application/x-shockwave-flash" pluginspage="http://www.macromedia.com/go/getflashplayer" flashvars="userID=16832260&styleURL=http://static.twitter.com/flash/widgets/profile/smooth.xml" align="middle" width="225" height="335"></object>
</td></tr></table>