Disney opens its first theme park in China
HONG KONG - Disney officially opened its newest theme park in Hong Kong, its first step into the lucrative China market. Some 2,500 dignitaries and guests were on hand, including Chinese Vice President Zeng Qinghong, Hong Kong leader Donald Tsang, Walt Disney Company CEO Michael Eisner and company president Robert Iger.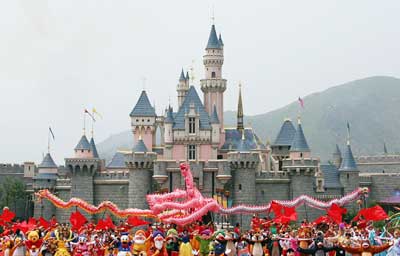 Disney characters and dragon dance performance are seen in front of the Sleeping Beauty Castle during the opening ceremony of Hong Kong Disneyland September 12, 2005. [Reuters]
The ceremony opening the US$3.5-billion park kicked off with a traditional Chinese lion dance in the forecourt of Sleeping Beauty Castle.
The Hong Kong government, which chipped in 1.8 billion Hong Kong dollars of the construction cost and owns a half-share of equity in the project, is hoping the park will spur local tourism and bring in more than 100 billion dollars over the next 40 years.
The attraction and its two resort hotels are surrounded by mountains on lush Lantau Island, just 30 minutes away by subway from bustling central Hong Kong. It looks much like the first Disneyland in California, with a Space Mountain thrill ride, a classic Cinderella Carousel and a pink Sleeping Beauty Castle -- which Disney predicts will be one of the most photographed buildings in Asia. Hong Kong's government says the attraction will help turn this global financial capital into Asia's best family holiday spot.
Page 2
Disney hopes the park -- the 11th in its global empire -- will be a magnet for increasingly wealthy Chinese tourists, who have a reputation for being big-spenders.
"This is a first big step," Walt Disney Co. President Robert Iger said about the park's role in expanding the company's reach into China, where generations have grown up with little or no familiarity with Mickey Mouse.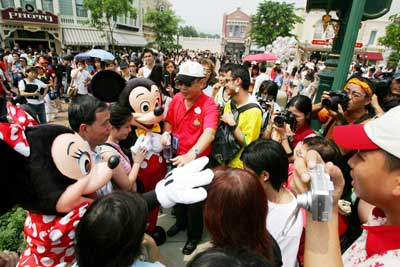 Mickey Mouse and Minnie Mouse pose with visitors at the Hong Kong Disneyland September 12, 2005. [Reuters]
Iger said the park would create a media buzz and word-of-mouth excitement that would ignite interest in Disney films, TV shows and other products. He said that state-owned China Central Television was doing a special about the park.
"It's going to be seen by, I'm told, as many as a billion people, which is tremendous," Iger told The Associated Press.
Michael Eisner, Disney's chief executive officer, said China and Disneyland will be a perfect match because they both value families.
"You go to the park and you see mothers, daughters and kids and grandparents. The family unit in China is unbelievably strong. It's not just Hong Kong, it's the Chinese mainland," Eisner said.
Hong Kong and Disney struck a deal to build the park in 1999 -- just two years after the former British colony returned to Chinese rule. The city had been battered by the Asian financial crisis, and desperately needed a new project to boost its spirits and troubled economy. Disneyland says it employs 5,000 people and will draw 5.6 million visitors in its first year.
page 3
The public has generally embraced the park, which began construction in 2003. But environmentalists protested the park's now-aborted plan to serve shark-fin soup at banquets. Neighbors have complained about the noise and smoke from nightly fireworks shows. And social critics have been worried about the influence of American culture.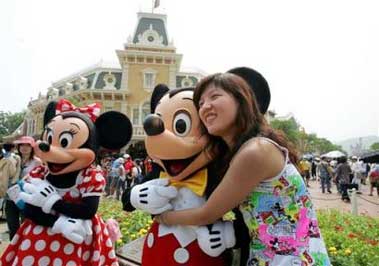 A visitor hugs Mickey Mouse after the grand opening of the Hong Kong Disneyland Monday, Sept. 12, 2005. It is Disney's first-ever vacation resort in China. [AP]
But the biggest complaint among some of the thousands who got a sneak peak at the park during a soft opening period in the past month has been that Hong Kong Disneyland is too small. It's Disney's smallest park at 40 hectares (about 100 acres).
The entire attraction -- including the two hotels -- is 121 hectares (298 acres) -- and there's room to expand to 200 hectares (494 acres).
When asked what he didn't like about the park, Chinese tourist Zhang Wei said, "It's way too small."
But Zhang predicted it would be a big hit with the mainland Chinese.
"Disney has a big name and it will definitely attract people and be a success," said the 38-year-old businessman from Beijing as he finished watching the daily parade of floats carrying a waving Little Mermaid, Alice in Wonderland and Buzz Lightyear.
Hong Kongers have a reputation for being brusque and unsmiling, but the Disneyland staff -- including cleaners and guards -- have been trying to master the Disney tradition of giving guests a warm smile and friendly "Hello!" or "Nei hou!" in Cantonese or "Ni Hao!" in the mainland's Mandarin. The greetings were Hong Kong visitor Evie Chan's favorite thing about the park. "The staff here is very friendly," said Chan, an employee of a marketing firm in her late 20s. "It's like we've known each other for a long time."
http://www.chinadaily.com.cn/english...ent_477116.htm