Hello fellow MiceChatters! Last you heard from me was in a thread called
MickeyTron Lunacy
- a video post chronicling the insanity that was our 2010 Disneyland HalloweenTime costume project. And there's a reason things have been so quiet. My partner and I have been hatching the cockamamie scheme to end all cockamamie schemes - a move to Celebration, Florida a.k.a. Mouse Mecca. Well, after a year and a half of planning we're here, we're new homeowners and we have patio furniture in our living room. Really? Ten weeks to order a sofa? Really? But I digest...
We just celebrated our three week move anniversary. And while we love heading to Epcot for a quick dinner and coming right home again (will that ever get old?), I have purposely avoiding bringing along the camera very much. Until yesterday, that is. And that's where this thread comes it. I present to you for your edification:
Sunday in the Park with Mark - A Magic Kingdom Photo-Heavy Trip Report

Let's get started!
It was a very overcast day. The hourly weather report suggested scattered thunderstorms all day long so we brought our ponchos. The bad news? Gray skies in almost all the photos. The good news? We stayed dry all day. Didn't rain once.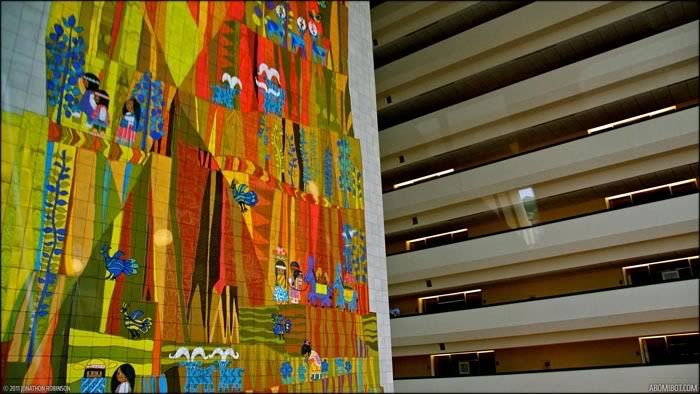 Whipping through the Grand Canyon Concourse at the Contemporary
Whipping past Space Mountain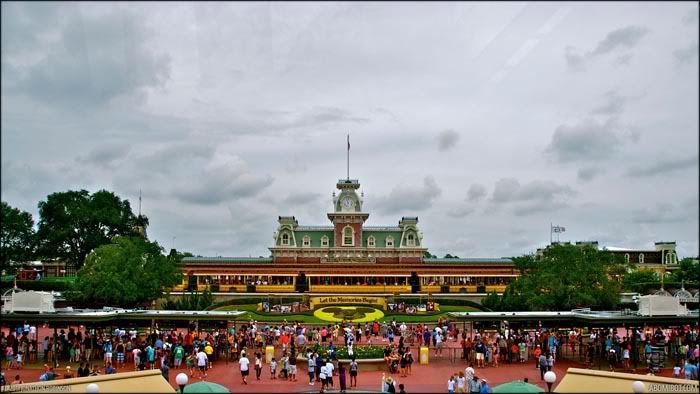 It looked really busy despite the weather report. Sundays are Extra Magic Hour days so I guess its always busy?
My partner Mark, this thread's namesake.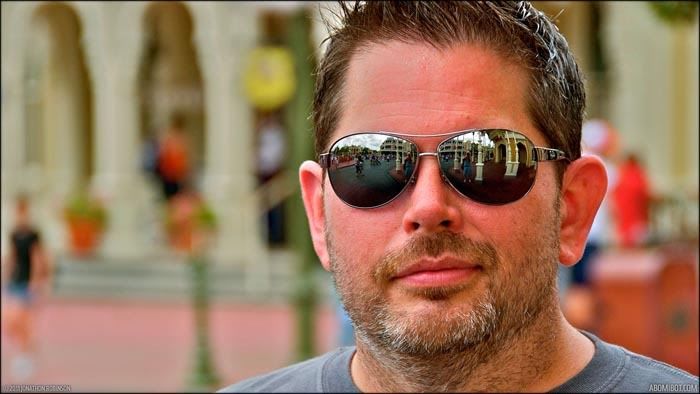 Yours truly.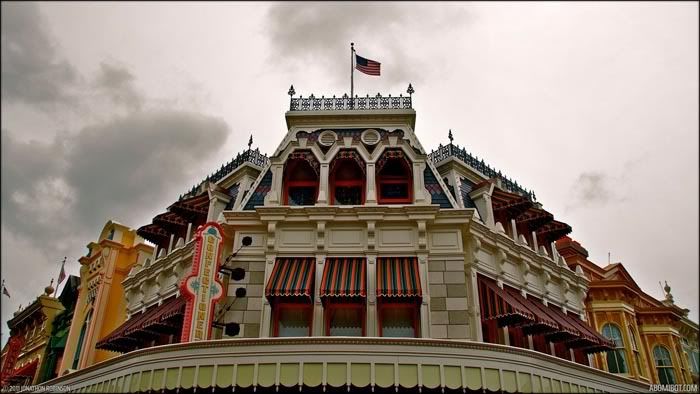 The Confectionery has new, striped awnings. I wonder if this adds cohesion to the new color scheme that a few folks are less than thrilled about? I'm just happy to see loving care returned to the Florida properties! They just need to keep at it... lots more work to do!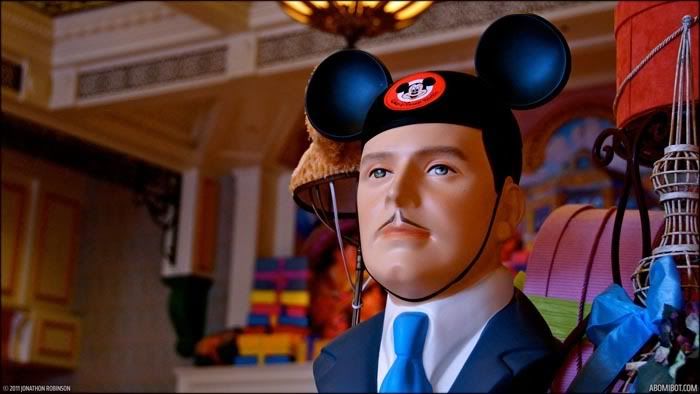 Stopped in here to buy some pins.
Mark was a resident of NYC for 25 years and I was there for 18. And wouldn't you know it just weeks after we move away Marriage Equality passes! We decided to display our pride and patriotism through pins. Sadly we imagine we'll be waiting many years for Florida to catch up.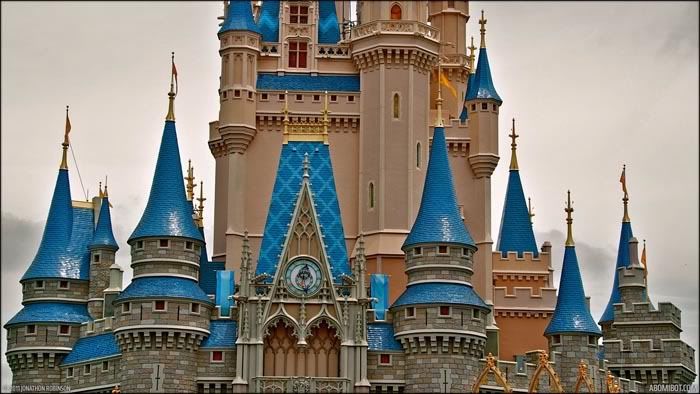 Cinderella's Castle looking lovely in diffused light.
Whenever I see those cylindrical topiaries I want a Hershey's Rolo. Mmmm Rolo.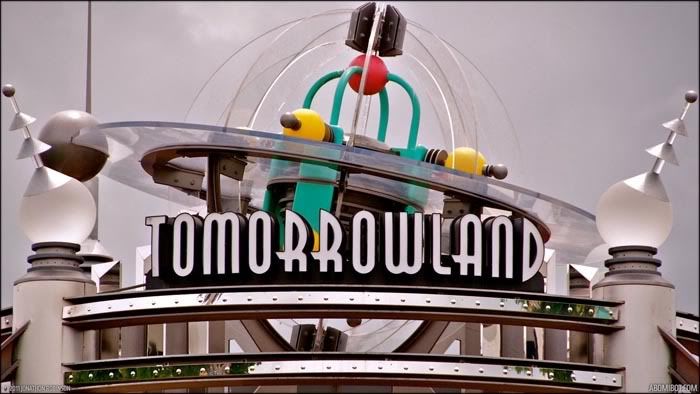 Into Tomorrowland!
(You'll note we never venture into Frontierland or Adventureland this trip - pretty much a first for us. We always tend to go left at the hub. Today was different.)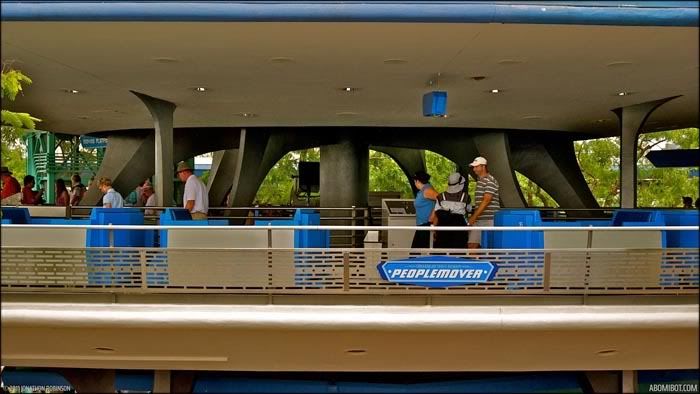 Peoplemover! I heart this ride! I so miss the robotic voice-over, "Now approaching Carousel of Progress." We provide our own interpretation of the line each time we ride.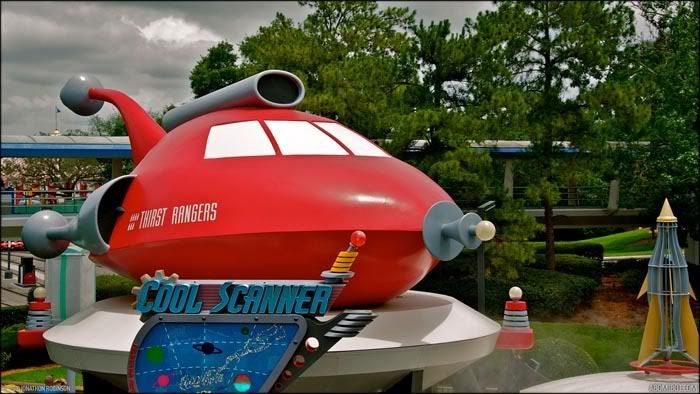 Sigh. I so wish they would gut current Tomorrowland theming and start over. But I'll settle for Stitch making a permanent Great Escape.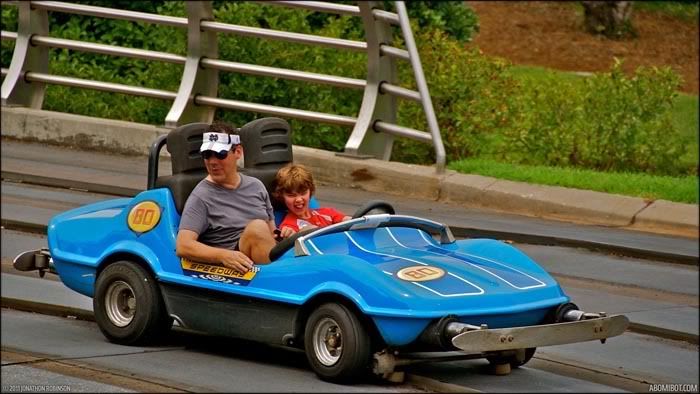 I love love love the joy and excitement on this kid's face! Or is that gas?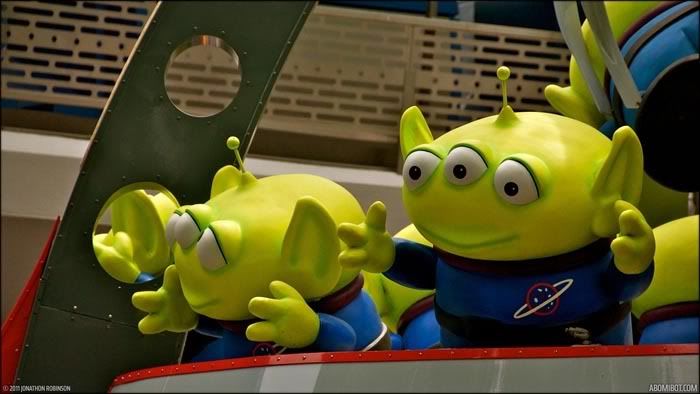 "I have been chosen! Farewell, my friends. I go on to a better place."
Space Mountain lift hill. Even though I didn't have my super-fast lens and this is totally blurry and jiggly I still love it.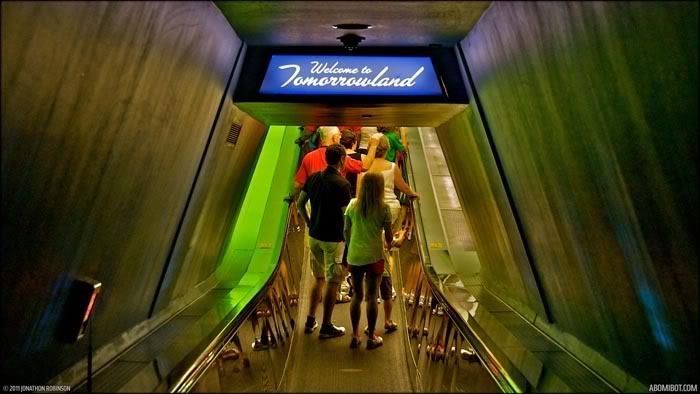 A speed ramp welcome.
Heading to Fantasyland we saw some familiar backsides lost in the crowd.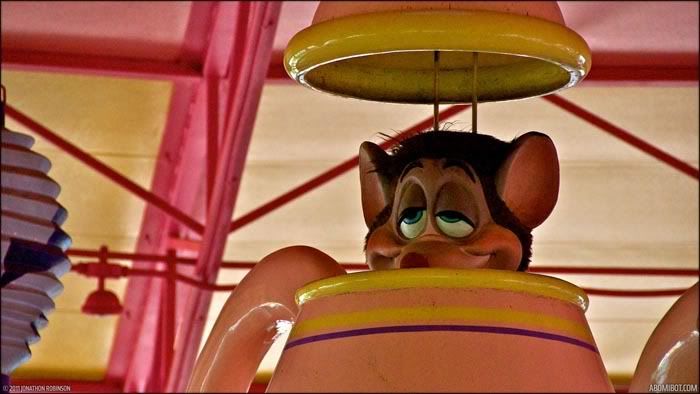 Drunken mouse is in his cup.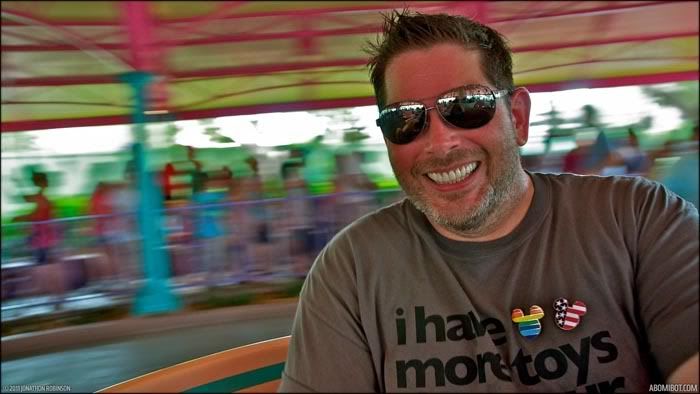 And I am in mine.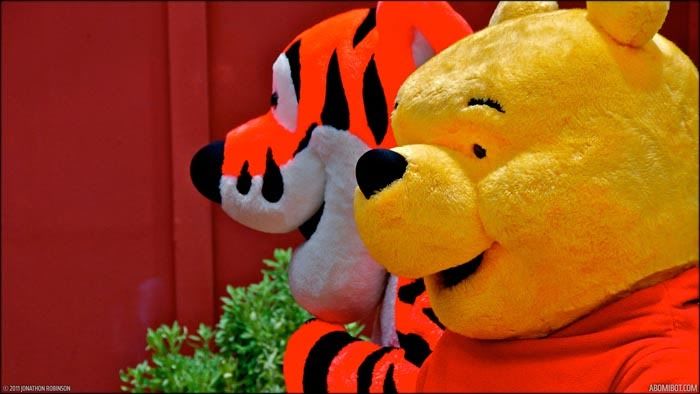 Saw the Pooh trailer this weekend before Cars 2. So love the inclusion of the Keane song, "Somewhere Only We Know". It so totally elevated the trailer. I was honestly ambivalent before and now I can't wait to see the movie. The power of music.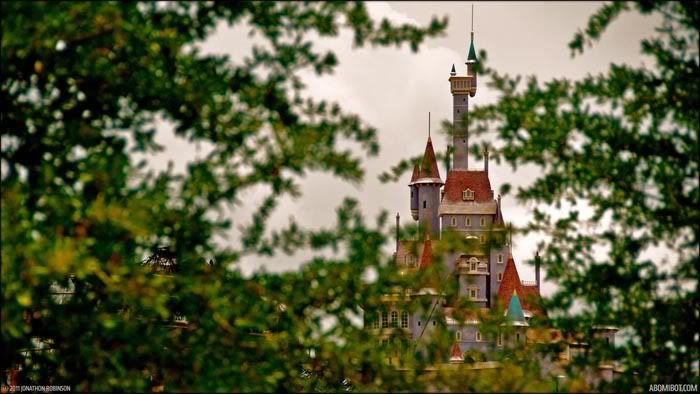 A peak through the trees at Beast's Castle.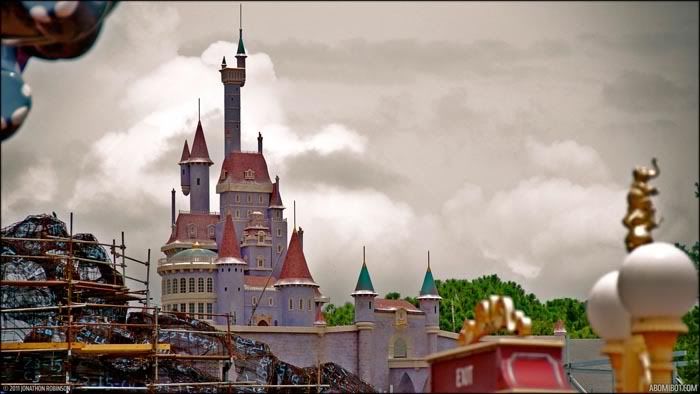 Love seeing the blue, painted labels on each rock work piece. The rebar is bent and welded by a computer to match a scanned scale model, yes? So cool. I was worried the castle was too small but now that you can visualize the foreground rocks and now that Belle & Maurice's cottage is taking shape the effect is magically perfect IMHO.
I honestly don't miss it. It no longer served a purpose.
Let's take a ride on the Liberty Belle. Captain Stank Eye looks friendly. Sheesh.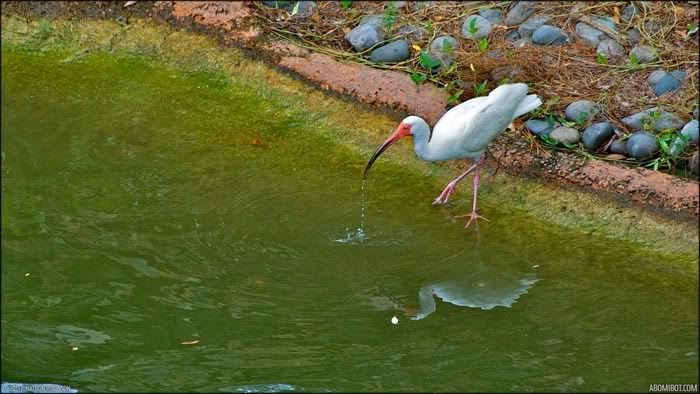 Taken from the upper deck. Zoom lens.
This is as close to Adventureland as we got.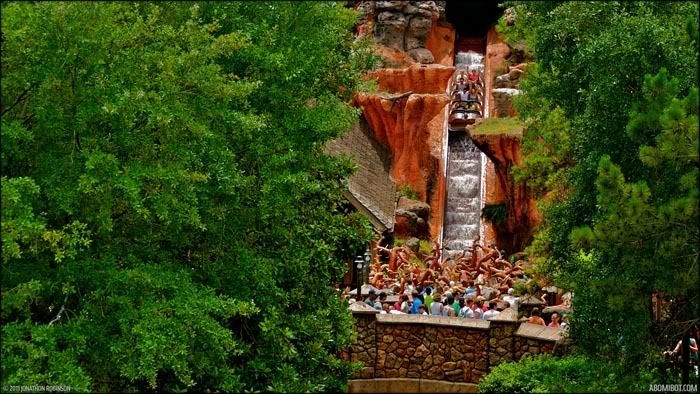 Weeeee!!!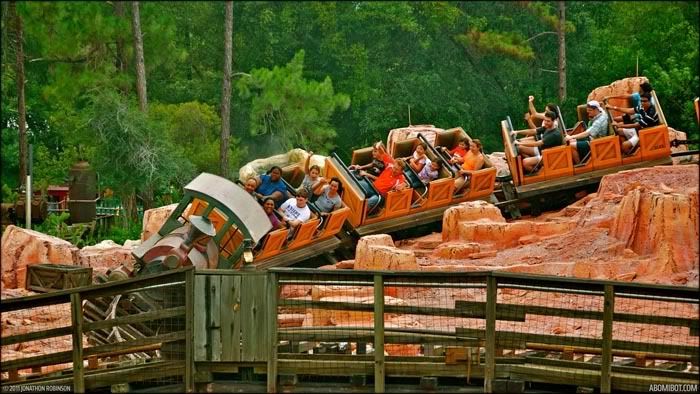 The guy in the first row of the second car looks like Pat Sajak.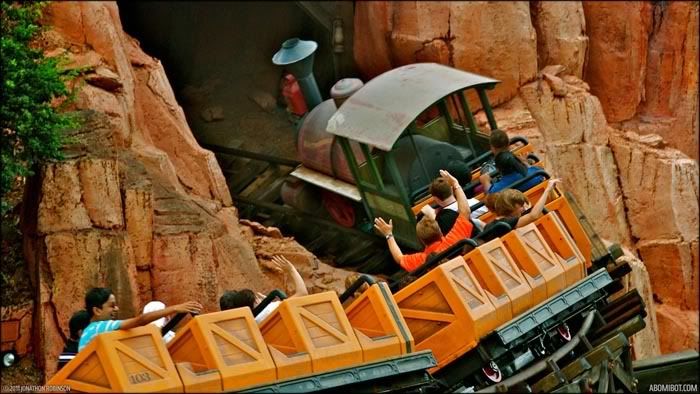 And 'round the bend we go.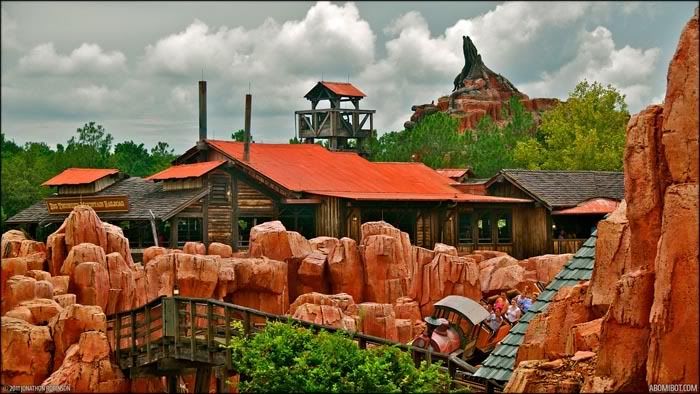 Chickapin hill, BTM queue and load building and a train in the foreground. Man this is a jam-packed photo!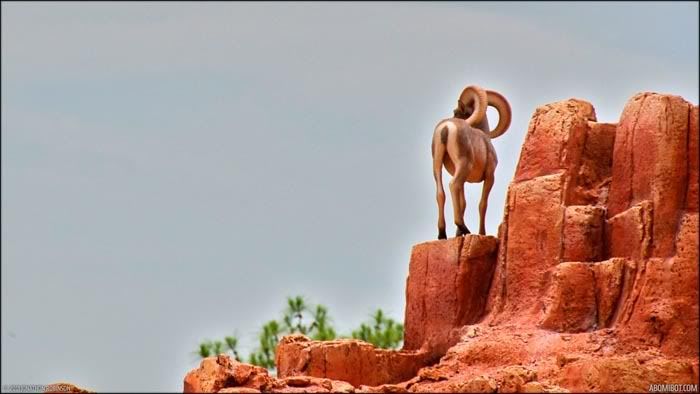 Ram butt.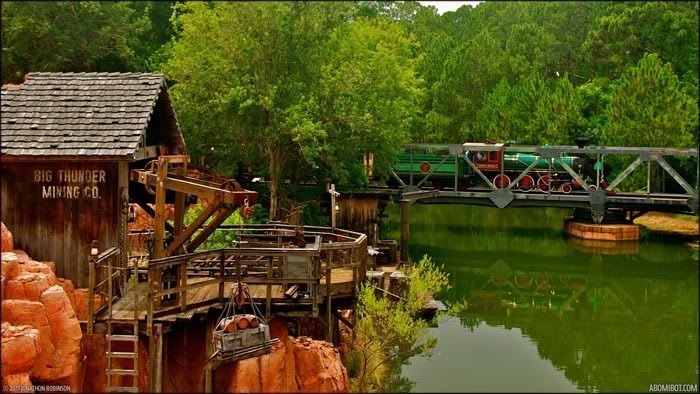 Our timing was fortuitous. The train was crossing the bridge over the outlet to Seven Seas Lagoon.
Love the call and answer whistle play between the train the the Belle. Shave and a haircut, two bits! Oops. Did I just show my age? Does that resonate with any of you young whipper snappers?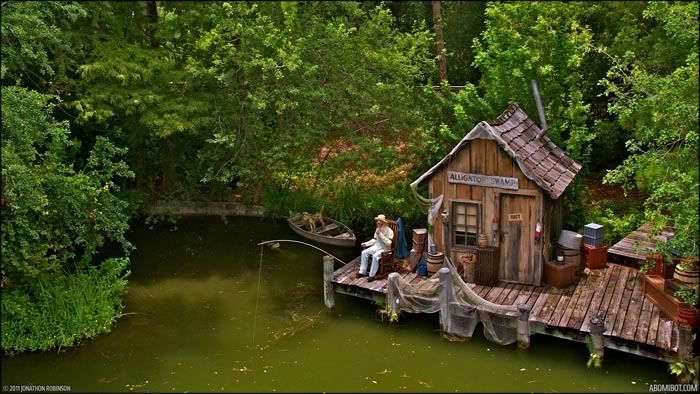 Reminds me of the Blue Bayou opening ride scene of Disneyland's Pirates. Sigh. I miss that version of the ride. Soon, Disneyland my love... soon we shall be together again. Just as soon as all the walls are down and I can ride a Radiator Springs Racer.
Hi how are you hi how are you. I can say that. I am one-sixteenth Cherokee.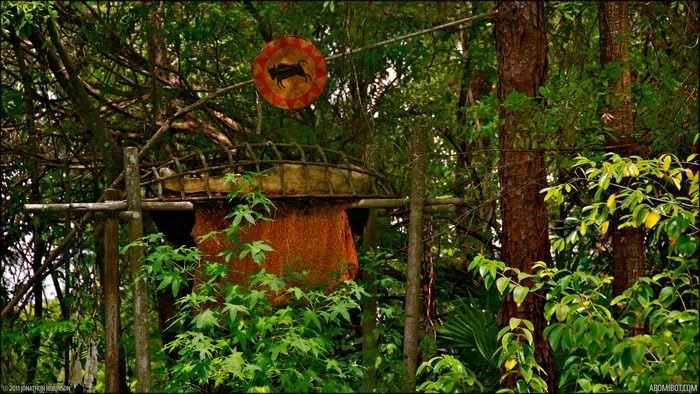 Indian Burial Ground!?!
Well, duh, of course the mansion is haunted. Hasn't anyone seen the Family Guy episode, "
Petergeist
"?!?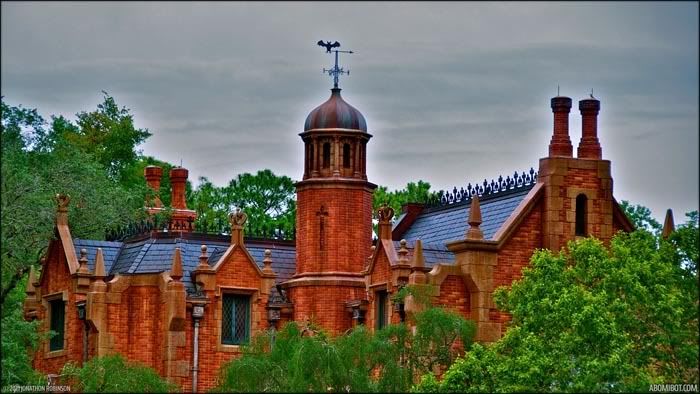 Pawns, Bishops, Rooks and royalty. But no Knights? Just enter the mansion... it's always night on the inside.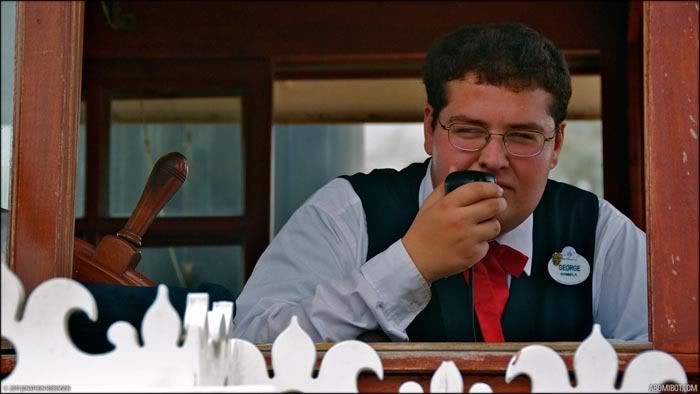 First there was Captain Stank Eye and now this guy looks like he's about to hatch an evil plot of some kind. Too many boat trips past the Indian burial site, maybe?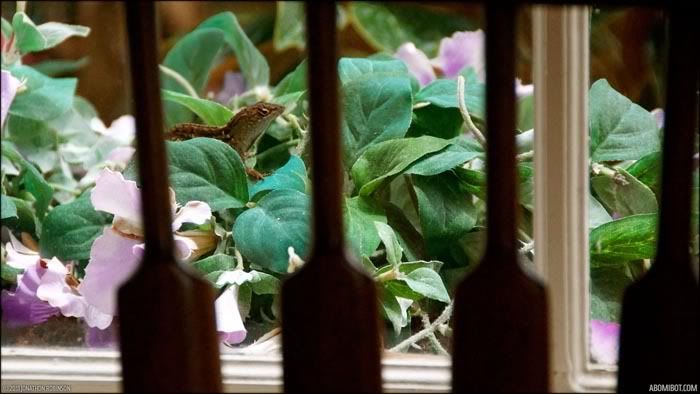 Upstairs at Columbia Harbour House. The window boxes have fake flowers and real lizards.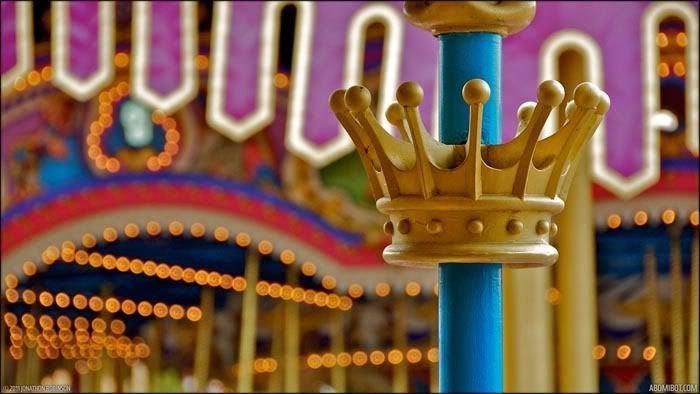 Back to Fantasyland for a Ride on Snow White... where every ride could be your last!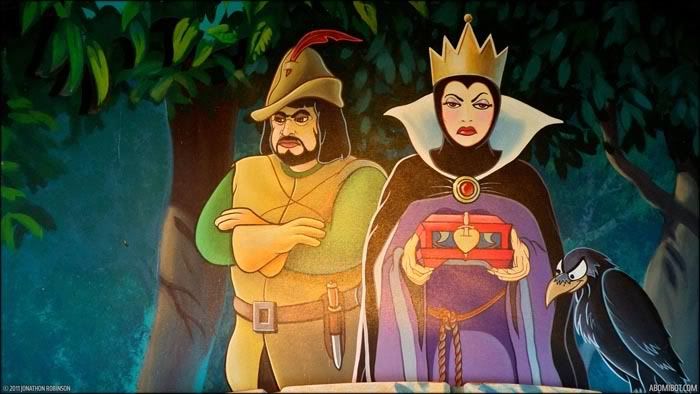 Is it just me or does the Huntsman look like Harvey Fierstein?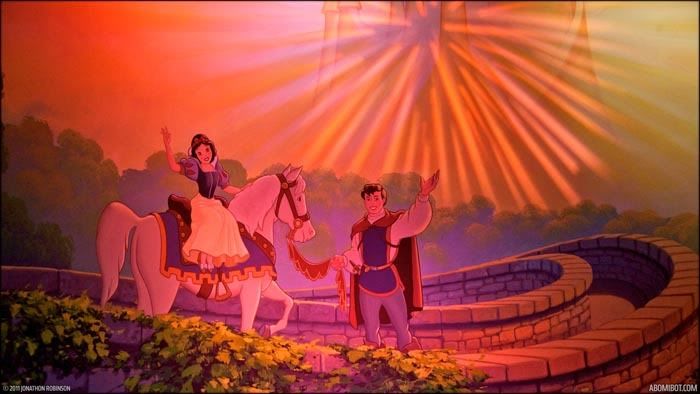 Guh-bye! Guh-bye! Hope you like rolly-coasters! (I do.)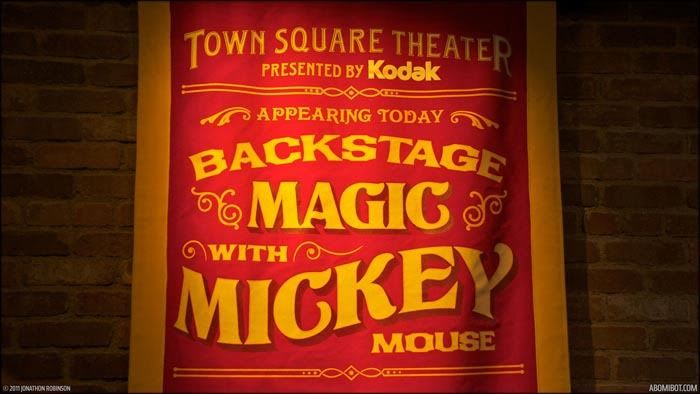 Let's meet Mickey!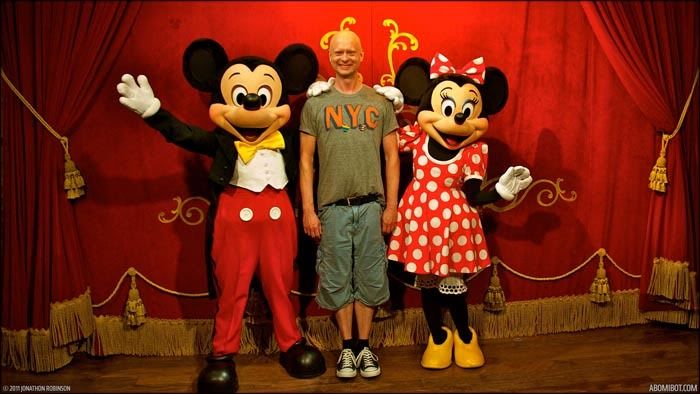 We took photos both together and separate. But for some reason I always get giggly and nervous around costumed characters. So I choose to show only Mark's photo with Mickey and his gal pal. I just looked too goofy.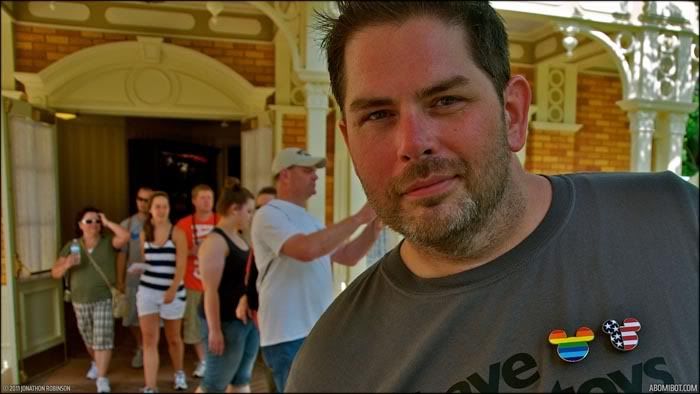 Are you sure you wanna go home? Ah, okay. This is the first trip ever without a ride on Haunted Mansion and only the second trip ever without a ride on POTC. However, we live just a few short miles away now and can drop by whenever we want. Yay.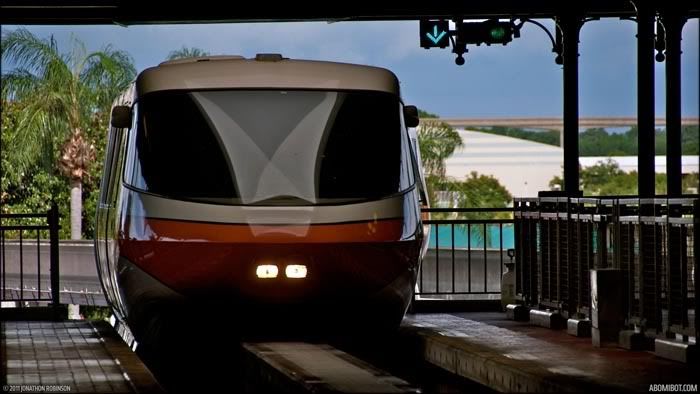 Orange approaches!
And just as we leave we finally get some blue skies, here over the Grand Floridian Resort.
See you next time and thanks for reading!