Monday October 23rd
DAY 1

3:20 am. The alarm goes off and our group had exactly one hour to get ready to go. A brief ride on the shuttle and Grumpy4, MissChristine, Dan, Capt.Pheobus, MonorailMan, Dustsage and I were at LAX. After getting through the heightened security we made it to Gate 47. We were the first ones there so we found some chairs to call home and wait for the other MC'ers to arrive.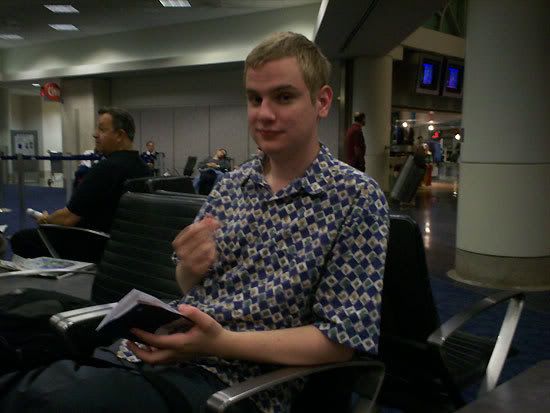 I left my bags with MissChristine and hit Starbucks for my Grande Drip while Dusty got us some food at the in terminal Burger King. Soon after more MiceChatters showed up. Our little area filled up quickly and, after eating MissChristine scratched my head until I fell back to sleep. I love her so bad.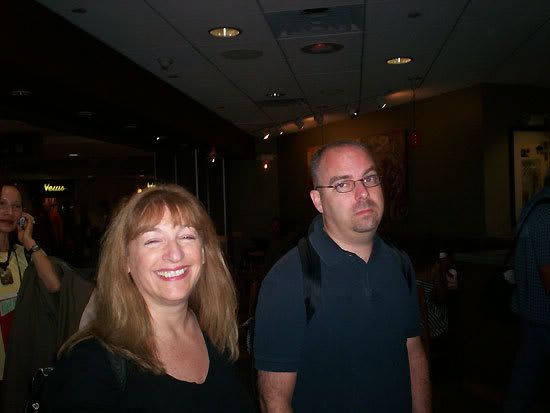 VillainsFan and O-nut in line at Starbucks
When I opened my eyes even more Micechatters were there and it was time to Board! WOO HOO!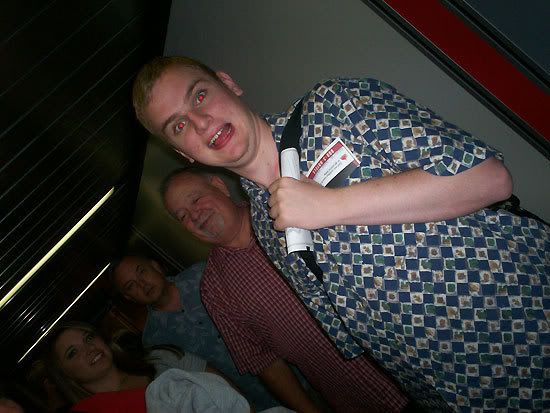 MonorailMan anticipates his first flight.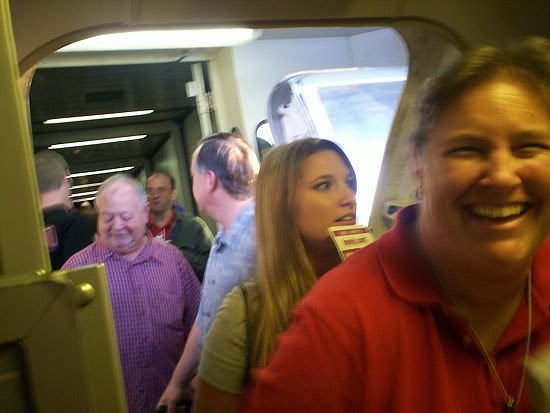 We all packed in to our seats and once all carry-on items were in the overhead compartments or under the seat in front of us, we were ready for take off. The in flight movie was The Break Up, starring Vincent Vaughn and Jennifer Anniston. Al leaned over to me and said "Aside from her hair I can't think of any talent she has." Agreed. I would be sleeping anyway. Once in the air I fell asleep.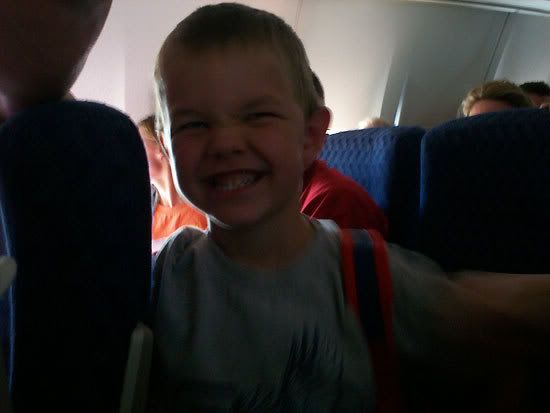 I woke up and we were about to land. The excitement was palpable. When we landed our group gave out a reserved kind of, we're not terrorists trying to take over the plane so don't be alarmed, kind of cheer.

WE WERE IN ORLANDO!!!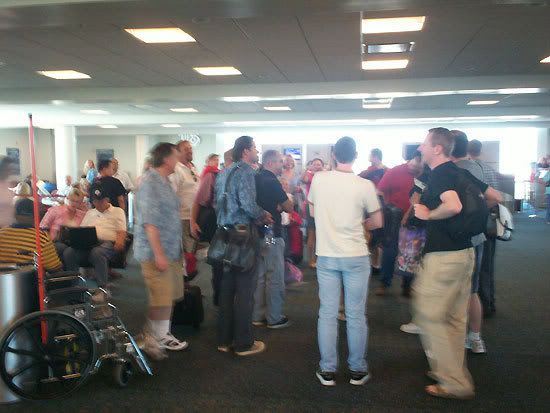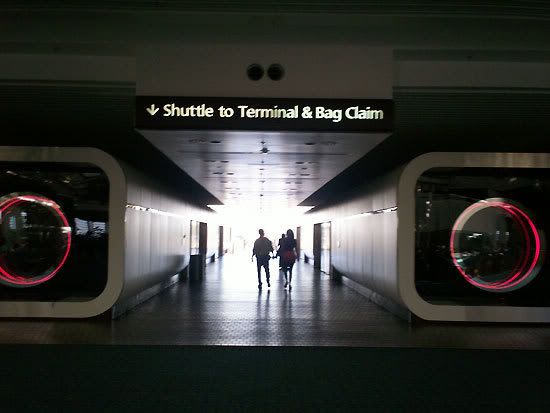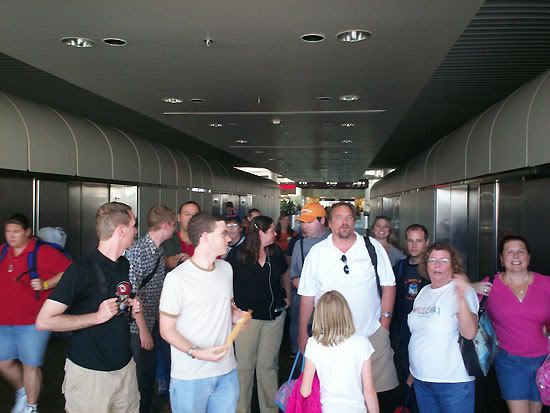 Baggage check? NOPE! We were all using Disney's Magical Express so all that we had to do was get to the Bus waiting at the curb for us and our bags would be in the room. We did have to hurry too. It was already 3:30pm and some of us were going to Mickey's Not-So-Scary Halloween Party.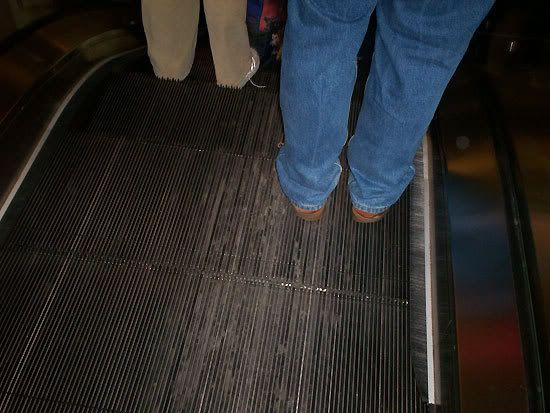 Their escalators worked!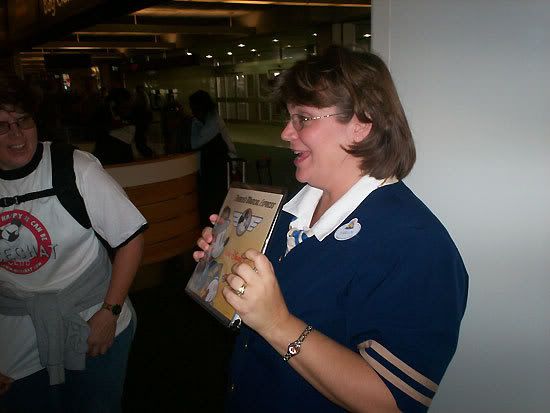 At the bottom of the escalator a Disney Cast Member
told us were to board our bus.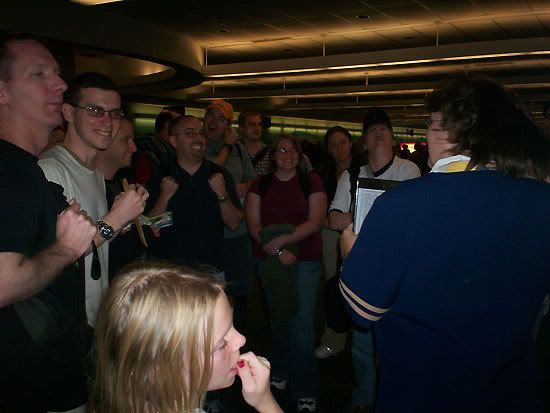 While some checked in for the group at the Magical Express counter, others lounged in the lounge.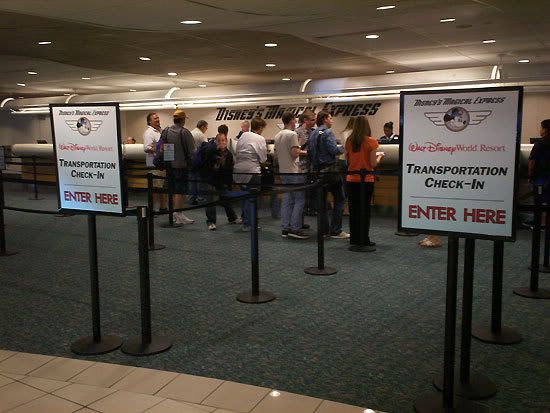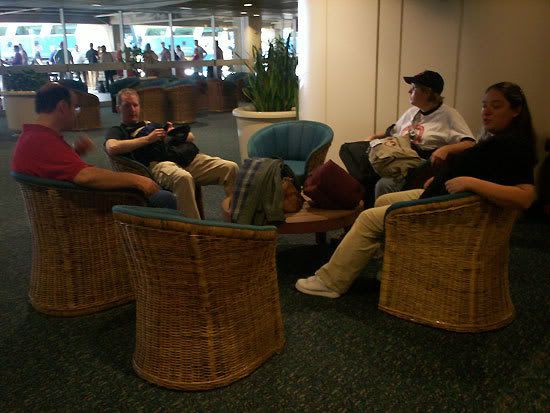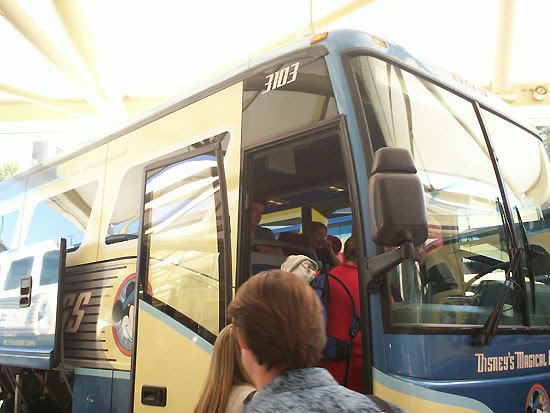 It was time to get on board! Off to the Caribbean Beach Resort!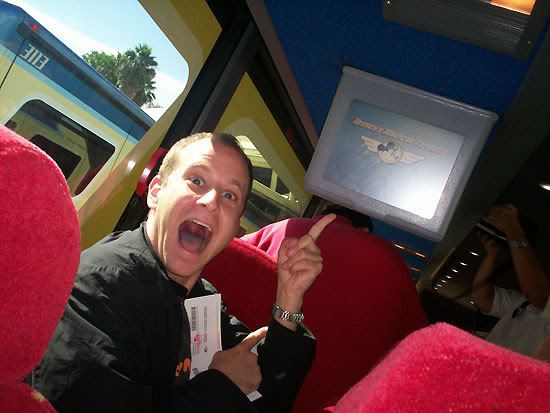 The in route video had Chernabog all kind of excited.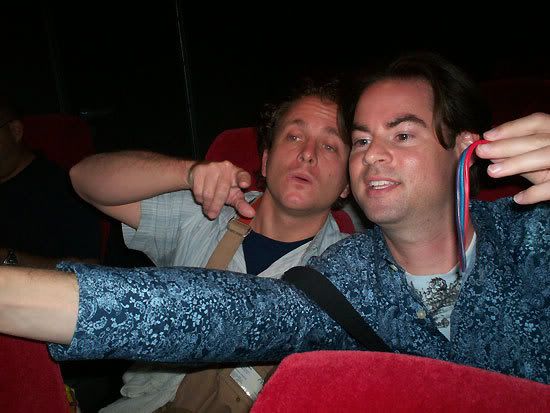 Dustysage passed Twizzlers out to everyone who wanted them.
Upon Arrival we checked in...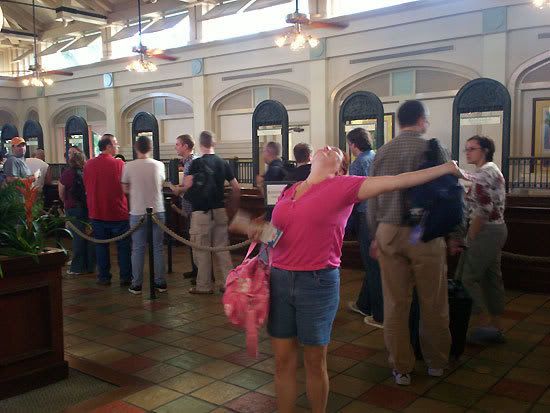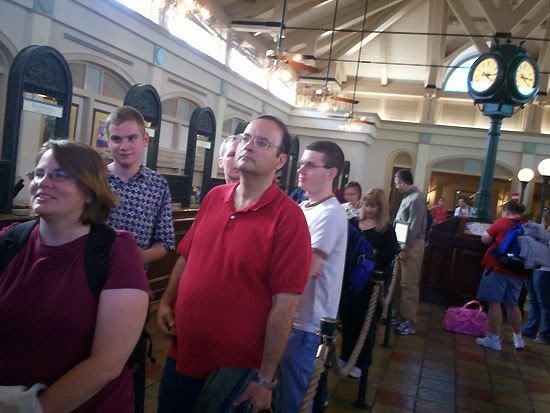 and then boarded another shuttle to the Aruba section of the resort where other MiceChatters were already waiting for us.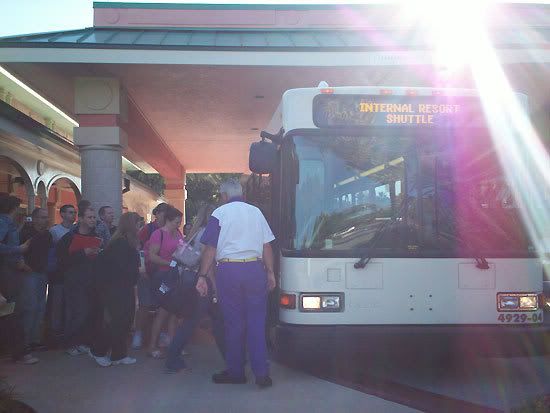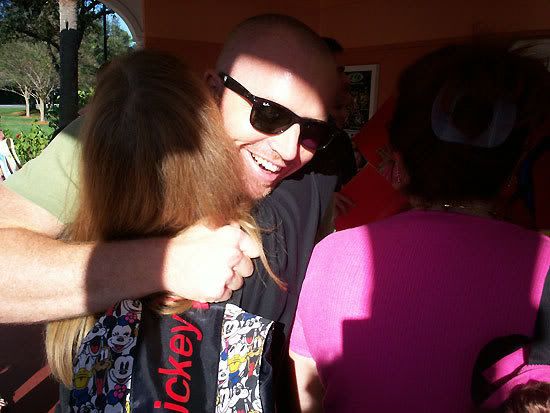 Caspian greets the group at the bus stop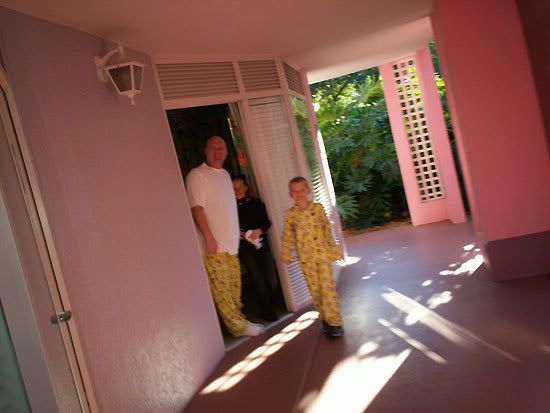 The SirClinksalot Family popped out of there room to say hello.
Dusty and I got settled and then met everyone in the MiceChat Quad area, as we called it, to leave for the Halloween party at the Magic Kindgom.

Chernabog dressed as Lindsay fully loaded and was pretty much the funniest thing EVER.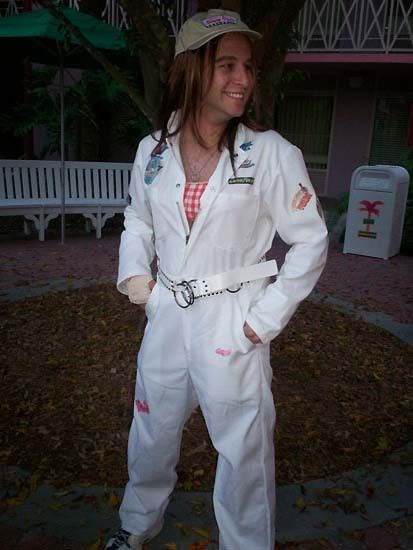 We got the the Magic Kingdom and got through the Gates.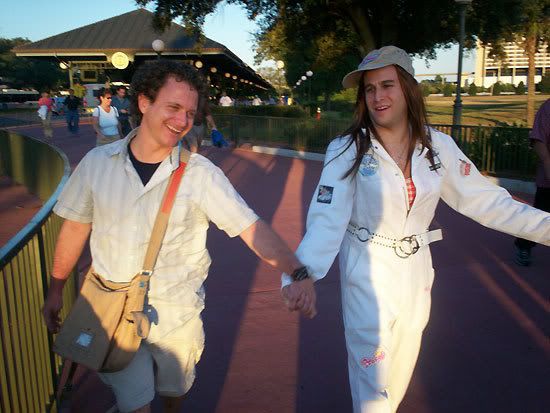 Fishbulb and Linsdaybog head to the Magic Kingdom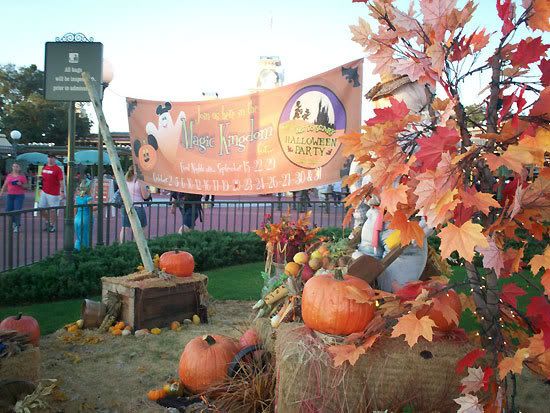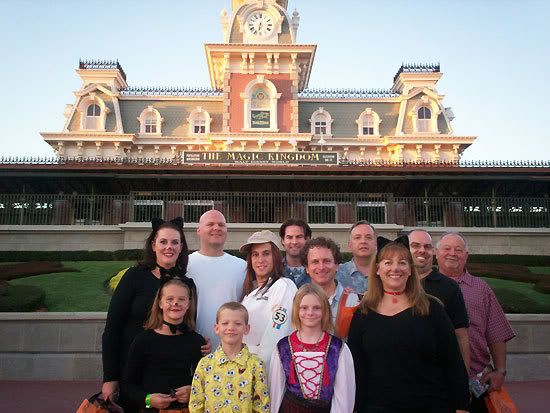 WE MADE IT!!!!!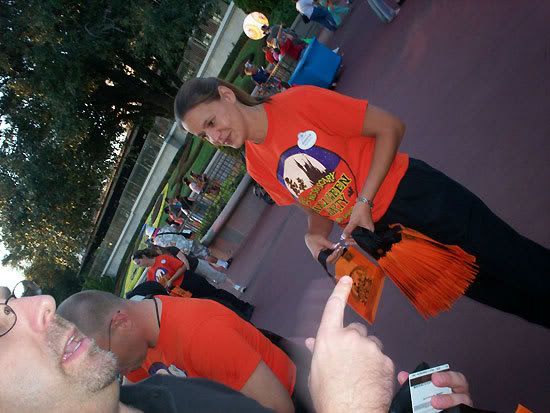 A Castmember handed out trick or treat bags to all who entered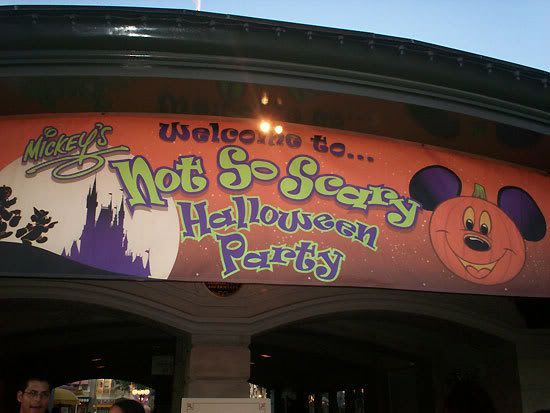 The park was clearing out the normal park guests as we entered for the pay event.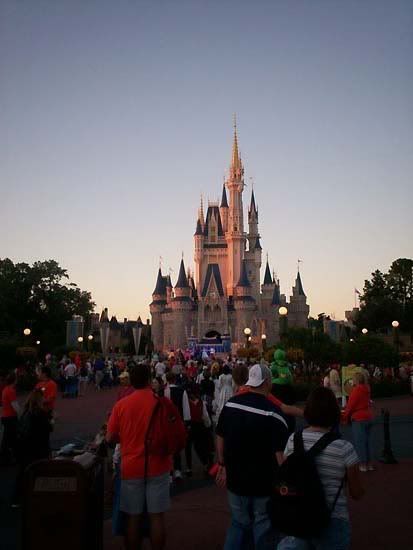 VillainsFan saw the WDW castle for the first time and it was so cute! It almost made me tear up.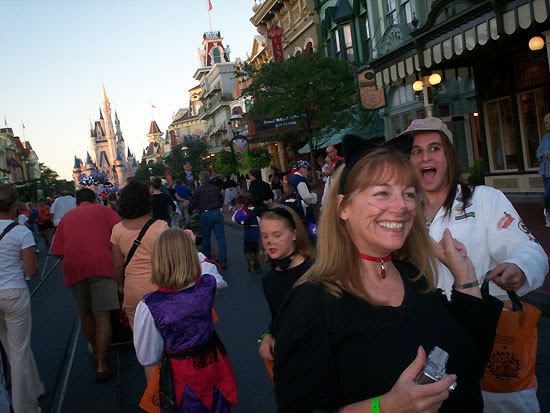 I collected everyones tickets and headed off to Spacve Mountain to get FastPasses.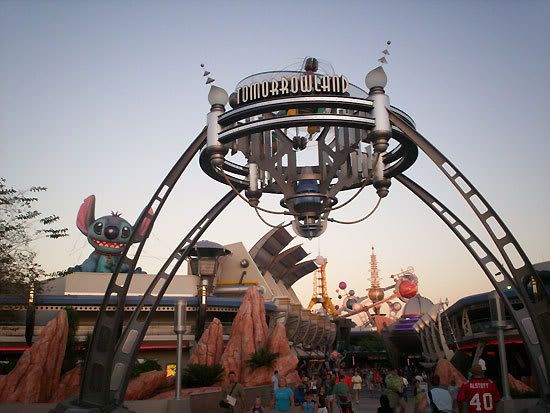 I soon discovered that for tonight's party No Fast Passes would be available. It turned out though that they were not necessary as nothing had more than a 5 minute wait.

I rejoined the group at the Pecos Bill place n Frontierland for dinner. This place was SO GOOD. Witches of Morva soon joined us dressed as Merlin.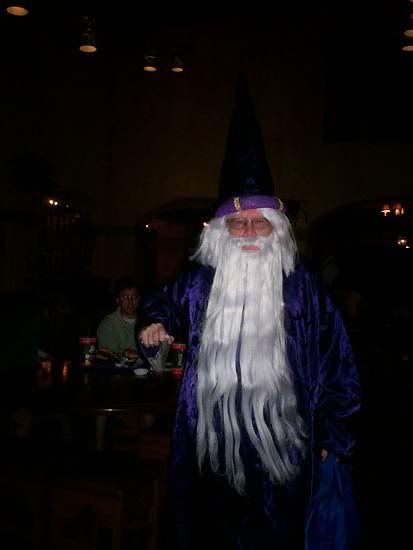 After Dinner we decided to take a ride on Splash Mountain as many of our fellow travelers had never been on it. Belle, SirClinksalots wife, took her daughter and Wolfette to ride Big Thunder. That turned out to be a GREAT decision for them.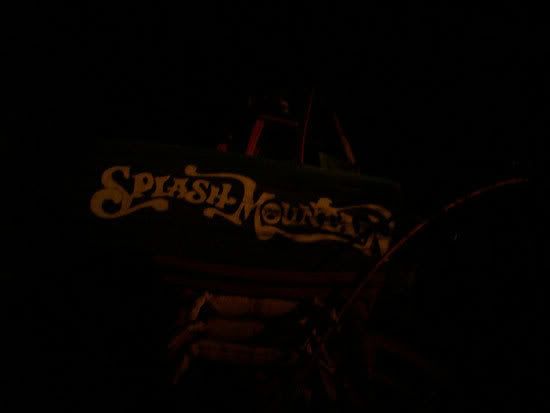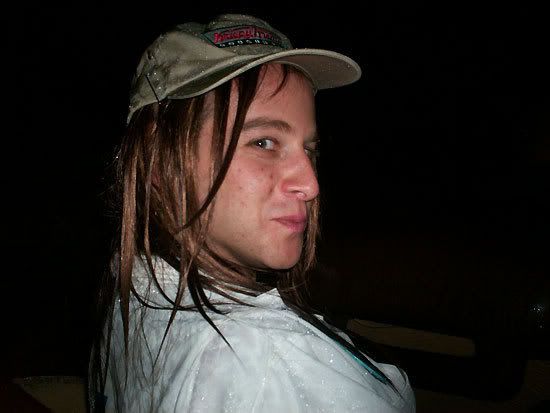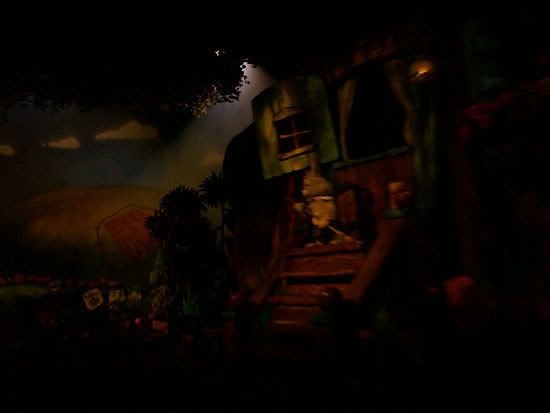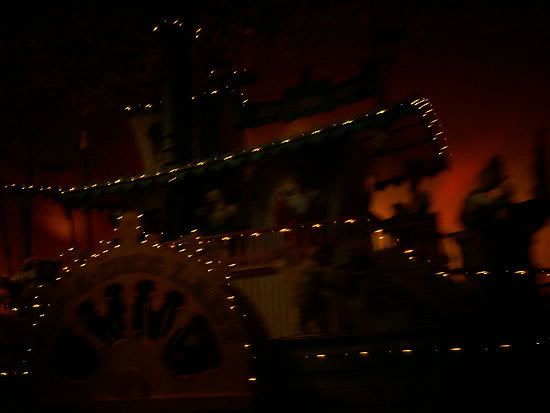 The Splash Mountain crew, me included, got DRENCHED. Not wet. DRENCHED. It wasn't even from a drop. We had made it up the first lift hill and were turning in front of the main drop when a log flew down, sending the water effects splash into the air and ALL OVER all in our boats. Aside from getting drenched in 50 degree weather for the first ride of the night it was great.

We rejoined Belle and the girls and as it turned out, Big thunder had broken down and they had been walked off. COOL! We all decided to start searching for Candy and headed off in the direction of Haunted Mansion. After a quick Trick-Or-Trreat stop we boarded the Haunted Mansion in Liberty Square.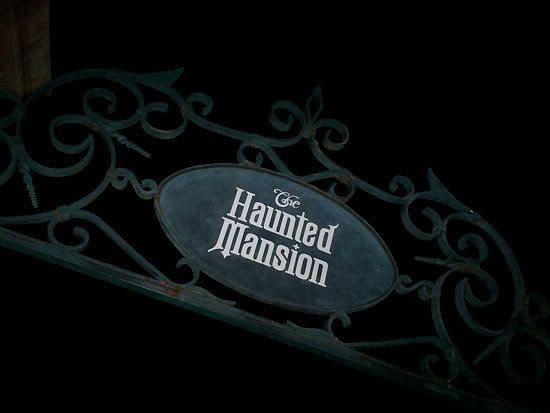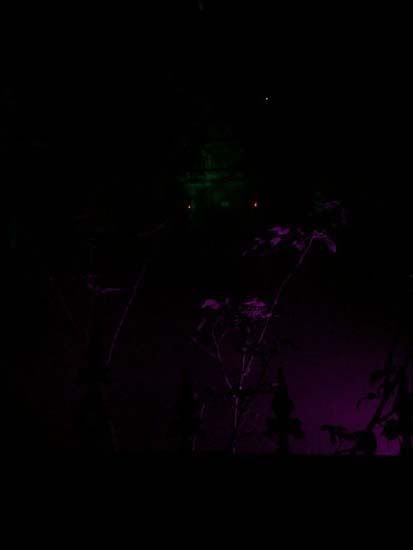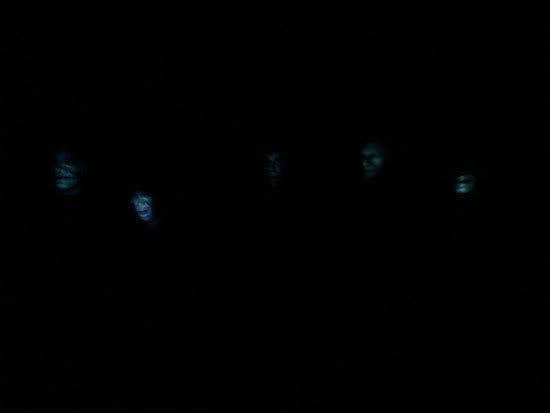 The condition that this ride is in is simply disgusting. It was full of old technology. The effects were hardly working and at one point a high pitched static sound pierced our ears from our Doom Buggies speakers. OUCH. The Graveyard's sound was out of synch and a total mess. So very sad.

On to Fantasyland! We hit another Trick or Treat spot with the war cry "CANDY!" and then went on (snicker) Pooh. Pooh is a great little dark ride here in WDW. Good stuff.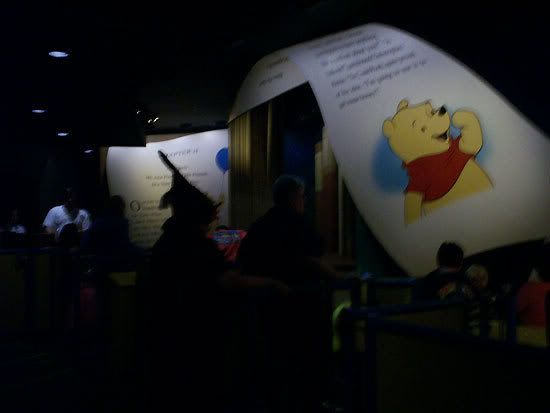 The Pooh queue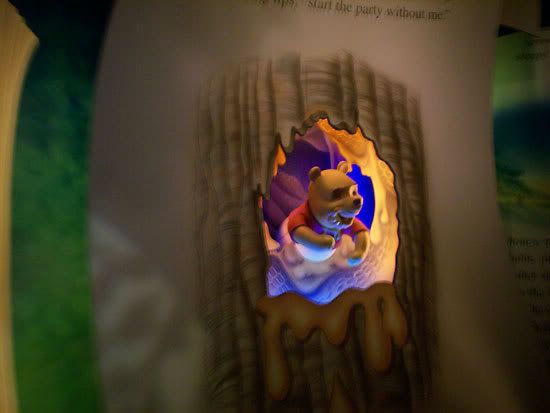 Here's to you Chernabog!
Favoring the kids agenda we headed over to ToonTown for more Candy.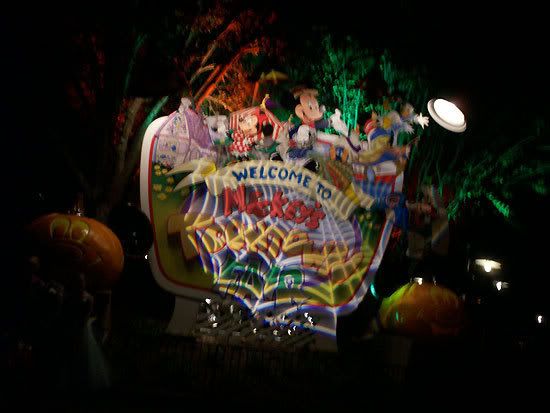 We rode Goofy's Barnstormer coaster...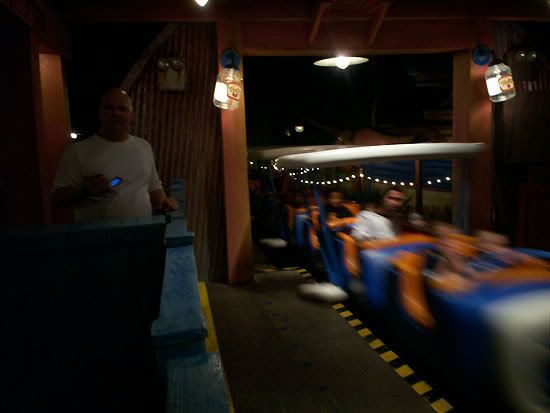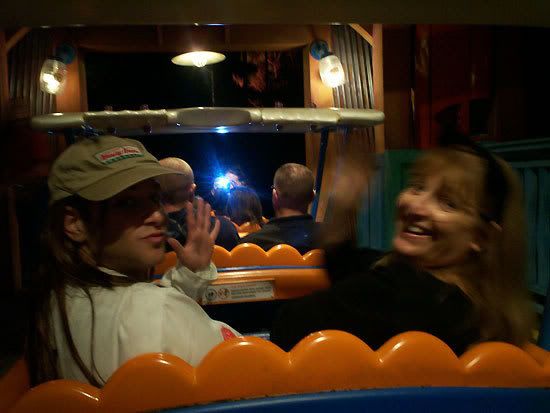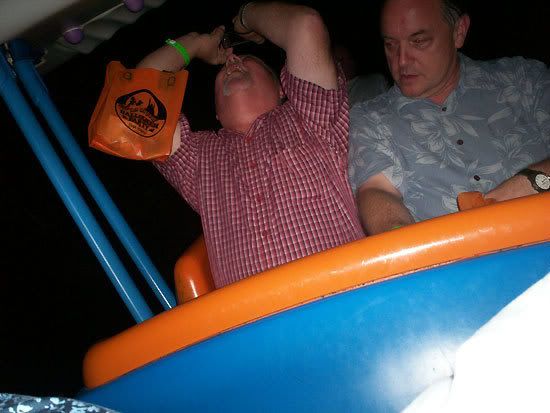 and after that we hit the Halloween treat trail that lead from ToonTown, along the Train Tracks, to the base of Space Mountain in Tommorowland. That trail was a frenzied bonanza of sugar. No less than 5 different trick or treat stations were along the walk and it was GOOD candy.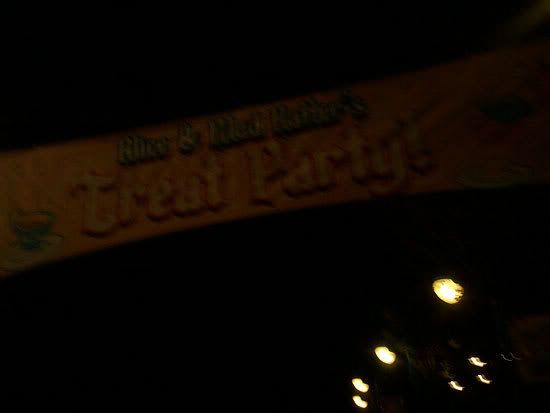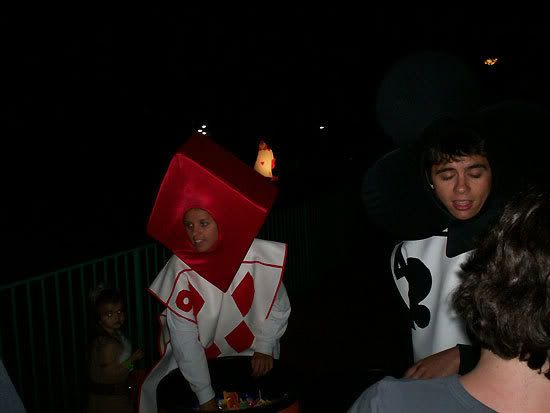 Space the final frontier
We had about 30 minutes before the special Halloween fireworks show alled Hallowishes and so we jumped onto Space Mountian which had just a 5 minute wait. We opted for the left track and it was actually a much smoother ride than the one I took on the right track in June.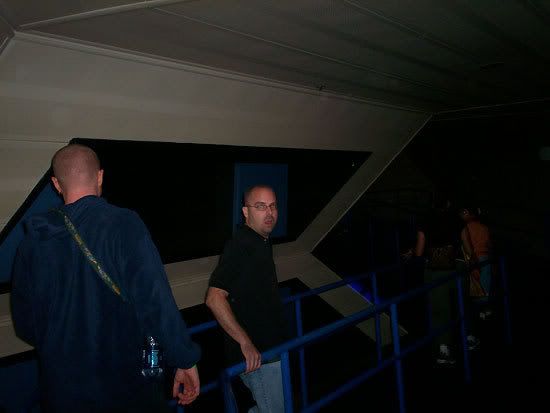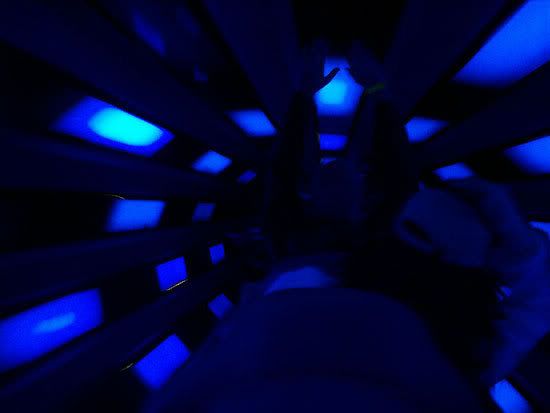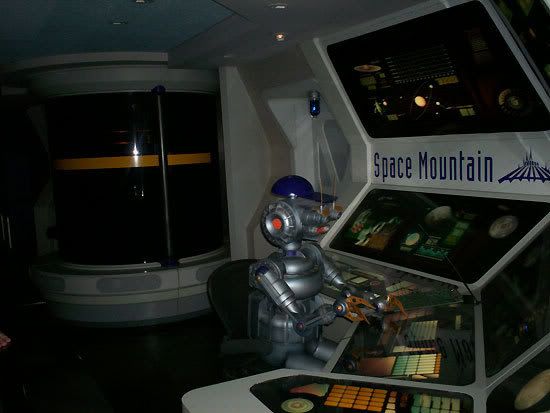 Still, this thing needs to be rebuilt. Chernabog an I could not stop laughing through the entire ride, He because the ride was so unexpectedly painful and I because watching a disheveled Linsday Lohan holding onto her cap for dear life while screaming like a banshee was one of the funniest things I had ever seen.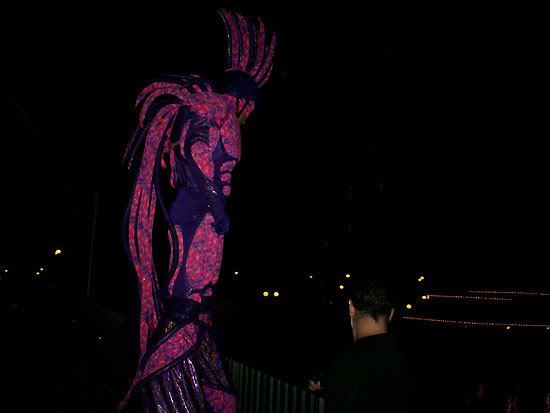 Creatures at the entrance of Tomorrowland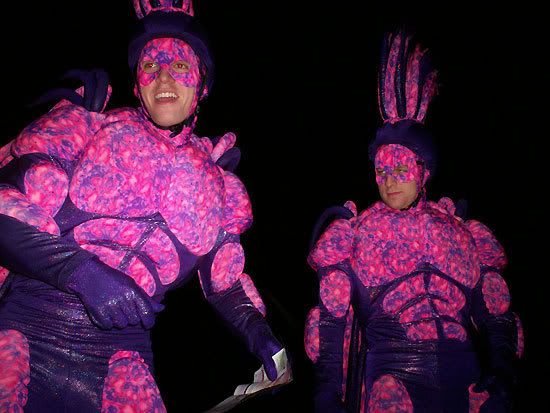 WOOF! With just minutes to spare Withces of Morva magically procured us choice viewing for the fireworks. The show was wonderful.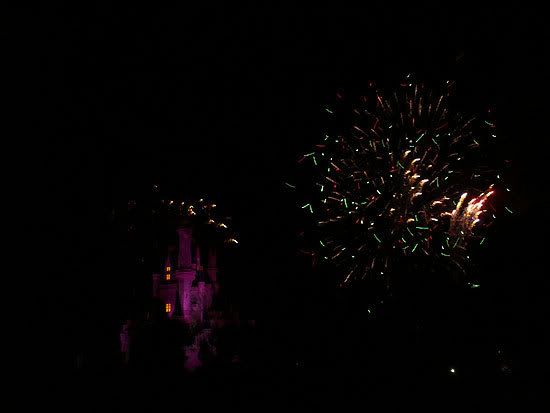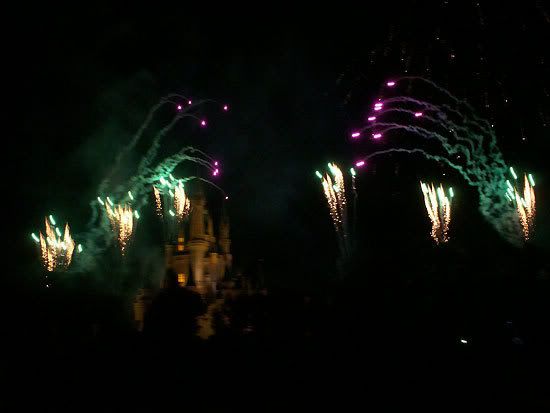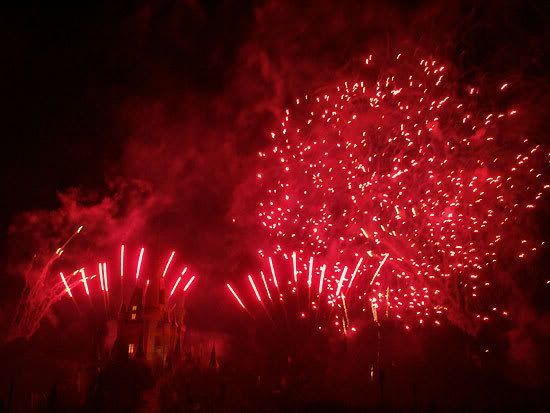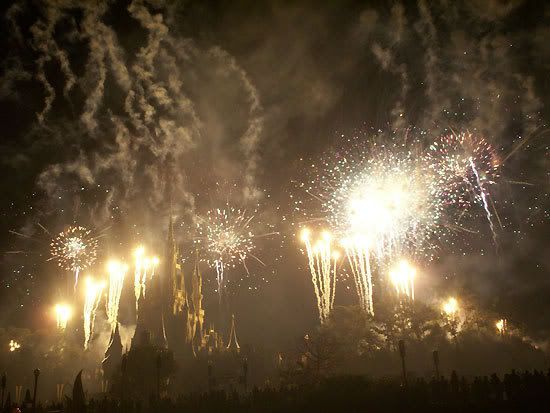 After the fireworks Lindsay, er I mean, Chernabog, wanted to ride Stitch's Great Escape. Again it was truly a rotten experience. This is such a train wreck of an attraction.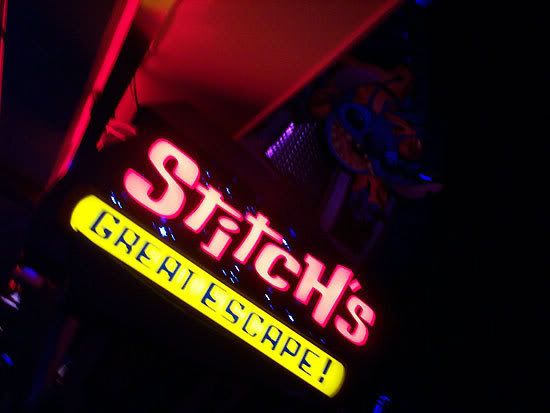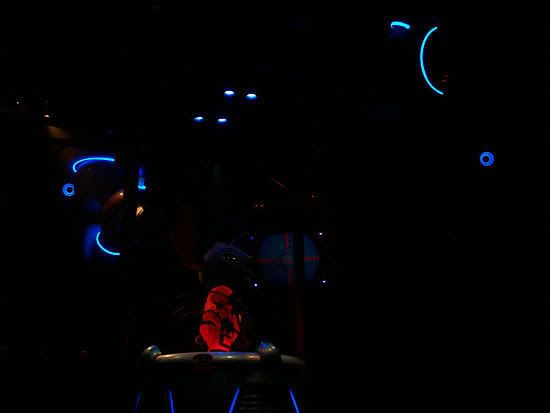 10:30 was when the special halloween parade was to start and we took a spot at the hub. Figment1986 and his lovely sister joined us for the evenings festivities at this point.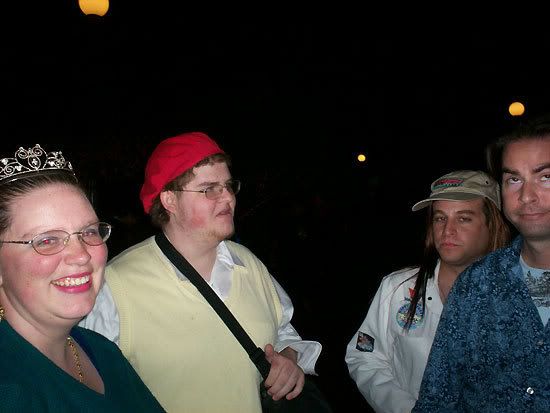 There was a Villains stage show going on at the castle and Chernabog and I ran over to look at the eye candy.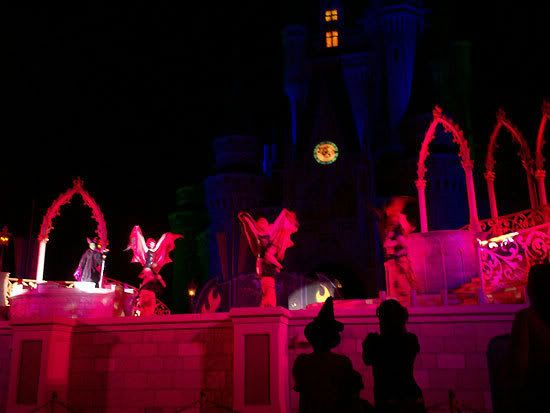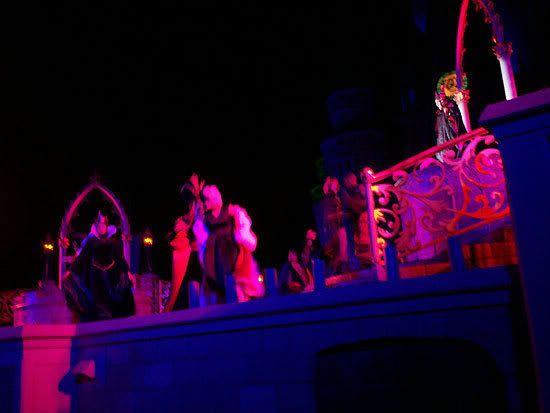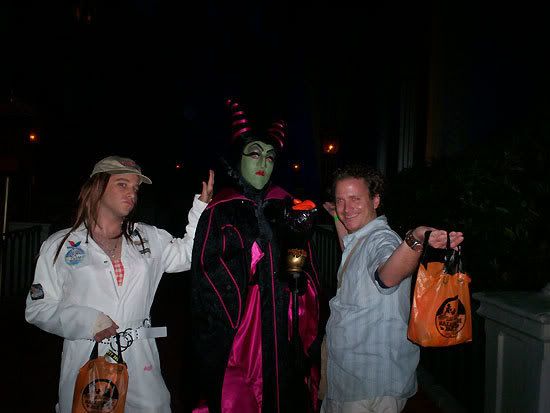 Lindsaybog, Maleficent and Fishbulb
After a quick pic with my favorite villain, Maleficent, we hopped back to the parade route in time to see the Headless Horeseman start the parade. Too Cool!

The parade then started. It was cute. At a particular point we all yelled a special message from Almondot to a cast member in the parade. " GO ALMONDOT", we shouted. It was funny.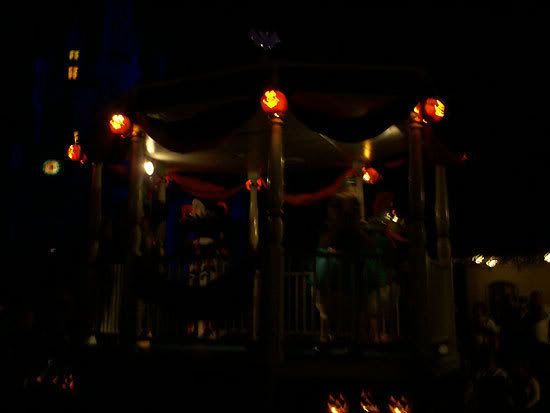 "GO ALMONDOT!" we yelled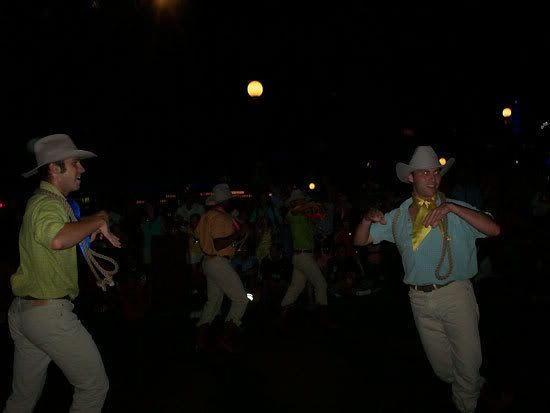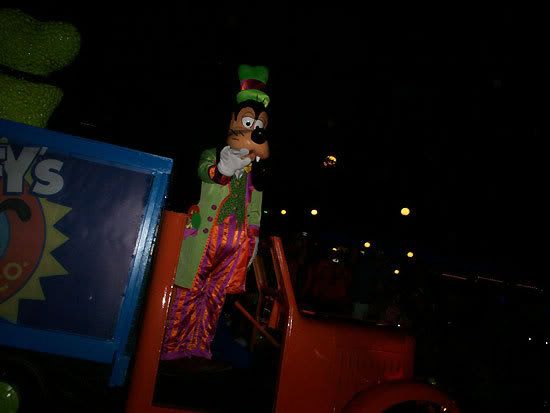 Well after the song for the parade was FULLY INGRAINED into our collective brains we opted to see if Big Thunder had re-opened from it's breakdown and along the way we hit afew candy stops.

We ran into PixieChick and her family.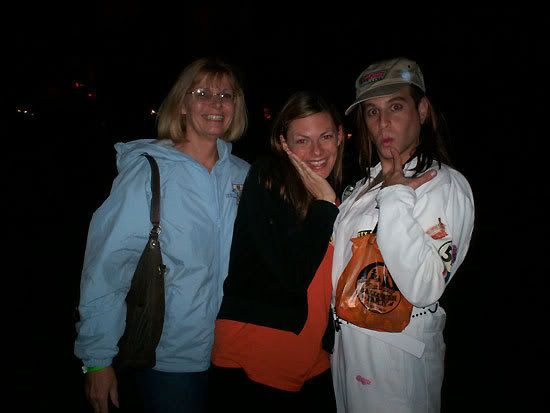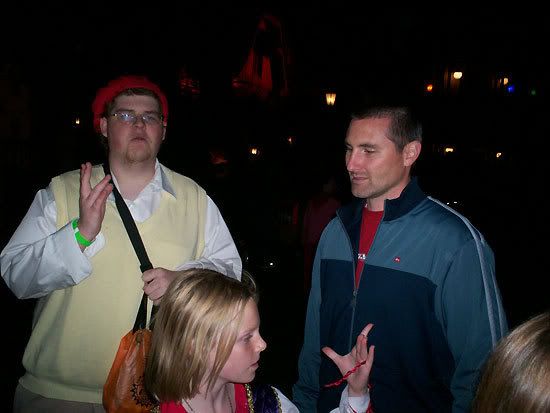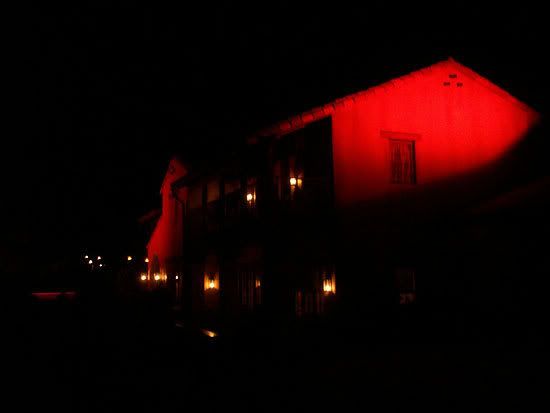 Big Thunder was open and we all hopped on.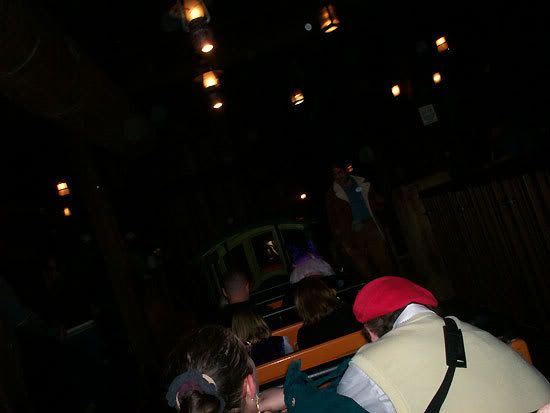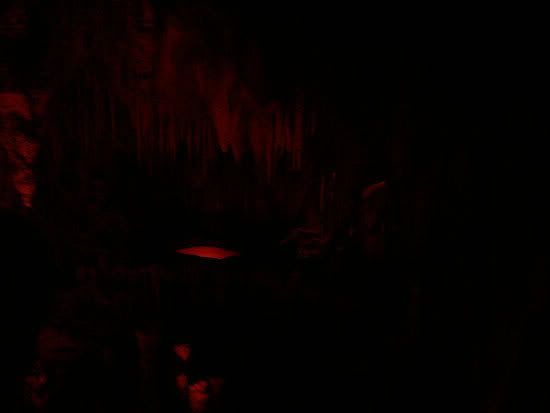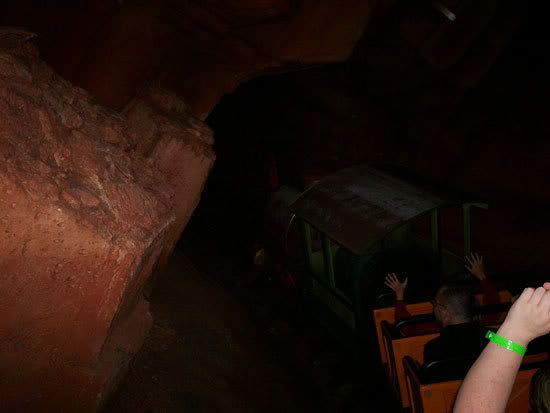 GREAT RIDE

Well we were all beat at this point and the winds were actually kicking up something fierce. We decided to head out. Along the way we got some water and powereades and then we headed down Main Street. What a fun day. SO TIRED. But tomorrow promised to be even more fun at EPCOT.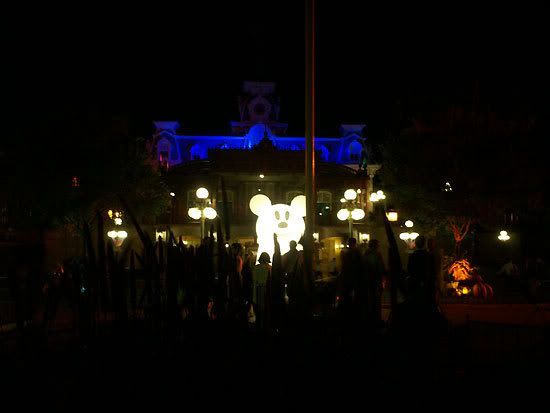 Until then...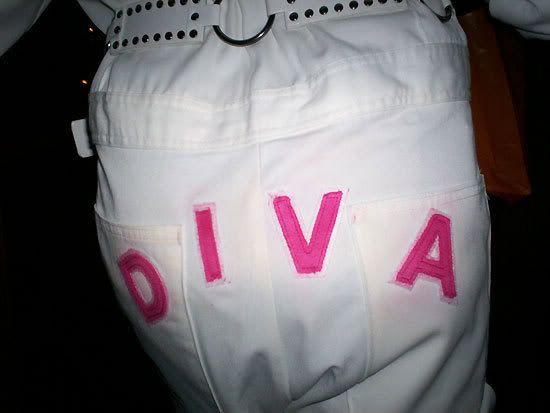 THE END
...for now