So this afternoon I was getting ready to meet a friend for lunch (second time this week already, I'm such a social butterfly), when my husband calls from work and says:
"Ok, what did you set on fire this time?"
"What are you talking about?"
"Look outside."
So I go out in front of the house, and this is what I see.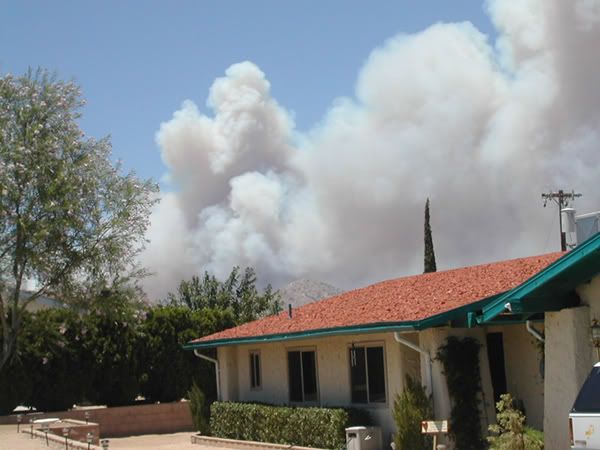 Whoa... Now, they have been working on a fire in this area for the last two or so days, and were expecting 100% containment by this evening.
That was before the wind picked up. What was a 600 acre fire mostly contained no structures threatened has now turned into over 1000 acres with evacuations in progress.
Thankfully, it looks much closer to me in the above picture than it actually is. But what started out as an annoyance is now actually threatening peoples homes.
On my way to lunch, I figured I'd get a shot or two of exactly where it is to show my daughter...
My friend and I had an interesting lunch to say the least. We sat in Carrows on the highway and watched as about every 5 minutes some kind of emergency vehicle drove by. Just before we left, 6 fire trucks in a row (some from Rialto, Moreno Valley etc), went by. We weren't sure which fire they were going to, has there was also a fire in Joshua Tree Park (which is 100% contained now to my understanding), because the emergency vehicles were going both east and west.
Nothing like a little adreneline with our sandwich.
After I left I wanted to get a few more shots. In high school I was one of the yearbook photographers, so when stuff is going on, I want to be nosy and get pictures of it!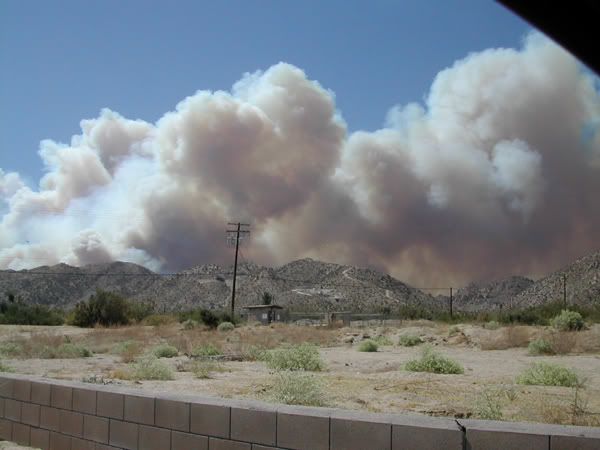 Looking northwest up toward Pioneer Town (one of the places Mac visited when she was here).
Thankfully no sign of actual fire over on our side of the mountain...yet.
Even with the wind, the choppers are still flying.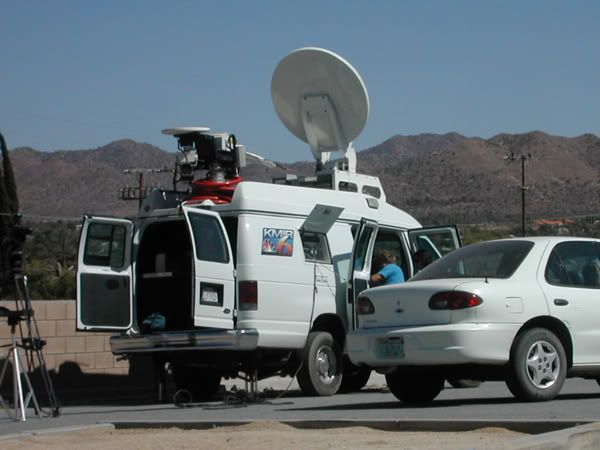 One of the Palm Springs news crews up to check it all out.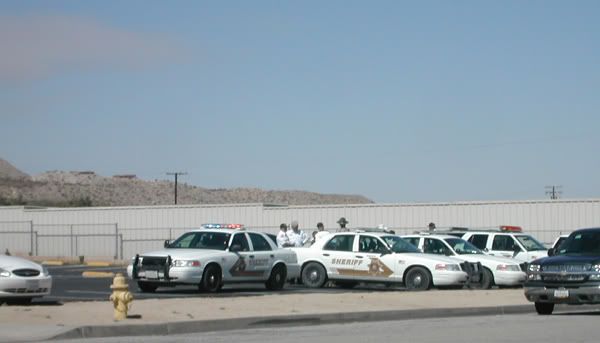 The Elks Lodge has now become one of the staging grounds....
On my way back home. Eerily beautiful the billowing smoke is, if not for the destruction and threat of hazard to life the fire that created it causes.
So, those of us here in So Cal... remember its been really dry this year. The fire danger is extremely high. If you are one of the many people who live in an area that has the potential for brush fires, be sure you are prepared. Make sure the brush and vegetation is cleared from your property. Have an escape route and an evacuation plan in place in case. Keep a copy of emergency information in your car. (Living with earthquakes to we should all do this anyway.)
Be safe out there.... We need to keep all our MiceChat friends together!!