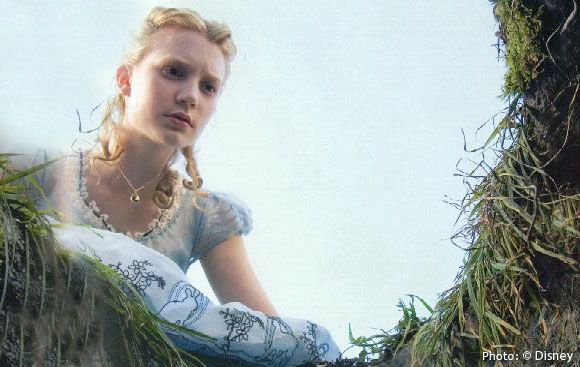 Nothing to see in this hole
Through Tim Burton's Looking Glass


The premiere issue of
Disney Twenty Three Magazine
, features an article on the newest Tim Burton effort. Burton's
Alice in Wonderland
will star Johnny Depp as the Mad Hatter, Helena Bonham Carter as the Red Queen and promises to be a visually breathtaking, 3-D Special effects laden extravaganza when it's unveiled in 2010.
I've just read the article. The story features 2 large spreads of concept art and 1 publicity still. However, the accompanying text is light on insight into this new, mysterious production.
The piece begins with a summary of the project and it's stars and then moves on to an interview with Burton where the real revelations, although small, come out. We learn the take Burton has on the Lewis Caroll story and the feel that the movie will have (a 17 year old Alice returns to a neglected Wonderland). With a mix of live action, and computer generated or enhanced characters and surroundings, Burton seeks to blur the lines further between the real and fabricated. This is pretty interesting stuff, but hardly anything exclusive - any avid cinephile would already found this information online.
D23's "Sneek Peak" at the latest film from Tim Burton offers little new information but does clarify some of the rumors of what's already out there.
I'm looking forward to going through the looking glass with a dark and brooding Burton.