Fancy new restrooms opened in Disney's California Adventure this week, as the park gears up to demolish restrooms in the same area to make room for the upcoiming Little Mermaid dark ride. Nearby, construction continues on the big new World of Color night show in Paradise Bay. Over in Disneyland, the Harbour Galley quick service dining location is finally getting a new menu and should reopen by the end of the month, and work continues on the Astro Orbitor and Cosmic Waves projects in Tomorrowland.
As always, you can click on any of the
Project Tracker
image to be taken to the Disneyland or Disney's California Adventure tracker on MiceChat where you can get the latest news and discussion on the construction projects going on around the Resort.
Alright, let's get started!

WELCOME TO DISNEYLAND!
We'll get started this week with a look at the projects underway in Tomorrowland.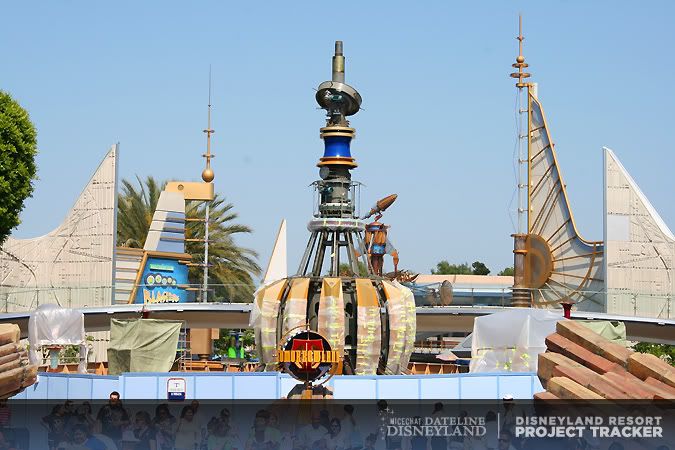 Pieces continue to be added back onto the Astro Orbitor, which is scheduled to reopen in June.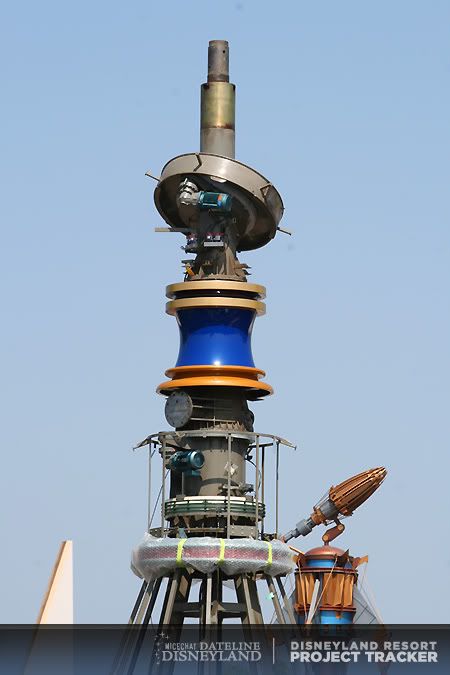 An Astro Orbitor lighting post gets a coat of deep magenta.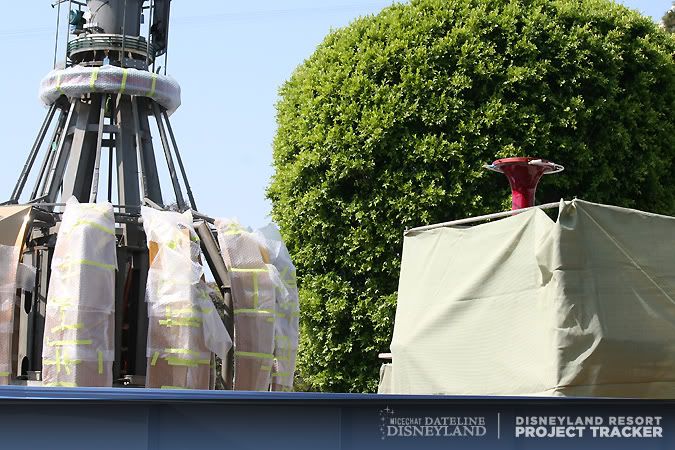 Down by Space Mountain, the old Cosmic Waves fountain area continues to get filled in.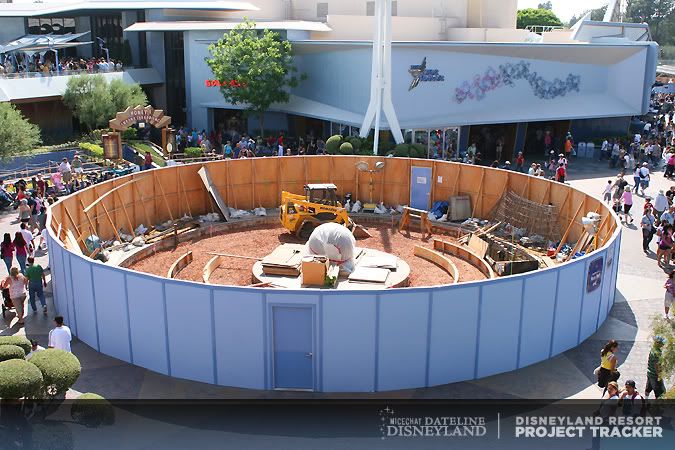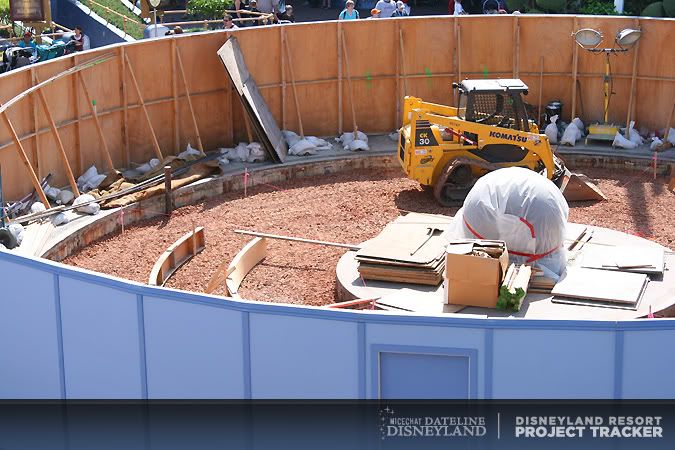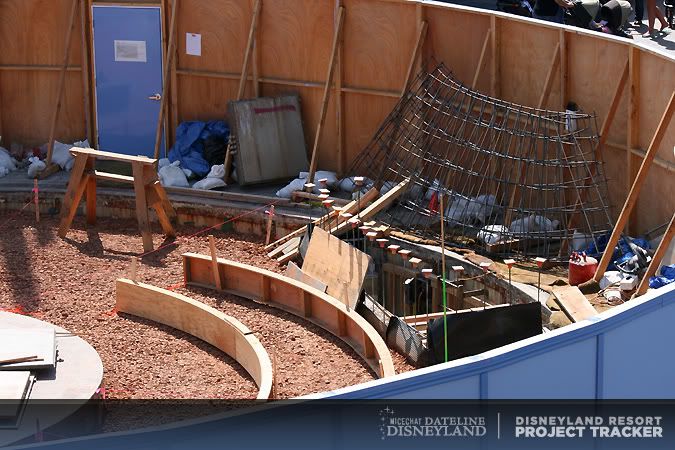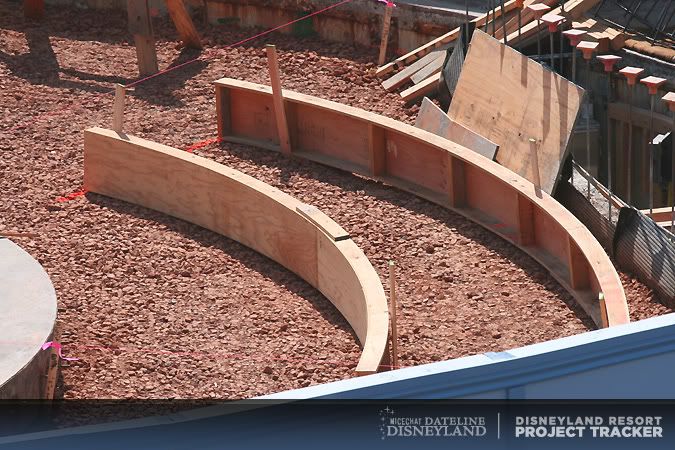 Part of a wall along the former People Mover track between Redd Rockett's Pizza Port and Space Mountain is covered with a tarp.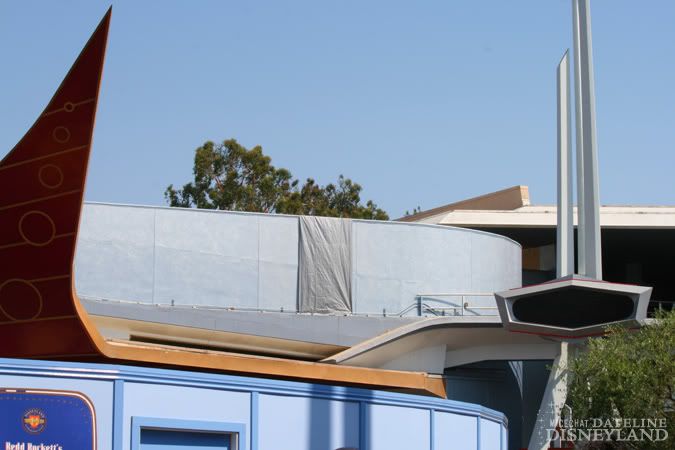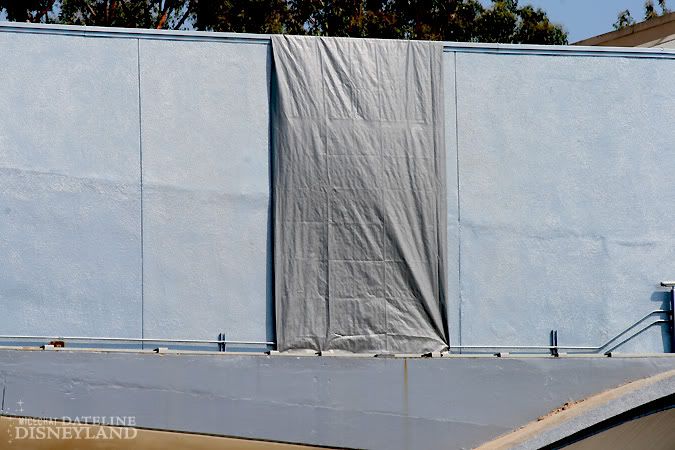 GALLEY MENU
The Harbour Galley has been closed since last September when McDonald's moved out of the parks. It's finally reopening (possibly this week), and new menu signage is already up.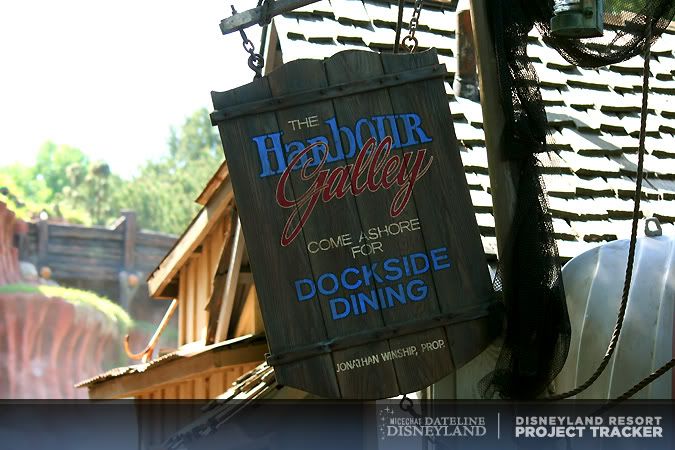 The quick service dining location will serve up a selection of soup bread bowls that can already be purchased elsewhere in the parks, and a couple new salads.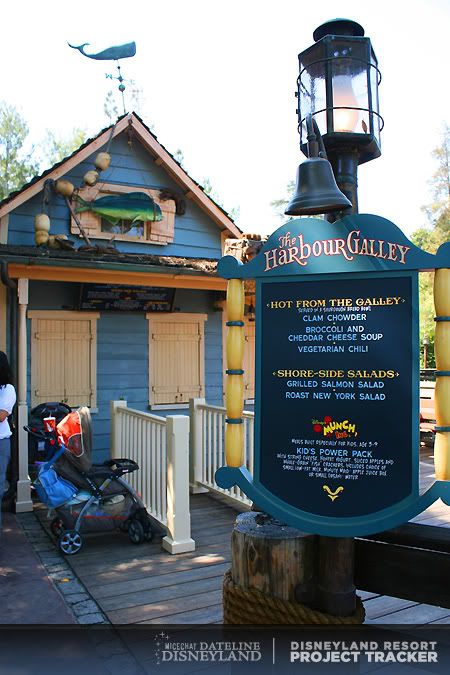 If $10 soup and salads are your thing, then the Harbour Galley is your place!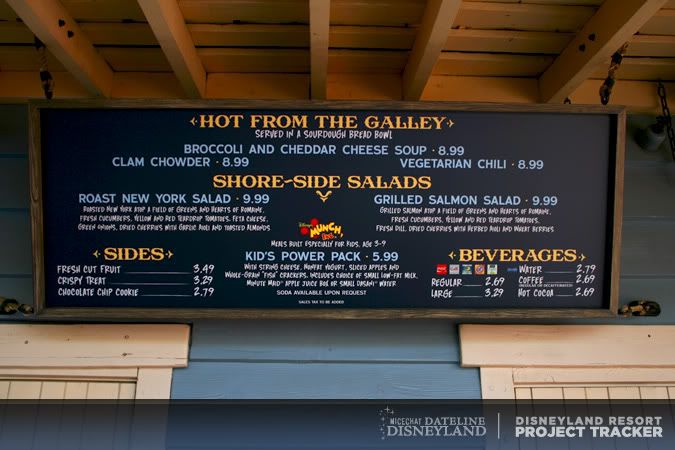 The menu:
<table border="0" cellspacing="0" width="675"><tr><td colspan="2"><center>
HOT FROM THE GALLEY
<br>Served in a sourdough bread bowl</center></td><tr><td colspan="2"><center>
Broccoli and Cheddar Cheese Soup
- $8.99</center></td><tr><td><center>
Clam Chowder
- $8.99</center></td><td>
Vegetarian Chili - $8.99
</td><tr><td colspan="2"><br><br><CENTER>
SHORE-SIDE SALADS
</CENTER></td><tr><td>
Roast New York Salad - $9.99<br>Roasted New York atop a field of greens and hearts of romaine. Fresh cucumbers, yellow and red teardrop tomatoes, feta cheese, green onions, dried cherries with garlic aioli and toasted almonds.
</td><td>
Grilled Salmon Salad - $9.99<br>Grilled salmon atop a field of greens and hearts of romaine. Fresh cucumbers, yellow and red teardrop tomatoes, fresh dill, dried cherries with herbed aioli and wheat berries.
</td><tr><td colspan="2"><br><br><CENTER>
KID'S POWER PACK - $5.99
<br>With string cheese, nonfat yogurt, sliced apples and whole-grain "fish" crackers, includes choice of small low-fat milk, Minute Maid apple juice box or small Dasani water. Soda available upon request.<br><br></CENTER></td><tr><td>
SIDES<br>Fresh Fruit Cup - $3.49<br>Crispy Treat - $3.29<br>Chocolate Chip Cookie - $2.79
</td>
<td>
BEVERAGES<br>Regular - $2.69 | Large - $3.29<br>Dasani Water - $2.79
Coffee - $2.69<br>Hot Cocoa - $2.69
</td></table>
CALIFORNIA CONSTRUCTION
SAN FRANCISCO STREET'S NEW RESTROOMS
The new restrooms in the long-unused San Francisco Street facades at Disney's California Adventure (DCA) opened Friday, May 15. The new restrooms are bigger and better than the old facilities across the street.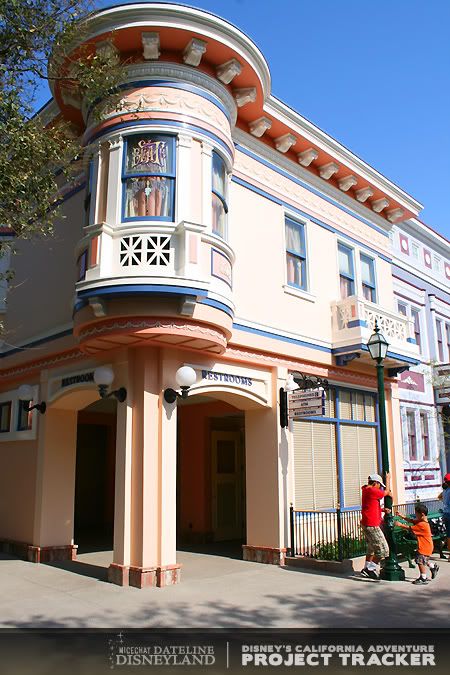 But why open new restrooms across from perfectly good existing toilets? Well, the old restrooms are now closed, and will be removed to make room for the upcoming Little Mermaid: Ariel's Adventure mega dark ride which should begin construction by the end of this month.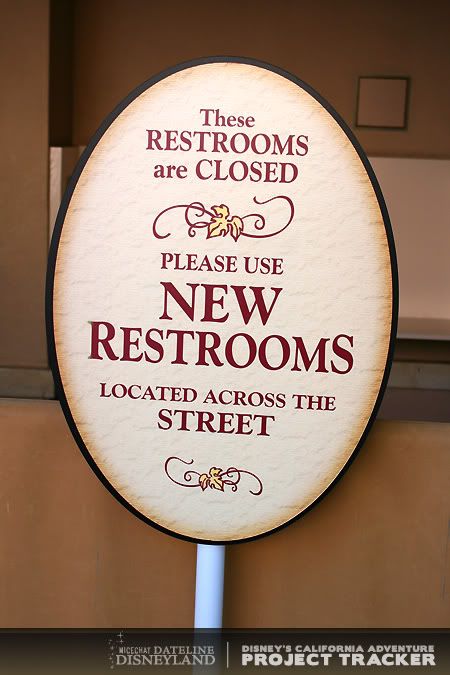 The building that housed the old restrooms also featured drinking fountains and pay phones, which have also moved across the street. The new structure that was built next to the existing San Francisco buildings now features an ATM in a shaded area with benches and drinking fountains.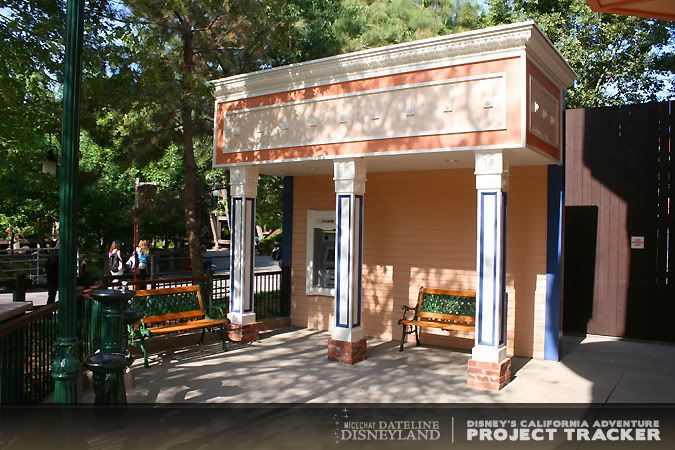 The new restrooms have one main entrance that branches into separate male and female restrooms as well as two companion restrooms.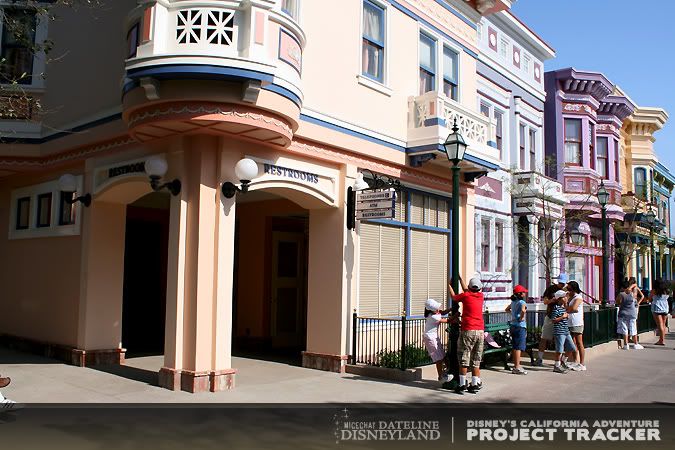 Pay phones are also available here.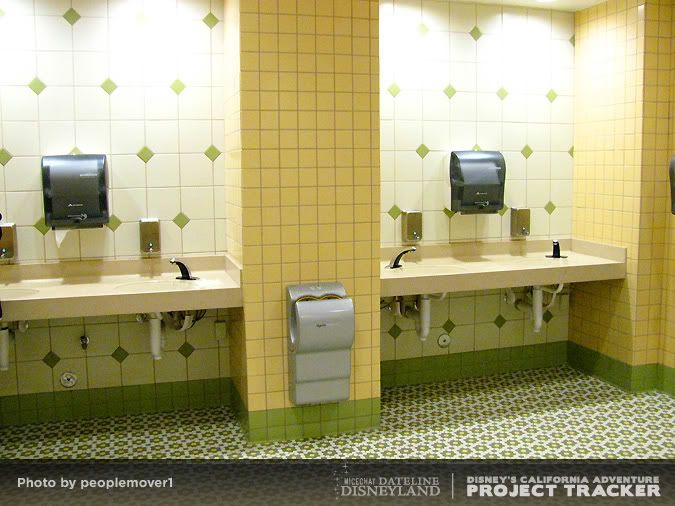 Fancy new
Dyson Airblade hand dryers
(advertised as the most hygienic) are available in new facilities.
The work at the San Francisco buildings didn't only deal with the new restrooms. The area got some sprucing up and new planters and benches were added and the light posts were replaced.
The new planters, though a small touch, help a great deal in making the area have a better sense of belonging. The area looks a touch more realistic, more lived-in.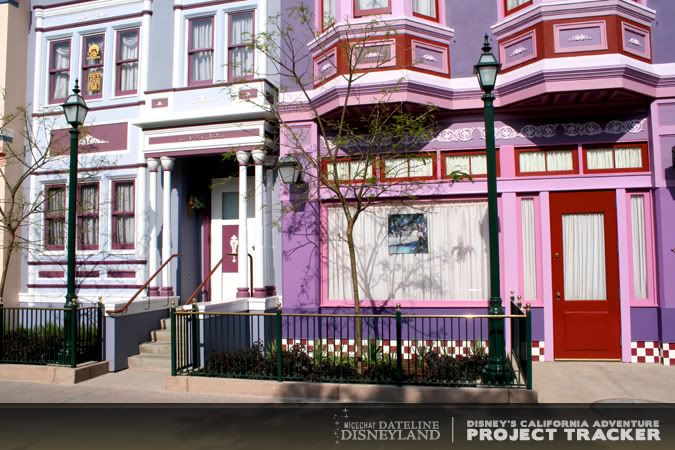 Looks good!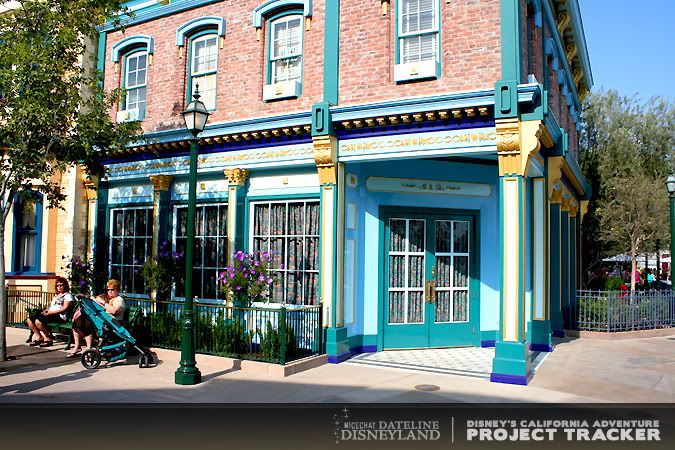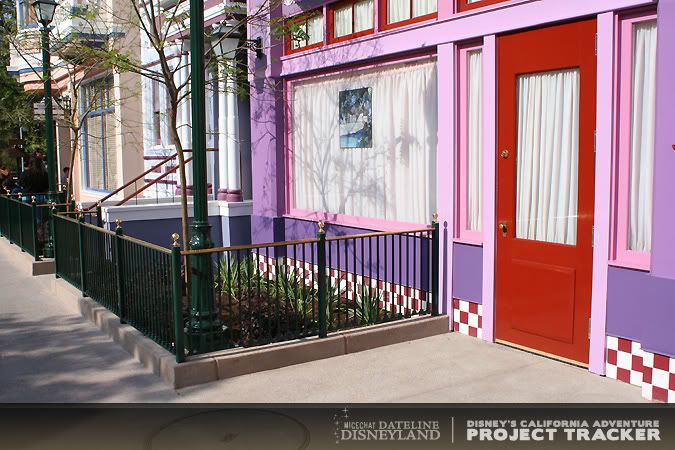 WORLD OF COLOR & VIEWING AREA
DCA's Christmas Tree Point is still behind construction walls, but some new palm trees have gone up in the area, with more still waiting to be planted.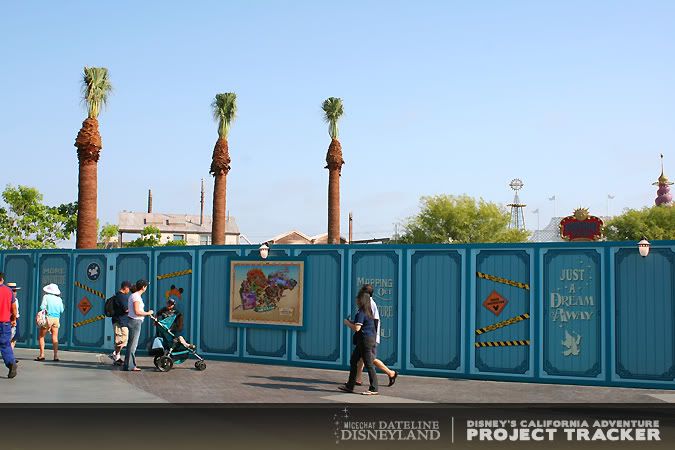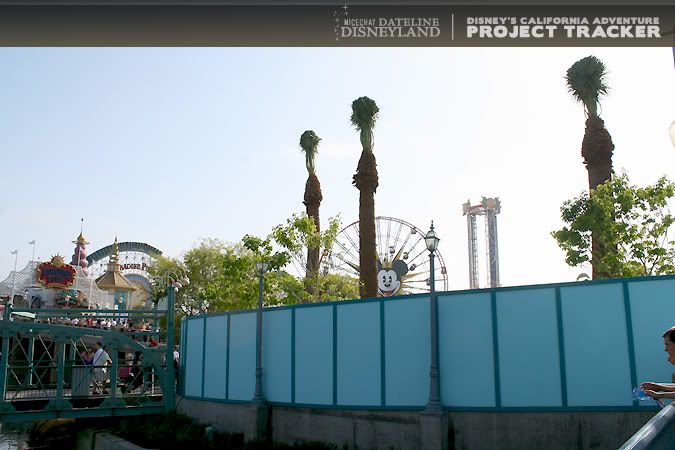 Work continues at the World of Color viewing area.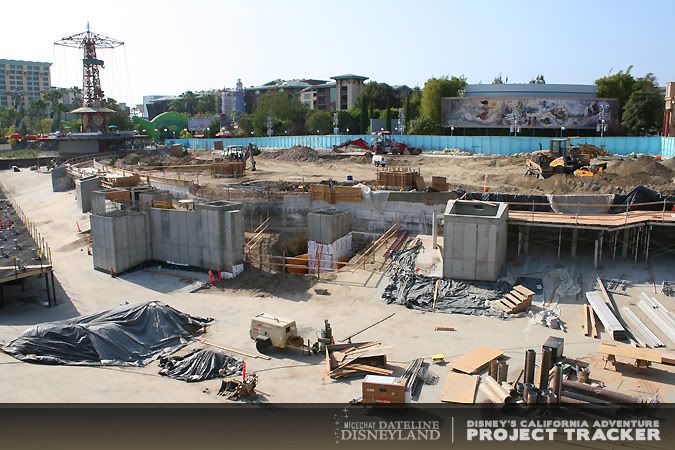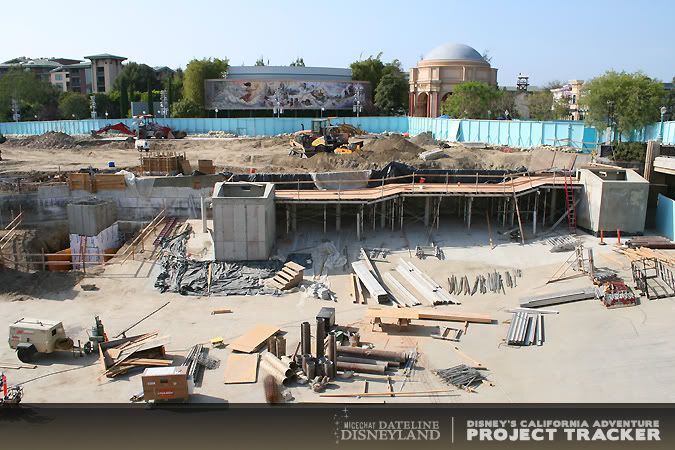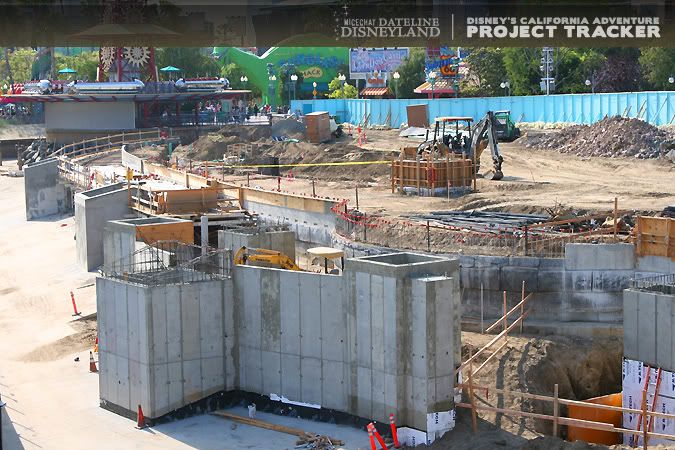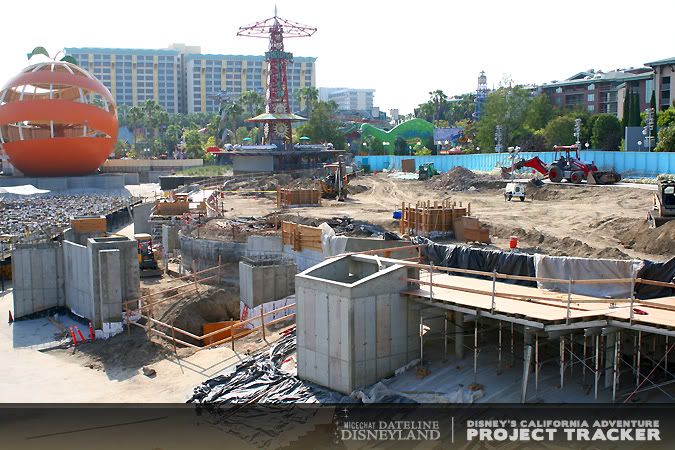 A look at the new World of Color control tower: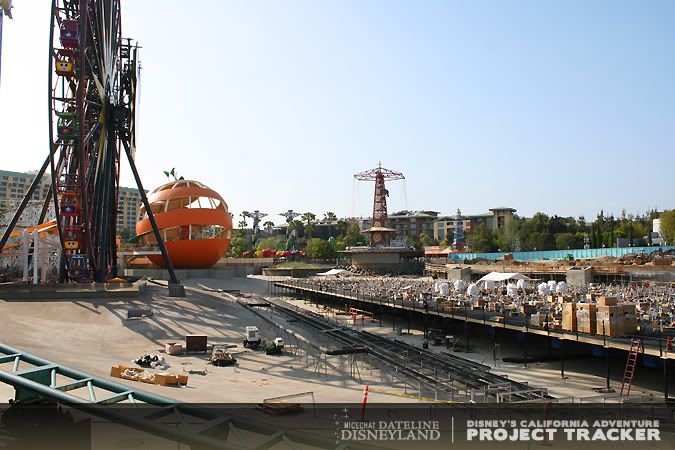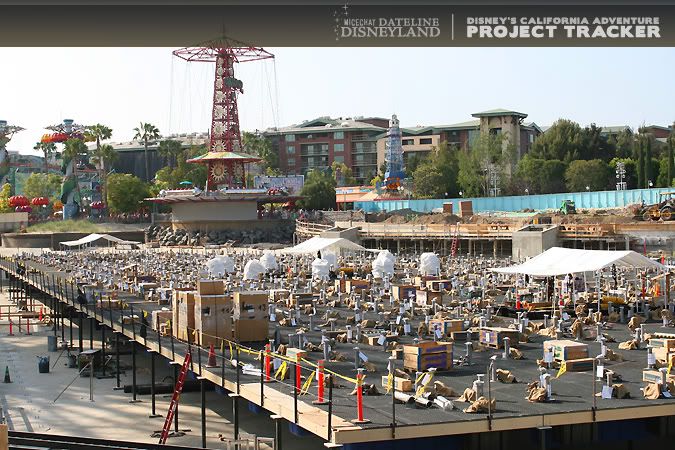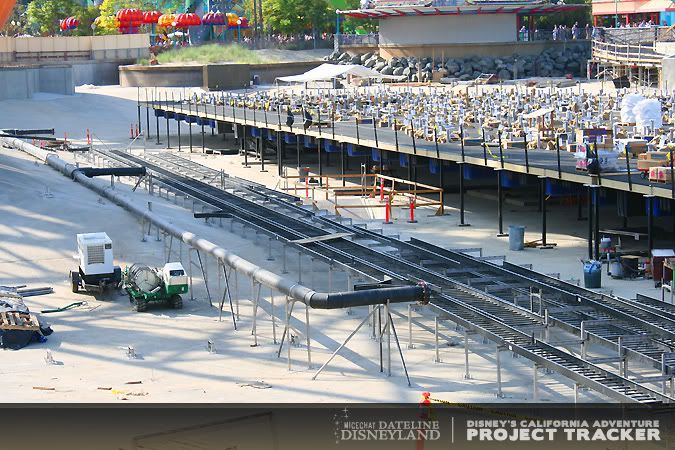 Looks like the wave machine across from California Screamin's launch has been gutted.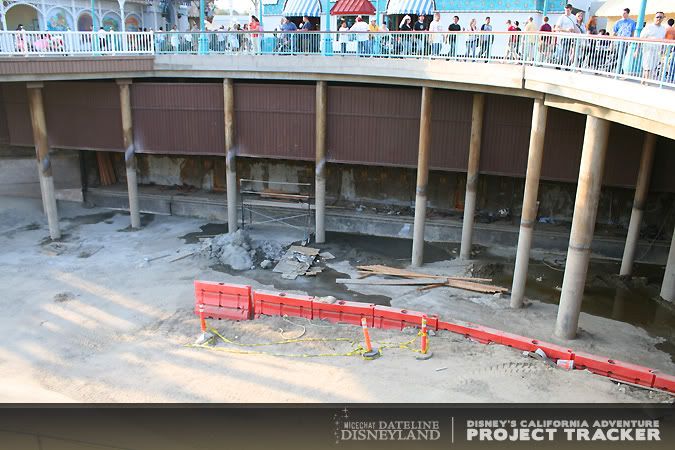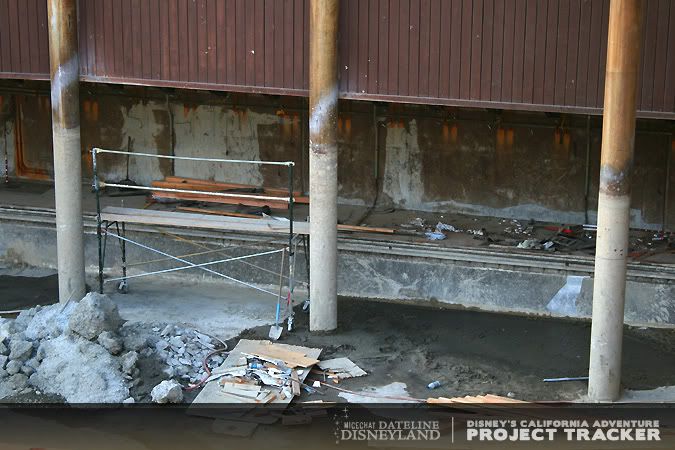 KING TRITON'S CAROUSEL
The Carousel is set to reopen Friday, May 21, after a planned refurbishment, but the rumored new paint scheme and canvas covering failed to materialize. Instead, the Carousel sports a fresh coat of the same paint colors and a new canvas cover of the same design.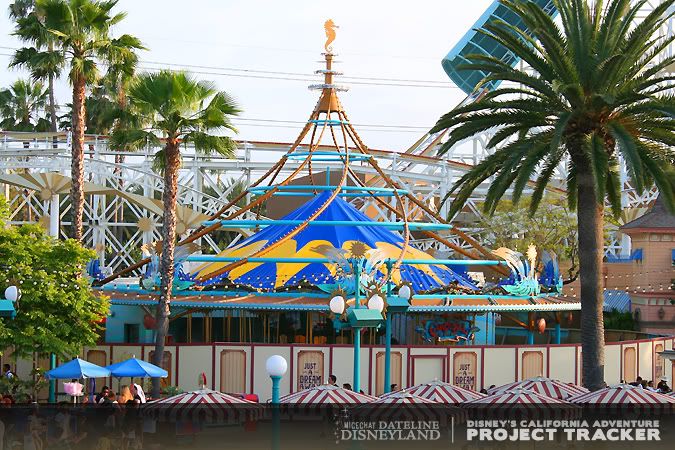 GRAND CALIFORNIAN EXPANSION
Work continues at the Grand Californian Hotel as the new Disney's Vacation Club units get closer to completion...
An exit from the main lobby is closed as work outside the door and in the adjacent outdoor fireplace takes over...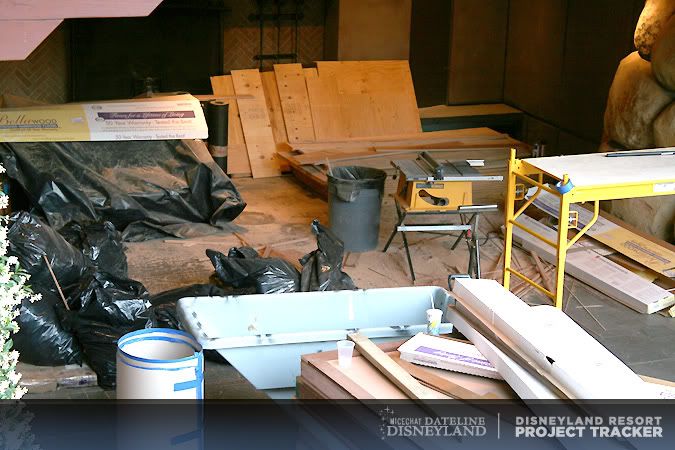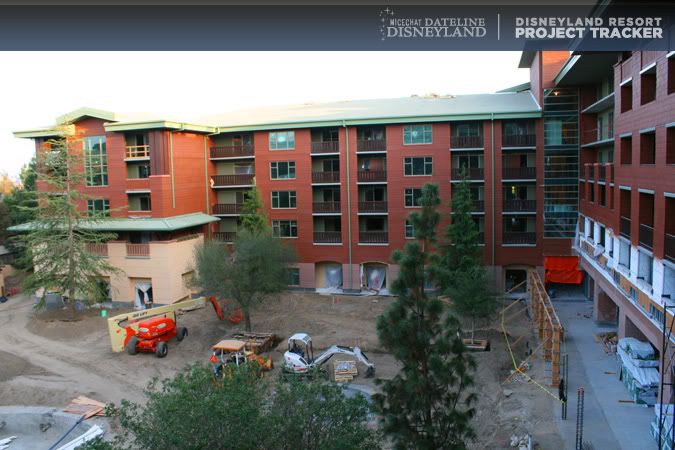 New trees are going into the ground.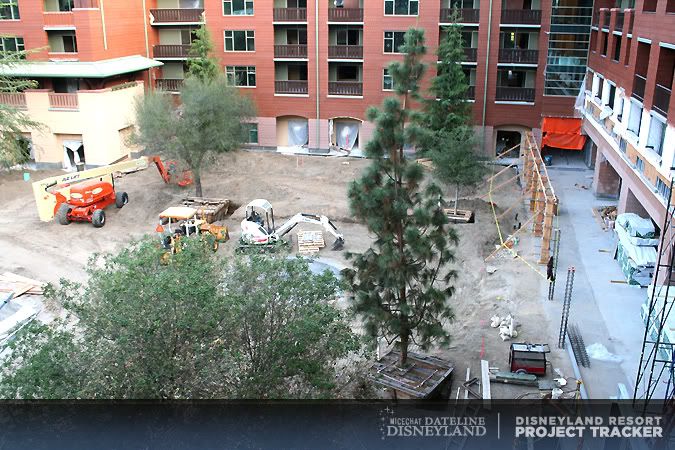 Work on the new jacuzzi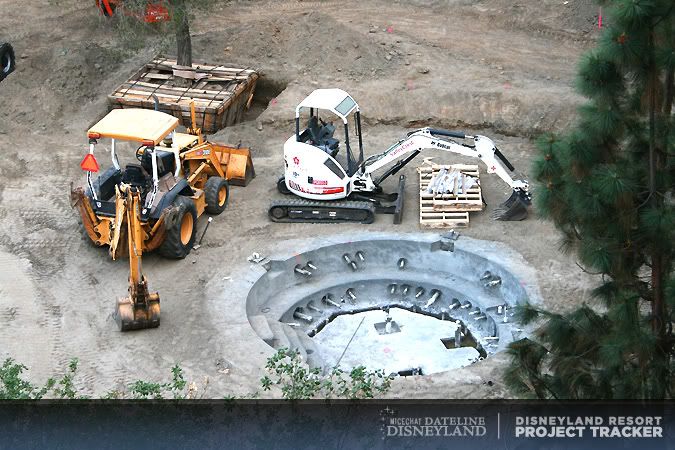 The new pool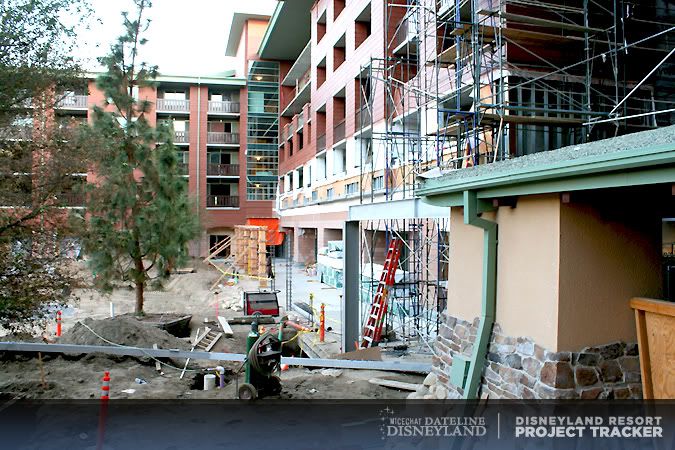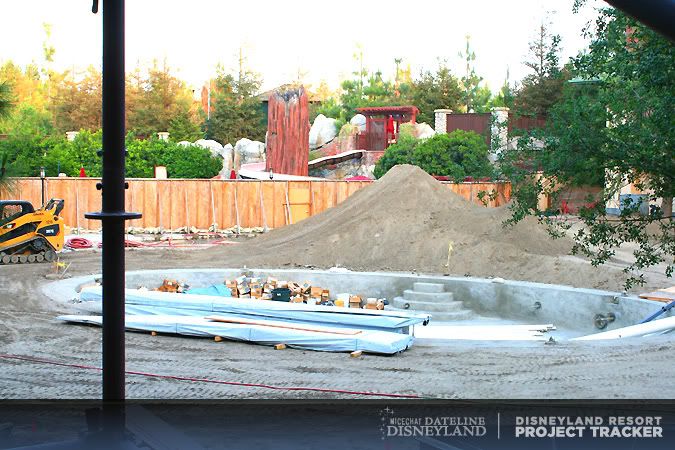 THIS AND THAT
Work continues on the new Disney Studio 365 boutique and salon in Downtown Disney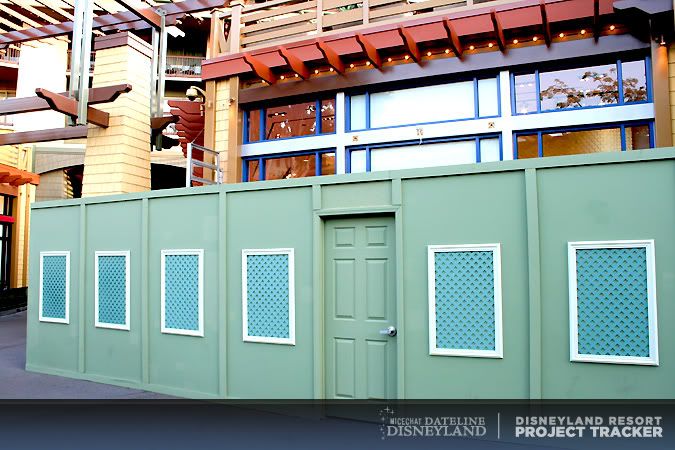 And signage is up for the Little Miss Matched store opening today, May 18, in one half of the former Department 56 space.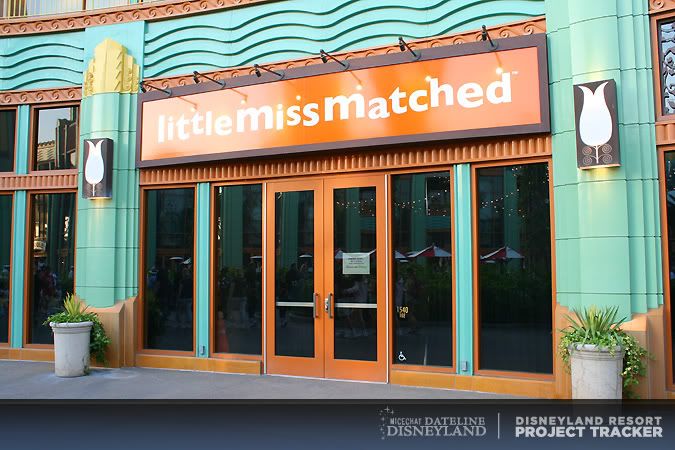 Back in Disneyland, the rock work has been painted at the new Zocalo Park water fountains in Frontierland.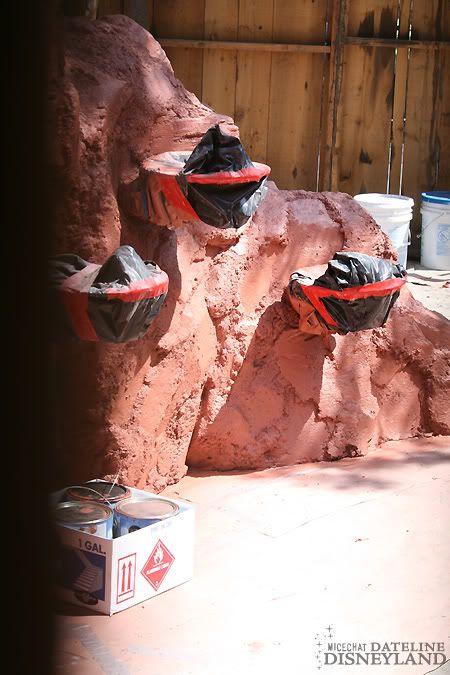 And a couple new Disney theme park books are on the shelves now... First up, the new
Art of Walt Disney World
book takes a queue from the amazing Disneyland version that was first released back in 2005 for Disneyland's 50th. The Walt Disney World version is about the same size and full of incredible concept art for the Walt Disney World theme parks, and has a $49.95 price tag and is currently only available at the theme parks.
The Disneyland version of the book hit Disneyland store shelves back in May of 2005 for $75, but is available now in a second edition for only $32.97 -- quite a steal! If you don't already have this book - you MUST get it. With tons of beautiful Disneyland concept art, it's a must-have for any fan. You can pick up the Walt Disney World volume next time you're at the park.
<iframe src="http://rcm.amazon.com/e/cm?t=datelinedisneyland-20&o=1&p=8&l=as1&asins=1423104595&md=10FE9736YVPPT 7A0FBG2&fc1=000000&IS2=1&lt1=_blank&m=amazon&lc1=0 000FF&bc1=000000&bg1=FFFFFF&f=ifr" style="width:120px;height:240px;" scrolling="no" marginwidth="0" marginheight="0" frameborder="0"></iframe>
Also available is a small book that details the attractions at Disney theme parks based off Pixar's
Finding Nemo
. The book is a pretty thin little paperback and only costs about $6. Eight pages are dedicated to the past and present versions of Disneyland's Submarine Voyage. Interestingly, the book features Disney's D23 fan community logo on the back and inside cover of the book. So far, it looks to be a theme-park exclusive title.
AROUND THE RESORT
And to finish up this week's photo section, we'll take a look at some shots from around the resort...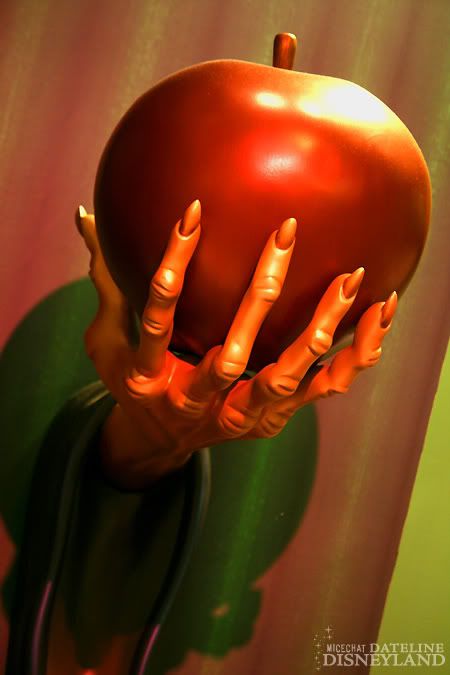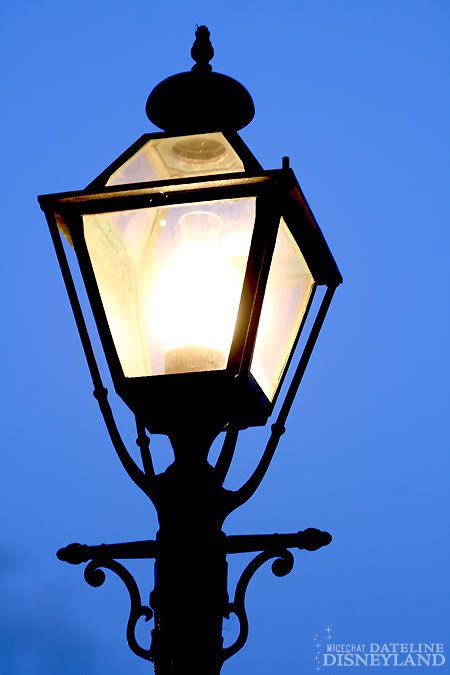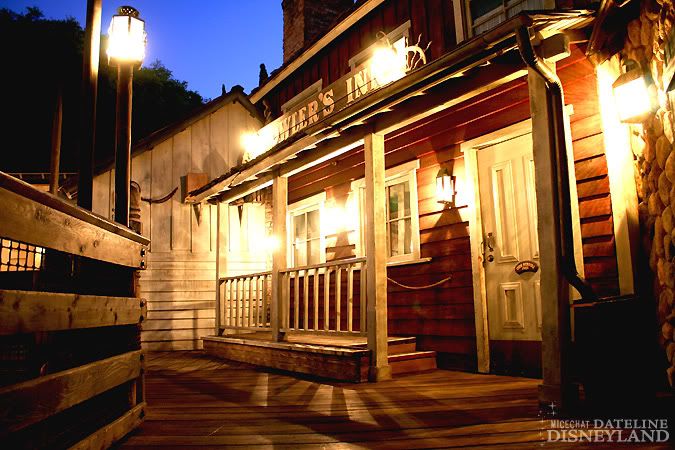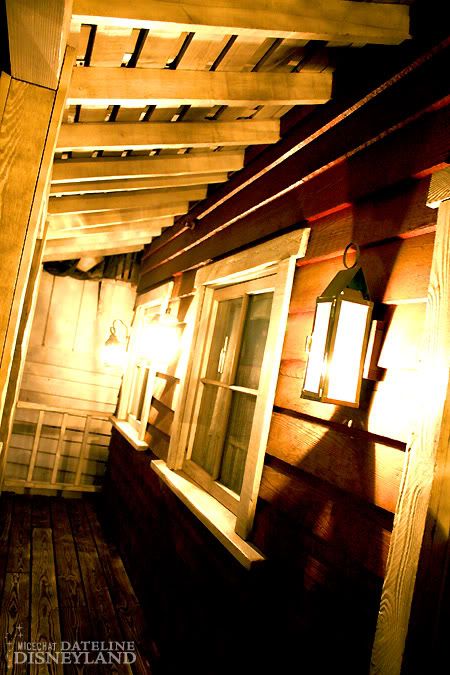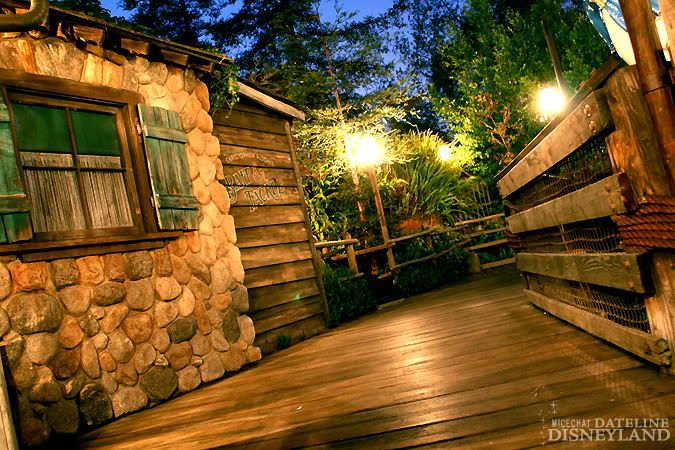 <SCRIPT charset="utf-8" type="text/javascript" src="http://ws.amazon.com/widgets/q?ServiceVersion=20070822&MarketPlace=US&ID=V20070 822/US/disneylandres-20/8001/defc2f58-fb71-4fe2-b5c3-4f6a4a094641"> </SCRIPT> <NOSCRIPT><A HREF="http://ws.amazon.com/widgets/q?ServiceVersion=20070822&MarketPlace=US&ID=V20070 822%2FUS%2Fdisneylandres-20%2F8001%2Fdefc2f58-fb71-4fe2-b5c3-4f6a4a094641&Operation=NoScript">Amazon.com Widgets</A></NOSCRIPT>
DISNEYLAND WEEKLY HOURS AND INFO
THEME PARK HOURS 5/18 - 5/24
Disneyland Resort theme parks will begin closing early on week days to accommodate Grad Night events. Please plan your visit accordingly. For a complete listing of theme park hours, please visit the
Disneyland.com Theme Park Calendar
Disneyland Park
Monday - Thursday: 9 am - 9 pm
Friday: 9 am - 12 midnight
Saturday - Sunday: 8 am - 12 midnight

Disney's California Adventure Park
Monday - Thursday: 10 am - 6 pm
Friday - Sunday: 10 am - 10 pm

CURRENT ATTRACTION CLOSURES & REFURBISHMENTS
Disneyland Park
Sailing Ship Columbia: Closed through May 20.
Astro Oribtor: Closed through June 12.
Peter Pan's Flight: Closed through June 7.
Snow White's Scary Adventures: Closed June 8 through July 3
Pinocchio's Daring Journey: Closed July 20 through August 14.
The Enchanted Cottage: Closed through July 29 through November 17.
Fantasmic! Returns June 12.
Remember... Dreams Come True - A Fireworks Spectacular: Final performance June 9, 2009. Returns fall 2009.
Magical - A Fireworks Spectacular: Debuts June 11, 2009.
Pixie Hollow queue and pond: Opens with enhancements June 12.
Disneyland: The First 50 Magical Years/Main Street Opera House: Closed. Reopens as The Disneyland Story: Featuring Great Moments With Mr. Lincoln December 17, 2009.
Disney's California Adventure Park
Redwood Creek Challenge Trail: Closed through May 22.
King Triton's Carousel: Closed through May 21.
The Little Mermaid: Ariel's Adventure: Golden Dreams theater scheduled for demolition and new attraction construction scheduled to begin in May 2009.
Dinosaur Jack's Sunglass Shack: Closes forever May 26.
Souvenir 66 and Corn Dog Castle: Store and dining location closed for remodeling June 1, 2009 through June 2011, reopen date likely to change.
The Lucky Fortune Cookery: Unused food service location is being converted into larger Mexican-style food dining facility. Opens June 18.
Orange Stinger: Closes July 27 to be rethemed as Silly Symphony Swings. Reopens April 28, 2010.
Paradise Bay: Drained for construction of upcoming Disney's World of Color show.
Disney's World of Color Nighttime Spectacular: New show under construction. Debuts Spring 2010.
Golden State Park and Amphitheater: Closed. New, larger amphitheater for Disney's World of Color viewing under construction in same location. The new amphitheater will open December 2009.
EARTHQUAKE SHAKES UP SO. CAL, CLOSES DISNEYLAND RIDES
A 4.7 earthquake hit the Los Angeles area Sunday night, shaking up Southern California for a bit. At Disneyland, standard safety protocol temporarily closed just about every attraction in the park to ensure that everything was safe and sound.
LA Times: 4.7 quake shakes Southern California, rattling nerves
A 4.7 earthquake struck southeast of Los Angeles International Airport this evening, causing significant shaking across Southern California.
The temblor hit about 8:40 p.m. 3 miles from the South Bay community of Lennox. A 3.1 aftershock occurred a few minutes later.
The temblor started about 8.4 miles below the surface, according to the U.S. Geological Survey. Residents in the Lennox area said dishes fell off shelves, but there were no reports of serious damage.
It's unclear what fault the quake struck on. The Newport-Inglewood fault, which has produced several powerful temblors, runs through that general area.
An initial assessment by the Los Angeles Fire Department found "no major structural damage, no serious injuries," according to spokesman Brian Humphrey's Twitter feed.
D23 UNVEILS LINEUP OF MEMBER-ONLY SUMMER EVENTS
D23 is making good on their promise to offer exclusive, must-do events for their $75 fan club members. The "Official Community for Disney Fans" unveiled their lineup of member-only summer events which have gotten a good reaction from a fan community that was otherwise skeptical of the fan club when it first debuted earlier this year. Events include tours of the Walt Disney Studios, a free screening of Pixar's "Up" at the El Capitan Theater in Hollywood, Disney on Broadway events, and a special screening of the 1956 "Disneyland, U.S.A." film at Disneyland's Team Disney Anaheim HQ on the park's 54th birthday this July.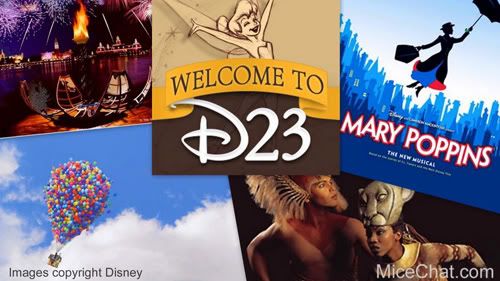 A press release outlined the event line-up:
SUMMER 2009 CHARTER MEMBER-ONLY SPECIAL EVENTS:
May 28 - D23 "Up All Night" at Hollywood's El Capitan Theatre (FREE)
(Los Angeles, CA) -- Theatergoers across the country will soon meet the unlikely duo of 78-year-old Carl Fredricksen and 8-year-old Wilderness Explorer Russell in Disney Pixar's latest adventure, Up. D23 Members will be among the first to see the film at this free event at the historic El Capitan Theatre in Los Angeles on May 28, 2009. The fun begins with a special pin trading event, followed by an all new Disney stage show and a screening of the new Disney-Pixar short Partly Cloudy and the highly anticipated and critically acclaimed Up! And it wouldn't be a D23 event without a few other special surprises and guests!
May 31 - D23's Flowers & Fireworks Celebration at Epcot (FREE with park admission)
(Orlando, FL) - Join D23 at Epcot at the Walt Disney World Resort to celebrate its members in all 50 states and more than 25 countries worldwide! Start the evening at the American Gardens Theatre with reserved seating for the Flower Power Concert Series Finale, starring the legendary Tony Orlando, to close the Epcot International Flower & Garden Festival. Next, head to a VIP location to mix and mingle with your fellow D23 members over desserts and coffee, and then enjoy the spectacular nighttime extravaganza IllumiNations: Reflections of Earth from a private viewing area.
June 24 - D23's Supercalifragilistic Night on Broadway
(New York, NY) -- Disney's award-winning musical Mary Poppins recently celebrated its 1,000th performance on Broadway and on June 24, 2009, D23 Members are being offered the opportunity to meet one another and share in the magic with premium seats, merchandise discounts and an opportunity to stay after the show for a special "behind-the-scenes" experience at the historic New Amsterdam Theatre in New York City. D23 Members also will receive the recently released 2-Disc Mary Poppins 45th Anniversary Special Edition DVD, courtesy of our friends at Walt Disney Studios Home Entertainment.
June 24 - D23 and Poppins Breeze into The Windy City
(Chicago, IL) -- Mary Poppins blew into the Windy City on March 25, 2009 and original Broadway stars Ashley Brown and Gavin Lee have been delighting audiences at the Cadillac Palace Theatre ever since. On June 24, 2009, D23 Members will have the chance to experience the "practically perfect" Mary Poppins like never before, with premium seats, merchandise discounts, complimentary souvenir program and a once-in-a-lifetime "behind-the-scenes" experience. D23 Members also will receive the recently released 2-Disc Mary Poppins 45th Anniversary Special Edition DVD, courtesy of our friends at Walt Disney Studios Home Entertainment.
June 27 - D23 and The Lion King Roar in Vegas
(Las Vegas, NV) -- After entertaining more than 45 million guests in theatres around the world, Simba and Nala have roared their way onto the world famous Las Vegas Strip. On June 27, 2009, D23 will host a special night at the Mandalay Bay Resort in Las Vegas, with premium seating for The Lion King, a "behind-the-scenes" experience and more, available exclusively to D23 Members.
June 27 & Aug. 15 - D23 Day at The Walt Disney Studios and Archives (FREE)
(Burbank, CA) -- A rare opportunity for D23 Members to enjoy a 2-hour tour of The Walt Disney Studios and Walt Disney Archives, hosted by D23 and Disney Archives staff. Only two dates are available for the Summer 2009 Calendar and space is imited.
July 17 - D23 presents Disneyland, U.S.A. (FREE)
(Anaheim, CA) -- Celebrate Disneyland's 54th Anniversary with a special screening of Walt Disney's recently restored 1956 "People and Places" featurette Disneyland, U.S.A., as well as a panel discussion including Imagineer Tony Baxter, Disney Legend and Chief Archivist Dave Smith, and Disney Studios Film Archivist Ed Hobelman. The event will take place at Disneyland's Team Disney Anaheim Theater and will be followed by a D23 Member reception.
Sept TBD - The Walt Disney Family Museum Preview (FREE)
(San Francisco, CA) - Prior to its October 2009 Grand Opening, D23 members will have the opportunity to experience The Walt Disney Family Museum, celebrating the life and achievements of the man who raised animation to an art, transformed the film industry, tirelessly pursued innovation, and created a global and distinctly American legacy. This special preview will be hosted by the Museum's Executive Director Richard Benefield. Dates and details will be available soon.
You can get more information, get tickets, or sign up for D23 at its web site:
D23: Expo and Events
TOMORROWLAND GOES HOLLYWOOD
Taking a cue from the hugely successful Pirates of the Caribbean film franchise, Disney is reportedly working on taking another theme park concept to the silver screen: Tomorrowland. The project, currently being penned by screenwriters Jon Lucas and Scott Moore will star, Dwayne "The Rock" Johnson. SciFiWire.com broke the news Sunday:
Take a peek at the future of Disney's Tomorrowland movie
What are you guys working on writing?
Moore:
We're working on a sort of sci-fi action comedy for Disney with Dwayne "The Rock" Johnson, which is called Tomorrowland. Disney had a ton of success with Pirates of the Caribbean, so this is their Pirates of the Caribbean in space.
Lucas:
There are meetings every now and again where you can see the gears turning. It's like, "Well, if we had a mountain in this movie, it would be really easy to call this [Space Mountain]." Tomorrowland is actually a pretty cool title, even though that section of the [Disneyland/Disney World] park is not maybe [as futuristic anymore]. It's like, "Look at this refrigerator!"
So do you update it or go for the kitsch?
Lucas:
We're not laughing at the idea. We're not laughing at Tomorrowland or the idea of what people in the '60s thought the future would be. Our goal, whether we're successful or not, is the vision of the future is actually the best future. It's not post-apocalyptic or dark and gritty. It's like everything you wish you could have, every gadget and device and car, that's what it's like in the future. So the future is actually really great.
What year is it set?
Moore:
It's a little bit of a moving target, but it's about 350 years in the future.
Lucas:
It's hard, because when you go back and watch good sci-fi, it's like the year 2010, and we're in 2010, and Kevin Costner's not walking a mule around. You have to put it far enough that people in the theater aren't openly laughing at the concept, but it can't be so far. Things are changing so quickly that in 300 years things will probably be pretty unrecognizable.
What's Johnson's character?
Moore:
In Tomorrowland his character's name is Rip, and he plays a present-day test pilot who tests a plane and gets shot into the future. So he's a sort of a fish out of water in the future, and he is sort of figuring out how everything works. Along the way, the people in the future don't know who he is, and they actually think he's bad guy bent on destroying the future.
For the full article and interview,
check out SciFiWire.com
.
DISNEY LAUNCHES ONLINE THEME PARK MERCH STORE
DisneyStore.com
launched a theme park merchandise shop last week, for the first time allowing theme park merchandise to be officially purchased online. So far, the online shop has a small selection, featuring key staples like Ear Hats and autograph books, as well as Monorail toys and some snow globes and big figures. The offerings will hopefully expand soon.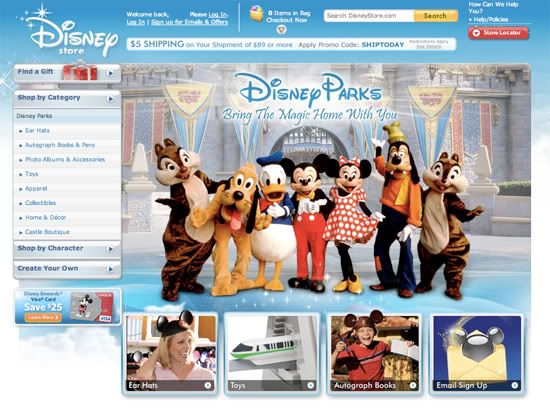 NAPA ROSE CLAIMS ANOTHER RECORD
Congrats on Napa Rose and Joy Cushing for yet another record!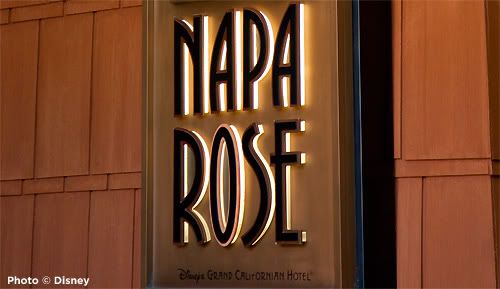 <SCRIPT charset="utf-8" type="text/javascript" src="http://ws.amazon.com/widgets/q?ServiceVersion=20070822&MarketPlace=US&ID=V20070 822/US/disneylandres-20/8001/defc2f58-fb71-4fe2-b5c3-4f6a4a094641"> </SCRIPT> <NOSCRIPT><A HREF="http://ws.amazon.com/widgets/q?ServiceVersion=20070822&MarketPlace=US&ID=V20070 822%2FUS%2Fdisneylandres-20%2F8001%2Fdefc2f58-fb71-4fe2-b5c3-4f6a4a094641&Operation=NoScript">Amazon.com Widgets</A></NOSCRIPT>
<object classid="clsid:d27cdb6e-ae6d-11cf-96b8-444553540000" codebase="http://download.macromedia.com/pub/shockwave/cabs/flash/swflash.cab#version=9,0,124,0" width="225" height="335" id="TwitterWidget" align="right">
<param name="allowScriptAccess" value="always" />
<param name="allowFullScreen" value="false" />
<param name="movie" value="http://static.twitter.com/flash/widgets/profile/TwitterWidget.swf" />
<param name="quality" value="high" />
<param name="bgcolor" value="#000000" />
<param name="FlashVars" value="userID=16832260&styleURL=http://static.twitter.com/flash/widgets/profile/smooth.xml">
<embed src="http://static.twitter.com/flash/widgets/profile/TwitterWidget.swf" quality="high" bgcolor="#000000" width="225" height="335" name="TwitterWidget" align="middle" allowScriptAccess="sameDomain" allowFullScreen="false" type="application/x-shockwave-flash" pluginspage="http://www.macromedia.com/go/getflashplayer" FlashVars="userID=16832260&styleURL=http://static.twitter.com/flash/widgets/profile/smooth.xml"/></object>Alright, that wraps up this week's update. Thanks as always for reading, be sure to discuss the update in the comments section below. Thanks to
peoplemover1
for the photos inside the new San Francisco Street restrooms!
This will be my last Dateline Disneyland column for two weeks while I head off on vacation to Walt Disney World. But don't worry, the folks here at MiceChat will keep you updated here on the latest goings-on at Disneyland. I'll return back here in a couple weeks.
Remember, your contributions help keep the updates coming every week. We all know times are tough, so any amount of support helps. If you can donate to Dateline Disneyland please consider doing so via a safe and quick PayPal donation.
To donate, click here.
We've also hand-selected some noteworthy Disney titles for your bookshelf on Amazon, so treat yourself and buy yourself something nice by clicking on an item in one of the banners in today's update. Your purchase on Amazon helps Dateline Disneyland!
Also, if you still haven't checked out Twitter, head over there today (or look to the right of this) and see why 2,500 other Disneyland fans have already started following Dateline Disneyland! The Dateline Disneyland Twitter is updated throughout the week with links to breaking news, mini updates, photos, and links to newsworthy MiceChat discussions. Twitter offers mobile updates sent directly to your cell phone so follow us and sign up for mobile updates to get mini Dateline Disneyland updates throughout the week! Or, if you've got an iPhone or G1, download a free Twitter app (like
TwitterFon
or
Twitterific
) and stay connected with a simple tap of your finger! Head over to
Twitter.com/DatelineDisney
, or check out the widget to the right to follow us!
See you here again next week!
- Andy