Welcome to the Memorial Day 2009 edition of Dateline Disneyland! At the end of last week's column, I mentioned I'd be gone for a couple weeks as I head off to Walt Disney World. Well, thanks to some last minute spare time freed up in my schedule before I hop on the plane to Florida, and the help of MiceChatter
Matt "2DieFR" Gottula
, who took the time to take photos for the column this week, we've got a full update here for you today.
Between the Astro Orbitor's emerging new color scheme, the ongoing construction in Disney's California Adventure, and work in the Timon parking lot, we've got a lot to get to this week. As always, we've linked photos to the Project Tracker threads on MiceChat where up-to-date info and discussion on the projects going on in the Resort can be found.
Alright, let's get going, shall we?

WELCOME TO DISNEYLAND!
Views from the Mickey and Friends parking structure can sometimes be more interesting than they might initially seem. Views of Disneyland's backstage area from the top of the structure allow views of new things. Currently, the old and new Fantasmic! crocodiles can be seen backstage.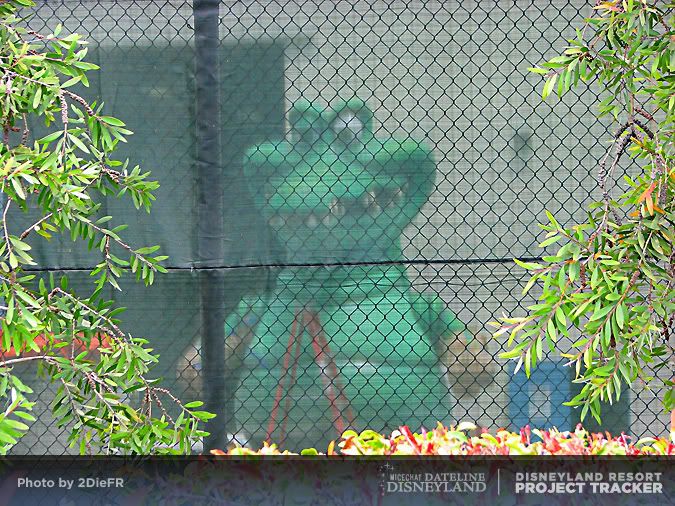 The new croc is on the left, the old on the right.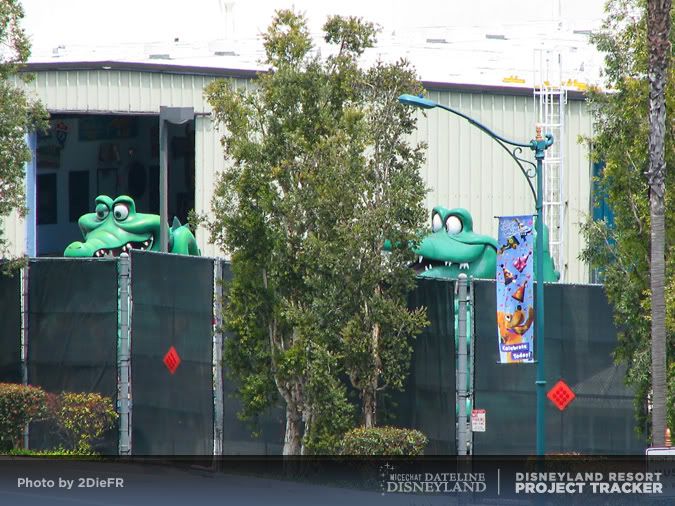 Fantasmic! officially returns June 12, when the Resort's Summer Nightastic! promotion kicks off.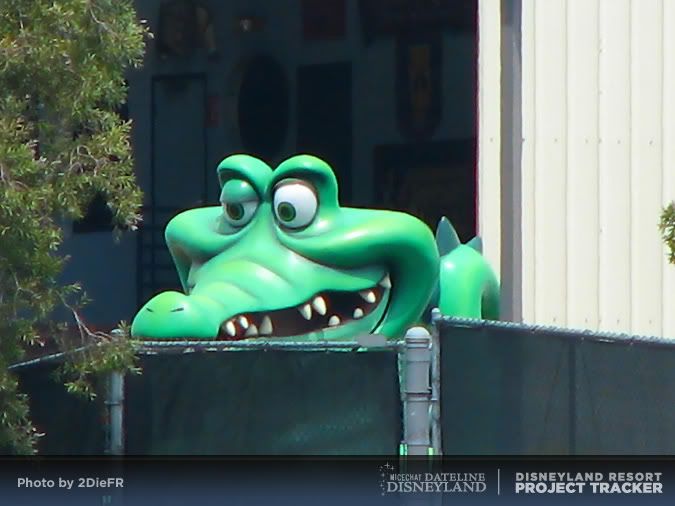 The tram ride can offer interesting views as well, like this newly re-painted Astro Orbitor planet that can be seen along the route.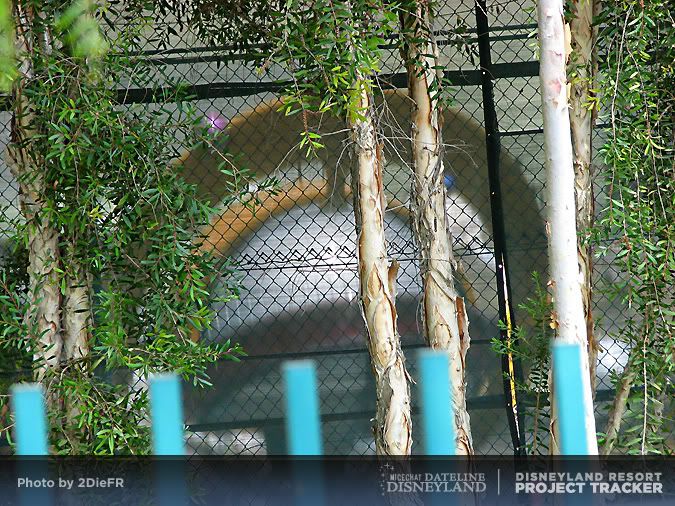 Over on the other side of the Resort, the Timon parking lot is getting work done as it gets ready to not only close entirely for Cars Land construction, but also so it can offer tram service for the Simba lot.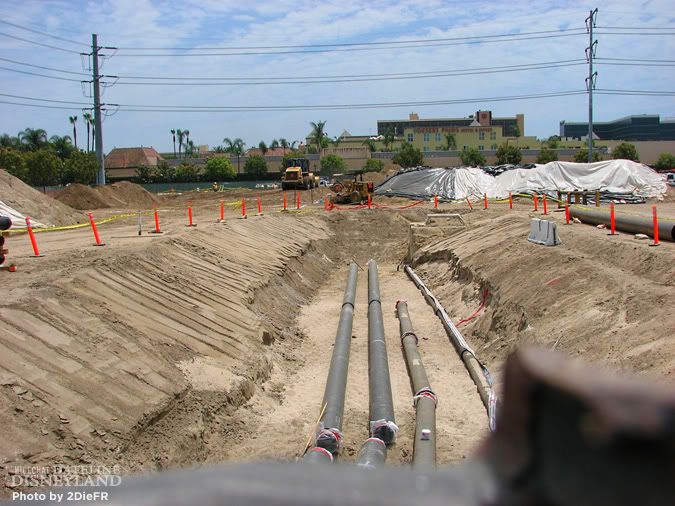 The Timon lot isn't closed completely yet, but it will be soon. David "Darkbeer" Michael discussed Disneyland's on-going parking troubles in
his May 22nd "In the Parks" column
.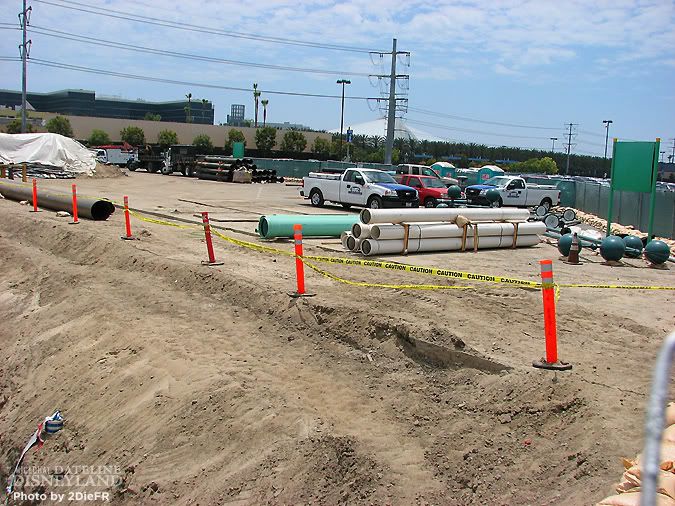 With this new construction, and the World of Color staging area using a lot of space in the Timon lot, your best best is to forgo trying to find a space here altogether - you'll likely be sent elsewhere anyway.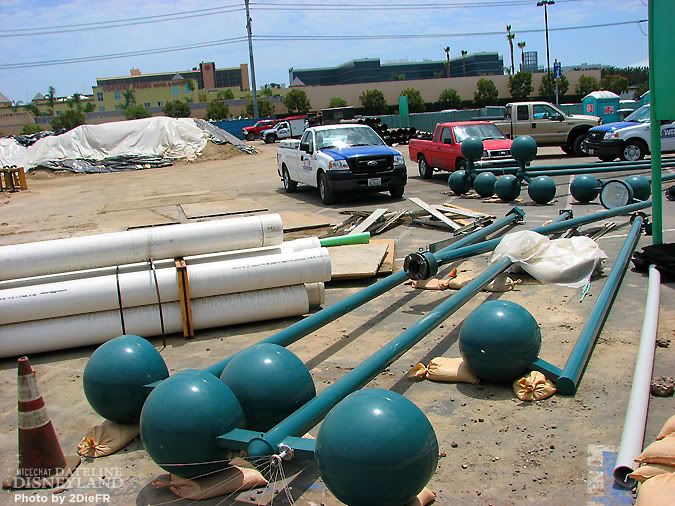 PAINTING THE FUTURE
Inside Disneyland, the Astro Orbitor continues to emerge its new silvery color scheme as it gets ready to open in time for the launch of the Summer Nightastic! promotion on June 12.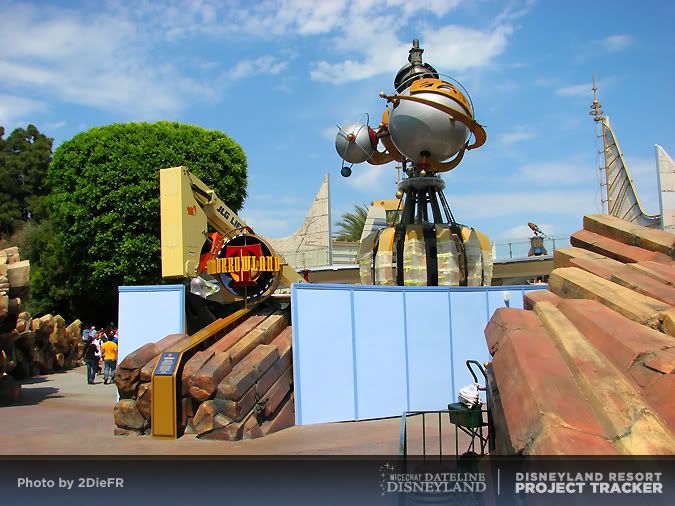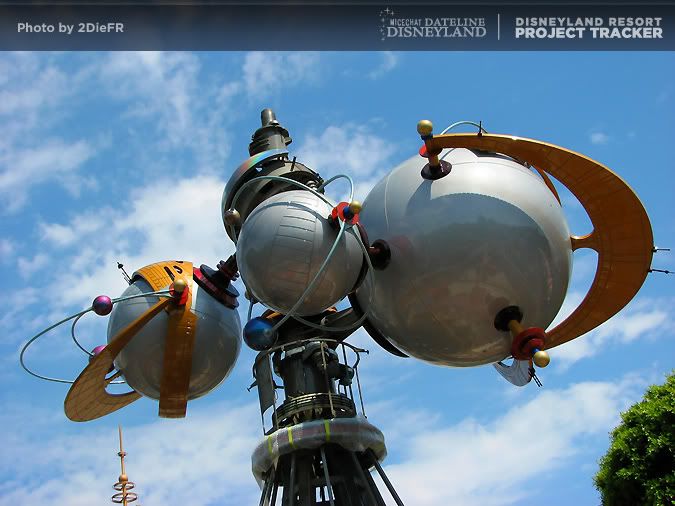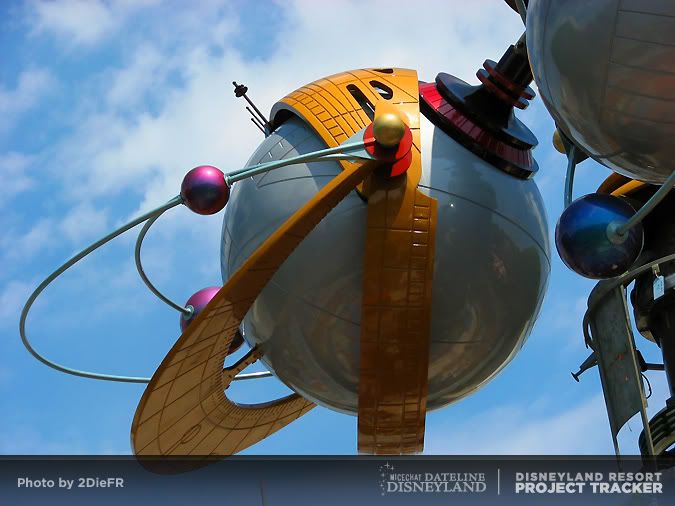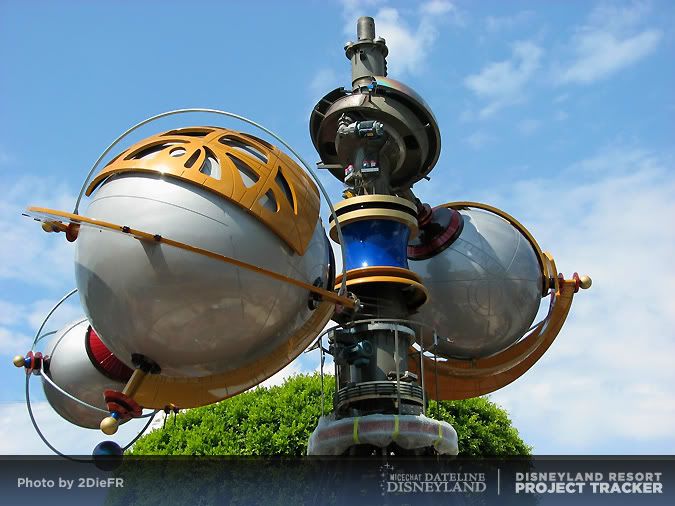 With the construction walls up in the area, Disney has taken the opportunity to repave some more of the Tomorrowland walkways that used to feature red pavers in the new gray style.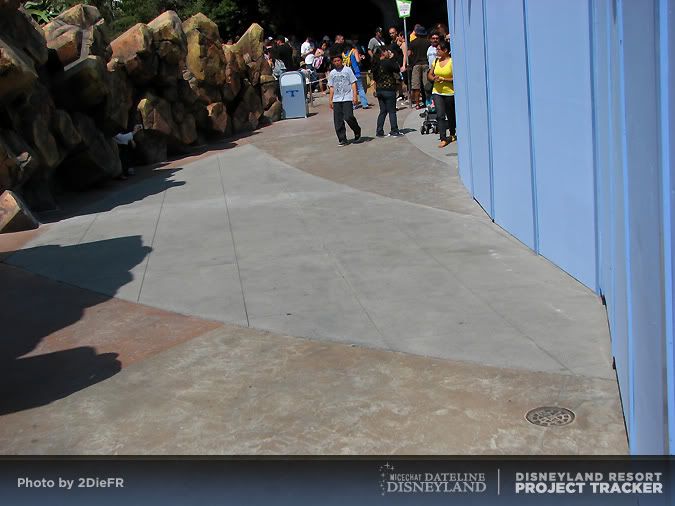 Down in Tomorrowland, at the former Cosmic Waves fountain, work continues in the area.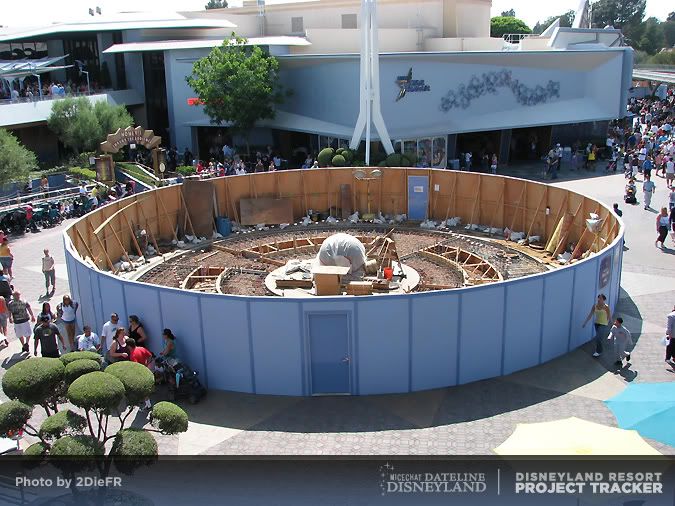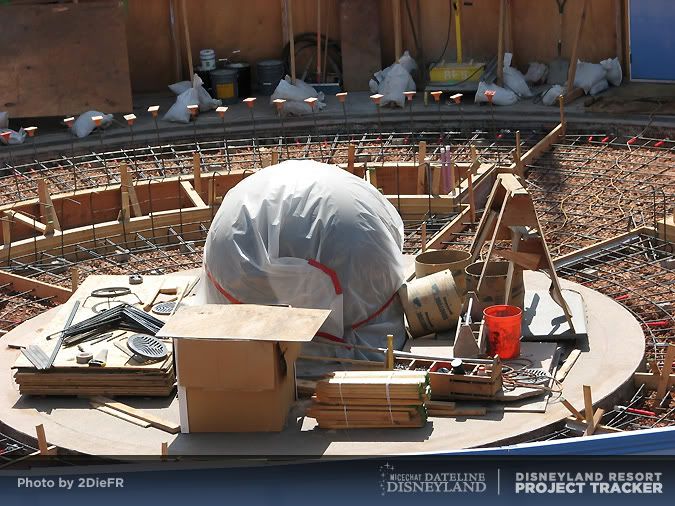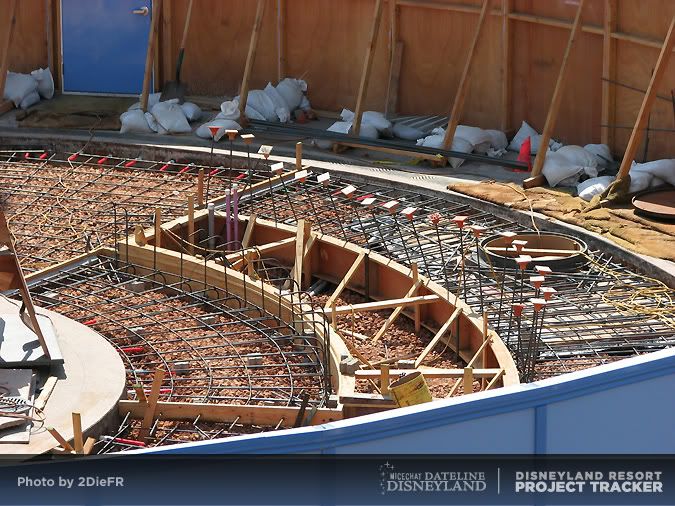 IN HONOR
Disneyland's Main Street is decked our in red, white, and blue bunting in honor of today's Memorial Day holiday.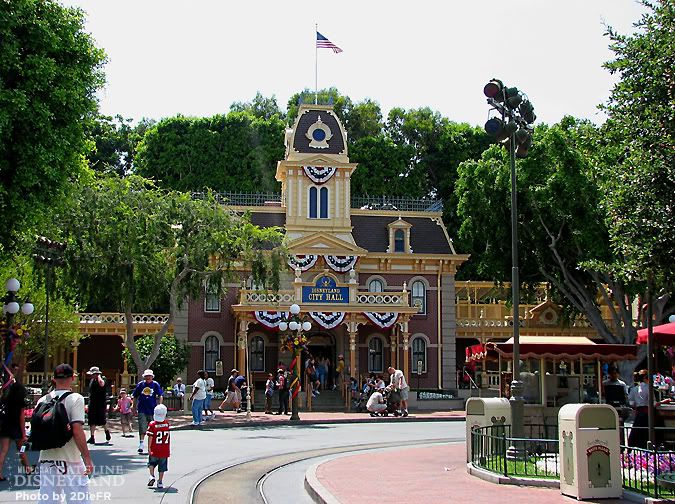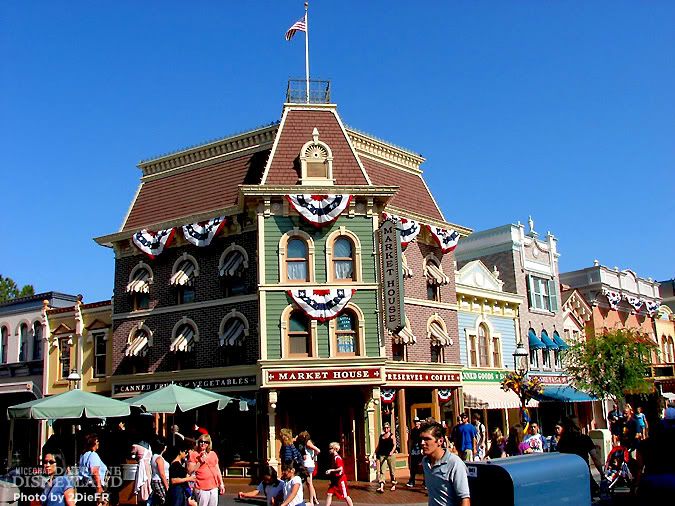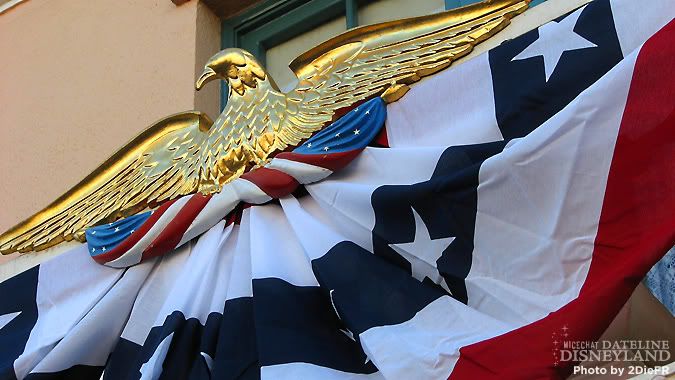 And especially today, the daily flag retreat ceremony is a great way to honor those who have died serving our country.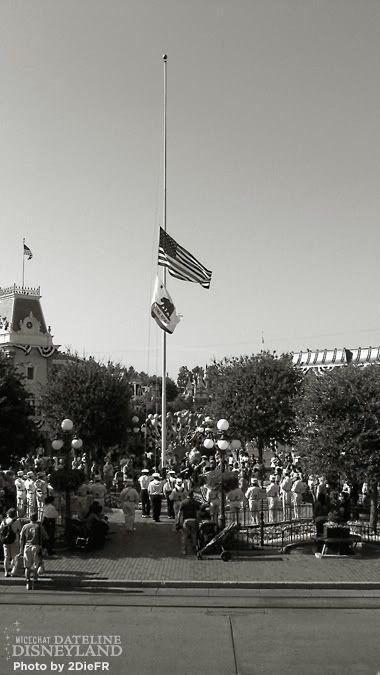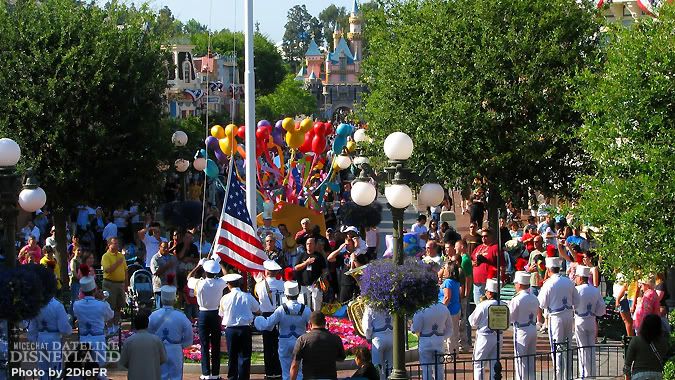 Thanks to those who have served, who continue to serve, and who will serve. Happy Memorial Day.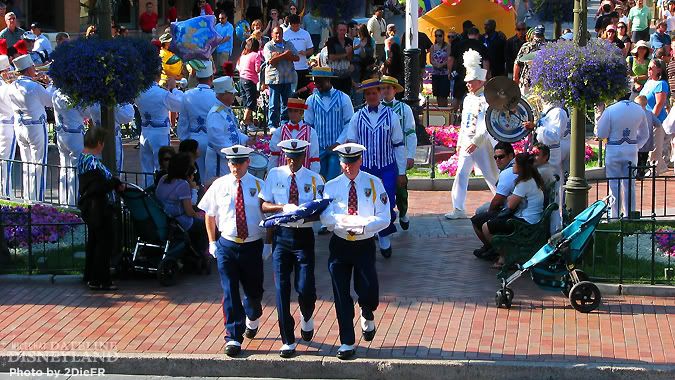 CALIFORNIA CONSTRUCTION
Heading over to Disney's California Adventure, work continues on that park's massive makeover, which has so far been with mixed reviews.
KING TRITON'S CAROUSEL
Last week we showed you King Triton's Carousel, which was getting ready to reopen after a significant refurbishment. The refurbishment failed to plus the ride in any noticeable way for guests. No new thematic enhancements were added to help the ride blend in better with its emerging new Victorian style surroundings, despite what online rumors had suggested.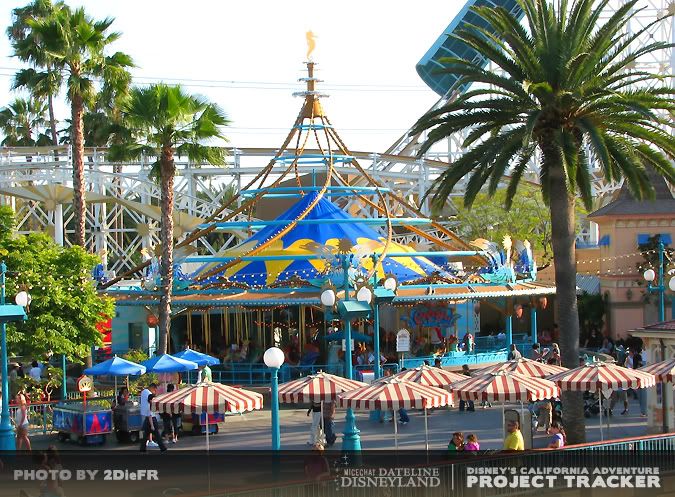 The Carousel is now reopen, and the ride is basically exactly as it was before. What it got was a complete refurbishment and some technological upgrades that will help CMs working the attraction.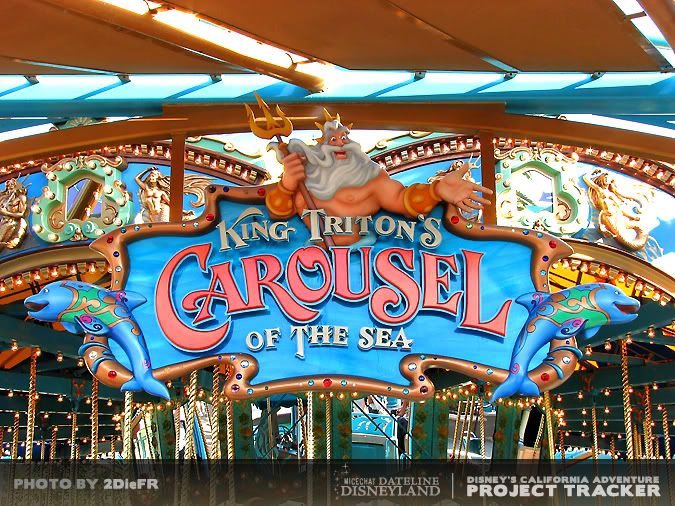 Unfortunately for guests, the attraction is still the same. The cheap mural in the back that only passes because it features a Disney character remains.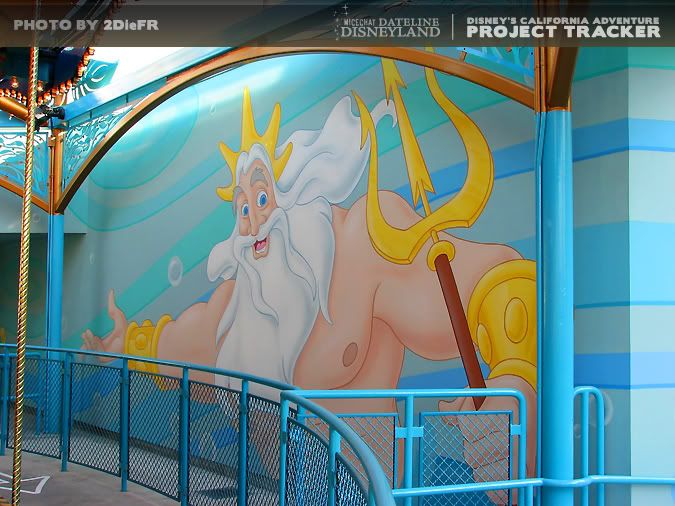 And the neat little organ, awkwardly placed in the corner, is still here.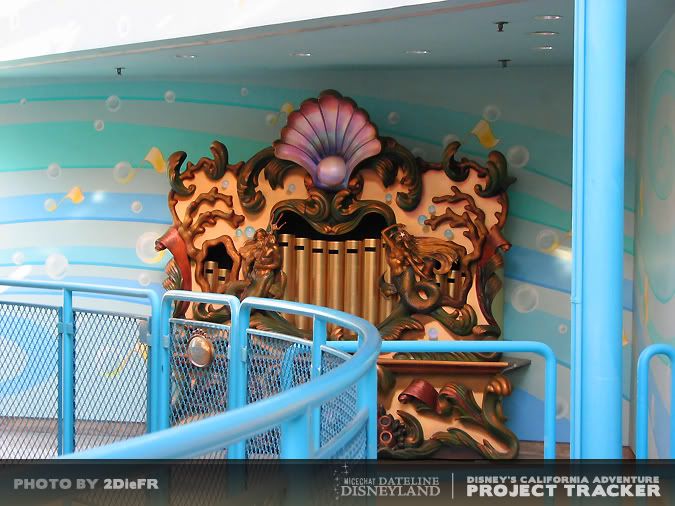 The upgraded CM operator console has seaweed cutouts decorating the sides.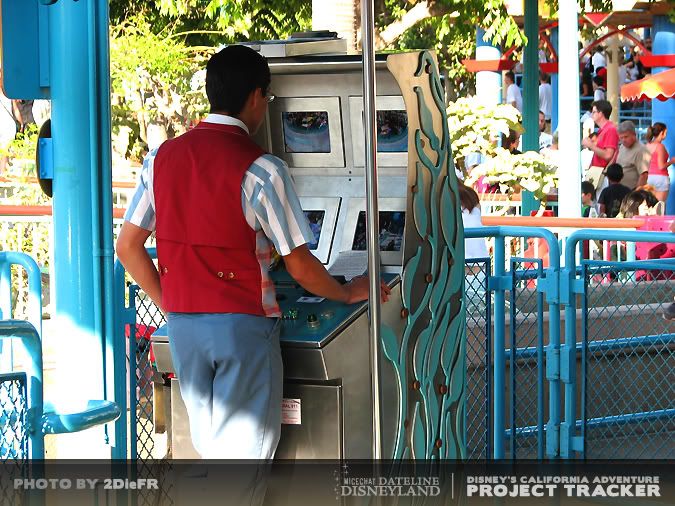 And the forever charmless concrete fountains are still here, too.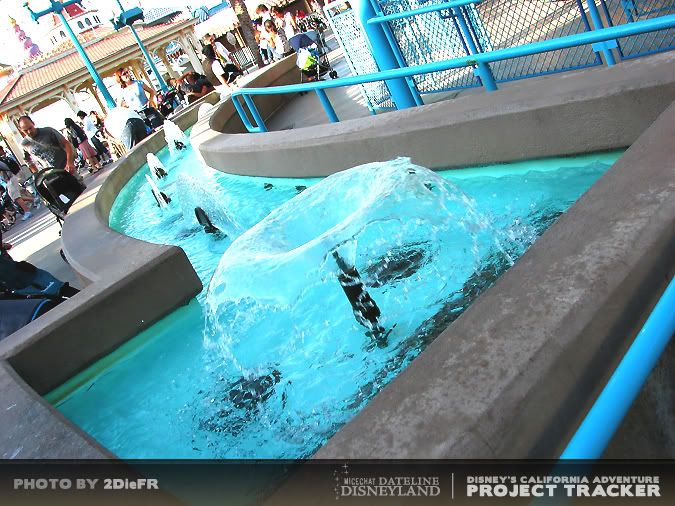 Sure, the refurbishment was just a refurbishment and no enhancements were ever announced for this ride at this time... but that doesn't mean that this isn't a great, big missed opportunity.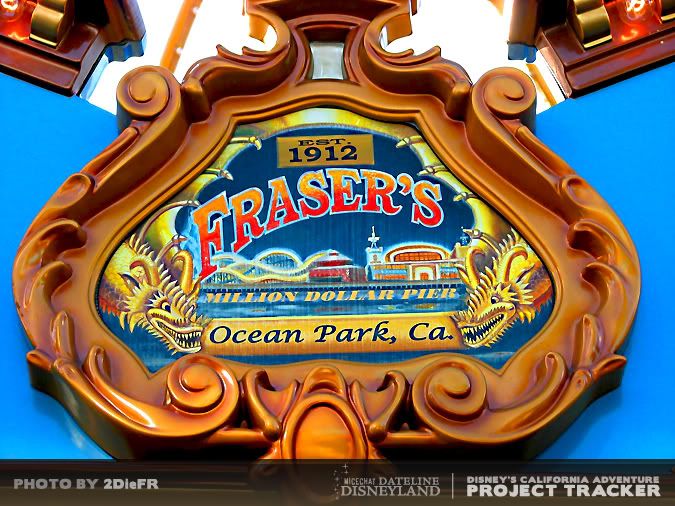 Too bad.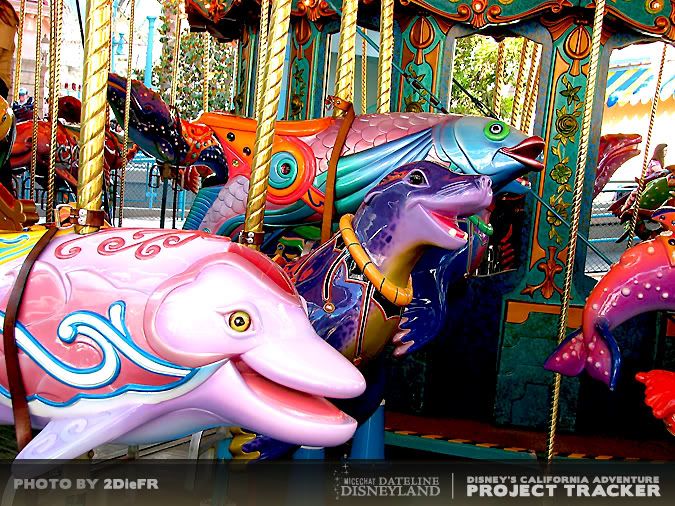 WORLD OF COLOR VIEWING AREA
Work continues on the big World of Color viewing area.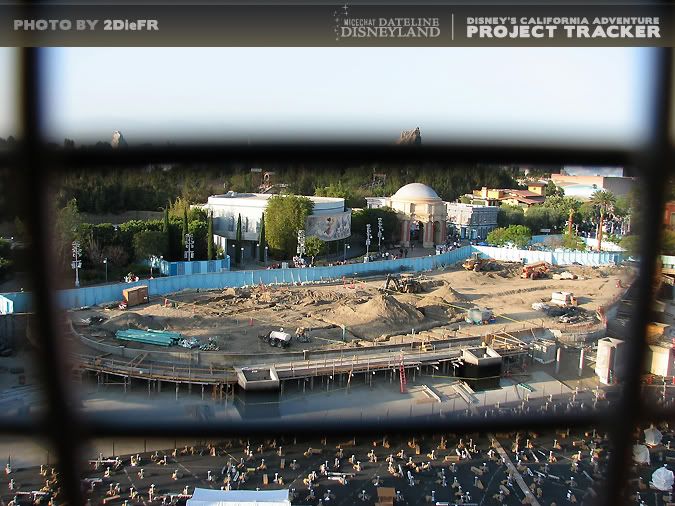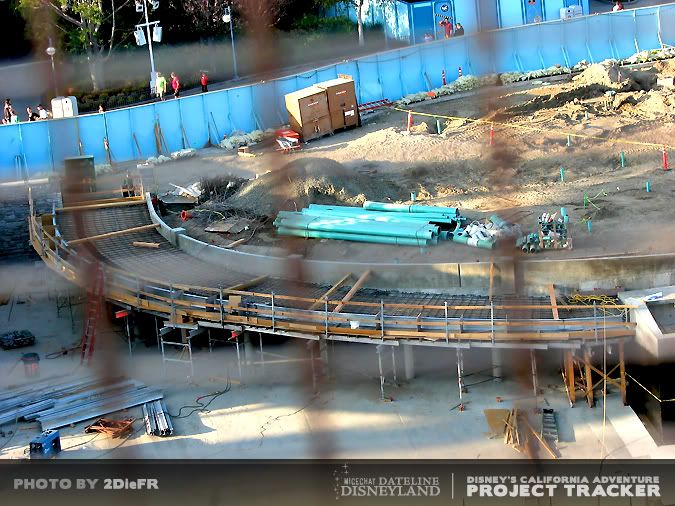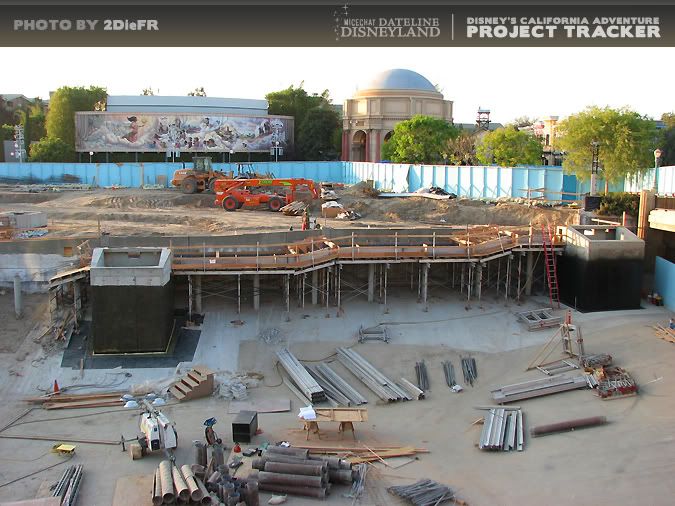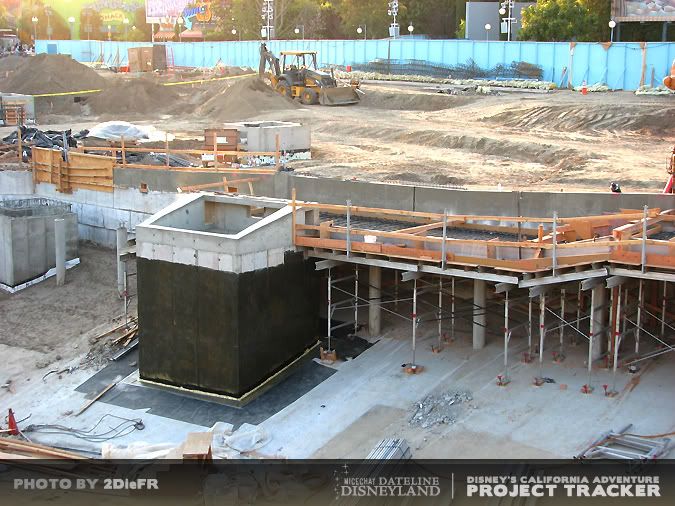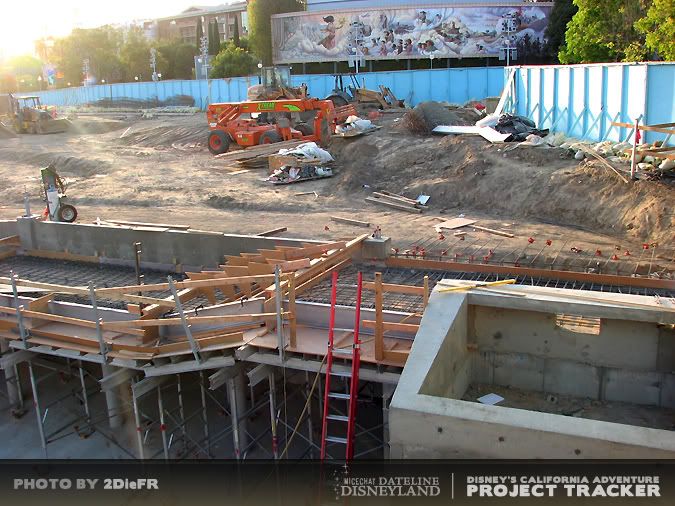 The new fountain area in the Golden State Park area, continues to progress.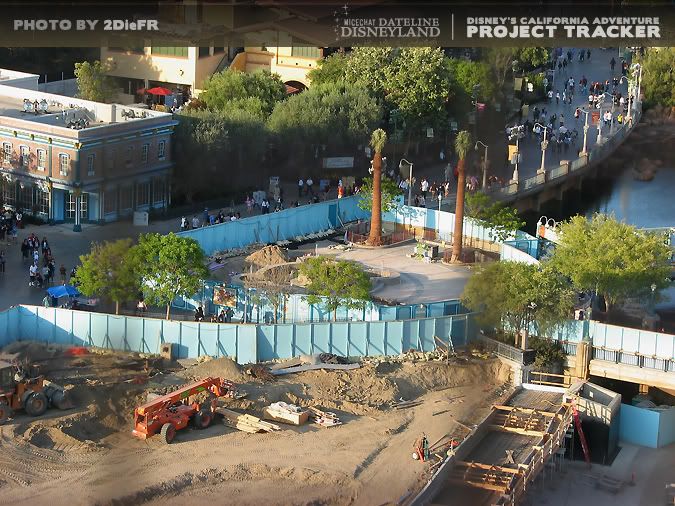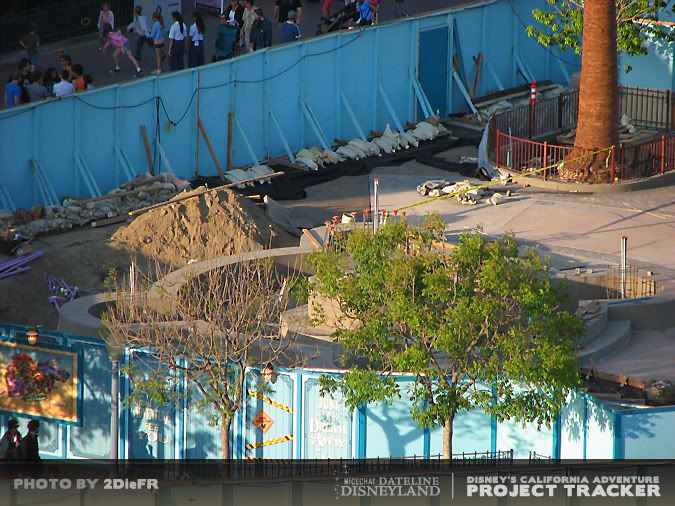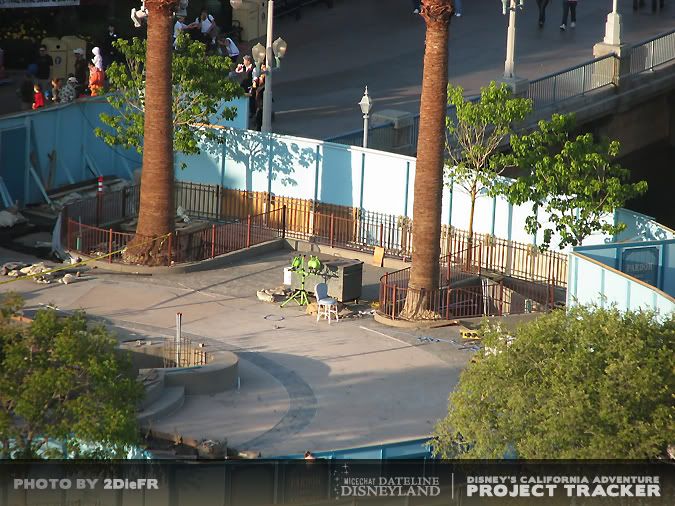 THIS AND THAT
The Game Squad cart for DCA features new designs resembling Mickey's Fun Wheel.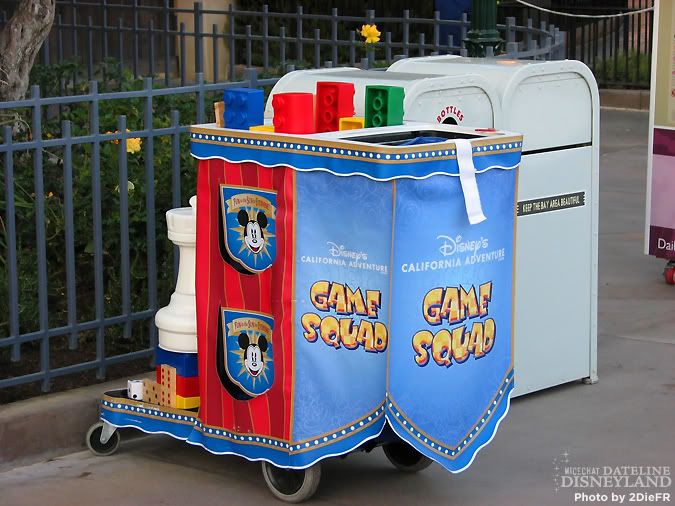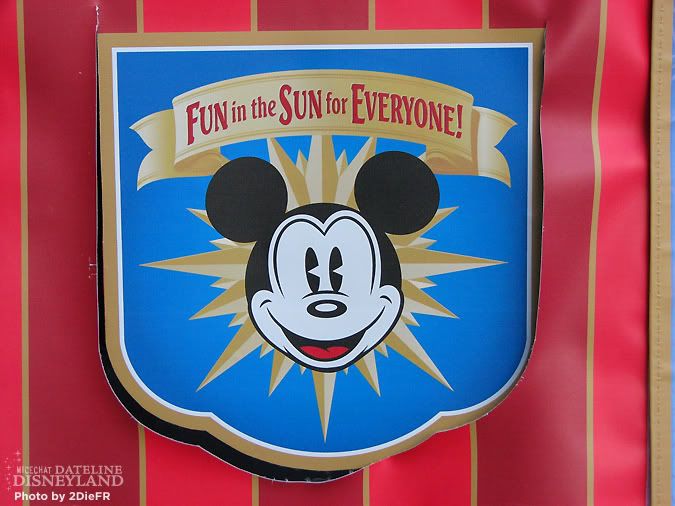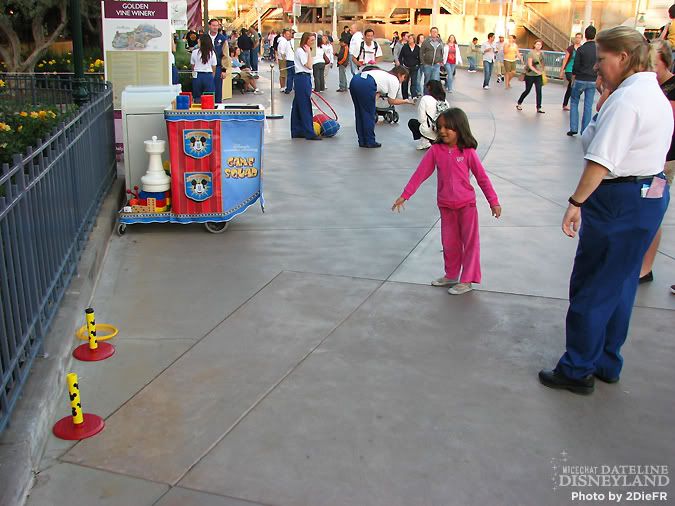 And back in Disneyland, as the new Croc for Fantasmic! waits backstage for his big debut on June 12, new confetti cannons have been installed along the parade route for the upcoming "Magical" fireworks show, which will feature a confetti finale.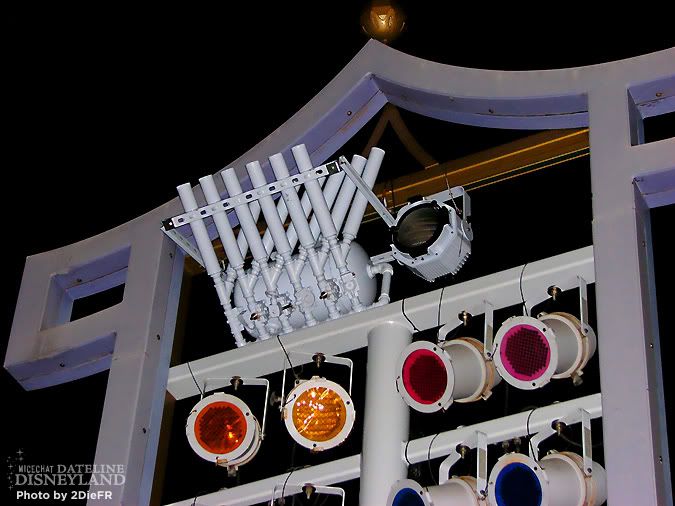 "Magical" debuts June 11, 2009 and will run nightly through summer 2009 as a major offering for the Summer Nightastic! promotion.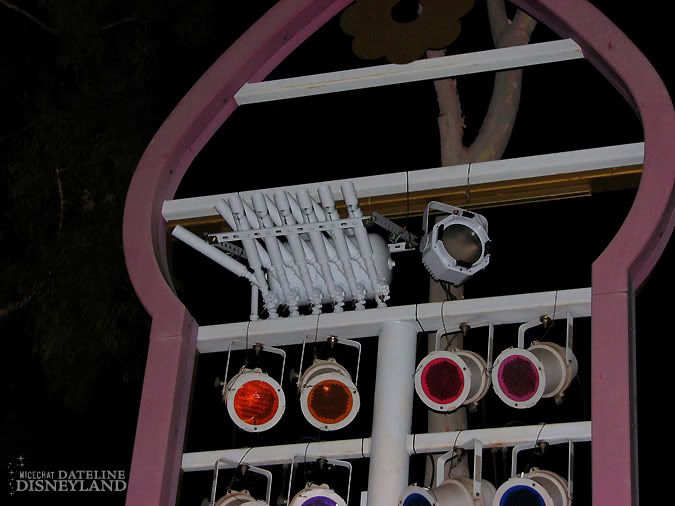 AROUND THE PARKS
And to wrap up today's update, 2DieFR has a few shots from around the parks...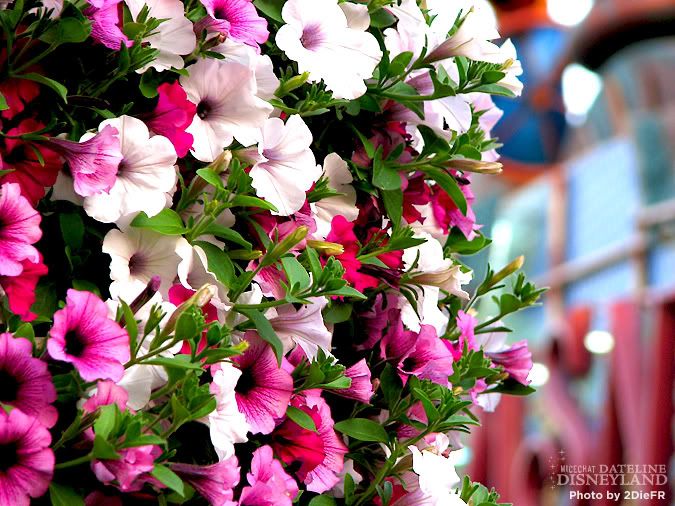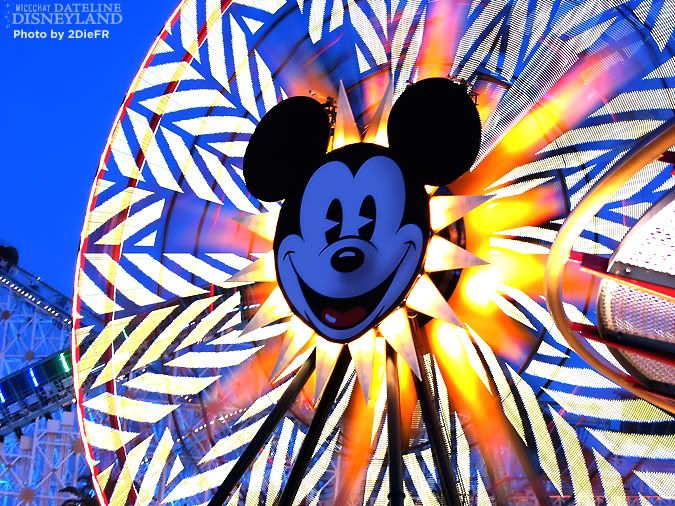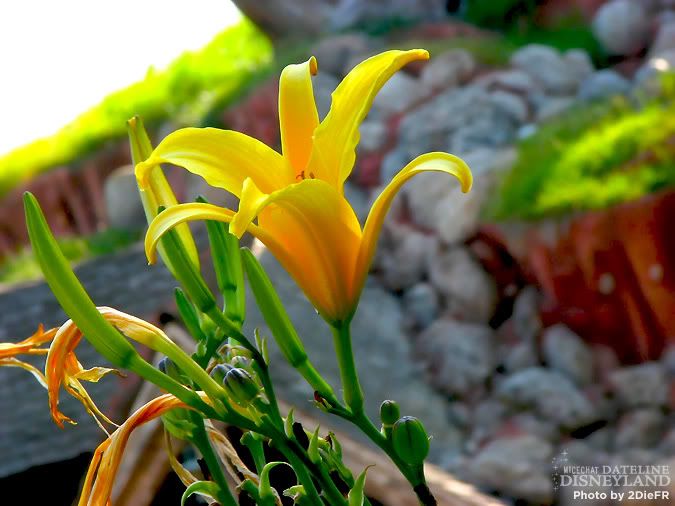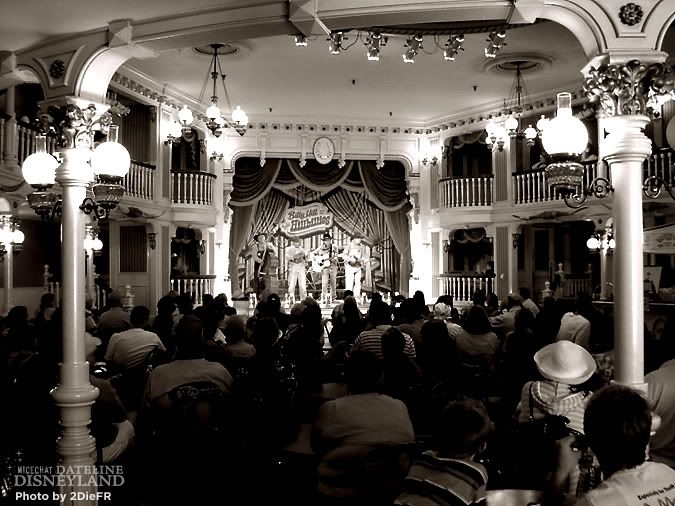 <SCRIPT charset="utf-8" type="text/javascript" src="http://ws.amazon.com/widgets/q?ServiceVersion=20070822&MarketPlace=US&ID=V20070 822/US/disneylandres-20/8001/defc2f58-fb71-4fe2-b5c3-4f6a4a094641"> </SCRIPT> <NOSCRIPT><A HREF="http://ws.amazon.com/widgets/q?ServiceVersion=20070822&MarketPlace=US&ID=V20070 822%2FUS%2Fdisneylandres-20%2F8001%2Fdefc2f58-fb71-4fe2-b5c3-4f6a4a094641&Operation=NoScript">Amazon.com Widgets</A></NOSCRIPT>
DISNEYLAND WEEKLY HOURS AND INFO
THEME PARK HOURS MAY 25 - 31
Disneyland Resort theme parks will begin closing early on week days to accommodate Grad Night events in early June. Please plan your visit accordingly. For a complete listing of theme park hours, please visit the
Disneyland.com Theme Park Calendar
Disneyland Park
Monday - Memorial Day Holiday: 8 am - 12 midnight
Tuesday - Wednesday: 9 am - 10 pm
Thursday: 9 am - 9 pm
Friday: 9 am - 12 midnight
Saturday - Sunday: 8 am - 12 midnight

Disney's California Adventure Park
Monday: 10 am - 9 pm
Tuesday - Thursday: 10 am - 6 pm
Friday - Saturday: 10 am - 9 pm
Sunday: 10 am - 10 pm

CURRENT ATTRACTION CLOSURES & REFURBISHMENTS
Disneyland Park
Astro Oribtor: Closed through June 12.
Peter Pan's Flight: Closed through June 7.
Snow White's Scary Adventures: Closed June 8 through July 3
Pinocchio's Daring Journey: Closed July 20 through August 14.
The Enchanted Cottage: Closed through July 29 through November 17.
Fantasmic! Returns June 12.
Remember... Dreams Come True - A Fireworks Spectacular: Final performance May 31, 2009. Returns fall 2009.
Magical - A Fireworks Spectacular: Debuts June 11, 2009.
Pixie Hollow queue and pond: Opens with enhancements June 12.
Disneyland: The First 50 Magical Years/Main Street Opera House: Closed. Reopens as The Disneyland Story: Featuring Great Moments With Mr. Lincoln December 17, 2009.
Disney's California Adventure Park
The Little Mermaid: Ariel's Adventure: Golden Dreams theater scheduled for demolition and new attraction construction scheduled to begin in May 2009.
Dinosaur Jack's Sunglass Shack: Closes permanently May 26.
Souvenir 66 and Corn Dog Castle: Store and dining location closed for remodeling June 1, 2009 through June 2011.
The Lucky Fortune Cookery: Unused food service location is being converted into larger Mexican-style food dining facility. Opens June 18.
Orange Stinger: Closes July 27 to be rethemed as Silly Symphony Swings. Reopens April 28, 2010.
Paradise Bay: Drained for construction of upcoming Disney's World of Color show.
Disney's World of Color Nighttime Spectacular: New show under construction. Debuts Spring 2010.
Golden State Park and Amphitheater: Closed. New, larger amphitheater for Disney's World of Color viewing under construction in same location. The new amphitheater will open December 2009.
WAYNE ALLWINE, THE VOICE OF MICKEY MOUSE, DIES
Sad news that you've likely heard about -- Wayne Allwine, the voice of Mickey Mouse for 32 years, has passed away. Wayne was the voice of everybody's favorite mouse in film, television, theme parks, and more. D23 has a retrospective on Allwine's life and career.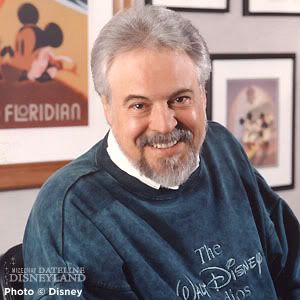 For the complete article,
visit D23
.
SNEAK PEEK AT BARACK OBAMA AUDIO-ANIMATRONIC
While this isn't news for Disneyland, it's interesting to see a glimpse at the new Audio-Animatronic for President Obama that's being made for Walt Disney World's Hall of Presidents attraction. MiceAge's Al Lutz
initially reported
Obama would join President Lincoln when "Great Moments with Mr. Lincoln" returns later this December,
but plans changed
, and Obama will only be featured in Walt Disney World.
The New York Times ran an article last week giving a sneak peek at the new Obama animatronic coming to Walt Disney World later this summer.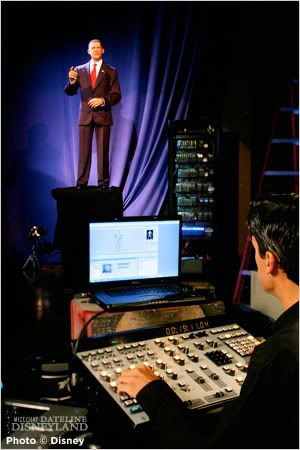 Animatronic Obama Going to Disney World With High-Tech Style
LOS ANGELES — Barack Obama was standing on a riser inside a warehouse here, delivering an inspirational speech about the blessings of freedom, when his left index finger began to twitch uncontrollably, unnerving his aides.
The nation's 44th president was in obvious distress. At least it looked like him. But with silicone skin and a tangled nest of wires for veins, this Obama was a 21st-century reproduction.
More specifically, it was an audio-animatronic representation of the president, as imagined by the Walt Disney Company, and assembled with the direct involvement of the White House staff — and of Mr. Obama himself. The president supplied not just his measurements, but he also recorded that speech (which was initially drafted by a Disney writer) — and yet another recitation of the oath of office, this one in Disney high-definition sound.
In that Hollywood building here, the life-size, three-dimensional figure was being put through its final tune-up, its chin rising and hands gesturing in response to technicians, in preparation for shipment to the Hall of Presidents exhibit at Disney World in Orlando, Fla.
Disney officials declined to say how much it cost to build an Obama. They have cloaked the project with a blanket of secrecy befitting the Secret Service, permitting this reporter to be the only journalist thus far to view the figure up close but allowing only a Disney photographer to take its picture.
Mr. Obama has seen renderings of the figure, telling a Disney employee, Pamela Fisher, "that we had made him better-looking than he was."
Mr. Obama is not the first president to send his voice, or inseam, to Disney World; George W. Bush and Bill Clinton were also given speaking roles in the exhibit during their terms and assisted Disney's "imagineers" in the creation of their likenesses. But the Obama figure is assuredly the most lifelike of them all.
For the full article,
visit NYTimes.com
(requires free registration).
<SCRIPT charset="utf-8" type="text/javascript" src="http://ws.amazon.com/widgets/q?ServiceVersion=20070822&MarketPlace=US&ID=V20070 822/US/disneylandres-20/8001/defc2f58-fb71-4fe2-b5c3-4f6a4a094641"> </SCRIPT> <NOSCRIPT><A HREF="http://ws.amazon.com/widgets/q?ServiceVersion=20070822&MarketPlace=US&ID=V20070 822%2FUS%2Fdisneylandres-20%2F8001%2Fdefc2f58-fb71-4fe2-b5c3-4f6a4a094641&Operation=NoScript">Amazon.com Widgets</A></NOSCRIPT>
<object classid="clsid:d27cdb6e-ae6d-11cf-96b8-444553540000" codebase="http://download.macromedia.com/pub/shockwave/cabs/flash/swflash.cab#version=9,0,124,0" width="225" height="335" id="TwitterWidget" align="right">
<param name="allowScriptAccess" value="always" />
<param name="allowFullScreen" value="false" />
<param name="movie" value="http://static.twitter.com/flash/widgets/profile/TwitterWidget.swf" />
<param name="quality" value="high" />
<param name="bgcolor" value="#000000" />
<param name="FlashVars" value="userID=16832260&styleURL=http://static.twitter.com/flash/widgets/profile/smooth.xml">
<embed src="http://static.twitter.com/flash/widgets/profile/TwitterWidget.swf" quality="high" bgcolor="#000000" width="225" height="335" name="TwitterWidget" align="middle" allowScriptAccess="sameDomain" allowFullScreen="false" type="application/x-shockwave-flash" pluginspage="http://www.macromedia.com/go/getflashplayer" FlashVars="userID=16832260&styleURL=http://static.twitter.com/flash/widgets/profile/smooth.xml"/></object>Alright, that wraps up this week's update. I'd like to once again thank Matt "2DieFR" Gottula for his help in making this week's update possible and taking all of the photos in this week's update. Matt is on Twitter, posting Disneyland news and info, so
check him out here
.
Remember, we'll be taking a break next week as I take the week off at Walt Disney World. Dateline Disneyland will be back for a full update on June 8.
I'd like to thank those who have contributed to Dateline Disneyland recently. Time and money goes into these updates every week, and they can only continue because of your contributions. We all know times are tough, so any amount of support helps. If you can donate to Dateline Disneyland please consider doing so via a safe and quick PayPal donation.
To donate, click here.
And don't forget - Dateline Disneyland is also on Twitter! If you still haven't checked us out on Twitter, head over there today and see why 2,600 other Disneyland fans have already started following Dateline Disneyland! The Dateline Disneyland Twitter is updated throughout the week with links to breaking news, mini updates, photos, and links to newsworthy MiceChat discussions. Head over to
Twitter.com/DatelineDisney
, or check out the widget to the right to follow us!
See you here again soon!
- Andy