Welcome to the June 22 edition of Dateline Disneyland. Kobe Bryant visited Disneyland Thursday and starred in a victory parade following the Los Angeles Lakers' big win. In Tomorrowland, new trees have been added in the planters in the former Cosmic Waves area, surrounding the remaining granite water ball. Over at Disney's California Adventure, we'll take a look at the newer and bigger Cocina Cucamonga and the on-going construction at the upcoming World of Color show. And finally we'll check out the upcoming Disneyland Hotel remodel.
Of course, we'll be looking at a lot of new and on-going construction projects around the Resort, so feel free to click on any of the
Project Tracker
images to get more information or join on-going discussion on any of the projects featured in today's column.
Let's get to it, shall we?

WELCOME TO LAKERSLAND!
Kobe Bryant starred in a victory parade down Main Street, U.S.A. on Thursday following the Los Angeles Lakers' 2009 NBA World Championship win.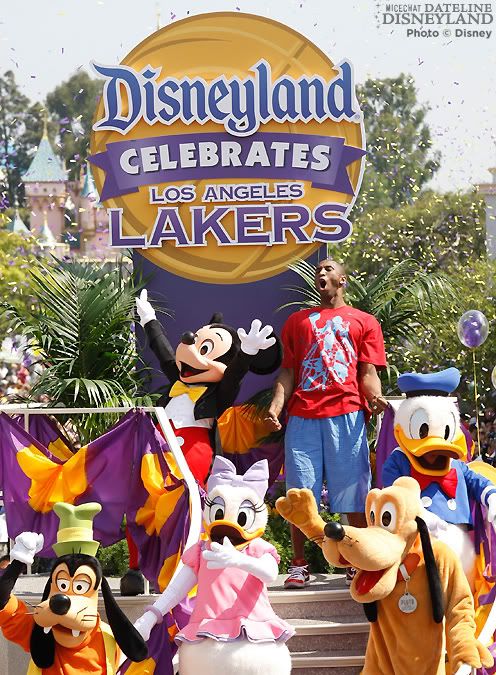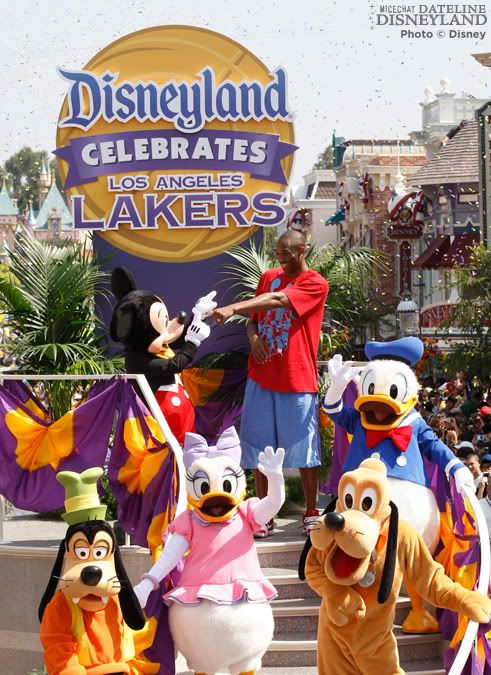 A Disneyland press release talked about the MVP's visit:
Disneyland Resort Celebrates Los Angeles Lakers and MVP Kobe Bryant with a Victory Parade for the 2009 World Champions
ANAHEIM, Calif. (June 18, 2009) – Celebrating the best in basketball, Disneyland Resort saluted the 2009 World Champion Los Angeles Lakers on Thursday with a victory parade down Main Street U.S.A. in Disneyland park. Kobe Bryant, MVP of the recent NBA Finals, smiled and waved to fans as he rode on a float to represent the Lakers in the special, celebration parade.
Some favorite Disney characters joined the magical parade as Disneyland guests cheered for the Lakers and their 15th NBA championship. The Lakers defeated the Orlando Magic to win the title in a "Fairytale Series" that matched up teams located near Disneyland Resort in Anaheim and Walt Disney World Resort in Orlando.
"It's like a dream come true to be here and celebrate at Disneyland, coming down Main Street, U.S.A. with all the fans cheering," Bryant said after the parade. "It's a tremendous honor to represent my team."
The presidents of the two resorts, Ed Grier at Disneyland and Meg Crofton at Walt Disney World, made a friendly wager on the NBA Finals. On Thursday, Crofton fulfilled her pledge by donning a pair of Lakers' purple and gold Mickey Mouse ears and walking down Main Street, U.S.A. in Magic Kingdom at Walt Disney World Resort.
Each of the resorts also turned the lights of their respective castles to the team colors of the Lakers and the Magic in celebration of the historic pairing. Sleeping Beauty Castle at Disneyland park was glowing with Lakers purple and gold during the NBA Finals and will stay that way through Thursday night.
"I heard there was a little competition with Disneyland and Disney World and we won," Kobe Bryant said, "so our colors are staying up a little bit longer."
Two of the many Lakers fans at Disneyland on Thursday were selected to ride the Matterhorn Bobsleds with Bryant after the parade. David Guerrero and his son Jonathan, 4, of Pomona, are Annual Passport holders and they came to Disneyland in their team jerseys to celebrate the Lakers' World Championship.
"They just picked us out of the crowd and said, 'Do you want to ride the Matterhorn with Kobe?' I'm shaking, this is so exciting," David Guerrero said as Jonathan jumped up and down. "In Southern California, being a Disney fan and a Lakers fan, it just goes together and that's why we wanted to be here today."
The Disneyland Resort victory parade provided yet another reason for dancing in the streets as Disney Parks asks guests, "What Will You Celebrate?" in 2009. Guests are celebrating birthdays, graduations, engagements and more at Disney parks and they are utilizing an unprecedented offer good throughout 2009 – the opportunity to visit a theme park at Disneyland or Walt Disney World Resort free on their birthdays.
<object width="640" height="385"><param name="movie" value="http://www.youtube.com/v/WCb9xwinQTY&hl=en&fs=1&rel=0"></param><param name="allowFullScreen" value="true"></param><param name="allowscriptaccess" value="always"></param><embed src="http://www.youtube.com/v/WCb9xwinQTY&hl=en&fs=1&rel=0" type="application/x-shockwave-flash" allowscriptaccess="always" allowfullscreen="true" width="640" height="385"></embed></object>
NOT SO MAGICAL
We recently received information that the Main Street Magic Shop will be closing by Saturday, June 27 at the earliest.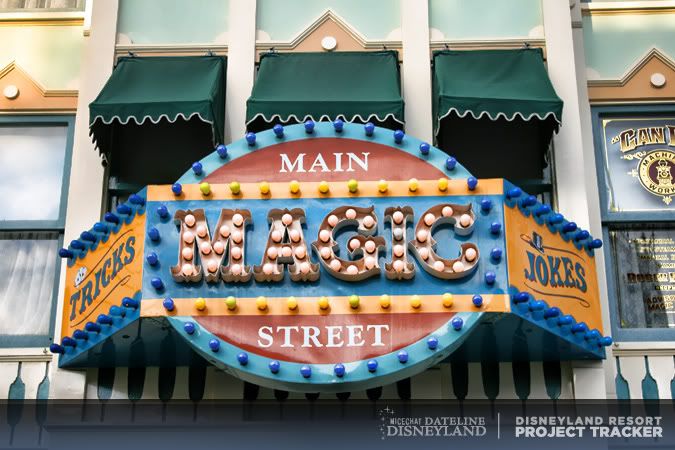 Current information says the shop is closing due to issues with the specialty merchandise supplier for the shop. An end-of-summer reopening is being looked at.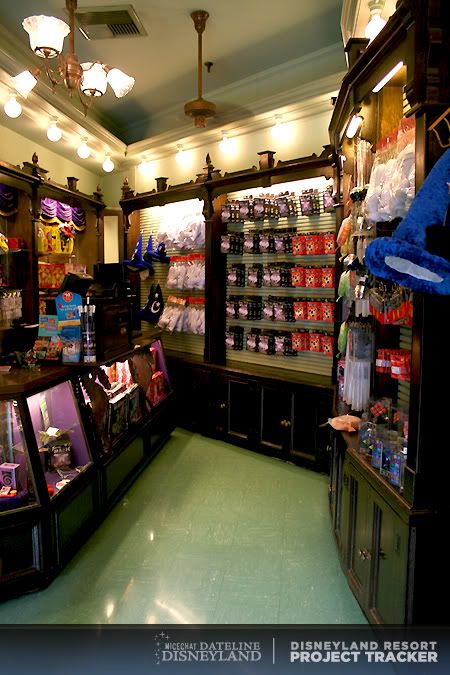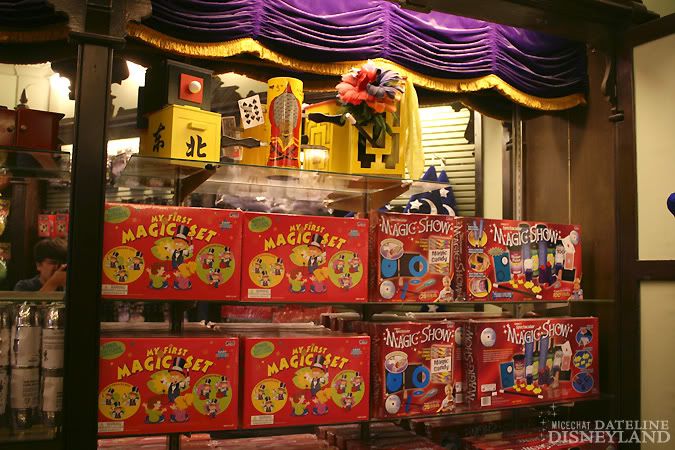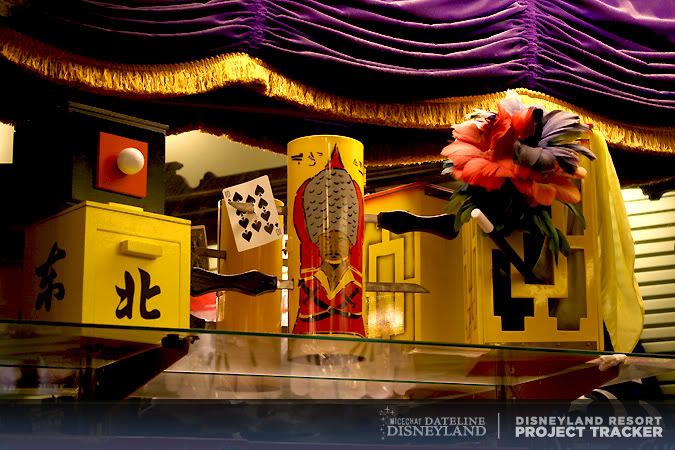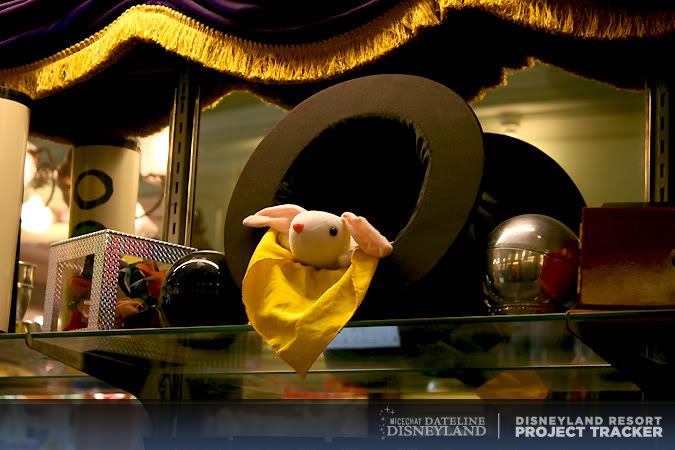 TOMORROWLAND TREES
Trees have gone in at the new planters in the old Cosmic Waves fountain area. The plaza how just features the granite ball water feature surrounded by new planters with benches. A nice shady area for a previously hot barren space.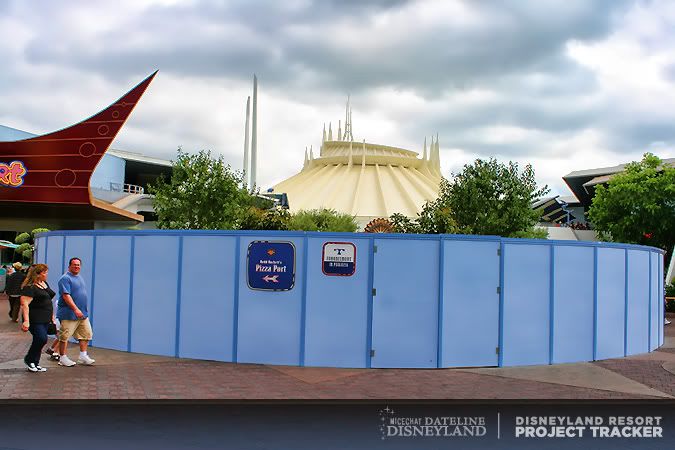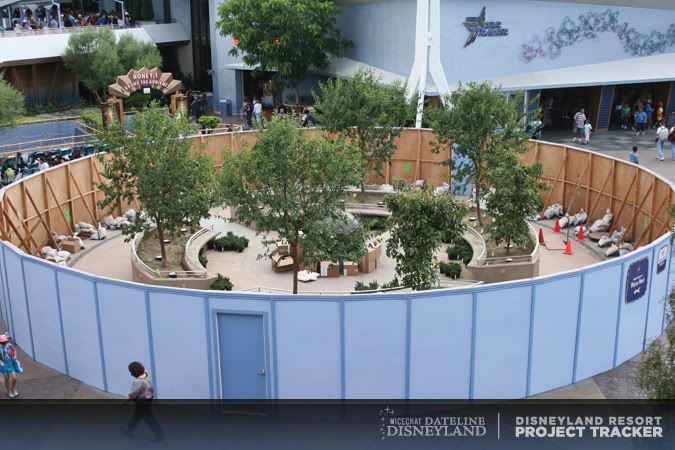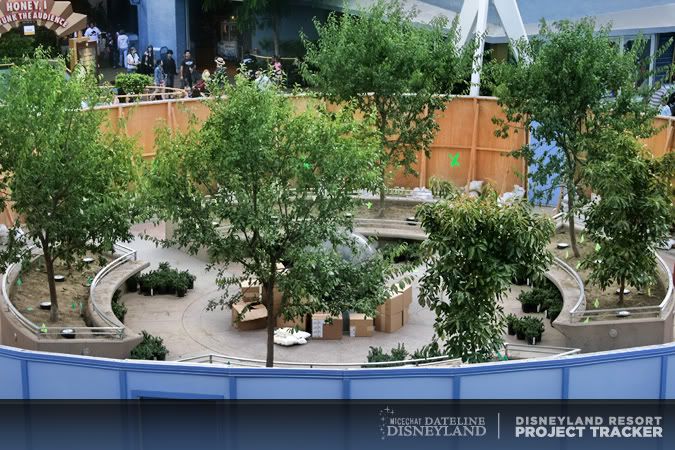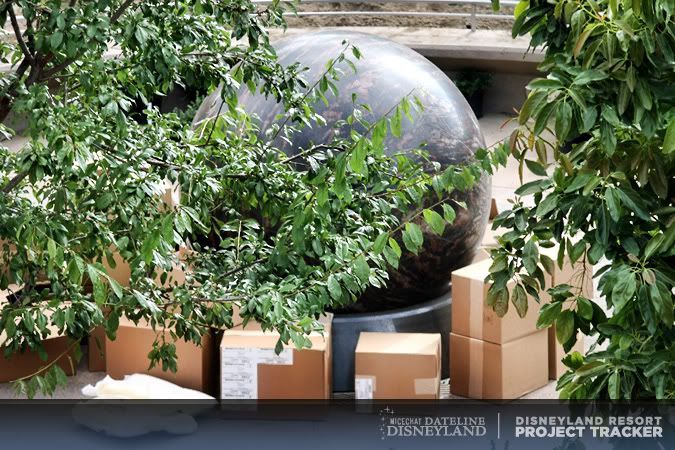 The Monorail awning along the side of the Tomorrowland Terrace is now completely replaced with the new shiny metal awning.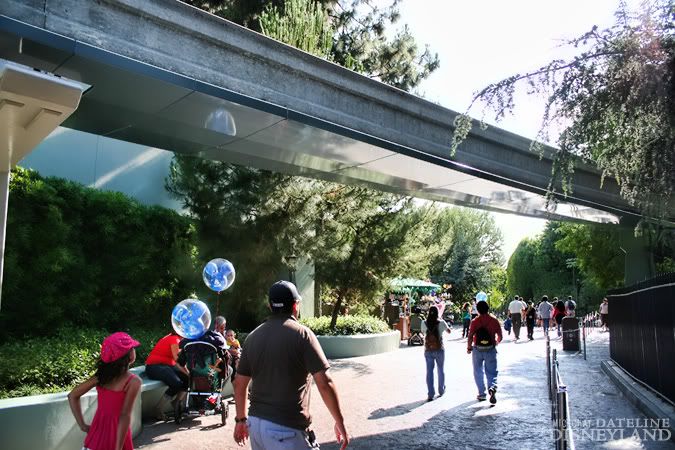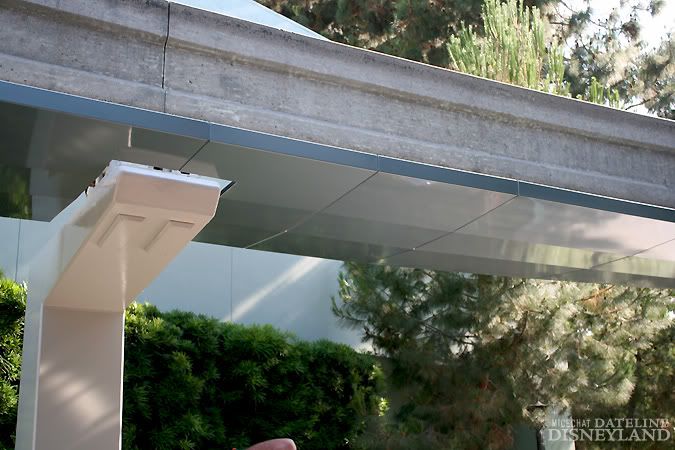 CALIFORNIA CONSTRUCTION
Construction continues in California Adventure's (DCA) Paradise Bay, and the restaurant shuffle continues on Pacific Wharf.
COCINA CUCAMONGA
The new, bigger Cocina Cucamonga opened last week in Pacific Wharf's former Lucky Fortune Cookery dining location.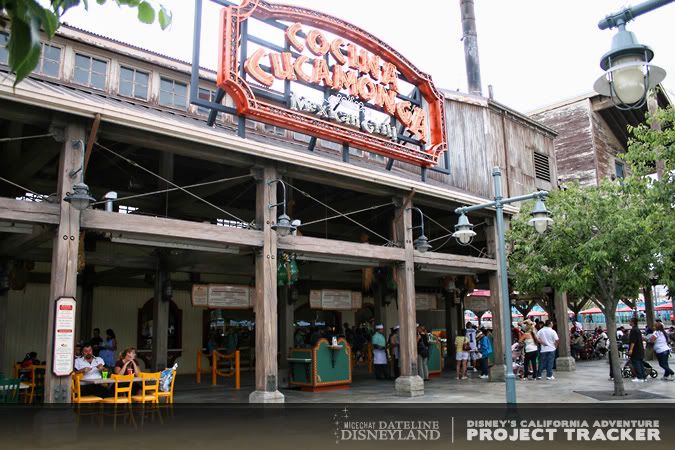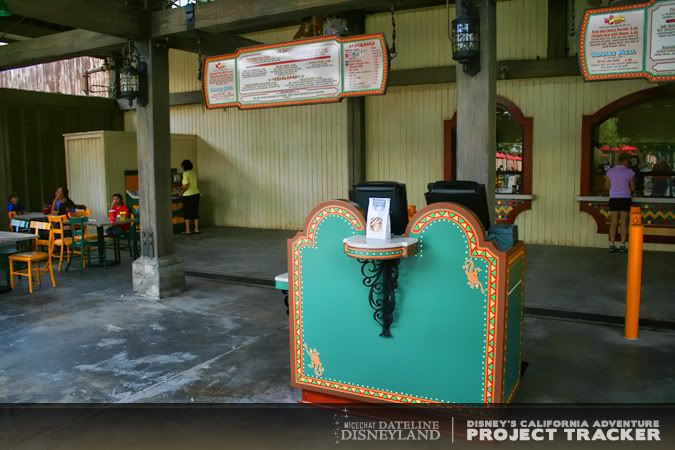 The restaurant has moved over from the other side of the Pacific Wharf courtyard and in the process has expanded its menu.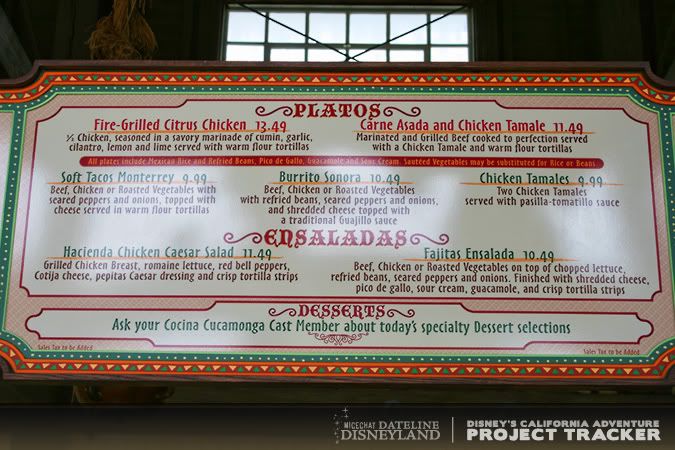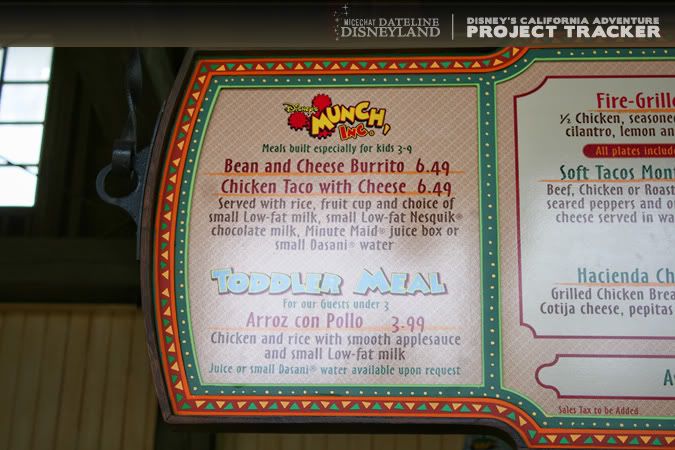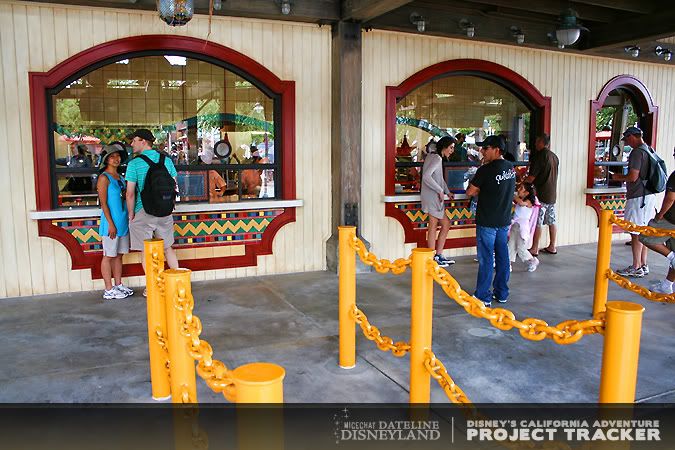 The Lucky Fortune Cookery's old dessert fortune cookie window is now covered up.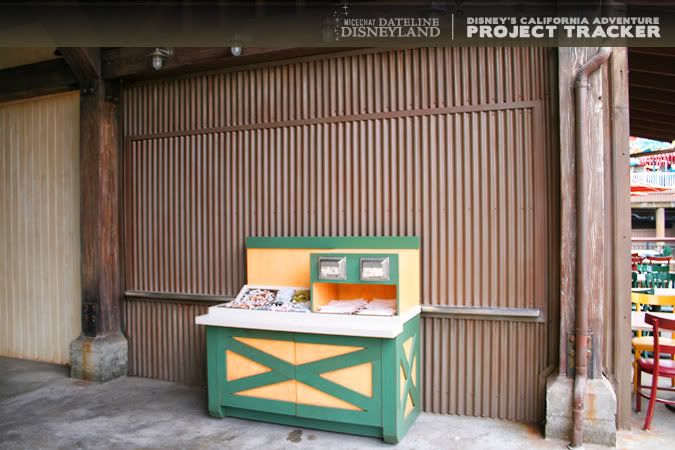 Across the way, the original Cocina Cucamonga has been surrounded by construction walls as it begins its conversion into a new Asian-style dining location.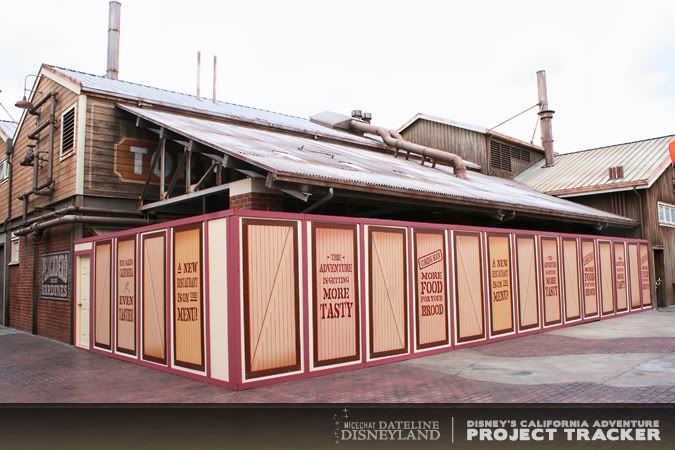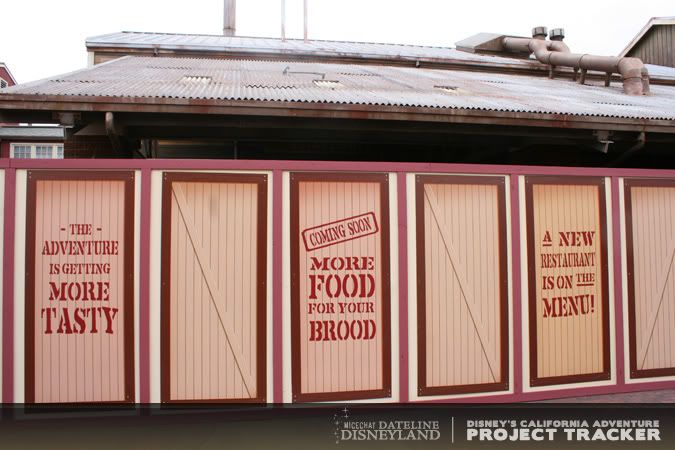 WORLD OF COLOR & VIEWING AREA
Work continues all the time in Paradise Bay and in the former Golden State Park as construction crews build the brand new World of Color night time water show and the big 9,000-person viewing area.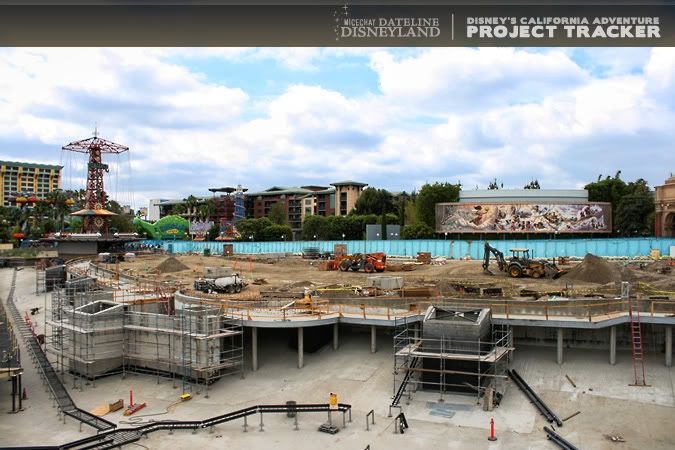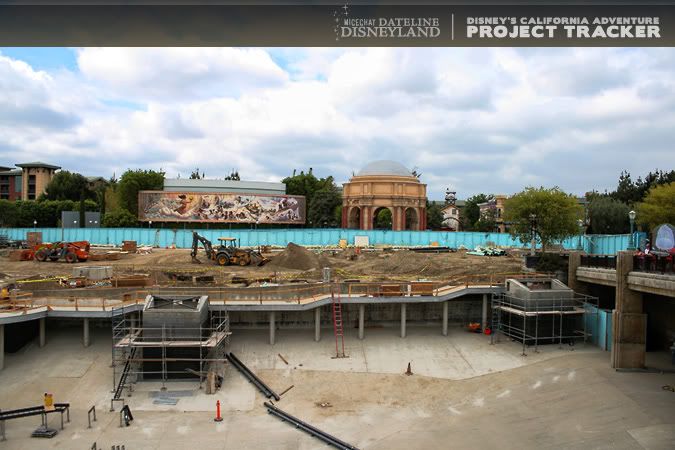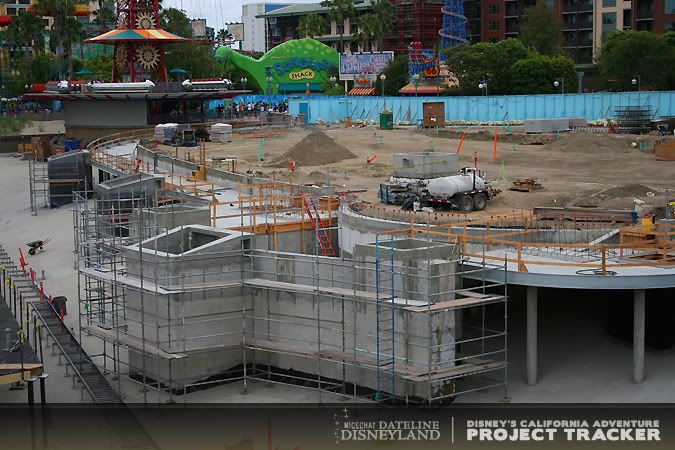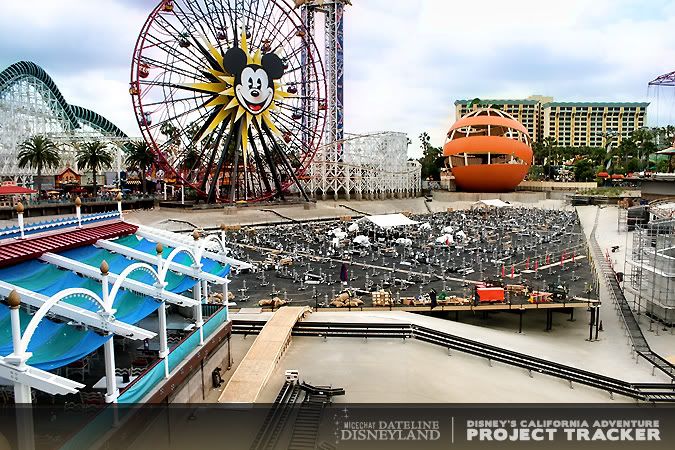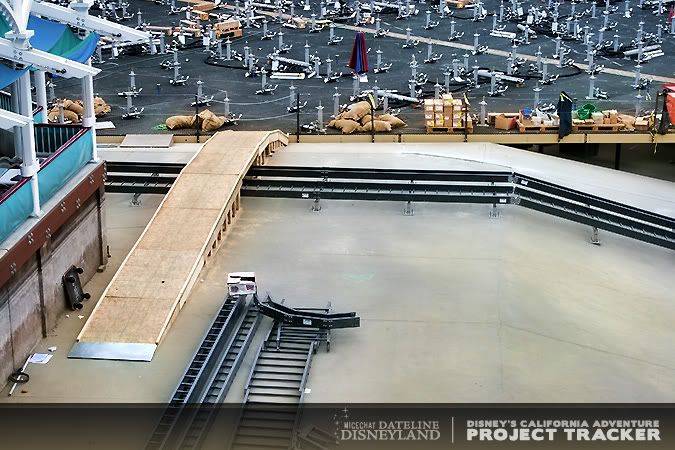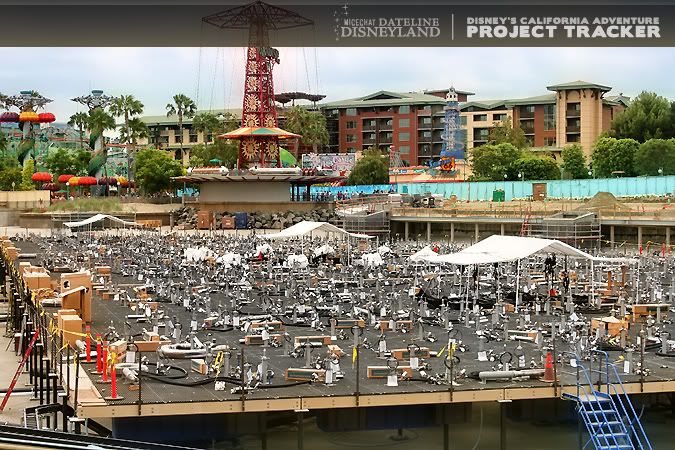 No progress can yet be seen along the Route 66 area where Dinosaur Jack's Sunglass Shack, Corn Dog Castle, and Souvenir 66 are behind walls for retheming (and for demolition as far as Dinosaur Jack is concerned).
Directional signs let guests know that corn dogs are now available at the Farmers Market.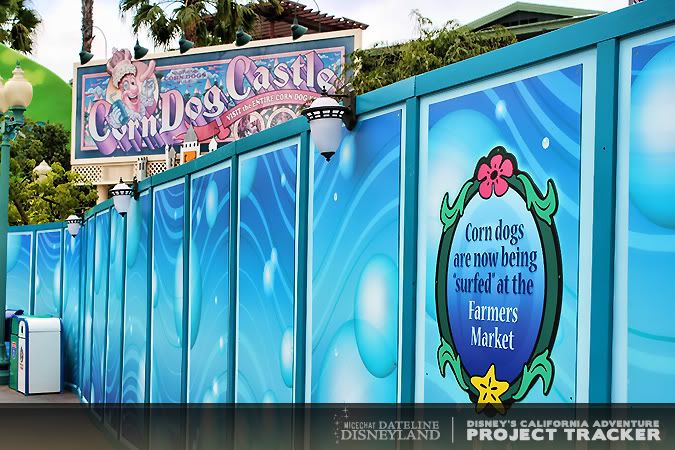 ...and that souvenirs can be found elsewhere in the park.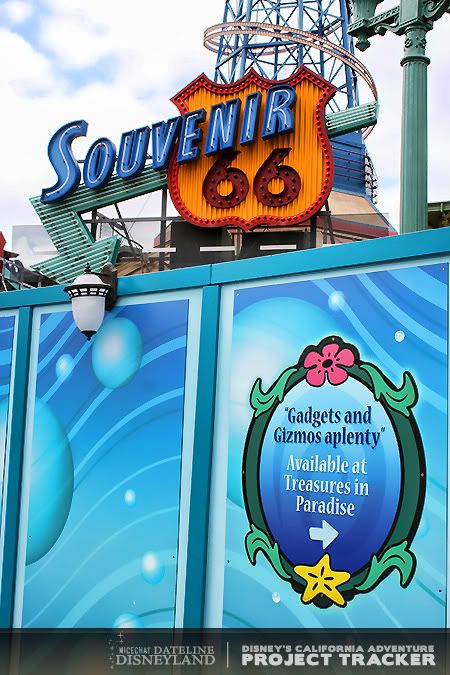 DISNEYLAND HOTEL REMODEL
Disney unveiled significant plans to renovate the Disneyland Hotel on Tuesday in a multi-phase project beginning in August 2009.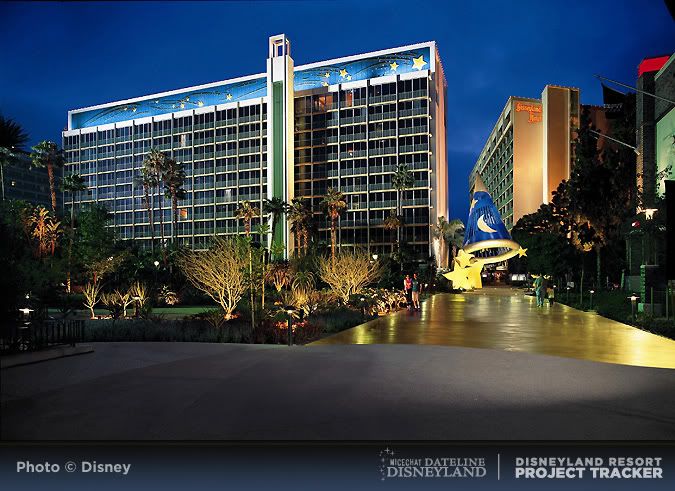 Disney released publicity photos of the rooms as they will be remodeled.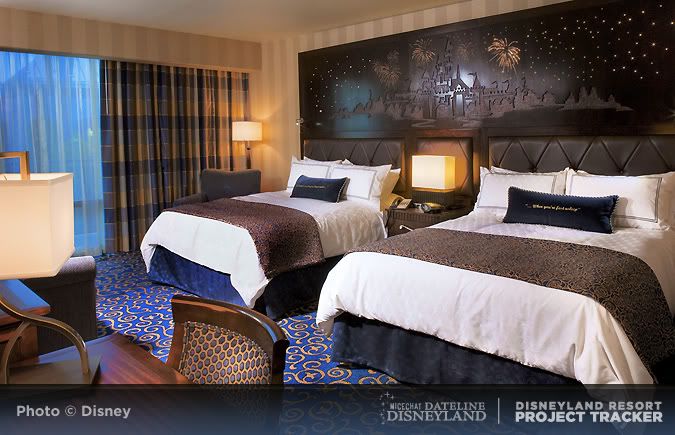 Landmark Disneyland Hotel to Undergo Significant Renovation
Historic hotel to feature considerable changes to guest rooms, exterior
ANAHEIM, Calif. (June 16, 2009) – Beginning in August 2009, Southern California's landmark Disneyland Hotel will start a significant renovation project that will include major improvements to its guest rooms and considerable changes to the exterior of the hotel. The hotel will remain open during the renovation, which will be conducted in phases, and is scheduled to be completed in 2012.
"We are excited to embark on the largest and most extensive renovation of one of Disney's classic hotels," said Disneyland Resort President Ed Grier. "This renovation provides us with the opportunity to bring new magic to this historic hotel, which enables us to enhance the Disney experience that our guests have come to expect. "It also reinforces our ongoing commitment and investment in the Anaheim Resort District – working with the city and area businesses to continue to evolve the district into a world-class, multi-day tourist destination," added Grier.
Significant Guest Room Upgrades, New Room Amenities and Exterior EnhancementsPopular Choice for Convention Visitors
In addition to being a top choice for vacationing families, Disneyland Hotel has long been a favorite for meeting and convention planners because of its prime location and size – and direct access to more than 136,000 square feet of convention space. Anaheim hosts hundreds of groups each year and the renovation will help maintain the city's premiere position as a meeting destination.
"We are thrilled with Disney's plans to renovate the Disneyland Hotel," said Charles W. Ahlers, president of the Anaheim/Orange County Visitor and Convention Bureau. "With the renovation of the hotel and the expansion of Disney's Grand Californian, coupled with other new hotel developments that are coming to Anaheim over the next few years, our city will continue to be a premier destination for convention and meeting planners."
Energy Efficient Enhancements
As with other construction and enhancements that are underway throughout Disneyland Resort, the renovation will include energy-efficient upgrades. The most notable feature will be the hotel's new windows. With their reflective capabilities and double-pane glass, the windows will change the look of the exterior of the hotel dramatically, while reducing energy consumption by keeping guest rooms at the desired temperature.
The use of occupancy sensors in guest rooms, low-flow toilets, energy-efficient light bulbs and paint low in volatile organic compounds are just a few more of the ways that the hotel will offer guests a "green" lodging experience.
Renovation is Part of Larger Resort Expansion
The Disneyland Hotel renovation is a part of a larger expansion project underway throughout the resort. Disney's California Adventure Park is undergoing a multi-year expansion project that includes new experiences, attractions and night-time spectaculars, culminating in 2012 with the opening a brand new land – Cars Land. The four-star Disney's Grand Californian Hotel & Spa is also undergoing an expansion, adding 200 hotel rooms and 50 two-bedroom villas that are part of Disney Vacation Club, which will make its first West Coast debut when it opens in the fall of 2009.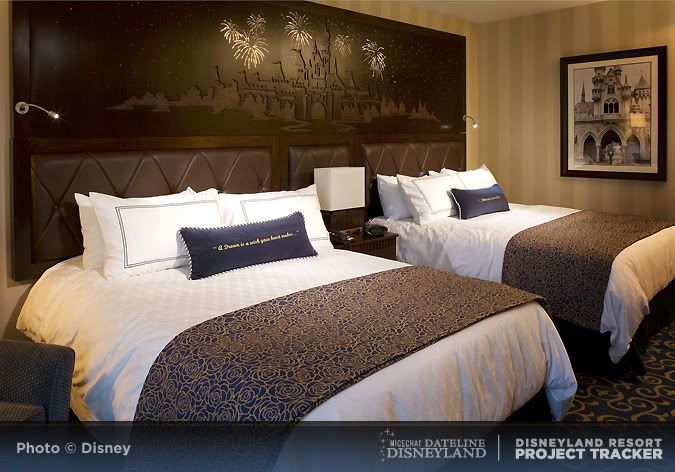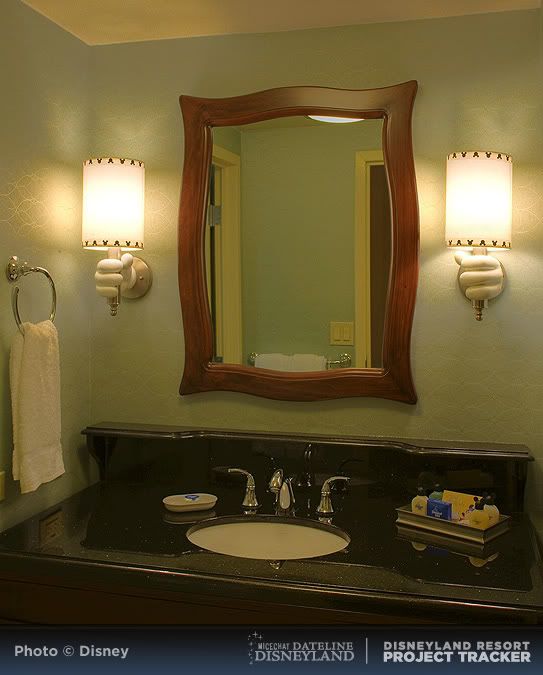 Paint tests and windows can have been visible on a couple rooms at the Disneyland Hotel's Magic Tower for some time now.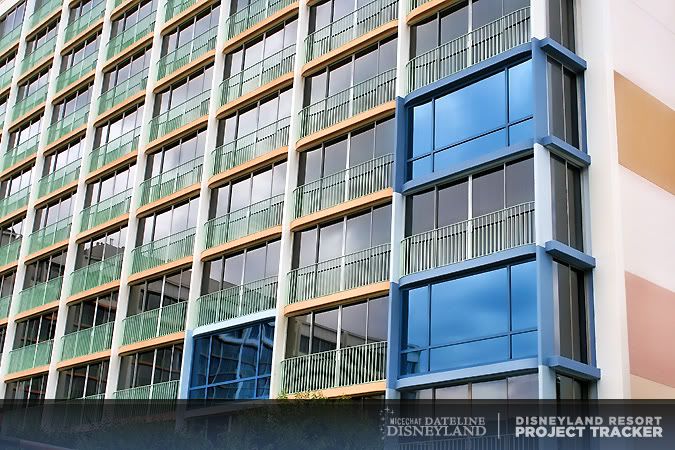 STUDIO DISNEY 365
The new Studio Disney 365 now has a main marquee and is set to open this Friday in Downtown Disney.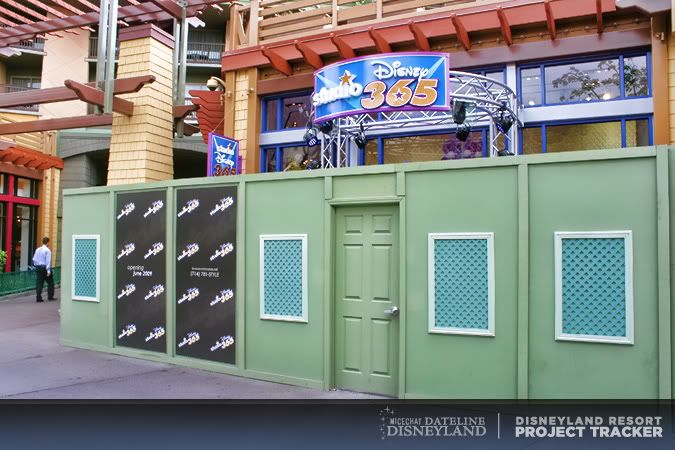 The new store replaces the former Club Libby Lu and offers the same sort of services - high-priced makeovers for girls (and one option for boys).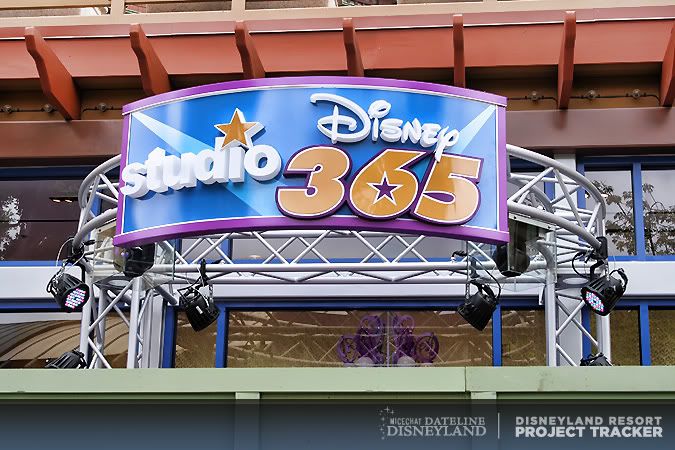 The
ArtofDisneyParks.com website
has a full price list for makeovers.
All packages include a Talent Contract, Choice of Hair Makeover, Complete Cosmetic Makeover, Deluxe Make-up Case, a Downloadable Image JPEG., Customized Lanyard with Photo and a Photo Shoot.

From The Top - $29.95
Your hair our unique style.

Color Cue - $39.95
Includes a unique twisted pony design and choice of up to four colored streaks.

That's A Wrap - $49.95
Includes 5 front braids and high pony twists, your choice of faux hair tousled pony and a lace stretch headband.

Spotlight - $49.95
Includes 2 French braids wrapped to each side, your choice of faux hair pony tail and a flower hair accessory.

Secret Star - $59.95
Includes a Hannah Montana inspired wig with sequined headband, rocker light-up headset, and a themed face gem.

Rock Star - $18.95 (For Boys)
Includes a slicked back or spiked hairstyle with colored gel tips, smokey eyes, a downloadable image JPEG., and a customized lanyard with photo

Wardrobe Packages Include:
You are wanted on the set! Get ready for action as you take center stage dressed from head to toe in today's fashions. Purchase a wardrobe package and save up to $10* (Wardrobe packages start at $81, plus tax). Get ready for your close up, with so many options to choose from, you will definitely be a hit.
Advanced reservations are recommended and can be made by calling 714-781-Style (714-781-7895).
THIS AND THAT
A penny press in Main Street's Penny Arcade features anniversary designs for three Disneyland Mountains celebrating milestone anniversaries this year: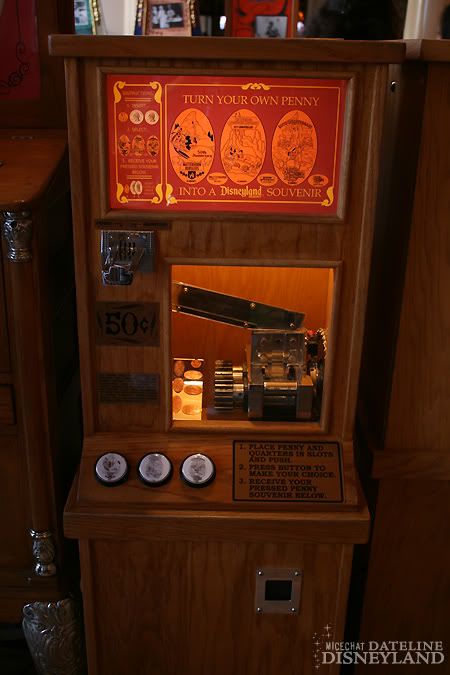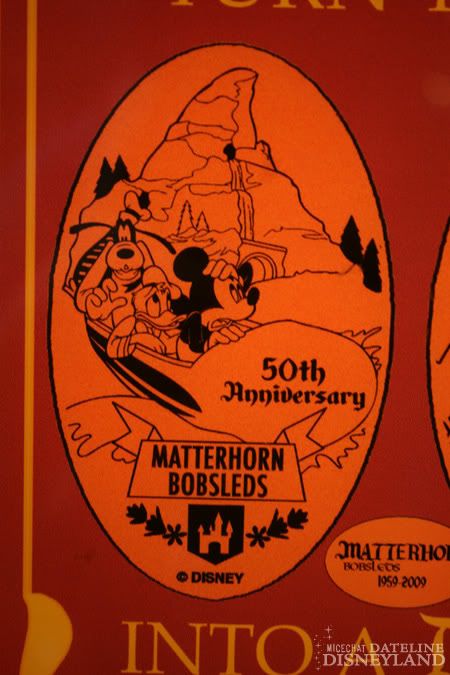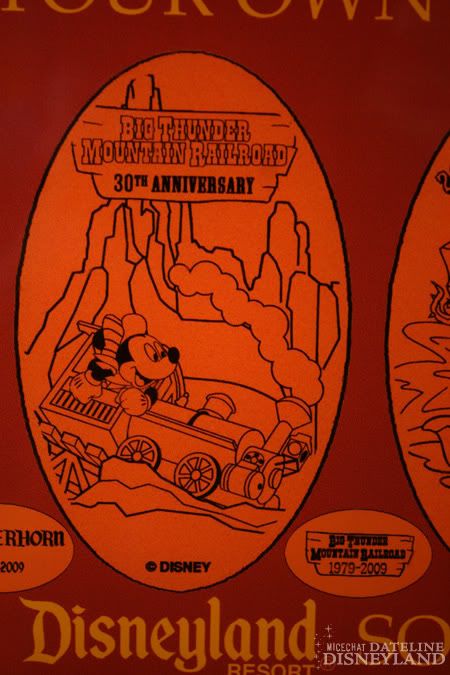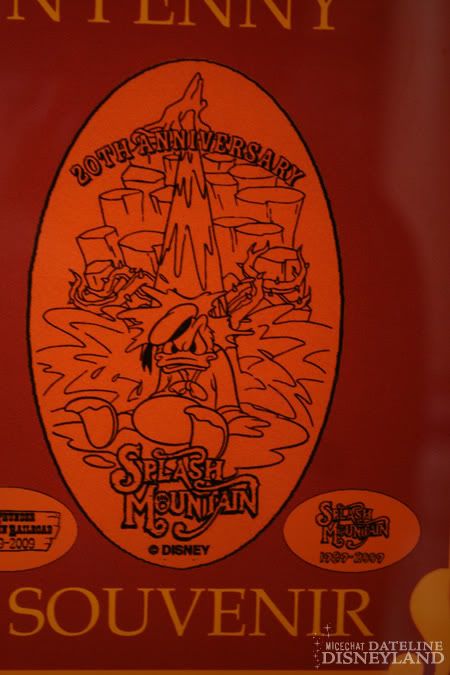 Disneyana is now selling limited-edition big figs of Mickey, Minnie, and Goofy as Star Wars characters: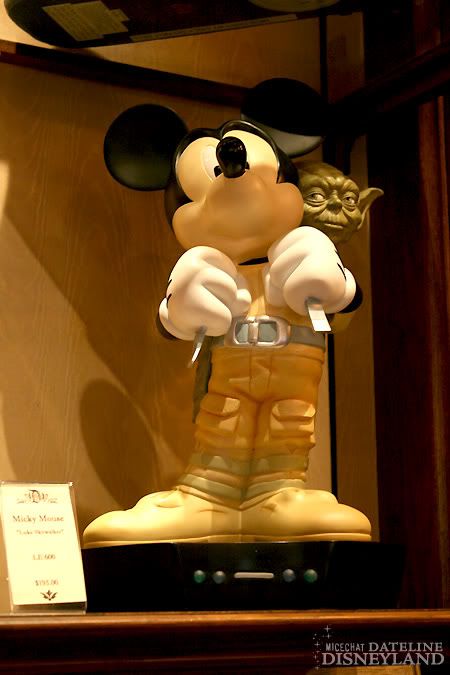 AROUND THE PARKS
And to finish today's photo section, some photos from around the parks. You can click on these for full-res downloads at their Flickr photo pages.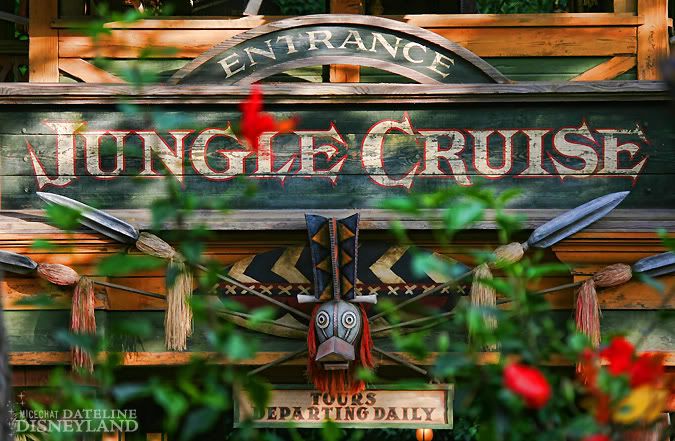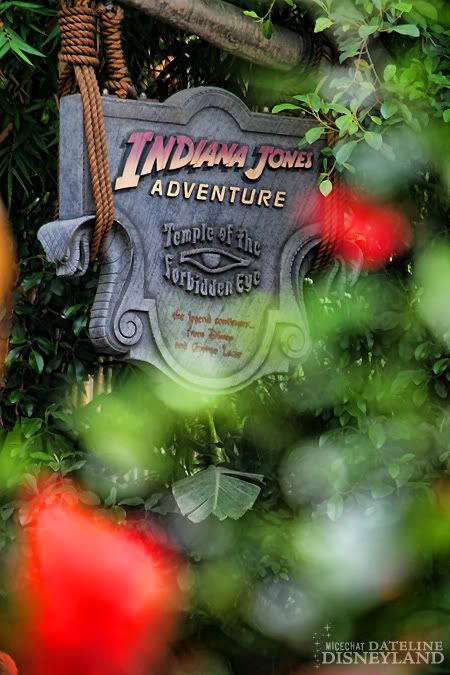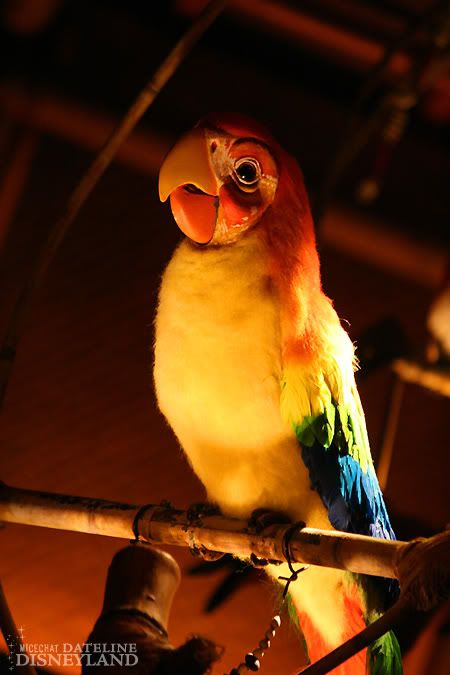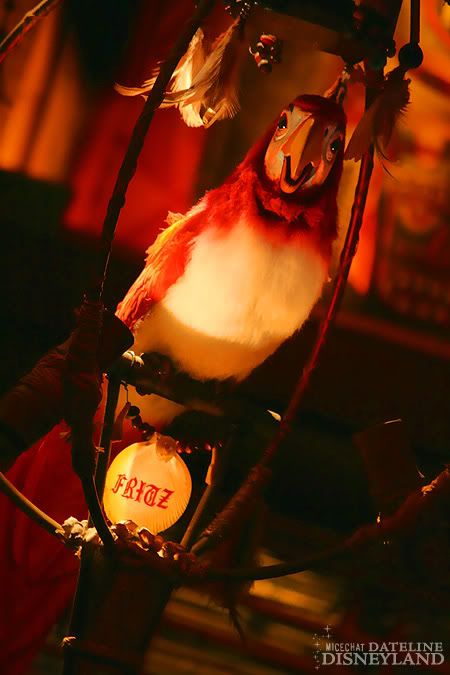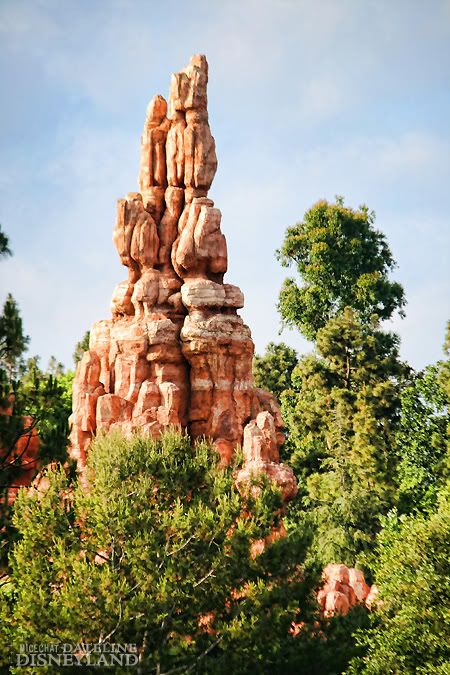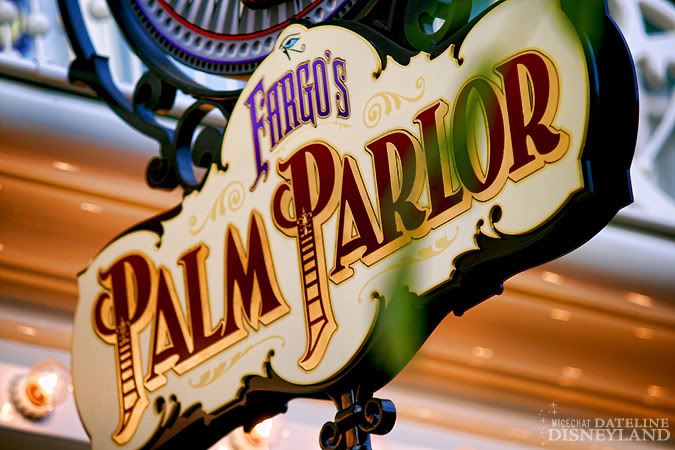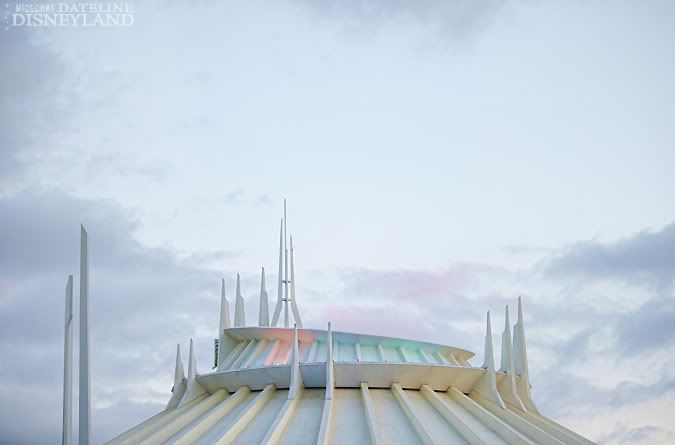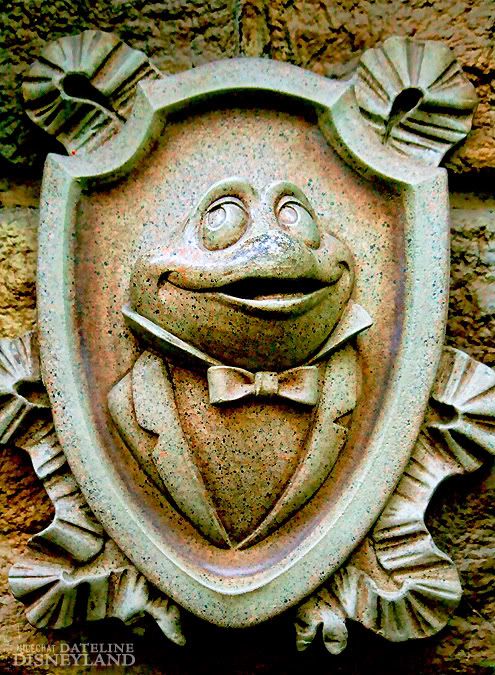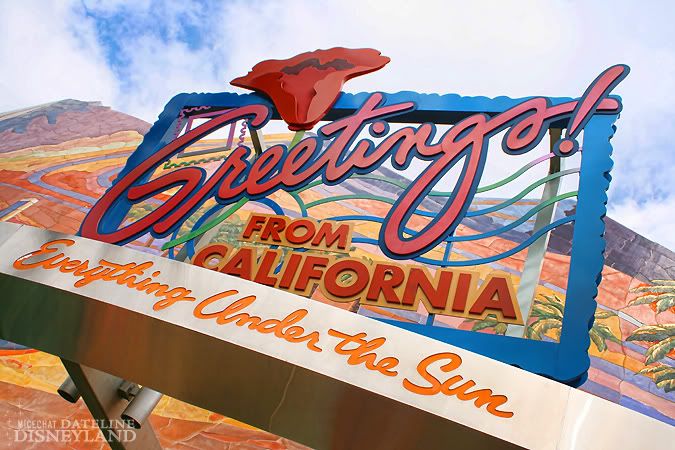 <SCRIPT charset="utf-8" type="text/javascript" src="http://ws.amazon.com/widgets/q?ServiceVersion=20070822&MarketPlace=US&ID=V20070 822/US/disneylandres-20/8001/defc2f58-fb71-4fe2-b5c3-4f6a4a094641"> </SCRIPT> <NOSCRIPT><A HREF="http://ws.amazon.com/widgets/q?ServiceVersion=20070822&MarketPlace=US&ID=V20070 822%2FUS%2Fdisneylandres-20%2F8001%2Fdefc2f58-fb71-4fe2-b5c3-4f6a4a094641&Operation=NoScript">Amazon.com Widgets</A></NOSCRIPT>
DISNEYLAND WEEKLY HOURS AND INFO
THEME PARK HOURS JUNE 22 - 28
For a complete listing of theme park hours, please visit the
Disneyland.com Theme Park Calendar
Disneyland Park
Monday - Sunday: 8 am - 12 midnight

Disney's California Adventure Park
Monday - Thursday: 10 am - 9 pm
Friday: 10 am - 10 pm
Saturday - Sunday: 10 am - 9 pm

CURRENT ATTRACTION CLOSURES & REFURBISHMENTS
Disneyland Park
Magical - Fireworks Spectacular: Show dark July 2 - 5 for Fourth of July fireworks shows.
Snow White's Scary Adventures: Closed through July 3
Pinocchio's Daring Journey: Closed July 20 through August 14.
The Enchanted Cottage: Closed July 29 through November 17.
Casey Jr. Circus Train: Closed August 31 through November 20.
Storybook Land Canal Boats: Closed August 31 through November 20.
Remember... Dreams Come True - A Fireworks Spectacular: On hiatus. Returns fall 2009.
Disneyland: The First 50 Magical Years/Main Street Opera House: Closed. Reopens as The Disneyland Story: Featuring Great Moments With Mr. Lincoln December 17, 2009.
Disney's California Adventure Park
Cocina Cucomonga: Food service location closes June 18, when new location opens. Reopens with new Asian-style menu September 14.
Walt Disney Imagineering Blue Sky Cellar: Closed to change exhibits July 10 - 15.
The Little Mermaid: Ariel's Undersea Adventure: Under construction. Golden Dreams theater is scheduled for demolition to make way for new attraction.
Dinosaur Jack's Sunglass Shack: Closed permanently and will be removed.
Souvenir 66 and Corn Dog Castle: Store and dining location closed for remodeling through May 2011.
Orange Stinger: Closes July 14 to be rethemed as Silly Symphony Swings. Reopens April 28, 2010.
Paradise Bay: Drained for construction of upcoming Disney's World of Color show.
Disney's World of Color Nighttime Spectacular: New show under construction. Debuts Spring 2010.
Golden State Park and Amphitheater: Closed. New, larger amphitheater for Disney's World of Color viewing under construction in same location. The new amphitheater will open December 2009.
ON THE HORIZON AT DISNEYLAND
Disneyland issued a press release announcing upcoming events and attractions. It's a handy run-down of new things that you may have forgotten were on their way.
What's Next at Disneyland Resort?
New Looks for Favorite Attractions; Magical Makeovers;
First-Ever D23 Expo; Return of Disney Gallery and Mr. Lincoln
ANAHEIM, Calif. (June 12, 2009) – As Summer Nightastic! lights up the night this summer at Disneyland Resort, more exciting Disney attractions and experiences are on the horizon.
GET A DISNEY STUDIO STAR MAKEOVER AT STUDIO DISNEY 365:
Opening Friday, June 26, in Downtown Disney, Studio Disney 365 offers aspiring stars, age 3 and up, makeover transformations and an opportunity to walk the carpet for a grand, show-business-style entrance. Girls and boys can choose from a range of "rock star" hair, makeup and costume options for their own scene-stealing experience, inspired by the characters from "Hannah Montana."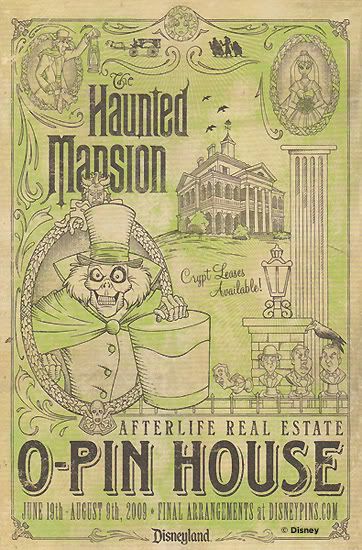 HOT AND COLD RUNNING CHILLS:
The summer-long celebration of a Disneyland landmark, Haunted Mansion, begins in June with the roll-out of new Haunted Mansion-themed additions to the popular Disney pin-trading program. On Sunday, Aug. 9, the 40th anniversary of the Haunted Mansion opening, the popular artist Shag will be in the Disneyana shop on Main Street, U.S.A. signing his new Haunted Mansion artwork.
www.artofdisney.com
.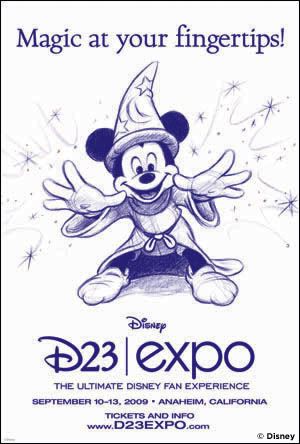 DISNEY UP CLOSE AND BEHIND THE SCENES AT D23 EXPO:
D23, the official community for Disney fans, will present its first-ever D23 Expo Thursday through Sunday,
Sept. 10-13, at the Anaheim Convention Center near Disneyland Resort. D23 Expo will offer fans unprecedented access to never-before-seen movies, TV shows, theme park experiences, collectibles and more. Early glimpses of upcoming new Disney movies, a look ahead to new vacation destinations and theme park attractions (including the expansion of Disney's California Adventure) and an extraordinary exhibition of classic and contemporary Disney artifacts will be among the highlights of D23 Expo. In addition, D23 Expo will be the home for the 2009 Disney Legend Awards, a 22-year tradition that pays tribute to the talented men and women who have made indelible contributions to Disney entertainment. For more information, visit
www.D23EXPO.com
.
DISNEY VACATION CLUB COMES WEST:
Disney Vacation Club's first accommodations on the West Coast will welcome its first occupants on Wednesday, Sept. 23, at Disney's Grand Californian Hotel & Spa. The 50 two-bedroom-equivalent vacation villas are part of a Grand Californian expansion that also includes 200 new hotel rooms, a new swimming pool and underground parking. Bookings begin in June for the first Disney Vacation Club on the West Coast.
THE RETURN OF DISNEY GALLERY AND MR. LINCOLN:
Long a favorite of Disney fans and collectors of Disney art, the Disney Gallery will reopen this fall in a new home next to the Main Street Opera House at Disneyland in the space originally occupied by the Bank of Main Street. Later in the year, the Opera House next door will reopen with the inspiring and newly refurbished The Disneyland Story featuring Great Moments With Mr. Lincoln. Opening dates will be determined later this year.
HOLIDAY FAVORITES:
MICECHAT TALKS WITH D23'S STEVEN CLARK
MiceChat's Dustysage spoke with D23 head Steven Clark following the June 16 registration fiasco for the members-only Walt Disney Studios and Archive tours, which left many members disgruntled and without tickets.

MiceChat Interviews Steven Clark Of D23 - Event Ticket Process, Expo, Future Events
Following yesterday's ticketing issues for D23's Disney Studios tours, I reached out to Steven Clark, Head of D23 and Executive Editor of Disney Twenty-Three Magazine, to find out a bit more about what really happened yesterday and what the minds behind the mouse might be doing about it. I also used this opportunity to ask about future D23 events. Here's a transcript of our conversation:
I understand that the Walt Disney Studio Tour event sold out almost immediately?
Yes, the demand was greater than we ever could have imagined, and we were thrilled to have so many of our members interested in the tours. However, some D23 members reported receiving "sold out" notices even though their clocks indicated it was a couple minutes before 11 a.m. Pacific Time. We recognize how frustrating this must have been and are currently working to add more tour groups on those days to accommodate members on the waitlist who were affected by this discrepancy. In addition, D23 will be offering more Archives/Studio Tour dates later this year so even more members can experience this special event (members who secured a reservation for a previous tour will not be eligible to participate again this calendar year).
Any thoughts or advice that will help people obtain tickets to future events?
The D23 team wants our members to know that we are trying to create very special, memorable experiences for you. The capacities will vary due to factors ranging from the venue size to what it takes to provide you with the best possible guest experience. Whether our events are in a large theater or are more intimate in nature, we will continue to offer as much access as possible to these experiences on a first-come, first-served basis.
For the full interview, check it out here:
MiceChat Interviews Steven Clark Of D23 - Event Ticket Process, Expo, Future Events
DISNEYLAND ICON CELEBRATES 50 YEARS
The OC Register's Around Disney blog has a great retrospective on the history of Disneyland's Matterhorn Bobsleds ride, which celebrated its 50th anniversary last Sunday.
Disneyland's Matterhorn still packed at 50
Mothers, fathers and children pack the queue leading into Disneyland's Matterhorn – families have been clamoring for a ride on the classic bobsleds for 50 years, a ride that turned 50 on Sunday.
The dual-track rollercoaster is an Orange County landmark, of course, whether seen from outside the park or inside Disneyland. "It was the first thrill ride at Disneyland," said Disney Industrial Engineer Paul Bielat, who used to help run the Matterhorn early in his career. "It was kind of a status thing to get to work here. You just didn't get hired right away."
Bielat spoke in the bowels of the mountain itself – a 147-foot-high monument build of wood and concrete on a steel substructure. A place few get to see.
The first four stories of the mountain are occupied by the two tubular-steel bobsled tracks that intertwine in serpentine loops until they bring the bobsleds hurtling down into "Alpine ponds" to end the ride.
The fifth floor is an expanse of wood planks with an enclosed break room and basketball half-court for staffers. Caged off in the center are wooden stairs that wind their way up through platforms to the summit of the mountain, where a ladder leads to a trap door that opens onto the shallow depression on the peak.
(Tinkerbell, a dressed-up cast member, often descends the Matterhorn via a cable to the ground from here.)
The ride is basically the same as it was when it first opened.
Bielat was part of the team overseeing the major Matterhorn renovations in 1978, when the single-bobsled cars were linked to make groups of two, the Abominable Snowman was added as an extra scare and computer-sensing equipment was installed.
After the 1994 death of Walt Disney Co. President Frank G. Wells, a noted mountain climber, engineers added a tableau of a lost climbing expedition to honor him.
At different points throughout the history of the Matterhorn, Disney has employed professional climbers to don lederhosen and ascend the summit for the entertainment of the park guests.
"We were hired in 1985 for climbing," recalled Disneyland Entertainment Manager Keith Wing, who at one point was a climber himself. "We had climbing rope and carabiners as a runner. What we would climb on, we'd clip into metal bolts. The bolts were out there (originally) for the painters, but they followed some incredible routes."
For the full article, visit the Around Disney blog:
Disneyland's Matterhorn still packed at 50
EDEN ESPINOSA TALKS ABOUT MAGICAL
The OC Register's Around Disney blog also spoke with Eden Espinosa about working at Disneyland and now being the voice of Disneyland's new Magical fireworks.
INTERVIEW: Eden Espinosa — the voice of 'Magical'
From Disney Way to Broadway and back again, singer and actress Eden Espinosa is the featured voice in Disney's Summer Nightastic.
A former student at Canyon Hills High School in Anaheim and Fullerton College, she is commonly known for her role "defying gravity" as Elphaba in the wildly popular Broadway show "Wicked." Espinosa is still defying gravity; this time her voice resonates throughout the skies of Disneyland as the soloist for the soundtrack of Magical, Disney's new nighttime fireworks spectacular.
After a day at Disneyland spent riding Indiana Jones, Pirates of the Caribbean and, of course, listening to herself sing in Magical, Espinosa sat down with Around Disney at the Nightastic! opening to share her experiences.
Question: How did you get started working at Disneyland?
Answer:
I started working at the park when I was 17. My first job was in the Christmas Fantasy Parade. It was the first year they had live carolers in the parade. After that I did a few different stage shows and the atmosphere singing groups. I did the Dickens Carolers in the park, an A Cappella group in Disney's California Adventure called Group 66. I did a stage show called Steps in Time, Animazement, Hunchback of Notre Dame Festival of Fools — I did a lot! I worked here on and off for eight years and had an amazing time.
Q:You've grown up in Orange County, so it seems like you've always had a connection with the park.
A:
I've had different family members working as cast members when I was growing up. I would go back stage after the shows and just watch the shows with my eyes wide open saying, "I want to work at Disneyland!"
So when I started working here it was a dream come true for me. Once you start working here, you see other capacities - when I would see different singers in the fireworks shows or Fantasmic!, I would think, "Oh, I want to do that too." So this is another check in the box off the list of goals. It's an honor and a privilege, and I'm so happy to do it.
[ . . . ]
Q: How did the process of singing for the fireworks unfold?
A:
Bruce Healey (Senior Music Producer at Disneyland) contacted me and I sent in a few clips of me singing so they could show the director, and then they called me back saying, "We'd love for you to do this if you are interested." I was like, "Are you kidding me? Yes! I'll be there!"
For the full interview, visit the Around Disney blog:
INTERVIEW: Eden Espinosa — the voice of 'Magical'
DISNEYLAND OFFERS FOURTH OF JULY FIREWORKS FOR FOUR NIGHTS
And finally, Al Lutz broke the news on Saturday that Disneyland will offer its special Fourth of July fireworks for four nights, July 2 - 5. The show will replace the 'Magical' show all four nights, and is a full fireworks show celebrating the holiday. The new show debuted last year, but was stopped mid-show due to high winds. This year's multiple showings will ease guest demand on July 4th, as well as give additional opportunities to see the show during a time when Santa Ana winds are notorious for canceling Disneyland fireworks.
For on-going discussion about the four nights of Fourth of July fireworks, join the conversation on MiceChat:
MiceChat: Disneyland 4th of July fireworks - For 4 nights this year!
<SCRIPT charset="utf-8" type="text/javascript" src="http://ws.amazon.com/widgets/q?ServiceVersion=20070822&MarketPlace=US&ID=V20070 822/US/disneylandres-20/8001/defc2f58-fb71-4fe2-b5c3-4f6a4a094641"> </SCRIPT> <NOSCRIPT><A HREF="http://ws.amazon.com/widgets/q?ServiceVersion=20070822&MarketPlace=US&ID=V20070 822%2FUS%2Fdisneylandres-20%2F8001%2Fdefc2f58-fb71-4fe2-b5c3-4f6a4a094641&Operation=NoScript">Amazon.com Widgets</A></NOSCRIPT>
<object classid="clsid:d27cdb6e-ae6d-11cf-96b8-444553540000" codebase="http://download.macromedia.com/pub/shockwave/cabs/flash/swflash.cab#version=9,0,124,0" width="225" height="335" id="TwitterWidget" align="right">
<param name="allowScriptAccess" value="always" />
<param name="allowFullScreen" value="false" />
<param name="movie" value="http://static.twitter.com/flash/widgets/profile/TwitterWidget.swf" />
<param name="quality" value="high" />
<param name="bgcolor" value="#000000" />
<param name="FlashVars" value="userID=16832260&styleURL=http://static.twitter.com/flash/widgets/profile/smooth.xml">
<embed src="http://static.twitter.com/flash/widgets/profile/TwitterWidget.swf" quality="high" bgcolor="#000000" width="225" height="335" name="TwitterWidget" align="middle" allowScriptAccess="sameDomain" allowFullScreen="false" type="application/x-shockwave-flash" pluginspage="http://www.macromedia.com/go/getflashplayer" FlashVars="userID=16832260&styleURL=http://static.twitter.com/flash/widgets/profile/smooth.xml"/></object>Okay - that finishes this week's column. Thanks, as always, for reading and be sure to discuss today's update in the comments section below.
As always, many thanks to those who have donated to Dateline Disneyland. Your donations keep these updates coming, and without you they couldn't happen. We all know times are tough, so any amount of support helps. If you can donate to Dateline Disneyland please consider doing so via a safe and quick PayPal donation.
To donate, click here.
And don't forget - Dateline Disneyland is also on Twitter! If you still haven't checked us out on Twitter, head over there today and see why over
3,100
other Disneyland fans have already started following Dateline Disneyland! The Dateline Disneyland Twitter is updated throughout the week with links to breaking news, mini updates, photos, and links to newsworthy MiceChat discussions. Head over to
Twitter.com/DatelineDisney
, or check out the widget to the right to follow us!
See you here again soon!
- Andy