Welcome to the June 29th edition of Dateline Disneyland!
<IMG src="http://img.photobucket.com/albums/v647/dustysage/FridayVisions/supportsmalltop.gif" align="right" width="100">
This week we'll be taking you along with us on our tour of the Walt Disney Studios and Archives which D23 hosted this weekend in Burbank, California. But don't worry, we'll check in at Disneyland as well as the former Cosmic Waves reopens as a new shaded seating area. We'll also update you on the construction over at Disney's California Adventure, as more and more earth is moved around in the upcoming World of Color viewing area, and big, green dinosaur hits the road to Yesterland.
Of course, all of the Disneyland and Disney's California Adventure construction projects are tagged with
Project Tracker
watermarks. Clicking on these watermarked images will link you up with the Project Tracker threads on MiceChat, where you can get the latest information and discussion on these and any other projects going on around the Resort.
We'll hit up the Walt Disney Studios first. Let's get to it!

WELCOME TO THE WALT DISNEY STUDIOS!
The fine folks over at D23, the official community for Disney fans, went above and beyond to add even more tour opportunities for their members this weekend after massive demand caused tours to fill up in mere seconds last week. The tours this weekend were comprised of small groups and knowledgeable guides who went through the charming Disney Studios campus, getting behind-the-scenes walking tours through the studio lot, sound stages, the Disney Legends Plaza, and more.
Clicking on the Studio Tour photos will take you to the photo's Flickr page, where high-res downloads can be found, for a closer look or for personal desktop wallpaper.
Our tour began at the Frank G. Wells building, where we met up with Walt Disney Archives Founder and Director Dave Smith.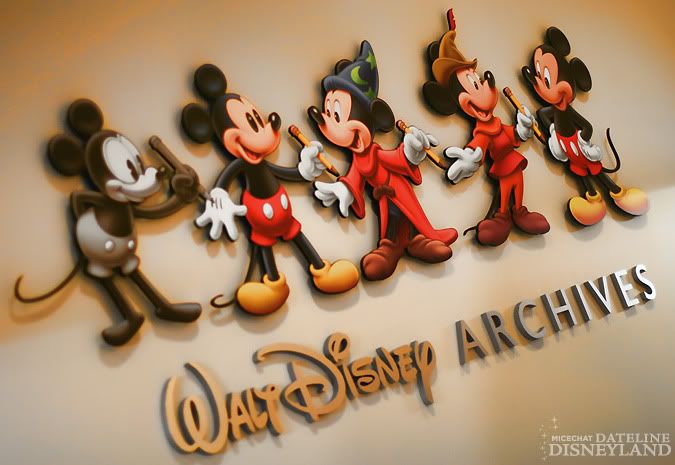 Dave talked about his job with the Company and how the Archives were started. Dave truly seems to be living his dream job, and really appeared delighted to show us some extremely rare and very unique items from Disney history. This Mickey Mouse notepad was one of Mickey's first forays into consumer products.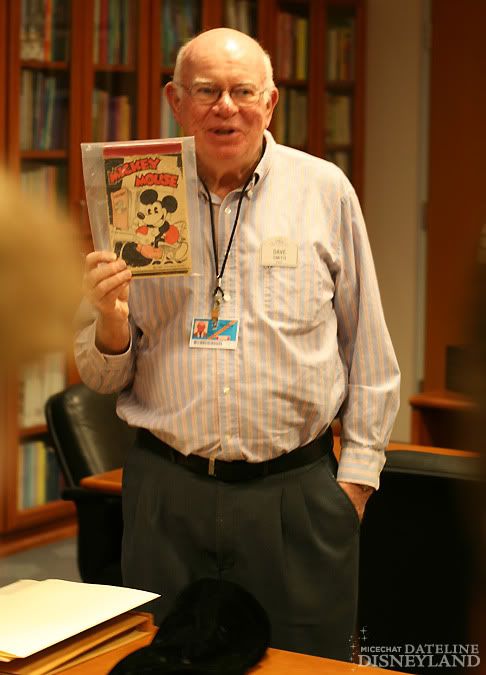 Truly, a monumental piece of Disney history: the original script of "Steamboat Willie"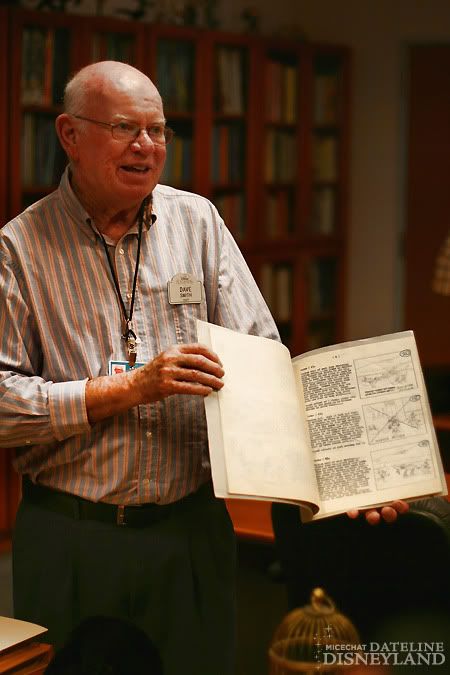 And an original background of "Podunk Landing" from "Steamboat Willie"
Another background, this time from Mickey's first cartoon, "Plane Crazy"
Walt always said that "it all started with a mouse," but Mickey might never have happened without Oswald. Here, Dave shares one of the few Oswald the Lucky Rabbit consumer products released while Walt was still in control of the rights -- a stencil set.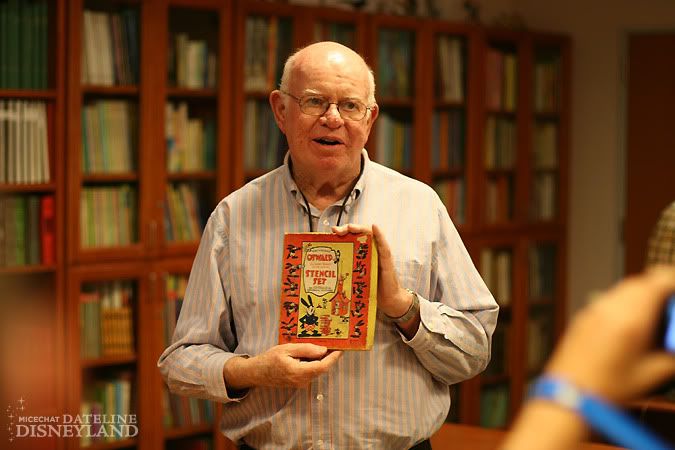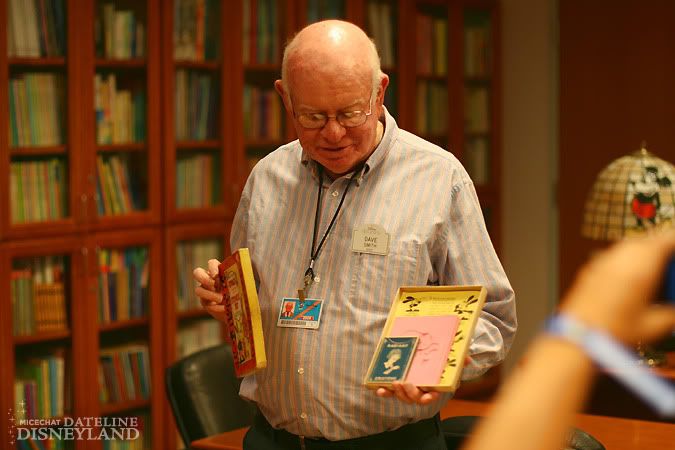 A hand-drawn sketch of Mickey Mouse, by Walt Disney.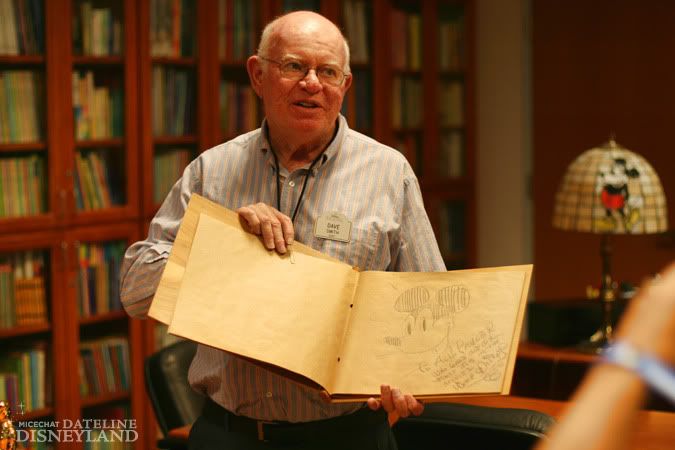 Of course, Disneyland is also a massive part of Disney history, and Dave knew what we locals wanted to see. Below, he shares with us a July 17, 1955 Press Invitation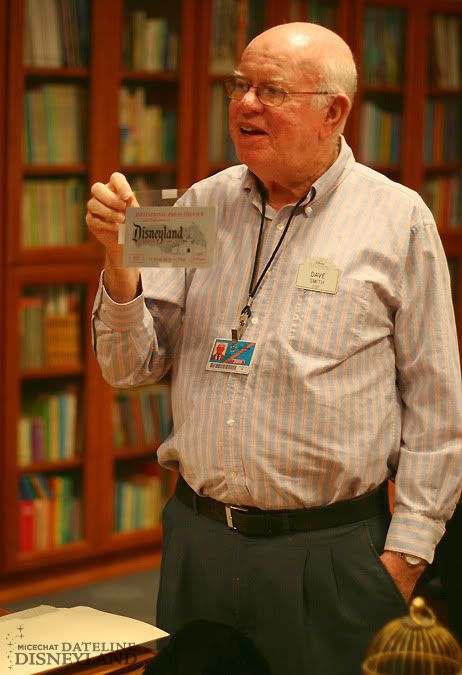 A July 17th "Disneyland Premiere" parking pass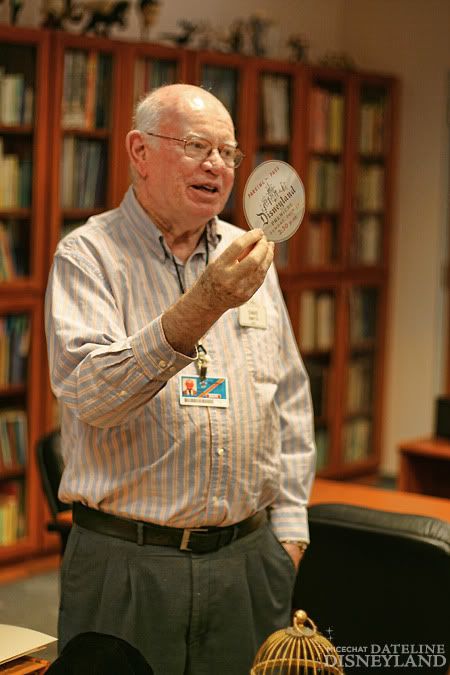 An A-C Disneyland ticket book.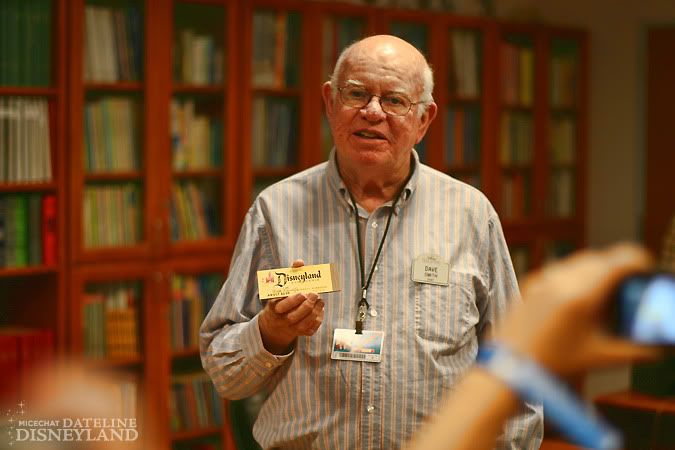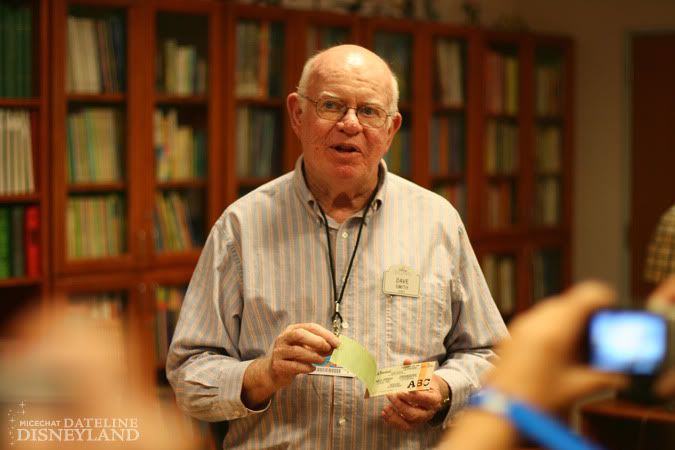 But where would Disneyland be without Audio Animatronics figures? Dave told us about this little bird cage, complete with a mechanical bird that sings and chirps with an animated mouth and how, after being discovered by Walt, was the spark that helped launch the development of Audio Animatronics, bringing us attractions like "Great Moments with Mr. Lincoln," Pirates of the Caribbean, and bringing the birds full-circle, Walt Disney's Enchanted Tiki Room.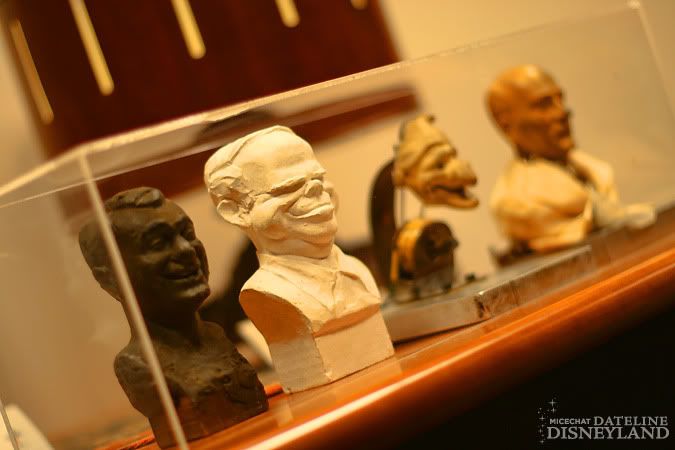 One of Walt's Academy Awards: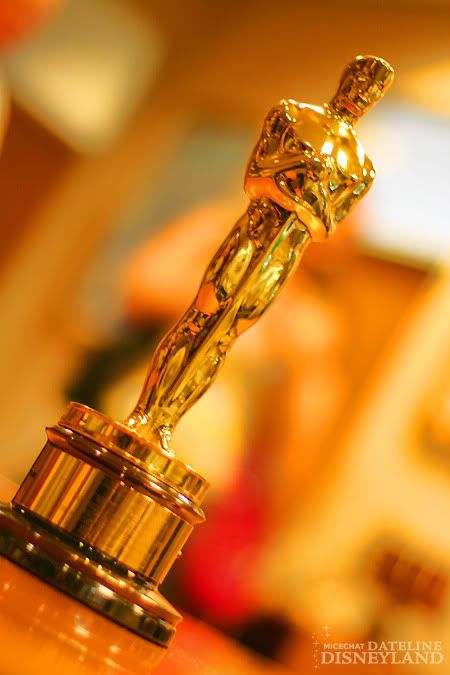 Outside of the Archives, in the Frank G. Wells building, the original Multiplane Camera was on display.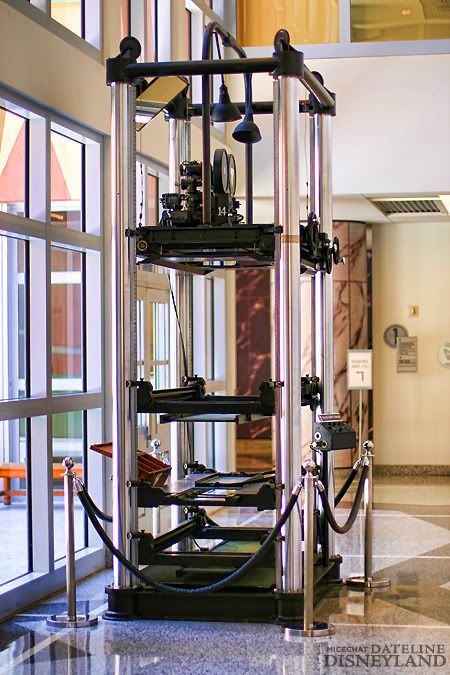 Display cases showed off some costumes from recent Disney live action films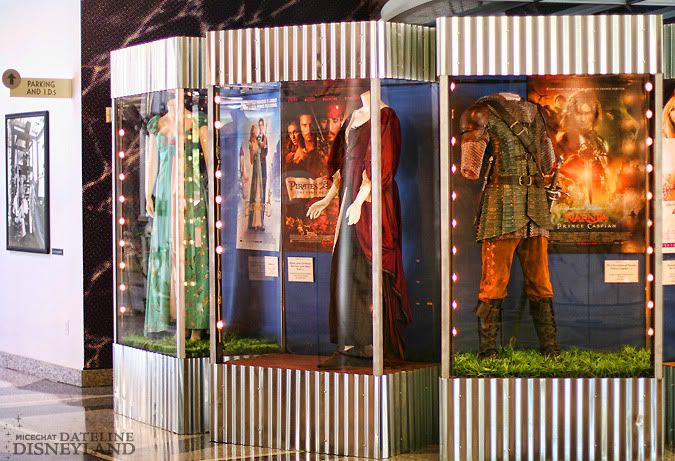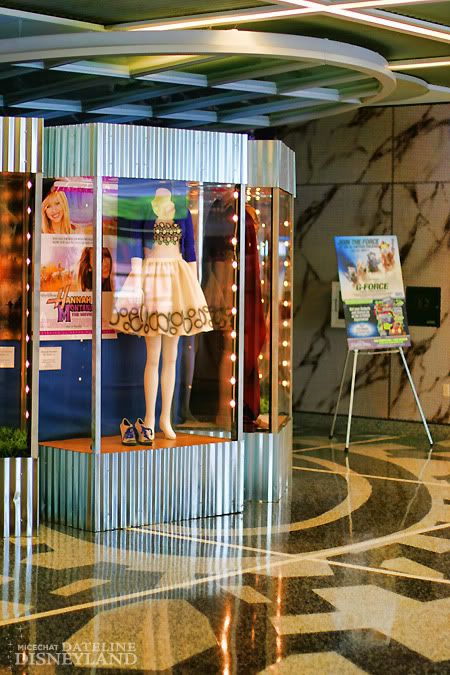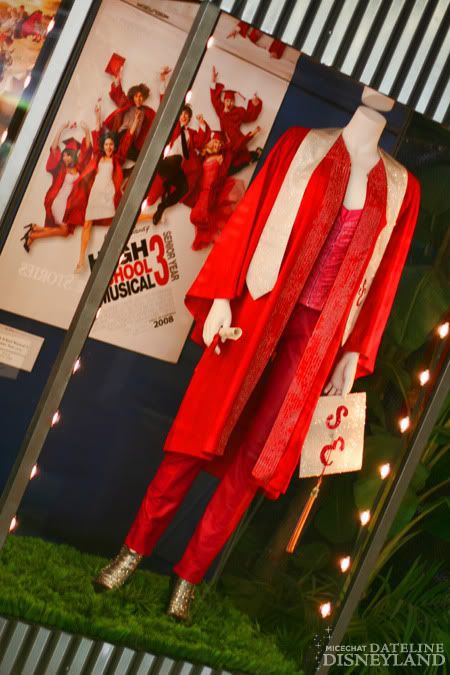 Another display case had "Hats off to Disney," showcasing important hats in Disney history, including this original Mouseketeer hat.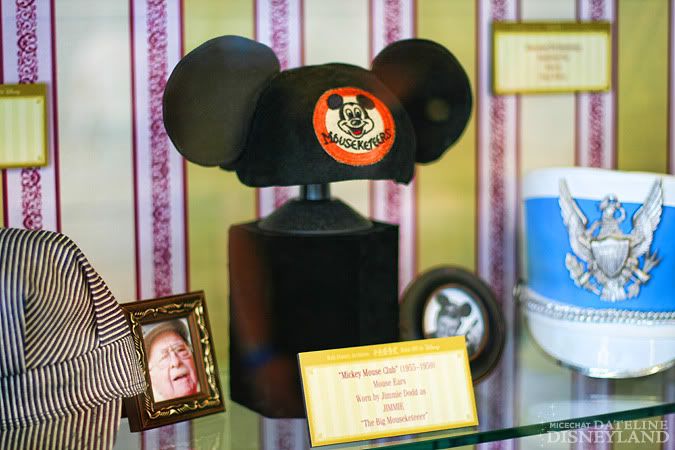 After the Archives and the Frank G. Wells building lobby, we began our walking tour of the Studio Lot.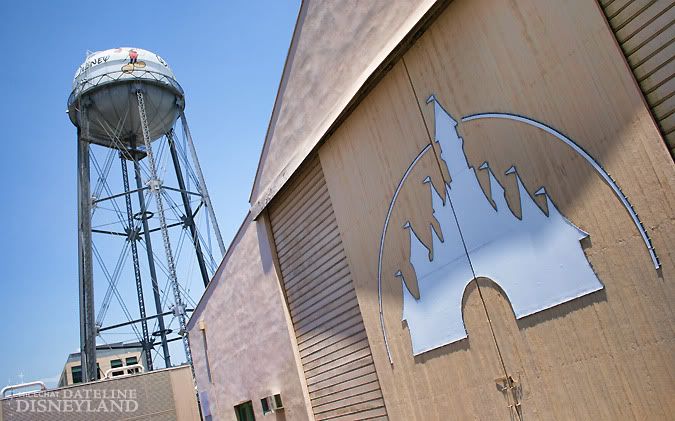 We got an inside look at Stage 3, where the giant squid scenes from
20,000 Leages Under the Sea
were filmed.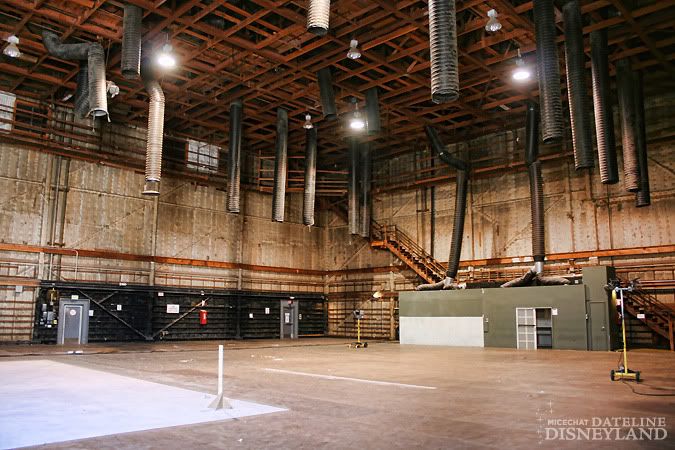 The Animation building had floors featuring Steamboat Willie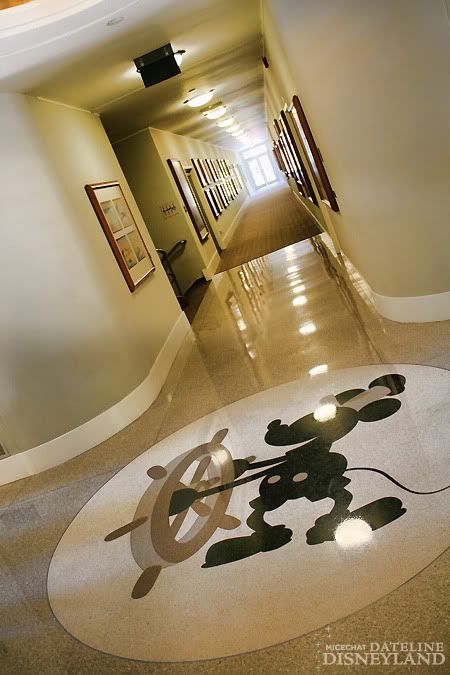 The imposing Team Disney Burbank was our final stop on the tour.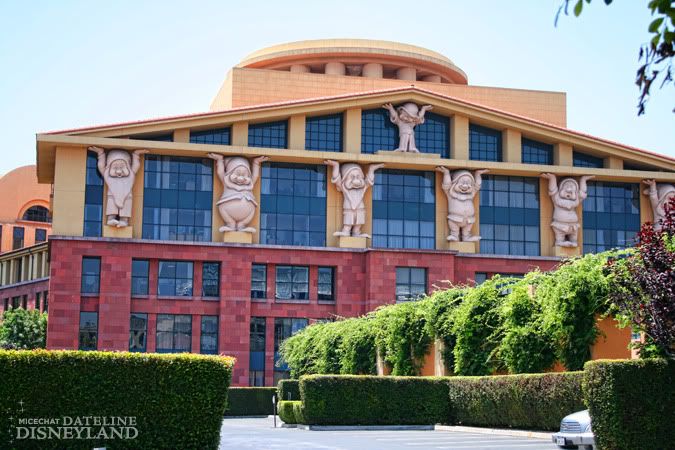 Here, the D23 folks gave us a little gift to commemorate our tour, a patch that Disney Lot security wears.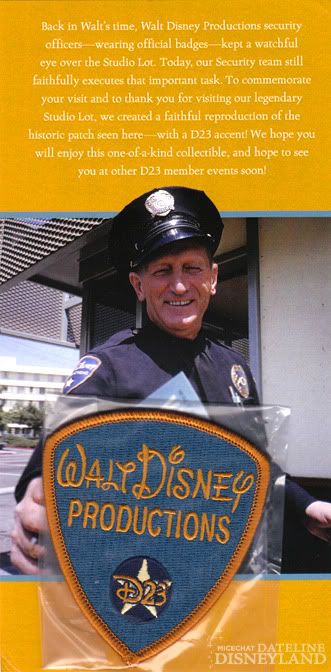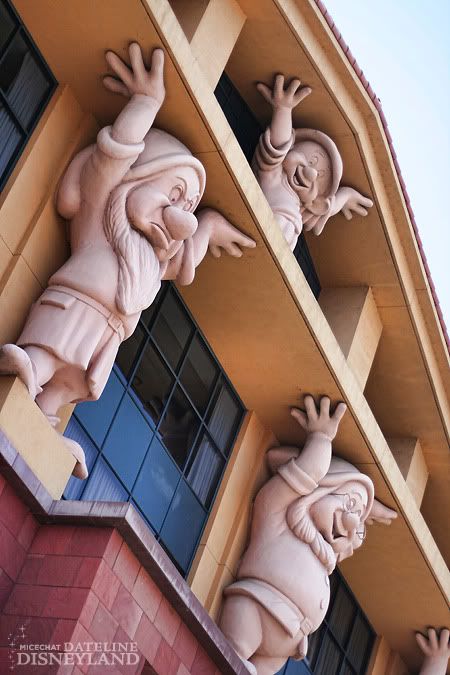 The Disney Legends Plaza lies before the entrance to Team Disney Burbank.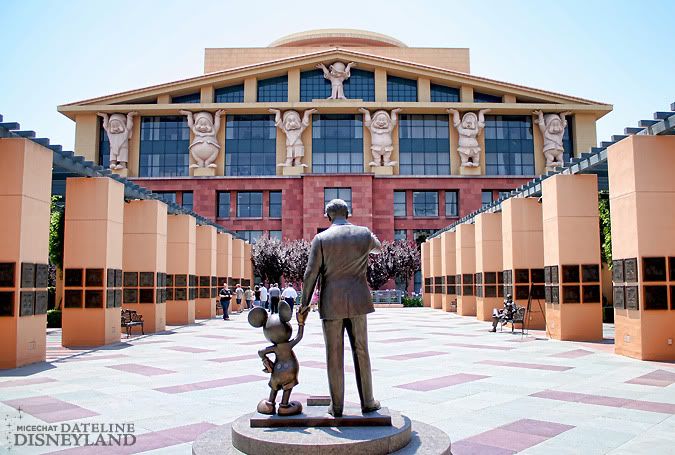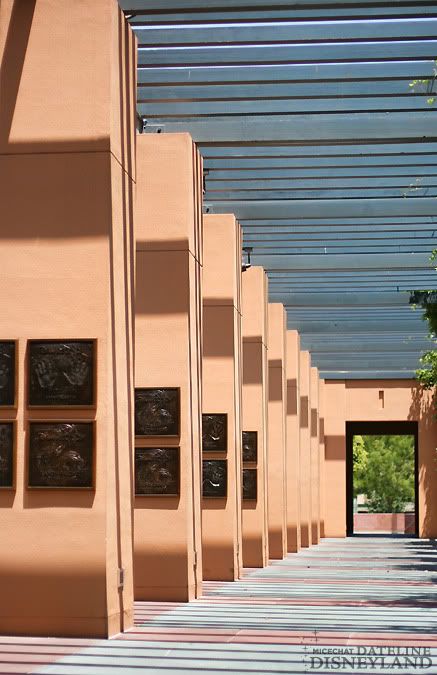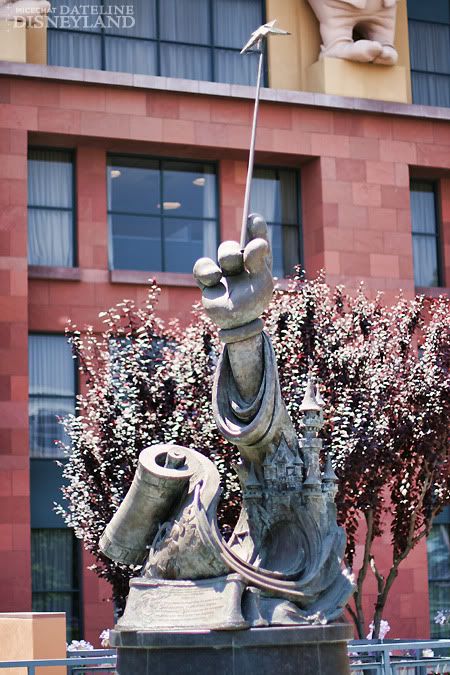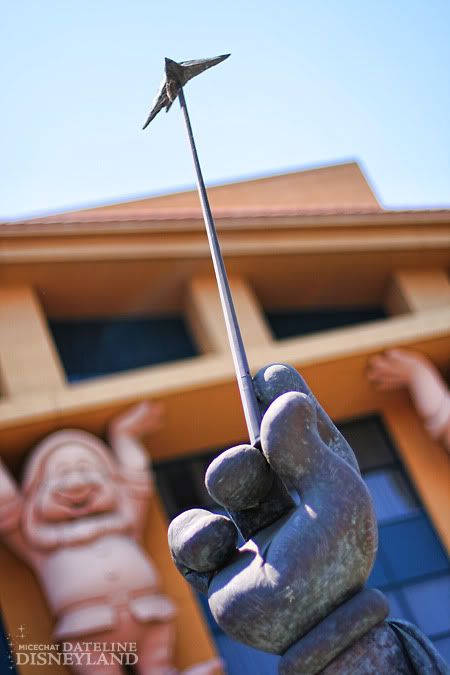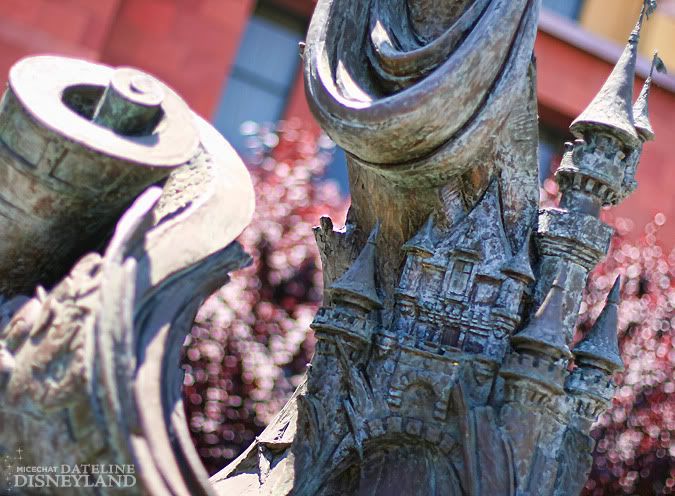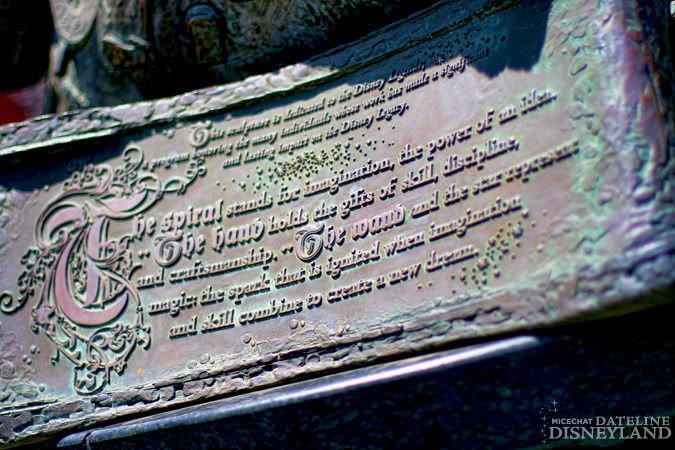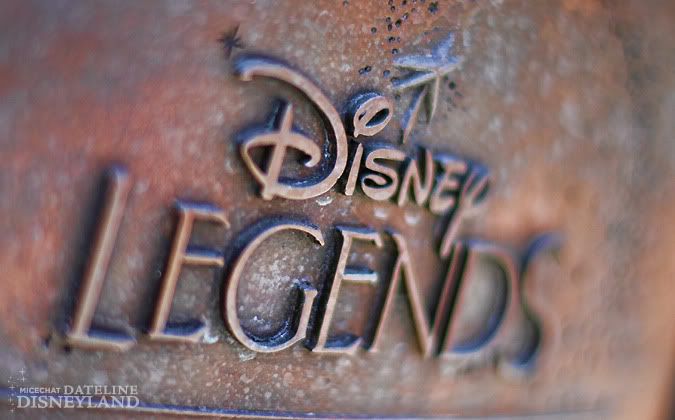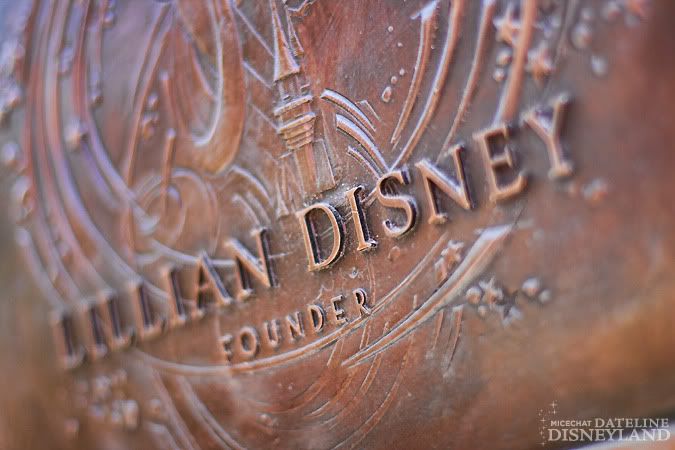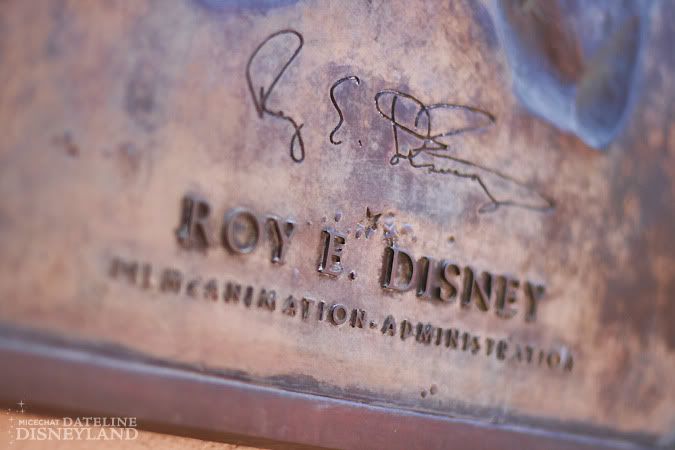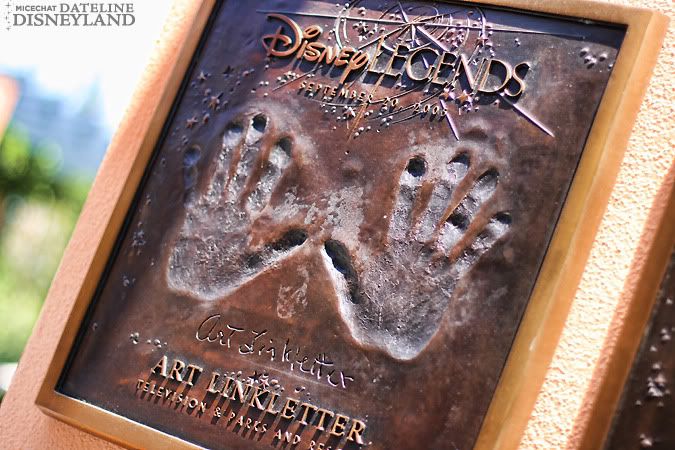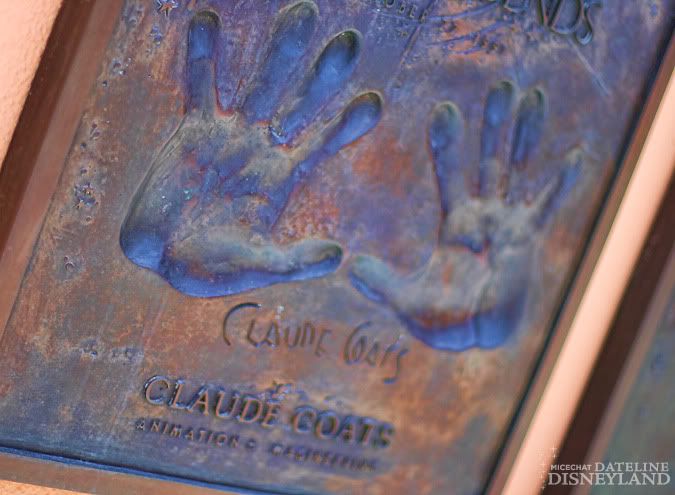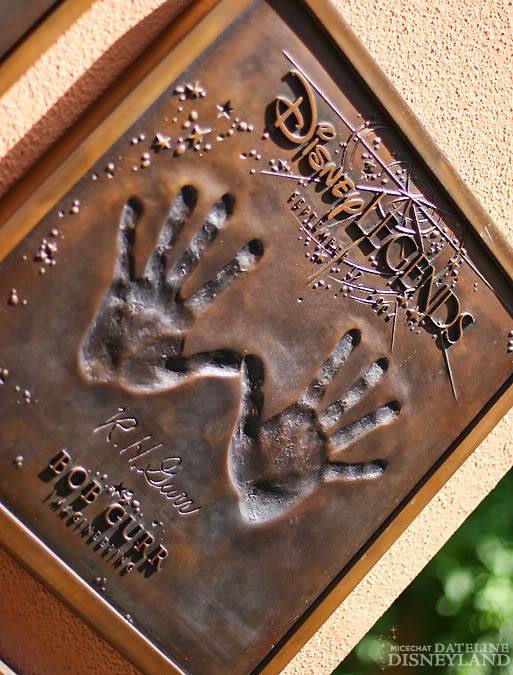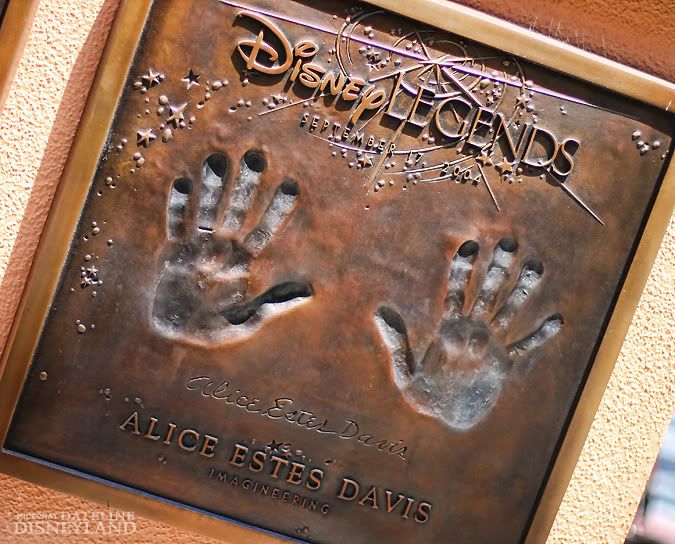 On the way out, our tour stopped off at Pluto's Corner, where the famous Studio street sign stands.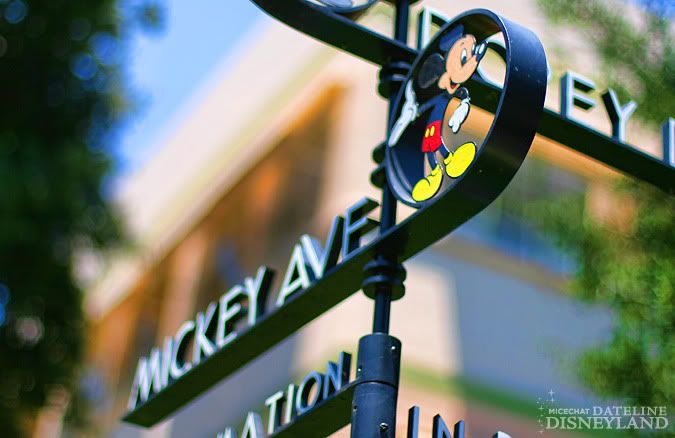 I'd like to sum up by saying that D23 really put together a great little tour for its members. While we certainly didn't get to see everything (heck, did we even really dent it?) the tour guides were informative, friendly, and approachable making the tour a truly enjoyable and unique experience. The parting gift was a great touch, and a wonderful little extra bonus for D23 members who were already being treated to some of the first real "public" tours of the Walt Disney Studio. Thanks to Steven Clark and the D23 team for putting together an excellent, memorable experience and for going the extra mile to squeeze in extra tours without affecting the overall experience.
Are you 23? If you live in California, and are available to attend the great D23 events like this, you probably should be!
WELCOME TO DISNEYLAND!
A short drive south of the Walt Disney Studios, Disneyland is running at top speed, in full summer mode.
The Celebrate! A Street Party not-a-parade has added two new small units, bookending the procession.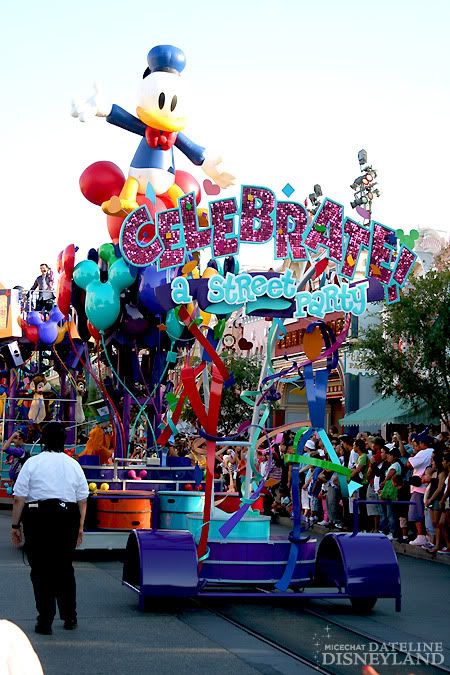 Pluto, Chip, and Dale round out the end of the parade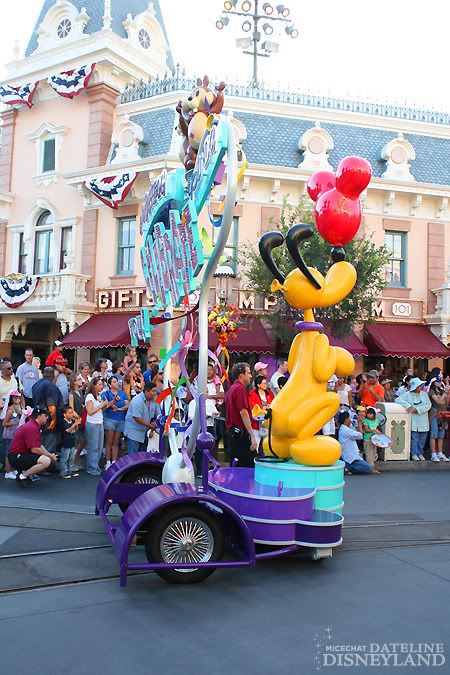 Celebrate you, but not this parade.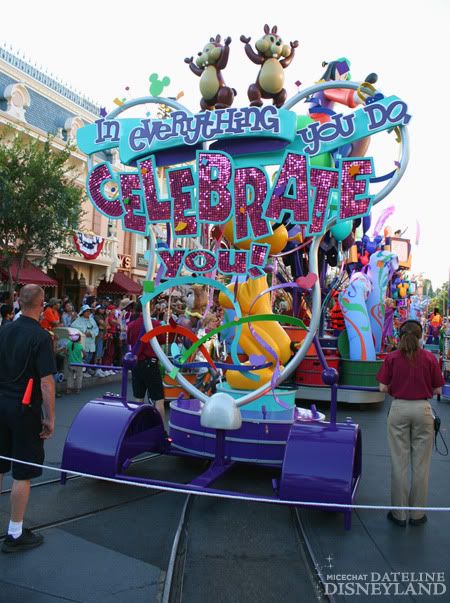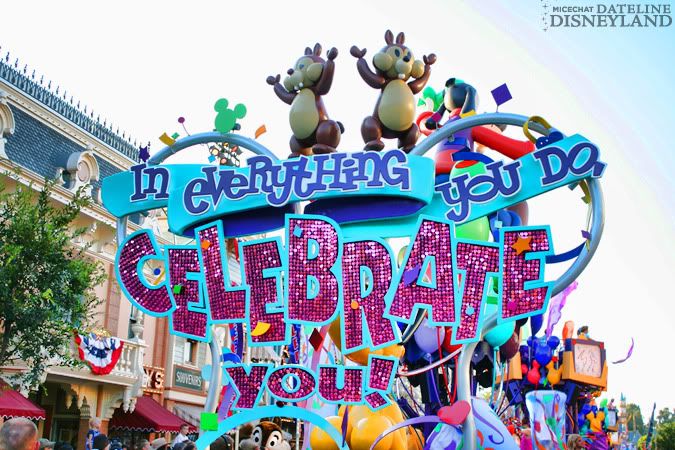 COSMIC TREES
The former Cosmic Waves fountain area in Tomorrowland has reopened with its new planters and seating area encircling the remaining water marble.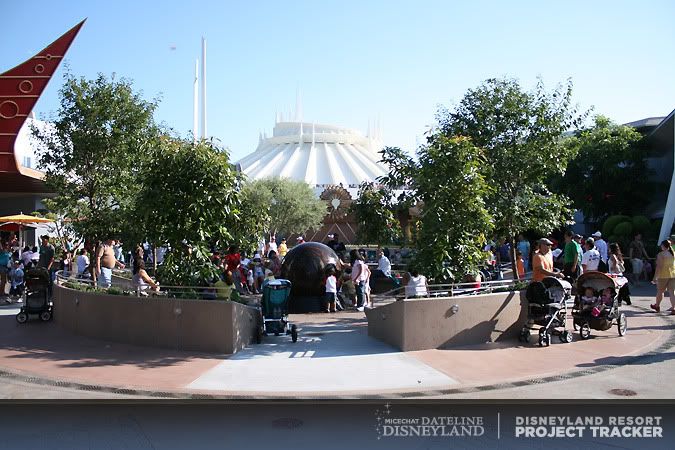 The water sphere is as popular as ever, especially in the hot summer months. And the new trees provide some nice shade in an area of Tomorrowland that was previously a big heat trap.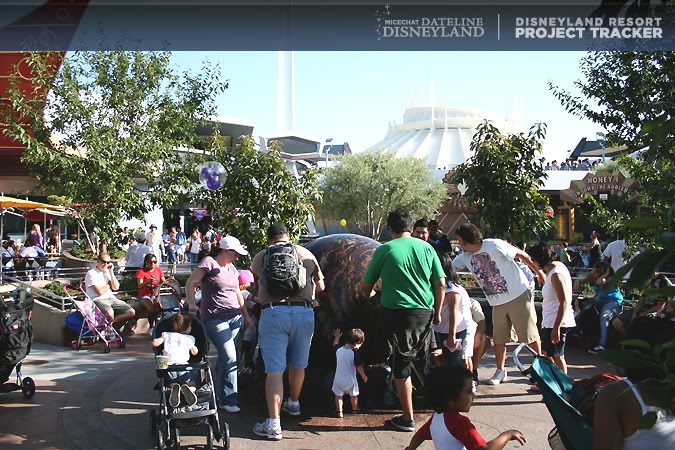 CALIFORNIA CONSTRUCTION
HIT THE ROAD, JACK
The tacky Dinosaur Jack's Sunglass Shack is now officially part of Yesterland and is now completely removed.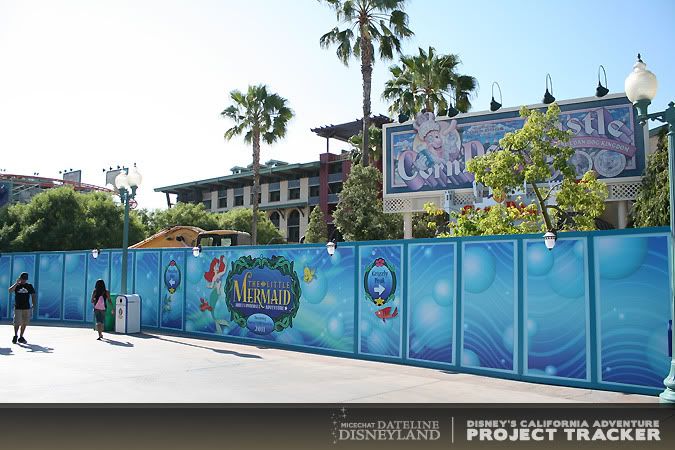 The Golden Zephyr gives a good view of area construction and demolition: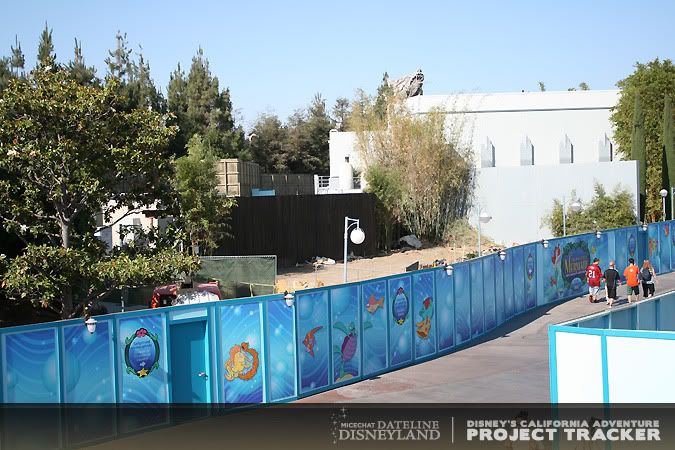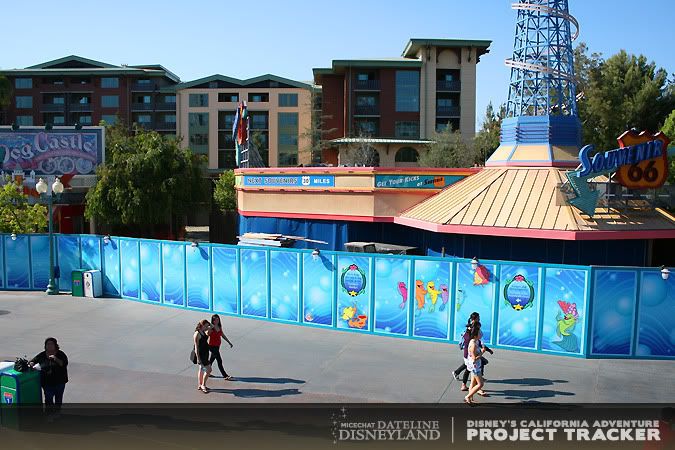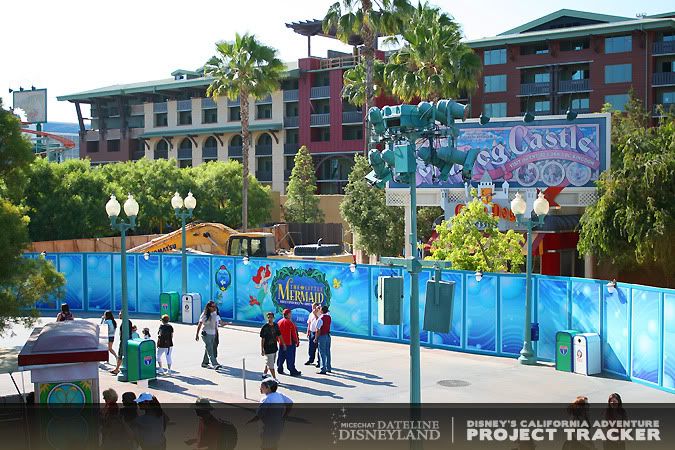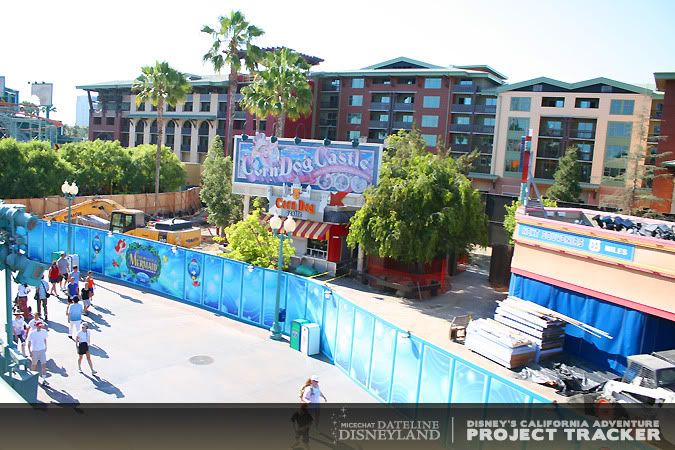 See ya later, Jack!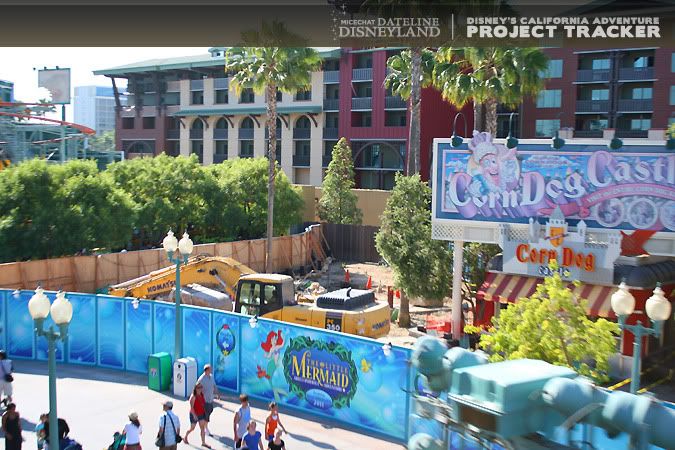 WORLD OF COLOR & VIEWING AREA
A look at World of Color construction from the Golden Zephyr: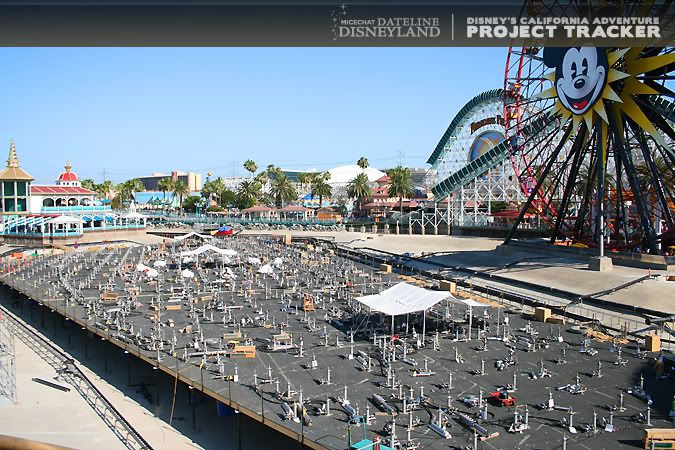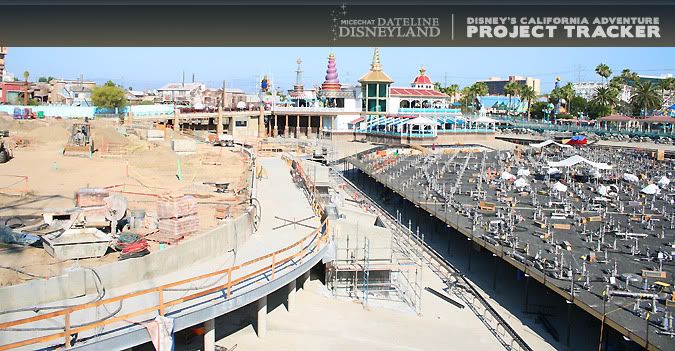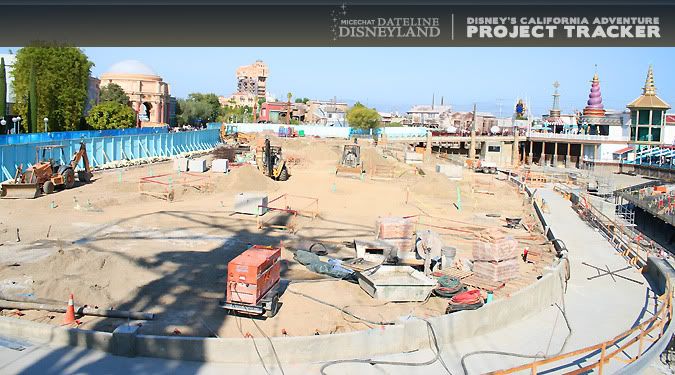 And viewing area construction from the Paradise Pier bridge: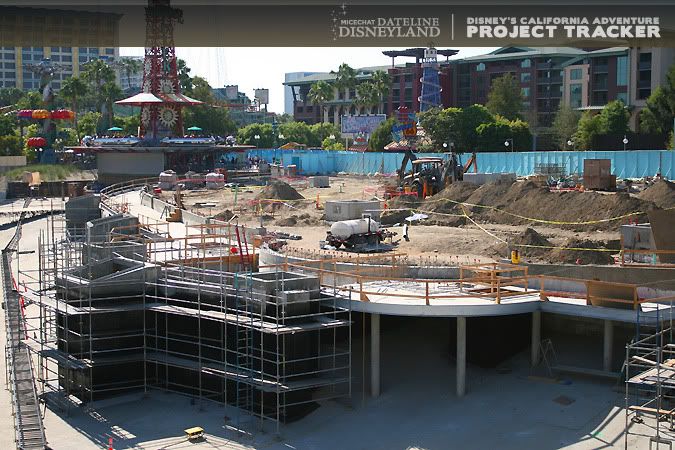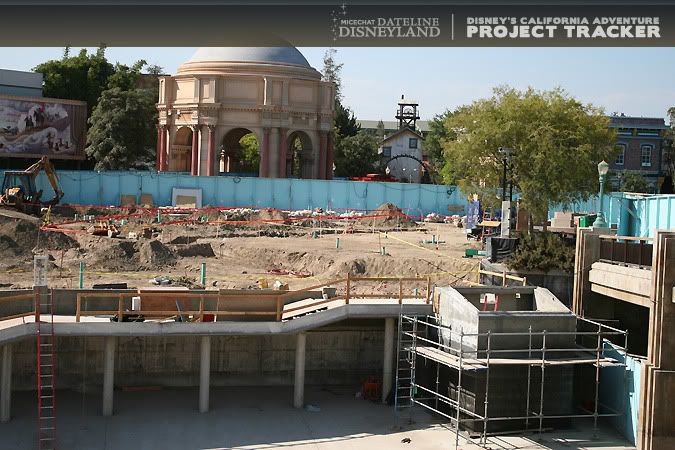 DISNEY STUDIO 365
The new Disney Studio 365 has opened in Downtown Disney, taking over the former Club Libby Lu location: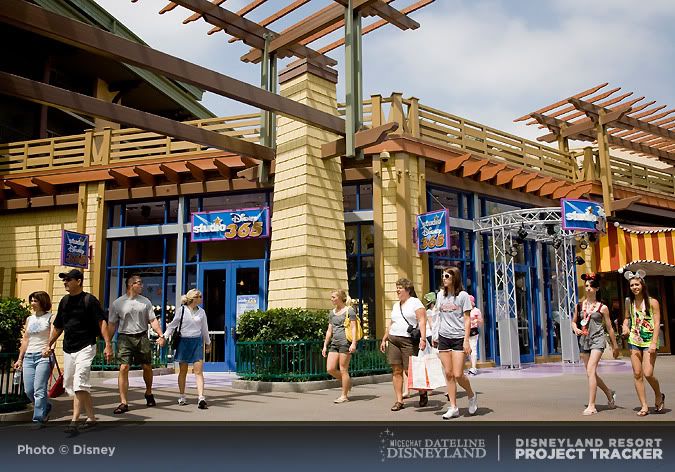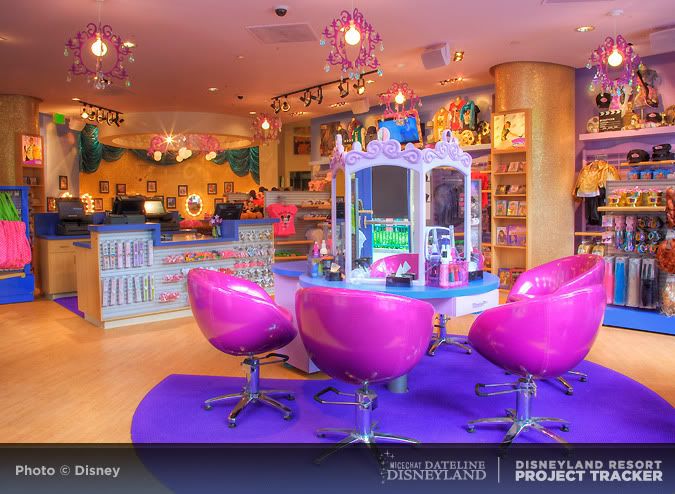 For more information, or to make reservations
click here
.
THIS AND THAT
Last week, we told you that the Main Street Magic Shop would soon be closing. Well, plans have changed, and the store will remain open, selling whatever remaining stock of magic toys and souvenirs it has until a replacement product supplier can be found. Let's hope it's soon so that the store doesn't have to rely on glow necklaces and light up Sorcerer Mickey hats to fill its shelves for too long.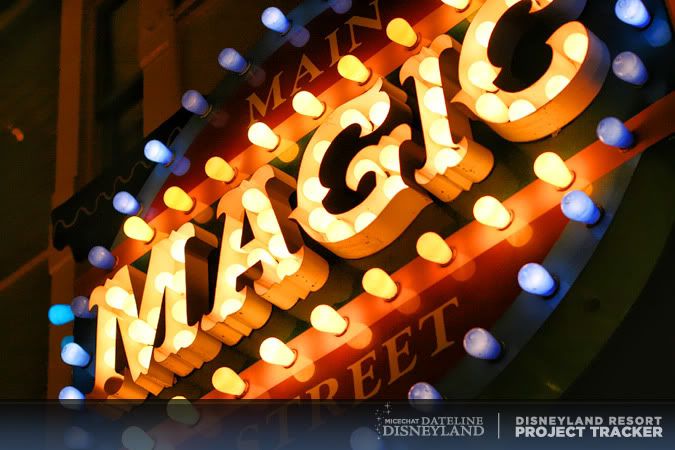 The souvenir cart in Fantasyland has been replaced with a themed version: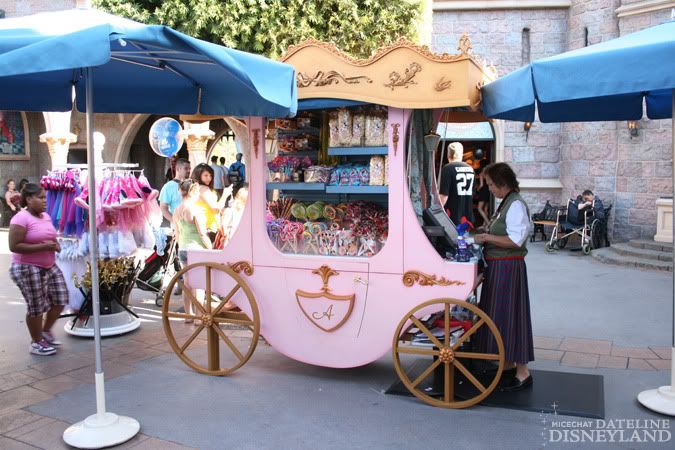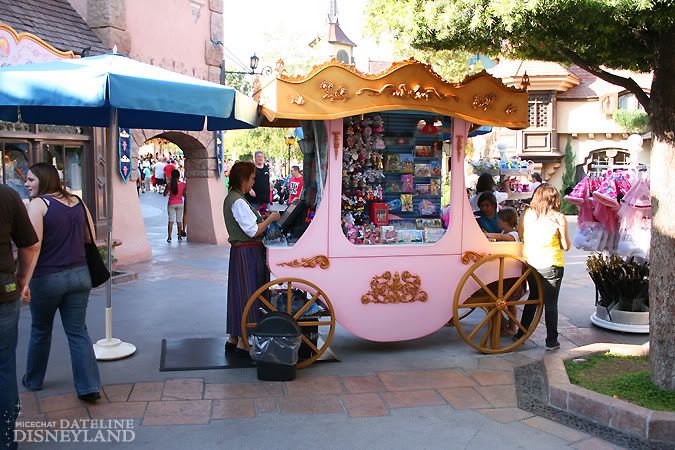 And Plaza Pavilion looks like its getting some work done inside as it prepares to become the full-time Annual Passport Center after the Bank of Main Street closes later this summer to become the new home of The Disney Gallery.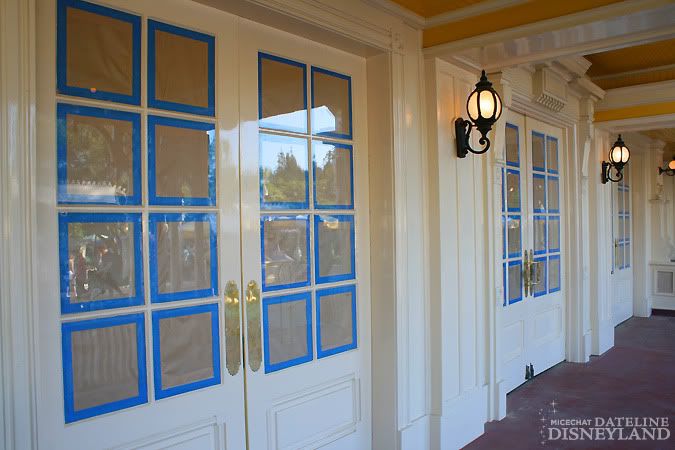 Town Square has new red, white, and blue flowers for the Independence Day holiday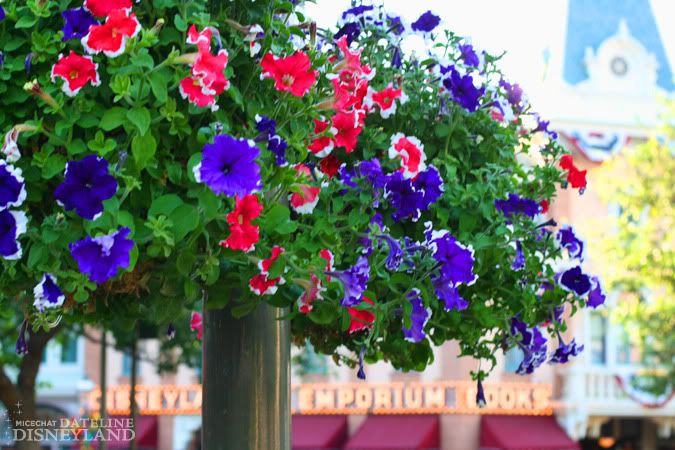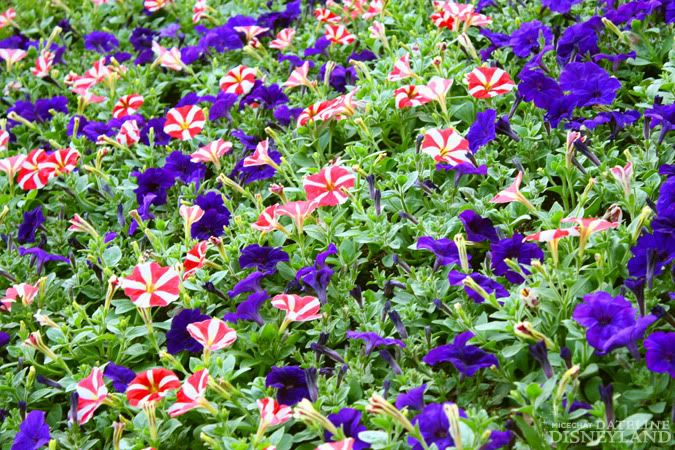 AROUND THE PARK
And to finish up our photo section this week, some shots from around the park. These are clickable! -- Click to be taken to their Flickr photo page where you can download high-resolution copies for your computer desktop, etc.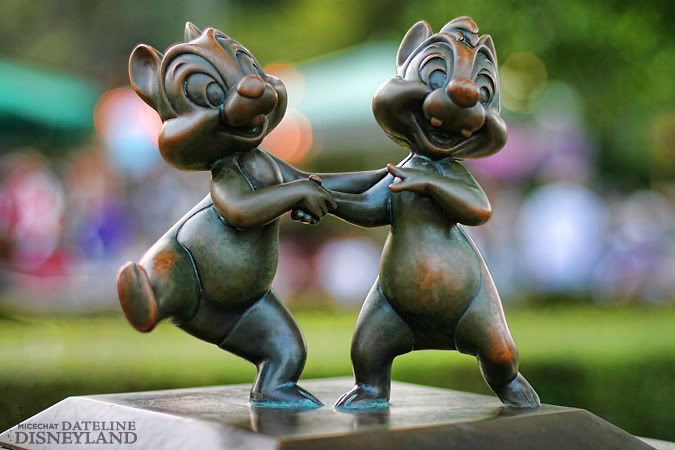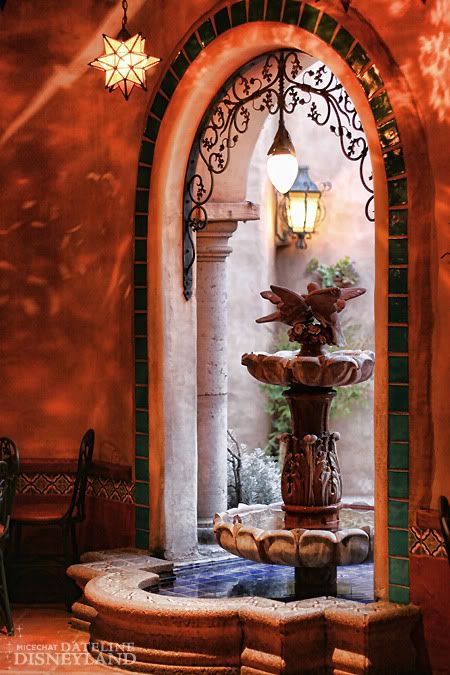 <script charset="utf-8" type="text/javascript" src="http://ws.amazon.com/widgets/q?ServiceVersion=20070822&MarketPlace=US&ID=V20070 822/US/disneylandres-20/8001/defc2f58-fb71-4fe2-b5c3-4f6a4a094641"> </script> <noscript>Amazon.com Widgets</noscript>
DISNEYLAND WEEKLY HOURS AND INFO
THEME PARK HOURS JUNE 29 - JULY 5
For a complete listing of theme park hours, please visit the
Disneyland.com Theme Park Calendar
Disneyland Park
Monday - Sunday: 8 am - 12 midnight

Disney's California Adventure Park
Monday - Friday 10 am - 9 pm
Saturday: 10 am - 10 pm
Sunday: 10 am - 9 pm

CURRENT ATTRACTION CLOSURES & REFURBISHMENTS
Disneyland Park
Magical - Fireworks Spectacular: Show dark July 2 - 5 for Fourth of July fireworks shows.
Snow White's Scary Adventures: Closed through July 3
Pinocchio's Daring Journey: Closed July 20 through August 14.
The Enchanted Cottage: Closed July 29 through November 17.
Casey Jr. Circus Train: Closed August 31 through November 20.
Storybook Land Canal Boats: Closed August 31 through November 20.
Remember... Dreams Come True - A Fireworks Spectacular: On hiatus. Returns fall 2009.
Disneyland: The First 50 Magical Years/Main Street Opera House: Closed. Reopens as The Disneyland Story: Featuring Great Moments With Mr. Lincoln December 17, 2009.
Disney's California Adventure Park
Cocina Cucomonga: Food service location closed June 18, when new location opened. Original location reopens with new Asian-style menu September 14.
Walt Disney Imagineering Blue Sky Cellar: Closed to change exhibits July 10 - 15.
The Little Mermaid: Ariel's Undersea Adventure: Under construction. Golden Dreams theater is scheduled for demolition to make way for new attraction.
Souvenir 66 and Corn Dog Castle: Store and dining location closed for remodeling through May 2011.
Orange Stinger: Closes July 27 to be rethemed as Silly Symphony Swings. Reopens April 28, 2010.
Paradise Bay: Drained for construction of upcoming Disney's World of Color show.
Disney's World of Color Nighttime Spectacular: New show under construction. Debuts Spring 2010.
Golden State Park and Amphitheater: Closed. New, larger amphitheater for Disney's World of Color viewing under construction in same location. The new amphitheater will open December 2009.
MICECHAT CELEBRATES THE BEST OF ANAHEIM
MiceChat needs YOU to nominate your favorite Anaheim Resort Area hotel for its Best of Anaheim Awards. What's your favorite place to stay when you visit Disneyland? Let us know and be part of MiceChat's Best of Anaheim Awards
MiceChat's "Best of Anaheim" Awards - Hotels
OC REGISTER SCALES THE MATTERHORN
The Orange County Register has a really cool info-graphic on the inner workings of Disneyland's iconic Matterhorn mountain.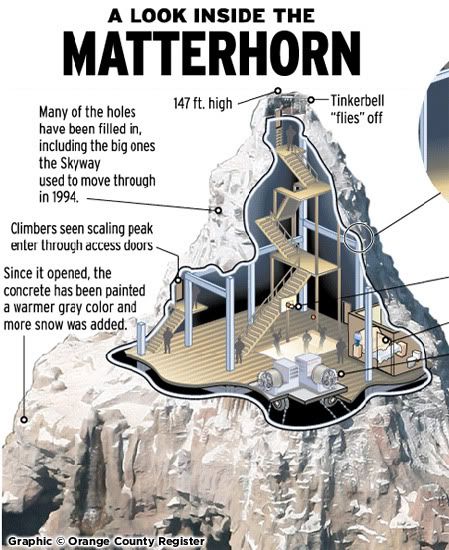 GRAPHIC: An exclusive look inside the Matterhorn
D23 LOOKS BACK AT DISNEY 1959
D23 has a great article by Disney Imagineer Marty Sklar about Disney's huge 1959 line-up, both inside and outside of Disneyland:
D23: DATELINE DISNEY: 1959
<script charset="utf-8" type="text/javascript" src="http://ws.amazon.com/widgets/q?ServiceVersion=20070822&MarketPlace=US&ID=V20070 822/US/disneylandres-20/8001/defc2f58-fb71-4fe2-b5c3-4f6a4a094641"> </script> <noscript>Amazon.com Widgets</noscript>
<object classid="clsid:d27cdb6e-ae6d-11cf-96b8-444553540000" codebase="http://download.macromedia.com/pub/shockwave/cabs/flash/swflash.cab#version=9,0,124,0" id="TwitterWidget" align="right" width="225" height="335">
<embed src="http://static.twitter.com/flash/widgets/profile/TwitterWidget.swf" quality="high" bgcolor="#000000" name="TwitterWidget" allowscriptaccess="sameDomain" allowfullscreen="false" type="application/x-shockwave-flash" pluginspage="http://www.macromedia.com/go/getflashplayer" flashvars="userID=16832260&styleURL=http://static.twitter.com/flash/widgets/profile/smooth.xml" align="middle" width="225" height="335"></object>Alrighty, that wraps up this week's Dateline Disneyland. Thank you for reading and be sure to discuss this week's update in the comments section below.
As always, many thanks to those who have donated to Dateline Disneyland. Your donations keep these updates coming, and without you they couldn't happen. We all know times are tough, so any amount of support helps. If you can donate to Dateline Disneyland please consider doing so via a safe and quick PayPal donation.
To donate, click here.
And don't forget - Dateline Disneyland is also on Twitter! If you still haven't checked us out on Twitter, head over there today and see why over
3,300
other Disneyland fans have already started following Dateline Disneyland! The Dateline Disneyland Twitter is updated throughout the week with links to breaking news, mini updates, photos, and links to newsworthy MiceChat discussions. Head over to
Twitter.com/DatelineDisney
, or check out the widget to the right to follow us!
See you here again soon!
- Andy