Welcome to the July 20th edition of Dateline Disneyland! Today we'll catch up with Disneyland's small 54th Anniversary festivities, and take an in-depth look at the newly updated
Walt Disney Imagineering Blue Sky Cellar
over at
California Adventure
, which is now showcasing concept art and models for the upcoming
Disney's World of Color
show. Of course, we'll also check in with the continuing World of Color construction in Paradise Bay, and get a look at the beginning phase of the
Orange Stinger
's remodel. Also, the
Golden Dreams Theater
has finally met the bulldozer!
As always feel free to click on any of the
Project Tracker
images. These photos will take you to the Tracker threads on MiceChat where you can get the latest timeframes, information, news, and discussion on all of the current and upcoming projects in the parks.
We've got a big update today, so let's jump right in!
<center><table style="border: 0pt solid black;" width="675"><tbody><tr><td bgcolor="#263778" height="" width="100%"><center>

Inside Dateline Disneyland
</center></td></tr><tr><td bgcolor="#d6d4ac" width="100%">
<a href="#DD1">Welcome to Disneyland!</a>


Mickey & Friends tram stop construction, Marty Sklar's new window

<a href="#DD2">Disney Gallery moves in</a>


A look at the Disney Gallery work at the Bank of Main Street and the Main Street Opera House exit lobby

<a href="#DD3">Happy Birthday, Disneyland!</a>


Disneyland celebrates 54 years of magic with a small re-dedication ceremony

<a href="#DD4">Walt Disney Imagineering Blue Sky Cellar</a>
DCA's Blue Sky Cellar reopens with a look at the upcoming Disney's World of Color nighttime water show
<a href="#DD5">California Construction</a>


The latest Disney's California Adventure construction photos.

<a href="#DD5-1">

World of Color & Viewing Area

</a>
<a href="#DD5-2">

Orange Stinger

</a>
<a href="#DD5-3">

The Little Mermaid: Ariel's Undersea Adventure

</a>

<a href="#DD6">D23 celebrates "Disneyland, U.S.A."</a>


D23 members enjoy an evening with Disney legends.

<a href="#DD7">This and That</a>


Astro Orbiter gets spinning.

<a href="#DDAROUND">Around the Parks</a>


Photos from around the parks

<a href="#DDNEWS">Weekly News and Information</a>


Weekly theme park hours, closures and refurbishments, news & headlines
</td></tr></tbody></table></center>
<a name="DD1">
WELCOME TO DISNEYLAND!
</a>
Construction fences are down from the Mickey and Friends tram stop.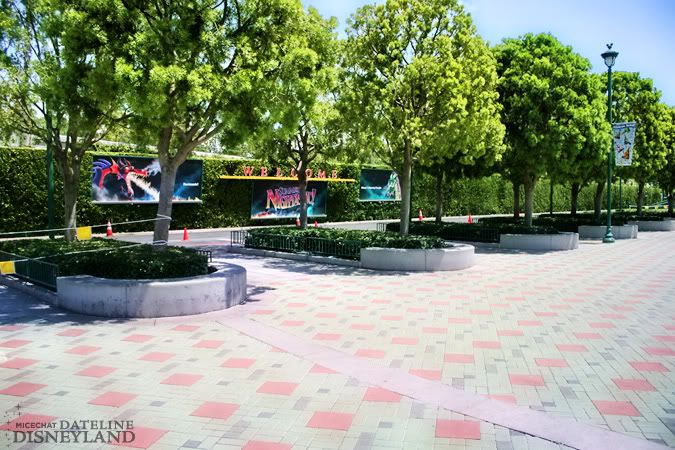 Just some repaving...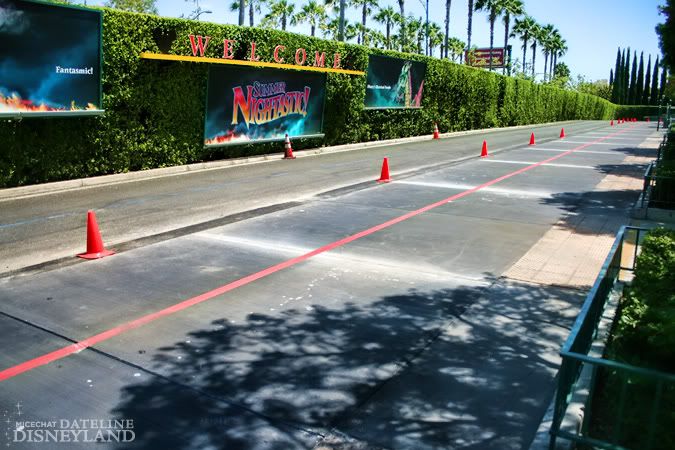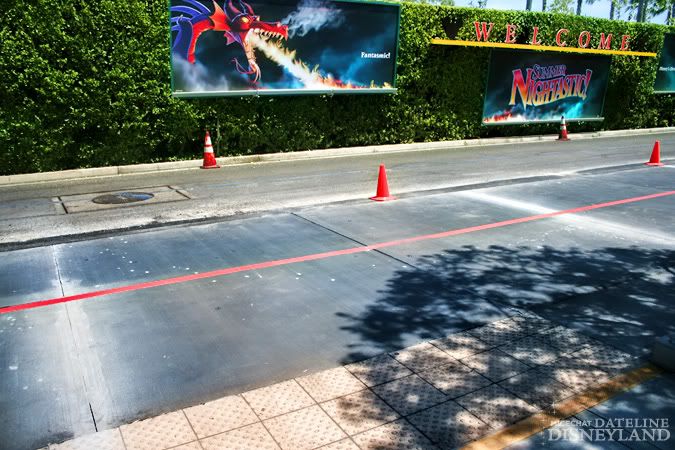 Disney Legend and now-retired Walt Disney Imagineer Marty Sklar was given his very own window on Main Street on July 17, Disneyland's 54th anniversary.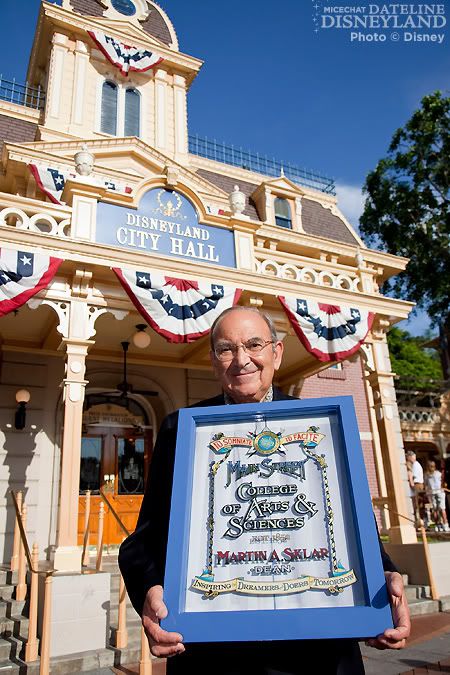 Sklar worked for the Company for 54 years before retiring Friday. The subject of some controversy in the recent past over his rebuttal letter to fans disappointed over the changes made to "it's a small world," Sklar's long and distinguished career was one hand-picked by Walt Disney himself.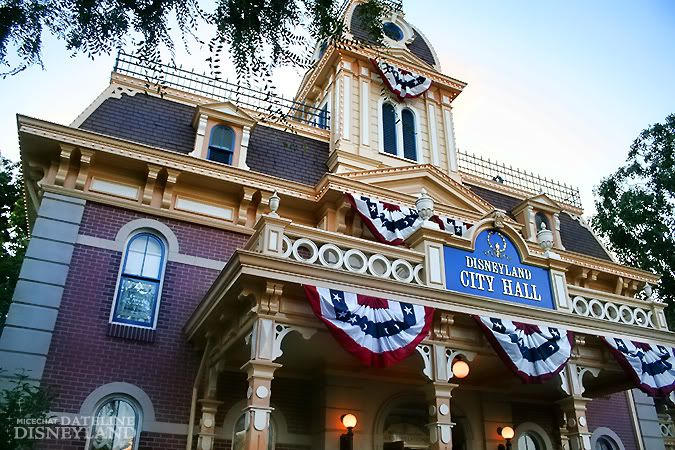 Controversy aside, Sklar's window is a much-deserved and fitting tribute.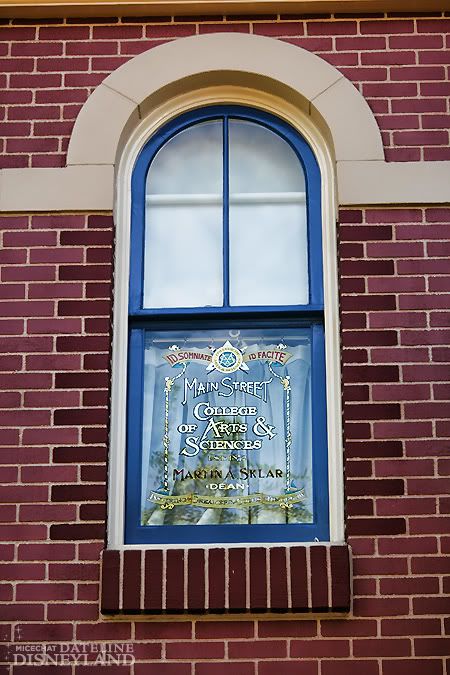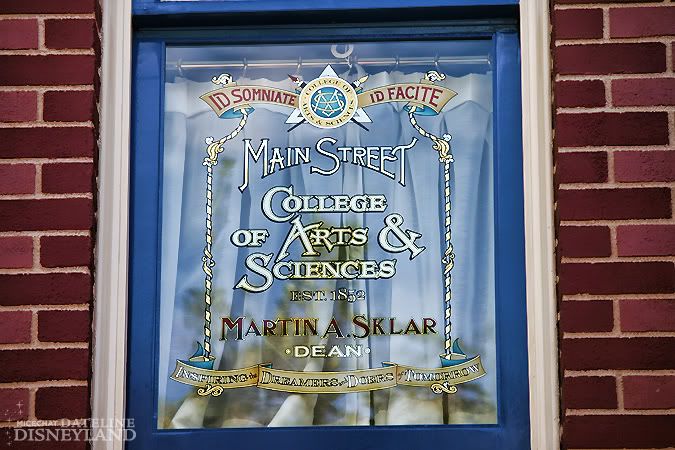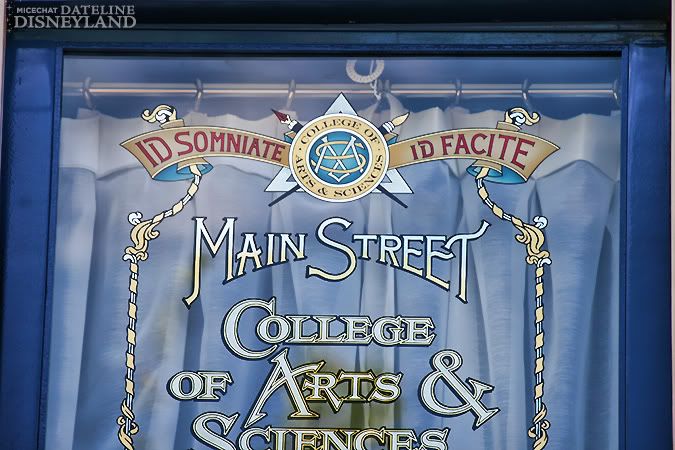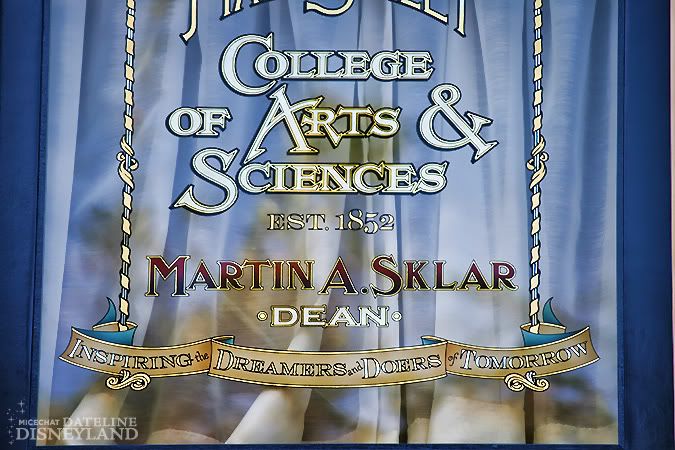 <a name="DD2">
DISNEY GALLERY MAKES ITS MOVE
</a>
The Disney Gallery's temporary location in the Main Street Opera House's exit lobby has quietly closed shop.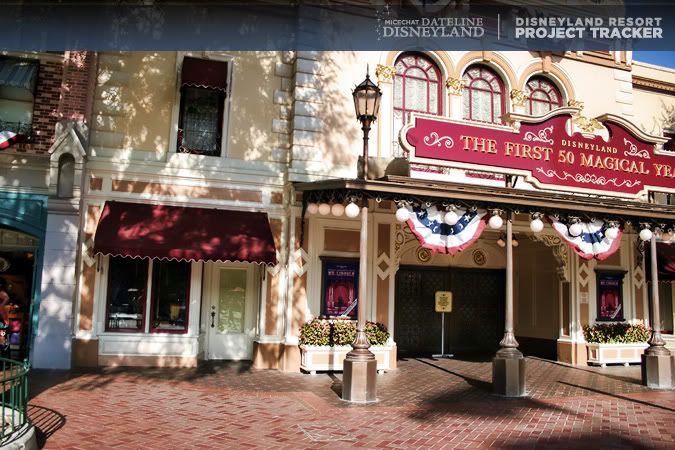 Without the "pop-up" gallery, collectibles and fine art purchases in Disneyland are only available in Disneyana further down Main Street USA.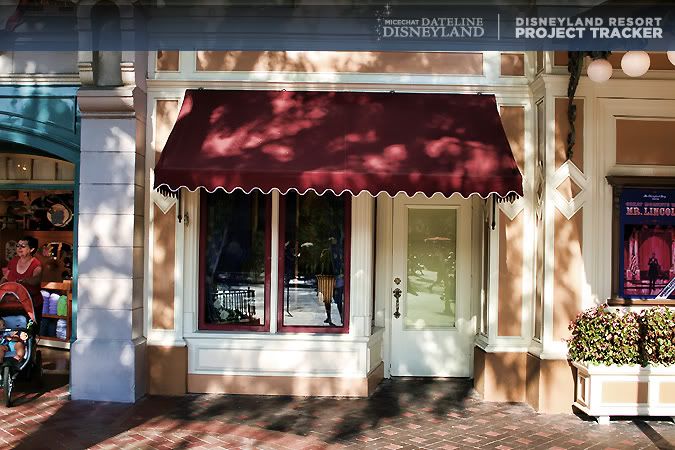 Inside the Mad Hatter, construction walls are up, blocking guest access to the Opera House's exit lobby.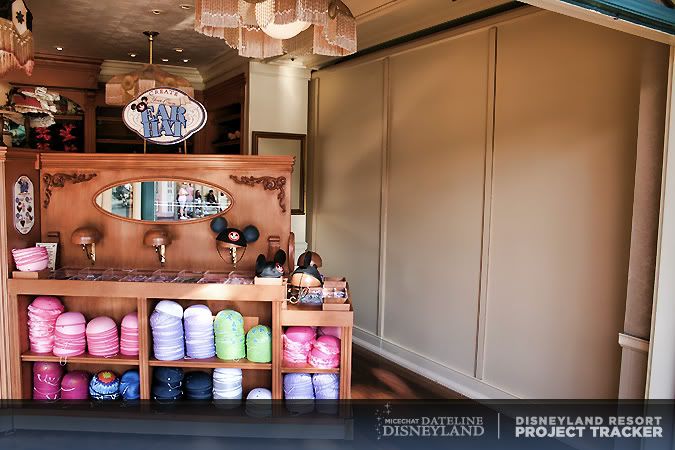 The Disney Gallery is currently scheduled to re-open in a new permanent home in the former Bank of Main Street on September 26.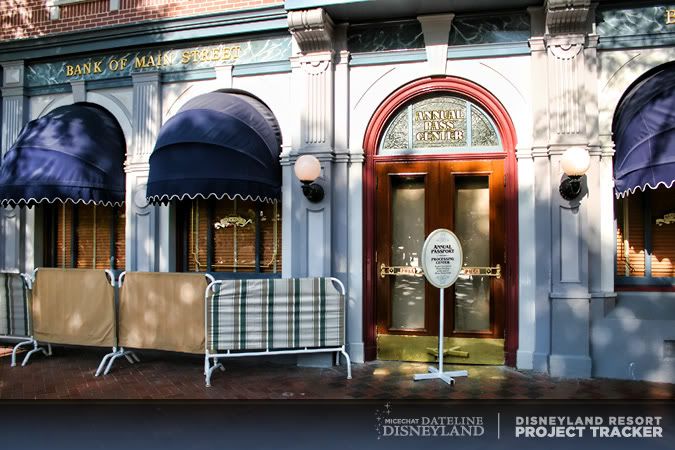 <a name="DD3">
54 YEARS OF DISNEYLAND
</a>
Disneyland celebrated its 54th anniversary on Friday, July 17 with a small re-dedication ceremony at Main Street Station in Town Square. The event was small, but garnered large crowds of park fans who waited in the hot July sun to see the Mayor of Main Street rededicate the park with Mickey, Minnie, the Disneyland Band, a live dove release, and an audio playback of Walt Disney's original Disneyland dedication speech.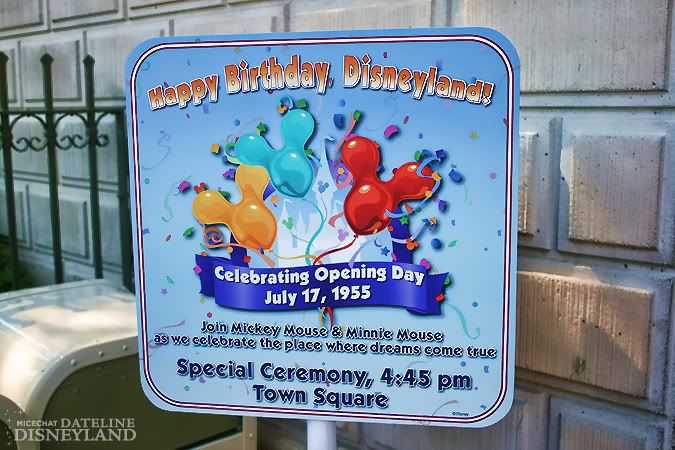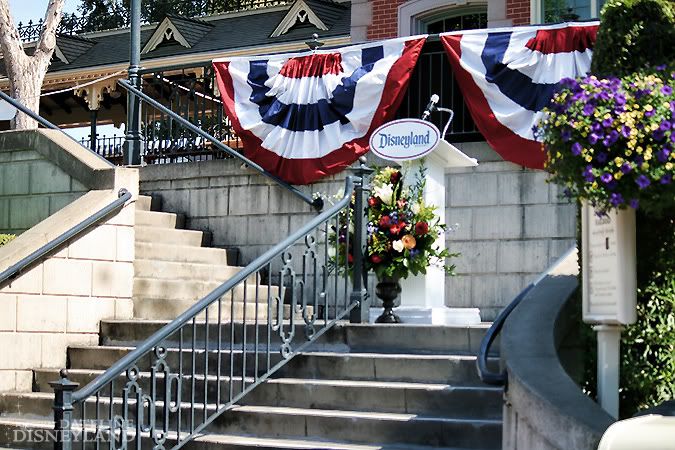 Crowds of fans gathered for the small ceremony.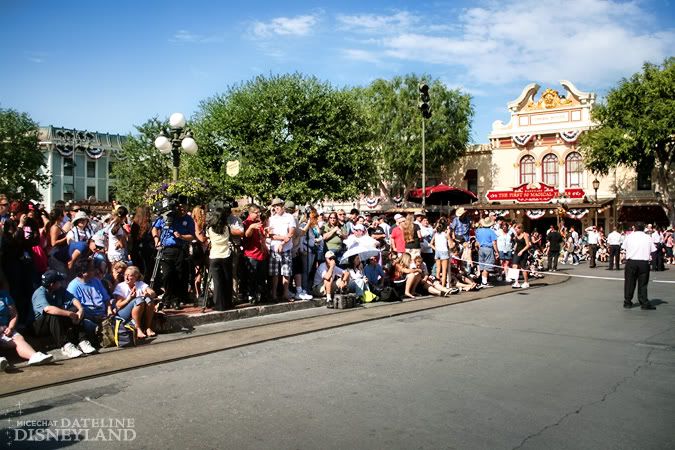 The Mayor of Main Street marches out with Mickey, Minnie and the Disneyland Band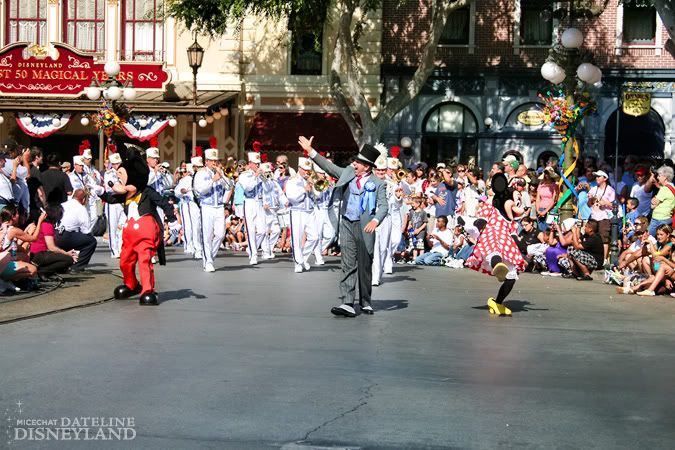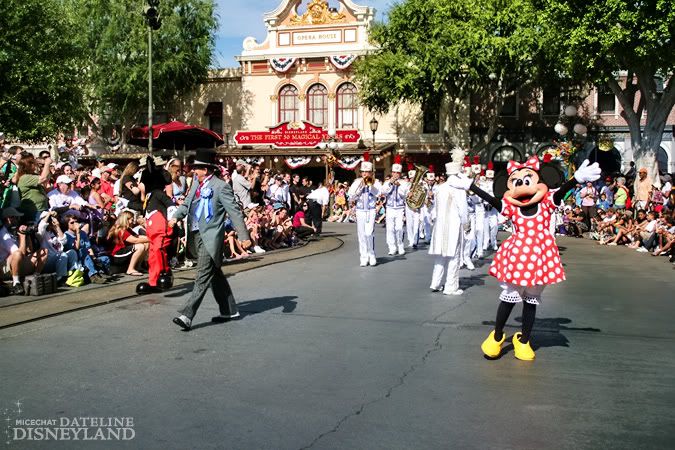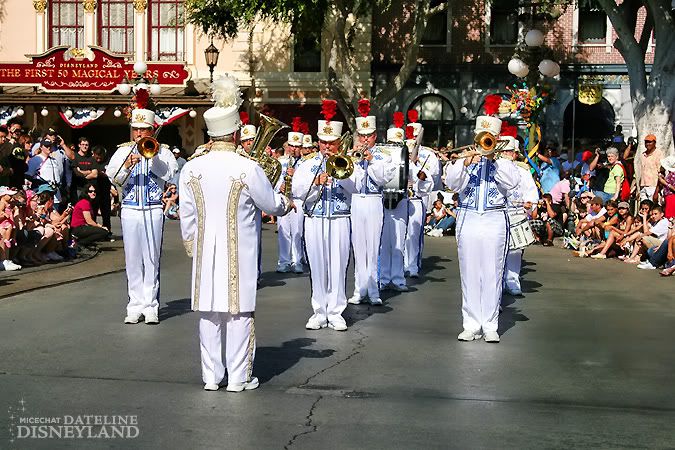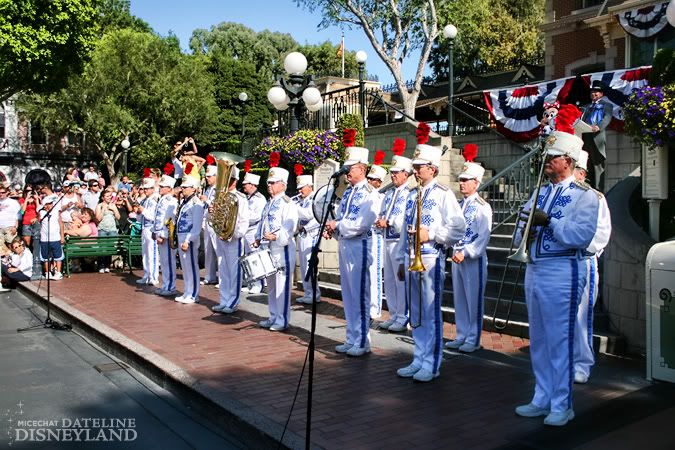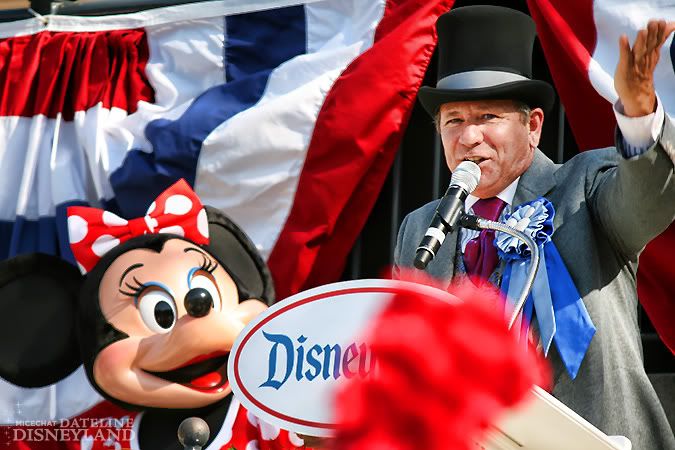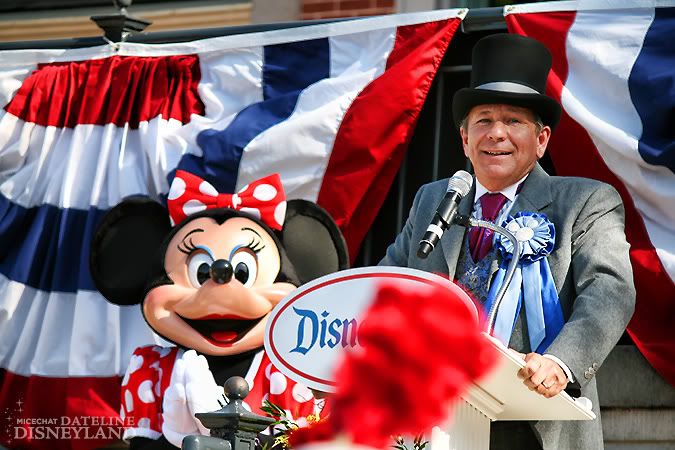 Doves flew overhead as audio of Walt delivering his opening day speech played over Town Square's speaker system.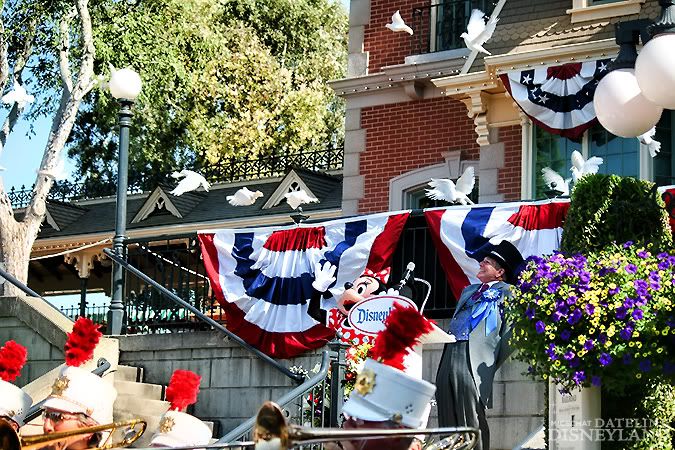 <a name="DD4">
BLUE SKY CELLAR UNVEILS A WORLD OF COLOR
</a>
Over at California Adventure, the Walt Disney Imagineering Blue Sky Cellar re-opened on Thursday after a brief closure to bring in some updated exhibits for the upcoming Disney's World of Color show, currently under construction in Paradise Bay.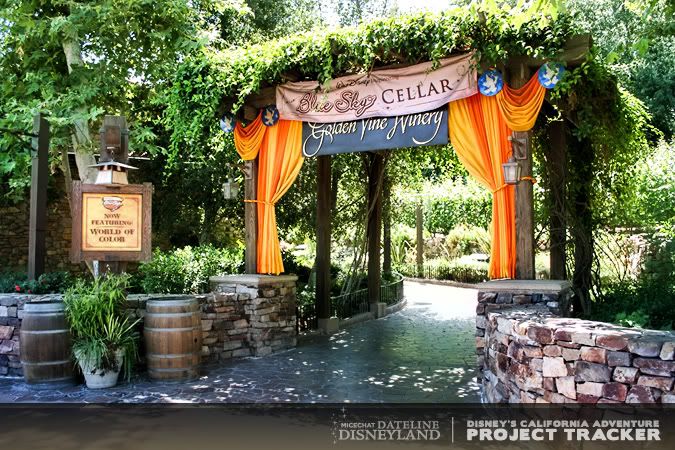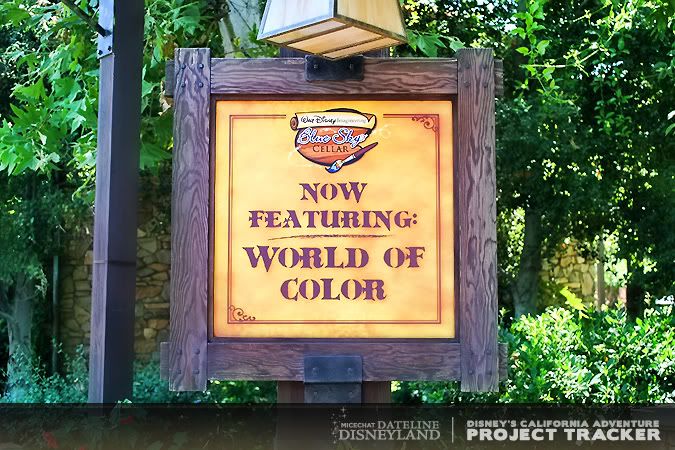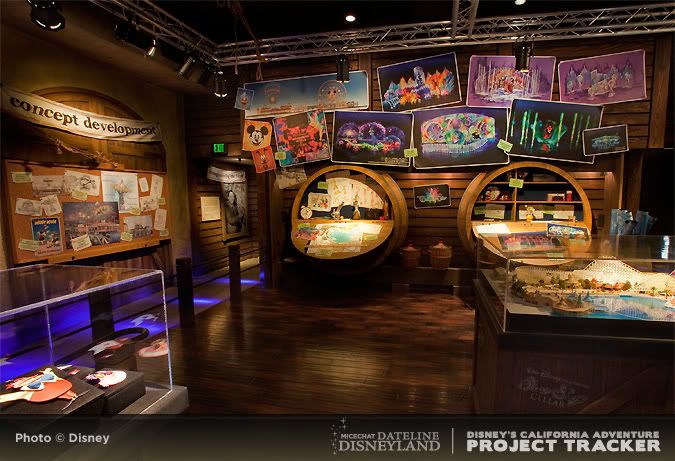 The Cellar prominently features World of Color concept art and design models, but also includes sneak peeks at other upcoming additions, including the re-opening of the Lucky Fortune Cookery on Pacific Wharf, which is moving over from its old location to the former location of Cocina Cucamonga. The two restaurants have simply swapped places.
Also featured is a small glimpse at the future of the Paradise Pier food court area, which will be redubbed Paradise Garden, and undergo some re-theming that will play up Victorian garden motifs, while retaining the pizza, pasta, and burgers already offered in the area. Luckily, the awfully tacky S. S. rustworthy water play area will finally move on to Yesterland as part of the remodel.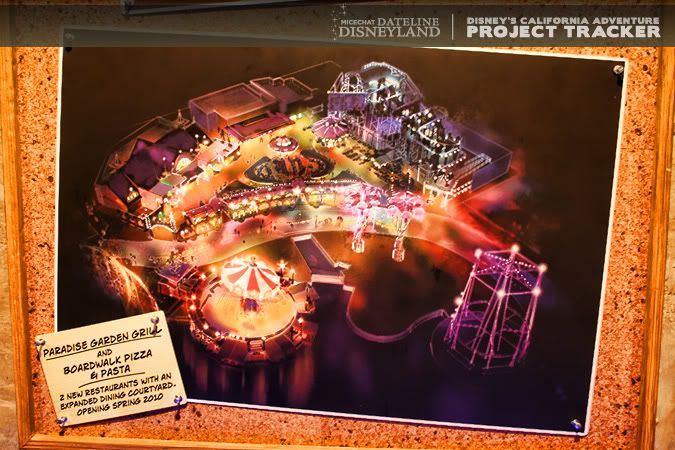 The upcoming Little Mermaid ride continues to get a small mention in the Blue Sky Cellar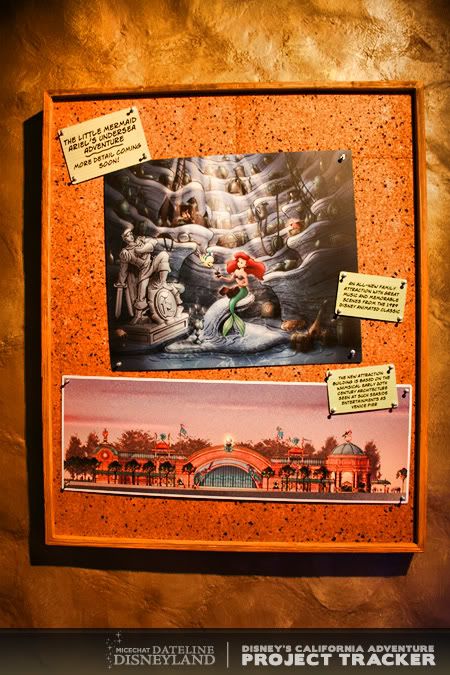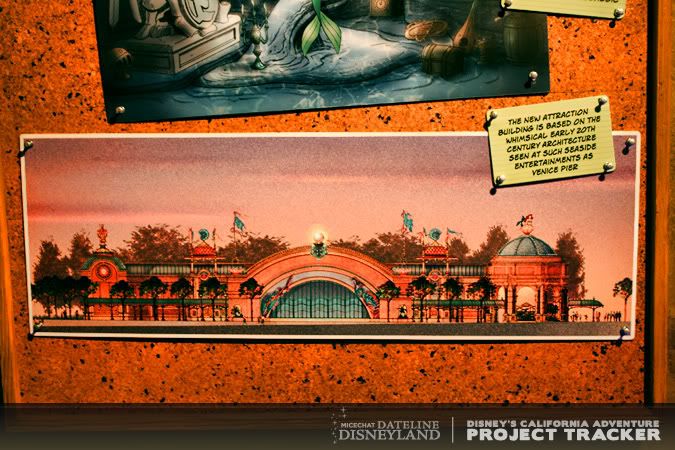 A display case advertises the new DisneysCaliforniaAdventure.com website, that showcases DCA's remodel and expansion projects.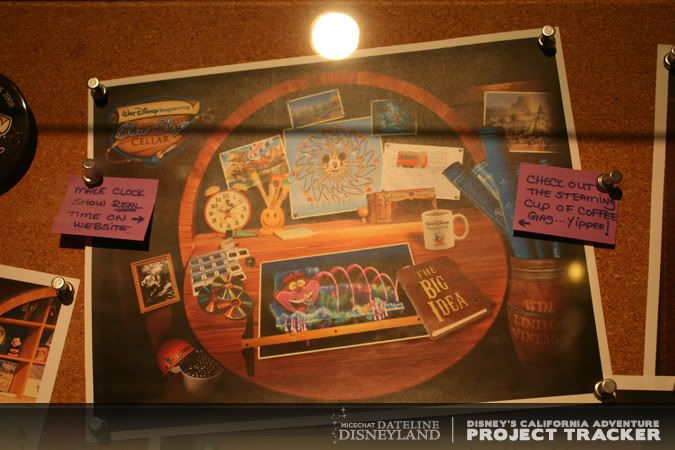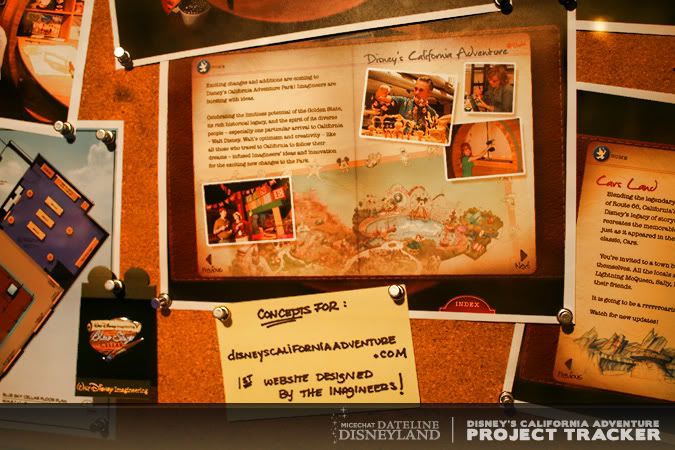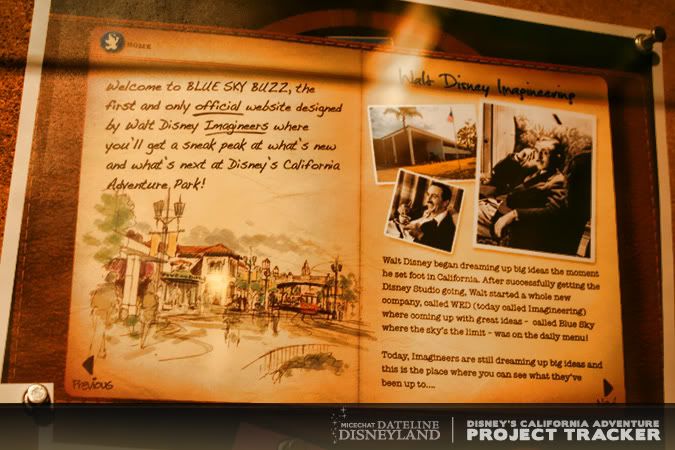 A Disney press release announced the new website on Wednesday 7/16:
New Web site explores park expansion: DisneysCaliforniaAdventure.com
All-new Web Site Keeps Visitors Up to Date On Expansion at Disney's California Adventure
ANAHEIM, Calif. (July 16, 2009) – Fans of Disney's California Adventure can explore coming attractions and exciting plans for the park during its expansion at a new, interactive Web site, starting July 16.
The site, hosted at
www.DisneysCaliforniaAdventure.com
, will serve as an online preview center, taking visitors behind the scenes of the multiyear expansion at Disney's California Adventure. It features videos, photos, renderings, interviews and other assets to keep users up to date on the progress of attractions and entertainment coming to life in the park.
Like the Disney parks themselves, the site will "continue to change and add new things" with regular updates.
Among the highlights at
www.DisneysCaliforniaAdventure.com
:
What's New – link to the latest information on new developments at the park
Big Plans – see the "big picture" approach to the ambitious expansion project
Pictures and Videos – link to renderings, photos and exclusive, behind-the-scenes views of works in progress
Individual Attractions – click on the pictures of "World of Color," Little Mermaid ~ Ariel's Undersea Adventure, Buena Vista Street or Cars Land for more details about those exciting attractions
But the Blue Sky Cellar's main focus is most certainly the World of Color water show which will debut next spring. Concept art for the show lines the walls.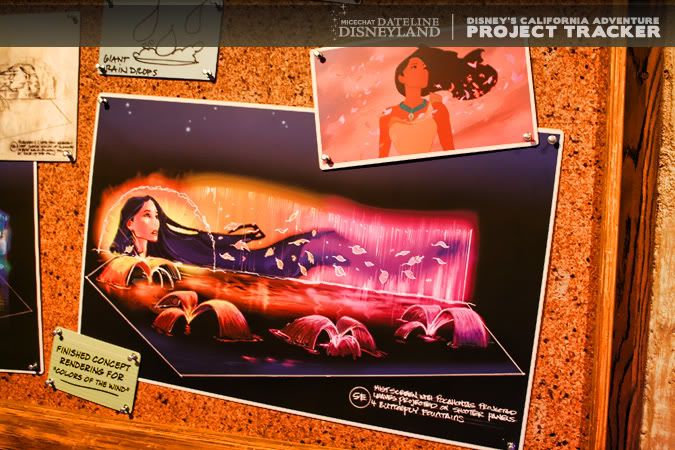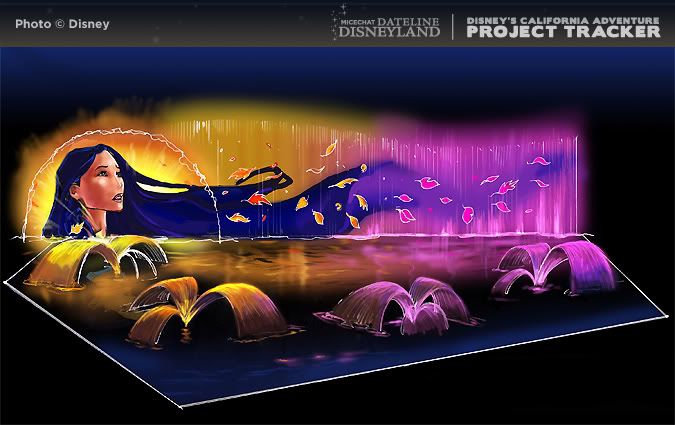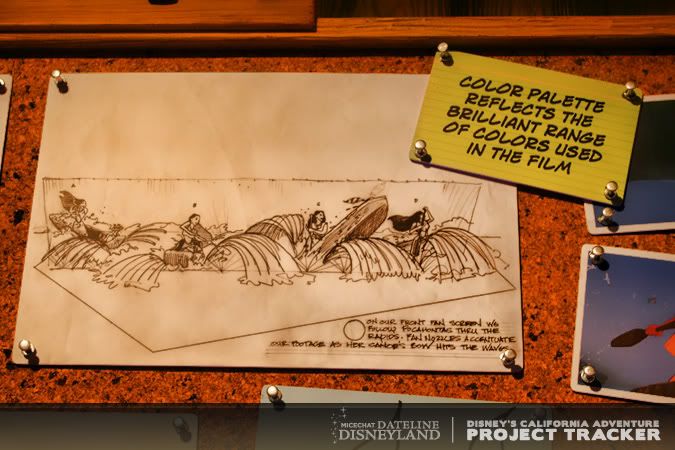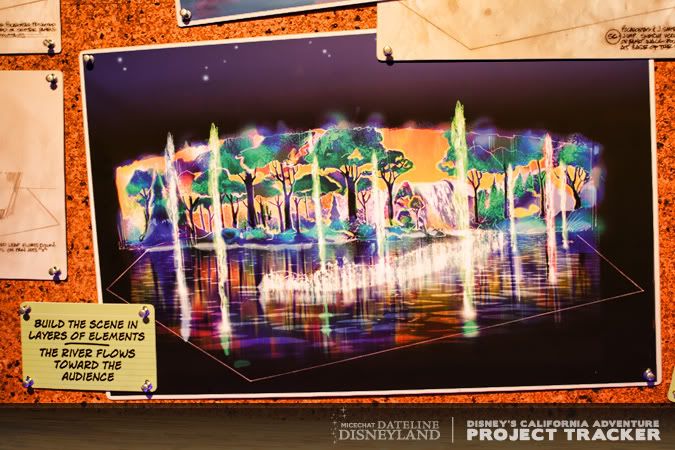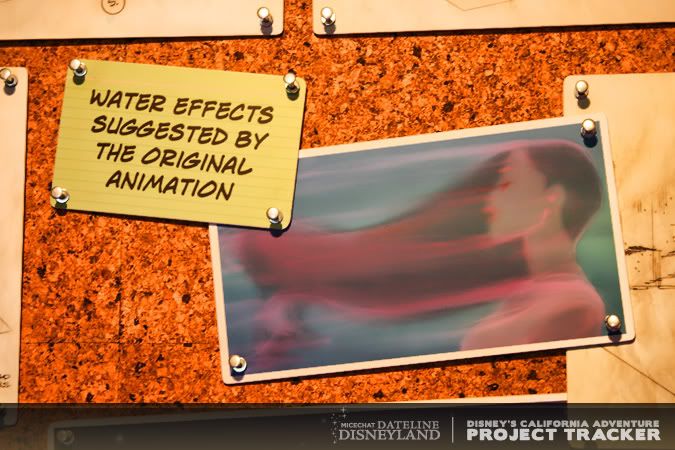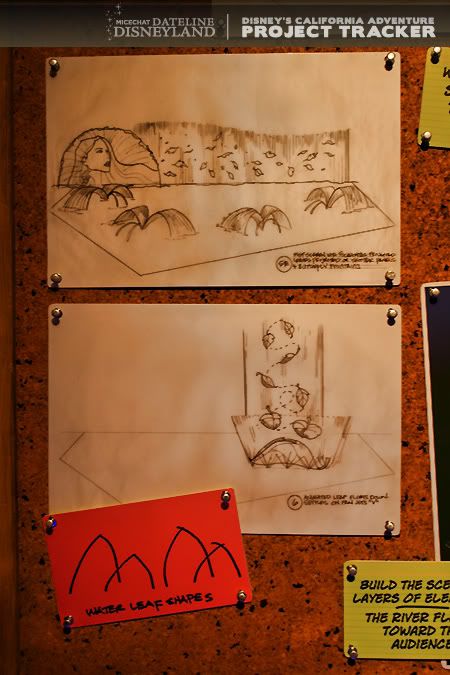 A Disney press release describes World of Color:
Innovative Entertainment Technology Drives 'World of Color' – the Next Milestone in Expansion of Disney's California Adventure
ANAHEIM, Calif. (July 16, 2009) – Elaborate preparation is underway for "World of Color," the spectacular nighttime water show that will astound guests with its magnitude and creativity when it debuts in spring 2010 as the next major milestone in the expansion of Disney's California Adventure park. Surpassing all Disney water productions, "World of Color" will bring Disney animation to life with powerful fountains that become stars of the show as they create the world's largest projected water screen.
For months now, guests at Disney's California Adventure have been peering into the lagoon near Paradise Pier as Walt Disney Imagineering and Creative Entertainment have installed the massive infrastructure and innovative technology that will create the stage for this extraordinary combination of music, animation and stunning water effects. Teams of Disney workers have built nearly an acre of superstructure to support the complex "World of Color" production.
"World of Color" will combine hundreds of magnificent fountains, dazzling colors and an all-new kaleidoscope of audio and visual effects to take water-infused entertainment to a new level of artistry. The production will flood the senses, taking audiences on an imaginative journey into the colorful worlds of animated Disney classics such as "Alice in Wonderland," "The Lion King" and "Pocahontas," along with Disney•Pixar films "Toy Story," "WALL-E" and many more.
Disney's newest production features an unprecedented infrastructure of water effects, larger-than-life projections, lasers, fire, fog, surround sound and stunning images. This technical wizardry, combined with classic Disney film sequences, will create a breathtaking emotional experience for guests as jaw-dropping effects sweep across the lagoon, soar into the sky and rush toward the audience.
A newly designed 9,000-capacity viewing area will provide Disney's California Adventure guests the best view in the park of this exciting nighttime extravaganza. The show lasts approximately 25 minutes.
Some of the technical magic behind 'World of Color' includes:
Nearly one full acre of engineered superstructure, longer than a football field and capable of settling on three levels – one for the performance, one under the water surface and one for maintenance
More than 1,200 powerful and programmable fountains
A vast underwater grid with more than 18,000 points of control. Each fountain has multiple points of control for lighting, color intensity, water angle, height and more.
Fountain heights that range from 30 feet to 200 feet in the air (by way of comparison, Mickey's Fun Wheel reaches a height of 150 feet, some of it below the edge of the lagoon)
A precise system of flame projections, lasers, and special effects that will flood the senses as guests experience the animation
Scenic elements that rise more than 80 feet above the lagoon
The world's largest projected water screen – a wall of water 380 feet wide by 50 feet high for a projection surface of 19,000 square feet
Nearly 30 high-definition projectors
The Paradise Pier model is largely unchanged, except for the addition of fountains, to show the scale of the new show: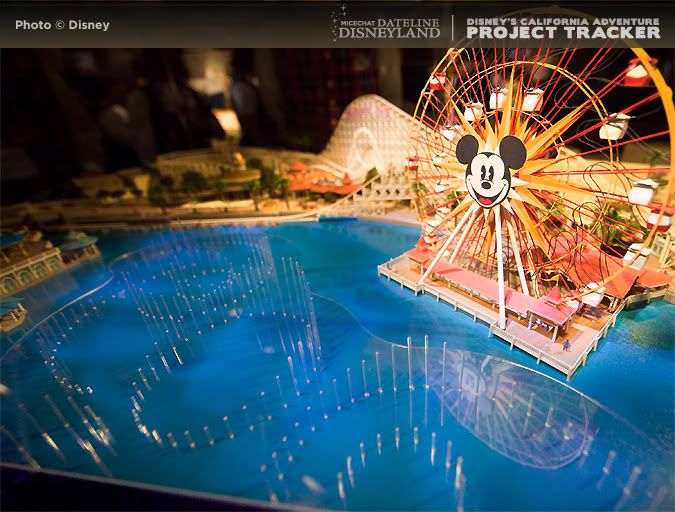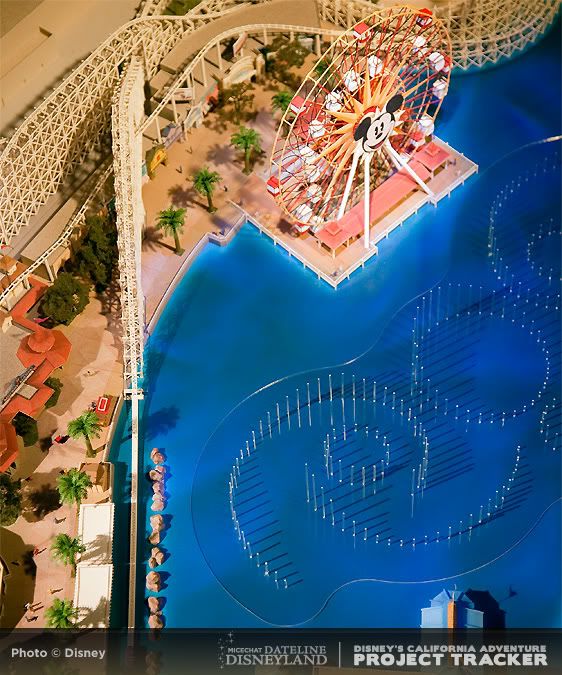 A study model shows how the new World of Color utility box between the Orange Stinger and Golden Zephyr will look when completed: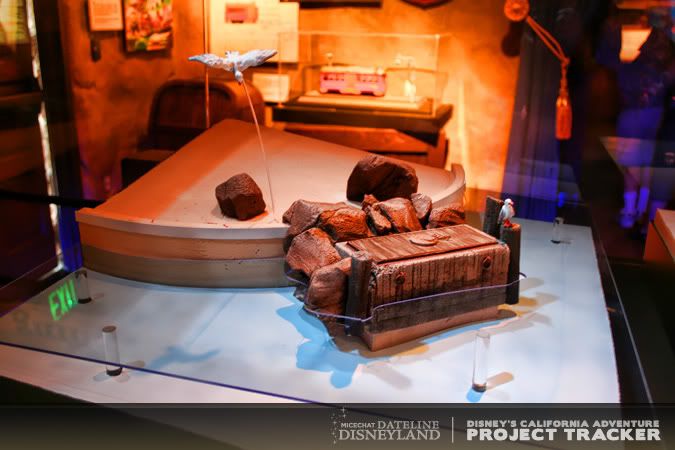 And a the large Paradise Park/World of Color viewing area model gives a look at how the area will look when construction wraps up later this year.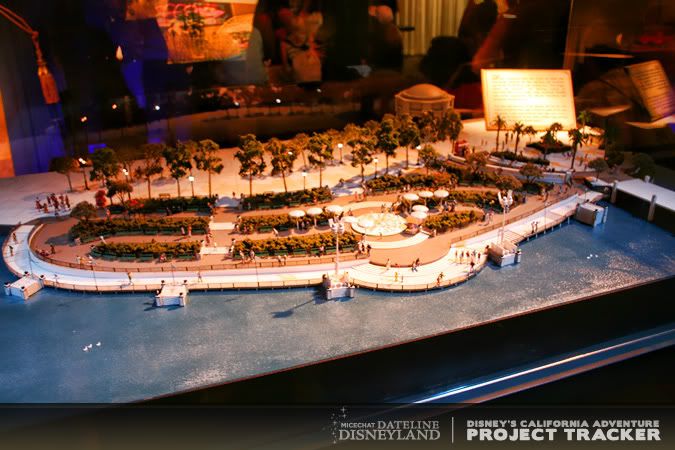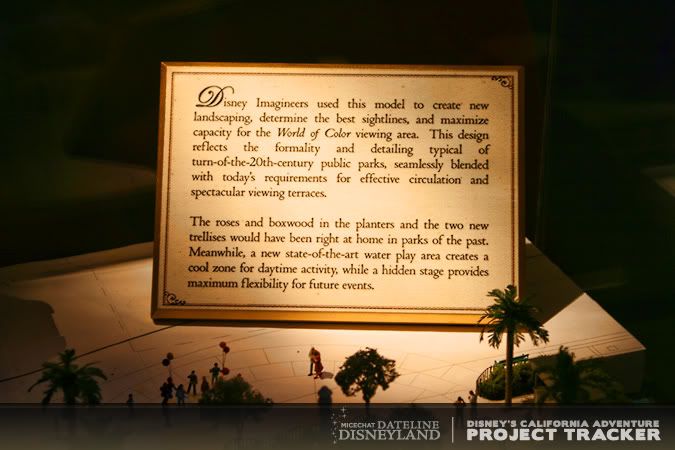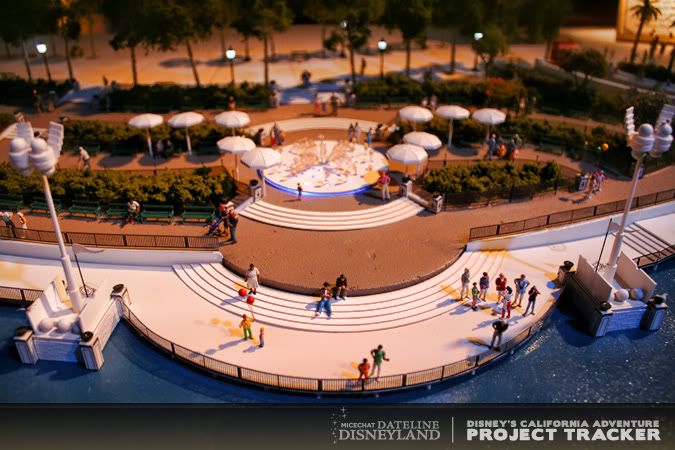 A new fountain will cool guests off during the day, and be turned off at night to add additional viewing area space.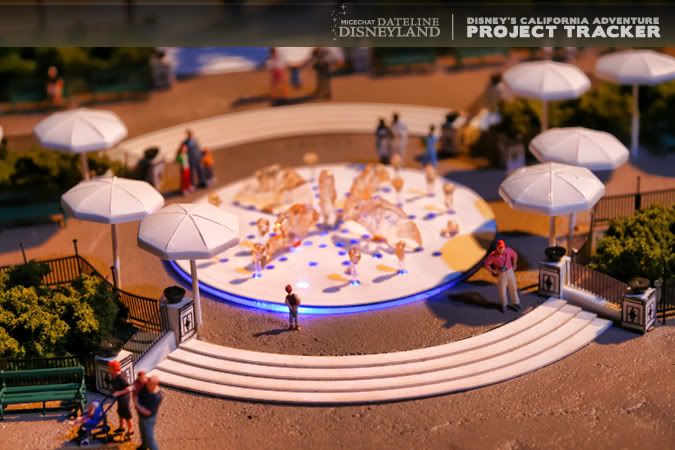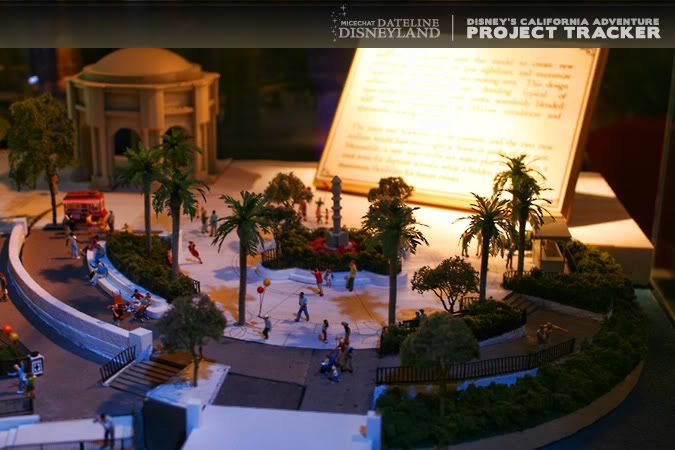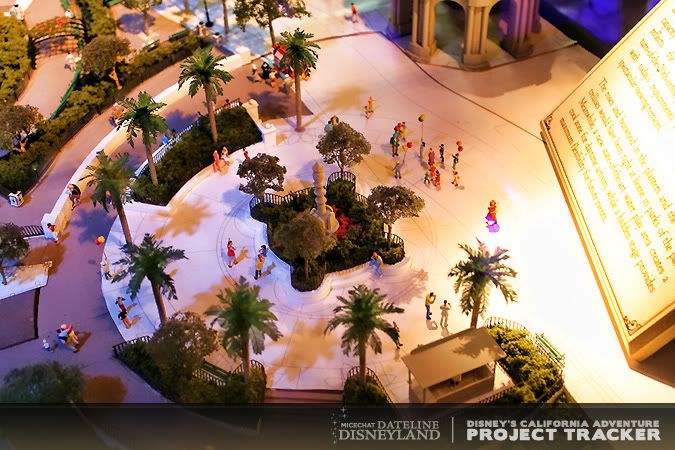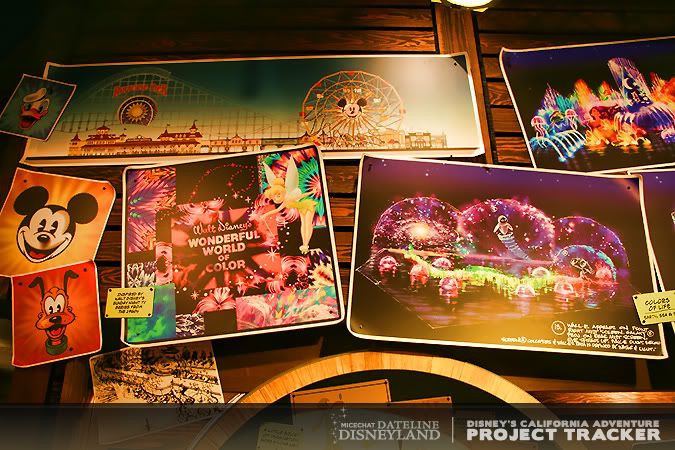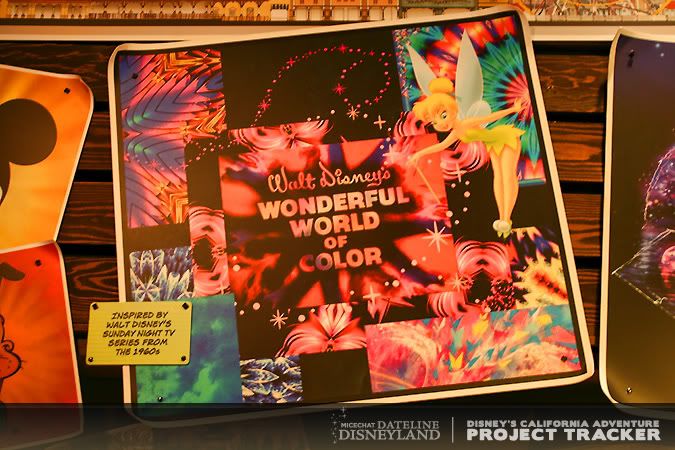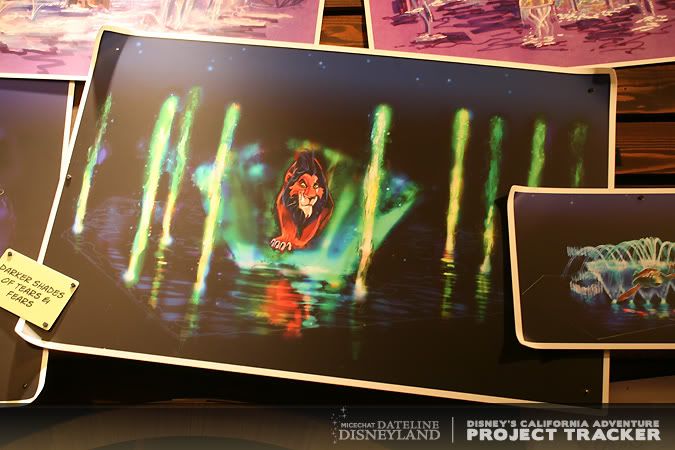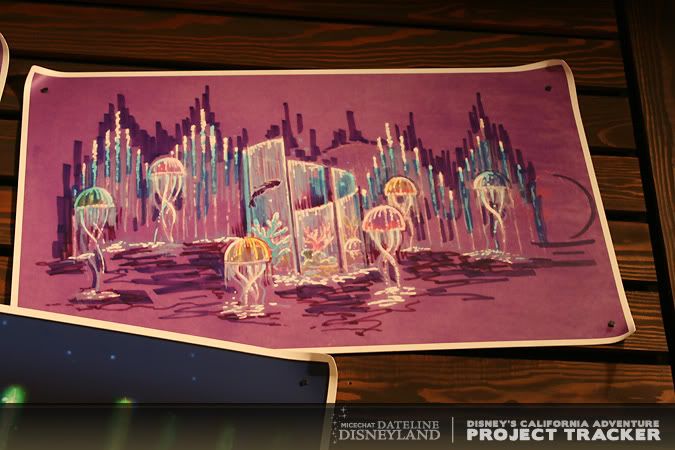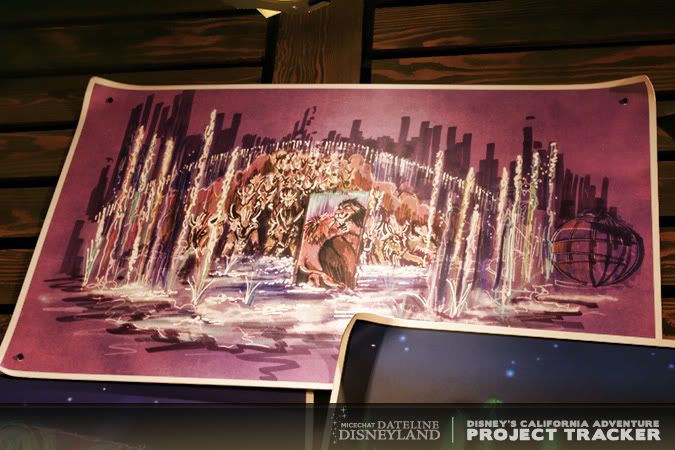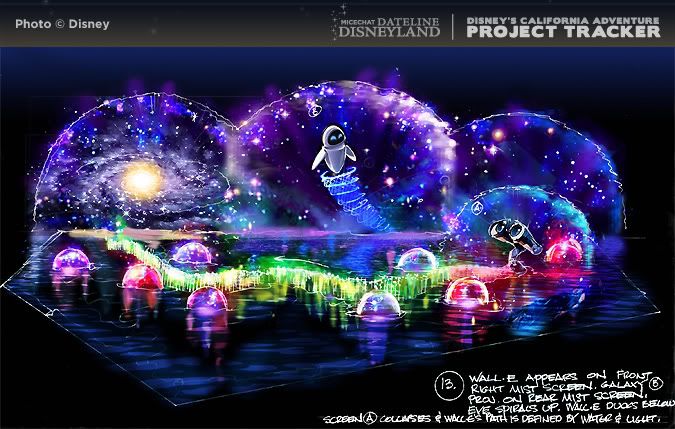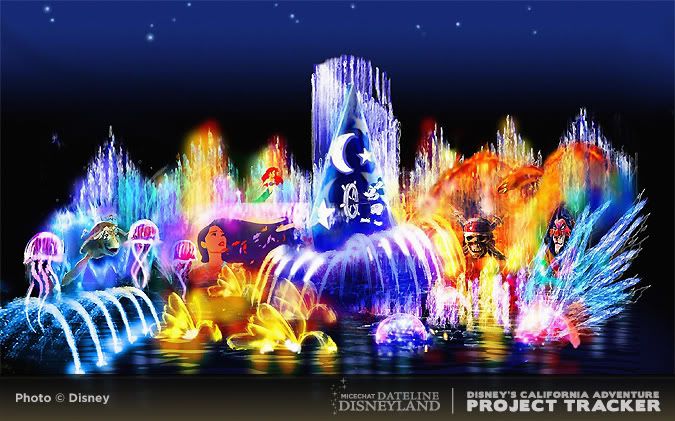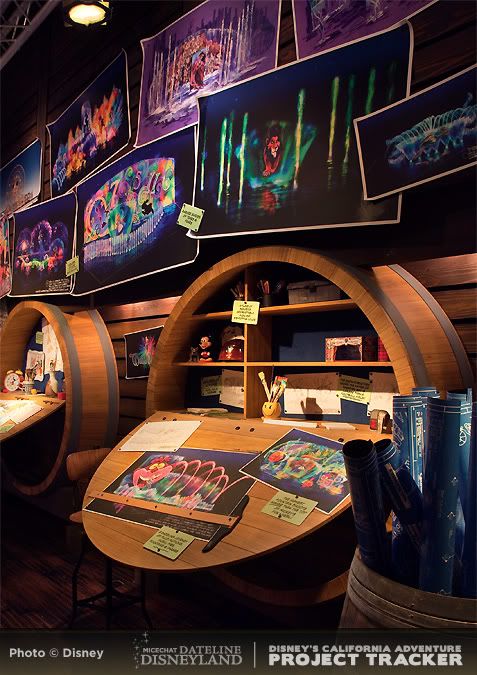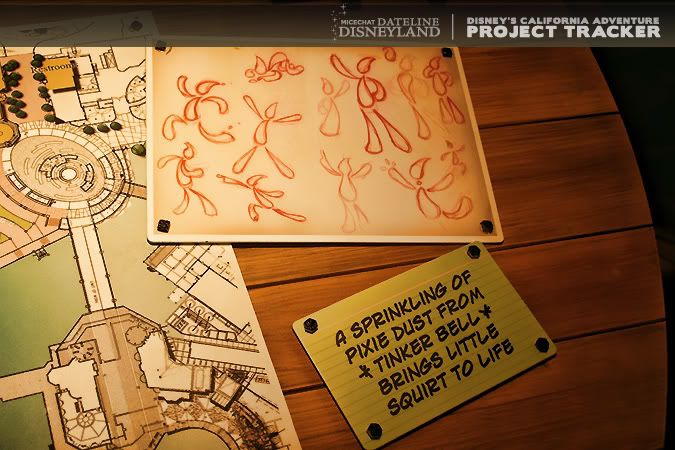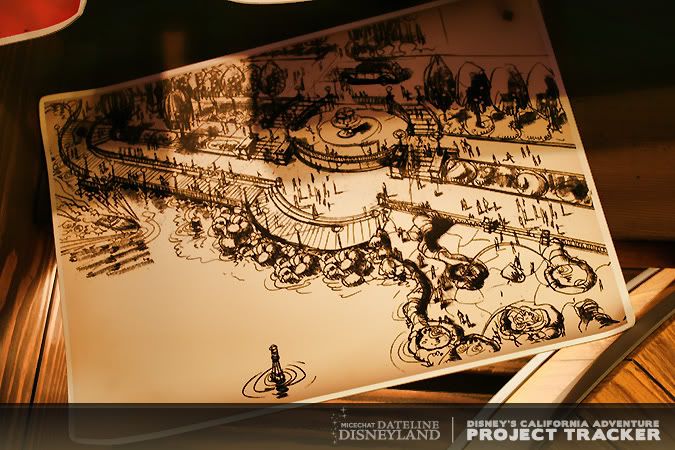 Paper models used to animate the Alice in Wonderland scene of the show are also on display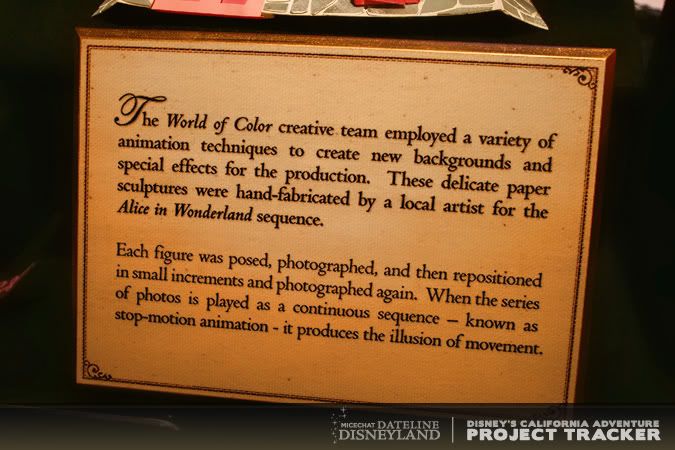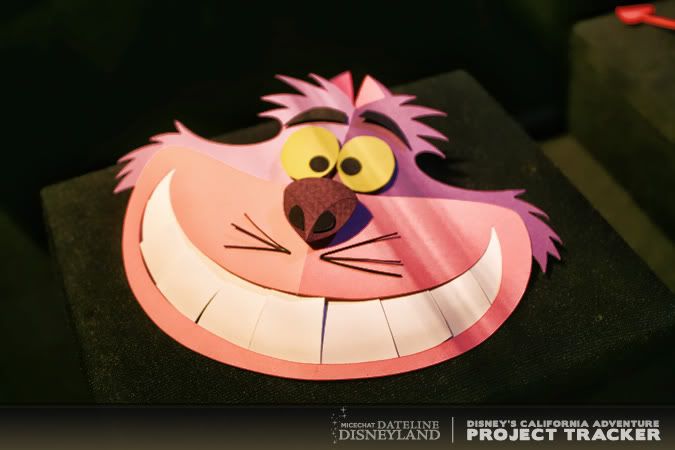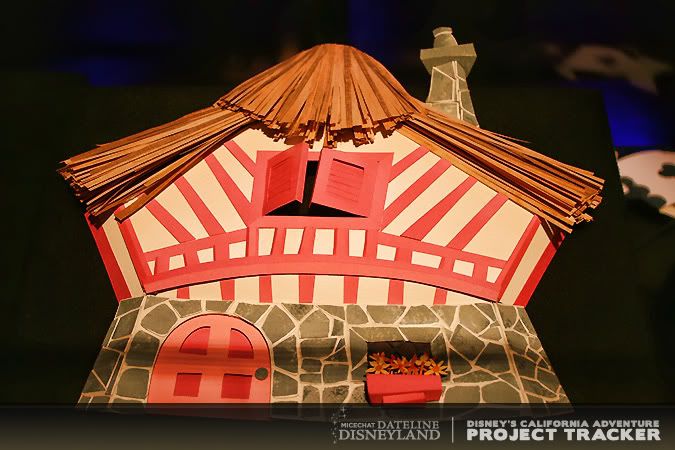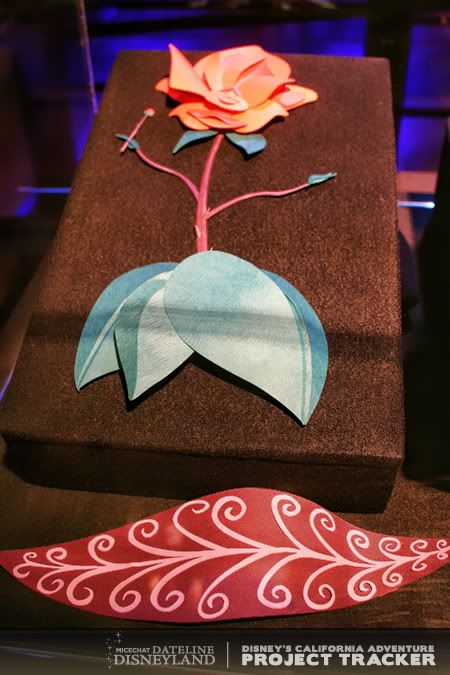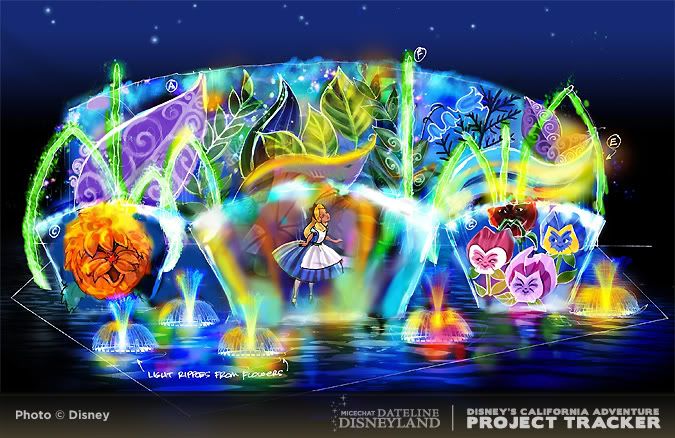 And finally, the preview film playing continuously in the rear of the Blue Sky Cellar has been updated with glimpse into the creative and technical process behind World of Color:
<object width="640" height="505"><param name="movie" value="http://www.youtube.com/v/AAHGwacB-LY&hl=en&fs=1&"></param><param name="allowFullScreen" value="true"></param><param name="allowscriptaccess" value="always"></param><embed src="http://www.youtube.com/v/AAHGwacB-LY&hl=en&fs=1&" type="application/x-shockwave-flash" allowscriptaccess="always" allowfullscreen="true" width="640" height="505"></embed></object>
<a name="DD5">
CALIFORNIA CONSTRUCTION
</a>
<a name="DD5-1">
WORLD OF COLOR & PARADISE PARK
</a>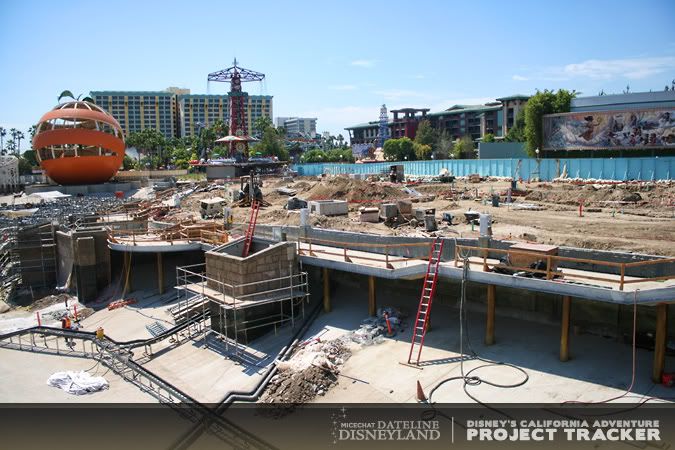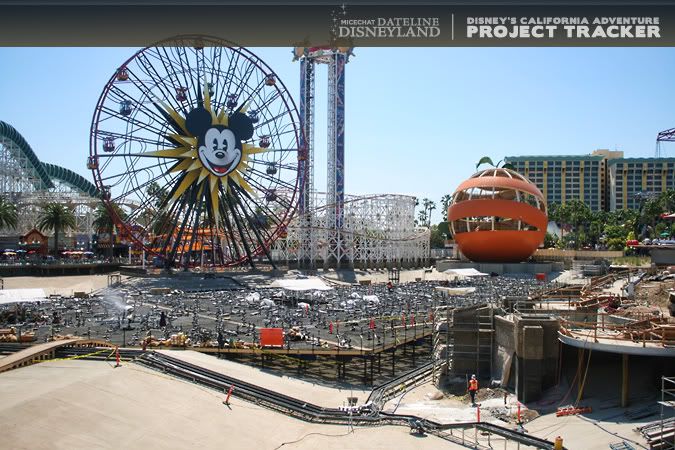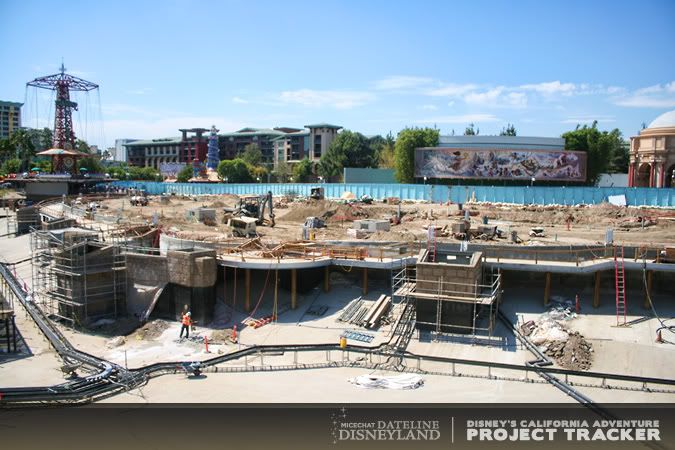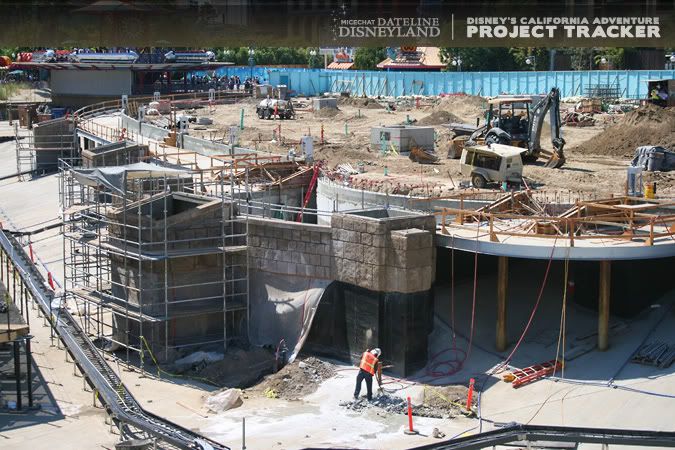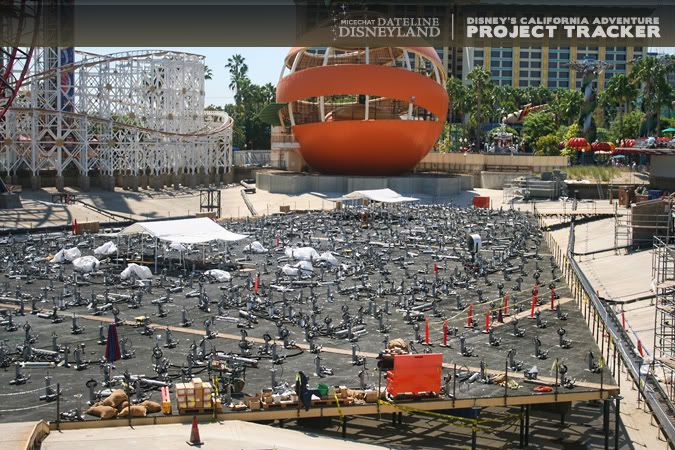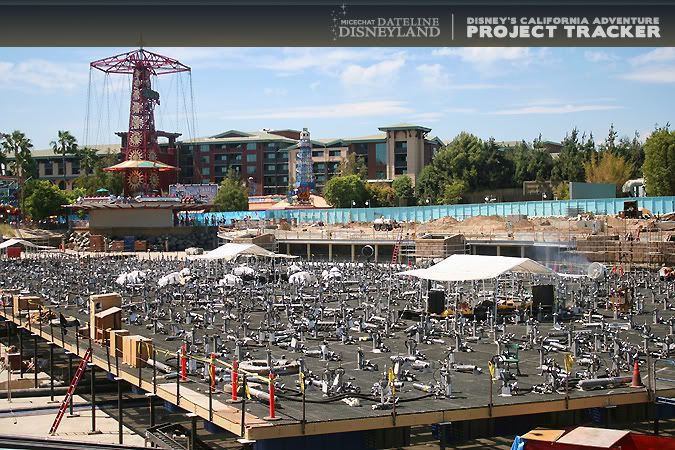 <a name="DD5-2">
ORANGE STINGER
</a>
Construction walls are now up around the Orange Stinger which has begun its transformation into the Silly Symphony Swings.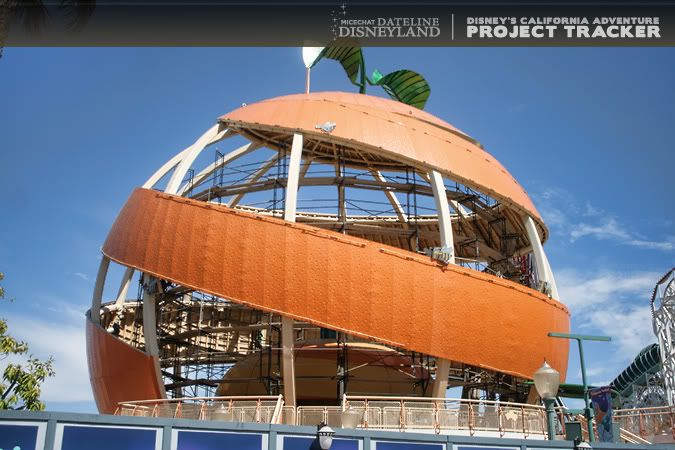 Scaffolding is up inside the orange: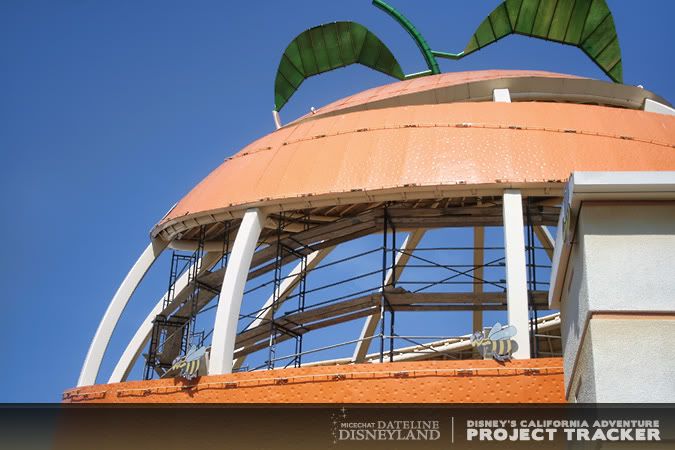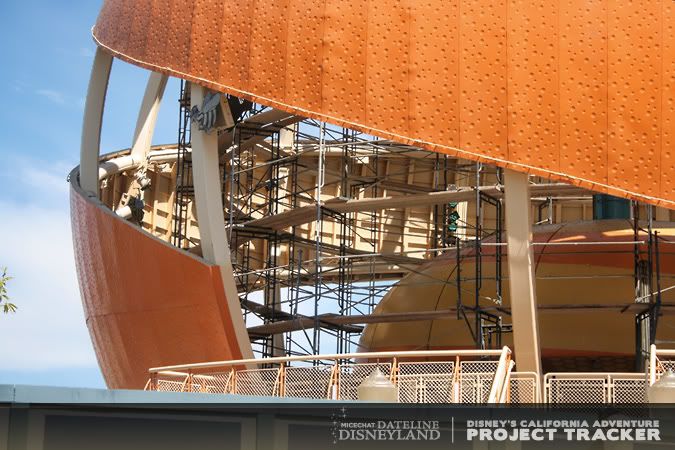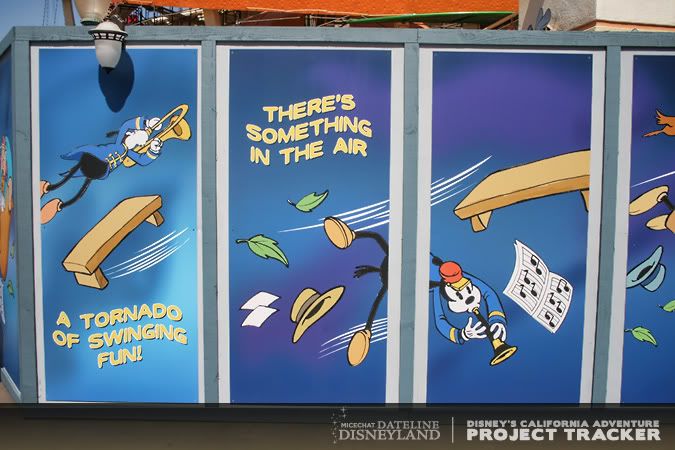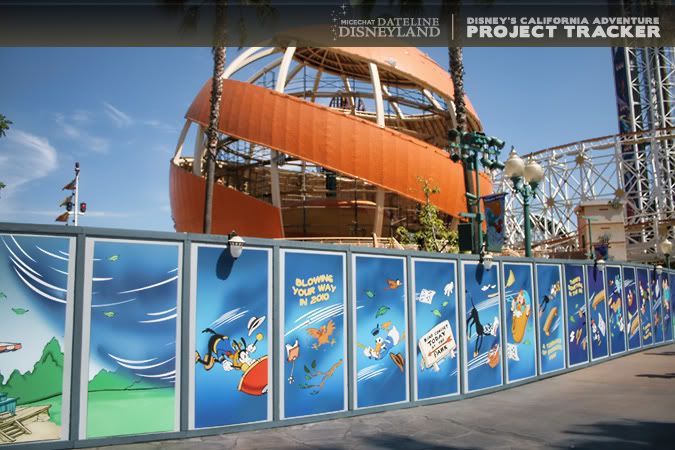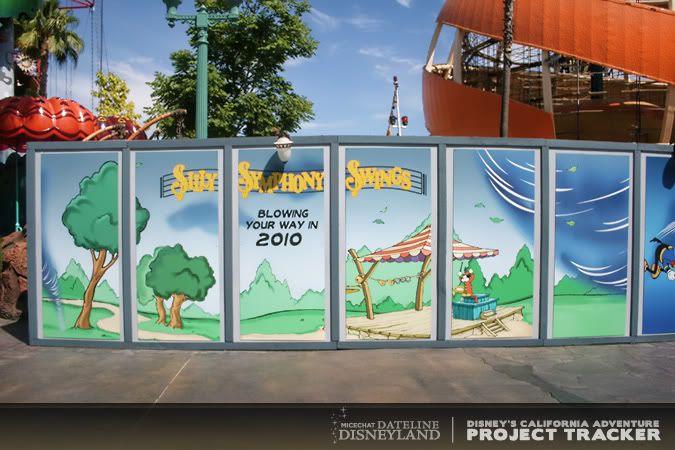 <a name="DD5-3">
GOLDEN DEMOLITION
</a>
The Golden Dreams Theater is finally being removed.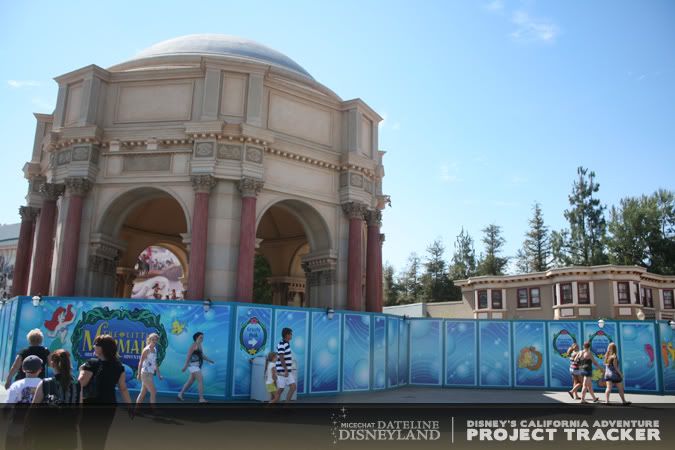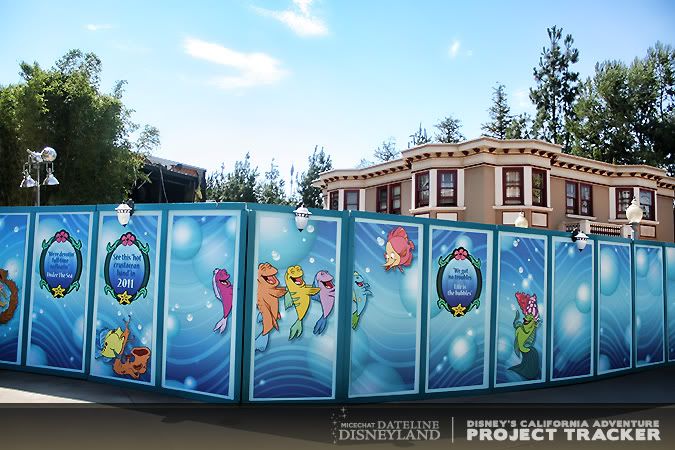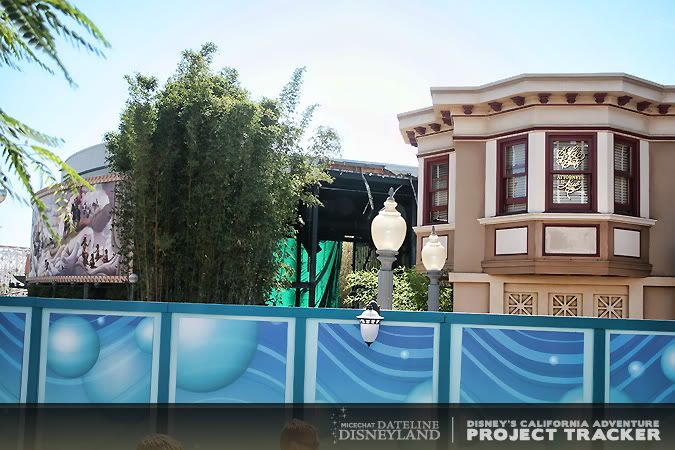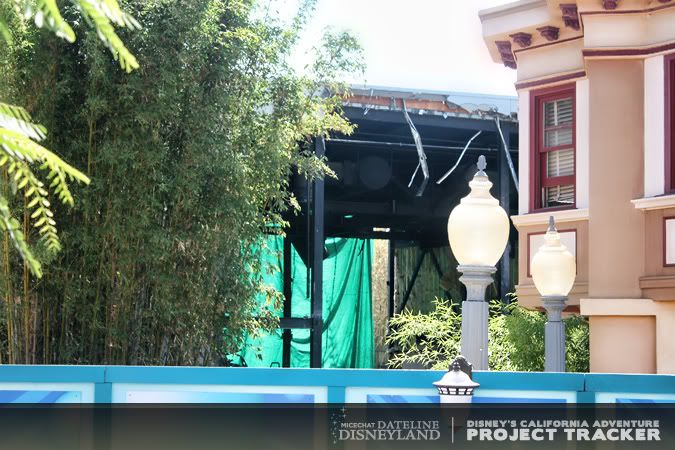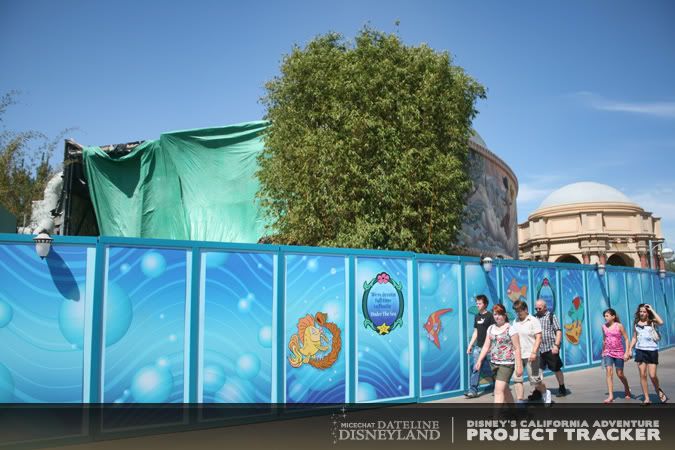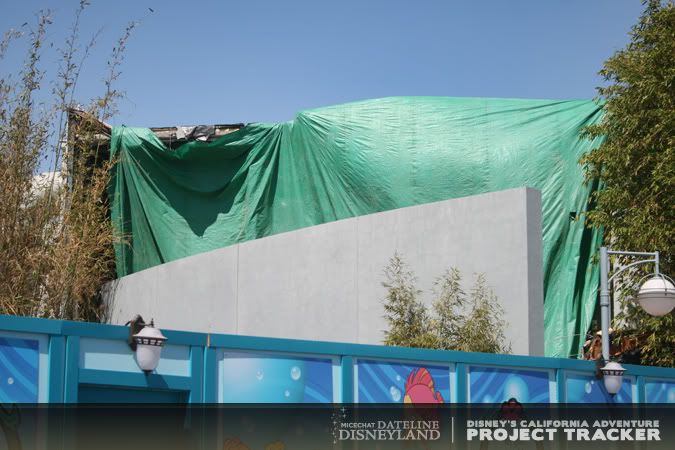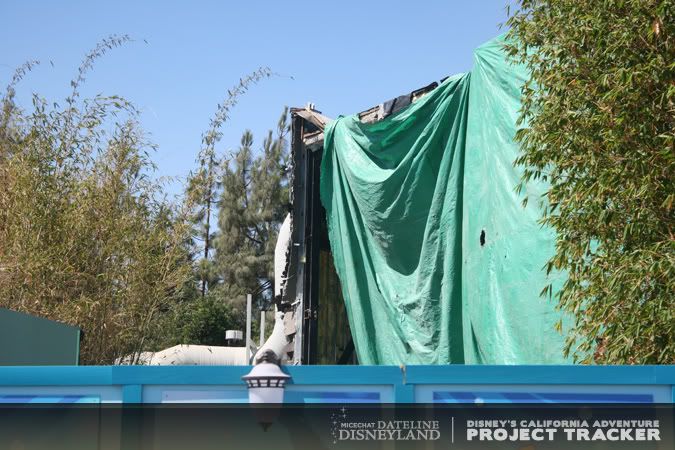 <a name="DD6">
D23 CELEBRATES 'DISNEYLAND, U.S.A.'
</a>
MiceChat's
Fishbulb
was lucky enough to attend the D23 "Disneyland, U.S.A." screening in the small Team Disney Anaheim theater on Friday. D23 members were gathered together in Small World Mall before being led backstage, getting treated to behind-the-scenes looks at the fireworks launches behind Mickey's Toon Town and the Monorail round house. Unfortunately, backstage photos were strictly forbidden.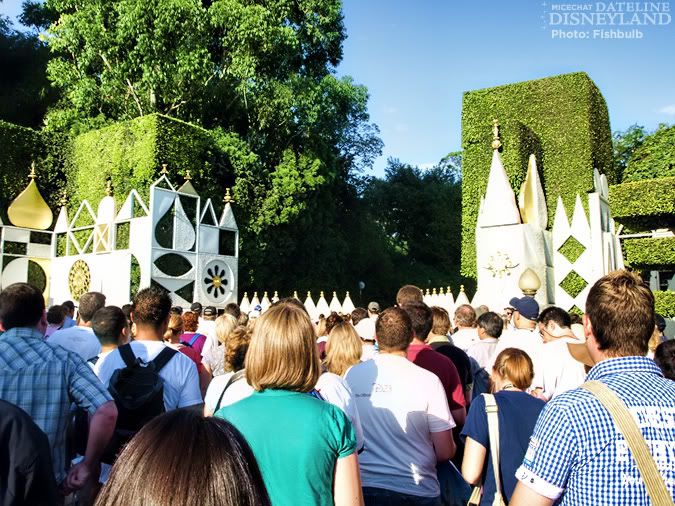 The event itself was a cavalcade of Disney executives, Disney Legends, and Disneyland icons.
From left to right:
Dave Smith, Chief Archivist of the Walt Disney Archives and Disney Legend
Jack Lindquist, Retired Disneyland President & Disney Legend
Ed Hobelman, Manager, Media Preservation, Walt Disney Pictures
Geri Bumpass, Former Disneyland Guest Relations Hostess
Tim O'Day, Host for the evening, Disney Author/Historian, Creative Marketing Strategies, LLC
Tony Baxter, Senior Vice President, Walt Disney Imagineering
Bob Gurr, Retired Disney Imagineer & Disney Legend
Mickey Mouse
Steven Clark, Head of D23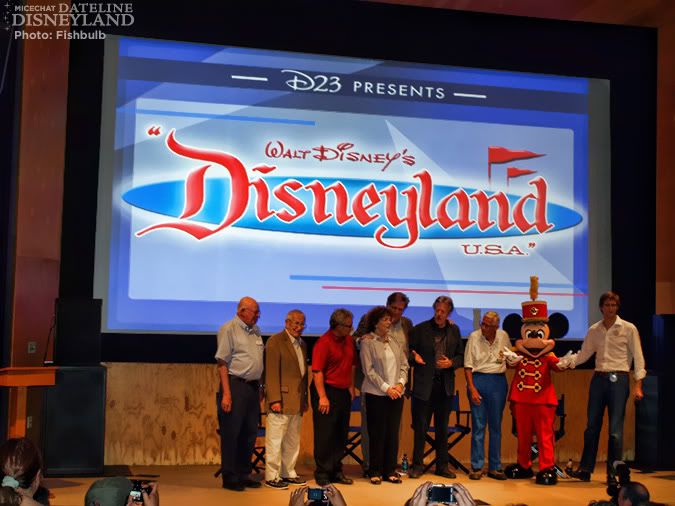 <a name="DD7">
THIS AND THAT
</a>
The Astro Orbitor finally has its rotating planets fixed.
<object width="640" height="505"><param name="movie" value="http://www.youtube.com/v/7uPuWPScmtA&hl=en&fs=1&"></param><param name="allowFullScreen" value="true"></param><param name="allowscriptaccess" value="always"></param><embed src="http://www.youtube.com/v/7uPuWPScmtA&hl=en&fs=1&" type="application/x-shockwave-flash" allowscriptaccess="always" allowfullscreen="true" width="640" height="505"></embed></object>
<a name="DDAROUND">
AROUND THE PARKS
</a>
And to finish up our photo section this week, some shots from around the parks...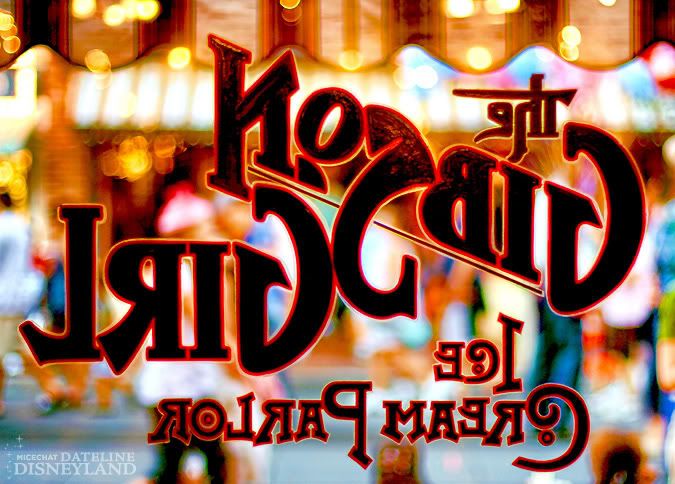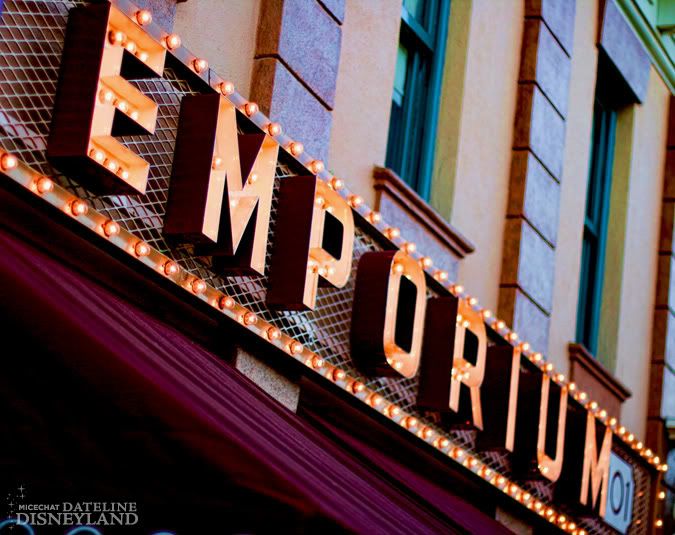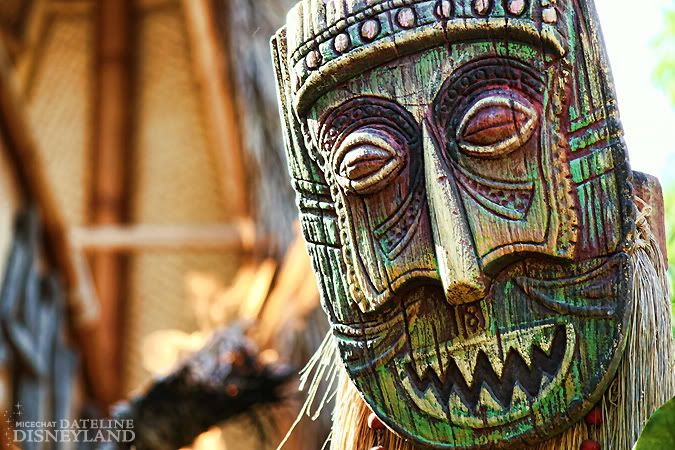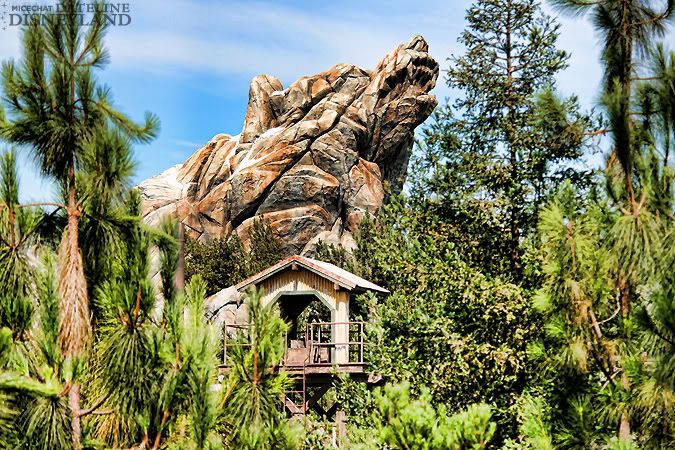 <a name="DDNEWS"></a><script charset="utf-8" type="text/javascript" src="http://ws.amazon.com/widgets/q?ServiceVersion=20070822&MarketPlace=US&ID=V20070 822/US/disneylandres-20/8001/defc2f58-fb71-4fe2-b5c3-4f6a4a094641"> </script> <noscript>Amazon.com Widgets</noscript>
DISNEYLAND WEEKLY HOURS AND INFO
THEME PARK HOURS JULY 20 - JULY 26
For a complete listing of theme park hours, please visit the
Disneyland.com Theme Park Calendar
Disneyland Park
Monday - Sunday: 8 am - 12 midnight

Disney's California Adventure Park
Monday - Sunday 10 am - 9 pm


CURRENT ATTRACTION CLOSURES & REFURBISHMENTS
Disneyland Park
Pinocchio's Daring Journey: Closed July 20 through August 14.
The Enchanted Cottage: Closed July 29 through November 17.
Casey Jr. Circus Train: Closed August 31 through November 20.
Storybook Land Canal Boats: Closed August 31 through November 20.
Mark Twain Riverboat: Closed September 8 through September 10.
Space Mountain: Closed September 8 through September 24 to install "Ghost Galazy" Halloween overlay.
The Haunted Mansion: Closed September 10 through September 24 to install Haunted Mansion Holiday overlay
Gadget's Go Coaster: Closed September 19 through October 26
The Disney Gallery: Opens September 26, 2009 in the Bank of Main Street
Pirates of the Caribbean: Closed September 28 through October 2.
Disneyland: The First 50 Magical Years/Main Street Opera House: Closed. Reopens as The Disneyland Story: Featuring Great Moments With Mr. Lincoln December 17, 2009.
Disney's California Adventure Park
Orange Stinger: Closed for retheming. Reopens Spring 2010
Cocina Cucomonga: Food service location closed June 18, when new location opened. Original location reopens with new Asian-style menu September 14.
The Little Mermaid: Ariel's Undersea Adventure: Under construction.
Souvenir 66 and Corn Dog Castle: Store and dining location closed for remodeling through May 2011.
Paradise Bay: Drained for construction of upcoming Disney's World of Color show.
Disney's World of Color Nighttime Spectacular: New show under construction. Debuts Spring 2010.
Golden State Park and Amphitheater: Closed. New, larger amphitheater for Disney's World of Color viewing under construction in same location. The new amphitheater will open December 2009.
HALLOWEENTIME RETURNS WITH OUT-OF-THIS-WORLD SCARES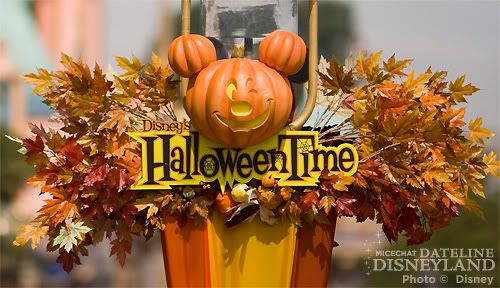 D23 outlined this year's HalloweenTime offerings at the Disneyland Resort this year with an article posted Saturday, July 18:
HALLOWEEN TIME RETURNS TO DISNEYLAND RESORT!
07.18.09 - Returning to life September 25 and continuing through November 1, Halloween Time brings fun for all ages to the Disneyland Resort with new screams at Space Mountain and a new, nightly fireworks show. Halloween Time offers families a chance to interact with some of Disney's most beloved characters, dressed in seasonal costumes at Disneyland and Disney's California Adventure parks. It also gives guests a unique opportunity to experience some spooky fun with Disney's more sinister characters, the Disney villains.
For older kids and adults, Halloween Time offers a new attraction: Space Mountain Ghost Galaxy in Tomorrowland at Disneyland. For the first time, riders will experience not only the thrill of flying through the galaxy, but the exhilaration of ghosts and ghouls screaming through space trying to contact them. Creepy creatures lurk around every turn as the eerie attraction provides thrilling drops like never before.
New this year is a fireworks spooktacular that will haunt the nighttime sky throughout the Halloween season. Jack Skellington, the Master of Scaremonies, invites everyone to join in the celebration, including a cast of Disney villains who get into the sprit with a wicked sense of fun.
For the full article, visit
D23: HALLOWEEN TIME RETURNS TO DISNEYLAND RESORT!
CAROLWOOD FOUNDATION FUNDRAISES TO ACQUIRE DISNEYLAND RAILROAD CAR
MiceAge columnist, Disneyland Railroad aficionado, and author Steve DeGaetano posted the news that the Carolwood Pacific Historical Society is beginning fundraising to purchase the old Disneyland & Santa Fe Railroad combine from private owners. The train car was reportedly Walt Disney's favorite and the Carolwood Society would like to secure the combine for permanent public display!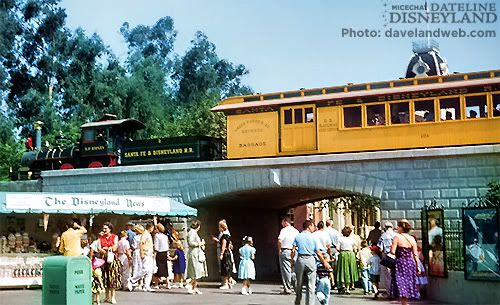 SF&D RR Combine to be Acquired!
The Carolwood Foundation, which is the non-profit arm of the Carolwood Pacific Historical Society, has the opportunity to obtain the very first car from the Santa Fe & Disneyland Railroad's first passenger train, known formally as "Retlaw 1."
As you may recall, there were originally two trains on the SF&D RR. One was a "freight train" with cattle cars and a caboose, and was generally pulled by the C.K. Holliday (It still exists today, in the guise of "Holiday Red" with red awnings and trim, and the caboose still brings up the rear).
The other train was made up of enclosed wooden passenger cars based on cars from the 1880s. After the dioramas went in, the cars were hardly used. Most of the train was traded away in order to (eventually) get the Ward Kimball locomotive; four of the original six cars ended up in San Luis Obispo on a private railroad. One car was transformed into the Lilly Belle. But one car hasn't been seen by the public in decades: The very first car, called a "combine."
A combine, as the name suggests, is a car with a combination of baggage area and a section with passenger seating. It was the first car after the locomotive, and bore the number 101 (The Lilly Belle still bears her original number, 106).
This 1956 View shows the combine to good advantage. The curved lettering near the front says "Wells Fargo & Co. Express." Photo courtesy Davelandweb.com
The SF&D combine has been in storage in a warehouse in Ventura, where it's been nearly completely restored.
This car was said to be Walt Disney's favorite car, because it reminded him of his days when he rode the rails as a news butcher on the Missouri Pacific Railroad, hawking snacks and newspapers to weary commuters. When he wasn't selling to the passengers, he spent his time in a combine similar to the Disney version. Sometimes, he'd head out the front door of the car, climb the tender ladder, clamber over the coal and shimmy down into the engine cab of the speeding locomotive, where he bribed the engine crew with treats in exchange for them teaching Walt about how the engine operated.
Saturday, July 18 will begin the kickoff for fundraising activities at the Disney Barn (also the 10th anniversary of the Disney Barn's placement at Griffith Park). Much money will need to be raised in order to acquire and preserve the car, and the Walt Disney Family Foundation is involved as well. But the really great thing is that Carolwood desires that the car be displayed publicly!
This is truly a worthwhile cause, and I am looking forward to the day when we might be able to view the car up close and in person. A true piece of Disneyland history preserved.
<script charset="utf-8" type="text/javascript" src="http://ws.amazon.com/widgets/q?ServiceVersion=20070822&MarketPlace=US&ID=V20070 822/US/disneylandres-20/8001/defc2f58-fb71-4fe2-b5c3-4f6a4a094641"> </script> <noscript>Amazon.com Widgets</noscript>
<script type="text/javascript"><!--
google_ad_client = "pub-9541968576199423";
/* 468x60, created 7/6/09 */
google_ad_slot = "7943076690";
google_ad_width = 468;
google_ad_height = 60;
//-->
</script>
<script type="text/javascript"
src="http://pagead2.googlesyndication.com/pagead/show_ads.js">
</script>
<object classid="clsid:d27cdb6e-ae6d-11cf-96b8-444553540000" codebase="http://download.macromedia.com/pub/shockwave/cabs/flash/swflash.cab#version=9,0,124,0" id="TwitterWidget" align="right" height="335" width="225">
<embed src="http://static.twitter.com/flash/widgets/profile/TwitterWidget.swf" quality="high" bgcolor="#000000" name="TwitterWidget" allowscriptaccess="sameDomain" allowfullscreen="false" type="application/x-shockwave-flash" pluginspage="http://www.macromedia.com/go/getflashplayer" flashvars="userID=16832260&styleURL=http://static.twitter.com/flash/widgets/profile/smooth.xml" align="middle" height="335" width="225"></object>Whew! Alright, that should wrap things up this week. Thanks to
Fishbulb
for his help covering the D23 event, and thanks, of course, to you for reading. Be sure to discuss today's update in the comments section below!
Don't forget that MiceAge and MiceChat has loads of new content weekly! If Dateline Disneyland isn't enough to satisfy your Disneyland itch, then don't miss
David "Darkbeer" Michael's
In the Parks
column which runs here every Friday and is packed full of Southern California theme park news, photos, and gossip. And if you want even more Disney theme park goodness, don't miss
MiceChat's Weekend Update
, which takes a look at Disney theme parks and other international landmarks, curiosities, and oddities every Saturday!
Your help keeps these updates coming, and without you they couldn't happen. We all know times are tough, so any amount of support helps. If you can donate to Dateline Disneyland please consider doing so via a safe and quick PayPal donation.
To donate, click here.
Don't forget - Dateline Disneyland is also on Twitter! If you still haven't checked us out on Twitter, head over there today and see why over
3,800
other Disneyland fans have already started following Dateline Disneyland! The Dateline Disneyland Twitter is updated throughout the week with links to breaking news, mini updates, photos, and links to newsworthy MiceChat discussions. Head over to
Twitter.com/DatelineDisney
, or check out the widget to the right to follow us!
See you here again soon!
-Andy

<script type="text/javascript">
src="http://pagead2.googlesyndication.com/pagead/show_ads.js"><b</script>