Welcome to the August 3, 2009 edition of Dateline Disneyland. As always this week we'll give you all the latest news and photos from the Disneyland Resort, but don't worry. It's all delivered here fresh for you without Disneyland's new
$72 admission fee
. Yep, in the middle of the worst economic crisis since the Great Depression, Disney is raising admission prices for theme parks across the board. But hey - that money for that great big new
World of Color
show and
Little Mermaid dark ride
at
California Adventure
has gotta come from somewhere, right?
Of course, we'll fill you in on all of that construction work taking place in Disney's California Adventure. All photos dealing with on-going Resort construction projects will be marked with Project Tracker watermarks, which, when clicked, will redirect you to
MiceChat's Project Trackers
where you'll find the latest news and discussion on any of the Resort's many on-going projects.
Alright, lets get right to it, shall we?
<center><table style="border: 0pt solid black;" width="675"><tbody><tr><td bgcolor="#263778" width="100%" height=""><center>

Inside Dateline Disneyland
</center></td></tr><tr><td bgcolor="#d6d4ac" width="100%">
<a href="#DD1">Welcome to Disneyland!</a>


Theme park admission prices go up, Eat Hat embroidery gets pricey

<a href="#DD2">California Construction</a>


The latest Disney's California Adventure construction photos.

<a href="#DD2-1">

World of Color & Paradise Park Viewing Area

</a>
<a href="#DD2-2">

The Little Mermaid: Ariel's Undersea Adventure

</a>
<a href="#DD2-3">

Orange, Peeled

</a>
<a href="#DD2-4">

Lucky Fortune Cookery

</a>
<a href="#DD2-5">

Cars Land

</a>

<a href="#DD3">Grand Californian Expansion</a>


Checking in on the Grand Californian Hotel Vacation Club expansion

<a href="#DD4">This and That</a>


Haunted Mansion merch, Fantasia Gardens construction walls, Teacup photo-op

<a href="#DDAROUND">Around the Park</a>


Photos from around the park

<a href="#DDNEWS">Weekly News and Information</a>


Weekly theme park hours, closures and refurbishments, news & headlines
</td></tr></tbody></table></center>
<a name="DD1">
WELCOME TO DISNEYLAND!
</a>
The first thing guests are now greeted with upon entering the Disneyland Resort Main Entrance Plaza are the newly raised admission fees at ticket booths
In its newly-released
Q3 2009 financial reports
, Disney reported a 9% revenue drop for theme parks and resorts, and a 19% drop in operating income for the division. The main culprit was Walt Disney World, where heavy ticket discounts are still bringing in guests, but they aren't spending as much on-property.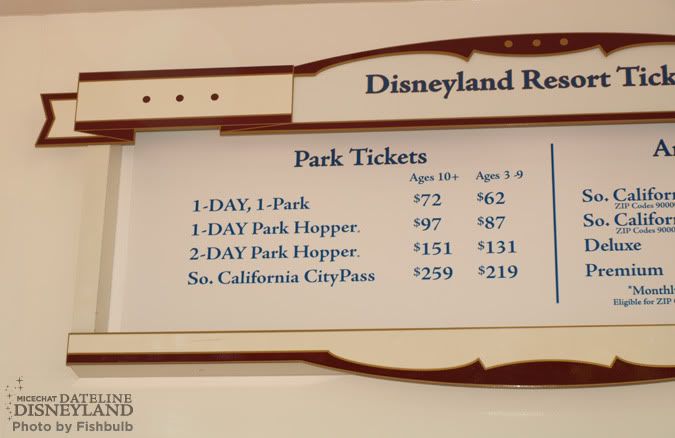 The biggest price increase was the extra $40 added to the Premium Annual Passport, which routinely only sees a $20 hike.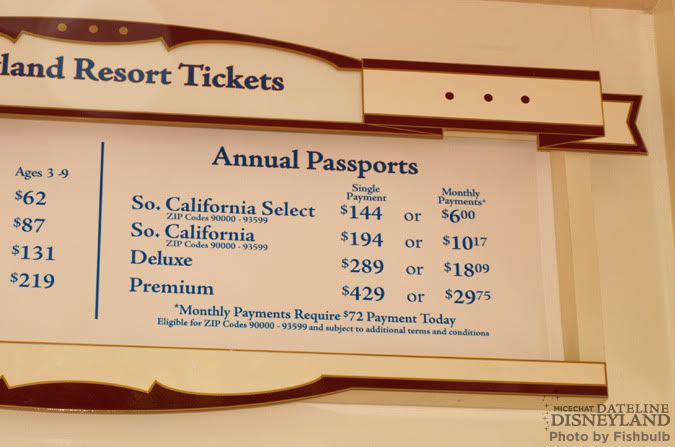 David "Darkbeer" Michael posted a full list of the price increases on MiceChat:
MiceChat: The full list of Disneyland Ticket Price Increases as of Sunday, August 2nd
Park Tickets
One Day, One Park Ticket - $72/$62 ($3 increase)
One Day ParkHopper - $97/$87 ($3 increase)
Two Day ParkHopper - $151/$131 ($8 increase)
Three Day ParkHopper - $204/$174 ($5 increase)
Four Day ParkHopper - $229/$199 ($5 increase)
Five Day ParkHopper - $249/$219 ($5 increase)
Six Day ParkHopper - $254/$224 ($5 increase)
Annual Passports
Southern California Select - $144 ($10 increase)
Southern California - $194 ($20 increase)
Deluxe - $289 ($20 increase)
Premium - $429 ($40 increase)
Parking Add-on - $59 (no change)
Blockout Pass - $45 ($5 increase)
Inside the parks, little perks that were once free are again beginning to get price tags.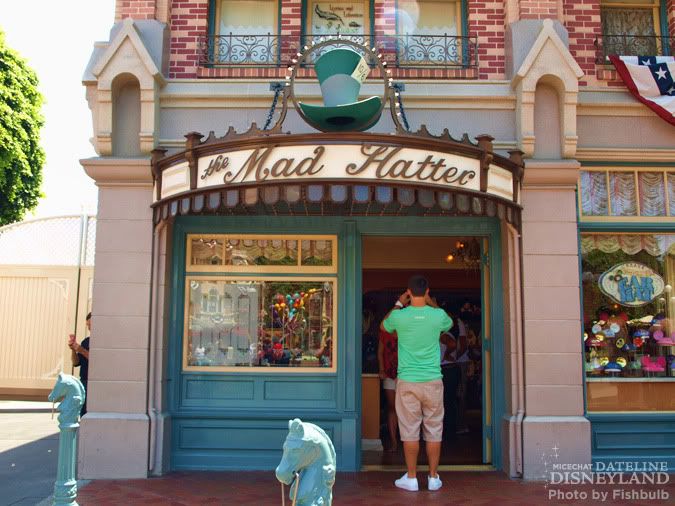 Disney rolled out "custom" embroidery for Ear Hats within the last year or so, charging $7 for the choice between two "custom" fonts, and a different thread color. The basic embroidery, which was previously done by hand, but phased out to computerized machines in recent years, remained free. Not anymore. Disney is now charging $3 for basic embroidery on hats. Not only is the service stripped of the personal human touch that helped make it so special before, but now it costs you $3 to have a cold machine spell your name out on the back of your Mickey ears. Ah, Disney magic.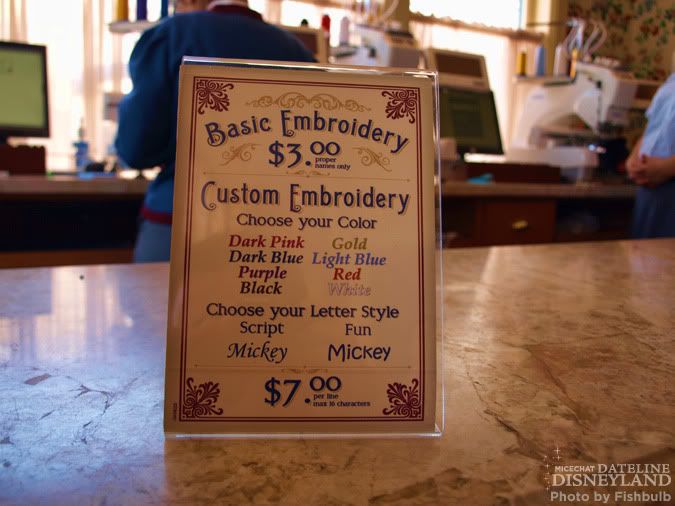 <a name="DD2">
CALIFORNIA CONSTRUCTION
</a>
Speaking of Disney magic, no matter how much it costs, it takes time and lots of work to make it happen. Disney's California Adventure can tell you this first hand, as it continues to go under the knife to try to get its fair share of Mouse's special touch. Will it work? Only time will tell, but until then, we're here to fill you in on all the construction.
<a name="DD2-1">
World of Color & Paradise Park Viewing Area
</a>
The progress on the massive World of Color and new viewing area continues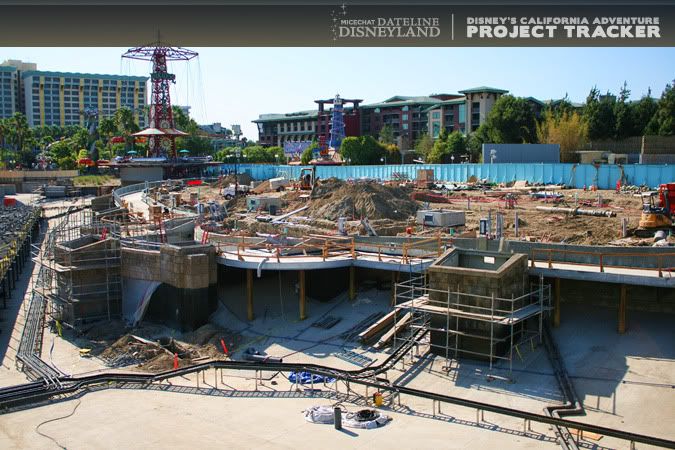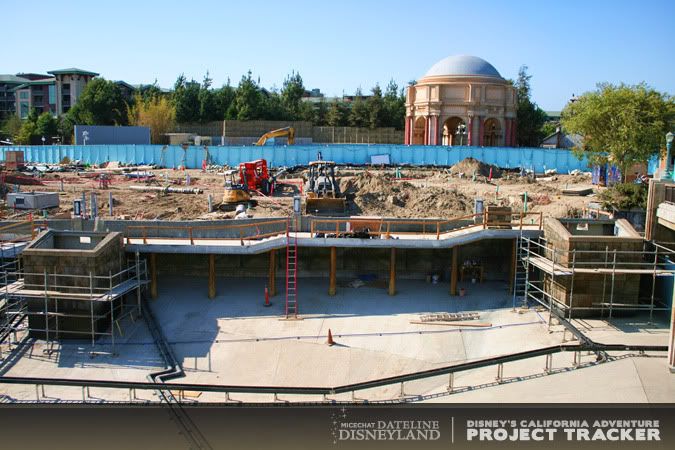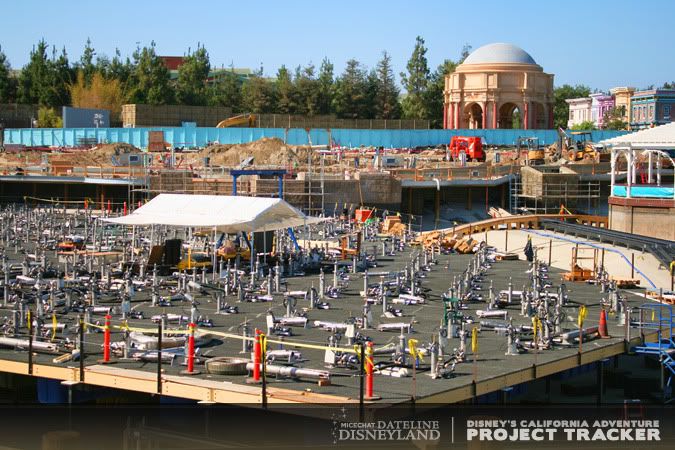 New wooden posts have gone up along the back of Paradise Bay, near the California Screamin' launch.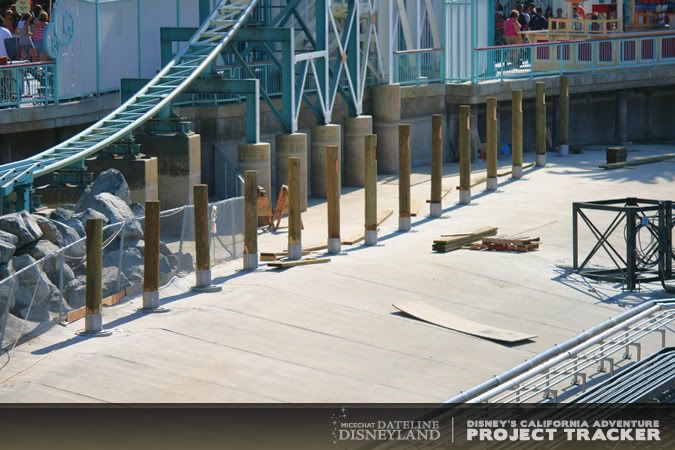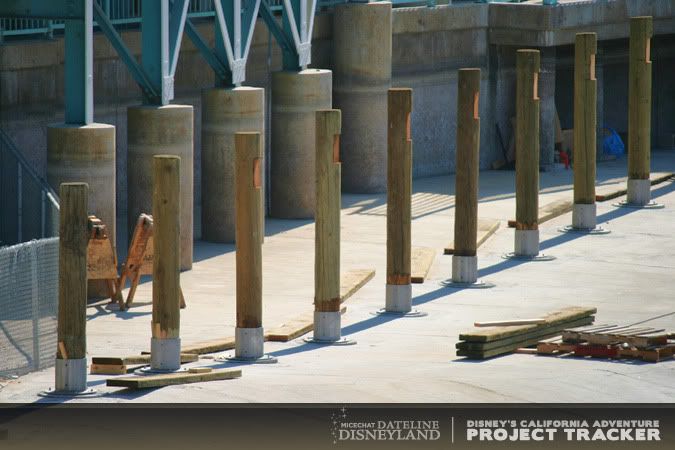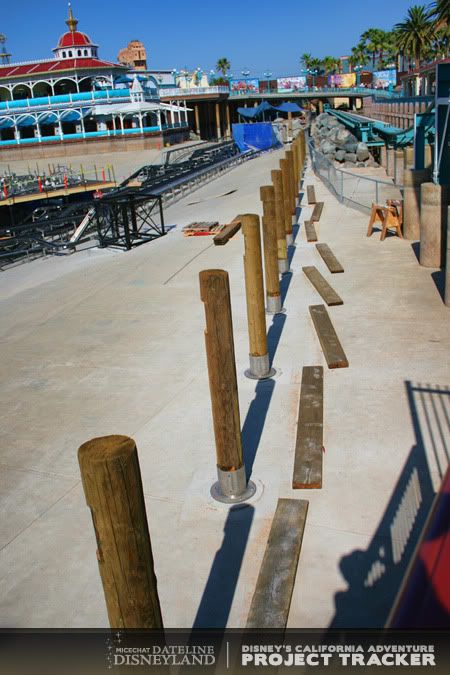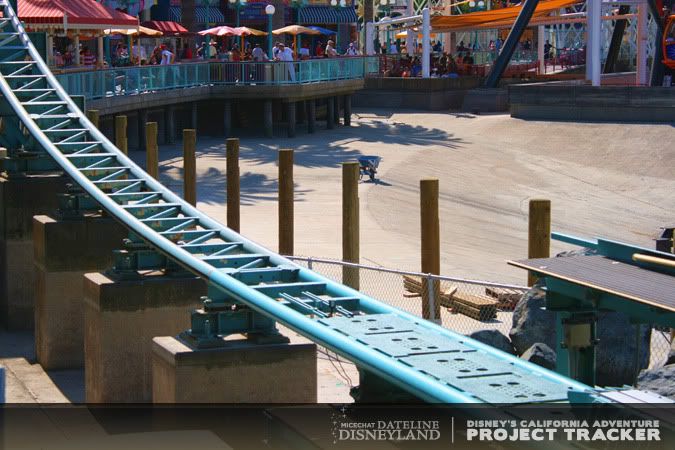 The World of Color utility boxes in Paradise Bay continue to get themed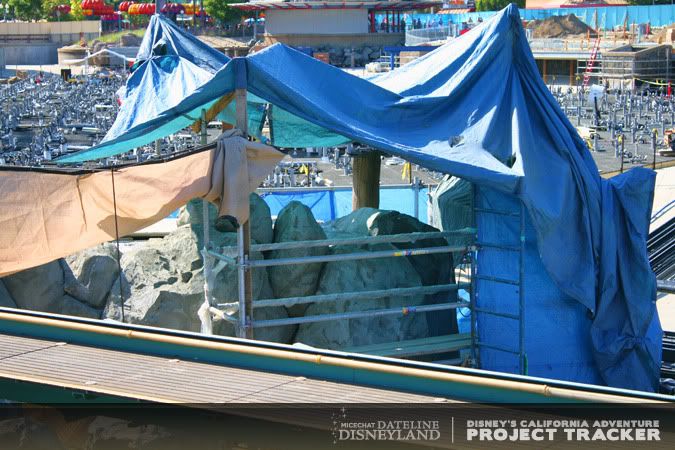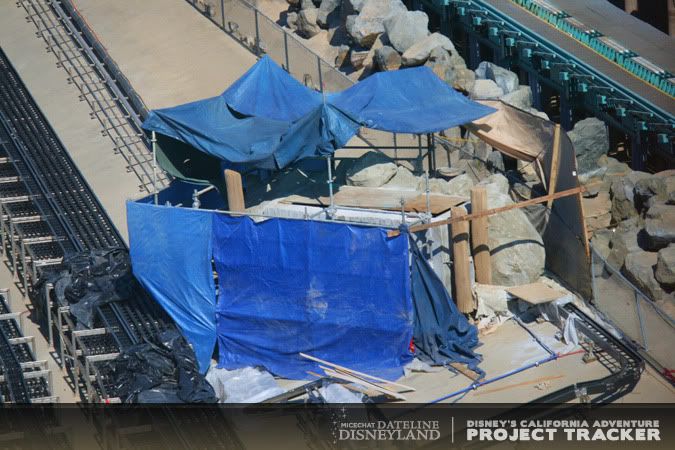 The utility box between the Orange Stinger and Golden Zephyr looks to be nearly complete.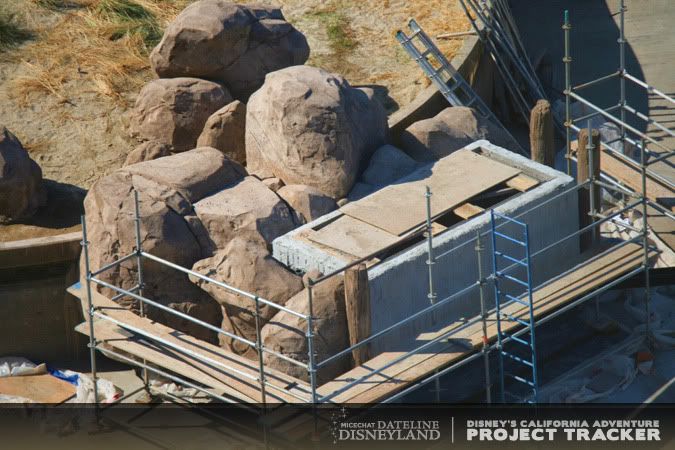 Mickey's Fun Wheel provides great views of the construction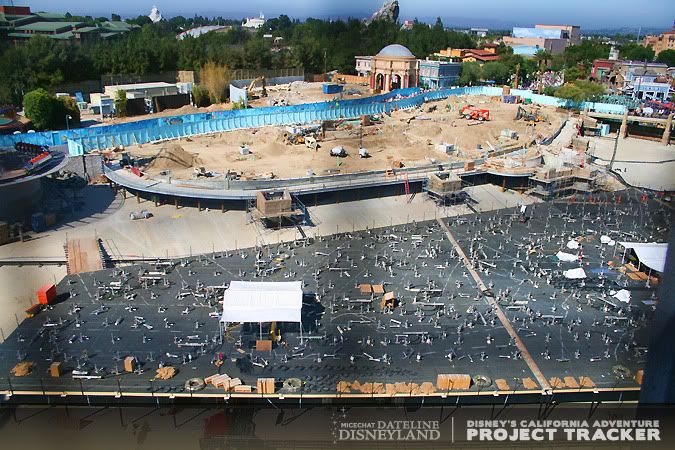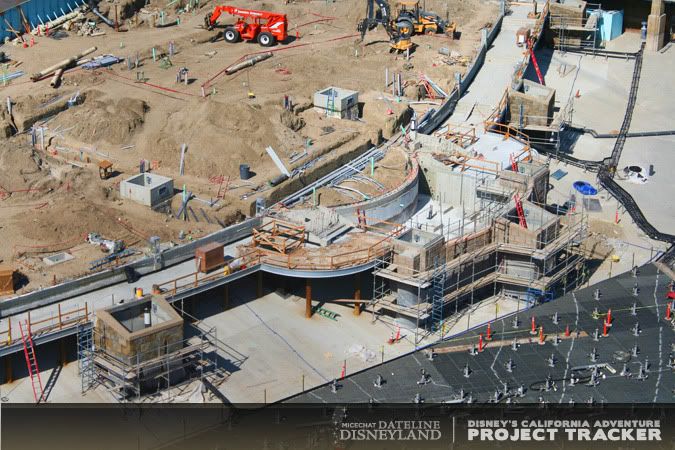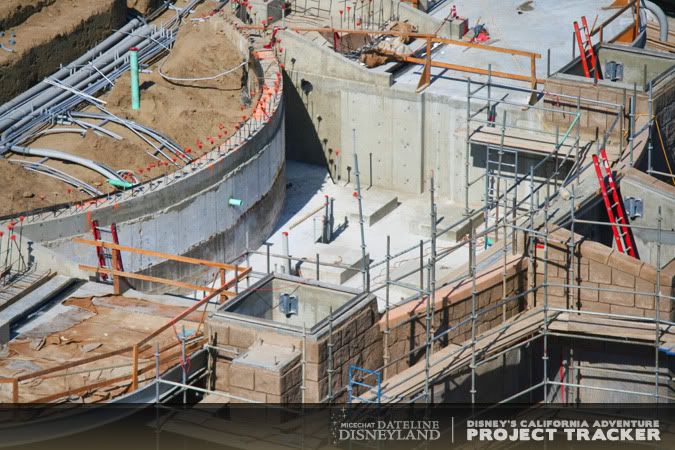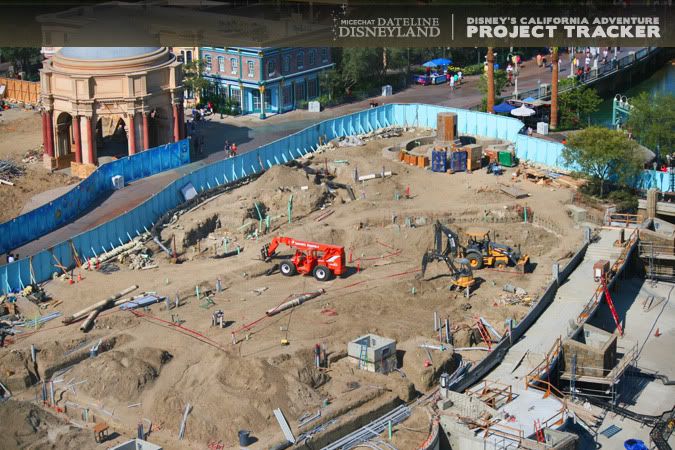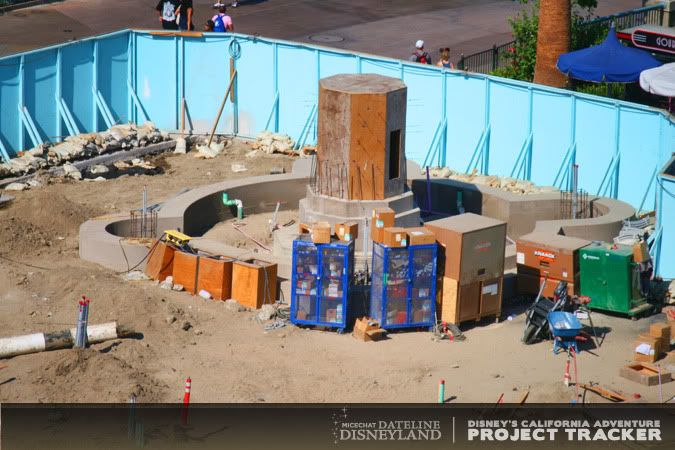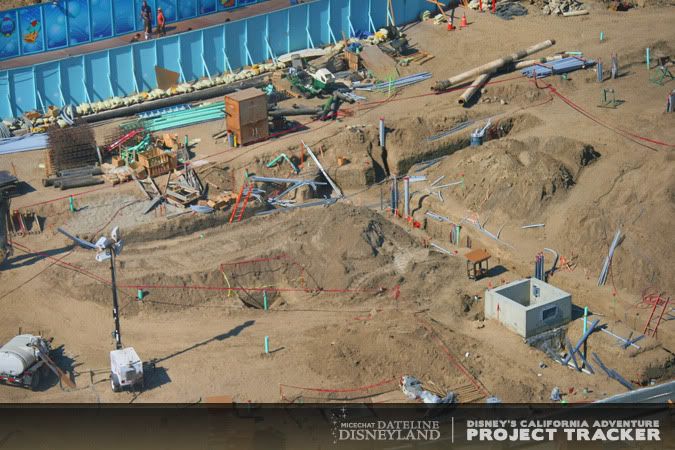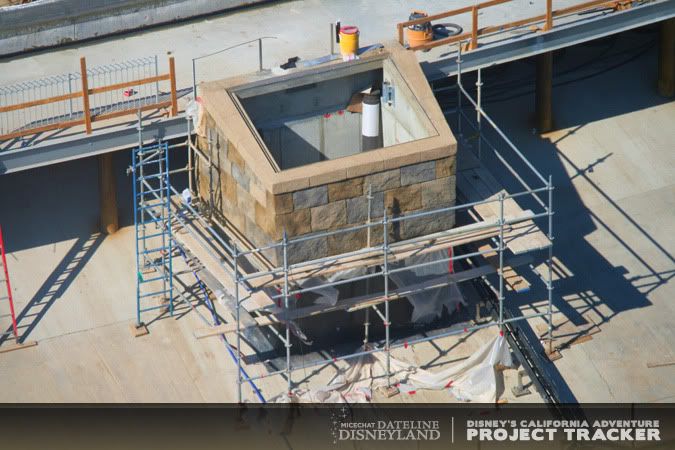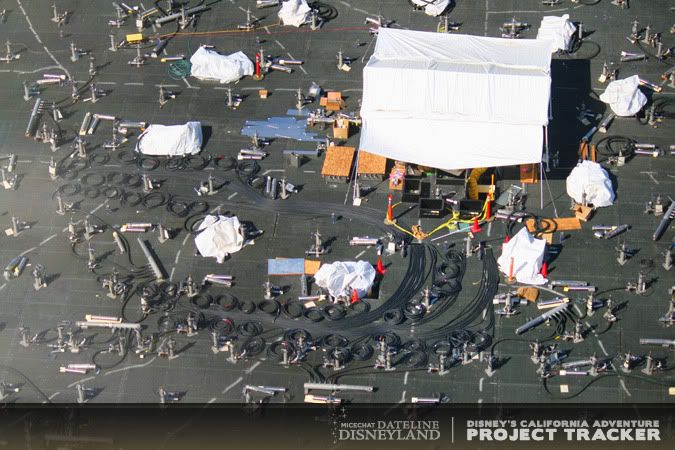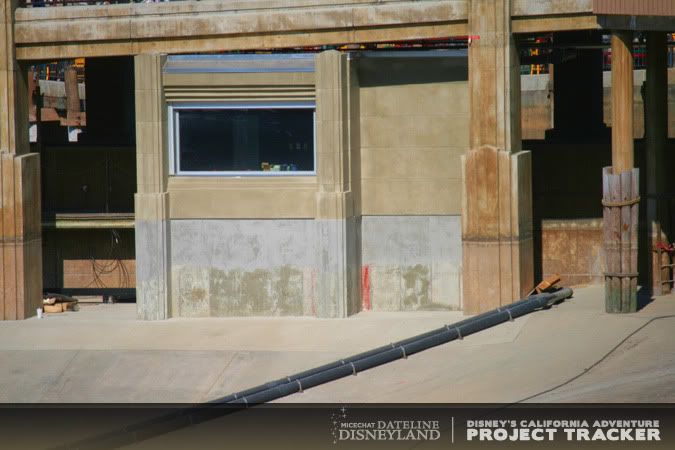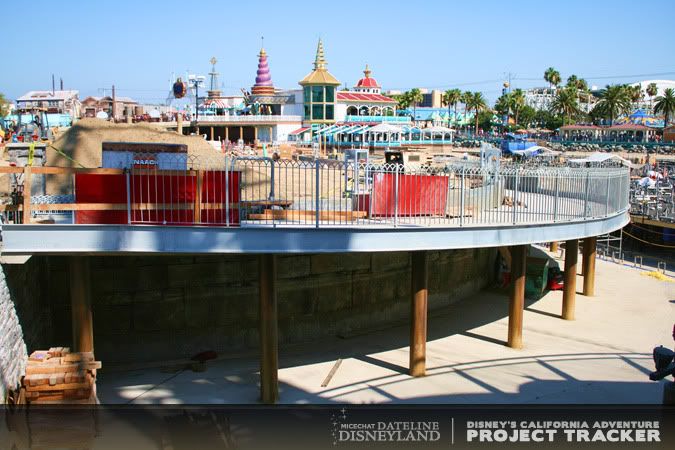 <a name="DD2-2">
The Little Mermaid: Ariel's Undersea Adventure
</a>
The Golden Dreams mural has finally been removed. The Palace of Fine Arts rotunda will remain, however, integrated into the upcoming Little Mermaid facade.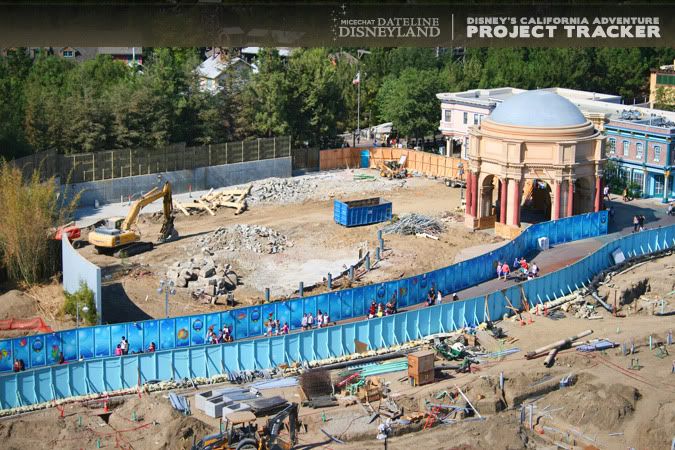 The support bases for the mural are still there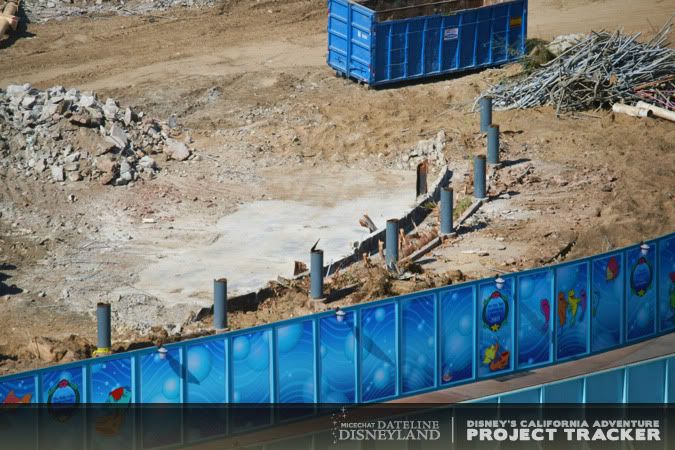 <a name="DD2-3">
Orange, peeled
</a>
The Orange Stinger is finally starting to get peeled as it begins its transformation into the Silly Symphony Swings.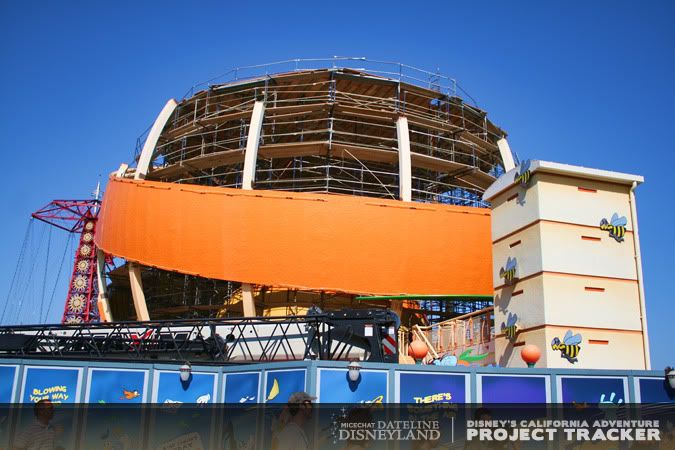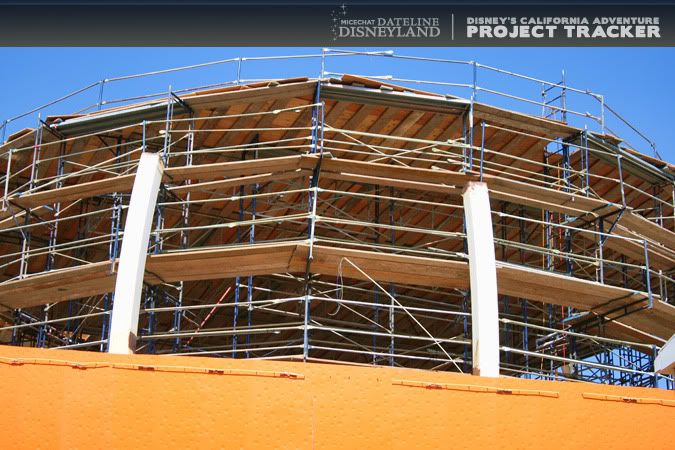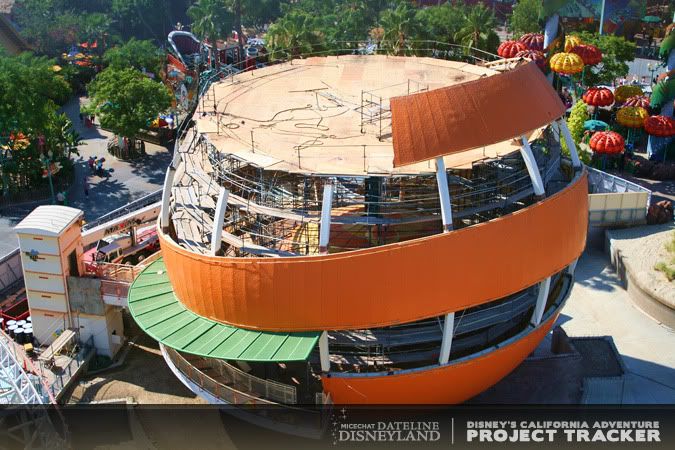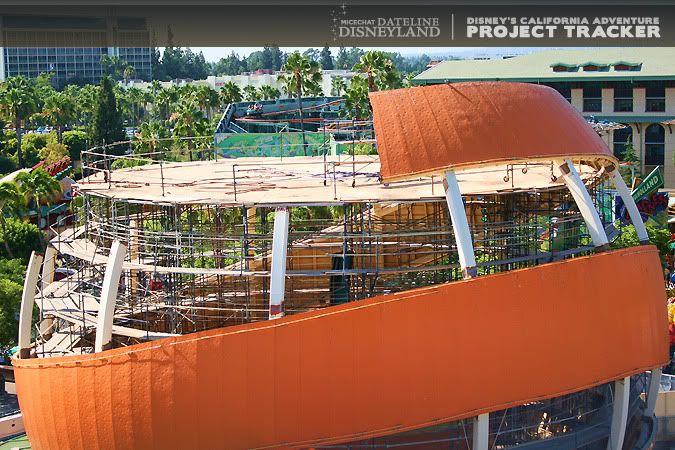 <a name="DD2-4">
Lucky Fortune Cookery
</a>
The new home of the Lucky Fortune Cookery is set to open mid-September.
The wall above the ordering windows has had its Mission Tortilla Factory signage painted over with a Pescadero Brand Sardines logo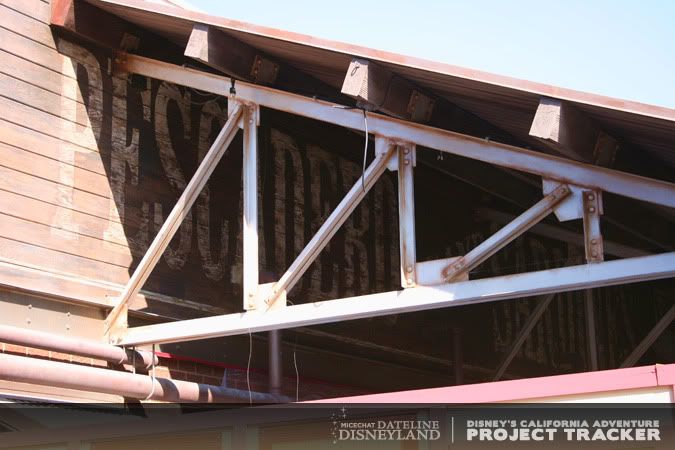 <a name="DD2-5">
Cars Land
</a>
Preliminary groundwork on the future home of Cars Land continues as the old parking lot asphalt is removed.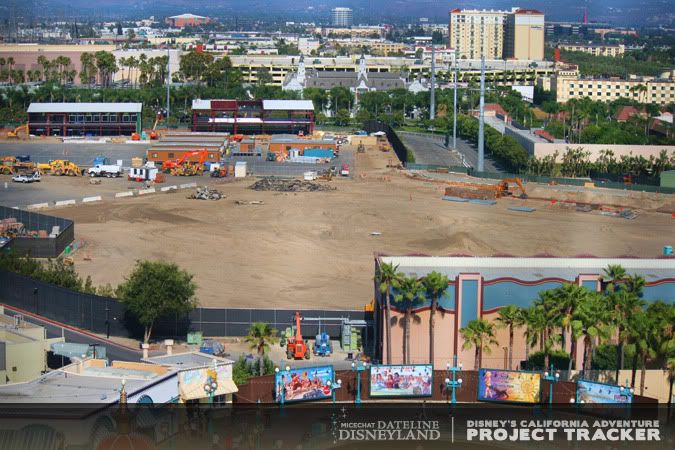 The new structure on the far end of the former Timon Lot is coming along...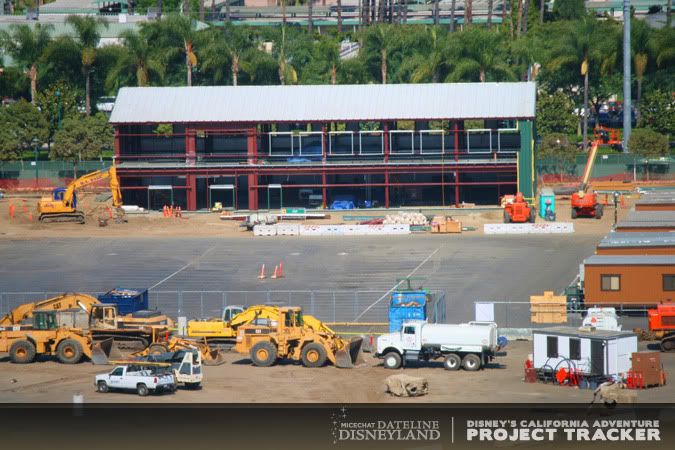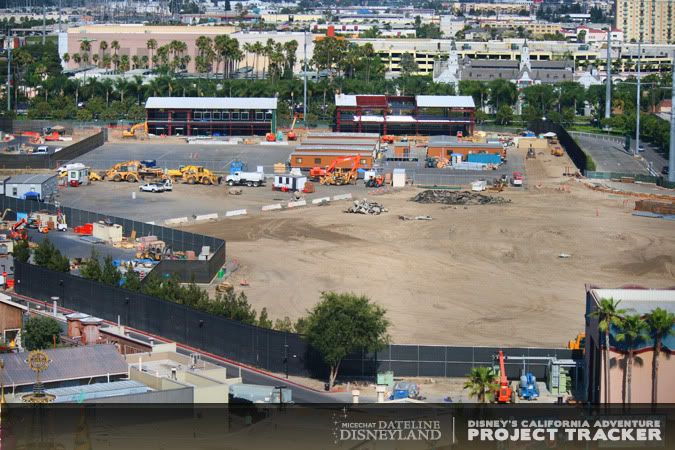 <a name="DD3">
GRAND CALIFORNIAN EXPANSION
</a>
The Disney Vacation Club expansion of the Grand Californian Hotel is progressing nicely for a September 23 opening.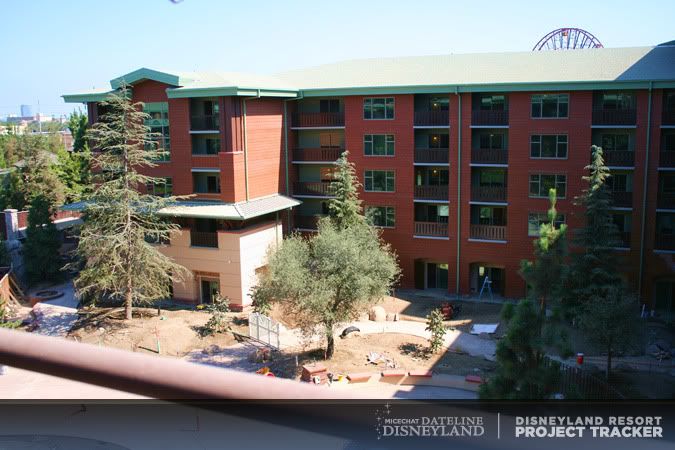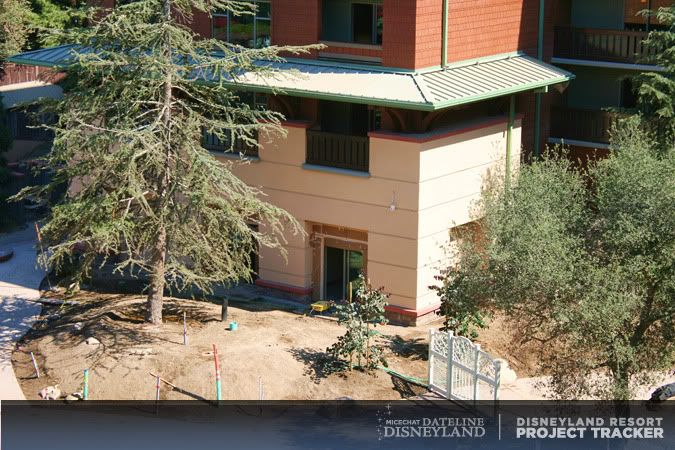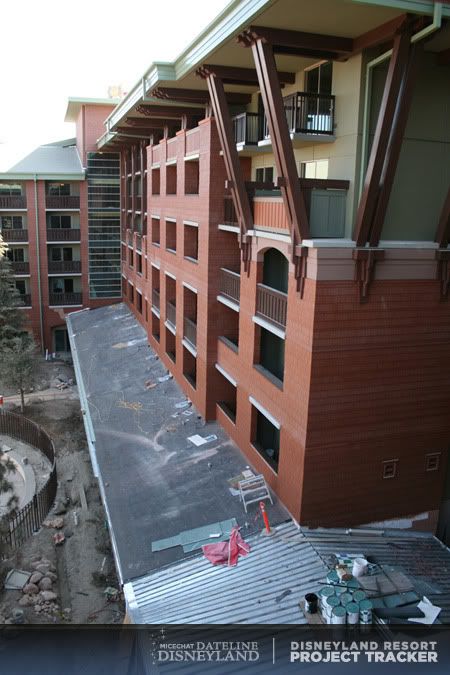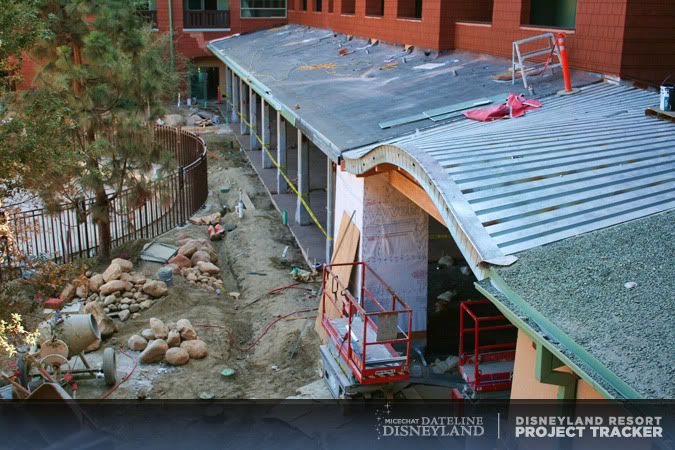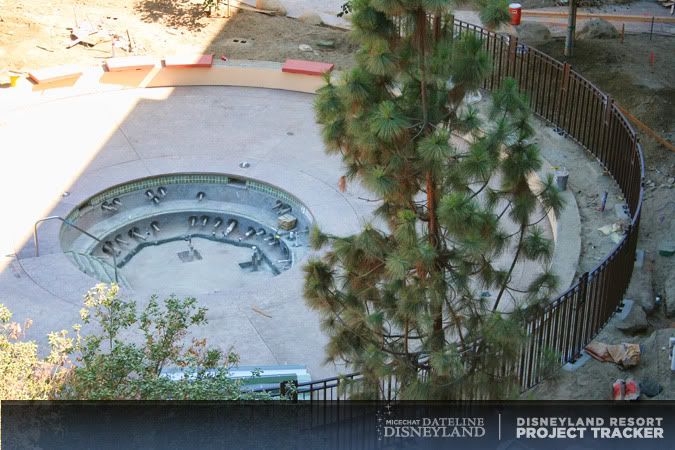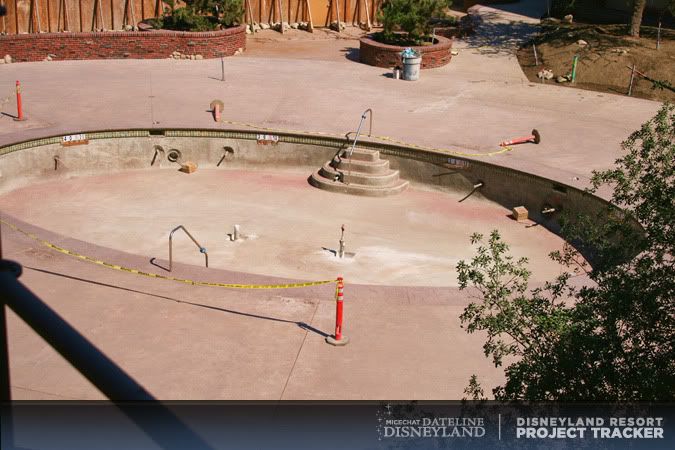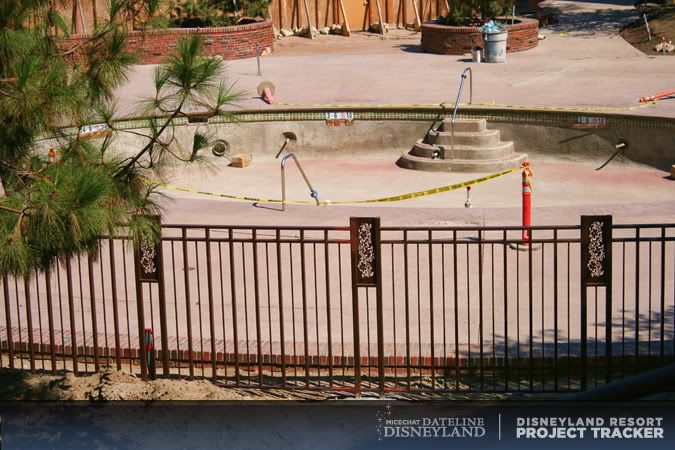 <a name="DD4">
THIS AND THAT
</a>
A new 40th Anniversary Haunted Mansion Mickey Mouse plush has been released, individually numbered limited edition of 1500.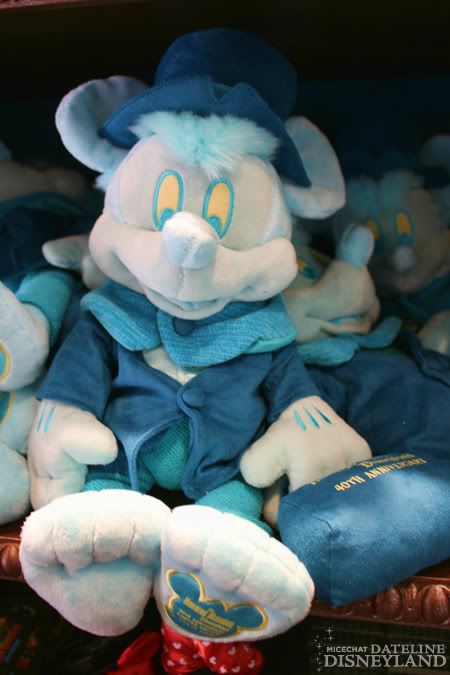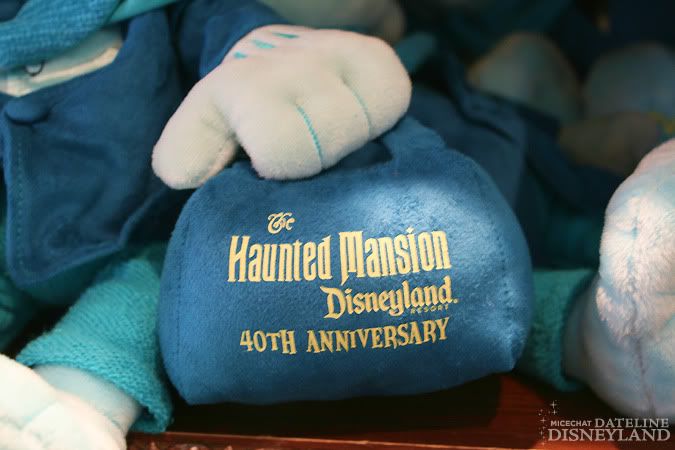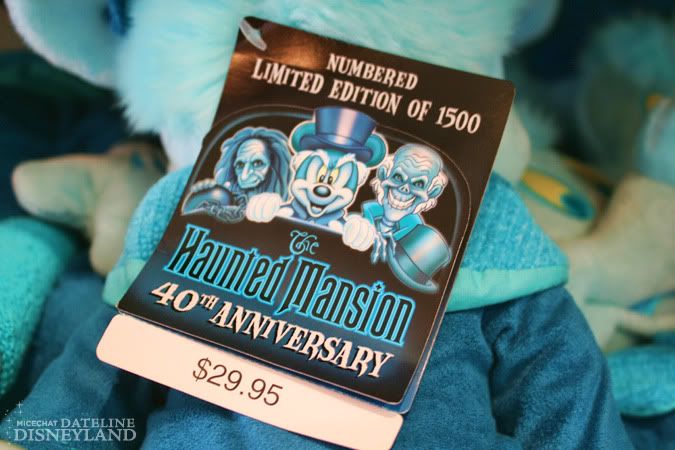 Disneyana has a window display of all of the great new 40th Anniversary Haunted Mansion merchandise designed by artist Shag.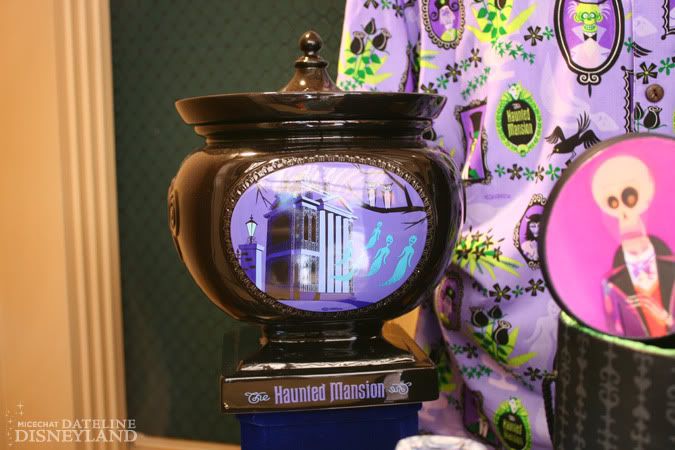 A complete list (with photos) of the Shag Haunted Mansion merchandise can be found at
TheArtofDisneyParks.com
Over in Fantasyland, the Mad Tea Party teacup photo-op that was first added for Disneyland's 50th Anniversary celebration, has finally been removed.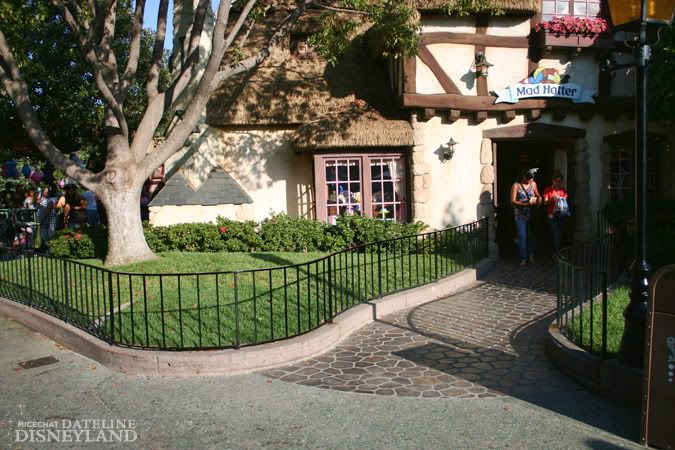 You can still see the curbing for the teacup photo-op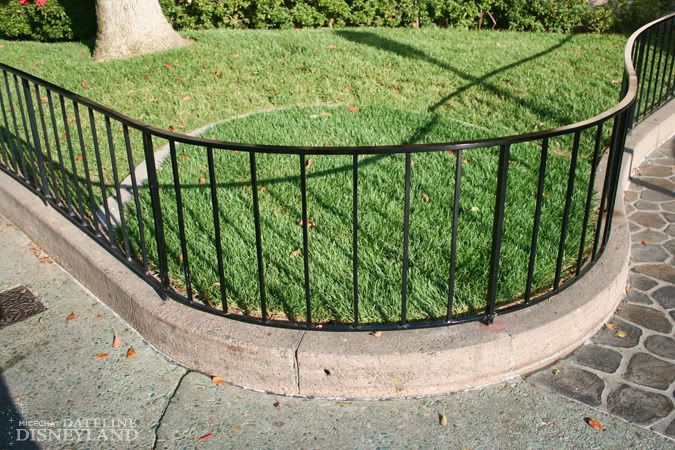 And construction walls have reappeared in front of the Fantasia Gardens smoking area for underground work in the area.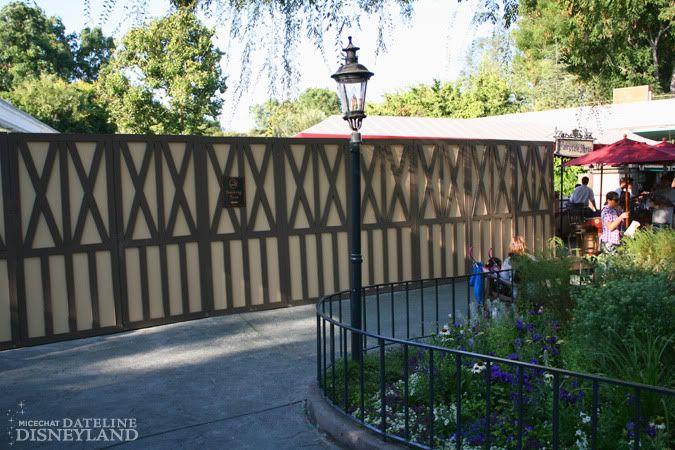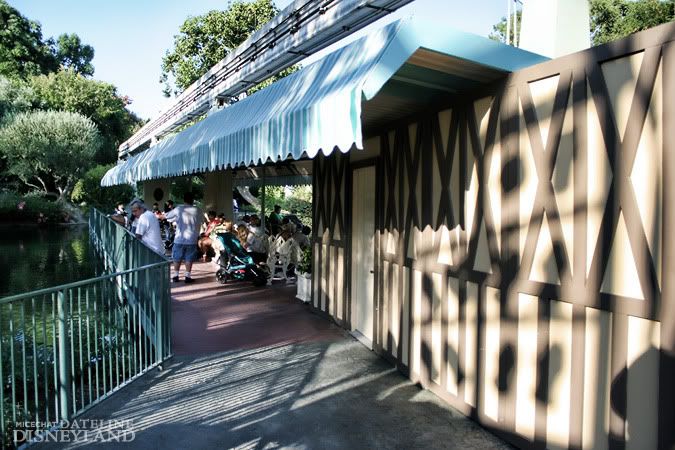 <a name="DDAROUND">
AROUND THE PARK
</a>
And we'll finish up the photo portion of today's column with a look around the park. You can click on these images for full-resolution downloads at the images' Flickr photo pages.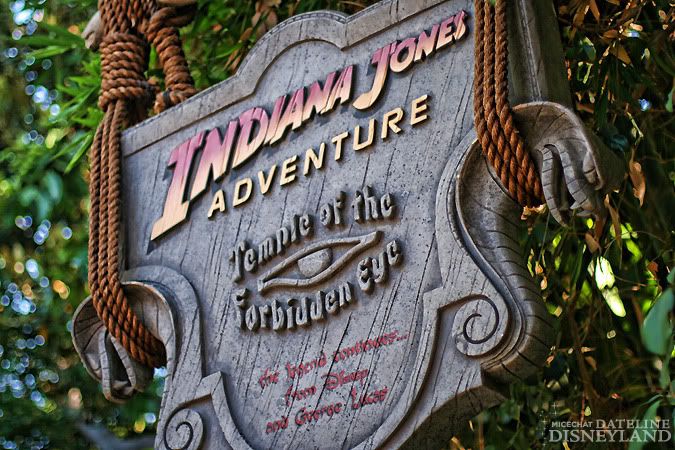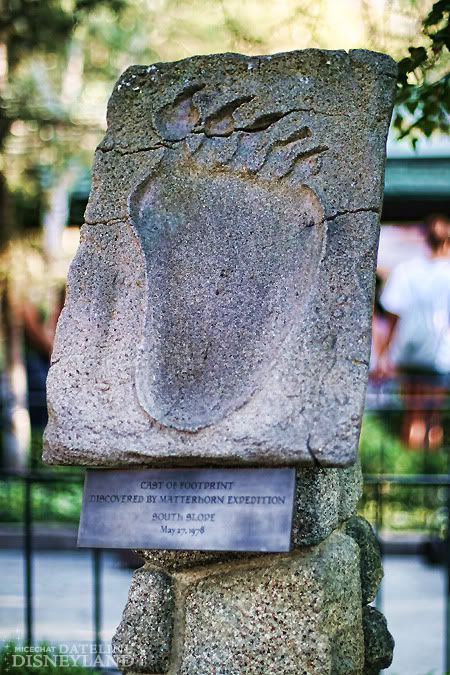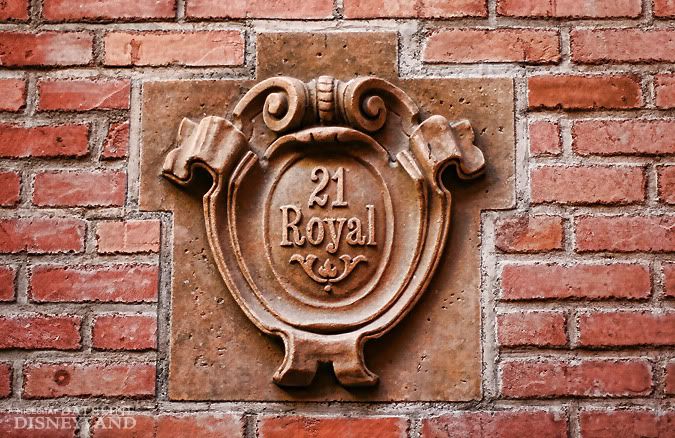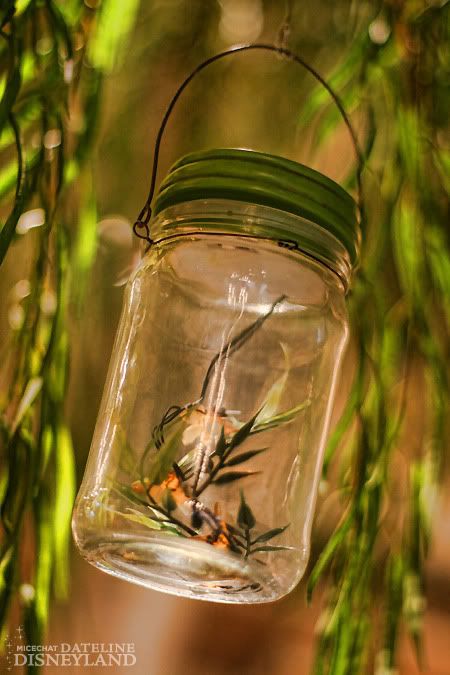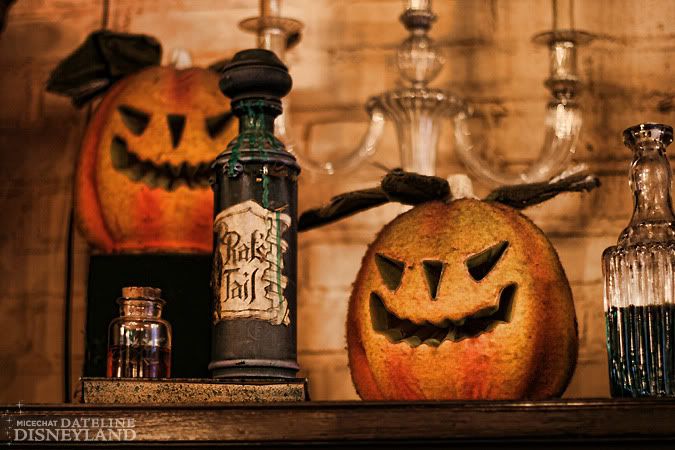 <a name="DDNEWS">
DISNEYLAND WEEKLY HOURS AND INFO
</a>
THEME PARK HOURS JULY 27 - AUGUST 2
For a complete listing of theme park hours, please visit the
Disneyland.com Theme Park Calendar
Disneyland Park
Monday - Sunday: 8 am - 12 midnight
Disney's California Adventure Park
Monday - Sunday 10 am - 9 pm
CURRENT ATTRACTION CLOSURES & REFURBISHMENTS
Disneyland Park
Pinocchio's Daring Journey: Closed July 20 through August 14.
The Enchanted Cottage: Closed July 29 through November 17.
Casey Jr. Circus Train: Closed August 31 through November 20.
Storybook Land Canal Boats: Closed August 31 through November 19.
Mark Twain Riverboat: Closed September 8 - 10.
Space Mountain: Closed September 8 - 24 to install "Ghost Galaxy" Halloween overlay.
Minnie's House: Closed September 9
The Haunted Mansion: Closed September 10 - 24 to install Haunted Mansion Holiday overlay
Big Thunder Ranch: Closed September 14 - 24 to install Halloween overlay
Gadget's Go Coaster: Closed September 19 through October 26
The Disney Gallery: Opens September 26, 2009 in the Bank of Main Street
Pirates of the Caribbean & Blue Bayou Restaurant: Closed September 28 through October 2.
Disneyland: The First 50 Magical Years/Main Street Opera House: Closed. Reopens as The Disneyland Story: Featuring Great Moments With Mr. Lincoln December 17, 2009.
Disney's California Adventure Park
Orange Stinger: Closed for retheming. Reopens Spring 2010
Cocina Cucomonga: Food service location closed June 18, when new location opened. Original location reopens with new Asian-style menu September 14.
The Little Mermaid: Ariel's Undersea Adventure: Under construction.
Souvenir 66 and Corn Dog Castle: Store and dining location closed for remodeling through May 2011.
Paradise Bay: Drained for construction of upcoming Disney's World of Color show.
Disney's World of Color Nighttime Spectacular: New show under construction. Debuts Spring 2010.
Golden State Park and Amphitheater: Closed. New, larger amphitheater for Disney's World of Color viewing under construction in same location. The new amphitheater will open December 2009.
FOUR GUESTS TO SPEND THE NIGHT IN HAUNTED MANSION
A Los Angeles radio station has teamed up with Disney to allow four guests to stay the night in the Haunted Mansion's stretching portrait chambers in a special promotional giveaway in honor of the attraction's upcoming 40th anniversary.
DISNEY TO DONATE FOOD POUND-FOR-POUND IN EMPLOYEE WEIGHT LOSS COMPETITION
From the OC Register's Around Disney blog:
DISNEY PARKS AND RESORTS ANNOUNCE PLANS FOR D23 EXPO
MiceChat has posted Walt Disney Parks and Resorts plans for this years D23 Expo. This is just one of the divisions of the company which will be represented at the event. From the sounds of it, there will be a lot for fans to look forward to.

D23 EXPO attendees will discover:
Never-before-seen models of classic Disney attractions and glimpses of coming projects that will surprise and delight even the most knowledgeable Disney fans.

The chance to meet, up close and personal, Lucky the Dinosaur and Wall-E.

A preview of the most advanced Audio-Animatronics figures ever created.

Displays showcasing cutting-edge effects technologies that are being developed for Disney attractions, shows and venues.

New Disney Cruise Line itineraries for 2011.
World of ColorWorld of Color,
The Making of Toy Story Mania!Audio-Animatronics figure of Mr. Potato Head, Toy Story Mania! represents a new kind of Disney theme park attraction. Meet the team who helped bring it to life.
Great Moments with Mr. Lincoln at Disneyland and Hall of Presidents at the Magic Kingdom at Walt Disney World.
For the full article,
visit the Disney Parks and Resorts Discussion in the D23 section of MiceChat
<script charset="utf-8" type="text/javascript" src="http://ws.amazon.com/widgets/q?ServiceVersion=20070822&MarketPlace=US&ID=V20070 822/US/disneylandres-20/8001/defc2f58-fb71-4fe2-b5c3-4f6a4a094641"> </script> <noscript>Amazon.com Widgets</noscript>
<object classid="clsid:d27cdb6e-ae6d-11cf-96b8-444553540000" codebase="http://download.macromedia.com/pub/shockwave/cabs/flash/swflash.cab#version=9,0,124,0" id="TwitterWidget" align="right" width="225" height="335"><embed src="http://static.twitter.com/flash/widgets/profile/TwitterWidget.swf" quality="high" bgcolor="#000000" name="TwitterWidget" allowscriptaccess="sameDomain" allowfullscreen="false" type="application/x-shockwave-flash" pluginspage="http://www.macromedia.com/go/getflashplayer" flashvars="userID=16832260&styleURL=http://static.twitter.com/flash/widgets/profile/smooth.xml" align="middle" width="225" height="335"></object>Okay - that should wrap up this week's Dateline Disneyland. Many thanks to MiceChat's wonderful
Fishbulb
for helping out with photos in this week's column. And of course, thanks to you for reading - be sure to discuss the update in the comment section below!
Don't forget that MiceAge and MiceChat has loads of new content weekly! If Dateline Disneyland isn't enough to satisfy your Disneyland itch, then don't miss
David "Darkbeer" Michael's
In the Parks
column which runs here every Friday and is packed full of Southern California theme park news, photos, and gossip. And if you want even more Disney theme park goodness, don't miss
MiceChat's Weekend Update
, which takes a look at Disney theme parks and other international landmarks, curiosities, and oddities every Saturday!
Your help keeps these updates coming, and without you they couldn't happen. We all know times are tough, so any amount of support helps. If you can donate to Dateline Disneyland please consider doing so via a safe and quick PayPal donation.
To donate, click here.
Don't forget - Dateline Disneyland is also on Twitter! If you still haven't checked us out on Twitter, head over there today and see why nearly
4,000
other Disneyland fans have already started following Dateline Disneyland! The Dateline Disneyland Twitter is updated throughout the week with links to breaking news, mini updates, photos, and links to newsworthy MiceChat discussions. Head over to
Twitter.com/DatelineDisney
, or check out the widget to the right to follow us!
See you here again soon!
-Andy

<script type="text/javascript">
src="http://pagead2.googlesyndication.com/pagead/show_ads.js"><b</script>