Welcome to the August 17th edition of Dateline Disneyland! As crowds of un-blocked Annual Passholders pour back into the parks this week, we'll be checking in on the on-going construction in Disney's California Adventure park, as well as work on a new stroller rental shop in the Main Entrance Plaza, and other odds-and-ends around Disneyland and in Downtown Disney.
Of course, you can track the progress of the projects you see in this week's update by clicking on the photos with
Project Tracker
watermarks. MiceChat's Project Trackers are where you can find the latest news and discussion on the current projects going on around the Disneyland Resort.
Alright, let's get to it.
<center><table style="border: 0pt solid black;" width="675"><tbody><tr><td bgcolor="#263778" width="100%" height=""><center>

Inside Dateline Disneyland
</center></td></tr><tr><td bgcolor="#d6d4ac" width="100%">
<a href="#DD1">Welcome to Disneyland!</a>


Stroller Rentals move out, Main Street Opera House work

<a href="#DD2">California Construction</a>


The latest Disney's California Adventure construction photos.

<a href="#DD2-1">

World of Color & Paradise Park Viewing Area

</a>
<a href="#DD2-2">

Route 66 and The Little Mermaid: Ariel's Undersea Adventure

</a>
<a href="#DD2-3">

Silly Symphony Swings

</a>
<a href="#DD2-4">

Lucky Fortune Cookery

</a>

<a href="#DD3">This and That</a>


Pinocchio's Daring Journey reopens, Downtown Disney construction, Haunted Mansion merchandise

<a href="#DDAROUND">Around the Parks</a>


Photos from around the parks

<a href="#DDNEWS">Weekly News and Information</a>


Weekly theme park hours, closures and refurbishments, Haunted Mansion anniversary news, Save $400 on a Disneyland vacation, New parking lot, Big crowds return this week.
</td></tr></tbody></table></center>
<a name="DD1">
WELCOME TO DISNEYLAND!
</a>
Construction walls went up near the Disneyland Kennel Club, reportedly for construction of a new central stroller rental location, which will replace the current in-park locations by February 2010.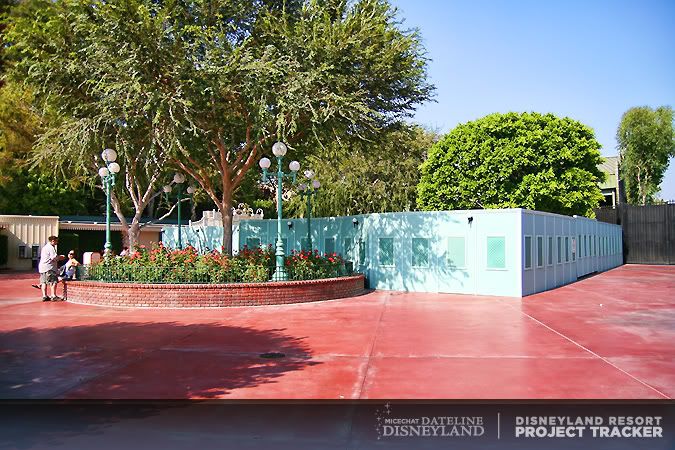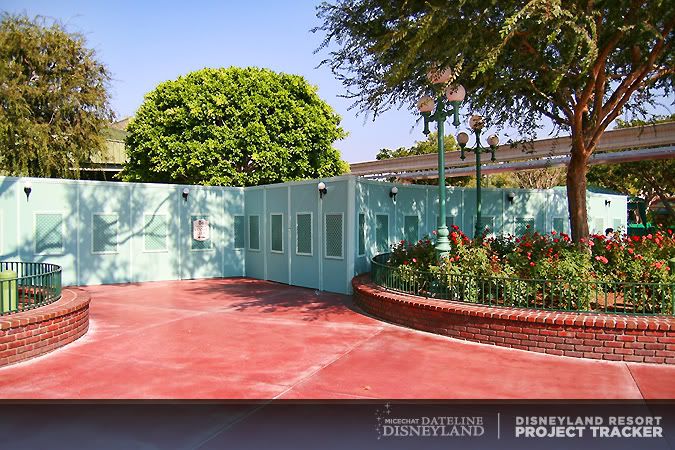 The walls obscure the Kennel Club, but don't block it off completely. It's still open.
Inside Disneyland, the Main Street Opera House is getting a bit of entry work done.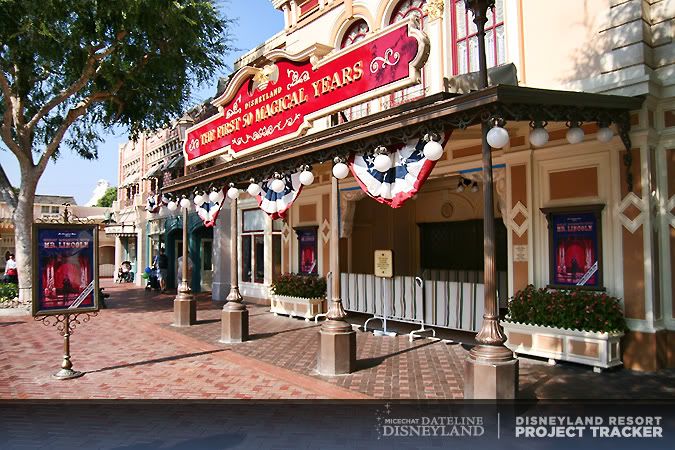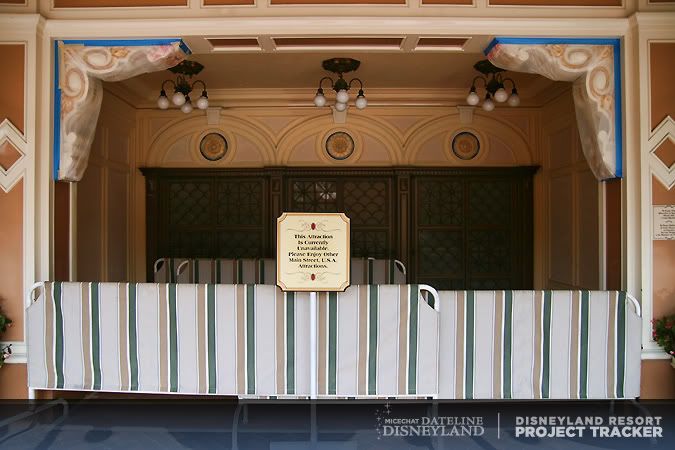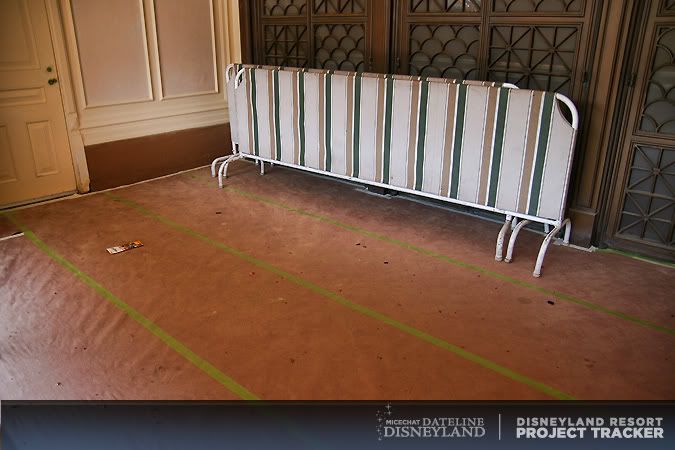 <a name="DD2">
CALIFORNIA CONSTRUCTION
</a>
As always, the latest look at the California Adventure construction...
<a name="DD2-1">
WORLD OF COLOR & PARADISE PARK VIEWING AREA
</a>
Paradise Park (formerly Golden State Park) has two new trees now as the area slowly starts coming together as a new 9,000-guest viewing area.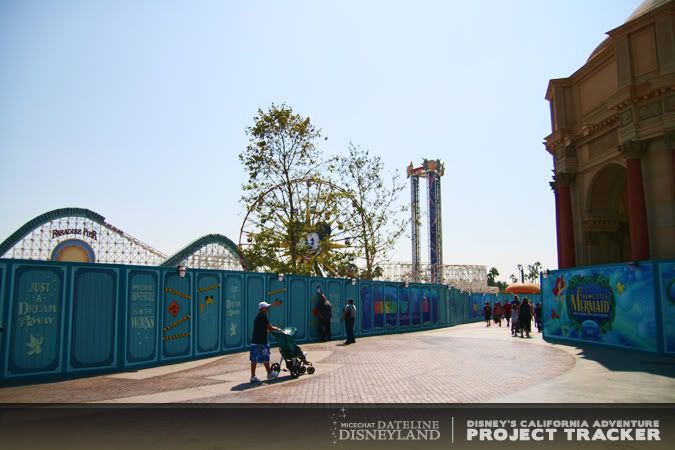 The palm trees on the eastern side of the park, which has been open for months now have finally been opened up.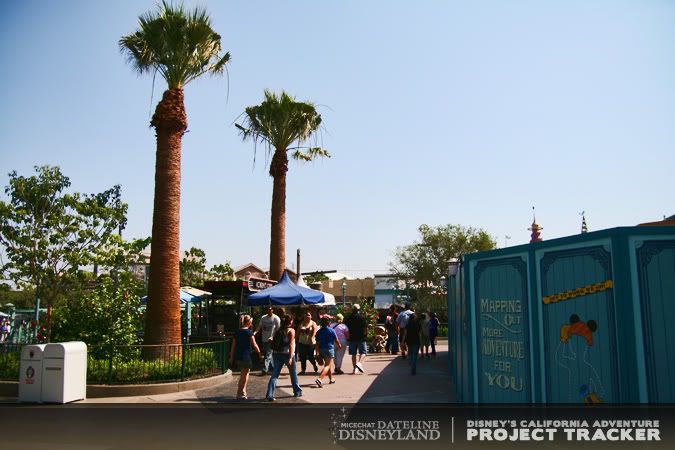 Paradise Bay continues to be a beehive of construction activity as the new World of Color platform continues to see weekly progress as the show's debut date inches closer.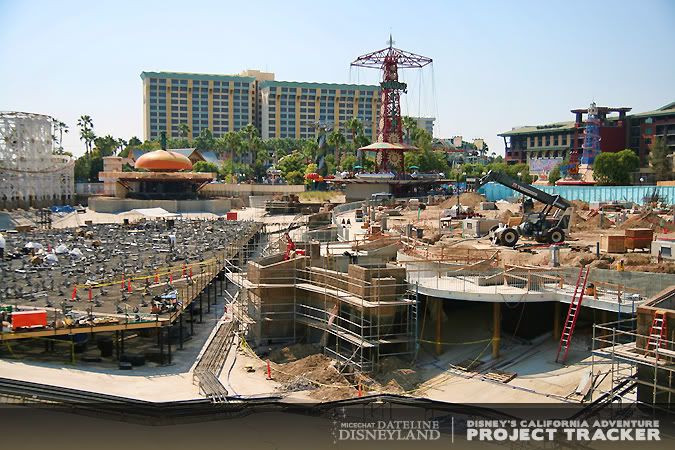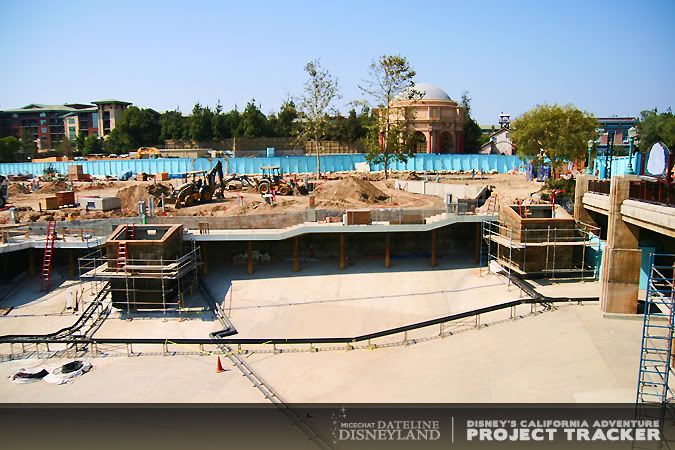 The new trees.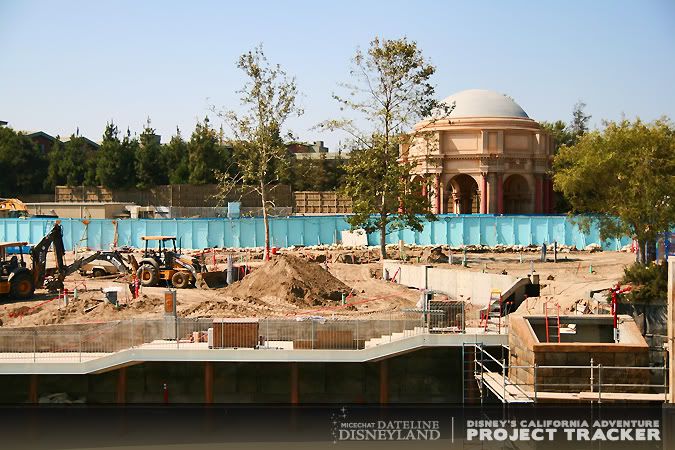 Over by California Screamin', one of the two new utility boxes getting rock work has been uncovered. Painting and other work continues...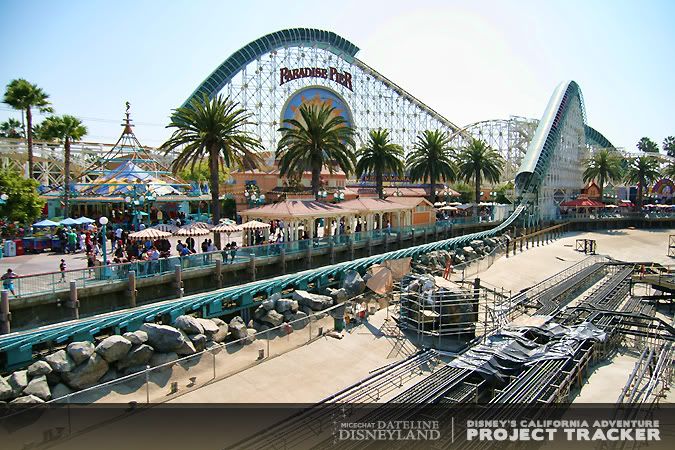 More of the new wood work has been installed further down the California Screamin' launch area.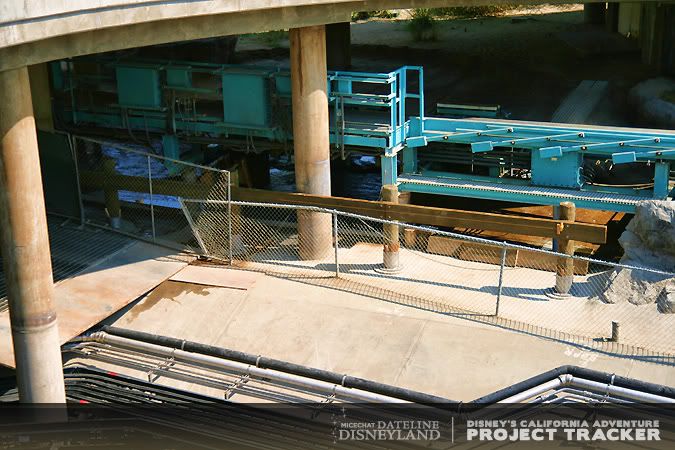 The other World of Color utility box between the Swings and Golden Zephyr is all painted up.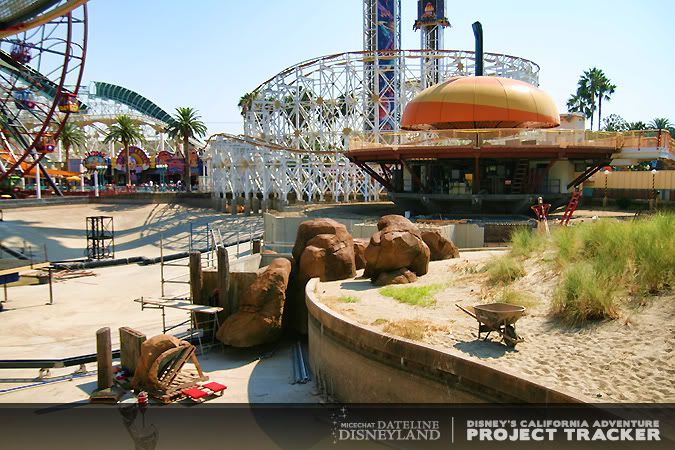 A ride on the Golden Zephyr provides good views of the nearby construction.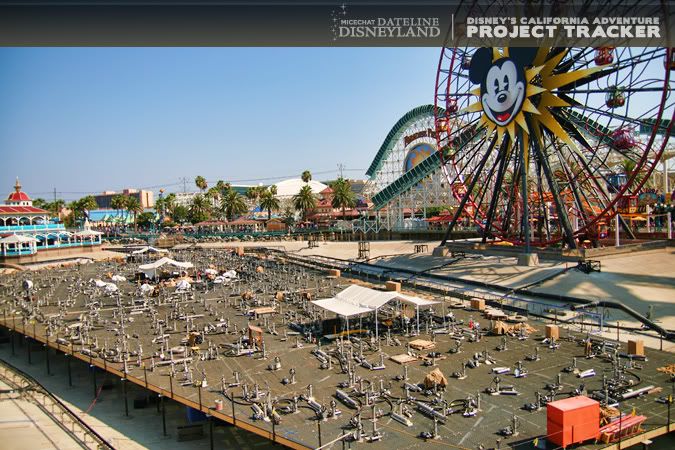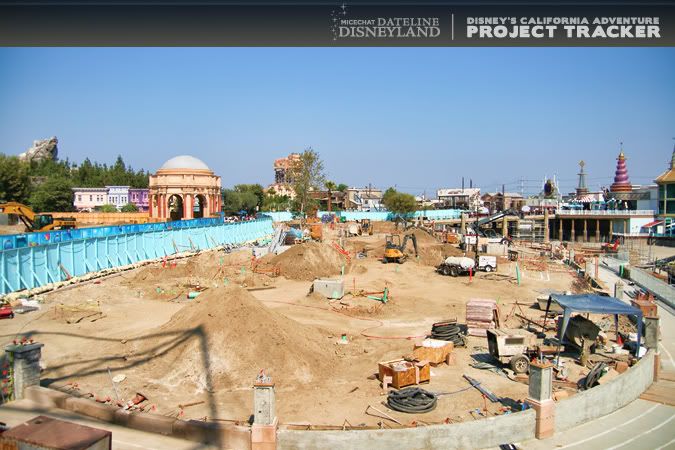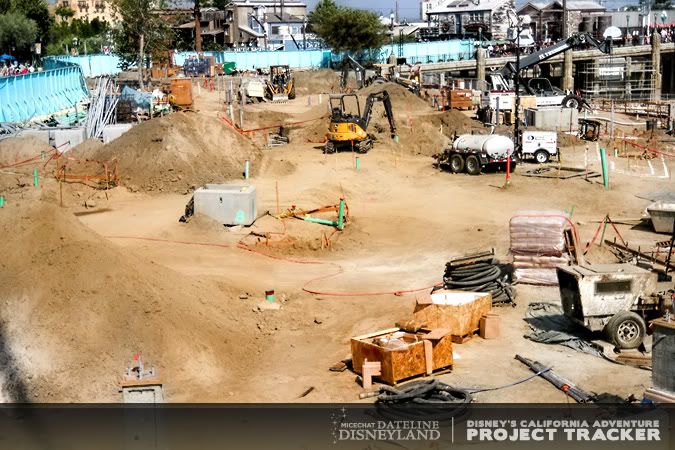 <a name="DD2-2">
ROUTE 66 & THE LITTLE MERMAID
</a>
Work continues prepping the area for the upcoming Little Mermaid dark ride.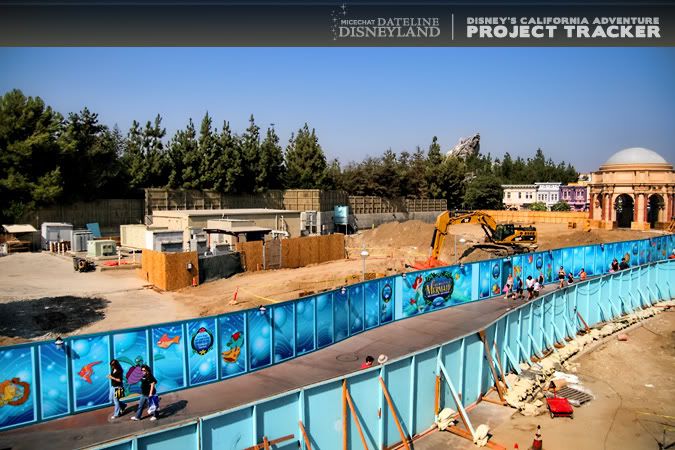 The former Route 66 area is still behind walls. In recent weeks, more walls went up immediately around Corn Dog Castle and Souvenir 66. These two establishments will eventually be re-themed to properly suit the Victorian theme this area will adopt.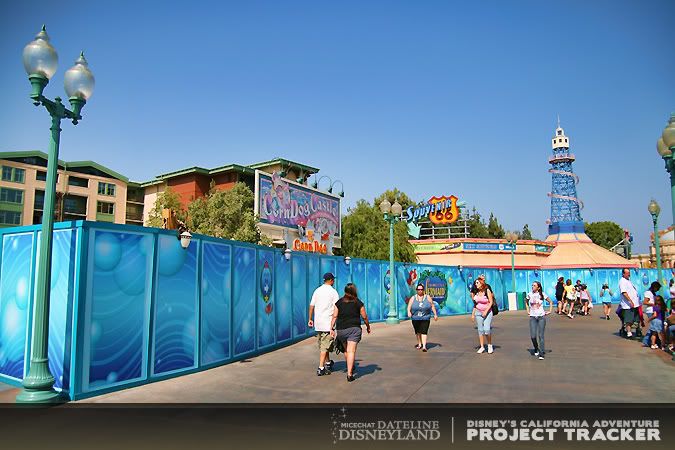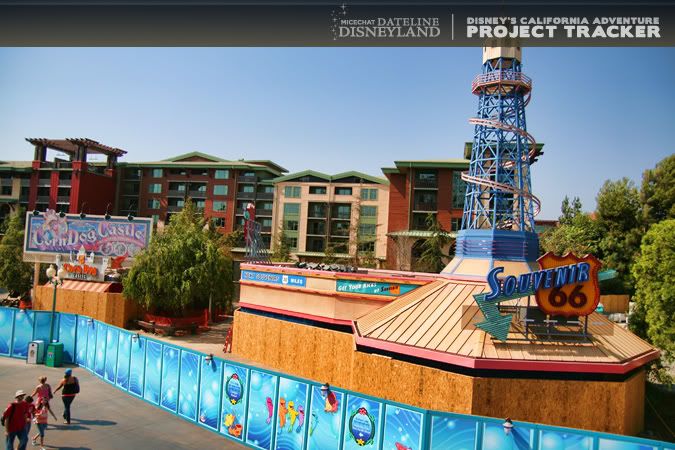 <a name="DD2-3">
SILLY SYMPHONY SWINGS
</a>
The Orange Stinger is now fully peeled as work continues to transform this off-the-shelf eyesore into the aesthetically more appropriate Silly Symphony Swings.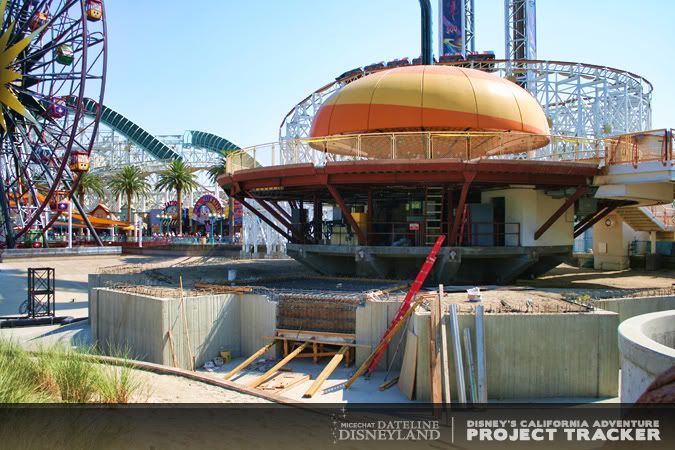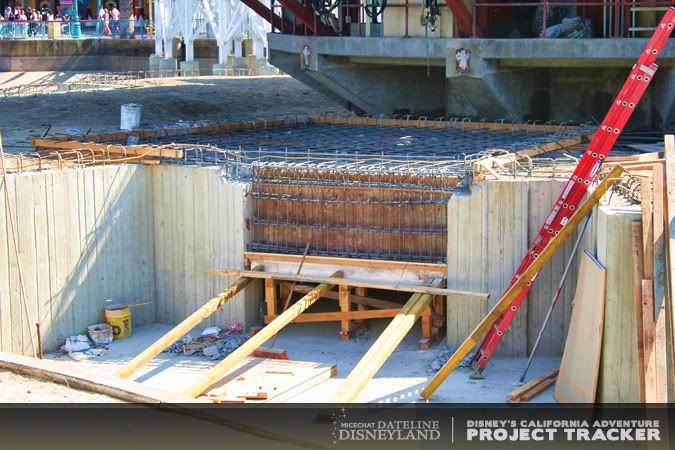 The old Orange Stinger marquee still hides behind the construction wall, but should be "glowing away forever" soon enough.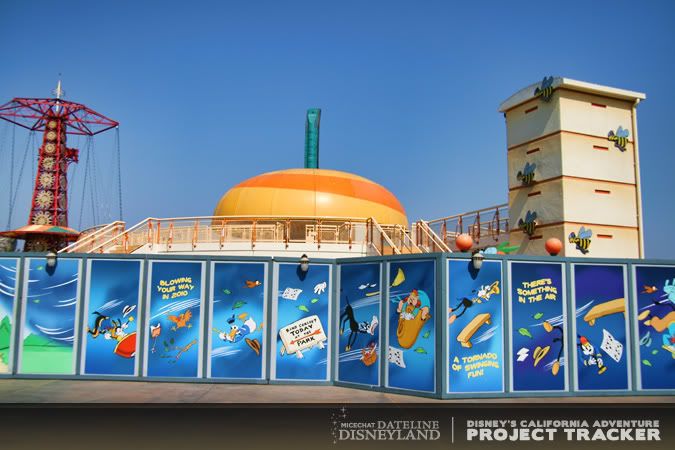 <a name="DD2-4">
LUCKY FORTUNE COOKERY
</a>
The new home of the Lucky Fortune Cookery now has its big neon sign. The old-but-new-again restaurant is set to reopen early next month.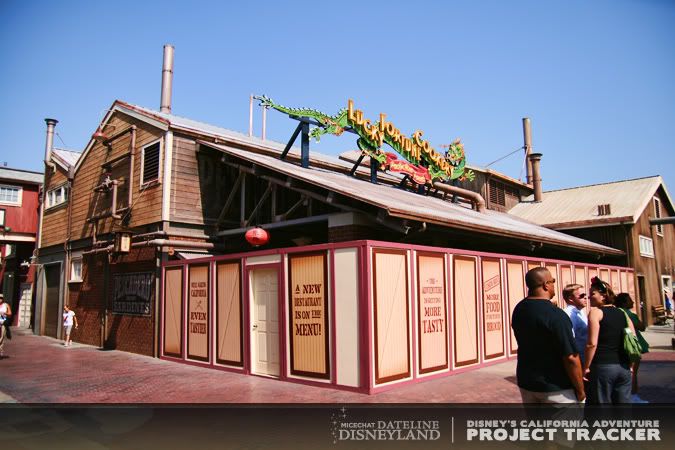 Let's just hope the menu is decent.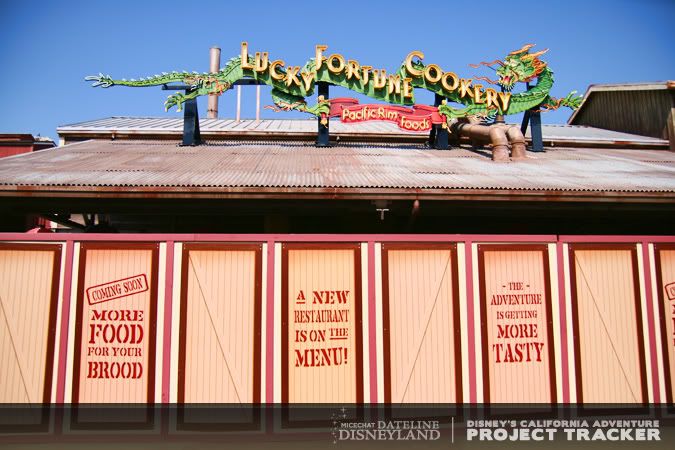 <a name="DD3">
THIS AND THAT
Back in Disneyland, Disneyana has the remaining items from last weekend's Haunted Mansion 40th Anniversary merchandise release with artist Josh "Shag" Agle.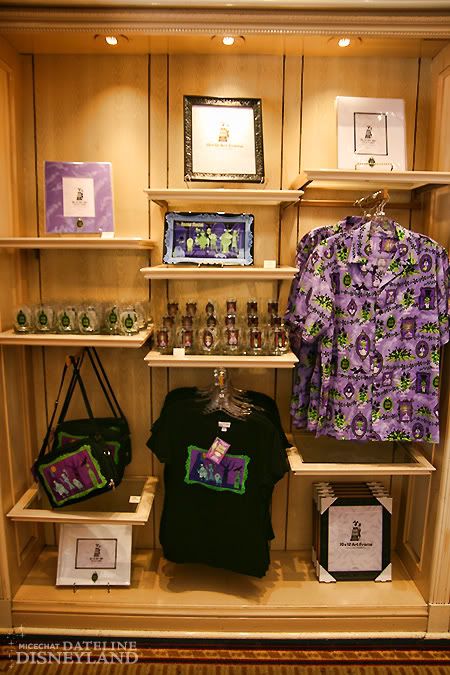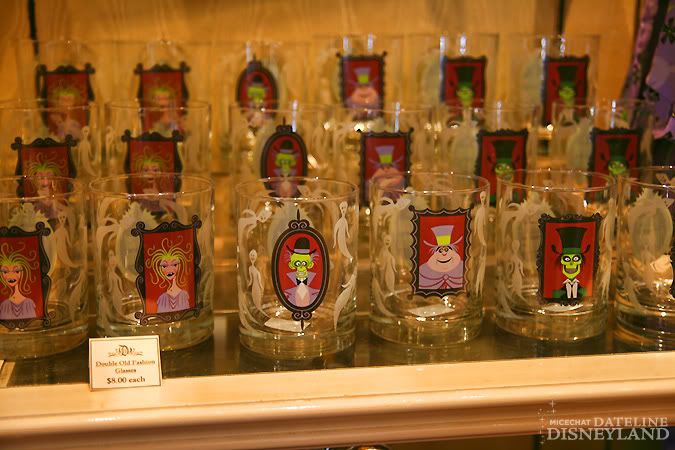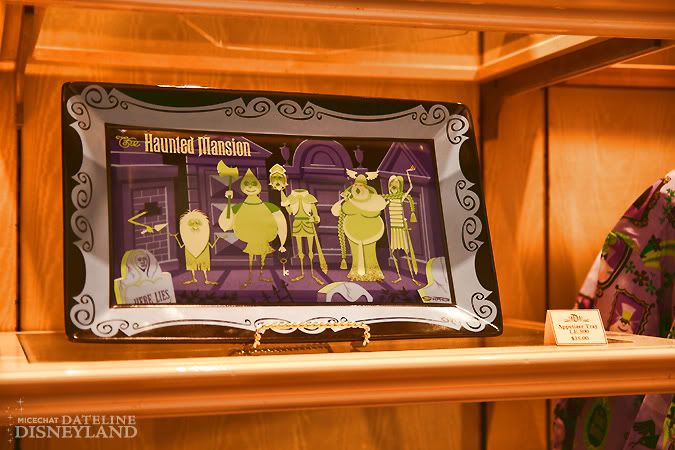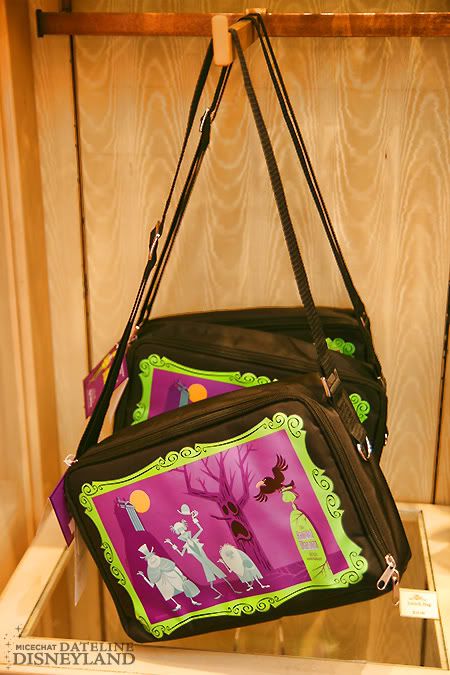 Some original paintings and giclee prints are still available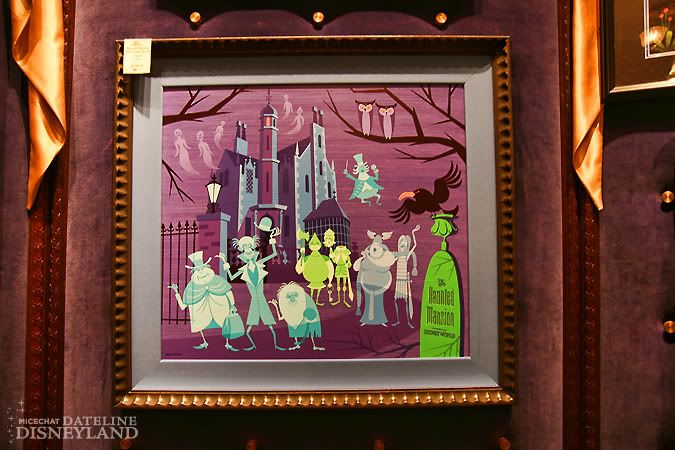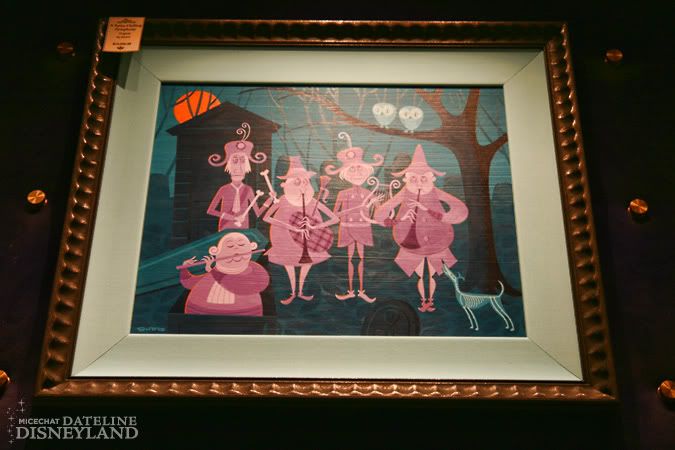 Over in Fantasyland, Pinocchio's Daring Journey has reopened after a regular refurbishment.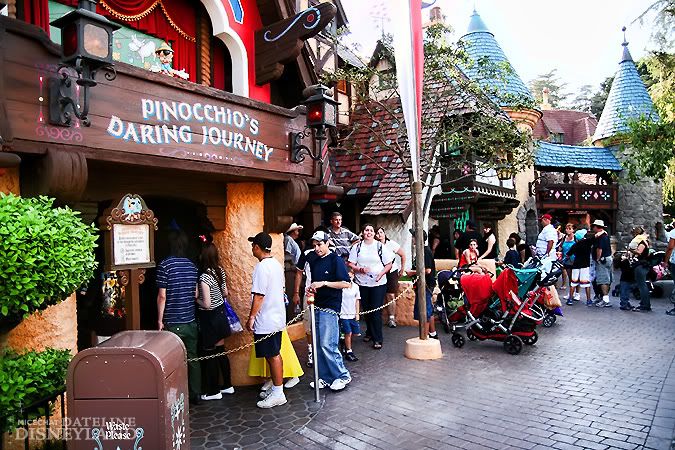 And in Downtown Disney, work is going on next to Little Miss Matched on a new store.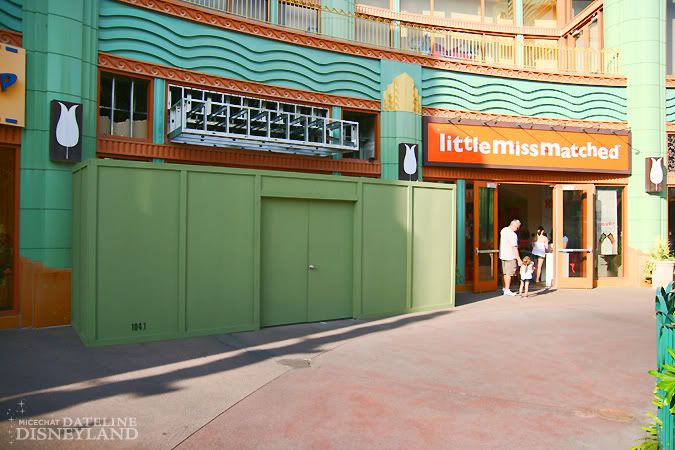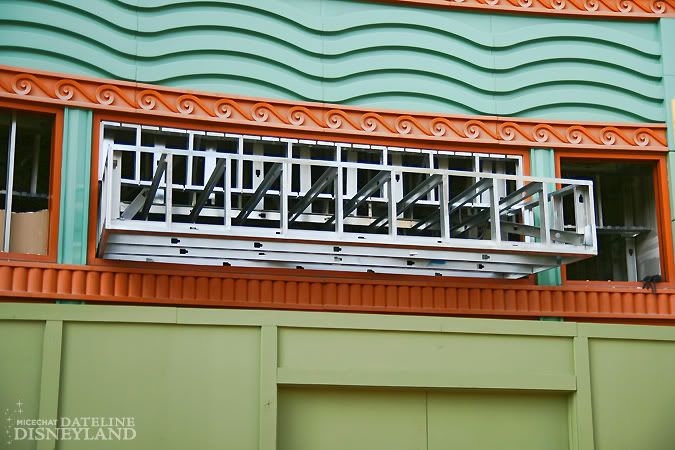 <a name="DDAROUND">
AROUND THE PARKS
</a>
To finish up our photos this week, some shots from around the parks...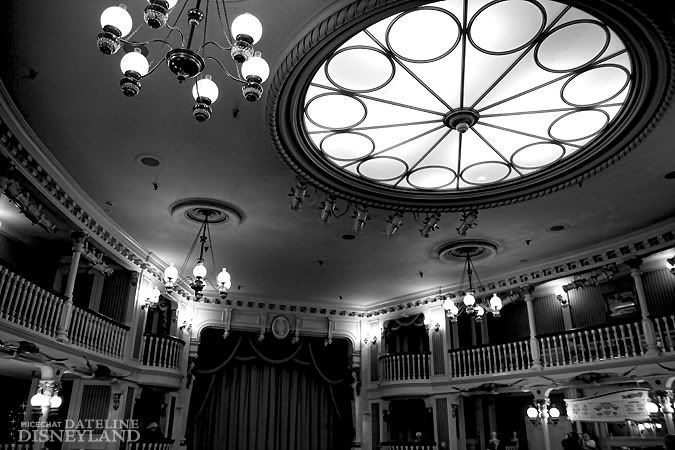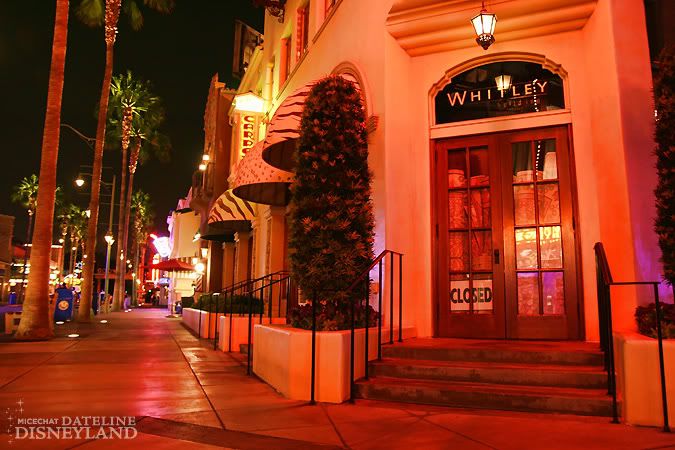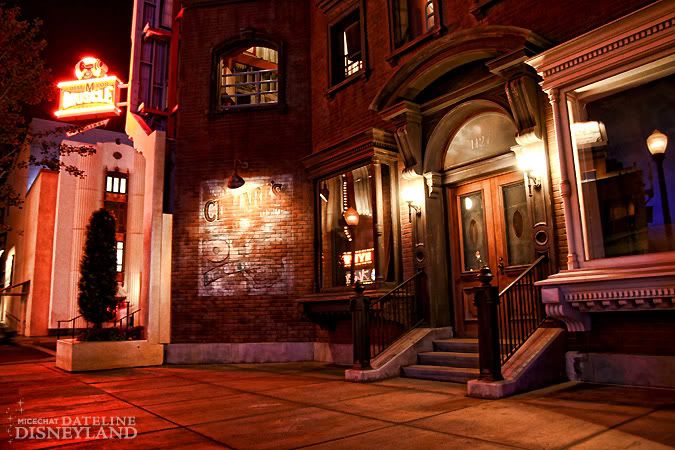 <a name="DDNEWS">
<script charset="utf-8" type="text/javascript" src="http://ws.amazon.com/widgets/q?ServiceVersion=20070822&MarketPlace=US&ID=V20070 822/US/disneylandres-20/8001/defc2f58-fb71-4fe2-b5c3-4f6a4a094641"> </script> <noscript>Amazon.com Widgets</noscript>
DISNEYLAND WEEKLY HOURS AND INFO
</a>
THEME PARK HOURS AUGUST 17 - 23
INCREASED ATTENDANCE ALERT:
As Disneyland Resort Annual Passholders are freed from summer block-out dates, the theme parks will become increasingly busier. Please plan your visit accordingly; expecting increased crowds, including possible crowd capacity at Disneyland Park and off-site parking. For a complete listing of theme park hours, please visit the
Disneyland.com Theme Park Calendar
Disneyland Park
Monday - Sunday: 8 am - 12 midnight
Disney's California Adventure Park
Monday - Friday: 10 am - 10 pm
Saturday - Sunday: 10 am - 9 pm
CURRENT ATTRACTION CLOSURES & REFURBISHMENTS
Disneyland Park
The Enchanted Cottage: Closed through November 17.
Casey Jr. Circus Train: Closed August 24 through November 19.
Storybook Land Canal Boats: Closed August 24 through November 19.
Mark Twain Riverboat: Closed September 8 - 10.
Space Mountain: Closed September 8 - 24 to install "Ghost Galaxy" Halloween overlay.
Minnie's House: Closed September 9
The Haunted Mansion: Closed September 10 - 24 to install Haunted Mansion Holiday overlay
Big Thunder Ranch: Closed September 14 - 24 to install Halloween overlay
Gadget's Go Coaster: Closed September 14 through October 26
The Disney Gallery: Opens September 26, 2009 in the Bank of Main Street
Pirates of the Caribbean & Blue Bayou Restaurant: Closed September 28 through October 2.
Disneyland: The First 50 Magical Years/Main Street Opera House: Closed. Reopens as The Disneyland Story: Featuring Great Moments With Mr. Lincoln December 17, 2009.
Disney's California Adventure Park
Orange Stinger: Closed for retheming. Reopens Spring 2010
Cocina Cucomonga: Food service location closed June 18, when new location opened. Original location reopens with new Asian-style menu September 14.
The Little Mermaid: Ariel's Undersea Adventure: Under construction.
Souvenir 66 and Corn Dog Castle: Store and dining location closed for remodeling through May 2011.
Paradise Bay: Drained for construction of upcoming Disney's World of Color show.
Disney's World of Color Nighttime Spectacular: New show under construction. Debuts Spring 2010.
Golden State Park and Amphitheater: Closed. New, larger amphitheater for Disney's World of Color viewing under construction in same location. The new amphitheater will open December 2009.
<br><br>
HAUNTED MANSION ANNIVERSARY MAKES NEWS
With the Haunted Mansion's big 40th anniversary on August 9, it's no surprise that there was a lot of reading on Disneyland's haunted New Orleans estate early last week. From the details on the Mansion's 40th anniversary sleepover, to the updated edition of
The Haunted Mansion: From the Movies to the Magic Kingdom
, it's all here:
HAUNTED MANSION SLEEPOVER GUESTS GET LITTLE SLEEP
<embed src="http://c.brightcove.com/services/viewer/federated_f8/988218058" bgcolor="#ffffff" flashVars="videoId=33120524001&playerId=988218058& viewerSecureGatewayURL=https://console.brightcove.com/services/amfgateway&servicesURL=http://services.brightcove.com/services&cdnURL=http://admin.brightcove.com&domain=embed&autoStart=false& " base="http://admin.brightcove.com" name="flashObj" width="486" height="412" seamlesstabbing="false" type="application/x-shockwave-flash" swLiveConnect="true" pluginspage="http://www.macromedia.com/shockwave/download/index.cgi?P1_Prod_Version=ShockwaveFlash"></embed>
For the full article, visit
Around Disney: Little sleep for slumber party in the Haunted Mansion
<br><br>
For the full article, visit
D23: OLD DARK HOUSE, NEW DISNEY MAGIC: RE-IMAGINEERING THE HAUNTED MANSION
<br><br>
For the full article, visit
<br><br>
Haunted Mansion Celebrates 40 Years of Happy Haunts!
Its been 40 years since the Grim Grinning Ghosts first opened their doors and invited guests into the Haunted Mansion at Disneyland. Take a look back to the beginning with Walt and the Imagineers who created the beloved attraction. From stretching rooms to hitch hiking ghosts the 999 Happy Haunts never disappoint and always invite guests to hurry back!
<object width="425" height="344"><param name="movie" value="http://www.youtube.com/v/jGcW9X5Vfjs&hl=en&fs=1&"></param><param name="allowFullScreen" value="true"></param><param name="allowscriptaccess" value="always"></param><embed src="http://www.youtube.com/v/jGcW9X5Vfjs&hl=en&fs=1&" type="application/x-shockwave-flash" allowscriptaccess="always" allowfullscreen="true" width="425" height="344"></embed></object>
<br><br>
The Haunted Mansion: From the Magic Kingdom to the Movies -- Updated
Jason Surrell's incredible book on the history of Disney's Haunted Mansions has been updated and re-released. From Amazon: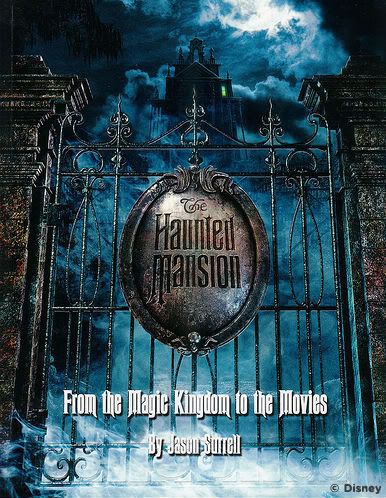 The Haunted Mansion: From the Magic Kingdom to the Movies illustrates how the Mansion's 999 "grim grinning ghosts" moved from sketches to reality, evolving from earliest story concepts through adaptations and changes as it moved into each of the parks, to the very latest ideas for show enhancements. This book also confirms and dispels the various myths and rumors that have surrounded the mysterious Mansion since its opening. And now new history has been added as the attraction continues to evolve. This updated edition now includes photos and text of the new "Mysterious Staircases" and "Glowing Eyes in the Wallpaper" effects that have been added, as well as the re-concepted attic scene, which includes the history of Constance the bride and the several husbands who have lost their heads (literally) over her.
The book is
only $13.57 on Amazon
, and is a must-have for any Disney fan. If you don't have a copy of the first edition on your book shelf, now is the time to order this book -- and if you're a big Haunted Mansion fan, now is the time to complete your collection with the updated edition!
<iframe src="http://rcm.amazon.com/e/cm?lt1=_blank&bc1=000000&IS1=1&nou=1&bg1=FFFFFF&fc 1=000000&lc1=0000FF&t=disneylandres-20&o=1&p=8&l=as1&m=amazon&f=ifr&md=10FE9736YVPPT7A 0FBG2&asins=1423118952" style="width:120px;height:240px;" scrolling="no" marginwidth="0" marginheight="0" frameborder="0"></iframe>
<br><br>
SAVE $400 ON DISNEYLAND RESORT VACATION
Disney has rolled out the details on their latest vacation promotion for the fall's HalloweenTime festivities.
For the full press release, visit
<br><br>
STRAWBERRY FIELDS FOR PARKING
The OC Register's Around Disney blog broke the news last week that the old strawberry fields that Disney acquired for a future third theme park are now in the process of approval to become Resort parking for the next six-to-10 years.
For the full article, visit
Around Disney: Disney parking lot set for third theme park site
<br><br>
GOOD-BYE BLOCK OUT DATES, HELLO BIG CROWDS
As the summer season winds down and the seasonal Annual Passholder block-out dates start opening up, be prepared for big crowds at the theme parks.
Al Lutz
summed up what you should expect this week in his 8/16 Editor's Note
on MiceAge.com
:
8/16: The summer blockouts for the majority of the 800,000+ Annual Passholders end on Sunday and Monday, and Disneyland is battening down the hatches for a huge jump in daily attendance. If you have to go to the park this week expect off-property parking, extremely long lines, and potentially closed turnstiles for a few hours each afternoon. And, Murphy the Fantasmic! dragon won't be there either.
<br><br>
<script charset="utf-8" type="text/javascript" src="http://ws.amazon.com/widgets/q?ServiceVersion=20070822&MarketPlace=US&ID=V20070 822/US/disneylandres-20/8001/defc2f58-fb71-4fe2-b5c3-4f6a4a094641"> </script> <noscript>Amazon.com Widgets</noscript>
<table border="0" cellpadding="5"><tr><td valign="top">Alright, that should wrap things up for this week's column. Thanks, as always for reading - and be sure to discuss the update in the comments section below.
Don't forget that MiceAge and MiceChat has loads of new content weekly! If Dateline Disneyland isn't enough to satisfy your Disneyland itch, then don't miss
David "Darkbeer" Michael's
In the Parks
column which runs here every Friday and is packed full of Southern California theme park news, photos, and gossip. And if you want even more Disney theme park goodness, don't miss
MiceChat's Weekend Update
, which takes a look at Disney theme parks and other international landmarks, curiosities, and oddities every Saturday!
Your help keeps these updates coming, and without you they couldn't happen. We all know times are tough, so any amount of support helps. If you can donate to Dateline Disneyland please consider doing so via a safe and quick PayPal donation.
To donate, click here.
Don't forget - Dateline Disneyland is on Twitter! If you still haven't checked us out on Twitter, head over there today and see why over
4,200
other Disneyland fans have already started following Dateline Disneyland! The Dateline Disneyland Twitter is updated throughout the week with links to breaking news, mini updates, photos, and links to newsworthy MiceChat discussions. Head over to
Twitter.com/DatelineDisney
, or check out the widget to the right to follow us!
See you here again soon!
-Andy
</td>
<td bgcolor="#cccc9a" width="235" valign="top">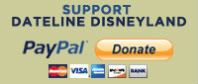 Love reading Dateline Disneyland?

If so, consider donating so the updates can keep coming through a quick and safe PayPal donation. Thanks for your support!



<object classid="clsid:d27cdb6e-ae6d-11cf-96b8-444553540000" codebase="http://download.macromedia.com/pub/shockwave/cabs/flash/swflash.cab#version=9,0,124,0" id="TwitterWidget" width="225" height="335"><embed src="http://static.twitter.com/flash/widgets/profile/TwitterWidget.swf" quality="high" bgcolor="#000000" name="TwitterWidget" allowscriptaccess="sameDomain" allowfullscreen="false" type="application/x-shockwave-flash" pluginspage="http://www.macromedia.com/go/getflashplayer" flashvars="userID=16832260&styleURL=http://static.twitter.com/flash/widgets/profile/smooth.xml" align="middle" width="225" height="335"></object>
</td></tr></table>