Sunday marked the final day of Disneyland's big
Summer Nightastic!
promotion, but if you weren't there, don't worry - the new
Fantasmic!
dragon still didn't make an appearance, despite the pretty pictures on the park maps and
Downtown Disney
banners. Still, despite a disappointing finale for Summer Nightastic!, the parks still saw big crowds this weekend, thanks to unblocked Southern California Annual Passholders and the big Blizzcon video game convention at the Anaheim Convention Center next door. Meanwhile, construction continues on
Disney's California Adventure
's on-going extreme makeover, Halloween has hit store shelves, and the
Disney Gallery
makes its mark on the
Bank of Main Street
.
As always, you can track the progress of the projects you see in this week's update by clicking on the photos with
Project Tracker
watermarks. MiceChat's Project Trackers are where you can find the latest news and discussion on the current projects going on around the Disneyland Resort.
Alright, let's get started!
<center><table style="border: 0pt solid black;" width="675"><tbody><tr><td bgcolor="#263778" height="" width="100%"><center>

Inside Dateline Disneyland
</center></td></tr><tr><td bgcolor="#d6d4ac" width="100%">
Welcome to Disneyland!


Bank of Main Street uncovered, No more magic

<a href="#DD2">California Construction</a>


The latest Disney's California Adventure construction photos.

<a href="#DD2-1">

World of Color & Paradise Park Viewing Area

</a>
<a href="#DD2-2">

Mirrorless Mickey's Fun Wheel

</a>
<a href="#DD2-3">

The Little Mermaid: Ariel's Undersea Adventure & Cars Land

</a>
<a href="#DD2-4">

Silly Symphony Swings

</a>

<a href="#DD3">Grand Expansion</a>


Grand Californian Hotel expansion nears completion

<a href="#DD4">Selling Halloween</a>


Halloween merchandise hits store shelves

<a href="#DD5">This and That</a>


Enchanted Cottage, Bye bye WALL-E

<a href="#DDAROUND">Around the Parks</a>


Photos from around the parks

<a href="#DDNEWS">Weekly News and Information</a>


Weekly theme park hours, closures and refurbishments, Fantasmic! dragon still MIA, Parking gets the green light, Disney World deaths spark investigation.
</td></tr></tbody></table></center>
<a name="DD1">
WELCOME TO DISNEYLAND!
</a>
The Bank of Main Street has finished its exterior refurbishment as it gets ready to re-open in early October as the new home of The Disney Gallery.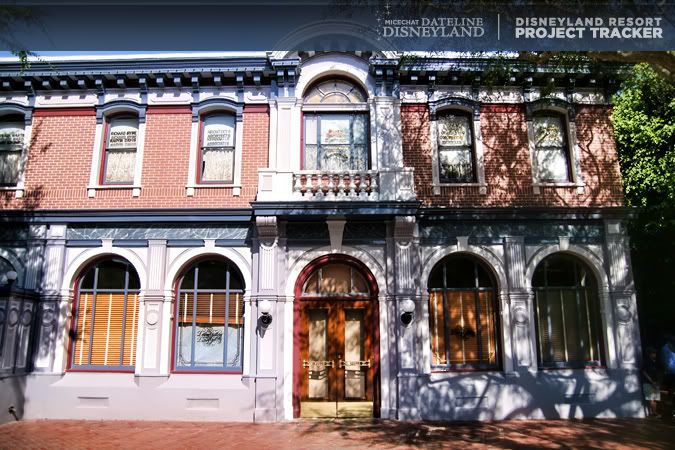 The Bank of Main Street signage has been removed on the facade and windows. The windows are sporting new Disney Gallery logos.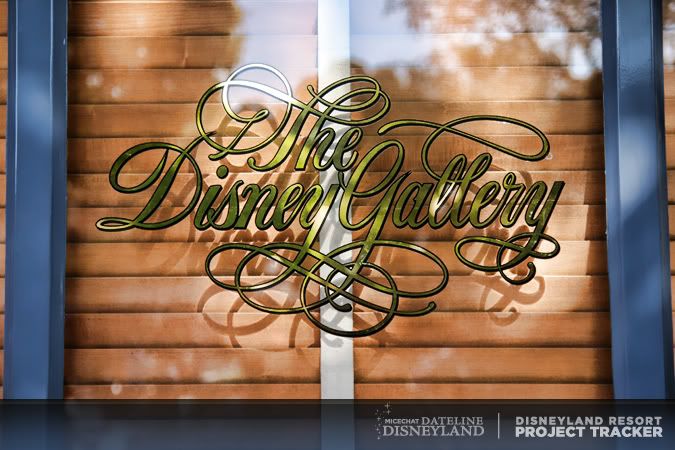 The Bank of Main Street mural remains on the side of the building.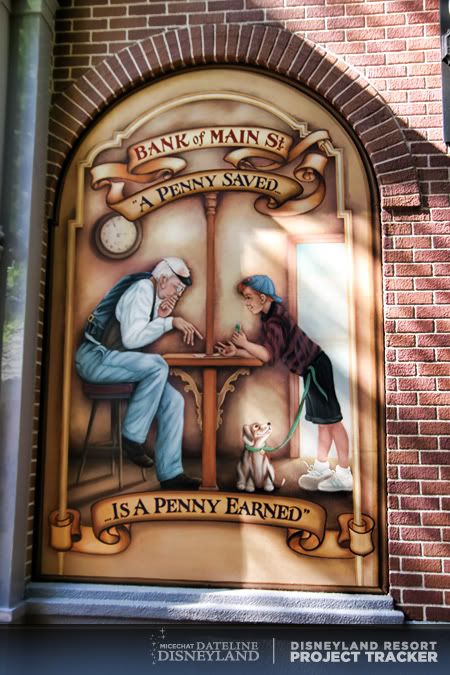 Painting has finished up at the Main Street Opera House's entrance.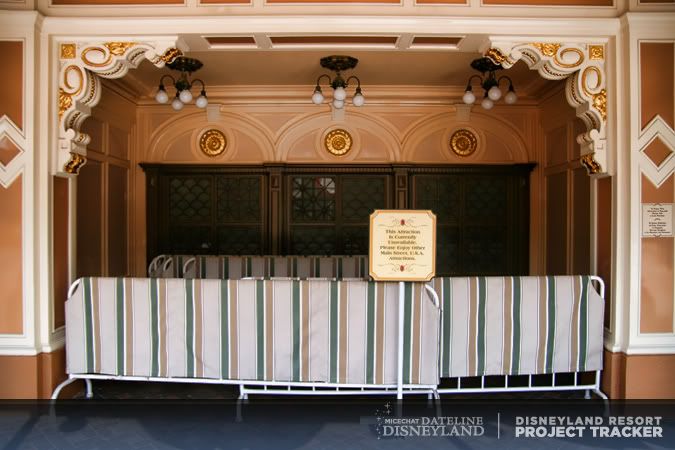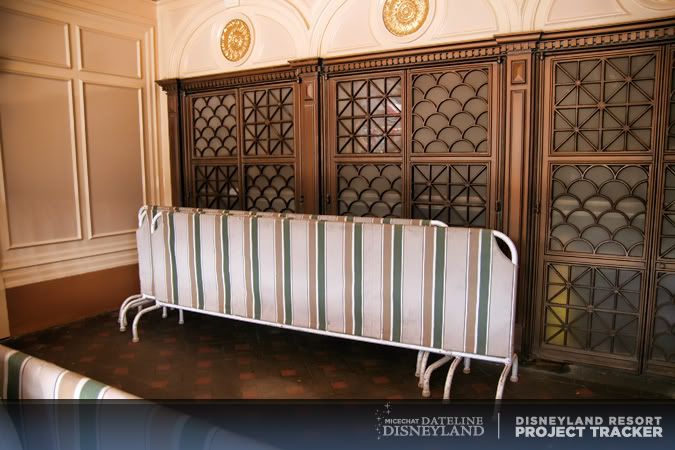 Further down on Main Street, the Main Street Magic shop no longer has any magic in stock.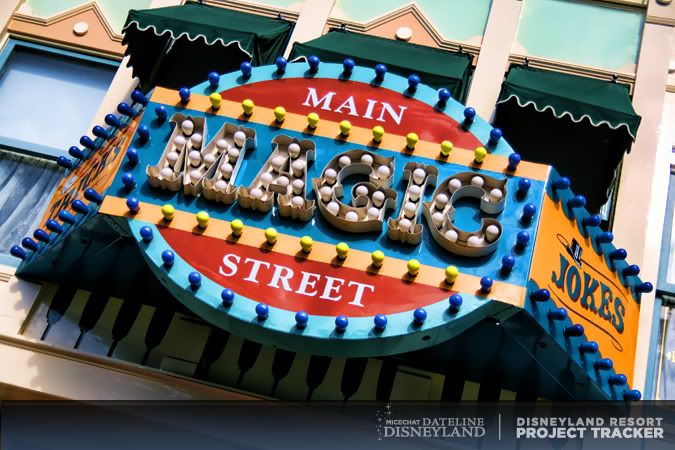 The store is now stocked with board games...
...and Mickey gloves and hats. Hopefully this is a temporary solution until proper magic merchandise can be found to sell here.
<a name="DD2">
CALIFORNIA CONSTRUCTION
</a>
It's time again to check in on the ever-progressing Disney's California Adventure construction.
<a name="DD2-1">
WORLD OF COLOR & PARADISE PARK VIEWING AREA
</a>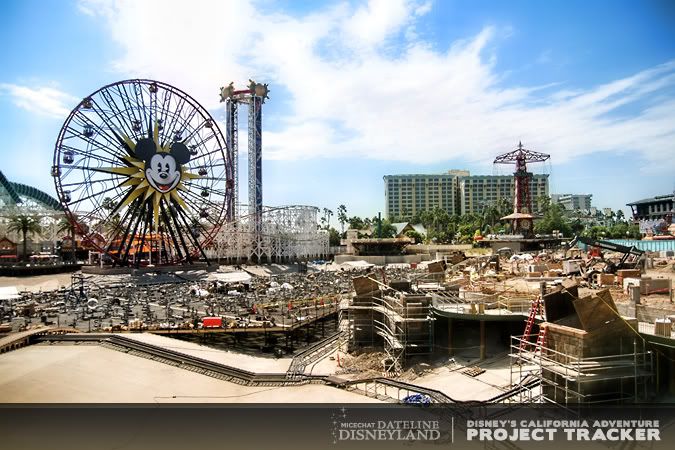 The new 9,000-guest Paradise Park viewing area for the new
World of Color
show continues to come together.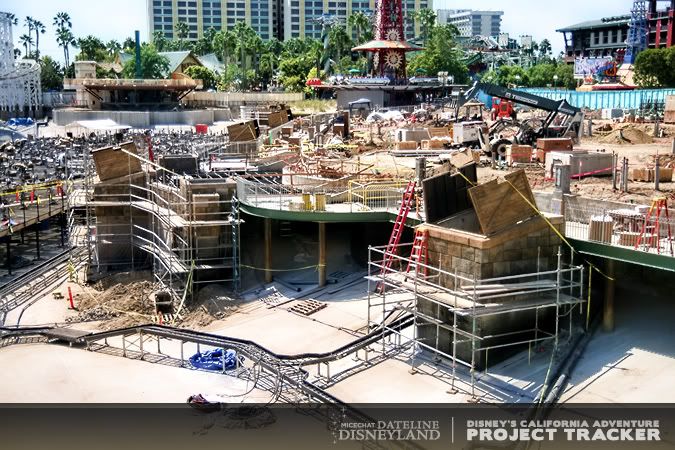 Doors have been installed on the lighting pits.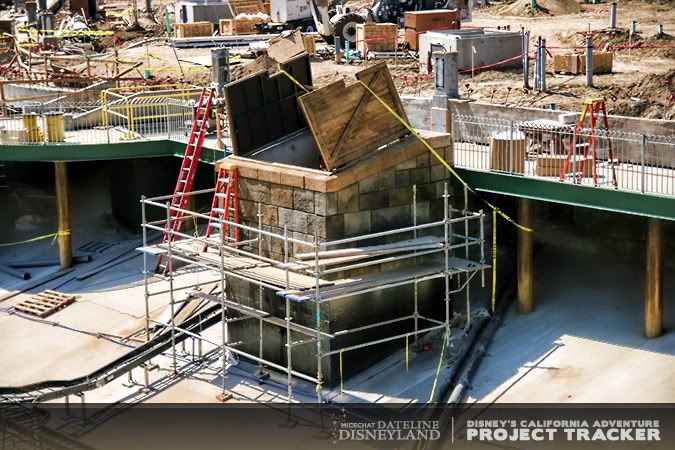 Green primer has been painted on the boardwalk's metal edge.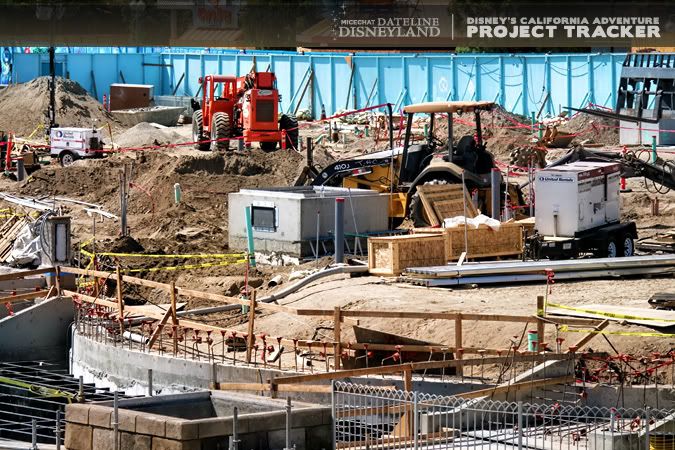 The view from Mickey's Fun Wheel: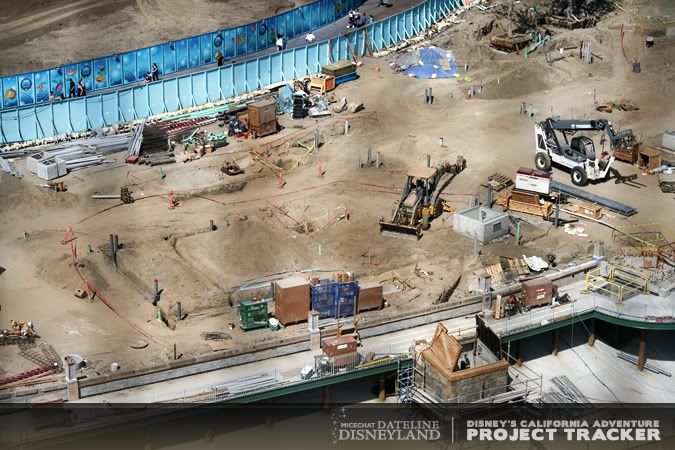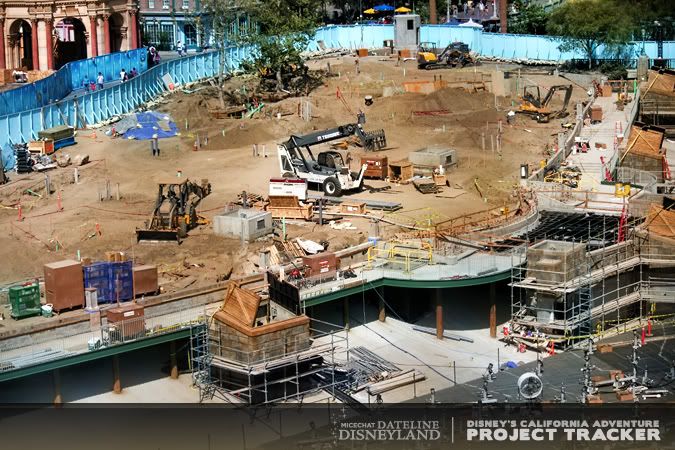 Paradise Park's new stage infrastructure has been installed in the pit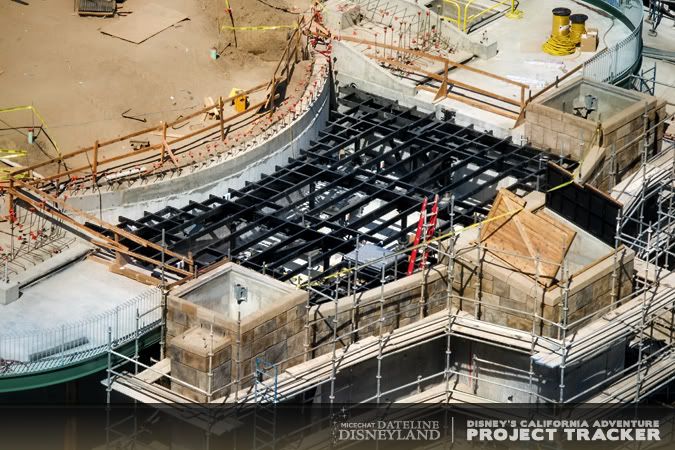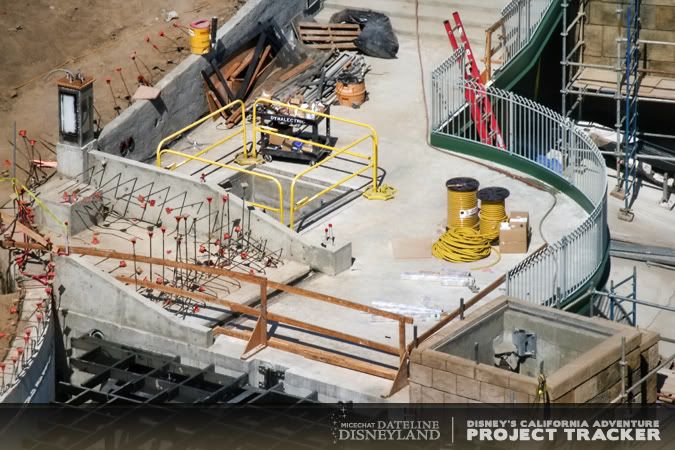 Rock work is starting to be applied to the viewing area's new wraparound boardwalk.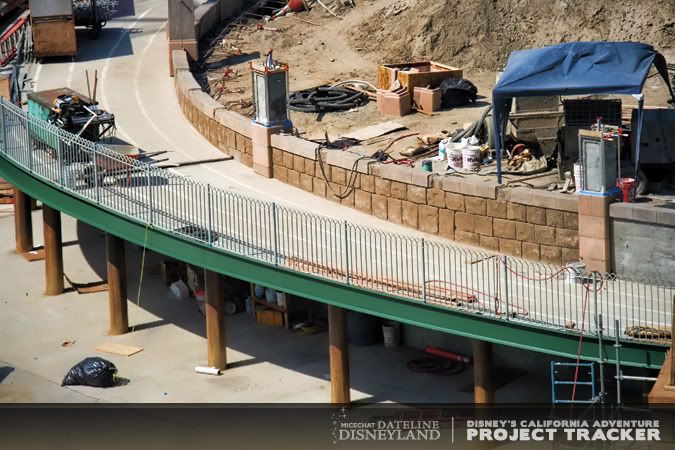 A look at the new fountain/sculpture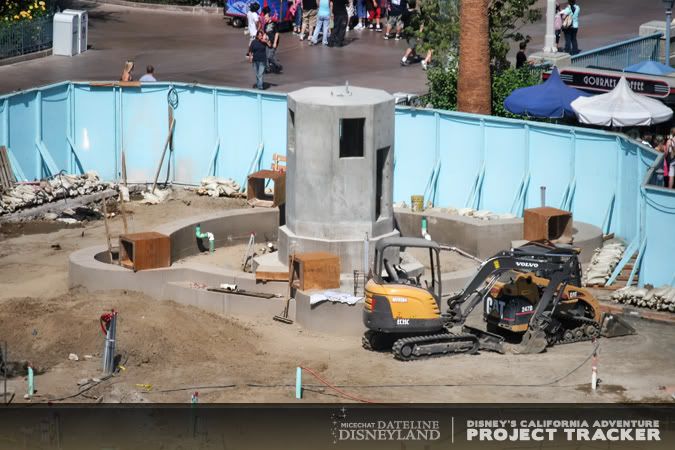 It's pretty big.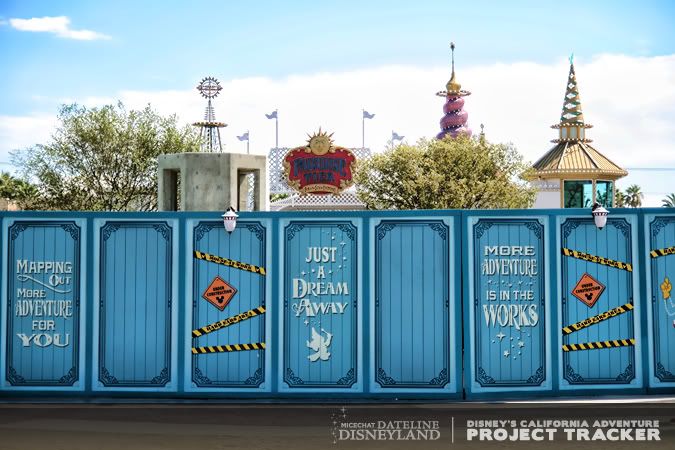 The new World of Color utility boxes finally have doors, too.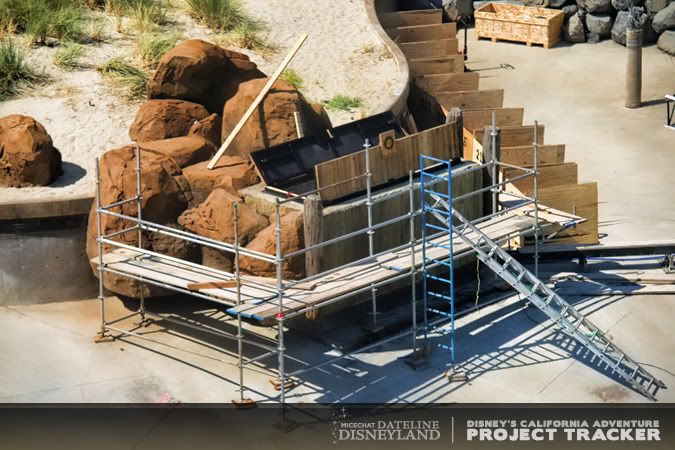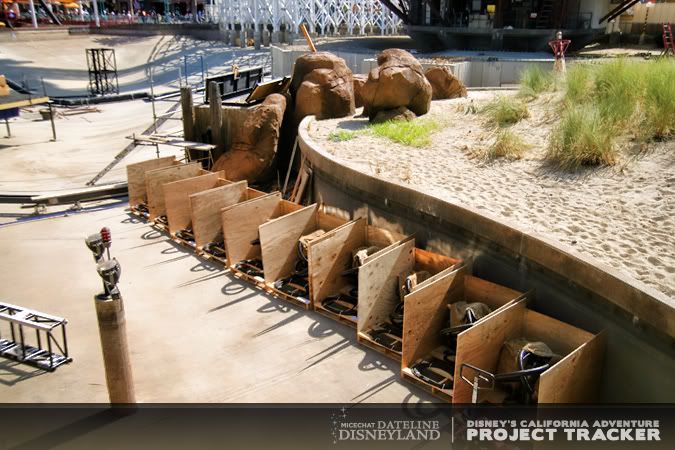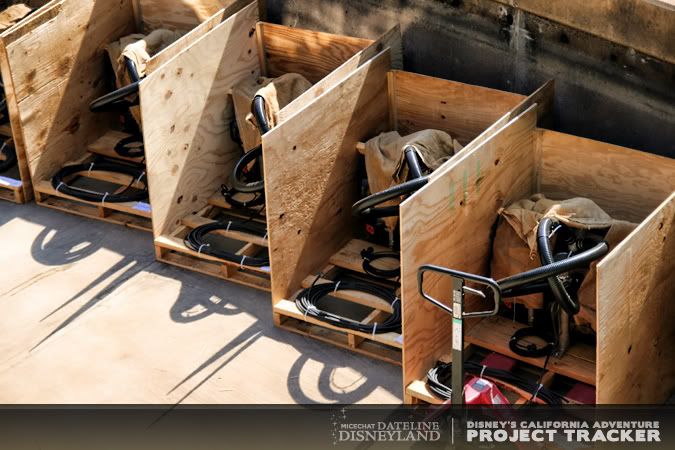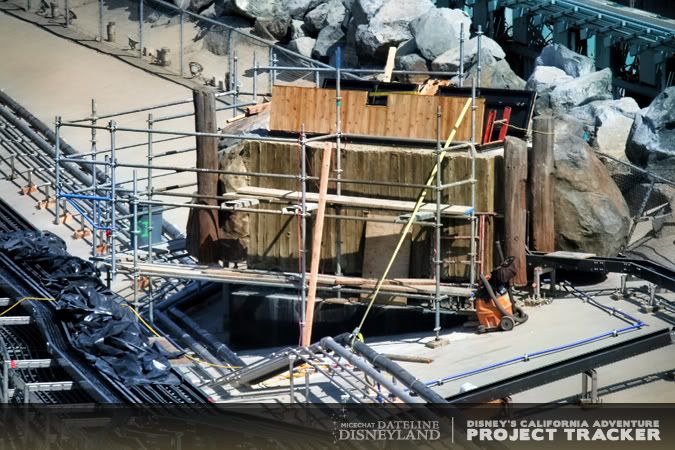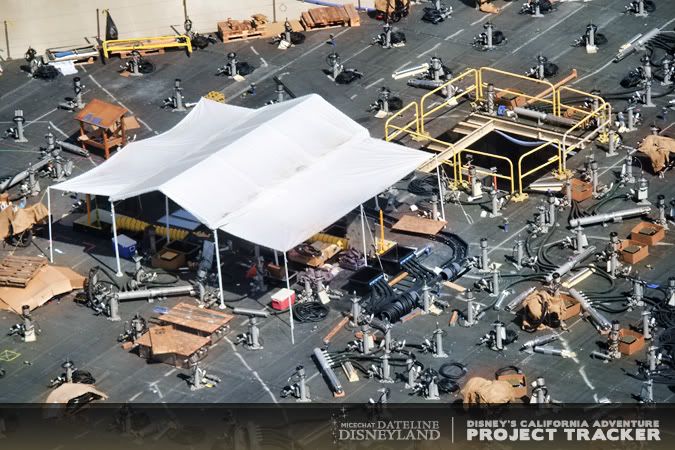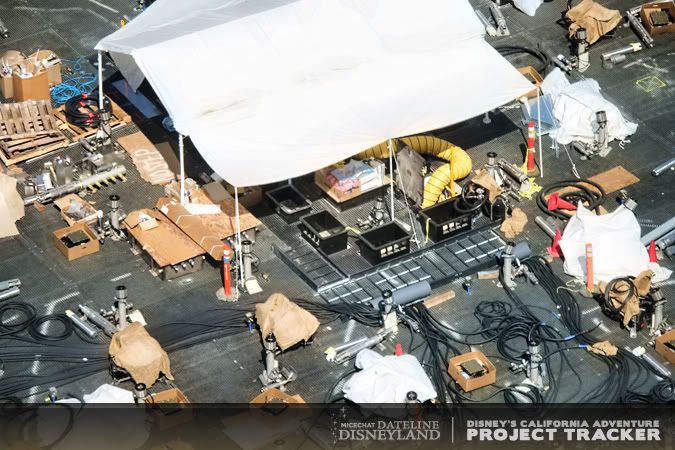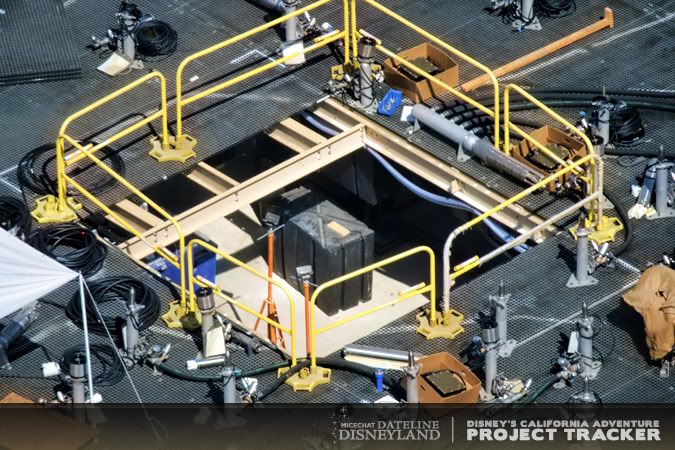 <a name="DD2-2">
A BAD REFLECTION
</a>
The old watermarked mirrors that bordered the outer edge of the Mickey's Fun Wheel pit are starting to be removed.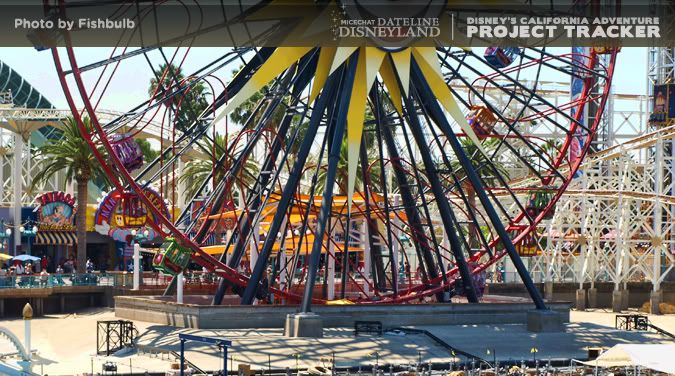 It's about time. Hopefully they stay gone. The tacky things were a leftover design element from the beginning of Disney's California Adventure, intended to make the old Sun Wheel look as though it were dipping into Paradise Bay, even though it obviously wasn't.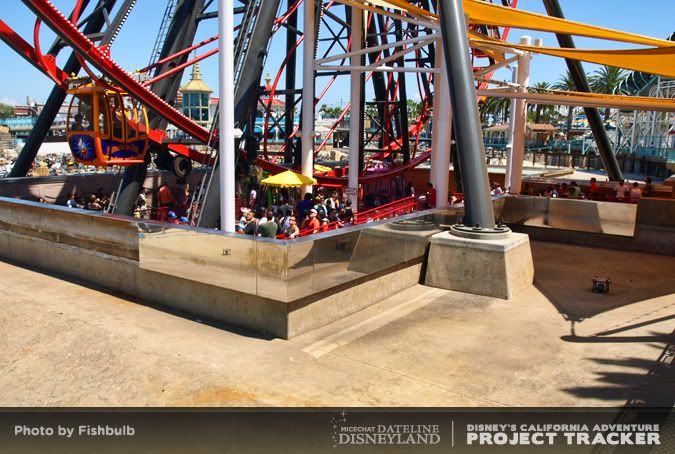 It's a shame that this is even news for the column this week. It would have been a whole lot nicer if the richly-themed covered wrap-around boardwalk had been built around the Fun Wheel along with actual theming in the attraction queue. In any case, anything else is probably better than those dingy mirrors.
<a name="DD2-3">
THE LITTLE MERMAID: ARIEL'S UNDERSEA ADVENTURE & CARS LAND
</a>
The land formerly occupied by Golden Dreams continues to be pushed around as workers get ready to begin construction on the new Little Mermaid dark ride.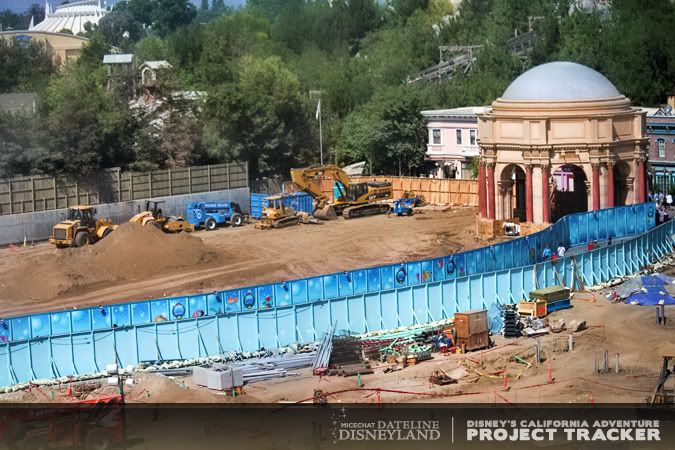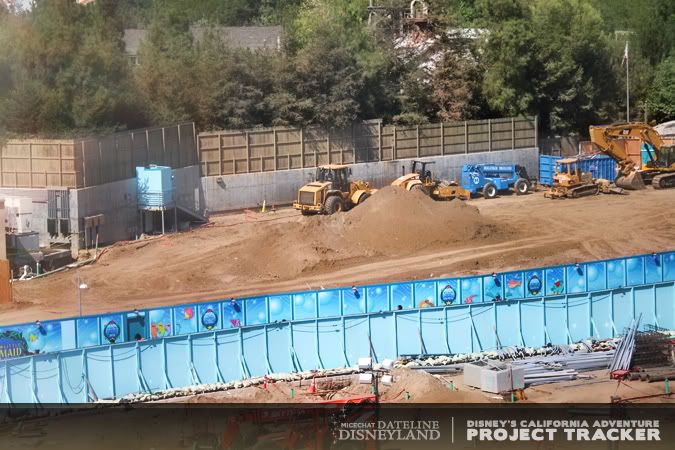 And over in the former Timon parking lot, work continues readying the space for the new Cars Land.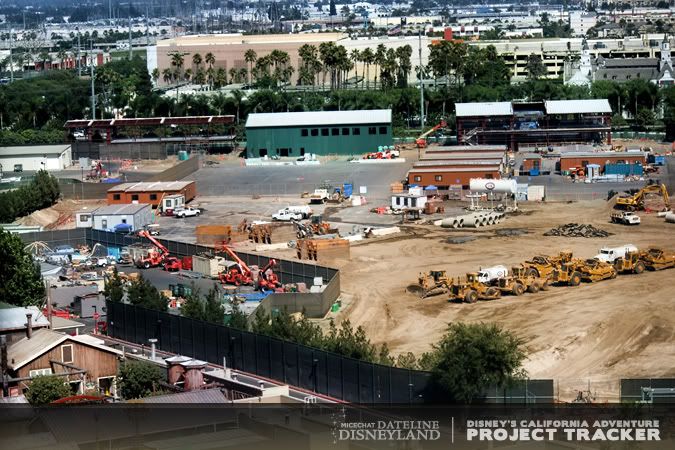 The new backstage buildings under construction...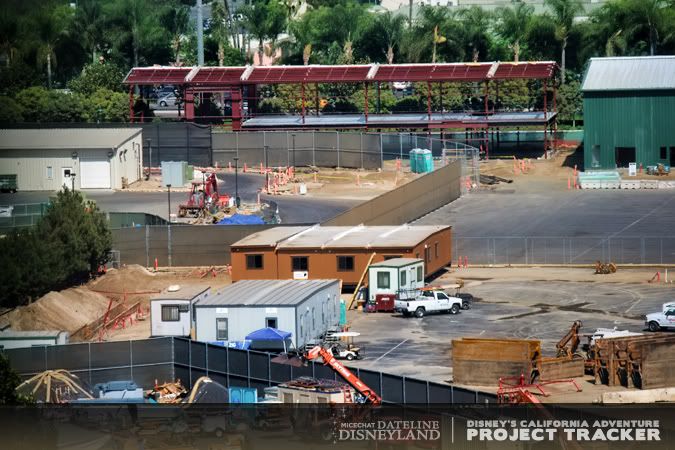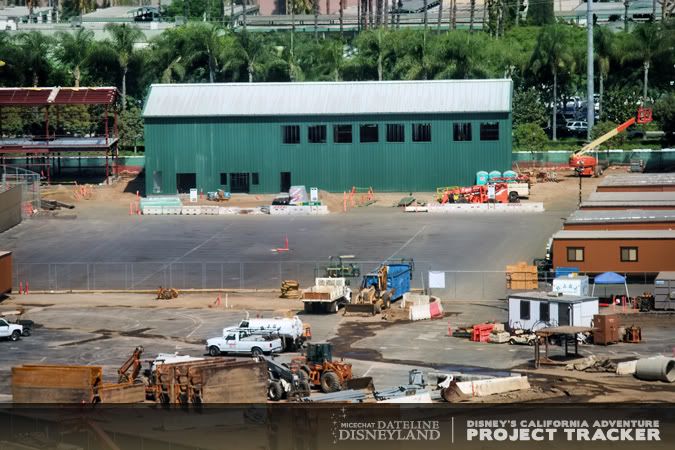 <a name="DD2-4">
SILLY SYMPHONY SWINGS
</a>
The former Orange Stinger is now completely peeled and dismantled as it begins its transformation into the Victorian boardwalk-styled Silly Symphony Swings.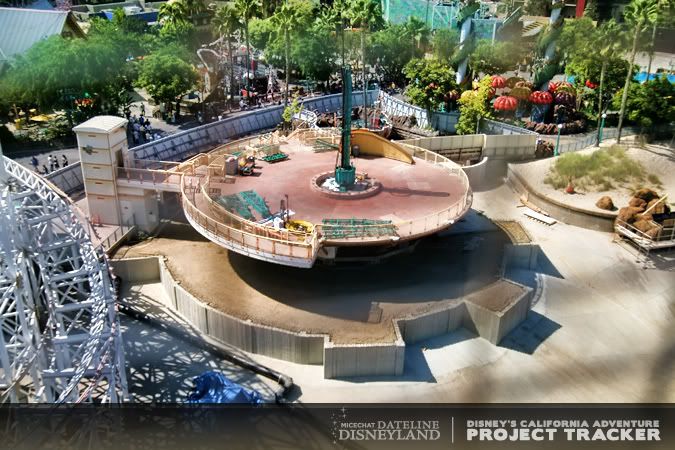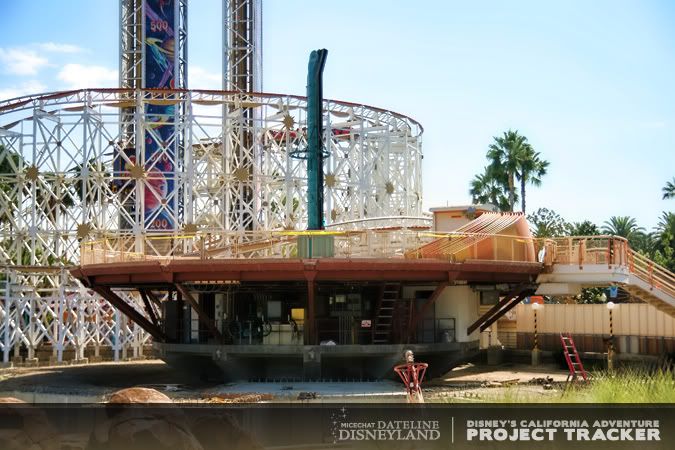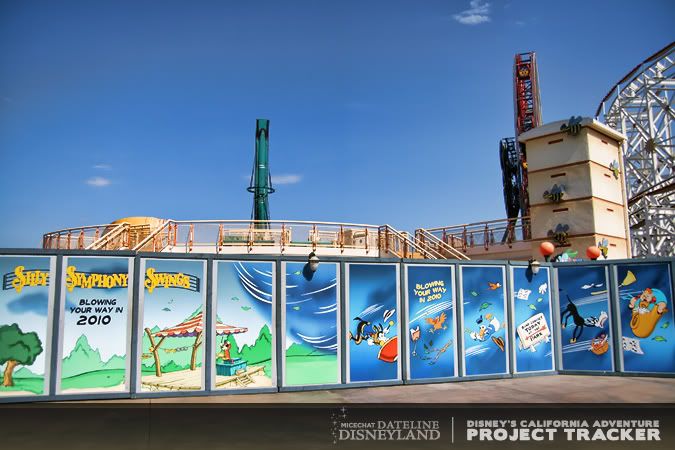 <a name="DD3">
GRAND EXPANSION
</a>
The new wing of the Grand Californian Hotel opens next month, and work crews continue to work around the clock to finish up the final details before opening the doors.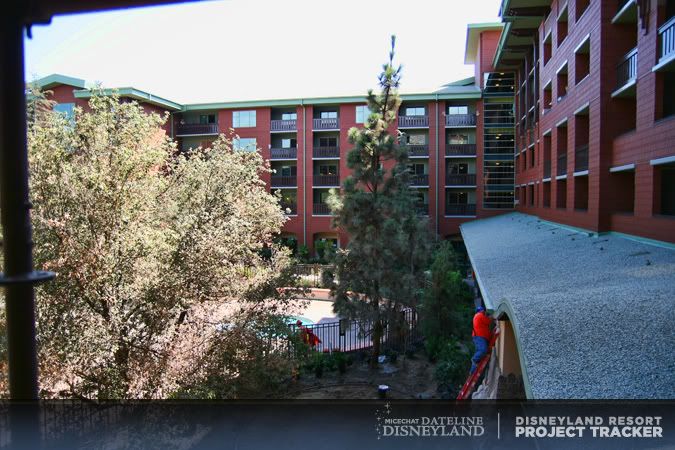 The new swimming pool and spa have been filled.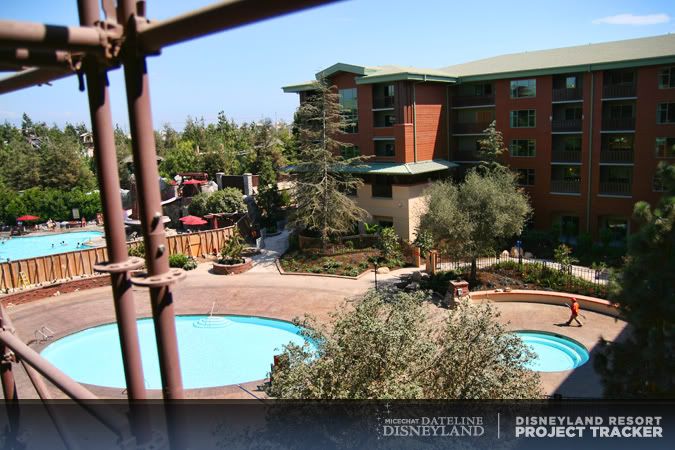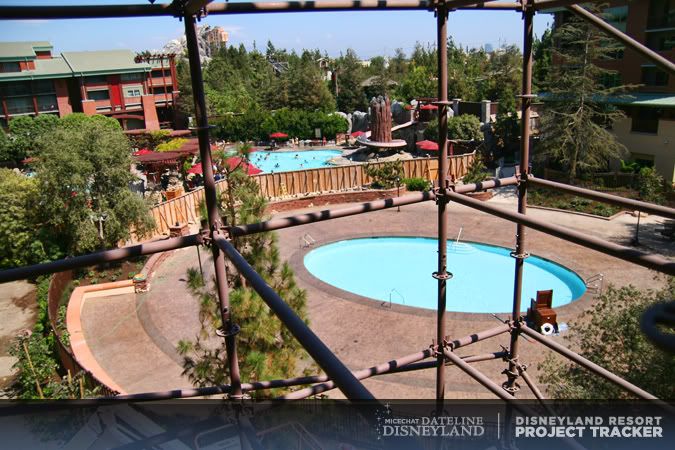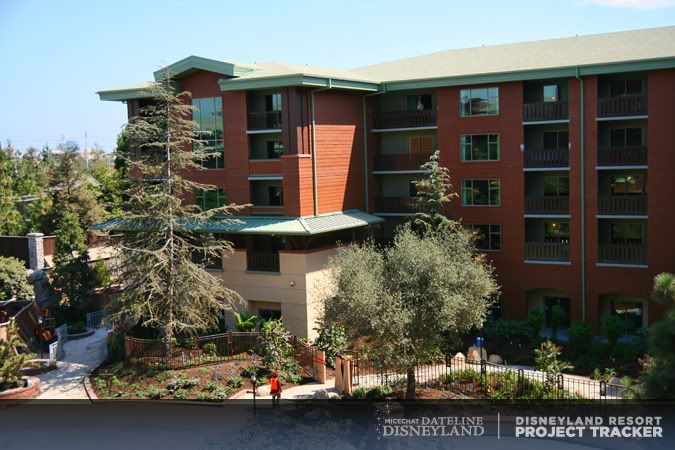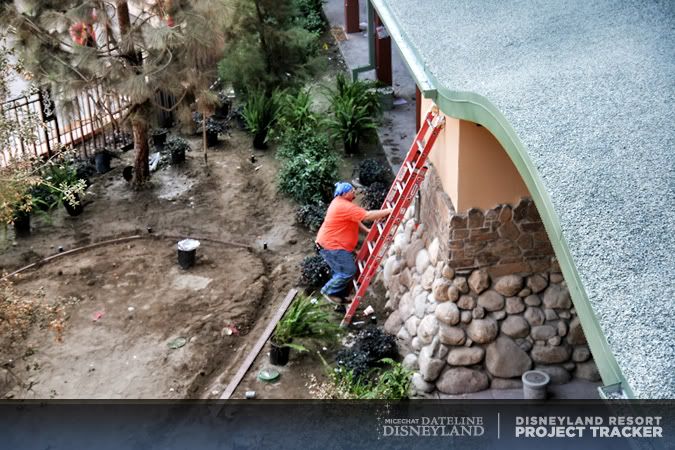 <a name="DD4">
HALLOWEEN MERCHANDISE
</a>
Disney's HalloweenTime doesn't kick off until September 25, but that doesn't mean it's too early to start pushing Halloween merchandise. The Disney Showcase on Main Street has now switched over to a full Halloween store.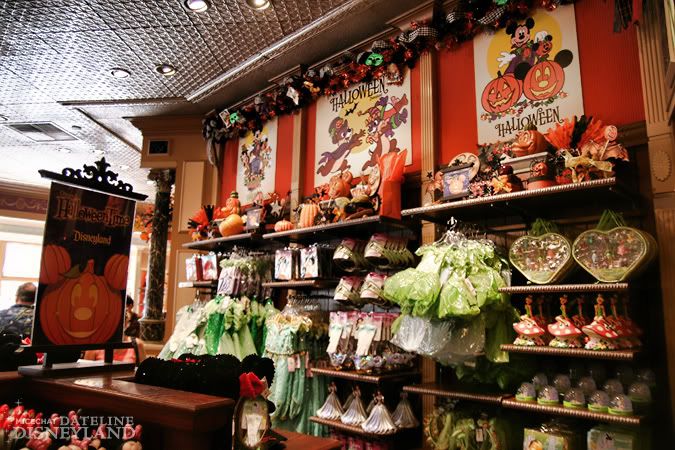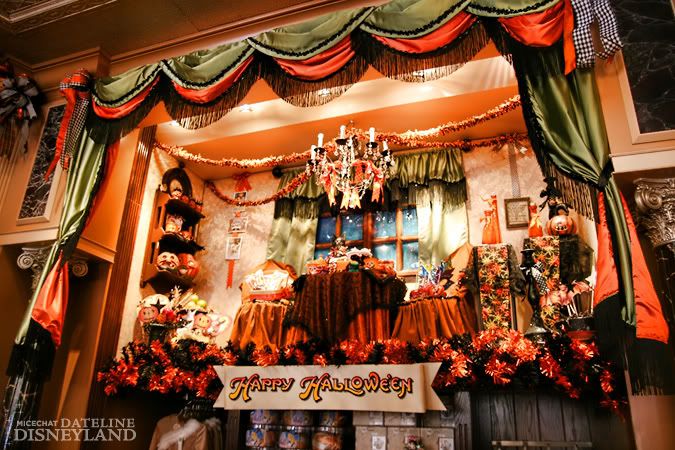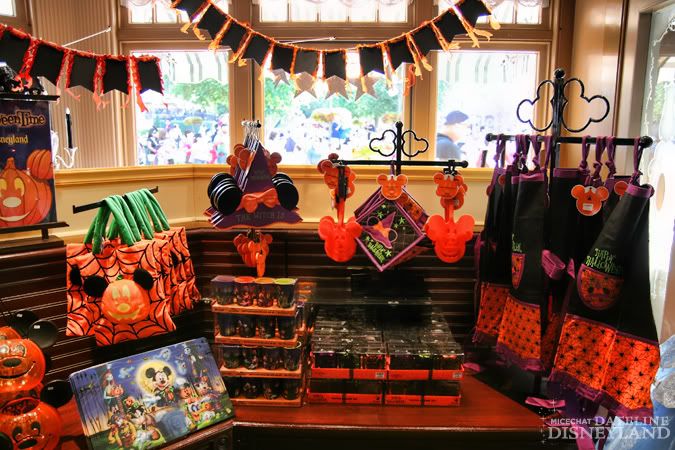 "Witch is In/Out" sign $16.95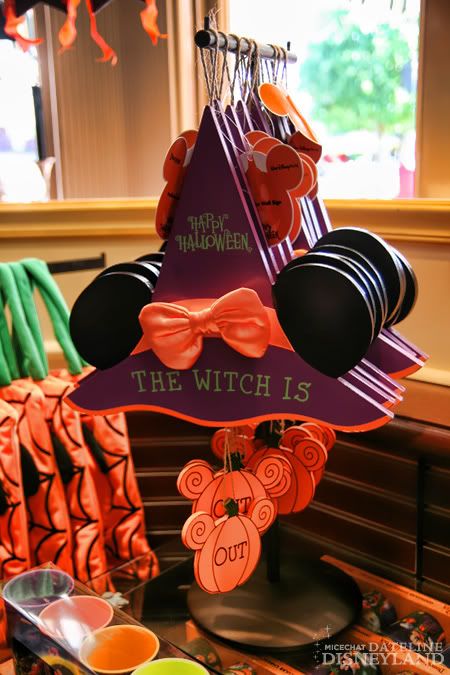 Spatula $3.95, Pot holders $16.95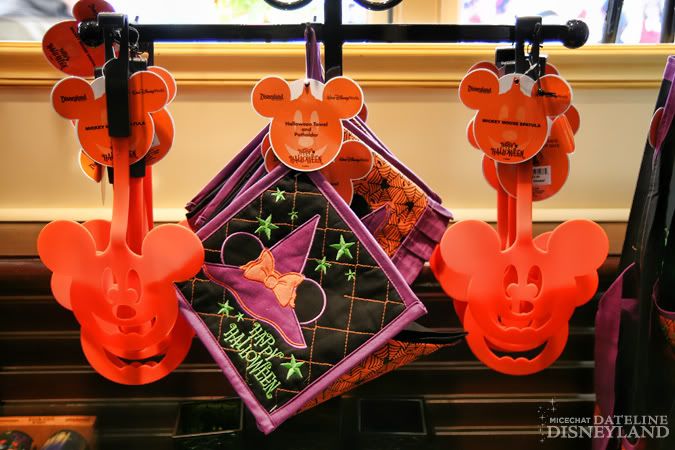 Apron $21.95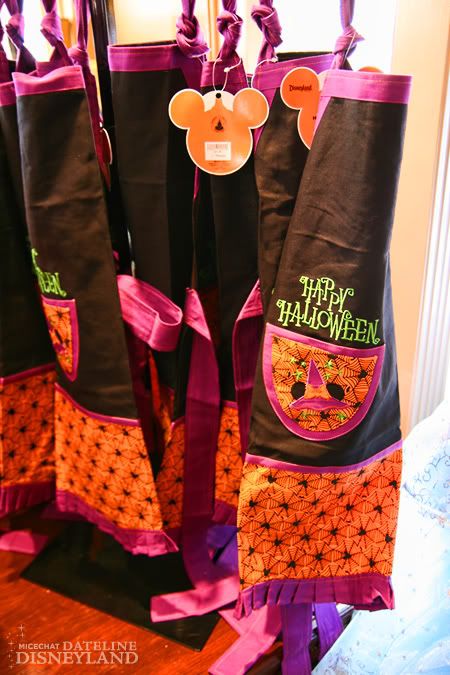 Trick-Or-Treat bag $9.95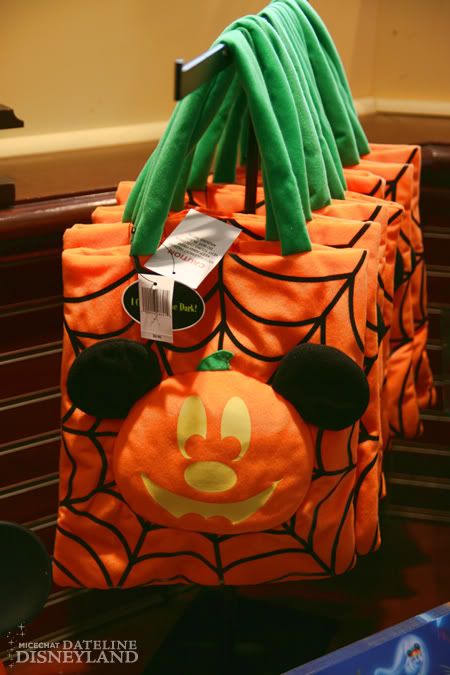 Witch Minnie headband $16.95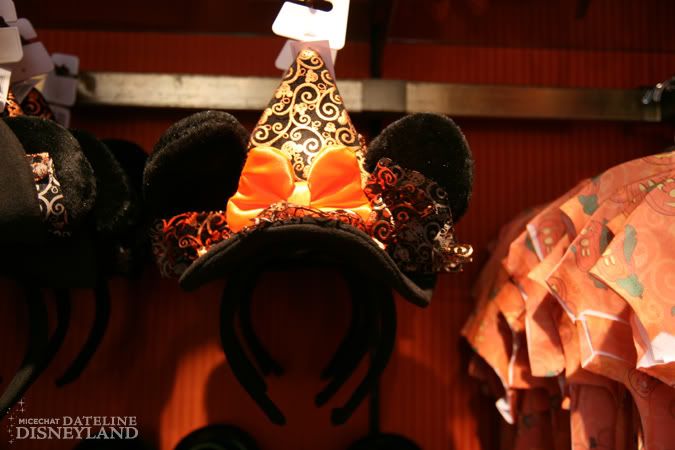 Halloween Ear Hat $14.95
Mickey and Minnie plush $15.95 each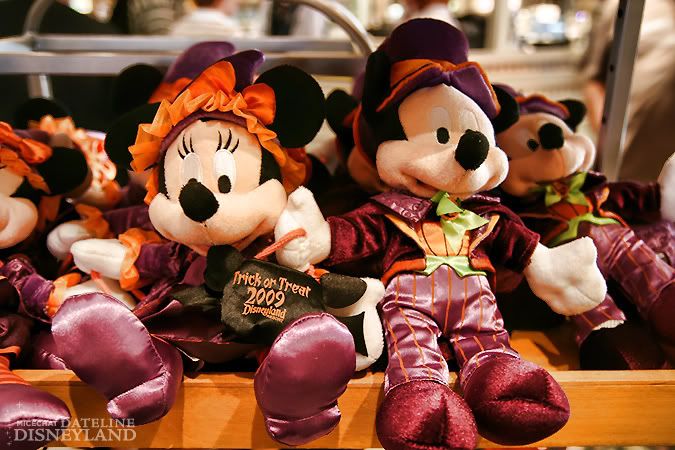 Set of 3 votives $13.95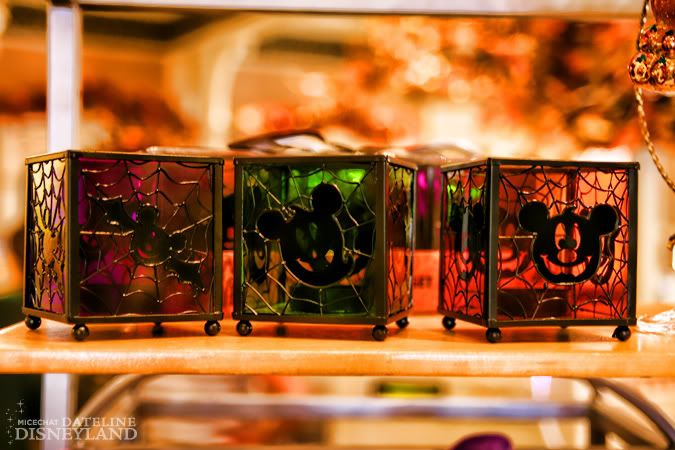 Jack Skellington votive $9.95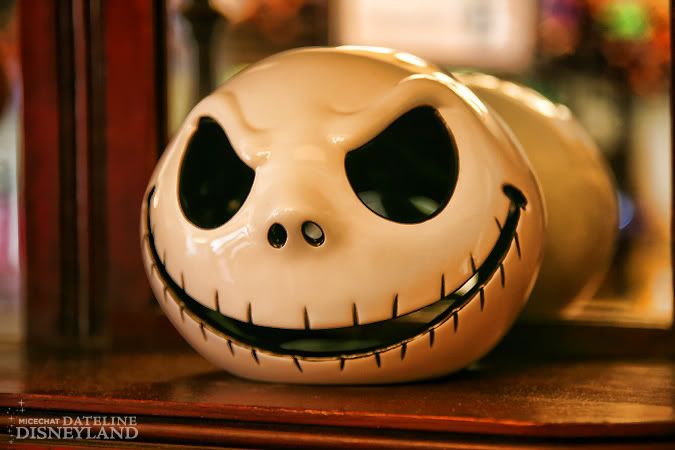 Pumpkin Mickey lantern $19.95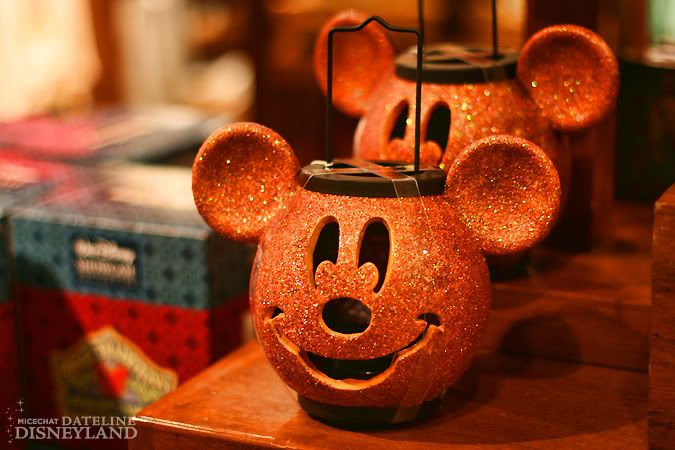 Halloween tree $24.95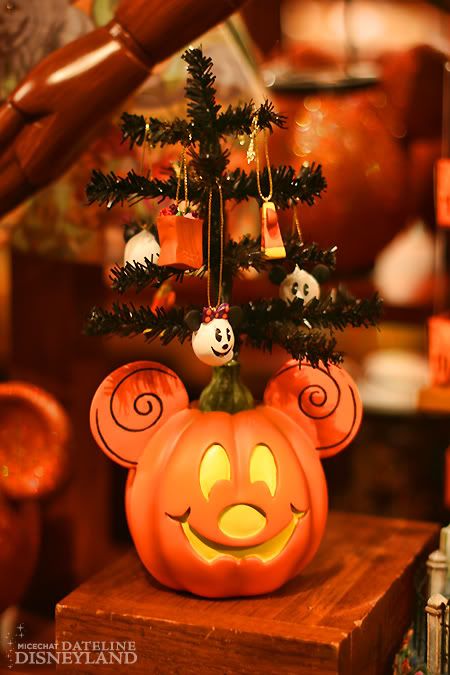 Vampire Mickey by Jim Shore $45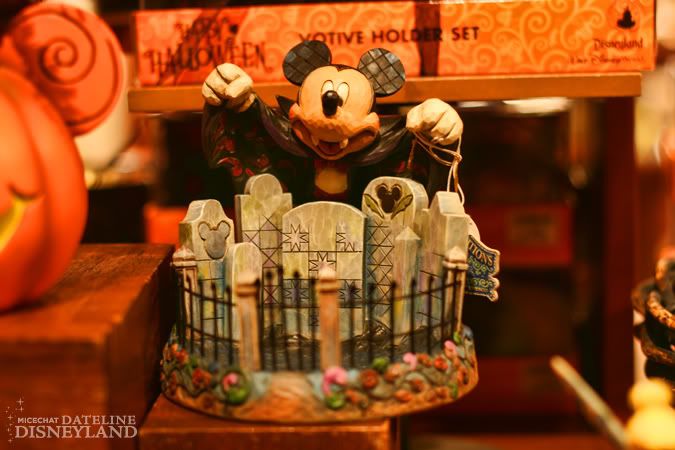 Cookies tin $9.95
Women's shirt $28 / XXL $30
Women's shirt $28 / XXL $30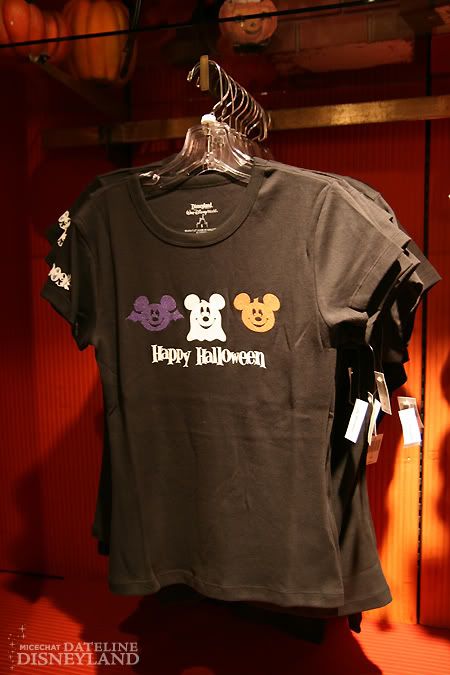 Men's Tee: $19.95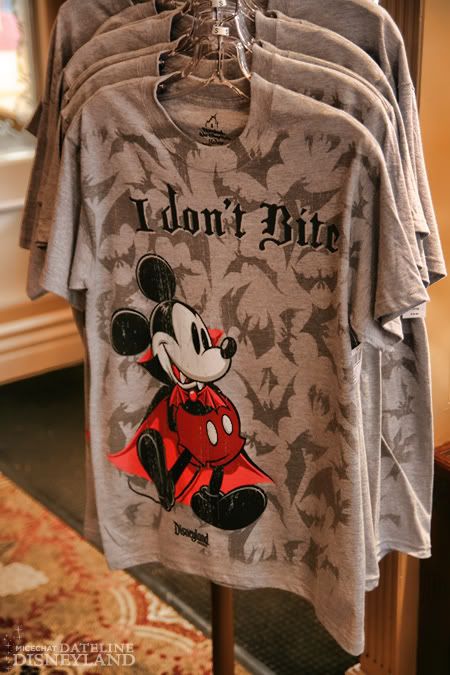 <a name="DD5">
THIS AND THAT
</a>
The Enchanted Cottage snack stand at the Fantasyland Theater is still closed for refurbishment until mid-November.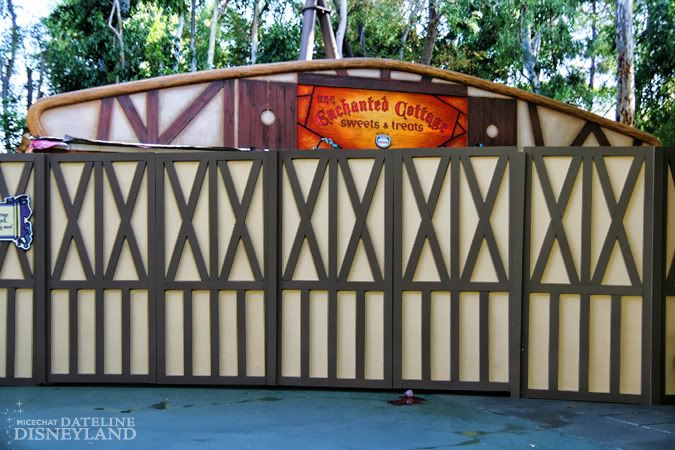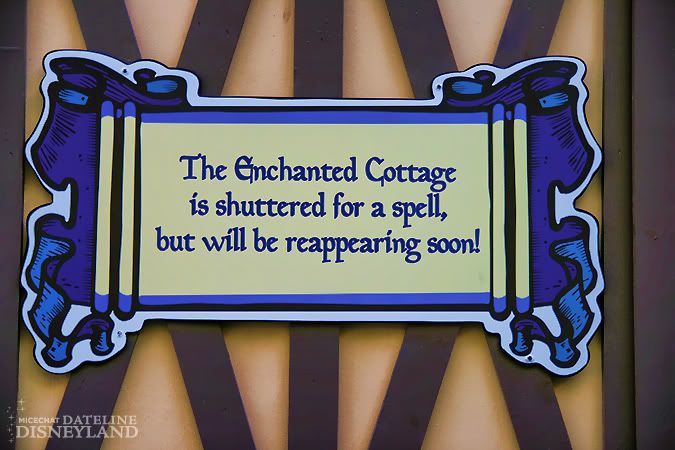 In California Adventure, the WALL-E photo-op has been removed. It's been gone for at least a couple weeks now, but probably for even longer.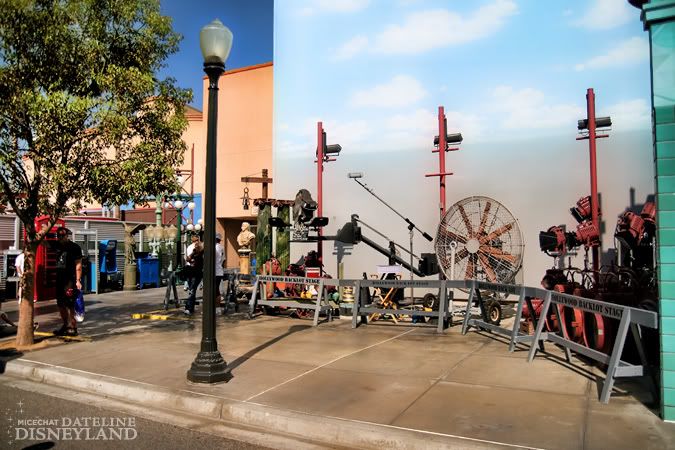 Typical Hollywood movie studio props decorate the area.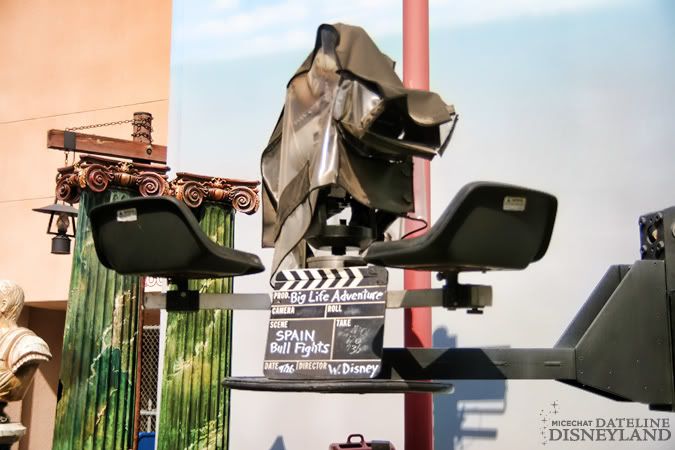 <a name="DDAROUND">
AROUND THE PARKS
</a>
And finally, we'll finish up the photo section of this week's update with some shots from around the parks...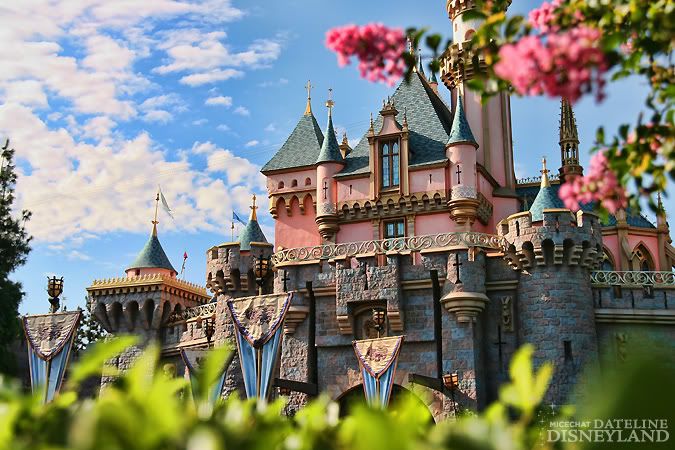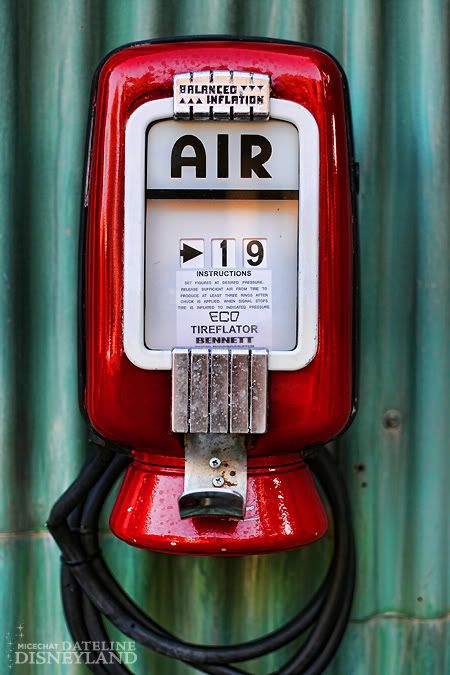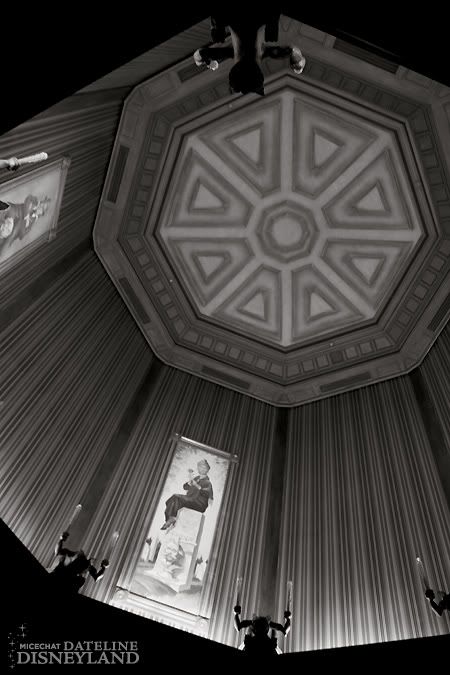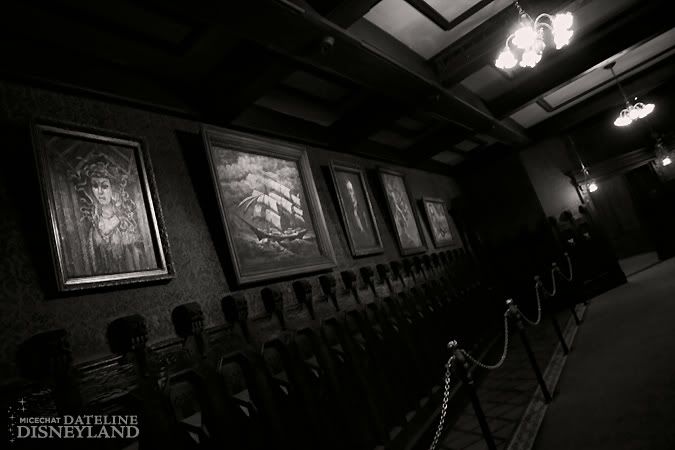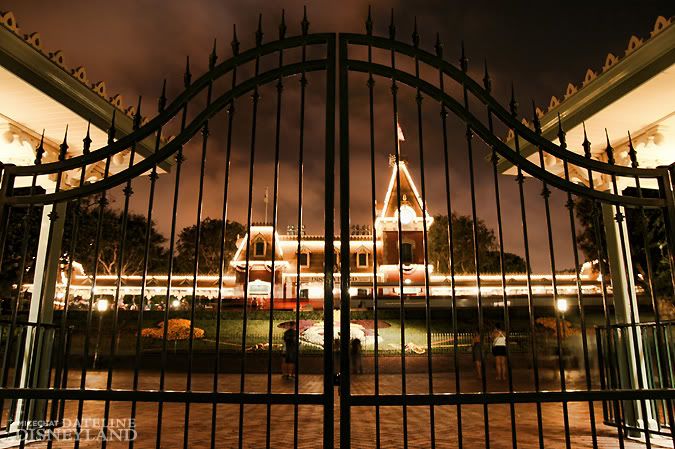 <a name="DDNEWS"></a>
<script charset="utf-8" type="text/javascript" src="http://ws.amazon.com/widgets/q?ServiceVersion=20070822&MarketPlace=US&ID=V20070 822/US/disneylandres-20/8001/defc2f58-fb71-4fe2-b5c3-4f6a4a094641"> </script> <noscript>Amazon.com Widgets</noscript>
DISNEYLAND WEEKLY HOURS AND INFO
THEME PARK HOURS AUGUST 24 - 30
For a complete listing of theme park hours, please visit the
Disneyland.com Theme Park Calendar
Disneyland Park
Monday - Thursday: 8 am - 11 pm
Friday - Saturday: 8 am - 12 midnight
Sunday: 8 am - 11 pm
Disney's California Adventure Park
Monday - Thursday: 10 am - 7 pm
Friday: 10 am - 10 pm
Saturday: 10 am - 8 pm
Sunday: 10 am - 9 pm
CURRENT ATTRACTION CLOSURES & REFURBISHMENTS
Disneyland Park
The Enchanted Cottage: Closed through November 17.
Casey Jr. Circus Train: Closed August 24 through November 19.
Storybook Land Canal Boats: Closed August 24 through November 19.
Mark Twain Riverboat: Closed September 8 - 10.
Space Mountain: Closed September 8 - 24 to install "Ghost Galaxy" Halloween overlay.
Minnie's House: Closed September 9
The Haunted Mansion: Closed September 10 - 24 to install Haunted Mansion Holiday overlay
Big Thunder Ranch: Closed September 14 - 24 to install Halloween overlay
Gadget's Go Coaster: Closed September 14 through October 26
The Disney Gallery: Opens September 26, 2009 in the Bank of Main Street
Pirates of the Caribbean & Blue Bayou Restaurant: Closed September 28 through October 2.
Disneyland: The First 50 Magical Years/Main Street Opera House: Closed. Reopens as The Disneyland Story: Featuring Great Moments With Mr. Lincoln December 17, 2009.
Disney's California Adventure Park
Orange Stinger: Closed for retheming. Reopens Spring 2010
Lucky Fortune Cookery: Food service location opens in original Cocina Cucamonga location with new Asian-style menu September 3.
Jumpin' Jellyfish: Attraction remains open while towers rotate through refurbishment. West tower currently closed.
The Little Mermaid: Ariel's Undersea Adventure: Under construction.
Souvenir 66 and Corn Dog Castle: Store and dining location closed for remodeling through May 2011.
Paradise Bay: Drained for construction of upcoming Disney's World of Color show.
Disney's World of Color Nighttime Spectacular: New show under construction. Debuts Spring 2010.
Golden State Park and Amphitheater: Closed. New, larger amphitheater for Disney's World of Color viewing under construction in same location. The new amphitheater will open December 2009.
D23 Expo September 10-13

The D23 Expo is shaping up to be an event packed with events, screenings, news, and exhibits designed to delight die-hard Disney fans. You can find out all about the Expo in MiceChat's
D23 Forums
. Disney is doing a little interesting marketing on YouTube. How many clues about the Expo can you find in this brand new video from D23? You are seeing it here first!
[ame="http://www.youtube.com/watch?v=52fYtnvRrBE"]http://www.youtube.com/watch?<wbr>v=52fYtnvRrBE[/ame]
And if you missed the first one, here it is again:
[ame="http://www.youtube.com/watch?v=at5A3ehDeC0"]YouTube - Disney D23 Expo Uncovered! Part One: Into the Archives[/ame]
<br><br>

FANTASMIC! DRAGON IS STILL MIA
The OC Register's Around Disney blog got word last week that the new Fantasmic! dragon wouldn't be around for the end of the Summer Nightastic! promotion, but Disney is saying they're still working on the dragon
Disney's summer season ending without dragon show
[ . . . ] Still, Disney officials promise that fans should get ample time to see the dragon, once it's ready, because the Fantasmic show will be extended until the end of the year, said John McClintock, a Disneyland spokesman. Disney recently decided to add extra time for the show. On busy days, a third show is added at 11:30 p.m.
But a firm date for the dragon's debut has yet to be released.
The dragon was supposed to emerge as the centerpiece of a revamped Fantasmic show, stretching 35 feet high in 17 seconds as "Sleeping Beauty" character Maleficent transformed into a dragon in the water and light show. The dragon then was to ignite the Rivers of America for 25 seconds, according to Disney's press materials.
The dragon was designed to be 40 feet tall by 28 feet wide, weighing about 10,000 pounds.
But the dragon has yet to get off the ground in public, prompting much debate and discussion among Disney fans online. Fans even gave the dragon the nickname of Murphy after Murphy's Law.
For the full article, visit
Around Disney: Disney's summer season ending without dragon show
<br><br>
PARKING GETS THE GREEN LIGHT
Also from Around Disney: the City of Anaheim has approved the Disneyland parking lot expansion.
Anaheim backs Disney parking expansion
The Anaheim Planning Commission today approved Disney's plan for a new, temporary parking lot.
The vote was 6-0, with one commissioner absent.
The site, at 1946 S. Harbor Blvd., was purchased by Disney 11 years ago for a possible third theme park. The 53-acre property is currently equipped with 1,701 parking spaces on 12 acres. The new parking lot would transform 23 additional acres into 2,570 spaces.
Because Disney recently closed the 2,226-space Timon parking lot, new parking spaces are needed during the $1-billion expansion of Disney's California Adventure.
There are 22 days to appeal the commission's decision to the City Council before it goes into effect, said Ruth Ruiz, spokeswoman for the city of Anaheim.
Disney could use the extra parking spaces for at least six years.
The city wants to reserve space on the 53-acre property for a fixed-guideway system, which is like a monorail, between a planned transportation hub and the tourist area.
If the guideway isn't ready after six years, Disney could keep the temporary parking lot for an additional four years.
"This approval will help us manage the transportation needs of our guests as we continue to grow and invest in Anaheim," said Disney spokesman John Nicoletti.
For the full article, visit
Around Disney: Anaheim backs Disney parking expansion
<br><br>
WALT DISNEY WORLD DEATHS LAUNCH INVESTIGATION
And the tragic death of a third Walt Disney World Cast Member in recent weeks has launched federal and local investigations at WDW to see if there are any connections between the accidents this summer at the Florida property.
Investigation continues in Disney performer's death
Federal safety investigators began piecing together details Tuesday of an accident at Walt Disney World in which an employee died after breaking his neck as he rehearsed his part in a popular stunt show.
Anislav Varbanov, a 30-year-old worker who recently joined the cast of the Indiana Jones Epic Stunt Spectacular in Disney's Hollywood Studios, became the third resort employee killed this summer following an on-the-job accident.
While all three involved widely disparate circumstances, investigators probing each will be on the lookout for any common contributing factors.
"We're going to have to look at each incident to see if there's any pattern," said Michael Wald, a spokesman for the U.S. Occupational Safety and Health Administration. The Orange County Sheriff's Office is also investigating.
For the full article, visit
Orlando Sentinel: Investigation continues in Disney performer's death
<script charset="utf-8" type="text/javascript" src="http://ws.amazon.com/widgets/q?ServiceVersion=20070822&MarketPlace=US&ID=V20070 822/US/disneylandres-20/8001/defc2f58-fb71-4fe2-b5c3-4f6a4a094641"> </script> <noscript>Amazon.com Widgets</noscript>
<table border="0" cellpadding="5"><tbody><tr><td valign="top">Okay, that does it for this week's Dateline Disneyland. I'd like to thank MiceChat's
Fishbulb
for his help with the Mickey's Fun Wheel photos this week. And of course, thanks to all of you for reading. Be sure to discuss this week's update in the comments section below!
Your help is vital in keeping these updates coming!
Without you they couldn't happen. We all know times are tough, so any amount of support helps. If you can donate to Dateline Disneyland please consider doing so via a safe and quick PayPal donation.
To donate, click here.
Don't forget that MiceAge and MiceChat has loads of new content weekly! If Dateline Disneyland isn't enough to satisfy your Disneyland itch, then don't miss
David "Darkbeer" Michael's
In the Parks
column which runs here every Friday and is packed full of Southern California theme park news, photos, and gossip. And if you want even more Disney theme park goodness, don't miss
MiceChat's Weekend Update
, which takes a look at Disney theme parks and other international landmarks, curiosities, and oddities every Saturday!
Don't forget - Dateline Disneyland is on Twitter! If you still haven't checked us out on Twitter, head over there today and see why over
4,300
other Disneyland fans have already started following Dateline Disneyland! The Dateline Disneyland Twitter is updated throughout the week with links to breaking news, mini updates, photos, and links to newsworthy MiceChat discussions. Head over to
Twitter.com/DatelineDisney
, or check out the widget to the right to follow us!
See you here again soon!
-Andy
</td><td bgcolor="#cccc9a" valign="top" width="235">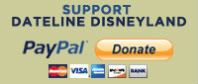 Love reading Dateline Disneyland?

If so, consider donating so the updates can keep coming through a quick and safe PayPal donation. Thanks for your support!



<object classid="clsid:d27cdb6e-ae6d-11cf-96b8-444553540000" codebase="http://download.macromedia.com/pub/shockwave/cabs/flash/swflash.cab#version=9,0,124,0" id="TwitterWidget" height="335" width="225"><embed src="http://static.twitter.com/flash/widgets/profile/TwitterWidget.swf" quality="high" bgcolor="#000000" name="TwitterWidget" allowscriptaccess="sameDomain" allowfullscreen="false" type="application/x-shockwave-flash" pluginspage="http://www.macromedia.com/go/getflashplayer" flashvars="userID=16832260&styleURL=http://static.twitter.com/flash/widgets/profile/smooth.xml" align="middle" height="335" width="225"></object>
</td></tr></tbody></table>