Disneyland welcomes new royalty, the resort goes Hollywood for the holidays, Christmas continues its creep and more Construction at California Adventure.

Hello Folks, it's
Fishbulb
filling in for
Andy Castro
this week on
Dateline Disneyland
, Andy will be back next week, but thanks to
Dan Rutherford
(Tron5150) and
Armadillo4,
we have lots of great photos and news to share with you today!
To say a lot is going on at the Disneyland Resort this week would be a severe understatment. Christmas has arrived in a big way at the
Disneyland Resort
in Anaheim, California. Before the last pumpkin was removed from Main Street, snow was already on the Castle. This past weekend was also the taping of the "LIVE" ABC Disney Parks
Christmas
parade
which will be aired on Christmas morning. Park goers were invited to be participants in crowd shots on Saturday and lucky guests were able to do a little star watching this weekend. Stevie Wonder performed in front of the Castle on Sunday.
In New Orleans Square park goers lined up to take their first pictures with the newest royal couple,
Princess Tiana and Prince Naveen from The Princess and the Frog
. The royal couple also performs an interactive riverboat show several times a day. Tiana's Showboat Jubilee began performances on Friday November 6th to a pretty positive crowd response.
Of course, there are quite a few ongoing refurbishment and construction projects going on around the resort that we will also take a look at today - from
Casey Jr. Train and Storybookland Canal boats
in Fantasyland to the never ending construction of
World of Color, Silly Symphony Swings, The Little Mermaid: Ariel's Undersea Adventure and Cars Land
at Disney's California Adventure.
More information and ongoing discussion on many of the various construction projects featured in today's update can be found in the
Project Tracker
threads on MiceChat. Alright kids, let's get ready to roll:
Hello Princess Tiana!
The newly refurbished Court of Angels area inside New Orleans Square is host to a new meet and greet with the stars of Disney's Latest film, The Princess and the Frog.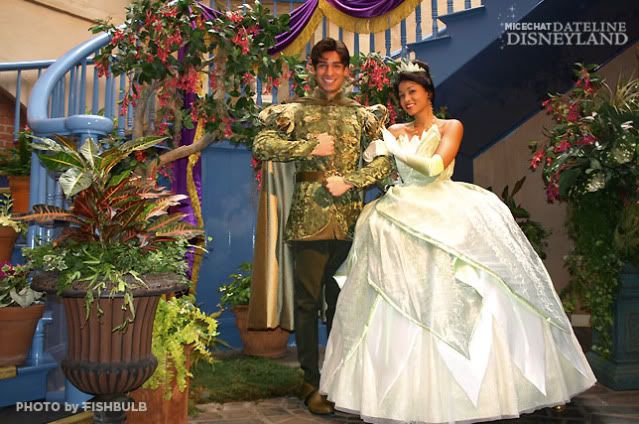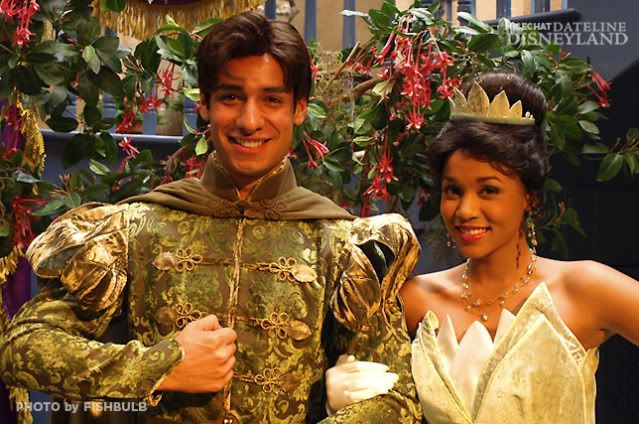 Along with the meet and greet is a new processional along the waterfront of the Rivers of America and right onto the Mark Twain itself. Lucky guests can join in on the jazzy fun and become part of the show. Tiana's riverboat review is performed on the Mark Twain and can be viewed from the banks of the River. The riverboat stops center stage (just in front of the center tower for Fantasmic!).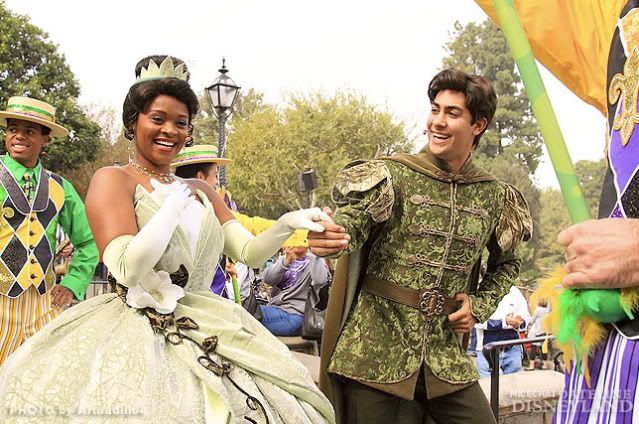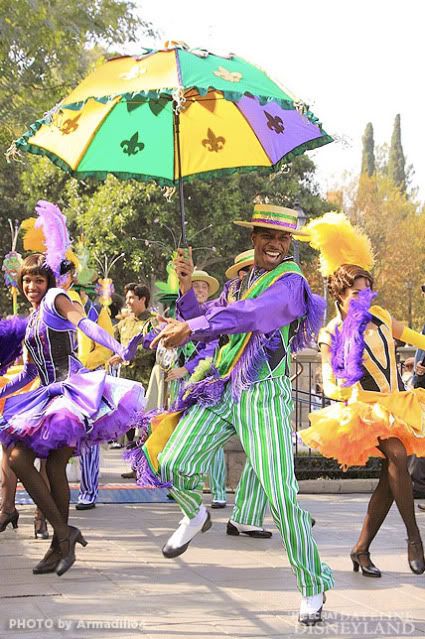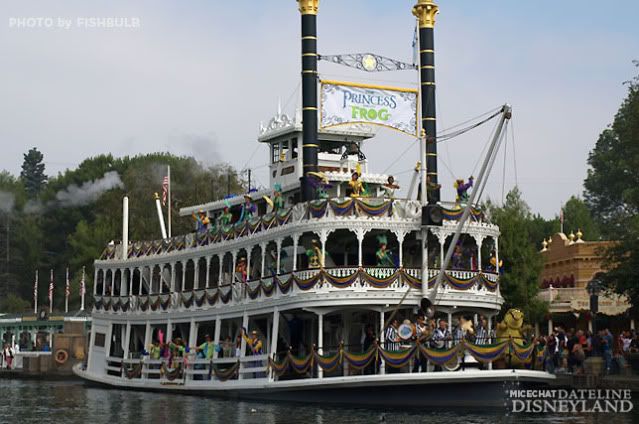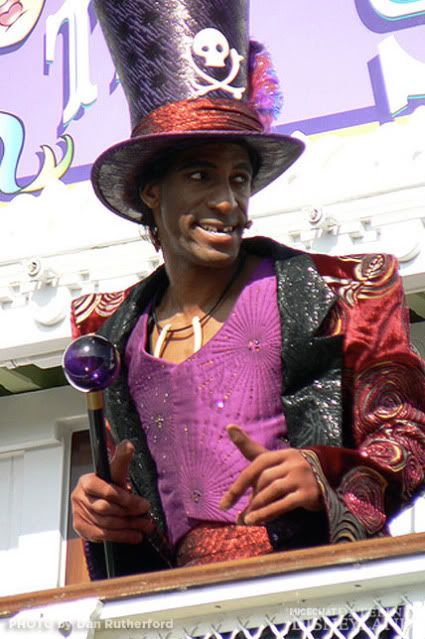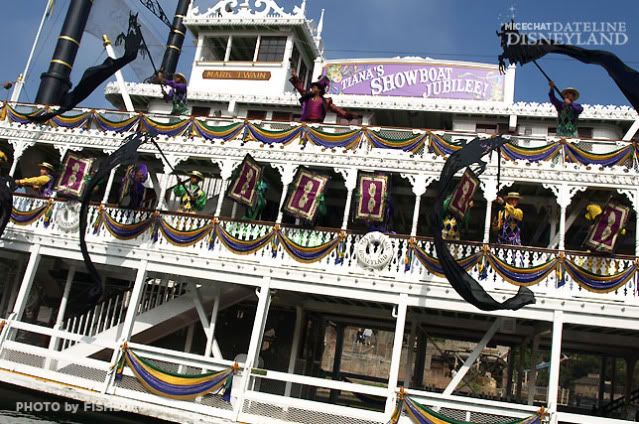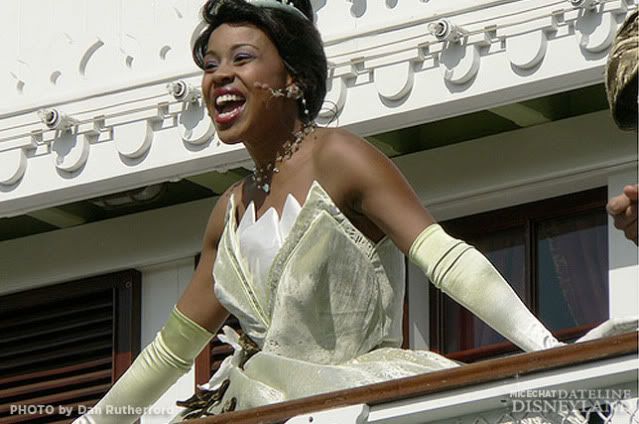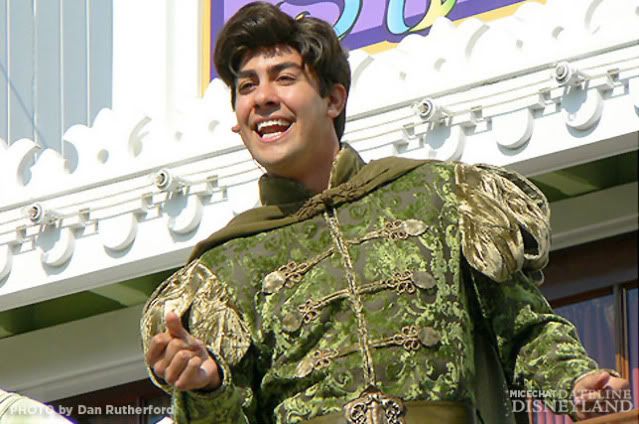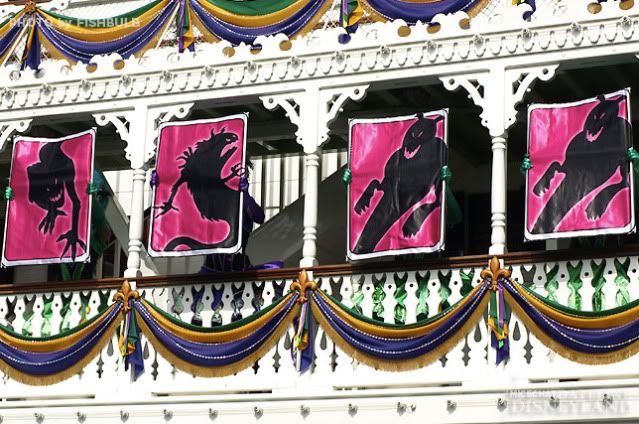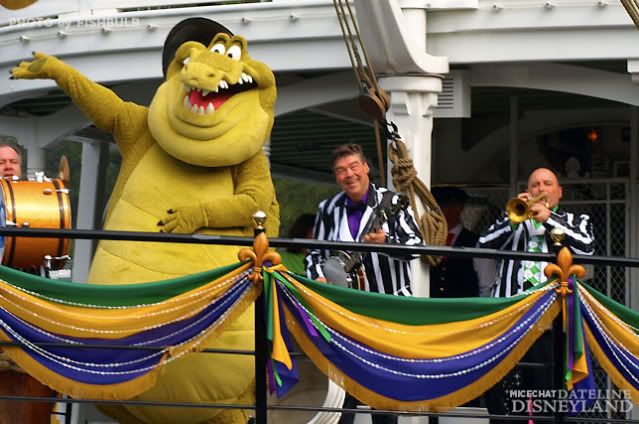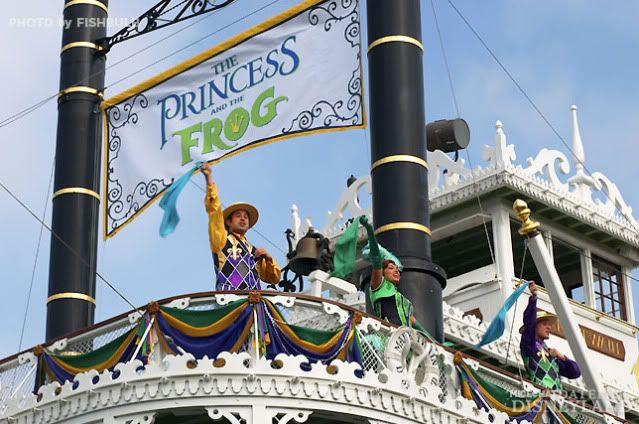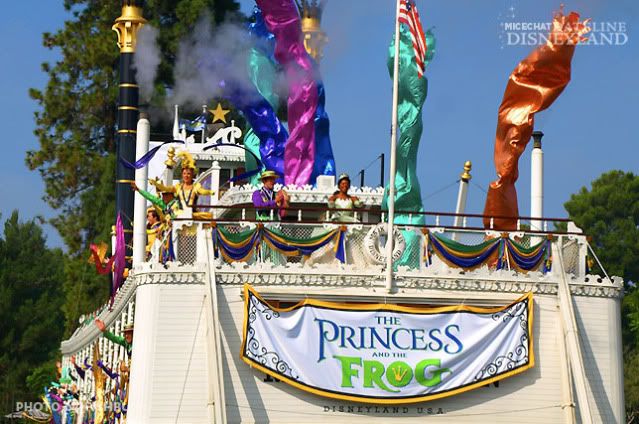 The Disney Parks Christmas Special
Camera equipment and stages were in place for the weekend-long filming of the Disney Parks Christmas Special to be aired on Christmas Day. Park guests were asked to dance and clap to a rockin' version of Let It Snow while the first half of the parade passed in front of them.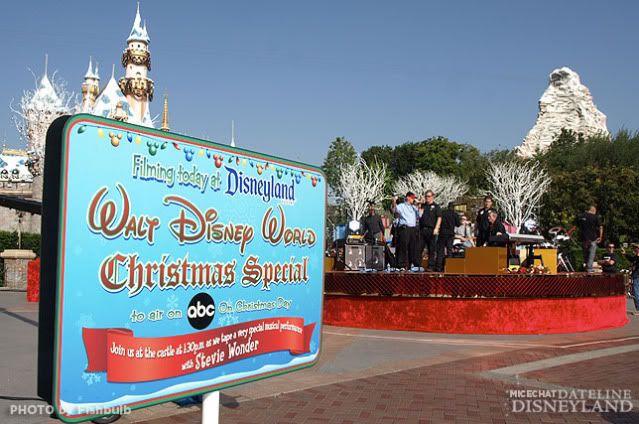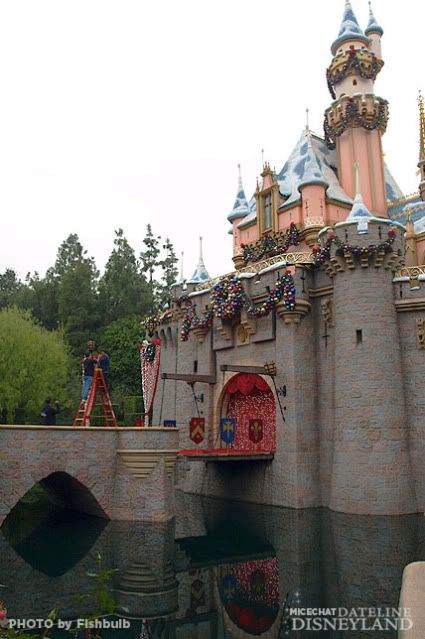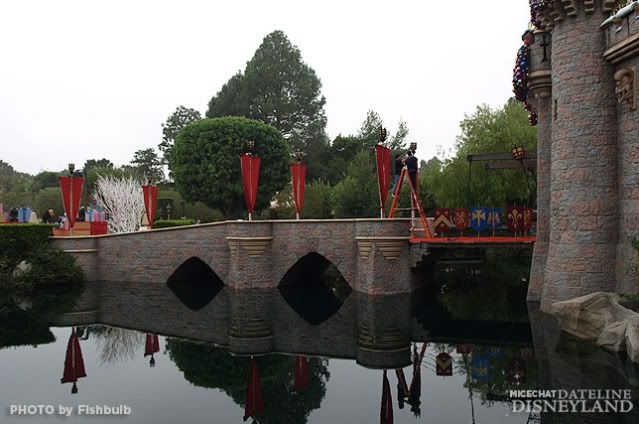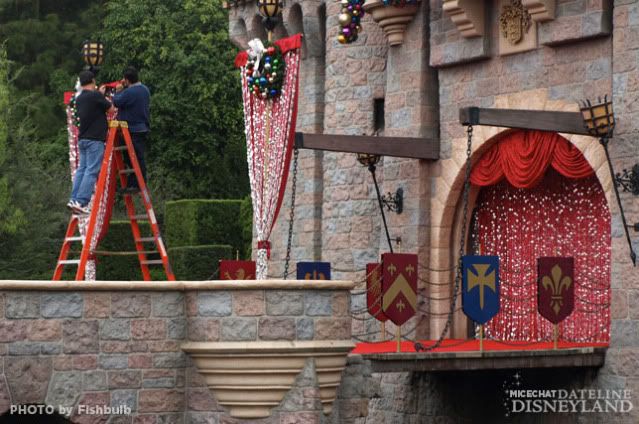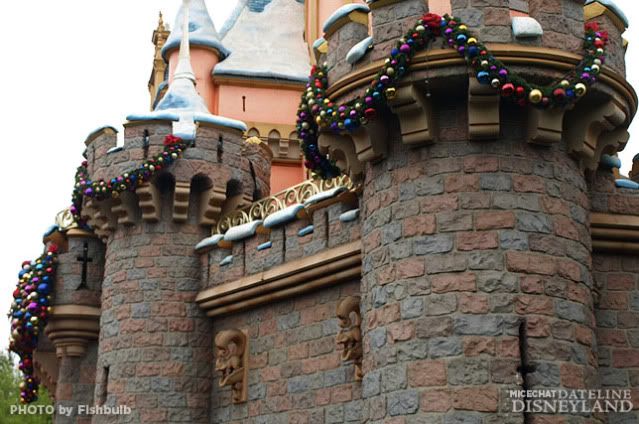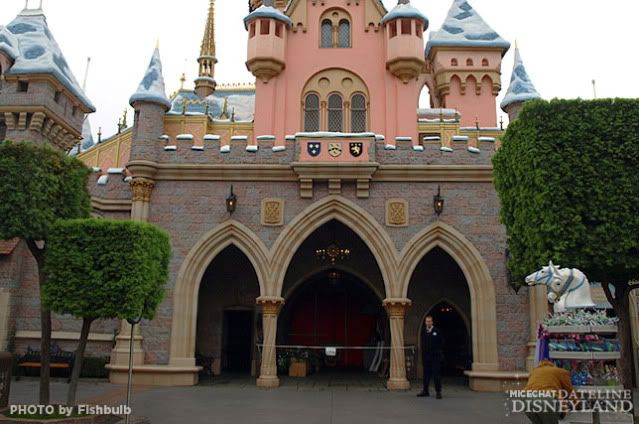 Passage through the castle has been blocked off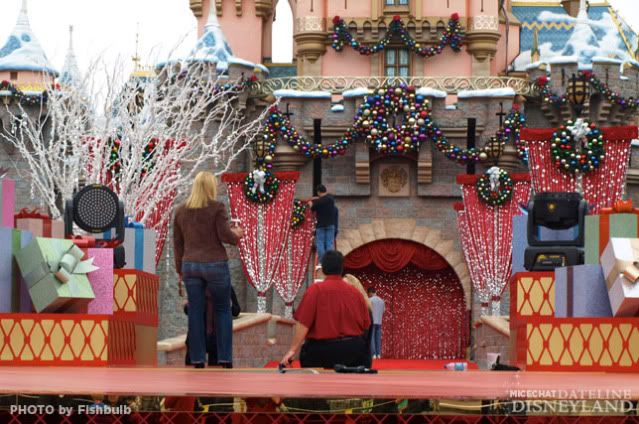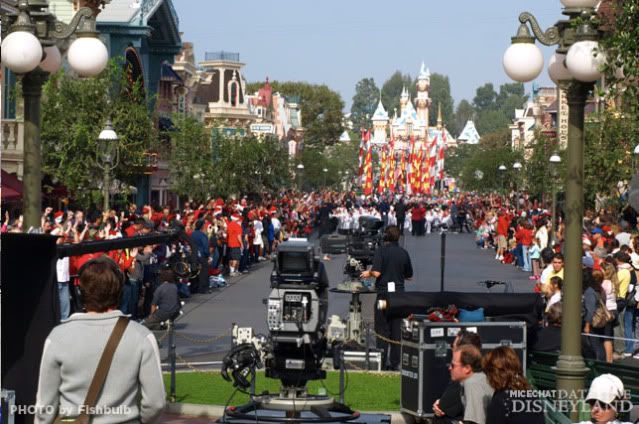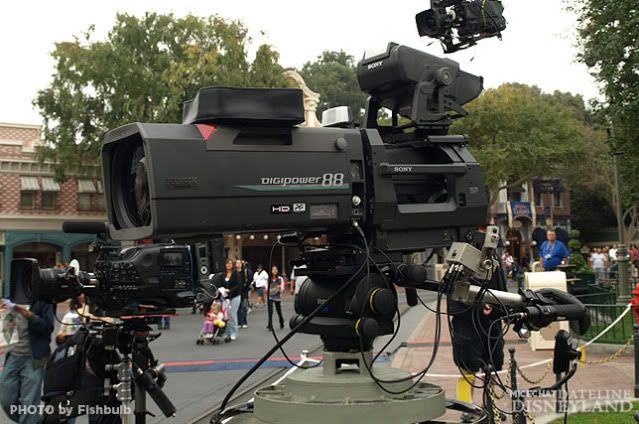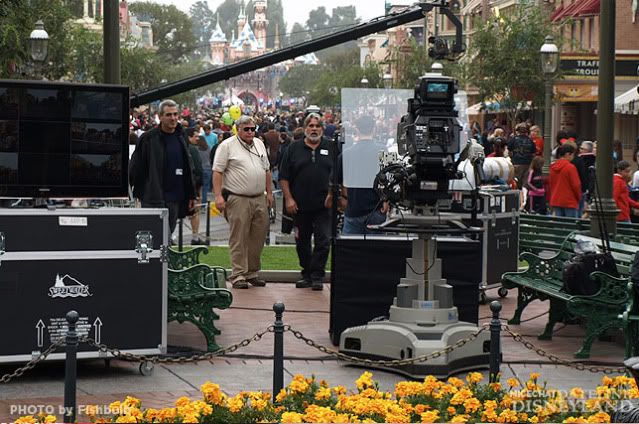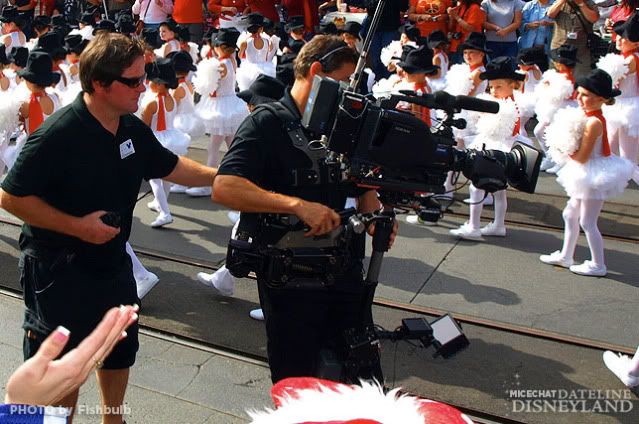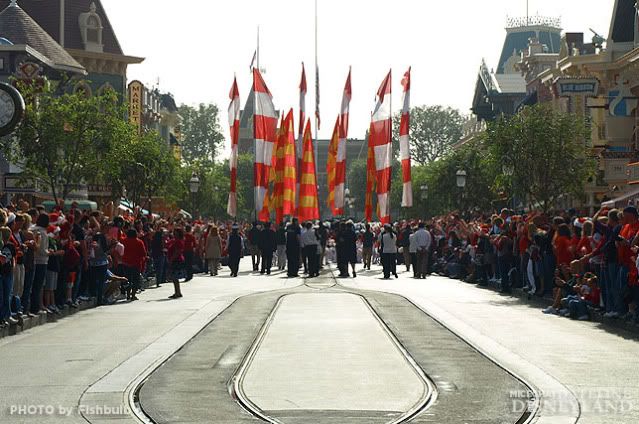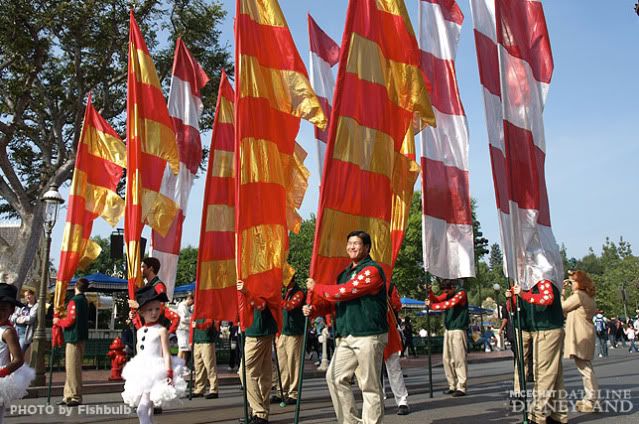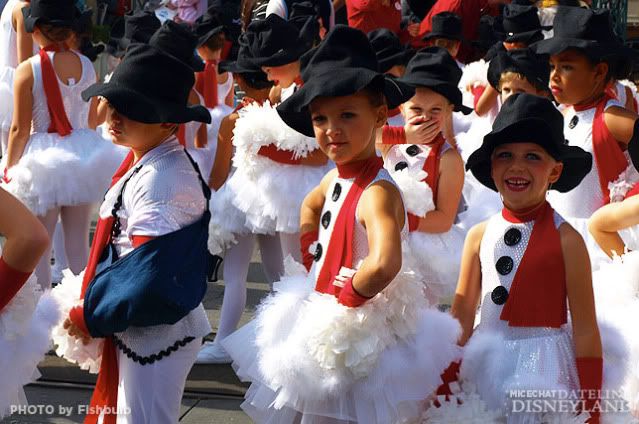 And on Sunday Anika Noni Rose, the voice of Tiana, filmed her own segment along the rivers of America.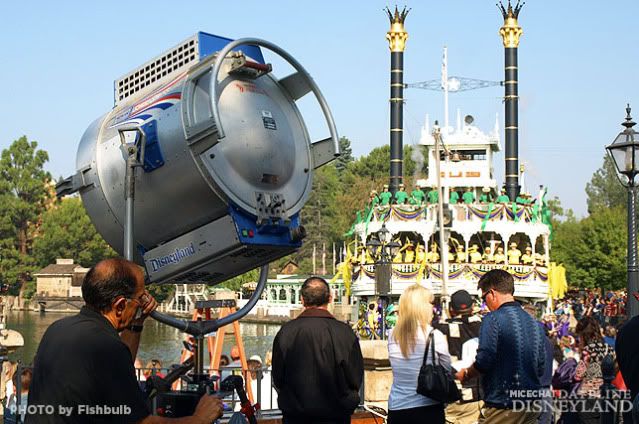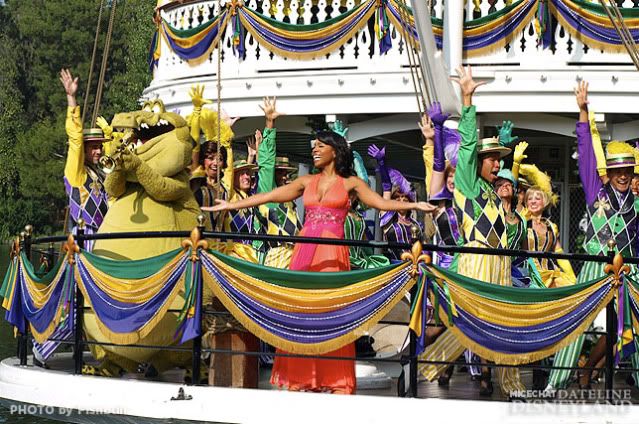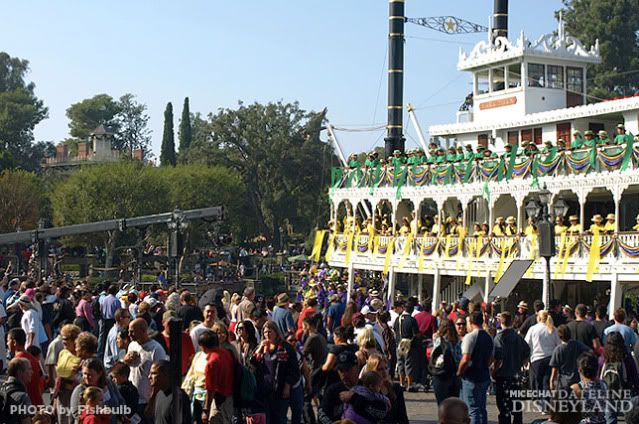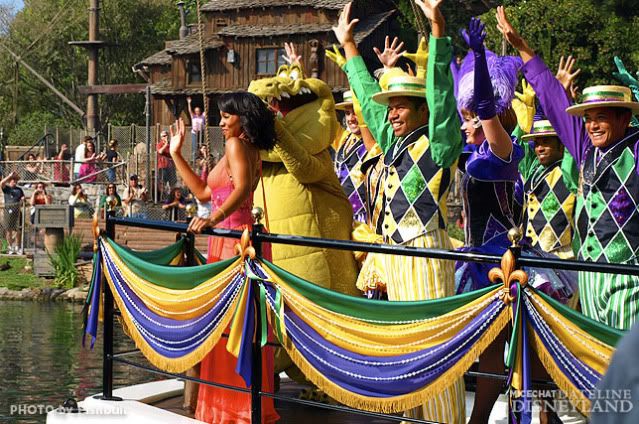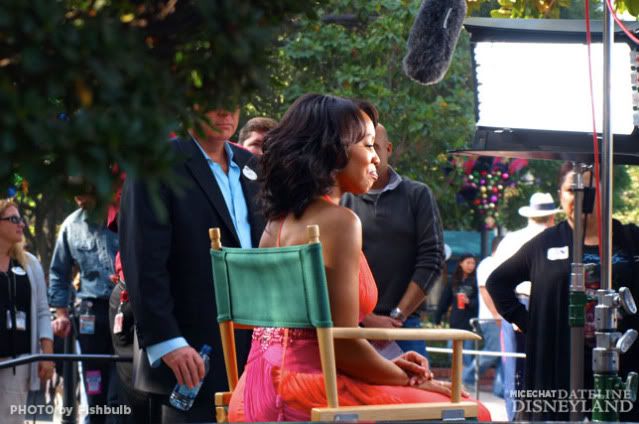 Ms. Rose sits for a post taping interview
Christmas continues to spread.
As mentioned, the Holiday is continuing to take over the resort well ahead of the official November 13th starting date.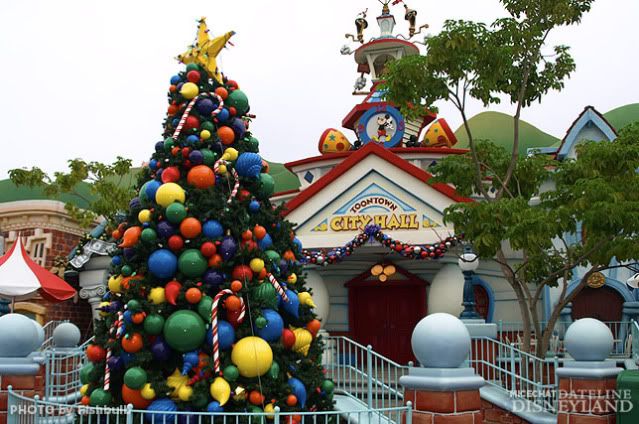 Toon Town's fanciful decorations are up and are certainly the most colorful and fun.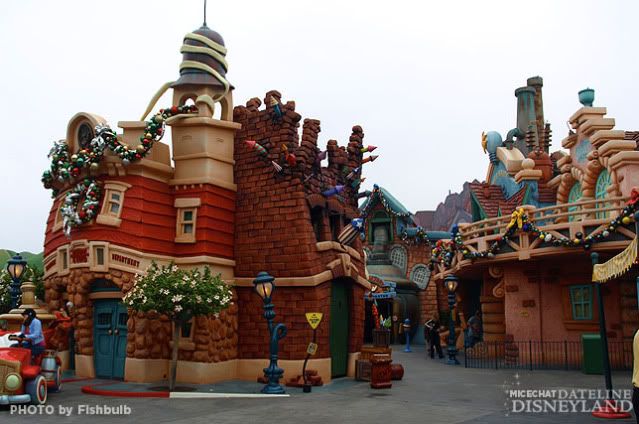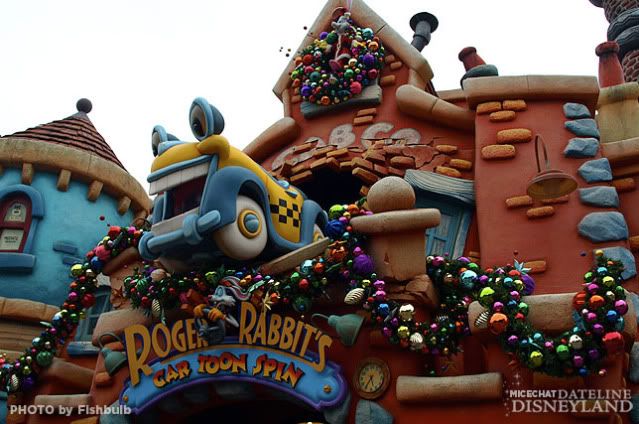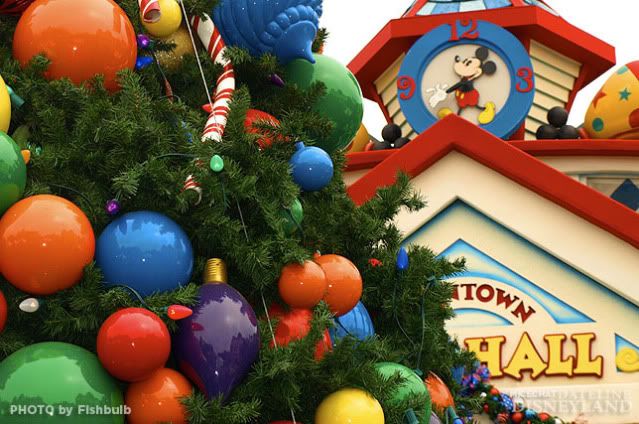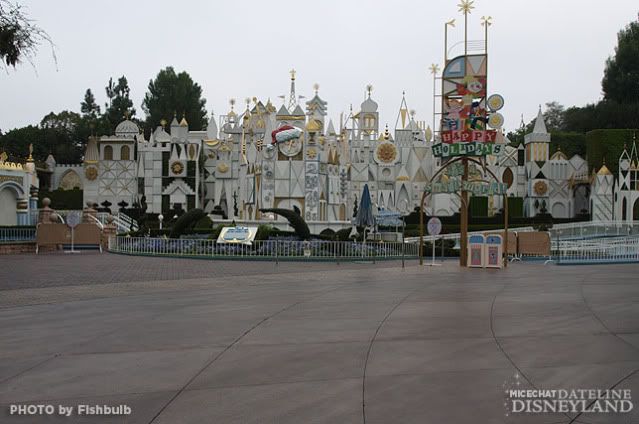 Small World
is getting ready for it's Holiday overlay - which
opens November 13th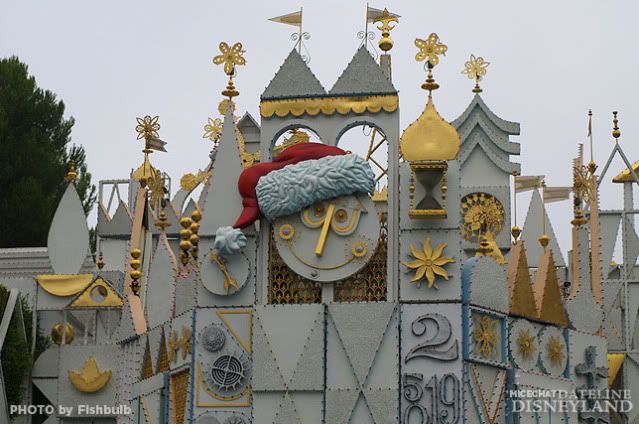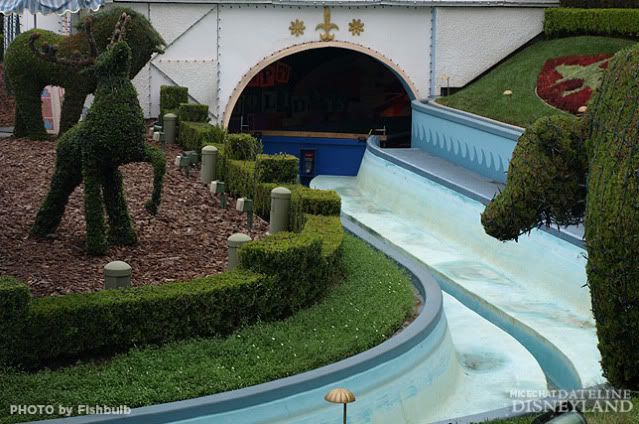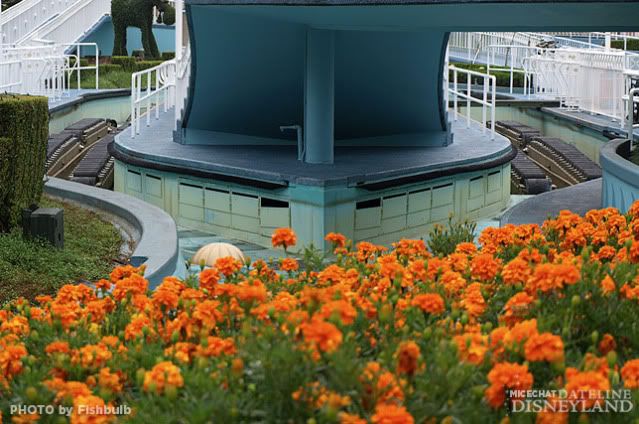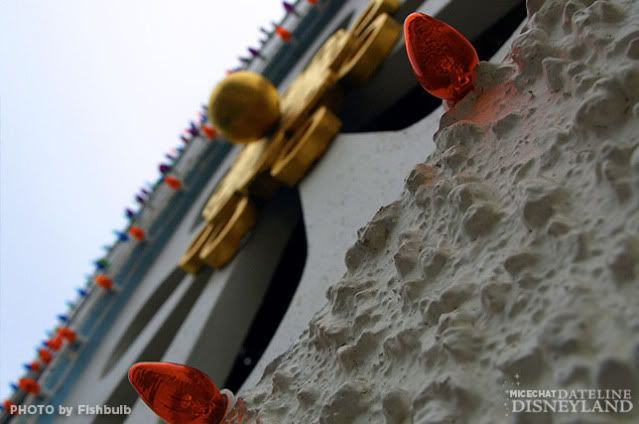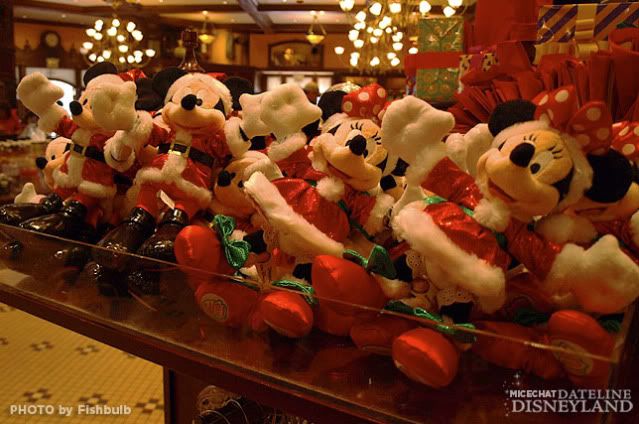 Holiday merchandise fills the shelves of the Main Street shops.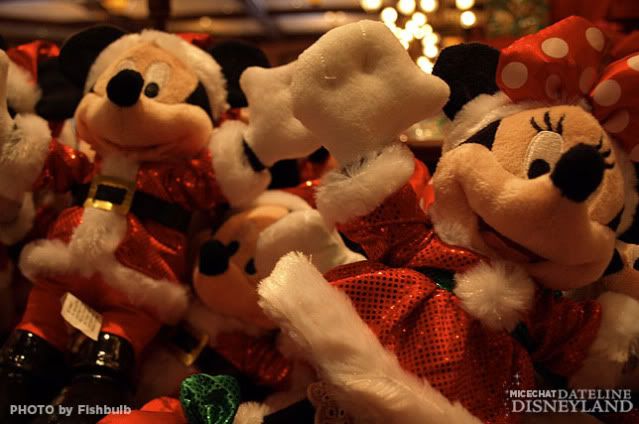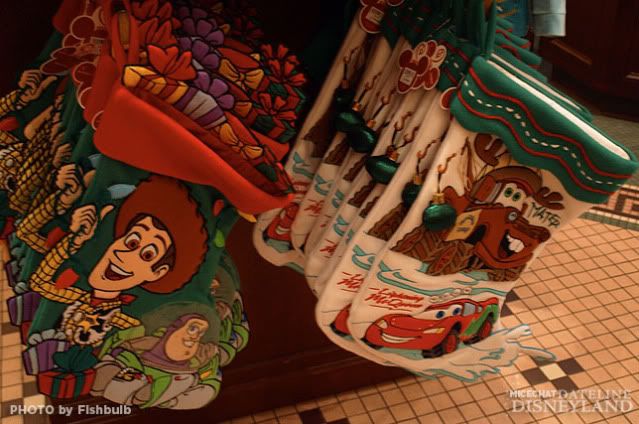 Please Santa, don't leave any coal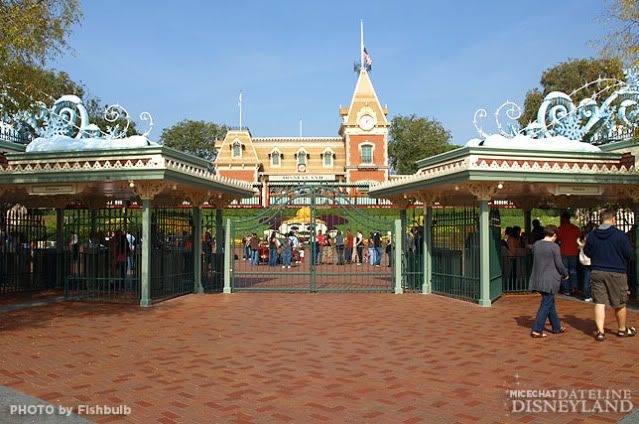 The Gates Of Both Parks Are Already In The Spirit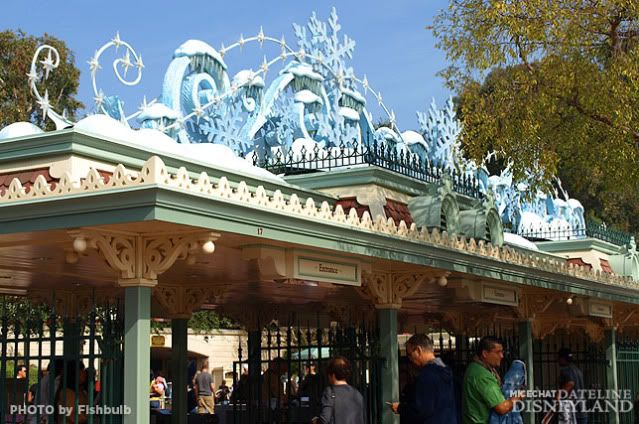 Disneyland turnstiles have received the ice and snow treatment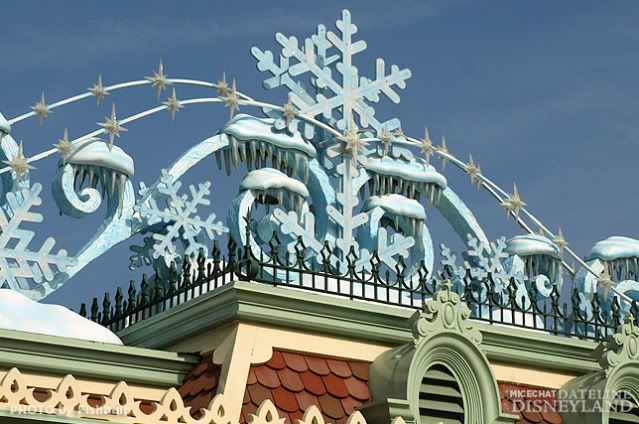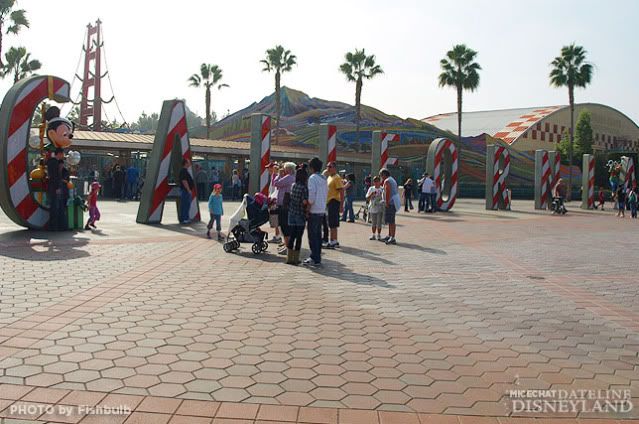 DCA has it's candy cane lettering up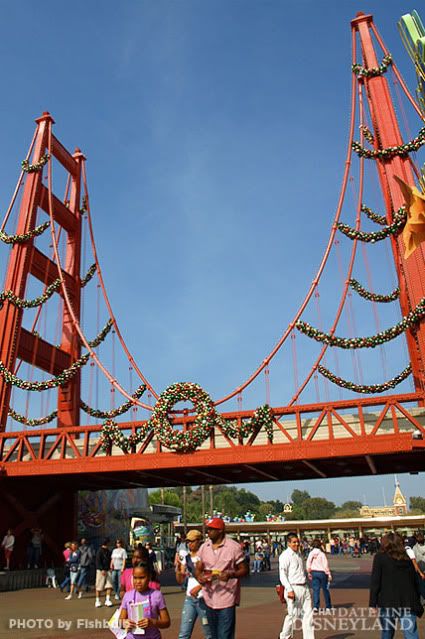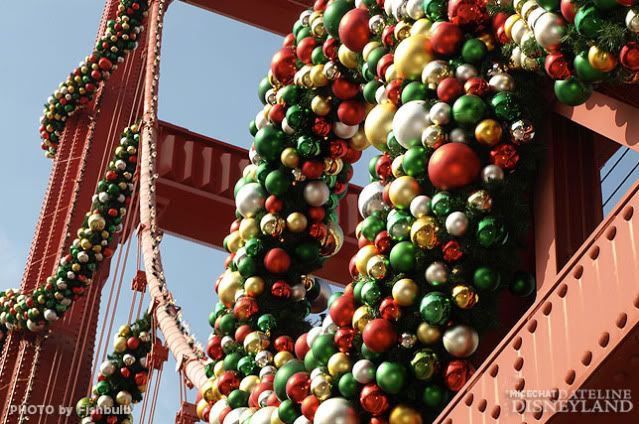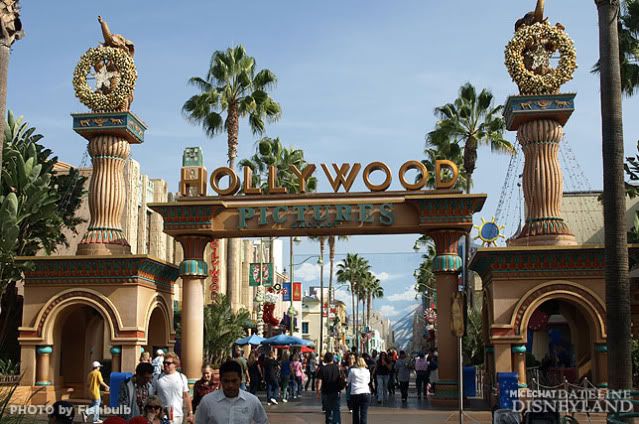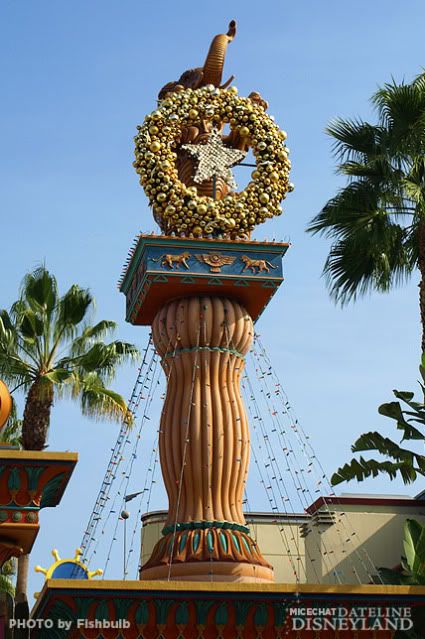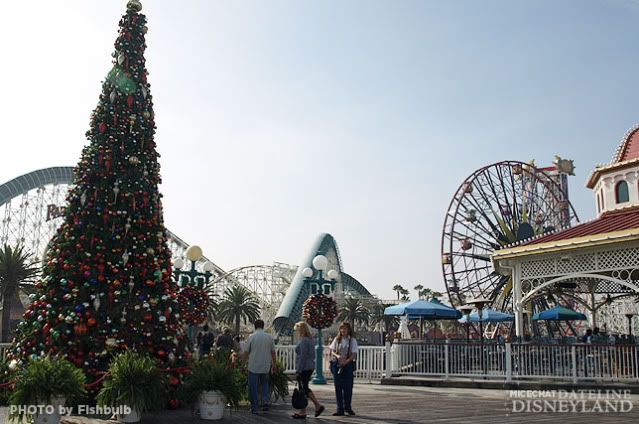 DCA's Christmas tree
The Construction Status Quo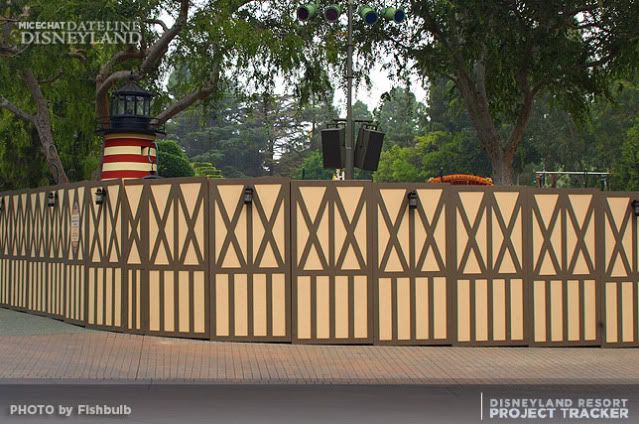 The Casey Jr. Circus Train and Storybook land Canal boats continue their extensive refurbishment.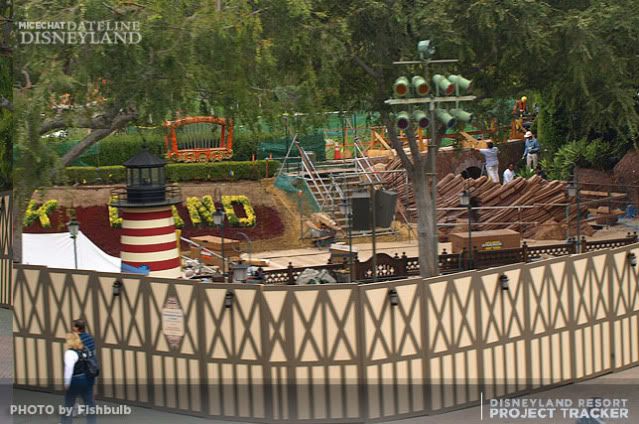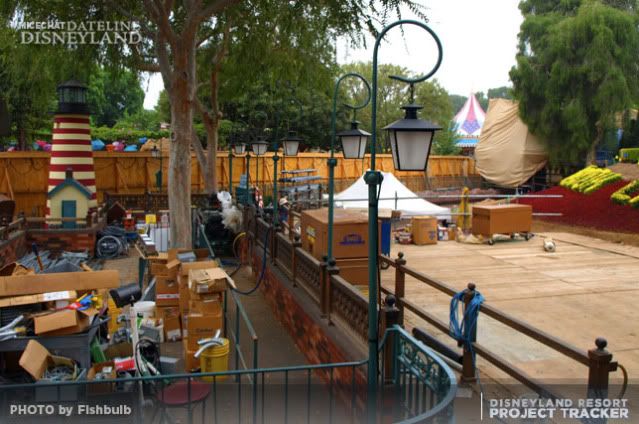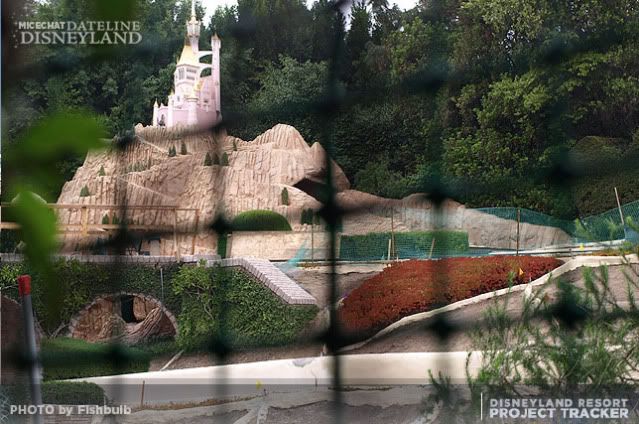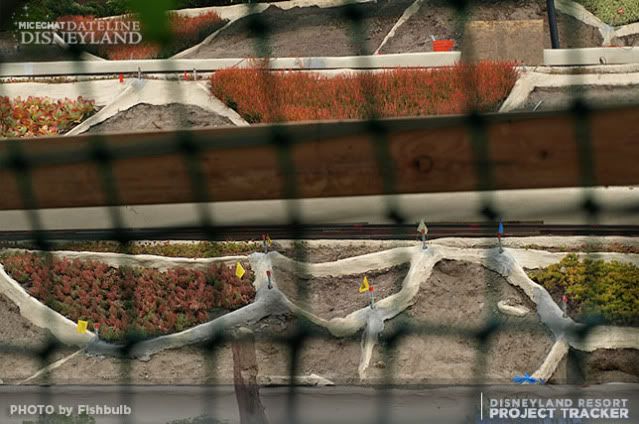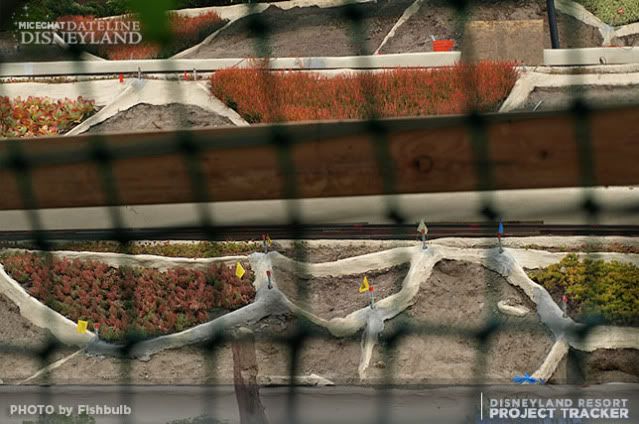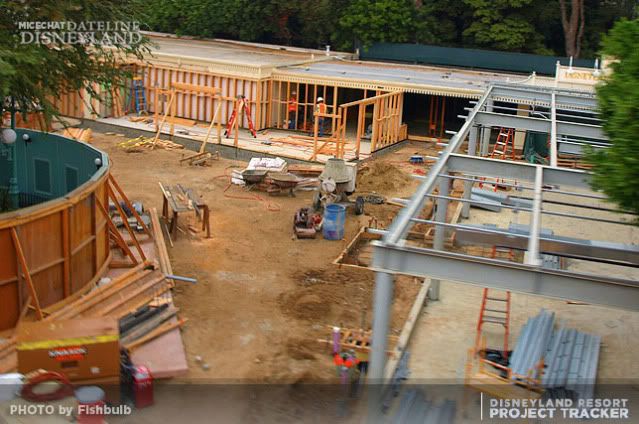 The new structure for stroller and wheelchair rentals is still soldiering on.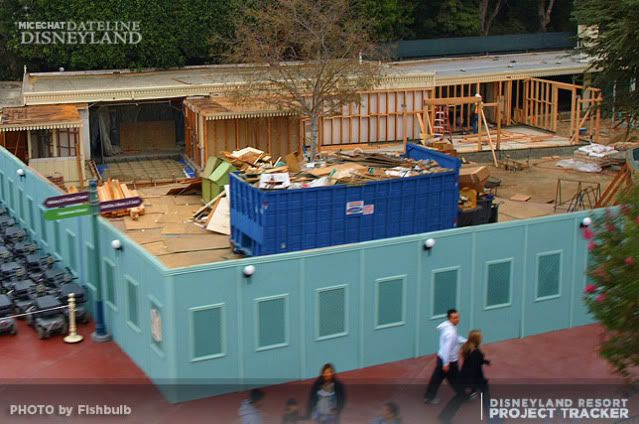 Over in Disney's California Adventure, the construction progress is coming along slowly but surely. Paradise Bay continues it's waterlogged working conditions as the final touches get put on the World of Color fountain platform. Paradise Bay's fountain landmark gets a new metal topper and the last vestiges of the Orange Stinger are finally gone forever.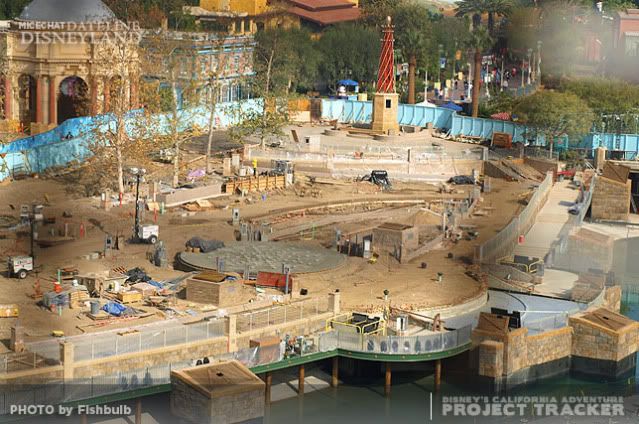 The Paradise Bay Amphitheater is taking shape.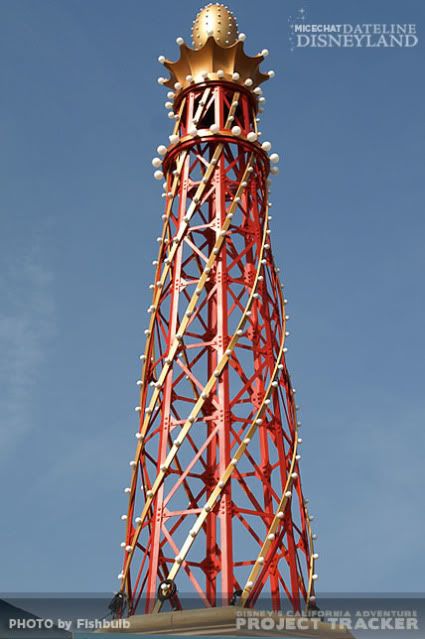 Some are not too fond of the metal topper.
We'll have to see what the final version looks like.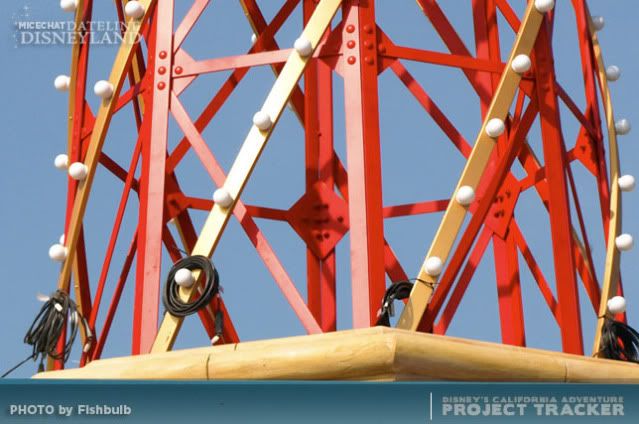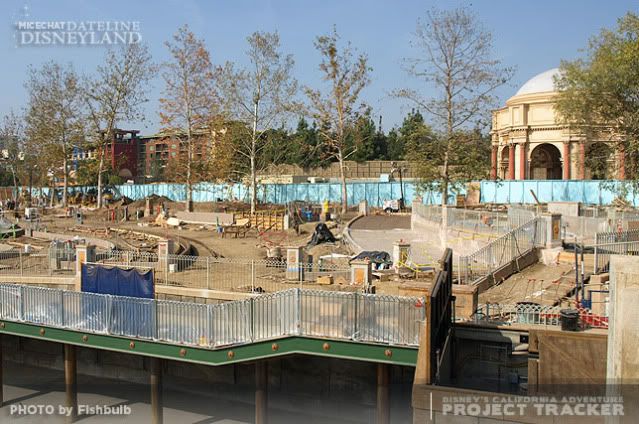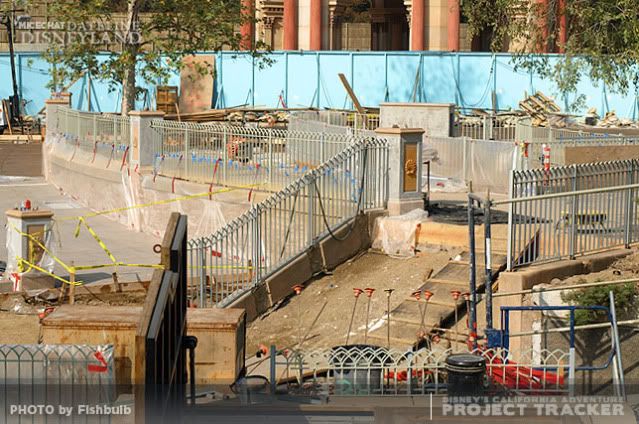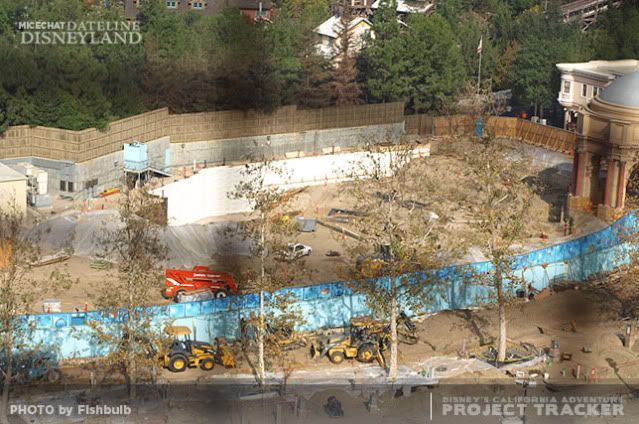 Little Mermaid's pit has bottomed out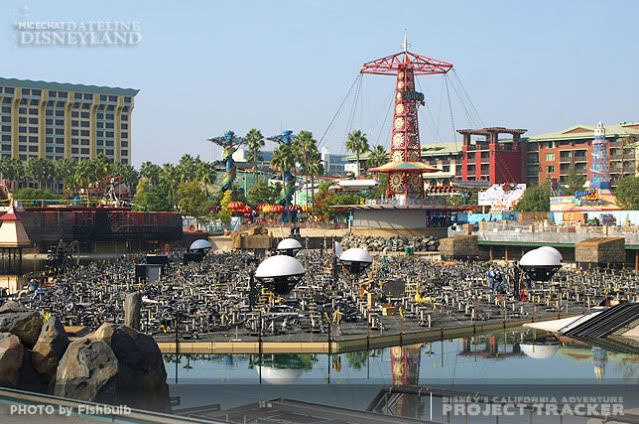 The World of Color Platform is coming along nicely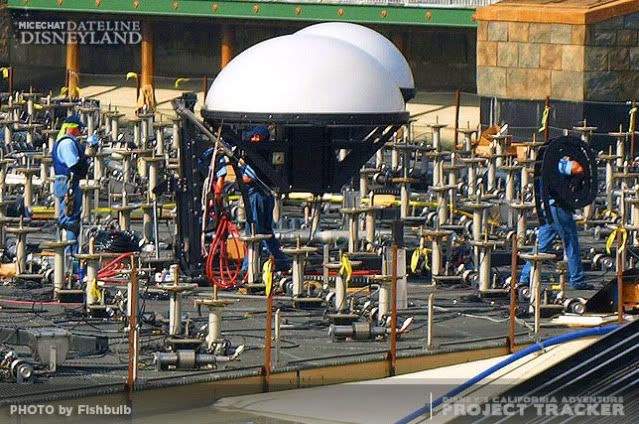 Notice the size of the domes compared to the workers around them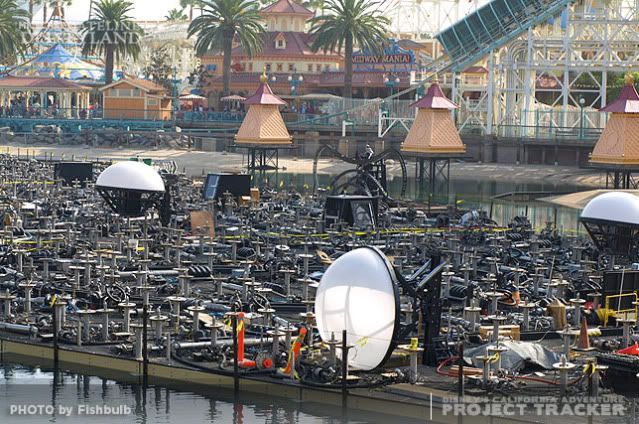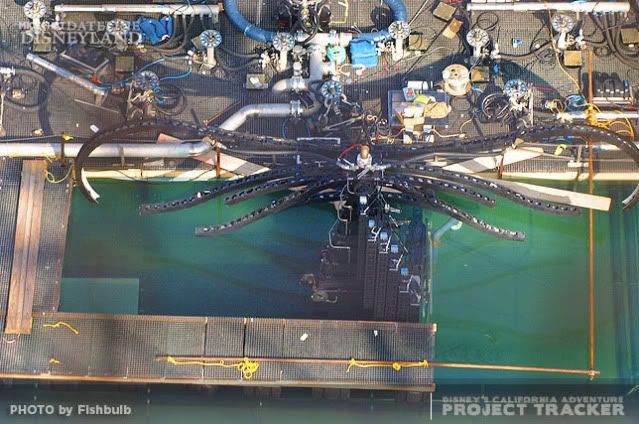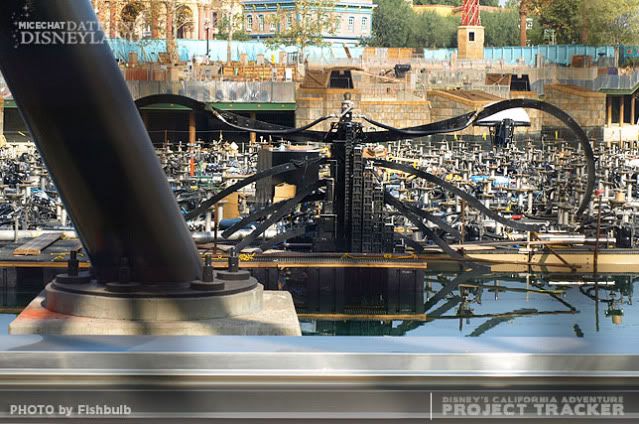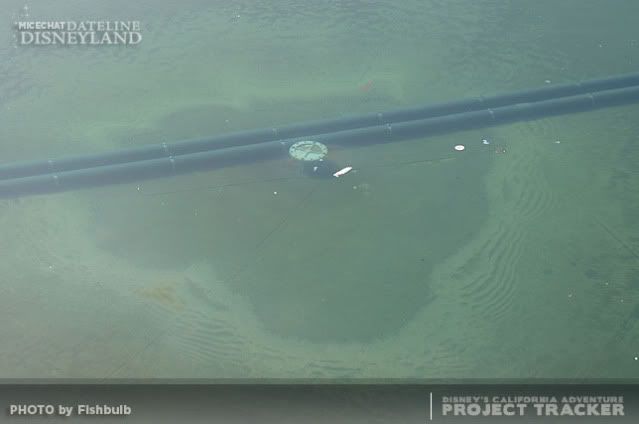 The filters are working overtime as all the soot from the months of construction is washed away by the new water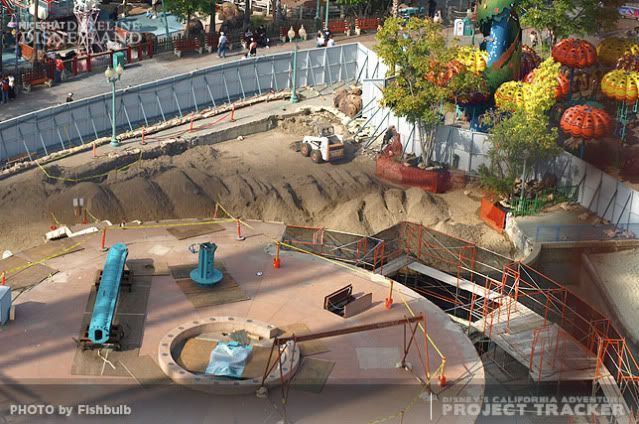 The Orange Stinger's elevator has no more bees on it and has been stripped down for a new theme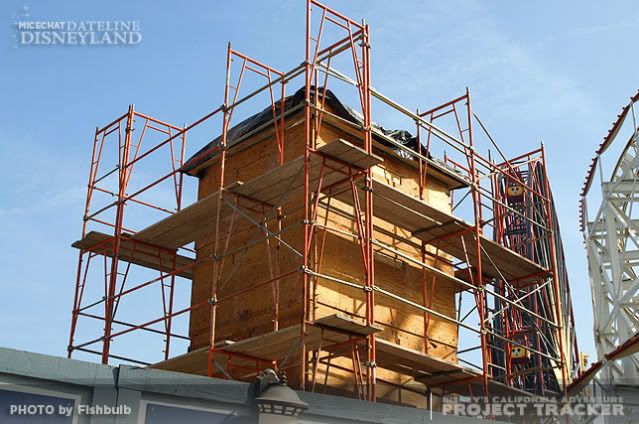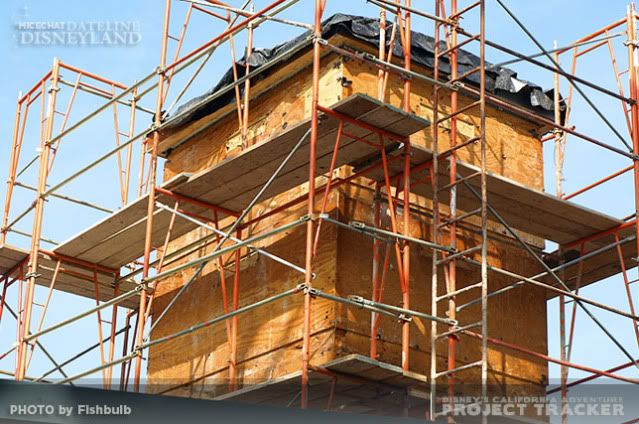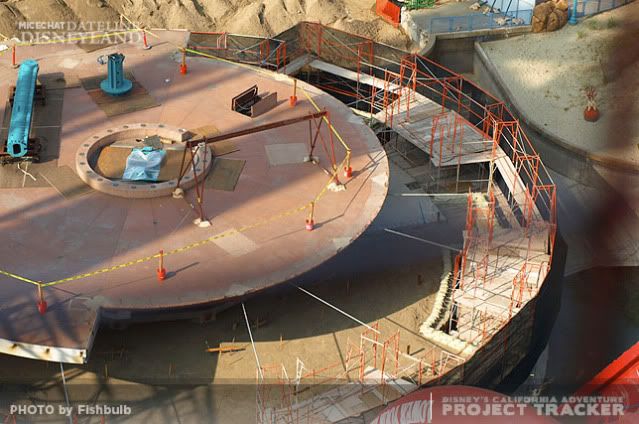 Lastly, the first foundations for Cars Land have been laid: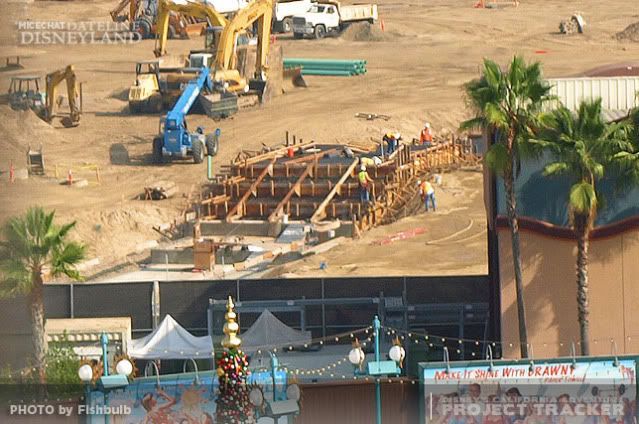 This and That.
Photos from around the parks.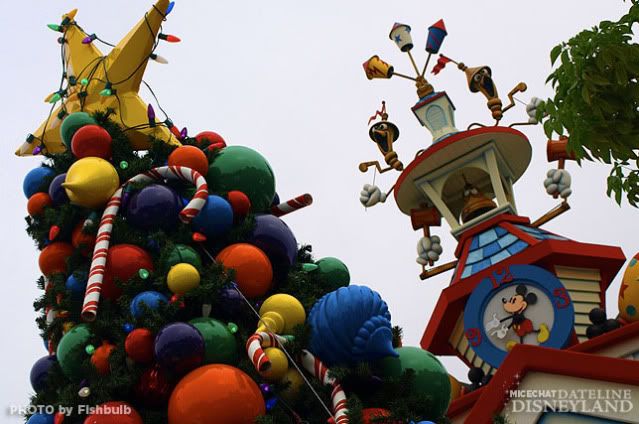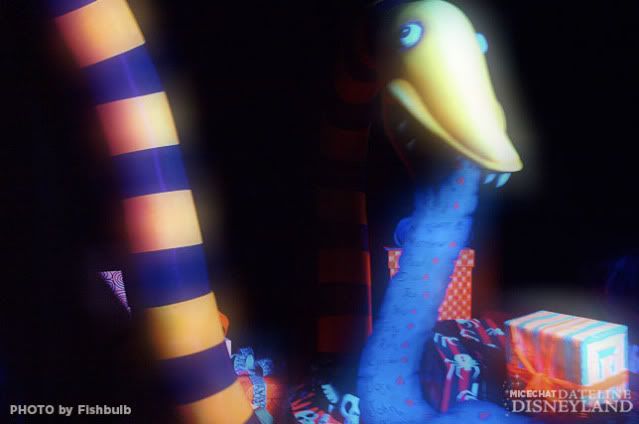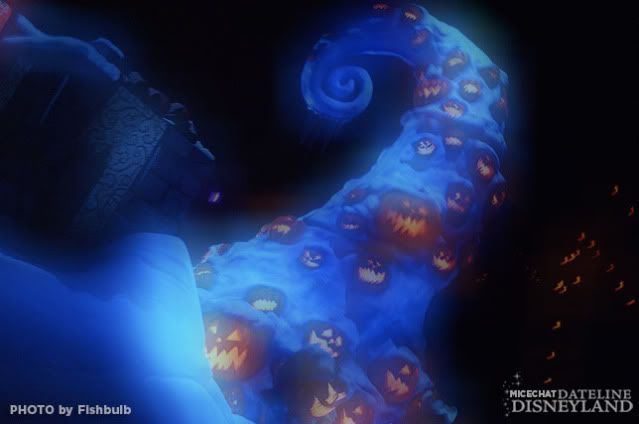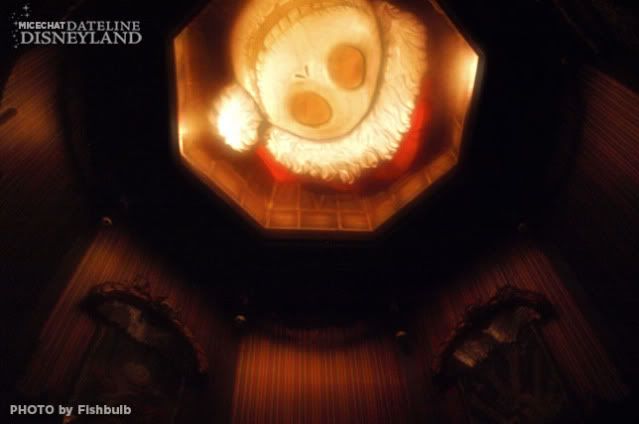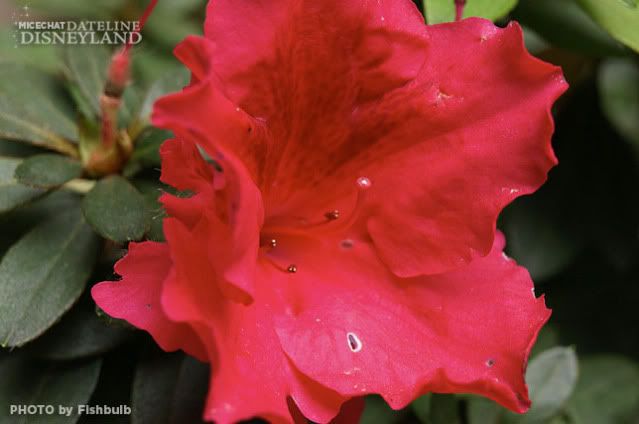 For a complete listing of theme park hours, please visit the
Disneyland.com Theme Park Calendar
CURRENT ATTRACTION CLOSURES & REFURBISHMENTS
Disneyland Park
Big Thunder Ranch: Closed through November 12 to install winter holiday overlay.
Jungle Cruise: Closed November 16 - 19
Storybook Land Canal Boats: Closed through November 19.
Casey Jr. Circus Train: Closed through November 19.
The Enchanted Cottage: Snack stand closed through November 4.
"it's a small world": Closed through November 12 to install holiday overlay.
King Arthur Carrousel: Closed December 8 - 10.
Disneyland: The First 50 Magical Years/Main Street Opera House: Closed.
Reopens as The Disneyland Story: Featuring Great Moments With Mr. Lincoln December 17, 2009.

Disney's California Adventure Park
Orange Stinger: Closed for retheming. Reopens Spring 2010
Jumpin' Jellyfish: Attraction remains open while towers rotate through
refurbishment.
The Little Mermaid: Ariel's Undersea Adventure: Under construction.
Souvenir 66 and Corn Dog Castle: Store and dining location closed for
remodeling through May 2011.
Paradise Bay: Drained for construction of upcoming Disney's World of Color show. Expected to be refilled mid-October 2009. Disney's World of Color Nighttime Spectacular: New show under construction.
Debuts Spring 2010.
Golden State Park and Amphitheater: Closed. New, larger viewing area for Disney's World of Color viewing under construction in same location. The new viewing area is scheduled to open February 2010 as Paradise Park.

Okay, that about does it for the November 9th edition of Dateline Disneyland. Huge thanks to Dan Rutherford (Tron5150) and Armadillo4 for helping us with photos of the new Princess and the Frog festivities.
Be sure to come back next week for the "official" launch of Christmas at the Disneyland resort and continuing coverage of construction projects and refurbishments at the resort.
Your support keeps these updates coming!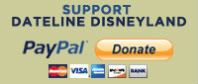 Love reading Dateline Disneyland?

Please consider donating to help keep the updates coming through.
Thank you for your support!

Don't forget that MiceAge and MiceChat have loads of new content daily! If Dateline Disneyland isn't enough to satisfy your Disneyland itch, then please don't miss David "Darkbeer" Michael's
In the Parks
column which runs here every Friday and is packed full of Southern California theme park news, photos, and gossip. Also, MiceChat's
Weekend Update
takes a look at Disney theme parks around the globe, international landmarks, curiosities and oddities every Saturday!
Dateline Disneyland is on Twitter!
Twitter.com/DatelineDisney
Have a wonderful week and thank you for stopping by Dateline Disneyland. We'll see you again next week!
-Fishbulb