Welcome to the November 16 edition of Dateline Disneyland. The
Holidays at the Disneyland Resort
are officially in full swing and all of the seasonal favorites are back at Disneyland - from
Sleeping Beauty's Winter Castle
to
Santa's Reindeer Roundup at Big Thunder Ranch
. The nightly
"Believe... In Holiday Magic" fireworks spectacular
is back as well, along with its signature snowfall finale. Meanwhile, construction continues at
California Adventure
, the Resort fights the flu, and more is added to
"The Disneyland Story"
exhibit in the
Main Street Opera House
.
More information and ongoing discussion on many of the various construction projects featured in today's update can be found in the
Project Tracker
threads on
MiceChat
. Simply click on a photo with a Project Tracker watermark and you'll be linked up to the latest news and discussion on the various projects underway at the Resort.
Before we get started, thanks to MiceChatter
Fishbulb
for filling in for me last week. He did a bang-up job, huh?
There's a lot to get to - so let's jump right in!
<center><table style="border: 0pt solid black;" width="675"><tbody><tr><td bgcolor="#263778" height="" width="100%"><center>

Inside Dateline Disneyland
</center></td></tr><tr><td bgcolor="#d6d4ac" width="100%">
<a href="#DD1">Welcome to Disneyland!</a>


The Holidays are here!

<a href="#DD2">Yesterday, Today, & Tomorrow</a>


"The Disneyland Story" gets new props, displays.

<a href="#DD3">California Construction</a>


New photos of California Adventure's on-going $1 billion remodel and expansion

<a href="#DD3-1">

World of Color and Paradise Park Viewing Area

</a>
<a href="#DD3-2">

Silly Symphony Swings

</a>
<a href="#DD3-3">

The Little Mermaid & Cars Land

</a>

<a href="#DD4">This and That</a>


Fighting the flu, French Market's new doors, Building bridges

<a href="#DDAROUND">Around the Park</a>


Shots from around the park.

<a href="#DDNEWS">Weekly News and Information</a>


Weekly theme park hours, closures and refurbishments, Jay Rasulo and Tom Staggs switch jobs at Disney, Disneyland attendance increases
</td></tr></tbody></table></center>
<A name="DD1">
WELCOME TO DISNEYLAND
</a>
The Holidays have arrived at the Disneyland Resort.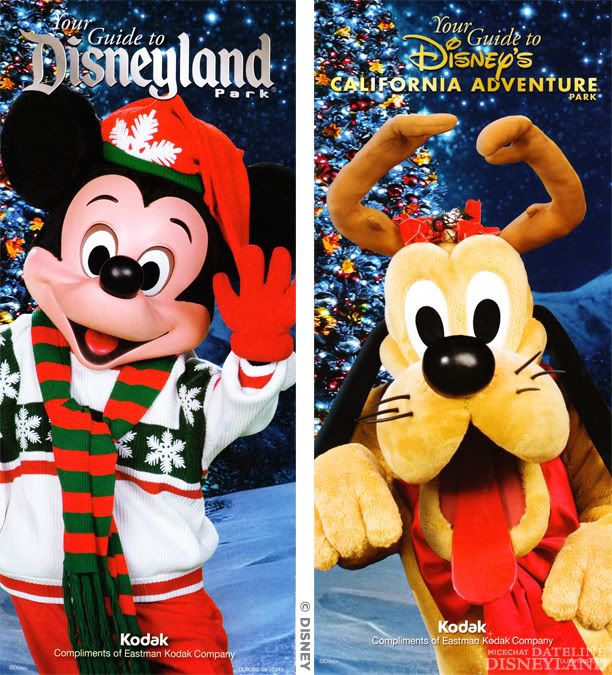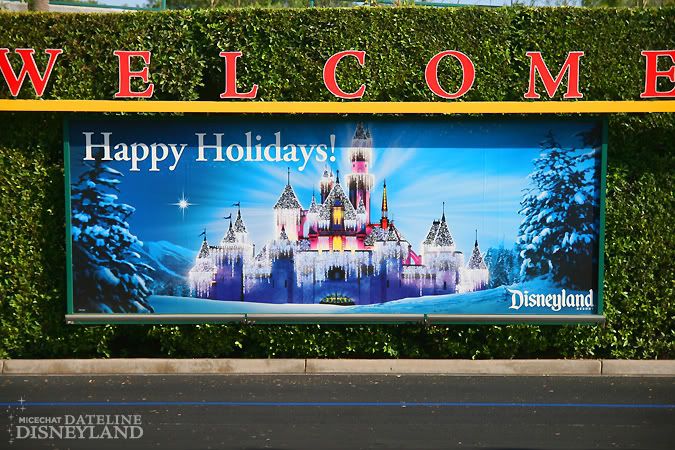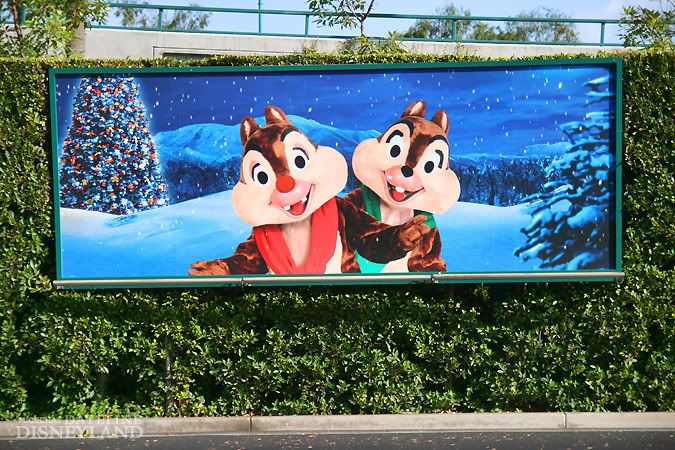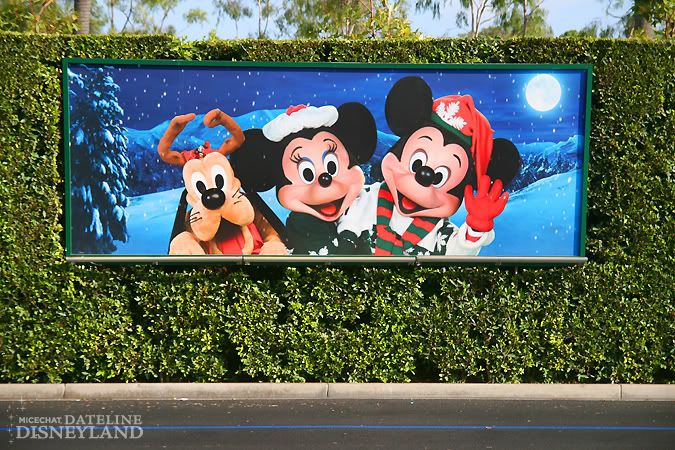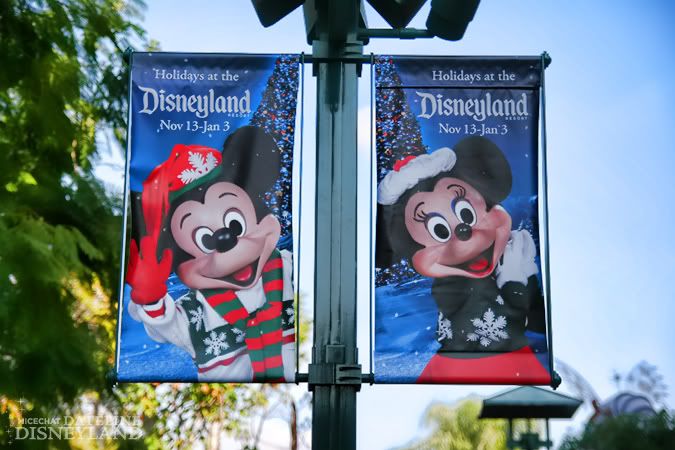 The snow/ice sculptures are back atop the Disneyland entrance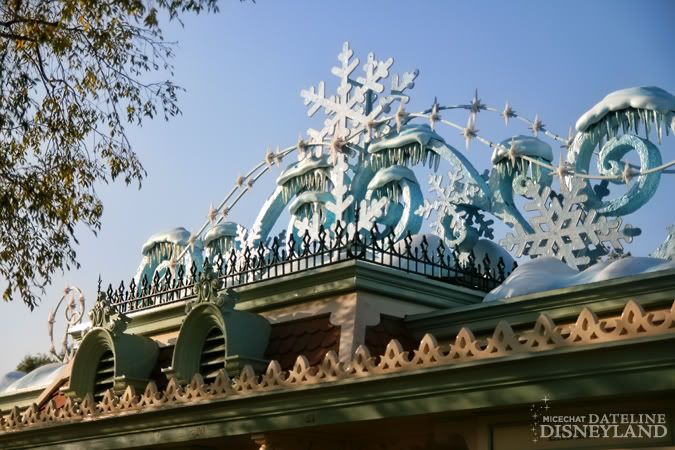 Mickey Mouse is donning a Santa hat for the holidays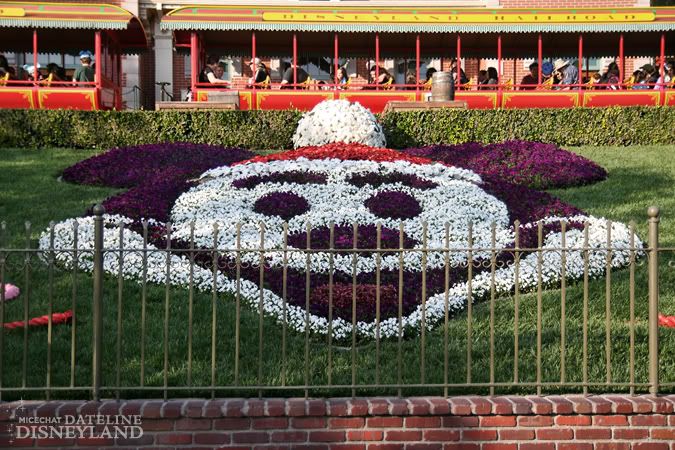 And his balloons are made from poinsettias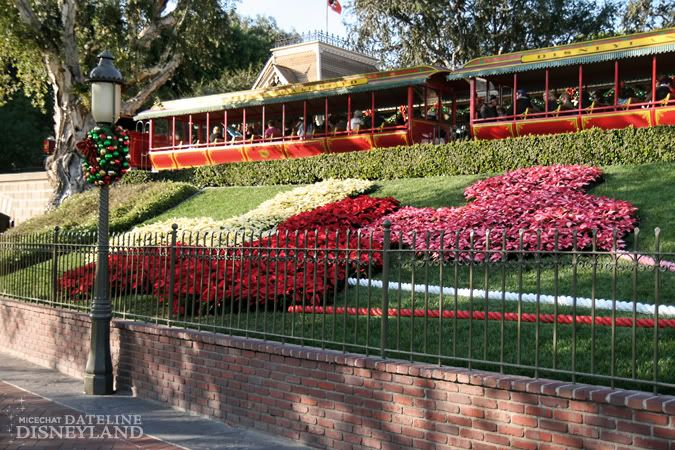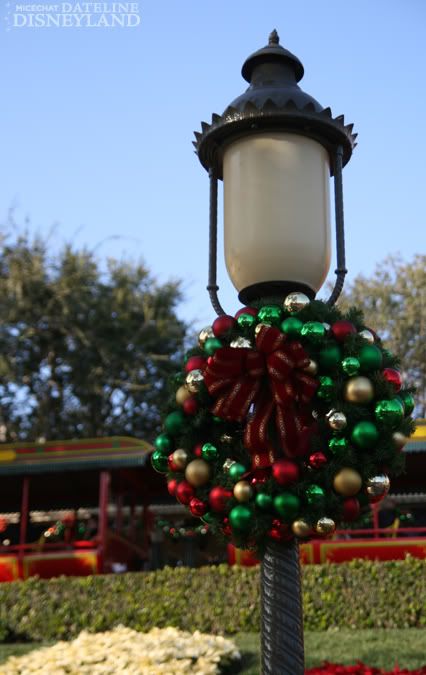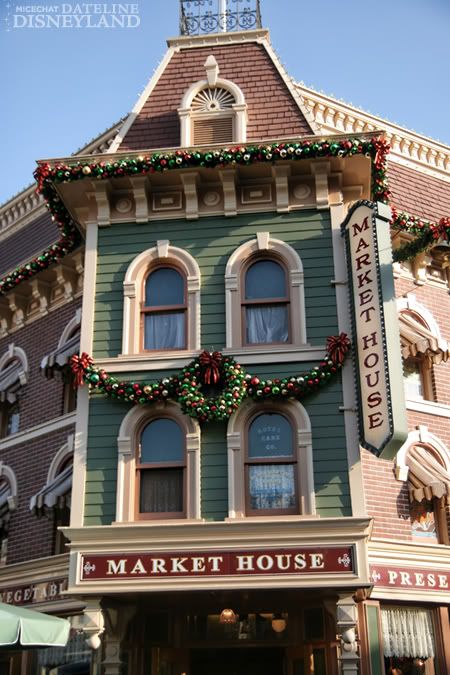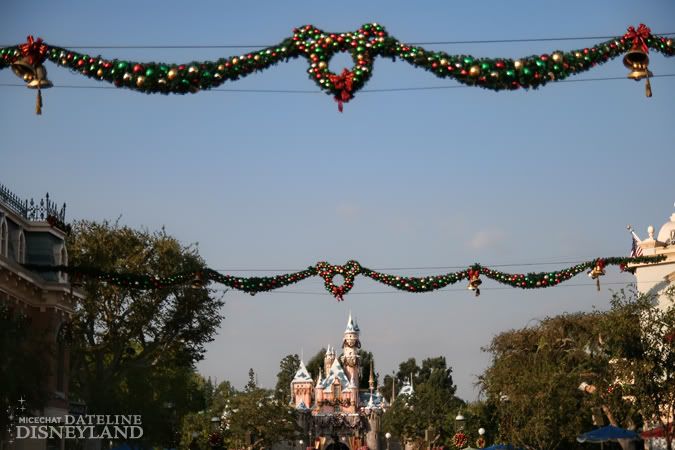 Cookie decorating is available at the Plaza Pavillion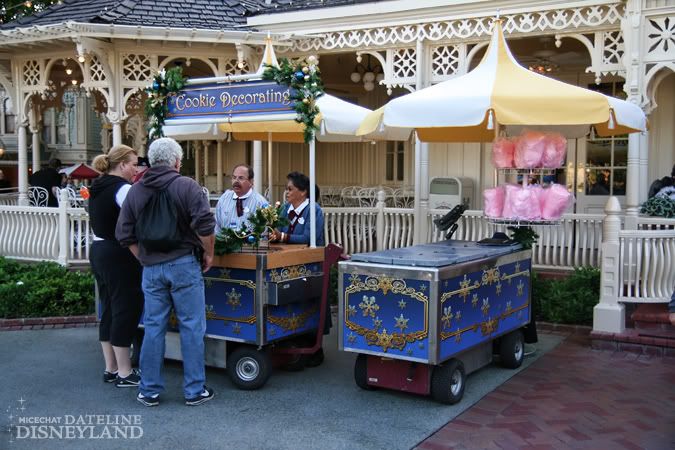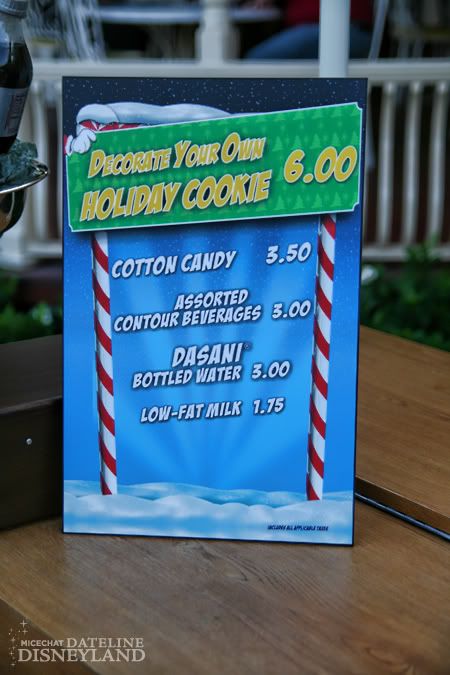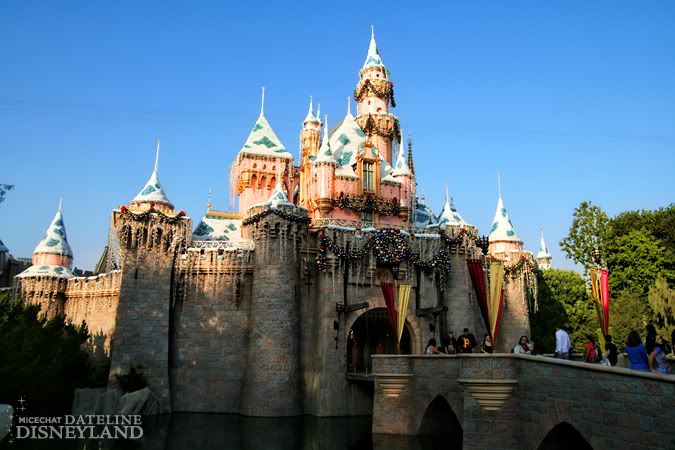 Over in Frontierland, Santa's Reindeer Roundup is back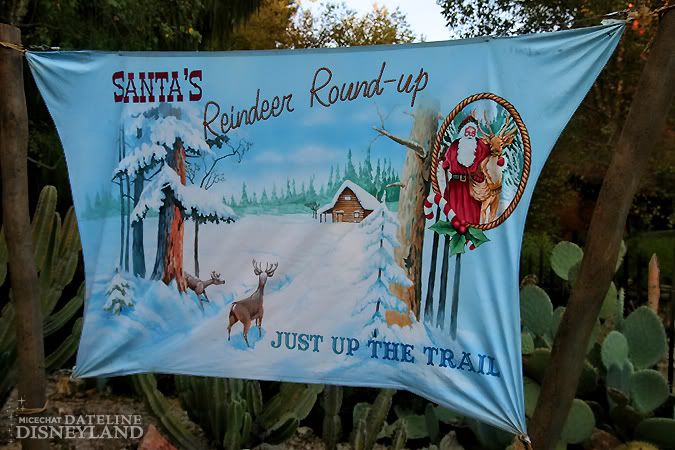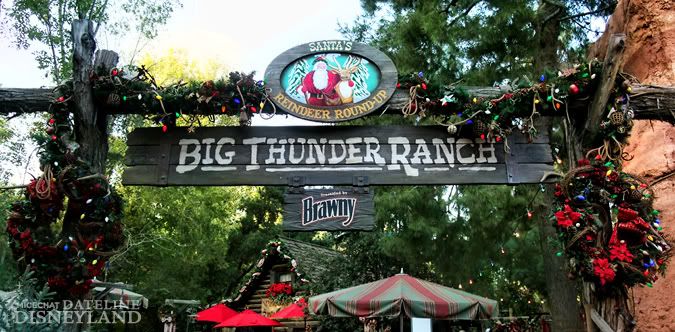 Big Thunder Barbeque is decorated for the season, too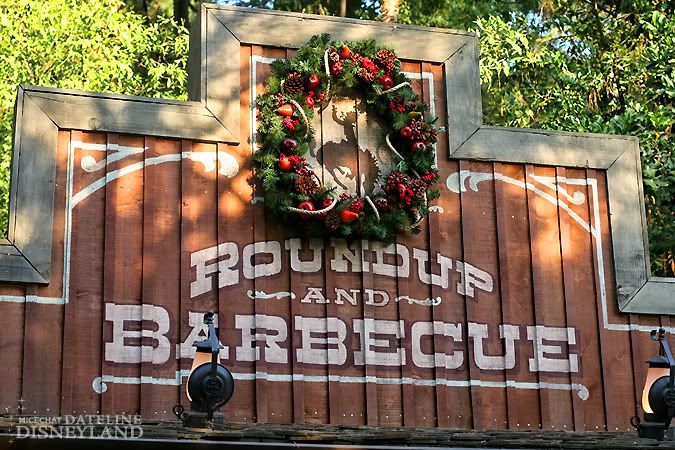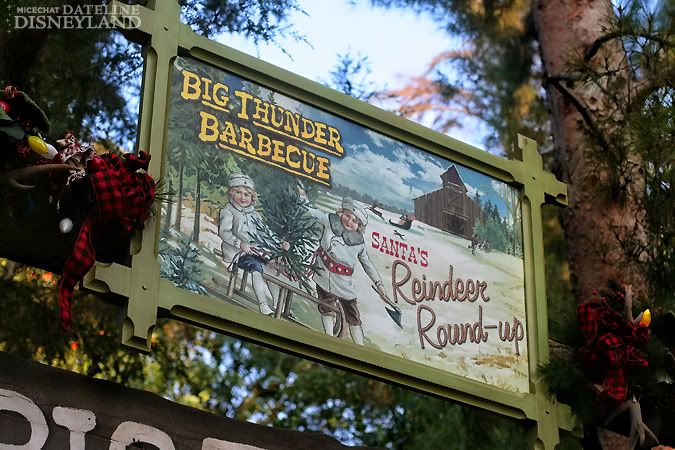 "it's a small world" holiday is back as well, the first time the overlay includes the new Disney characters.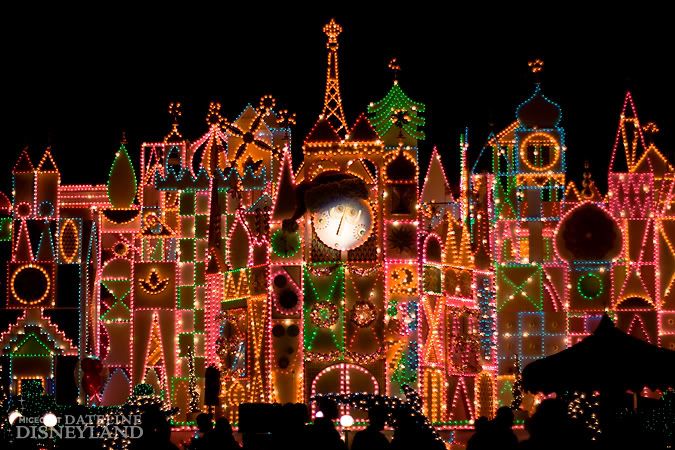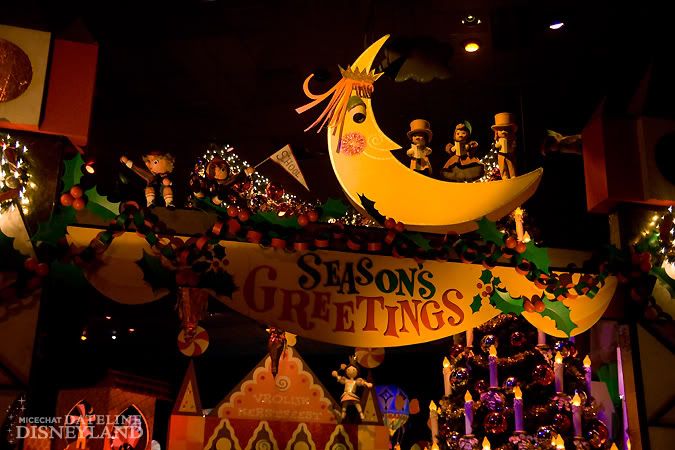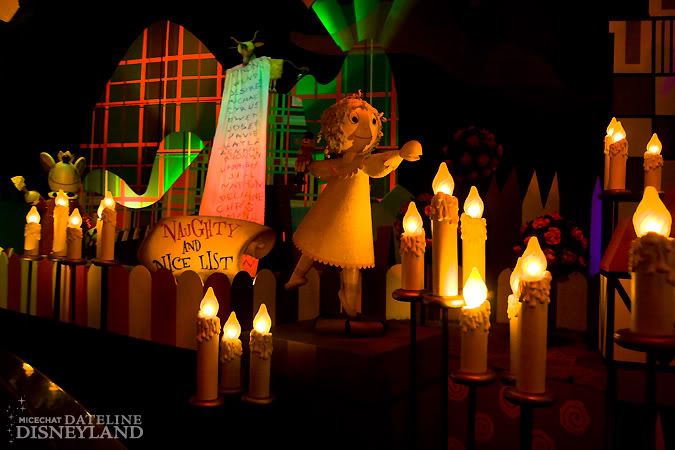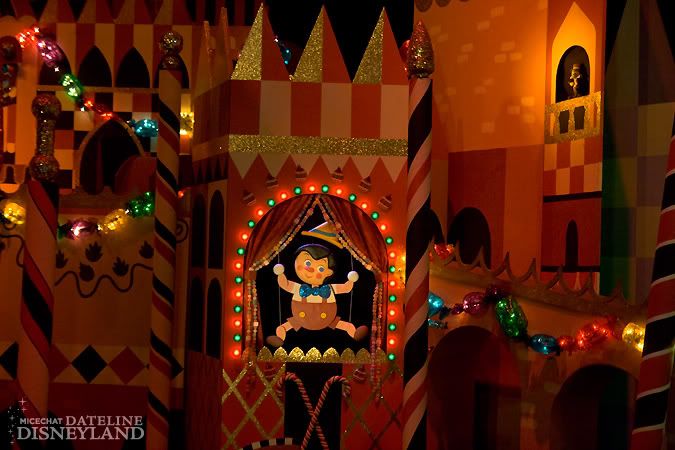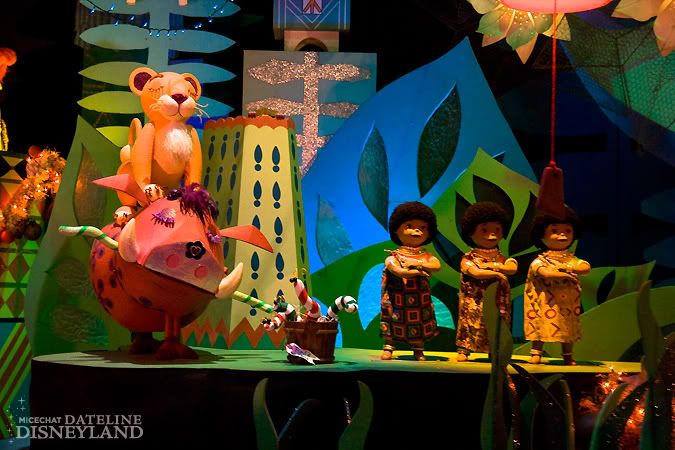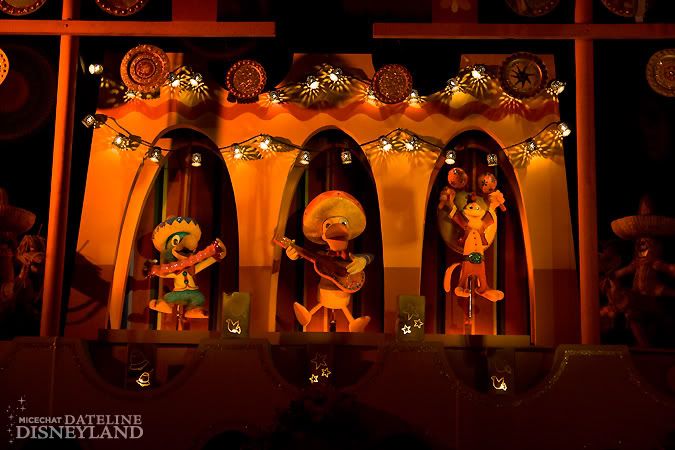 The tacky North America room is dressed up for the holidays, too. The holiday decorations are as tacky as the rest of the room -- corn cob wreaths on the farm!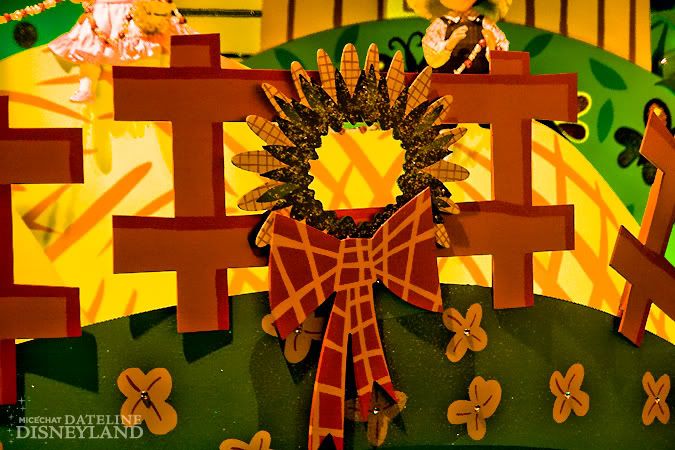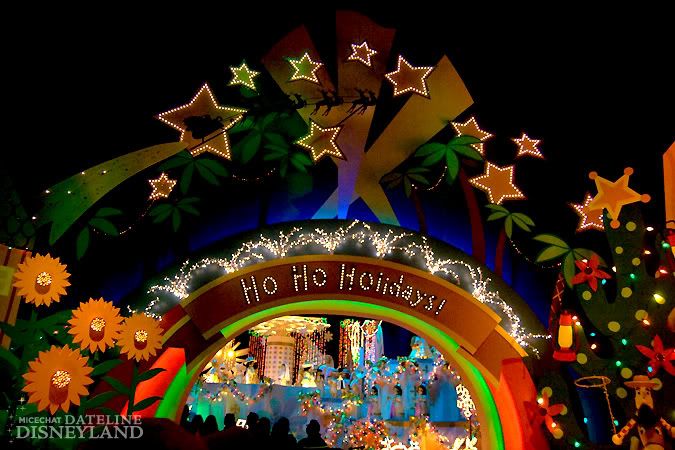 Dreamcatchers oddly dangle over the heads of the Native American children for the holidays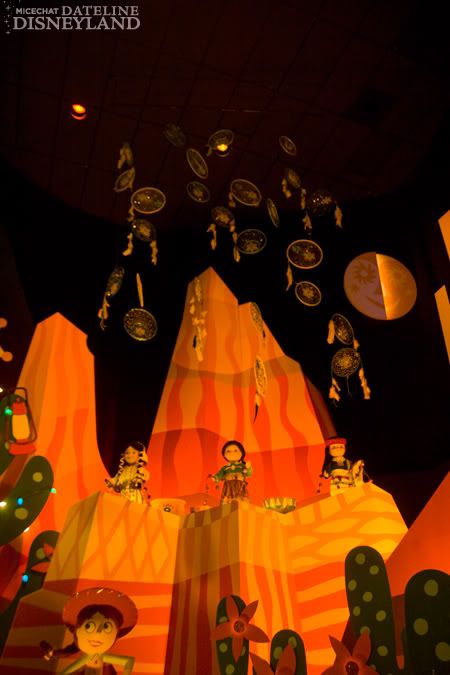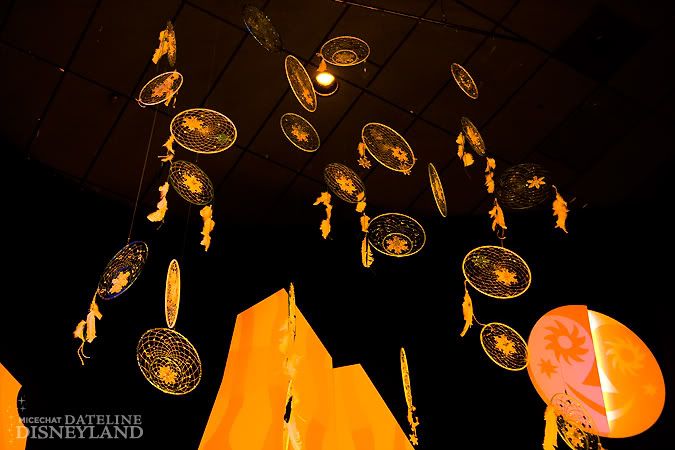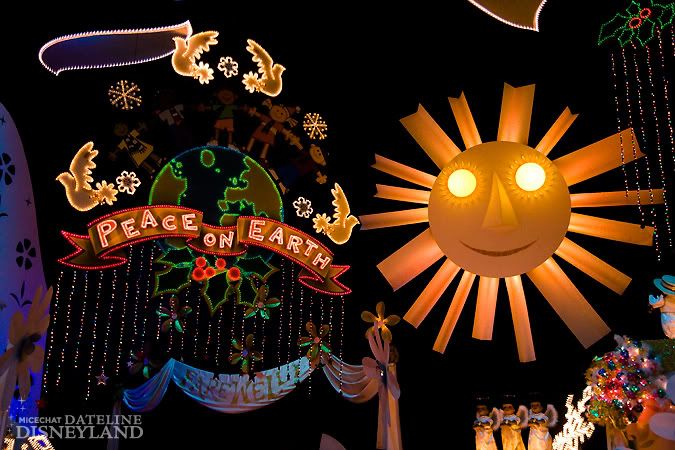 Over at California Adventure, the park isn't nearly as decked out as Disneyland, but with the park going through such noticeable growing pains, you can't really fault it for seeming to skimp on the holiday decorations for now.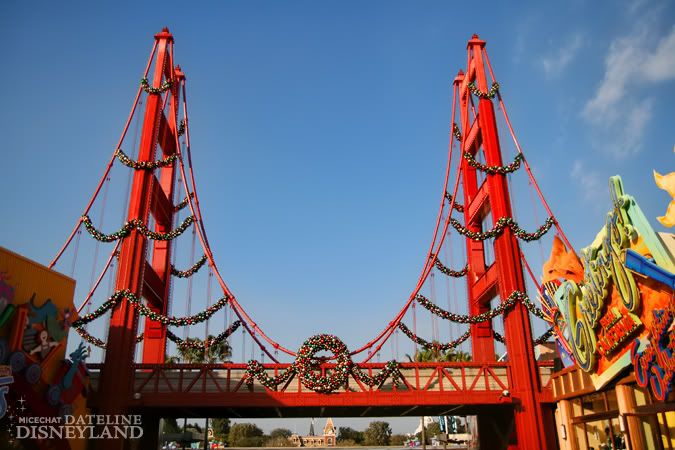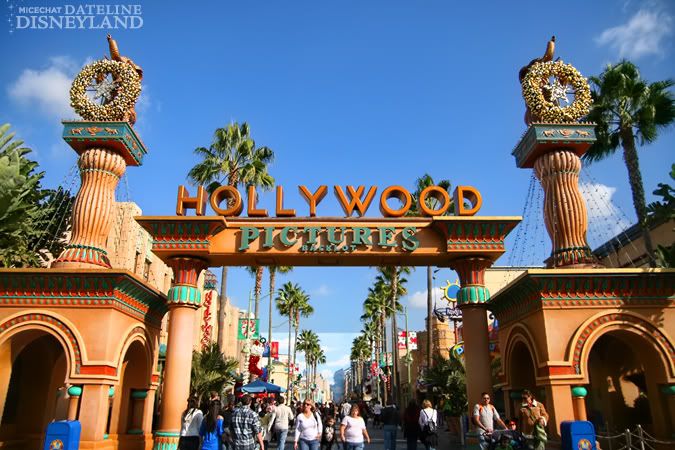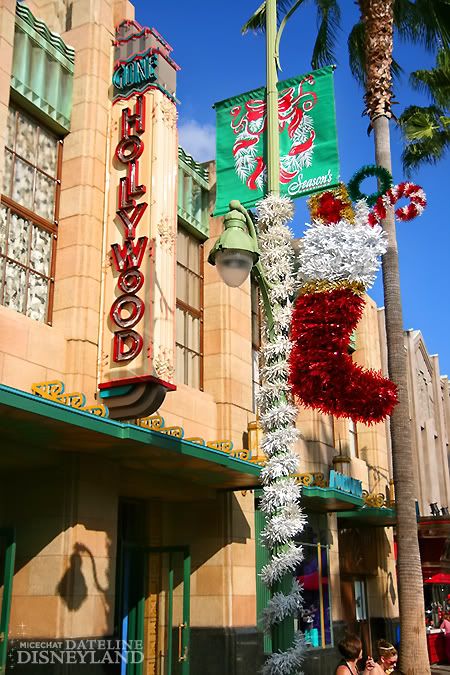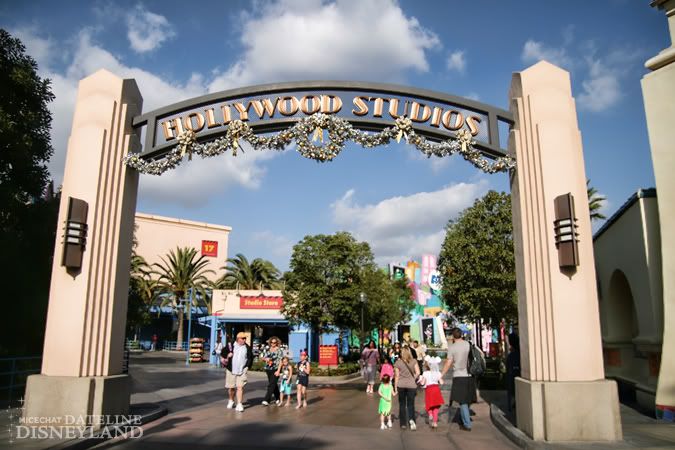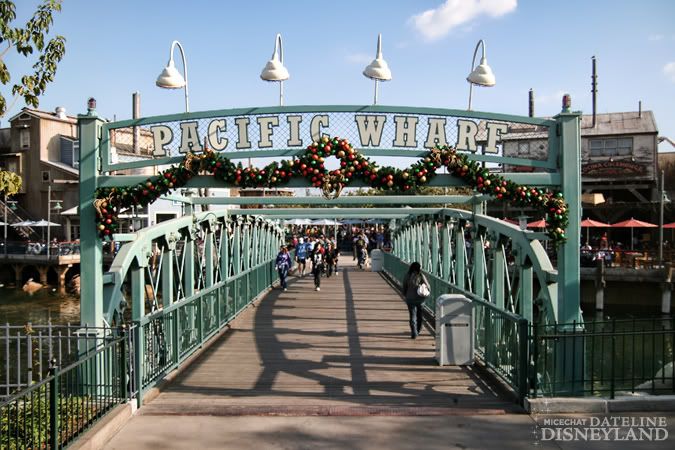 With DCA's former Christmas Tree Point behind construction walls (and with a new lighthouse sculpture in its place) the park's tree has been moved onto the Paradise Pier boardwalk.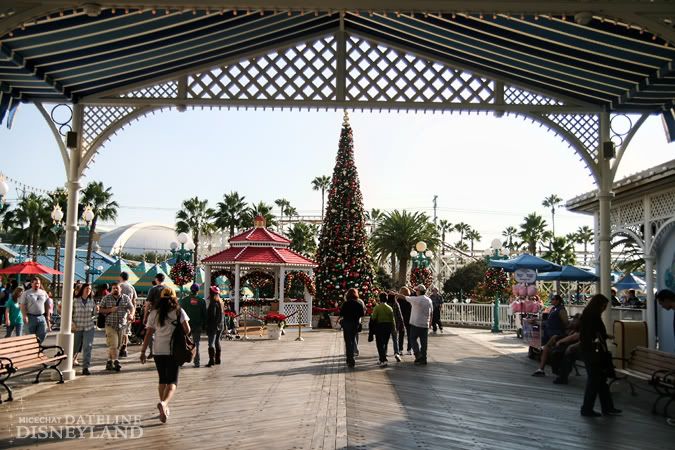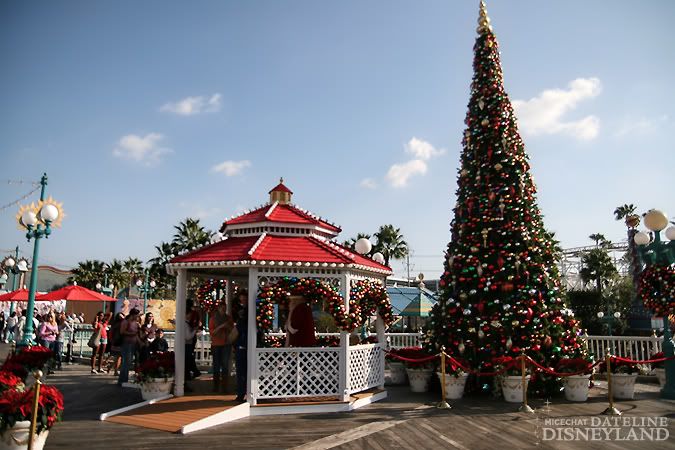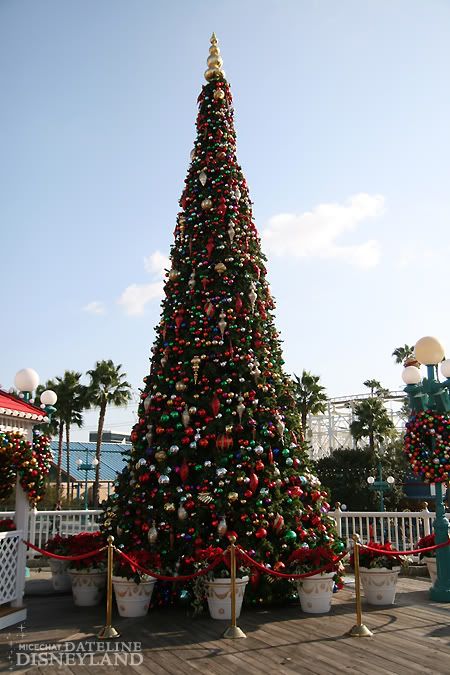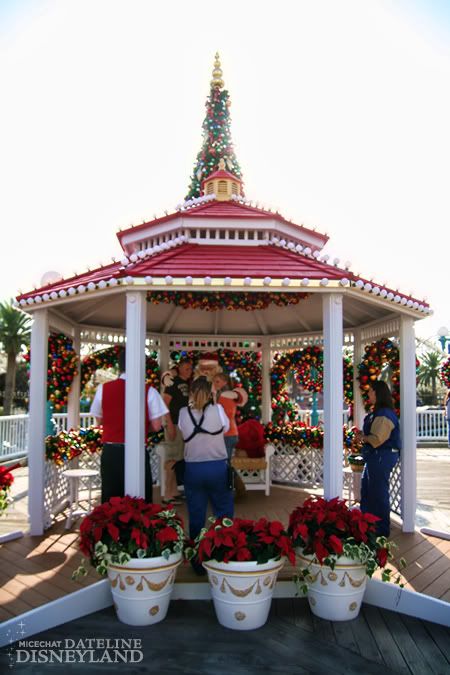 <A name="DD2">
YESTERDAY, TODAY, & TOMORROW
</a>
"The Disneyland Story" displays in the Main Street Opera House lobby continue to get little additions here and there. The entryway has gotten two new props, including an actual Merry-Go-Round horse on loan from Griffith Park, where Walt Disney dreamed up Disneyland.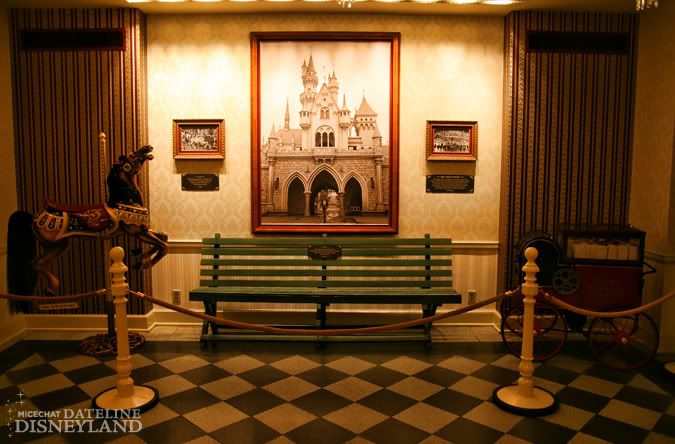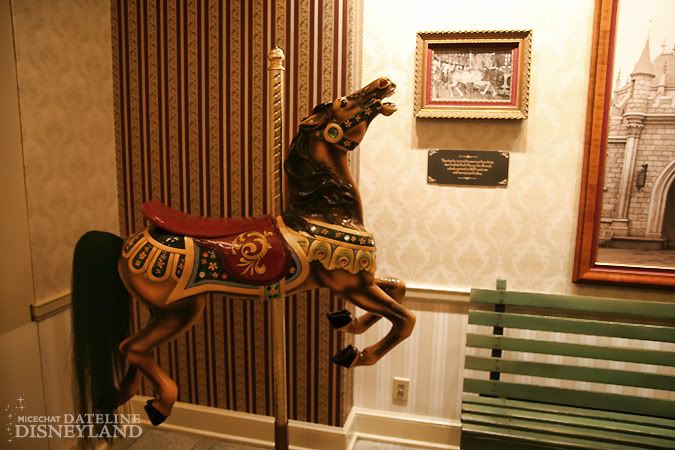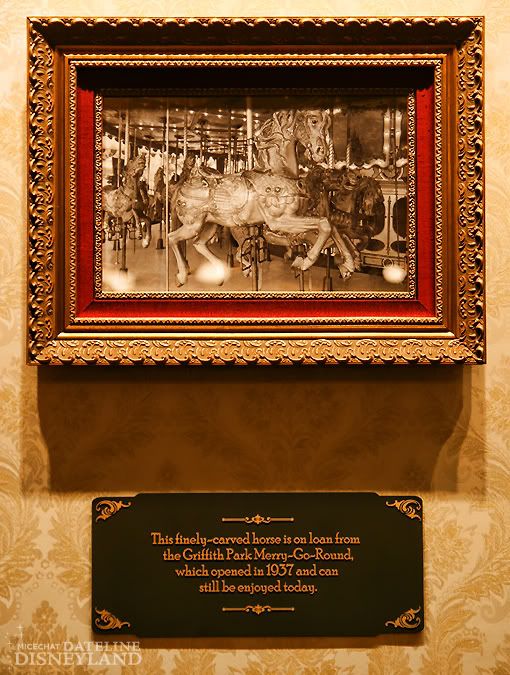 ...a peanut cart, like the one Walt might have bought peanuts from when at Griffith Park with his daughters.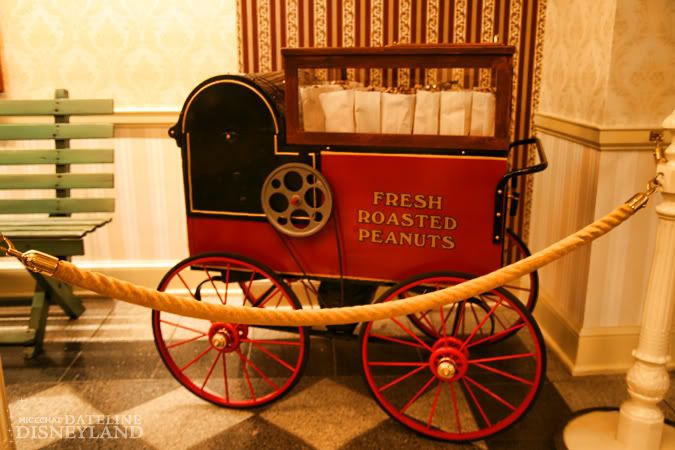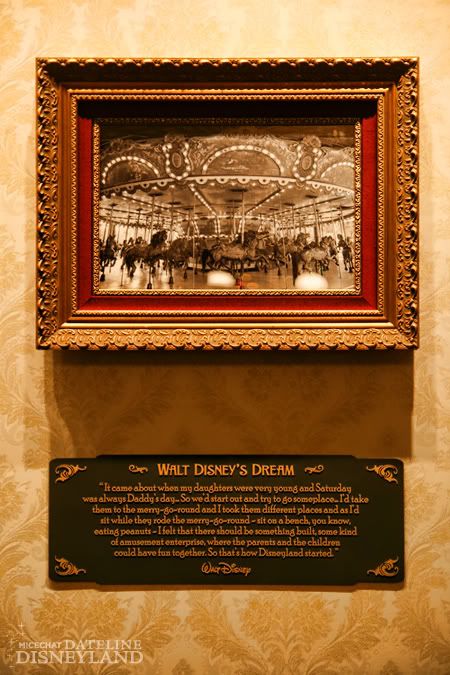 A display case at the back of the Disneyland Story portion of the Opera House lobby was uncovered, after being obscured by black-out curtains when the new Opera House exhibit opened last month.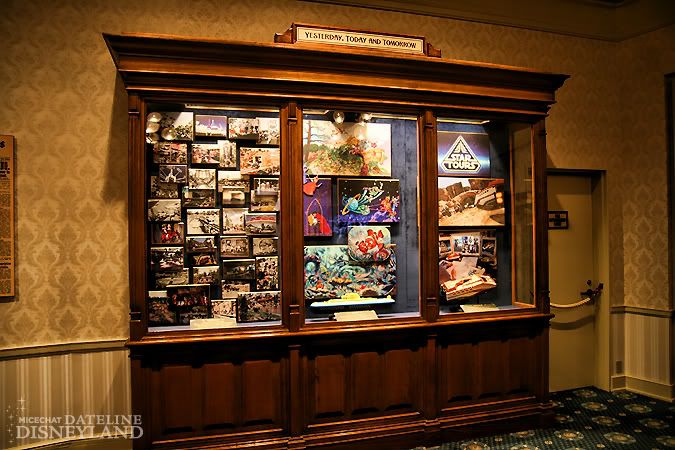 The display case showcases photos and concept art from past, present, and future Disneyland attractions, including the upcoming Star Tours overhaul.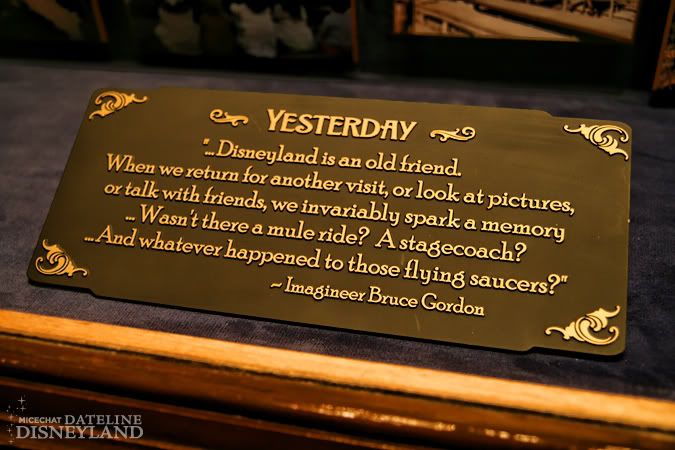 Yes, they actually include the ill-fated Rocket Rods.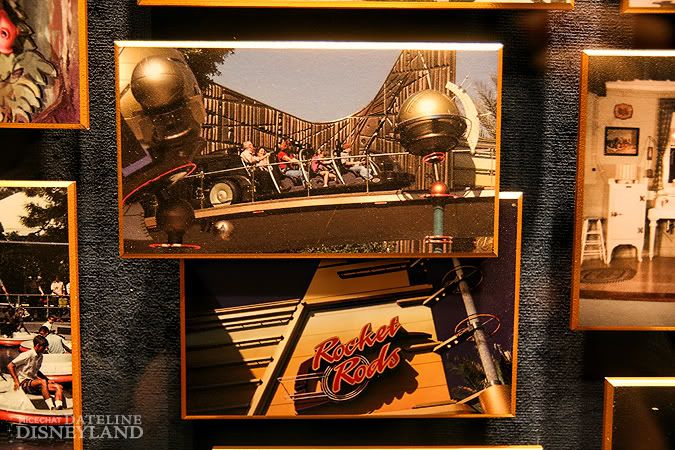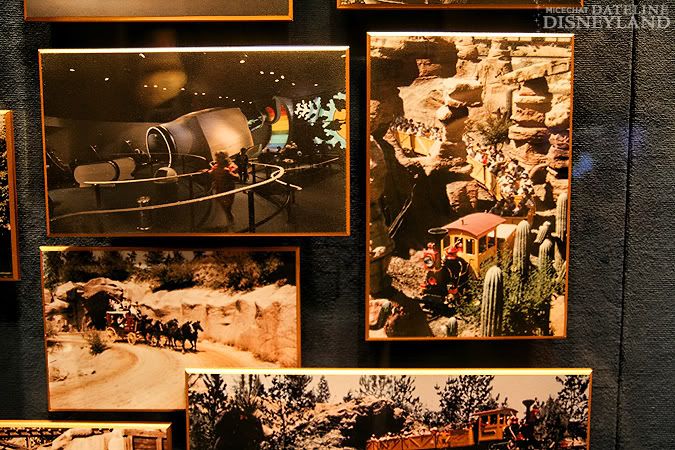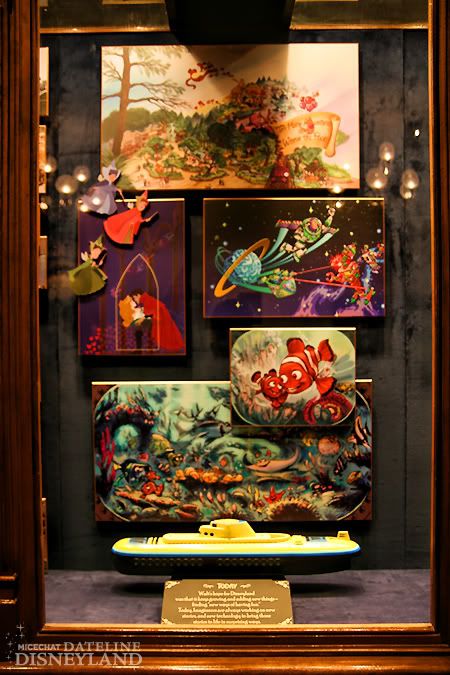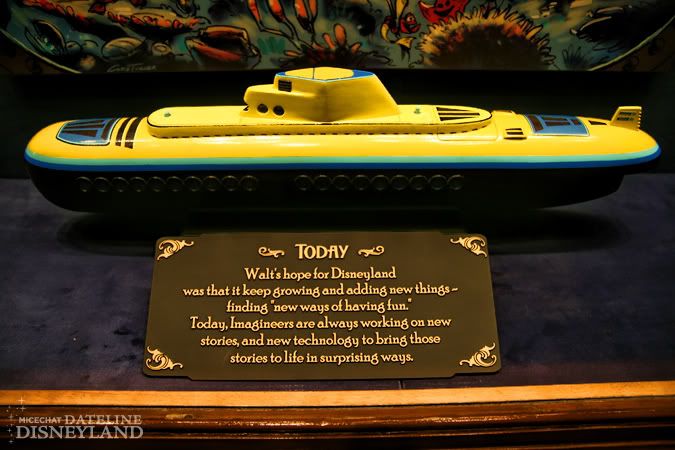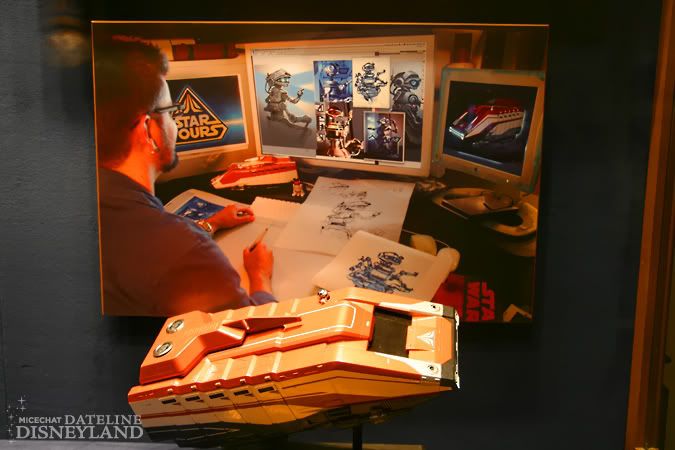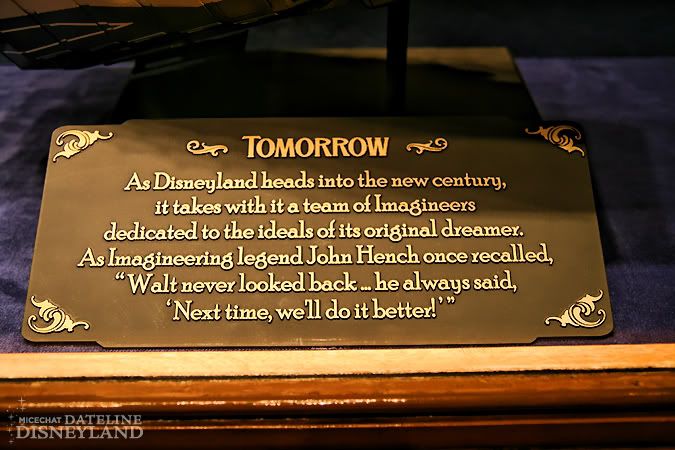 The redesigned Star Speeder.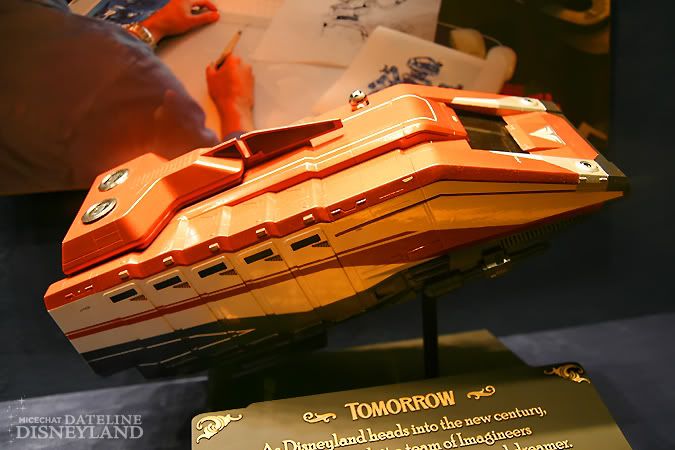 <A name="DD3">
CALIFORNIA CONSTRUCTION
</a>
A look at the on-going California Adventure remodel and expansion
<A name="DD3-1">
WORLD OF COLOR & PARADISE PARK VIEWING AREA
</a>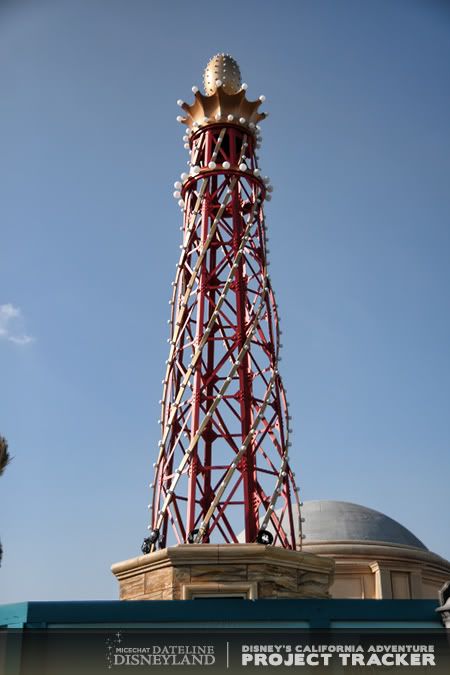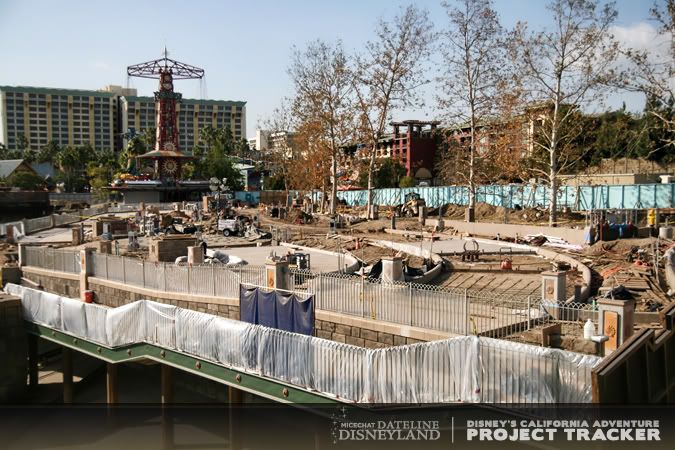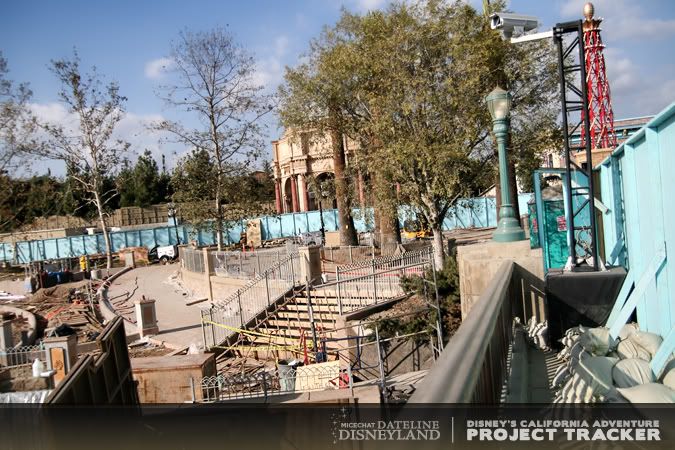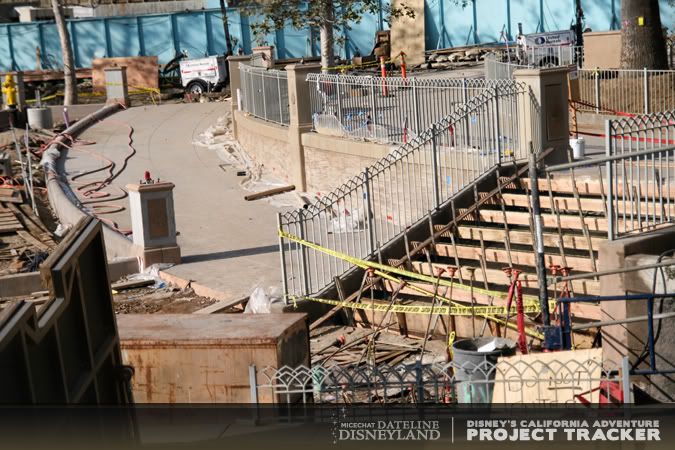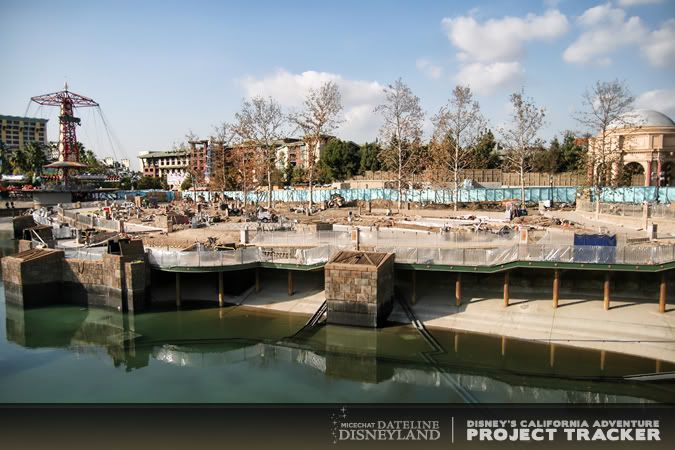 New palm trees have gone in around the Paradise Park hub area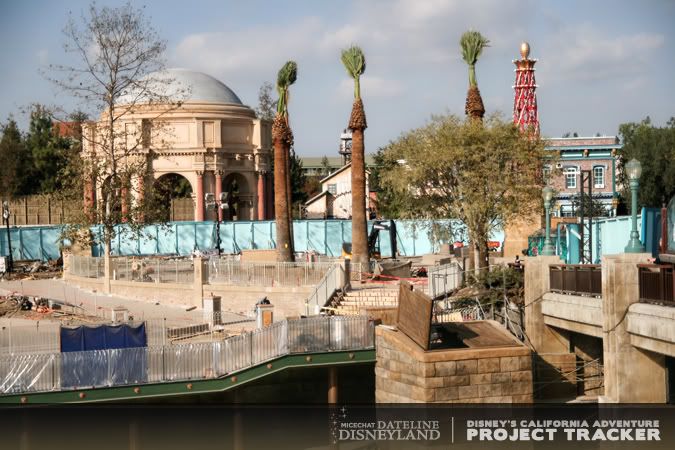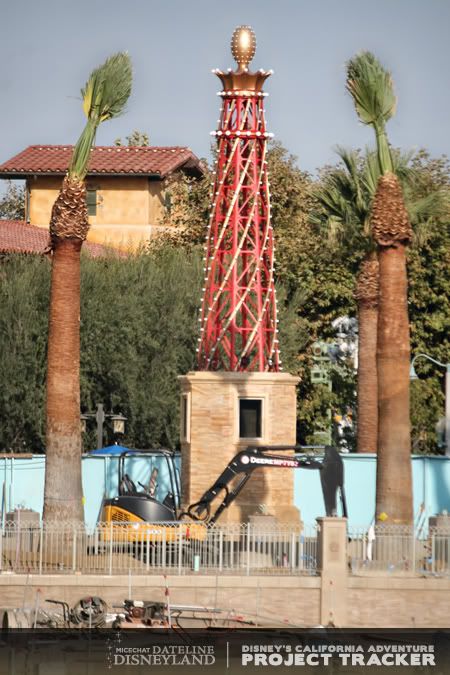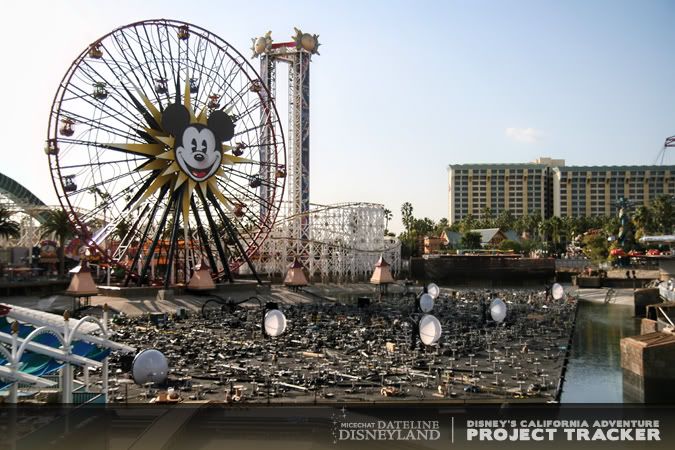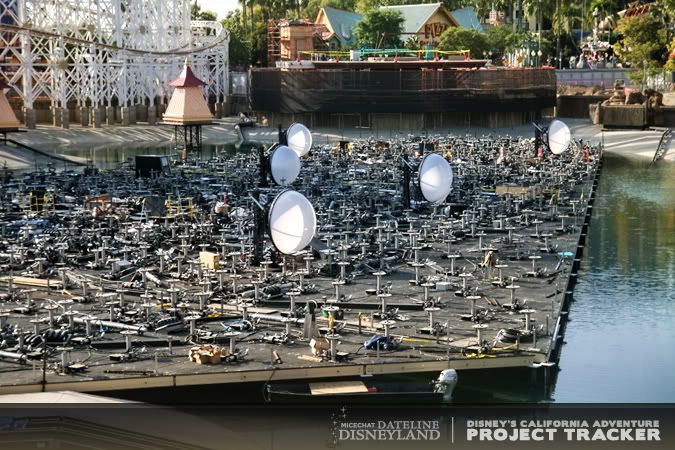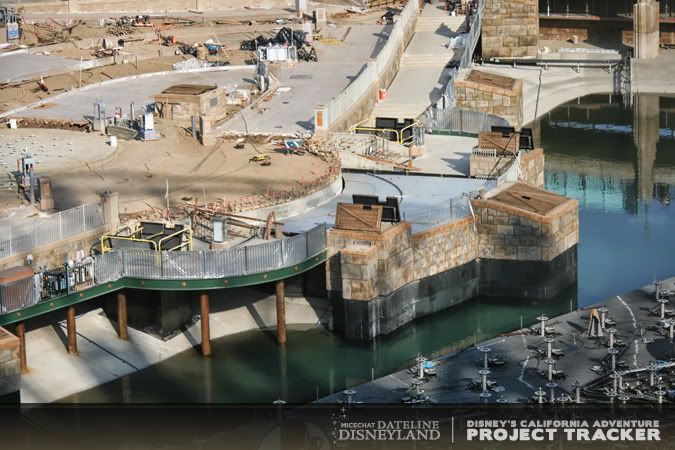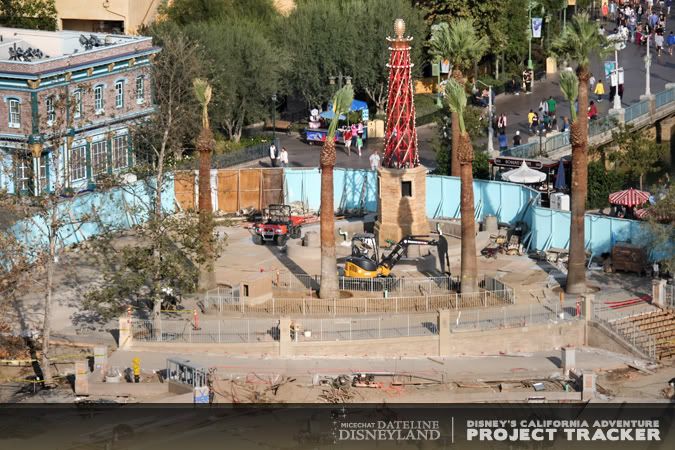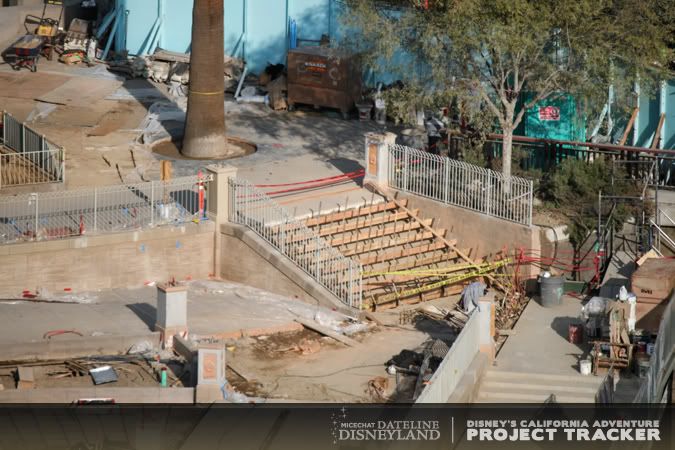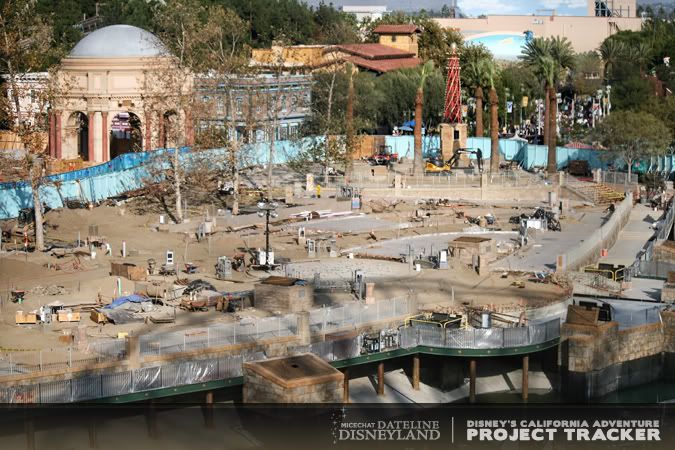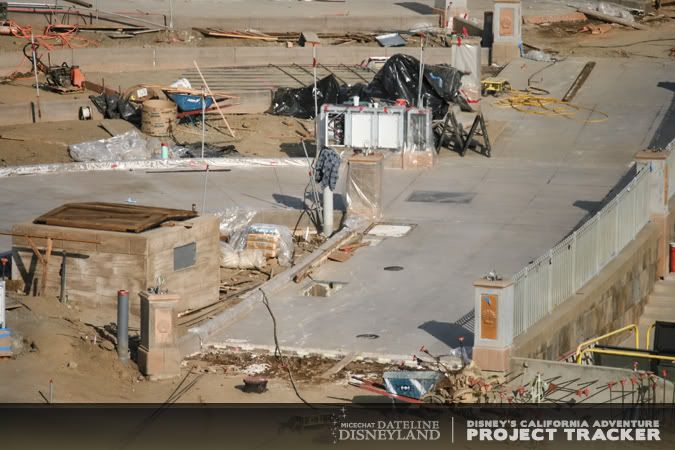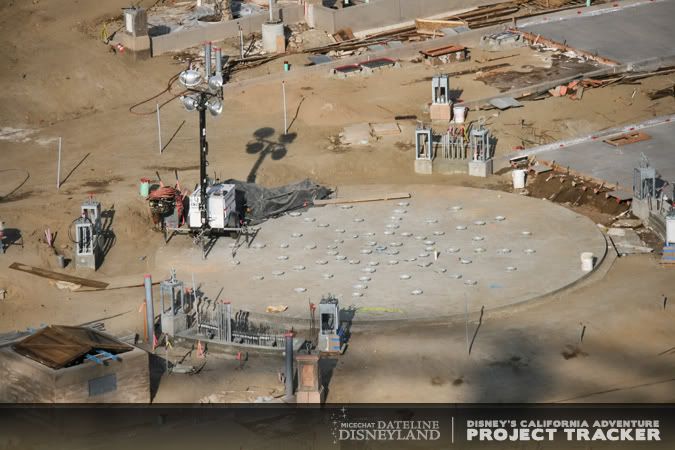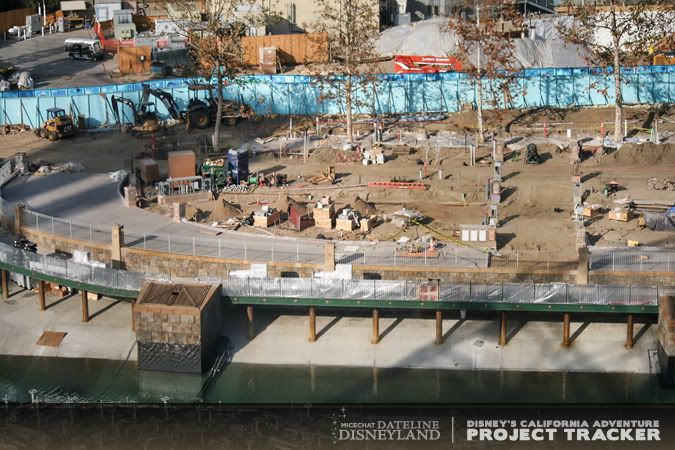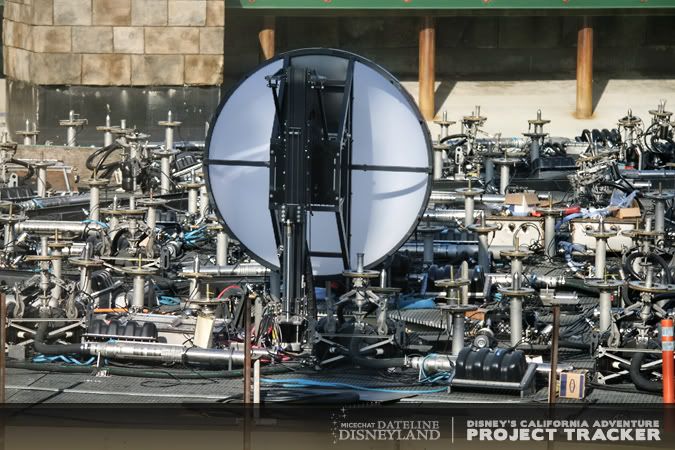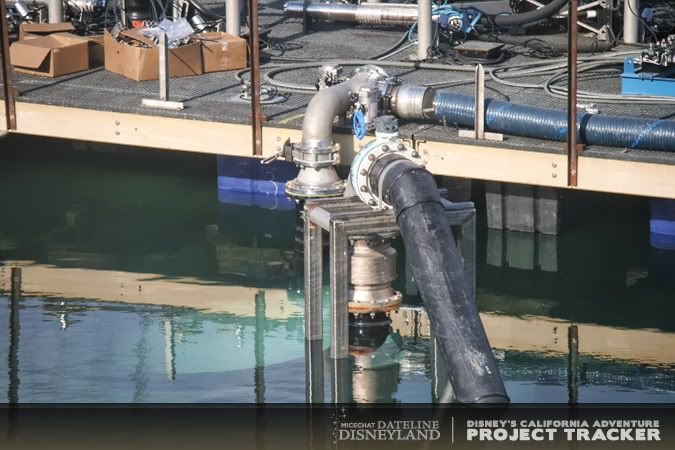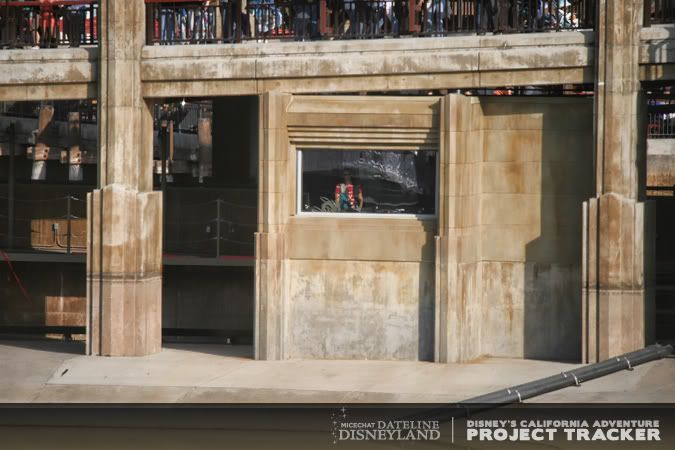 <A name="DD3-2">
SILLY SYMPHONY SWINGS
</a>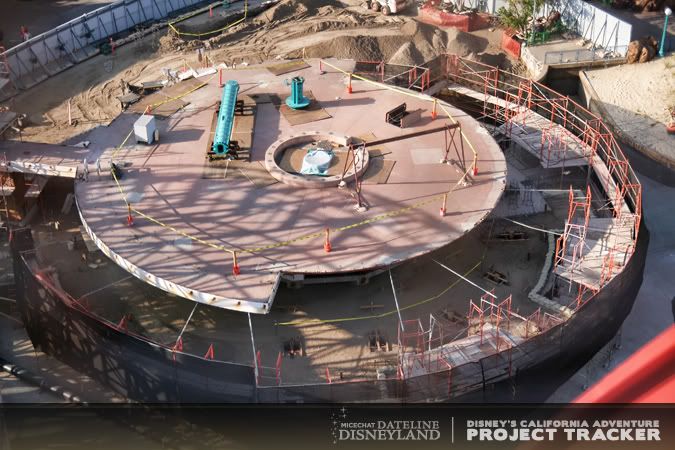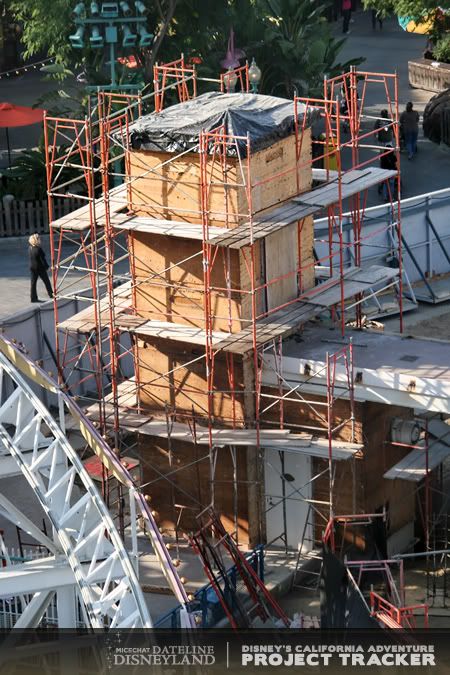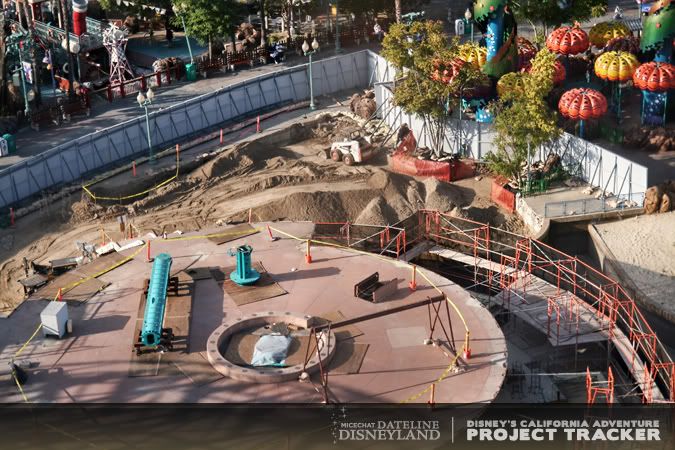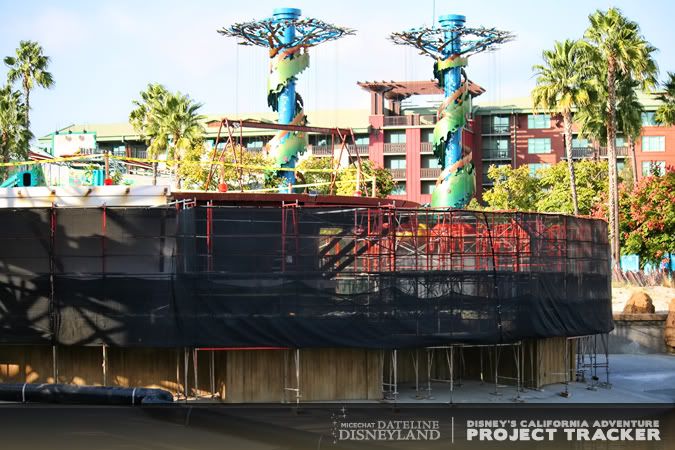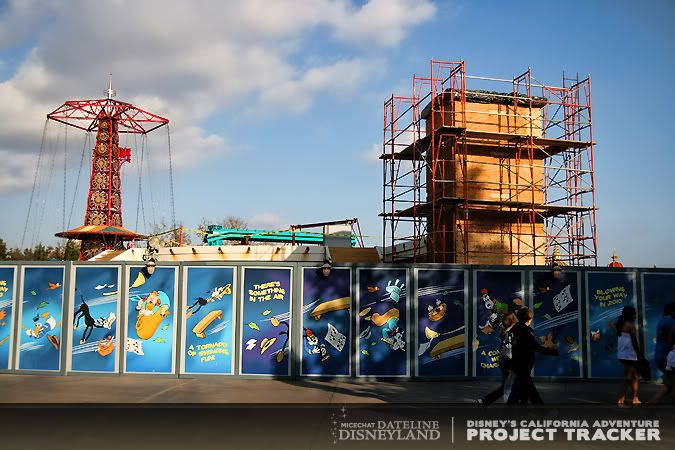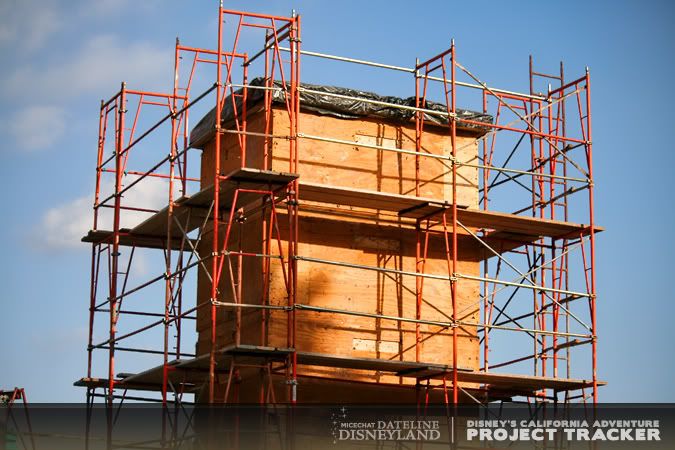 <A name="DD3-3">
THE LITTLE MERMAID & CARS LAND
</a>
There's some new foundation progress going on in the Little Mermaid pit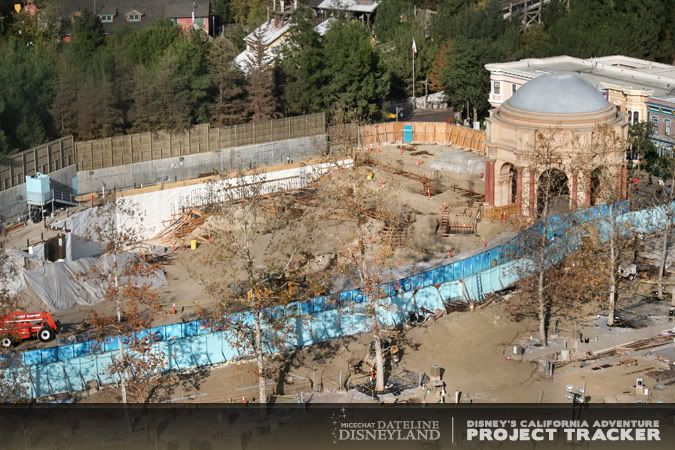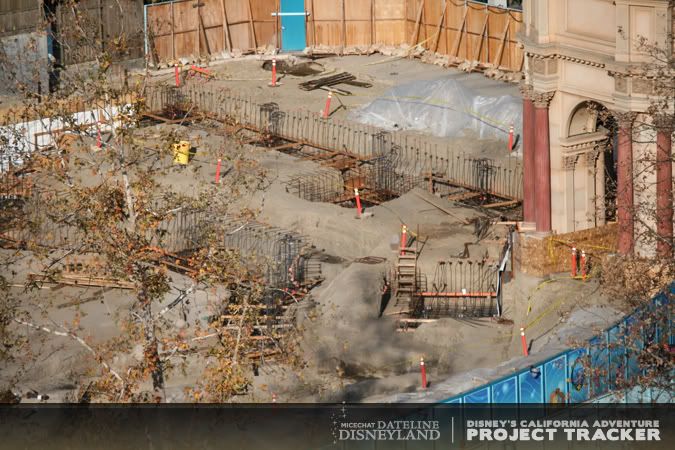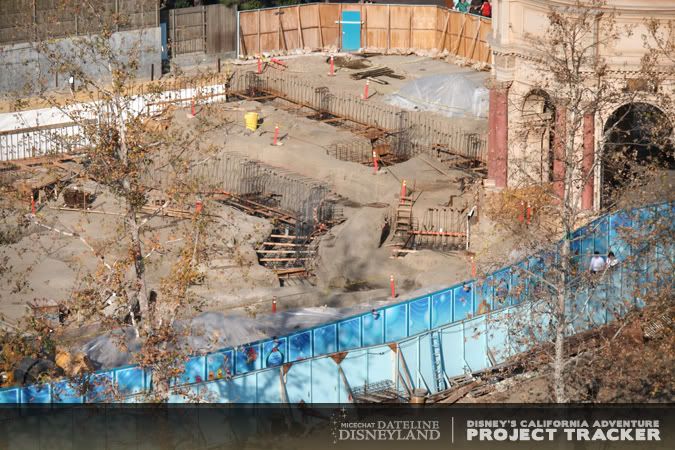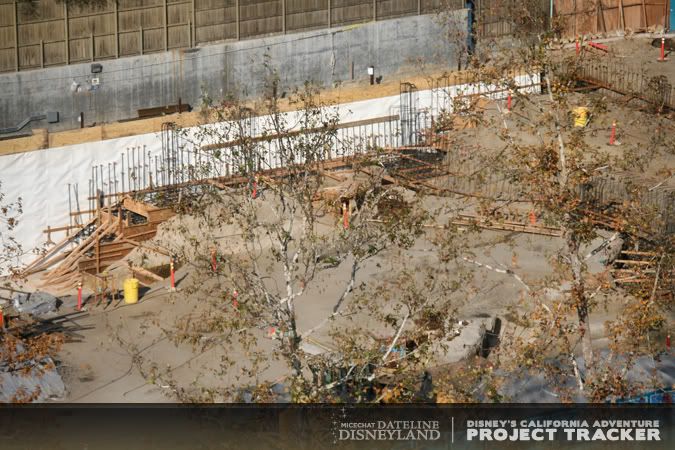 And Cars Land is starting to come along...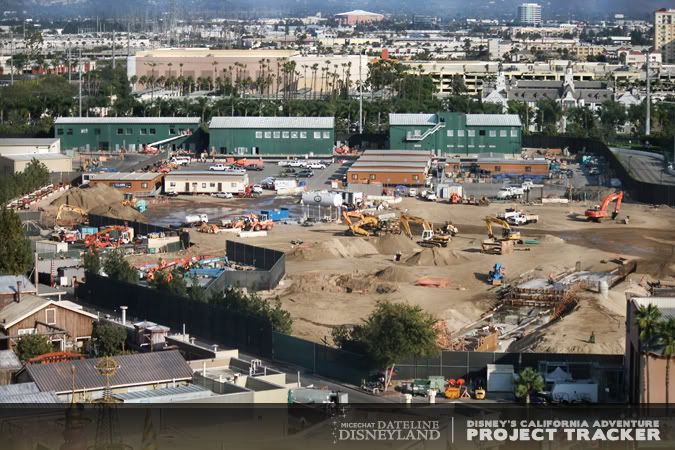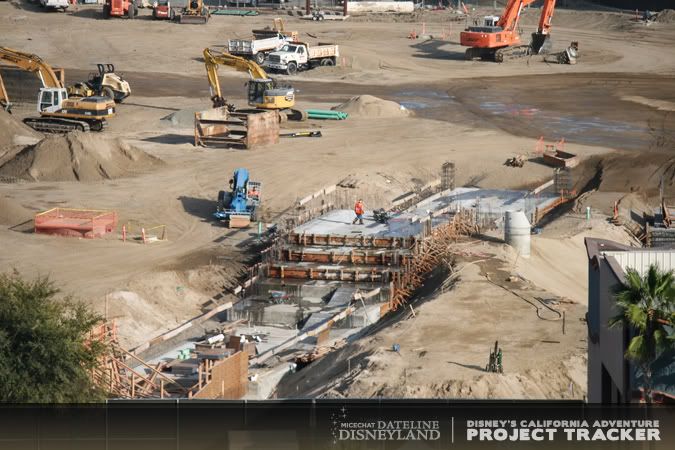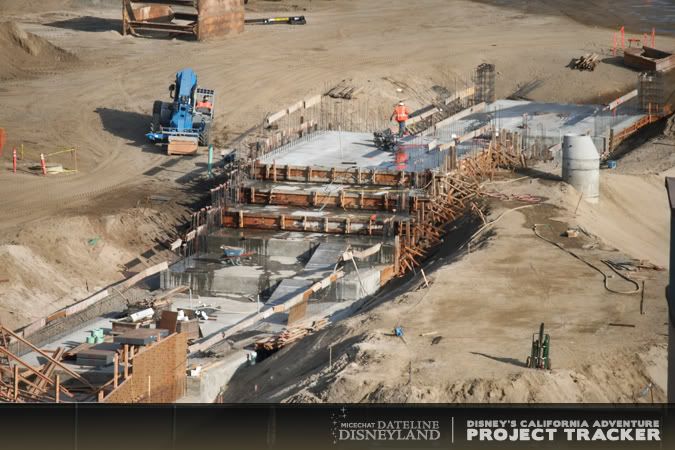 <A name="DD4">
THIS AND THAT
</a>
Hand sanitizer dispensers have gone up around the parks to help prevent the spread of the flu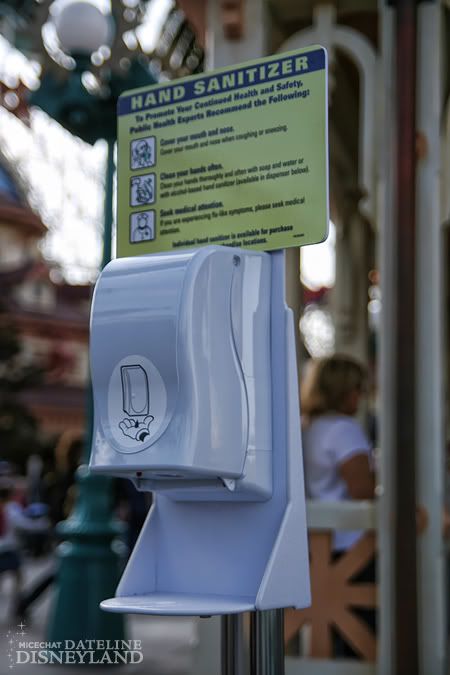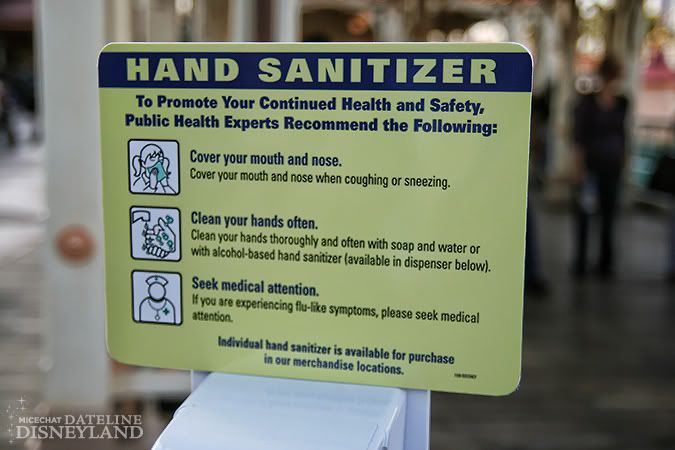 The Carnation Plaza Gardens bridge is down for refurbishment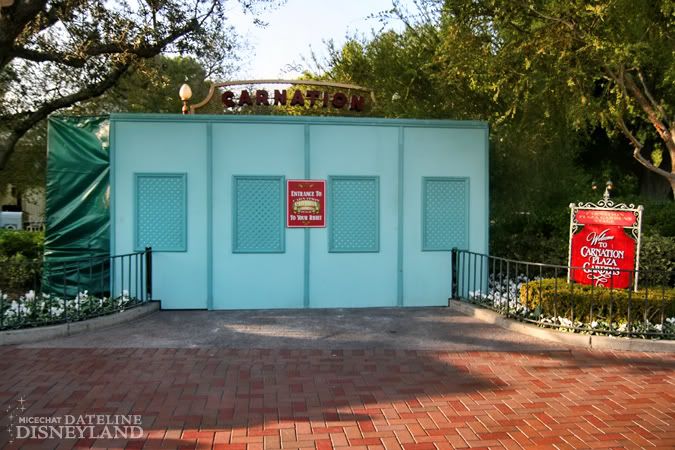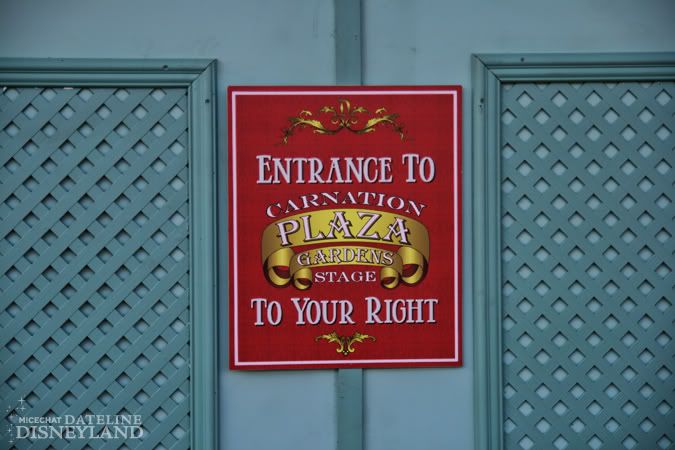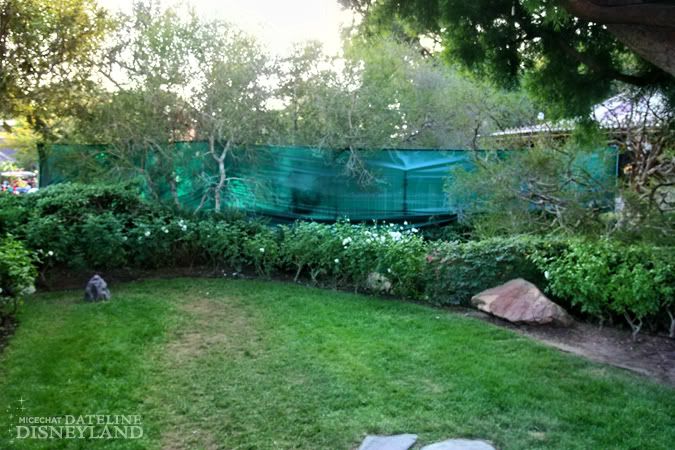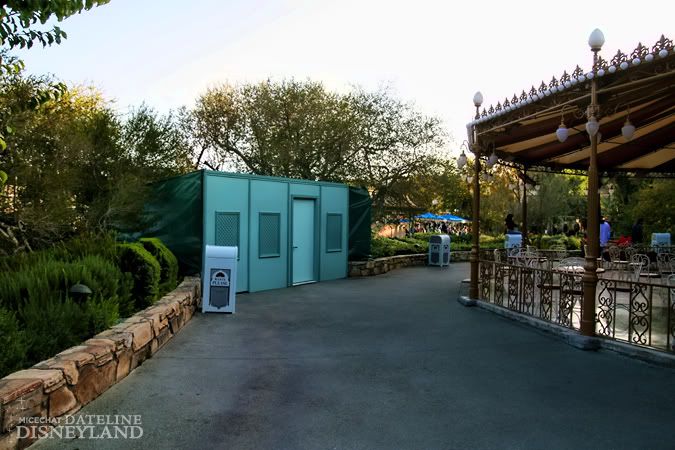 And the French Market's new health code-friendly entryway is out from behind construction walls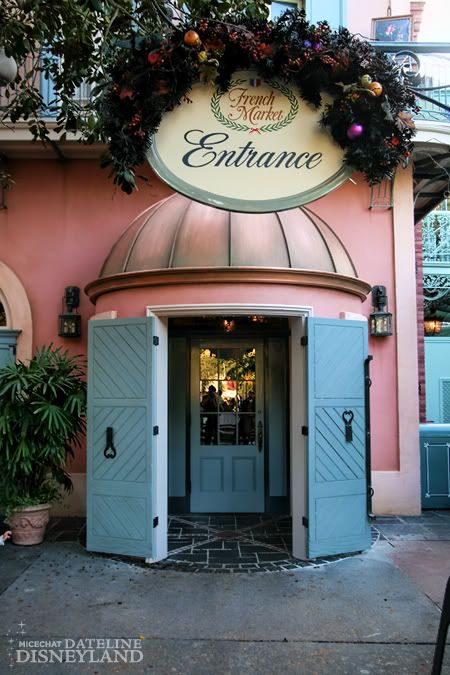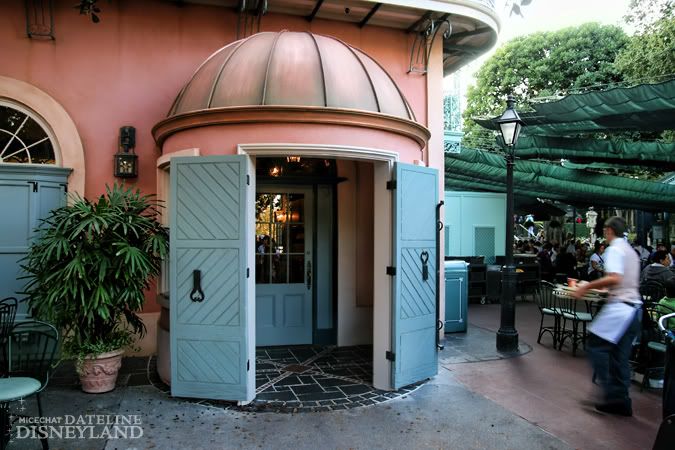 The rear entry is now behind walls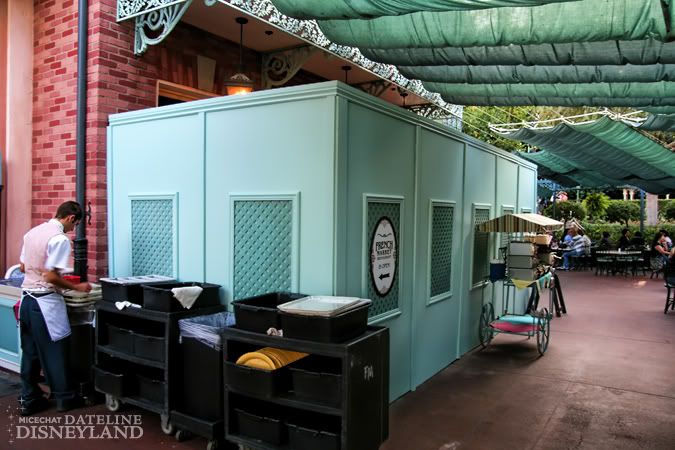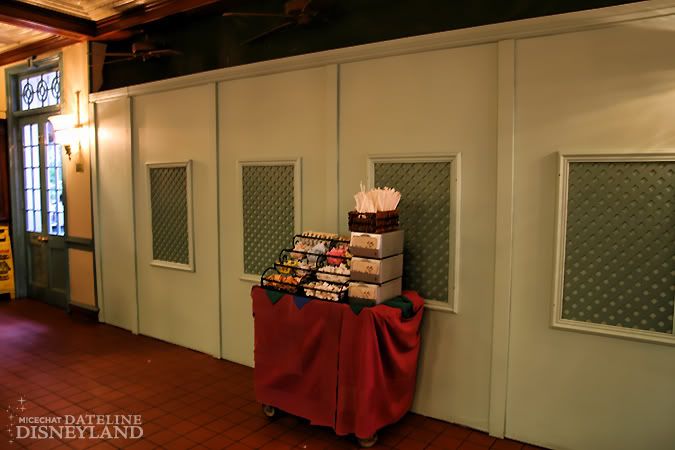 And the Enchanted Cottage at the Fantasyland Theatre was still behind walls over the weekend as it prepares to reopen as Troubador Tavern selling bratwurst and baked potatoes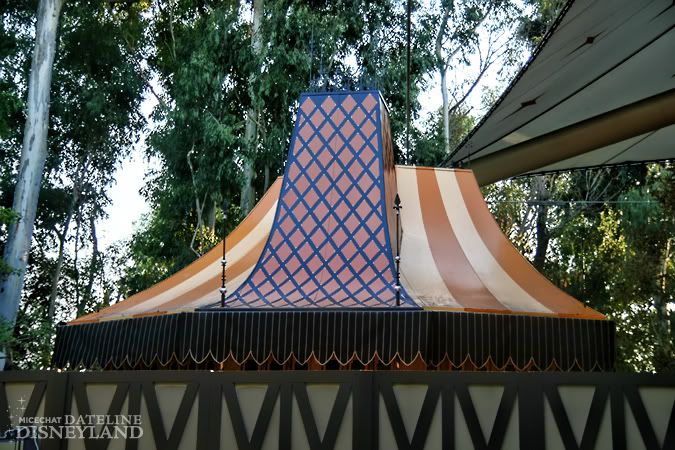 <A name="DDAROUND">
AROUND THE PARK
</a>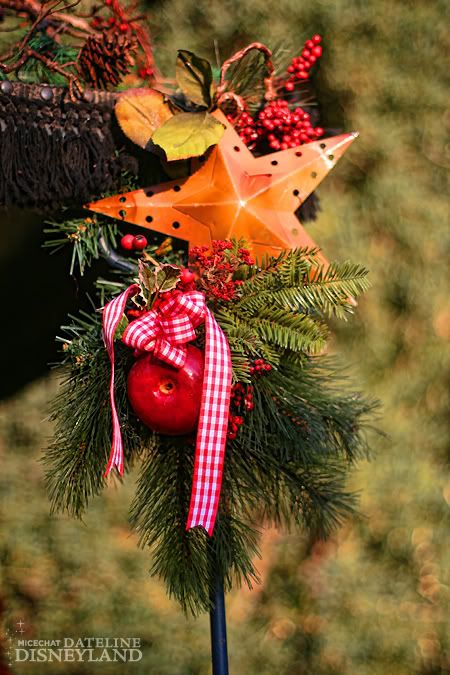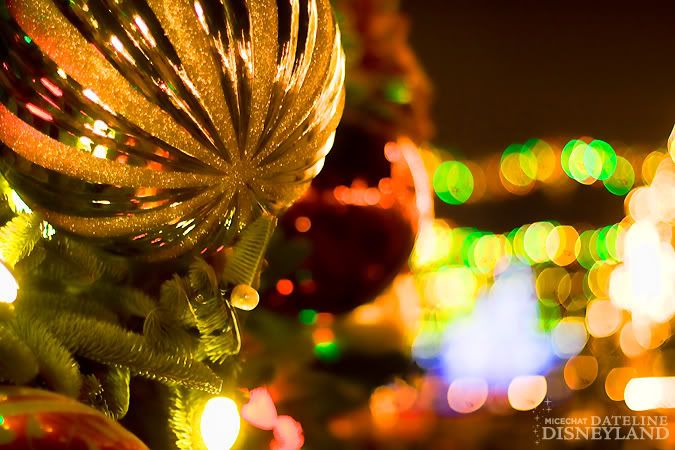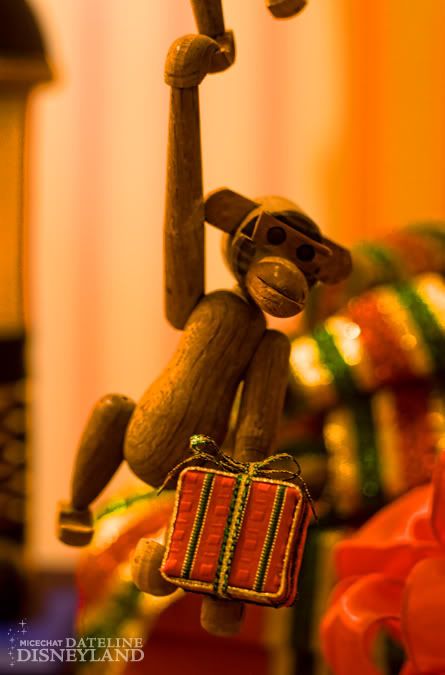 <A name="DDNEWS">
<script charset="utf-8" type="text/javascript" src="http://ws.amazon.com/widgets/q?ServiceVersion=20070822&MarketPlace=US&ID=V20070 822/US/disneylandres-20/8001/defc2f58-fb71-4fe2-b5c3-4f6a4a094641"> </script> <noscript>Amazon.com Widgets</noscript></a>
DISNEYLAND WEEKLY HOURS AND INFO
THEME PARK HOURS NOVEMBER 16 - 22
For a complete listing of theme park hours, please visit the
Disneyland.com Theme Park Calendar
Disneyland Park
Monday - Thursday: 10 am - 8 pm
Friday: 8 am - 12 midnight
Saturday - Sunday: 8 am - 12 midnight
Disney's California Adventure Park
Monday - Wednesday: 10 am - 6 pm
Friday - Saturday: 10 am - 9 pm
Sunday: 10 am - 10 pm
CURRENT ATTRACTION CLOSURES & REFURBISHMENTS
Disneyland Park
Jungle Cruise: Closed November 16 - 19
Storybook Land Canal Boats: Closed through November 19.
Casey Jr. Circus Train: Closed through November 19.
The Enchanted Cottage: Snack stand reopens as Troubador Tavern November 16.
"it's a small world": Closed through November 12 to install holiday overlay.
King Arthur Carrousel: Closed December 8 - 10.
Disneyland: The First 50 Magical Years/Main Street Opera House: Closed. Reopens as The Disneyland Story: Featuring Great Moments With Mr. Lincoln December 17, 2009.
Disney's California Adventure Park
Orange Stinger: Closed for retheming. Reopens Spring 2010
The Little Mermaid: Ariel's Undersea Adventure: Under construction.
Souvenir 66 and Corn Dog Castle: Store and dining location closed for remodeling through May 2011.
Paradise Bay: Drained for construction of upcoming Disney's World of Color show. Expected to be refilled mid-October 2009.
Disney's World of Color Nighttime Spectacular: New show under construction. Debuts Spring 2010.
Golden State Park and Amphitheater: Closed. New, larger viewing area for Disney's World of Color viewing under construction in same location. The new viewing area is scheduled to open February 2010 as Paradise Park.
<br><br>
DISNEY SWITCHES UP EXECUTIVES
Disney announced the flip-flop of two company executives last week -- Parks and Resorts Chairman Jay Rasulo and CFO Tom Staggs will switch jobs at the end of the year:
THE WALT DISNEY COMPANY ANNOUNCES EXECUTIVE CHANGES
BURBANK , Calif., November 12—In line with The Walt Disney Company's goals of advancing its global businesses and brands while providing new opportunities and challenges to executives, Disney President and Chief Executive Officer Robert A. Iger announced today that two of the company's most senior leaders would assume new roles at the end of the year.
Thomas O. Tom Staggs, Senior Executive Vice President and Disney's Chief Financial Officer and 20 year Disney veteran, will become Chairman, Walt Disney Parks and Resorts. In his new position, Staggs will preside over the company's vacation businesses, which span three continents and include five-world class destinations, a top rated cruise line and the most popular resort locations in North America, Europe and Asia.
James A. Jay Rasulo, Chairman of Disney Parks and Resorts and a 23-year Disney veteran, will become Senior Executive Vice President and Disney's Chief Financial Officer. In his new role, Rasulo will oversee the company's worldwide finance organization, corporate strategy and development, brand management, corporate alliances, investor relations, treasury and risk management activities, controller functions, information systems, corporate responsibility, real estate and taxes.
Both will remain members of the senior management group reporting to Iger.
"Jay and Tom are both dynamic and versatile executives, who have done a great job over the last several years and have helped me to shape Disney's strategic direction," Iger said. "By giving them exciting new challenges that build on both their strengths at a time when each of their respective areas are on the right strategic track, the change is good for them and good for the company."
For the full press release, and commentary from Deadline Hollywood, visit:
Deadline Hollywood: EXCLUSIVE: DISNEY'S BIG JOB SWITCH
<br><br>
DISNEYLAND ATTENDANCE UP, GUEST SPENDING DOWN
The Disneyland Resort saw a big spike in guest attendance in the last fiscal quarter, whereas Walt Disney World in Florida saw a small dip. The attendance spike at Disneyland wasn't all good news, though - guest spending is down at all domestic parks and resorts.
Disney park attendance increases
Attendance at Disney's local theme parks spiked 15 percent in recent months as the company offered deals to lure more guests.
Walt Disney Co.'s latest financial report showed that the two Disneyland Resort parks increased visitation even with the economic downturn. On Thursday afternoon, the company released its figures for the end of the fiscal year, which concluded Oct. 3.
From July through September, Disneyland and Disney's California Adventure brought in 15 percent more visitors than they did during the same period last year, said Thomas Staggs, Disney's chief financial officer, during a conference call. At the same time, visitation in Disney's Florida parks dropped 3 percent.
Overall, however, Disney tourists bought fewer Mickey ears and princess dresses: Visitors spent about 10 percent less on merchandise at the domestic parks, Staggs said.
Both locations saw hotel bookings dip during that three-month period.
Disneyland Resort's three hotels had 4 percent fewer hotel stays compared to the previous year, Staggs said. That meant an 84-percent overall occupancy - the same as Disney's Florida properties.
For the full article, visit:
Around Disney: Disney park attendance increases
<br><br>
<script charset="utf-8" type="text/javascript" src="http://ws.amazon.com/widgets/q?ServiceVersion=20070822&MarketPlace=US&ID=V20070 822/US/disneylandres-20/8001/defc2f58-fb71-4fe2-b5c3-4f6a4a094641"> </script> <noscript>Amazon.com Widgets</noscript>
<br><br><table border="0" cellpadding="5"><tbody><tr><td valign="top">Okay, that should wrap up this week's edition of Dateline Disneyland. Many thanks to all of you for reading, be sure to discuss this week's update in the comments section below!
Your support keeps these updates coming!
Without you they couldn't happen. We all know times are tough, so any amount of support helps. If you can donate to Dateline Disneyland please consider doing so via a safe and quick PayPal donation.
To donate, click here.
Don't forget that MiceAge and MiceChat has loads of new content weekly! If Dateline Disneyland isn't enough to satisfy your Disneyland itch, then don't miss
David "Darkbeer" Michael's
In the Parks
column which runs here every Friday and is packed full of Southern California theme park news, photos, and gossip. And if you want even more Disney theme park goodness, don't miss
MiceChat's Weekend Update
, which takes a look at Disney theme parks and other international landmarks, curiosities, and oddities every Saturday!
Dateline Disneyland is on Twitter!
We now have over
5,200
followers! If you still haven't checked us out on Twitter, head over there now for updates throughout the week with links to breaking news, mini updates, photos, and links to newsworthy MiceChat discussions. Visit
Twitter.com/DatelineDisney
, or check out the widget to the right to follow us!
See you here again soon!
-Andy
</td><td bgcolor="#cccc9a" valign="top" width="235">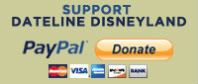 Love reading Dateline Disneyland?
If so, consider donating so the updates can keep coming through a quick and safe PayPal donation. Thanks for your support!


<object classid="clsid:d27cdb6e-ae6d-11cf-96b8-444553540000" codebase="http://download.macromedia.com/pub/shockwave/cabs/flash/swflash.cab#version=9,0,124,0" id="TwitterWidget" height="335" width="225"><embed src="http://static.twitter.com/flash/widgets/profile/TwitterWidget.swf" quality="high" bgcolor="#000000" name="TwitterWidget" allowscriptaccess="sameDomain" allowfullscreen="false" type="application/x-shockwave-flash" pluginspage="http://www.macromedia.com/go/getflashplayer" flashvars="userID=16832260&styleURL=http://static.twitter.com/flash/widgets/profile/smooth.xml" align="middle" height="335" width="225"></object>
</td></tr></tbody></table>