Super-mega-special-awesome pass from Disney, midnight Disneyland parties, windows on Main Street, planting Paradise Park, whale parties, freebies, photos and more - that's just the tip of the iceberg for today's update.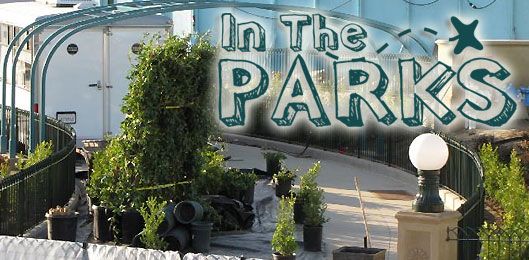 World of Color is testing around the clock, Garden Walk is in serious trouble, Knott's and its parent company are up for sale, D23 has announced the date of the next Disney fan Expo, the Sherman Brothers finally get their window on Main Street, and MiceChat is gearing up for the ultimate theme park competition.There is so much news, construction updates, and weekend events and offers for us to get to that we'd better just dive right in!

The Sherman Brother's Get their window on Main Street

For 50 years, the Sherman Brothers have been working musical magic for the Walt Disney Company. They have become synonymous for catchy tunes such as "It's a Small World," "Chim Chim Cher-ee," and "Chitty Chitty Bang Bang" (not a Disney film) which are known the world over.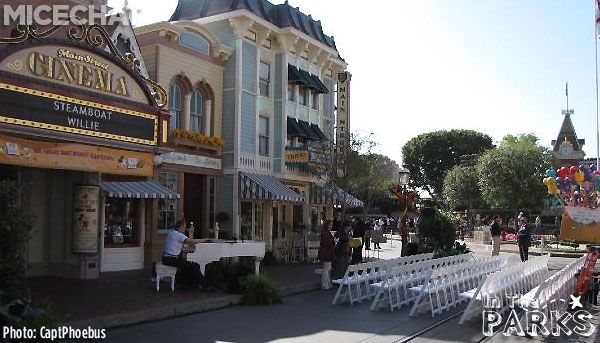 The window and the ceremony was located in front of the 20th Century Music Shop
The brothers have won two Academy Awards for Mary Poppins, two Grammy awards, and countless nominations, gold and platinum albums and accolades of all sorts. If you loved Mary Poppins, Bedknobs and Broomsticks, The Jungle Book and The Aristocats you were enjoying the music of Disney's most successful musical team. On March 11, 2010, these Disney Legends received their rightful place in history with their very own "window" on Main St.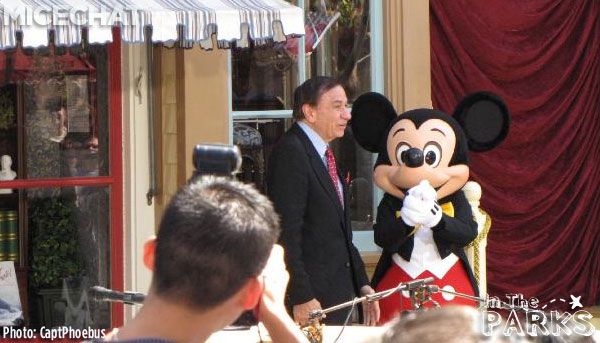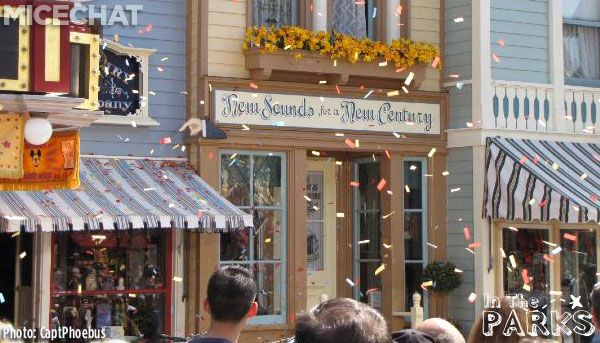 It was a festive event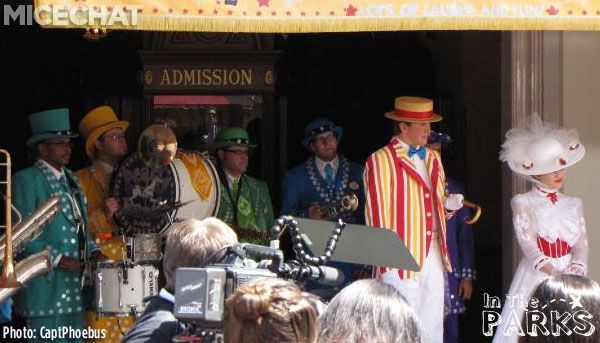 With several musical performances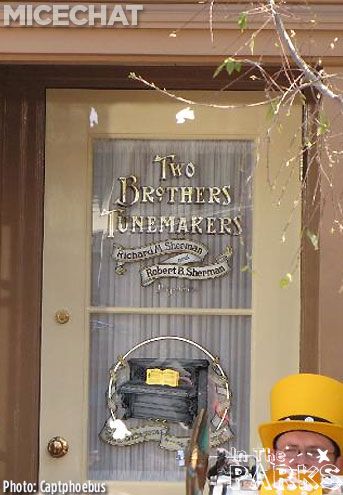 The big unveiling

Richard and Robert Sherman now officially have their own window on the door to the 20th Century Music Shop - "Two Brother's Tunemakers." A very fitting location and dedication for a couple of men who have netted the Disney Company countless millions of dollars and captured the hearts and minds of the world.
More photos and information from the event are posted on MiceChat here:
Sherman Brothers Window Dedication March 11, 2010
.
Disney Domestic Parks Pass "Premier Pass" Now On Sale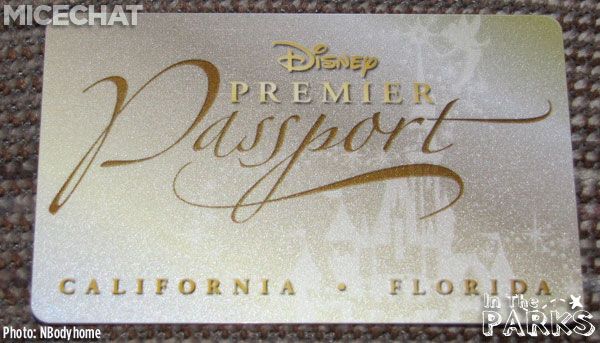 As first reported right here in the In The Parks blog about a month ago, Disney has begun selling a "Premier" passport good at both Disneyland and Disney World. The pass costs just $700 and provides full access to Disneyland and Disney World parks (including water parks and Disney Quest) without blackout days. Sarah Tully of the OC Register has done a nice job explaining the pass:
http://ocresort.freedomblogging.com/...s-parks/37063/
GardenWalk Drama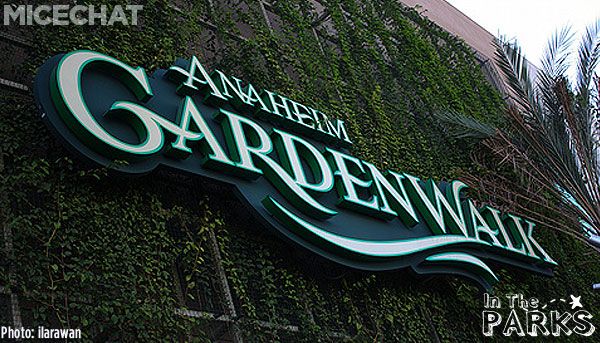 The GardenWalk Mall, conveniently located between two Disney parking lots, the current resort area, and the proposed 3rd park, has missed its debt obligation payments and was scheduled to go up for auction on March 9th. However, that
auction has been delayed until April 8th
. The GardenWalk property is known as the "Missing Link" in theme park circles due to its large size and the number of disconnected Disney owned properties it would connect should Disney be able to acquire GardenWalk.
Several hotels and time shares were slated to have been built on and around the GardenWalk mall by now but have been long delayed. Word has come that the city has approved construction to begin on the hotels next year with the time share units to be delayed until later this decade:
GardenWalk hotels to proceed despite mall woes
D23 Announces 2011 Expo and "Destination D" for 2010
The next D23 EXPO is set for Aug. 19-21, 2011, and will be returning to the Anaheim Convention Center.
Also announced this week is the inaugural DESTINATION D event. The event will take place Sept. 24-25 of 2010 at the Disneyland Hotel. The theme of the event will be "Disneyland '55." DESTINATION D: Disneyland '55 will offer attendees "a journey through the design, creation, debut and magical history of the world's first Disney theme park."
Additional information about the 2011 Expo and the inaugural Destination D event are is located here:
Destination D 2010 & D23 EXPO 2011 Announced
Big Thunder Ranch bursts into Spring
Last week we showed you the holiday look that Big Thunder Ranch area was still sporting - but winter is no more at the Ranch as Spring has now taken over.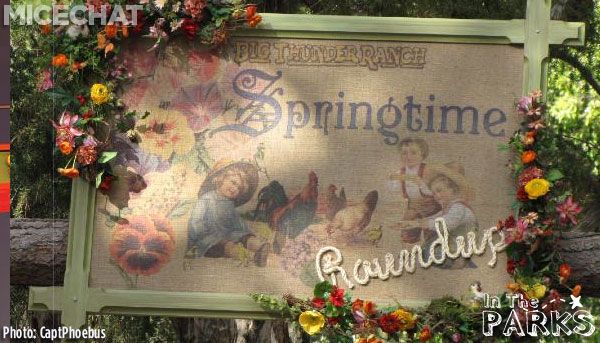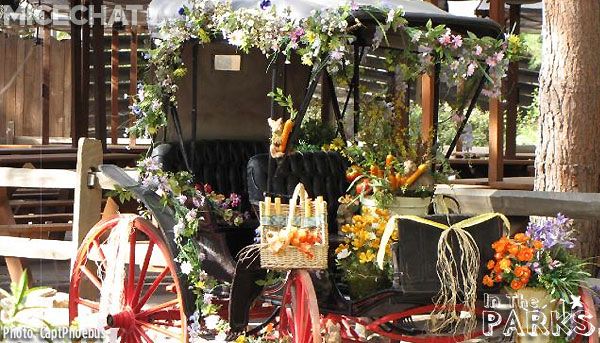 Small World gets a new Marquee and new signage for its sponsor
-
Sylvania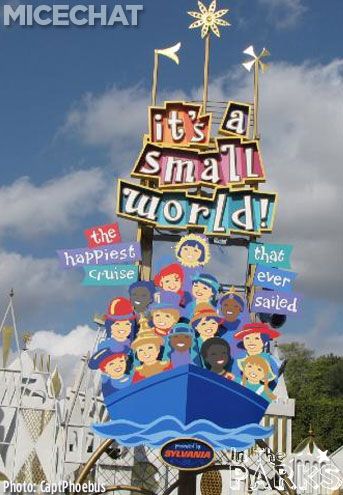 The Happiest Light bulb Company That Ever Sailed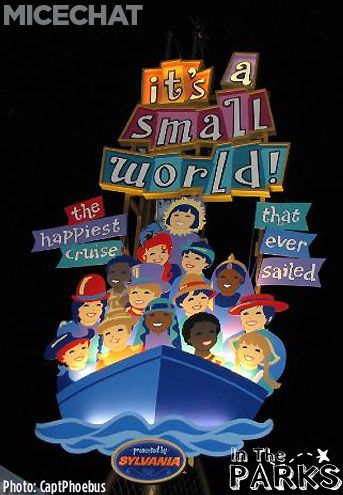 We couldn't help but notice that the lights for "Small" and "World" are either burned out already or broken
D23 Disneyland Anniversary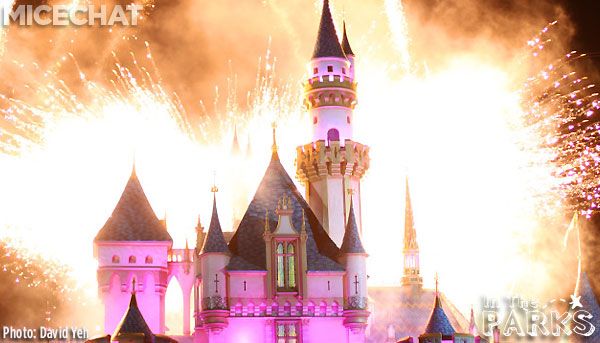 A short fireworks spectacle signaled the start of the evening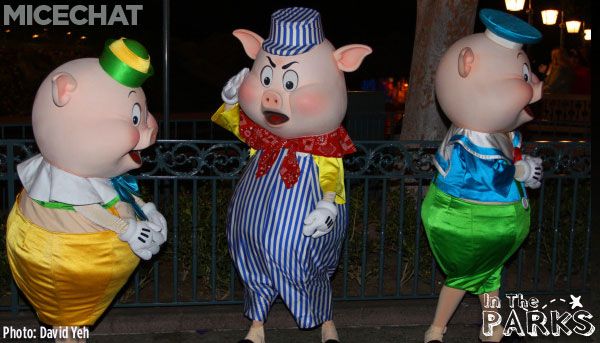 The rarely seen Three Little Pigs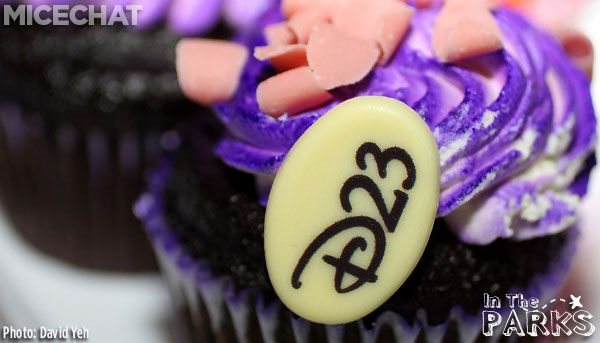 Lots of treats were available to be enjoyed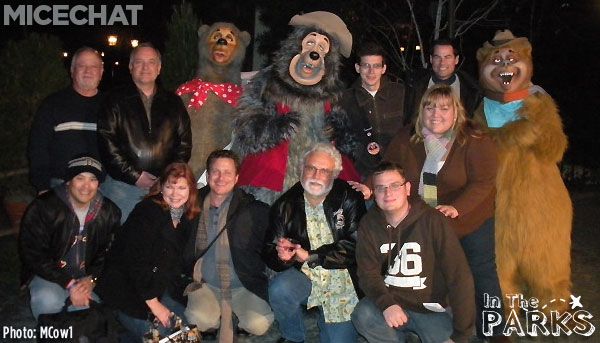 Some of the MiceChat crew take a photo with our beloved (and dispossessed) Country Bears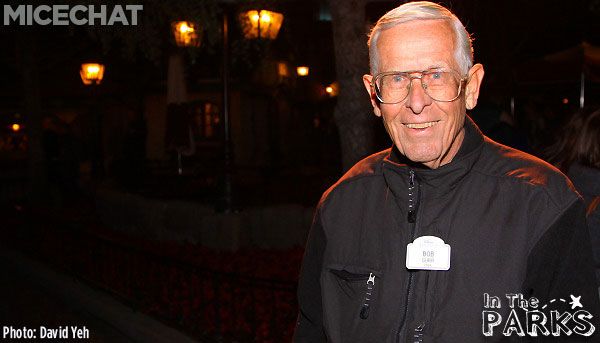 Legendary Imagineer Bob Gurr mingled with the crowd. We LOVE this guy! He is such a hoot!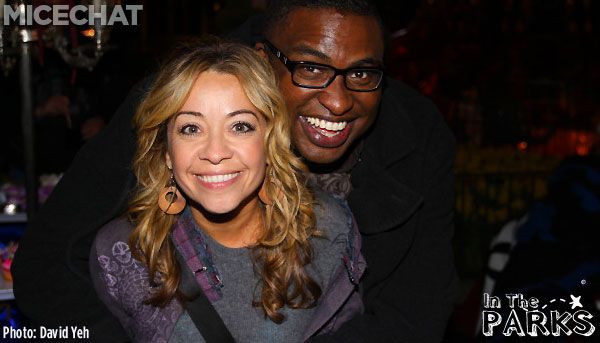 Princess and the Frog stars Jennifer Cody (Charlotte) and Michael-Leon Wooley (Louis)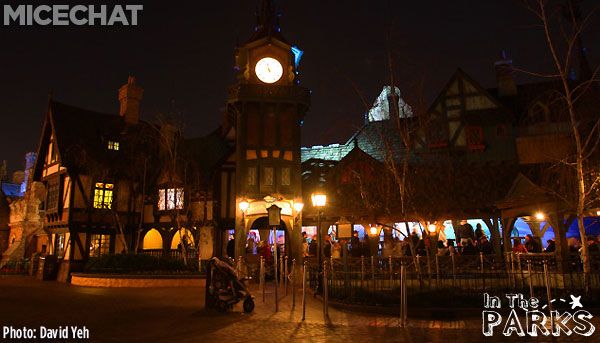 All of Fantasyland (with the exception of Matterhorn and the Carousel) were open for the evening with little or no waiting.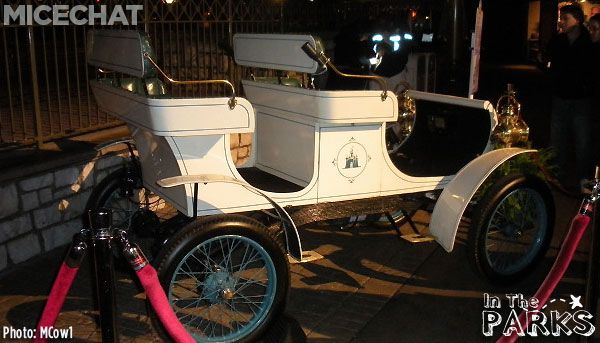 Walt's motorized runabout - We've never seen this before. It is beautiful.
Rivers Of America refurbishment
Track replacement, Fantasmic refurbishment, and minor updates to the planting and animatronics around the river continues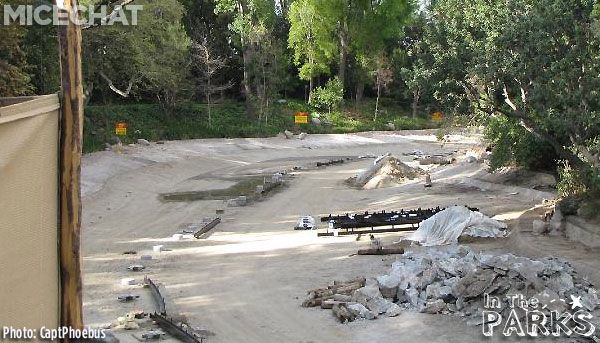 Cars Land Construction
Not too much new this week in Cars Land (at least that we can see), but we just LOVE seeing that first bit of track sitting out in the open. To us, this is better publicity for Disney than any marketing pitch or press release. We simply can't wait for this ride to open! Like Epcot's Test Track on steroids - enhanced, rich story line, and detailed show building and surrounding area. This is the most major and immersive attraction Disney has attempted since Animal Kingdom's Expedition Everest.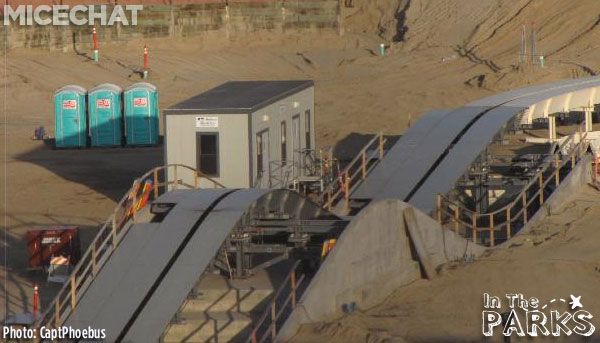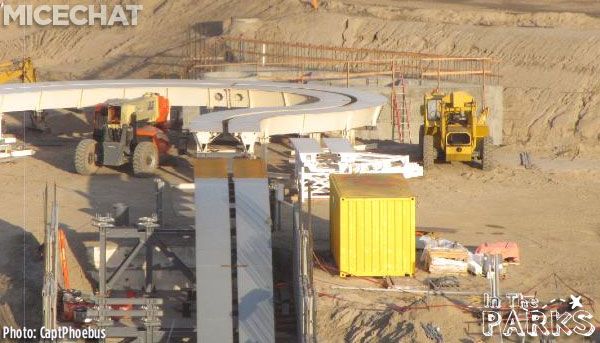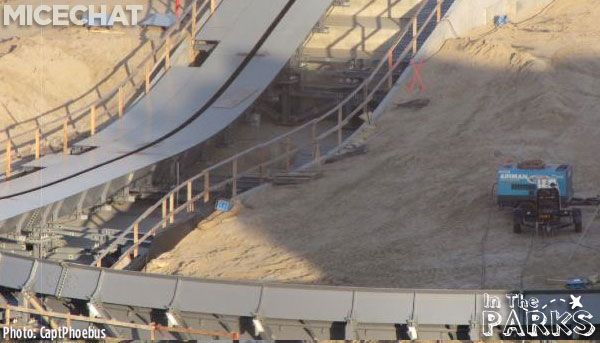 World of Color
Testing is now being conducted day and night.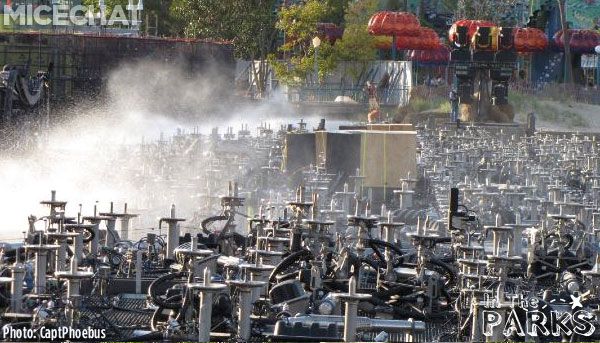 Beautiful high resolution photos of World of Color testing has just been posted by MasterGracey in the
DCA Tracker Thread here
Paradise Park
World of Color may be getting all the attention, but what has us gushing with excitement this week is the planting of Paradise Park. . . a sure sign that construction walls will begin to come down soon and that a new and much greener Paradise Pier is on the way!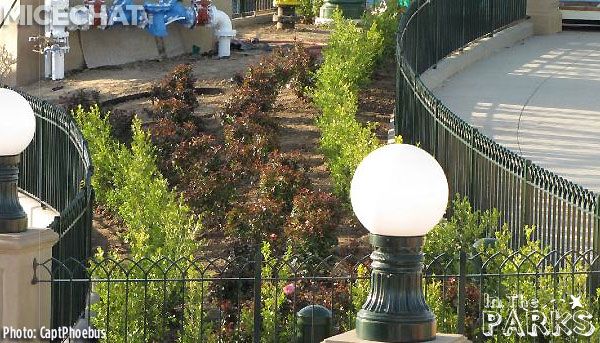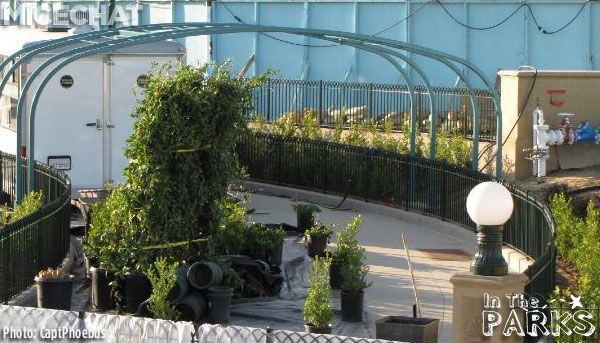 Symphony Swings
The Swings, though they aren't our favorite part of Paradise Pier's transformation, continue to progress with a new tree being planted just outside of Swing's reach.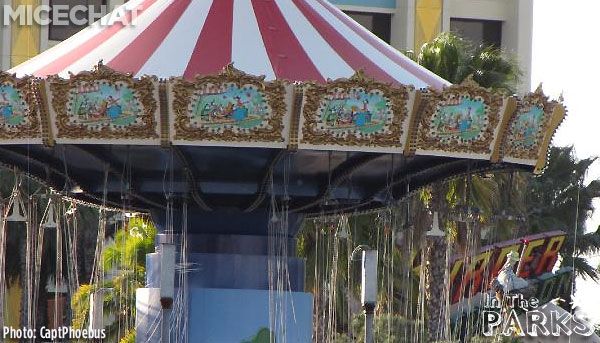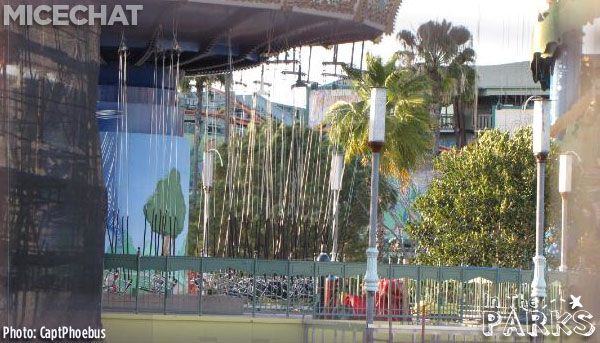 Night Lights For Knott's - Snoopy's Starlight Spectacular
Disney won't be the only local park with a new night time spectacular this Summer. Knott's Berry Farm is planning to transform Camp Snoopy into Snoopy's Starlight Spectacular with giant inflatable Peanuts characters and thousands of syncronized dancing lights in, around, and above Camp Snoopy. It will certainly be no competition for Disney's World of Color, but it might offer a less stressful and hectic experience for families looking for a quick and low stress evening out in the park.
Knott's and Disney Fight For The Night
Knott's to be sold?
Around Disney : The Orange County Register
Will Apollo Management Group buy Knott's and the rest of the Cedar Fair Entertainment chain? That is a very real possibility, but there are a few roadblocks being set up by investors. D-Day set for Knott's sale -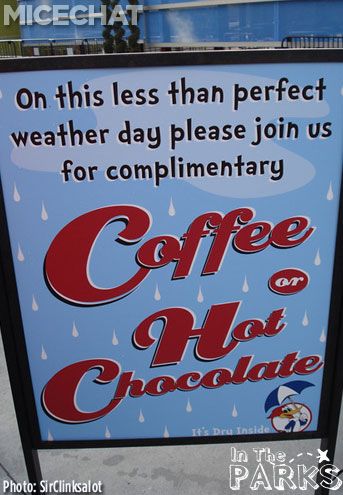 Universal Studios Offers Rainy Day Guarantee Although the park usually remains open on rainy days, guests visiting Universal Studios Hollywood on a day when the park receives over 1/8" of rainfall by 2:00 p.m. will be offered a rain check good for a return to the park any time in the following 30 days. In addition, on rainy days, Universal Studios Hollywood offers designated covered and indoor rest areas with complimentary coffee and hot chocolate and character visits.

Los Angeles Home Show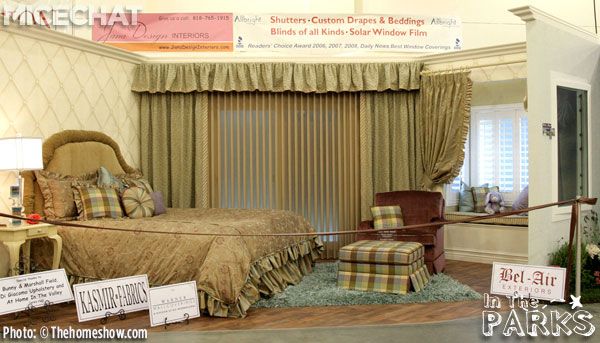 The LA Home Show Is In Town
Lots of folks have fond memories of the annual Home Show at the L.A. Convention Center. See the latest trends and technologies in home design and renovation. 10 a.m. to 8 p.m. Saturday and Sunday.
The Home Show - your internet guide to the Home Improvement Highway offers discounts and passes to event.
March 13, 2010 Napa Valley Mustard Festival.
A Signature Event for Connoisseurs. Napa Valley Mustard Festival event celebrates the mustard season and taste mustards from around the world. 11 am to 5 pm. Adult admission to The Marketplace at $35 in advance, $40 at the door, includes eight food and five wine tasting tickets (value $1 each), plus a souvenir wine glass. Student admission, ages 13 to 20, at $10 includes five food tasting tickets. Admission for children ages 6 to 12 is $5. Children under the age of 6 are admitted for free. Location: River Walk at RiverFront, Historic Napa Mill and Veteran's Memorial Park in Downtown Napa, CA
Taste of Solvang March 19, 2010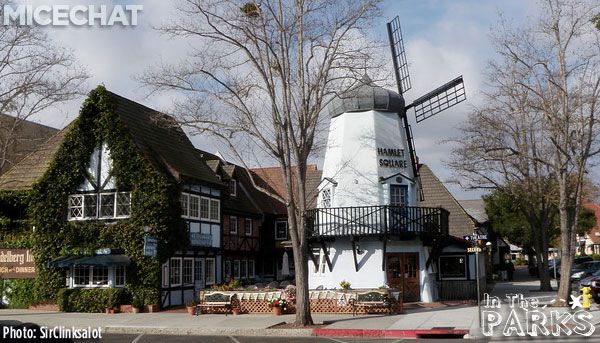 Taste of Solvang March 19-21, 2010
The 18th Annual Taste of Solvang Food & Wine celebration throughout downtown Solvang features scrumptious desserts and dessert wines and live music, 45+ Delicious Taste Stops located around the village at bakeries, restaurants, gourmet specialty shops, candy and coffee shops, retail stores and more!
Receive valuable shopping and dining coupons from each Taste Stop. Join the walking wine tasting room tour, pick up your complimentary wine glass and stroll downtown Solvang to savor fabulous wine from participating wine tasting rooms. What to do in Solvang, California, USA,
Dine in the San Diego Gaslamp District for Less!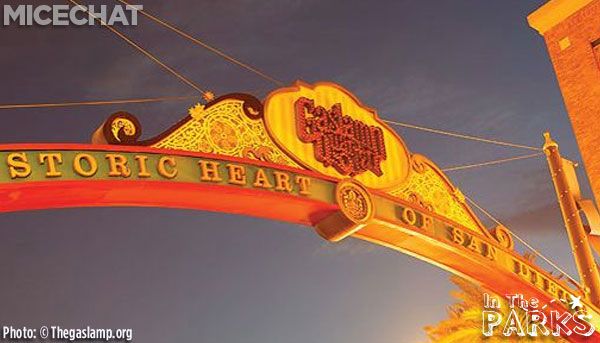 With over 100 restaurants in and about San Diego's Gaslamp District, there is no question you are going to have a great meal, but why pay retail? The online Gaslamp Nightlife Guide features coupons good for substantial discounts at some of the District's most popular restaurants. Just a few examples this week: Buy One Meal with 2 Beverages, get a Second Meal Free at Monsoon, Marsala or Soleil@k, $15.00 Off 2 Dinners at Greystone and Panevino, a Burger and a Beer for $10 at Nicky Rottens, a Free Appetizer with purchase of 2 Entrees at Dick's Last Resort. Offers are added and updated daily, so check back often. Just print and bring your coupons with you!

Coupons HERE

Huntington Beach Kite Party
Watch the nation's top kite fliers and view the colorful spectacle for yourself. 9 a.m. to dusk on beaches north and south of Huntington Beach Pier (approximately 315 Pacific Coast Highway, Huntington Beach, CA.). Free to watch.
http://www.kiteconnection.com
Grunion Run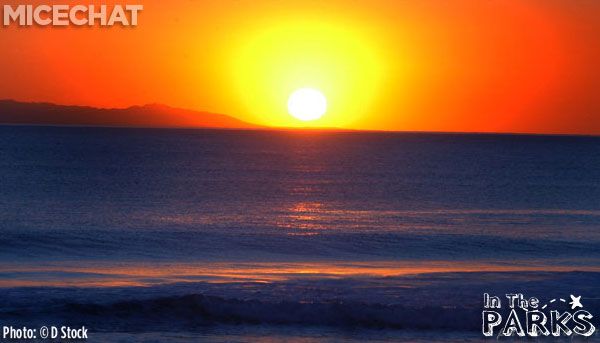 The times offered are merely guidelines offering a two-hour span in which spawning runs may occur at Cabrillo Beach in Los Angeles County. Subtract five minutes for San Diego, and add 25 minutes to find the time for Santa Barbara. The best runs normally occur on the second and third nights of the four-night period. The second hour is usually better. Grunion can be captured by hand only during open season, and you aren't allowed to dig holes to trap them. 16 and older must have a California fishing license to participate. While you can take all you want, don't be wasteful. Take only what you will eat. Thanks! For more information on what is a Grunion Run look here: California Grunion Run
March 15 10:05 p.m. - 12:05 a.m.
March 16 10:30 p.m. - 12:30 a.m.
March 17 10:50 p.m. - 12:50 a.m.
March 18 11:15 p.m. - 1:15 a.m.
Aquarium of the Pacific Shark Lagoon Nights
The public is invited to get up close with the ocean's ultimate predators at the Aquarium of the Pacific for FREE during Shark Lagoon Nights. Guests will have the opportunity to touch bamboo sharks and see large sharks such as sandtigers as well as rays in the Aquarium's Shark Lagoon. From 6:00 p.m to 9:00 p.m. on the following Friday nights: Mar 12, 2010, Mar 19, 2010, Mar 26, 2010, Apr 2, 2010, Apr 9, 2010, Apr 23, 2010, Friday, Apr 30, 2010, Friday, May 7, 2010 6:00 pm–9:00 pm
St. Patrick Day Parades and Festivals:
Sacramento.
Held at Old Sacramento, the one hour parade begins promptly at 6 p.m. The parade route beginning at 2nd Street near the California State Railroad Museum. Heading south to L Street, the event turns right on L to Front Street, then right on Front to J Street, where the parade ends at Front & J.
San Diego
30th Annual Parade and Festival. Parade begins at 11:00 a.m. sharp! 6th and Laurel, Balboa Park
San Francisco
- 159th annual parade.
Begins at 11:30 AM at corner of 2nd & Market, San Francisco, CA.
Festival of the Whales, Dana Point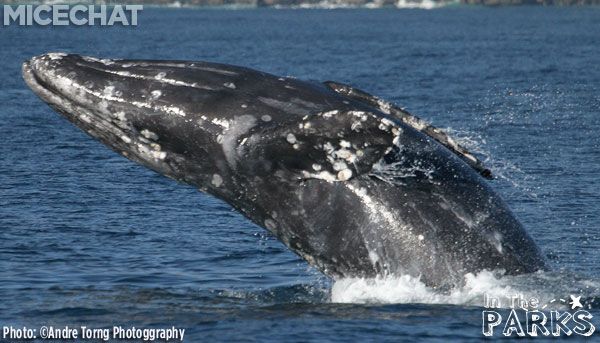 The whales have returned to Southern California. Every year, the citizens of beautiful Dana Point (in Southern Orange County) mark the occasion with a celebration.
Festival of Whales 2010 Web Site
Best deals on Disney merchandise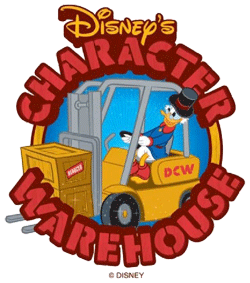 250 New Items At Disney Character Warehouse
AMS Disney Character Warehouse has notified us that they have over 250 new items in the store this week at the Disney's Character Warehouse location in Fullerton!
Orangefair Marketplace
243 Orangefair Mall
Fullerton, CA 92832
(714) 870-9363

Shop early for best selection!
Character Warehouse - Disney Merchandise Deals!
Gumball Rally Registration Has Opened!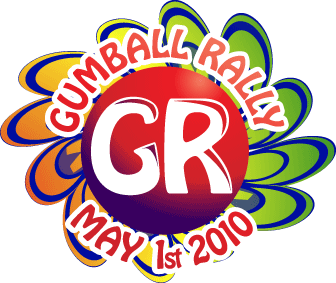 Have you ever wondered if it was possible to ride all of the attractions at Disneyland in a single day? MiceChat devised the ultimate family theme park event which answers that question.
The MiceChat Gumball Rally is an extremely fun and creative contest which awards prizes to teams who are able to ride the most attractions at Disneyland in a single day.
This
is one event that you won't want to miss! For more information about the Rally, visit the
Rally Information Page HERE
OR
SIGN UP NOW - HERE!
We've reached the end of today's column, but there is still an exciting world to discover on MiceChat.
While you're here, you might want to check out Dateline Disneyland which is packed with great news and photos from the Disneyland Resort. And don't miss MiceChat's Weekend Update, which tours the world of Disney theme parks and other worldly sights and landmarks! And you'll always find something interesting on the forums and on MiceAge.
If you enjoyed today's update, please share it with your friends on
Facebook
,
Twitter
, and beyond!
Big thanks to this week's photographers
David Yeh, CaptPhoebus, mcow1, Sir Clinksalot
and
Denise "Nbodyhome" Preskit
. We would also like to thank this week's news and events gatherers
Pratt55,
MickeyMaxx
,
Sir Clinksalot, Dustysage
and
Monorail Man
. If you've got news, photos, or tips to share, please contact
dustysage@micechat.com
. We'd love to hear from you!
Thanks for reading, we hope you enjoyed yourself and that you'll help us reach out to others who might enjoy this blog by sharing it with your friends and family.
We'll see you again real soon, In The Parks!
Your Editors this week -
Fishbulb
&
Dustysage