Greetings, salutations, and welcome back to the In The Parks Blog - Southern California theme parks and attractions summarized for your convenience and pleasure. Disneyland, Universal Studios, Knott's, Six Flags, Renaissance festival, free events, and much more.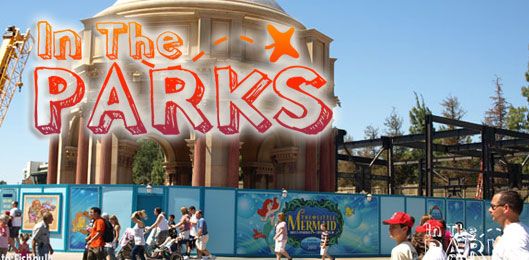 Well, it has been hellishly busy at Disneyland and other local theme parks and attractions, but there is a light at the end of the tunnel. . . spring break doesn't last forever and this one is coming to an end. Most schools will be done with spring break by Friday of next week. And if you are looking for an escape from Disneyland crowds, we've rounded up some free and fun activities for you at the end of today's update, so be sure to read all the way through to the end. We'd also like to remind you not to miss MiceChat's 4 hour Gumball Rally on May 1st, 2010. It is a great event for the whole family. Sign up today, before we sell out:
MiceChat Events Store (Powered by CubeCart)
Now, on with the show . . .


CROWDS CROWDS CROWDS!!!
WOWEEE the Disneyland Resort has been busy this spring break season. To illustrate the point here are a few images from Wednesday of this week.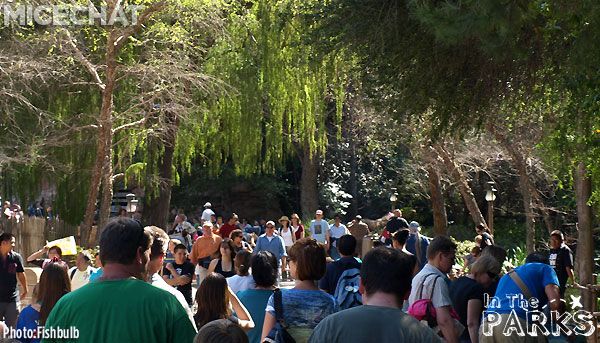 Disneyland: Big Thunder Trail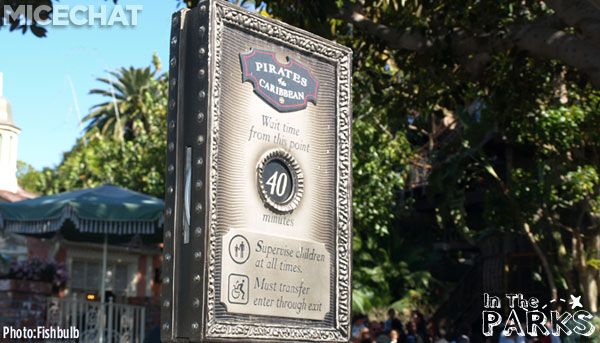 Disneyland: 40 minute wait for a ride that
churns out 3,400 guest through an hour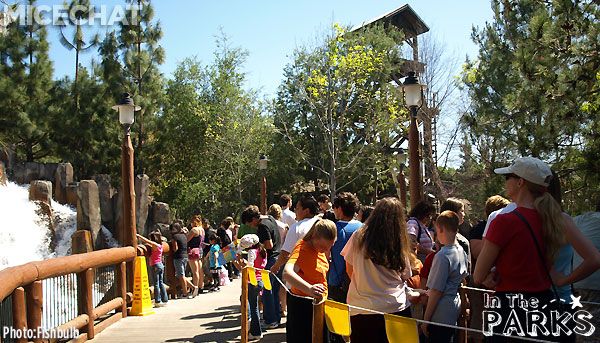 DCA: 90 minute wait for Grizzly River Rapids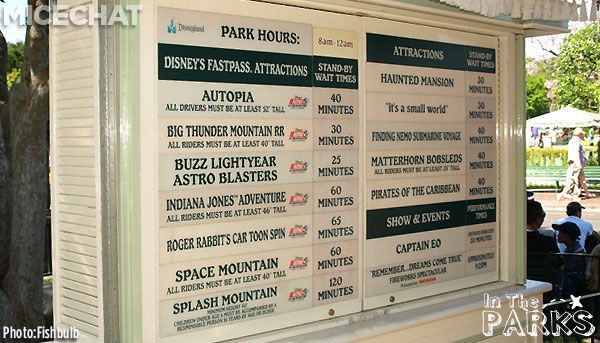 Disneyland: Note the 120 minute wait for Splash Mountain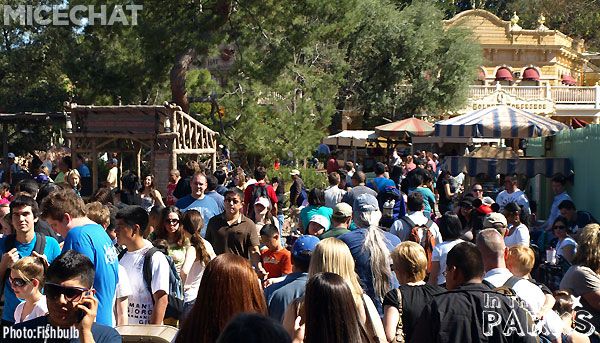 Disneyland: clogged paths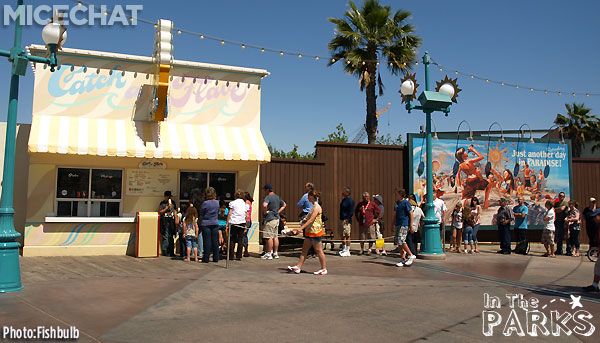 DCA: minimum half hour wait for an ice cream cone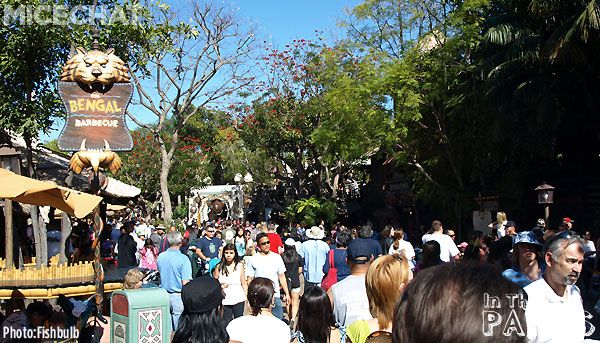 Disneyland's always congested Adventureland was near gridlock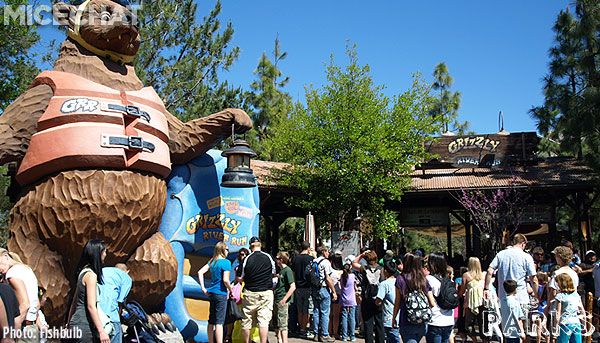 Luckily, this weekend marks the end of the peak spring break season. Things will begin to return to normal next week.
Disney's California Adventure Update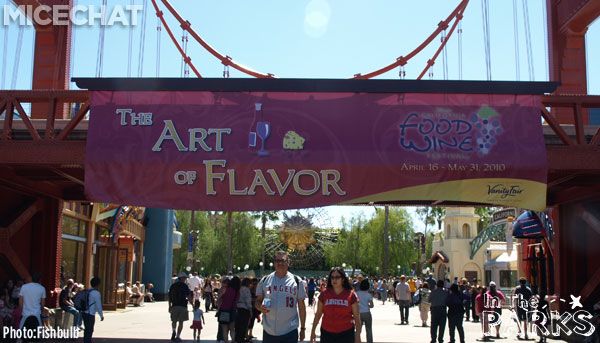 Food and Wine festival is coming right up folks - Food and Wine Festival Details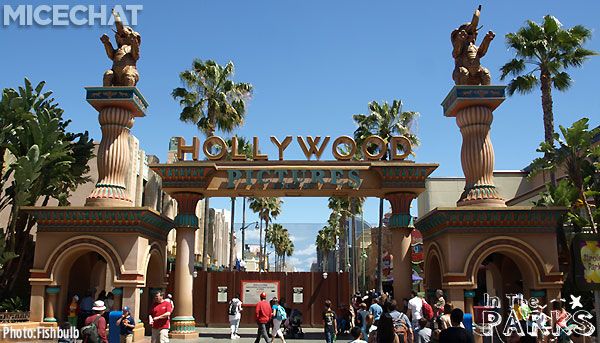 The Red Car Construction rolls along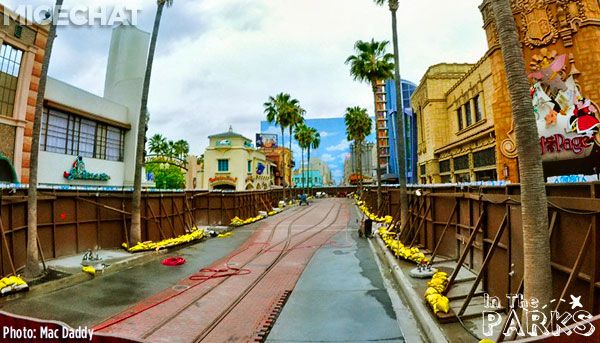 This picture courtesy of Dateline Disneyland shows the
brickwork lining the rails laid for the Red Car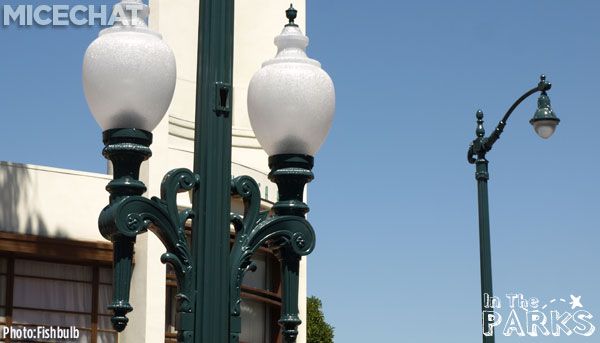 The lamp posts are being refurbished as the construction continues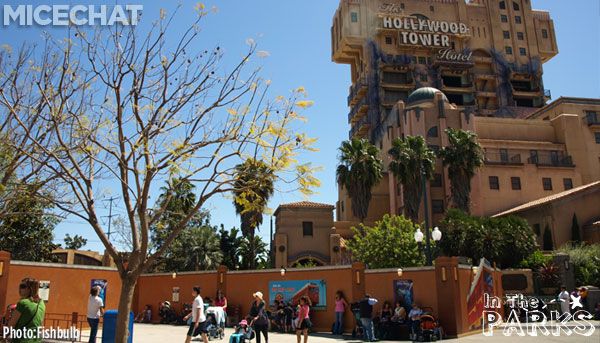 Over at the Tower of Terror leg of Red Car trolly construction...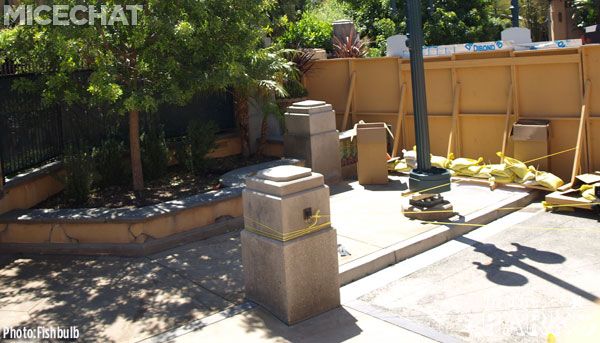 Paradise Park
Over at Paradise Park the suits were out watching the testing of the play fountains in the viewing area before the walls come down.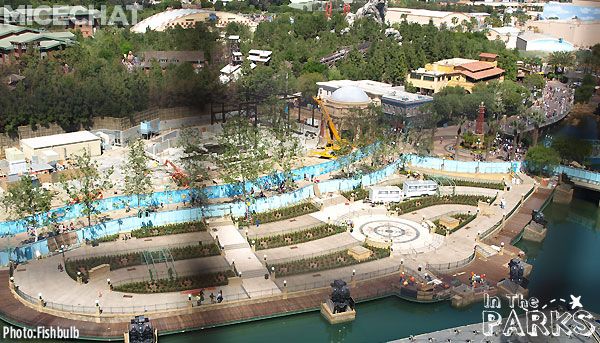 The overhead view of Paradise Park. It's looking lovely.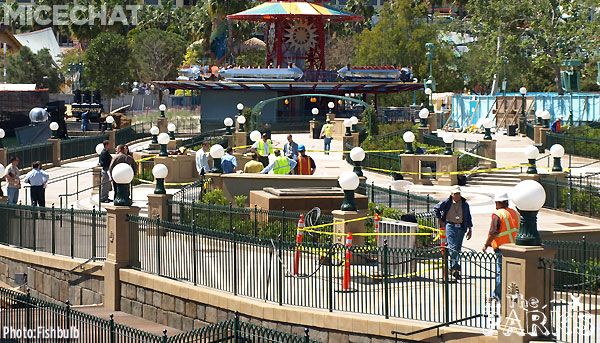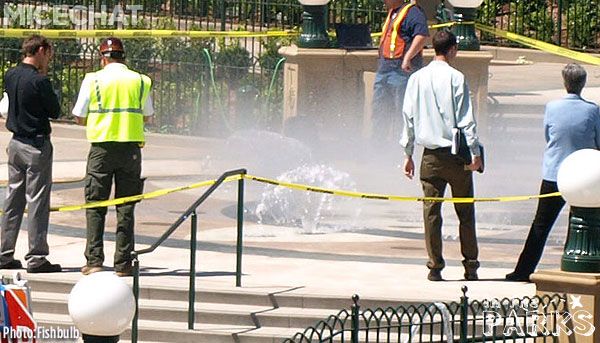 The new play fountain is in the process of being tested,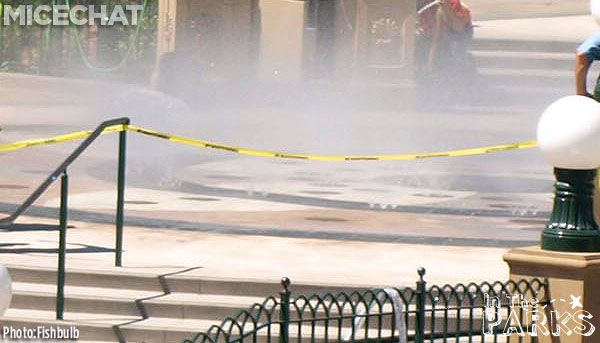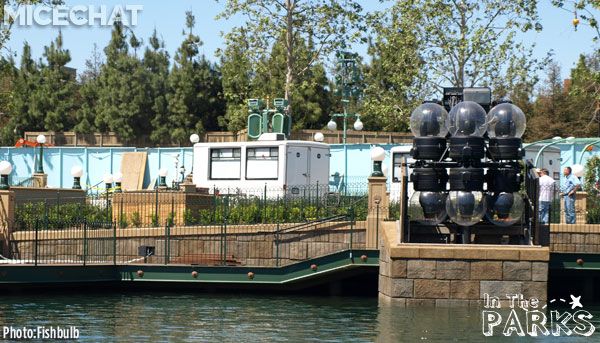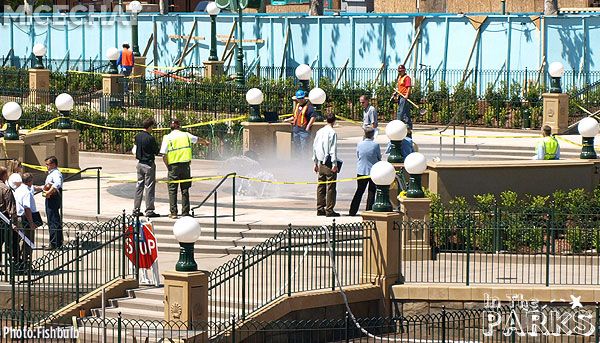 The Little Mermaid
The Little Mermaid dark ride building has gone vertical starting with the far back, right corner of the foundation. The building is going to go up fast from this point on.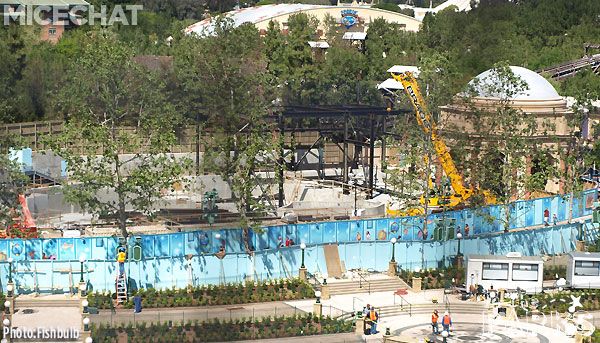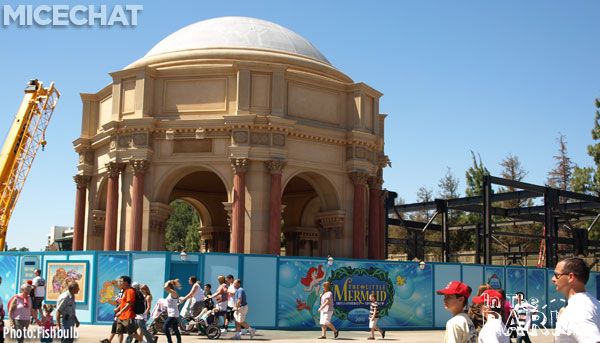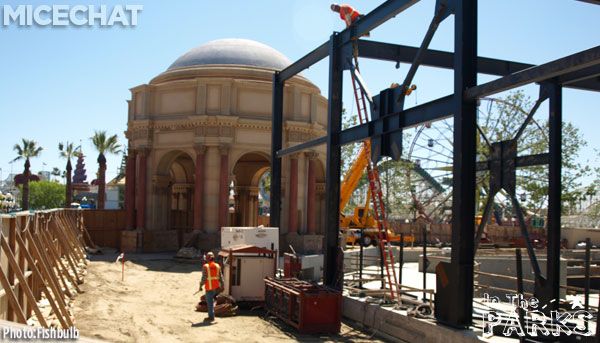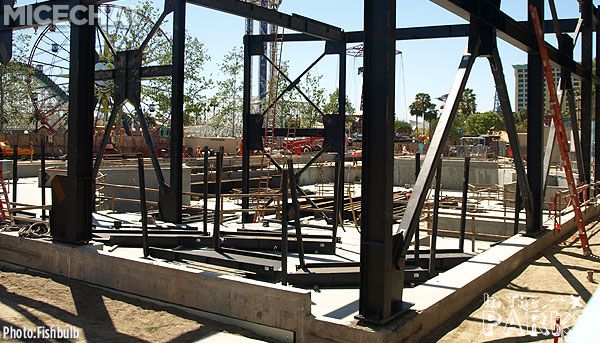 Silly Symphony Swings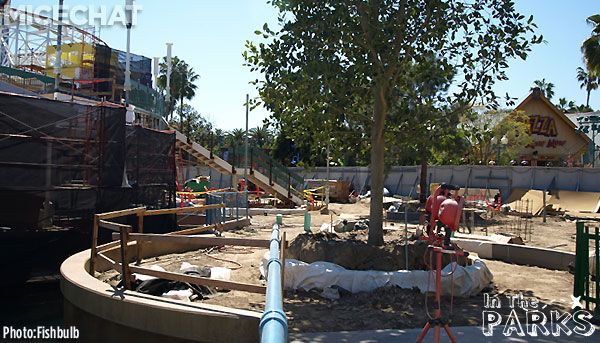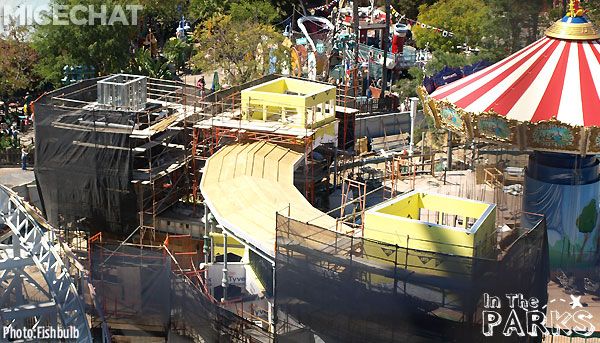 Carsland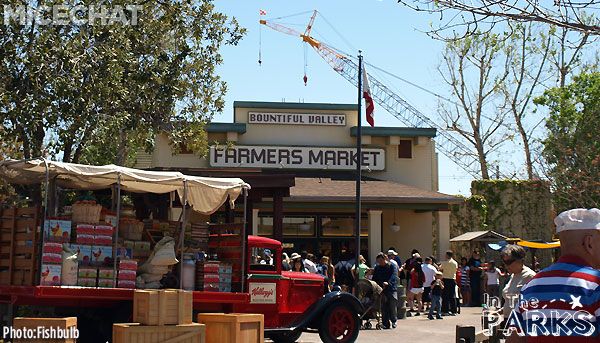 Construction cranes will be a sight to get used to. That's a GOOD thing!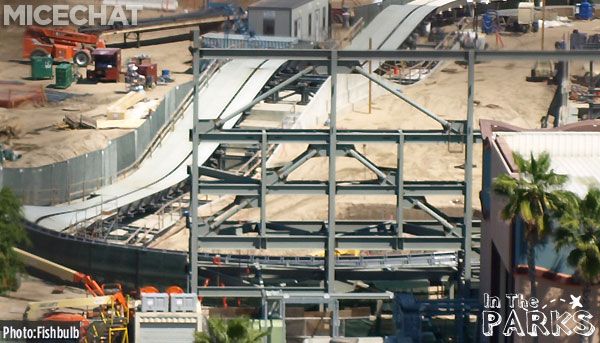 Seeing the first bits of track out there in the open is a wonderful thing to behold.

Golden Vine Winery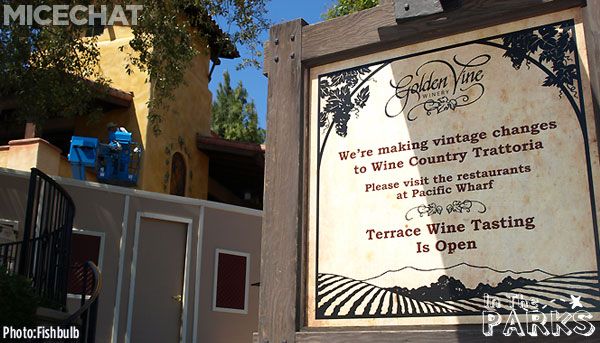 They are putting the finishing touches on the restaurant which will include a brand new menu (though we understand that the vegetable lasagna may make a return appearance)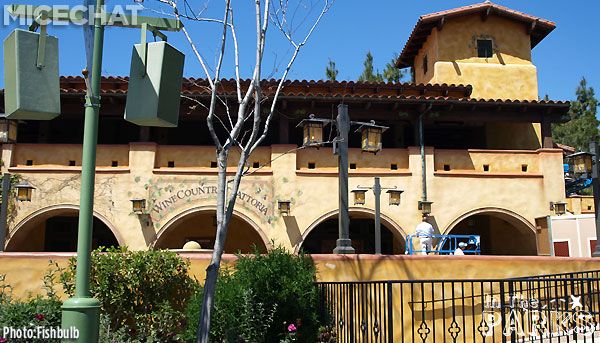 One of the best things to come of this construction was the move of the wine tasting to the much larger and nicer lower terrace. We hope that they ultimately decide to keep the wine tasting on the lower terrace and not do something crazy like putting outdoor vending in there.
Disneyland Update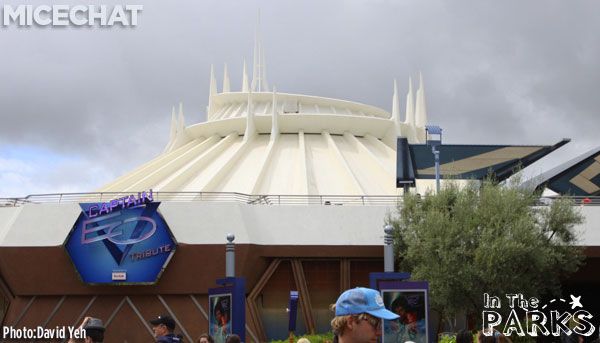 Although rain was in the forecast during the week, the heat returned by Wednesday for the Spring Break crowds
Rivers of America
Rivers of America remains drained and under refurbishment, even as near record crowds swarm the fended banks. Things are coming along nicely and appear to be on schedule for an early May opening.
Construction crews have to be cautious working through the web of gas lines used for Fantasmic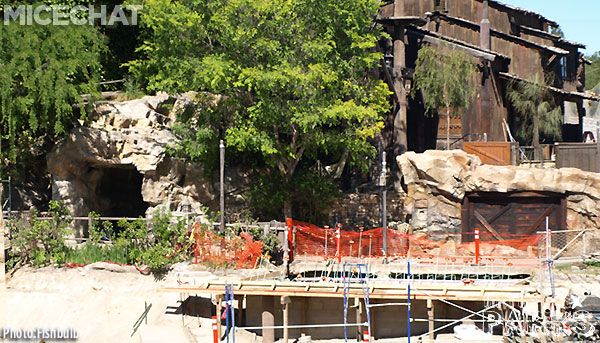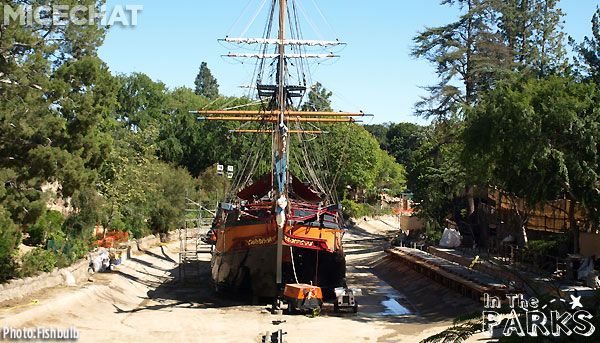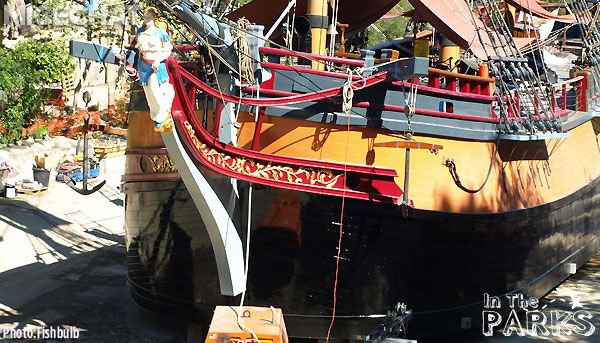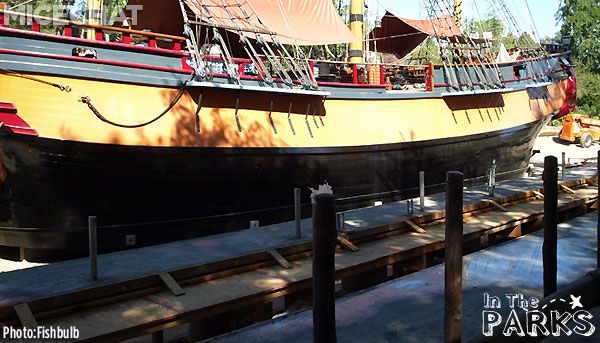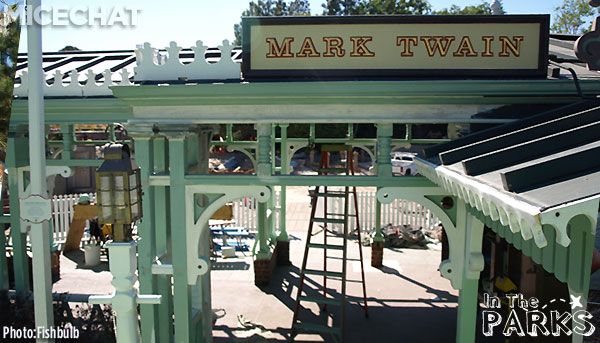 The Loading dock gets the royal treatment during the refurb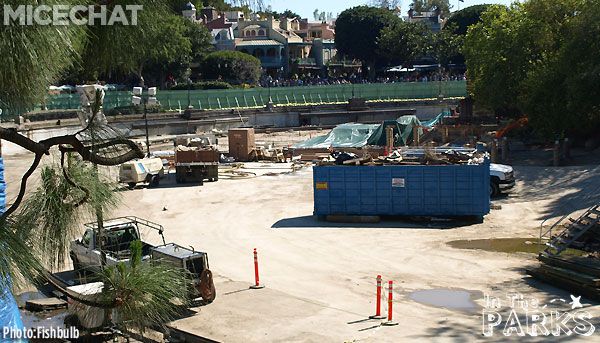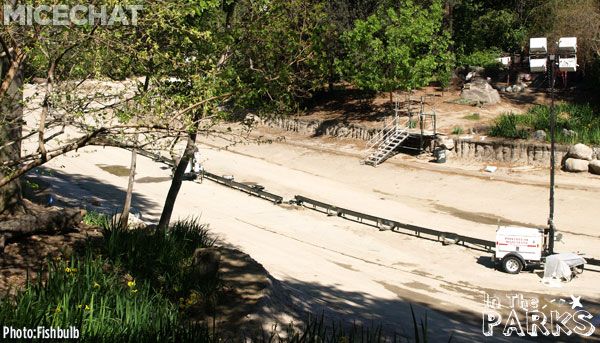 The entire big ships track was replaced during this refurbishment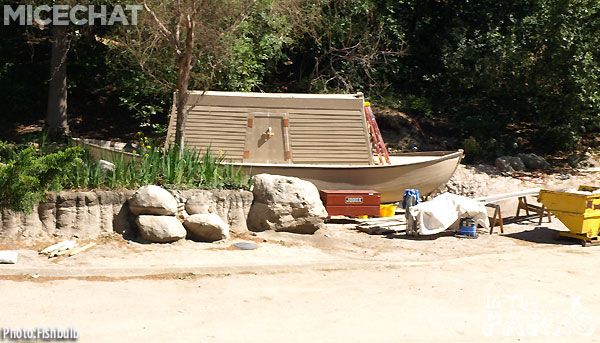 A keel boat has returned to the inner banks of the river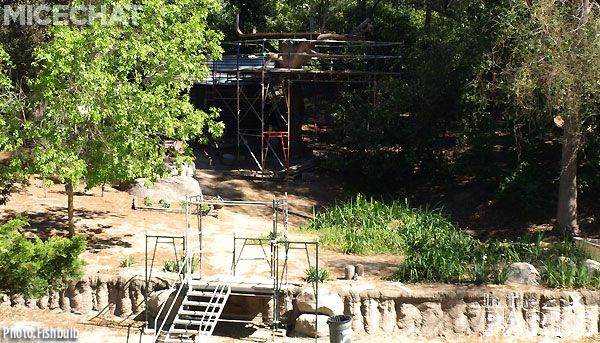 Tomorrowland Terrace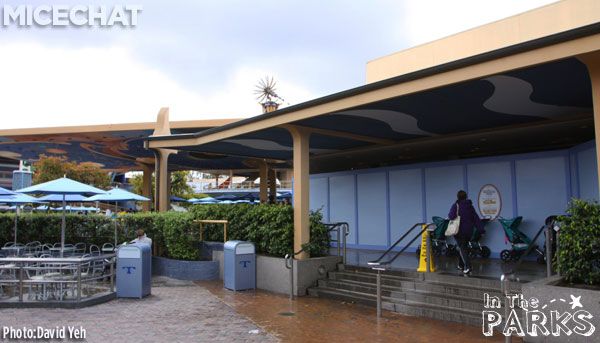 Tomorrowland Terrace will reopen in early July with a brand new kitchen.


Merchandise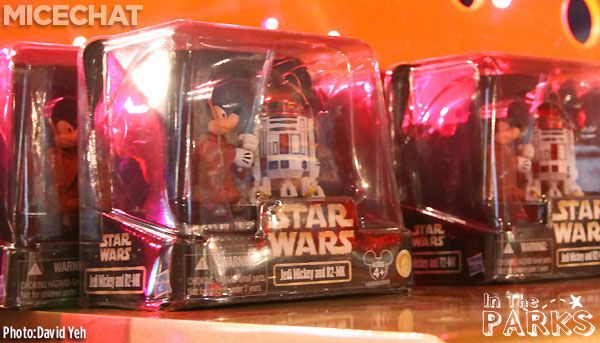 New toy released over the weekend at Star Traders: Jedi Mickey Mouse with R2-MK (it's a droid with mickey mouse ears on it): $18.95
Just a reminder to those wishing to use 2-Fer tickets, the
first day of use must be on or before April 12, 2010 and the 2nd day used within 30 days of first use.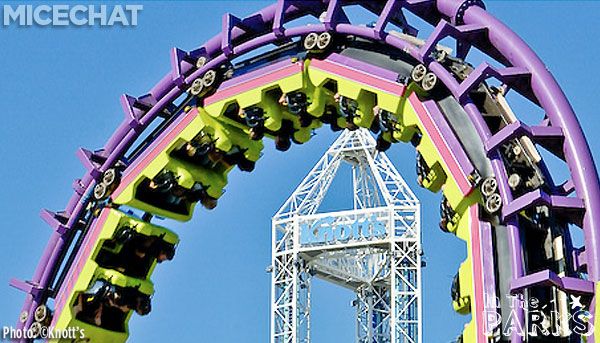 Spring Special
! Now through April 30th - Regular tickets $31.99 and Junior tickets (Ages 3-11) are just $19.99 when you buy them online only.
Knott's Berry Farm
The Coaster Run April 18
Knott's Berry Farm invites you to run, walk, and then ride the coasters for the Buena Park Speech and Language Development Center. The Speech and Language Development Center assists challenged children and adults to reach their maximum potential through education and therapy. All 5k and 10k participants will receive discounted entry to Knott's Berry Farm (Regular Admission) and those with $100 or more in sponsorship will receive complimentary entry. All participants get an original Coaster Run medal and a slice of Knott's famous boysenberry pie at the finish line. Register on-line at
www.RenegadeRaceseries.com
. For more information on the Speech and Language Development Center, visit
www.sldc.net
.
"KNOTT'S PRESERVED" EVENT Sunday, April 18
has sold out! Congratulations to those of you who took our advice and bought your tickets early. We'll see you there! And for those of you who were unable to obtain tickets, we'll share them with you right here in the column after the event.

Universal is about to be a whirl of excitement and construction as they prepare for the return of King Kong (although he will be projected in 3D and not a huge physical animatronic as he once was). On the lower lot, Backdraft and the Special Effects stages will close at the end of the week to make room for a massive new attraction which promises to be the ultimate theme park attraction in Southern California (we'd say in the world but it has a sibling attraction in Singapore). We have also learned that, after this weekend the Panda express location on the lower lot will be closed until summer for the usual maintenance. In a stranger move, Doc Brown's Chicken and the Cantina will only be open on weekends until summer. And if all that wasn't enough, Uni is giving the whole family a blow dry . . . All this and more thanks to our Uni insider, f!an. read on my friends, read on . . .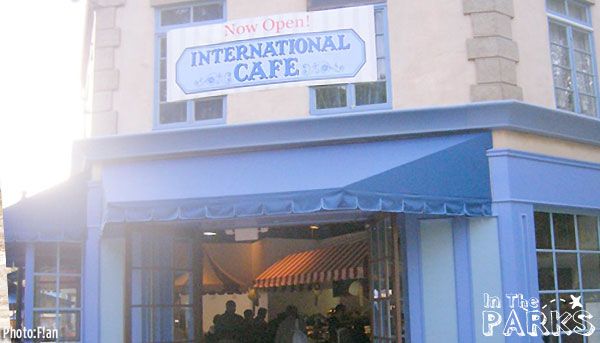 The International Cafe/Marketplace
The new International Cafe/Marketplace that we reported on last week has been seeing some amazing business. So much so that starting this weekend one more salad and one more sandwich is being added to the existing menu. On more than one occasion multiple sandwiches have sold out by lunch time and they had to make more to satisfy the demand.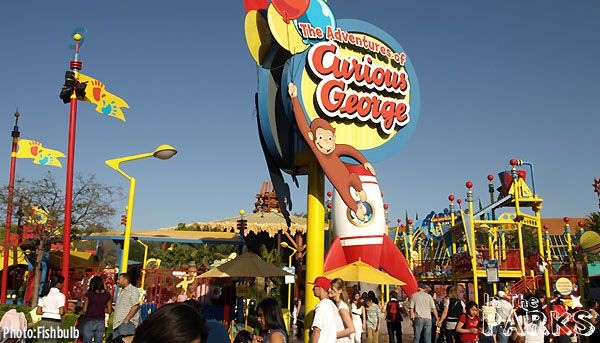 Visit Curious George and you are likely to get soaked!

But these new "Family Dryers" promise to blow you dry in no time.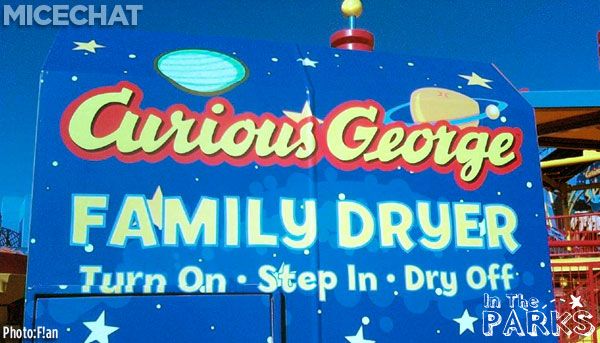 But at $5.00 for 3 minutes perhaps you should just walk through the car wash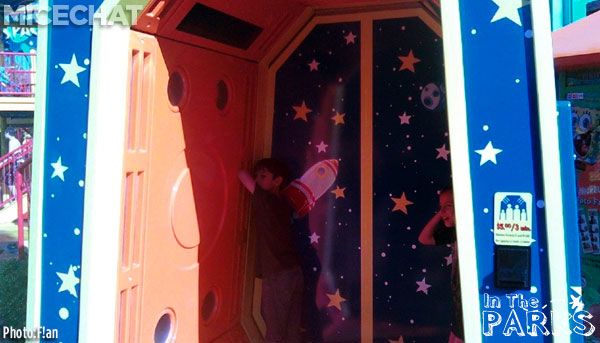 The "Street Sweep' is a hip-hop dance duo disguised as park custodial services employees. The show is high energy and uses music from several decades. It is a very popular show and has regular performances in the lower lot throughout the day. Which the lower lot will soon need since it is losing half of its attractions for a while.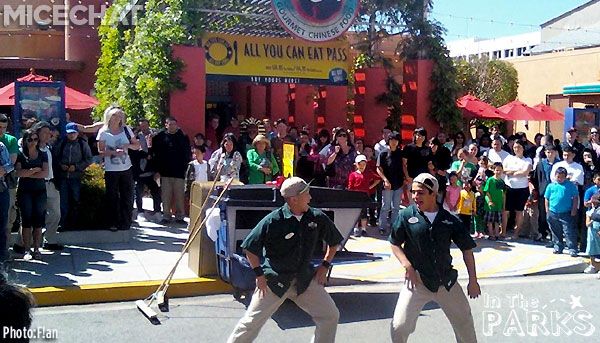 The street sweep is a hip-hop dance duo
disguised as park services employees
.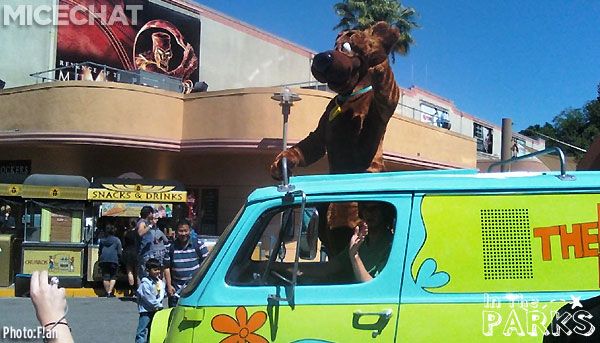 There also is a small show featuring Scooby-Doo
and Shaggy in the Mystery Machine - also on the lower lot.

Six Flags Magic Mountain - Adults Get In for the Kid's Price
Stride Gum has been sponsoring Spring Break activities at various Six Flags theme parks this year. In conjunction with that, they have been offering a discount coupon to Six Flags theme parks on their Facebook page. With this discount, everyone pays kid's price (currently $27.50) by redeeming the coupon, along with a pack of Stride Gum, at Magic Mountain's ticket booths. Each person needs their own coupon and pack of Stride Gum to get this deal. We would recommend that you print up the coupons right away, because it's unclear when Stride Gum will be pulling the coupon off of its Facebook page. However, once you've printed it, the terms on the coupon state that it will be good through October 10, 2010. Here's a link to the
Stride Gum's Six Flags discount coupon
.

Sea World San Diego
Blue Horizons Photo Contest
Enter your favorite Sea World Photo for a chance to win a Grand Prize trip for 4 to Sea World Orlando or other Sea World San Diego prizes. Contest open April 2, 2010 - April 30, 2010
Blue Horizons - Photo Contest

Coachella Music and Art Festival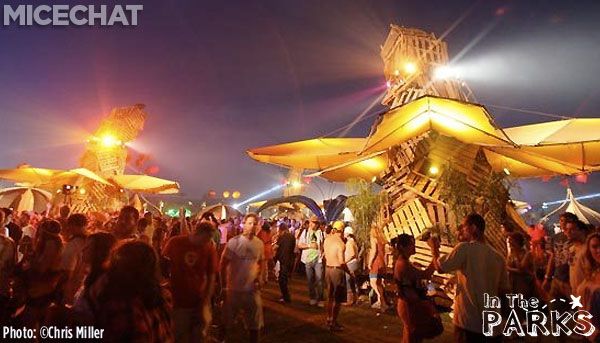 The Coachella Music and Art Festival returns April 16 - 18th. You can find more information about the music and events here:
Coachella
Day Out with Thomas, Fillmore & Western Railway, in Fillmore, CA; April 16, 17, 18, 23, 24 &25, 2010
Day Out With Thomas - Frequently Asked Questions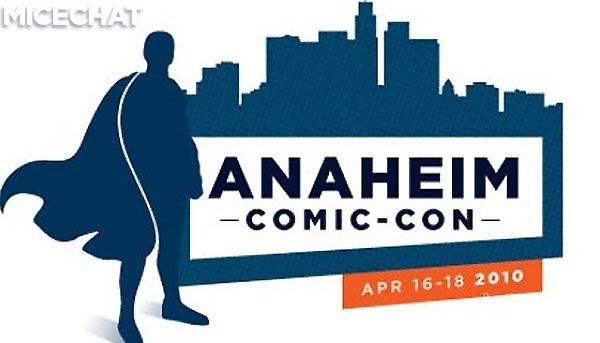 Anaheim Comic Con, April 16 - 18th Anaheim Convention Center
Did you know that Anaheim has its own Comic Con?
Over 150 Celebrity & Special Guests, 400 + exhibitors, Celebrities, artists, voice actors, and more. Check it out here:
Anaheim Comic Con - California Comic Convention, Wizard World Anaheim
The Renaissance Pleasure Faire Is Back
Irwindale Fairs & Festivals: Opening Weekend at Southern California's Original Renaissance Faire on Saturday 4/10 - OC Register
Open Saturdays and Sundays only, April 10 through May 23, 2010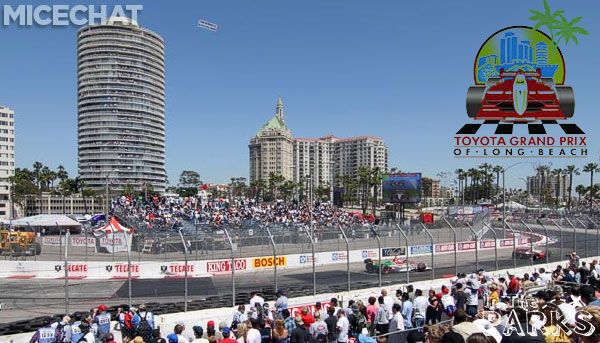 Grand Prix of Long Beach April 16 - 18th.
Tamiya America and the Grand Prix of Long Beach would like to offer you free tickets for Friday's events. Bring a friend or family on Friday.
Click here for the form, print it out and bring with you.
OC Youth Expo, April 9 and 10
The annual Youth Expo
La Habra Spring Citrus Fair April 9 - 11th.
Earth Day Celebration Huntington Beach
The Earth Day Celebration at Bolsa Chica Wetlands is a fun free way to get outside and learn about the environment with the whole family! The day will include interactive booths and games that explore all aspects of the wetlands! Featuring marine animals, birds, oppossums, raccoons, reptiles, wetland ecology, history of the wetlands, and guided tours; kids can have fun while learning all about the wetlands and receive prizes for answering questions! Hot dogs, snow cones, refreshments and more!
Bolsa Chica Conservancy Interpretive Center, 3842 Warner Avenue Huntington Beach, Public Parking Across the Street from the Interpretive Center.
San Clemente 5th Annual Gardenfest
April 10, 2010 8 a.m. to 4 p.m.
Hosted by the San Clemente Garden Club. Admission is FREE! Families are welcome. This years highlights include annual Plant Sale and Garden Flea Market, exhibits demonstrating sustainable practices for your garden, garden related opportunities in our community, Open to the Public 'funky container' and 'floral design' contests, Junior Gardeners butterfly exhibit and plant sale, Question & Answer table with gardening celebrities and San Clemente Artists demonstrating live. San Clemente Community Center, Avenida Del Mar at Calle Seville.
DON'T MISS OUT

- MiceChat's 4 Hour Gumball Rally Is Great For Families and Teams of ALL Ages!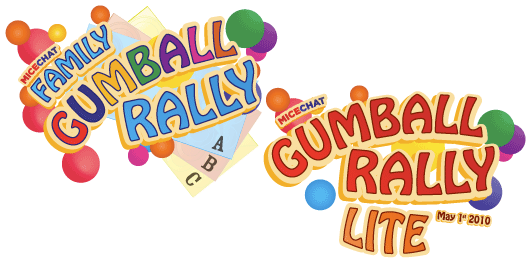 Let's enjoy Disneyland and find out who is the ultimate theme park fan!
The MiceChat Gumball Rally is a competition to find out who can ride the most attractions at Disneyland in 4 hours. Separate prizes will be given to 'Family' teams (with at least one child under the age of 14) and for Adult (or teen) only teams.

This is an extremely fun and creative competition that you won't want to miss:
visit the
Rally Information Page HERE
OR
SIGN UP NOW - HERE!
If you are interested in joining this year's Rally, you'll want to do so soon, all versions of this event are filling up fast!
Sign Up Today!
We are just about to finish this update, but before we do, we want to leave you with more great stuff to read.
While you're here, don't miss this week's
Dateline Disneyland which is packed with great news and photos from the Disneyland Resort. And if you haven't seen MiceChat's Weekend Update, you are missing fantastic world tours of Disney theme parks and other worldly sights and landmarks! And you'll always find something interesting on the forums and on MiceAge.


If you enjoyed today's update, please share it with your friends on
Facebook, Twitter, and beyond!

A huge thanks
to our resident photo bugs and news contributors CaptPhoebus, F!an, David Yeh, Pratt55, MickeyMaxx, Monorail Man, Sir Clinksalot,
David Yeh,
Dustysage
and Fishbulb. If you've got news, photos, or tips to share, please contact dustysage@micechat.com. We'd love to hear from you and your contributions really help keep us up to date!



Have a wonderful weekend and thank you for your continued support of MiceChat and of In The Parks, we couldn't do this without you.

Your Editors this week -
Dustysage & Fishbulb

See you In The Parks!