Attention Disney and theme park fans, the Southern California theme parks are in high gear to deliver huge thrills for the 2010 summer season and beyond. And the MiceChat In The Parks crew has been working overtime to deliver you all the fantastic news, photos, and updates that you crave.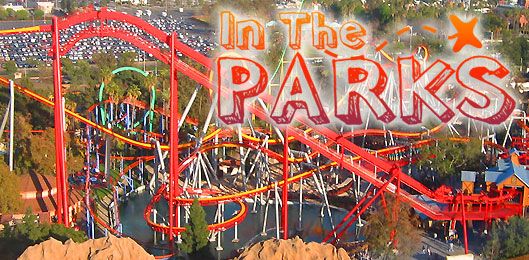 Disneyland Resort's California Adventure park isn't the only local attraction undergoing major reconstruction, but it does have a clear lock on size and scope of transformation. We think you'll be thrilled with the fancy new details we uncovered for you this week. And if you're looking for things to do with the family this weekend, we haven't forgotten you. We've managed to round up a healthy helping of fun and frivolity (much of it free) just in time for a weekend getaway. So let's get to it . . .






One thing we can always count on is some sort of news or construction update from the Disneyland Resort. This week, we've got both! Disneyland Resort's Food and Wine Festival starts TODAY! Can you tell we've been waiting a long time for the return of this favorite event?

Disney Security In Quick Action
Early Wednesday morning a suspicious package was noticed in the transportation area east of the Disneyland Resort entrance. Pedestrian traffic entering from Harbor Blvd was re routed through the Toy Story parking lot drop off area, which was not being used at the time.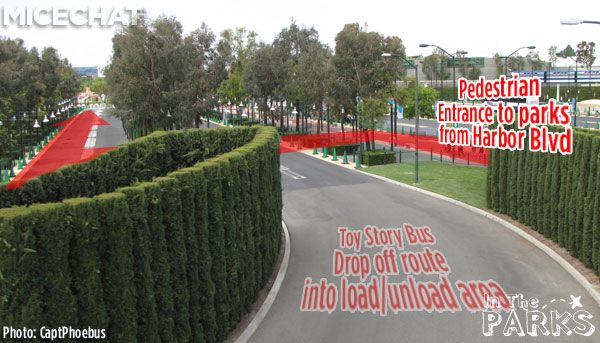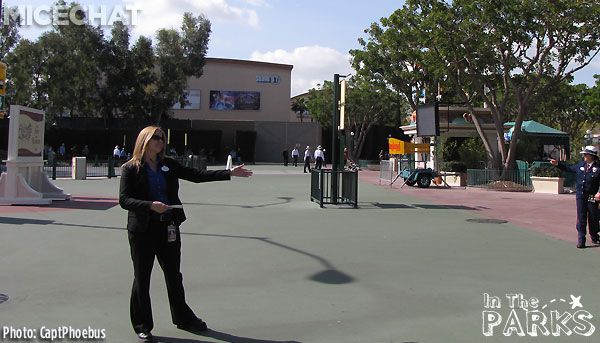 Suits and security politely suggested alternative routes to guests until the situation was handled
The suspicious item was found to be harmless and the walkway was soon reopened by 11:30 am. Props to Disney security for handling the situation quickly, coming up with an emergency access route, and putting guest safety first.

Disneyland Updates
As Spring kicks into high gear and blends into summer, things are coming together for the Rivers of America refurbishment. Most of the track replacement has been completed for the Mark Twain and Sailing ship Columbia and the finishing touches are now being made to the flora and faux fauna along the river banks.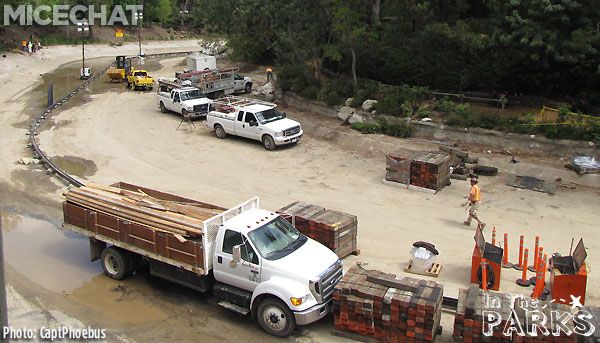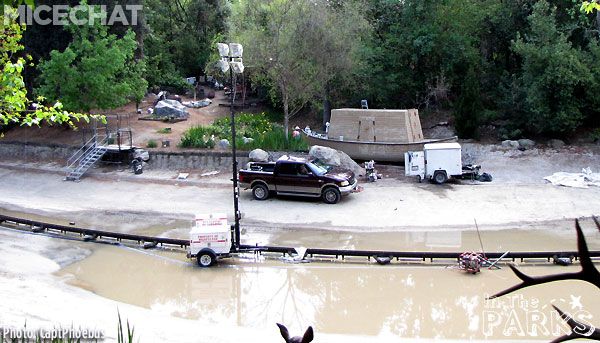 Canyonero? It is always a surprise and fun to see cars driving
in an area that usually looks like a muddy river.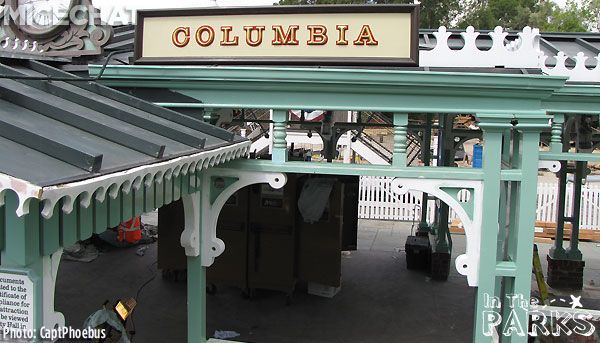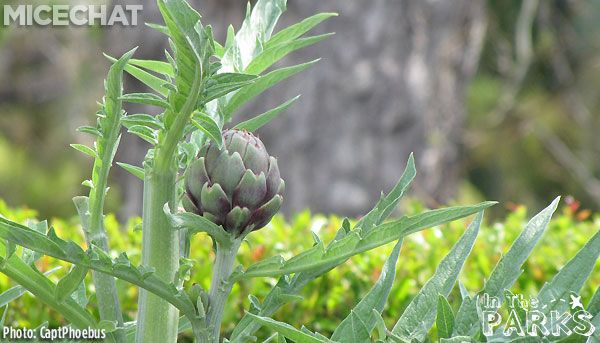 Artichoke - Tomorrowland's agrifuture is beautiful and edible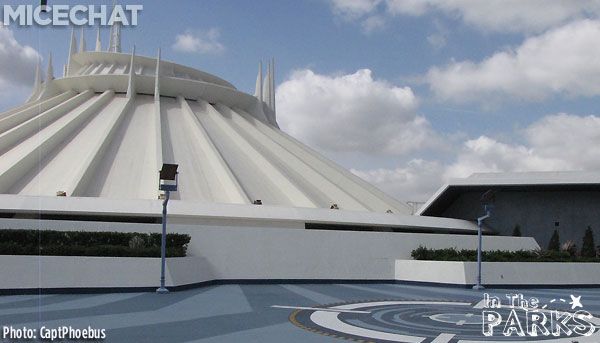 In preparing for the hotter months, Outdoor Vending Carts (ODV) have been stationed along the outdoor queue of Space Mountain.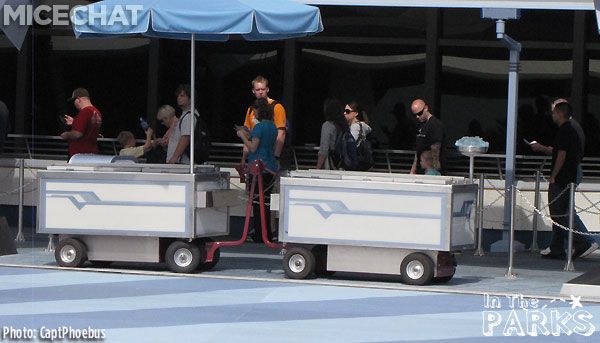 It may be handy for parched guests, but it sure looks like Six Flags to us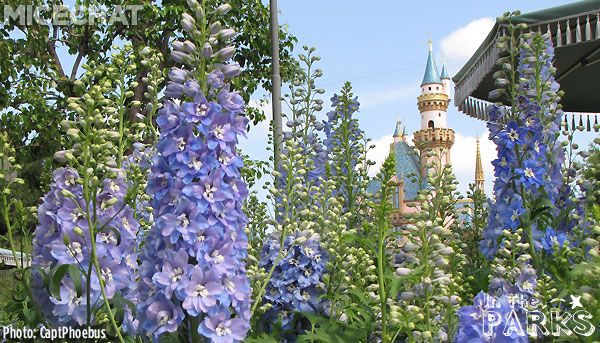 Matterhorn Bobsleds
Matterhorn Bobsleds is down currently in order to replace all of the cars with three seats per bobsled. The Bobsleds WILL NOT have lap bars but will employ the same seatbelt technology used in Indy and Star Tours. Although the new vehicles have been going through test runs along the 50 year old track no date has been set for the premiere of the new Bobsleds. It really hasn't even been worked out if the seats will be able to hold one person per seat or up to two riders per seat. We will keep you posted.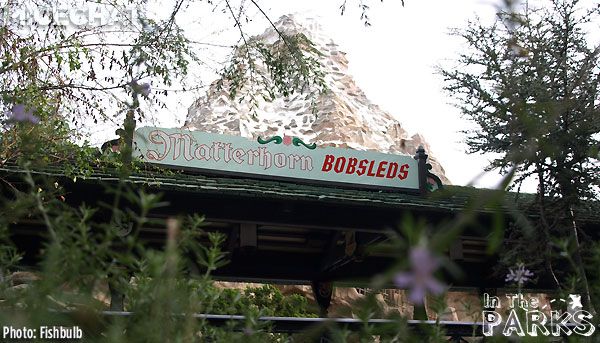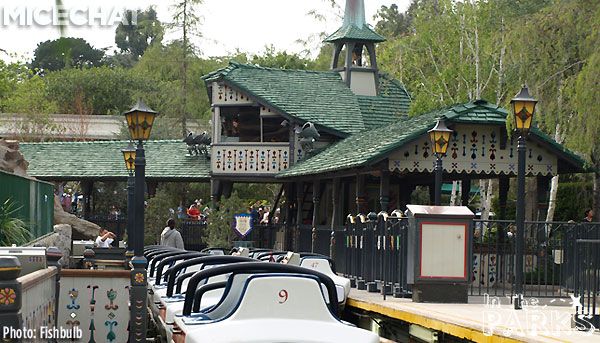 Disney's California Adventure Updates

The Food and Wine Festival begins today and things are ready to go for another wonderful season of the vine and dine. Due to construction at the Golden Vine Winery, much of this year's activities will take place in the sun hub and Hollywood Pictures Backlot areas of the park. Veer left for wine!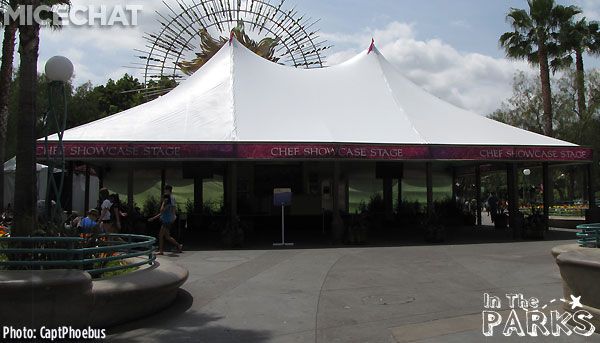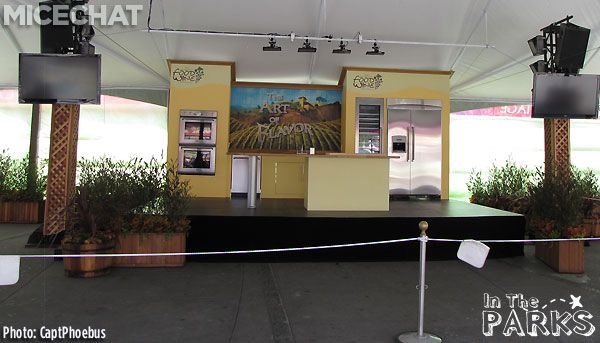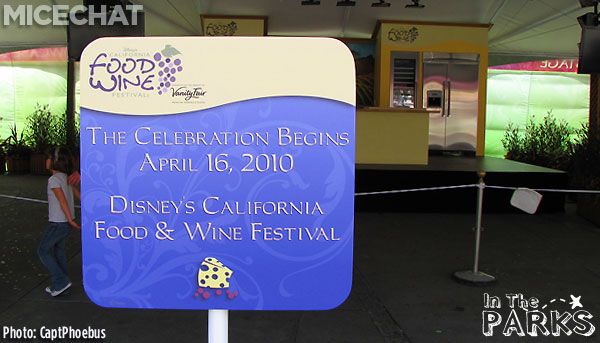 Red Car Trolley
About one third of the walls have come down along the Red Car Trolley route in Hollywood Pictures Backlot. Along with the removal of these walls Award Wieners has reopened.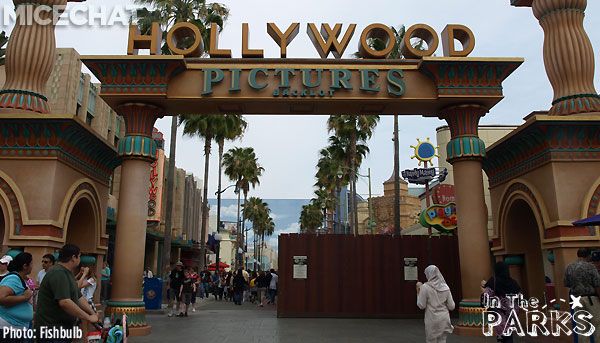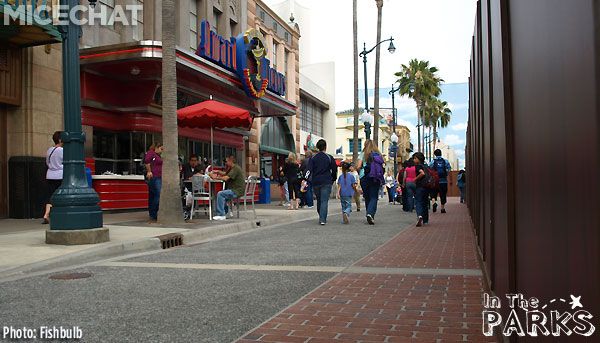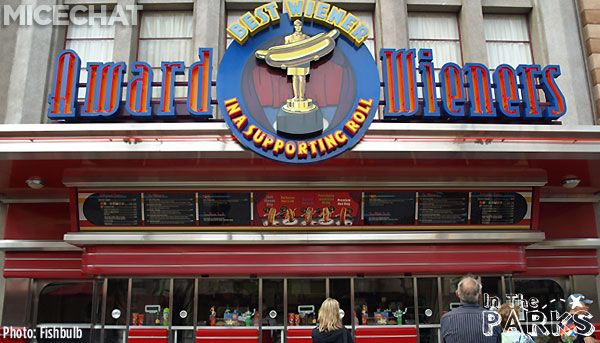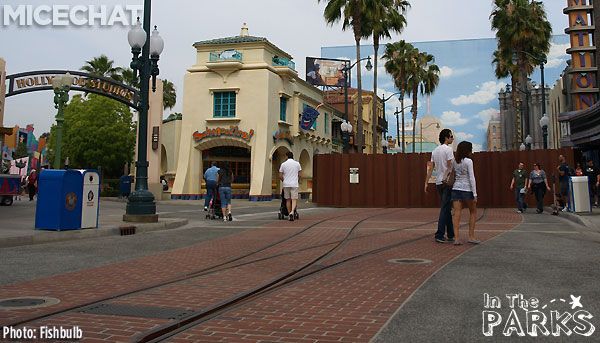 Beautiful Brickwork has been done along the tracks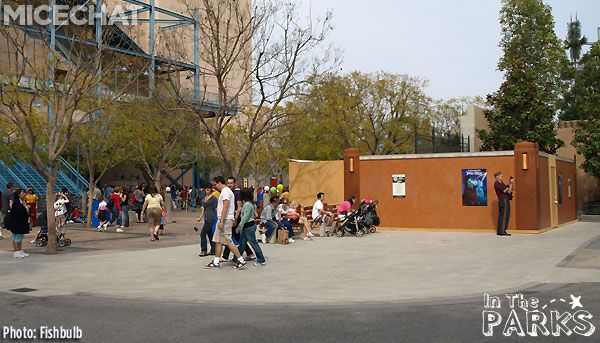 The Tower of Terror leg of the route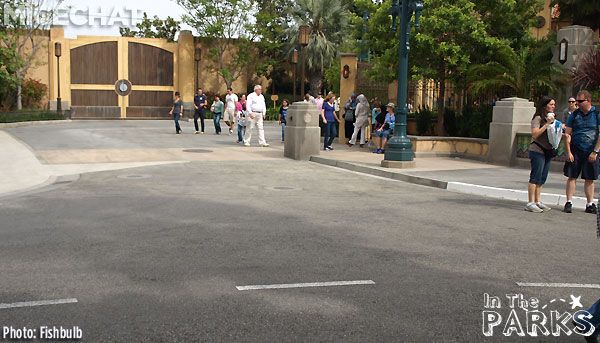 Redwood Creek Challenge Trail

RCCT has gone down for some refurbishment.
The Little Mermaid

This attraction has gone vertical and is progressing at a fast pace. Hard to believe that just two weeks ago it was a concrete slab.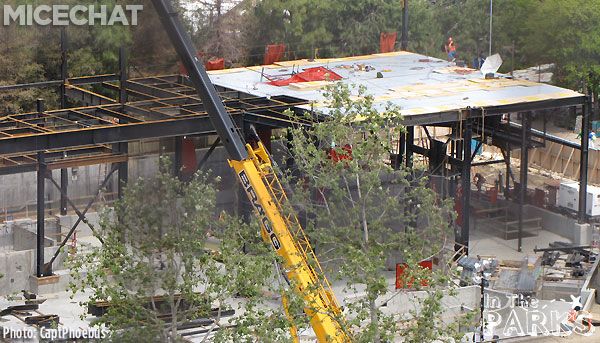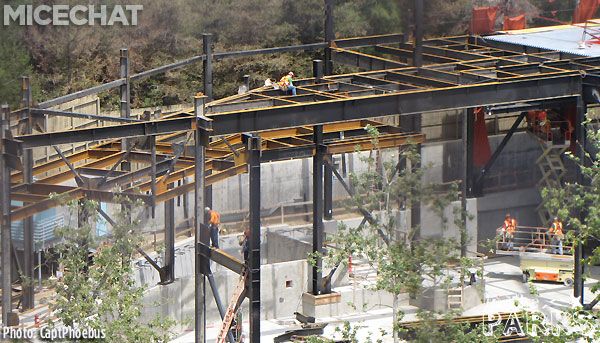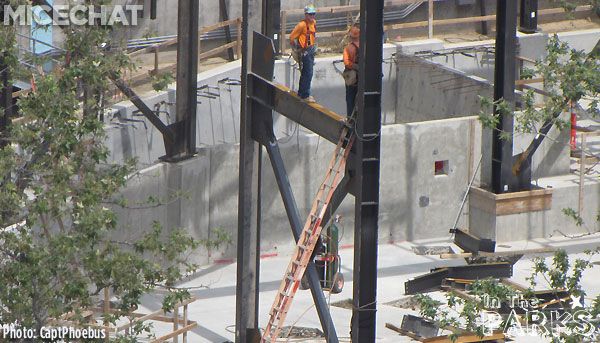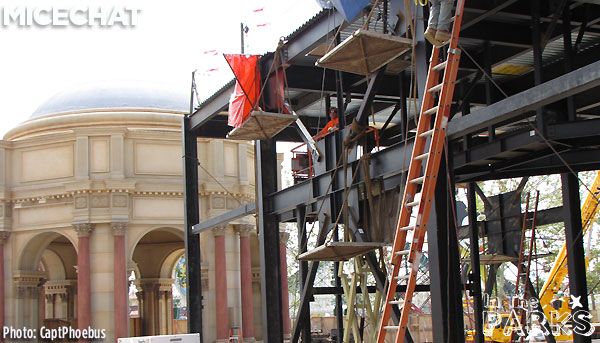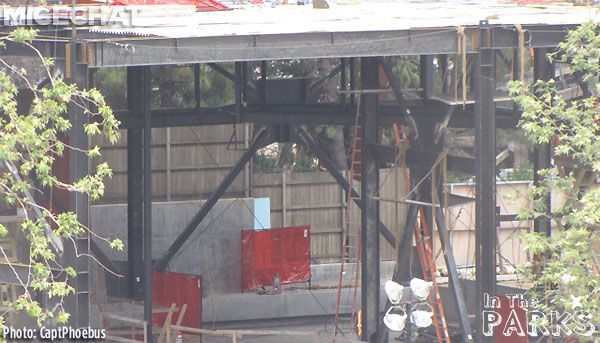 Paradise Pier area

Catch a Flave has introduced a paired down menu (minus the variety of flavor swirls once available for the ice creams). The only two available "flaves" are now vanilla and Chocolate. While the additional flavors will be missed, this location was notorious for slow service. Hopefully, the never limited menu will allow for more customers to be served (especially once World of Color opens).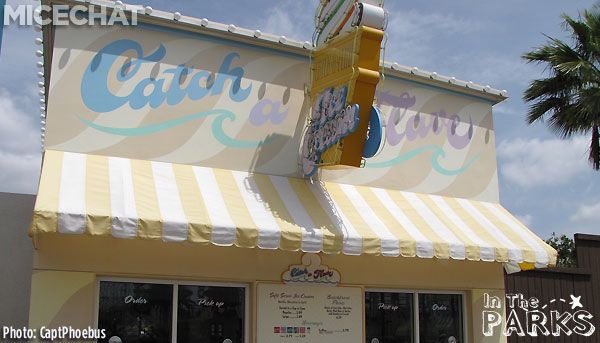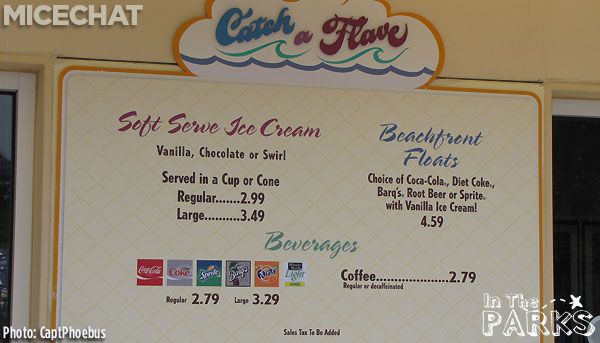 Paradise Park
The public viewing "Park" for World of Color has emerged from behind construction walls. New benches were installed this week. It's a lovely park with impressive stonework around the play fountain and gorgeous waterfront boardwalk.
While shade is sorely missing, it obviously couldn't be added due to sight-line obstruction for the show. Still, the park accomplishes the goal of turning an essentially large seating area into a dual use park.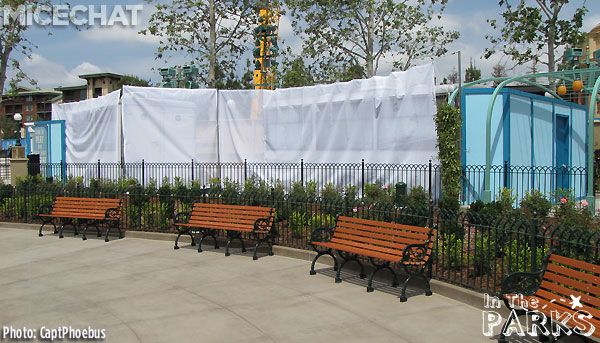 Ladies and gentlemen . . . WE HAVE BENCHES!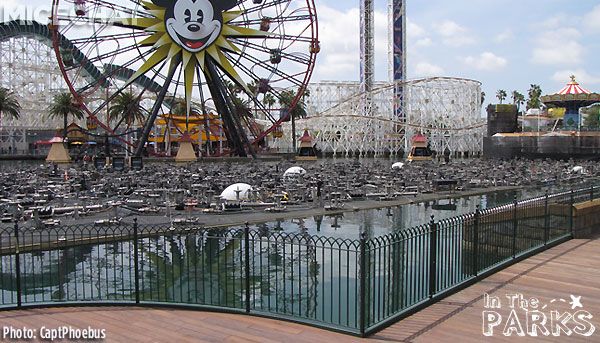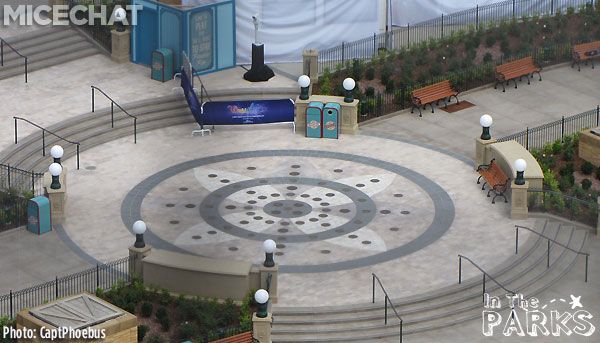 The play fountain has not operated for the public as of yet
. But we did catch it in test mode last week.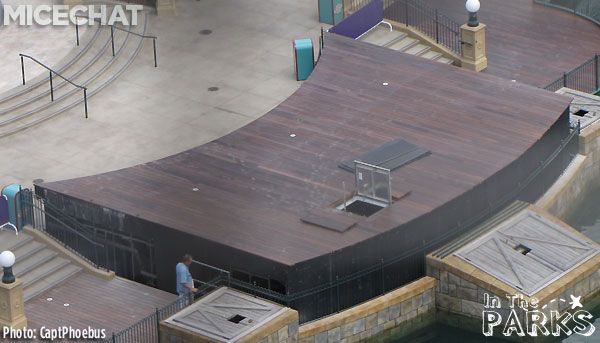 A portion of the boardwalk raises to become a stage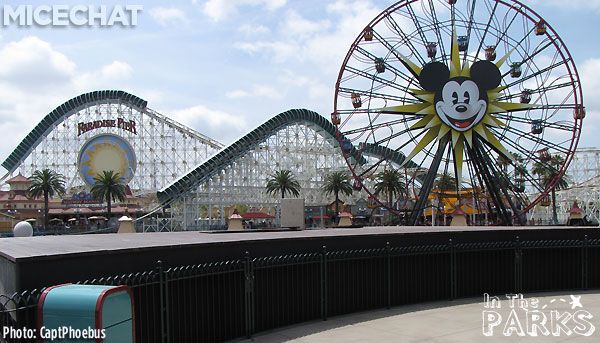 Carsland Construction
Looks like an Erector Set construction site right now, but this area will soon give way to Radiator Springs!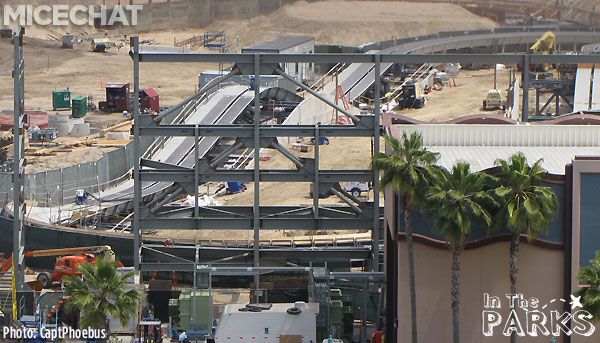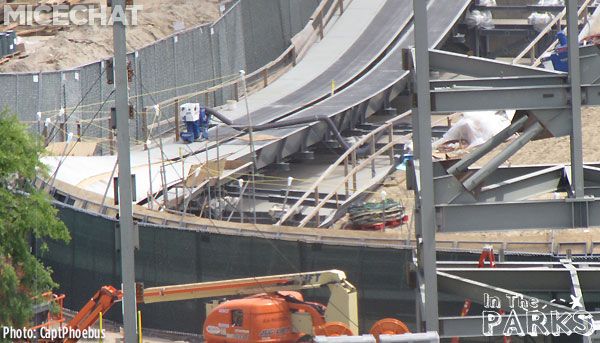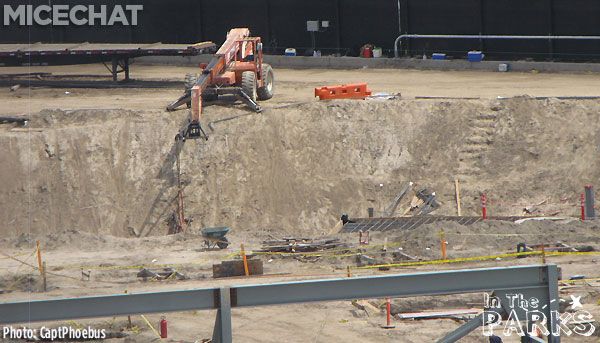 The transformation of the Orange Stinger into Silly Symphony Swings is nearly complete.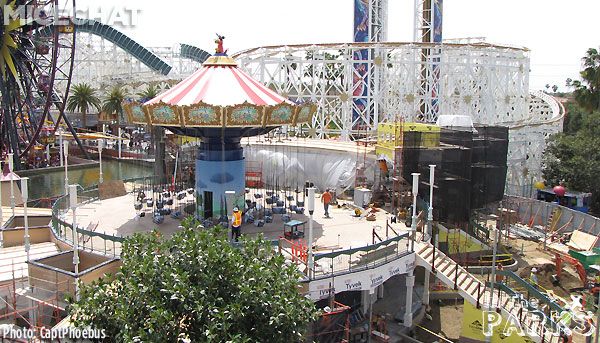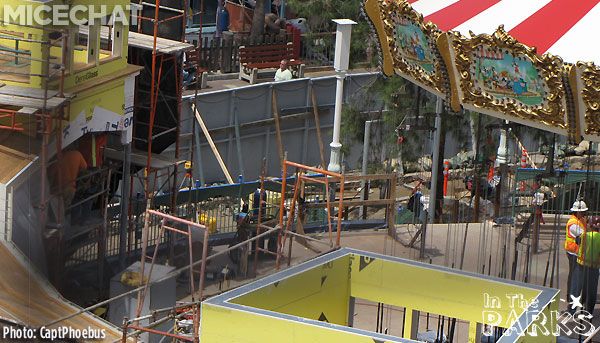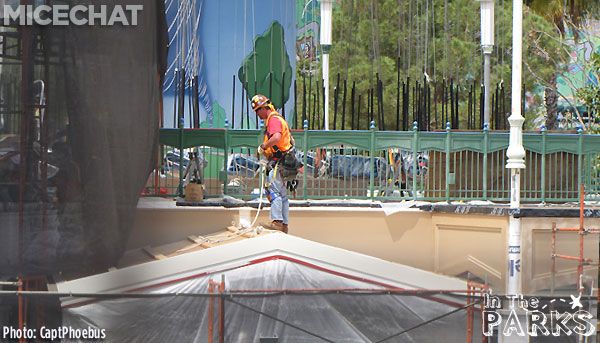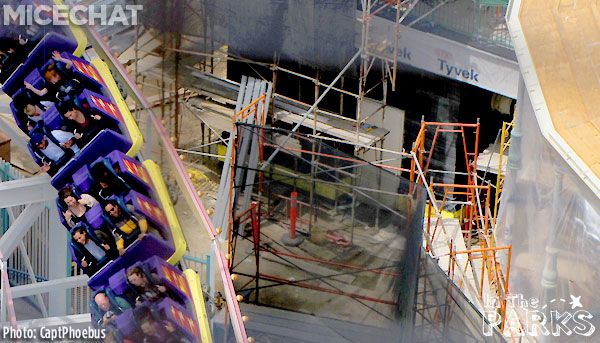 California Screamin' zooms past the ongoing construction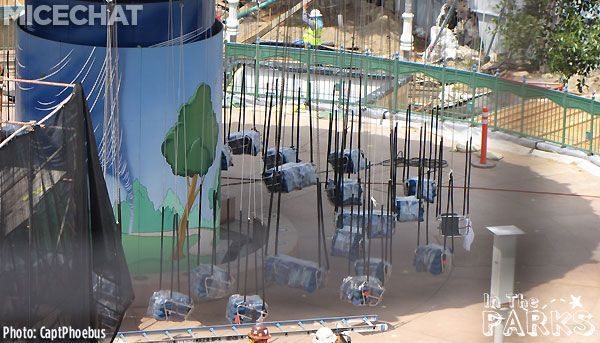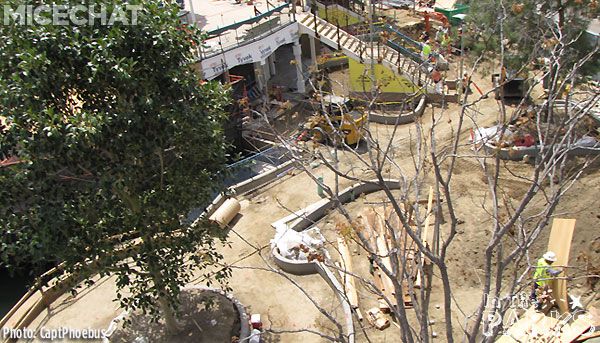 The planters are taking shape around the base are of the swings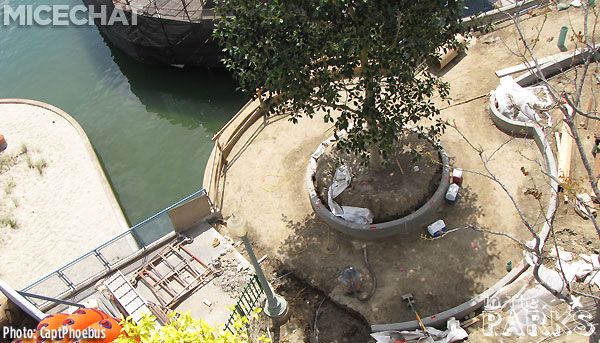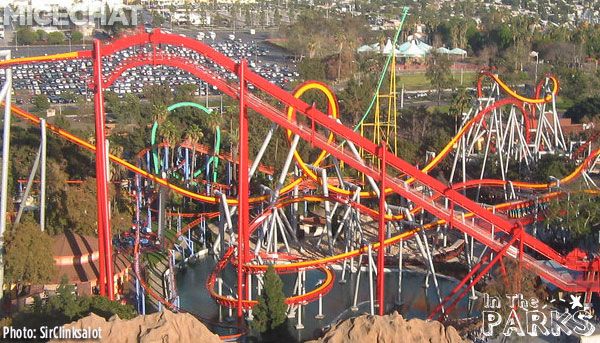 For you runners out there, it's still not too late to sign up for the Coaster Run 5K, 10K and Camp Snoopy Kids Runs at Knott's Berry Farm this Sunday.
Events - Coaster Run 5K, 10K and Camp Snoopy Kids Runs
Run, Walk and Ride the Coasters for the Kids of SLDC. The Coaster Run offers a 5K Run/Walk, 5K Elite Race, 10K Run and 1/2 Mile Kids Camp Snoopy Fun Run followed by a finish-line expo with a complimentary piece of Knott's famous Boysenberry Pie for all finishers.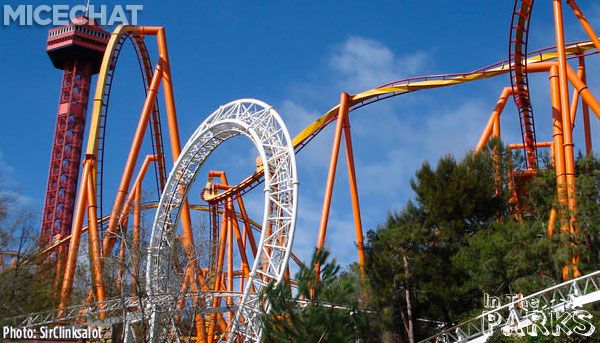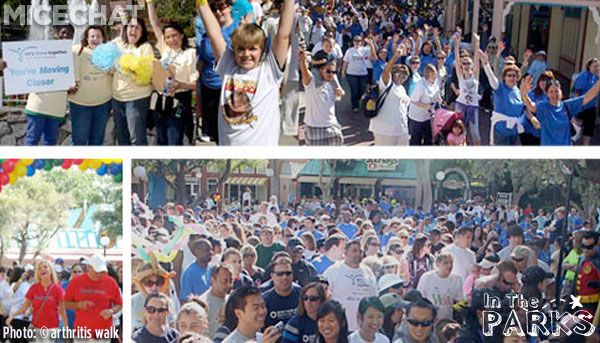 The delicious F!an is back with more news and photos from Universal Studios Hollywood. There's a world of change going on at Universal these days. The fire burn area has been nearly rebuilt, Kong is almost ready for his big return, and a massive new Transformers ride (based upon the ride system of Islands of Adventure's fantastic Spiderman attraction) is under construction on the lower lot. The fast and the furious section of the studio tour is closed for a quick refurb and is scheduled to return April 17 (the car shells are visible along the tram route near the end of the tour. The collapsing bridge is still closed for kongstruction with no scheduled reopening date. And with so much behind walls, the park has undertaken some initiative to add character performances to help keep the crowds entertained.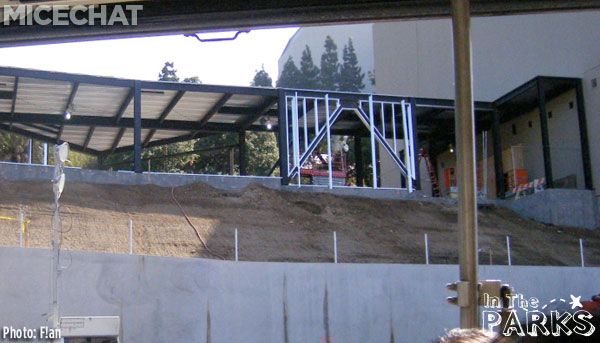 King Kong is making his return to the Tram tour. The actual attraction building is to the right of this shot, this is a new structure being built for the tram to drive through.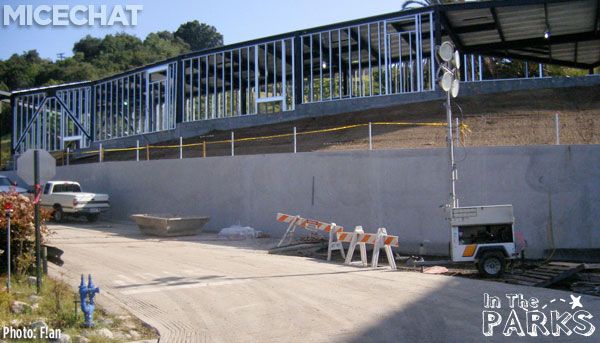 The construction is coming along nicely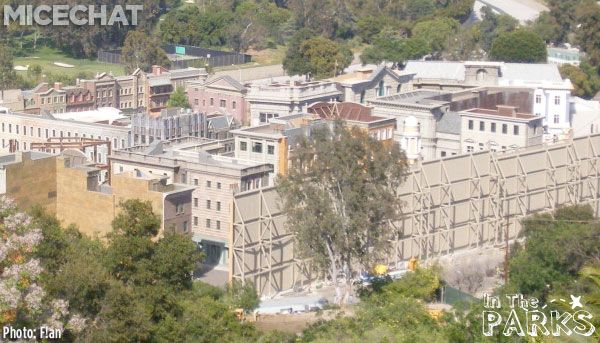 The rebuilt Backlot sets are also coming along quickly and will be fully complete by summer
The walls have now gone up where Backdraft and the Special effects stage attractions once operated on the lower lot - they will make way for the Transformers ride scheduled for Summer 2011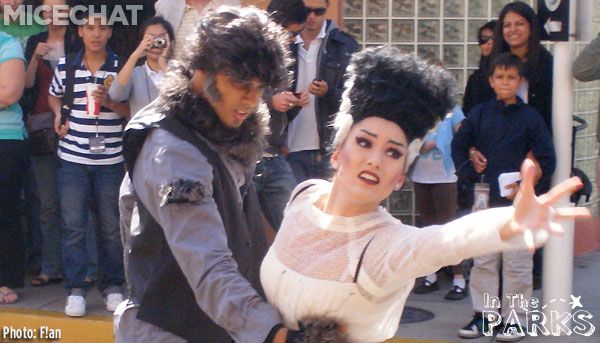 Entertainment has been added to the lower lot to add to what would otherwise be a dead end - The show may be a bit cheesy, but we LOVE the monsters.
<embed type="application/x-shockwave-flash" allowfullscreen="true" allownetworking="all" wmode="transparent" src="http://static.photobucket.com/player.swf?file=http://vid775.photobucket.com/albums/yy31/micechatfan/DSCF2937.flv" height="361" width="600">
Video - Universal Monsters do the mash
<embed type="application/x-shockwave-flash" allowfullscreen="true" allownetworking="all" wmode="transparent" src="http://static.photobucket.com/player.swf?file=http://vid775.photobucket.com/albums/yy31/micechatfan/DSCF2939.flv" height="361" width="600">
Video - This one's a Thriller
<embed type="application/x-shockwave-flash" allowfullscreen="true" allownetworking="all" wmode="transparent" src="http://static.photobucket.com/player.swf?file=http://vid775.photobucket.com/albums/yy31/micechatfan/DSCF2940.flv" height="361" width="600">
Video - Other characters are out and about as well

Spring Break Live:
Universal Studios is continuing it's popular "Spring Break Live" through May 7.
Universal CityWalk - Event Calendar - CityWalk Events
Universal CityWalk kicks off Spring with the first annual Spring Break Live concert series. Beginning March 26, CityWalk, along with KIIS FM and Hard Rock Cafe will be bringing you FREE live musical entertainment every Friday and Saturday night!
Fridays, beginning April 10 through May 7, CityWalk teams up with KIIS FM to host the Wango Tango Breakout Star competition. The contest will showcase performances by local bands who will compete for $5,000 cash and a spot to perform live on the Village Stage at Wango Tango 2010. Performances are at 7:00pm.
Saturdays, beginning April 10 through April 24, CityWalk partners with the Hard Rock Cafe to host the Ambassadors of Rock Battle of the Bands, where contestants compete for a spot to win the grand prize to play at the Hard Rock Calling 2010 featuring Pearl Jam, Paul McCartney and more in London's Hyde Park. Performances are at 7:00pm.
(picture of Hard Rock Cafe (my picture))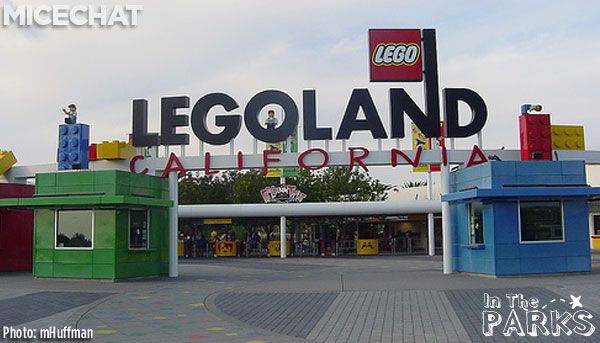 Legoland
-
A 3 1/2-foot long scalloped hammerhead shark joins the more than 50 sharks at
quarium making it the only Aquarium in southern California to have one on display.
Trash to Treasure - Saturday Craft
Activities in April
In celebration of Earth Month, SEA LIFE hosts an eco craft activity every Saturday in April. Help give new life to items that may have been headed to the landfill. One man's trash is another man's treasure!
4/14 (10am-4pm): Bring a jellyfish to life from an egg carton
4/24 (10am-4pm): Shark Puppets spring into action from plastic bags

Trash To Treasure craft activity included with admission to SEA LIFE Aquarium.


Discount Tickets and Tours
As a reminder, tickets for many of the parks and events you see featured in today's update can be purchased from MiceChat partner, Discount Tickets and tours. AND if you'll be visiting the Disneyland Resort, your ticket purchase from Discount Ticket's and Tours get's you free parking at the Garden Walk (which is a nice change of pace from the hectic Disneyland parking situation). Discount Tickets and Tours Travel Center.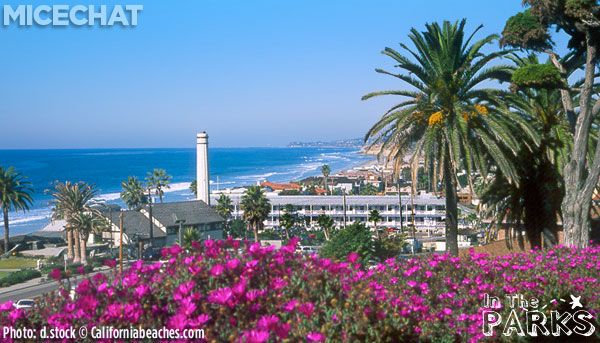 The Del Mar Antique Show & Sale and The Wild West Expo

. Now in it's 50th successful year, Calendar Antique Shows is proud to present 100,000 square feet of antiques, vintage collectibles and decorator items (Over 250 premier antique dealers from all over California & the Western United States). Friday 11 am to 7 pm; Saturday 11 am to 7 pm; Sunday 11 am to 5 pm. Cost: $8, good for the entire run of the show, with free return privileges. 50% discount at calendarshows.com. Location: San Diego County Fairgrounds, 22600 Jimmy Durante Blvd., Del Mar, CA
California School Street Wine Stroll

.
This annual event represents over 26 wineries in Lodi, and includes gourmet chef demos from fine restaurants, along with live entertainment at shops and boutiques. Time: 6 to 9 p.m. Tickets: $30 in advance or $35 at the event, designated driver tickets are $10 in advance or $15 at the event. Location: School Street, Lodi, CA.
Toyota Grand Prix Long Beach.
Toyota Grand Prix of Long Beach Celebrity Racing, Le Mans and Champ Car Racing hits the streets of Long Beach for three days of excitement. gplb.com
Blossoms, Bees and Barnyard Babies.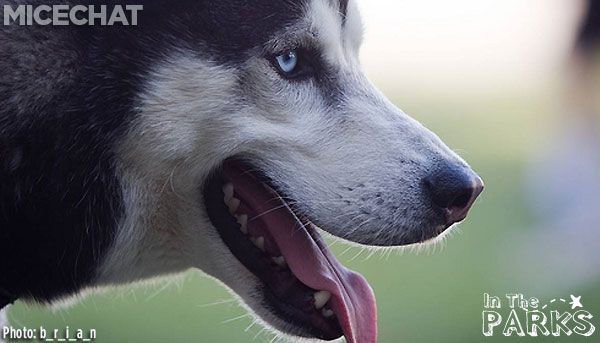 Pet Expo
Orange County Fairgrounds;
88 Fair Drive,
Costa Mesa. PETEXPOOC.COM
Magic Mountain/Coca Cola Buy One, Get One Free!
Every summer, Coca Cola teams up with Six Flags Magic Mountain to offer a buy-one, get-one-free ticket offer. Sure enough, Coca-Cola cans are beginning to show up at local retailers, imprinted with the special offer. In order to take advantage of this deal, grab an even number of friends, and a can of Coke for every two people. Person A pays regular general admission, Person B gets in for free! You must present the cans of Coke to get the discount. The specially marked cans always run out before the summer is over, so grab them as soon as you see them. The can/coupons are good until December 31, 2010. There is also an offer for $19.99 admission to Hurricane Harbor, with the offer being good until the water park closes for the season, sometime in September.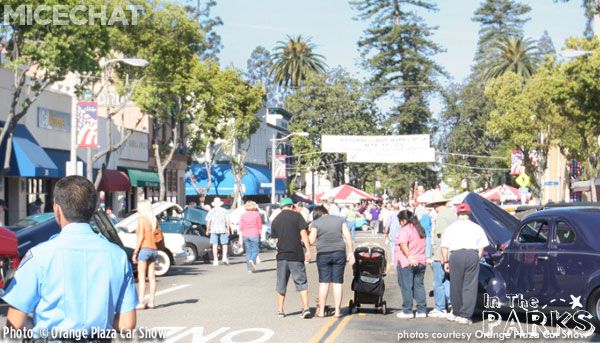 Orange Plaza Car Show

.
16th Annual Car Show in downtown Orange surrounds the circle with beautiful classic cars. More than 400 pre-1975 custom classic, hot rods and street rods will be on display. There is no admission fee for spectators. Sunday, April 18, 2010; 8 a.m. to 3 p.m. Cost: Free. Location: Chapman and N. Glassell, Orange, CA. carshow@orangesunriserotary.org
SeaWorld - Free Admission to Military Personnel and Families.
Here's to the Heroes
Both active duty members of the five branches of the military, and active members of the National Guard are being offered free admission to SeaWorld. They can even bring up to three dependents at no charge. You can sign up for the
"Here's to the Heros"
program at SeaWorld ticket booths, or on line. The offer is good at all Busch or SeaWorld parks, except: Discovery Cove and Aquatica, and Christmas Town at Busch Gardens in Williamsburg, Va. .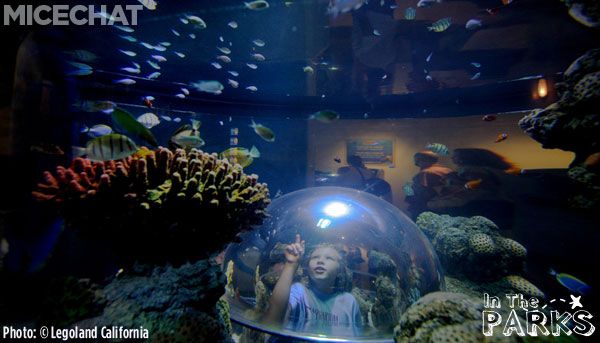 Legoland
www.creektobay.org
and to bring a completed waiver with them to the event.
Monterey Jazz Festival on Tour

.


On the road all-star band tour before the 53rd Annual Monterey Jazz Festival. Location:

Yoshi's

, 1330 Fillmore St., San Francisco, CA. Call: (415) 655-5600. Shows at 8 and 10 p.m. montereyjazzfestival.org
Chili Cook-Off & Classic Car Show.
Annual Chili Cook-Off and Car Show at Pinedorado Grounds invites chili tasters and car owners to compete for trophies and prizes. Music, prizes, entertainment, and great beers all add up to great fun for everyone. Saturday Car Show 10 a.m. to 2 p.m., Chili Cook-Off Noon to 3 p.m. Location: Veterans Memorial Hall and Pinedorado Grounds, corner of Main Street and Cambaria Road, Cambria, CA.
Medieval Fantasy Festival, Vacaville, CA
Annual Medieval Fantasy Festival offers entertainment and fun such as Pumpkin Chucking with catapults. This Ratapult will have several divisions so that all can have their chance at flinging artificial rats. Creative folks may design and make fantastic costumes for their puppet rat. Longest distance for each age group wins a prize. All are welcome to walk in the Pied Piper Parade. For more information on all division of the Ratapult, and the annual Medieval event with booths, food, entertainment and costumes, entries to Ratapult will be available during the two day festival. Location: Downtown Vacaville, CA, centering on Merchant, Main, and Parker Streets. Admission: Free. medievalfantasyfestival.com.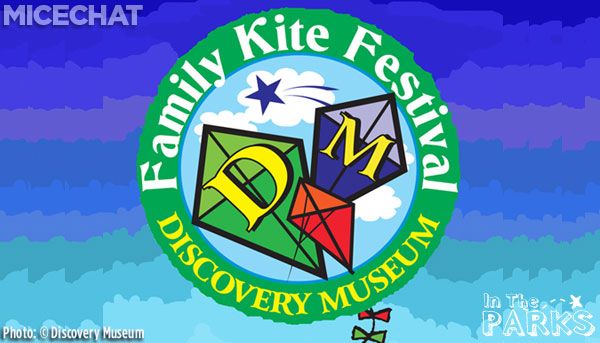 Family Kite Festival
UCI Open House


April 17, 2010 Come to UCI's 32nd annual Open House, one of the campus' oldest and most festive traditions. This spring event features games and rides for children, academic information, Classic Car Show, campus tram tours, Wayzgoose Medieval Faire with food booths, demonstrations, rides, games, 3 stages of entertainment and much more. General campus offices such as Housing, Admissions, and Financial Aid are also open. Everyone Welcome! It's an excellent opportunity to bring family and friends to visit and see what's new with the UCI campus. Free Celebrate UCI 2010
DON'T MISS MiceChat's Famous Gumball Rally!


The 4 Hour Gumball Rally Is Great For Families AND Teams of ALL Ages! But registration ends soon!!!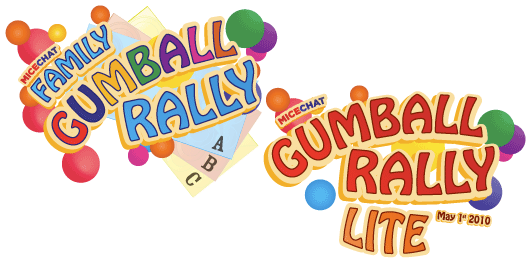 The MiceChat Gumball Rally is a competition to find out who can ride the most attractions at Disneyland in 4 hours. Separate prizes will be given to 'Family' teams (with at least one child under the age of 14) and for Adult (or teen) only teams.

This is an extremely fun and creative competition that you won't want to miss, and it's just $20 for teams of up to 6 members! It really is a blast!:
visit the
Rally Information Page HERE
OR
SIGN UP NOW - HERE!
If you are interested in joining this year's Rally, you'll want to do so soon, sign-up is about to be concluded!
Sign Up Today!
As we bring another lovely update to a close, we'd like to remind you that there is lots more great stuff to read on MiceChat:

Dateline Disneyland which is packed with great news and photos from the Disneyland Resort.
Weekend Update Offers a world of Disney theme parks and other sights and landmarks!

If you enjoyed today's update, please share the link with your friends and family on
Facebook, Twitter, and beyond!

A huge thanks
to our resident photo bugs and news contributors CaptPhoebus, F!an, David Yeh, Pratt55, MickeyMaxx, Monorail Man, Sir Clinksalot,
David Yeh,
Dustysage
and Fishbulb. If you've got news, photos, or tips to share, please contact dustysage@micechat.com. We'd love to hear from you and make your news and photos a part of our weekly updates!


Have a wonderful weekend and thank you for your continued support of MiceChat and of In The Parks, we couldn't do this without you.

Your Editors this week -
Dustysage & Fishbulb

We'll see you In The Parks!