Disneyland's River's of America are just about to be refilled after a long refurbishment and they'll bring with them some new surprises. California Adventure continues to evolve into a playground a little more worthy of the Disney brand. Transformers prepare to rock our world at Universal while King Kong is prepped for his big Summer return.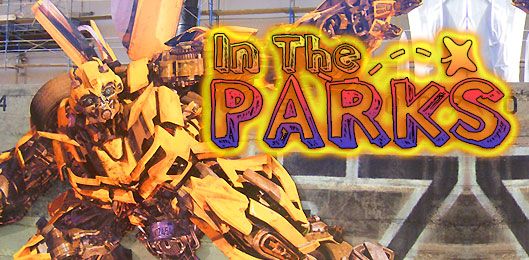 And that's just the start of all the news we've got for you today. Xcelerator returns to Knott's Berry Farm as well as lots of long missed details. And all over Southern California, Cinco De Mayo events are popping up like so many Jumping Beans. let's get to it.

There is quite a bit happening at the Disneyland resort this week, as usual. The Rivers of America refurbishments are coming to a close as planks for docks and the last plants find a home along the riverbed. The river may reopen as soon as May 8th. The Matterhorn continues to test new 3 seat vehicles out in public view. If you are lucky, you might catch a glimpse of one of these stylish new vehicles before they are pulled back off the track. Also, Disney's California Adventure is a hive of activity with multiple high profile projects in different stages of completion. Let's get to it


Big Thunder Trail:
Big Thunder Mountain Railroad is down for refurbishment and the area in front of the attraction is finally getting some much needed resurfacing.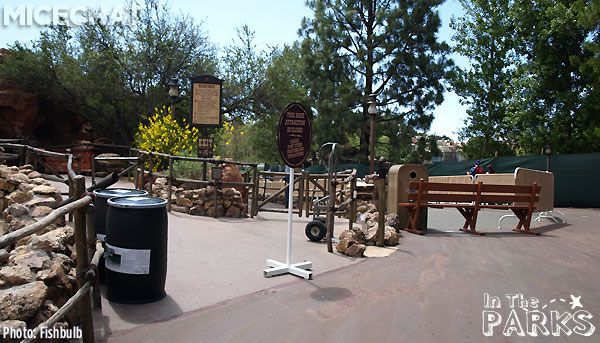 Big Thunder's exit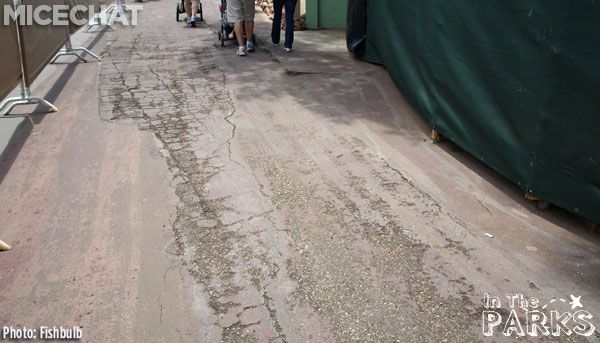 The not so lovely pathway that guests are using at the moment.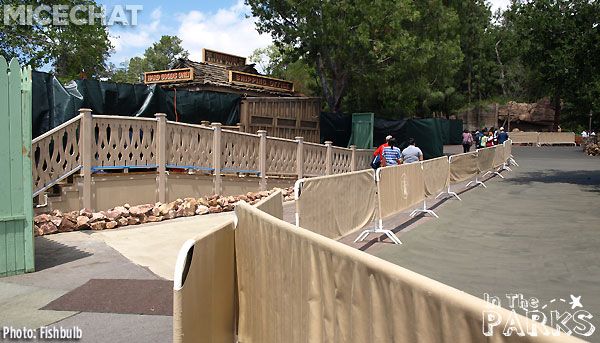 The walls next to the loading dock along the Rivers of America have come down to allow foot traffic into Fantasyland during resurfacing.
Rivers of America:
The River should start filling up again on Thursday and could reopen within the next few weeks. But the Mark Twain will miss the reopening of the rest of the river as it gets a few finishing touches.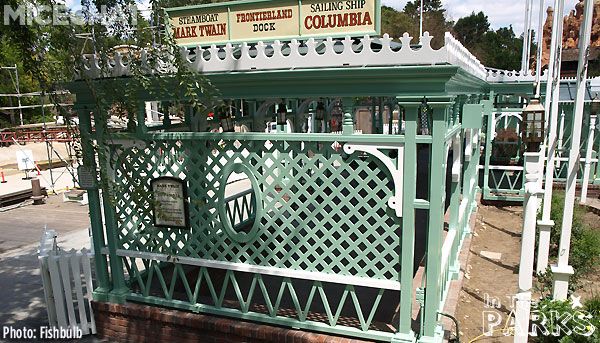 The loading station for the two large boats on the river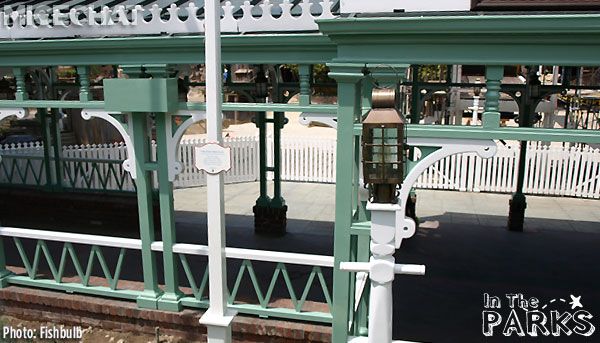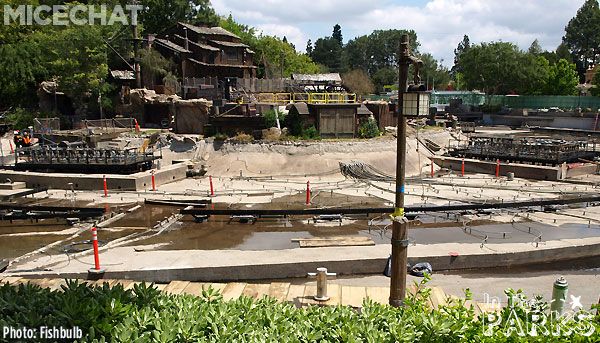 The front of the Island
with exposed Fantasmic infrastructure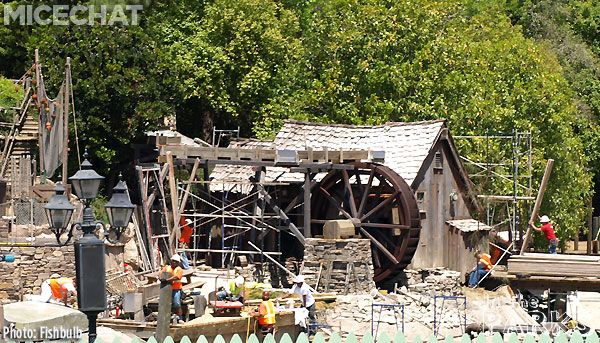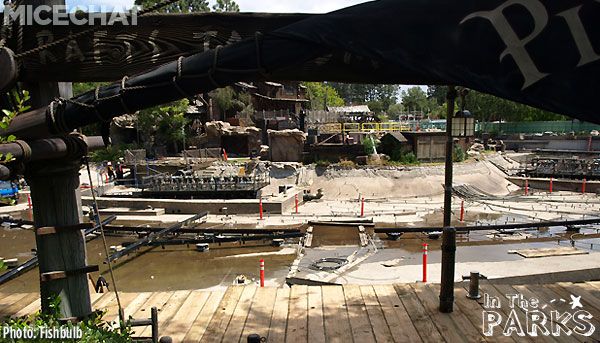 The Dock for the rafts to Tom Sawyer's island is nearly fully re-planked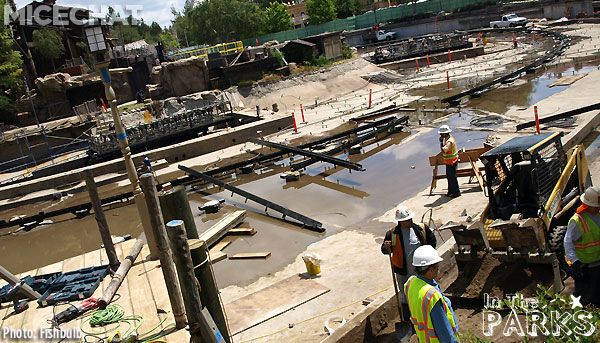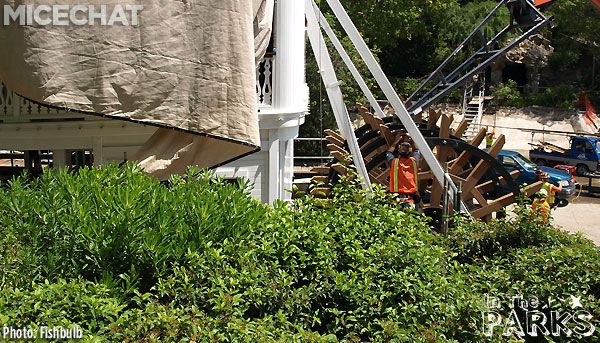 The Mark Twain, which will miss next weeks opening date, received a brand new paddle wheel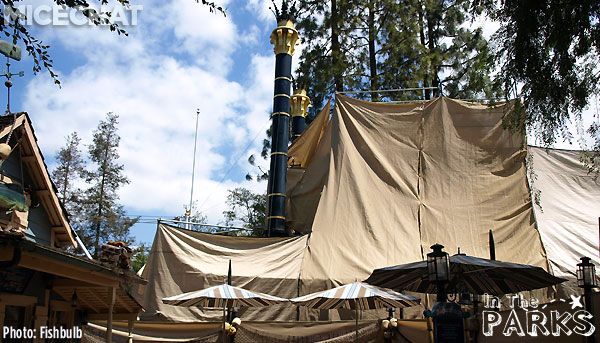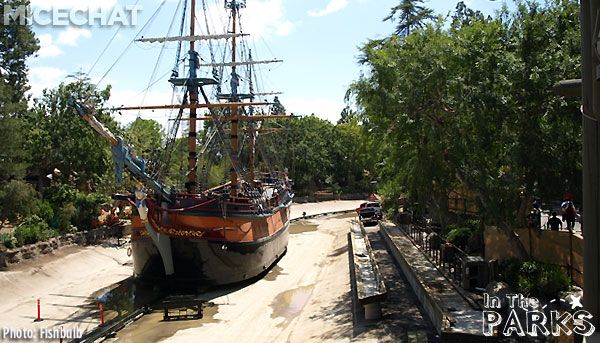 Meanwhile, the sailing ship Columbia is now linked up with the rest of the track and it can now be moved in order to replace the track it has been sitting on during the refurb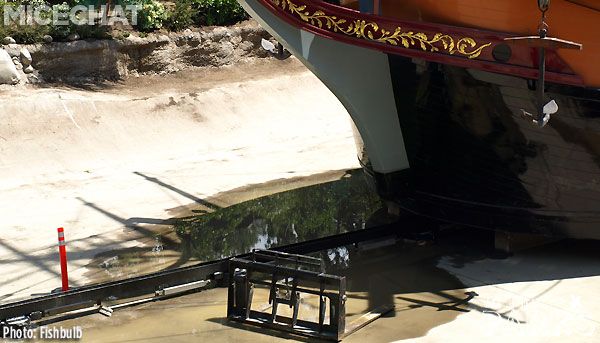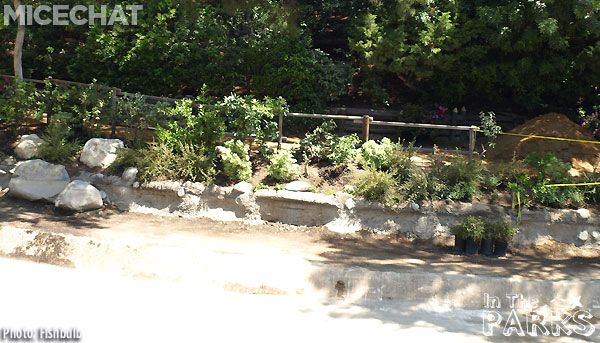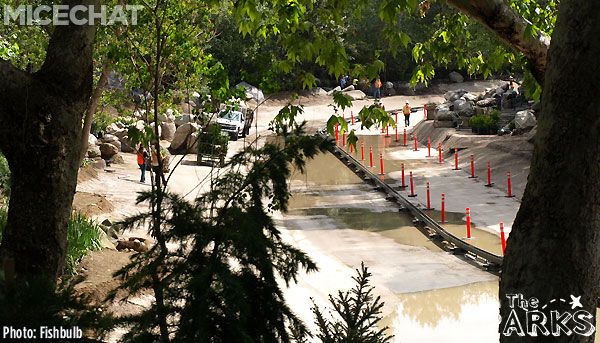 The animals and foliage are receiving their final placements along the back end of the river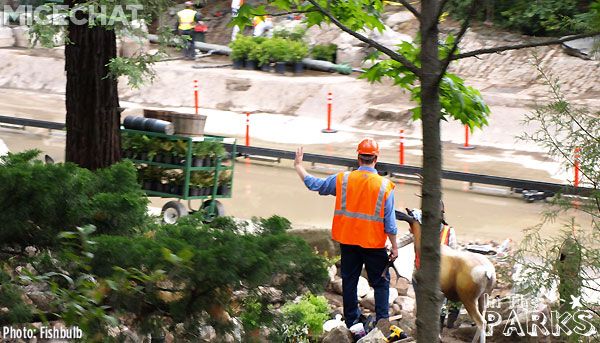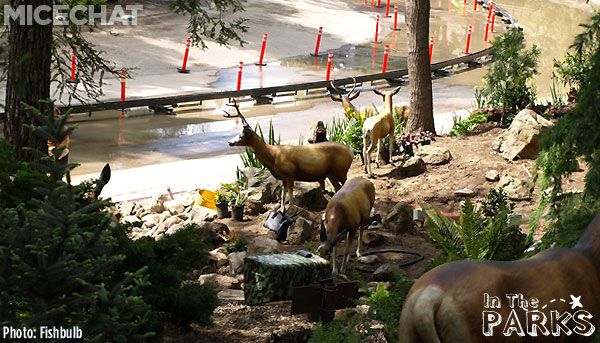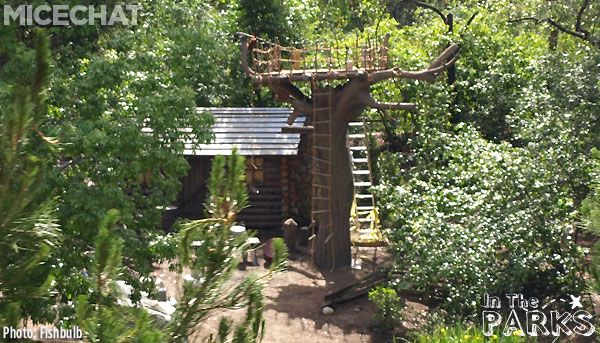 Treehouse? Lookout? All we know is it isn't on fire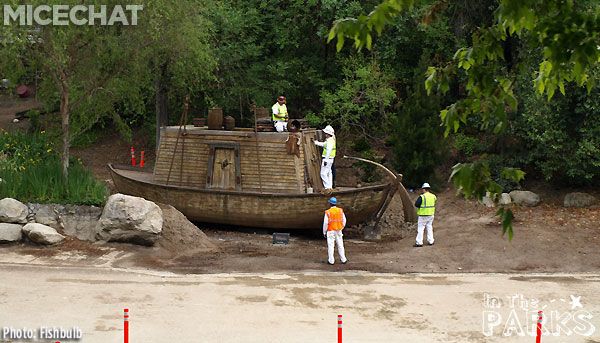 The Village People unveil the new old Keel boat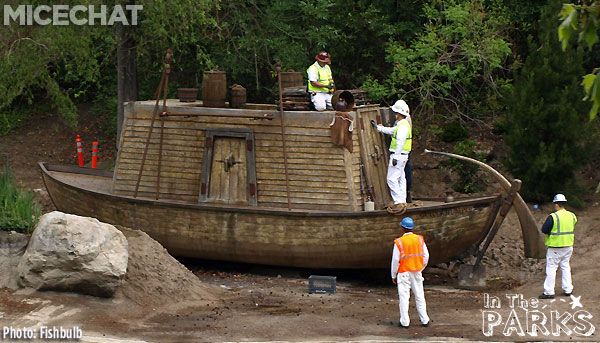 Looks GREAT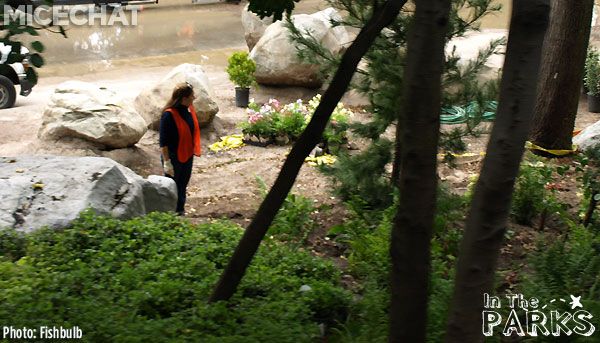 You didn't think this forest planted itself did you?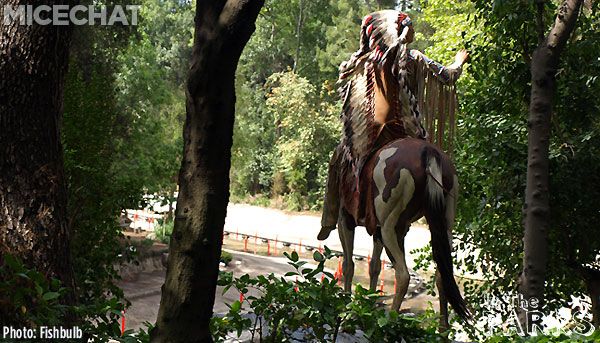 The Indian Chief presides over the progress
on his river
Matterhorn Bobsleds:
The Matterhorn Bobsleds have reopened. However, only the Fantasyland side track is in public operation. This is to allow continued testing of the new, fancy doodle 3 seat bobsleds that will guarantee at least 6 people per train.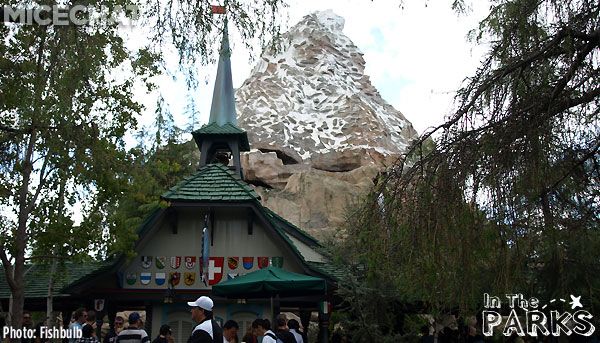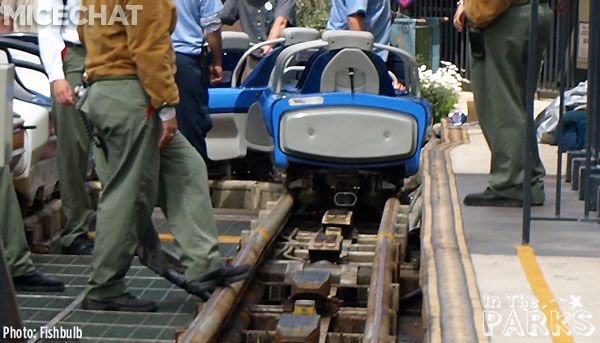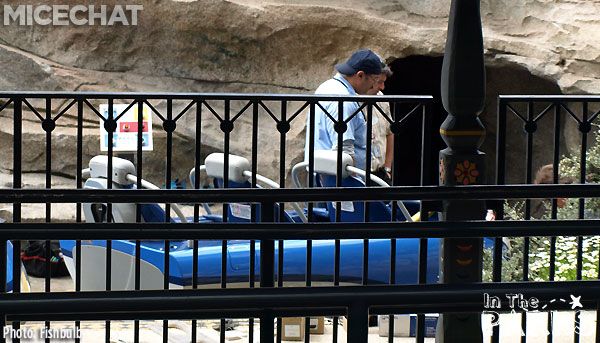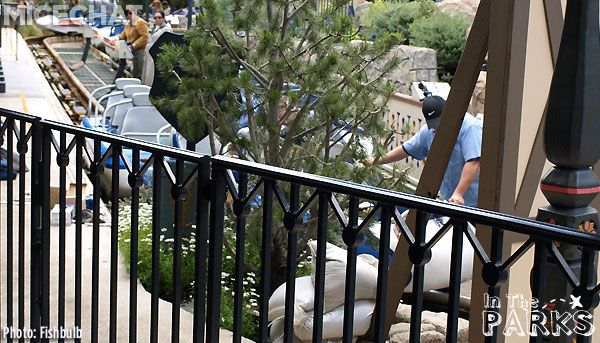 Merchandise:

New Captain EO rainbow shirts have popped up in the Star Trader.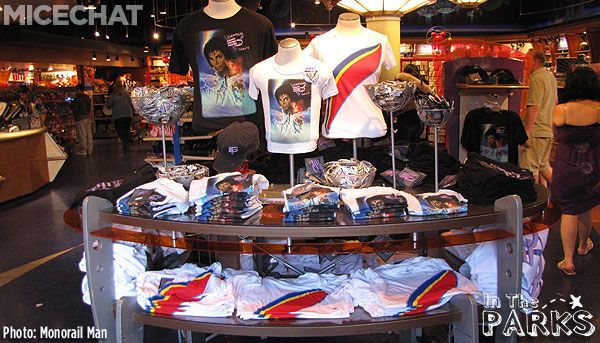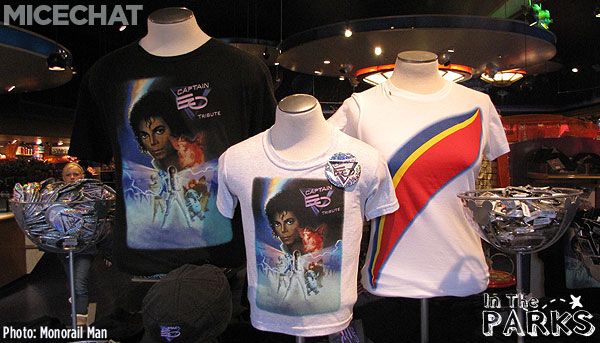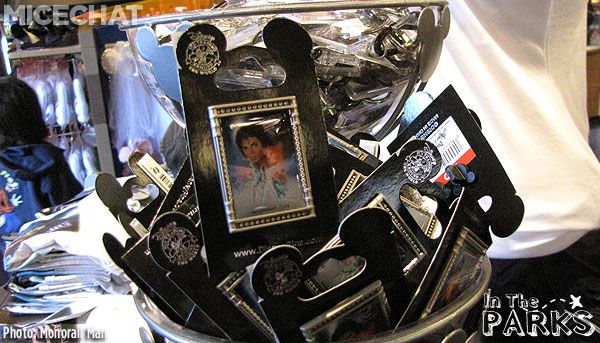 DISNEY'S CALIFORNIA ADVENTURE
:
In DCA the Red Car Trolley line has moved to the front of Tower of Terror. This can cause a bit of crowd confusion, as folks bunch up and try to figure out where to go. Cars Land's rockwork is beginning to take shape already and the Little Mermaid gets a roof. Not to mention the Silly Symphony Swings reaching a more completed status.

Red Car Trolley: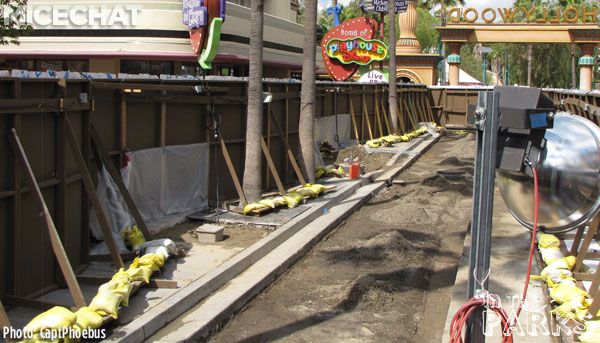 Curb work is being done behind the fences at the entrance of HPB. This should be trimmed up very quickly as no track work is being done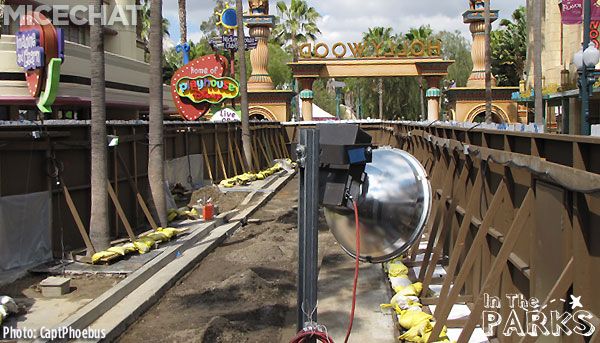 The Little Mermaid: Ariel's Undersea Adventure: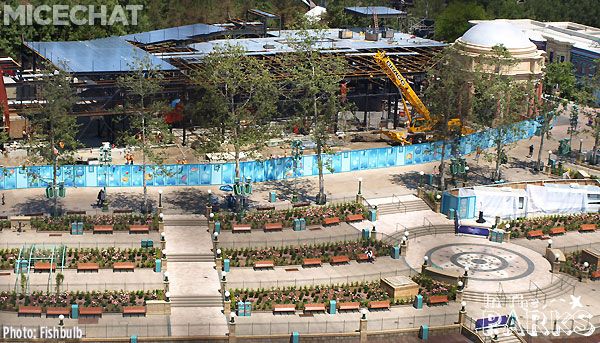 With the viewing area of World of Color in the foreground, the show building for the little mermaid ride is rapidly springing up in the background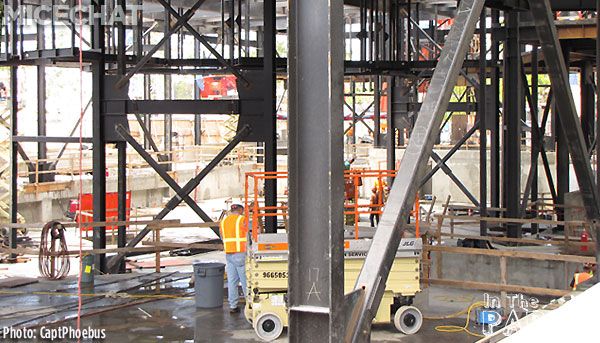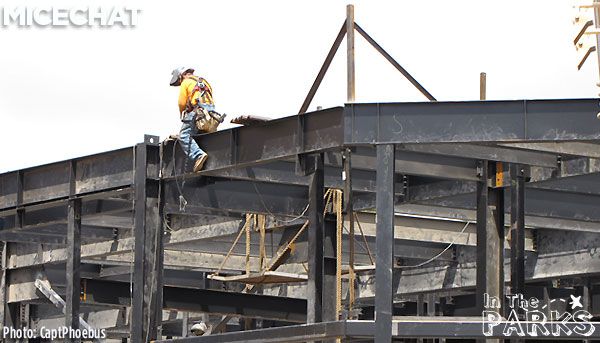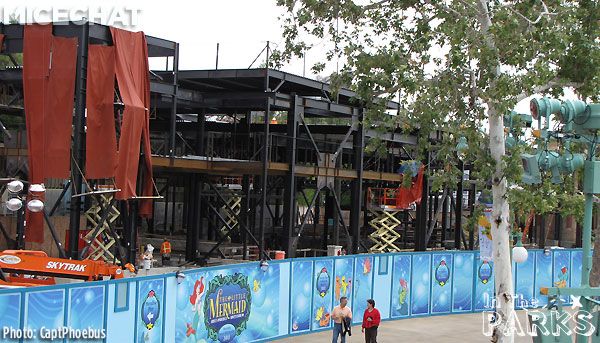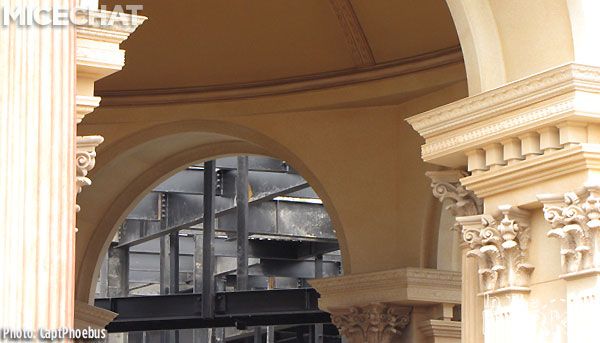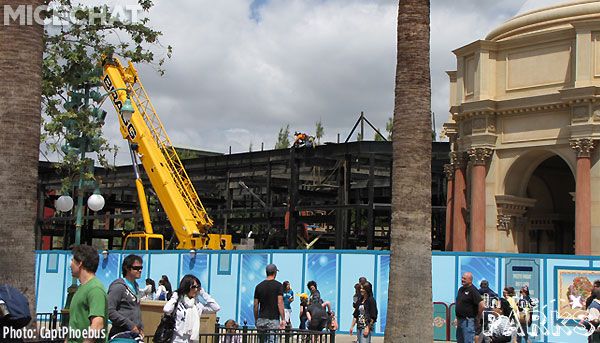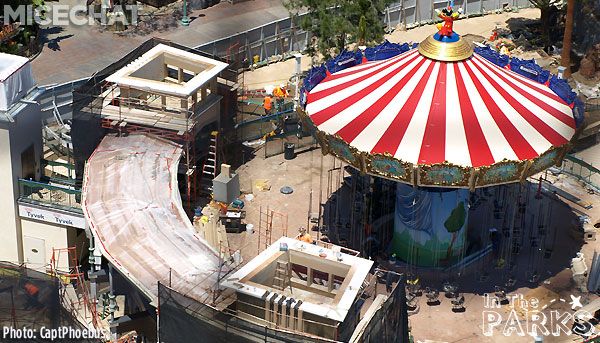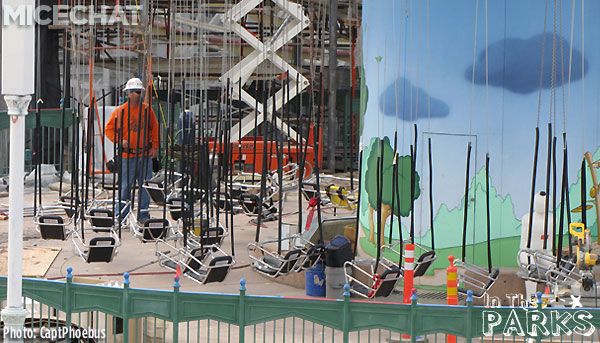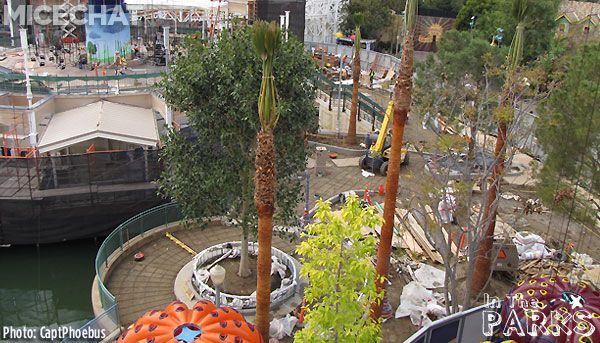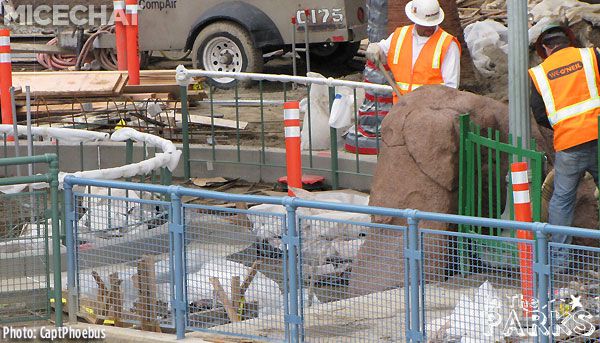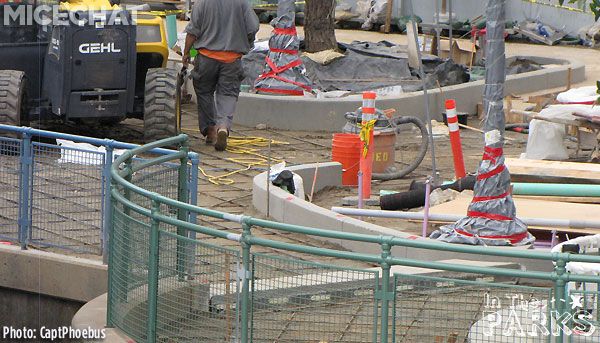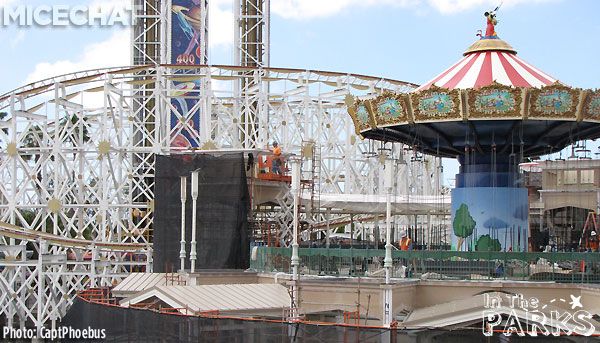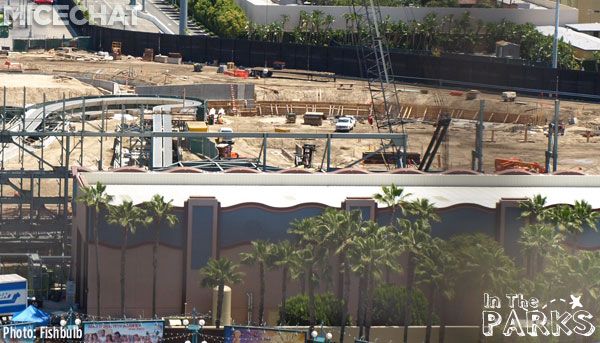 The track for a portion of the racers ride has been laid as the perimeter of the rockwork that will surround the area begins to go up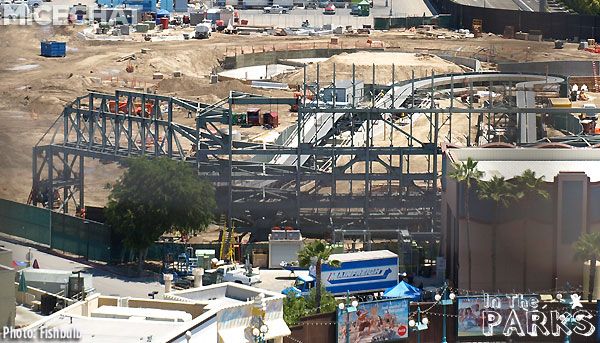 Notice the arch to the left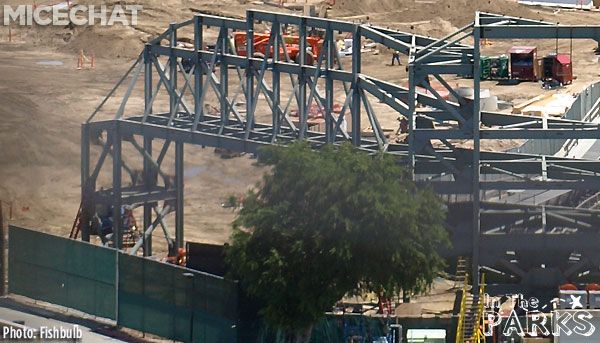 This will serve as an archway of rock that visitors can enter the land through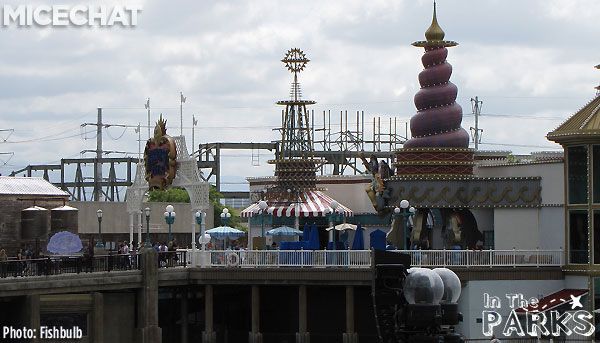 Site lines are beginning to change in Paradise Pier and will hopefully obscure those hideous power lines
that Disney almost decided to bury before they cut the budget
Merchandise:
New merchandise has sprung up in the Greetings from California shop at the front of the park.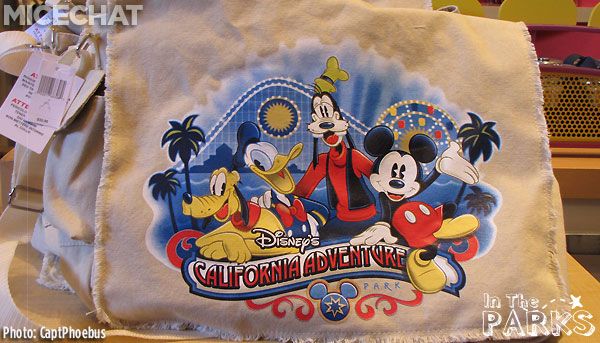 The new logo items use a more classic font for 'California Adventure' and even more classic Disney characters
Other vintage style merchandise has sprung up as well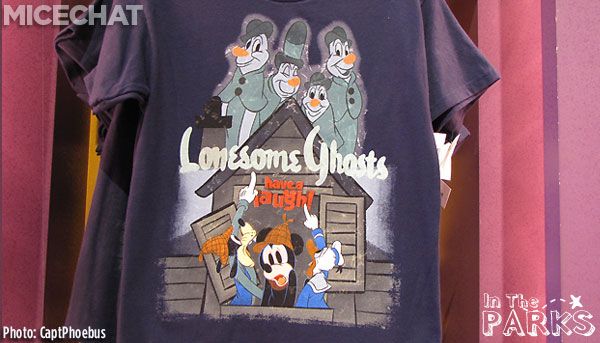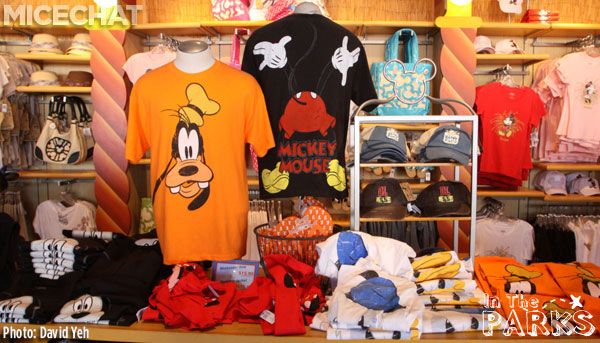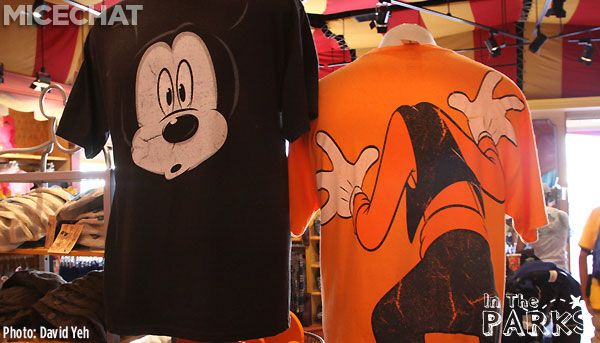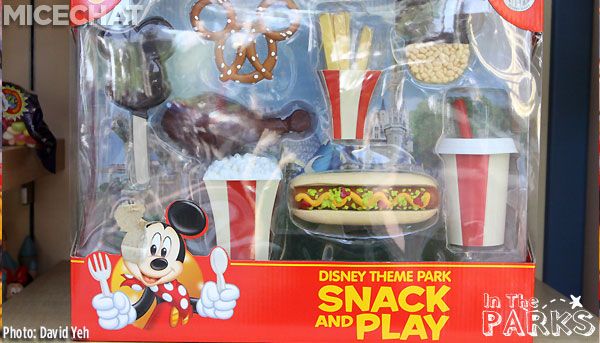 It's okay to just PRETEND to eat junk food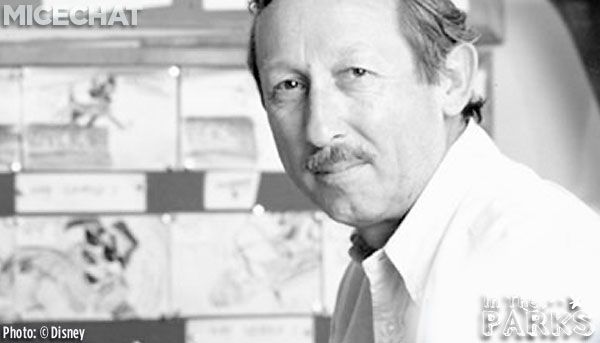 Roy E. Disney Tribute - Say farewell to Roy E. Disney and hello to the newly rededicated Animation Building at this very special event. The event it is just over a week away and you can still buy tickets for the next few days. Movie screenings on the studio lot, re-dedication of the Animation Building, an opportunity to dine in the studio commissary, and meet some Disney celebrities. You might just get to meet Bob Iger!

Pollyanna - just a few spots remain for this 50 and fabulous event. I attended the Toby Tyler screening last month and really enjoyed it. It is a great deal - free (with a $5 processing fee). The Studio Disney Store will likely be open.
For more information visit the events page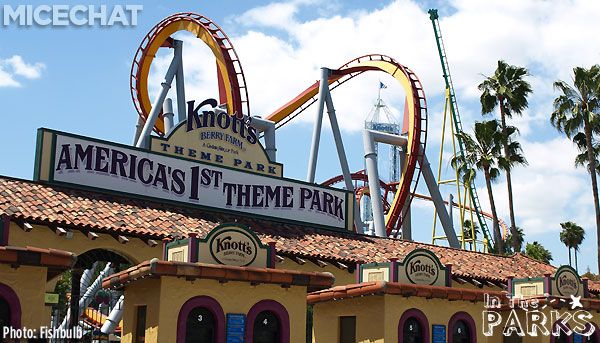 Xcelerator:
Xcelerator made it's return this past Monday after a September 16th accident that injured two riders. We took a ride on it this past Wednesday and everything looks great and feels back up to par.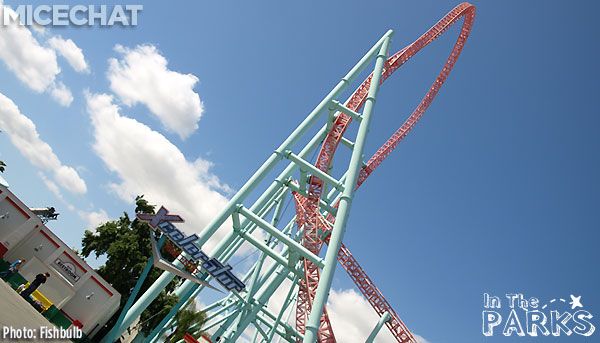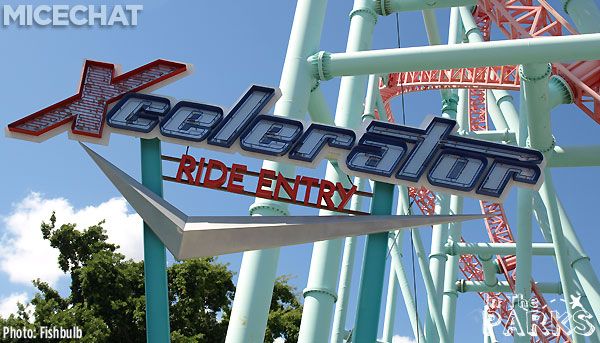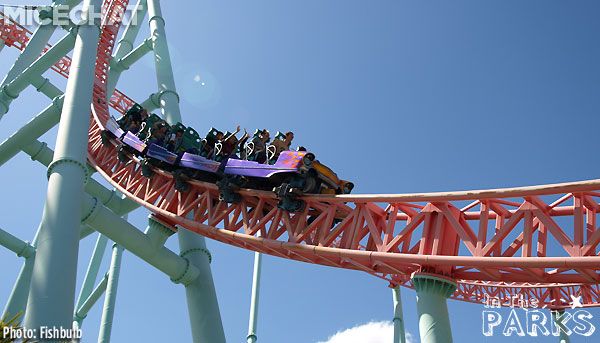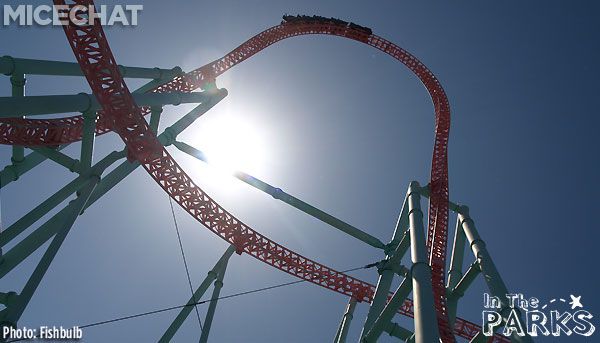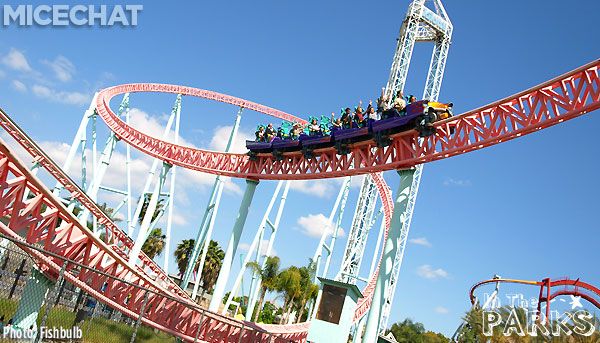 Wipeout:
Wipeout is currently down for refurb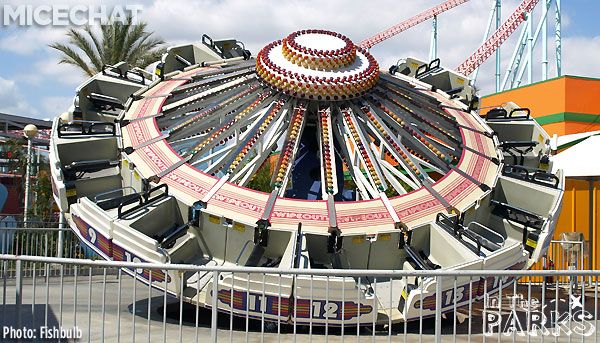 Wipeout proped up during refurbishment.
Timber Mountain Log Ride:
The Timber Mountain Log Ride is probably one of the best log ride attractions ever built. It is an older attraction and, to some, could seem a bit dated. However, it still stands as a great example of a well paced, innovative ride for it's time. We are thrilled that Knott's continues to honor and maintain this attraction, though it could use some touching up and TLC.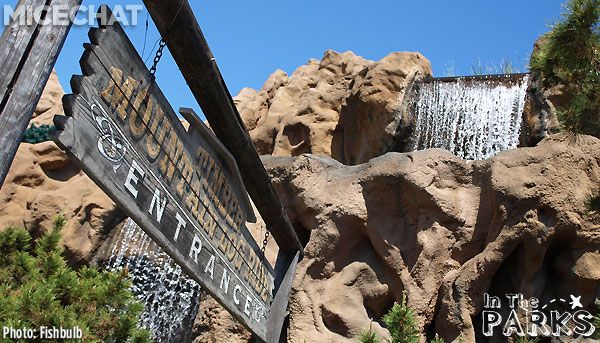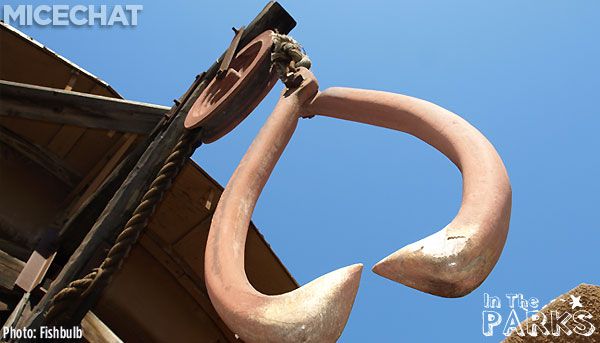 The Themeing is in need of some attention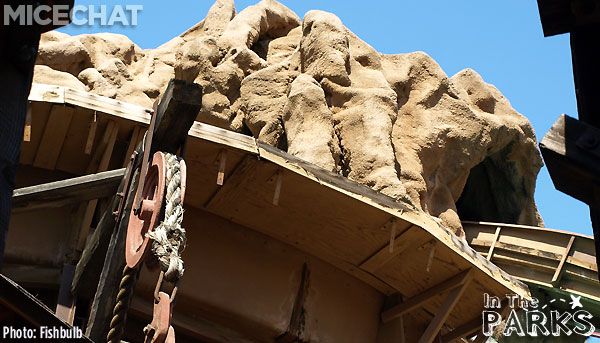 Calico Saloon:
Over in the Calico Saloon,
Knott's answer to the Golden Horseshoe, they continue to have a live, thematically appropriate show. It is a charming show of music and comedy.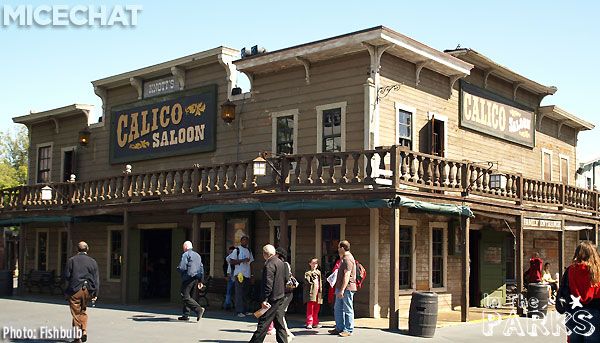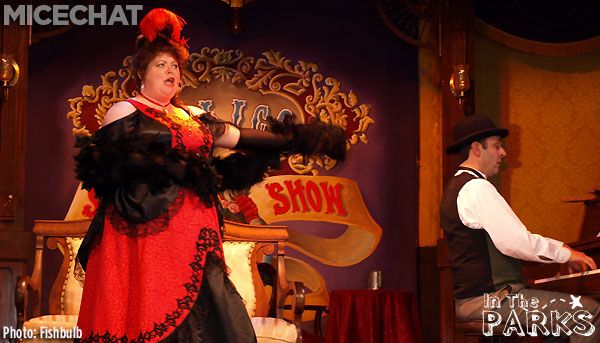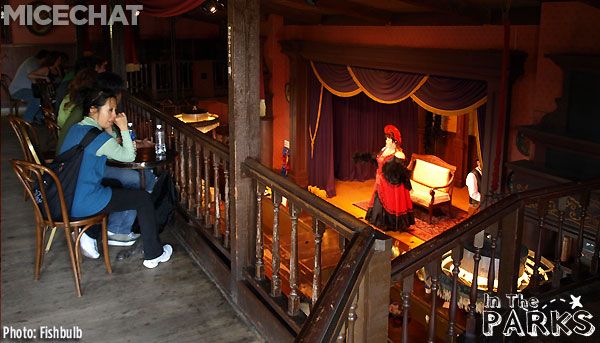 Pony Express:
Pony Express has been closed for refurbishment and is scheduled to be up and running this weekend. If you make it to the park, please send us some pictures!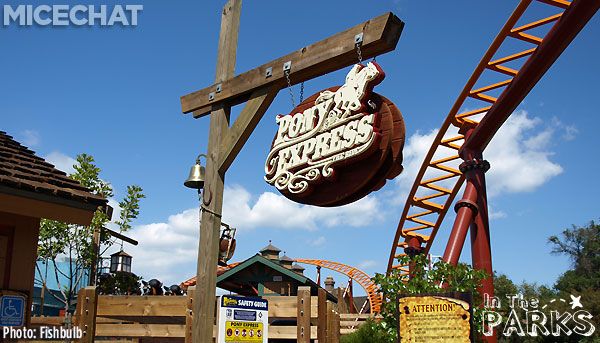 Other scheduled refurbs include:
Montezooma's Revenge: May 03 - May 18
Sierra Sidewinder: May 19 - May 28
GhostRider: June 01 - June 16

New walk in dryers in the park:
At the exit of both Bigfoot Rapids and Perilous Plunge, new full body family dryers are available for use. The upcharge fee is $5.00 for 4 minutes.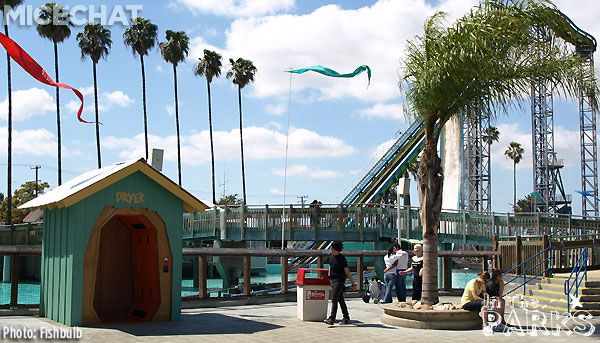 Perilous Plunge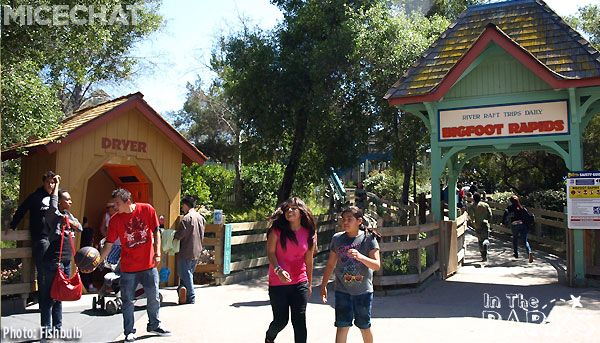 Bigfoot Rapids

Ghost Town:
themeing details are slowly returning to Ghost Town. We reported the return of the Catawumpus last week. This week we take a look at the peek-ins that have recently been restored to their former glory.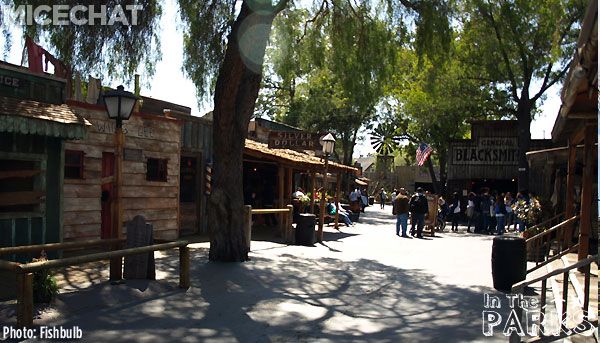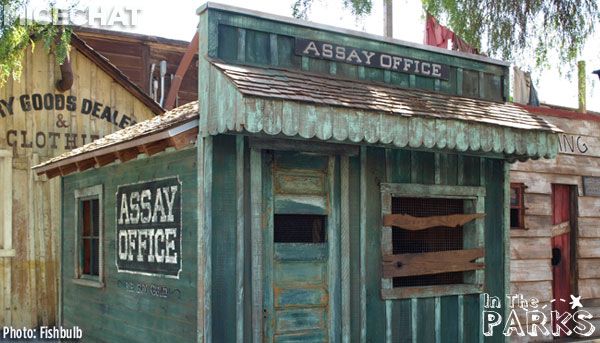 Assay Office: An Assay office was the location where the
purity of precious metals was verified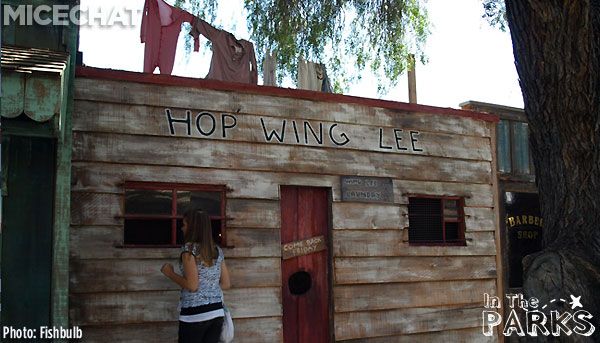 Hop Wing Lee's Laundry
Inside the figure is working properly and ironing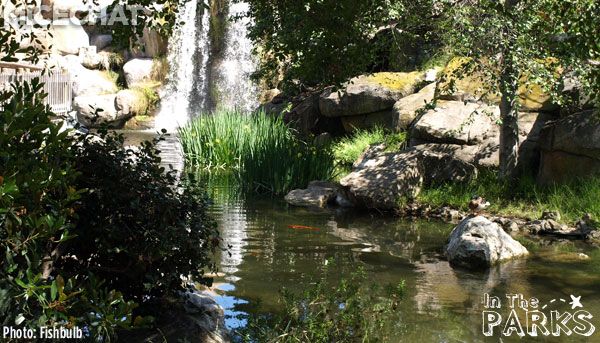 The pond near Mystery Lodge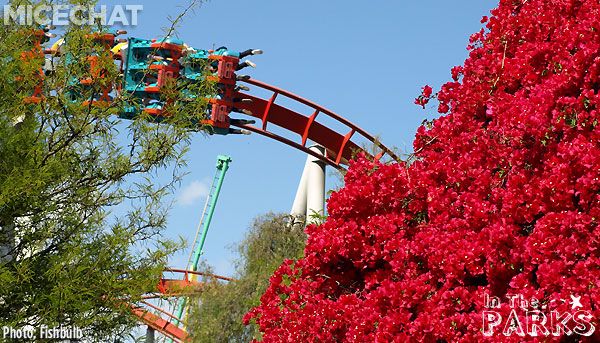 The park looks great and is well worth a visit. Let's hope they stay on the right track.

Universal Studios has quote a few construction projects of its own. King Kong returns this Summer, Transformers moves in next Summer, and the backlot sets destroyed by fire are just about complete. F!an fills us in on what's new at our favorite Hollywood Studio park.
Quick Info
Buy a day get the rest of 2010 for free ends 4/30 (Friday)

AAA members can get a 3 day pass for $59 (first use must be on or before 8/31 and last use must be on or before 12/31) by either presenting the advertisement in the May edition of Westways magazine to a USH ticket booth or by purchasing tickets online at aaa.com/universal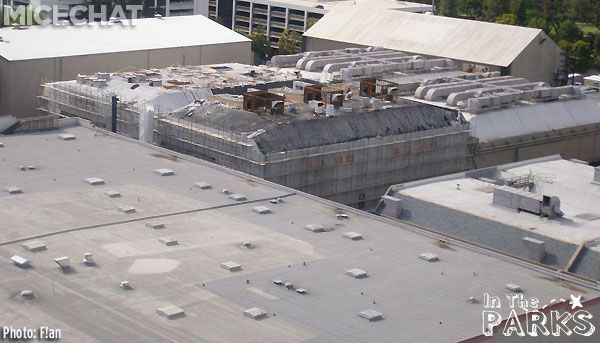 Backdraft and SFX Stages have FINALLY been removed from the Park
maps and now there are signs on all levels of the Starway stating they are
closed. The crane is gone as are all of the ventilation units from both of the previous attractions.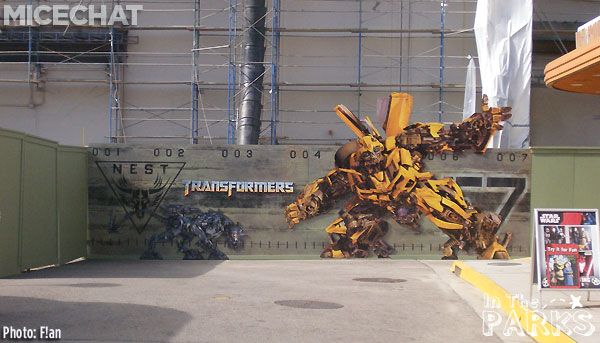 The center section of green refurb wall is now
themed and features Bumblebee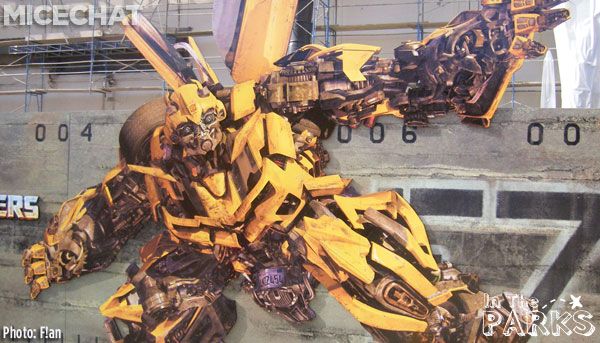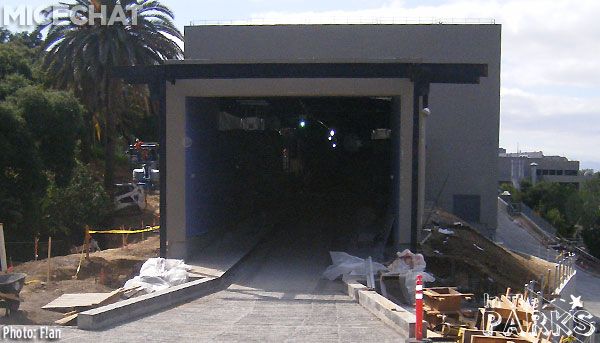 Exterior work of the new King Kong building appears to be coming to a close.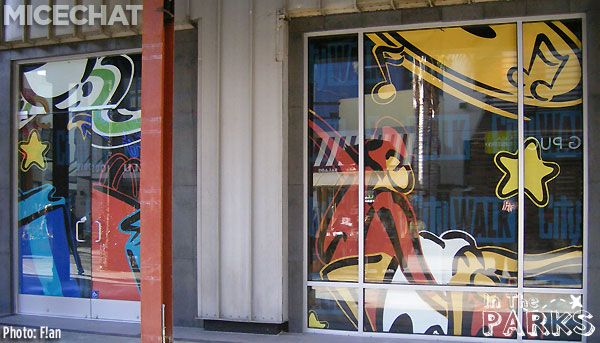 The old Hot Topic location is out from behind refurb walls and not a trace of the former occupant is left. The windows are covered with generic CityWalk artwork.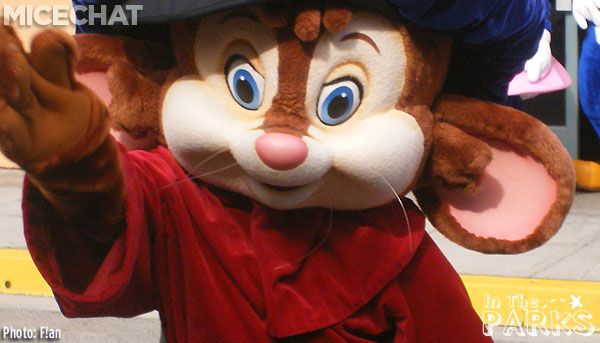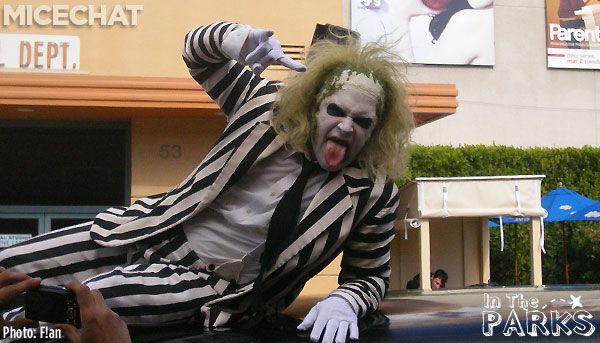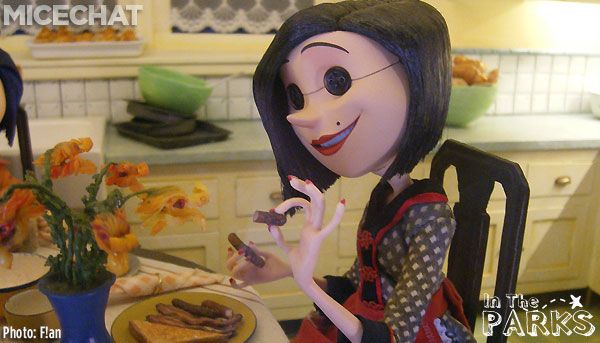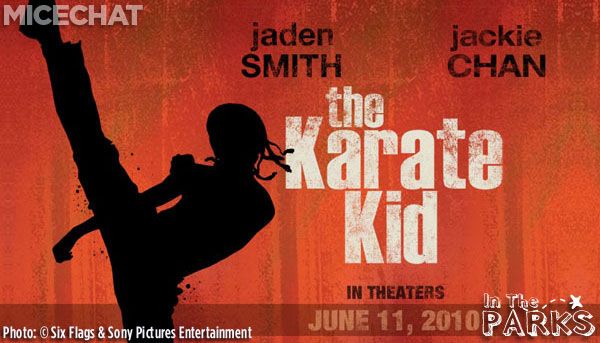 Deals:
Buy a 2010 Play Pass for the new price of $54.99. Right now, if you purchase a play pass for 54.99 you get the rest of 2010 for free.
Upcoming events:
May 1 -
The Karate Kid Challenge
May 9 - Show mom how much you really do love her. Buy a Play Pass and receive a Free Friend coupon valid on Mother's Day in your value book.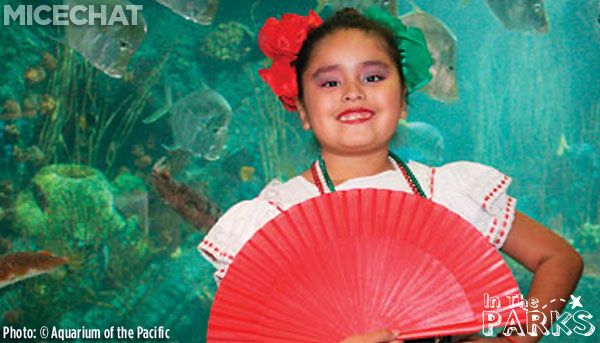 Aquarium of the Pacific
Sat, May 1 & Sun, May 2, 9 am - 5 pm - Aquarium of the Pacific, 100 Aquarium Way, Long Beach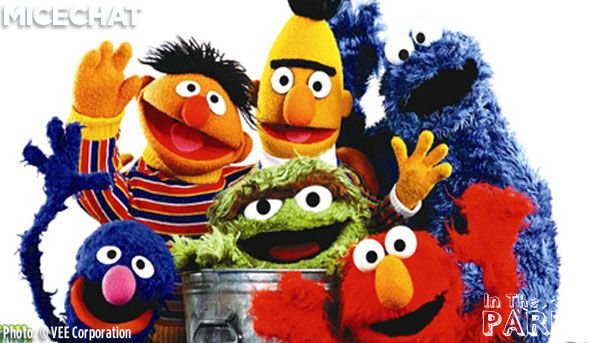 Sesame Street Live at the L.A. Zoo
www.ticketmaster.com/sesamestreetlivela
Sat & Sun, May 1 & 2, 11 am - 3 pm - 5333 Zoo Dr., Los Angeles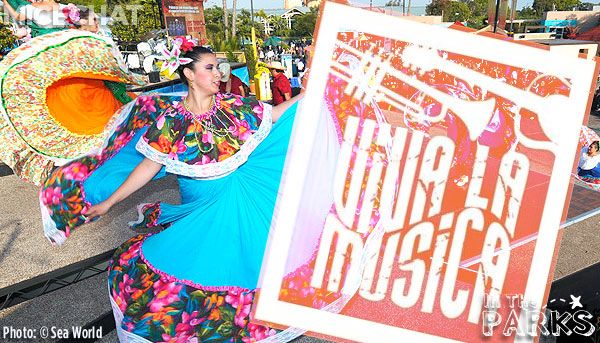 Starting Saturday May 1st and going all the way to Sunday May 23rd the Viva la Musica features Latin music, food and fireworks. There will be four full weekends of International Latin performers. They will perform live in the Shamu stadium along with local bands and entertainment. The hours are extended too for a full day of fun from 9am-9pm. All of this is free with Park admission
More info here

Pacific Palisades Community Expo LIVE ENTERTAINMENT, BEAUTIFUL CARS, FUN & EDUCATIONAL
Exotic/Classic Auto Display sponsored by Stokes Tire Pros, , Art Exhibit sponsored by Pacific Palisades Art Association, Health & Education, Technology, Environmental, Financial, Home & Garden Design. Sponsors also include Altour Palisades and Wells Fargo Bank. Sun, May 16, 10am-2pm, on the streets of Via de la Paz and Antioch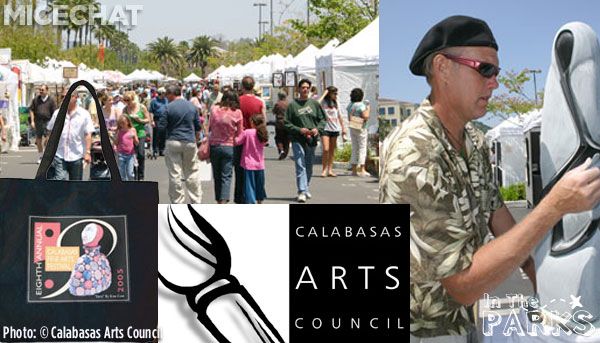 Calabasas Fine Arts Festival
The Calabasas Fine Arts Festival has become a beloved community tradition the first weekend of May each year. Housed at the beautiful Calabasas Civic Center and the upscale Commons at Calabasas, the festival attracts hundreds of artists and thousands of qualified collectors and art buyers. Artists are encouraged to share their creative work, knowing that the quality and originality they bring greatly enrich this wonderful destination event. Sat & Sun, May 1 & May 2, 10 am - Calabasas Civic Center, 200 Civic Center Way, Calabasas
Game Day 2010
Come one, come all for a fun filled day at Lollipop Theater Network's Game Day 2010! Spend some time at the Nickelodeon Animation Studios with your favorite games... super sized. Decorate cupcakes, dance to some groovy music, glam it up with the Giuseppe Franco Salon crew, meet Dora, SpongeBob and Patrick plus so much more...Your participation will bring smiles to hospitalized children nationwide. Sun, May 2, 12 - 4 pm - Nickelodeon Animation Studios in Burbank, 231 West Olive Ave., Burbank
KidsFest San Diego
Saturday, May 1 10:00a to 6:00p Cost $15 - $20 Under 2 free

Last Fridays on Main Street
Great local offers from participating merchants including discounts, 2 for 1's, and most merchants stay open late! There will be free bike valet in front of the Library at 2911 Main from 5 pm - Midnight. Some merchants will be offering discounts to those who valet their bikes! Fri, Apr 30 - Santa Monica Main Street, Santa Monica

Art Night
Sat, May 1, 6 - 10 pm - 18th Street Arts Center, 1639 18th St, Santa Monica

25th Annual Pow Wow 2010
The American Indian Student Association presents the 25th annual UCLA Pow Wow in order to educate the UCLA community and increase awareness of American Indian culture and heritage, to expose and introduce the Los Angeles American Indian community to an institution of higher education, and to protect and preserve American Indian spirituality and culture. Free and open to the public.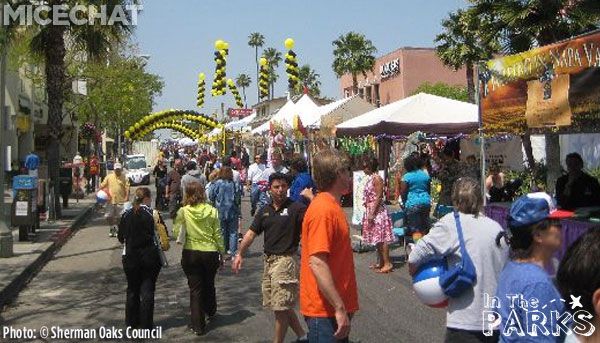 Sherman Oaks Spring Festival
Fri, Apr 30, 7 pm - Ventura Blvd will be closed for the festival between Van Nuys and Kester, Sherman Oaks
Saint Frances De Sales School Fair
Fri, Apr 30 - Sun, May 2 - St. Francis de Sales School, 13368 Valleyheart Drive, Sherman Oaks
Free Balloon Rides
The Great Park Balloon
- El Toro Marine Corps Air Station
Thu & Fri: 10 am-3 pm; 7-10 pm; Sat & Sun: 9 am-3 pm; 7-10 pm Tel: (866) 829-3829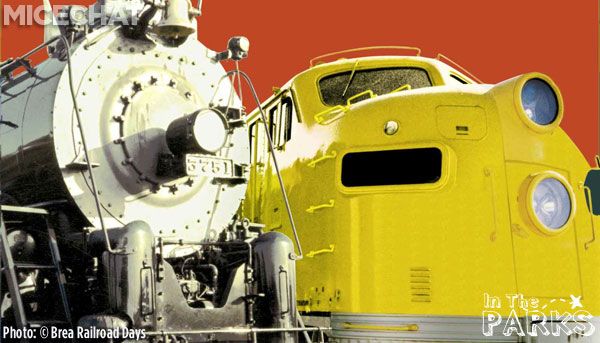 Brea Railroad Days
This weekend is the ever popular Railroad Days, now in a new location, Downtown Brea, after losing their location in Downtown Fullerton last year. Here's a link to the website.
SOUTHERN CALIFORNIA RAILWAY PLAZA ASSOCIATION - RAILROAD DAYS
This is the same event, a few years ago, Engine 1 of the Disneyland Railroad, the C.K. Holliday, was actually brought out of the park and set up on display.
Gregg Young & the 2nd Street Steel Drum Band, concert
.
Cruisin' Morro Bay Car Show.
Classic cars from around the country cruise to Morro Bay to show off their shines. Come on out, bring the family and friends and see these outrageous cars. Friday, Saturday and Sunday morrobaycarshow.org
International Festival

.
Soka
University
info@soka.edu; 949.480.4081; soka.edu/festival
Discovery Science Center Presents: SFSEA Rocket Launch 2010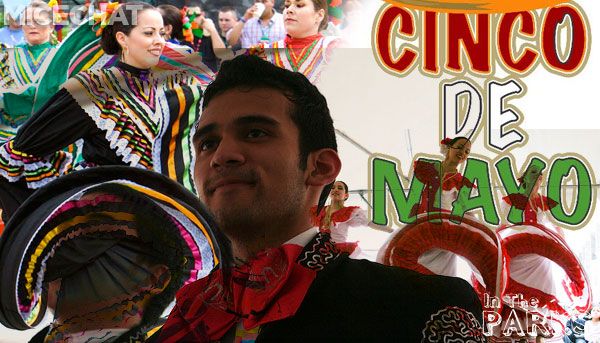 Cinco De Mayo Fiesta and Classic Car Show
Sun, May 2, 1 pm - Virginia Avenue Park, 2200 Virginia Ave, Santa Monica
Cinco de Mayo
Cinco de Mayo Celebration
Sat, May 8, 12 - 6 pm - Max Berg Plaza Park, 1100 Calle Puente, San Clemente
Fiesta Cinco de Mayo in Old Town
what better place to celebrate Cinco de Mayo than in California's birth place, Old Town? Old Town will offer performances on five different stages, food from local restaurants, and cultural and historical exhibits. Saturday, May 1 11:00a to 10:00p at
Old Town San Diego State Historic Park

,
San Diego, CA Price: Free


As we bring another long update to a close, we'd like to remind you that there is always a world of fun theme park information to read on MiceChat:

Dateline Disneyland which is packed with great news and photos from the Disneyland Resort.
Weekend Update Offers a world of Disney theme parks and other sights and landmarks!

Help us out by sharing the link to today's blog with your friends and family on
Facebook, Twitter, and beyond!

A huge thanks
to today's photographers and news contributors CaptPhoebus, F!an, David Yeh, Pratt55, MickeyMaxx, Monorail Man, Sir Clinksalot,
David Yeh,
Dustysage
and Fishbulb.

If you've got news, photos, or tips to share, please contact dustysage@micechat.com. We'd love to hear from you and make your news and photos a part of our weekly updates!


Have a wonderful weekend and thank you for your continued support of MiceChat and of In The Parks!

Your Editors this week -
Dustysage & Fishbulb