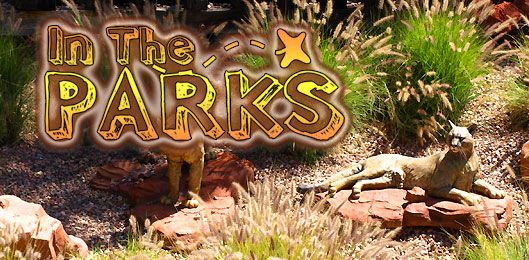 Anticipation is running high for World of Color (which may or may not start public soft openings any day now), will it live up to the hype? One thing is for sure, DCA is finally on the verge of a whole new era, and we'll be right here to capture every little detail for you. Stay tuned to MiceChat and our
Twitter feed
for breaking news. Dancing waters aren't the only news today, we've also spotted the first car on the tracks of the new Radiator Springs Racers ride and we've taken the first beautiful trip around the refreshed Rivers of America. AND, we've got construction photos of Sea World's new Blue Horizons and news from parks and events all over Southern California. It is a huge update, let's see what's new:

After months of endless construction walls, a major part of Disneyland reopened this week. Take a ride around the fresh new Rivers of America with us and view some of the fun details and additions. We'll also take a look at the Sailing Ship Columbia, which looks better than ever.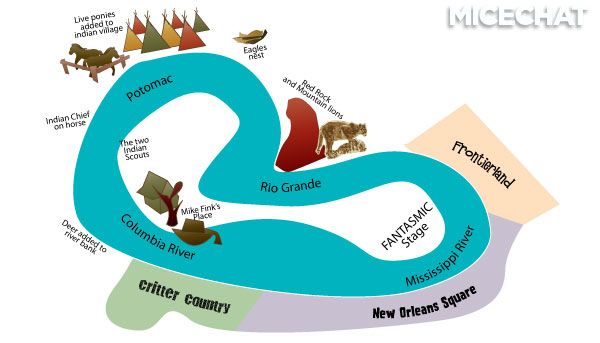 Last week, Fishbulb created this visual of the changes to the River, this week, we'll take a look at the real thing.

Let us start off by saying that the River looks and sounds WONDERFUL. In fact, it has probably never looked better. There is no doubt that this refurb has the river looking fresh and new. However, there are some startlingly cheap additions to the river that stand in stark contrast to the otherwise beautiful work in this project. While only the biggest theme park geeks among us will notice, budget cuts are obvious in some of the stationary new figures placed around the river.
As we had reported last week, a real storyline has been added to the river in the form of 4 different river areas from America's Rivers; The Mississippi, The Columbia, The Potomac and the Rio Grande. Let's start our journey.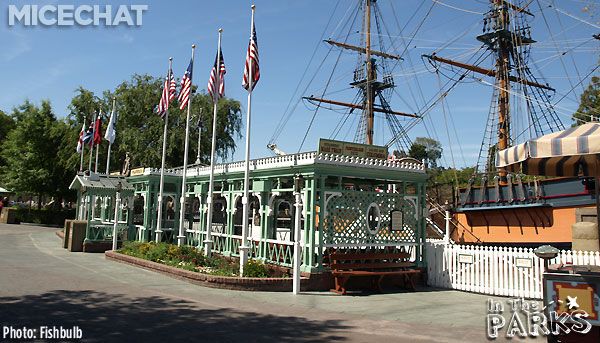 The newly refurbished Loading dock (Rio Grande)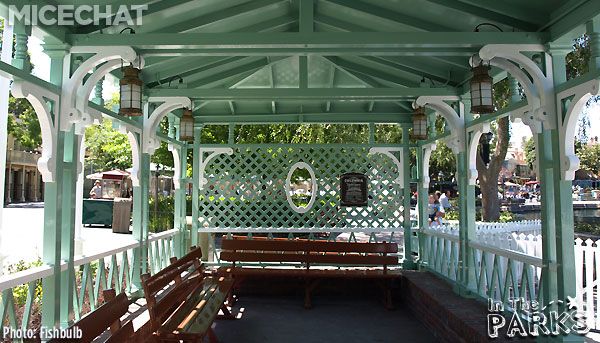 Ahhhhh, got to love how clean and new the dock looks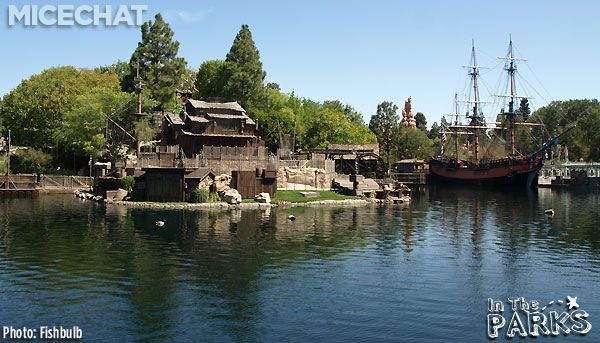 From New Orleans Square looking at the loading dock
(Mississippi River area.)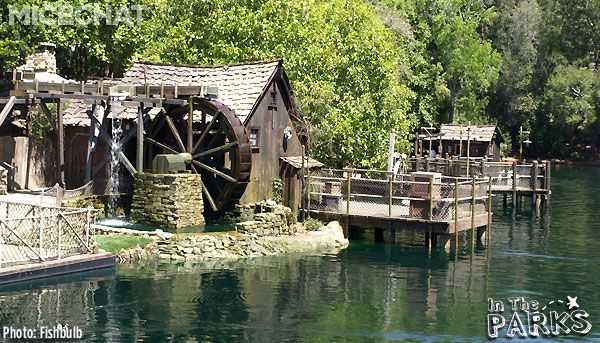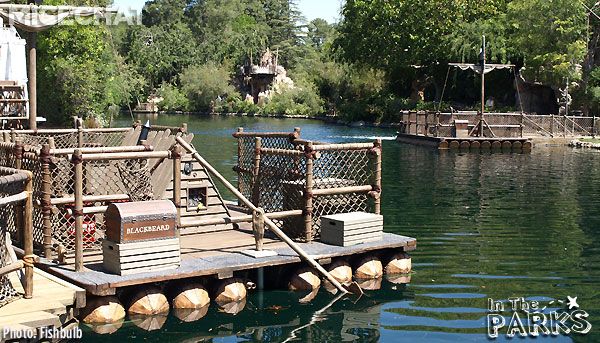 Rafts to Pirates Lair on Tom Sawyer's Island (Mississippi River)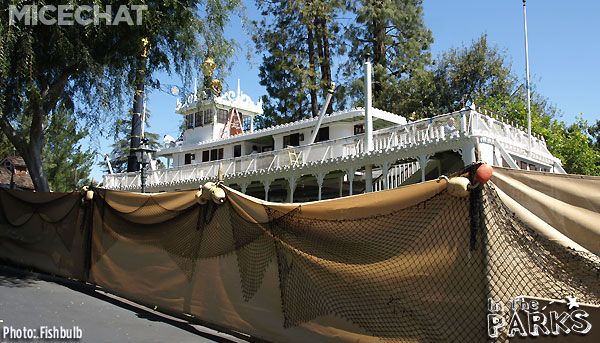 The Mark Twain is still under refurbishment but is coming along nicely. Testing of the paddle wheel took place on Wednesday while in the dock.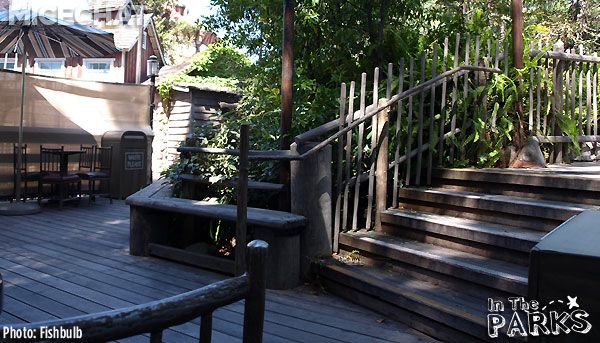 The Pathway around Fowler's Harbor and over the drop of Splash Mountain has reopened with no apparent changes. (Columbia River)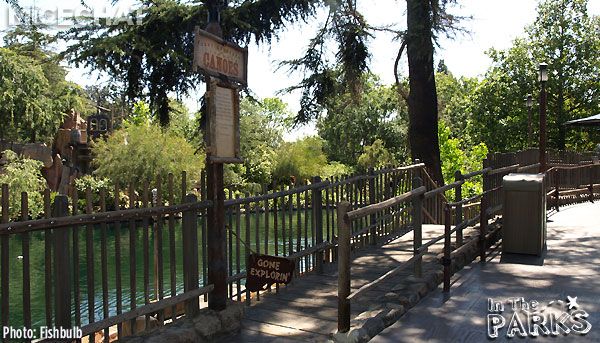 Davy Crockett's Explorer Canoes has reopened
and begins operating at noon everyday. (Columbia River)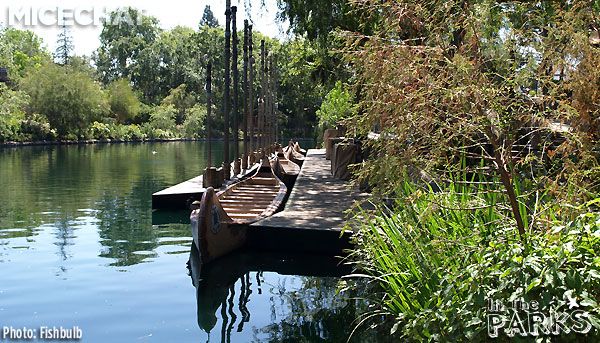 Loading Dock for the Explorer Canoes (Columbia River)


Let's board the Sailing Ship Columbia and take a ride around the river. We will take a look at the refurbished Columbia and the new additions around the river.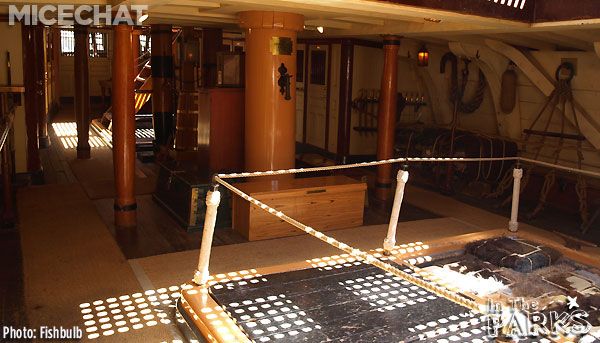 Below decks on the Columbia we see that the crew quarters have been refreshed.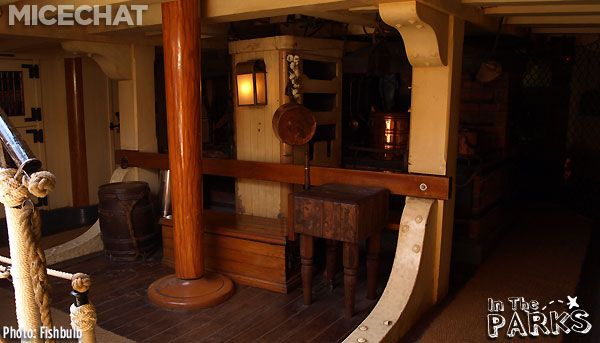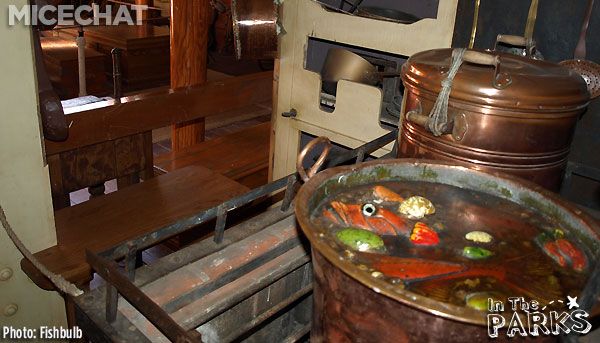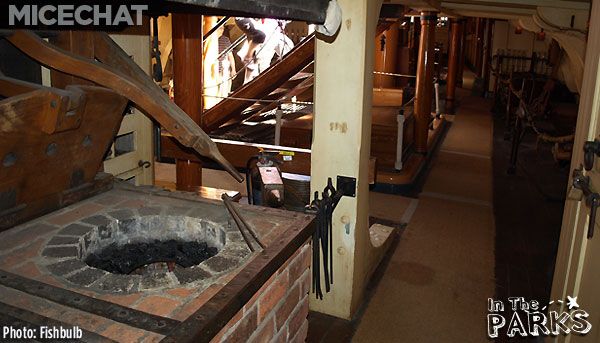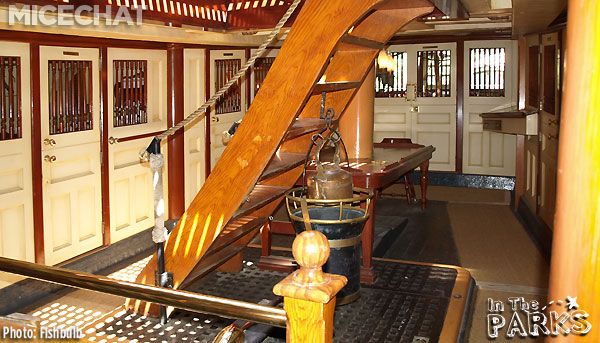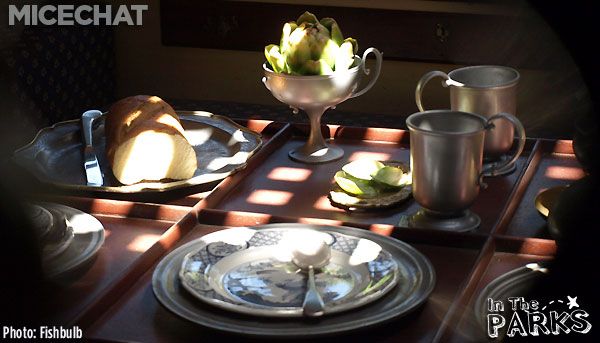 The Captain is now dining on artichoke and bread.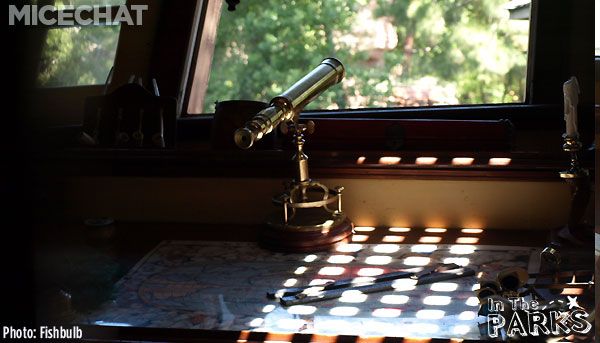 There are also new souvenirs from his travels around America's rivers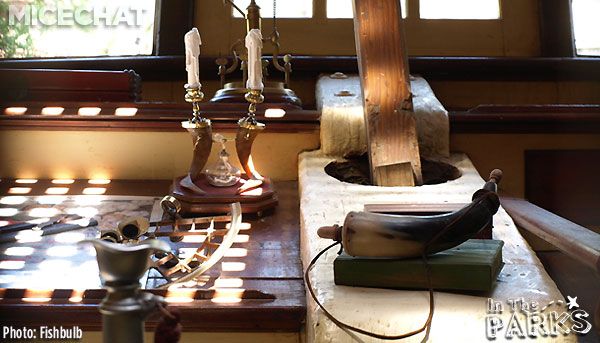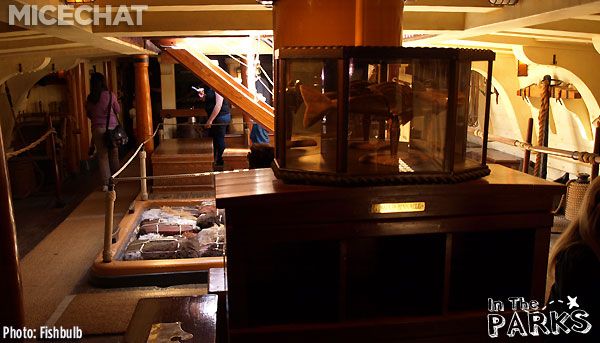 Turning back towards the center of the ship a new wooden
sculpture is on display.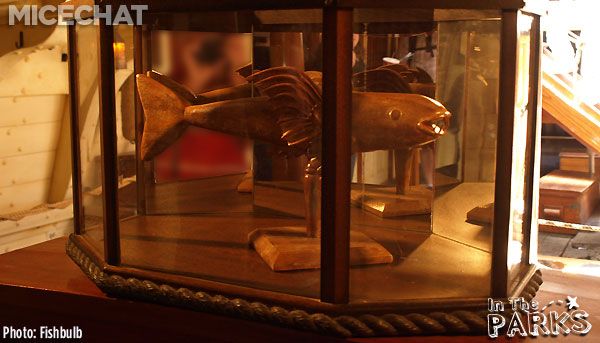 Back on deck, we travel along the Columbia River and run into . . .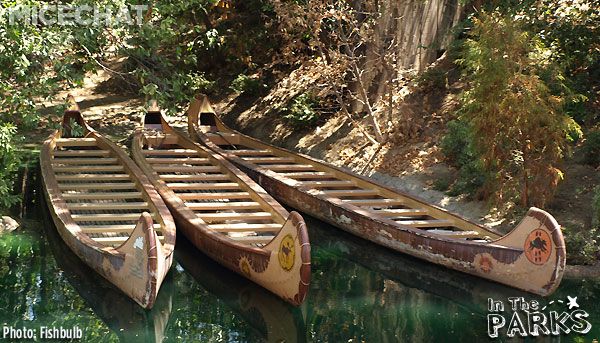 Canoes banked along the islands shore (Columbia)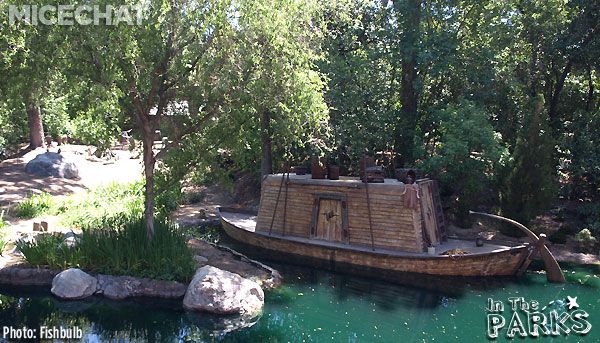 Mike Fink's Keel boat makes it's glorious return to the river. (Columbia)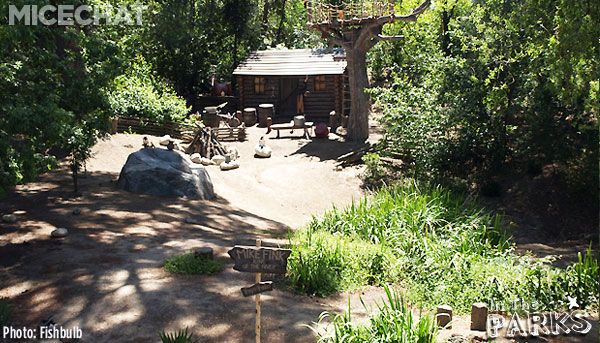 As we pass the cabin we can hear the new resident talking
about his adventures. Smoke billows from the chimney. (Columbia)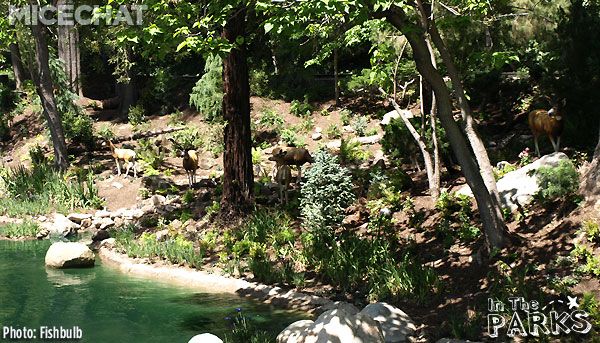 Wildlife has been added to the banks of the river,
along with a new stream flowing down the bank. These
are stationary figures, but in the shade, once the
new landscaping matures, this scene should be
very convincing. But, at the moment, the river's fauna
are as lifeless as ever (Columbia)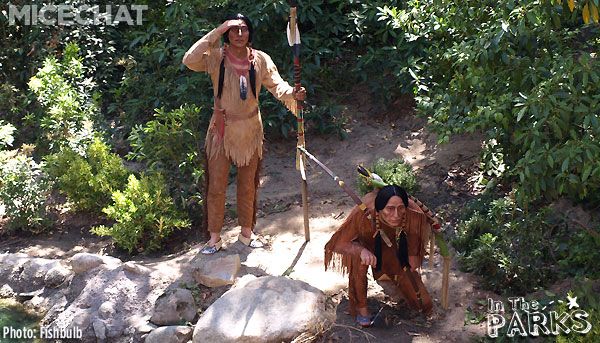 We pass into the Potomac River area and are greeted by Indian Scouts.
(Potomac)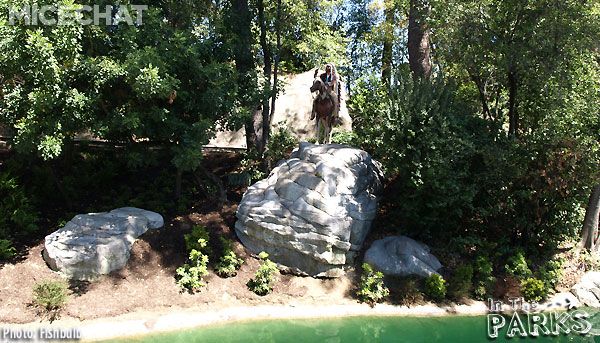 The Indian Chief says hello (Potomac)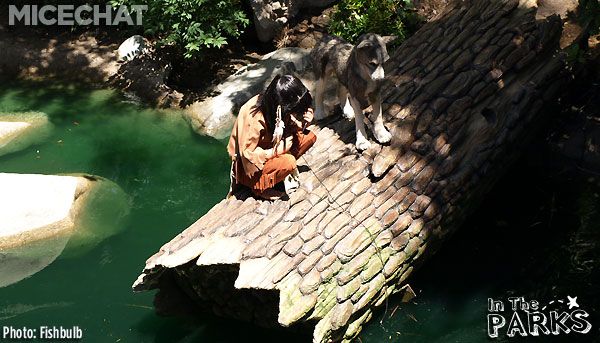 The adorable scene with the Indian boy and his dog
has returned and is as cute as ever. (Potomac)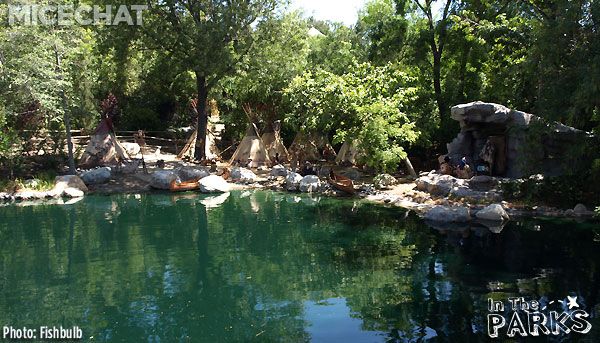 We arrive at the Indian Village. (Potomac)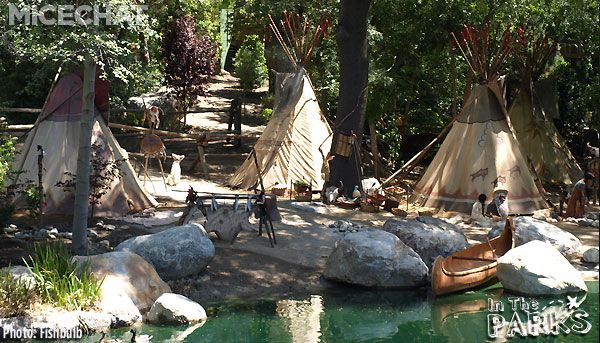 A long corral runs along the back end of the encampment housing two live ponies. They were not out at the time of these pics (Potomac)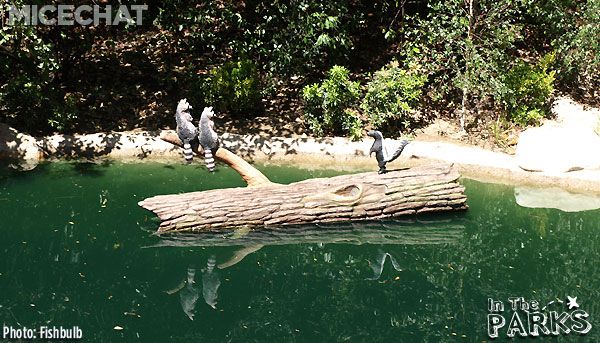 Rounding the corner we notice the beaver dam scene on
the right and this new bit of animal hi jinx. Two Raccoon figures facing off with a Skunk. These are mere statues with no movement. They do fit in to their surroundings though. (Potomac)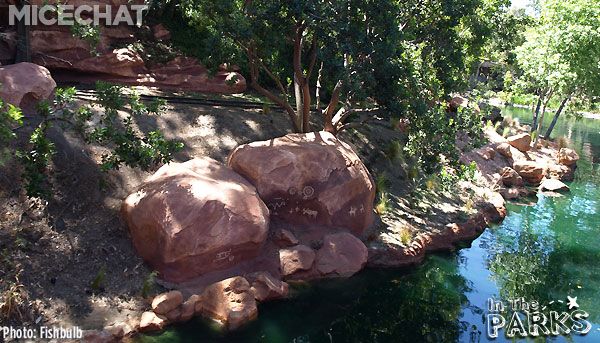 Over on the left hand side of the river we bleed into the Rio Grande. portion of the river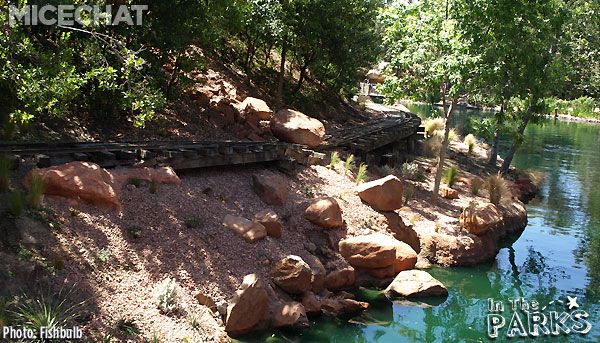 The train has been removed and new rock slides have
overtaken the tracks. Do any of you miss the Train? (Rio Grande)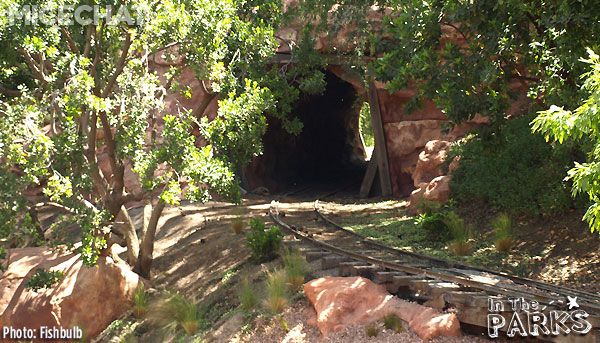 The tunnel leading to Big Thunder Trail is more apparent now. (Rio Grande)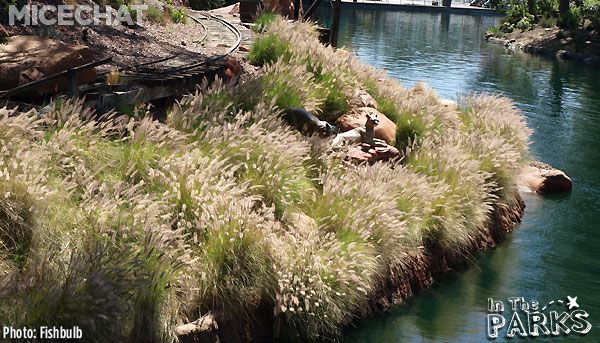 At the tip of the river bend two new, glossy mountain lion
figures have been placed. (Rio Grande)
The two new Mountain Lion figures are actually quite beautiful and fit nicely into their surroundings. The problem here is that they are 100% stationary statues that are unfortunately too close to the rivers edge. They shine like beacons of shellacked felines motionless in the scorching sun. Perhaps they'll be moved further back into the shade so as not to give away their artificiality.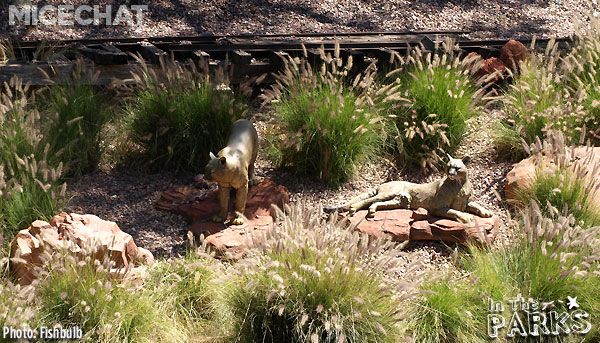 (Rio Grande)
Which brings us to the most bizarre addition to the River, the Osprey. Again, another stationary figure. The bird sits, atop a wooden beam perched on a rock like a taxidermy figure.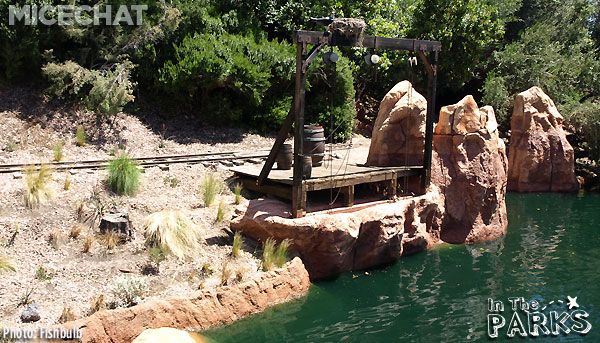 An osprey figure with a nest has been placed. (Rio Grande)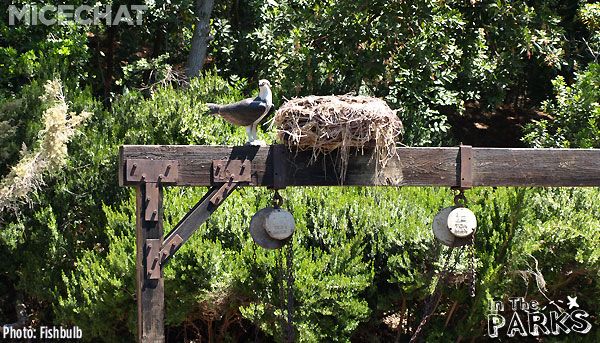 What is that? (Rio Grande)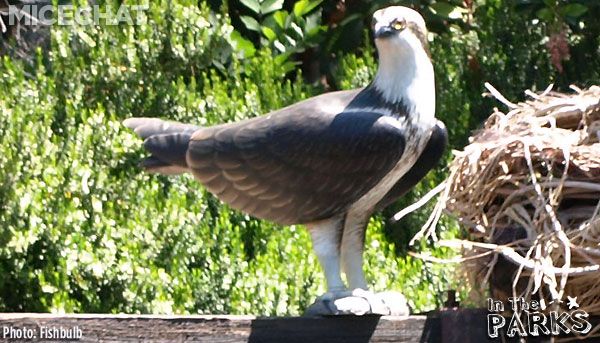 The taxidermy bird mounted to a rock is perched next to it's nest on top of a board.
(Rio Grande)
Overall the River Redo is really wonderfully done with only a few minor, VERY MINOR, missteps that could be fixed quickly and with little money.

This is what sets Disney, and more importantly Disneyland, apart from other parks. The passive park visitor would hardly notice that they have traveled through four different river areas, but creating these subtle details is what makes the Disney experience so rich. Aside from our minor quibbles, we love the enhancements and replanting of the river and hope that the Imagineers will be able to further enhance the banks of this Disneyland classic in the years to come.


The Little Mermaid: Ariel's Undersea Adventure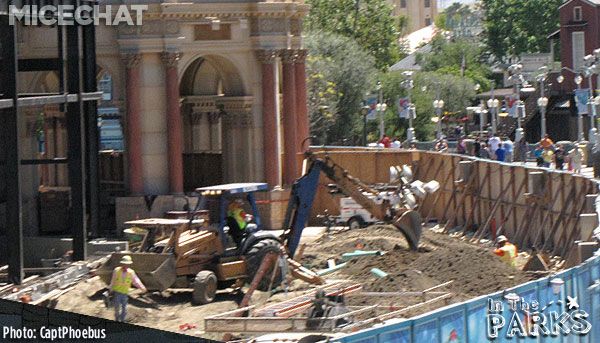 The Building is rapidly being enclosed and work is now starting to be done out front.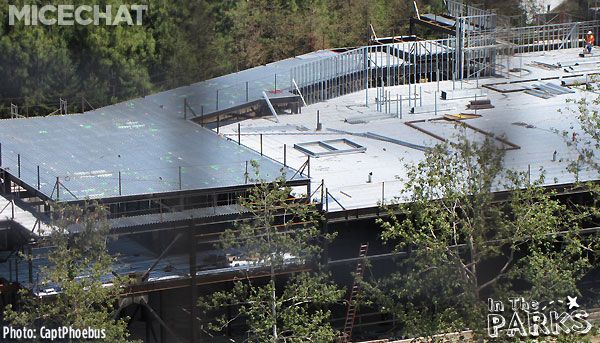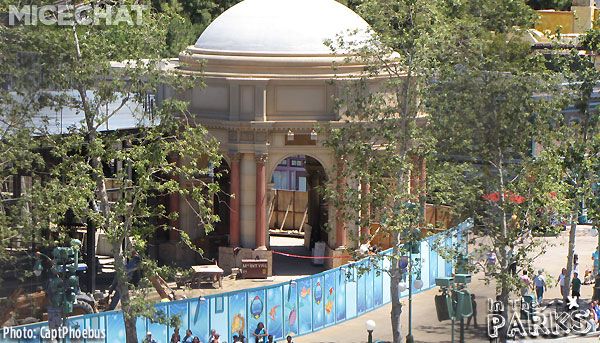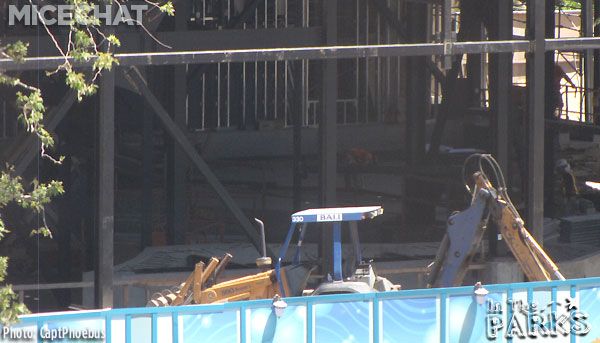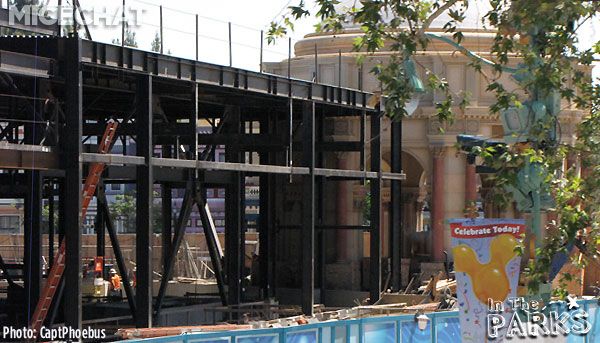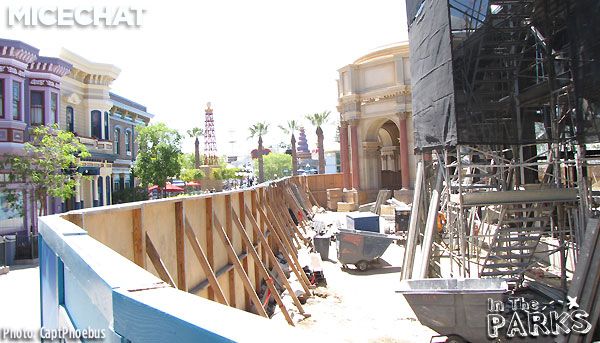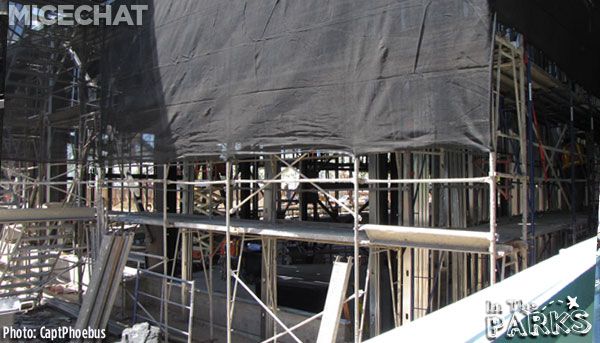 Carsland
The biggest project at the resort is Cars Land and the new Radiator Springs Racers.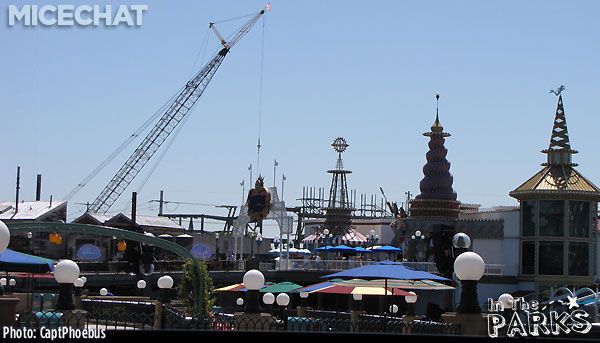 What's that?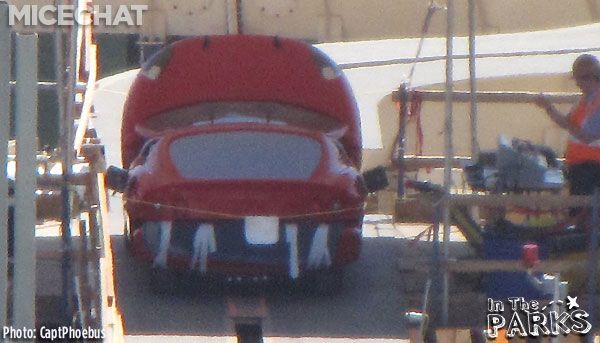 A test car is being readied for initial test runs. Chances are that our views will soon be obscured.

World Of Color
Soft Openings for World of Color could be happening any day now as testing and tech checks have been occurring as the park empties out for the day.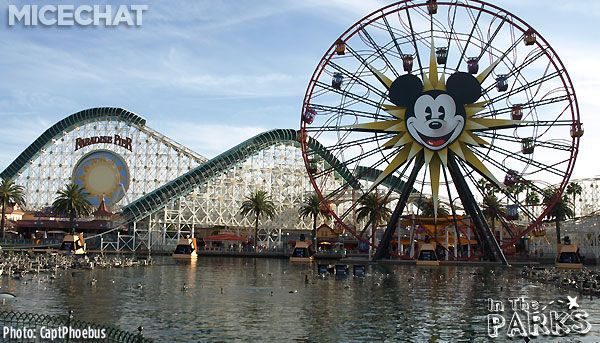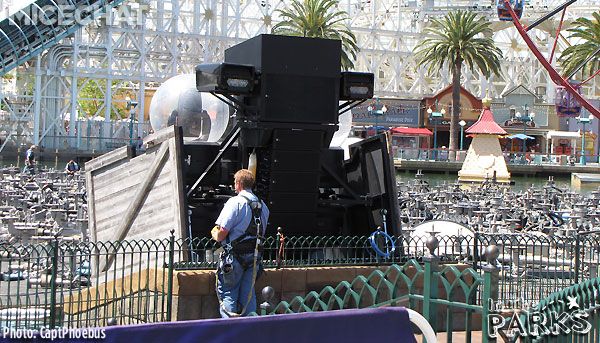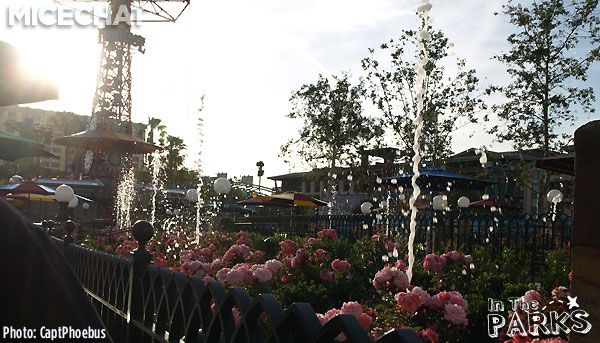 The fountains in the planters being tested in Paradise Park
Red Car Trolley: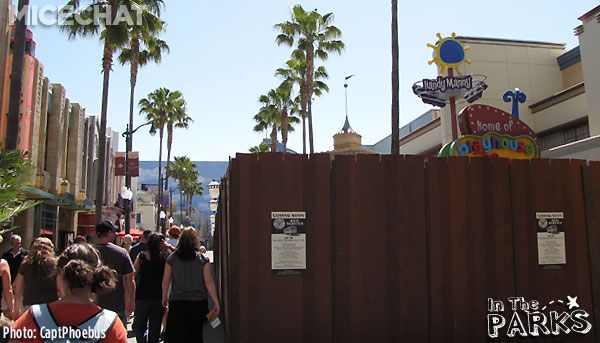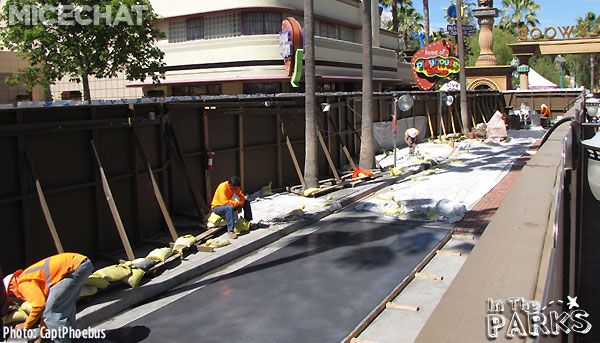 Silly Symphony Swings: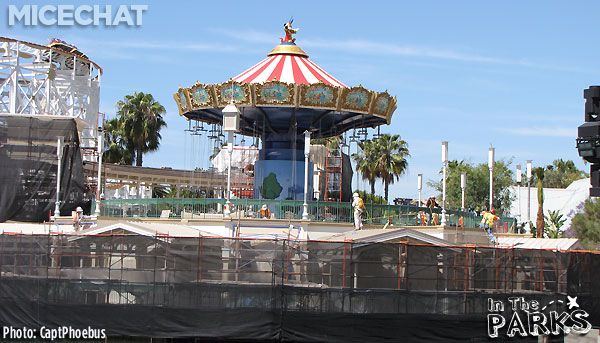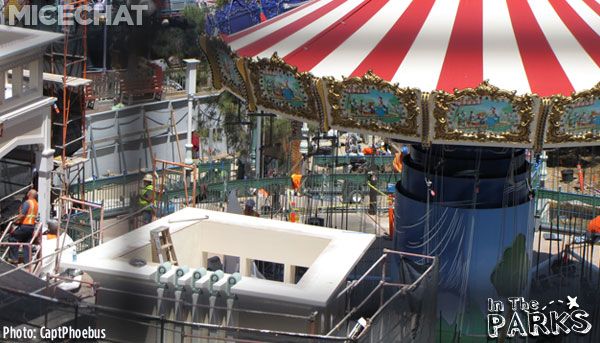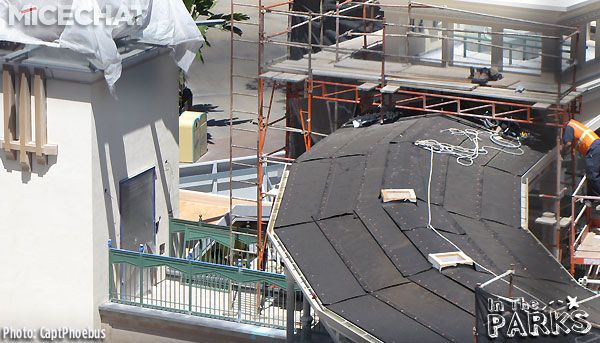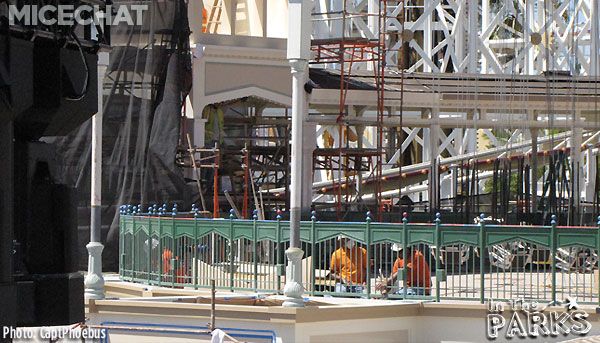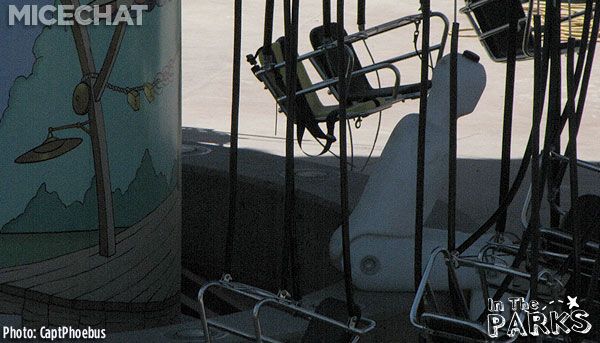 A test dummy waits to take a ride.

The Trattoria: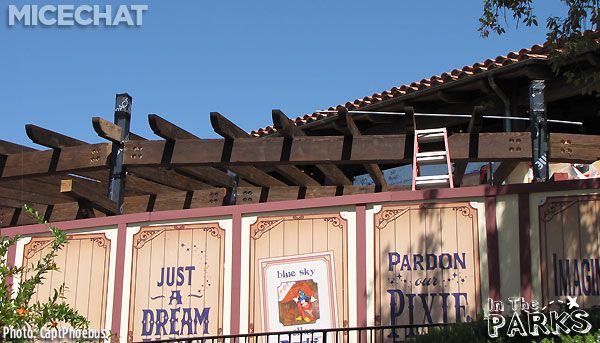 The refurb is falling behind, but it is being done right.
A new canopy is going up above the patio dining.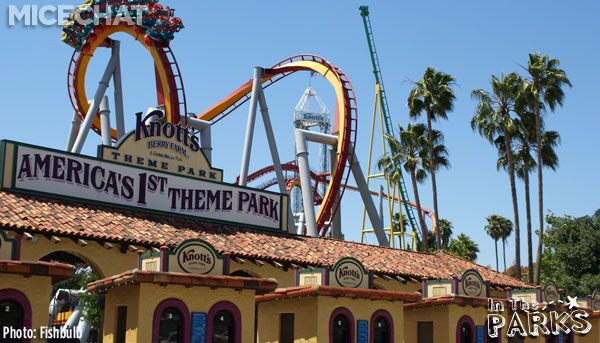 KNOTTS BERRY FARM Savings at Burger King
Eat at Burger Kings now through May 22nd and pick up a coupon good for $31.99 Regular admission to Knott's Berry Farm and $22.99 for Regular admission to any of the Knott's Soak City Water Parks. Offer good while supplies last.
FREE ADMISSION
MILITARY PERSONNEL AND VETERANS
Memorial Sunday & Monday, May 30 & 31 And July 4th and 5th
Knott's Berry Farm and Knott's Soak City have announced that they will offer FREE admission to active and retired United States Military personnel on Sunday and Monday of both the Memorial Day and July 4th weekends as part of their Tribute to the Armed Forces program. In addition, active and retired members of the U.S. military will be able to purchase discounted admission tickets for members of their immediate family (maximum of six) for Knott's Berry Farm for only $29.99 for each Regular adult ticket and $23.99 for each Regular adult Knott's Soak City ticket. This free ticket offer will be available on the Sunday and Monday of both the Memorial Day and July 4th weekends and a valid military ID must be presented.

At Sea World San Diego Viva La musica is in full swing until the 23rd of May. Meanwhile, the new show, Blue Horizons and its theater are racing to meet the opening date of May 29th.


Viva La Musica: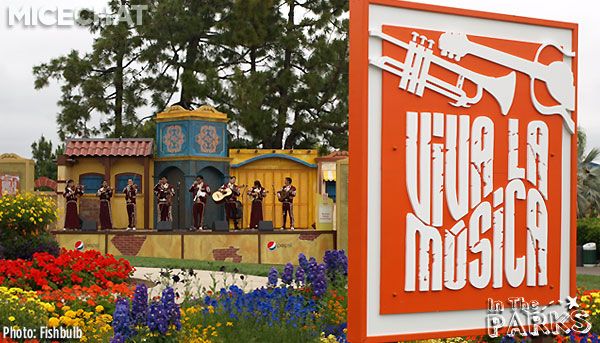 Viva La Musica entertains guests as they enter the park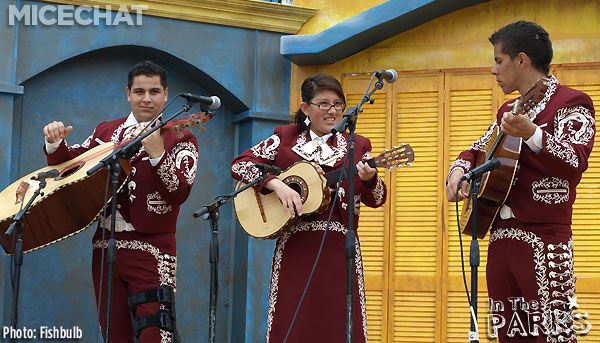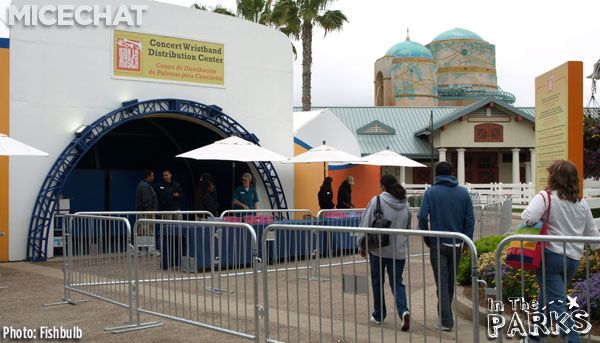 A pavillion near the Pet's Rule show is used to distribute free wristbands throughout the day for the concert at Shamu Stadium in the evening.

Blue Horizons:
Opening May 29th
Blue Horizons is a beautiful live show featuring aquatic animals, Flying birds, and acrobatic stunts around a lite thread of a story about a young girl in a dreamworld. The show has been running in Florida for a few years now and has proven so popular that bringing it to California was a no brainer.
The Old Dolphin Show theater has been completely revamped and the seating is being expanded for this certain to be popular show.
Here is a sneak peak from the Florida production:
[ame="http://www.youtube.com/watch?v=0WBQb-qTdG8"]YouTube- Sea World Blue Horizons Part 1[/ame]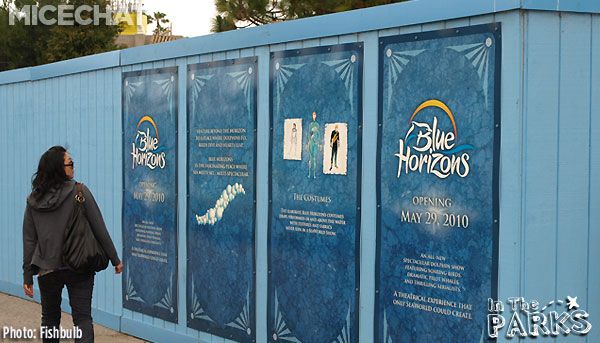 A large chunk of the park is walled off due to Blue Horizons construction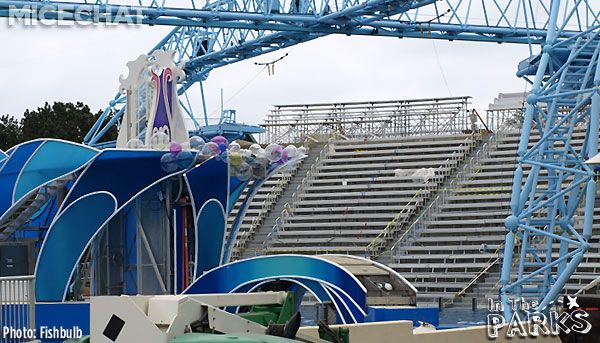 The stage is complete for the most part and training has begun with the animals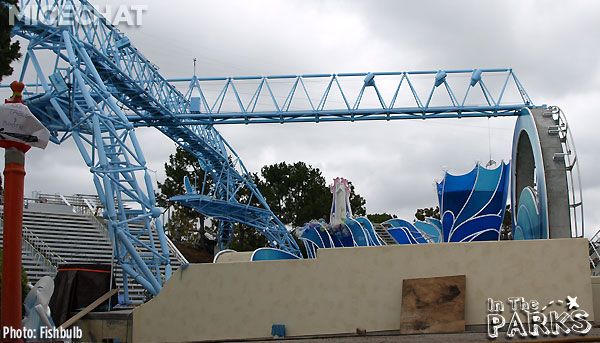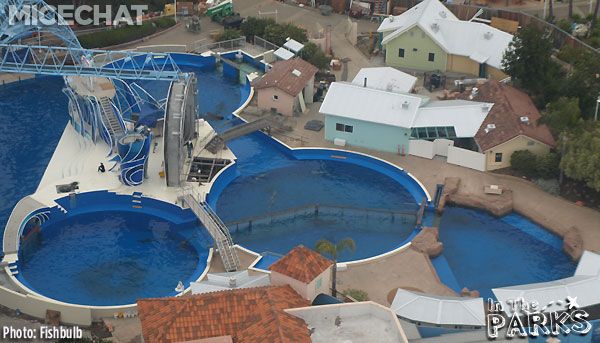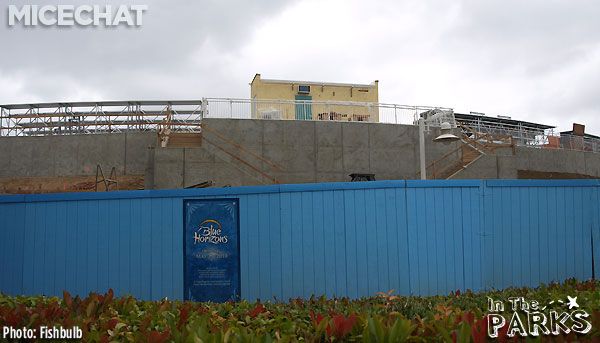 It will be a race to finish the seating area in time for the May 29th premier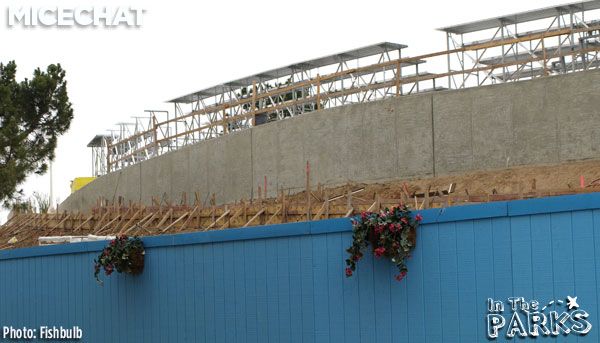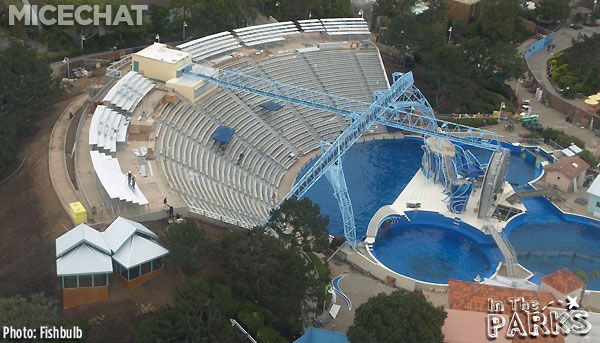 Bay of Play:
Shamu's Happy Harbor has become Sesame Street Bay of Play

The bay of Play area is filled with a ton of things for kids to have fun with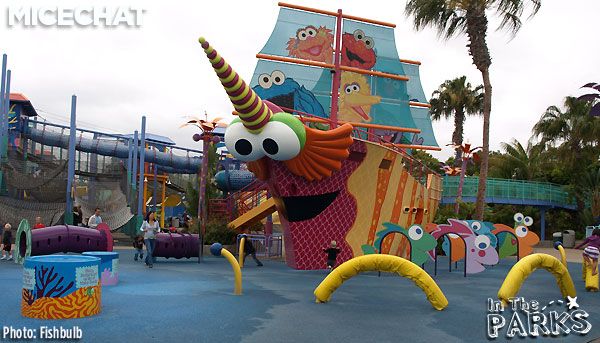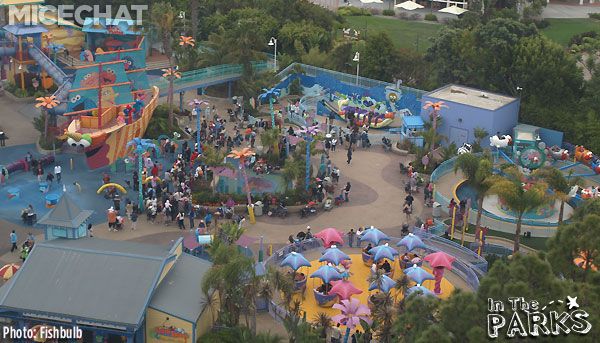 Flat rides were added to the area with substantial theme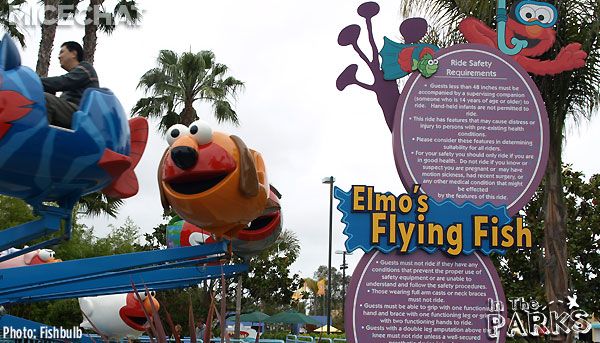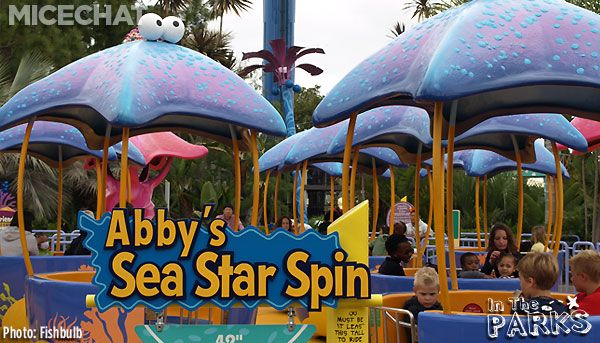 Shots from around the park: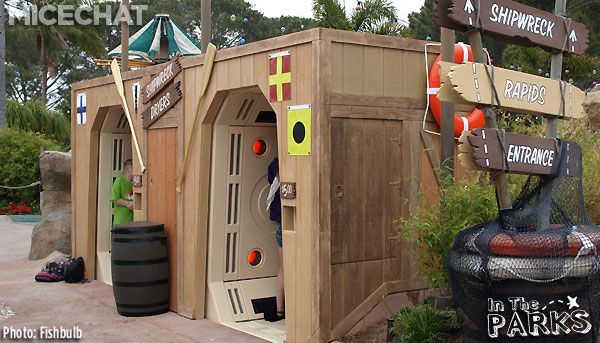 The popular body dryers have appeared at the exit of Shipwreck Rapids. Now all major theme parks in Southern California have them except for Disney Parks.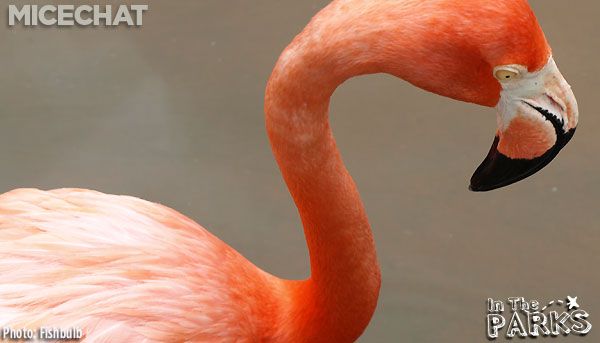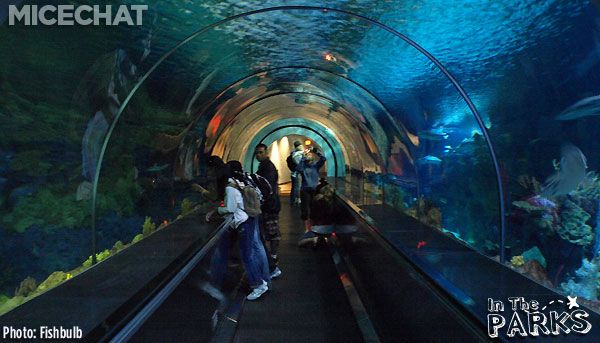 Shark Encounter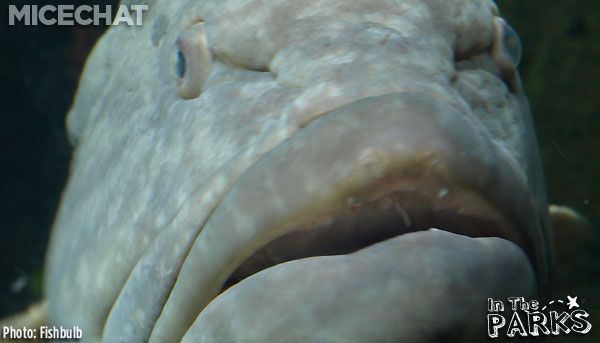 Fishbulb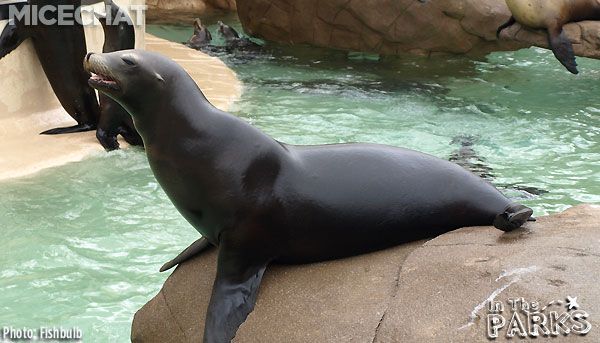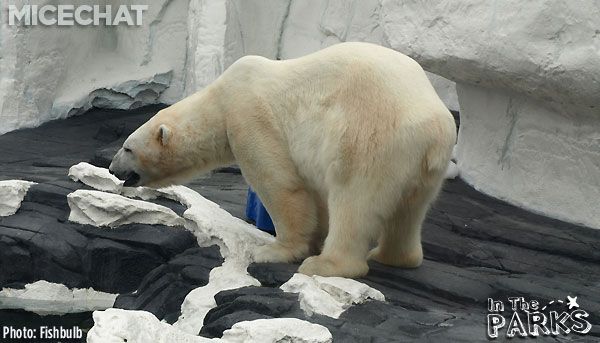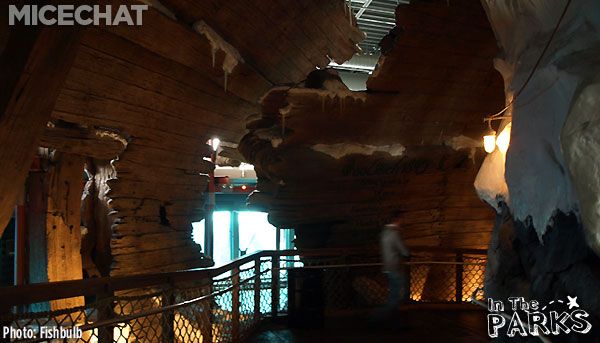 Wild Arctic's fantastic wrecked ship interior


We have a brief update from Universal Studios Hollywood. Hot Topic has reopened in it's old location at CityWalk. Kongstruction continues with drywalling currently going on in the interior of the building. The new Kong is currently confirmed for opening to the public by 4th of July weekend.
It is rumored that a flying rig will be used in the new Special Effects show being constructed in the old Beetlejuice/Creature from the Black Lagoon theater. While over at the Main Gate, cast members now have new costumes that are much classier than the previous.
Park executives have plenty to be happy about as they have meeting or exceeding predicted attendance numbers almost daily.
Buy a Day Get a Year Free is now in progress
when you buy your ticket online
. Buy a one day ticket, get 12 months free. Black out days apply.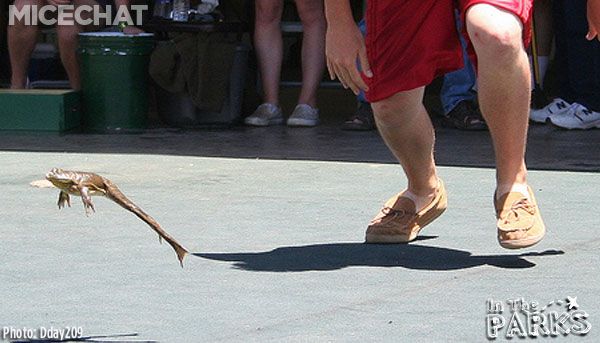 ANGELS CAMP
-

Jumping Frog Jubilee and Calaveras County Fair
The Topanga Banjo Fiddle Contest and Folk Festival
Established in 1961 this annual event is a celebration of music, food, crafts and all things banjo. Nestled in Topanga's Santa Monica Mountains, the festival is a fun for the whole family and features around 45 folk arts booths and several merchant booths featuring weaving, ceramics, woodcarving, inlaying, leather craft, metal work, jewelry, needlework, painting, glass and more. Also invited are public service booths providing information and displays of national, state, and local parks, hiking trails, volunteer organizations, environmental groups and the native plants of the Santa Monica Mountains Recreation area.
Santa Monica Mountains

CLEARLAKE
-

Catfish Derby

. Largest Catfish Derby west of the Mississippi includes a grand prize of a boat and accessories! Goes through May 16. Sponsored by the Clearlake Oaks Glenhaven Business Association, entry fees are affordable for three days of fishing. Ranging between $10 and $50, kids 15 and younger can enter for around $10/each. Location: Derby Headquarters, Clearlake Oaks fire station, 12655 E. Hwy 20, Clearlake Oaks. Call: (707) 998-1006 / clearlakeoaks.org
Huntington Beach, Calif

.--Duck-a-thon is an annual event held each May in Huntington Beach to raise money for the Community Care Centers, providing medical care for those who can't afford it. This event is held the weekend after Mother's Day weekend, and often begins on Friday evening with a casual tent-style wine and cheese sampler reception for those 21 and older who purchase tickets and stand outdoors at Pier Plaza overlooking the Huntington Beach Pier. May 14- 16, 2010

http://www.beachcalifornia.com/huntington-beach-duck-race.html
Koroneburg Old World Festival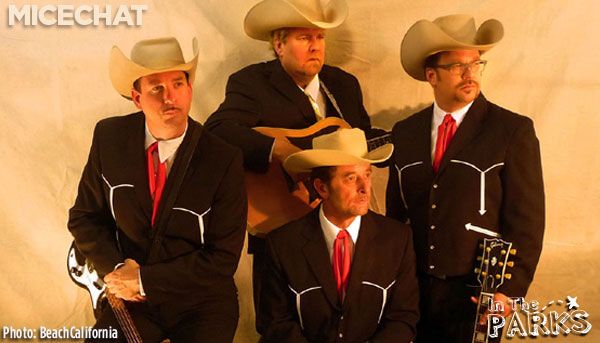 West Coast Rockabilly Showdown

- Brian Jay and the Last Call Boys perform at noon, Amber Foxx at 1 p.m. and the Hi Lo Trio at 2 p.m. The Showdown concerts and swap meet admission is FREE with the donation of a canned food item for the Second Harvest Food Bank of Orange County. Regular admission is $2 and children 12 and under are always free. Location: 88 Fair Drive, Costa Mesa, CA. -ocmarketplace.com
OXNARD
- Strawberry Festival. Annual event with food, music and entertainment. Take the train for easy access and parking.
Ranked among the top Festivals in the nation, the weekend celebration annually the third weekend in May offers a spectacle of strawberry fun for each and every one. Since 1984, Festival guests have enjoyed award-winning attractions, interactive exhibits, gooey contests, the hottest names in entertainment, the largest collection of Fine Arts & Crafts with 200+ booths, and an unbelievable assortment of delicious strawberry foods and beverages. The Strawberry Promenade offers cooking demonstrations and presentations, Strawberryland For Kids boasts free rides, puppet shows, and more. California Strawberry Festival
Santa Barbara Sea Festival
Castroville Artichoke Festival
Agro Art Competition, parade, children's activities, food, cooking demos, wine tasting, arts & crafts, farmers market, field tours and much more! No pets please. Castroville Fee: $10 Adults/$5 Ages 4-12/Military & Under 3 Free
Time: Sat 10a.m. - 6p.m./Sun 10a.m. - 5p.m.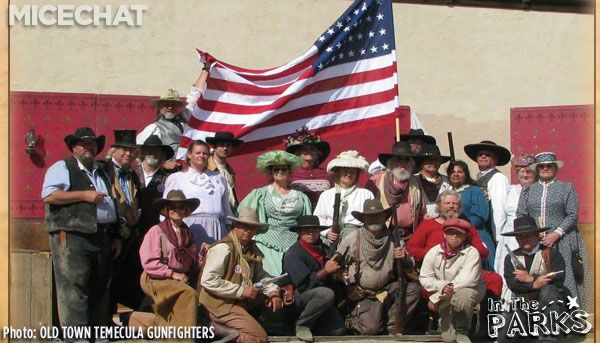 TEMECULA
-

Western Days

. Weekend annual mock gunfights, activities, vendors, and entertainment in the streets of Old Town. Saturday will feature a Western and Historical art competition and art show presented by the Temecula Valley Art League. Join the cast from the Temecula Gunfighters, numerous visiting gun fighting clubs, and other Old West costumed characters as they perform humorous skits and the high noon shoot out and robbery at The Bank. 11 a.m. to 5 p.m. cityoftemecula.org
MORRO
BAY
-
Mermaid & Pirate Parade. 2nd Annual Mermaid and Pirate Parade invites toddlers thru 12 years to dress in their best mermaid and pirate costume meet at the Rock and walk the Harbor Walk to Dockside II. Prizes, Best costume & goodie bags. Sign up at Target Rock 10 a.m.
PASADENA
-

Concorso Ferrari 2010

.Over $100 million worth of vintage and contemporary Ferraris on along Colorado Blvd. from Pasadena Ave. to Raymond in Old Pasadena. May 16, 2010 Time: 10 a.m. to 3 p.m. This free event is open to the public.
SAN DIEGO
-
Red Rabbit Spring Arts & Crafts Market Glendale, CA
05/15 to 05/15 2010 Glendale Civic Auditorium - Glendale, CA
http://redrabbitworkshop.com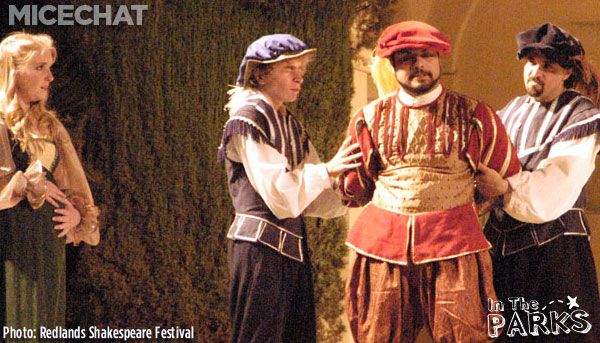 Redlands
Shakespeare Festival
Our annual free festival occurs each May at the Redlands Bowl outdoor amphitheater in Smiley Park, and features full-scale repertory performances, a University Lecture Series, an Educational Workshop Series, and other special events. We provide Shakespeare for everyone, regardless of their ability to pay!

http://www.redlandsshakespearefestival.com
TASTE OF THE WORLD FESTIVAL: ARMENIA
05/15/2010 to 05/16/2010 (Saturday Sunday) Cost: Free Taste of the World: Armenia is the first in a series of cultural festivals taking place at the outdoor courtyard of the Paseo Colorado in Pasadena, CA. Admission to the festival is free and will highlight the music, dance, food and artistry of Armenia.
Peace Day
is an annual FREE COMMUNITY CELEBRATION of unity, education and entertainment for kids, friends and families. *For the past 12 years, Peace Quest has been presenting an annual community day in efforts of further bridging communication in the City of Los Angeles. The 13th Annual Peace Day will continue to educate all people on how to live together in peace. Westwood Park 1350 Sepulveda Boulevard Los Angeles, California 90025

When:

May 15, 2010

Starts at:

9:00 AM

Ends at:

7:00 PM
River Arts Festival
Featuring some of the West Coast's best artists, musical performances, art stations, food court, enchanting troubadours, and learn about ecology of the San Lorenzo River and plans for its future. San Lorenzo Park Fee: Free Time: 11 a.m. - 6 p.m.
Dancing with the Dogs
Join Four Legged Friends Foundation at Best Friends Pet Adoption Festival Sunday May 23, 2010 11 am - 4 pm Westchester Park 7000 W. Manchester Blvd, Westchester, CA 90045 free admission featuring Dancing with the Dogs Meet Our Dance Teams Dancing with the Dogs is where you'll see beginner, intermediate and advance handlers perform routines with their dog to music created to best fit their dog's personality. It is a fun celebration that dogs come in all sizes, shapes, ages and personalities showcasing to the community the value that dogs bring to a family. For more information on Dancing with the Dogs including past event pictures and a video clip visit

www.flff.org

.
We've been around the river a time or two, waited up late night after night for any sign of a World of Color preview, visited 4 parks, and took thousands of pictures to bring you today's update. We hope you enjoyed it and that we've inspired you to get out there and enjoy this weekend. And if you are still looking for more information from the parks, we'd like to remind you that there is always a world of fun theme park information to read on MiceChat:

Dateline Disneyland which is packed with great news and photos from the Disneyland Resort.
Weekend Update Offers a world of Disney theme parks and other sights and landmarks!

Help us out by sharing the link to today's blog with your friends and family on
Facebook, Twitter, and beyond!
If you've got news, photos, or tips to share, please contact dustysage@micechat.com. We'd love to hear from you!

Today's update was brought to you by the letters "W" and "C" and the numbers "3" and "8", but mostly by the amazingly talented and dedicated crew of
photographers and news contributors CaptPhoebus, F!an, David Yeh, Pratt55, MickeyMaxx, Monorail Man, Sir Clinksalot,
Dustysage
and Fishbulb.


Wherever you go, and whatever you do, we hope you have a wonderful weekend. We'll see you In The Parks!

Your Editors this week -
Dustysage & Fishbulb