(Column updated 6-12-10 with additional information on Glow Fest)

We have a very special update for you today from the grand opening of a highly anticipated new show at Disney's California Adventure - World of Color! We bring the "Blue carpet" celebrity premiere to you!

A new extravaganza is gushing into Disney California Adventure park in Anaheim, California and will splash the night sky with vibrant color. Four years in the making, this multi-million dollar project is finally set to bring Paradise Bay to life and is considered the first major step in the rebirth of California Adventure. Join us as we take a look at this new night time spectacular and the Imagineer who brought it to life.


But don't worry, we also have lots of news and construction photos from projects at California Adventure, Disneyland, Universal Studios, the Wizarding World of Harry Potter, and several local attractions. There's plenty to see and do this week so let's get to it.


We have lots to add to this report all day.
Check back in this column later today for late breaking photos and news from the grand opening of World of Color. If you'd like to be notified as soon as updates are posted, please follow us on TWITTER or FACEBOOK for instant notification.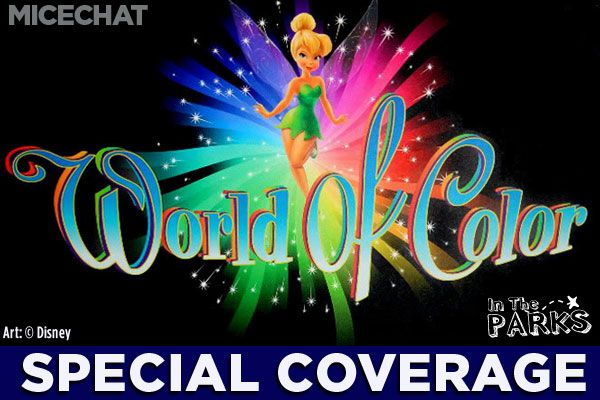 MiceChat, along with much of the rest of the Disney blogosphere, was invited to the official world premier event for Disney's World of Color last night (Thursday). All of the big names were there including the entire team that put this massive, $75 million dollar, water spectacular together. We ran into Imagineer and father of World of Color, Steve Davison, and asked him a few questions about the show and where he goes from here.
M

C

: Congratulations on your huge accomplishment. It was a massive and awe inspiring show.

SD: Oh thanks, it's great to meet you too! Glad you enjoyed the show.

M

C

:
How long have you been working on the World of Color project?
SD: I have been working on World of Color since 2005. What started as an idea eventually grew into what it is today.
M

C

:
Do you have a favorite scene or segment of the show?
SD:
I love simple things. Things like the opening where we paint magical dots in the sky. It is very childlike! On the opposite end of spectrum, I love the Spring Sprite Pocahontas segment. It's like a painting come to life on the water.
M

C

:
What is your favorite spot to watch the show from?
SD:
I love many spots. I love the front where the show is up close and personal. Then there's the back levels where you see the EPIC scale of the show. There are also times I love to watch from the side by the Symphony Swings. It's cool to see the water in action. You get a very unique perspective from the sides.
M

C

:
Is the show easily programmable? If so, are there plans to do seasonal overlays for Christmas, Halloween, or Summer?
SD:
Yes. In the future we will be doing overlays and new full length seasonal shows with the World of Color system. The infrastructure we have created is perfect for this approach.
M

C

: If you had another six months to work on the show what would you change, add or edit?
SD: I am very happy with the show. There will always be things to tweak. The more we work with the system the more it shows us what it can do.
M

C

:
Do you envision the show evolving over time or is the show locked?
SD:This show will never be locked. My goal is to keep updating it through time. At some point in time we will introduce new creative into the show. It should be like Fantastia, ever changing and inspiring the creative mind.
M

C

:
What is your next big project?

SD: I have three actually. I am working on the 2 new Parades, one for Disneyland and the 5th Anniversary for Hong Kong. On top of that, I am doing an exciting new version of Fantasmic! in the round at Tokyo DisneySea.
M

C

: Well Steve, thanks again for your time. We look forward to your next big projects. They sound amazing. We'll just have to start saving for a trip to Tokyo!

SD: Thanks for coming out, it was great to meet you.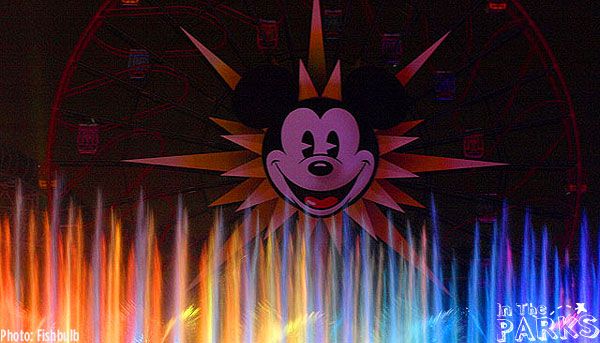 The world is a carousel of color,
Wonderful, wonderful color.
The world is a carousel of color,
History, comedy, fantasy,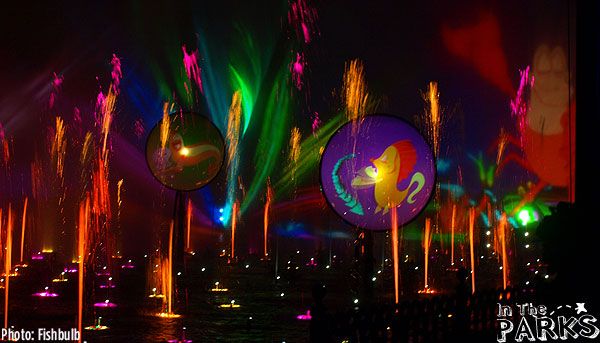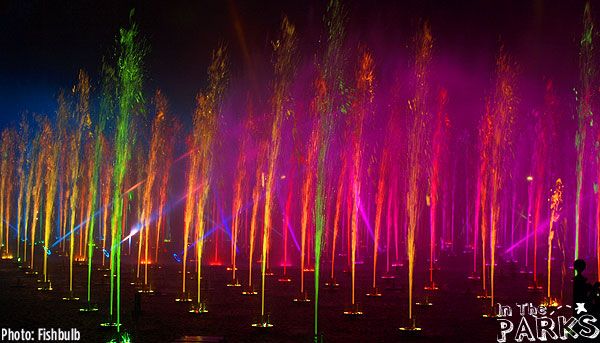 The world is a treasure-trove of faces,
Fabulous, faraway places.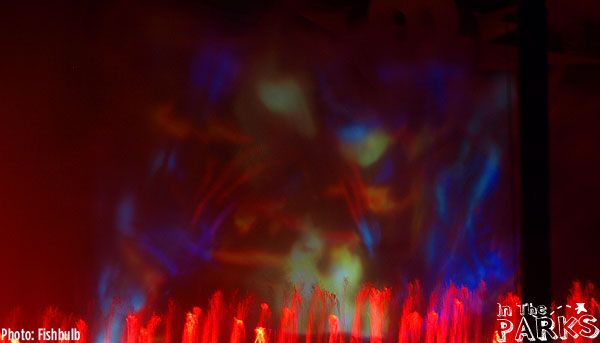 The hopes and the fears,
The joys and the tears
Of people like you and like me.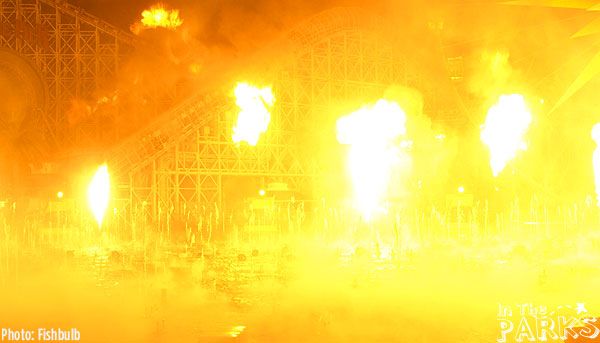 The kingdoms of magic science,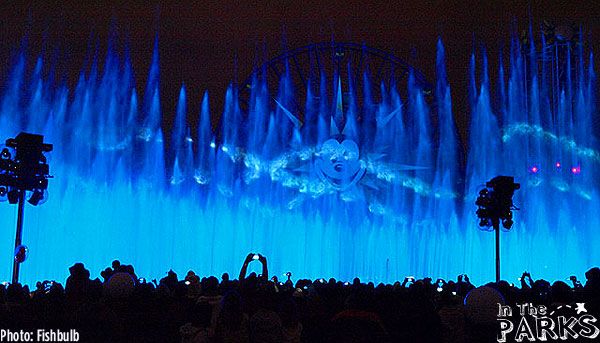 The glorious story of art,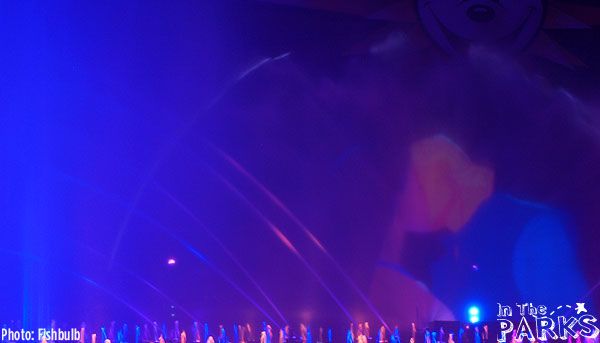 The world of romance,
Of music and dance,
This world where we each play a part.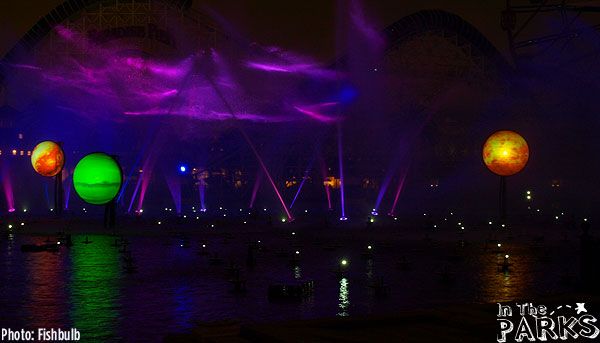 The miracle of imagination,
The marvels of earth, sea and sky,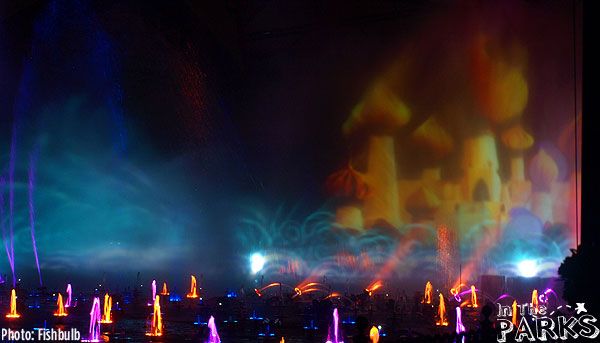 These wonders untold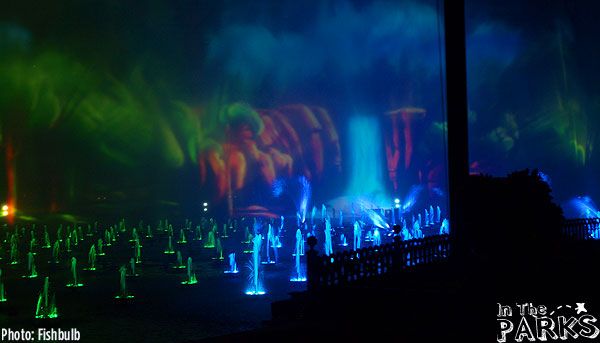 Are ours to behold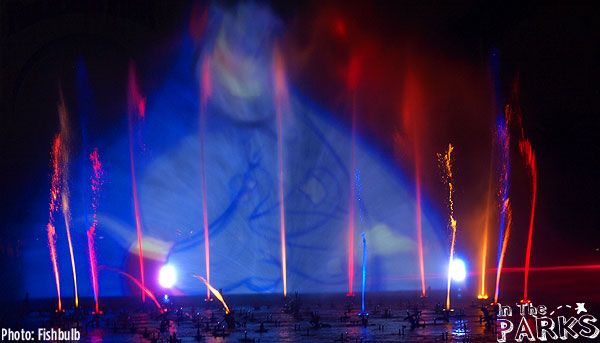 In the funny world,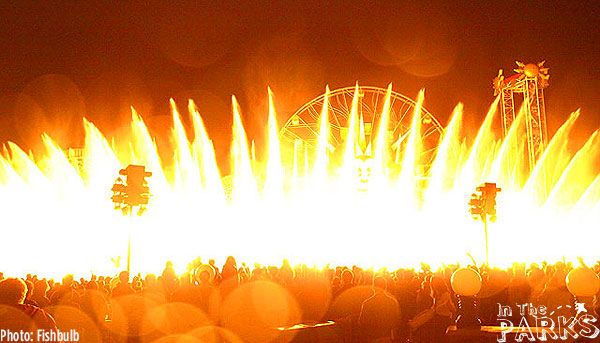 The sunny world,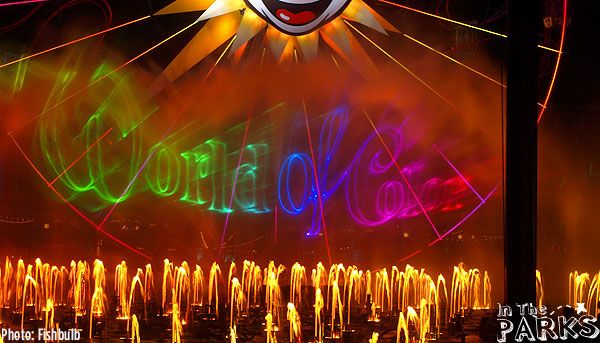 The wonderful world of color.
There's a whole lot of liquid delight in World of Color; however, we do have a few words of warning. DCA will be VERY busy, nearly a million passholders and even more regular visitors will all want to see the new show . . . which takes place in a 4,000 seat theater. Don't assume that you'll be able to pop in an hour before showtime and find a spot to see it. We've prepared a few tips for you to make things a little easier.


Tips To Help You Secure a Spot and Enjoy The World of Color:
Seating is extremely limited. If you arrive without a plan, you aren't like to secure a spot.

Option 1 - Make a WoC dining package reservation

($36.99 per person at Ariel's Grotto or $39.99 per person at Wine Country Trattoria)

, you'll get dinner and a viewing spot for the show. Call 714-781-3463 to secure your World of Color dining package.

Option 2 - Book a Box lunch and receive a reserved spot for the show (1st show of the night). Boxed lunch can be purchased online, Disneyland Resort | Welcome To The Magic! You may be able to buy a limited number of the picnic lunch boxes at the park on the day of the show which come with reserved tickets to the 2nd showing of the night.

Walk-up purchase can be made at the Sonoma Terrace of the Golden Vine Winery for $14.99 (special passholder rate is $12.99).

The World of Color picnic boxes offer an assortment of options:


All American:


Cold-honey stung fried chicken

Green and red cabbage cole slaw with apple cider dressing

Old fashioned potato salad with sweet onions and dill relish

Apple pie

European Antipasto:


Cured meats, regional cheese, pepperoncini, artichoke heart and sun-dried tomatoes

Caprese salad skewers, fresh mozzarella and baby heirloom tomatoes

Chocolate-dipped tiramisu

Taste of Asia


Chilled miso-glazed salmon, Asian greens, soy-rice wine dressing

Vegetable spring roll with Thai mango sauce

Soba noodle salad and julienne vegetables with sesame dressing

Mandarin orange cake

Mediterranean Vegetarian:

Marinated grilled vegetables in a whole wheat wrap with roasted garlic hummus

Raw zucchini and squash spaghettini with first-press lemon-infused olive oil

Vegetable couscous with toasted coriander vinaigrette

Lemon layer cake

Child meals also available


Option 3 - If you'd rather not buy a dining experience to secure tickets, you can also pick up a Fastpass. Arrive at opening and get a Fastpass from the machines at Grizzly River Rapids. Don't expect these to last for very long. You should be prepared to do this immeadiately upon park opening.

Option 4 - If you don't mind a severely limited view, wait for the 2nd or 3rd showing and attempt to watch the show from the bridge near Ariel's Grotto Restaurant. You might also watch the show from behind near Midway Mania, the Sun Wheel, or even on the side by Silly Symphony Swings. You won't see as much or experience the show as it was intended, but you will get a sense of the size and scope of the show and see some pretty fountains.

Spots nearest the Golden Zephyr offer the most restricted viewing experience. Gravitate toward the water play fountain in the center of the stadium or even up toward the upper levels of the stadium. Boardwalk viewing is more immersive and WET (especially toward the right hand side of the boardwalk - as you are facing the lagoon)

Be prepared to queue up for hours before your show time. Wear comfortable shoes.

Although only 2 shows may be on the schedule, keep your ears open for an added 3rd show. It will be added on busy nights and may be your best shot at viewing the show.

Be prepared for VERY busy conditions. This may well prove to be a tremendously crowded and uncomfortable situation. Pack your best attitude and just go with the flow. There is no use fighting a mob, you'll only succeed in ruining your own evening and possibly that of others. If it isn't important to see the show as soon as it opens, you may wish to wait until later this Summer. We will report if crowds begin to die down.


We we will add additional tips as reports filter in from our readers
Here's a few photos and video of the show and celebrity "Blue Carpet" premier to wet your appetite
Blue Carpet Premier: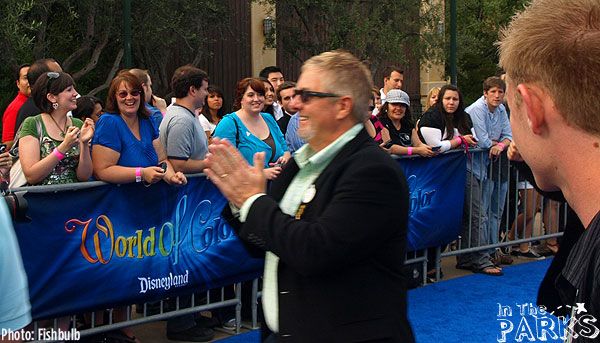 The man of the day - Imagineer Steve Davison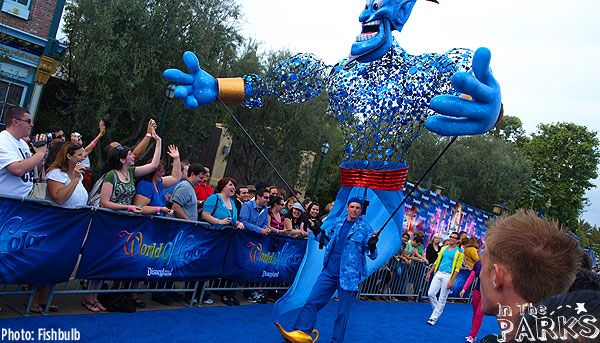 Genie showed up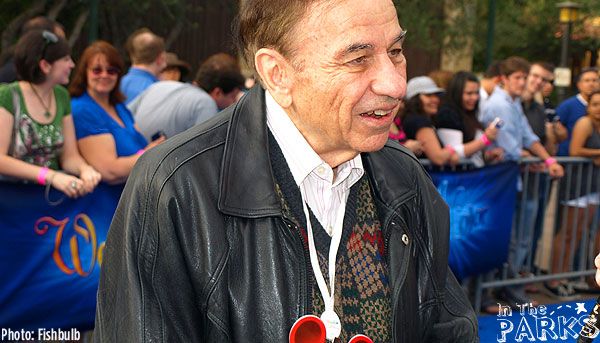 Richard Sherman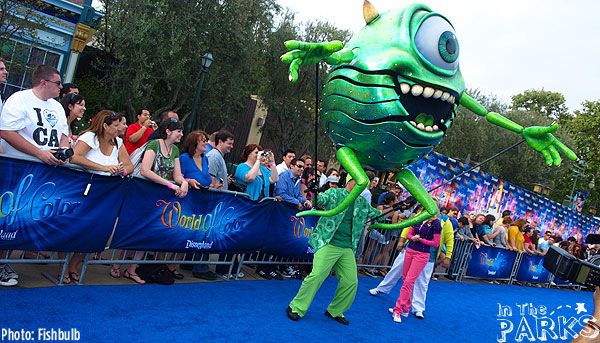 Mike is looking a little green



Jason Segel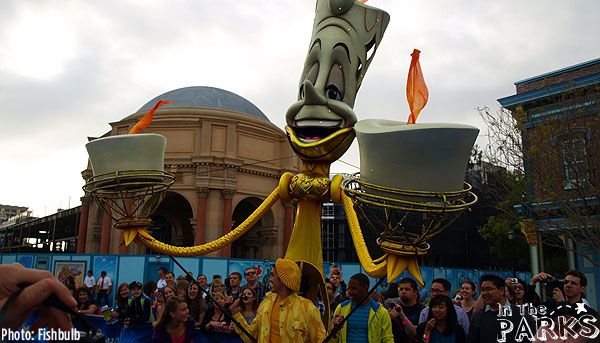 Lumiere is stunning in yellow



Cameron Mathison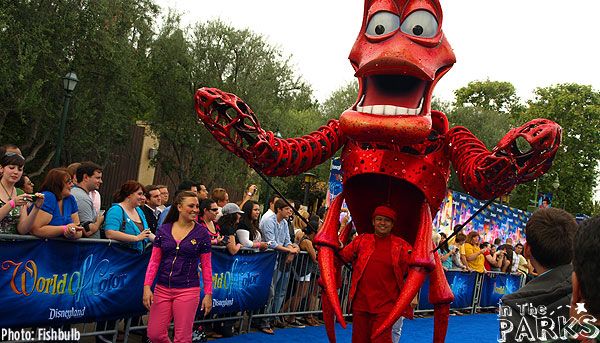 Sebastian was beet red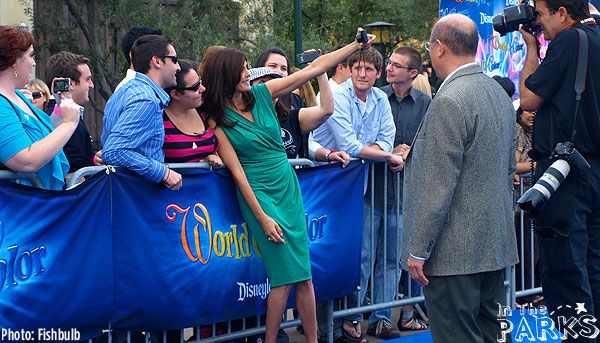 Teri Hatcher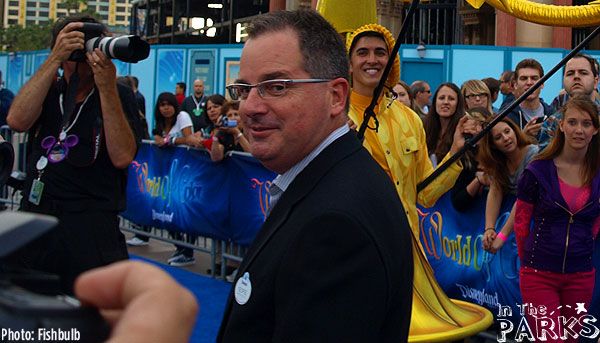 Disneyland President George Kalogridis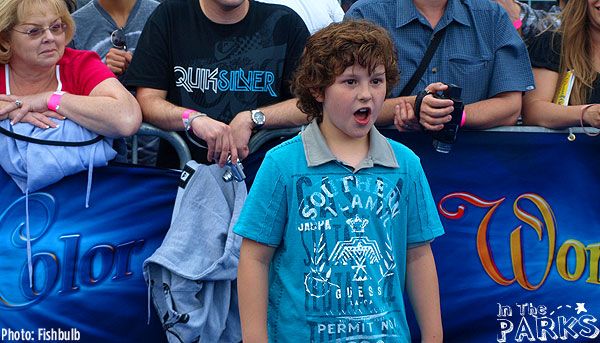 Nolan Gould, "Modern Family"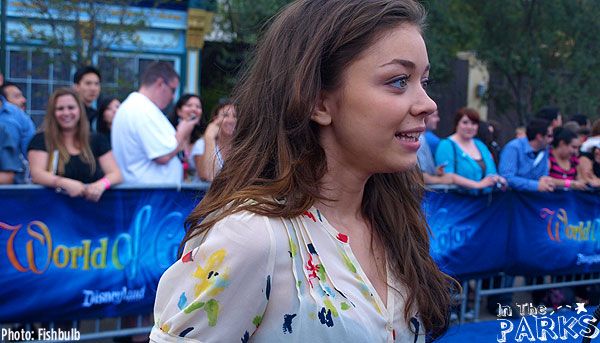 Sarah Hyland, "Modern Family"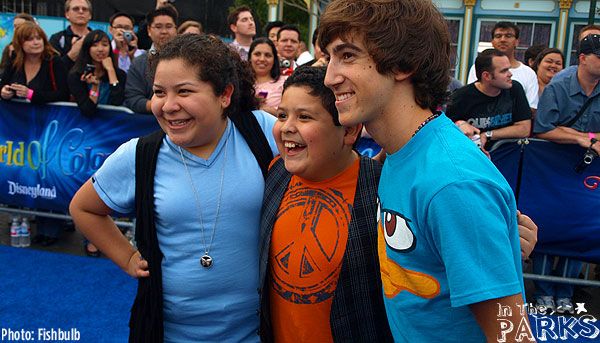 Rico Rodriguez (center), "Modern Family"



Tom Staggs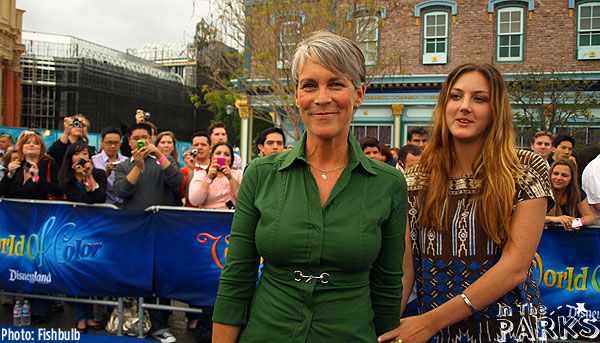 Jamie Lee Curtis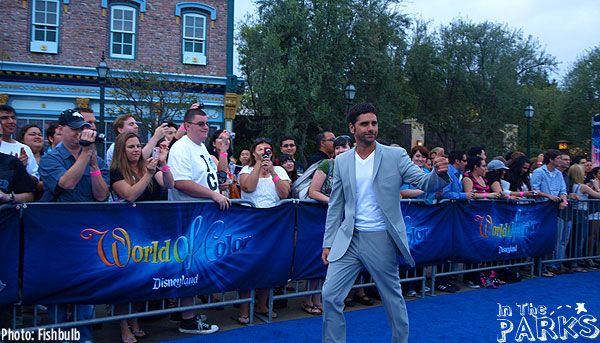 John Stamos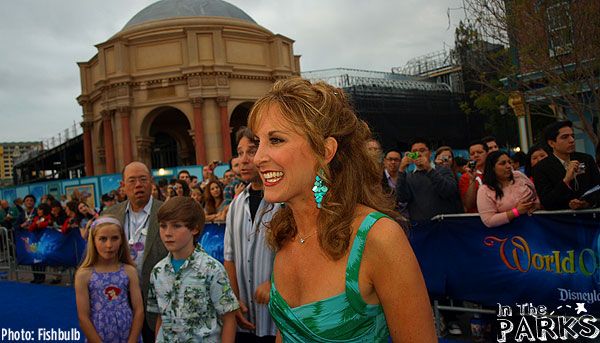 Jodi Benson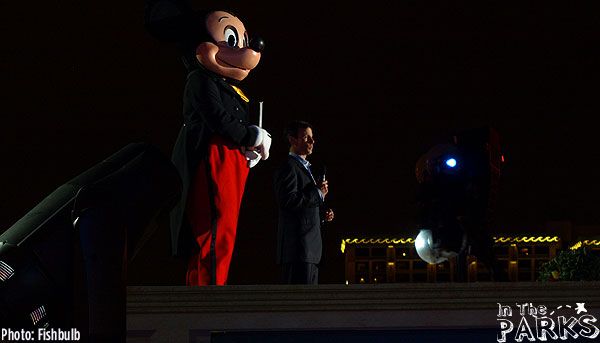 Tom Staggs and Mickey Mouse welcome the premier audience.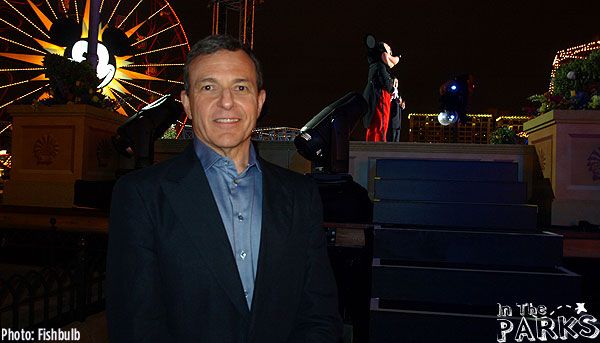 Head of Walt Disney Company, Bob Iger, says hello to MiceChat before taking the stage. Howdy Bob!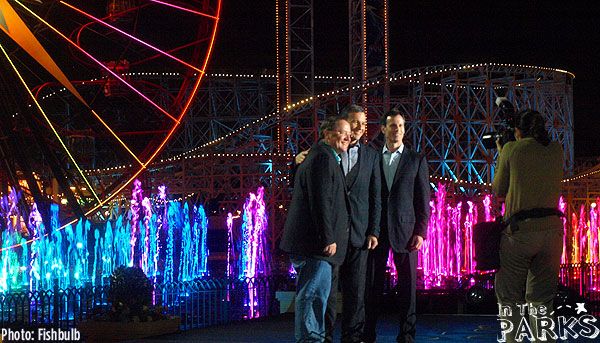 John Lasseter, Tom Staggs, and Bob Iger pose in front of the bay of color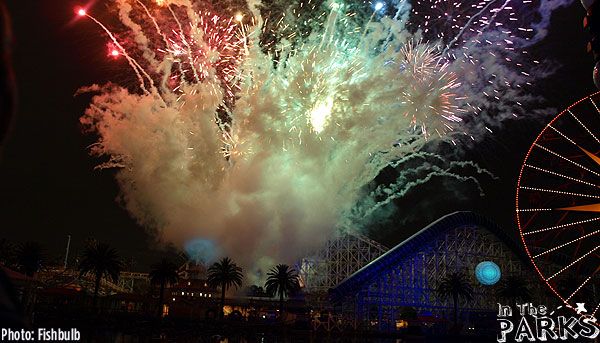 A shower of rainbow fireworks colors the sky to mark the first performance of World of Color.

<object height="385" width="640">


<embed src="http://www.youtube.com/v/-vTkuQBPq9s&hl=en_US&fs=1&color1=0x006699&color2=0x 54abd6" type="application/x-shockwave-flash" allowscriptaccess="always" allowfullscreen="true" height="385" width="640"></object>


SPOILER ALERT! Beautiful video of the start of the show from PhotoMatt
(part 1 of 3 - more in our Review Discussion below)


Looking for more reviews and photos of World of Color? We've got all the reviews, photos, video, and and tips from some of MiceChat's finest here: Official MiceChat World of Color Reviews and Photos

And our good friend Brady at the LA Times has a pair of World of Color Stories up this week you might be interested in:
And the fabulous Sue Kruse reviews World of Color on MiceAge here: Great Expectations

Now that you've heard what we had to say, what did you think of the show? We are waiting for your reviews, tips, photos, and videos . . . please share on MiceChat here: Official MiceChat World of Color Reviews and Photos

World of Color Morning Crowds:
Thousands of guests lined up outside the security tents on the Harbor Blvd side of the esplanade the night before the first public performance of World of Color to ensure they obtained a Fastpass ticket.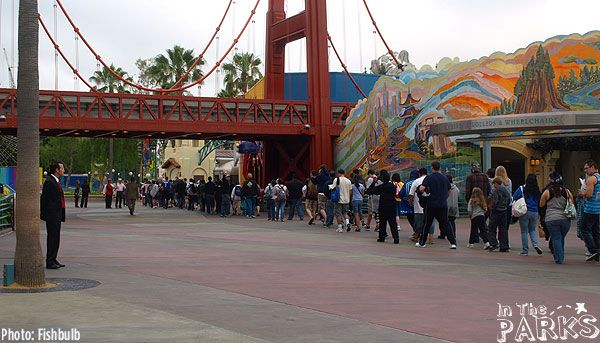 Guests were led into the park before official opening to queue up for their show pass ticket distribution from the Grizzly River Rapids Fast Pass Machines.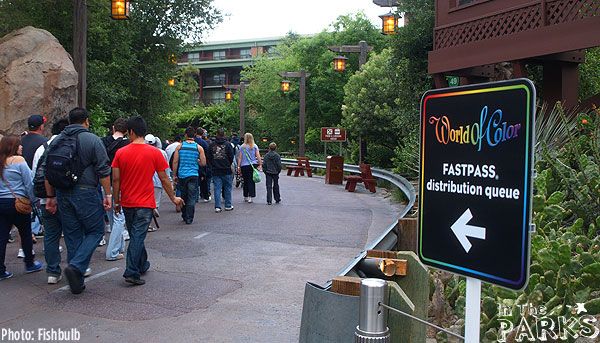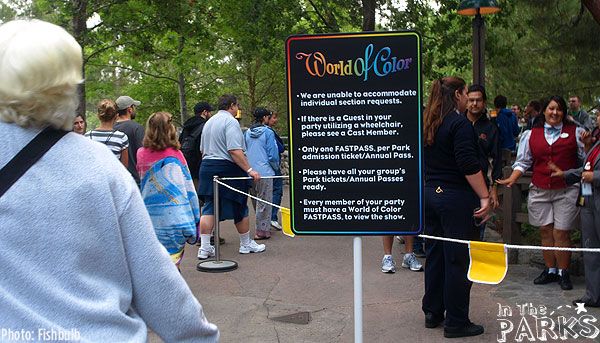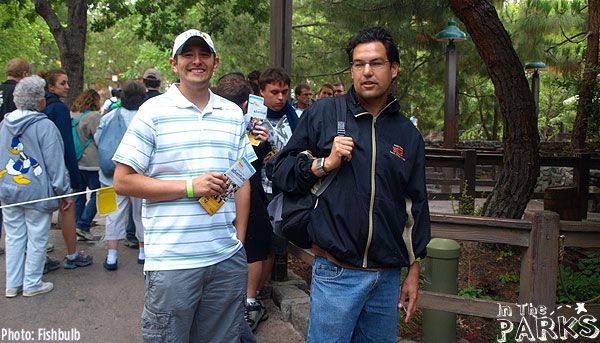 These two gentlemen were the first in line. They began their wait at 9pm the night before.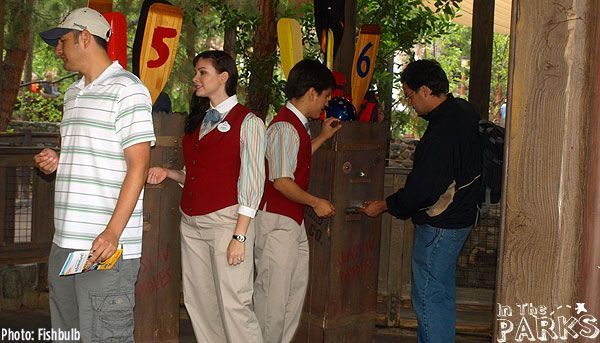 Getting the very first show pass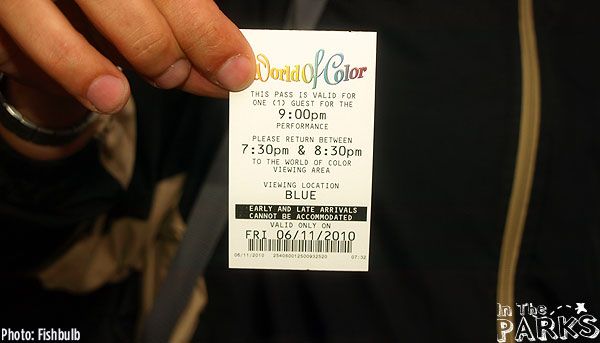 Ended up with blue. Center stage!


Esplanade:
The way to DCA is paved in a kaleidoscope of color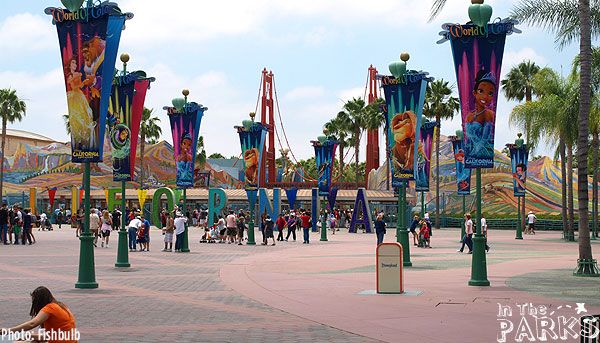 It was red and yellow and green and brown
And scarlet and black and ochre and peach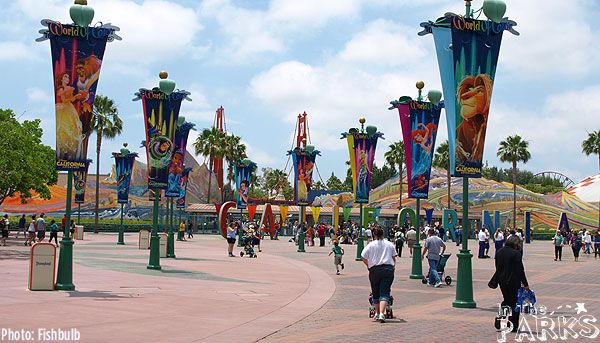 And ruby and olive and violet and fawn
And lilac and gold and chocolate and mauve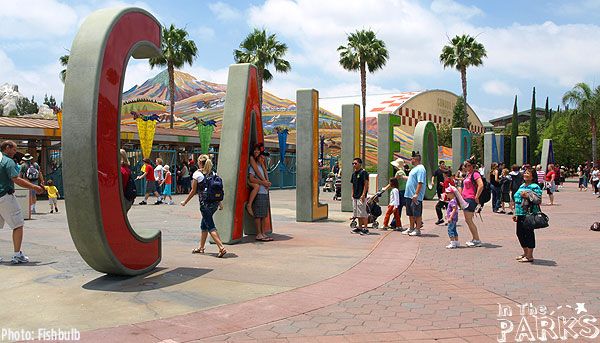 And cream and crimson and silver and rose
And azure and lemon and russet and gray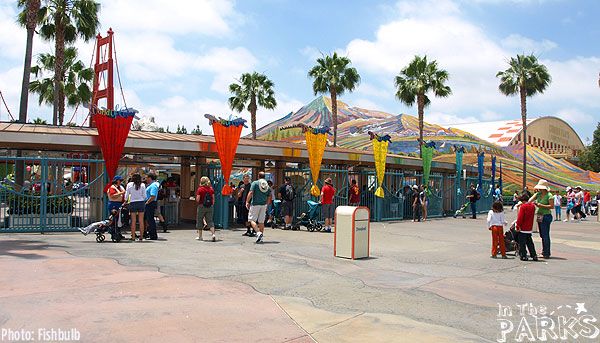 And purple and white and pink and orange


And red and yellow and green and brown and blue

Hollywood Glowfest:
The night time party area known as Hollywood Glowfest made its partial premier in the Hollywood Pictures Backlot Friday night. It looks like New Year's Eve times 10 and the energy is actually pretty festive. One thing of particular interest is the guest interaction video projections on the Hyperion's otherwise bland backdrop. The party starts as it gets dark and acts for an overflow for the hordes of crowds waiting to see World of Color.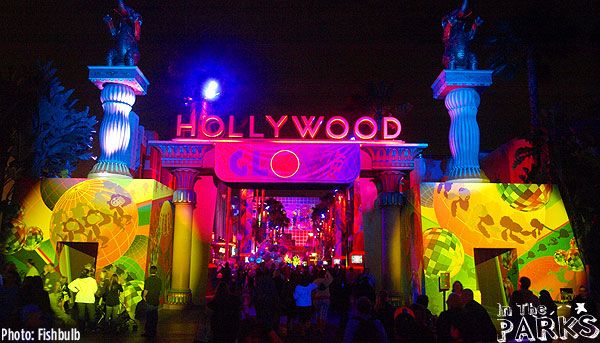 Unfortunately for Disney, the crowds have not seemed to discover Glowfest. Rather than pouring into Glowfest after the first performance for World of Color, they leave the park in one giant line (many heading directly into Disneyland).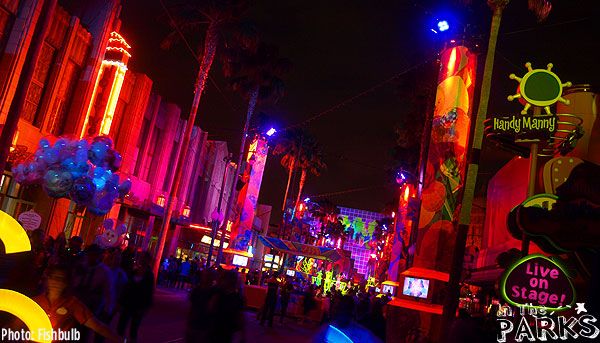 The vibe of Glowfest is upbeat, loud, and fun. But it isn't for everyone. This party doesn't seem like it is aimed at the same mass market crowd as World of Color, which may be one of the reasons it hasn't taken off yet. A slight change in music and costumes might help make this a more family friendly event.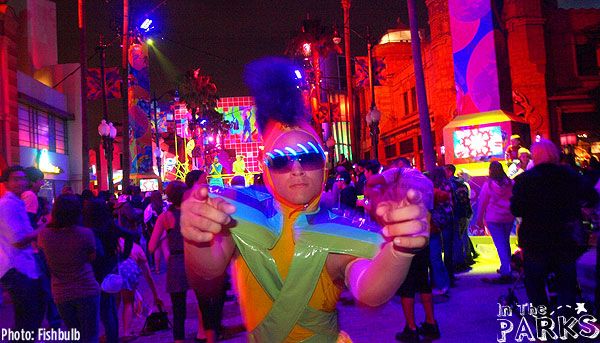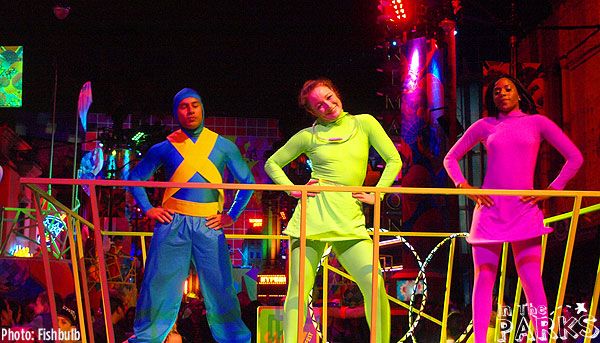 As you can see, the gals got the better costumes, the guys just look . . . um . . . bizarre.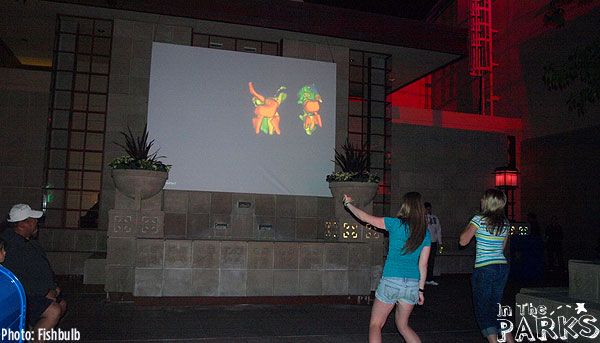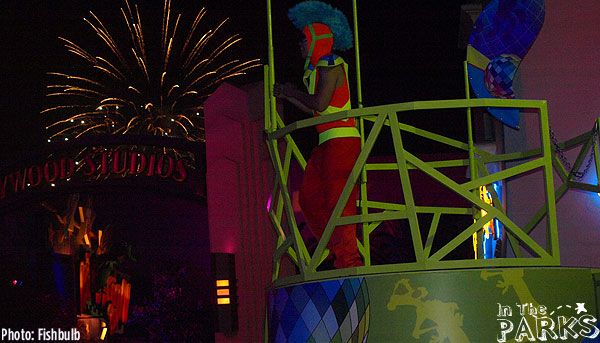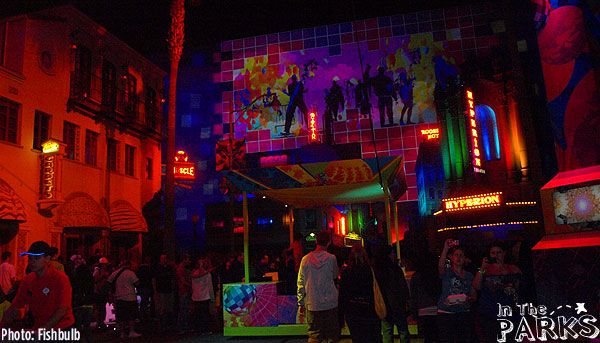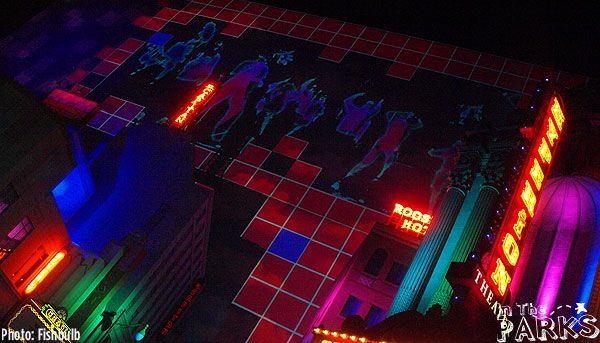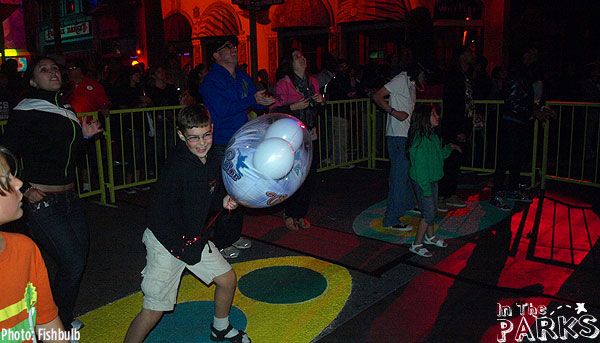 The multi-media dance pit is lots of fun. Dance here and your shadow image is projected on the wall of the Hyperion Theatre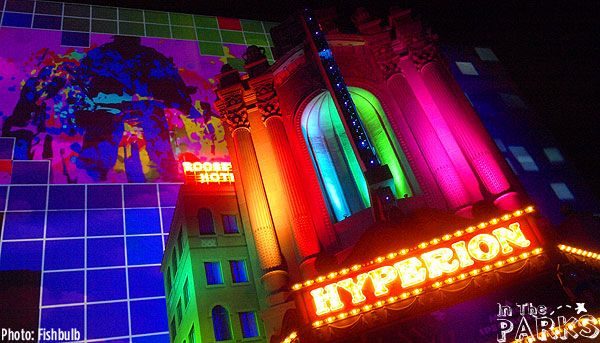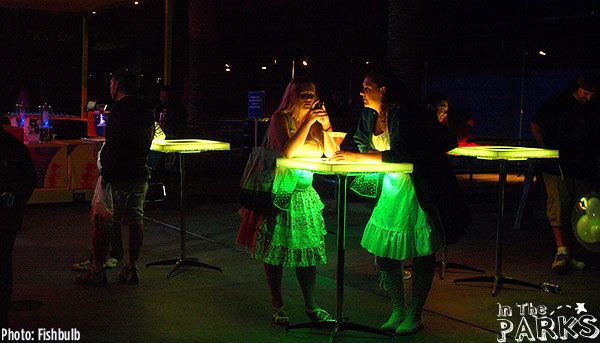 Bars also play a major roll in Glowfest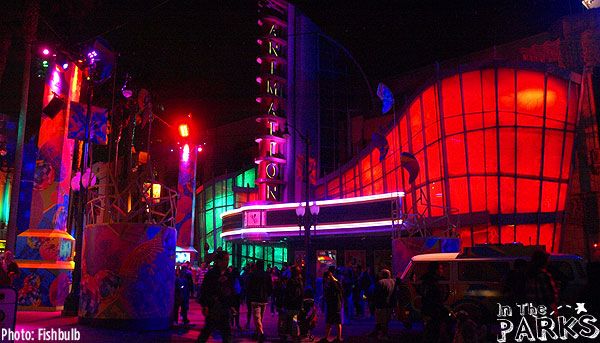 Blue Sky Cellar:
With the opening of World of Color, the Blue Sky Cellar was closed to install a brand new exhibit featuring future projects.
Jodi Benson, voice of the Little Mermaid, performed at a "What's Next?" media announcement early on Friday morning. She helped debut the new Little Mermaid exhibit in the Cellar and sang a World of Color version of Under the Sea. Visitors to the Cellar will now find a full track schematic of the ride and plenty of new sketches. You'll also find new art and info about Goofy's Sky School, the Red Car Trolley, the Buena Vista St. entrance complex, the C Tickets coming to Cars Land, and a new video on the 100 inch screen. Certainly worth a visit on your next trip to DCA.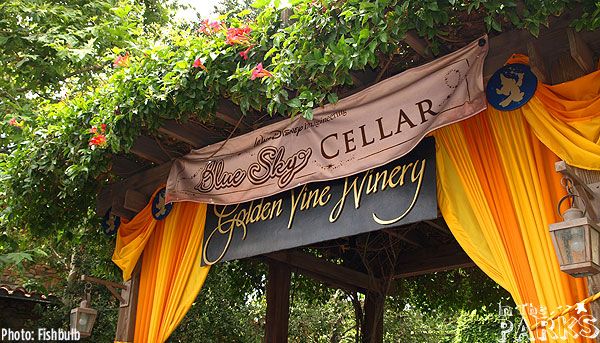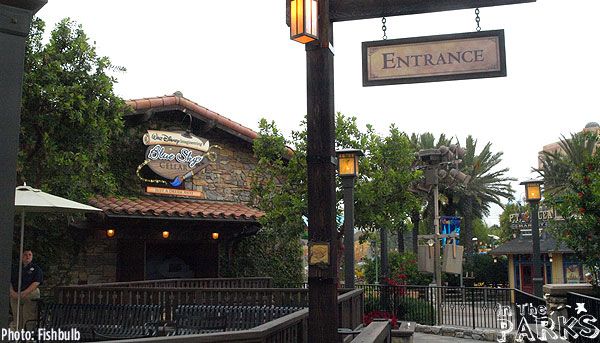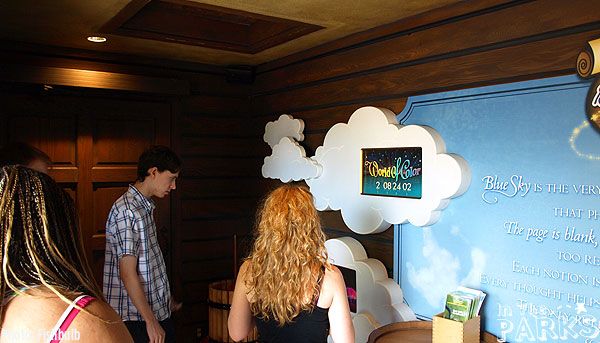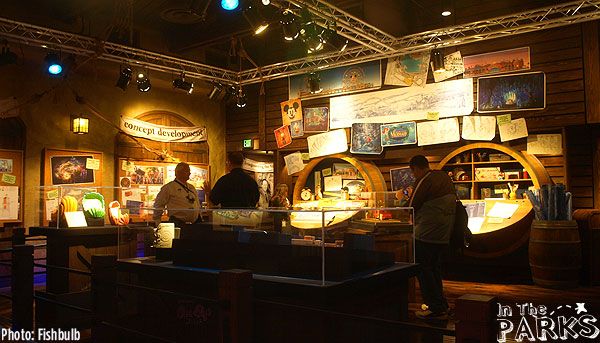 The Blue Sky Cellar now features The Little Mermaid, Goofy's Sky School and new Carsland artwork.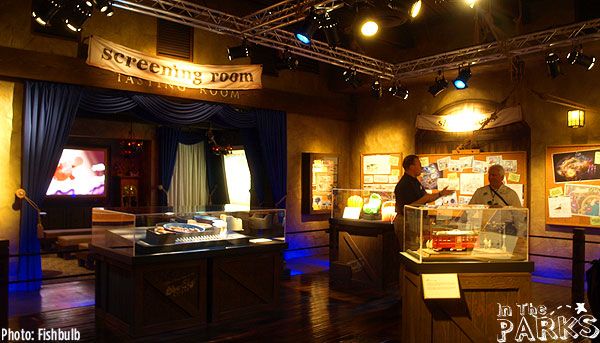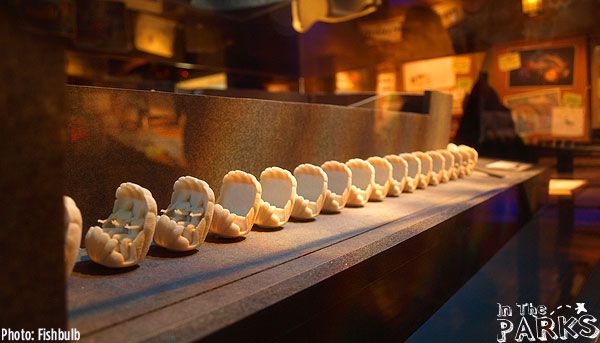 An intricate model of The Little Mermaid: Ariel's
Undersea Adventure details the load area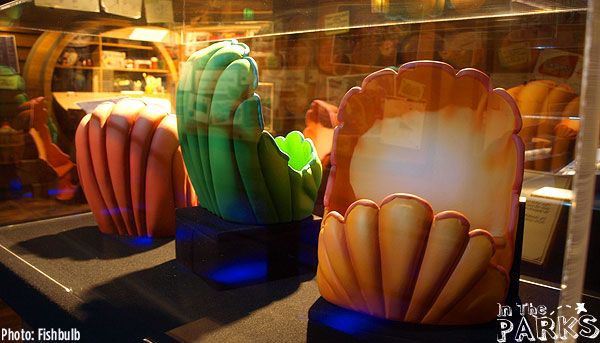 The ride vehicles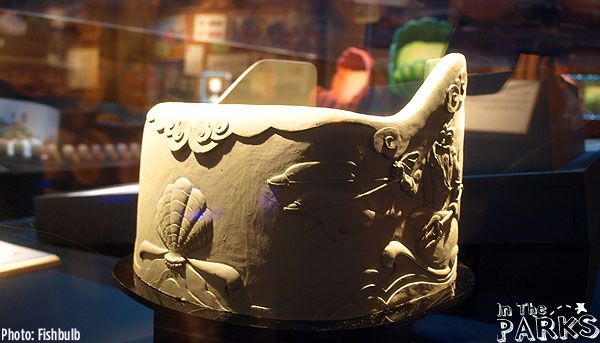 Disabled guests can ride in Triton's Chariot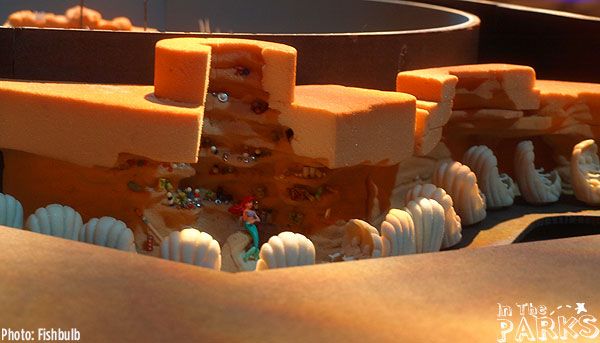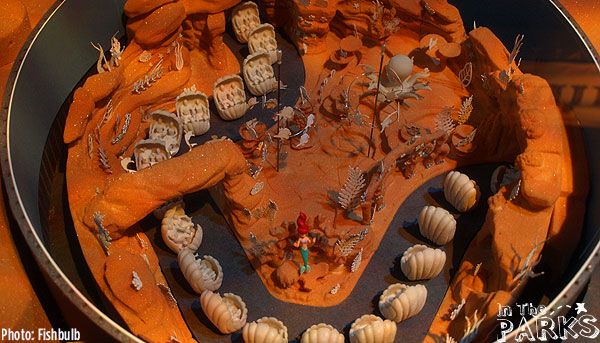 The major Under the Sea sequence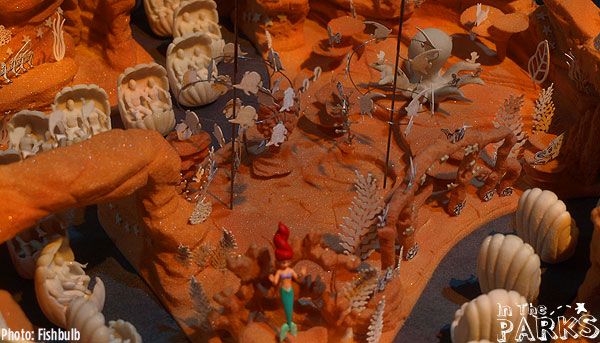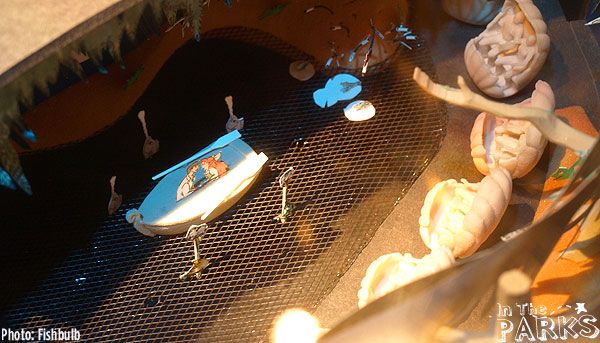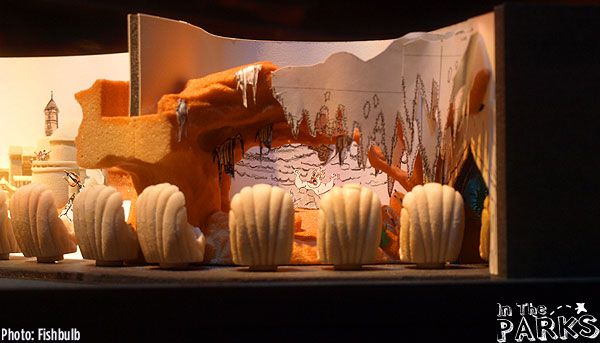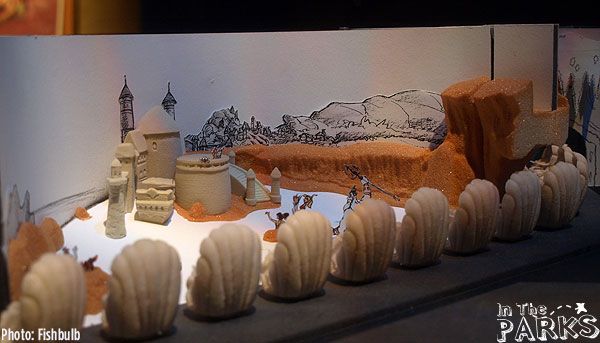 The ending scene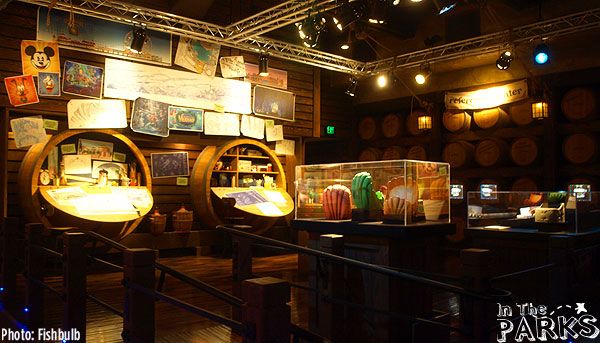 The back wall features sketches and artwork
used to develop the ride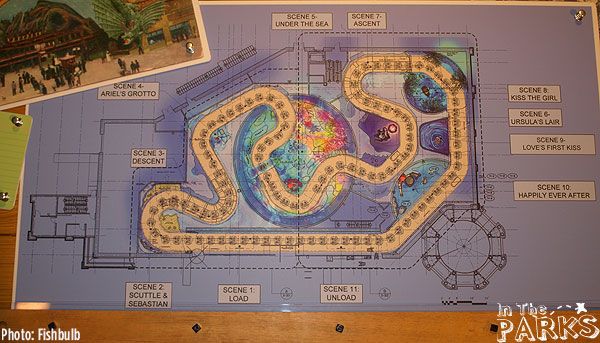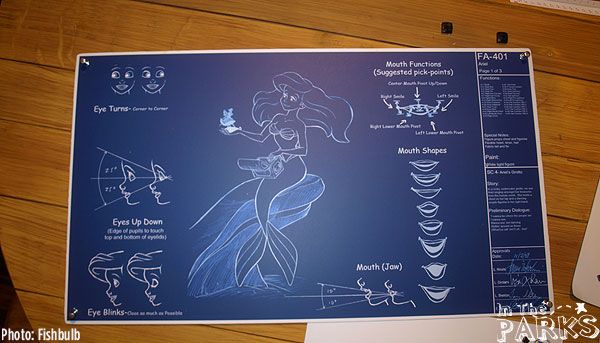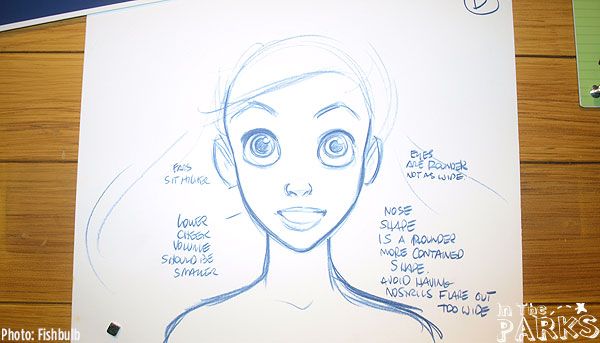 Goofy's Sky School:
Artwork for Goofy's Sky School is displayed to the right as visitors enter the Blue Sky Cellar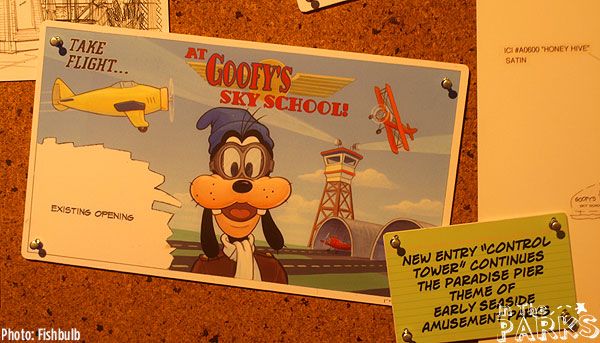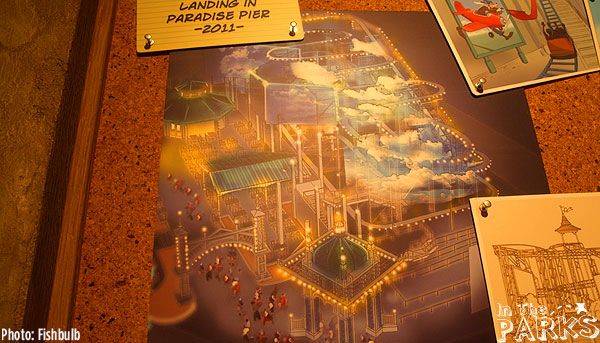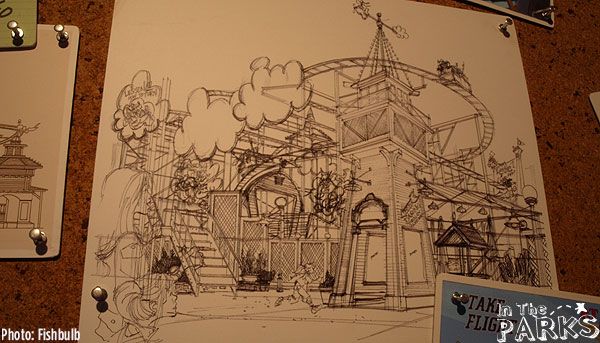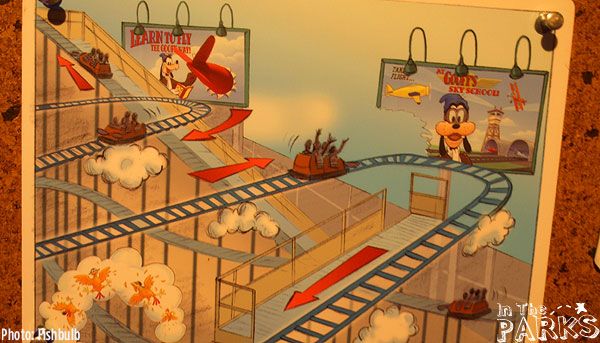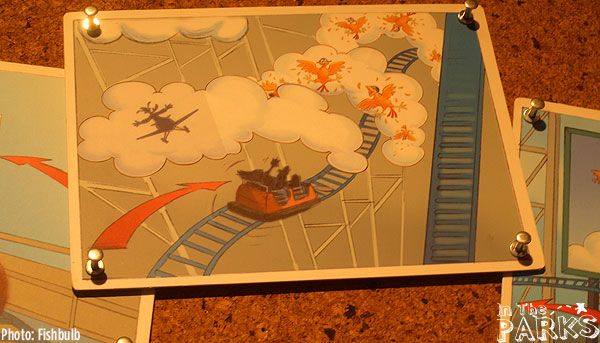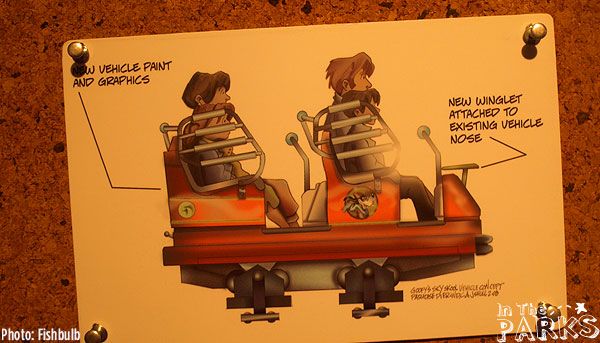 Red Car Trolley:
The route for the Red Car is given in a detailed schematic along with artwork.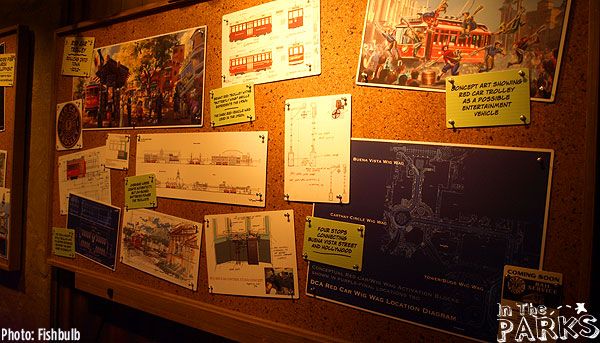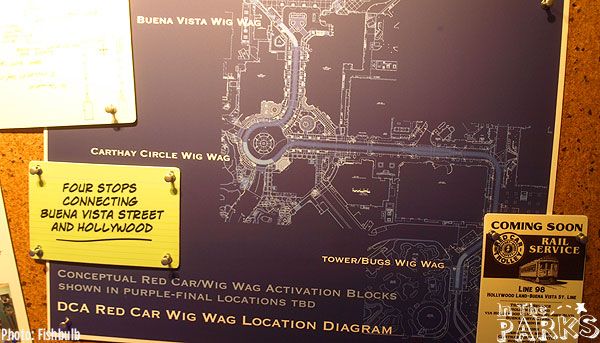 Paradise Pier:
The new food court in Paradise pier is detailed in new artwork on the right hand side wall.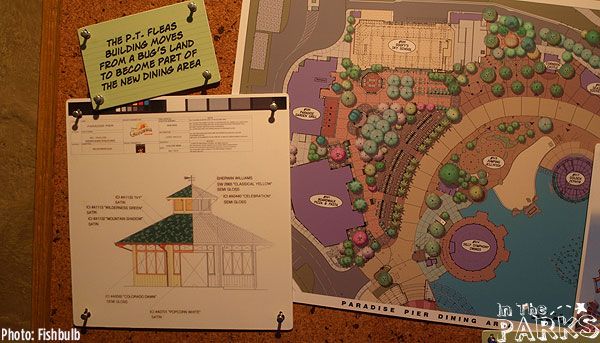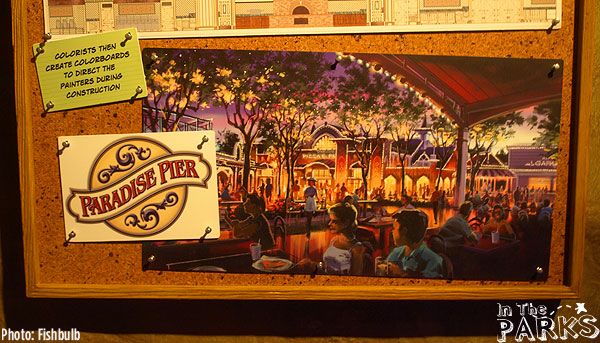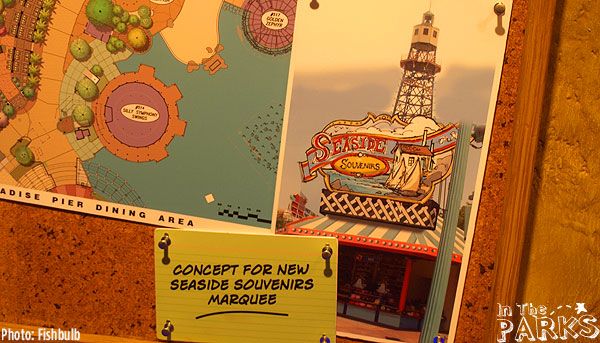 The "What's Next" event also gave a sneak peak of what is coming soon to the Disneyland resort and, in particular Disney California Adventure. The event was held in Stage 17 in the Hollywood Pictures Backlot.

Unfortunately, there was very little NEW information (at least to those of you who read MiceAge and MiceChat regularly), but there were a few new details on what is already known.

One Surprise...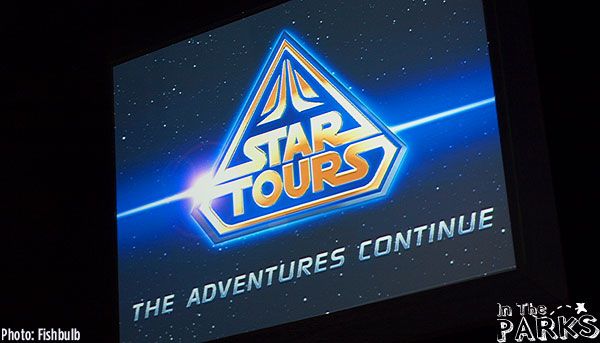 Flights to Endor end and Star Tours closes July 26th

We alread knew Startours would be going to Tattooine.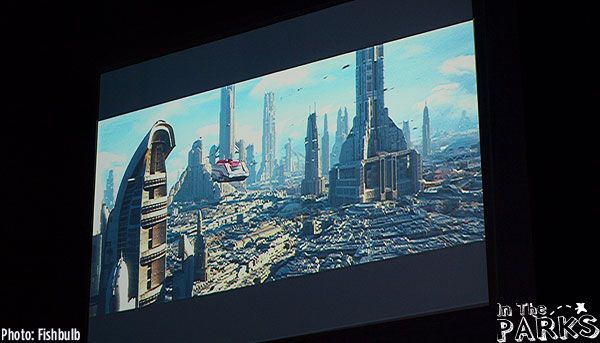 But we have learned that we will also have the chance to travel to Coruscant
as well on some trips!

The Trattoria:
The Trattoria restaurant reopened on June 11th. We love the new menu and the clean open look of the refreshed facility. We sampled the Chicken Panini and it was lovely. Every meal is prepared fresh as ordered, a huge step up from the previous quality of the establishment (which we enjoyed anyway). There is also a resident sommelier on the premises to recommend the best pairing for your meal.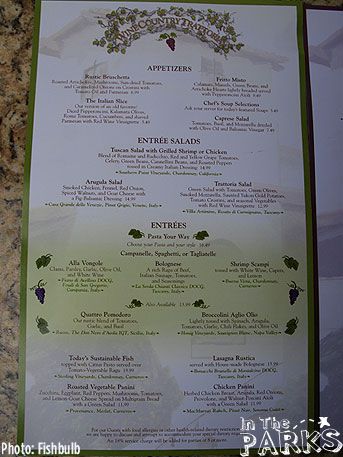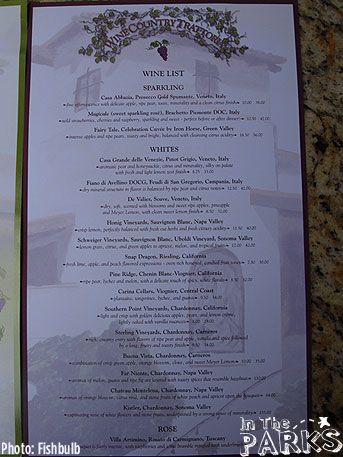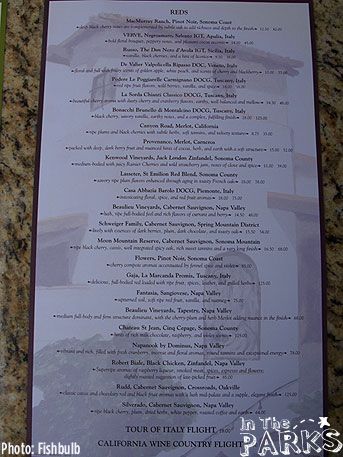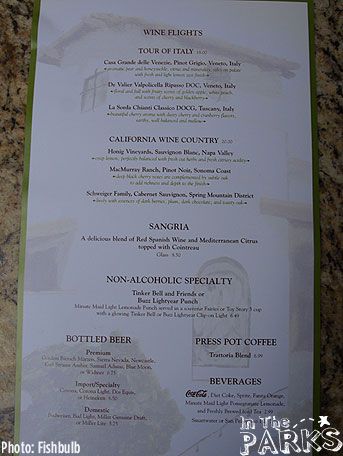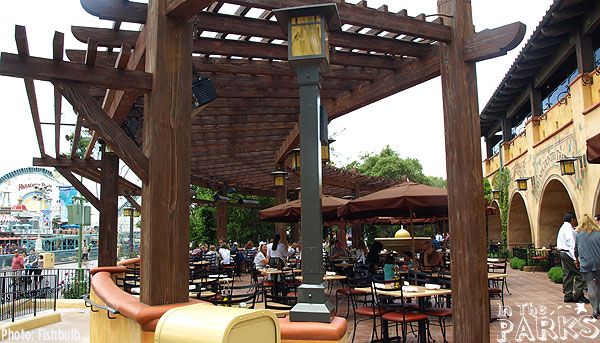 Newly shaded patio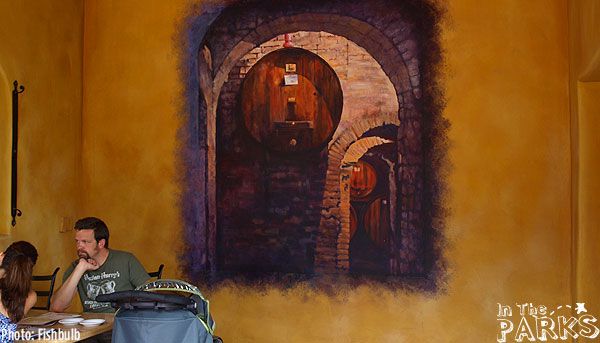 New painting on the wall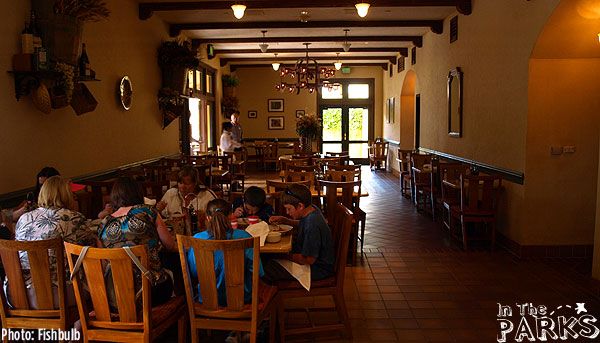 The indoor seating has been expanded and enclosed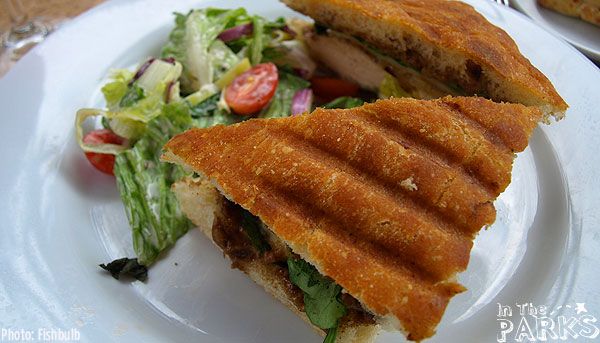 The Chicken Panini was exceptional as was the service.
This would be the perfect spot for dinner before World of Color this Summer!
The Trattoria is by far our favorite restaurant at DCA, we love the food, service, staff, and new look and full use of the facility. We think you'll like what you see.
Carsland:
The mounds of dirt continue to ebb and flow as the rock-work/show building continues to grow and grow
.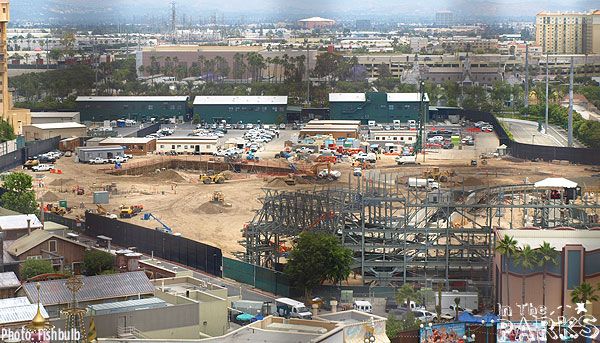 The Little Mermaid: Ariel's Undersea Adventure


The Little Mermaid show building is receiving frame work and you can start to see the shape the detailed facade will take.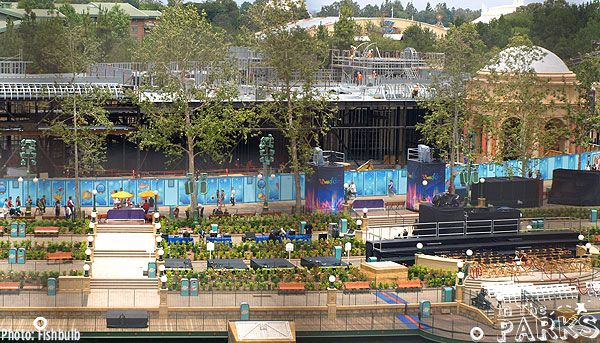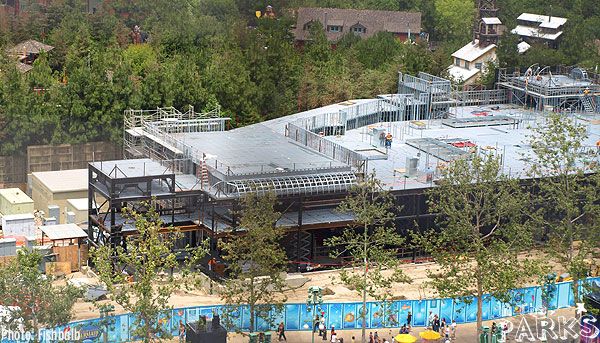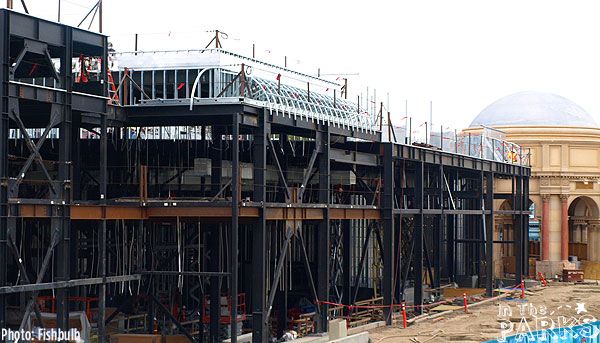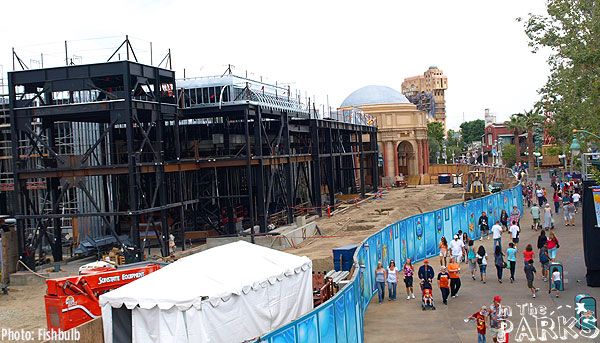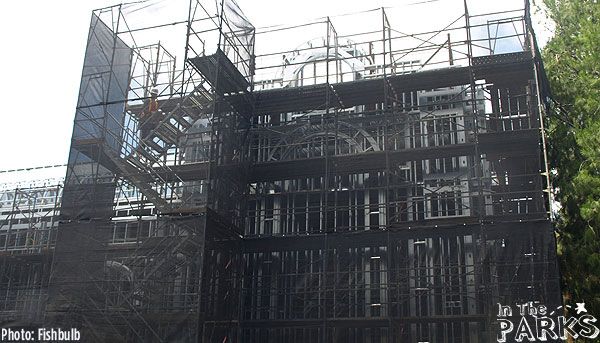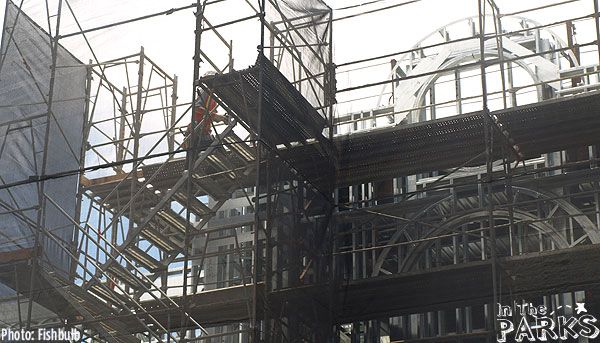 World of Color isn't the only game in town, there is still plenty to see and do at Disneyland. Fantasmic! is back from a long refurbishment and looks sparkly and new. Splash Mountain and Indy have both returned from refurb as well and the whole park looks fantastic right now. It is amazing how they keep a 55 year old park looking brand new. It really is a great time to visit the park that started it all.


Splash Mountain:
Splash Mountain recently went down for a quick, multi-day refurb. The ride is now up and running and ready to send thousands of logs full of happy guests straight into a brier patch!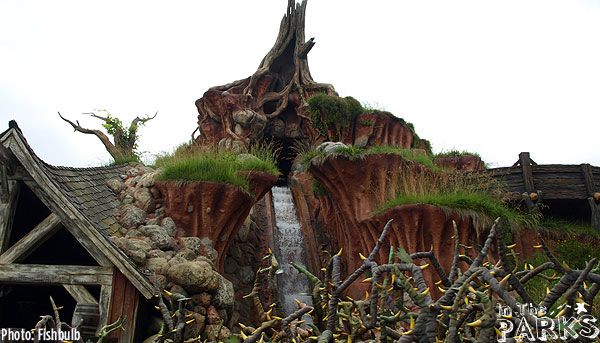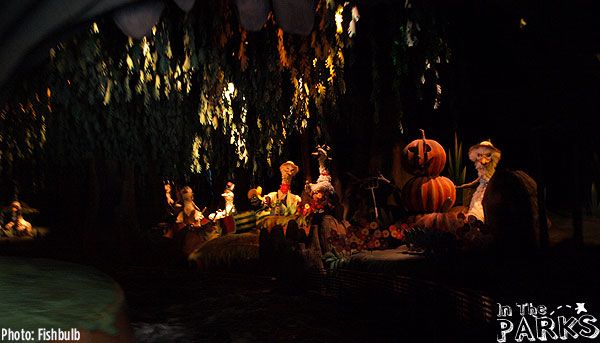 What goes up is sure to come down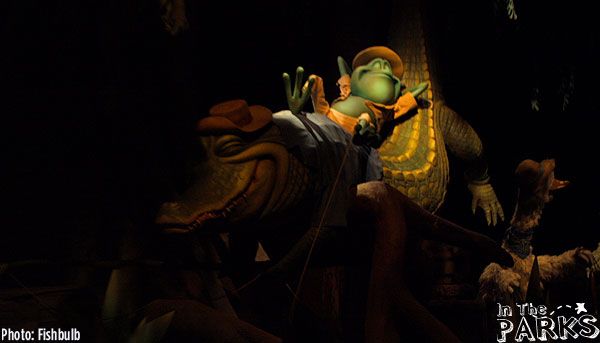 How do ya do, mighty fancy meetin'

Indiana Jones:
Indiana Jones Adventure also recently came out of refurbishment including a more realistic new animatronic Indy at the end of the ride. All of the effects are working in tip top shape including both the eyes of Mara in the chamber of destiny as well as the finicky rat room effect.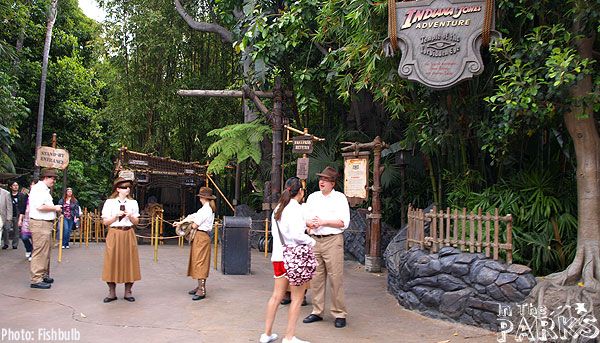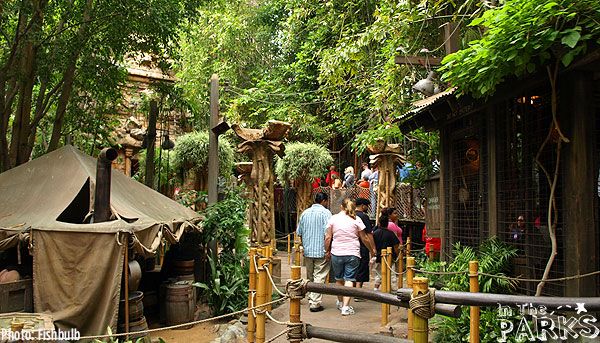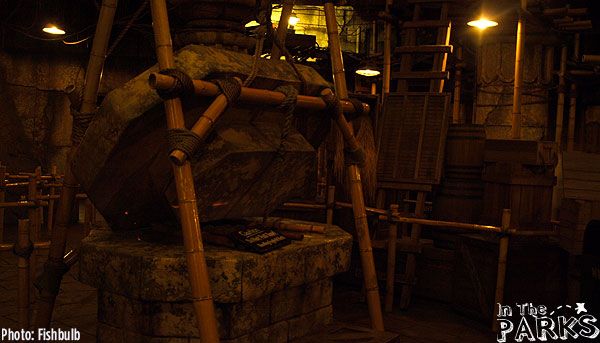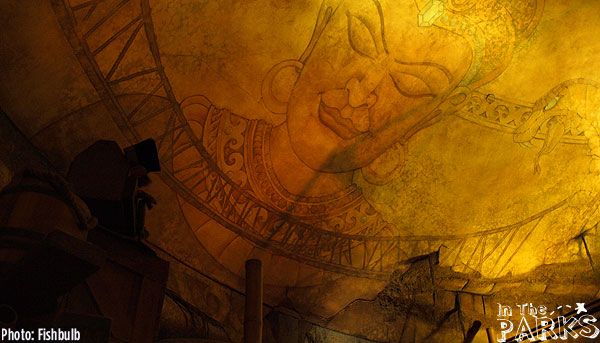 3rd shift on 1st:
A bit of bad show has cropped up in New Orleans Square. In an unfortunate recent trend, Maintenance CMs have been spotted, onstage and out in the open, doing light maintenance during the operating day. This sort of thing was almost always handled on the night shift, after the park had been closed to guests, in the past. We are almost reluctant to bring attention to this since we are very glad to see the maintenance getting done at all. But we'd be even happier if this was done on the traditional 3rd shift after the guests have gone home for the night.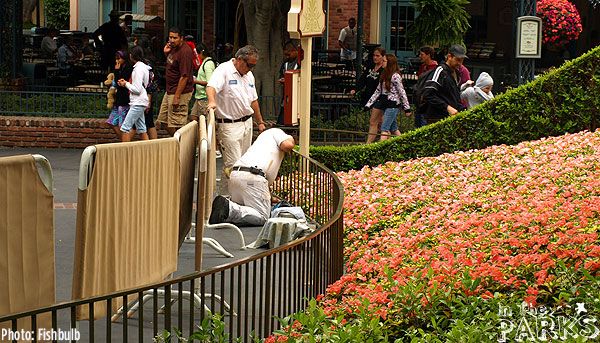 Universal Studios Hollywood may not be opening a huge attraction like its sister park in Orlando, but it is putting the final touches on several new attractions.

Here's a little teaser of something huge opening at Universal Orlando right now: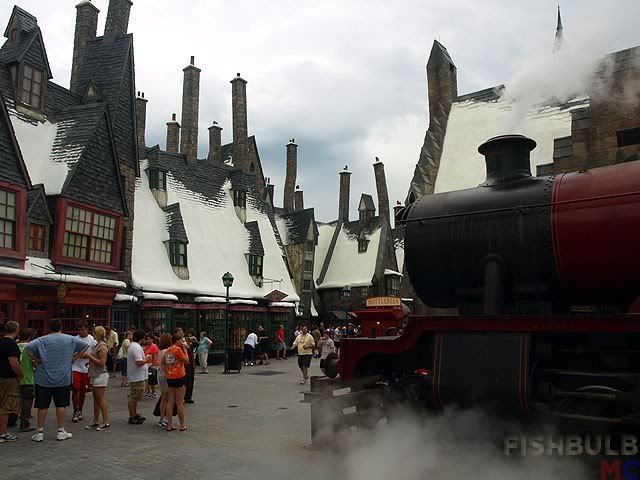 See Dusty and Fishy's review of the AMAZING Wizarding World of Harry Potter at Islands of Adventure HERE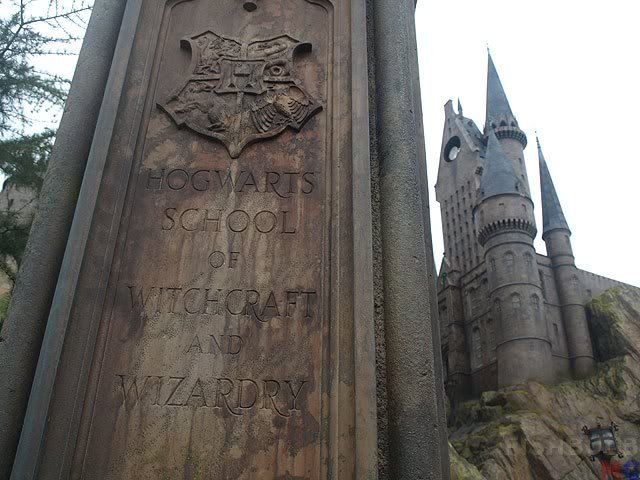 Does this photo make you tingle? It should, this is without a doubt the best theme park attraction EVER built and it is only available at Universal Studios Resort in Orlando. We hope Disney is paying attention. This is one of the biggest attractions to ever hit the industry and it is nearly perfect in every way.


Now, let's get back to the left coast and see what's going on at Universal Studios Hollywood!

After a devastating fire, the new New York section of the back lot is ready for filming. It is the largest set construction project in the studio's history and is the first large outdoor set in the world to be HD ready.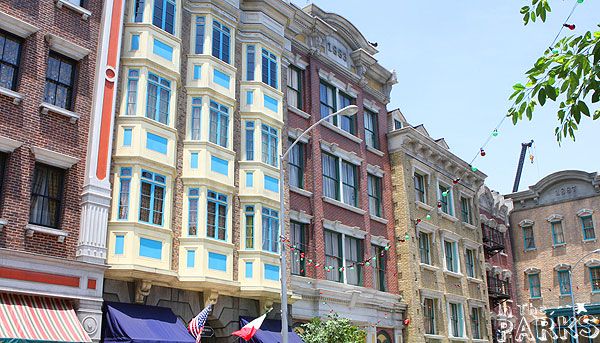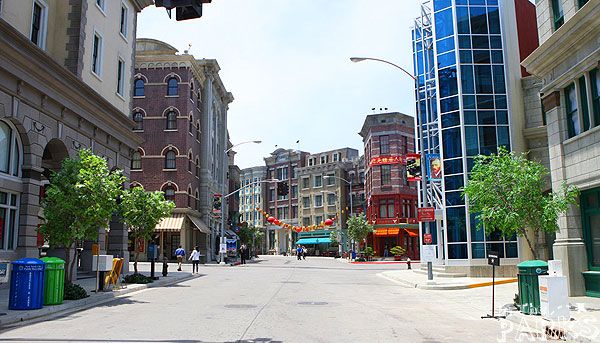 Looks real, doesn't it?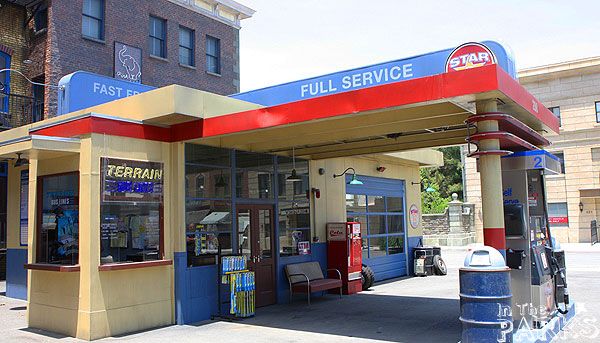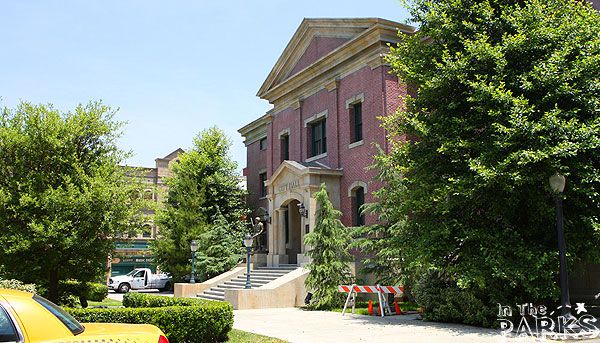 Look familiar? This building has been used in numerous movies, but is perhaps most famous for being Courthouse Square in Back to the Future.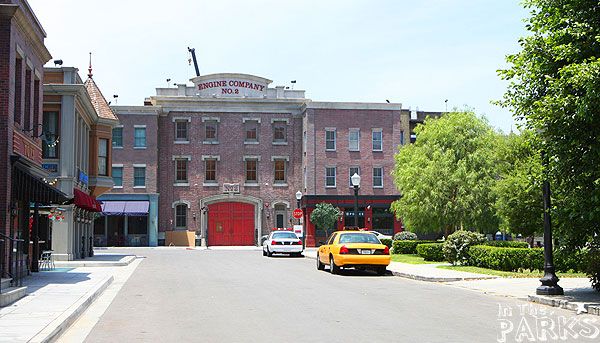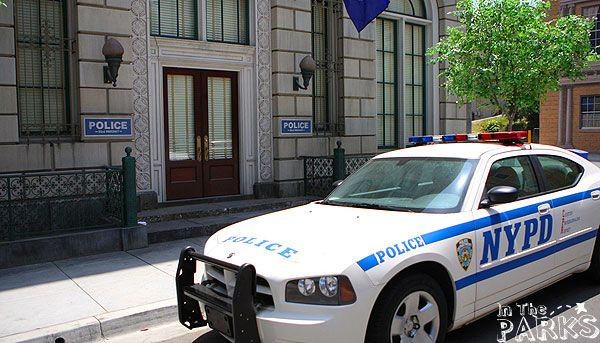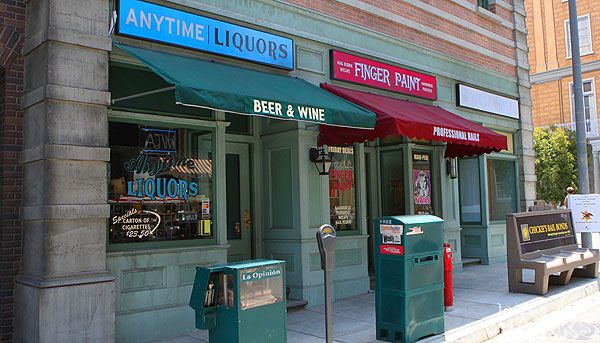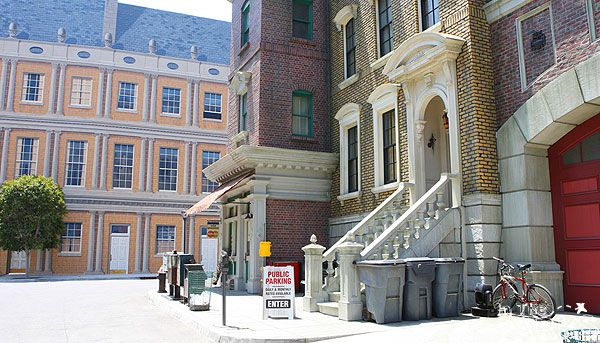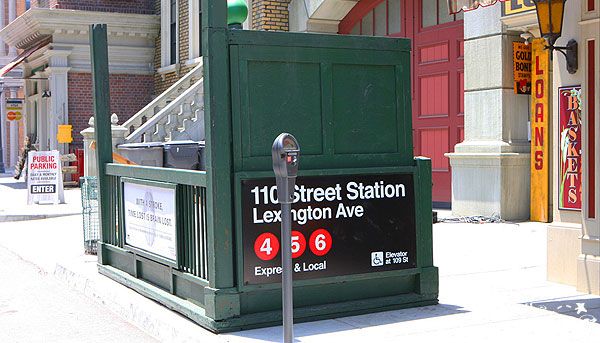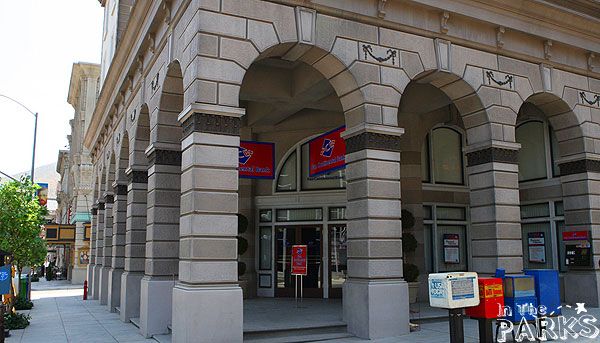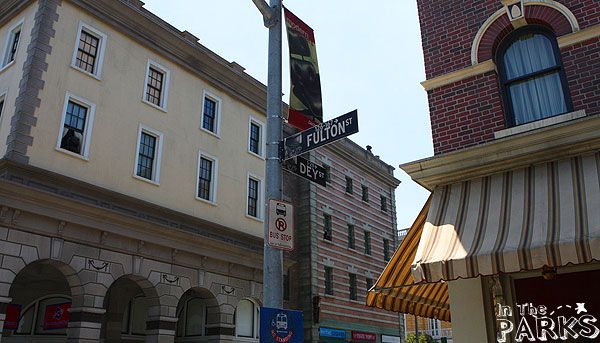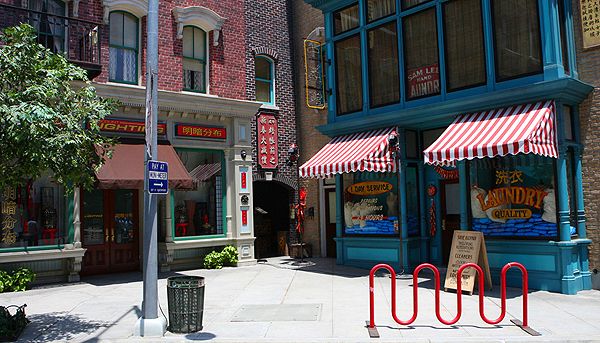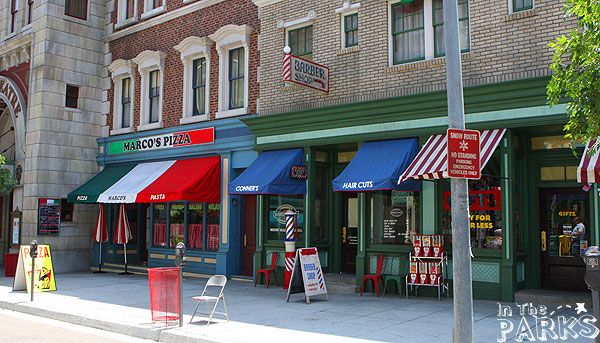 All food locations are now open every day (starting this weekend) for the summer season except for Cyber Grill (near the Terminator exit) which will reopen in July.

"Salad Creations" is coming soon to CityFood.

The Collapsing Bridge has FINALLY reopened after a lengthy closure due to Kongstruction. You can experience it again on your next studio tram tour!

Southern California residents online exclusive ticket offer: 6 months for $60. Get 6 months of USH for less than the price of a 1 day admission. 6 months starts after first day use. First day must be on or before September 26.

Park Hours:
Friday 10-7pm
Saturday/Sunday 9am-7pm
Monday/Tuesday/Wednesday/Thursday 10-7pm

Starting June 28 the park will be open weekdays 9-8pm and 9-9pm on weekends for the summer season.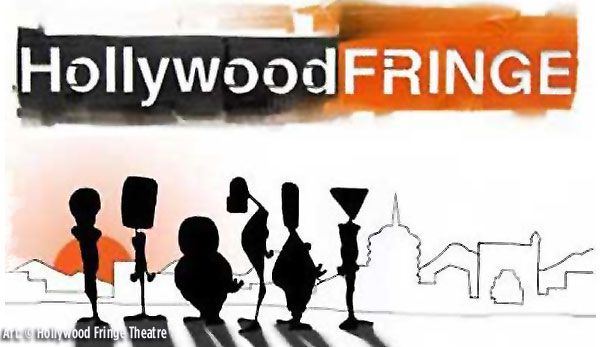 Defending Against Eros: Three One Act Plays
-
This evening of one acts is a part of the first ever Hollywood Fringe Festival and is produced, and partly directed, by MiceChat's very own MaryAnn in Wndrlnd! It includes plays written by MiceChat's ShockerBatman and AnimationStudio. (All three are acting as well.) Tickets: $10. Date/Time: June 17-19 at 7 PM, and June 20 at 1 PM. Location: East Theater @ The Complex, 6476 Santa Monica Blvd, Hollywood, CA 90038. Tickets sold at the door or at

http://www.hollywoodfringe.org/project/view/193
San Diego County Fair. "Taste the Fun" is the theme of the exciting fair at San Diego Fairgrounds in Del Mar, which runs through July 5
. We love the Del Mar Fair. If you haven't been, take this excuse to get yourself down to San Diego. And stay a day or two and experience the Zoo, Wild Animal Park, Sea World, Legoland, or any of the great beaches, restaurants, and shops which make San Diego one of the best vacation spots in the world. We mean that!


Santa Mateo County Fair, 2495 Delaware, San Mateo, CA. sanmateocountyfair.com
Wine Fest at the Kern County Museum
Cowboys & Heroes Rancho Jamboree
Huntington Beach 60th Annual Pier Swim
will be held on June 12, 2010. This annual event draws swimmers from all over to test their skill swimming the world famous Huntington Beach Pier. The 1,856 foot long pier is the longest concrete recreational Pier in California. Registration is now being taken through many sources -online at

www.hbsands.org
INK AND IRON FESTIVAL 2010

7th annual Ink N Iron Festival aboard the Queen Mary. The best tattoo artists in the world, classic cars, unique art, tons of music and the Queen Mary..
For tickets and info, go to

www.ink-n-iron.com

. They're $40 a day, or $80 for three days. Plus, get a tattoo at the show and they kick $10 back to you when you leave, with no regrets.
Date: June 11, 2010 - June 13, 2010
BBQ Cookoff and Family Festiva

l

-
Saturday, June 12, 2010 Delicious BBQ - Classic Car Show - rib eating contest - Great Kids Zone with activities & entertainment- Live Main Stage music & entertainment. Orange County Fairgrounds Costa Mesa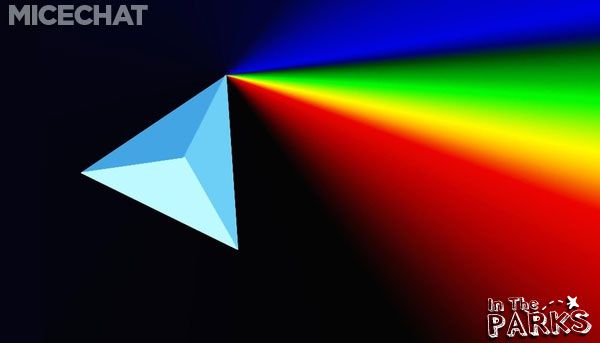 D

iscovery Science Center Presents: Optricks Day

-
June 12, 2010 Why do stars twinkle? What is a rainbow and where does its color come from? Find out answers to these questions and much more during Discovery Science Center's annual Optricks Event. Throughout the day, hands-on demonstrations and exciting workshops for kids and families will be offered.
Be sure to come back to MiceChat and post the explanation of twinkling stars for us!
4th Annual Calabasas Malibu Food & Wine Festival
The Calabasas Malibu Food & Wine Festival is bringing the best wine and food to one location for So Cal's tasting pleasure! Over 100 wineries, breweries and spirits to enjoy with food prepared by the most talented chefs in Los Angeles and Ventura County. Prepare to be swept up in a swirl of food and wine delight!Sat, Jun 19, 2-7 pm - Calabasas Inn, 23500 Park Sorrento, Calabasas
Freebies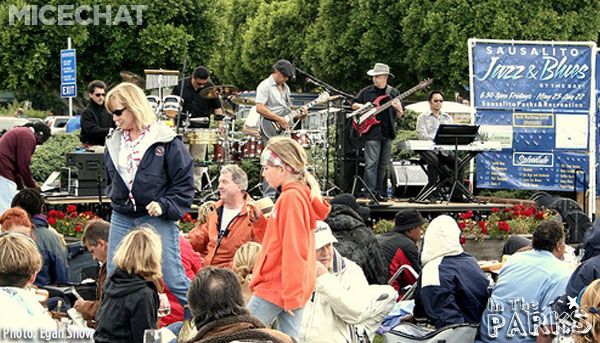 Jazz by the Bay
. Free concert. Time: 6:30 to 8:30 p.m. Cost: Free. Location: Gabrielson Park, Anchor Street and Bridgeway, Sausalito, California. ci.sausalito.ca.us
Long Beach
Unity Festival
The festival includes booths and entertainment - kids, families, community members and businesses are encouraged to attend this FREE event. The Unity in the Community Festivals are the culmination of a year long series of events designed to encourage people of all ages and ethnic background to participate and help unity the greater community in Long Beach. Sat, Jun 12 - Sun, Jun 13, 12 - 7 pm - Rainbow Lagoon Park, 400 Shoreline Village Dr, Long Beach
Free Summer Solstice Festival
This is the first of our four summer arts festivals. This free festival is open to everyone. The day's festivitiesincludes a children's area with free art workshops, a children's stage, an arts and crafts faire, house gallery tours, a lawn sports tournament, picnicking, food vendors, a story swap area, a jam session area, in addition to the continuous stage performances at our outdoor amphitheater.Sun, Jun 13, 12 noon - Muckenthaler Cultural Center, 1201 W. Malvern Ave, Fullerton
TheMuck.org
Palos Verdes Street Fair and Music Festival

.
Huge carnival rides for the most adventurous, a top dogs show, 2 stages of entertainment and an eco fair. Click here for $5 off unlimited rides wristband purchase.

http://pvstreetfair.com/files/Download/PV%20Street%20Fair%20Flyer%20Ad%202010.pdf

Admission FREE
__________________

Well, that just about does it for another In The Parks photo-fest. We hope you had as much fun with us today as we had putting this together. After many long nights waiting for a water extravaganza to appear, a wizarding world to magically open in Orlando, and a giant ape to return to Hollywood, everything finally seems to be coming together. It's Summer and we are having a ball.

Do you have any news or events that you'd like to share with In The Parks? We'd appreciate hearing from you,
please contact dustysage@micechat.com with your news, photos, or comments
.
And please don't forget that there is always a world of fun theme park information to read

elsewhere on MiceChat, might we suggest:
Weekend Update

Offers a world of Disney theme parks and other sights and landmarks!



Dateline Disneyland which is packed with great news and photos from the Disneyland Resort.
Remember, sharing is caring, show us you appreciate what you read today by sharing the link with your friends and family on
Facebook, Twitter, and beyond!


A very special thanks to Heather Hust Riviera of the Disney Parks blog for being so helpful and accommodating at the Premier of World of Color.


Today's update was brought to you by our fantastic and talented crew of
photographers and news contributors
Pratt55,
F!an,
David Yeh,
Fishbulb, and Dustysage
.