The night is certainly brighter this Summer. With Fantasmic and fireworks at Disneyland, World of Color at California Adventure, and a brand new Starlight Spectacular at Knott's Berry Farm, there is no shortage of evening activities to keep you up late at night. This week, we'll take a look at the incredibly busy Disney parks as well as take a tour of what's been fixed and what's new at both Knott's Berry Farm and Universal Studios Hollywood. As always, we'll also round up some of the big events and activities available in Southern California this weekend. Let's see what's going on . . .



Hey you big ape . . . welcome back!
There are a couple new attractions opening at Universal Studios this week. The new Special Effects Stage show has been relocated to the upper lot and officially opens this Saturday June 26th. But the BIG news is King Kong.
While the general public likely won't see the big gorilla return to the Studio Tram Tour until July 1st (they are opening it to celebrate Dusty's birthday), we have an exciting preview to share with you today!
3-D
(Minor Spoilers)
Without spoiling the attraction too much, we can say it is a great addition to the Studio Tour. If the show length was slightly extended, it could easily be a stand alone attraction. It is that solid.

So how does a 3-D attraction work with the Tram Tour? Well it's tricky to say the least. And the solution Universal came up with is simple yet filled with possible problems. Just before boarding the tram guests pick up a pair of 3D glasses. The glasses are handed out at the very moment before boarding, shortening the amount of time the glasses are in guests possession. This will decrease the odds someone would lose them before stepping foot on a tram, but then there is the ENTIRE tram tour for them to get lost or broken. We predict the tram route will be littered with broken, plastic glasses for years to come.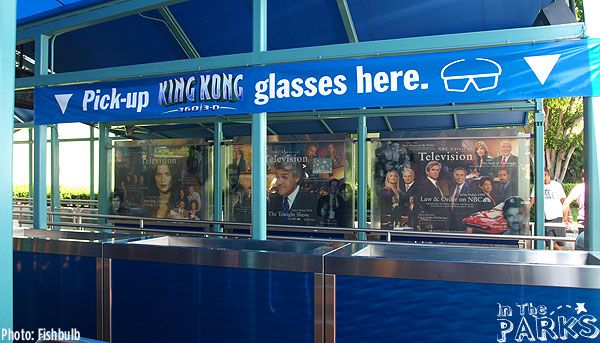 Guests are asked to grab their 3-D glasses and hold onto them throughout the tram tour until the Kong sequence.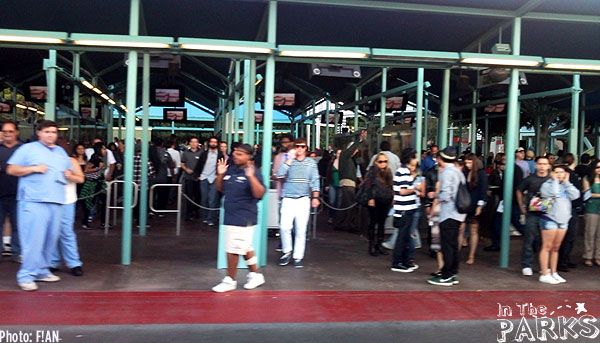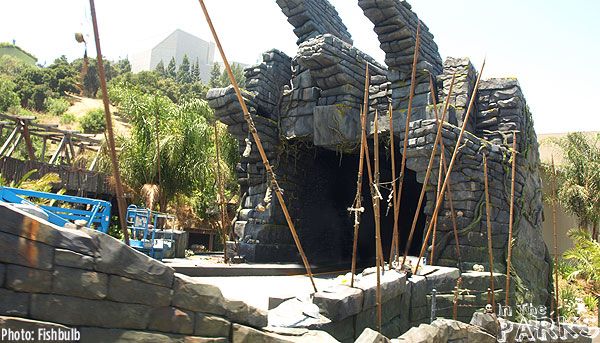 As the tram approaches the massive show building housing the world's largest 3-D experience, a pre-show was played on the tram's on board video screens featuring Peter Jackson discussing the new attraction and his inspiration behind it. This sets us up for what is to come.
The tram enters the sound stage and we are greeted with large blank screens. The lights go out and then suddenly, the screens around you light up and you are on Skull Island. Visitors are thrown into the middle of a battle between King Kong and the T-rexs. Kong uses air, smell (not the banana breath from before), motion, and water effects throughout. Warning, (just like World of Color) you will get wet. The show ends and the tram exits the building.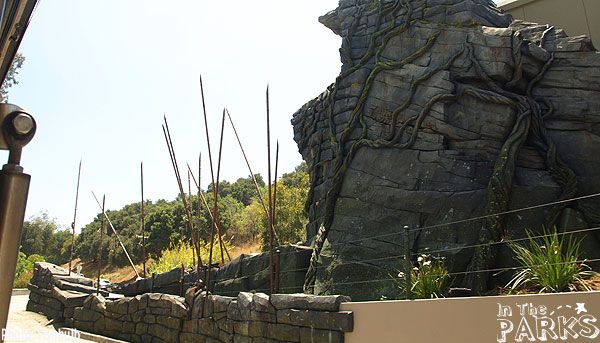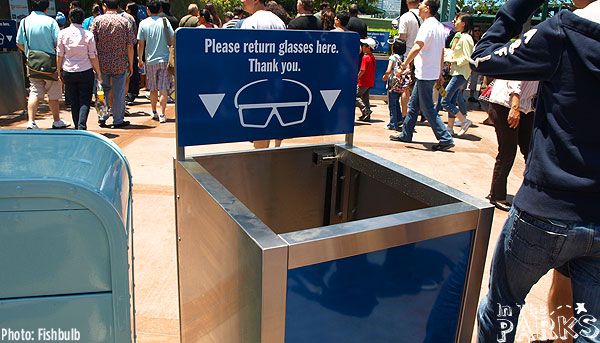 If guests were able to hold onto them, they deposit their 3-D glasses in bins at the end of the Tram Tour
The new Kong Attraction is actually very good but not without a few nit picky flaws. The transition between blank screens one second and Skull Island the next is pretty jarring and lacking in creativity. During the actual experience the screens do surround the peripheral view from the tram but one can easily see above and below the screens. There had been concern about not being able to see most of the show based on where you are seated and it's partly true.

A few tips; While the show can be seen all around you, the further back you sit, the more you will be able to see without having to turn around or straining to look. The action does travel throughout the entire building on both sides and while the main focus is one side, there is something else happening on the other side giving all riders something to experience if they can't see what everyone else is seeing.

Despite the issues, we actually think it is a great addition to the tour. It's not the grand old animatronic ape we knew and loved from before; but a newer, high tech, wiz-bang version that shakes you, breaths on you and douses you with water. We give it a solid 'B' and hope that the attraction will be tweaked a bit to fix the weak set up to the main event.

Special Effects Stage show:
The other big new show of Summer is Universal's brand new Special Effects Stage show which officially opens this Saturday. It is hosted by a tech savvy 20 something actor and a not so technology inclined middle aged actor who have differing opinions on how to pull off special effects: old school time tested practical techniques and stop motion vs cutting edge CGI imagery and image capture.
The show runs approx 45 minutes and does feature some of the bits and props used in the old SFX show and Creature show as well as the fly rig.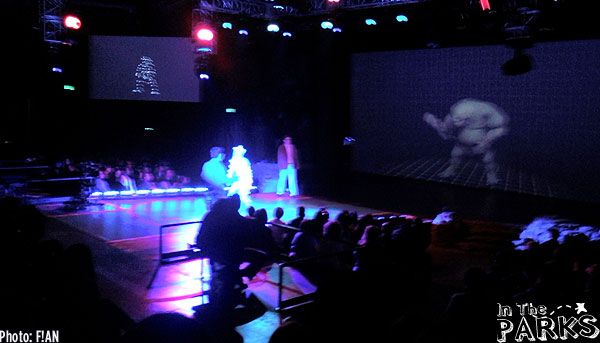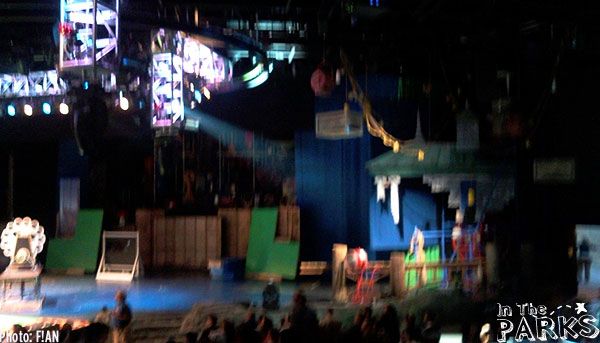 The show is very entertaining and is big on crowd participation and volunteers. We actually do prefer the new show over the old and think that after a collection of failed stage shows, this location may be housing this show for some time to come.
Transformers:
Work continues to progress on the show building for Transformers.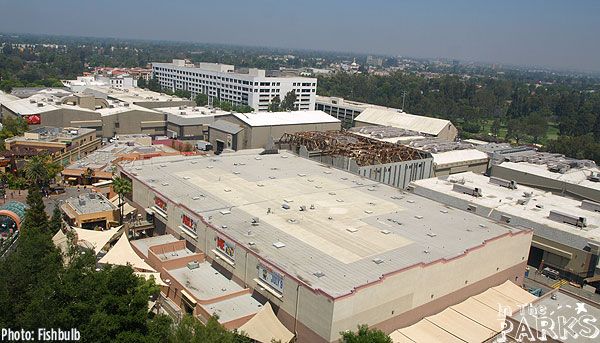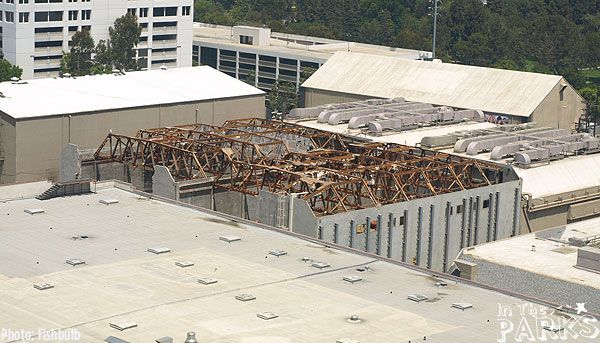 Only the frame and walls remain now.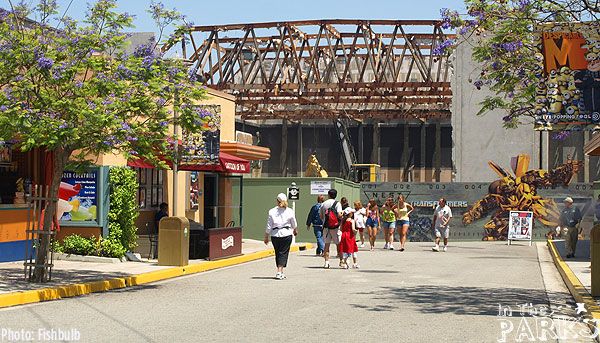 Tram Tour: JAWS:
Back on the tram tour . . .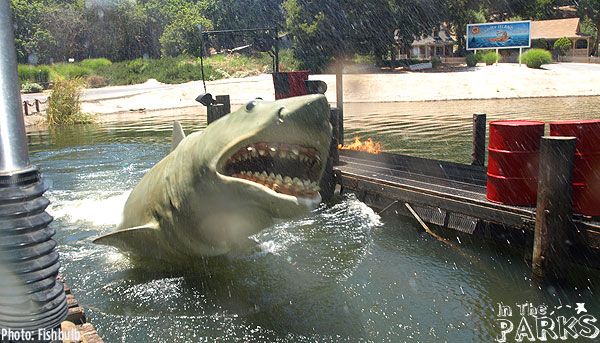 Jaws is up and chomping after a brief refurb

Tram Tour: Psycho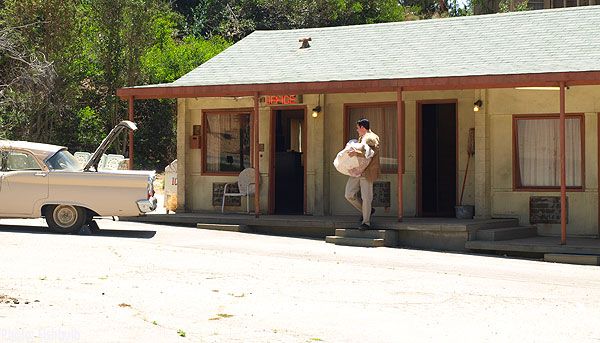 On occasion tram guests can catch the plussed version of the Psycho set complete with live actors. This is a GREAT touch, and easy to do.
Upper Lot: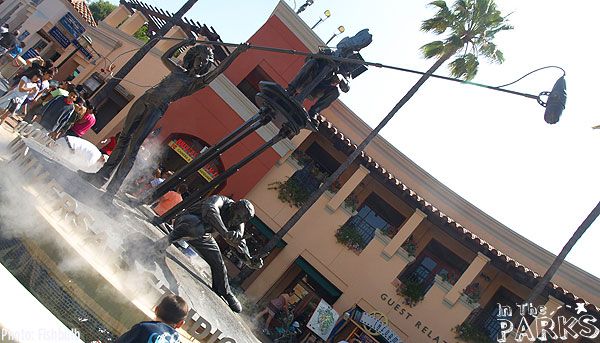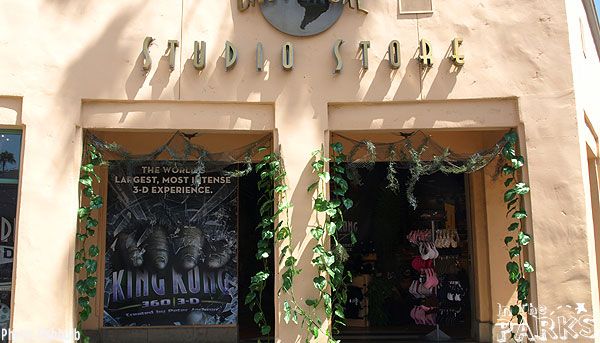 Studio Store is ready to go with Kong Merch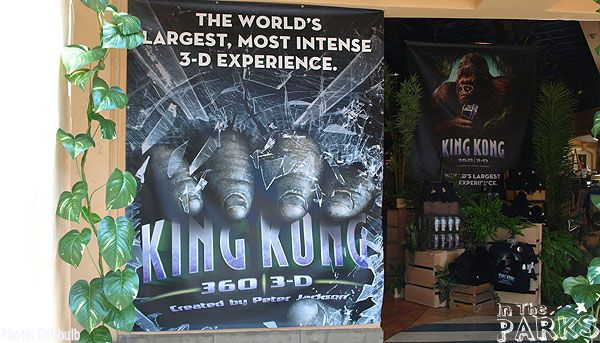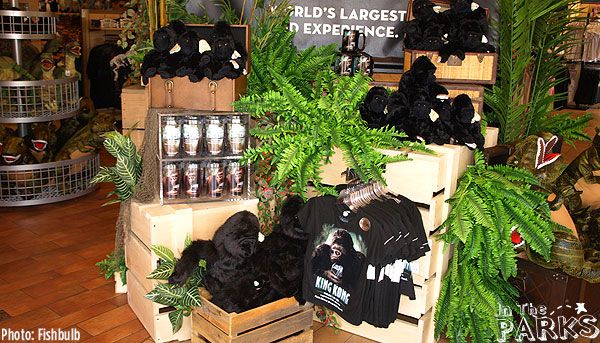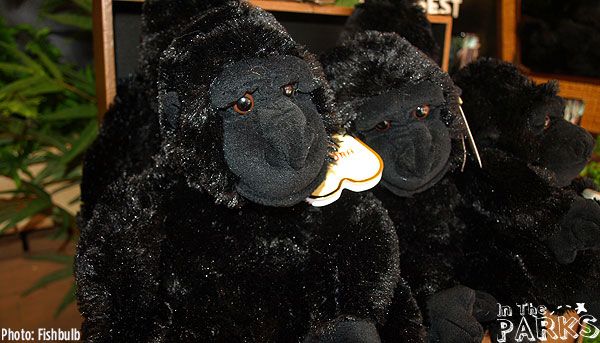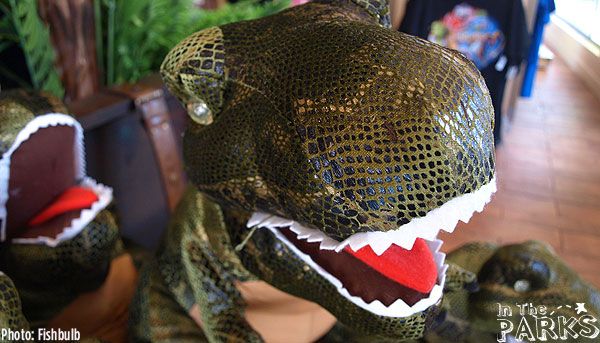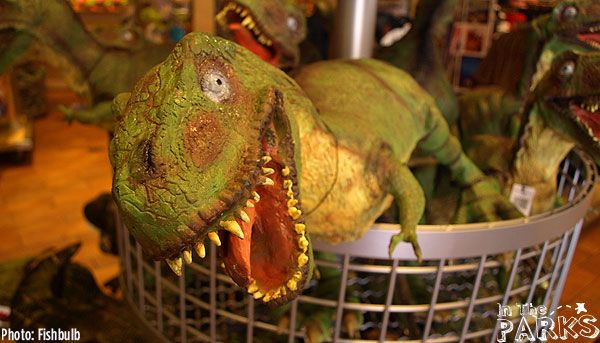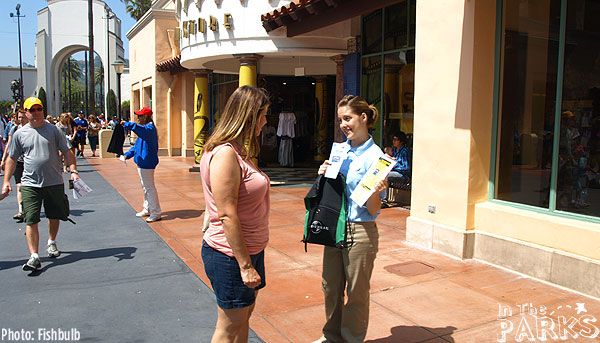 The carnival barkers continue to flank the entrance corridor. Tacky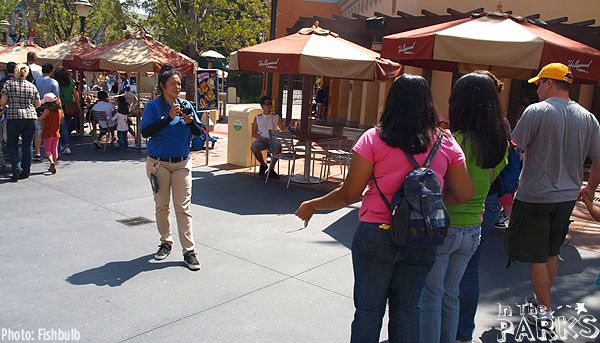 One almost got away
House of Horrors:
House of Horrors Lobby received new props for visitors to view while in queue to be terrorized. While some of the props are great additions others are a bit of a stretch.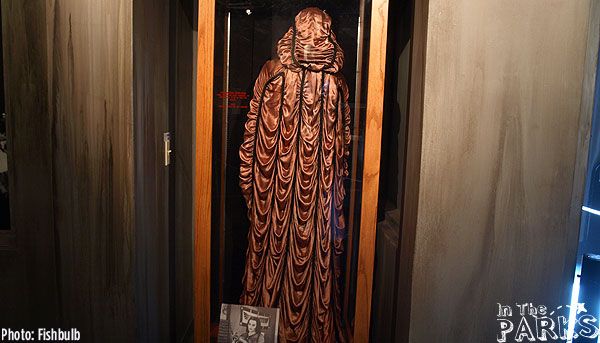 Lily Munster's gown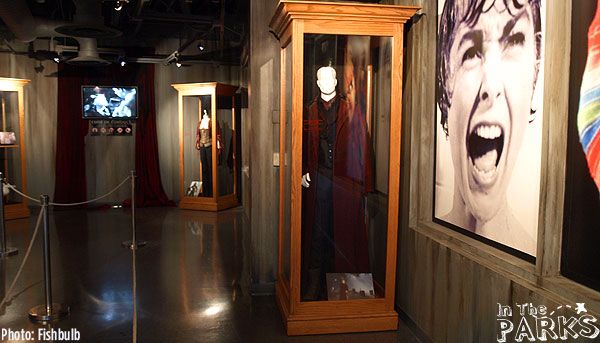 John C. Reilly's costume from Cirque de freak. Did anyone see that film?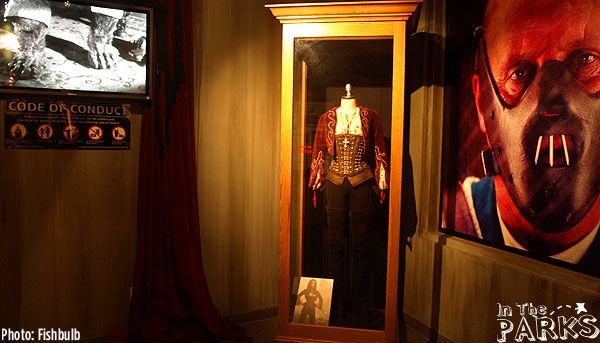 Van Helsing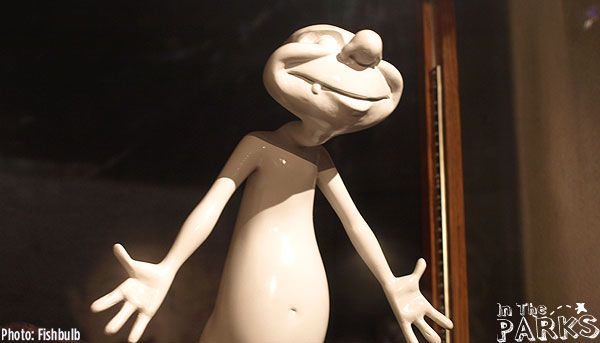 Casper Maquettes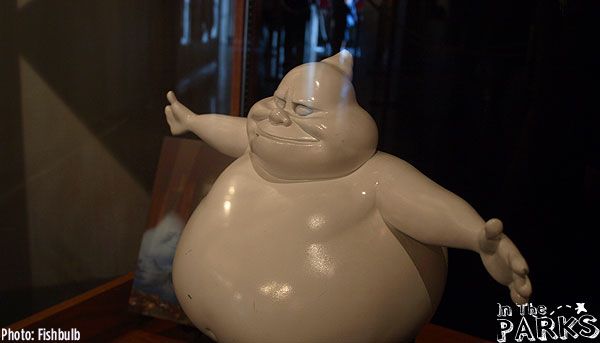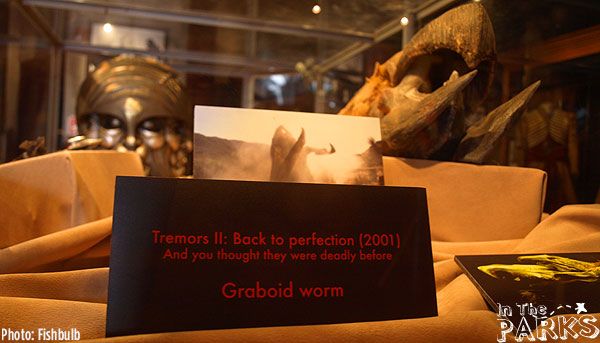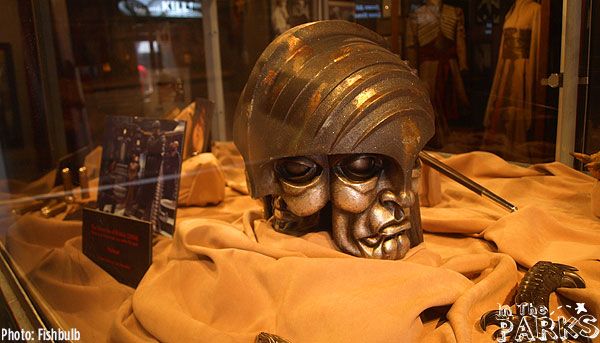 Riddick? Really? Thought that was a comedy.



Wolfman

City Walk: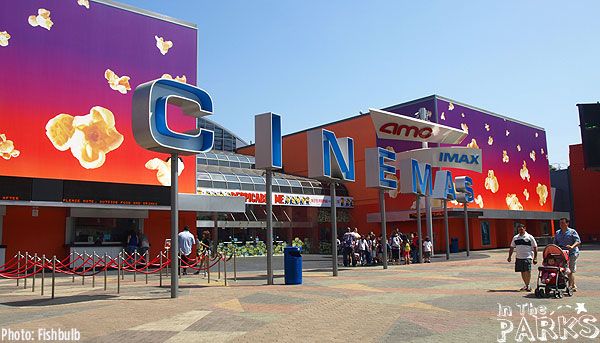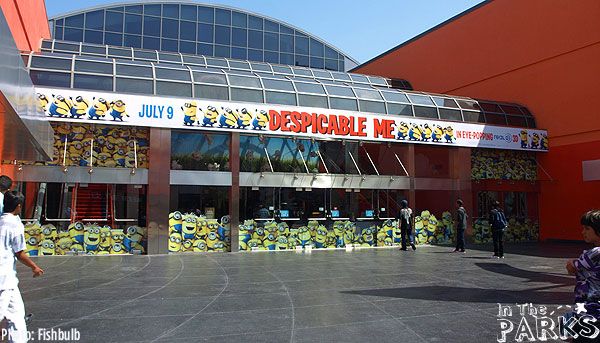 BTW, Despicable Me comes out soon.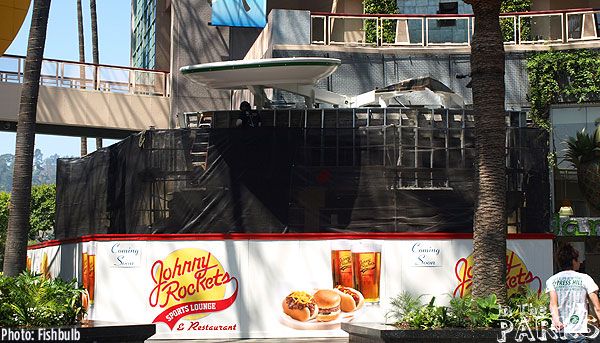 Johnny Rocket's continues it's progress



Most of the pictures in our Disneyland update this week were taken on Tuesday . . . which also just happened to be a crazy busy day as the SoCal annual passes (about half of the total annual pass holders) are nearing a long block out period until the 27th of August. Many of those folks seem to be squeezing in that last Disney fix while they still can. Next Monday through Friday should be packed to the gills before things lighten up after half of the pass holders are blocked out beginning July 3rd. Crazy crowds or not, the parks looked beautiful (if a bit hectic).

Summer Crowds:

Disneyland's park gates at 1pm on Tuesday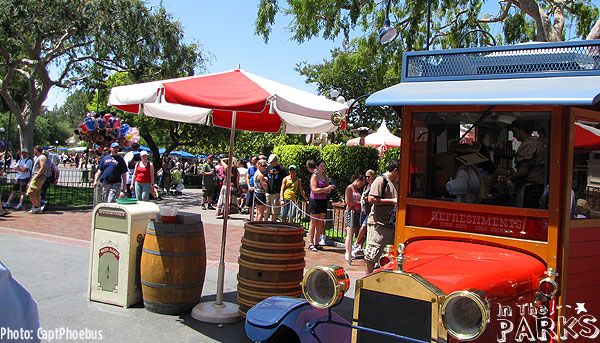 If you thought the Dole Whip line was bad, try the Corn Dog Cart on Main Street. Fortunately, they are both worth it!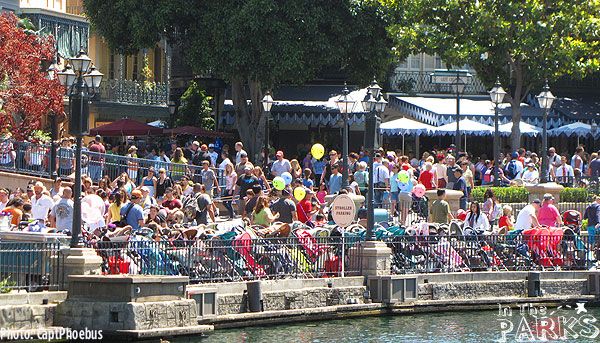 New Orleans Square near the Pirates Entrance


Pirates looking toward Frontierland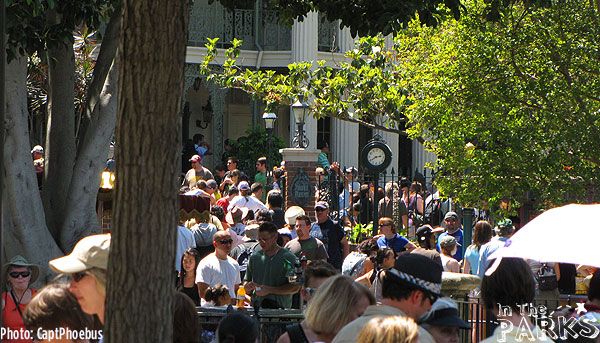 New Orleans Square in front of Haunted Mansion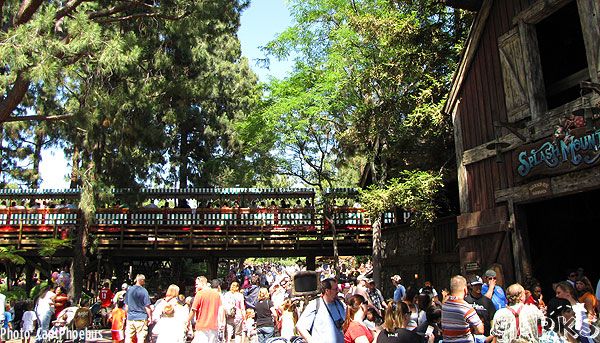 Splash Mountain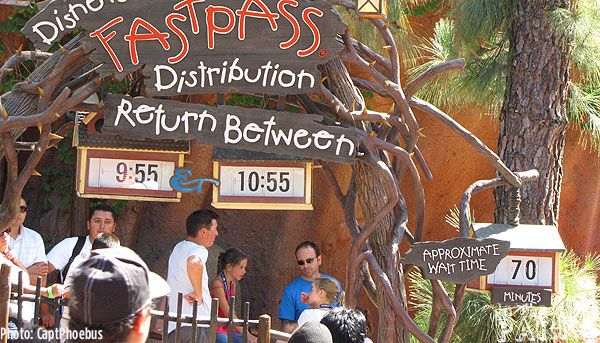 By 2pm the Fast Passes for Splash went into the evening hours and the line was still at a relatively short 70 minutes

(It pays to actually read the signs)


First Aid Facade:
The First Aid building is under wraps during its face lift.

Tomorrowland Terrace:
The Tomorrowland Terrace Restaurant opened it's doors yesterday after a 6 month refurbishment. Little has changed on the outside, but the entire kitchen has been gutted and rebuilt. Gone are the days of moldy sandwiches and poor service. Now we have a fancy new menu and beaming cast members newly retrained and ready to go!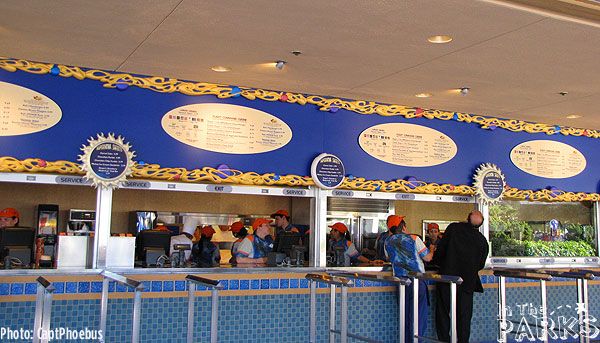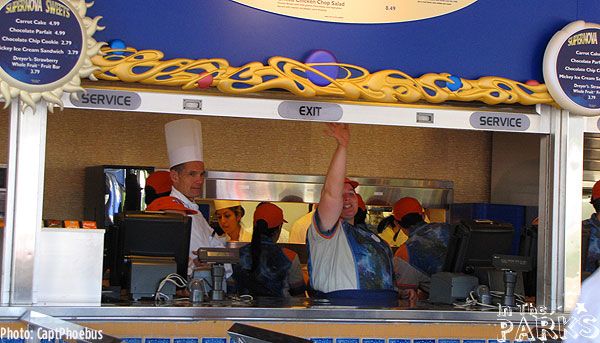 Training continued on Tuesday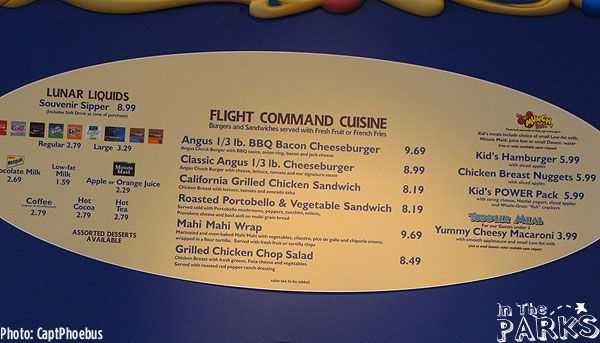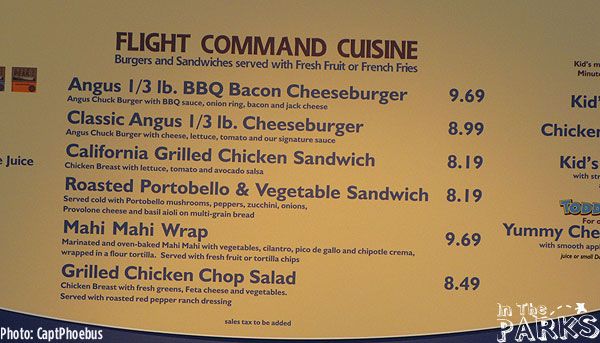 Close up of the menu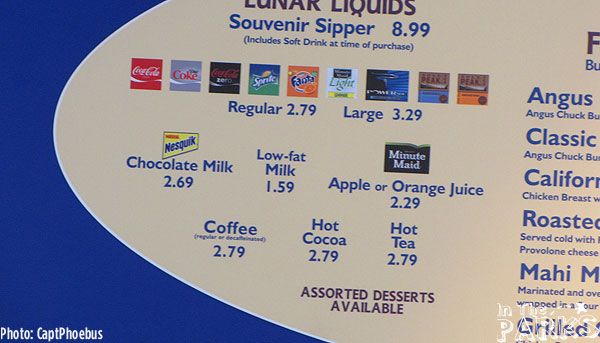 Drinks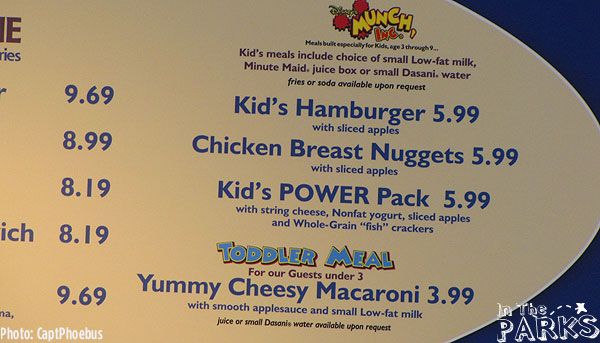 Kids menu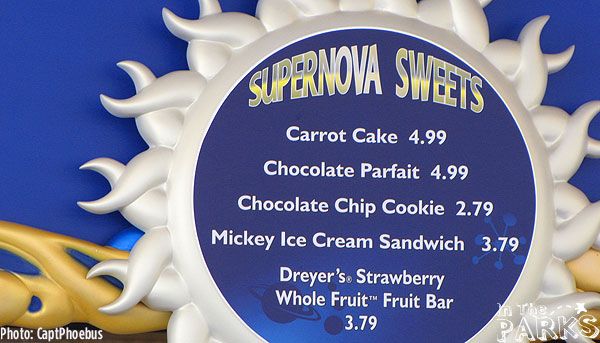 Around the corner they still serve desserts






Go check out the beautiful Waterfalls at the Disneyland Hotel before they flow away forever - to be replaced with an uninspired grass lawn.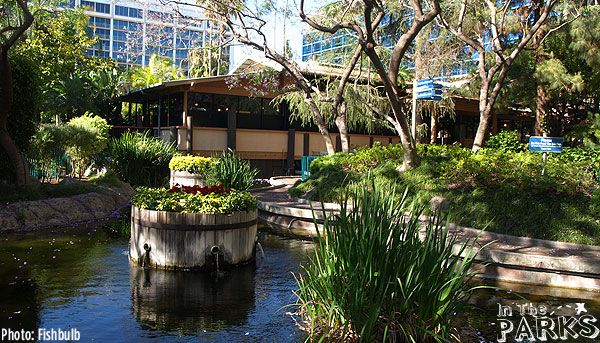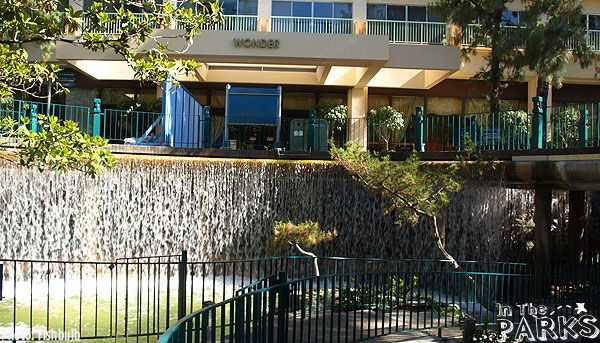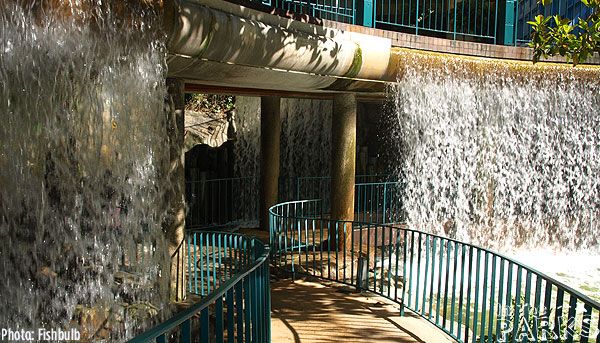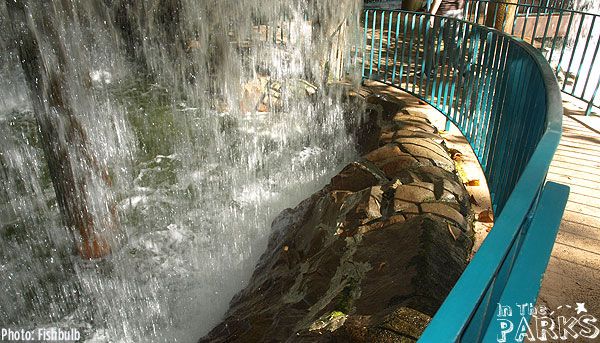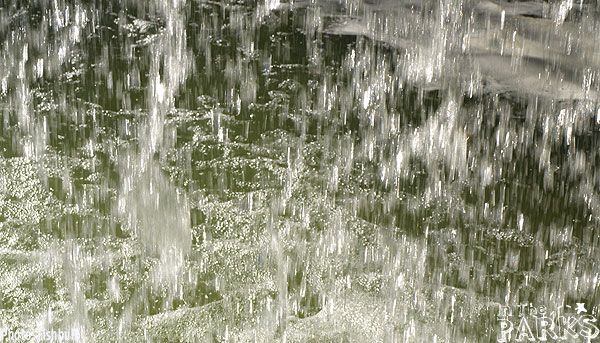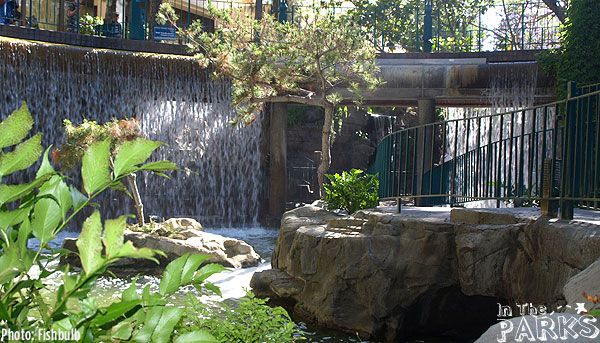 Have the Disney Imagineers and planners lost their minds?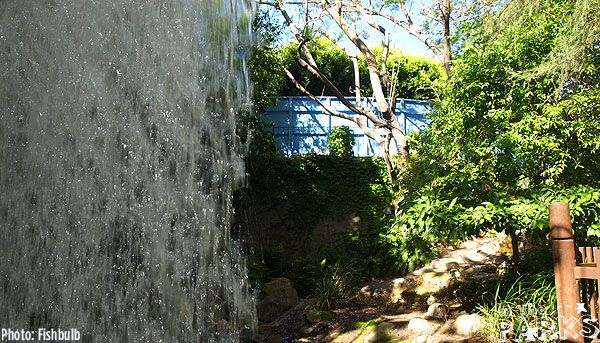 Please be sure to express your displeasure with Disney's management. They certainly seem to be going out of their way to strip the hotels of any remaining charm.



Aladdin: The Musical
Aladdin's show schedule accommodates summer crowds.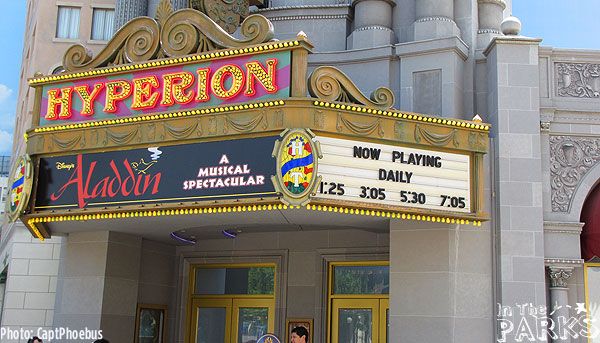 The Little Mermaid: Ariel's Undersea Adventure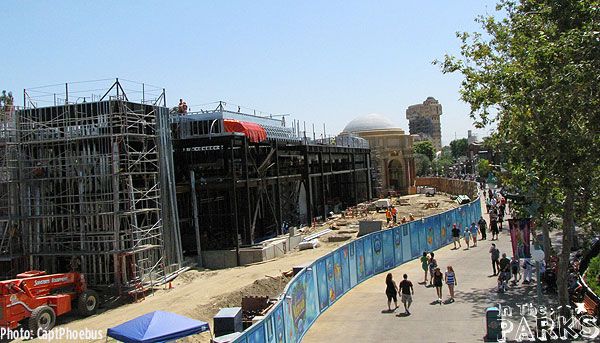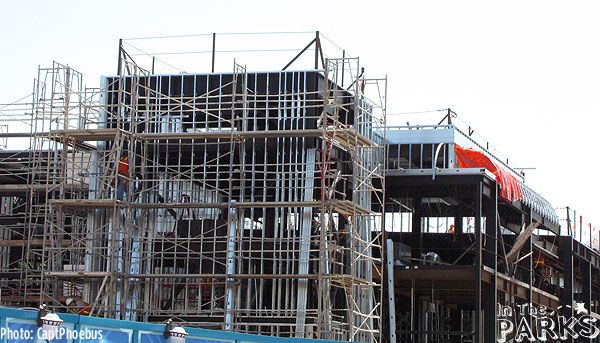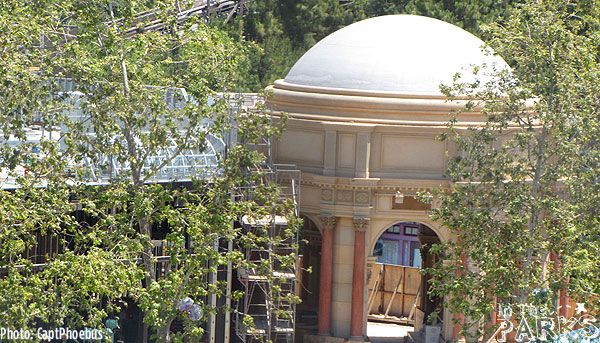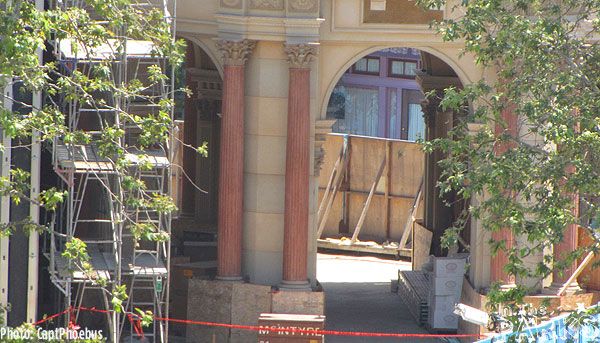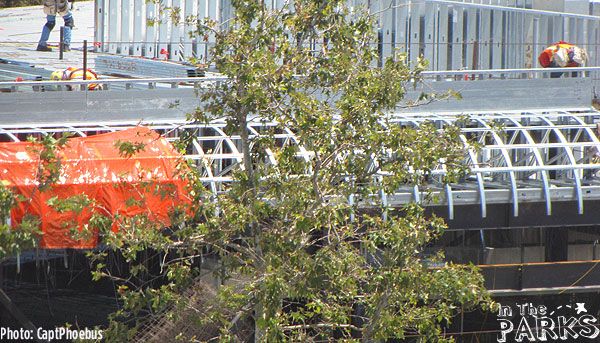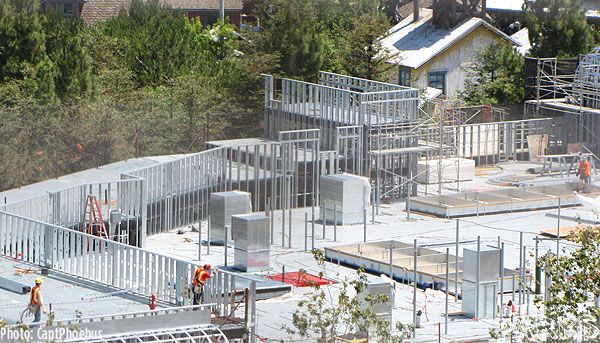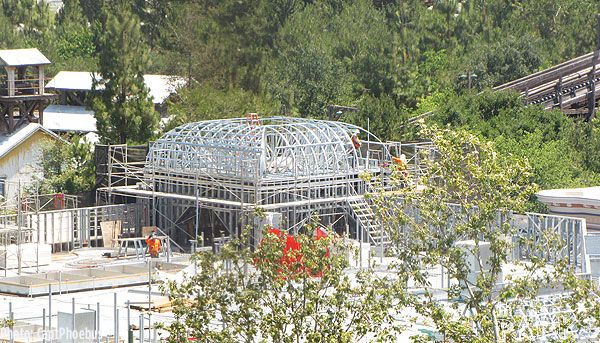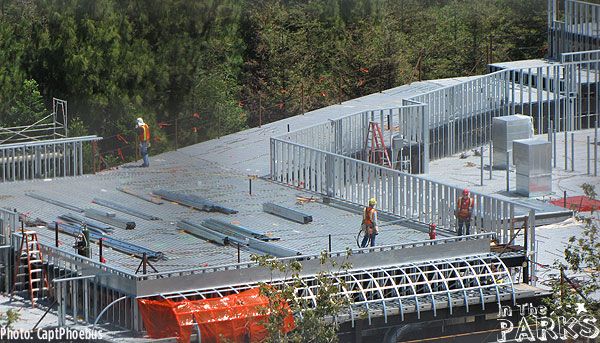 Paradise Pier: Food Court
Nothing much going on here just yet but that big ugly burger will be gone soon enough


Carsland:
Enjoy the photos while you can. That big mountain is going up fast. Coincidence?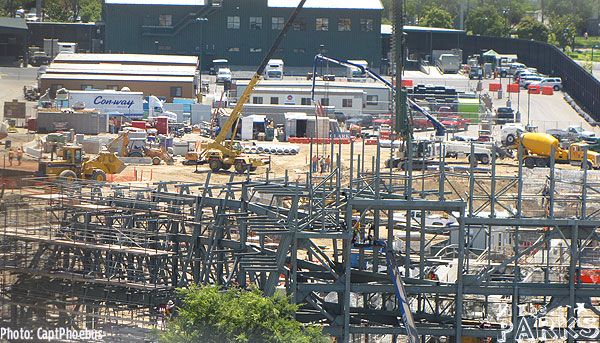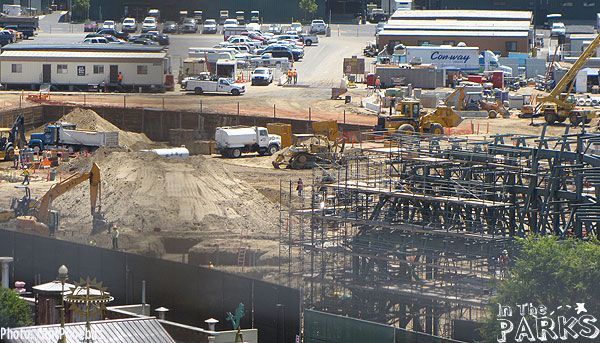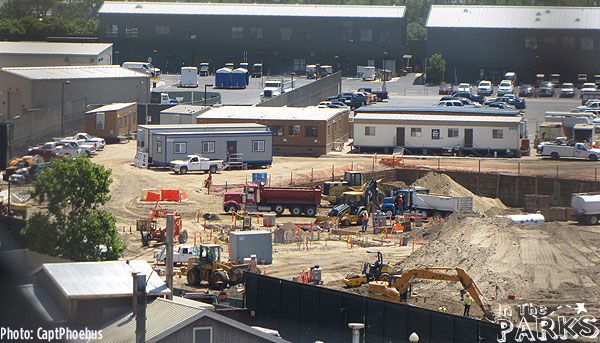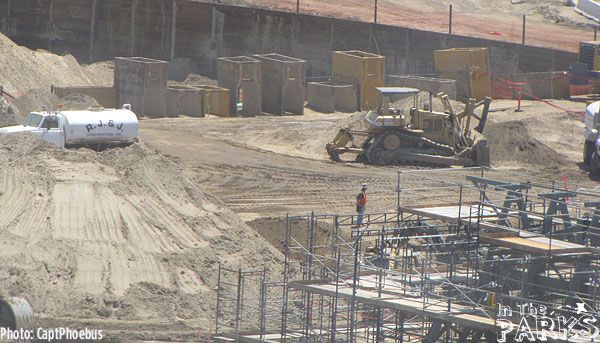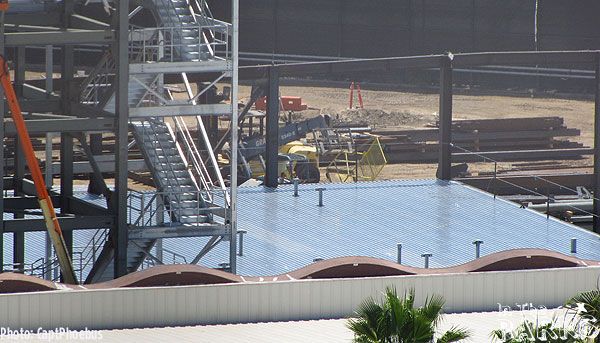 The show building on the right hand side of the construction site is being enclosed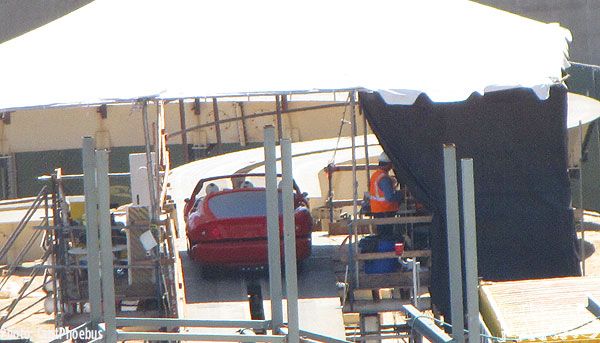 Test dummies getting their first rides in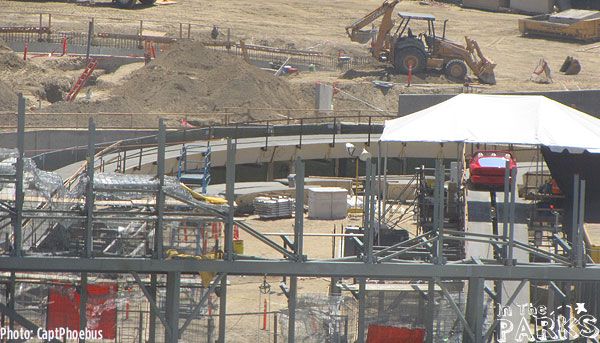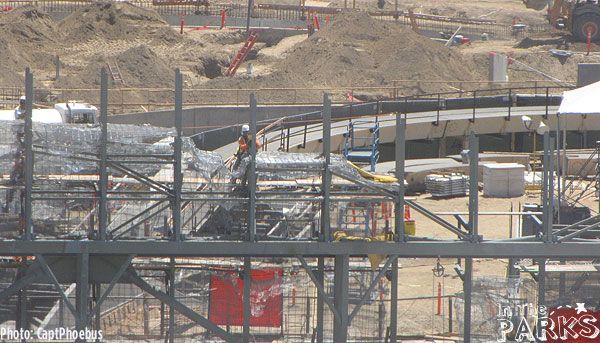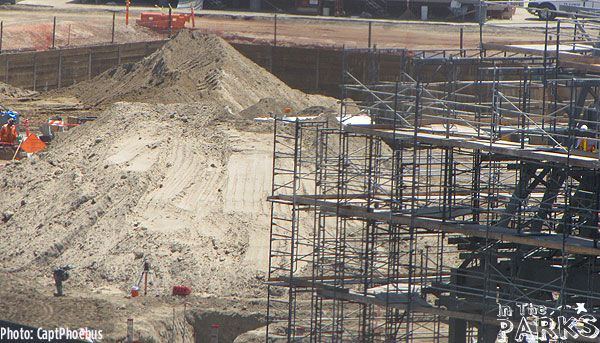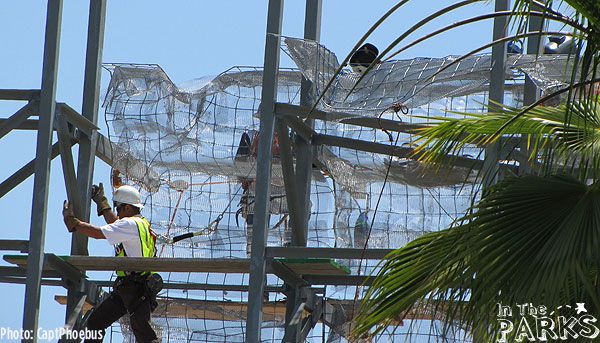 Groovy!

Treasures in Paradise:
The once edgy, brand name merchandise has recently been replaced with more Disney-like merchandise. No more Quicksilver or Billabong here. It is all Character T-Shirts and plush toys.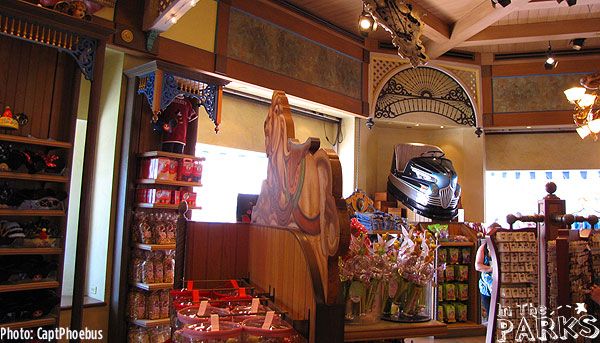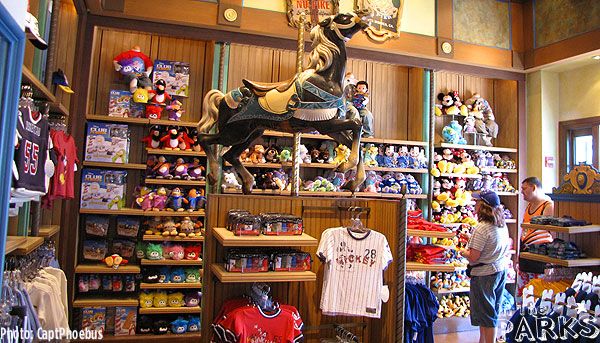 This past weekend Knott's invited MiceChat to take in a day at the Berry farm to see all that Knott's had to offer Summer visitors. We have to say that, frankly, we were pleasantly surprised.

It is kind of a shock to get to Knott's and realize they have so much live entertainment to offer. Of the six shows currently available at Knott's we took in two, along with the brand new Snoopy's Starlight Spectacular overlay of Camp Snoopy. Let's take a look at the park.

Peanut's 60th Celebration: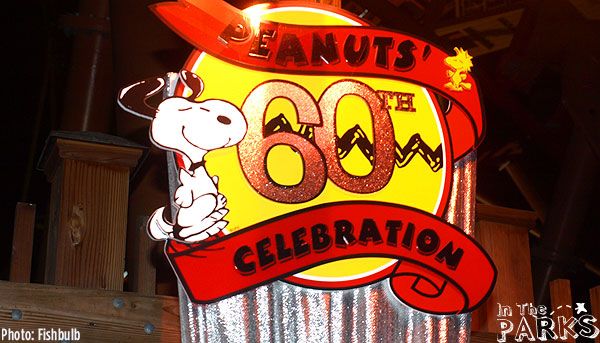 This Summer is Snoopy's 60th birthday. Can you believe it? Charlie Brown doesn't look a day over 40. To commemorate this major milestone, Knott's is celebrating all summer long with all kinds of fun things for the whole family to do.
"Snoopy's Starlight Spectacular"
Through August 29
"Everyone Loves Snoopy" at Charles M. Schulz Theatre
Through August 29, (Dark on Wednesdays)
Knott's Berry Farm has been producing exciting ice shows for decades, delighting audiences young and old alike. "Everyone Loves Snoopy" features everyone's favorite beagle in a show that delivers catchy tunes, elaborate costumes, special effects and show-stopping choreography. This production is definitely a not-to-miss experience for the whole family.
Fiesta Folklorico at Fiesta Village
June 19 - August 8 (Dark Thursdays)
Guests in Fiesta Village will be treated to beautifully costumed dancers as they present culturally-rich performances filled with intricate choreography.
August 5-8 and 10-15
This unique multimedia experience combines the thrill of a stage show with live music that is guaranteed to ROCK! Guests will have an all-access pass to the hottest new show with the most triumphant rockers at the park's Rock Band gaming kiosks being chosen to participate in the show each and every day!
"Snoopy's 60th Birthday Party" at Camp Snoopy
August 1-8
In honor of the Peanut's 60th Anniversary, kids ages 3-11 will enjoy a free chocolate chip cookie (Snoopy's favorite food!), play some party games and even sign a giant birthday card for the Peanuts Gang!

Ghost Town:
The Peek-ins have been receiving lots of tender loving care, as we've mentioned before, let's take a look at some of the discoveries, such as the Undertaker building.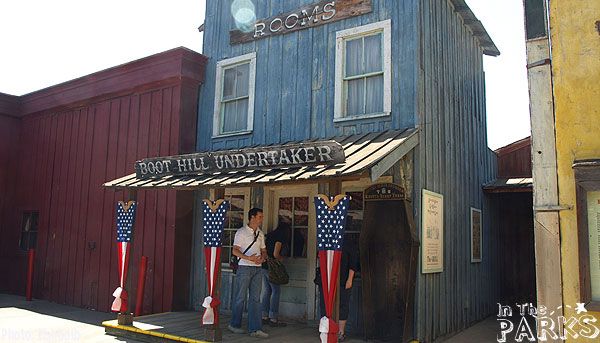 A great Pepper's Ghost effect awaits you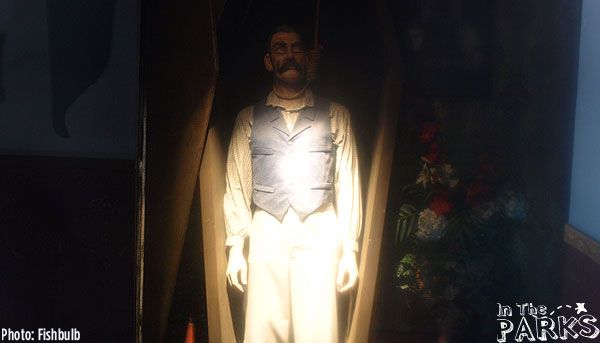 If you time it right you will initially see the outlaw in the coffin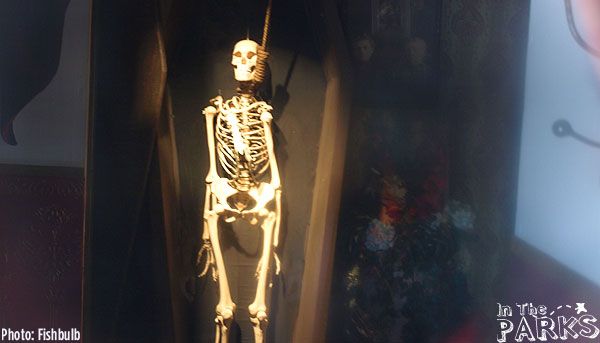 He changes into a creepy skeleton.

Stunt Show:
In the Circled Wagon theater is the Wild West Stunt Show. The story is really unimportant, it is merely a means to present a lot of silly fun and some great falling stunts. It is just the sort of good old fashioned fun that is hard to find these days.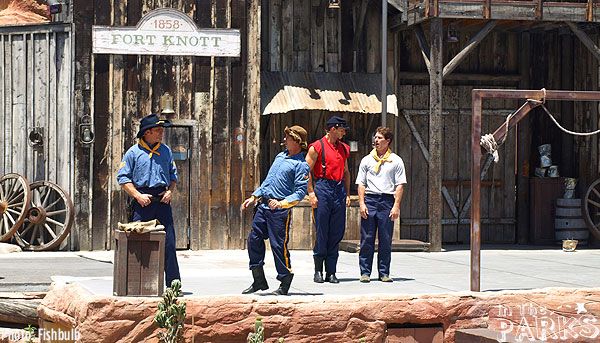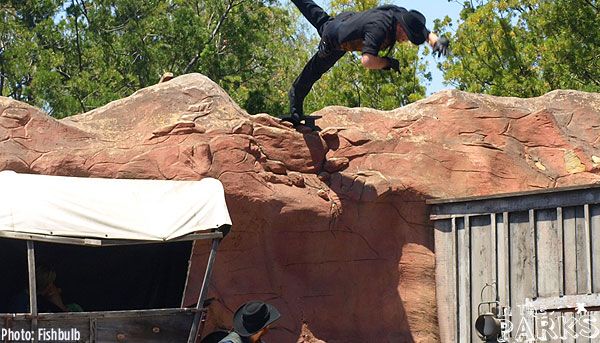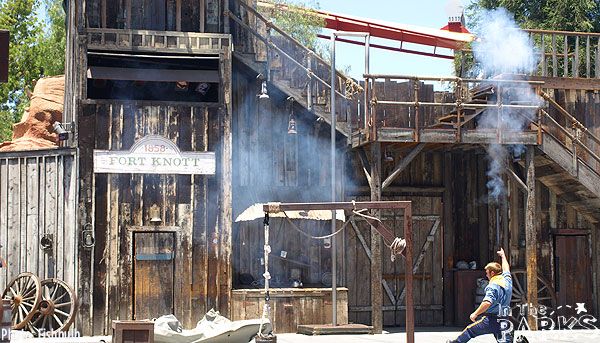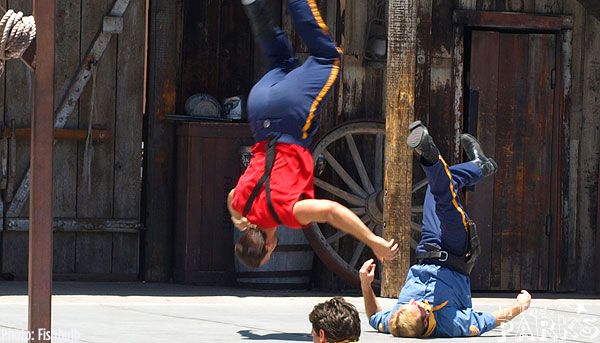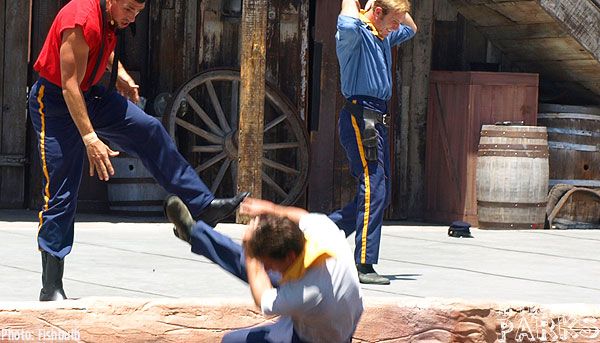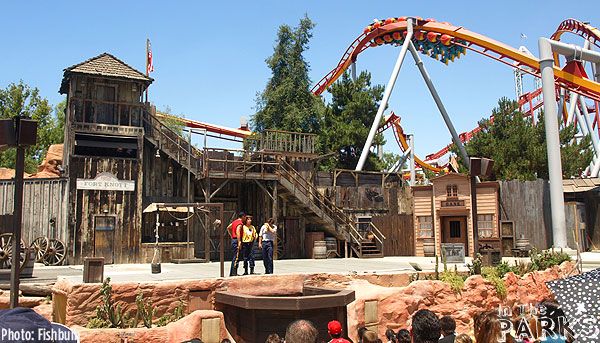 Everyone Loves Snoopy: An Ice Spectacular
Banners above Ghost town promote the free, ice spectacular show, Everyone Loves Snoopy. We just happened to catch it on opening day.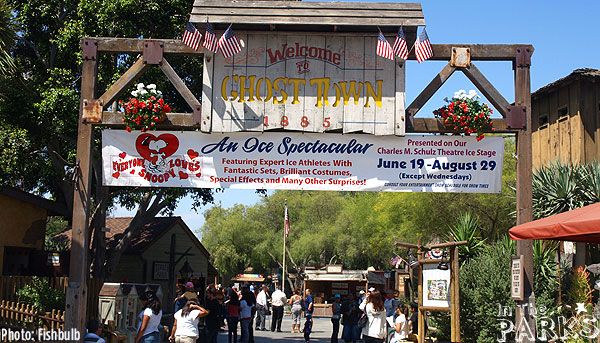 The show turned out, again, to be a fun diversion. Nothing earth shattering here, they aren't making art, but it is quite simply a fun feel good sort of show. Lots of energy, lot's of fun, total cheese at some points and a surprising amount of sets, costume changes and a special effect or two. The show was satisfying and not overly long. Nice to see a park with an Ice show with characters. Shall we say . . . Cool?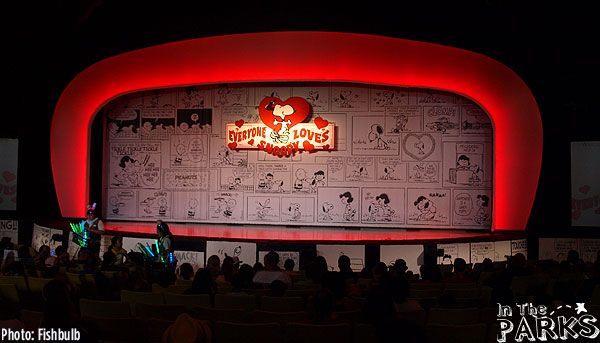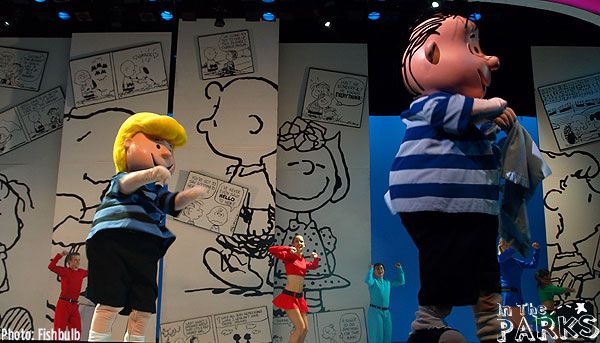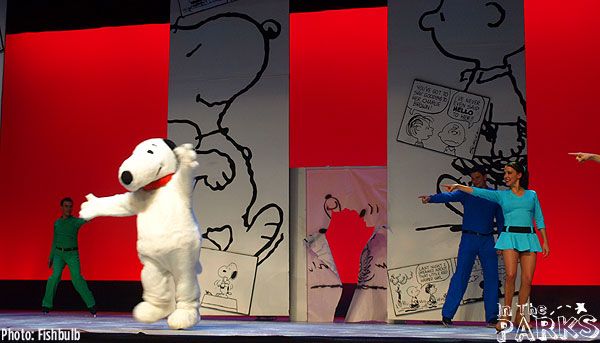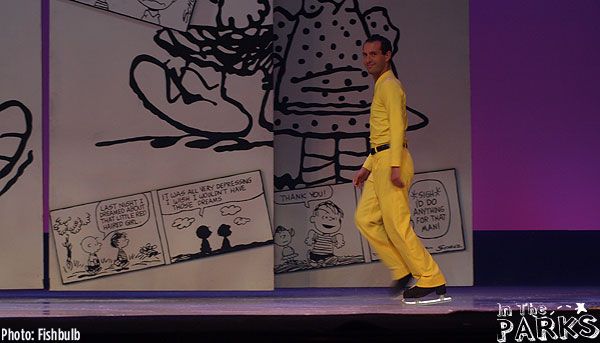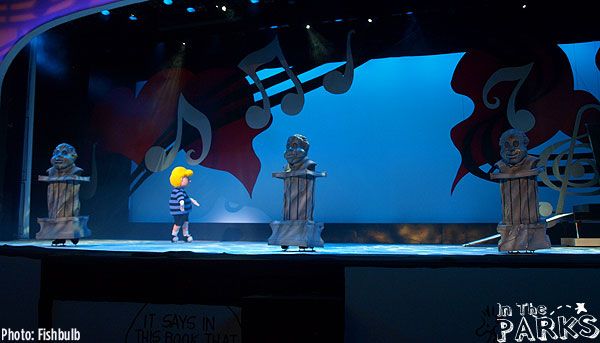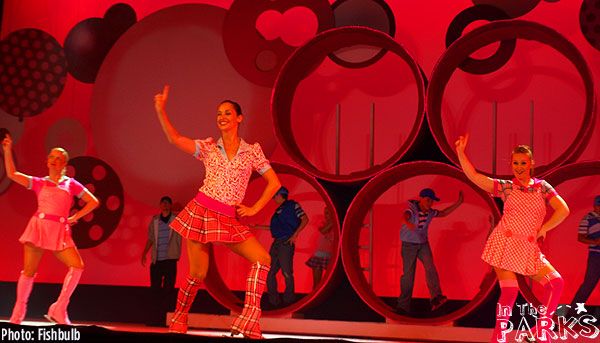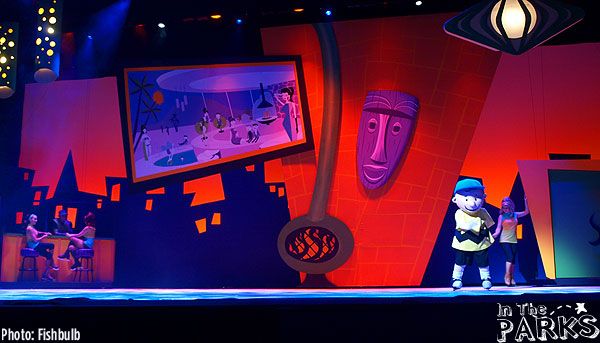 We loved the Shag set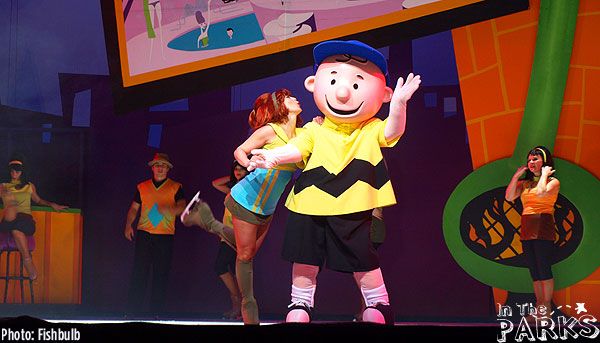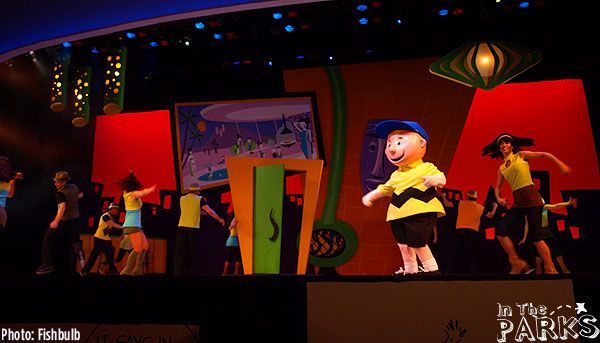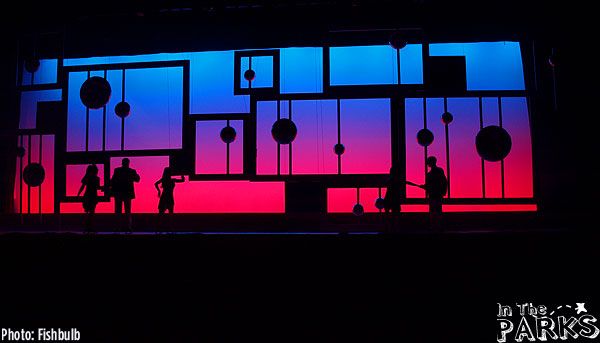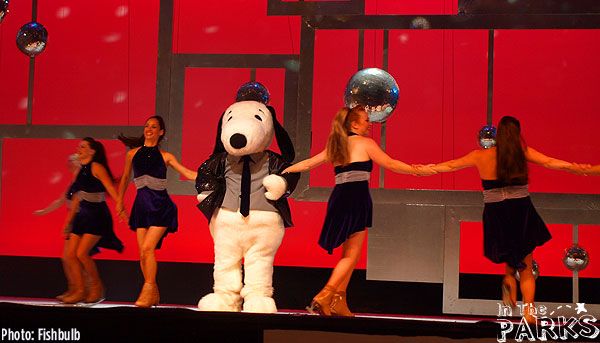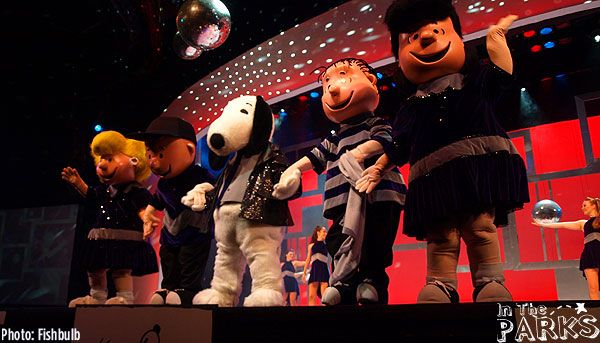 Snoopy's Starlight Spectacular:
The surprising highlight of our trip was the new Snoopy's Starlight Spectacular. Honestly, we were not enthused about staying out late just to see some flashing lights, but boy were we wrong. Luckily we had the wonderful company of show designer Andrew Strain. Andrew let us wander, explore and find the surprises for ourselves. What we found was a surprising amount of heart that went into the project and lots of little touches that make this a most uplifting experience.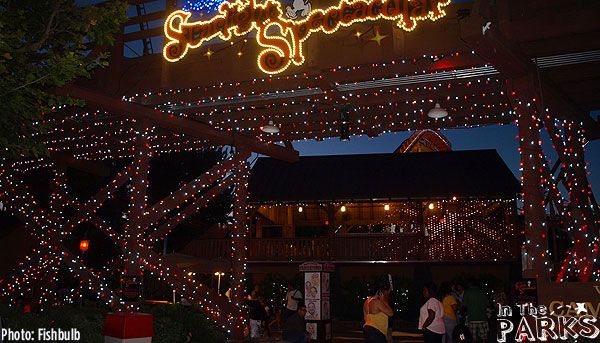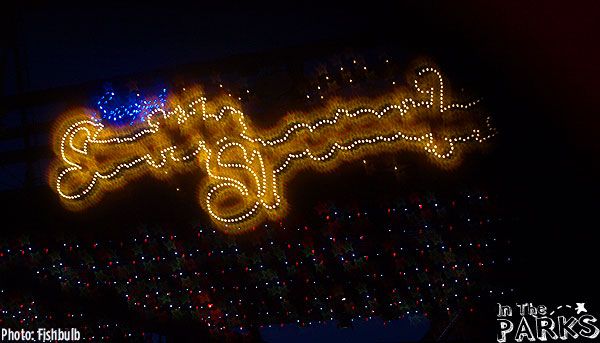 for a dollar you can buy glasses that make everything look like stars.
Not really necessary to enjoy the experience but fun and affordable.

First and foremost, Andrew wanted us to know that Starlight Spectacular was not dreamed up to even try and compete with Disney's World of Color, though the goal of enticing guests to stay through the evening was likely a common element. Andrew's job was to create some exciting night ambiance to add a bit of additional magic that the whole family could enjoy. And that's where Snoopy's Starlight Spectacular really succeeds. This is not a show. You can visit at any time after dark and enjoy the energetic (but not overly loud) music, set pieces, and colorful lights at your leisure. There is no waiting in line, no pressure, just a revitalized land to explore.

The experience is divided into four areas. Hollywood, Music, Exploration and 60's Flower Power. Let's take a look . . .

Lucy In Hollywood: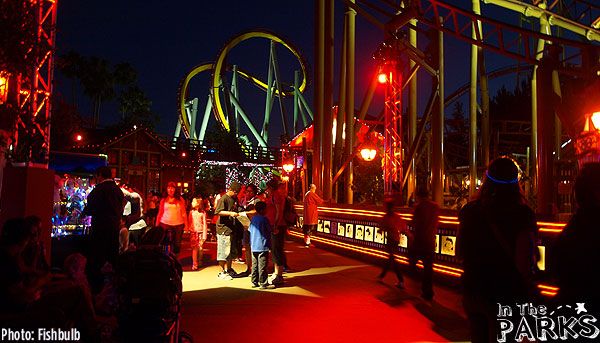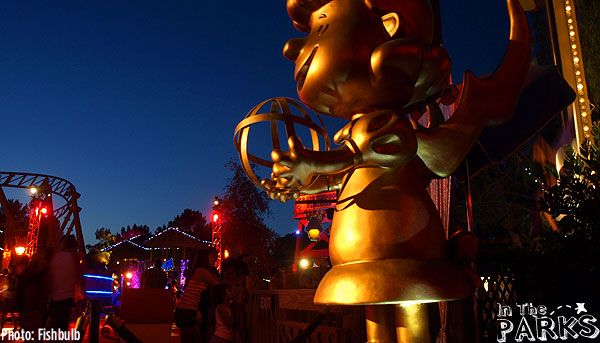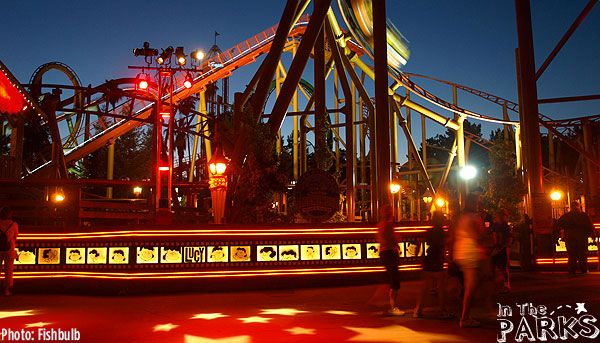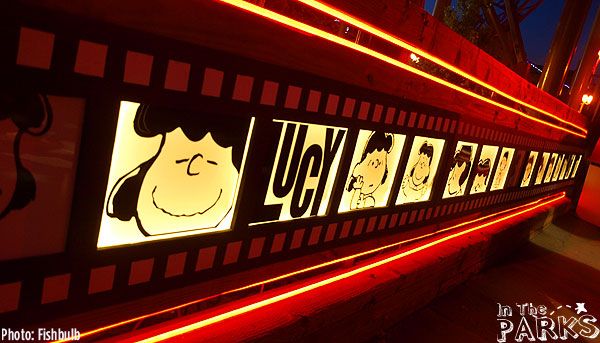 Schroeder in Music Land:

The keys below the piano dance to the music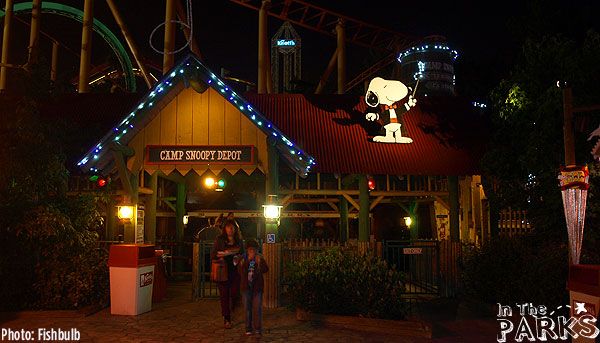 Snoopy doesn't have his own land, but he shows up in all of them

Linus and Exploration: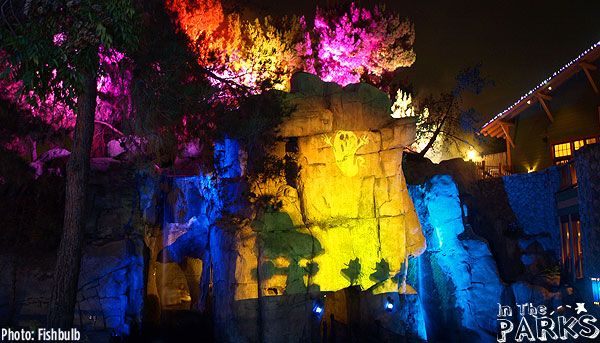 Snoopy tells ghost stories to the Woodstock scouts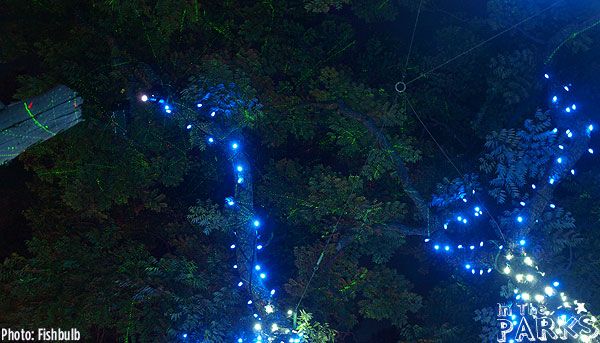 Lasers shoot up into the trees creating interesting effects.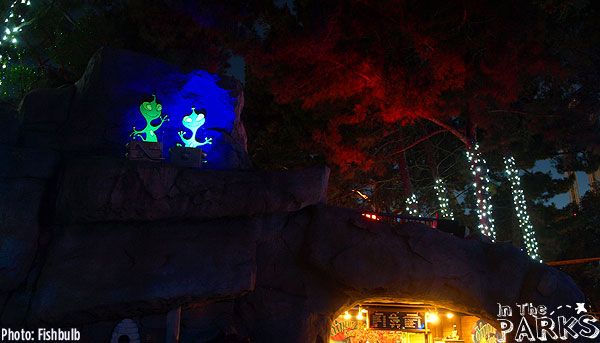 Aliens have landed and...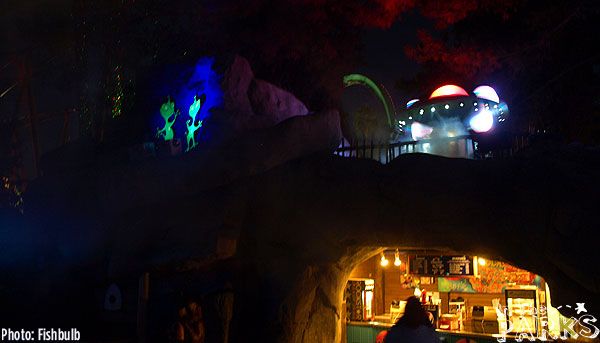 Their spaceship pops up and hovers every so often, billowing smoke and laser lights!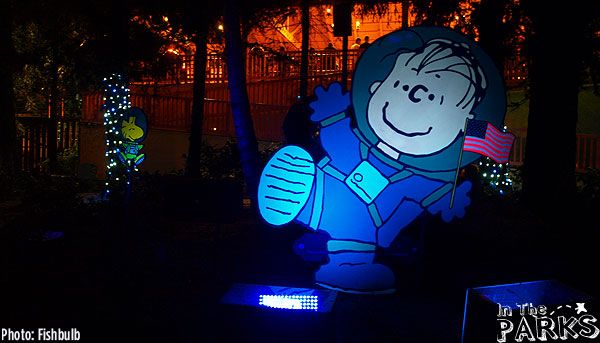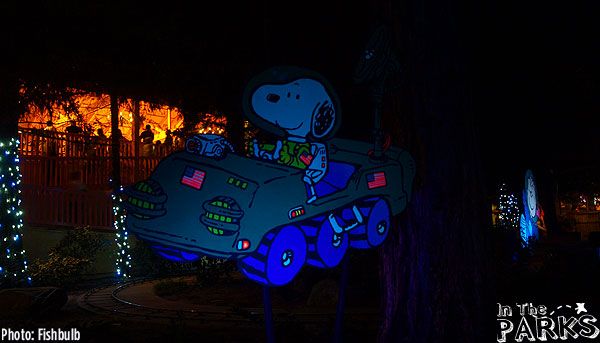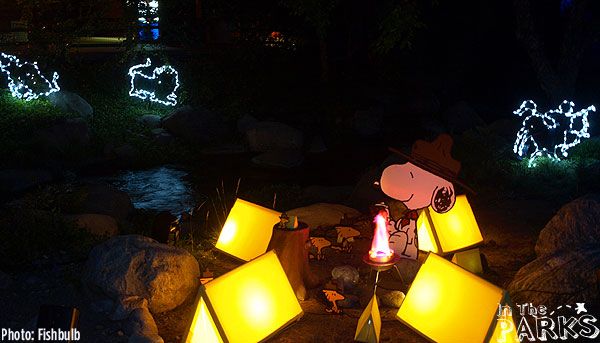 Sally's 60's Flower Power: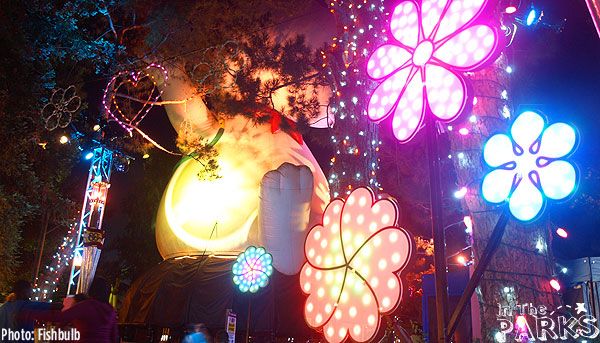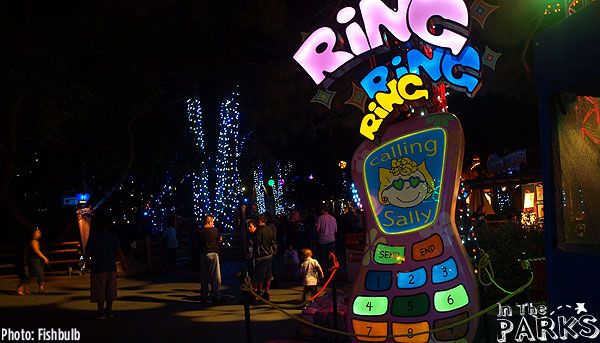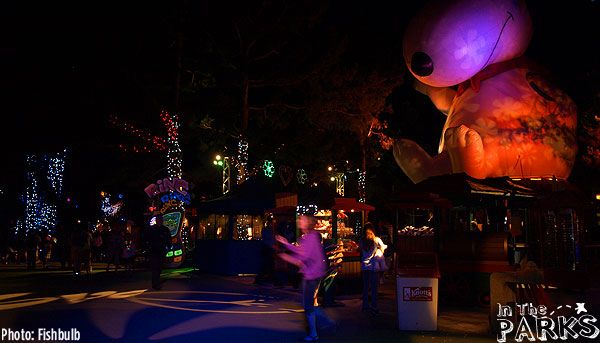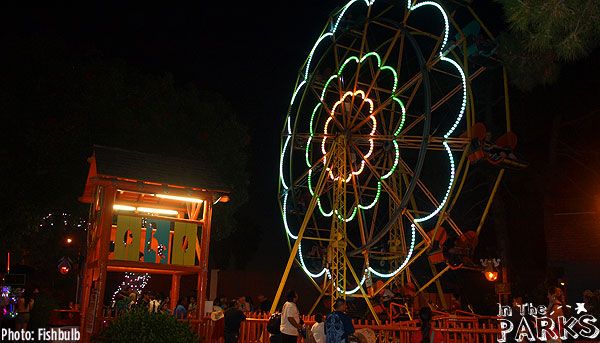 The most impressive, and difficult effect was using led lighting on a rotating Ferris Wheel that was not originally built for it. The scallop shapes were custom built and attached with the lighting creating a beautiful effect.


If you've got kids or have fond memories of the Peanuts gang, carve out some time for Knott's this Summer. Between the refreshed Ghost Town, great entertainment, and Snoopy's Starlight Spectacular you'll find lots to be happy about.


Alameda County Fair

. Fair runs through July 11. Pleasanton CA alamedacountyfair.com
San Diego County Fair

. Taste the Fun is the theme of the exciting far at San Diego Fairgrounds in Del Mar, which runs through July 5.
Barrett Jackson Collector Car Auction. World's greatest collector car auctions. Location: Orange County Fairgrounds Fair & Event Center, 88 Fair Drive, Costa Mesa, CA. ocfair.com
Lakeside Wine Festival
Brazilian Festival featuring Raca Negra. Brazilian Nites Productions presents 17th Annual Brazilian Summer Festival provides authentic Samba. Tickets: $40 General Admission and $12 (for kids 12 and under) fordtheatres.org
Aquarium of the Pacific Nightlife, 100 Aquarium Way, Long Beach.
Long Beach
Bayou Festival
Sat, Jun 26, 11:30 am - 9 pm & Sun, 11:30 am - 8 pm - Rainbow Lagoon Park, Shoreline Village Drive, Long Beach
This is one summer festival you will not want to miss. For 24 years the Long Beach Bayou Festival has offered the best in family oriented entertainment. Each year we bring together a mix of authentic Louisiana music (Blues, Cajun and Zydeco), creole food and arts & craft vendors to downtown Long Beach for a weekend of music, dancing and fun.
Sawdust Art Festival
Opens Fri, Jun 25, runs through Aug 29, 10 am - 10 pm Daily - Sawdust Art Festival Grounds, 935 Laguna Canyon Rd, Laguna Beach
More than 200 local artists invite visitors to stroll along sawdust-covered paths through a village of fine art and superb crafts. One-of-a-kind works include paintings, jewelry, ceramics, photographs, sculptures, hand-blown glass and more. Demonstrations, workshops, children's art activities, refreshments and live entertainment are also available.
Taste of Downtown
Wed, Jun 30, 6pm - 9pm - East Village, Downtown Long Beach
Some of your favorite Downtown restaurants will set out their best fare in the East Village Arts District. Stroll from table to table and sample all that Downtown restaurants have to offer. Tickets will be on sale at the event, $1 for 1 ticket or $10 for 12. When you buy two booklets of 12, you'll receive a complimentary ticket to the Aquarium of the Pacific! There will also be live music all evening long.
Swedish Midsummer Celebration
Sun, Jun 27, 9 am - 6 pm - Vasa Park, 2854 Triunfo Canyon, Agoura

Farmer's Market and Art Fair at the Beach

. Friday June 25, 2010 Time: Noon to 5 p.m. Location: Pacific Coast Highway at Main Street, Huntington Beach, CA.
Rancho Los Cerritos Summer Concert Series in Long Beach
Concerts in the Park. Free Friday night concert in Downtown Paso Robles City Park Bandstand, Paso Robles, CA. Time: 5:30 to 7:30 p.m. pasoroblesdowntown.org
Surf
City
Classic: Woodies on the Wharf. The scenic Santa Cruz Wharf is the perfect setting for a celebration of the surf spirit and classic surf wagons. More than 200 pre-1950s "woodies" line the wharf. Music, T-shirts, memorabilia and prize drawings will add to the fun. Presented by the Santa Cruz Woodies. Co-sponsored by O'Neill, the Wharf Association and the City of Santa Cruz. Free bike valet. Saturday June 27, 2010 Time: 10 a.m. to 4 p.m.
Forty Ford Day 2010 - Forty is Seventy at the 34th annual classic car show. All pre-68 makes & models welcome.Location: La Palma Park, Anaheim. Sunday, June 27, 2010 Time: 9:AM - 3:PM. Autos: $30. All Spectators:Free.
Vintage Motorcycle Show BIKES on the BAY. Sunday June 27, 2010 Vintage motorcycles, scooters and vendors on display include hundreds of pre-1985 vintage American, British, European and Japanese motorcycles and scooters. Motorcycle Swap Meet, Bike Corral where used motorcycles and scooters will be for sale, and vendors showcase with bike accessories, clothing, parts and services. Enjoy great bikes, vendors, food, music, raffle and awards. Admission is free.
http://www.bikesonthebay.com/
Riviera
Village
Summer Festival
Jun 26-27, Corner of Catalina and Ave I, Redondo Beach
Artisan Crafts, Sample Great Food, Carnival Rides, Live Music, Hawaiian Village, Beer Garden. Free Shuttle from South High.
Summer Concerts in the Park Series Kick-Off
Sun, Jul 27, 5 - 7 pm - Polywog Park, corner of Redondo Ave. and Manhattan Beach Blvd.
The annual free summer concert series kicks off its 2010 season this Sunday with the Hyperion Outfall Serenaders dixieland band. These performances are open seating and free to the public. There are no dogs, barbecues, or wheeled vehicles at any time in the concert area.
Celebrate America
Sat, Jun 26, 6 pm - Corsair Field, 1900 Pico Boulevard Santa Monica
Summer Soulstice
Sun, Jun 27, 11 am - 7:30 pm - Main Street, Between Strand and Ocean Park, Santa Monica
The 10th Anniversary Main Street Summer SOULstice is a community event featuring live music, a sidewalk sale, children's activities and entertainment.
Obon Festival
Sat, Jun 26, 2 - 9 pm - West Covina Buddhist Temple, 1203 W. Puente Ave, West Covina
Demonstrations and exhibitions of Japanese culture, with martial arts including Kendo Karate and Judo; classical Japanese dance and exciting Taiko drumming; colorful Obon Folk Dancing, in which everyone is invited to participate; exhibitions of flower arranging, bonsai, Japanese gardens, Kimekomi Dolls, and arts and crafts. Free and open to the public.

What do a big ape, lots of twinkling lights
, and tens of thousands of theme park guests have in common? The In The Parks theme park blog! We couldn't be more thankful that you joined us for today's update. We hope you have been inspired by something in our update and have found a weekend adventure.

If you happen to run across some interesting news or have photos that you'd like to share with us, w
e'd really appreciate hearing from you.
Contact dustysage@micechat.com with your news, photos, or comments
.
And please don't forget that there is always a world of fun theme park information to read

elsewhere on MiceChat, might we suggest:



Weekend Update

Offers a world of Disney theme parks and other sights and landmarks!



Dateline Disneyland which is packed with great news and photos from the Disneyland Resort.
Remember, sharing is caring, show us you appreciate what you read today by sharing the link to this page with your friends and family on
Facebook, Twitter, and beyond! We've got some helpful linking tools in the bar at the bottom of the page.
Today's update was brought to you by our fantastic and talented crew of
photographers and news contributors
Pratt55, SirClinksalot, Captphoebus,
F!an,
David Yeh,
Fishbulb, and Dustysage
.