Happy Independence Day one and all. And any celebration of America should include hot dogs, apple pie, fireworks, and gigantic dinosaur fighting apes. Are we right? We've gone out of our way to provide you with some inspiration for your long holiday weekend, including photos and news from Disneyland, California Adventure, Knott's Berry Farm, and Universal Studios. There is so much to see and do this red, white, and blue weekend in Southern California . . . We'd better get started!


Summer Nightastic is entertaining guests as expected and operation of Disneyland seems to be going smoothly. But all that will likely be tested this weekend with huge holiday crowds. Please keep in mind that the parks may very well reach capacity on Sunday, the 4th of July, and even if they don't, are likely to be very busy. Parking is often an issue for this holiday weekend. We recommend trying the Toy Story lot on Harbor Blvd (across from the Anaheim Convention Center in the former Strawberry Field lot). Downtown Disney parking is always a temptation for short trips but is likely to be swamped in the hours just before fireworks this Friday, Saturday, and Sunday. Speaking of Fireworks . . .
<!--h4>NEWS6</h4>
text</p-->
Disneyland 4th of July Fireworks
We'd like to start the 4th of July celebration by sharing pics and video from last night's first performance of "
Disney's Celebrate America! A Fourth of July Concert in the Sky". Abbreviated versions of the show will be performed this Friday and Saturday with with the full version on Sunday night, July 4th <object width="480" height="385"> </object>
<object width="480" height="385">


</object>
<object width="480" height="385"><param name="movie" value="http://www.youtube.com/v/QlncsgUrdeY&amp;hl=en_US&amp;fs=1?rel=0"></param><param name="allowFullScreen" value="true"></param><param name="allowscriptaccess" value="always"></param><embed src="http://www.youtube.com/v/QlncsgUrdeY&amp;hl=en_US&amp;fs=1?rel=0" type="application/x-shockwave-flash" allowscriptaccess="always" allowfullscreen="true" width="480" height="385"></embed></object>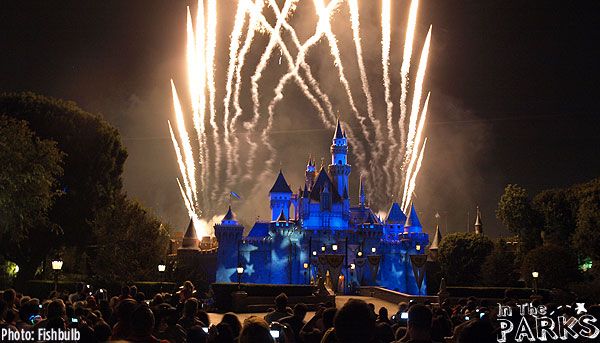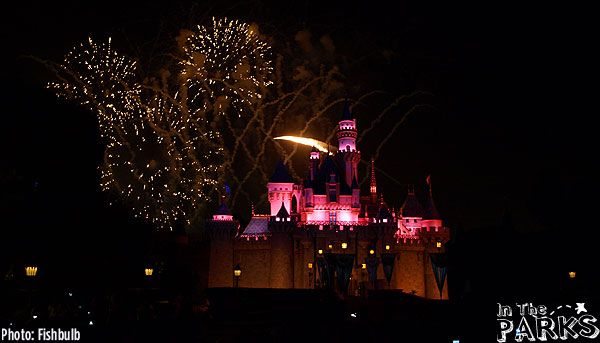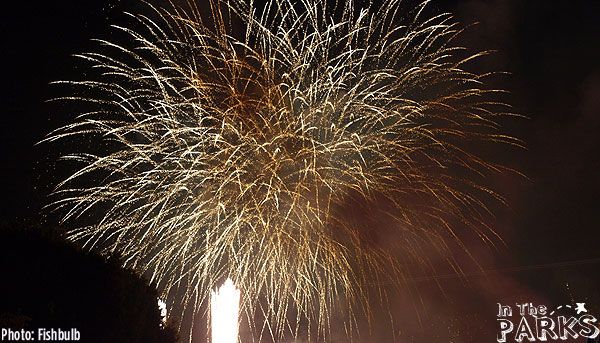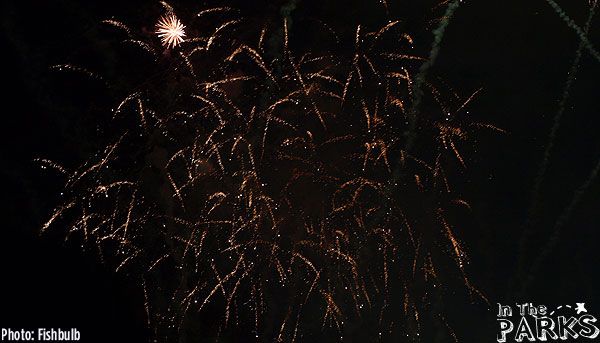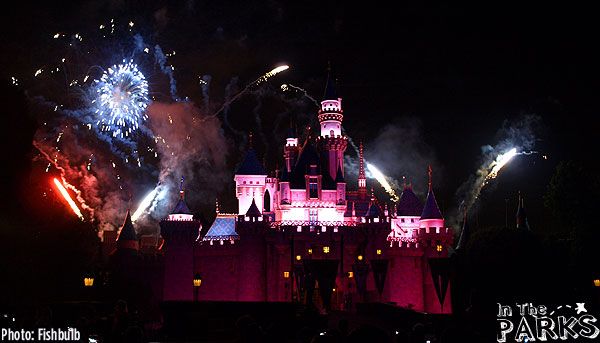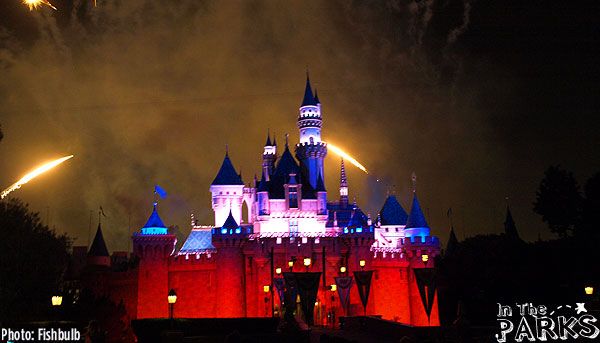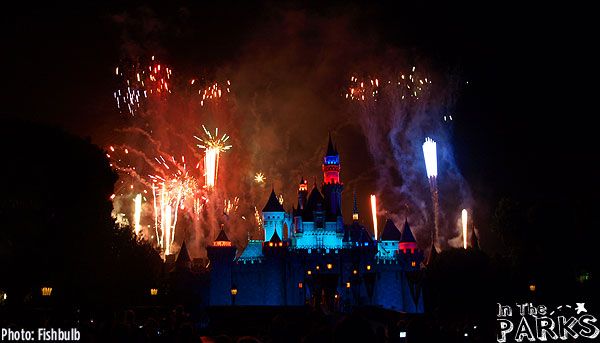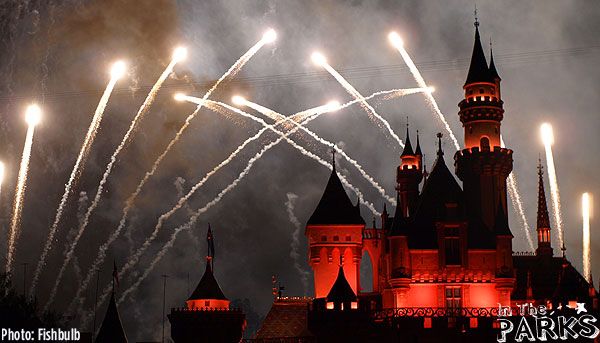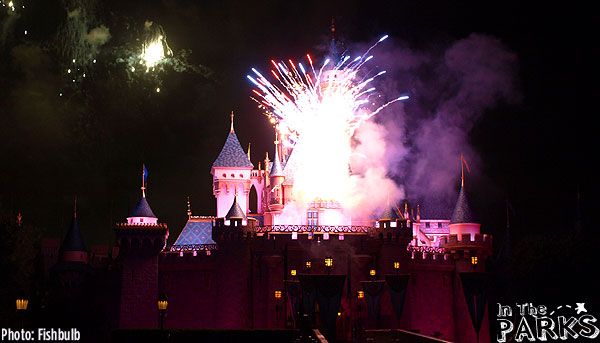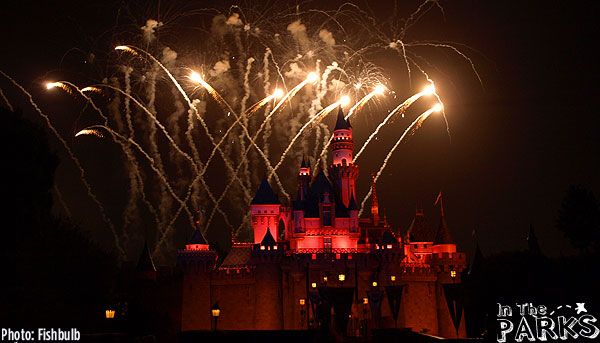 The show is a great diversion from the normal Summer fireworks and a suitable patriotic tribute to this great land of ours.

Elsewhere in Disneyland . . .

Entertainment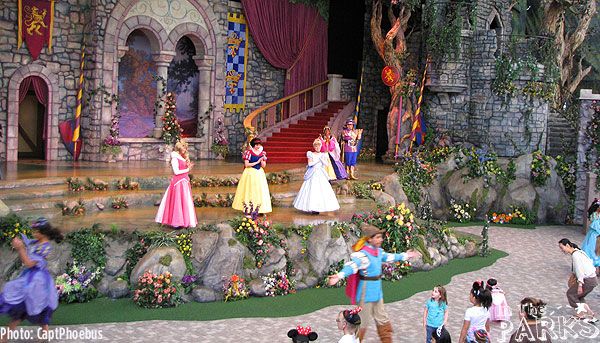 We aren't thrilled that the Fantasyland Theater has become a giant princess tent. But there is no doubt that little princesses in training enjoy seeing their heros up close.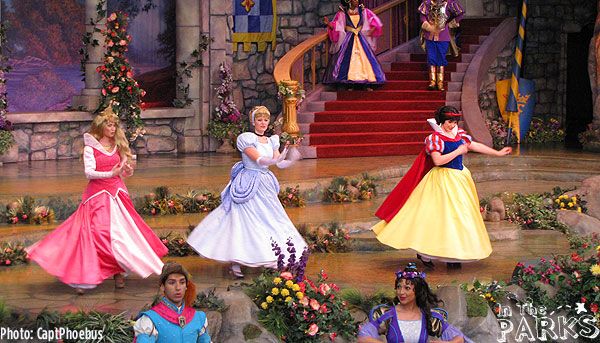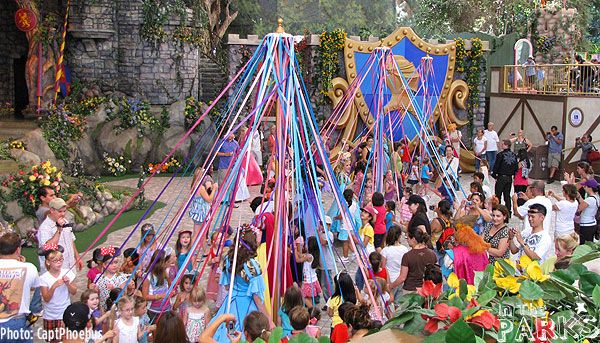 Despite the overt commercialism, there is some magic to be had at the Princess Fantasy Faire.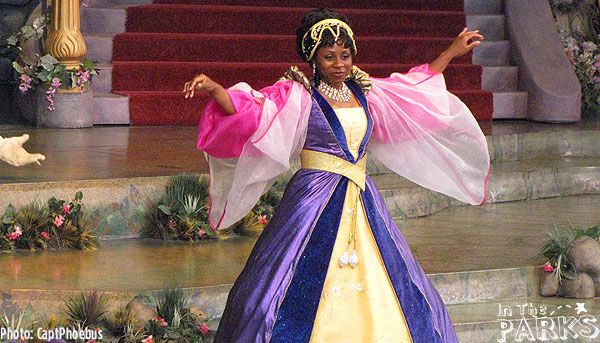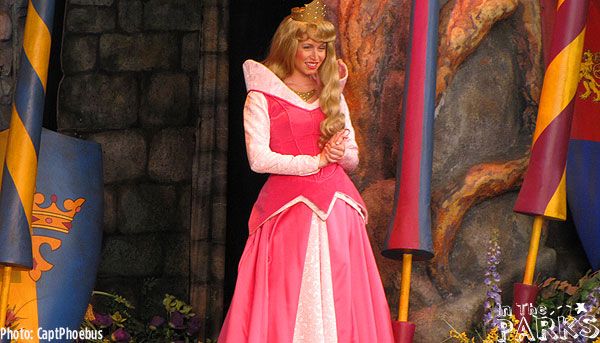 Merchandise:
Some new shirts have popped up in the Star Trader shop. They favor the retro chic of Star Wars and its international releases. While over at Fortuosity on Main Street more artistic, watercolor shirts feature new Princess art. Finally more 55th merchandise has cropped up in the Disneyland Showcase as well. Let's window shop, shall we?

Fortuosity :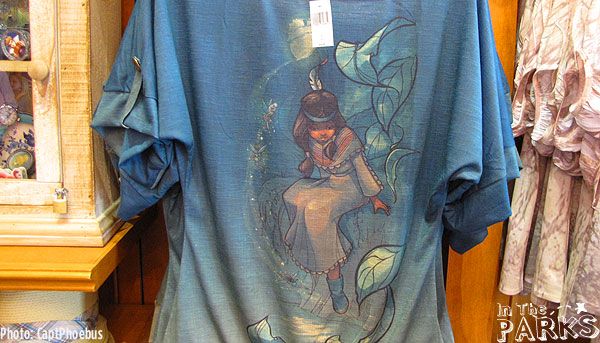 Beautiful Tigerlilly shirt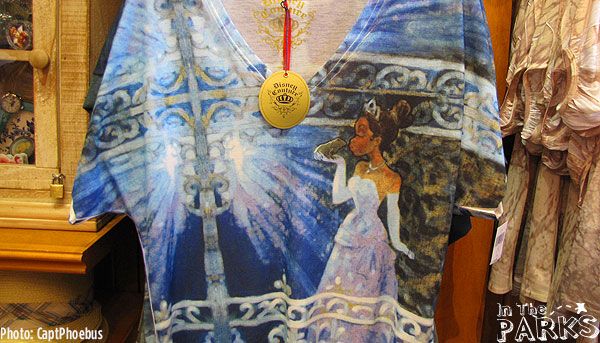 Star Trader:
Always has kitschy fun merchandise.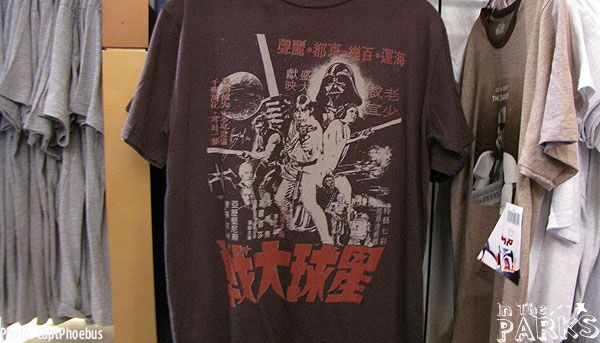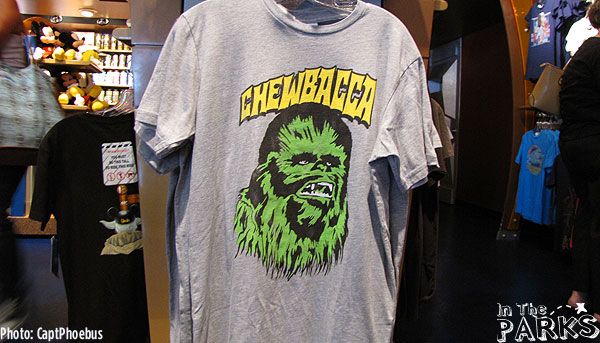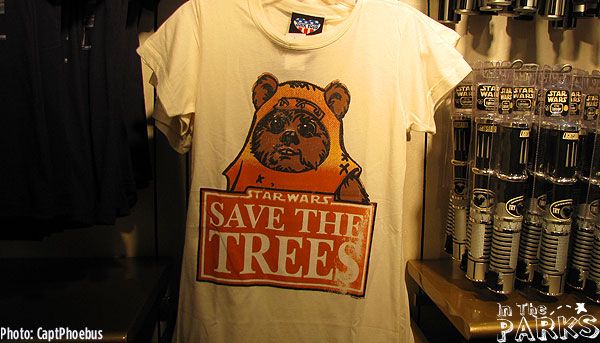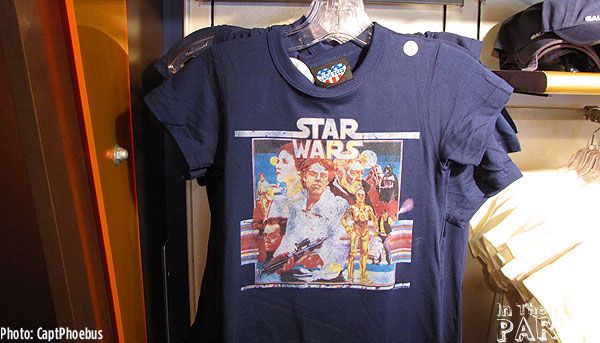 Retro chic, got to love it.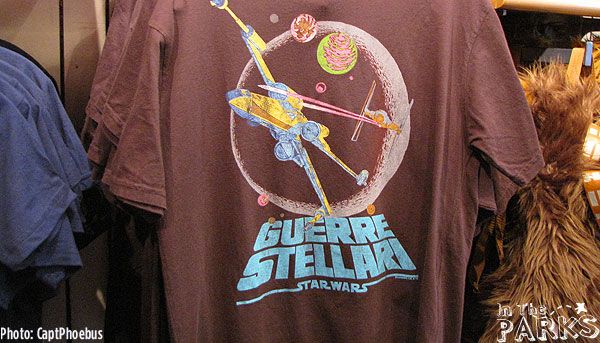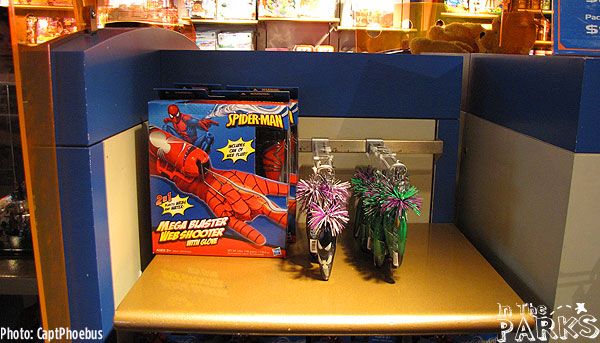 And so it begins . . .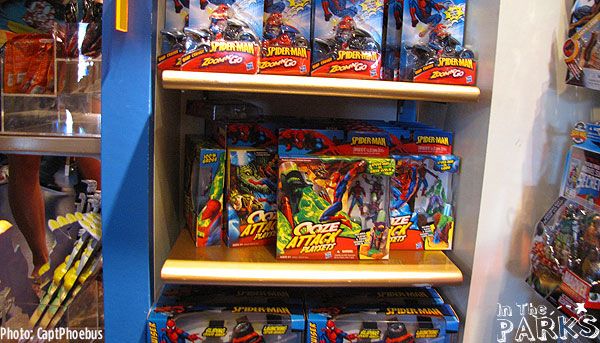 The inexplicable placement of Marvel properties into stores where they don't fit or belong.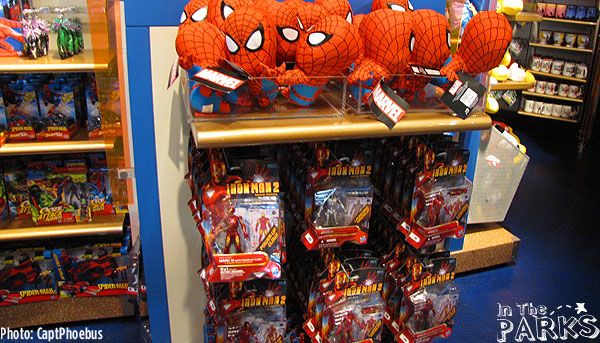 Disney Showcase: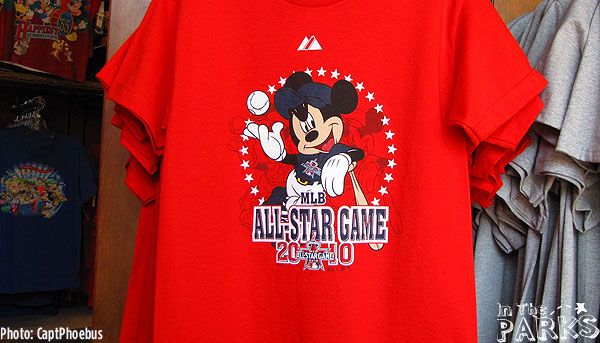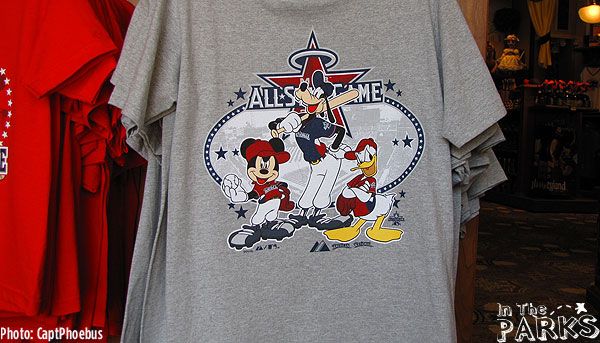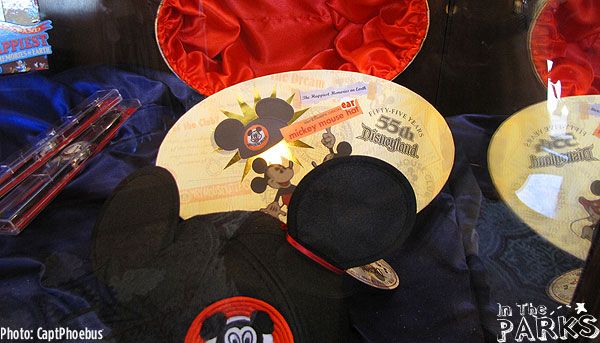 Fancy retro mouse ears with a velvet lined hat box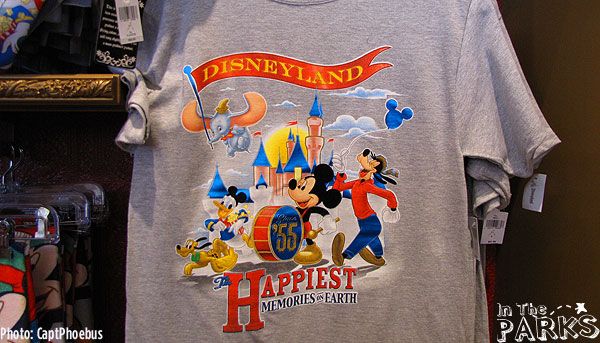 Sadly, Merchandise is about the only recognition you'll see of Disneyland's 55th Anniversary. What a missed opportunity.
Out And About: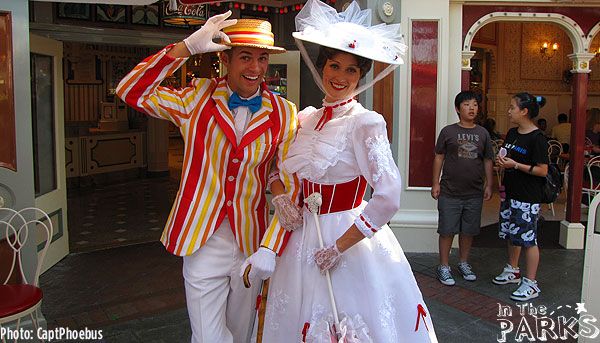 Bert and Mary at Coke Corner



WOW, no line at the Corn Dog Cart. Did somebody get a hold of an ingredients list?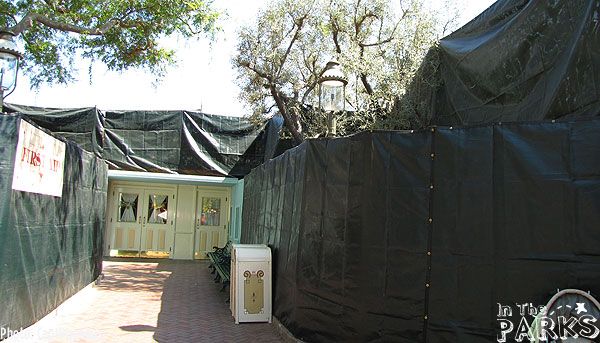 First Aid is still doing its best impersonation of a giant Hefty trash bag.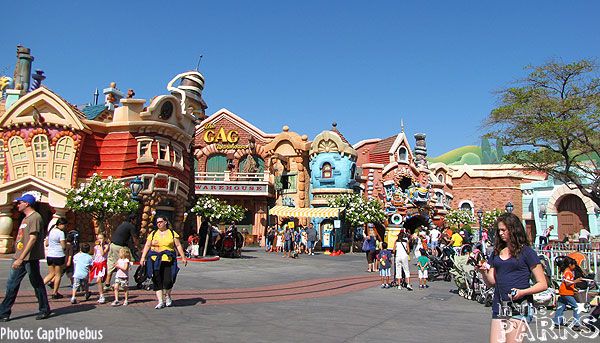 ToonTown sparkles. After years of faded sets, it really does look good at the moment.




World of Color and Glowfest are the big news at California Adventure this summer, but it is the future projects which have most of the fans drooling. We are merely at the beginning stage of the massive rebuilding and re-branding of this park. There's quite a bit of good news for DCA. Let's check it out.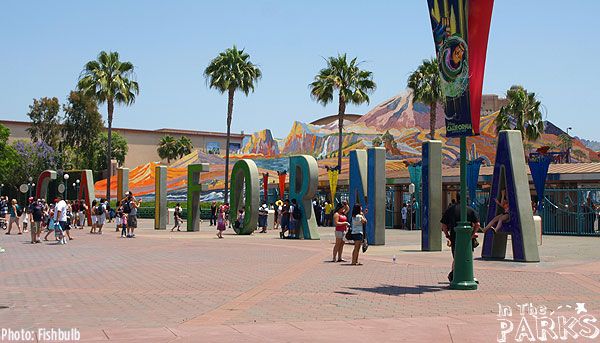 Kudos to whoever came up with this colorful World Of Color overlay for the CALIFORNIA letters in front of the park. Nice touch.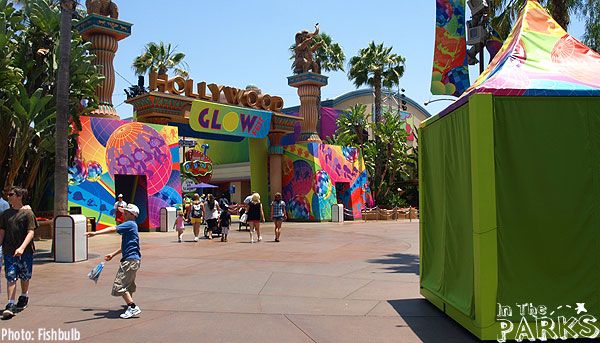 Unfortunately, big ugly tents have crept out into the hubcap plaza. These are fine at night, but look terrible all closed up during the day.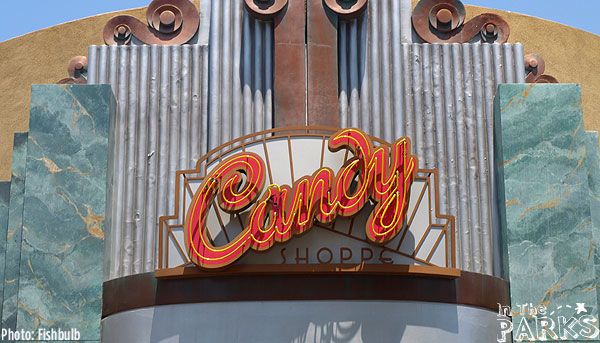 While Glowfest has added a fun and entertaining environment at night, some of the resident facades of the Hollywood Pictures Backlot are beginning to look ragged. Chances are that they are letting them go since the retheme of this area isn't too far off in the future.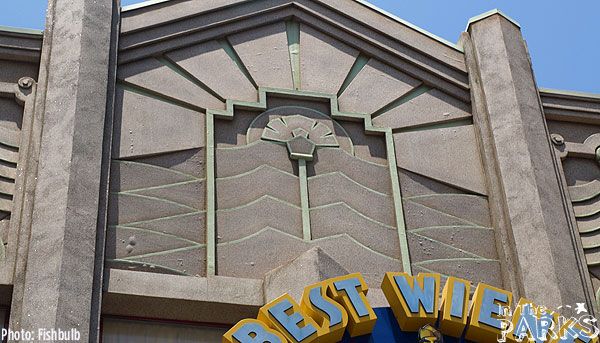 Notice the bubbling stone work.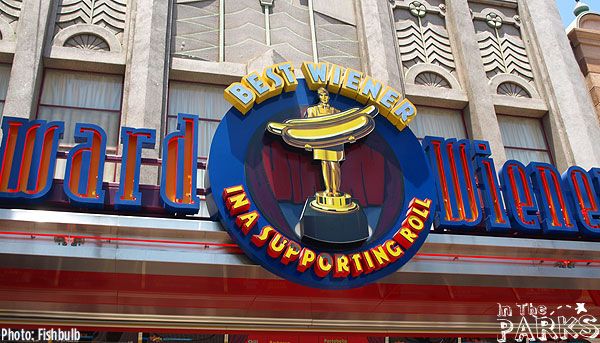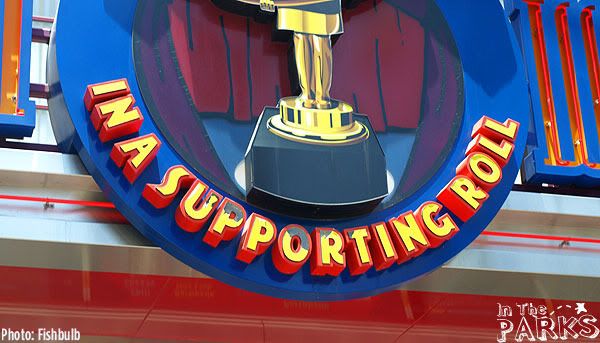 no support here either.


Red Car Trolley:
In front of Tower of Terror, Trolley track construction is coming along nicely. A REAL transition between the Hollywood atmosphere and the miniature land of bugs is taking shape.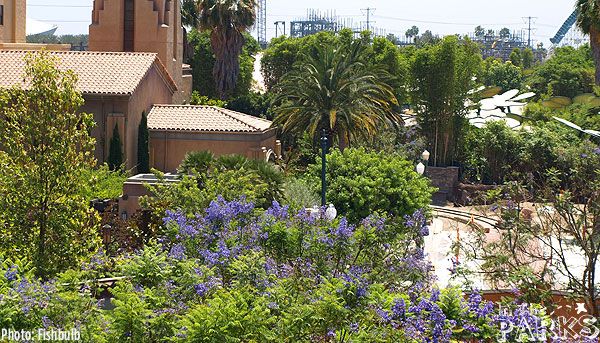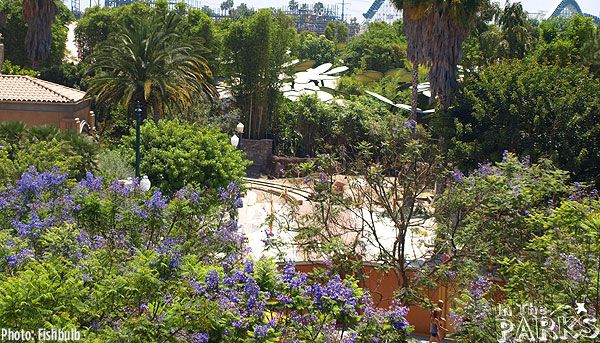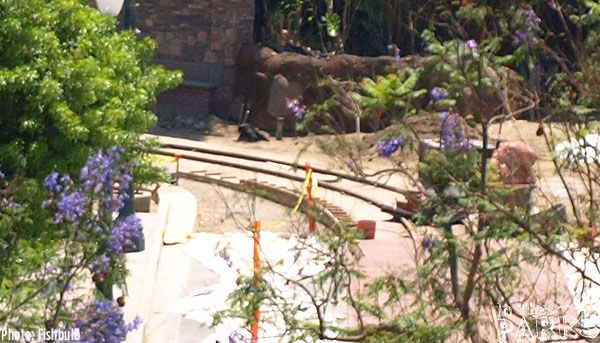 Nice work!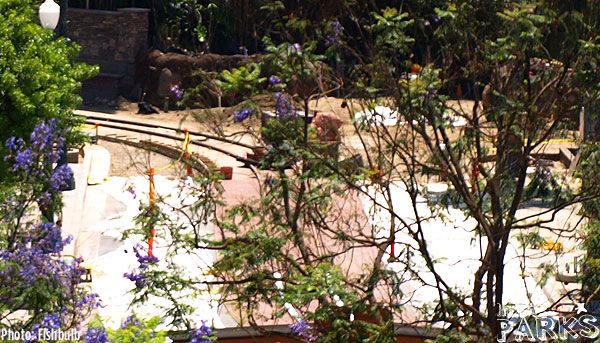 Carsland:
And now for something we think you'll really like . . . in a couple of years.
Right now it looks like a dirt pit and some metal construction. But soon, this will be the town of Radiator Springs. Hard to believe, and all to fascinating to watch from week to week.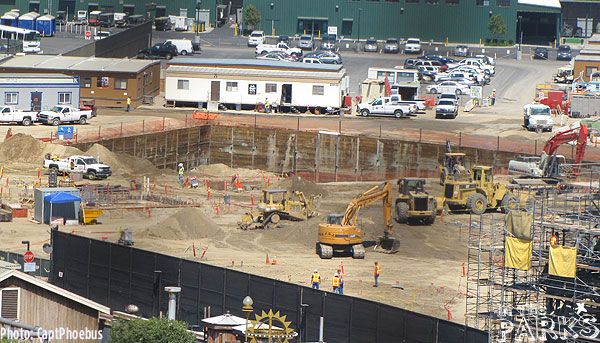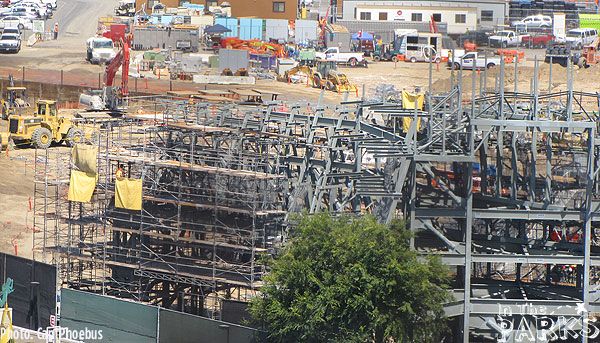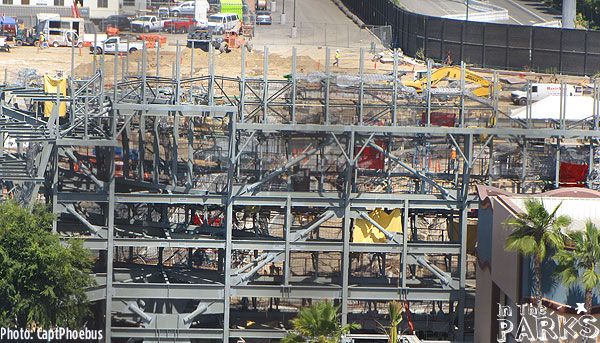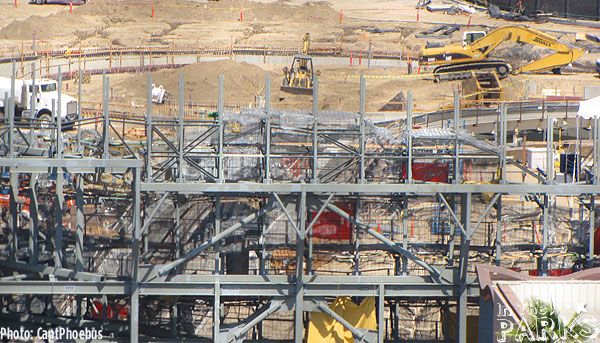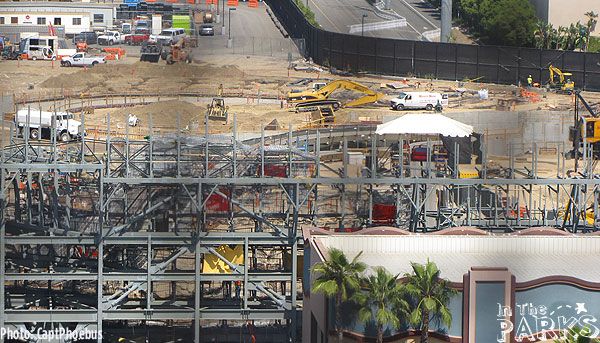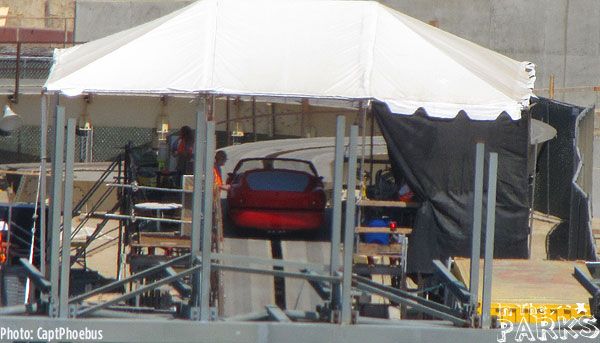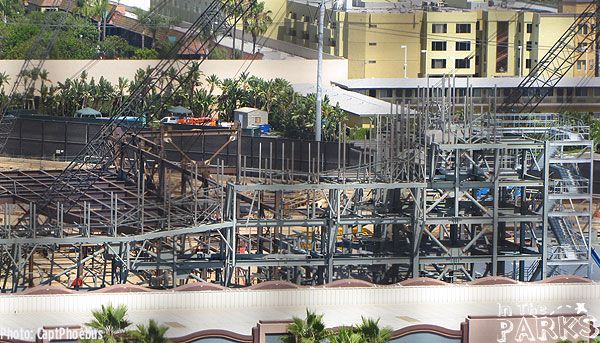 The Little Mermaid: Ariel's Undersea Adventure:
A new facade extension has begun to take shape and drywall is being installed on the rooftop and along the inner walls.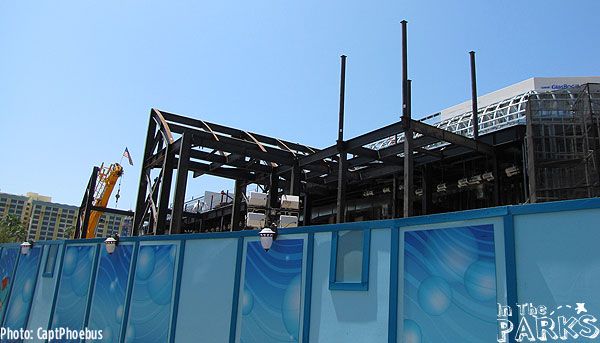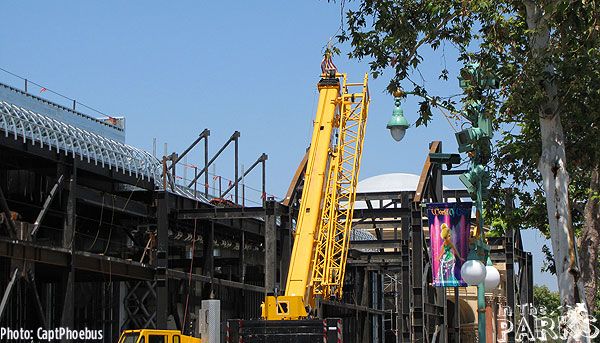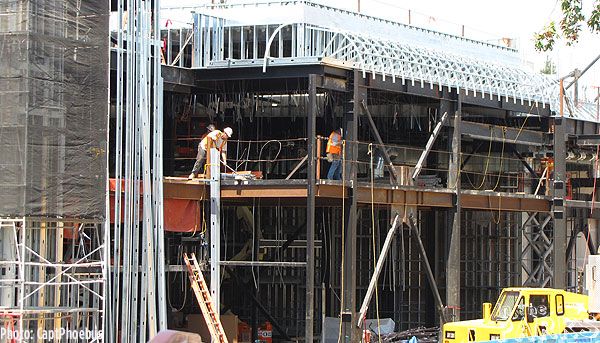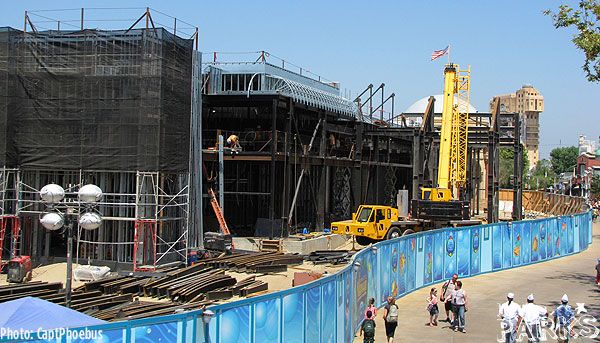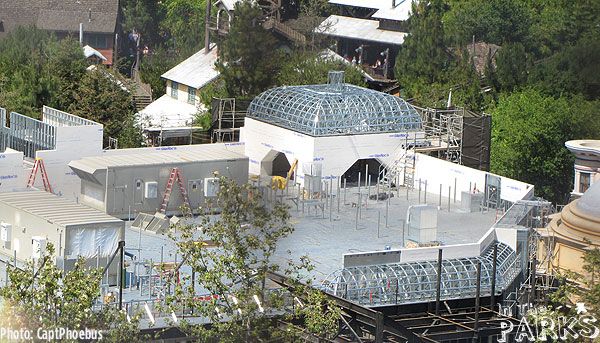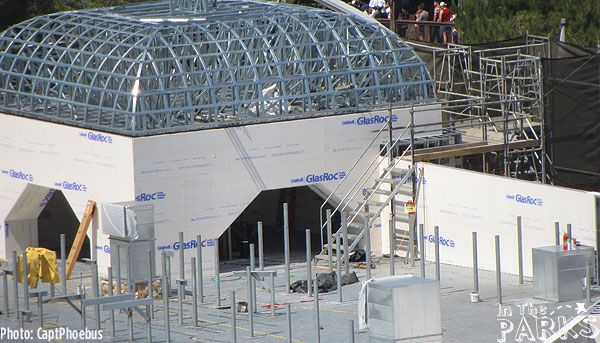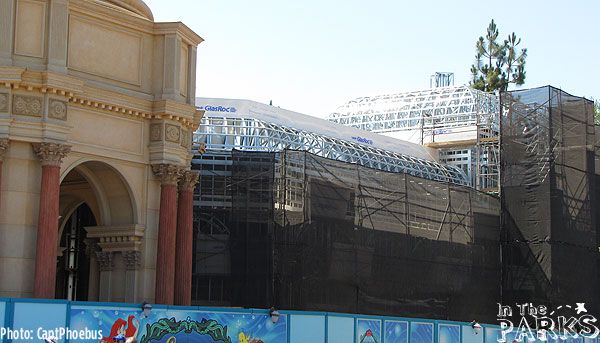 With school finally out for the Summer and the Fourth of July Weekend approaching, Knott's has begun seeing sizable crowds. This is good news. The park certainly deserves a little credit for beginning to embrace its heritage by fixing up Ghost Town. But there is still a lot of room for improvement. . .



The turnstyles of Knott's are turning again. That's good!

Ghost Town: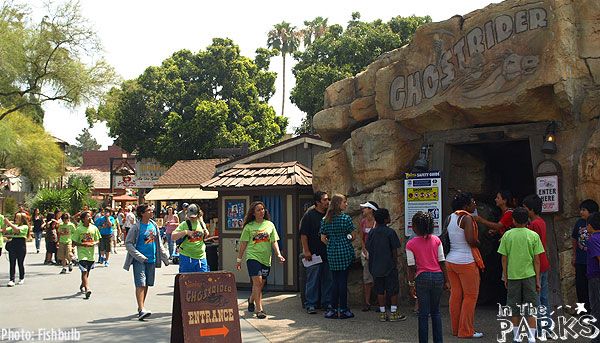 Ghostrider, while once an amazing world class woodie, could use some tuning up. This is one rough and painful ride.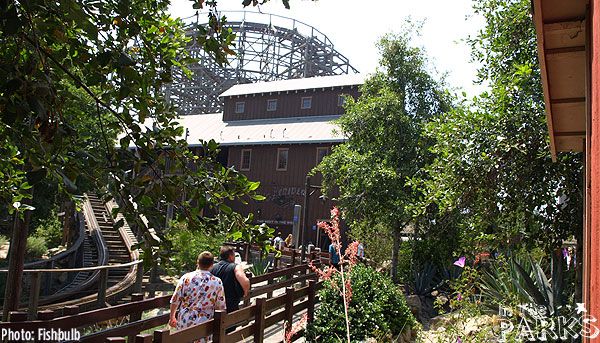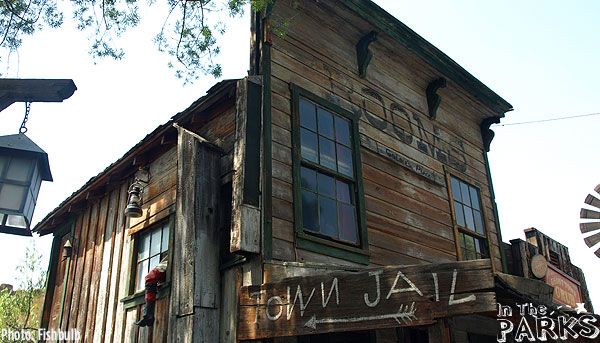 We've been told that next up on the Ghost Town refurb list is Goldie's. We are looking forward to it.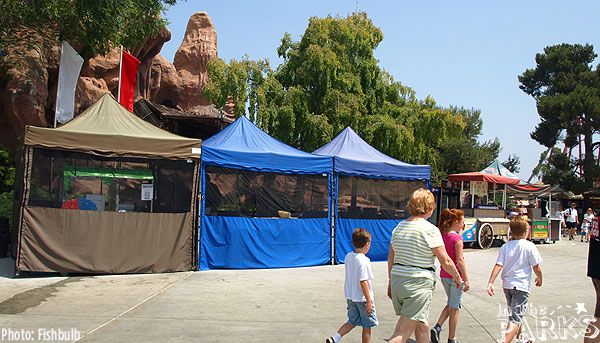 Tents lining the outside of the Calico Mine
Train cheapen it's beauty.


White Water Wilderness: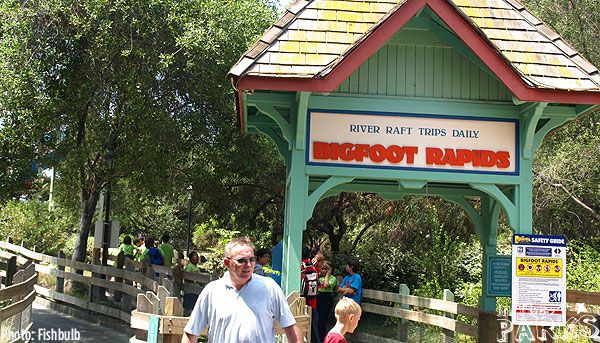 Bigfoot Rapids has really grown into a lush wilderness landscape. Great ride and the perfect
time of the year to enjoy it!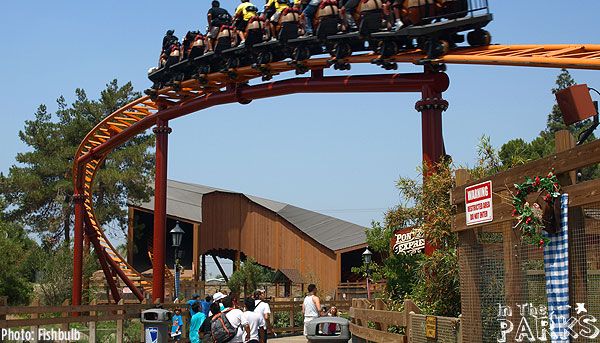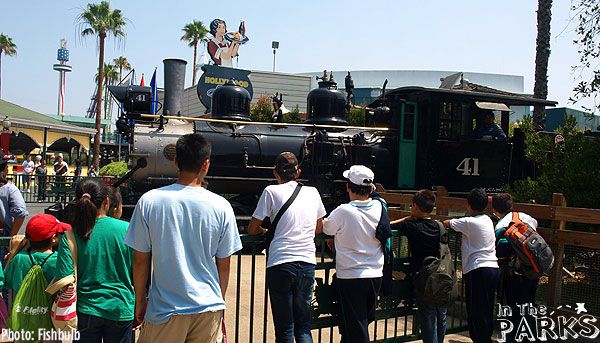 It is heartening to see the train running with people on board and enjoying it. AWESOME!

Roaring 20's:
One of our favorite old places in the park is the Roaring 20's section. But it is "Roaring" no more. Aside from the Snoopy Ice Show, little is happening here.

One of the smaller touches that needs to return is the door to the speak easy. In its prime, the speak easy door was a small effect where visitors would ring the doorbell and be greeted by the face of an thug asking for a password while jazz music poured out from behind him.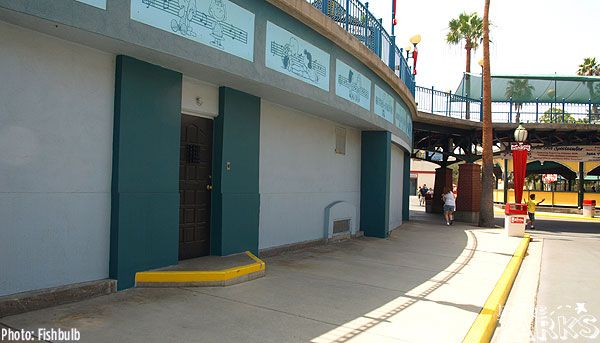 At the moment it only plays Jazz music.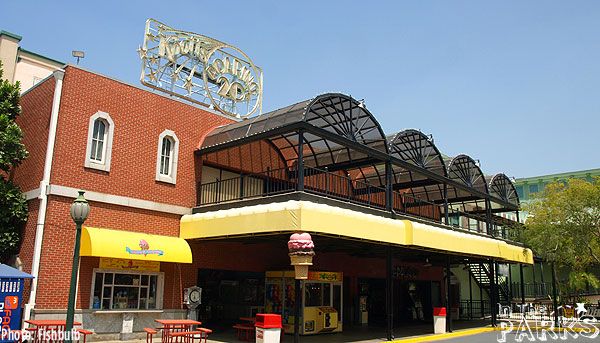 But the true tragedy of the Roaring 20's is the vacant space where the old family friendly Kingdom of the Dinosaurs/ Knott's Berry Tales ride was. We think it is well past the time to do something with this attraction building. That would go a VERY long way toward putting Knott's back on track.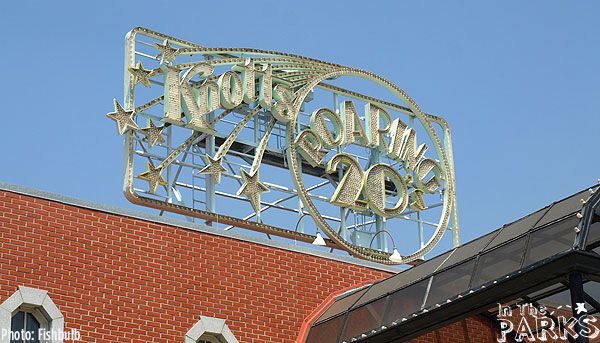 The beautiful Neon sign at the top of the building has been out of service for a while now.We'd love to see its return as well.

Still, the park is doing A LOT right. The Log Ride and Mine Train are operating and delighting visitors daily. The log ride in particular is a park favorite and has an extremely high guest satisfaction rating. The 50th Anniversary of the Calico Mine Train Ride is coming up soon. Let's hope Knott's takes advantage of this golden opportunity to plus this old attraction and earn some brownie points with the So Cal locals.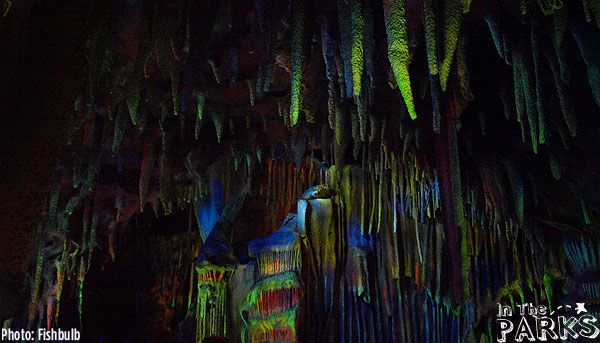 The cathedral Room in the Mine ride.

Another WONDERFUL thing to see at Knott's is the fully functional, not-tamed-down, Mexican Hat Dance.


A relic of the original Fiesta Village expansion, the Mexican Hat Dance features beautiful riding vehicles and an unbridled spin on a classic flat ride.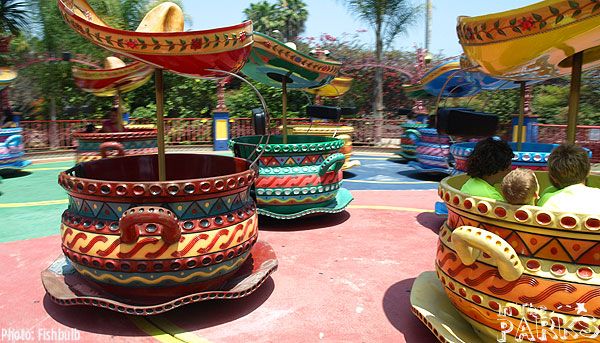 Unlike the barely spinning tea cups at Disneyland, these babies can really twirl.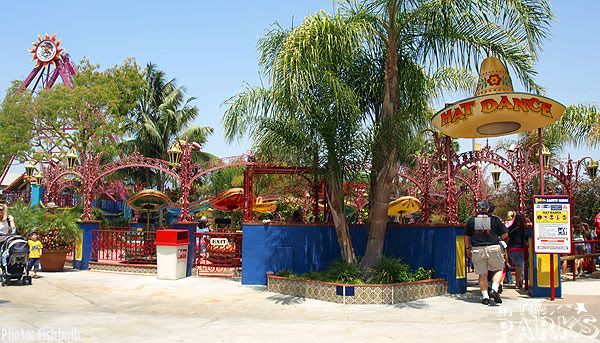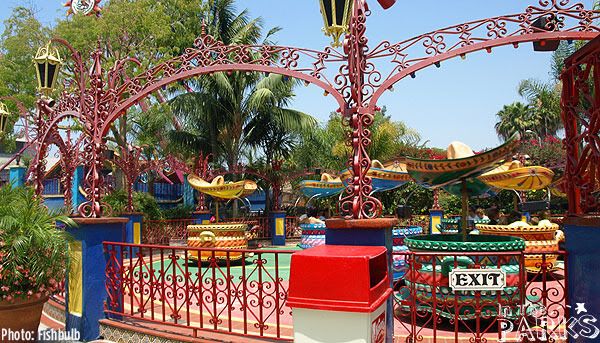 Beautiful wrought iron encircles the ride.
At night it is even prettier

TRAM RIDE: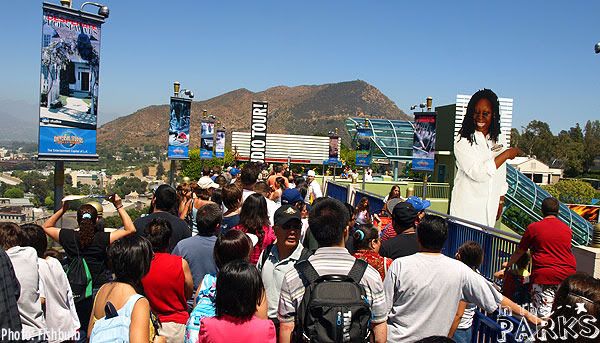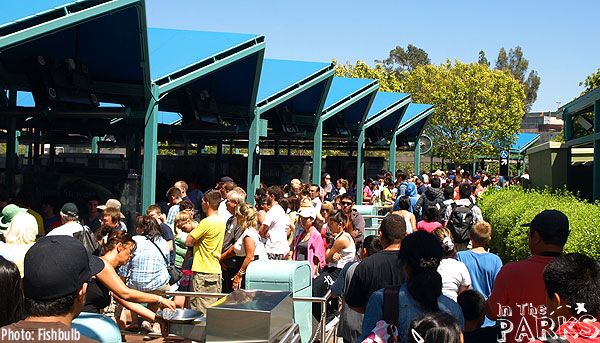 Shade happens intermittently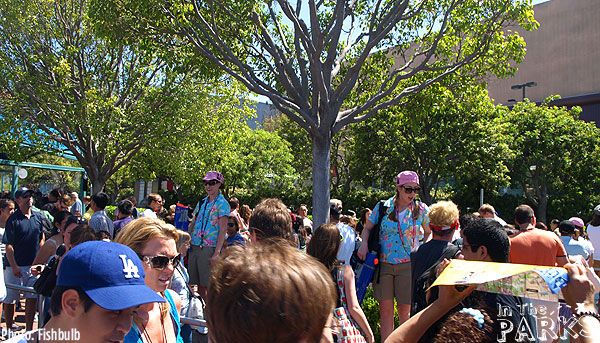 The back section of the queue switch back provides very little shade. However, team members gamely engage the crowd and keep them happy. It works. They were great.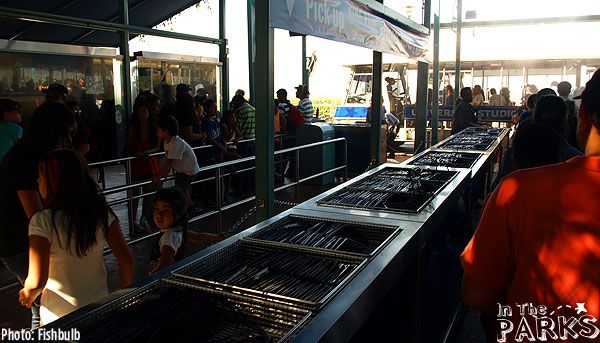 Get your glasses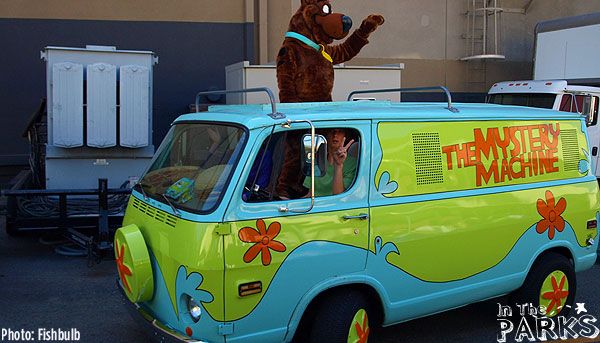 Hi Scoob!



King Kong 3D comes about a third of the way through the tour, just after the drive through the New York sets. One thing that confused us was how the trams currently load into the attraction building. The tram veers up a steep hill to the left then makes a sharp right at the top of the hill into the attraction. With Universal's aging fleet of trams this maneuver may prove taxing.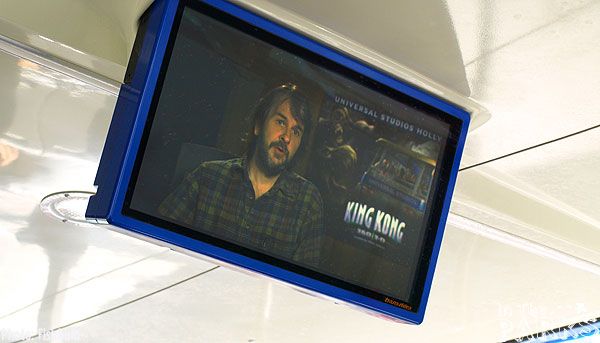 Peter Jackson talks to riders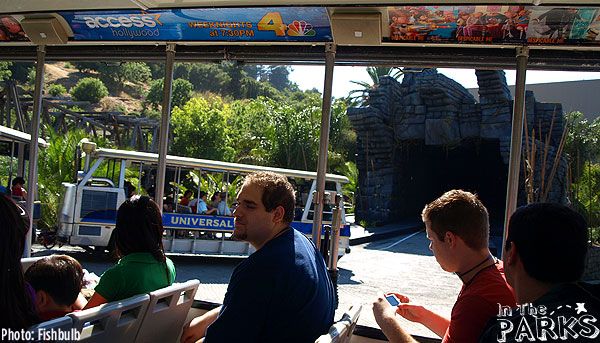 YOUCH that maneuver must hurt. Our tram nearly drove off the narrow turnabout and had trouble lining up with the side guide rails for the attraction.


You enter the show building itself through the Skull Island facade we've been seeing for weeks and the tunnel becomes increasingly dark as the Kong music thunders around you. Peter Jackson appears in the on board screens of the tram and instructs riders to put on their glasses.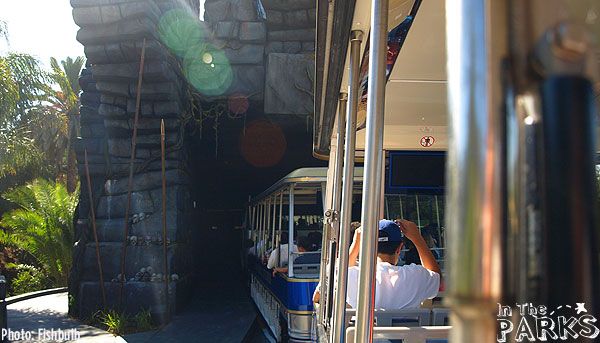 Here we go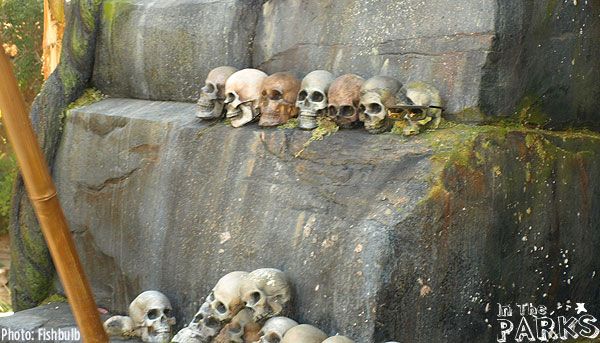 Nice touch, skull with the glasses.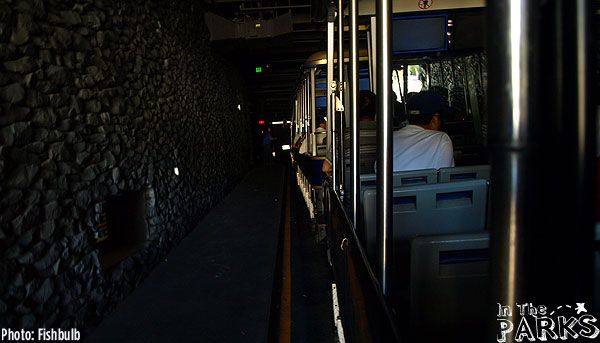 the long long tunnel


Raptors attack, they have nasty breath, T-rex's charge the tram, but Kong comes to save you. There are a few fun little surprises, some interesting motion effects, and great sound. But the attraction is very quick, as all the tram tour experiences are. To keep the trams from backing up, each attraction needs to be about the same length.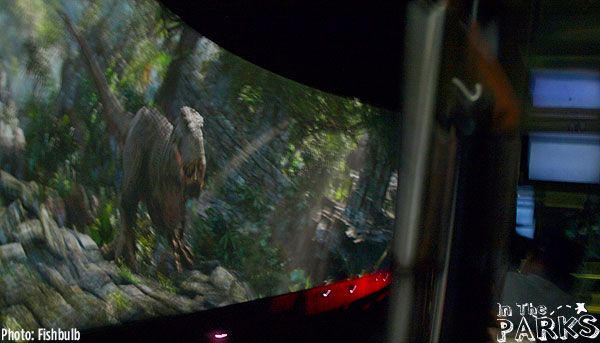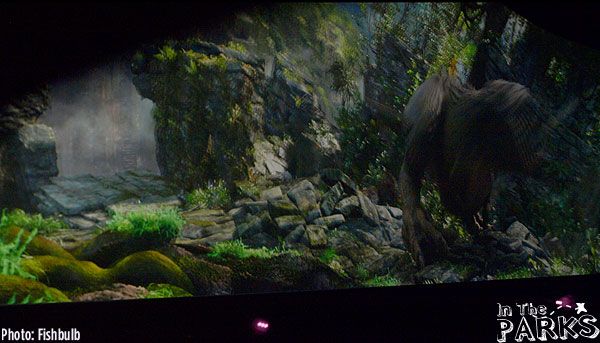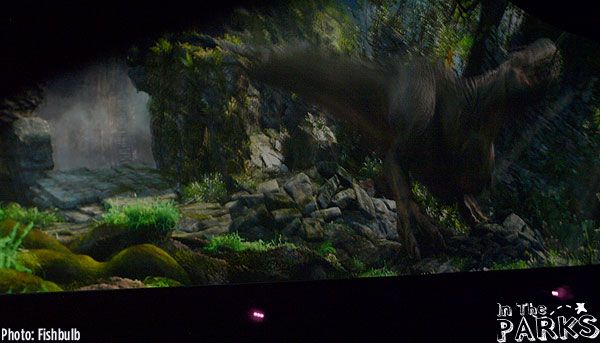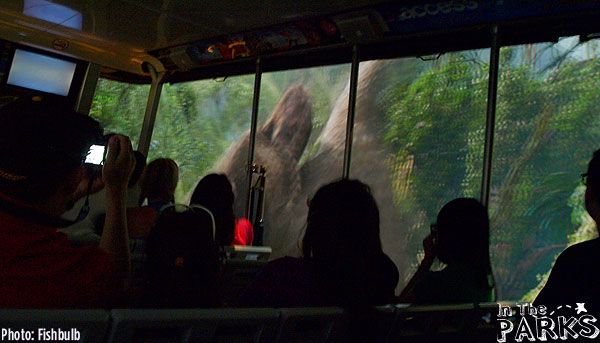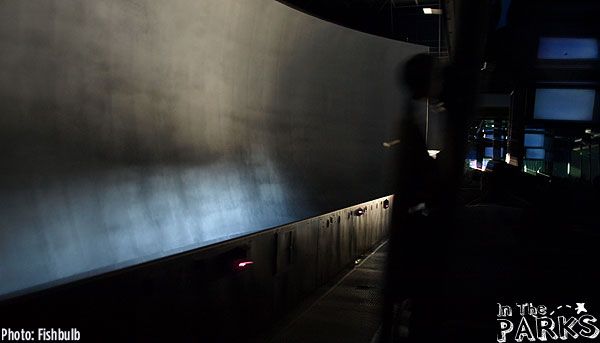 When the movie ends, the doors at the far end of the building open and you can see the screen.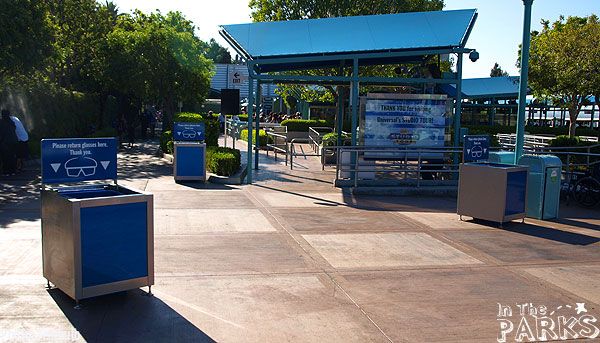 Put your glasses away at the end.


The motion of the attraction, the smell effects, the water effects are all fine. However, we aren't very impressed with the 3D effects themselves. This is a fully computer generated 3D attraction and, frankly, it does not appear to have the polish of the film. It looks more like a 3D video game. Still, very entertaining, but not as convincing.

For once, I think that sitting on the end of a row might be a bad thing in this instance. For me, my view was unobstructed and I could fully see the top and bottoms of the screen. Others in our group found that sitting towards the middle of the tram actually benefited the attraction by making the experience seem more immersive. From the middle, you can see what is happening on both sides of the tram. You experience Kong jumping over the tram and can see and feel him make the leap. From one side or the other, you miss the interactivity of the two long screens.


Overall, this is a worthy addition to the tram tour. However, they have some operational issues to work out with the ridiculous tram route to get in and out of this building. The have the tram drive up a hill, into the show building, then back down the hill after the movie, then back up the hill again to continue your tram tour. It makes no sense at all to climb this hill twice and causes and will continue to cause tram traffic backups until the traffic flow can be fixed.
Pirates of the Caribbean 4:

Pirates 4 is shooting on the backlot and a large set is under construction in front of the giant blue wall and water pond.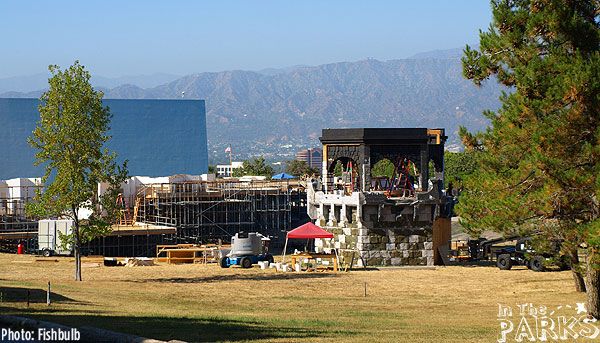 Pirates 4 set under construction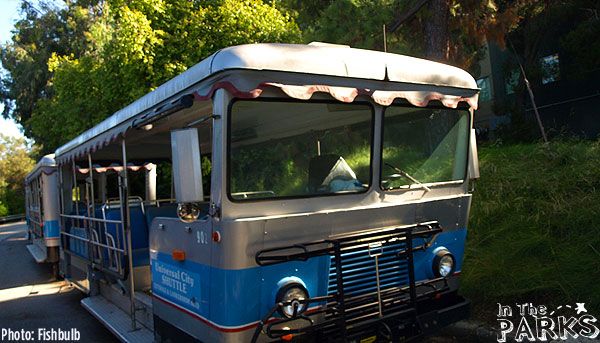 Back in time - A retro tram is parked near the tram route. These babies really bring back memories.


Transformers:
A BIG project is underway on the lower lot.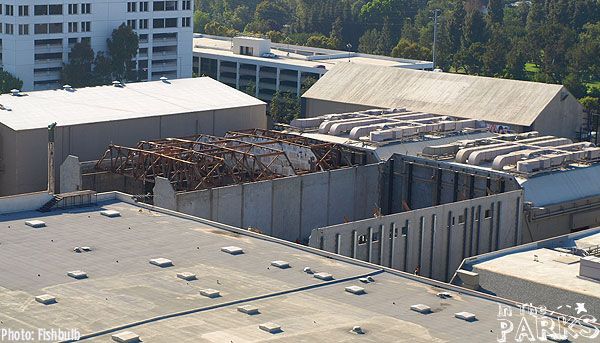 The old Backdraft and Effects Show buildings have been gutted, roofs and front walls removed.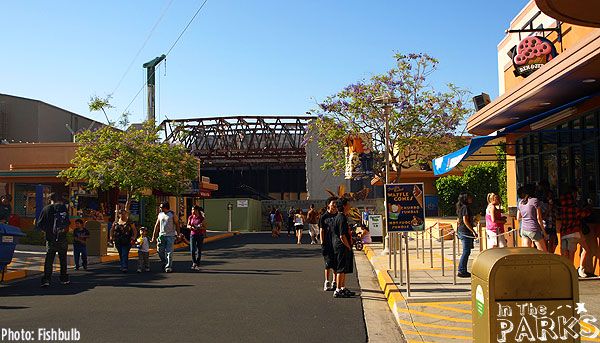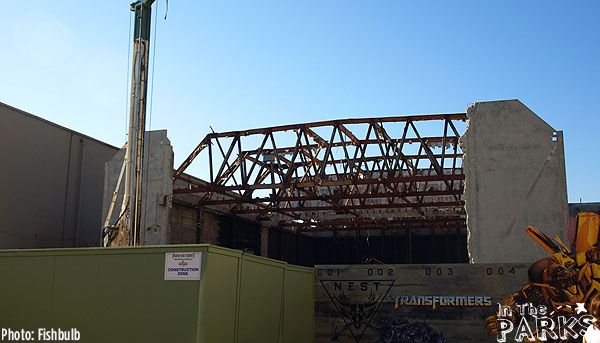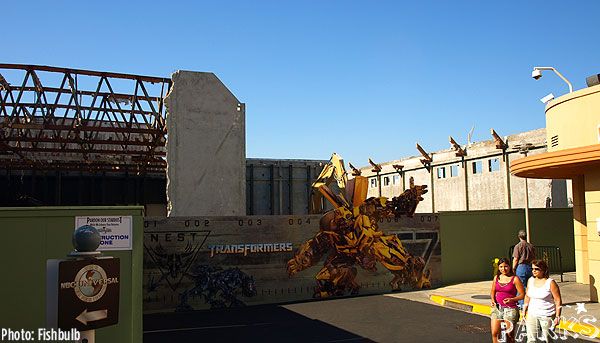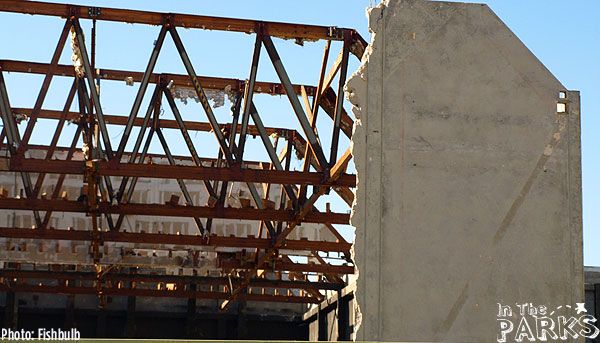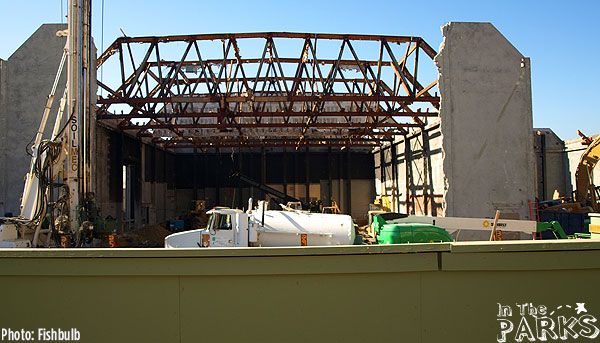 Lower Lot:
The lower has been resurfaced and the smell of asphalt was thick in the air.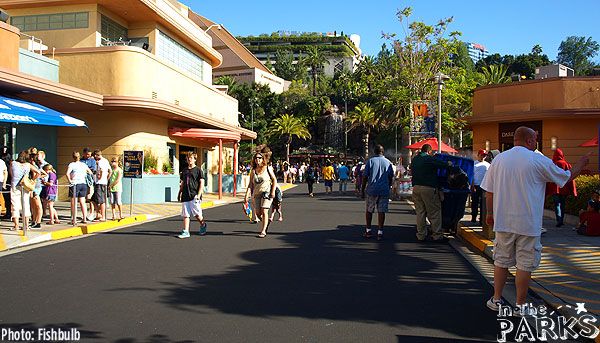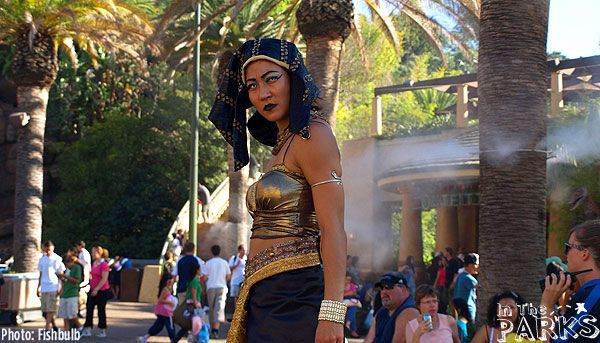 The talent was out in full force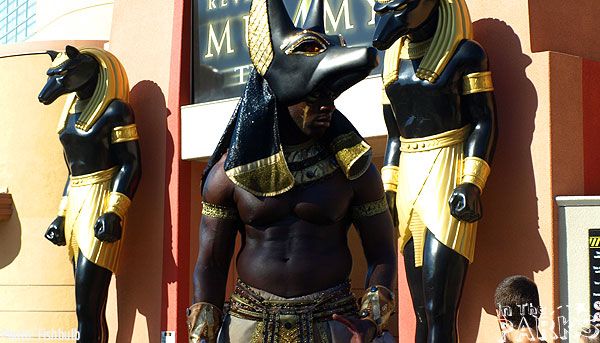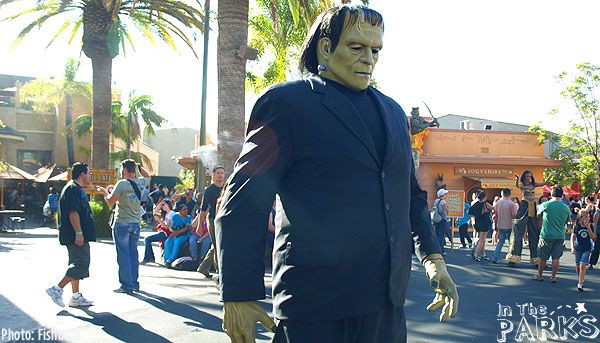 Upper Lot: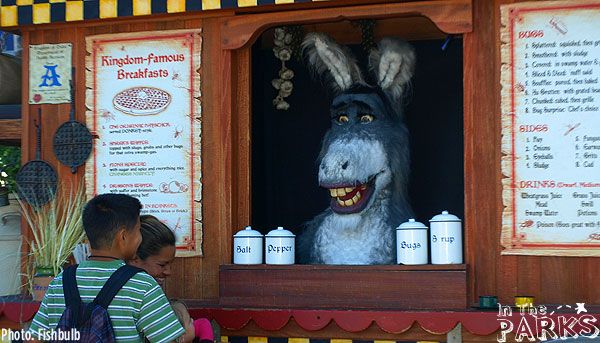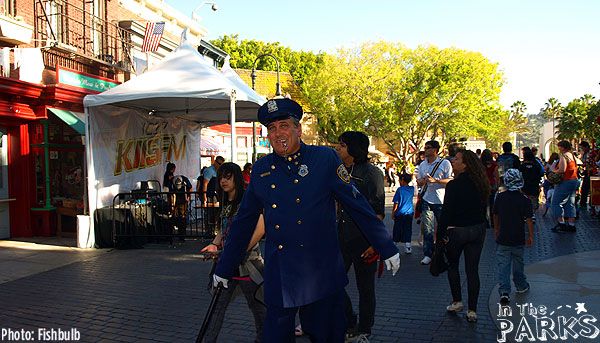 Alameda County Fair. Fair runs through July 11. Pleasanton CA alamedacountyfair.com
San Diego County Fair. Taste the Fun is the theme of the exciting far at San Diego Fairgrounds in Del Mar, which runs through July 5.
SACRAMENTO -
History Live
Independence Day
First Ever 4th of July Blues Festival
. Held in downtown Vacaville, the event bring live Blues to town for 3 days. Welcome - Downtown Vacaville Business Improvement District
Big Fireworks 4th of July at Berkely Marina
. Fireworks show starts at 9:30 p.m. Join the biggest party in town, starting around Noon on Independence Day, with bands, entertainment, dancers, kids giant slide and more.
Cayucos Independence Day Celebration
. Cayucos Annual Parade begins at 10 a.m. Sand Sculpture Contest, Bingo and more. Barbecue 11 a.m. to 3 p.m. Fireworks 9pm - pier.
4th of July Concert & Fireworks Show.
Join Pacific Symphony for its annual concert at Verizon Amphitheatre which includes a tribute to John Denver. Cost: $89-$459 for season ticket.
Laser Show
. Laser show set to music. Morro Bay Tidelands Park, Morro Bay, CA.
Family Blast
. Kid's Activities, Food and Beverage Available for Purchase, Live Music by Harlee & The Sugar Daddies- 6:00 - 10:00 pm, Hay Mazes, Arts & Crafts , Pony Rides, Free Kids' Contests and Games, Fireworks. Cost: $5. Parking in the Tiers $3.00 per person (walk-in at the gate) $15.00 per carload. Location: El Dorado County Fairgrounds, 100 Placerville Dr., Placerville, CA. eldoradocountyfair.org
Old Poway Park 4th of July.

The City of Poway and Old Poway Park Action Committee are hosting the annual Old-fashioned Fourth of July at Old Poway Park, 14134 Midland Road on Sunday, July 4 from 10:00 a.m. to 4:00 p.m. The event is free for all ages. There will be live musical entertainment in the Gazebo throughout the day. Poway Station Model Railroad Club will display model trains and for a nominal fee ($0.50 for children and $2.50 for adults) the Poway Midland Railroad will give rides aboard the steam locomotive. Historical gun fighting re-enactors will perform mock train robberies and gunfights.
Fourth of July Waterfront Celebration
4th of July Parade & Picnic
. Caledonia St. Dunphy Park. Time: 10 a.m. to 5 p.m. Cost: Free. Location: Sausalito, California 94965. ci.sausalito.ca.us
Fourth of July Train
Sun, Jul 4, Train departs 6:30, Returns after Fireworks - Fillmore & Western Railway, 364 Main Street, Fillmore.
After a wonderful American BBQ Dinner and a train ride through the "Heritage Valley" you will enjoy a Traditional American Firework display by the City of Fillmore. For Reservations Call (800) 524-2546. Tickets: Adults/$47, Children 4-12/$26, Children 2-3/$22
Hollywood Bowl
July 4th Fireworks Spectacular with the Los Angeles Philharmonic
Los Angeles Philharmonic, country superstar Vince Gill, and a dazzling display of our famous fireworks. 50% discount for children 12 and under!
Celebrate America
Sat, Jun 26, 6 pm - Corsair Field, 1900 Pico Boulevard Santa Monica.
4th of July Village Runner 5K Run/Walk
Sun
, Jul 4, 8 am - Riviera Village, 1811 S. Catalina Ave (& Ave I), Redondo Beach.
The Redondo Beach 4th of July Celebration blasts off as more than 4,000 participants are expected to get the party started at this annual event. The runners, decked out in their star-spangled best, will line up for the start, racing along the scenic ocean course in one of California's largest Independence Day runs. Kids Dash
Fireworks with L.A. Winds
Live
Sun, Jul 4, 6 pm - Warner Center Park, 5800 Topanga Canyon Blvd, Woodland Hills.
Celebrate Independence Day with fireworks accompanied live by the Los Angeles Pierce Symphonic Winds. A season ending finale of free family fun, great food and a spectacular fireworks display.
Party on the Pier
Sun, Jul 4, 6 pm - Belmont Veterans Memorial Pier, 15 39th Place, Long Beach
Celebrate Independence Day at the Belmont Veterans Memorial Pier for the Fourth of July Party on the Pier. Come and enjoy live music, a fish fry and BBQ, beer and wine gardens and boat rides on the Shoreline. Reserve seating for fireworks in advance. See Web site for additional details and cost.
Fireworks Celebration and Concert on the Green
Sun, Jul 4, Gate open at 3 pm - Irvine High School, 4321 Walnut Ave, Irvine
The Irvine Police Association Presents this annual event. Program Features live bands throughout the day, concession stands, balloon jumpers, face painting, children's game area, door prizes, food vendors, and fireworks show. Admission is $12 for adults and $7 for children and seniors. Tickets are available at the box office on the day of the event or in advance by calling 949-724-0488.
La Habra
Fireworks Show
Sun, Jul 4, Gates open at 3 pm - La Habra High School, 801 W. Highlander Ave, La Habra.
Festivities include a carnival, children's games, live music, entertainment, food vendors and fireworks. tickets $3 - $7.
4th of July Street Faire
Sun, Jul 4, 12 noon - 9 pm - Olympiad Road (between Marguerite Parkway and Melinda Road), Mission Viejo.
Rides and games enhance an exciting carnival atmosphere for all ages. Local clubs and organizations are invited to set up booths for food, drink, crafts, gifts and games. Free entertainment includes music, dance and comedy, with performers drawn from local talent as well as professionals from outside the area. As would be expected for a Fourth of July Faire, the event climaxes at dusk in a spectacular fireworks display.
4th Annual Independence Day Parade
Sun, Jul 4, 2 pm - Sunset Boulevard (between Via de la Paz and Drummond), Pacific Palisades.
Tens of thousands descend on the coastal community of Pacific Palisades to enjoy the sights and sounds of the annual Independence Day parade. They shut down Sunset Boulevard to celebrate the birth of our great nation. Come join the community for an afternoon full of good family fun.
2010 Palisades - Will Rogers 5k & 10k Run
Sun, Jul 4, 8 am - Palisades Recreation Center, 851 Alma Real Dr., Pacific Palisades.
Day of race registration begins at 6:30 am and ends at 8 am. With the 5K Run, 10K run and Kids Fun Run, there is something for everyone. Come be part of this Palisades tradition. Net proceeds of the Race go to the Pacific Palisades Optimist Club who supports various youth charities and activities.
Palisades Rocks the Fourth Concert and Fireworks
Sun, Jul 4, Gates Open 6 pm, Entertainment at 6:30 pm, Fireworks 9 pm - Palisades Charter H.S, 15777 Bowdoin St, Pacific Palisades.
The second annual Palisades Rocks the Fourth concert at Palisades Charter H.S. promises to be bigger and better than last year. The concert offers a wide range of the finest local amateur and professional entertainment, playing popular and patriotic songs. Come wave the flag and sing along.
Americafest 2010
Sun, Jul 4, 2 - 9 pm - Rose Bowl, 1001 Rose Bowl Dr, Pasadena
The Biggest and Best Fireworks Show in Southern California. Celebrate America with Music, Food and Fireworks Full Day of Safe and Affordable Family Fun, Food and Entertainment Drum Corps International Presents five World Class Unit Performances. Tickets $13. Children 7 & under FREE. Active Military with ID FREE
106th Annual 4th of July Parade
Sun, Jul 4, 10 am - Downtown Huntington Beach, 1 Main Street, Huntington Beach.
Considered to be the largest Independence Day parade west of the Mississippi, featuring more than 300 entries including bands, floats, celebrities, local dignitaries, equestrians and community groups. The parade heads south from Pacific Coast Highway to Main Street, proceeds up Main through the downtown area, ending at Yorktown Avenue and Main Street.

Concerts in the Park - Paso Robles -
Free Friday night concert in Downtown Paso Robles City Park Bandstand, Paso Robles, CA. Time: 5:30 to 7:30 p.m. pasoroblesdowntown.org
Jazz by the Bay. Free Friday concert. Time: 6:30 to 8:30 p.m. Cost: Free. Location: Gabrielson Park, Anchor Street and Bridgeway, Sausalito, California 94965. ci.sausalito.ca.us
Sierra Nevada Arts and Crafts Festival

And that, ladies and gentlemice, is our update for this week. We hope your holiday weekend is filled with friends, family, and fun.


If you happen to run across some interesting news or have photos that you'd like to share with us, w
e'd really appreciate hearing from you.
Contact dustysage@micechat.com with your news, photos, or comments
.
And please don't forget that there is always a world of fun theme park information to read

elsewhere on MiceChat, might we suggest:



Weekend Update

Offers a world of Disney theme parks and other sights and landmarks!



Dateline Disneyland which is packed with great news and photos from the Disneyland Resort.
Remember, sharing is caring, show us you appreciate what you read today by sharing the link to this page with your friends and family on
Facebook, Twitter, and beyond! We've got some helpful linking tools in the bar at the bottom of the page.
Today's update was brought to you by our fantastic and talented crew of
photographers and news contributors
Pratt55, SirClinksalot, Captphoebus,
F!an,
David Yeh,
Fishbulb, and Dustysage
.
Have a safe and happy Fourth of July!