It's time for our weekly travels In the Parks, and we have a wide variety of information and photos for you this time around the block. We like to focus on fun events and places for the whole family, AND we never forget all that Disney news and construction that you've come to expect from us.

This week brings news from the Disneyland Hotel, Star Tours at Disneyland, California Adventure construction, World of Color damage, a look at Knott's Berry Farm, Universal Studios amazing customer service program, Adventure City, and a chorus of frogs in the dark. So what are we waiting for? Let's get ready to have some Summer fun!





Construction progress rolls along for the new Red Car Trolley, Carsland and the Little Mermaid at
Disney California Adventure
. While no rides were damaged after this Wednesday's earthquake, some issues did force the cancellation of all 3 World of Color shows that night. According to a note Al Lutz left us:

"The full cancellation of World of Color performances Wednesday night can't be blamed on the afternoon earthquake for certain. Multiple buoys that help raise the show platform up to the waterline sprung leaks and filled with water at some point before the platform was raised Wednesday evening. The middle and left platforms weren't aligned properly when the underwater scissor lifts were commanded to lock the platforms in place, with the middle platform suffering the most damage as the two massive structures were wedged into each other at an angle causing stressed structural beams and damaged fountains. A full team of divers, engineers, and outside contractors have been brought in to assess just how bad the damage is before the repairs can begin, or even what the repairs need to be, and there's no word yet how long all that may take."

Last we heard before going to press on today's update, Fastpass distribution had resumed for World of Color. Looks like they got things fixed.

Red Car Trolley:
The progress on the Trolley tracks in front of Tower of Terror is coming along nicely. Note how expertly they are handling the difficult transition between Hollywood and Bugs Land: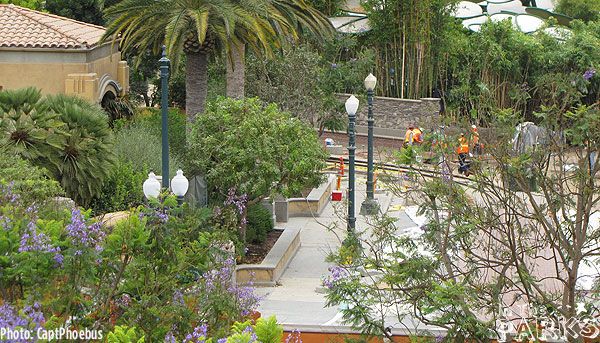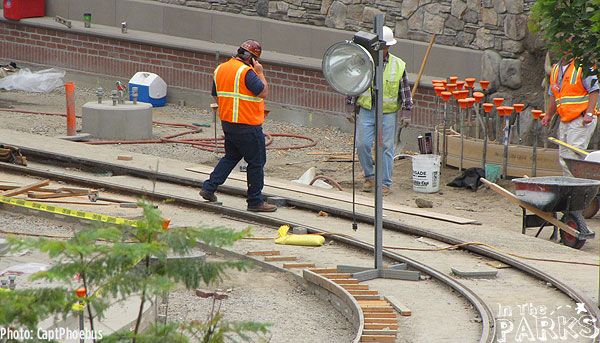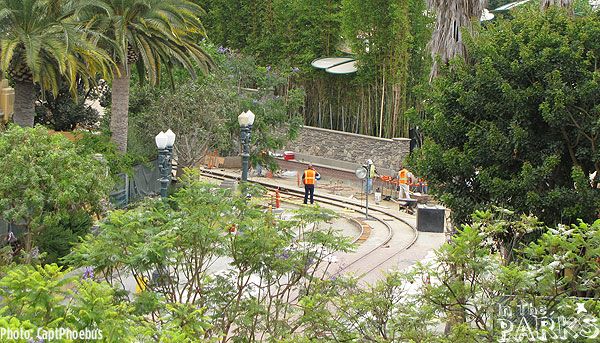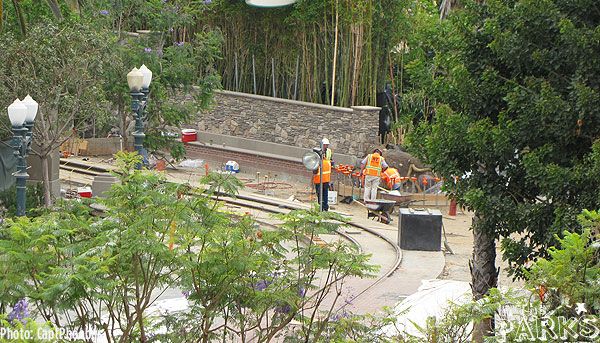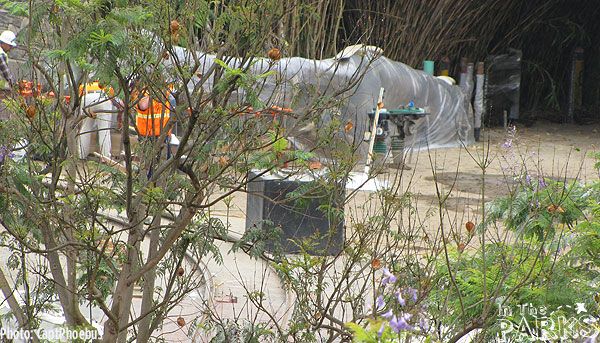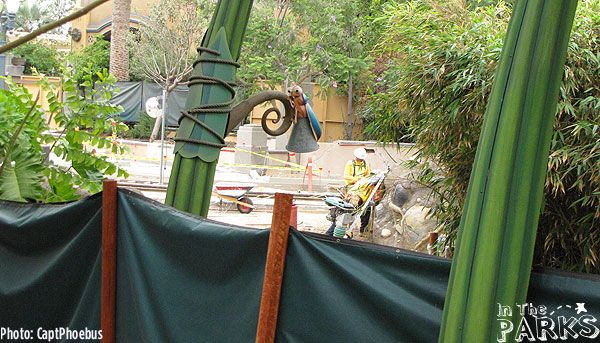 Carsland:
Hey there dummy! Not YOU, the new test dummies that have been seen hitching rides on the Radiator Springs Racer vehicle. That mountain just gets bigger by the day. Soon, many of these views will be obscured for good.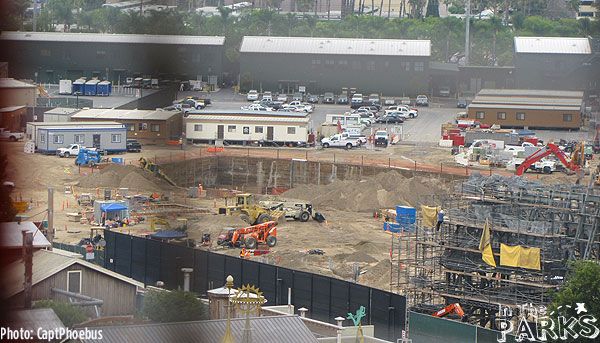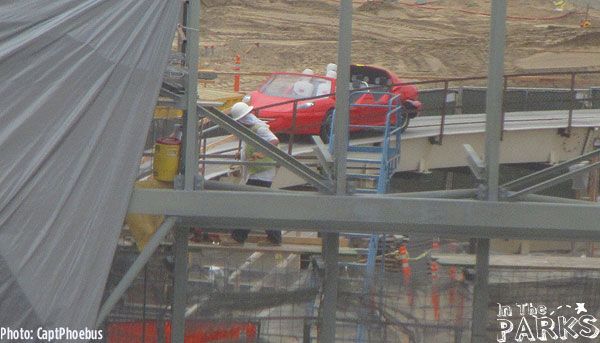 Lucky test dummies going for a spin

The Little Mermaid: Ariel's Undersea Adventure:
The facade for the Little Mermaid show building has received the final framing elements. From here, things will move even faster as there is less than one year to go till opening day.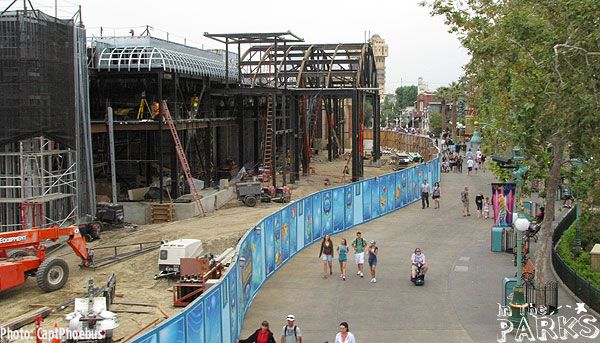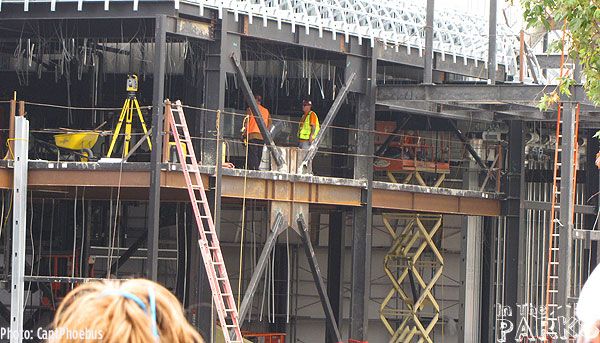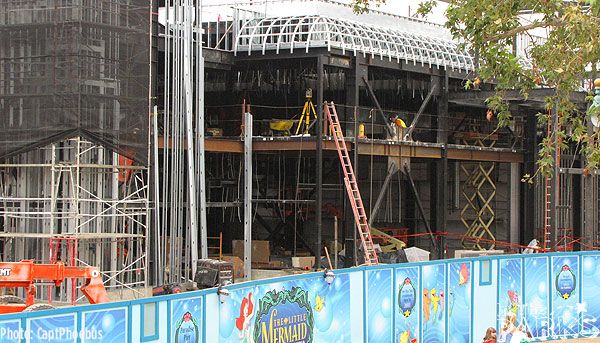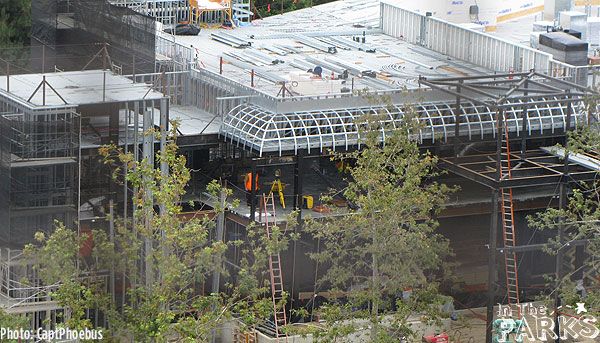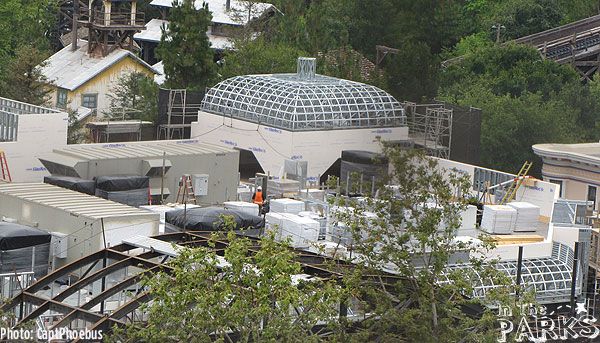 Burger Invasion:
Work on removing the INVASION from this fast food joint continues to progress very slowly. Is anyone else anxiously awaiting the removal of that sesame seed covered space ship?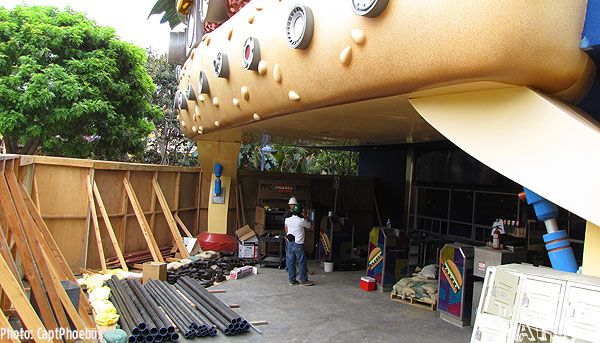 Disneyland Hotel's renovation plans for the pool and waterfall areas seems to be about to begin as as the Euro Gifts crystal store (operated by the Arribas Brothers) was closed this week.
This little crystal and glassware gift shop sat just above the waterfalls and was connected to the Lost Bar and Arcade spaces.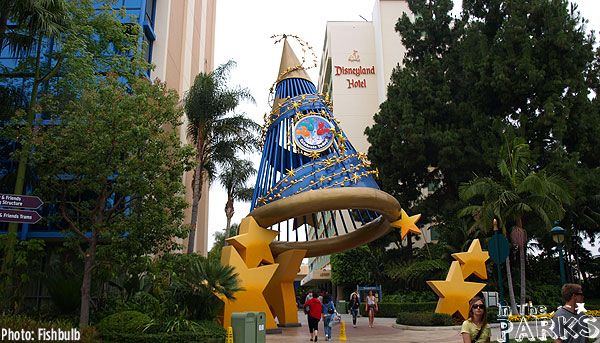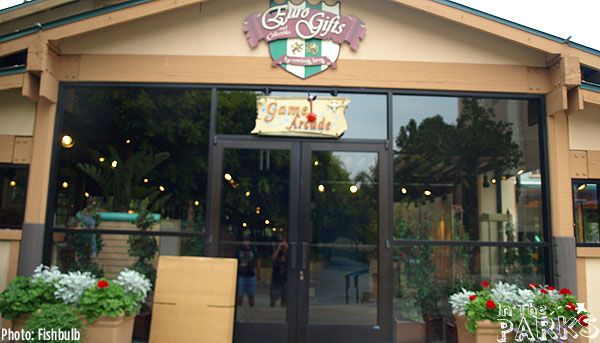 Arribas Brothers still operate 2 crystal shops in Disneyland park and a small cart in Downtown Disney.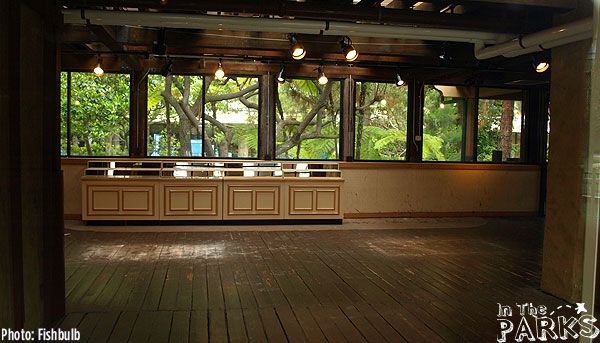 The beautiful trees you see through the window are in the Disneyland Hotel waterfall grotto area.


Sadly, this likely also signals the impending destruction of the beautiful and unique Disneyland Hotel waterfalls. A wedding lawn is being planned for the spot (one would think that falls might make a lovely backdrop for a wedding grotto
). We are still holding out hope (against all probability) that the waterfalls will be saved and worked into the future plans.



Disneyland park is now doing what it does best; Soaking in the large crowds. The Park has been welcoming heavy traffic without breaking a sweat. If you haven't done so already, it is time for you to say goodbye to the original Star Tours before it closes on July 26th for its transformation into Star Tours 2.0 (We don't yet know the "Official" new name but it is likely to incorporate "Star Tours" in some way). When it emerges from its renovation it will sport some new technology, new destinations and 3D digital projection.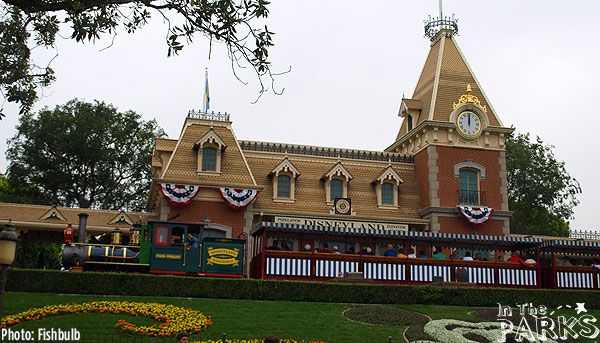 Disney Parks Merchandise:


The "Disney Parks" initiative is not something we at MiceChat think is all that great of an idea. Its goal is to create lines of products which can be spread out through all of the Disney parks in the US without regard to theme or individual park branding. While utilizing the same merchandise throughout each park may be an amazingly efficient and cost effective way to sell merchandise, it also lacks that well themed Disney experience that we have come to expect since 1955.

Today, just for fun, we pick a product and look for it throughout the park. Let's focus on Vinylmation this week. This wildly successful product line features Mickey figurines with a variety of different themed paint jobs. It's a pretty creative and hip product and very affordable too. We like that part of Vinylmation. The problem is that, well, it's a little too easy to find.
Disney Showcase: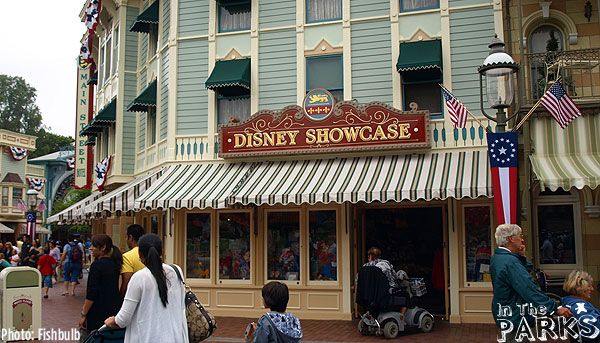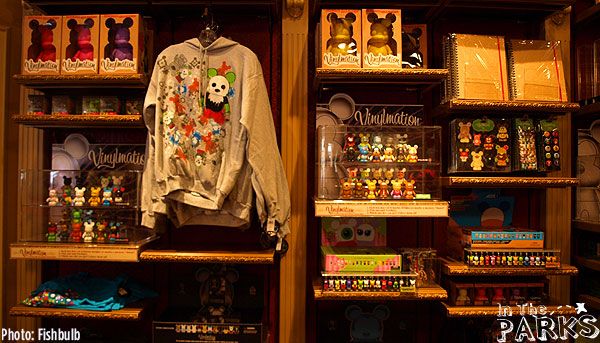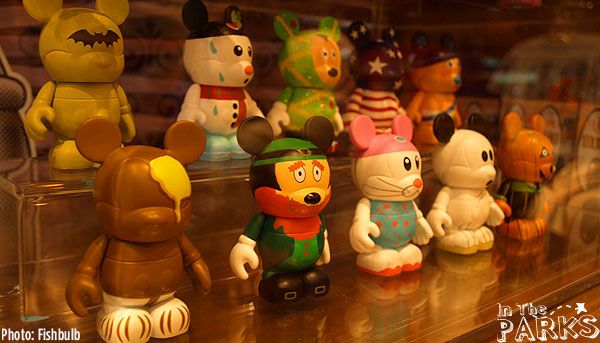 Disneyana: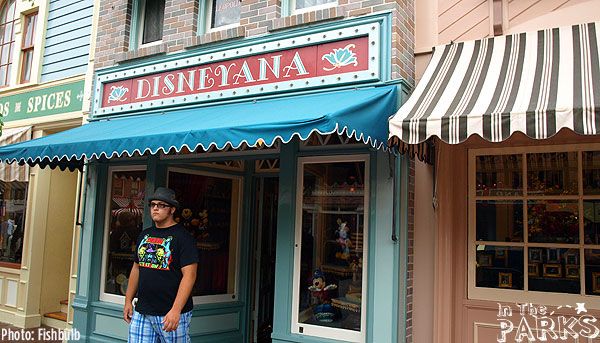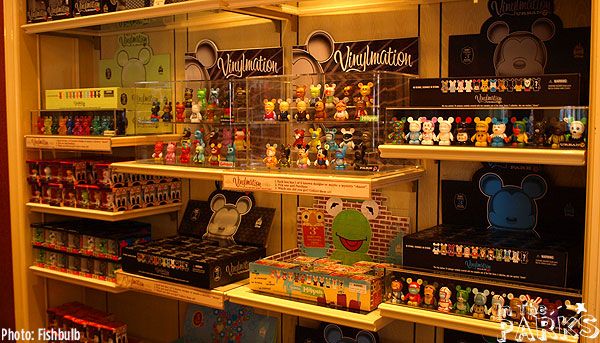 Startrader: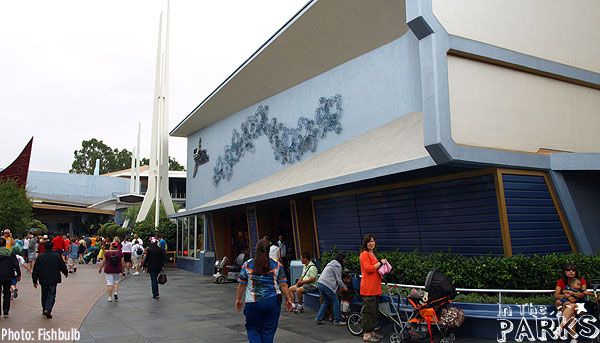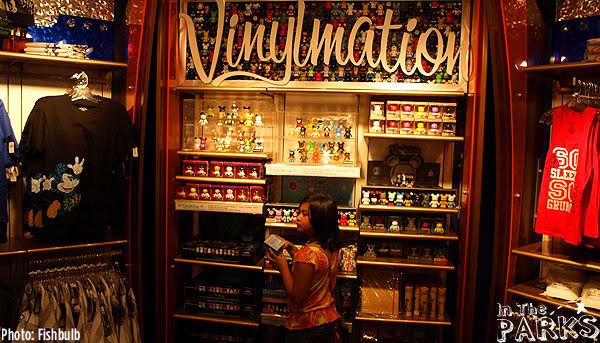 Adventureland Bazaar: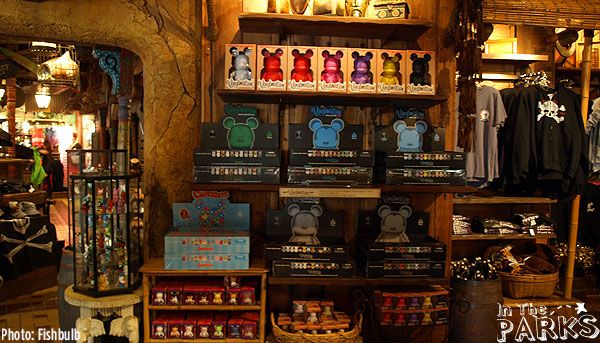 Le Bat en Rouge: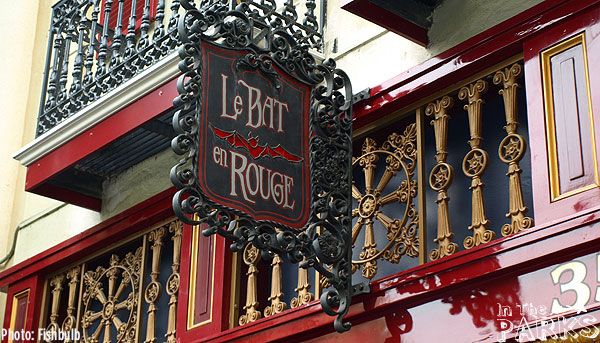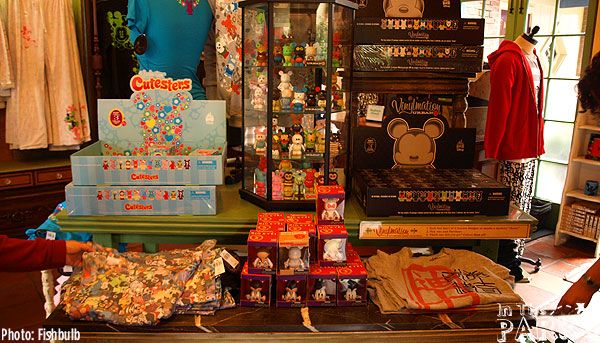 Emporium: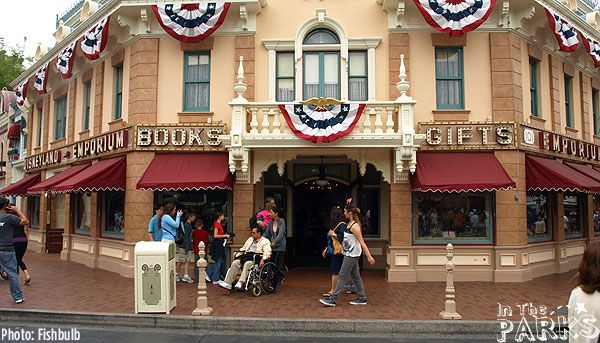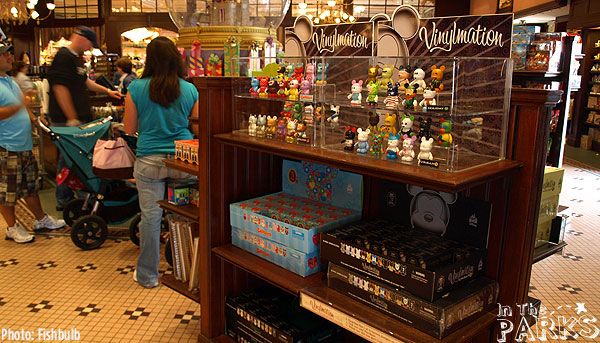 You can find Vinylmation in nearly every major store in every land in Disneyland Park. Thematic consistency is thrown to the wind with the determination to use every opportunity to sell this product. We understand that Disneyland is, most importantly, a business. Yes, they need to turn a profit. But does every store need the same exact Vinylmation merchandise?


We long for the good old days of themed shops and unique shopping experiences throughout Disneyland.

Star Tours Announces the Final Departure of the Endor Express:
The last flights to Endor are about to leave. Star Tours will be closed beginning July 27th and updated for new adventures to Tatooine, Couruscant and beyond. We pause now to take a look at the queue and simulator cabins as they are today.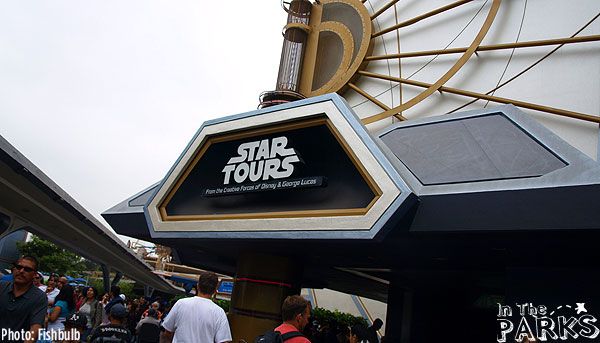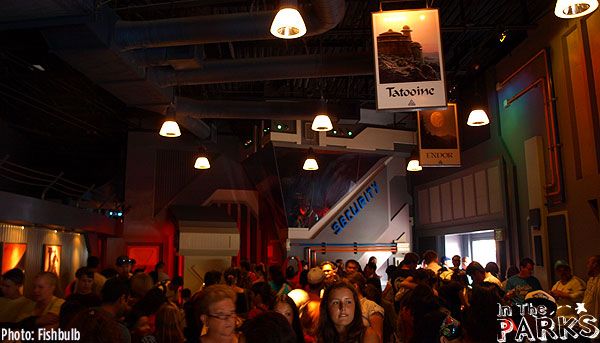 The overflow queue (for crowded days)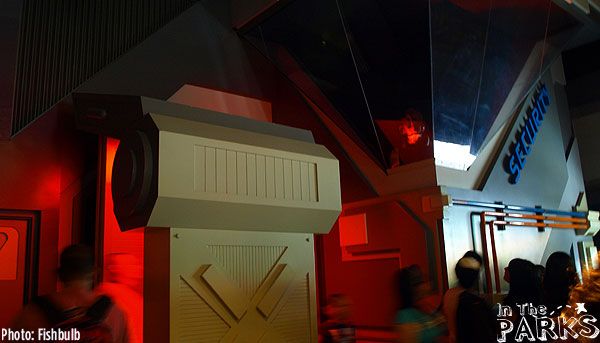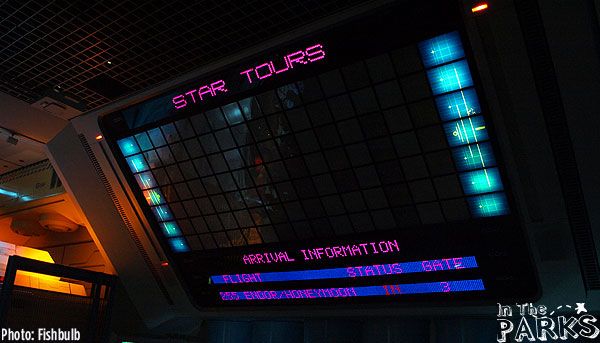 The huge screen in the first room of the main queue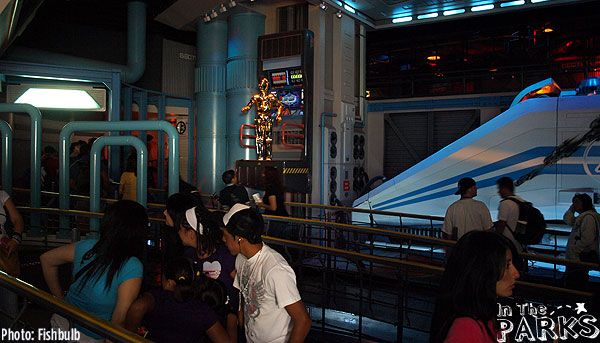 So long C3PO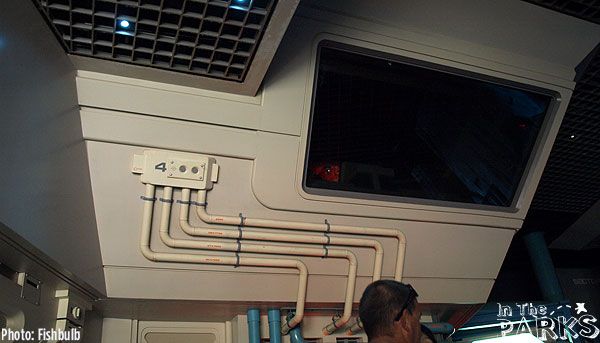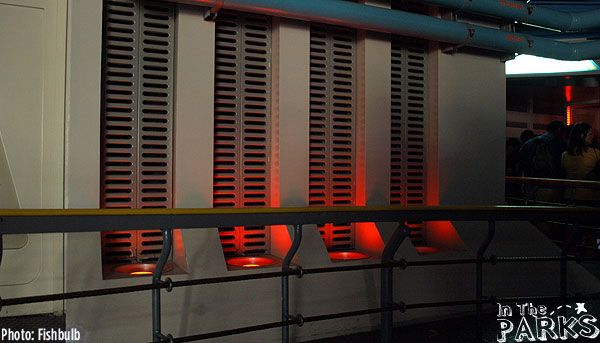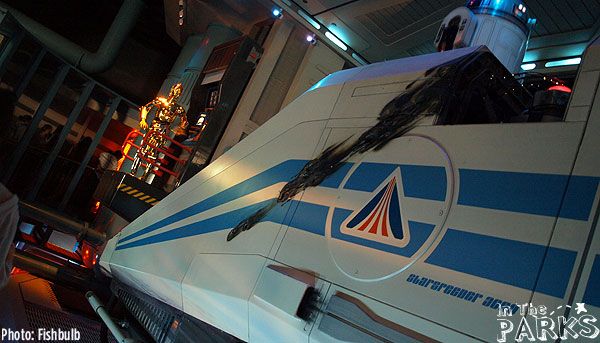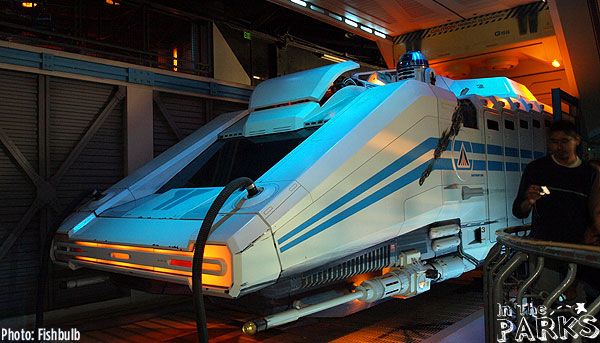 Adios R2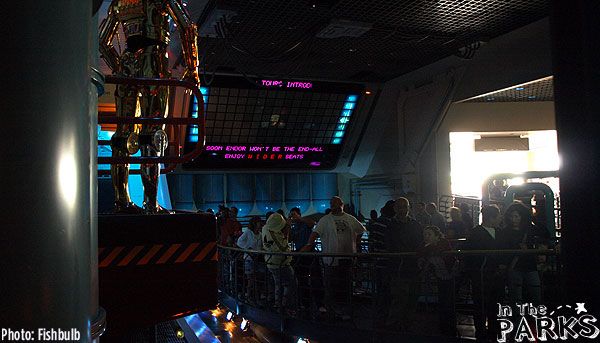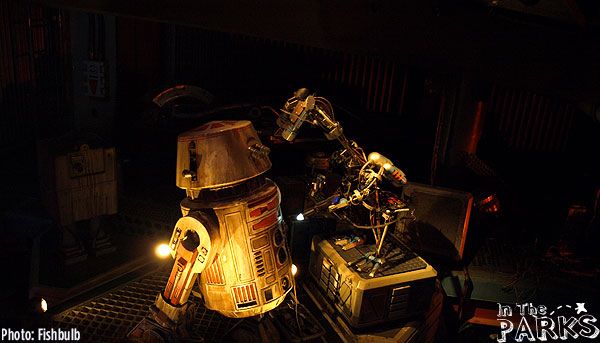 The beloved former goose droid (was once a character in the America Sings attraction)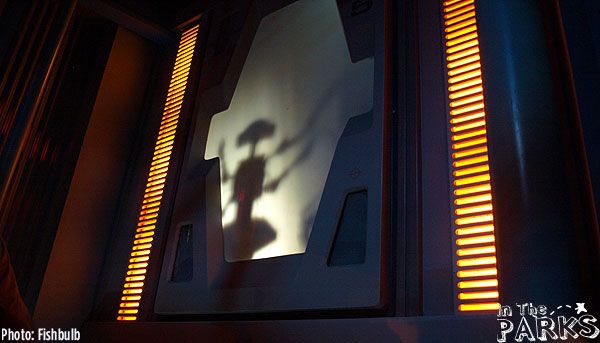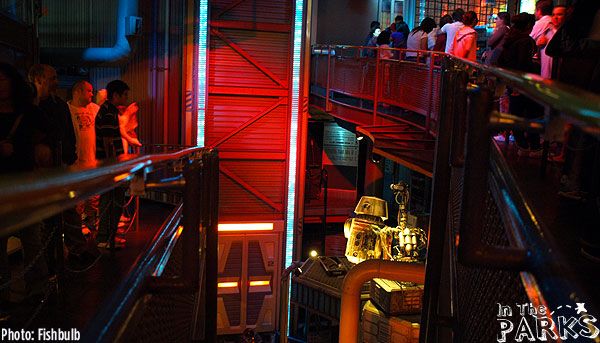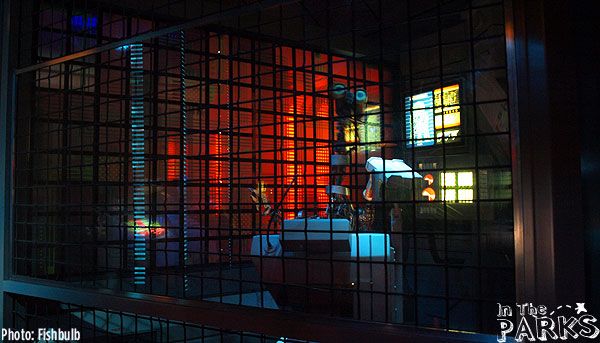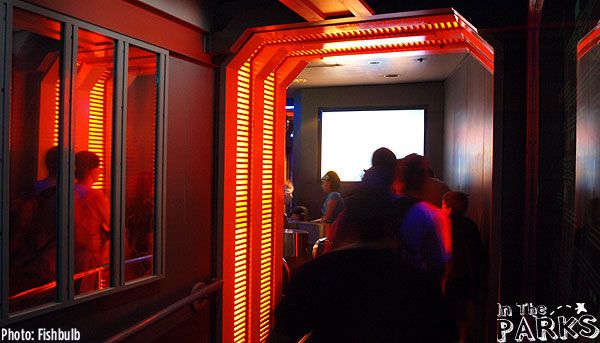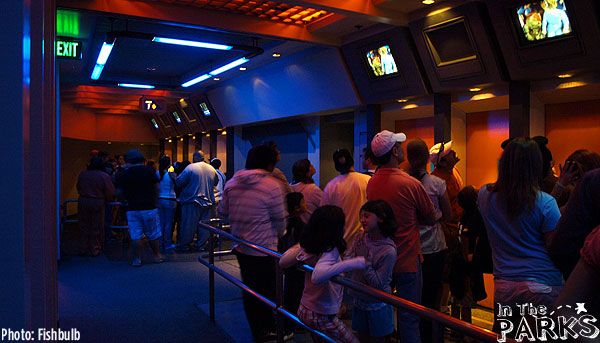 4 bays await (2 on the left and 2 to the right of the queue)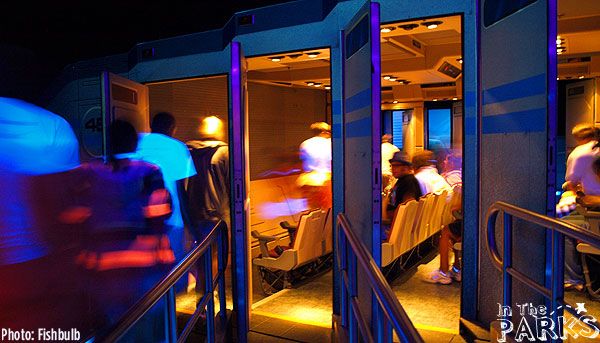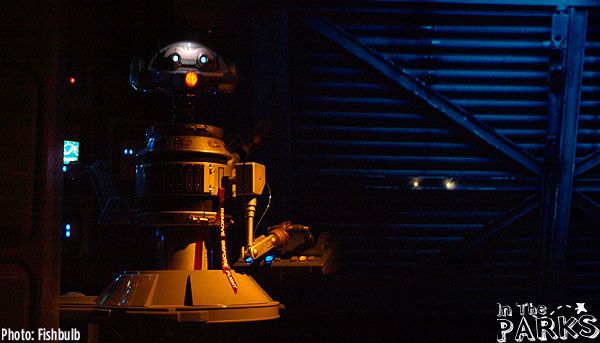 I know this is MY last flight, and it's YOURS too (Hasta la bye bye Pee Wee)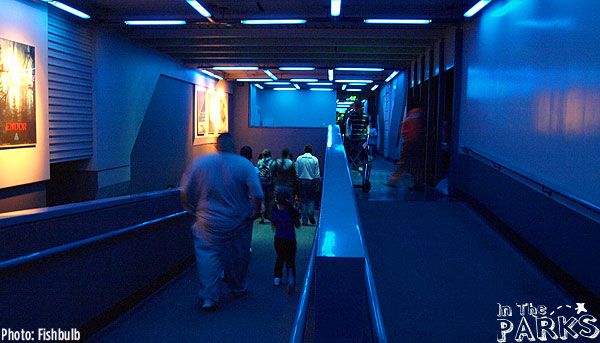 This exit just keeps going, and going, and going (not really, but that was what was on the old Energizer bunny posters)


If you are one of the lucky few D23 members who snags a ticket, you can be in one of the 4 cabins for the actual final flight on July 26th. More details HERE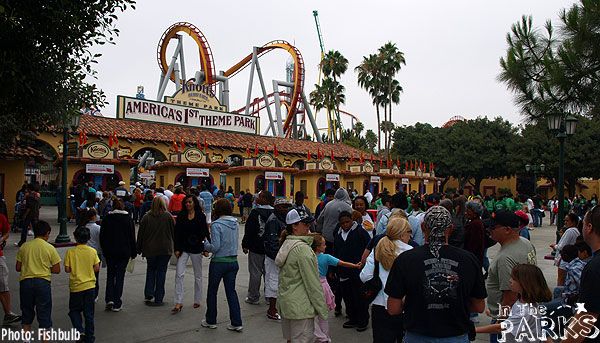 The BIG news from Knott's is the announcement of this year's mazes for the Halloween Haunt. The announcements were made through Knott's Twitter feed WHICH YOU CAN FOLLOW HERE. This year's mazes will be:

Log Ride:
Sleepy Hollow Mountain (NEW)
Calico Mine Train:
Black Widow's cavern
Fallout Shelter (NEW)
Virus Z (NEW)
Lockdown
Cornstalkers
Terror of London
Dia De Los Muertos
Uncle Bobo's Bigtop of the Bizarre
Slaughterhouse
Labyrinth
Club Blood
Knott's also posted pics of maze construction along with Concept art for creatures in the new Fallout Shelter maze.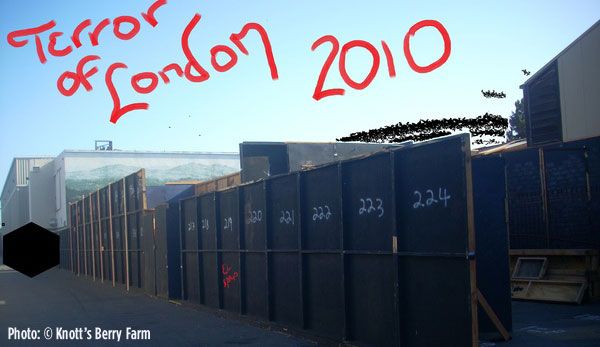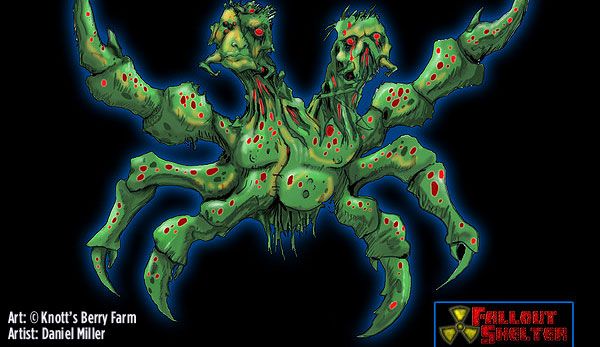 Knott's isn't the only one making news, MiceChat has announced this year's Haunt meets we hope you'll join us: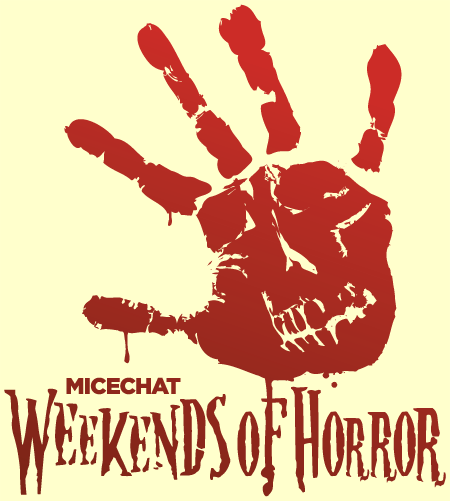 This year's MiceChat Haunt meets will be more fun than ever. Knott's Berry farm is very generously working with MiceChat to deliver the best, most horrifying, nights of gruesome pleasure possible to haunt goers. This year, we offer two nights of crazy, horrifying fun with an eye popping look behind the screams to see how the haunt comes together every year. This year we will also be able to offer direct ticket sales through MiceChat online for the Knott's events when they become available. Pricing for the Knott's nights will be announced very very soon. We will make sure that it is affordable and worth your money.
Haunt Meet Information Discussion on MiceChat HERE
!!! SAVE THE DATES BELOW !!!!
Friday October 1st,
Knott's Scary Farm - Fourth Annual MiceChat Knott's Scary Farm Halloween Haunt Maze Meet.
PreScare Buffet and early entry into Haunt, The Hanging, The Famous MiceChat Maze Death March.

On October 1st join the Web's largest Haunt Meet for a night of fun in the fog shrouded nightmare of Knott's Scary Farm. The night will start off at 4:30pm by enjoying the Pre-Scare buffet and then gaining early entry into the event. This is followed by rides on the two most popular attractions, Log ride and Mine Train, viewing of the first showing of The Hanging, then the world famous Maze Death March.
Haunt Meet Information Discussion on MiceChat HERE
Saturday October 9th
Knott's Scary Farm - Behind the screams tour and Haunt Shows.
PreScare Buffet, Tour behind the scenes of one of this years mazes, Panel discussion with Haunt Creators and Monsters, early entry into Haunt, Show run including VIP seating to shows.

Return to the Haunt to get a behind the screams look at how the haunt is put together. Tour a maze with show creators before the event and then enjoy the Pre Scare Dinner Buffet while Haunt designers and Monsters talk about what it takes to bring the largest Halloween Party in the World to life. Once the party begins, receive early entry to the event and VIP seating to the shows of Haunt.
Haunt Meet Information Discussion on MiceChat HERE
Knott's Round Up
We have been very pleased to see good sized crowds in Knott's this Summer. The little touches and flourishes that have been added to the park this year really enrich the experience and bring back a lot of life to this wonderful locals park.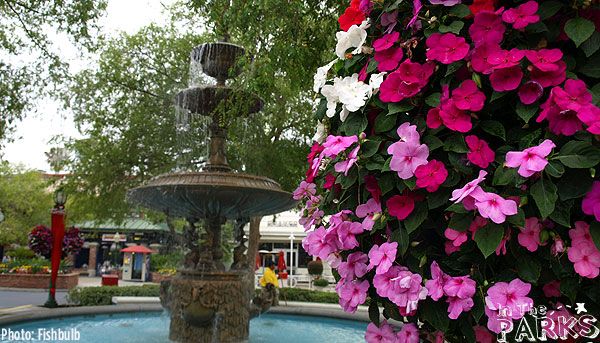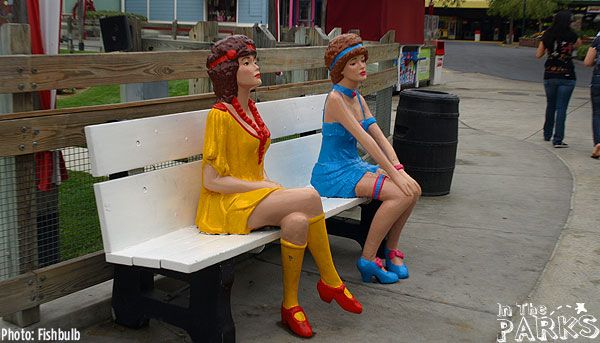 Flappers have returned to a bench in Roaring 20's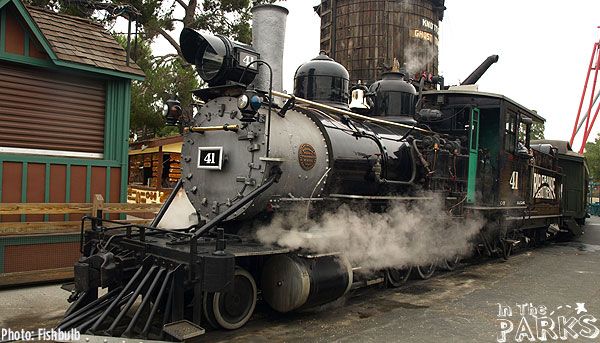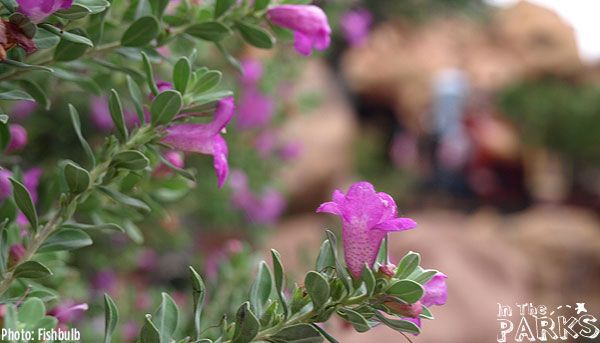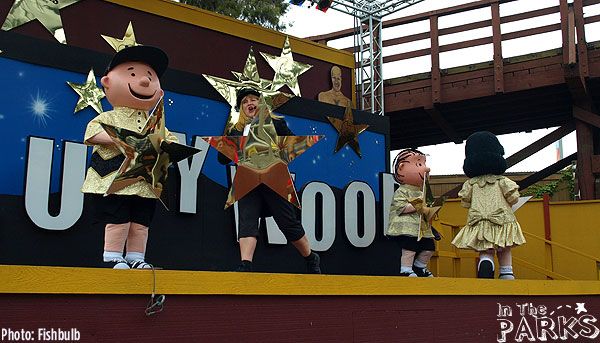 Shows happen throughout the day all over the park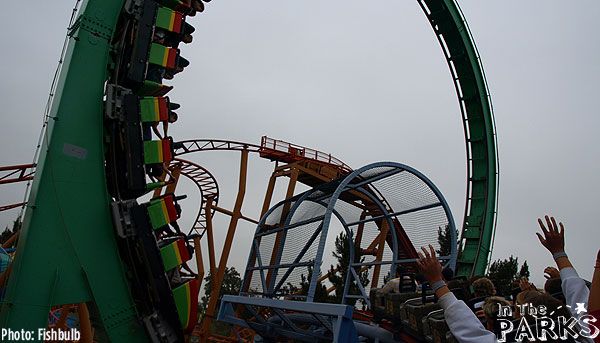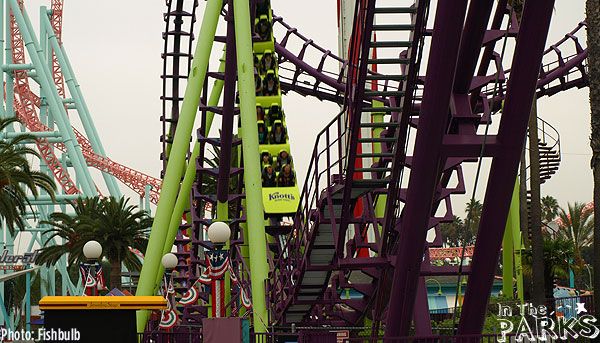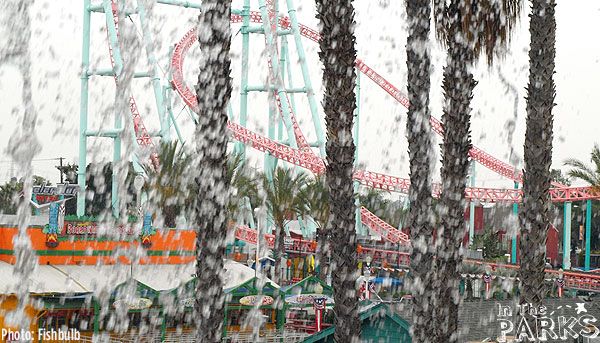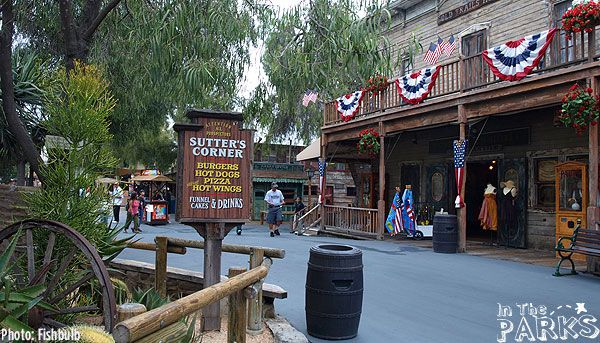 The Timber Mountain Log Ride:


A few changes have cropped up on the log ride. Most notably in the lighting and sound in certain scenes within the mountain. The lighting has been punched up and the sounds have been tweaked to really stand out.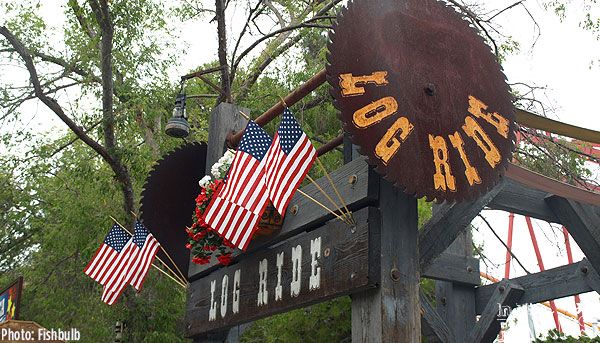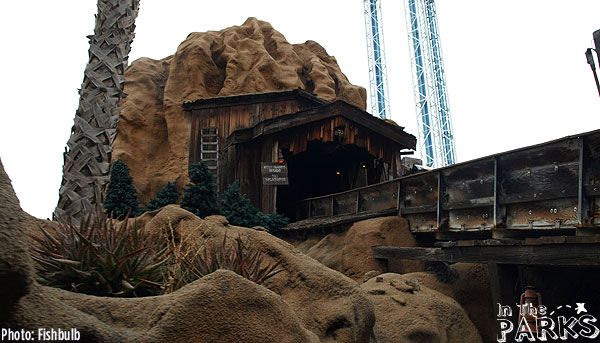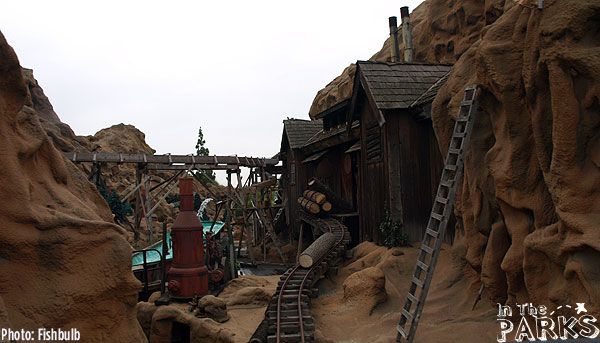 On a bit of a sour note though, they have added a light to the once dark first drop within the mountain.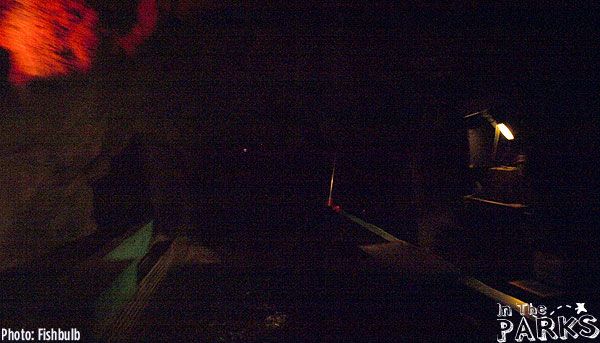 The surprise of the drop has been removed by a light hung near the flume.

INDEPENDENCE HALL: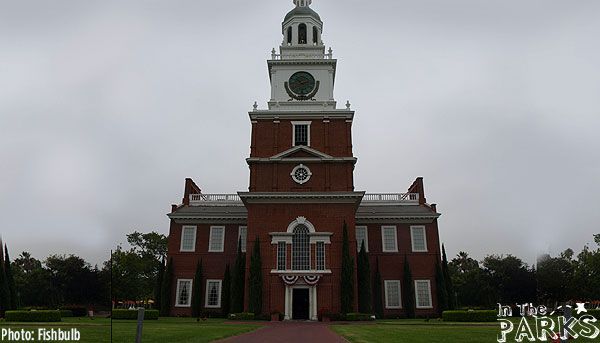 Just across the street from Knott's Berry Farm, and near the front of Knott's Soak city is the famous replica of Independence Hall. This stately structure was erected in 1966 and is a free attraction. It continues to feature an audio presentation, with speakers located at appropriate tables, which recalls the debate that led to the United States Declaration of Independence. Displays have included a replica of the Liberty Bell and a replica of the original Star Spangled Banner Flag which flew over Fort McHenry through a British attack during the War of 1812, which influenced Francis Scott Key to pen the poem that became the National Anthem of the United States.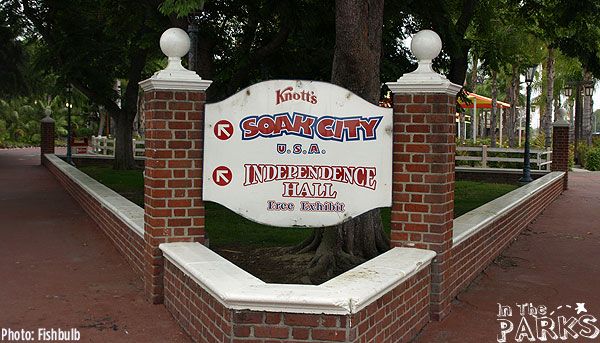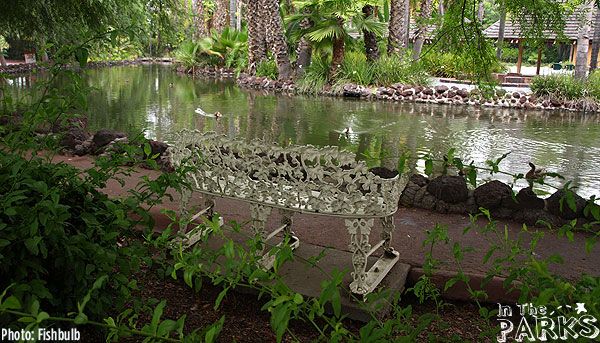 Tranquil gardens near the hall


This replica of Independence Hall was so accurately re-created that it was used in the 2004 film National Treasure, and the blueprints of the replica were requested to reference during the restoration of the original Independence Hall in Philadelphia, PA.

Inside you will find all manner of historical treasures.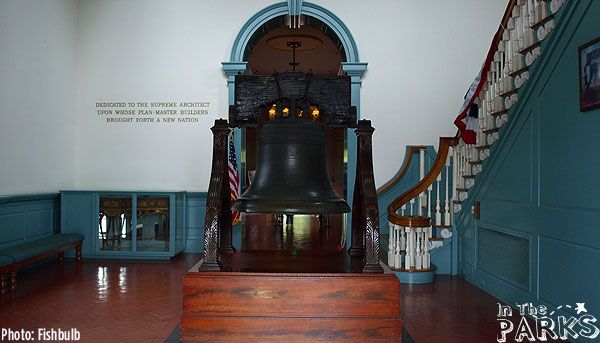 Liberty bell replica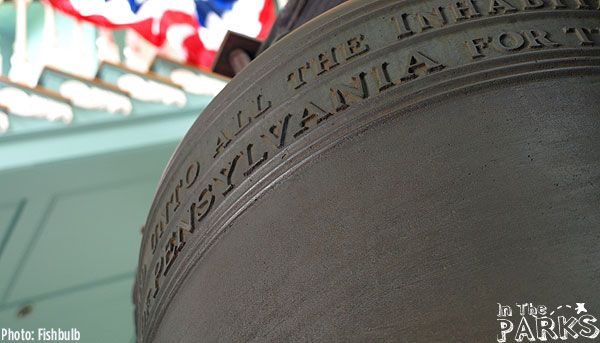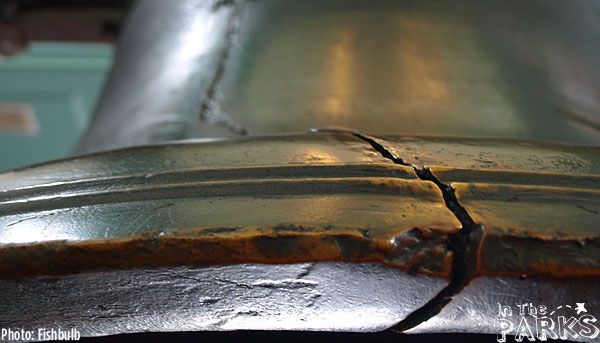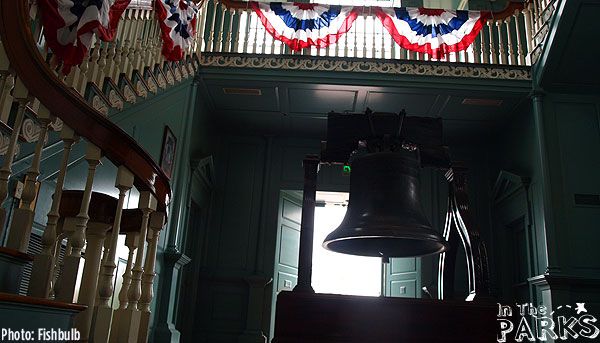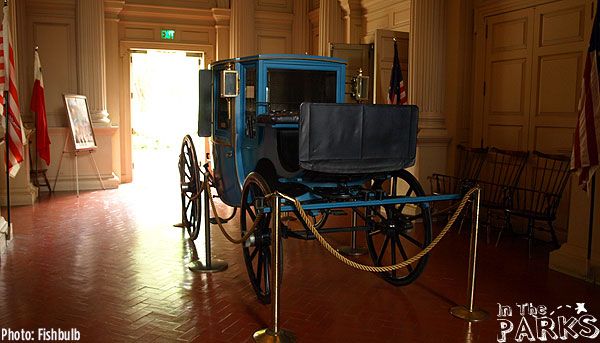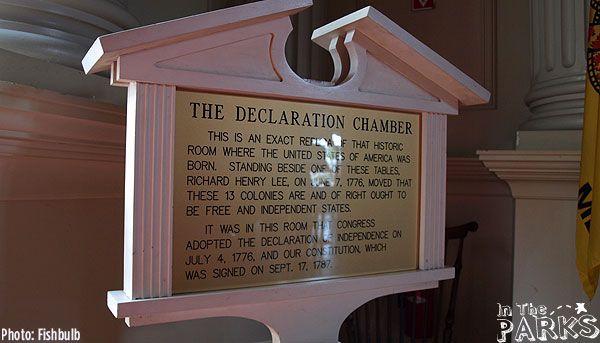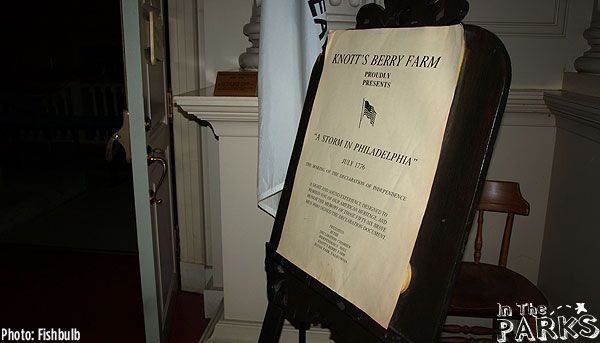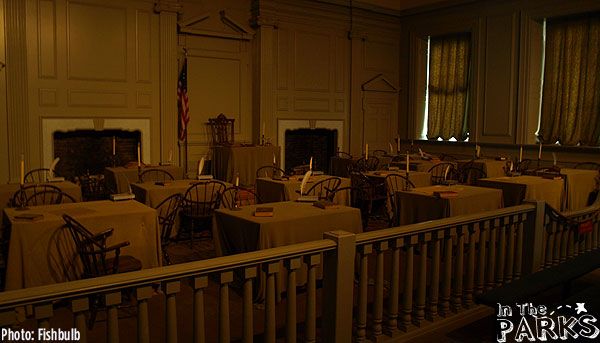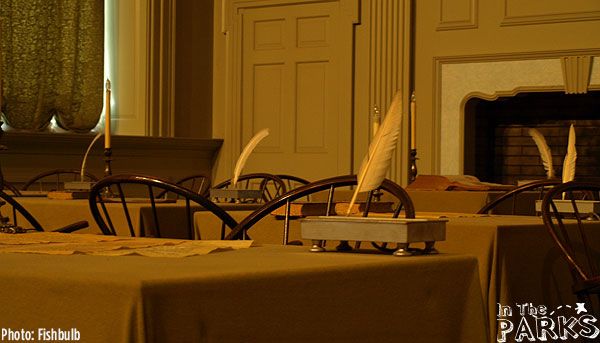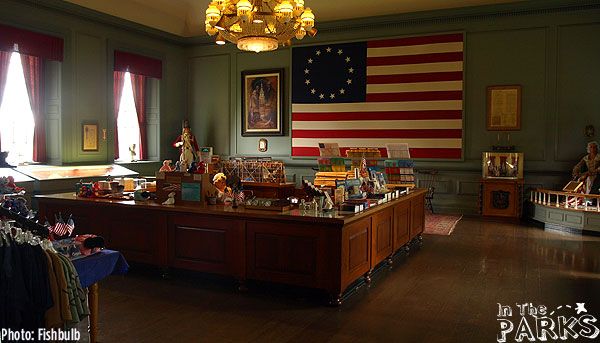 The Gift Shop room has some wonderful things to look at too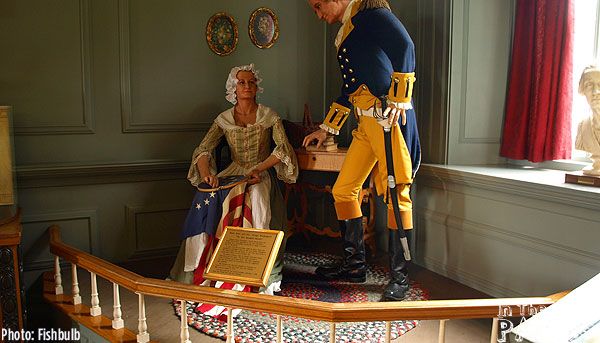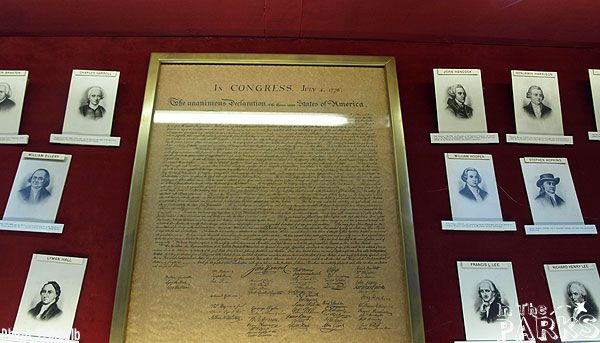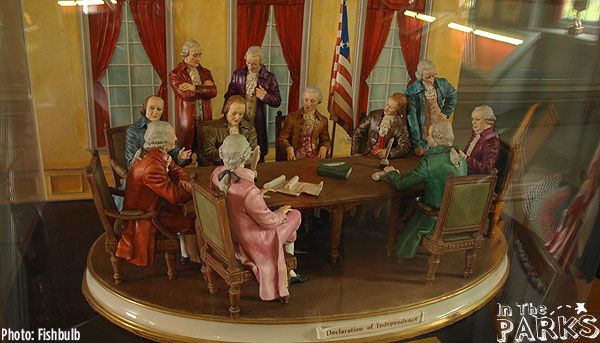 This mechanized scene is actually a 200 year old display that was originally powered by wind up.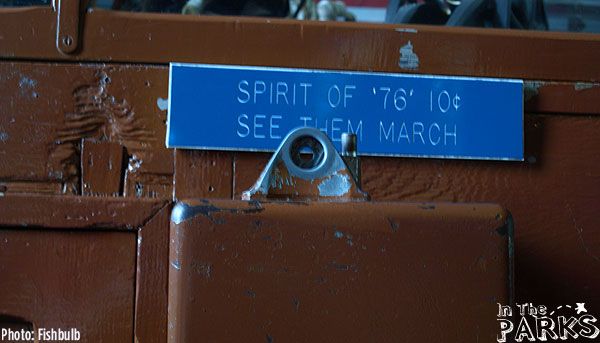 simplyfied to dropping a dime in a slot, when activated the machine comes to life with marching revolutionary soldiers. It IS COOL!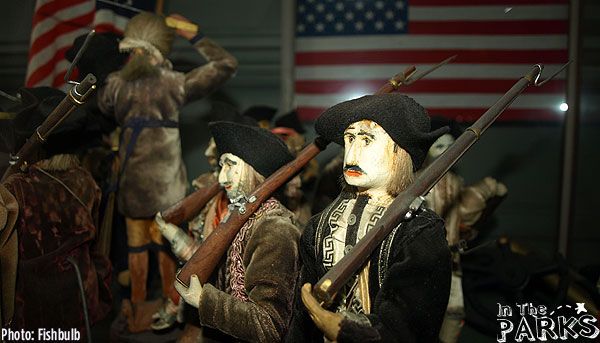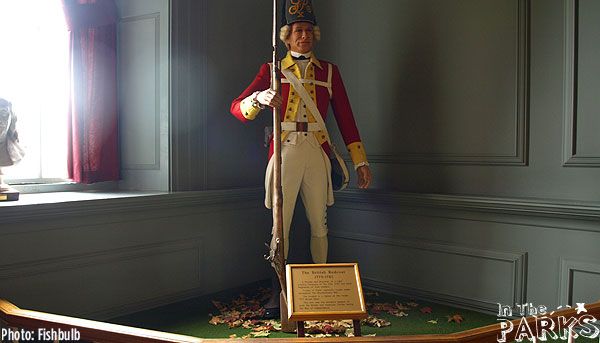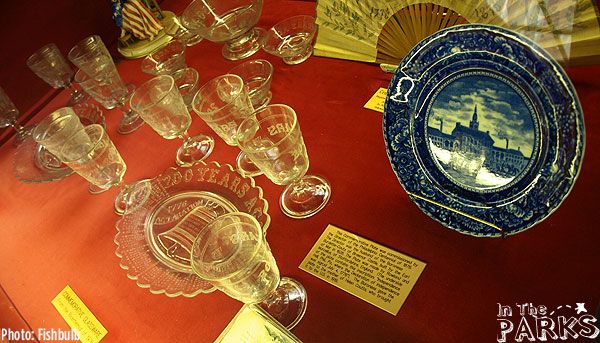 Universal Studios has seen some heavy crowds since the opening of the new King Kong and Special Effects Stage. But don't count on the full Kong experience working every time. The giant airbag system which provides the tram motion has been a little bit flaky. But even if your tram doesn't move, you'll still be able to enjoy the 3D Kongfrontation.

Park Hours:
9am-8pm Monday-Friday
9am-9pm Saturday-Sunday
CityWalk:
The neon marquee of the long closed Sam Goody has finally been taken down.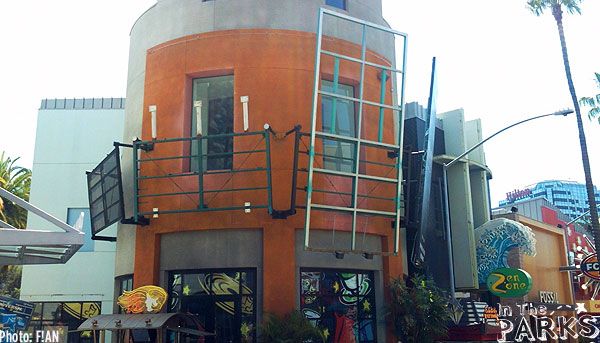 Food Service:
Cyber Grill near the exit of the Terminator attraction has reopened for the summer. Meanwhile, Jurassic Treats (upper level of Jurassic Cove) is reopening for the summer as well after literally being closed for years. It is a fun space which affords some fun views of the Jurassic Park splash down.
Summertime guest enhancements:
This Summer is all about enhancing the Guest experience. Numerous programs have launched to help Guests enjoy their day at USH to the fullest. Information Kiosks are being placed in busy areas of the Park manned by experts armed with iPads loaded with useful information such as Park Maps, current wait times, menu listings, show times, and food ingredients. We are sure that Steve Jobs would be pleased.
Greeters will be placed outside of "All You Can Eat" locations to explain the All You Can Eat process and answer questions as guests enter the venues.
Dining areas will now feature friendly Park Services Cast Members that will help Guests find a place to enjoy their meal, answer questions, and provide patio service.
Stuck in a long line? A "Fun Patrol" loaded with beach balls, hula hoops, and other items will be sent to attractions with long wait times to help ease the pain with a little fun, excitement, and even some candy.
Jurassic Park has been splashed up a bit for Summer

The splash down at the climax of the attraction has been intensified for this summer's (non)heat. It's not timed correctly but riders are still left soaked to the bone: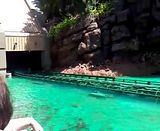 Click HERE for video
Rewarding Cast Member Excellence:
A new program to honor and reward Cast Members who go above and beyond the call of duty is now in effect. Selected guests will be given a Kong themed "Hope Our Service Grabbed You" card and are asked to give them to Cast Members who have demonstrated great guest service and have made a difference in their Universal experience. Cast Members receiving the cards will be rewarded with various prizes and surprises. If you'd like to help reward fantastic Universal employees, cards are available at Hollywood Ticket Outlet, Information Kiosks, Guest Relations, and all Food and Retail locations.
Summer Atmosphere:
Several new and returning atmosphere characters and shows are now appearing at Universal Studios Hollywood - including the Diamond Dolls, the Dino Chasers, the Policeman and the French Band.
Universal is really stepping up their game and trying to provide the exceptional level of service that was once only known at Disney parks.
Marilyn Monroe and the Diamond Dolls near Blues Brothers Stage: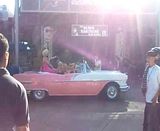 Click HERE for Video

Can Can near the Moulin Rouge:


Studio Tour:
King Kong now has a nice mist/smoke effect to make the entrance to Skull Island that much more believable.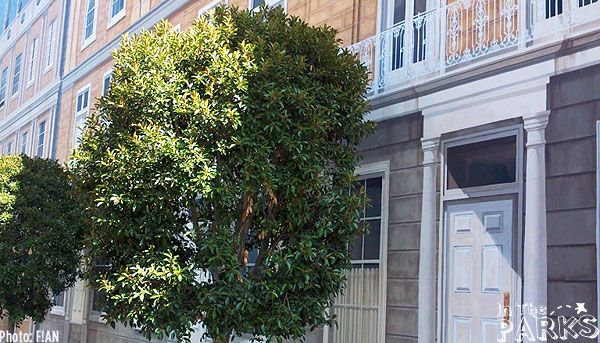 The mural painted on the wall of the NY Street facade area is so detailed you'd think it were the real thing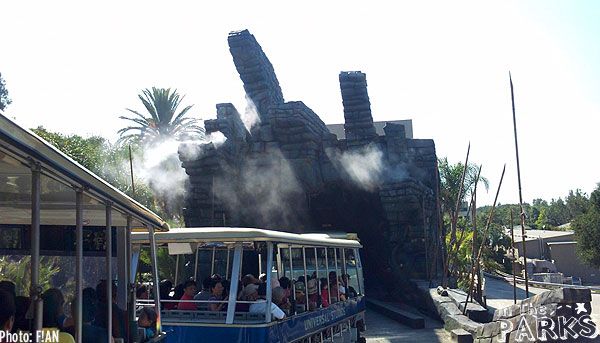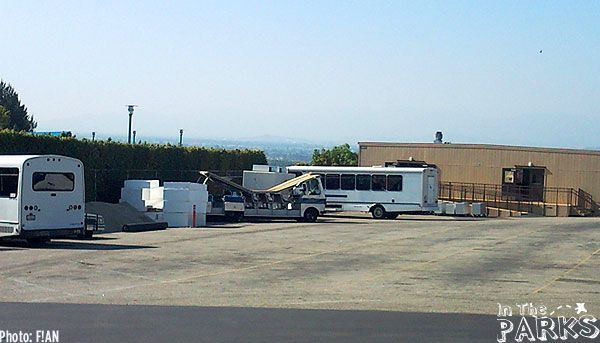 A crushed Studio Tour car (assuming it's Kong related) is tucked away near near the end of the tour.

Progress of POTC 4 construction at Falls Lake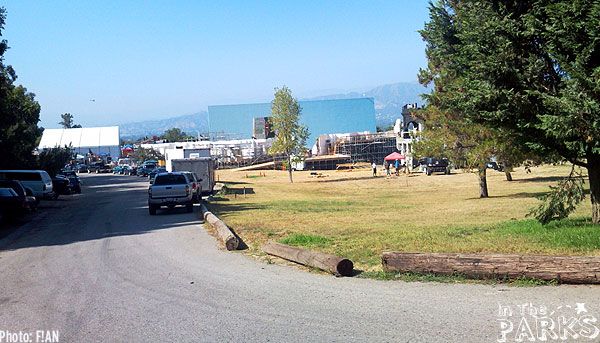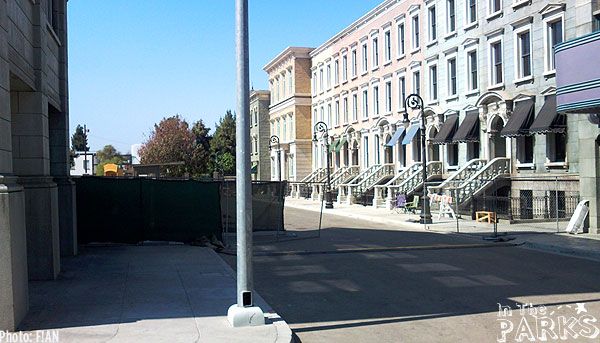 Construction is still in progress is NY Street
Transformers:
The horizontal steelwork of the gutted buildings is being removed leaving only freestanding walls on the SFX side.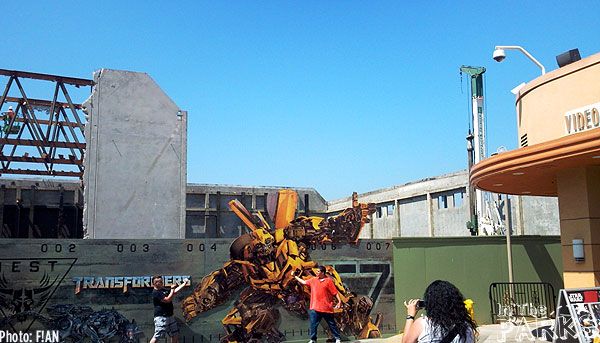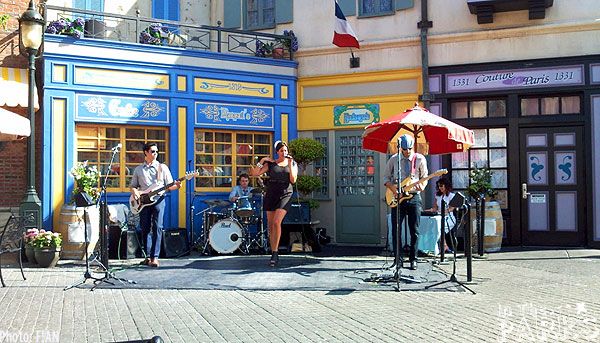 French Band near Moulin Rouge (they play French versions of pop songs)

Summer atmosphere shows:
Marilyn Monroe and the Diamond Dolls near Blues Brothers Stage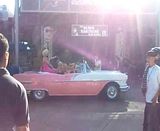 Can Can near the Moulin Rouge
http://s775.photobucket.com/albums/y...t=bdd8c8e3.mp4

They drive these scooters down the street like you'd expect to find in Paris. License plates say UNI CC COCO, UNI CC FIFI, and UNI CC GIGI
http://i775.photobucket.com/albums/y...n/41c1f89f.jpg

This and that:

Information booths have popped up in places where crowds gather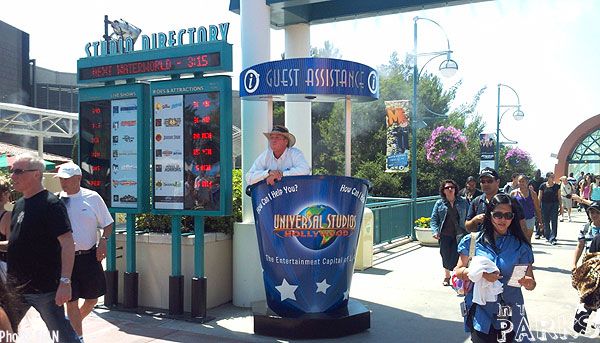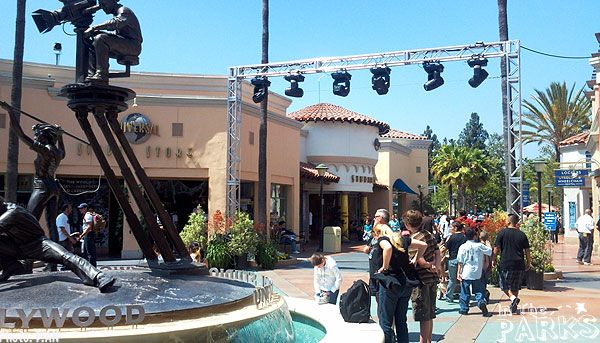 With the park staying open later, new lighting has been added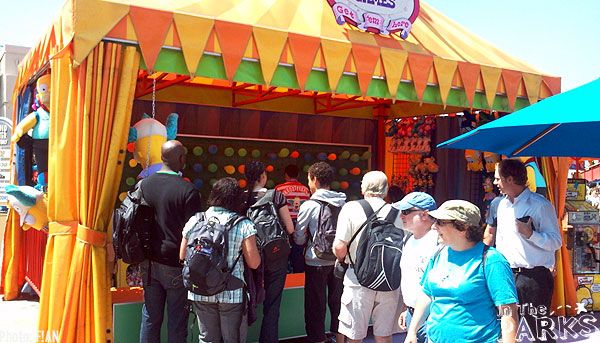 New carny games have popped up in the Simpsons Plaza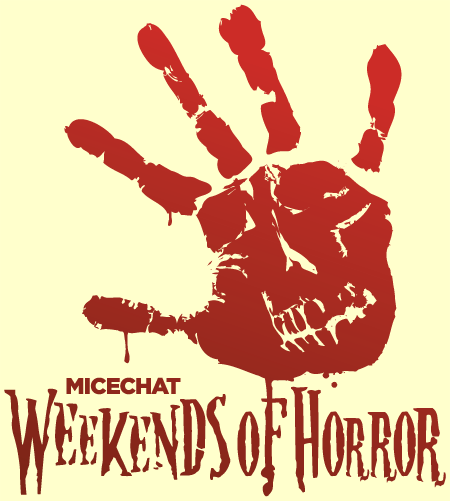 For the first time we are meeting to journey into Universal's Halloween Horror nights for the thrills and chills Hollywood style. This year there will be 5 mazes at Universal Halloween Horror nights including the Terror Tram. Add to that the shows and attractions there and you have a full night of fun. Haunt Meet Information Thread On MiceChat HERE


Saturday October 2nd
Universal Studios First Annual
Halloween Horror Nights Meet
Universal Death March and Tram Ride of Doom
On October 2nd join us for the first ever MiceChat Universal Halloween Horror Nights meet. The night starts in Citywalk for a bite of food, then we venture into the world of horror films come to life. The night starts with the Terror Tram and then the Universal Maze Death March. This will be followed by a trip to a few of the shows Universal has to offer and they are great! Haunt Meet Information Discussion on MiceChat HERE



D23 has announced its Destination D event schedule as well as a very special scavenger hunt event. Many of you have contacted us worried about what this means for our annual Gumball Rally event. Please don't worry, our event is VERY different than D23's Scavenger Hunt/Adventure sort of event. Our Gumball Rally will be back in the late Spring! Here are some details about Destination D and the D23 Scavenger Hunt:


More Info about the Great Disney Scavenger Hunt HERE.

Please be aware that only 1,300 tickets are available. To ensure your spot, please check out the additional information we have posted
HERE on Destination D.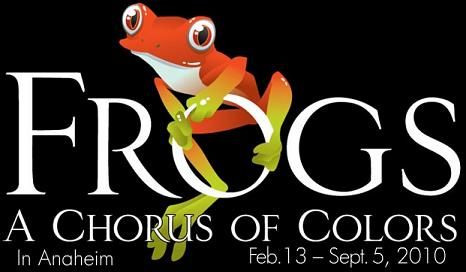 Our favorite local museum, the Muzeo in downtown Anaheim, is in the middle of a fun exhibit about Frogs. Kids of all ages have been hopping to this attraction. But this Saturday night, you can step the frog-mania up a notch with
FROG BLACKOUT
- That's frogs in the dark people! Here's a bit of additional information on the Frogs exhibit and the special BLACKOUT night version.


Frogs! introduces visitors to the amazing and sonorous world of anurans - the frogs. These fascinating amphibians are among the most visually stunning, vocally pleasing and adaptively remarkable life forms on earth.

The exhibit includes over 100 live frogs! Learn about their rich and diverse world, explore their evolution, biological importance to ecosystems and the threats they face in changing environments.
Highlights

15 Frog habitats complete with naturalistic decor, filtration and life support systems.

12 Interactive components.

35 Backlighted informative panels.

Throughout the exhibition visitors are immersed in the sights and sounds of frogs.

Frog habitats, complete with rock ledges, live plants and waterfalls, protrude through the island walls.

Living frogs from around the world offer a glimpse of the vast pallet of frog diversity.

FROG BLACKOUT is a family-friendly FLASHLIGHT event exploring the Frogs exhibition in darkness. Guests will receive a free audio guide and are encouraged to bring their own flashlight to get a peek into the active night life of over 100 frogs. The MUZEO zoo keeper will be on hand to answer any questions and point out the odd night time quirks and delights of the various species. No discount tickets are accepted for this event. $13 adults/$9 children 12 and under. 3 and under are free.
More information about the Muzeo and to order tickets, click HERE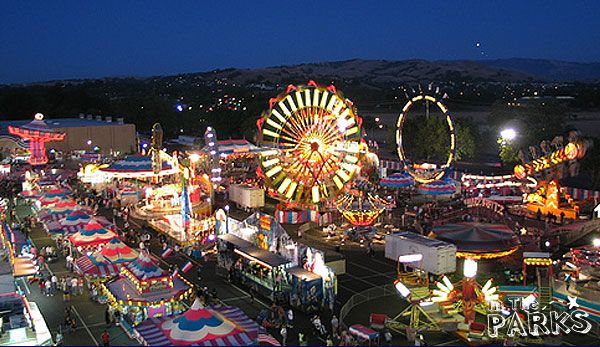 Alameda County Fair. Fair runs through July 11. Pleasanton CA alamedacountyfair.com
Hot San Jose Nights. Cruise on over to Hot San Jose Nights annual event for the famous 10 mile cruise to Capitol Drive In @ 5:45pm on Friday Evening, indoor AutoRama, outside Show-n-Shine, indoor AuctionRama, indoor VendoRama, full carnival, raffles, Sock Hop, awards, live music including the Joe Sharino Band and the Hot Rods, In the Park Parades on Saturday and Sunday, and more! It's the place to be on July 9, 10, & 11, 2010. General Admission $12, children 15 and younger admitted free with paying adult. Show Hours are Friday noon - 9pm, Saturday from 9am - 9pm, and Sunday from 9am - 6pm. Location: Newly remodeled Santa Clara County Fairgrounds located at 344 Tully Road, San Jose, CA 95111. hotsanjosenights.com
Temecula Valley International Jazz Festival. Runs July 9-11 and features Pancho Sanchez. temeculajazzfest.com
Fortuna Rodeo
. Classic rodeo has been around since 1921. Goes through July 18, 2010. fortunarodeo.com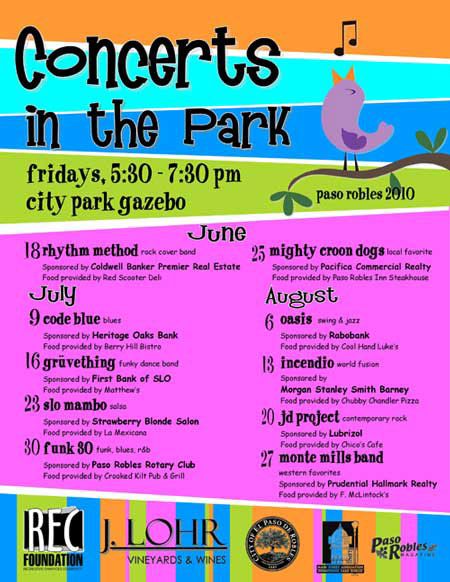 Concerts in the Park, Paso Robles. Free Friday night concert in Downtown Paso Robles City Park Bandstand, Paso Robles, CA. Time: 5:30 to 7:30 p.m. pasoroblesdowntown.org
Jazz by the Bay, Sausalito. Free concert. Time: 6:30 to 8:30 p.m. Cost: Free. Location: Gabrielson Park, Anchor Street and Bridgeway, Sausalito, California 94965. ci.sausalito.ca.us
Los Altos
Arts & Wine Festival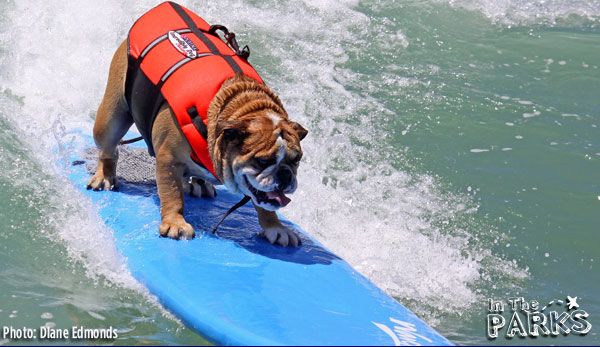 HUNTINGTON
BEACH Surfin Paws Dog Jam
. Surfing Contest and Red Carpet Gala. Sunday, July 11, 2010 Time: 9 a.m. to 10 p.m.


Palo Alto Clay & Glass Festival. 180 Prestigious Clay and Glass Artists Members Gallery - Demonstrations. Time: 10am to 5pm. Free admission. Location: Palo Alto Art Center, Embarcadero and Newell , Palo Alto, CA.
Central
Coast
Lavender Festival. 2nd annual event in Downtown Paso Robles, CA. pasoroblesdowntown.org Saturday, June 10, 2010

And that brings us near the end of another fun packed In The Parks! Have we inspired your weekend plans?
Are you ready to head off to visit your local giant ape, stay up late with a chorus of frogs, visit an under-appreciated Adventure City, or plan that final trip to Endor? Whatever you decide to do, we hope you have a wonderful time.

If you happen to run across some interesting news or have photos that you'd like to share with us, w
e'd really appreciate hearing from you.
Contact dustysage@micechat.com with your news, photos, or comments
.
And please don't forget that there is always a world of fun theme park information to read

elsewhere on MiceChat, might we suggest:



Weekend Update

Offers a world of Disney theme parks and other sights and landmarks!



Dateline Disneyland which is packed with great news and photos from the Disneyland Resort.
Remember, sharing is caring, show us you appreciate what you read today by sharing the link to this page with your friends and family on
Facebook, Twitter, and beyond! We've got some helpful linking tools in the bar at the bottom of the page.
Today's update was brought to you by our fantastic and talented crew of
photographers and news contributors
Pratt55, SirClinksalot, Captphoebus,
F!an,
David Yeh,
Fishbulb, and Dustysage
.


Thank you so much for joining us . . . We'll see you In The Parks!