In The Parks is rocking into August with one of our biggest and best updates ever! We are about to take you behind the screams as Knott's Berry Farm builds this year's Haunt. Meanwhile, Disneyland Resort is rustling up some pretty big screams of their own as they . . . raise prices again! We have a load of photos from Disneyland and California Adventure construction, along with fun updates from Universal Studios, Six Flags, the Getty Center, and more. Read all the way through to the very bottom of today's update for a chance to win a nice surprise. Well . . . What are you waiting for? Let's get this show rolling:







We are shaking things up a little today as Fishbulb brings us an exclusive first look at what's coming to Knott's for this year's Halloween Haunt. If you've always wanted to go but were too afraid, we've got a suggestion for you. Let some one smaller and with a high pitch scream walk in front of you. Monsters are drawn to fear! But there's more to today's update than just the Haunt . . .

Knott's Scary Farm:

Although opening night for Haunt isn't until late September, the preparation is well underway. In fact, one maze, The Terror of London, is nearly complete. Let's take a tour shall we? We promise not to scare you prematurely.
Backstage:

Props for haunt are all stacked up and are being prepped for installation in the mazes.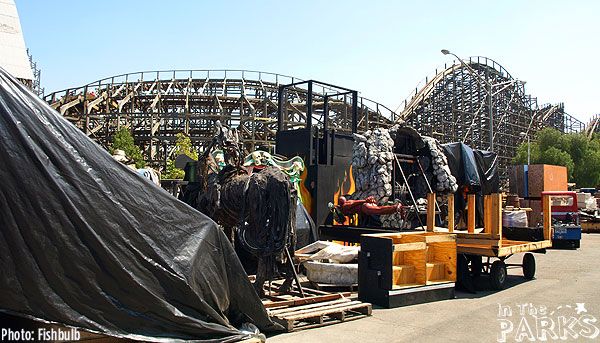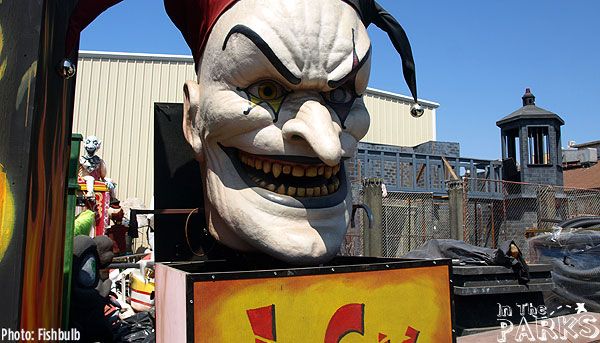 I've been looking for that perfect living room accent item. This would be just . . . PERFECT!



Grandma and grandpa are getting ready for the big party



Mmmmmm Bar-b-cue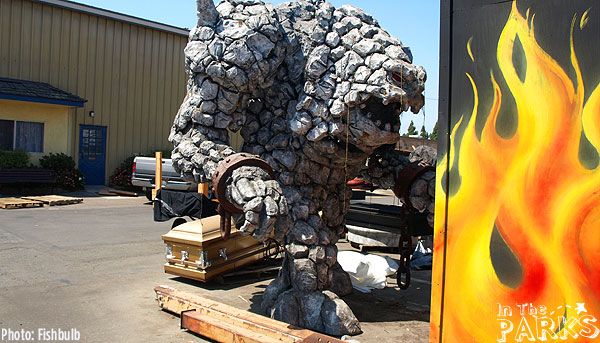 even the monsters are helping move things around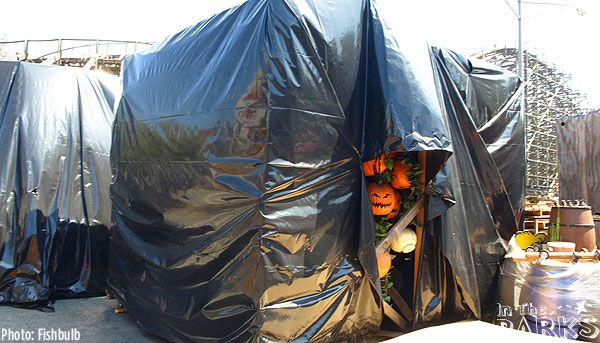 pumpkin peek-a-boo

The Terror of London:

Last year The Terror of London premiered and wowed haunt goers. We are pleased that this fantastic maze is back and is already nearly complete.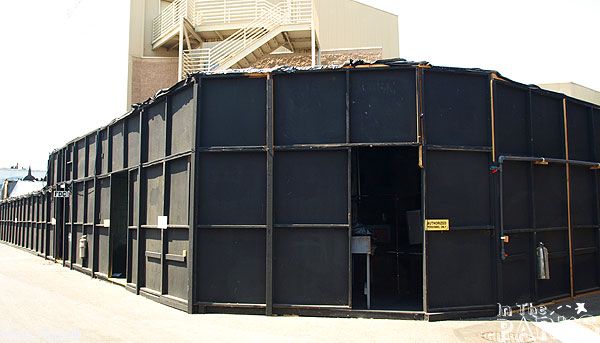 The walls are up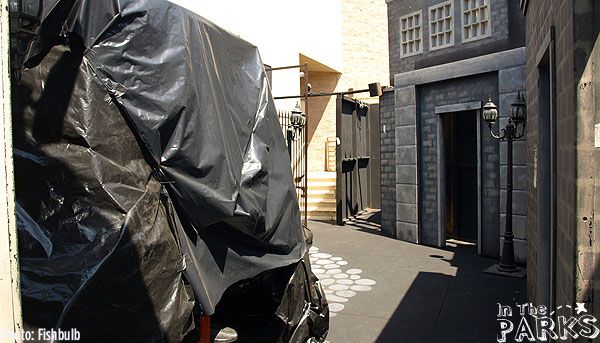 Most of the sets have been erected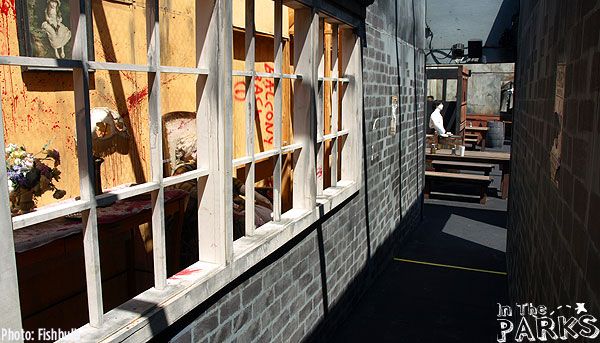 The interior is all but set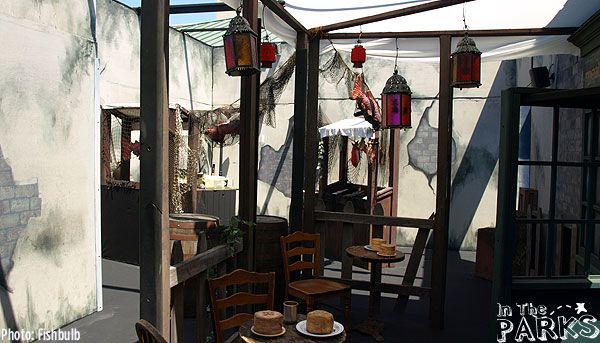 Nearly identical to last years version - it is a testament to the great concept by Haunt Designer Brook Adair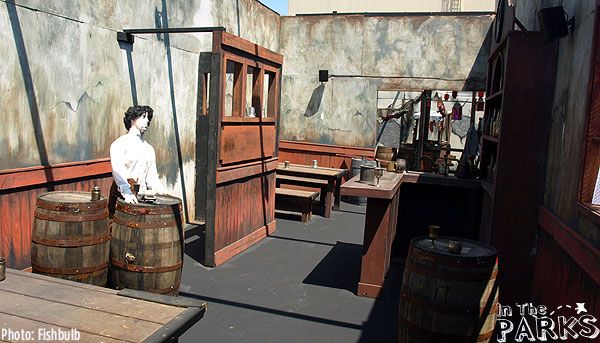 The Pub scene



My favorite scene in the maze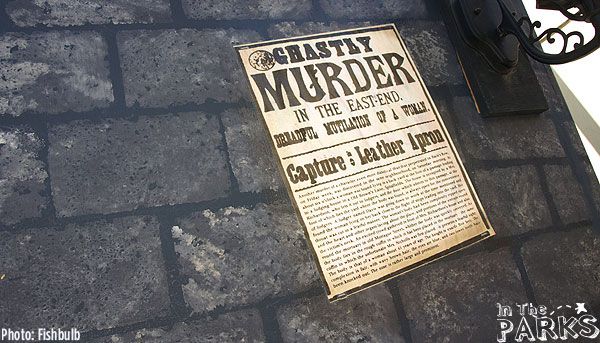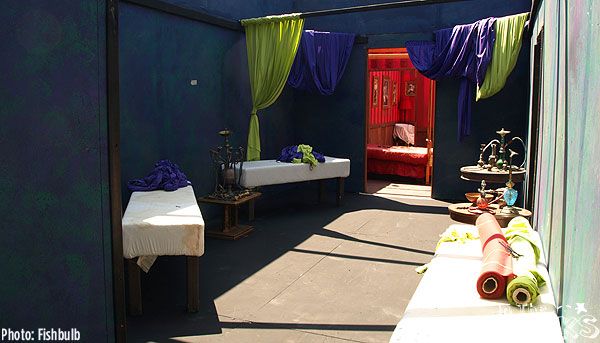 Bordello scene


Fallout Shelter:
This year, one of the three new mazes is Fallout Shelter. It is being built in the place of last years Alien Annihilation (a change for the better) and promises to be something pretty amazing from what we've been able to see. Let's take a first peek at some of the props that have arrived.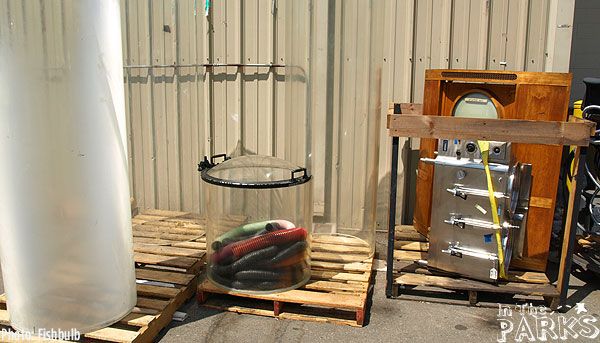 The new props have a retro vibe



A 1947 television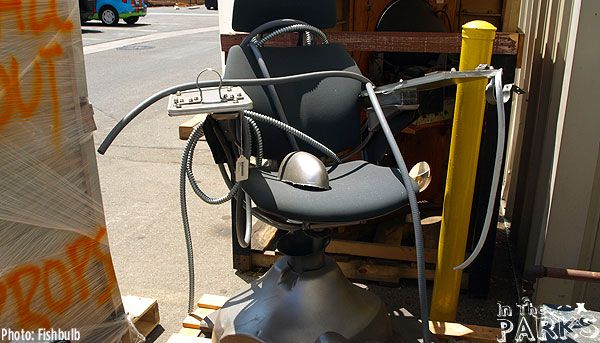 Yikes!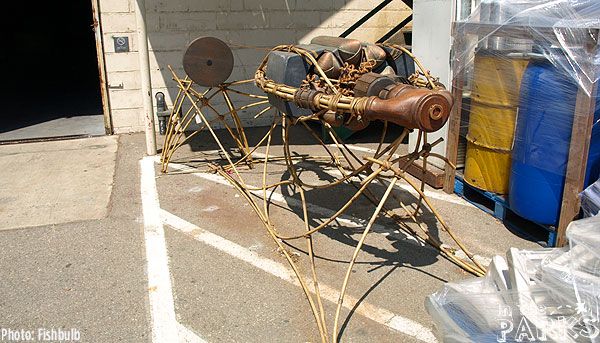 a strange contraption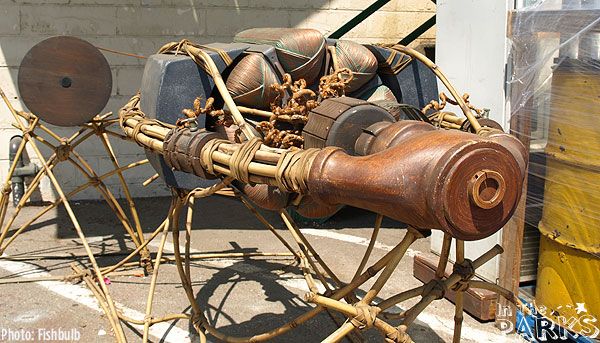 Love this!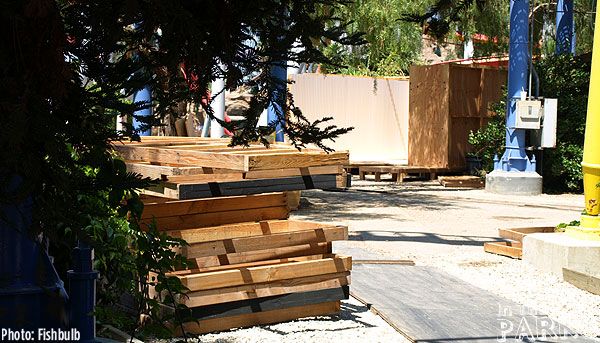 Construction is just in the early stages.


Club Blood:
Club Blood is also in the early stages of construction. Let's take a walk through the maze, and see what we can scare up.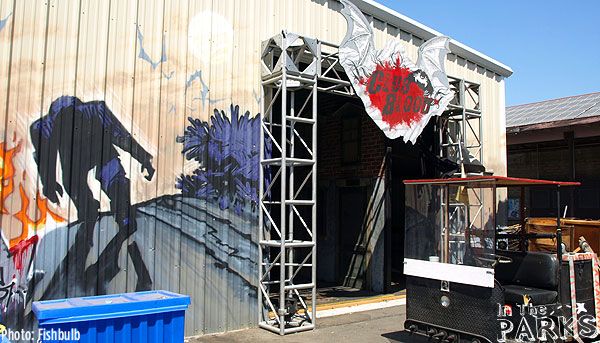 The entrance to Club Blood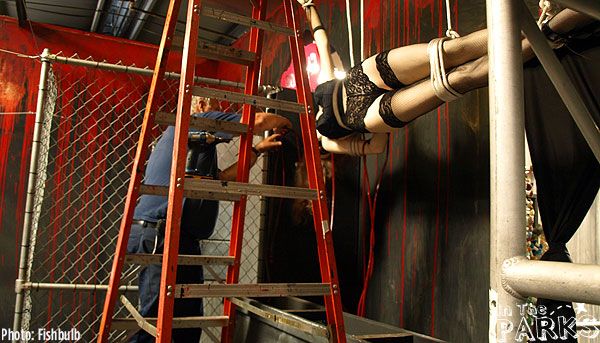 This guy is the official body hanger of Knott's Berry Farm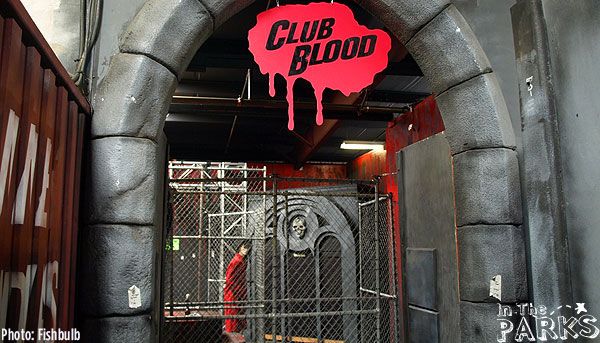 Club Blood may not be open for business yet, but somehow...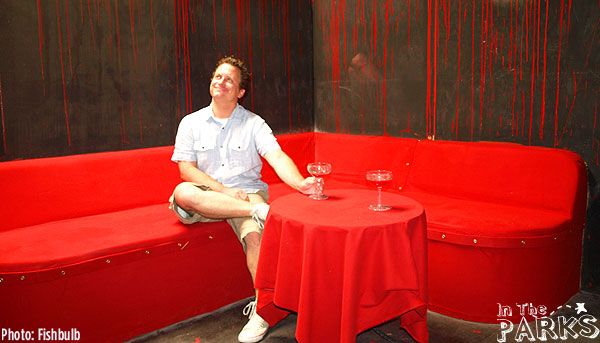 Fishbulb was able to get a drink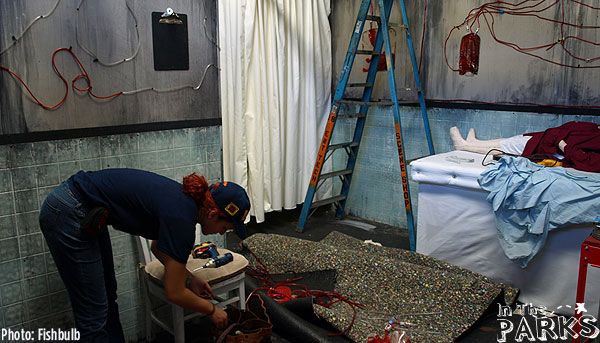 Working hard to make nightmares

Cornstalkers:

Last year one of the biggest disappointments was the sophomore year of the previously brilliant CornStalkers maze. We spoke with Entertainment design manager, Todd Faux, about plans to fix the maze for this year's haunt.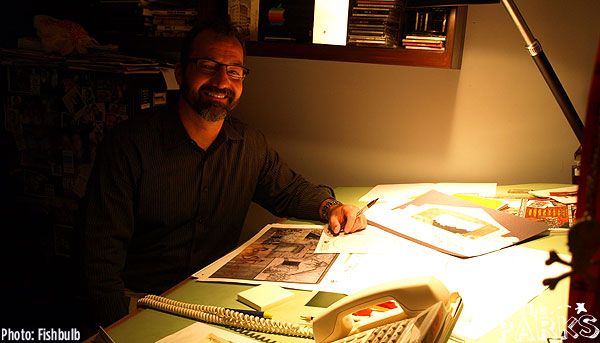 Todd Faux at his drafting board


Todd explained that due to traffic concerns, they changed the direction of the Cornstalkers maze last year. It pretty much killed the maze. Why? The maze is basically up against the Knott's fence which is along La Palma Avenue with all of its non-theatrical street lights. The lights, at night, lit up and illuminated most of the more open scenes of the maze. This year they have figured out a way to work around the intrusive lighting and it promises to really enhance the experience.


Fishbulb and Todd Faux look over sketches for the improved version of the maze.

We don't want to give away too much, but we can tell you that the new entry will be a spooky old farm house just filled with locals who have been dying to meet you. Good times will be had by all.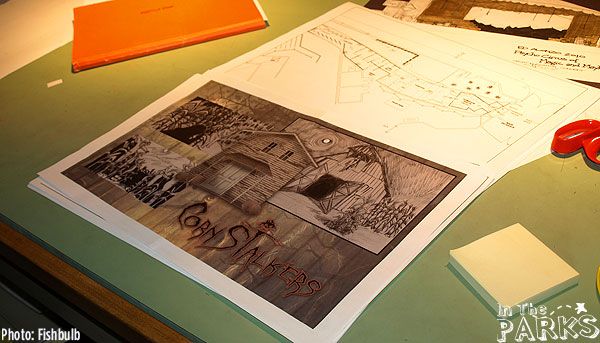 But that's just a first look at the Haunt. We'll have more to share with you soon.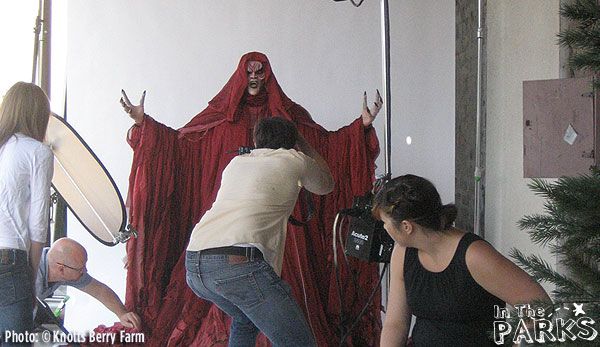 If you aren't a good little Monster, the Overlord will leave
his photo shoot early and come to get you.


If you haven't noticed, we are crazy about Halloween. In fact, this year, we have three big Haunt events planned. 2 meets at Knott's (one for the Mazes and one for the Shows and behind the screams tour) and one at Universal. We hope you'll consider joining the fun.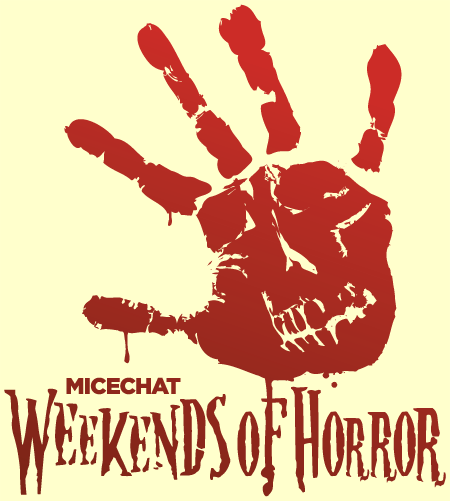 This year's MiceChat Haunt meets will be more fun than ever. We are working with Knott's to bring you our most horrifying, nights of gruesome pleasure ever. We've learned that you just can't do the whole Knott's Haunt in a single night. So, this year we'll be offering two very different Knott's events. Join us as we take an eye popping look behind the screams to see how the haunt comes together every year. Visit the mazes with your Mice pals. See the terrifying shows. Meet the magic makers, designers, monsters, and staff who help make Knott's Haunt the granddaddy of Halloween.
Haunt Meet Information Discussion on MiceChat HERE
!!! SAVE THE DATES BELOW !!!!

Friday October 1st,
Knott's Scary Farm - Fourth Annual MiceChat Knott's Scary Farm Halloween Haunt Maze Meet.
PreScare Buffet and early entry into Haunt, The Hanging, The Famous MiceChat Maze Death March.

On October 1st join the Web's largest Haunt Meet for a night of fun in the fog shrouded nightmare of Knott's Scary Farm. The night will start off at 4:30pm with a Pre-Scare buffet followed by early entry into the Haunt. We'll ride the Log ride and Mine Train view The Hanging, then embark on the world famous MiceChat Maze Death March!
Haunt Meet Information Discussion on MiceChat HERE
Saturday October 9th
Knott's Scary Farm - Behind the screams tour and Haunt Shows.
This wonderful event will start with a buffet dinner, followed by a tour behind the scenes of one of this years mazes, Panel discussion with Haunt Creators and Monsters, early entry into Haunt, and a run of all the Haunt's shows including VIP seating.

Ok all you Roadies, Rock-a-holics, and Rockstars. Rock Band Live is back at Knott's Berry Farm, but this time it's bigger than ever. This unique multimedia experience combines the thrill of a stage show with live music. Guests will have an all-access pass to the hottest new show with the most triumphant rockers. And some of the guests playing in the park's Rock Band gaming kiosks will be chosen to participate in the show each and every day! Rock Band Live!

MiceChat was there for the first performance of this lively and entertaining little show. Here is the run down; Before the show, guests can play Rock Band, for free, just outside the theatre. The guests with the three highest scores get to actually participate in the show.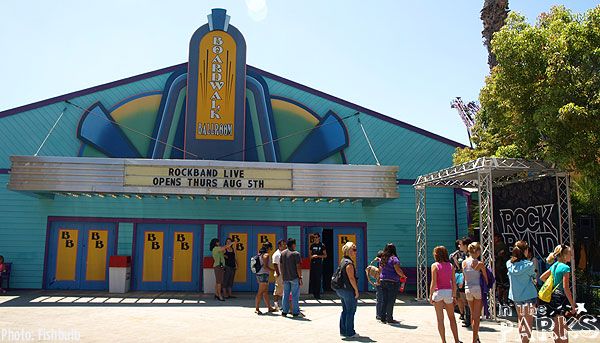 Come on everybody let's rock!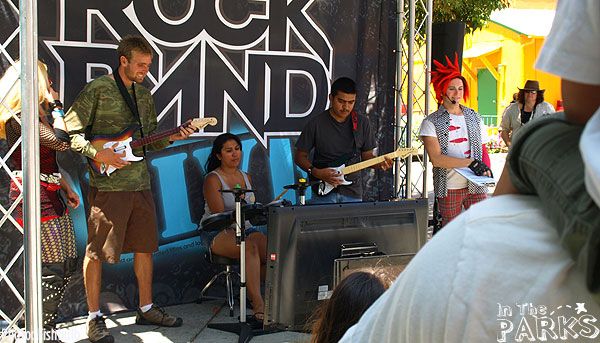 Guests play Rockband to try to be part of the show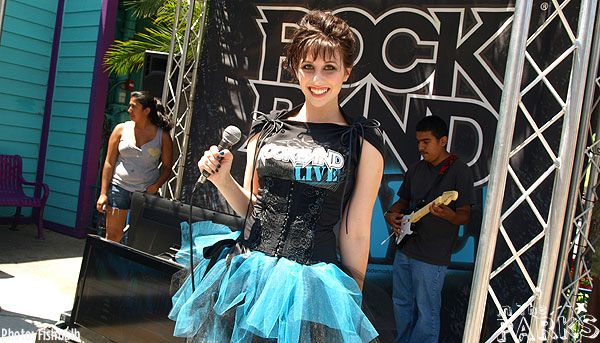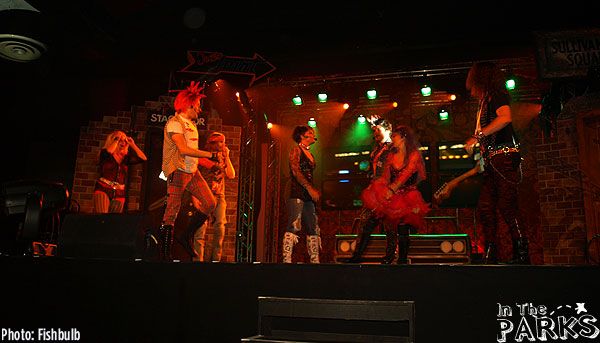 The show has a pretty entertaining little story.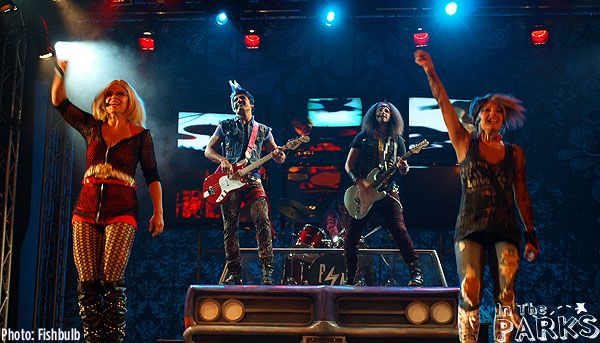 about a band getting ready for the big show.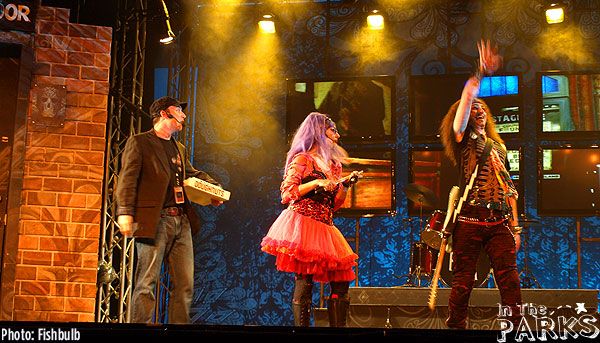 it is filled with funny little scenes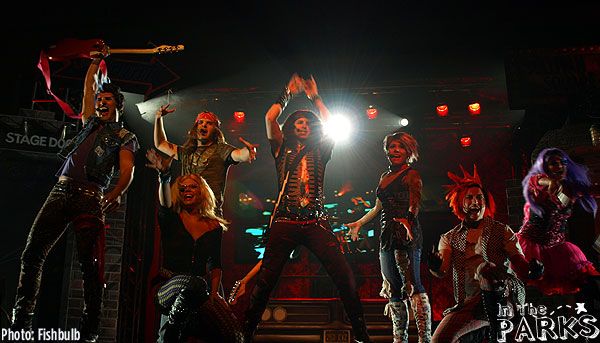 Interspersed with rock numbers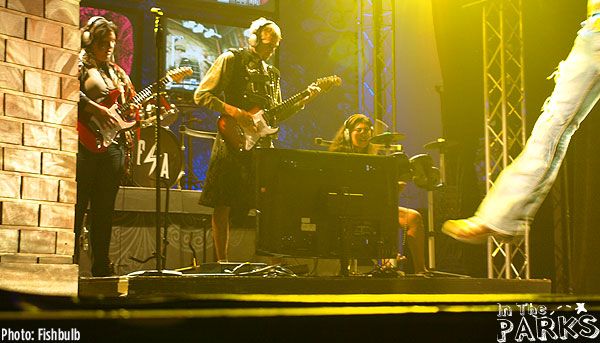 The three guests who scored the highest prior to the show play as the back up band for all the numbers.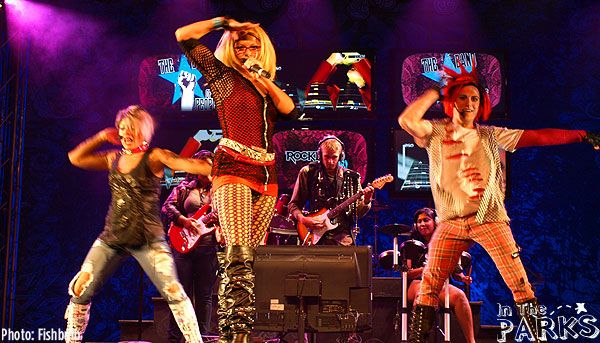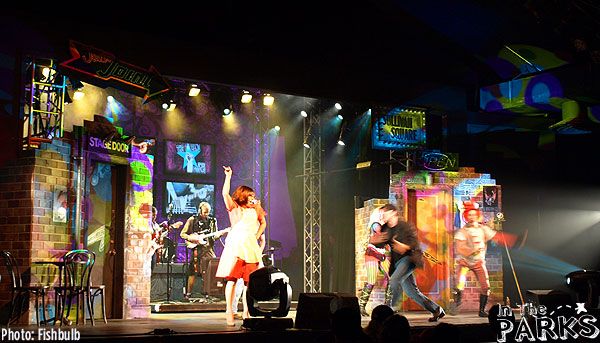 Some of the voices are pretty amazing. Absolutely a fun diversion.

Knott's Soak City Season Passes just got cooler.
Every Monday through Friday in August Soak City and Gold season pass holders can bring a friend for only $14.99. Limit 1 offer per pass per day.

For a limited time only when you buy 4 Regular (ages 12-61) tickets for Knott's Soak City San Diego or Soak City Orange County online they are only $19.99 each.

Snoopy's 60th Birthday July 31-August 8


The Disneyland Resort is honoring one of its oldest and most beloved traditions . . . the annual price increase. A one park hopper is now $101. Still, Disneyland and California Adventure are packing in the crowds and DCA is finally seeing the sort of attendance numbers it was built for! Amazing what a multi-million dollar show will do for the bottom line. And that's just the start.


See for yourself...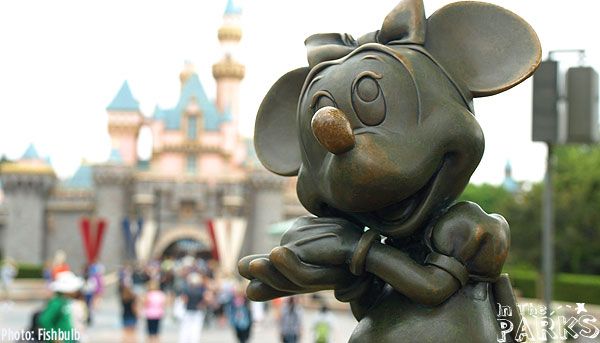 Minnie is dreaming of all those dollar signs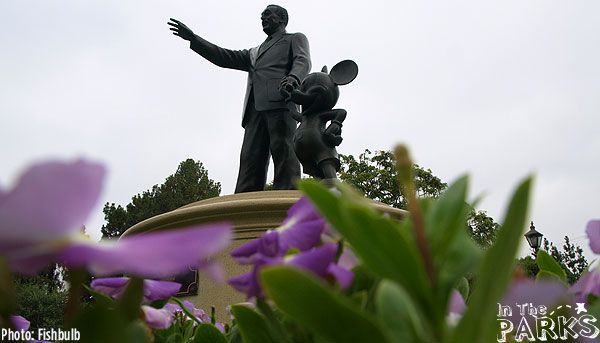 What is telling Mickey "Look at all those people"


Big Thunder Mountain appears to have made a possible OSHA related change. Planks have been installed between the tracks, above the queue at the station.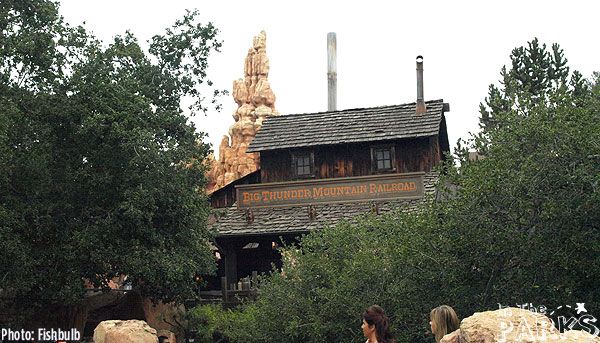 Big Thunder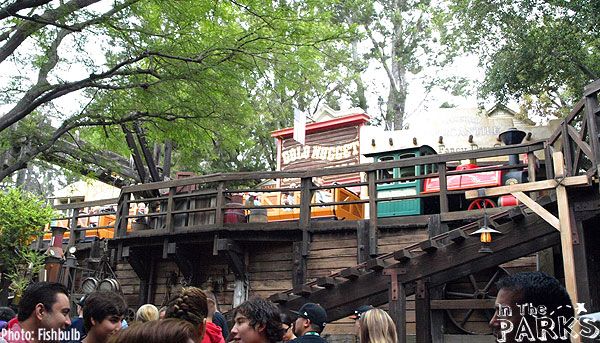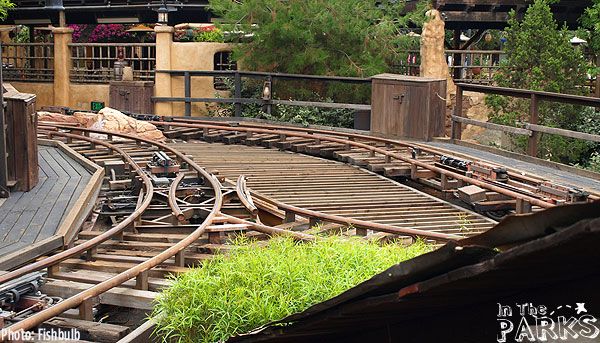 The opening between the tracks now has slats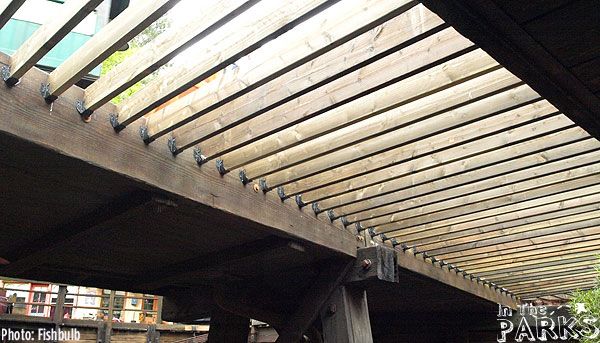 The don't look like they are made for walking on but rather to keep someone from falling through.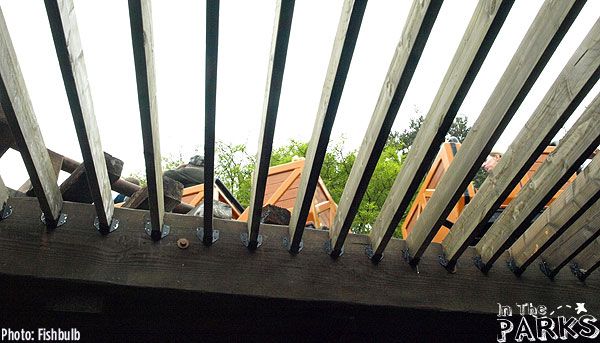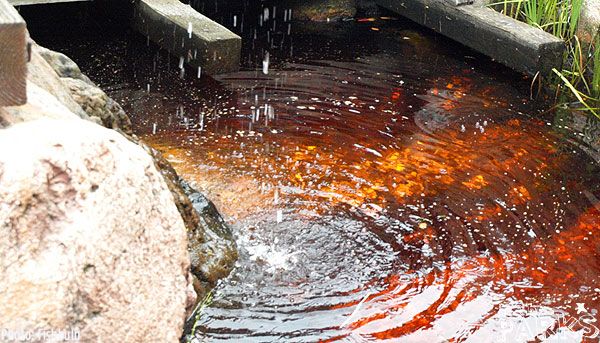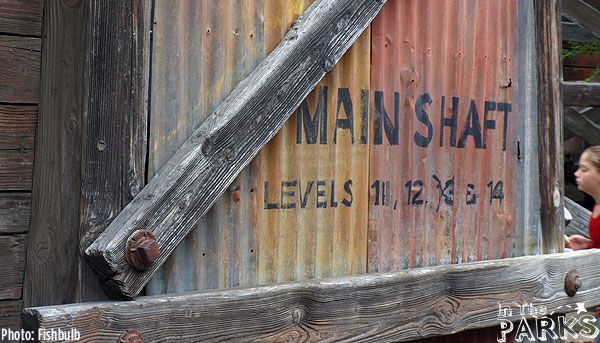 Love the queue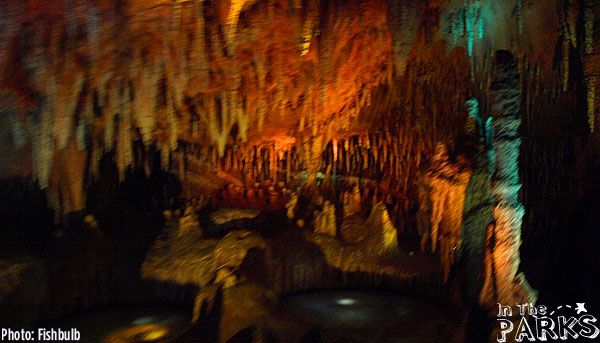 The caves at the beginning of the ride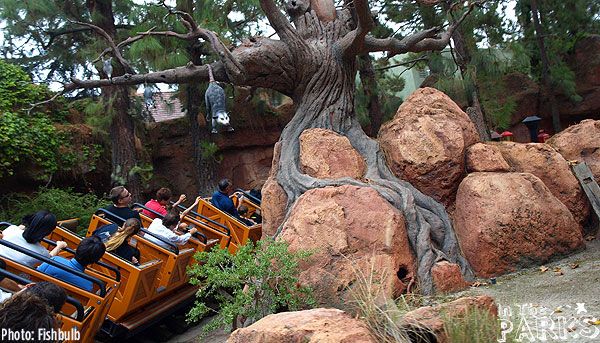 Spinnin opossums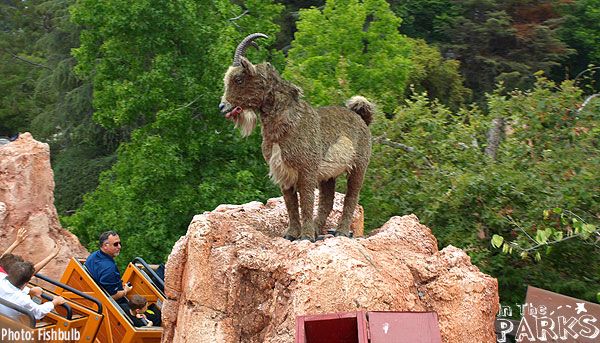 Goat Trick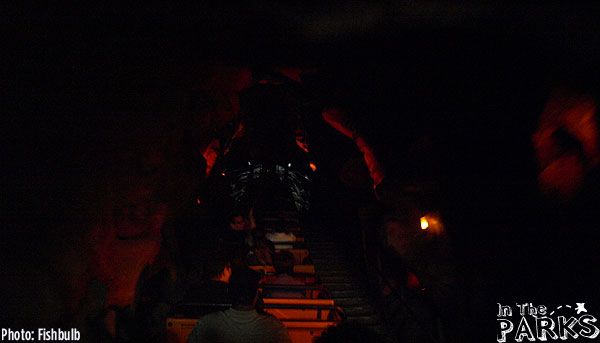 There has been some discussion about changes in the earthquake scene.
We didn't notice anything different.




Disney California Adventure is a hive of activity with multiple construction projects racing to the finish line and record crowds packing the park nearly every day. Carsland, The Little Mermaid, the Red Car Line, and the re-imagined entrance are all still on the way. We have quite a bit to look forward to for years to come . . . and even bigger crowds!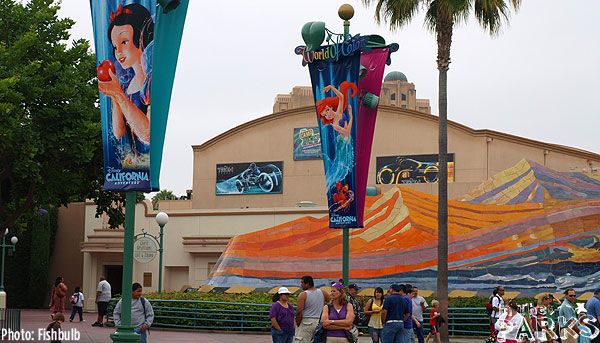 Outside, in the esplanade, new billboards promote Tron - a movie which is generating tremendous buzz.
The Little Mermaid: Ariel's Undersea Adventure
We are enjoying watching this attraction take shape. Though just a dark ride, all indications are that it will be a spectacular one and very high capacity. Truly the type of family attraction that DCA needs more of. We are really looking forward to the final product.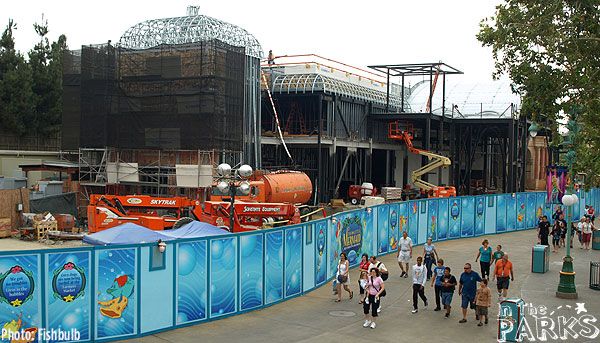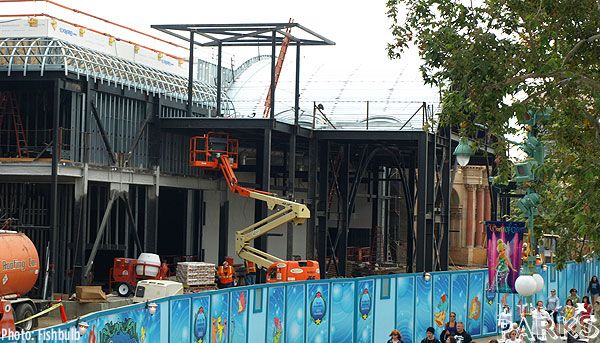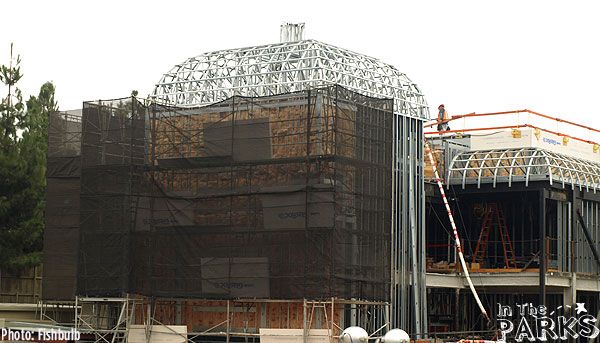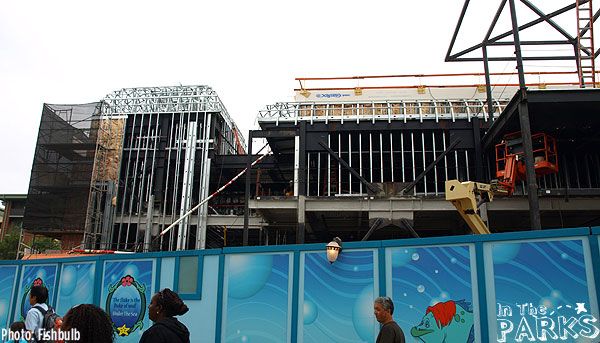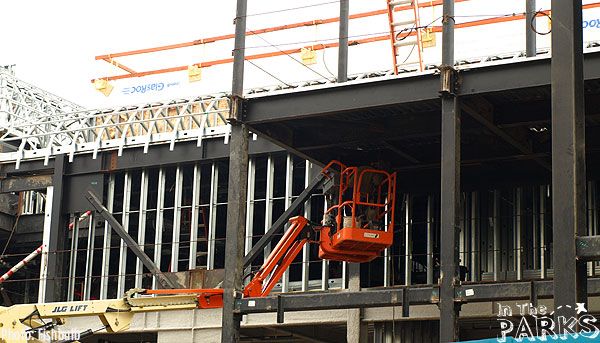 Crews were busy this past Thursday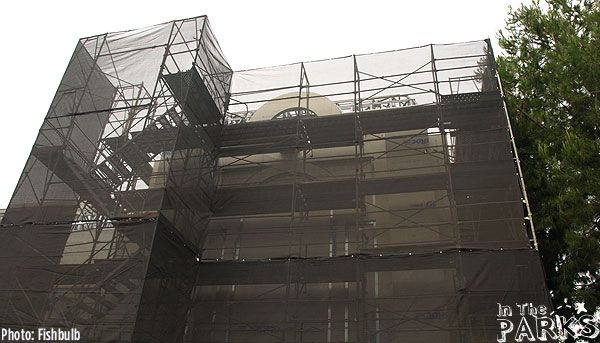 Drywall is nearly complete on the south side of the building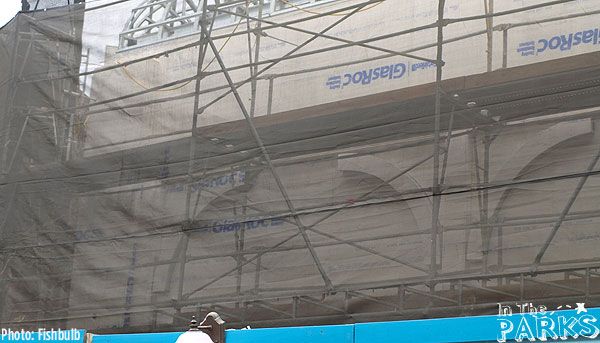 Impressive work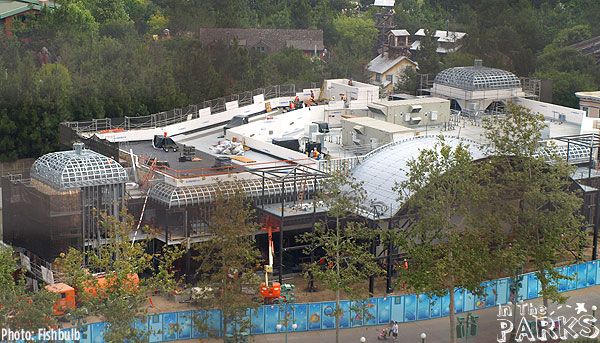 The roof of the building is receiving a sealing treatment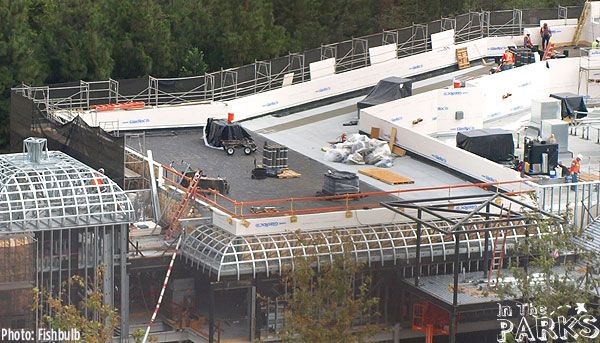 The air smelled of tar - which reminds us of theme park parking lots of yore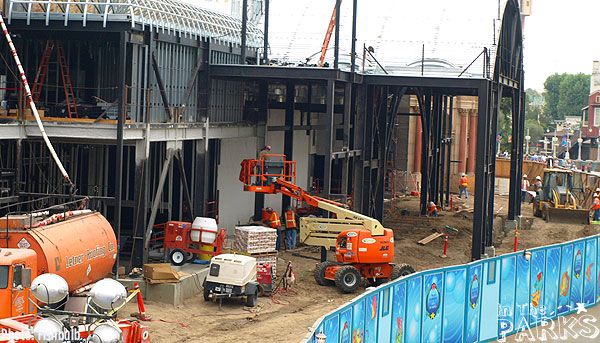 Carsland:
Carsland has until 2012 to get all the nuts and bolts in place and ready for riders to take a spin through Radiator Springs. But before that can happen, the roughly 6 acres of rock work needs to be completed to create the colorful berm that will be used to transport visitors into the land of Radiator Springs.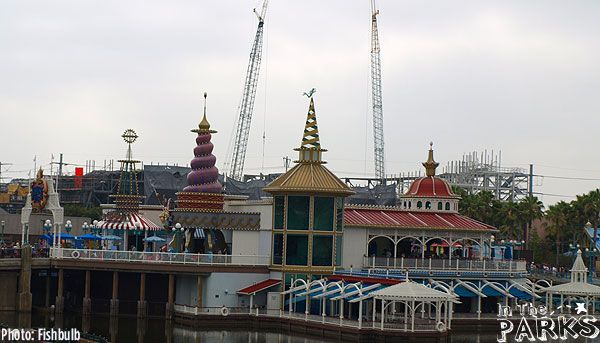 Cranes and construction loom over Paradise Pier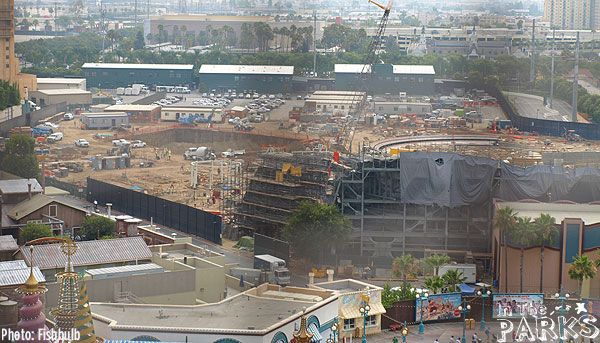 The northernmost tip of the rock berm has been wired and readied for the next phase.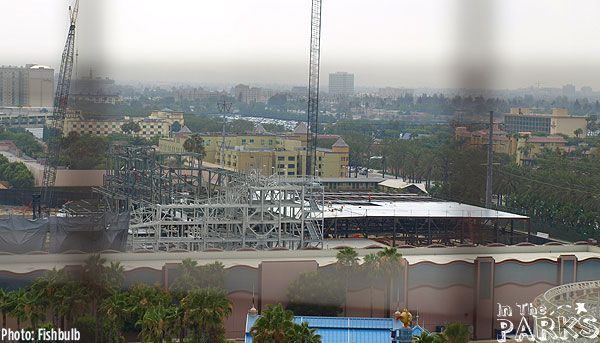 The show building where the dark ride portion of the ride takes place is beginning to rise up near California Screamin'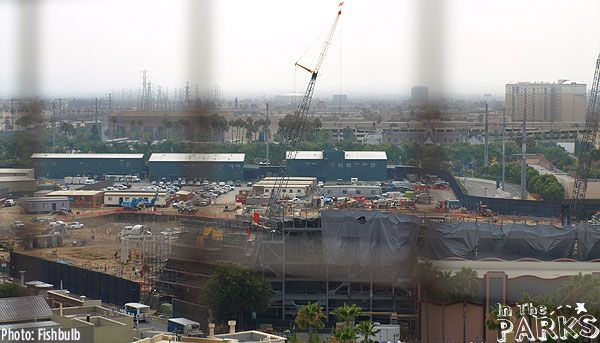 The far end of the lot is finally beginning to progress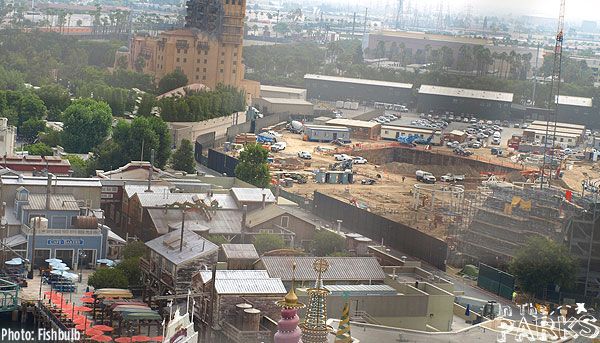 soon the construction will reach out into the Bountiful Valley Farm area and right up to the Parade Route.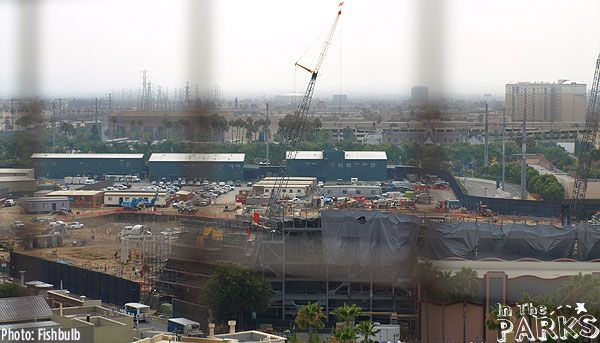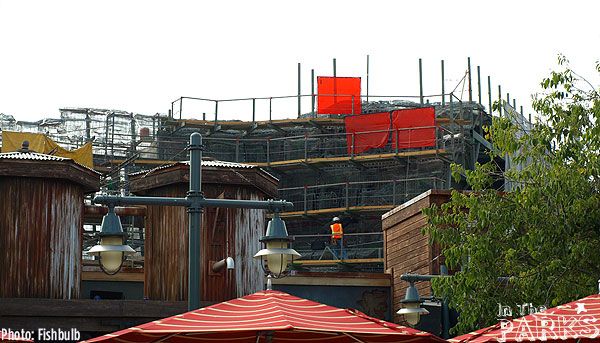 We assume these are sight-line flags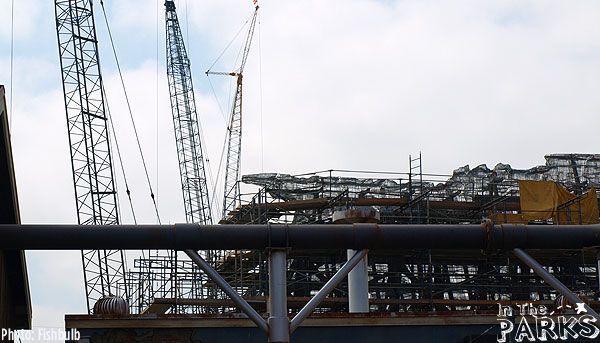 You can almost imagine what it will look like already!



D23's Jeffrey Epstein has a new weekly video blog for the Disney Geek in all of us. Check it out:

<object width="640" height="385"></object>
<object width="640" height="385"> </object>
<object width="640" height="385"> </object>
<object width="640" height="385"> <embed src="http://www.youtube.com/v/F3gkhp3Uujk&hl=en_US&fs=1?color1=0x006699&color2=0 x54abd6" type="application/x-shockwave-flash" allowscriptaccess="always" allowfullscreen="true" width="640" height="385"></object>


Universal is doing gangbuster business this Summer. July saw attendance at their highest since 1996 when Jurassic Park: The Ride debuted. This included one Sunday which was the 4th highest attendance day in park history. Because of this amazing attendance, Universal has extended its operating hours. During the weekend the park will be open 9am-10pm with the Studio tour running long after the posted closing time and well into the evening hours. It is rare for the trams to run after sundown, but they have been doing so regularly this busy Summer.

CityWalk:

Johnny Rocket's opened its doors this past week and the place is snazzy. They are even trying out breakfast for hungry early morning park goers.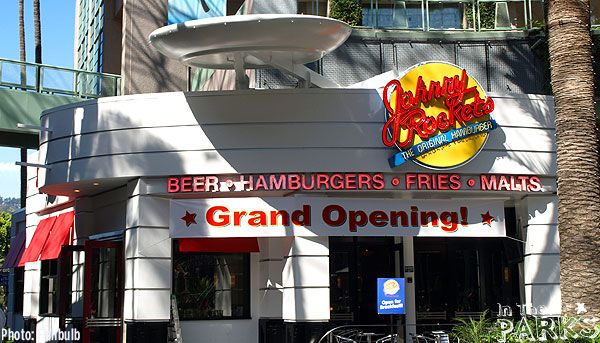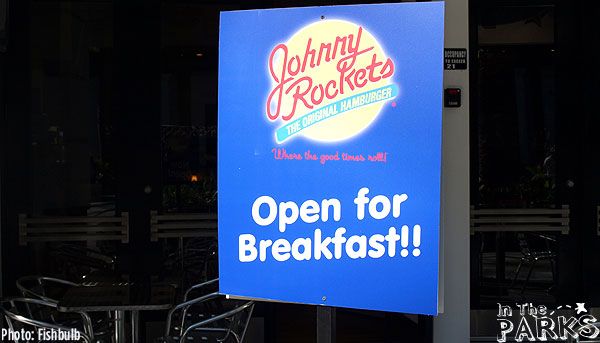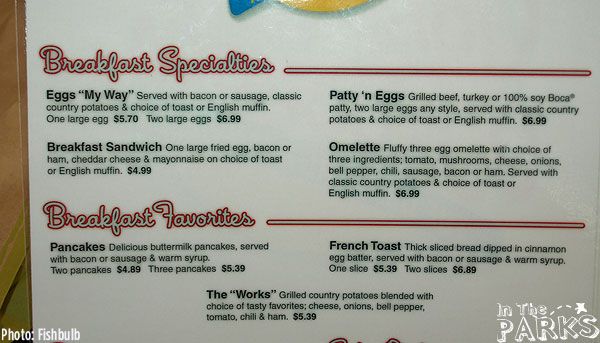 Mmmmmmmmm pancakes!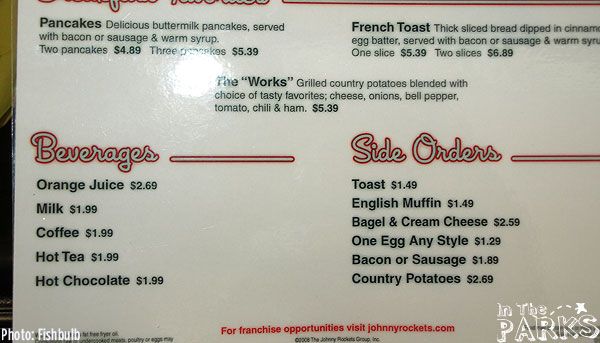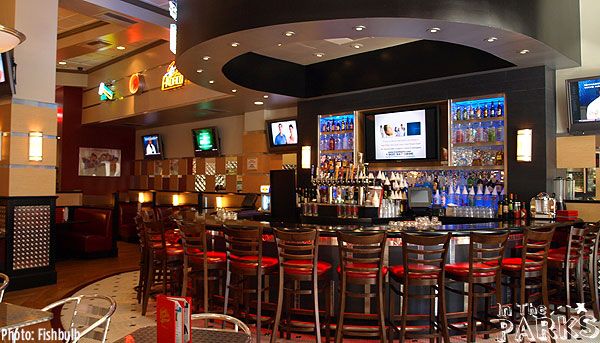 Nice digs Johnny!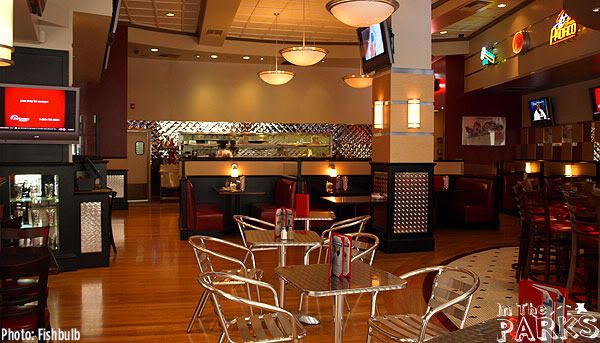 Main Gate: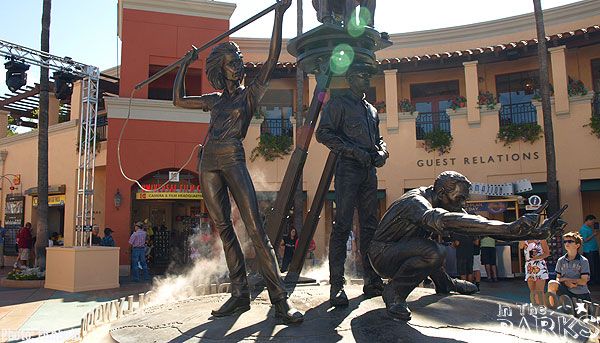 Our friend is back. Can you tell which ones are bronze and which are real?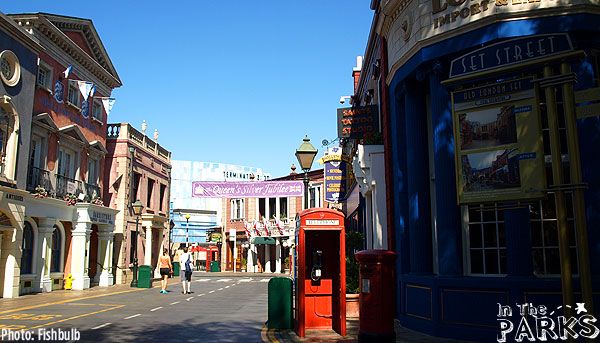 The path leading to T2 has received extra set dressing.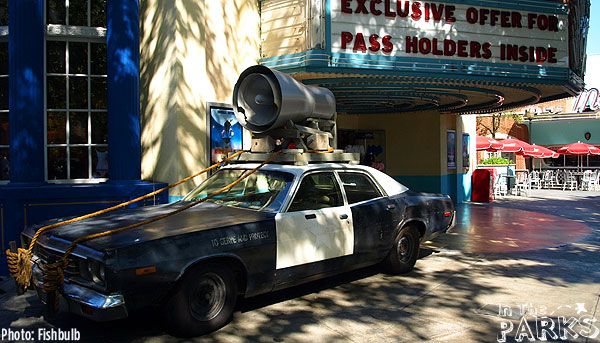 Blues Brothers Rules
Transformers:
The Transformers ride continues to take shape in the lower lot. Just imagine what the place will look like when it opens during Spring Break of 2012. The attraction is currently budgeted at $180 million. To give you some perspective, Jurassic Park debuted with at a cost of $120 million.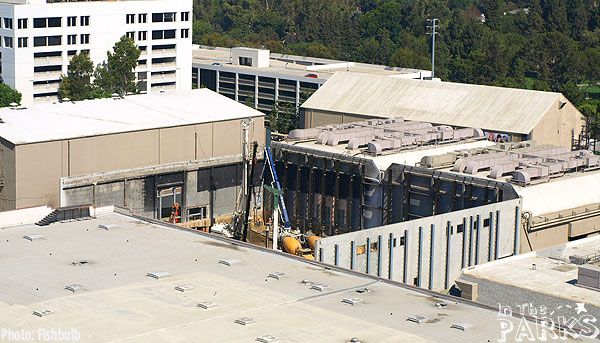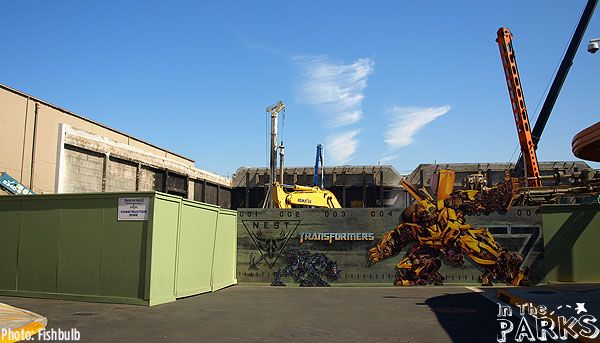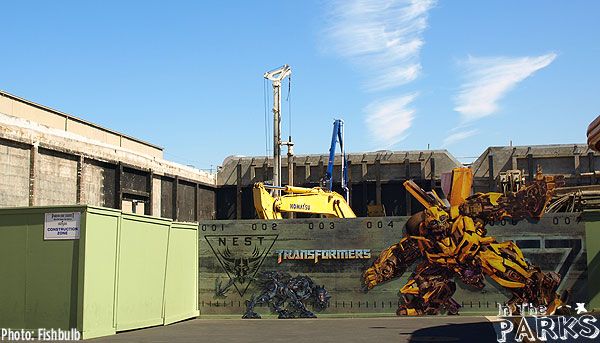 Halloween Horror Nights:
Universal just announced that one of the mazes for this year's event will be Rob Zombie's House of 1000 Corpses in Zombievision! (3-D). More info is coming next week.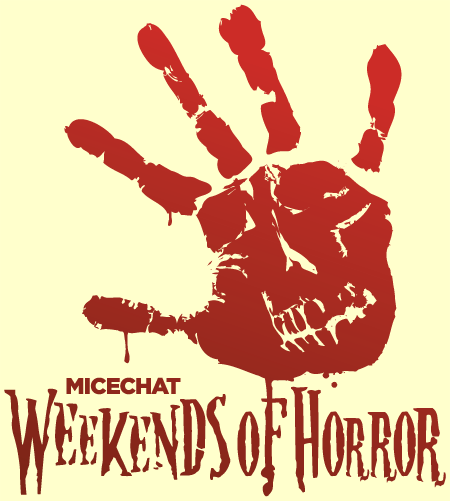 Saturday October 2nd
Universal Studios First Annual
Halloween Horror Nights Meet
Join MiceChat as we hold our very first Halloween Horror night meet at Universal Studios. This year, there will be 5 mazes at Universal Halloween Horror nights including the Terror Tram. Add to that the shows and regular attractions and you have a full night of fun. Don't miss out! Haunt Meet Information Thread On MiceChat HERE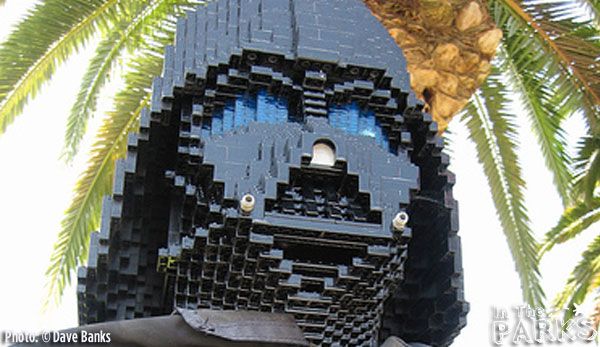 LEGO STAR WARS DAYS Return to LEGOLAND California August 7 - 8
Kids Eat FREE 5pm - 7pm
Daily through August 28, 2010




Father of the year, Sir Clinksalot, keeps us up to date on all the happenings at Magic Mountain.

These signs don't lie, the park really is cleaner than ever.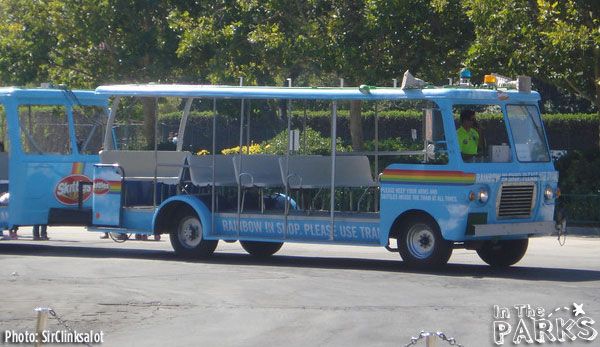 One of the parks Trams has been Rainbowed (the Skittles kind)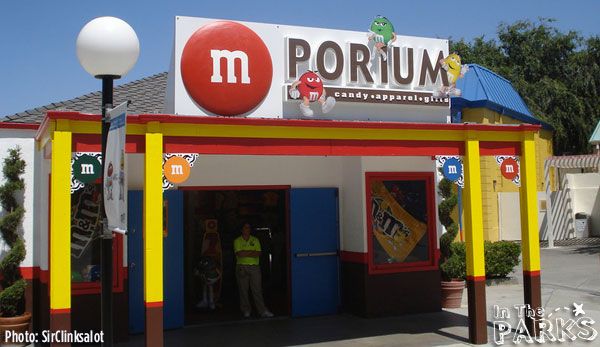 A new M&M's store has opened up near the front entrance.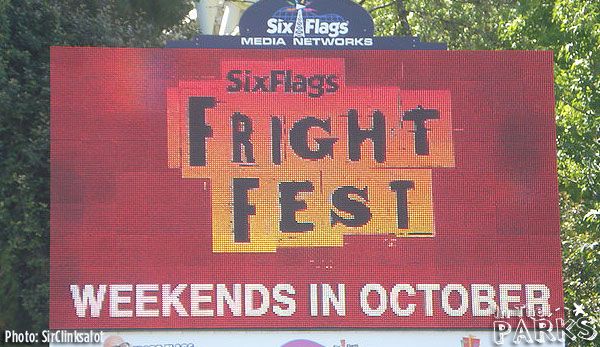 The "Six Flags Vision" at the front of the park is already promoting Fright Fest in October. Which seems to fit today's In The Parks just perfectly!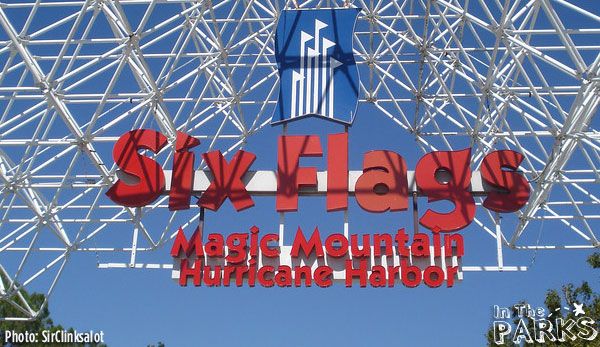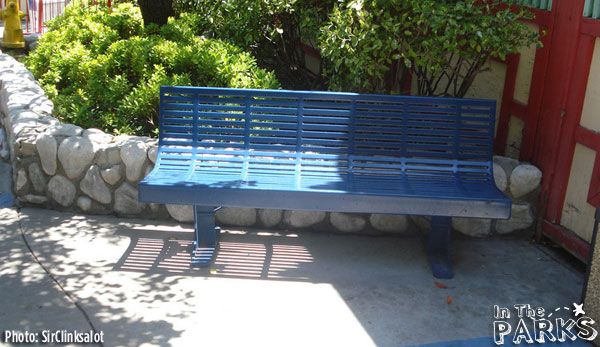 This is an example of a smoking area at Magic Mountain. Clean and just far enough off the main path so as not to bother the non-smoking guests.



Superman: The Escape
Our friend Brady MacDonald, of the LaTimes.com, reported on Supermans renovation on his blog
here
. The ride is set to re-open in 2011 but no Bizarro makeover has been announced.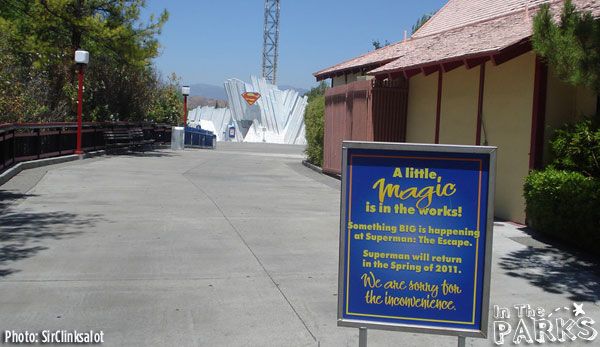 Nothing visible going on with Superman, but it was testing today.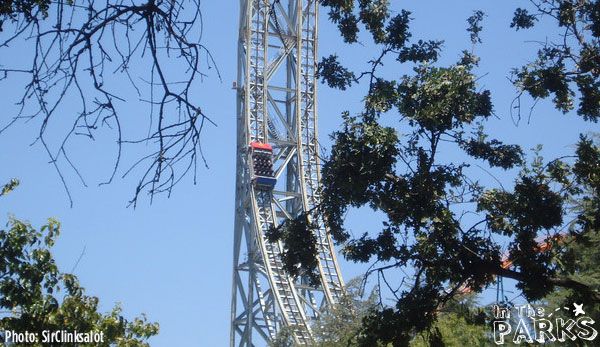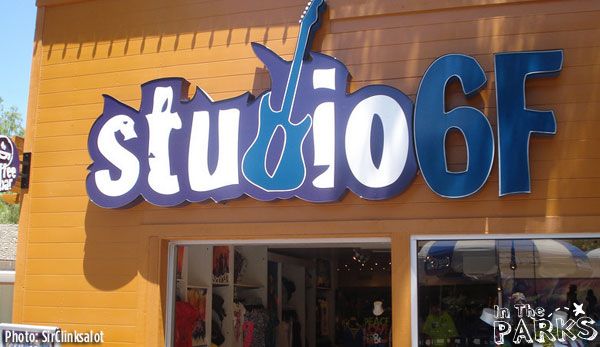 Studio 6F is now open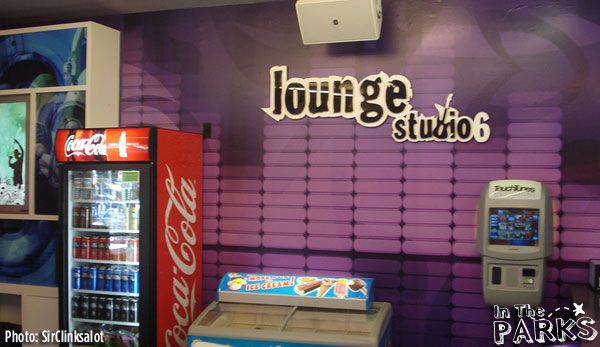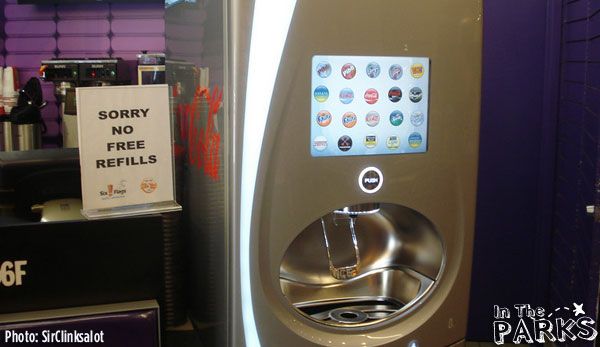 The "Lounge" portion of the store features one of the "Make 106 flavors of coke" machines - like they had at DCA's Food and Wine Festival this year.
For only $.50 more than a regular large soda, it's not a bad deal.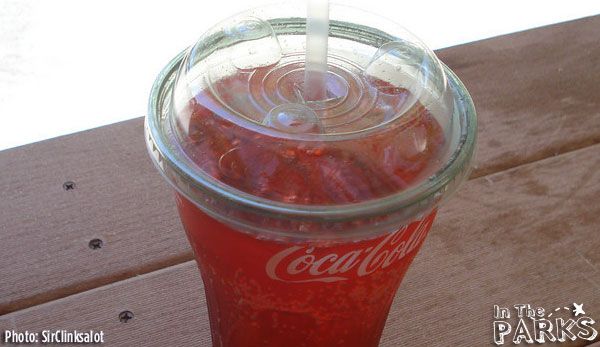 The mixture of Diet Fanta Fruit Punch and Red Vault is good ... but a little sweet. (BARF!)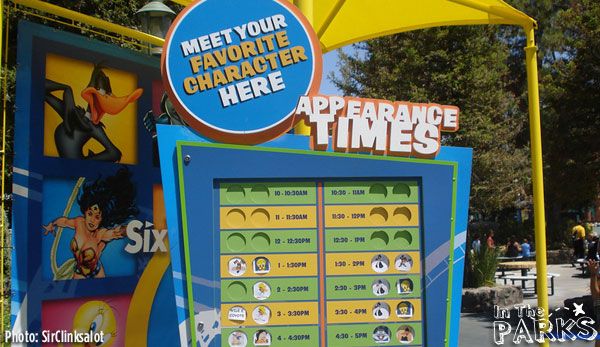 Signs displaying which times you can see your favorite Characters and Super Hero's are now displayed near Bugs Bunny World and near Gotham City. This is a great addition and really helps you plan your visit.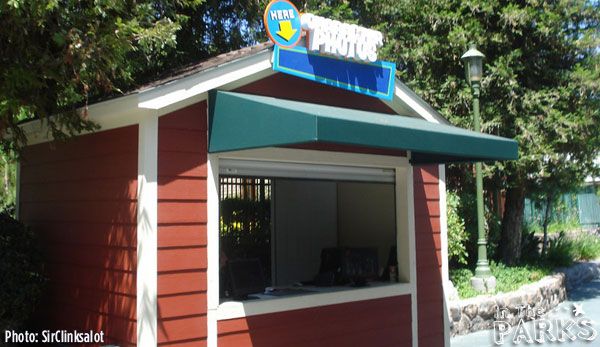 Each location also features a photo booth to pick up your pictures at.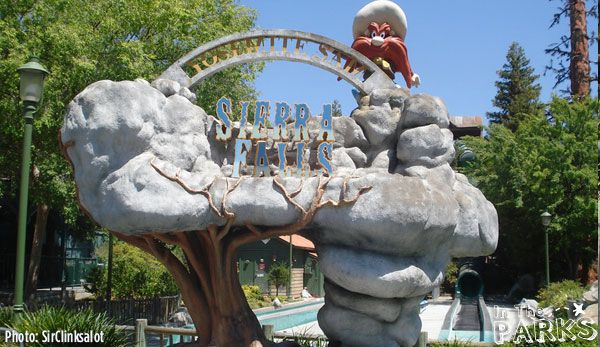 Sierra Falls is down for annual refurbishment. Summer seems like an odd time for this to be closed. Wonder if the rumors that this will someday be part of Hurricane Harbor are finally coming true.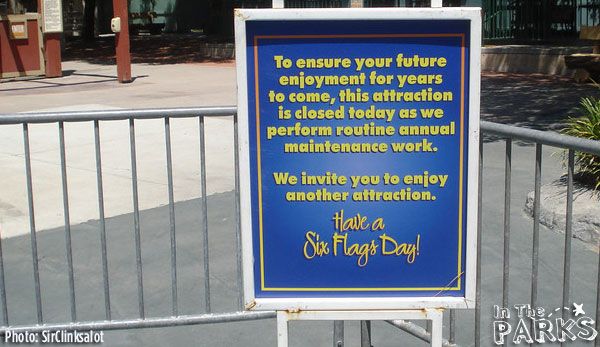 Thank you Mr. Clinks! Six Flags really seems to be working hard to change their image. We like what we are seeing from this park lately.




Here is a rundown of the great entertainment and ticket specials at the OC Fair this coming week. This is the final week as they close on the 15th so if you haven't been GO NOW!
Days & Hours
(Open Wednesday-Sunday)
Wednesday-Friday Noon-Midnight

Saturday-Sunday 10 a.m.-Midnight


Prices - Admission: (
Children under 6 are free everyday. CLICK HERE FOR A FULL LISTING OF DISCOUNTS AND PROMOTIONS)
Single Day
: General $10, Senior (60+) $7, Child (6-12) $5. No fees for customers who use Ticketmaster's online TicketFast (print-at-home) option!

Group Sales (15+)
: General $8, Senior (60+) $5, Child (6-12) $3. (Mail or fax order form by July 2.)

Super Pass
: General $30, Senior (60+) $25, Child (6-12) $20.

Aug 6, 2010
Styx
8:15 p.m. at Pacific Amphitheatre
$19.50/$29.50/$49.50

Mark Wood and the Parrot Head Band
A Tribute to Jimmy Buffet
8:30 p.m. at The Hangar
$12.50

Aug 7, 2010
The Fab Four Sgt. Pepper's Experience
8 p.m. at Pacific Amphitheatre
$12.50/$22.50

Sweet & Tender Hooligans
The Ultimate Tribute to Morrissey and The Smiths
8:30 p.m. at The Hangar
$12.50

Aug 8, 2010
Blondie With Special Guest Gorevette
7:30 p.m. at Pacific Amphitheatre
$12.50/$22.50

Jumping Jack Flash

8:30 p.m. at The Hangar
$12.50

Aug 11, 2010
Joan Jett and The Blackhearts

8 p.m. at Pacific Amphitheatre
$12.50/$22.50


8:30 p.m. at The Hangar
$15

The Doo Wah Riders / Western Continentals
7 p.m. at Action Sports Arena
$10

Aug 12, 2010
LeAnn Rimes
8:15 p.m. at Pacific Amphitheatre
$19.50/$29.50/$49.50

Colin Hay of Men At Work
8:30 p.m. at The Hangar
$15

Aug 13, 2010

8 p.m. at Pacific Amphitheatre
$12.50/$22.50

Gary Hoey
8:30 p.m. at The Hangar
$12.50

Big Sandy and His Fly-Rite Boys /
The Hula Girls / Altar Billies
6 p.m. at Action Sports Arena
$10

Aug 14, 2010

8 p.m. at Pacific Amphitheatre
$12.50/ $22.50

Which One's Pink?
Performing the Pink Floyd Classic,
The Dark Side of the Moon
8:15 p.m. at Action Sports Arena
$10
Aug 15, 2010
ZZ Top
8 p.m. at Pacific Amphitheatre
$39.50/$49.50/$59.50/$69.50

Common Sense / Better Chemistry /
Badfish
6 p.m. at Action Sports Arena
$10

Reserved seats are sold at all Ticketmaster locations, online at Tickets for Concerts, Sports, Arts, Theater, Family, Events, more. Official Ticketmaster site, (714) 740-2000 or (213) 480-3232, and at the OC Fair Box Office at Pacific Amphitheatre.

The Getty Center:
Prepare yourself for some really beautiful photos from one of our favorite places in all of Los Angeles, the wonderful Getty Center.

The stunning architecture and peaceful atmosphere of the Getty evoke a feeling of tranquility, calm and appreciation of art in all its forms.
The Gardens: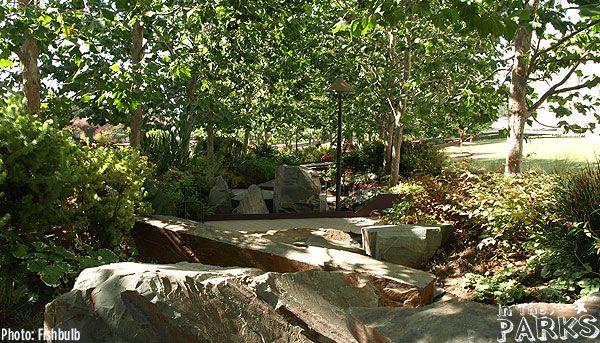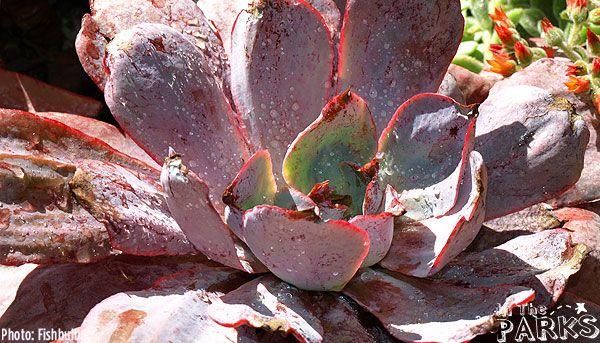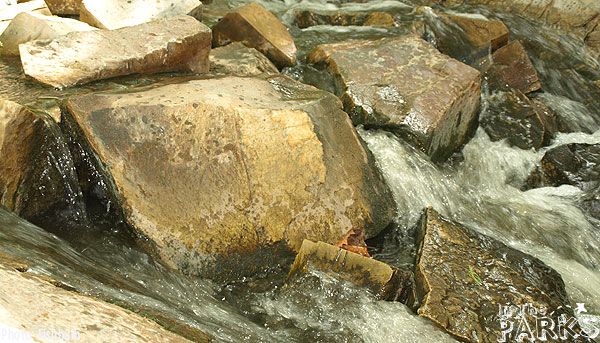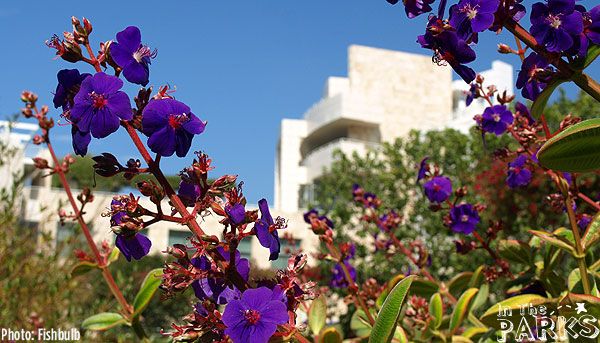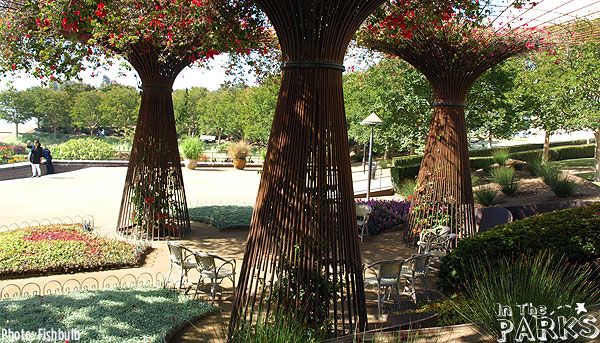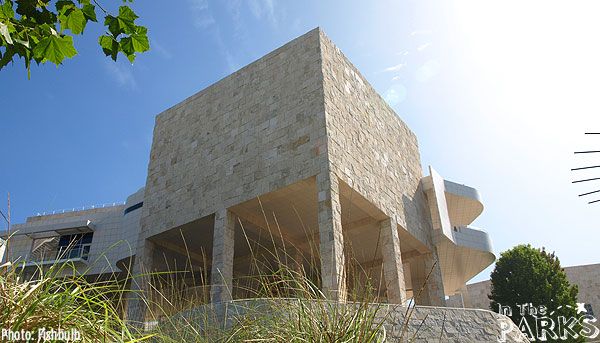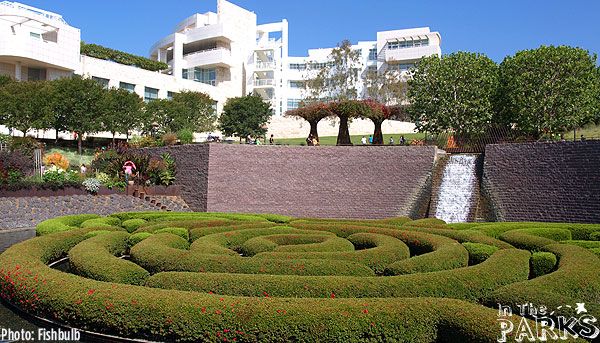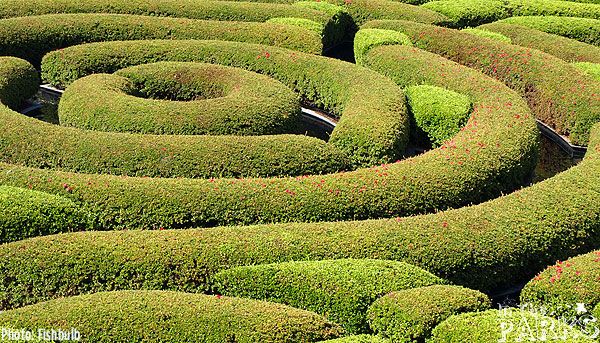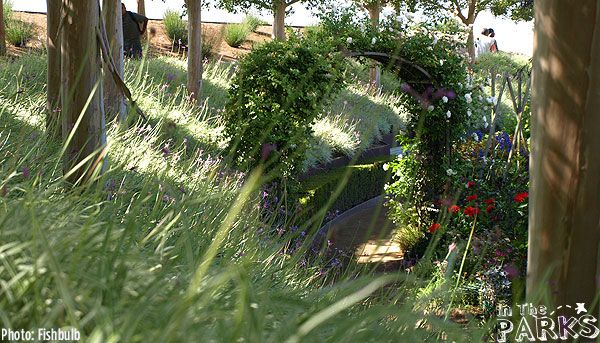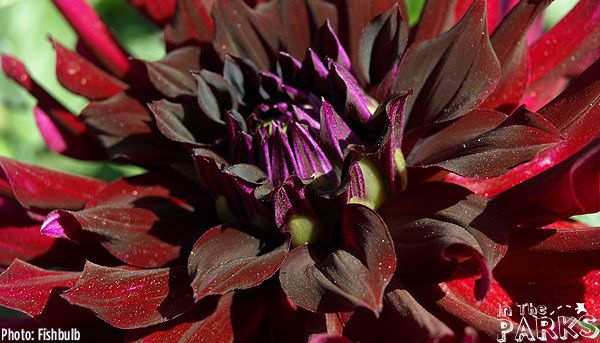 The Architecture:

The buildings are surrounded by gardens and they house some of the world's most recognized pieces of art.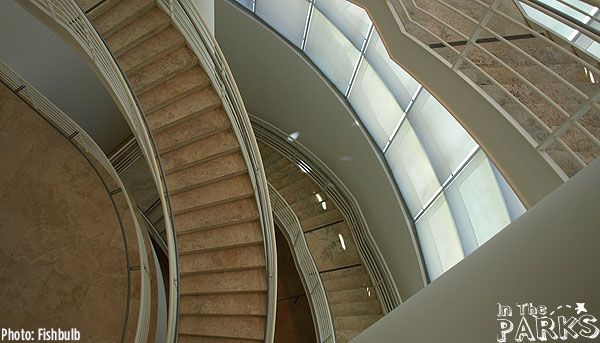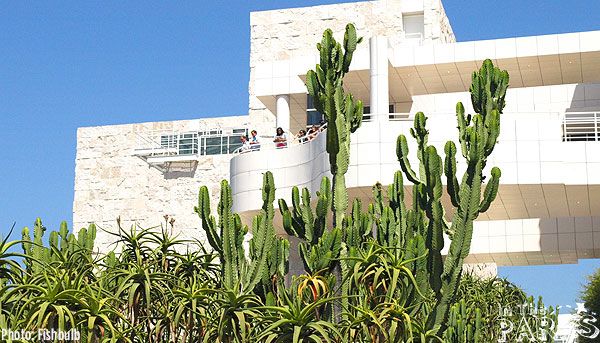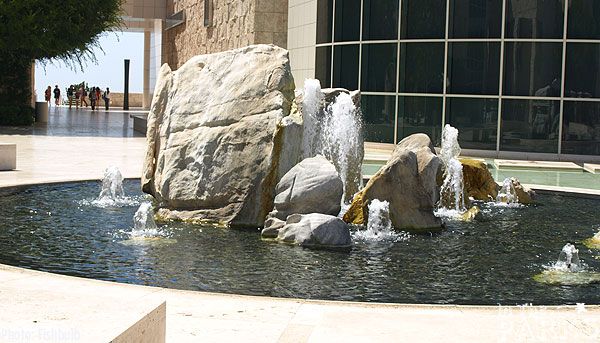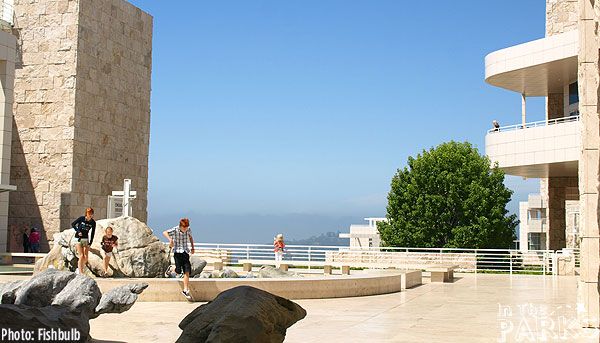 Perched in the hills high above Sunset Blvd, you can literally see for miles and miles. That's the Pacific in the distance. Simply stunning.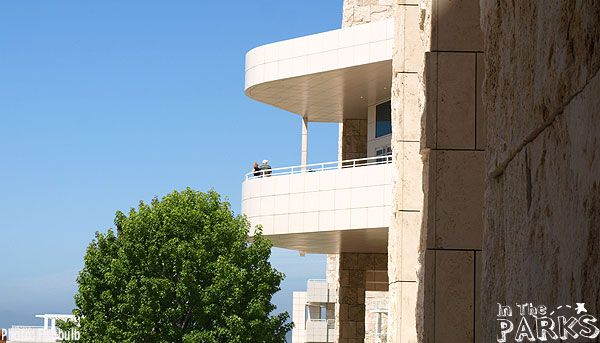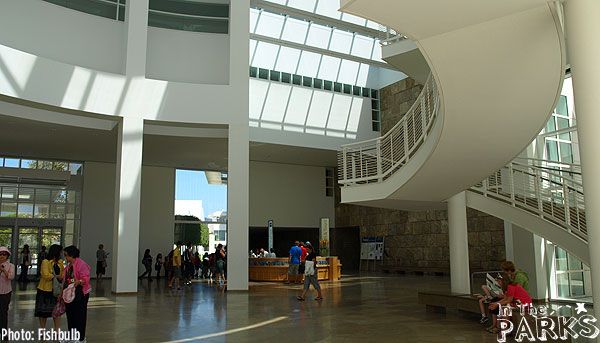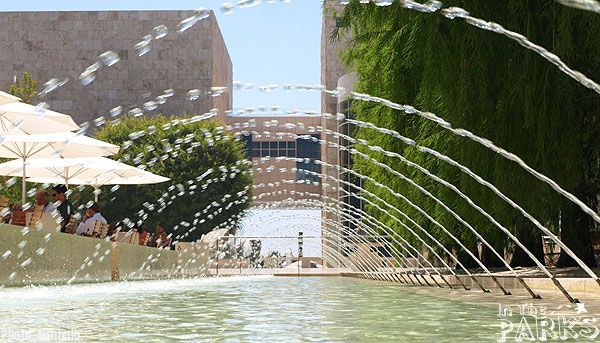 The Cafe:

If you find yourself a little peckish, the Cafe offers a wide variety of foods that are actually reasonably priced and with a view to die for.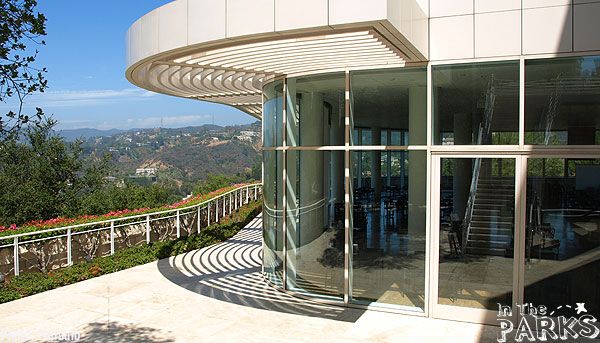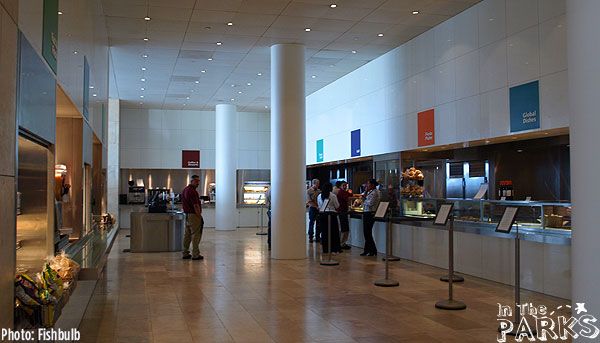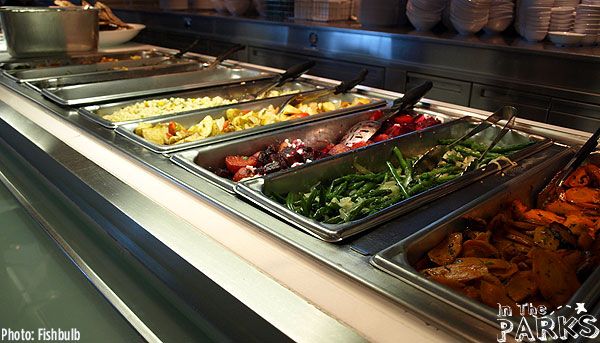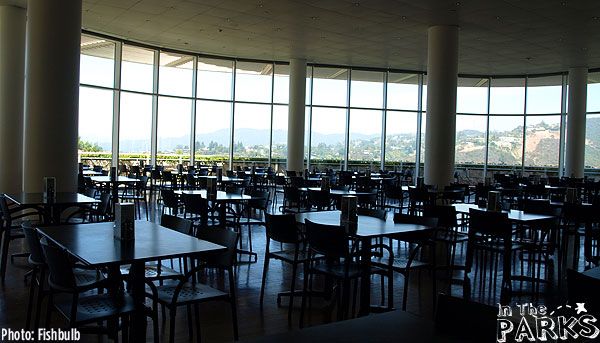 A lovely view for diners.
The Art:
The Art at the Getty ranges from classic to modern. We suggest the self guided audio tour. You decide where to go and then punch in the code for the art you want to hear more about. It is a wonderful system.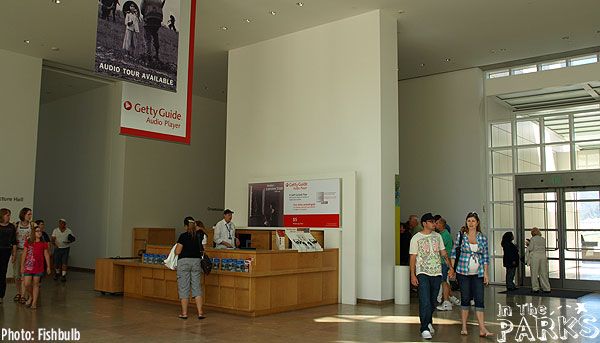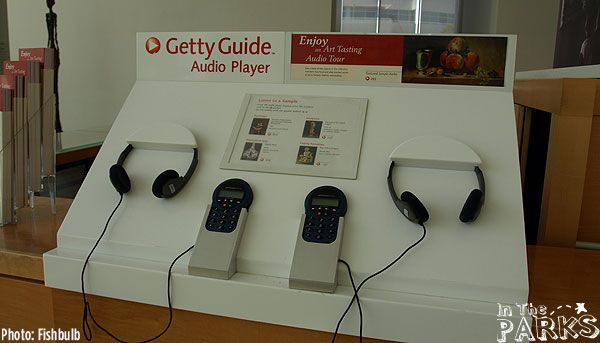 $10 for the day. Not bad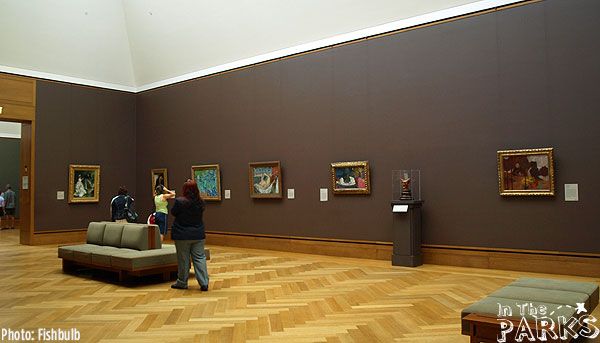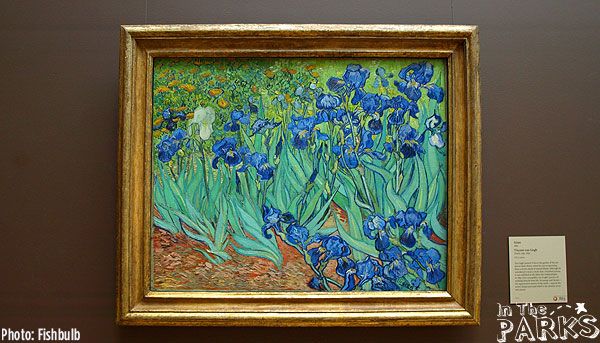 Van Gogh's Irises. One of the great works of all time.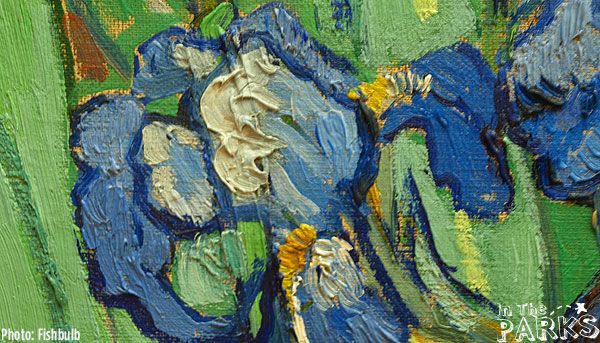 You could stand in front of the one painting forever. Beauty and intensity.

US Open of Surfing (and Beach Games)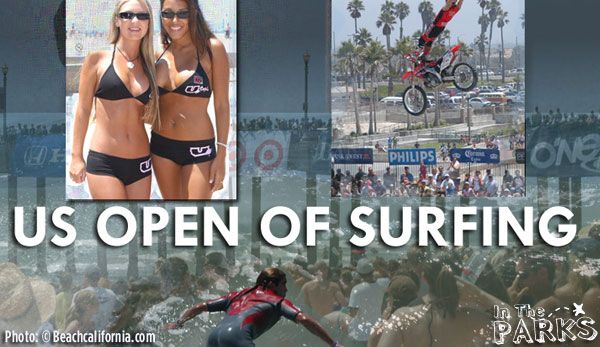 US Open of Surfing & Beach Games isn't just surfing. It's music, sand, limbo, spray on tattoos, freebies, cute guy & girl poster signings and a whole lot of extreme sports. Schedule of events: Huntington Beach US Open of Surfing and Beach Games Event Information
US Open Sandcastle Competiti
on Festival.
Annual event attracts over 100,000 spectators to savor, sip, play and watch the big castles for cash prizes. Saturday's event typically include a street fair (Seacoast Drive, the main street of town) is shut down for this festival. Food, top bands, vendors, games, and the afternoon Kids-N-Kastles Competition are held Saturday. The fun continues on Sunday (usually held one weekend in July) with the big U.S. Open tournament that invites to sand sculptors with their teams that compete for big bucks. Prize earnings or purse is around $21,000 or more. usopensandcastle.com

Local Hot Rock N Boogie "Dr. Danger Band" and "Merrell".

Time 8 - 10 PM, Cost: $15. Location: San Luis Obispo Grange Hall, 2880 Broad St., San Luis Obispo, CA. The summer series of concerts at the SLO Grange Hall the first Friday of every month features Merrell Fankhauser and a variety of artists and bands!!

3rd annual chili cook-off event arrives
at downtown Vacaville.

This is a sanctioned event by the International Chili Society. The judging of the event happens in the afternoon by members of the society and the Downtown Association members and staff. There is also music, food and entertainment happening all day long. Time 10 a.m. to 5 p.m. Location: Town Square, Vacaville, CA.

Ventura County Fair Western Nights and Carnival Lights.

The ONLY California fair on the beach, the Ventura County Fair features 11 days of entertainment, competitions, carnivals and midways, cotton candy and funnel cakes, barbeque, strawberry desserts, top bands, live acts, home arts, crafts, livestock, art, vendors, great foods, and all at the beach. Sweet! Open daily. Location: 10 West Harbor Boulevard, Ventura, CA 93001. venturacountyfair.org

California Boricua Festival.

4th Annual Concert event includes Salsa, Reggaeton and cultural performances from Puerto Rico, New York and California. Puerto Rican food, cultural artwork and souvenirs being sold throughout the day, as the event explores the true meaning of "La Isla Del Encanto" The Island of Enchantment "Puerto Rico". Location: Queen Mary Events Park 1126 Queens Highway Long Beach, CA 90802 Pre-sale tickets $20; Day of/ $25; Under 12 years FREE. fiestabuena.com


Old Spanish Days Fiesta, Santa Barbara, CA .
A community tradition since 1924, the event runs through August 8 which draws visitors to the area for food, drink, music, dance, rodeo and more. oldspanishdays-fiesta.org

Concerts in the Park.
Free Friday night concert in Downtown Paso Robles City Park Bandstand, Paso Robles, CA. Time: 5:30 to 7:30 p.m. pasoroblesdowntown.org

Jazz by the Bay. Free concert.
Time: 6:30 to 8:30 p.m. Cost: Free. Location: Gabrielson Park, Anchor Street and Bridgeway, Sausalito, California 94965. ci.sausalito.ca.us

Summer Concerts in Central Park.
Begin at 5 p.m. Sunday evening Usually includes jazz band. 7111 Talbert Ave., Huntington Beach, CA

Oh my goodness. That was a big update today. The places we have gone, the things we have seen, the sites we have to look forward to!!! What lucky lives we live to be so close to all that Southern California has to offer.


If you happen to run across some interesting news or have photos that you'd like to share with us, w
e'd really appreciate hearing from you.
Contact dustysage@micechat.com with your news, photos, or comments
.
And please don't forget that there is always a world of fun theme park information to read

elsewhere on MiceChat, might we suggest:



Weekend Update

Offers a world of Disney theme parks and other sights and landmarks!



Dateline Disneyland which is packed with great news and photos from the Disneyland Resort.
Remember, sharing is caring, show us you appreciate what you read today by sharing the link to this page with your friends and family on
Facebook, Twitter, and beyond!

Did you read all the way through? We told you at the top that there was a special little surprise today. We'll be giving away 4 $25 Amazon Gift Cards in the month of August. One a week. All you have to do to be entered is follow us on Twitter or Facebook. We'll contact the winners via direct message on Facebook or Twitter and if they respond within 48 hours, we'll send them a gift card! If you are already following us, then you are already entered! And if you haven't followed us yet, just click the Facebook or Twitter link below:


Today's update was brought to you by our fantastic and talented crew of
photographers and news contributors
Pratt55, SirClinksalot, Captphoebus,
Coheteboy,
F!an,
Fishbulb and Dustysage
.

And that brings us to the end of another update