Vavoom the In The Parks blog is back like a rocket from a week long survey of Southern California's top parks and attractions. And it's another good one folks! The end of Summer means a big increase in construction at nearly all of the local parks. Halloween continues to stagger slowly into the parks but crowds were lite this week nearly everywhere. So, let's see what's going on this week at Disneyland, California Adventure, Knott's Berry Farm, and Universal Studios Hollywood. . .





Disneyland still has its red, white, and blue bunting, but the very first signs of HalloweenTime are slowly creeping into store displays. What is particularly surprising, however, is the lack of crowds. With all annual passes unblocked, and just a few weeks before school starting locally, it is quite strange that the parks weren't busier this week - though the heat could have something to do with it.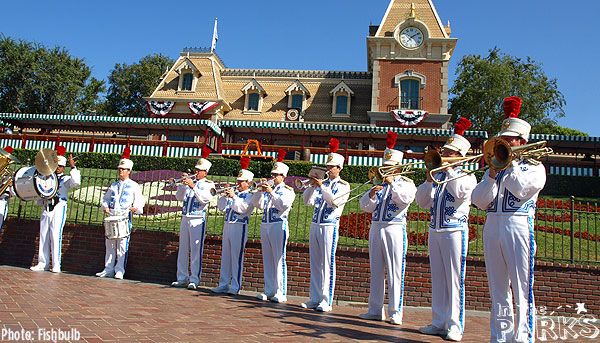 Welcome to the Happiest place on Earth

Halloweentime:

Disney Showcase:
Store Windows display the first signs of the fall season and the highly anticipated Halloweentime celebrations that will start on September 17th. We can't wait!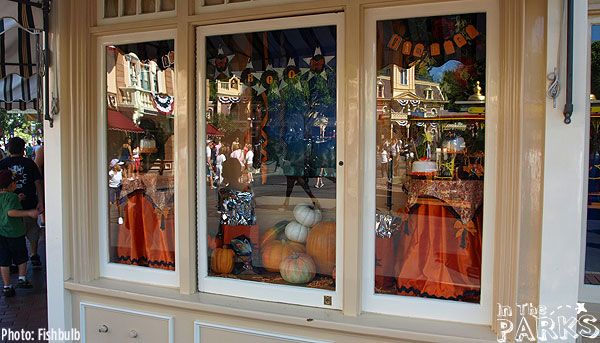 Orange, purple and black go so well together.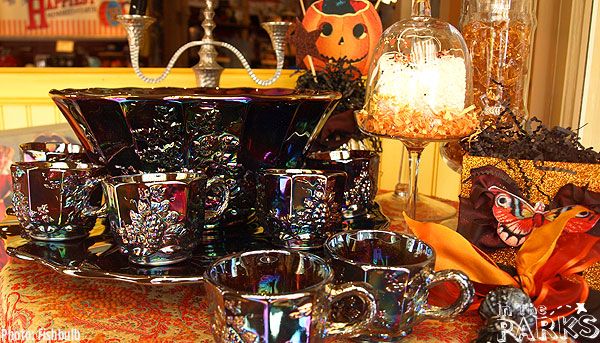 Lovely punch bowl set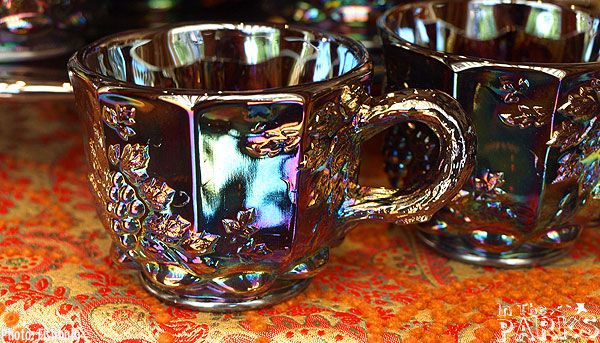 Is this for sale? It's just a prop.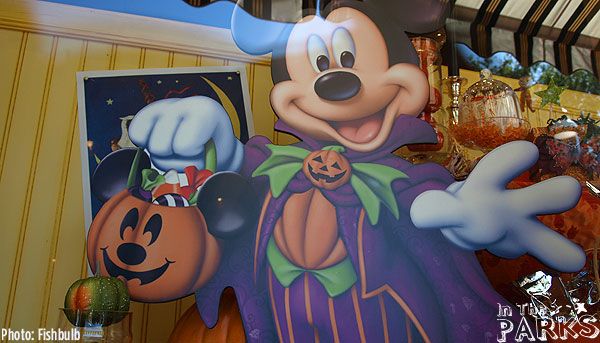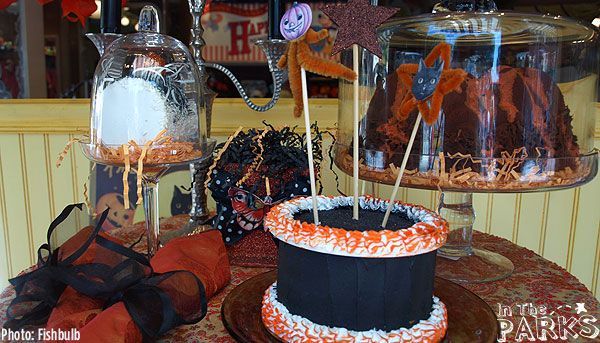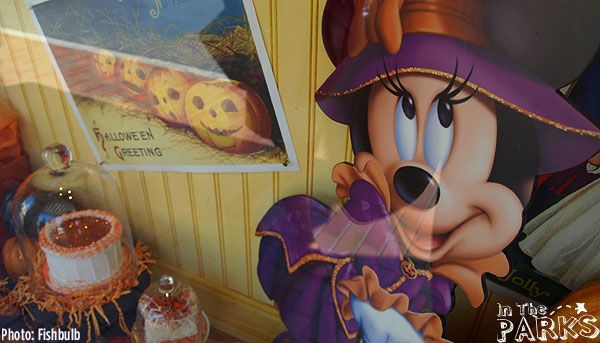 Wait time Board:
Wait times reflect the lower attendance this past Tuesday.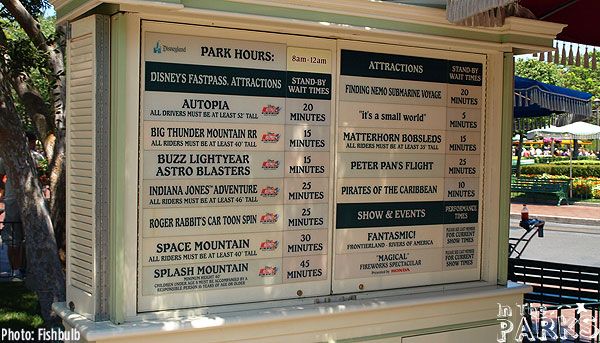 NICE! Enjoy it while you can.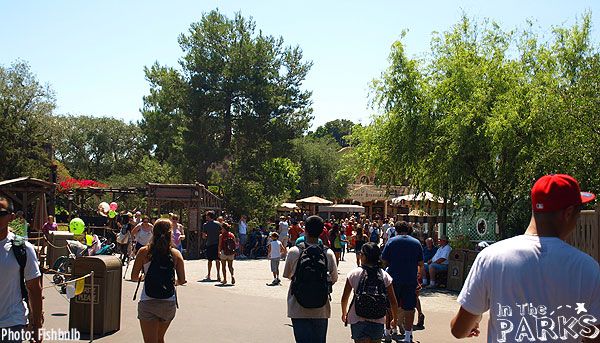 The thinned crowds in front of Big Thunder are in for a treat - only a 15 minute stand-by wait.


Disney Clothiers:
Although open, the main entrance to Disney Clothiers is having some work done.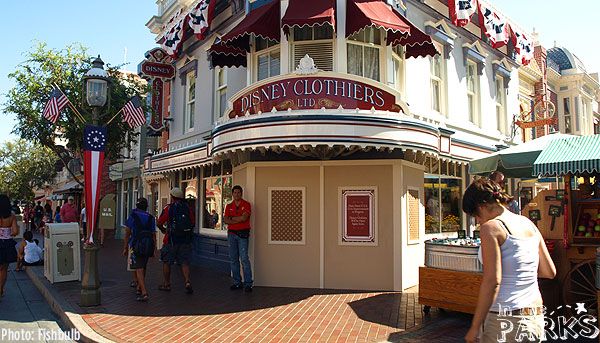 Don't worry. You can still shop - just use the side doors.

Indiana Jones an the Temple of the Forbidden Eye:
The show building for Indiana Jones is gradually being obscured by the foliage that has grown over the years. But, for something so visible you would think that they would have given some attention to the camouflage on the outside of the show building. It was once the same color of the trees in front of it. You can't help but notice this faded pealing mess from the tram load/unload area.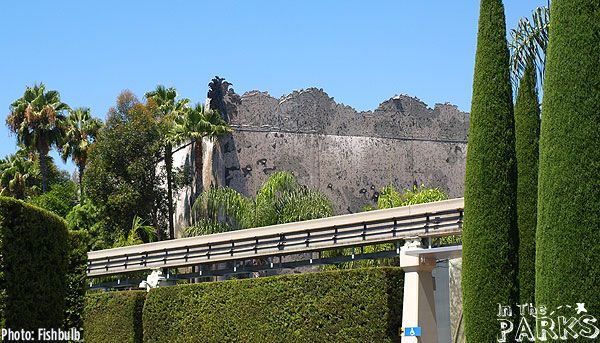 The Jungle is peeling!

Around the Kingdom:
Here are a few bits and pieces from around the park.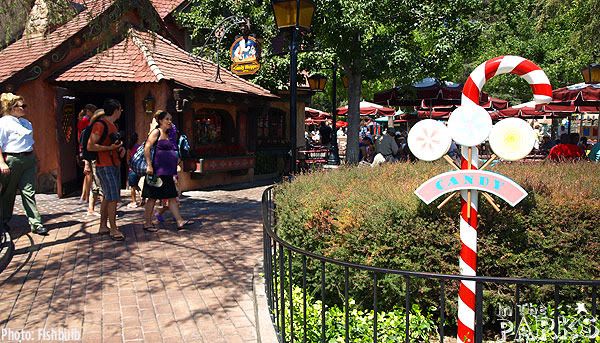 A new sign has been installed to bring attention to the
newly opened candy shoppe. It is very . . . Christmas looking.


Alice In Wonderland:
After weeks of our complaining about the ugly temporary tarps and rails for the outdoor section of the Alice's ride, we decided to take a ride for ourselves and take some photos for you.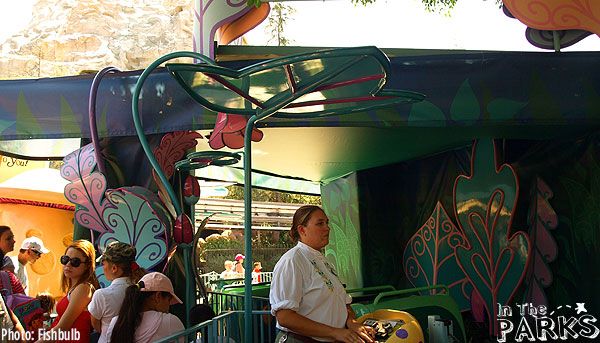 More shade is nice.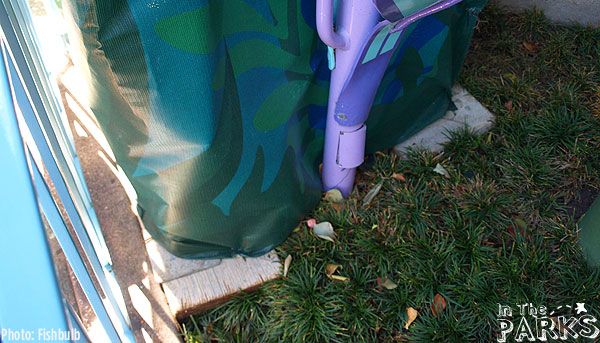 The supports aren't helping the landscaping much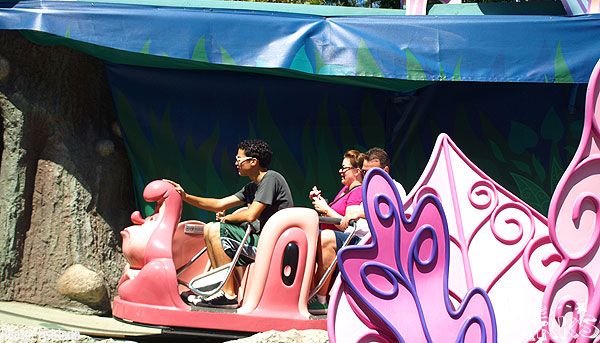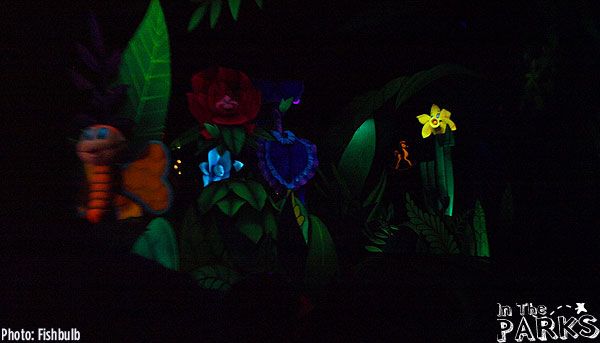 The ride looks great inside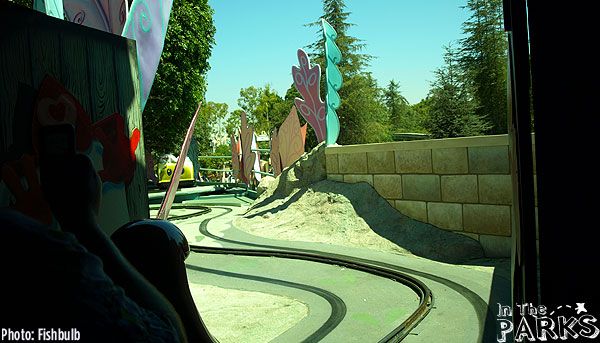 Then you see this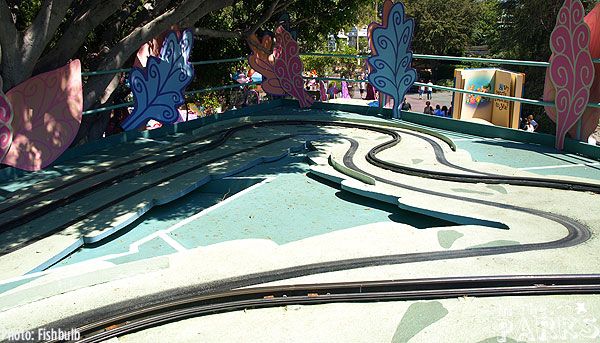 Zig, Zag, Zig, Zag - No scare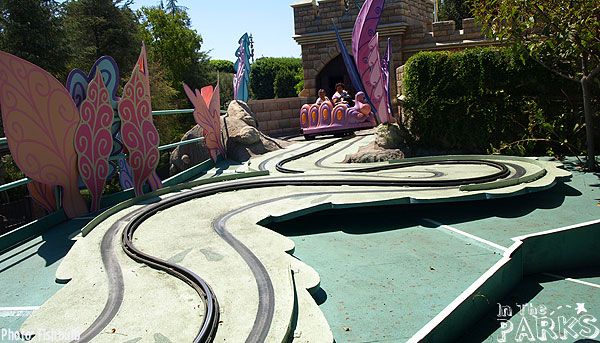 Rooftop Alice
Star Tours:
Work continues on the entrance to Star Tours. We wish we had more to show you. We LOVE construction projects around here. It makes us anticipate the new attraction more than ever.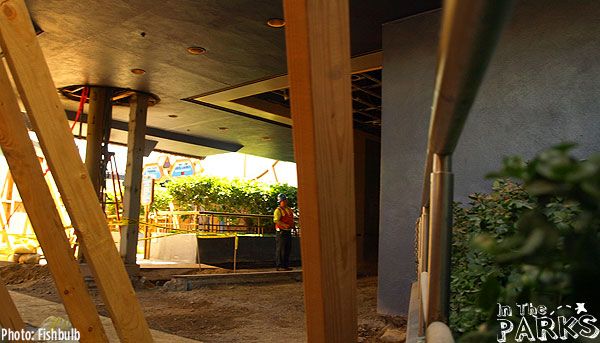 May the force be with them!
MiceChat is giving away 4 $25 Amazon Gift Cards in the month of August. You still have time to win our final gift card this coming monday. All you have to do to be entered is follow us on Twitter or Facebook. We'll contact the winners via direct message on Facebook or Twitter and if they respond within 48 hours, we'll send them a gift card! If you are already following us, then you are already entered! And if you haven't followed us yet, just click the Facebook or Twitter link below:




Join us for D23's latest "Disney Geek" video blog. We love that Chernabog statue on Jeffrey's desk, it appears to be wearing some sort of button. I'm just dying to know what it says:


<iframe class="youtube-player" type="text/html" src="http://www.youtube.com/embed/KS1hWa31A8M" width="660" frameborder="0" height="405"></iframe>

Glow Fest:
Glow fest will soon be replaced with Elec-TRON-ica. The garish Yellow pillars may be vanishing soon but not to worry, it is essentially coming back with better clothing and more entertainment. This is an instance of change being a good thing
.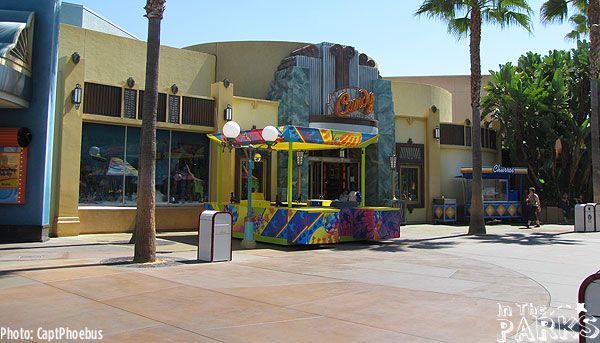 The bar has been moved to the Sun Plaza area just outside of the Hollywood Pictures Backlot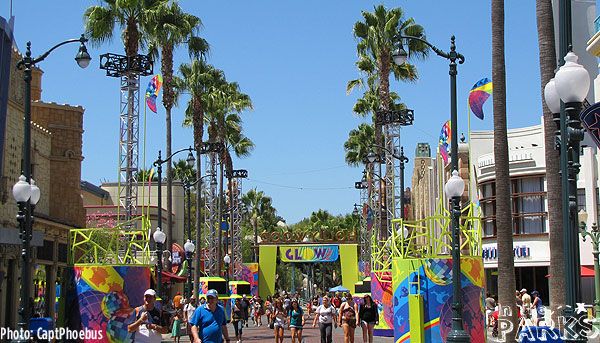 Soon to be GLOWing away not forever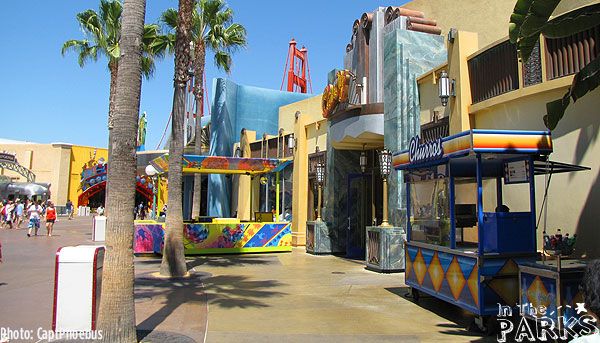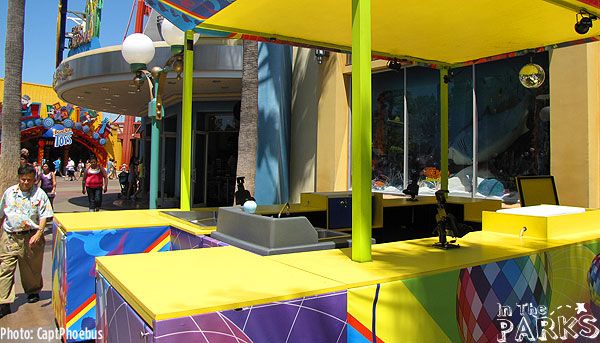 Hyperion's backdrop sky is receiving some attention.


The Little Mermaid: Ariel's Undersea Adventure.
The Little Mermaid's home is coming together nicely. More is enclosed and details will soon emerge.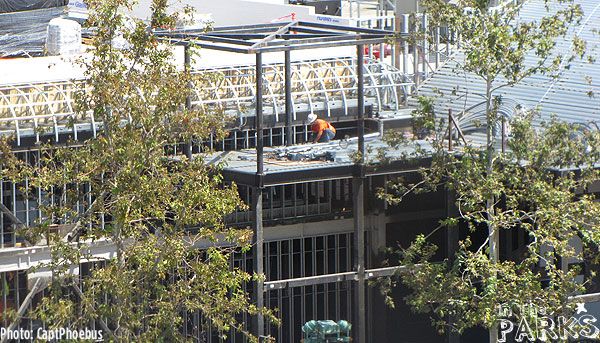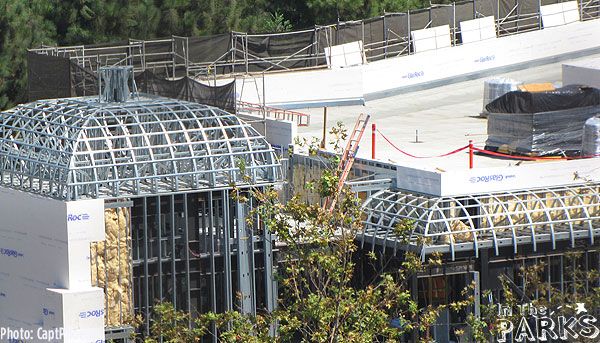 A sea of insulating and drywall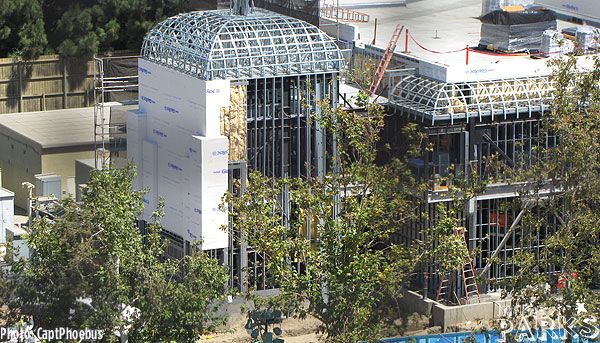 Soon to be a people eating Omnimover. DCA's first.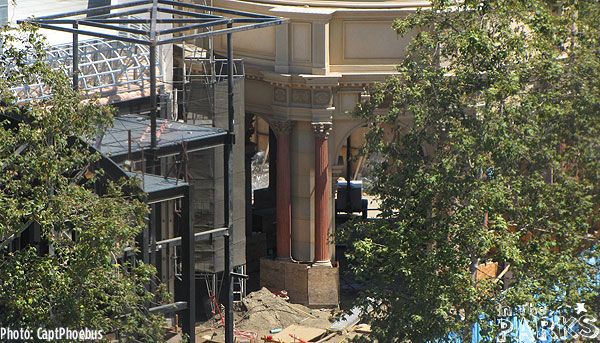 Work out front continues.
Carsland:
The Remnants of Bountiful Valley Farm will be removed soon to make way for the entrance of Carsland.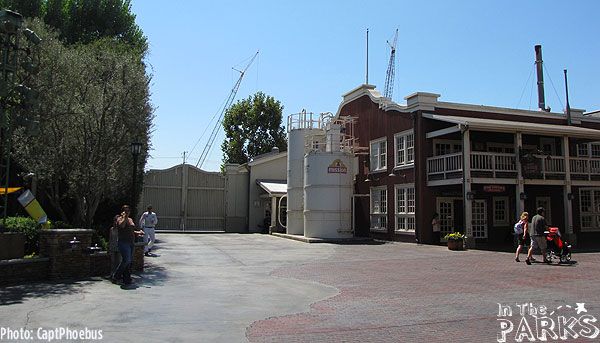 Cranes peek over the fence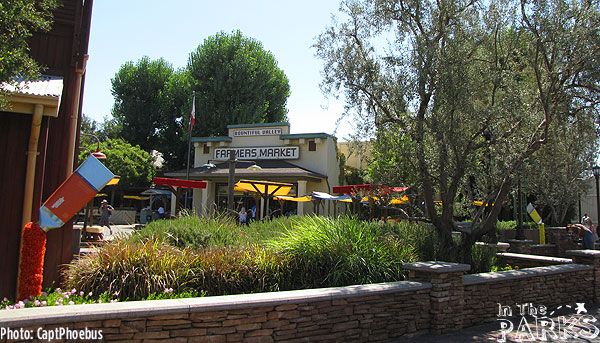 Get your food and shakes while you still can.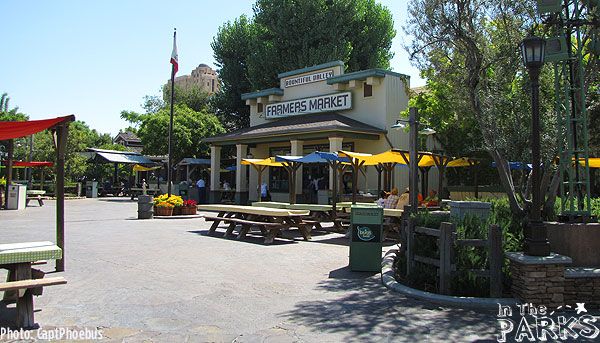 things are a changin'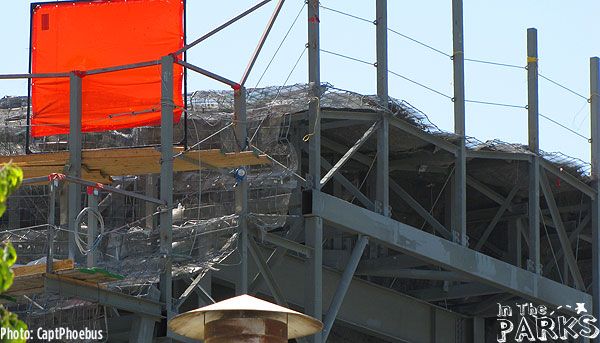 It looks more and more likely that we are getting the Everest treatment with the Cars show building. Themed on one side but not the other. Let's hope they take better care of the camouflage on the flat sides than they do with the Indy Building.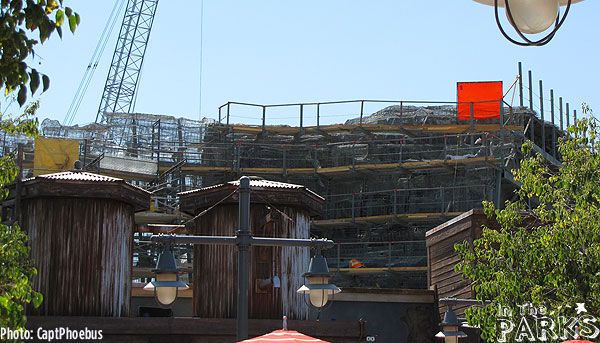 But, what is being themed out is a massive level of detail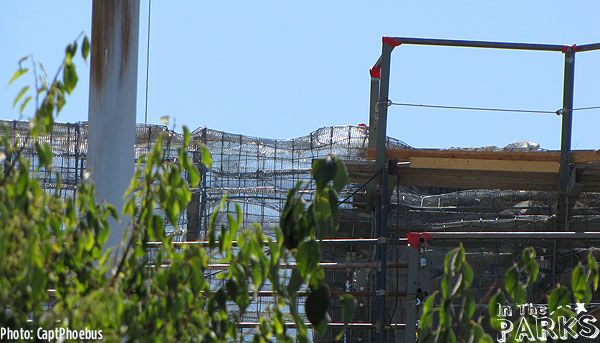 From the Pacific Wharf area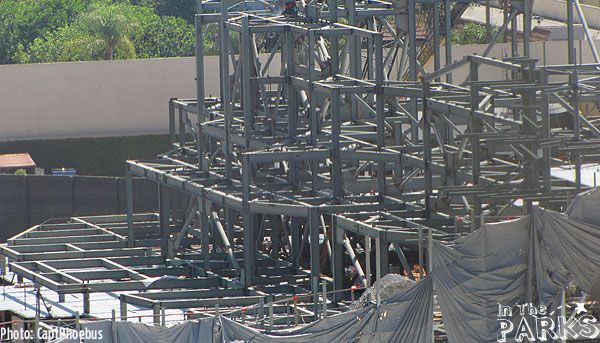 More framework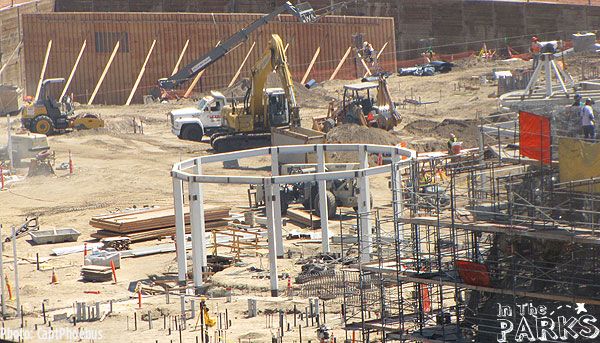 Flo's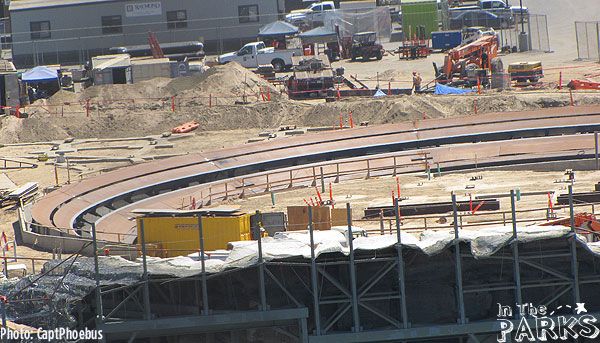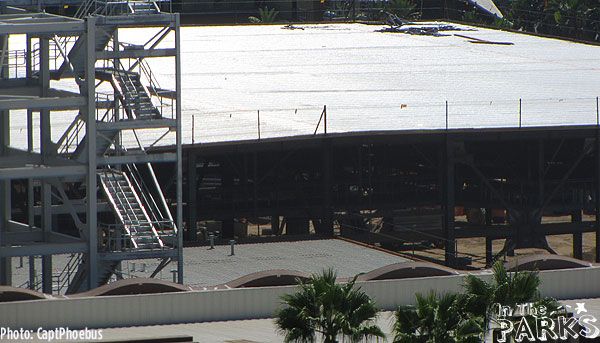 If you look close you can get a peek inside the show building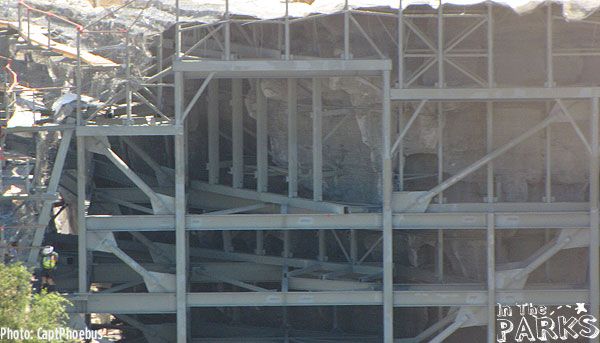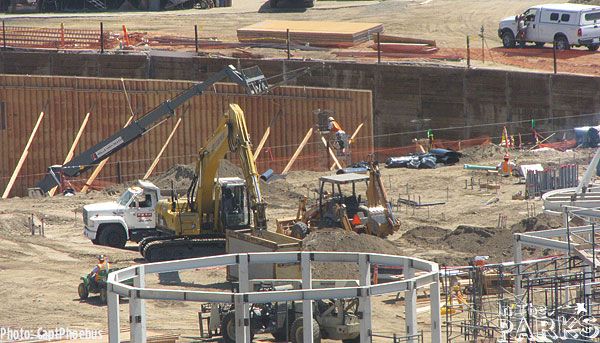 A wall has been built in the flying tire pit
World of Color:
Over the past month more and more effects on the World of Color show have been slowly failing. The platforms which should normally be submerged during the day have rarely been lowered. Recently, the projection domes, and even some of the major projectors have missed performances. Still, the show must go on. And crowds continue to flock to this production night after night.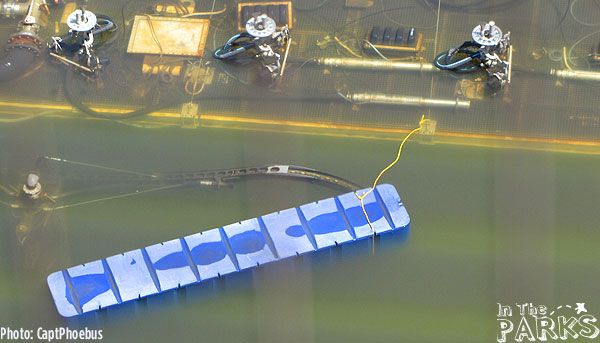 Work on the air bladders that raise the platforms continues.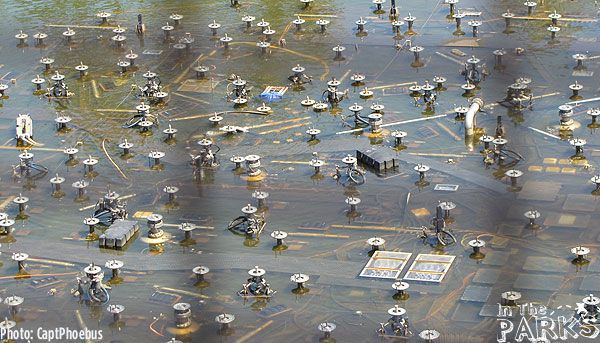 The platforms stay above water most of the time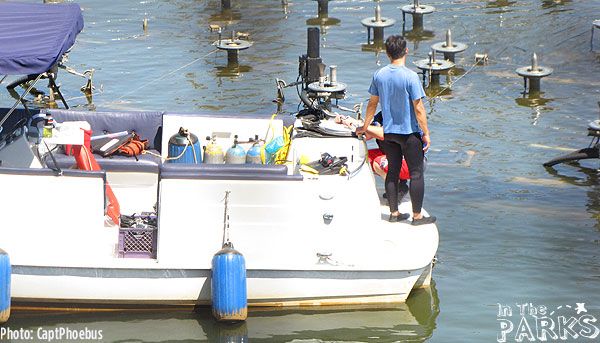 We're gonna need a bigger boat.

Paradise Pier Food Court:
Progress is finally being made in the food court for Paradise Park. The former smoking area near Mullholland Madness is having its concrete removed.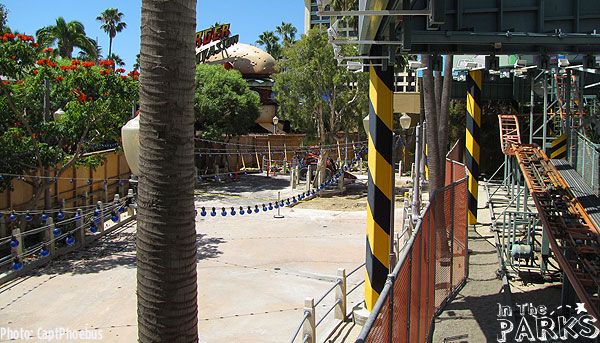 New seating for better food.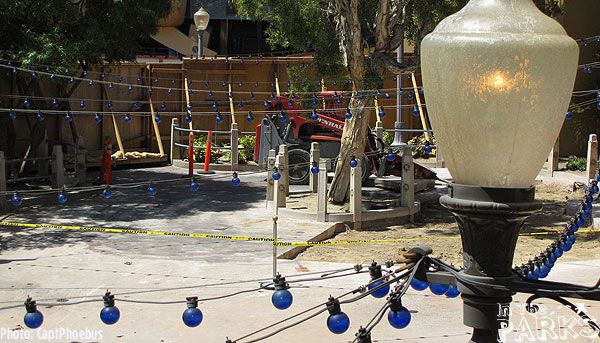 Will the festive lighting stay?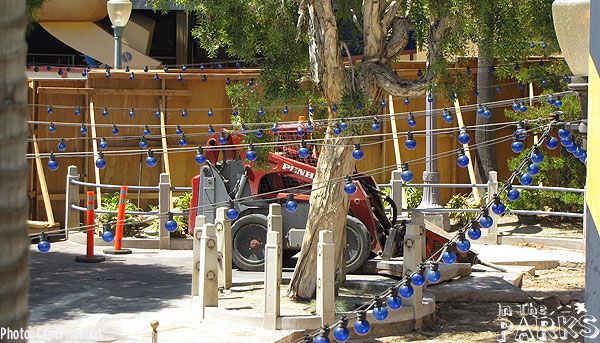 Whatever happens we are sure it will be far better than what was there before.
This burger is done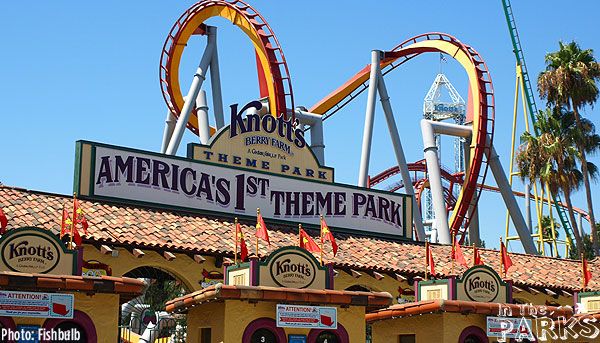 Knott's Berry Farm is having a big week. A few minor attractions will be closing this weekend (Aug. 29th) to allow for Halloween Haunt construction. It is also the closing weekend for both Snoopy's Starlight Spectacular and the Everybody Loves Snoopy Ice Show. Also Knott's just announced ground breaking on a new attraction guaranteed to give you vertigo. Let's just straight to the good stuff.

WindSeeker in 2011:
Knott's mobile posted this release:


Imagine dangling your feet from 301ft in the air.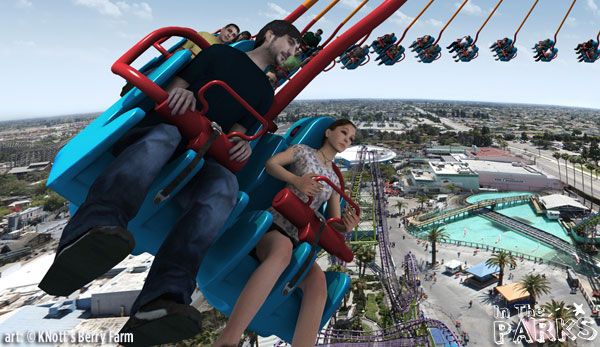 These sims are way up there - Yikes!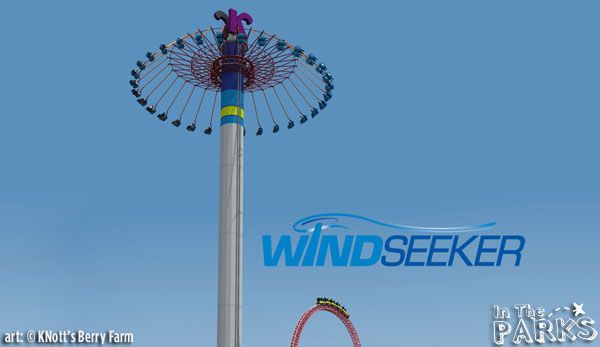 You can discuss the announcement HERE on the boards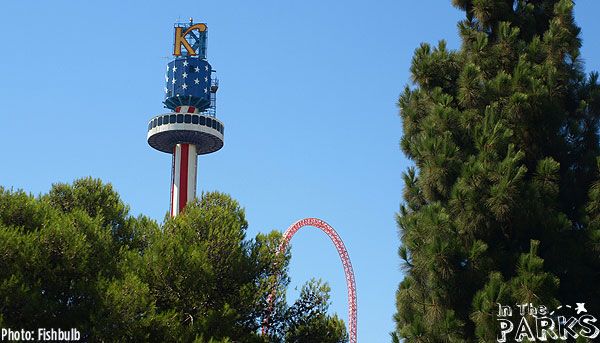 It's too bad that this landmark will be vanishing, but a more usable tower will replace it.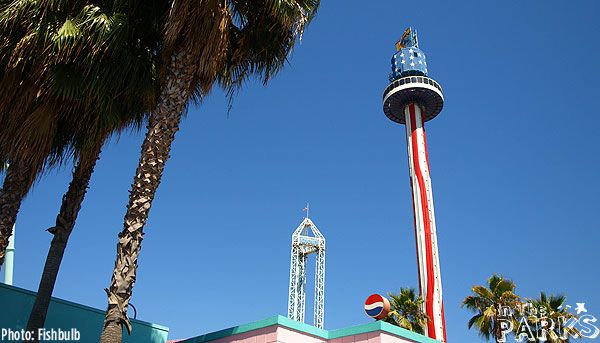 This old tower will be going away soon.
Strange News:

Knott's Berry Farm will be CLOSED for a private event on Saturday September 4th. Knott's Soak City will be open from 10am to 7pm.

Wow, closing the park down on a HOLIDAY weekend must have cost somebody a pretty-penny.


Knott's Deals:
Kids eat for just $5.00 at Sunday Brunch in August! Bring your entire family for a delicious all you eat buffet and kids (ages 3-11) eat for only $5.00! Don't forget that kids 2 and younger eat for FREE. So bring the whole family. Reservations 714-220-5055 to spend time with your children before they trek back to school!


2010 INTERNATIONAL FIGHT SHOWDOWN
The 2010 International Fight Showdown (IFS) will be held at the Knott's Resort Hotel, located adjacent to the Knott's Berry Farm Theme Park. The championship promises to be an exciting event for all martial arts enthusiasts. For ticket information call 714.588.9327
Mixed Martial Arts
Dates:
Semi-Finals: August 28 - Final: October 23

Muay Thai
Quarter Finals: July 31 - Semi-Finals: September 18 - Final: November 20
All fight start at 5:30 pm.
General Admission: $25 - VIP: $45


Halloween Haunt:
Work progresses on the mazes throughout the park, but will force the closure of some attractions as construction reaches the next level. This weekend will be your last chance to take a ride on the Grand Sierra Scenic Railroad. After Sunday the 29th it will be closed to allow for construction to continue on the new Fallout Shelter Maze.
Fallout Shlter: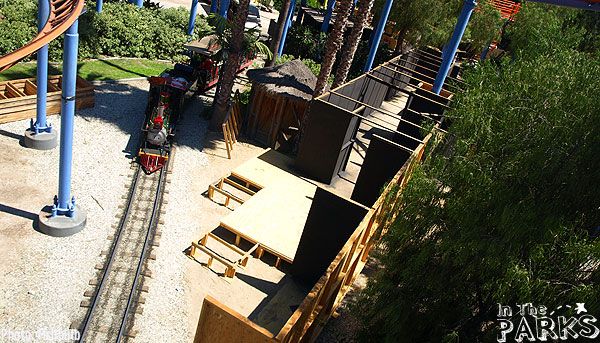 Grand Sierra Railroad closes Sunday night to allow for construction to finish on the maze.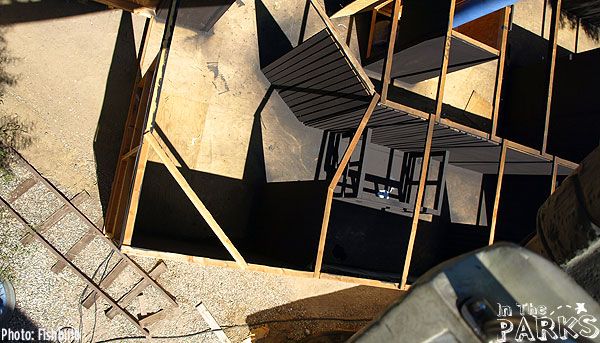 Nothing much will change until then.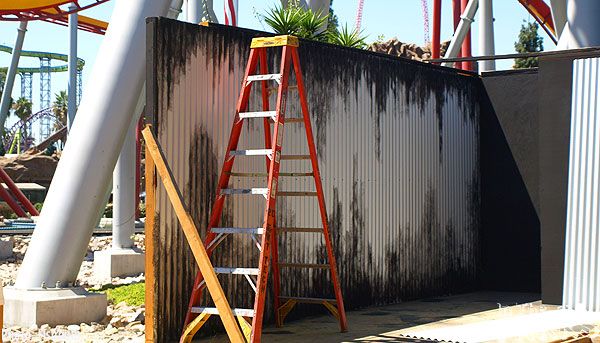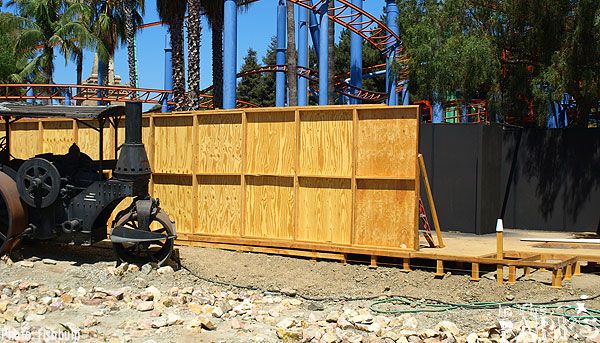 Labyrinth:
The dark side of fairy tales is explored in the Labyrinth maze. It winds through the nether regions of Camp Snoopy and closure of the Balloon Race ride has already taken place to make way for this ethereal experience.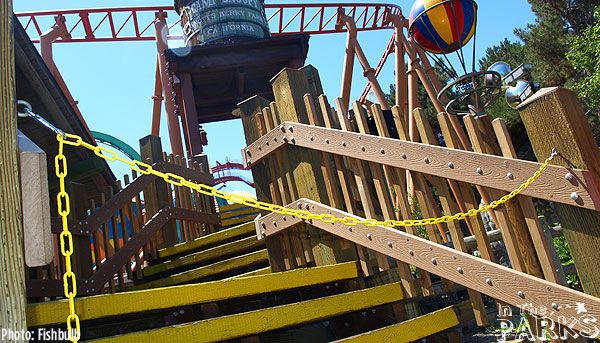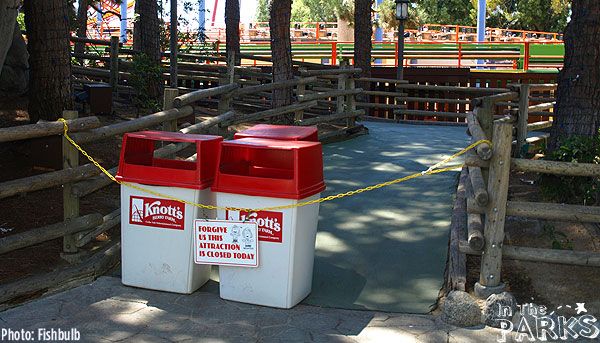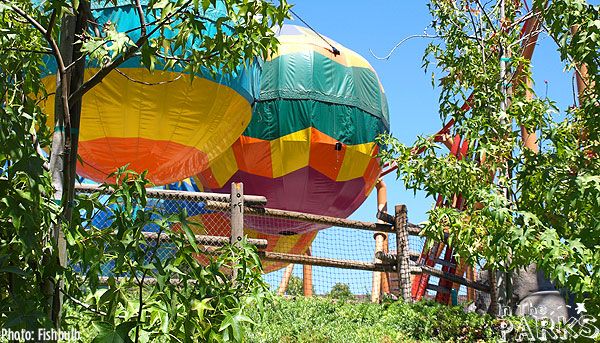 The Balloon race is already closed and floating away.


Virus Z:
This new maze will take visitors on a tour of a small town overrun by flesh eating zombies. Highlights will include a movie theater, a gas station and a school house.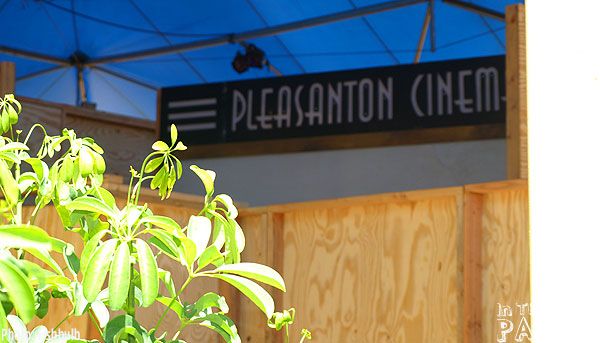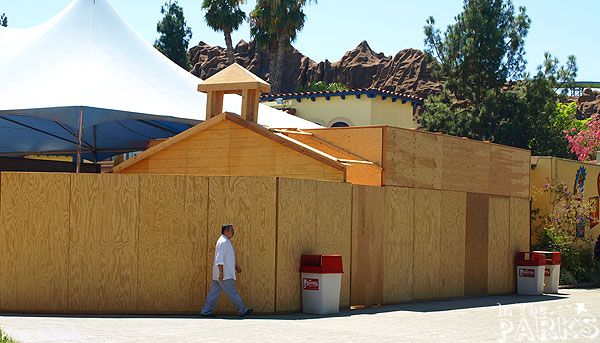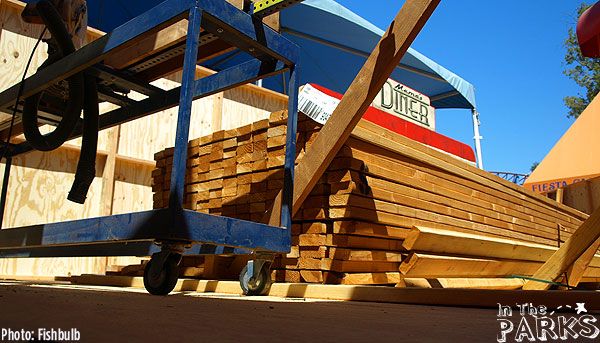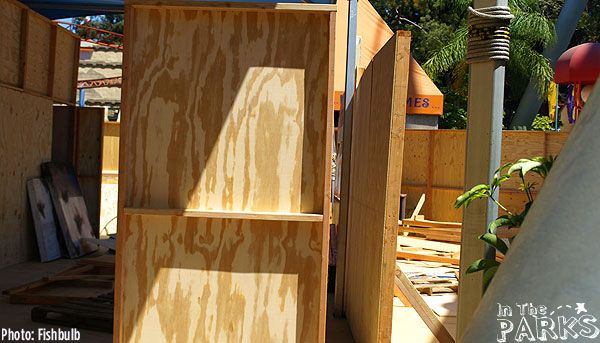 Uncle Bobo's Big Top of the Bizarre:
Uncle Bobo's Big Top is being prepared for visitors. His exhibits are being set up and readied to mystify and terrify you. This is Fisbulb's number one terror . . . clowns!

Enter one and all!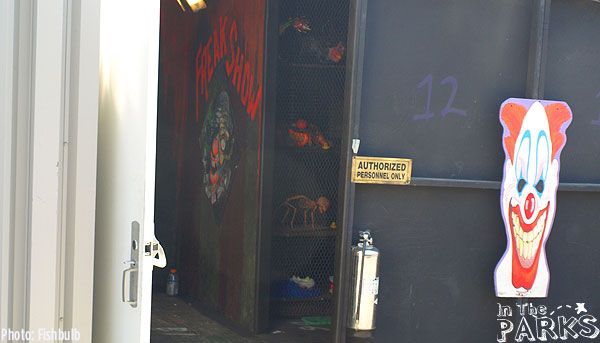 No peeking! The clowns will eat you.



The little green creature is settling in to his home


Slaughter House:
Slaughter house is being constructed below the stagecoach track in Camp Snoopy. You know, they really should sell sausage links and barbecue at the exit of this maze.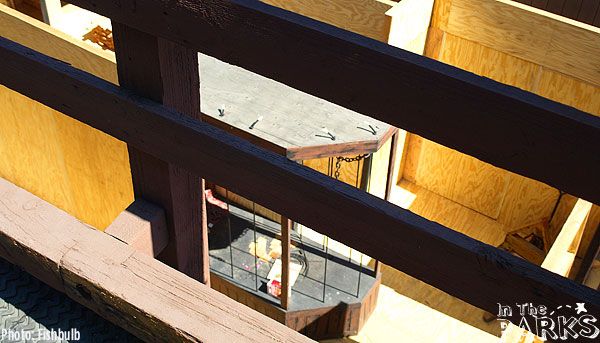 The holding cage for livestock waits below
MICECHAT'S KNOTT'S SCARY FARM MEETS!

Don't miss out on the Knott's Haunt, join the MiceChatters for two funtastic events! Tickets are on sale right NOW. The pricing is actually pretty amazing and all inclusive. Discount tickets, mazes, shows, dinner, Knott's celebrities, VIP access . . . and Fishbulb! What more could you want?!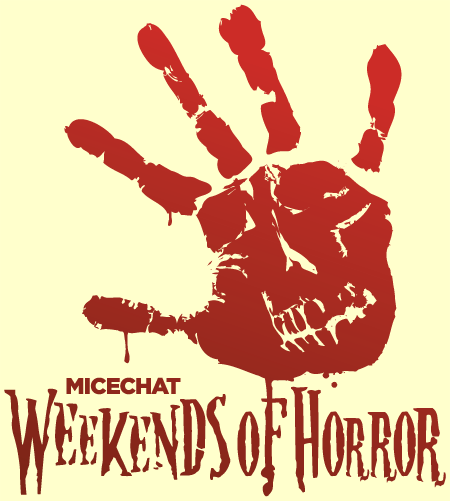 Fourth Annual MiceChat Knott's Scary Farm Halloween Haunt Maze Meet.
On October 1st join the Web's largest Haunt Meet for a night of fun in the fog shrouded nightmare of Knott's Scary Farm. The evening will start off at 4:30pm with a Pre-Scare buffet followed by early entry into the Haunt. We'll ride the Log ride and Mine Train, view The Hanging, then embark on the world famous MiceChat Maze Death March!
Haunt Meet Information Discussion on MiceChat HERE
Knott's Scary Farm - Behind the screams tour and Haunt Shows.

Join us for the very first MiceChat "Behind the Screams" tour. This is the VIP access event of the season. Includes:

Come scream on October 1st. Then come back again and scream for more on October 9th. Includes admission and amenities for both the October 1st meet and October 9th meet all for one low price.

Haunt Meet Information Discussion on MiceChat HERE

Around the Farm:
Knott's Berry Farm has some really interesting things going on.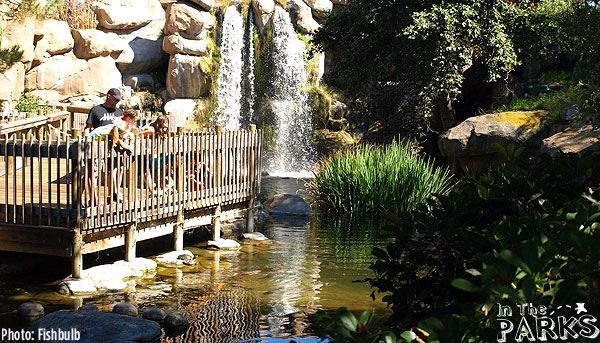 Knott's still has waterfalls and koi - Take that Disneyland!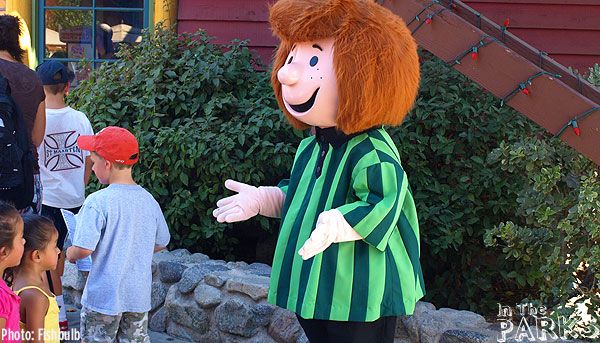 Peppermint Patty poses for Pics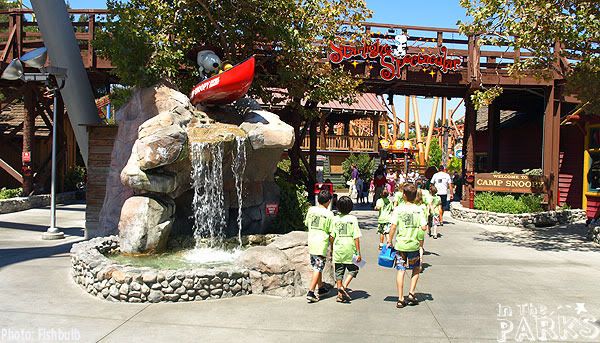 See? More waterfalls!



This past Wednesday Ghostrider closed early.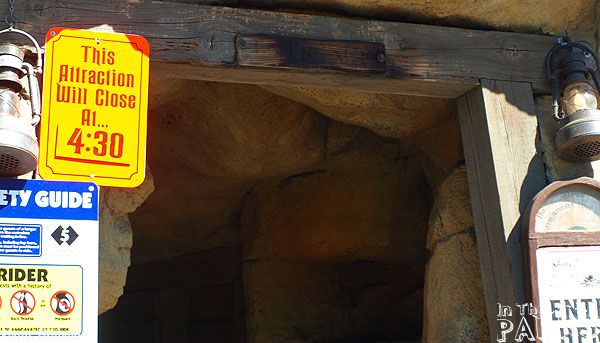 Weeeeeeeee


Xcelerator:
The painting project over at Xcelerator seems to have halted for the time being. We will keep you posted
.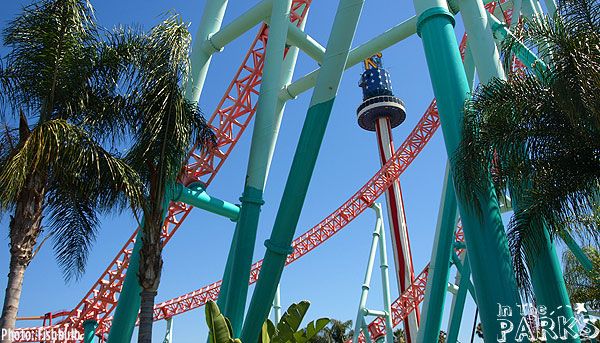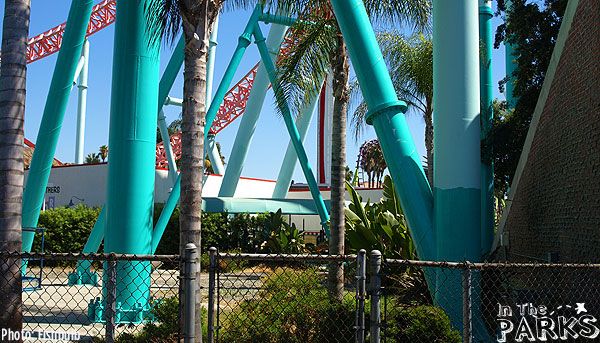 Calico mine Train:
It's nice to see little touches return through out the park. One of them turned up at the Mine Train
.



At the Calico Mine Train on the left side of the show building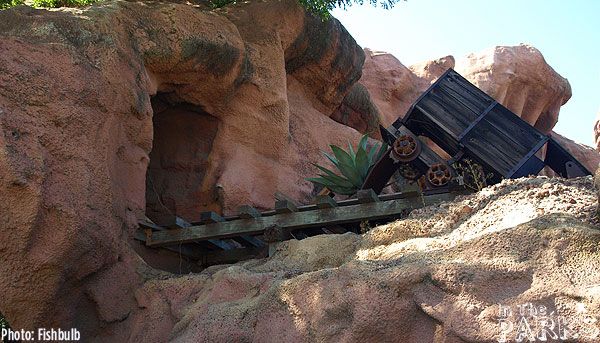 Sound effects coming from a mining tunnel.
What a great little bit of atmosphere.
Ghost Town:
Over in Ghost Town, Goldie's Place is getting a complete overhaul. It is sad to see the original building go but it is encouraging to see Knott's rebuilding a piece of Ghost Town's Heritage. This is another great move by Knott's to protect and preserve Ghost Town this year. We are thrilled.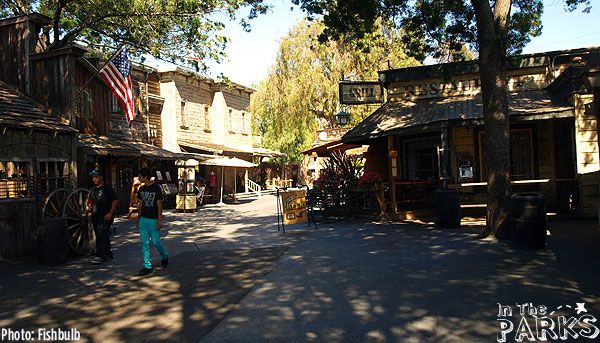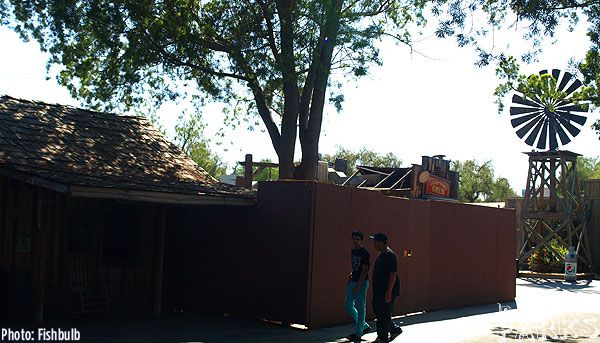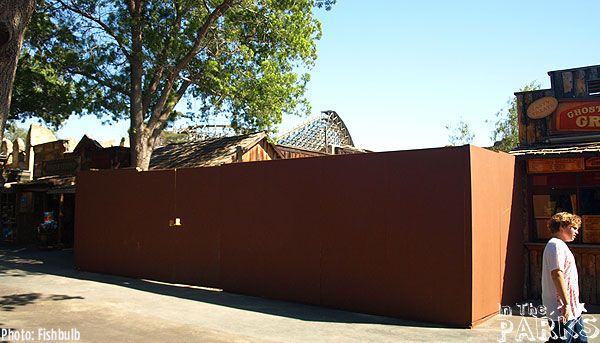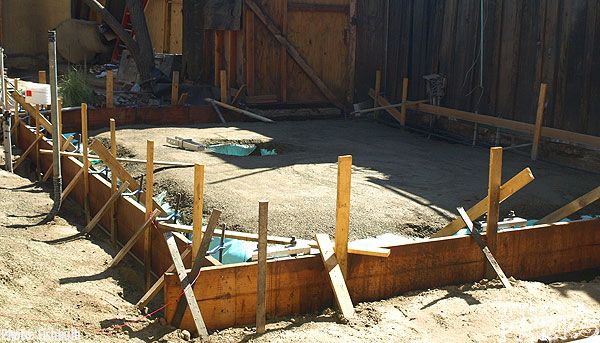 The foundation of Goldie's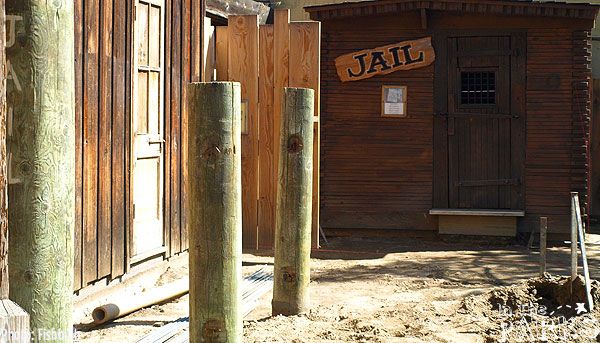 Sad Eyed Joe is still in jail



Citywalk:
Citywalk is always a hive of activity and excitement. But, with the presence of the Universal solicitors along the route, things feel a little less fun.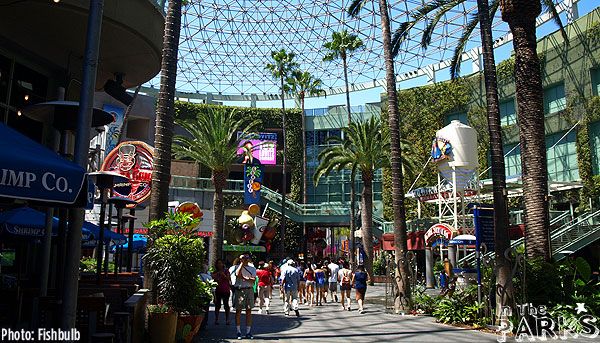 CityWalk's atrium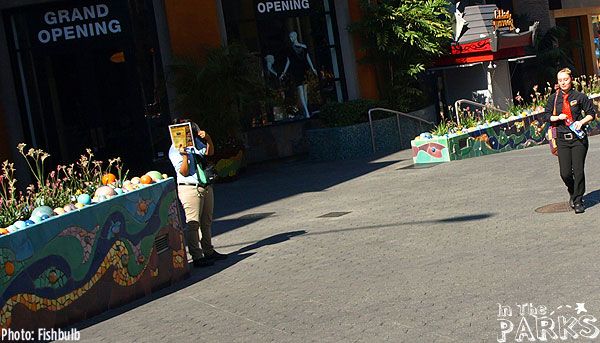 The carnival barkers are now out in Citywalk. Enough! We are so tired of all these sales people all over the property.

Upper Lot:
Crowds were lighter at Universal as well with wait times for all attractions never lingering past a half hour. Halloween Horror Nights continues to take shape amongst a working theme park and movie studio. There is quite a bit going on.

Entrance corridor:
The entrance to the park is essentially a long corridor that funnels guests into the park. Think Disneyland's Main Street, but more compact. This area now has another thing in common with Disneyland...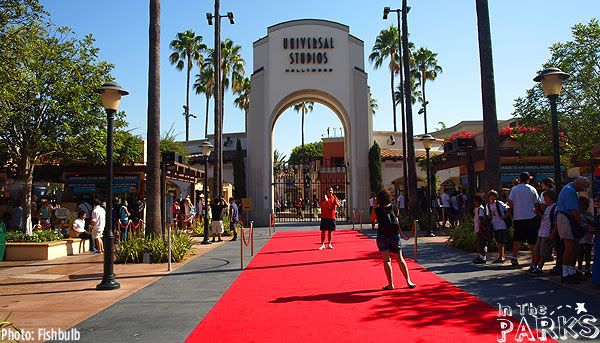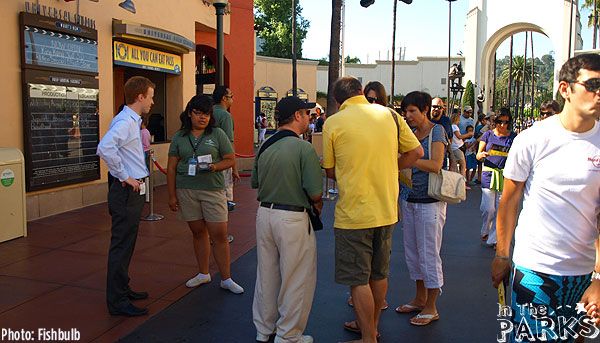 Guest surveys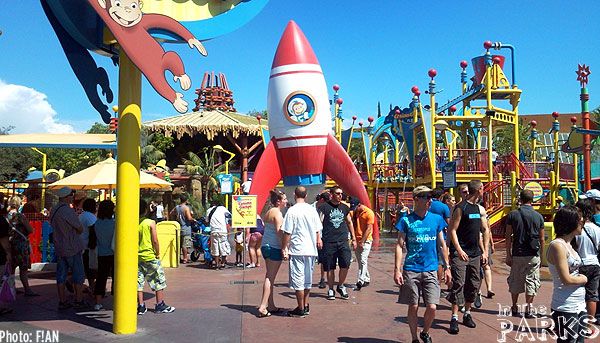 Here is one sure-fire way to keep cool when visiting Universal during the Summer - you'll get wet in the Curious George playground.

Lower lot:
Transformers continues to develop behind the Bumblebee wall as Jurassic Park and the Mummy hold down the fort on the lower lot until construction is complete on the new star attraction of the park.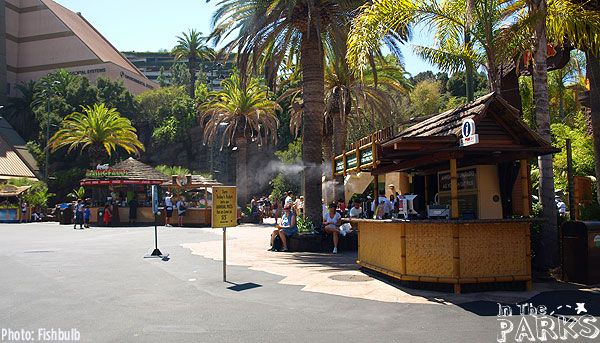 A quick tip about upgrading your pass into an annual pass...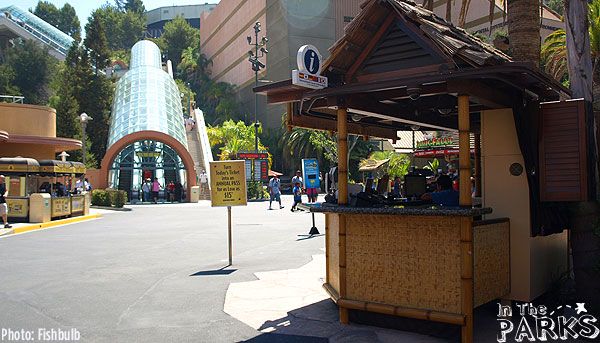 While the Hollywood ticket outlet on the upper lot is usually very busy, there is a booth in the lower lot where the same upgrade can be handled, but with little to no wait.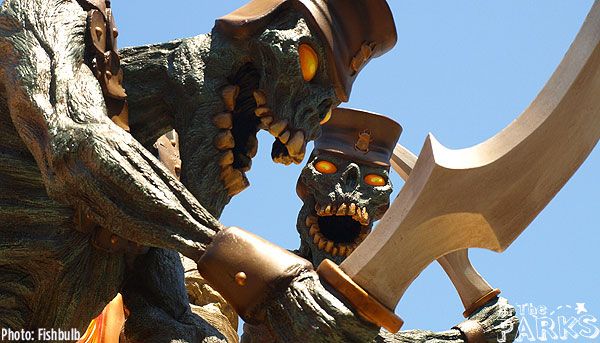 I want my Mummy
Transformers: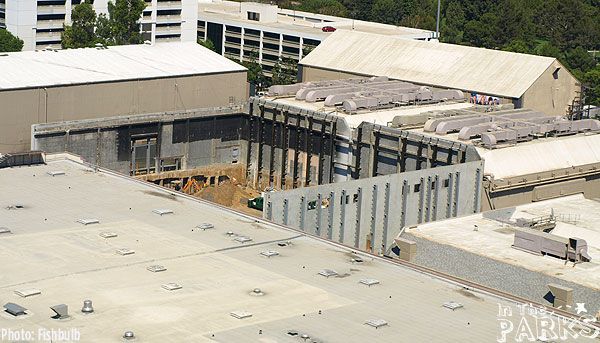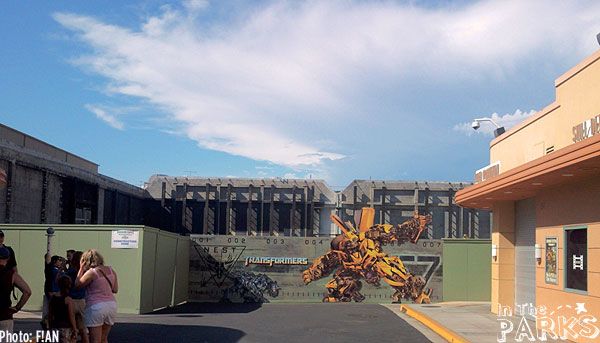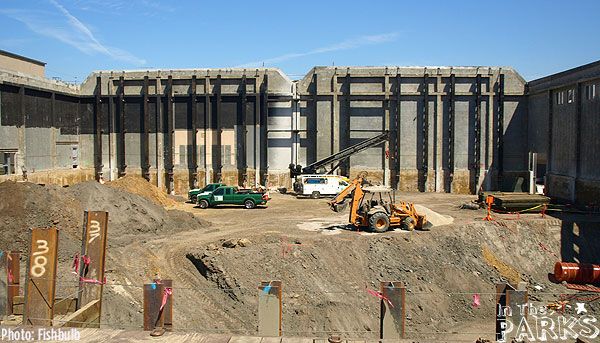 Studio Tram Tour:
Along the route: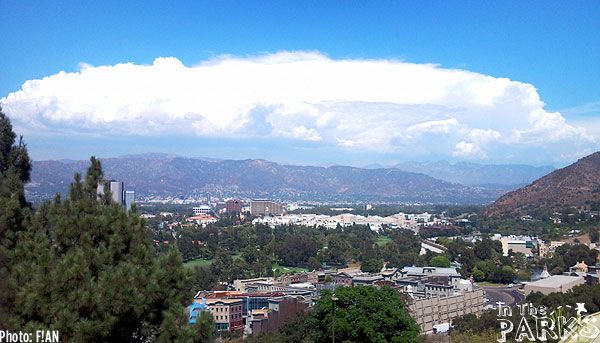 This past Wednesday ominous clouds made threats but never rained on the studios.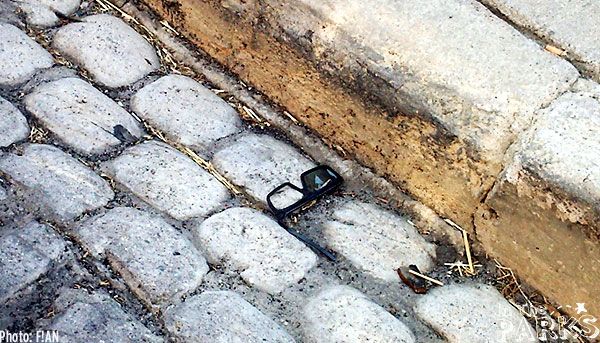 3D Casualty. That's what happens when guests are expected to hold on to their 3D glasses throughout the entire tram tour.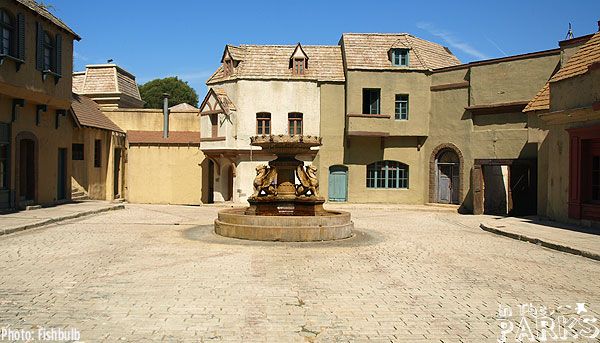 The court of Miracles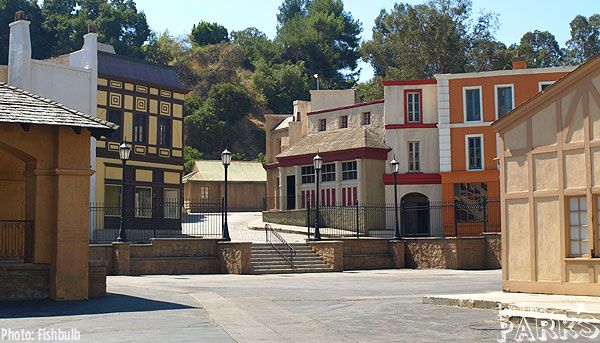 Little Europe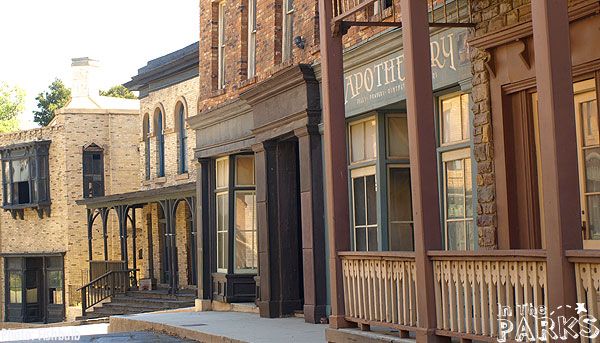 6 Points Texas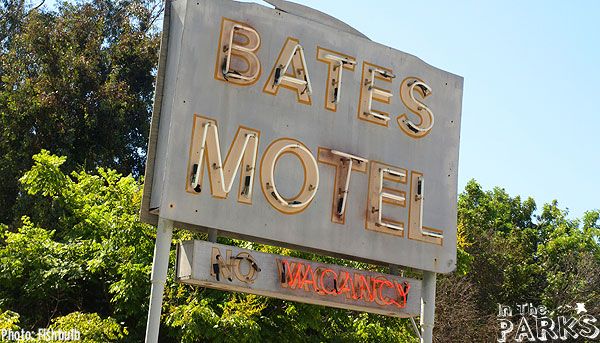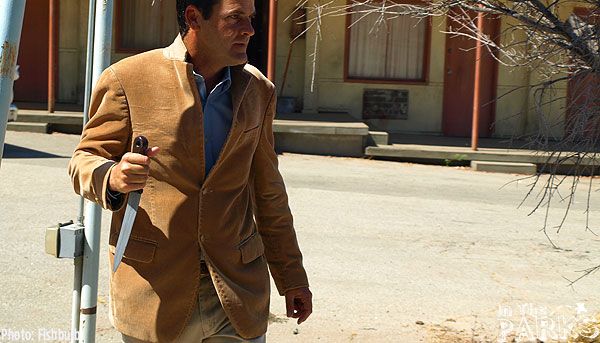 Ginsu Knife salesman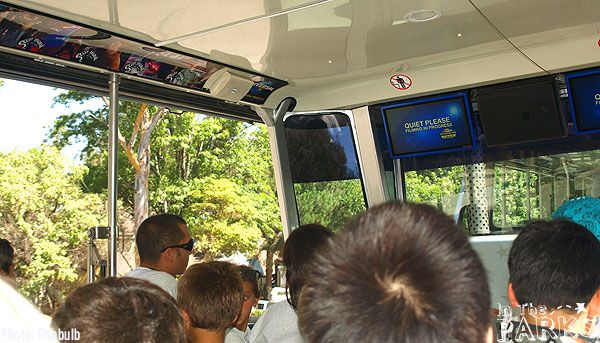 Filming has resumed on the set of Desperate Housewives. The tram goes into quiet mode while near Wisteria Lane

Pirates 4 set: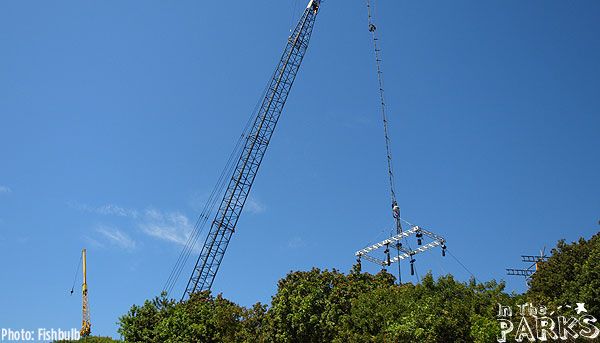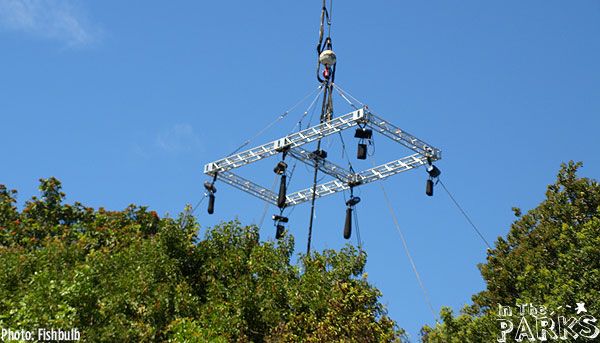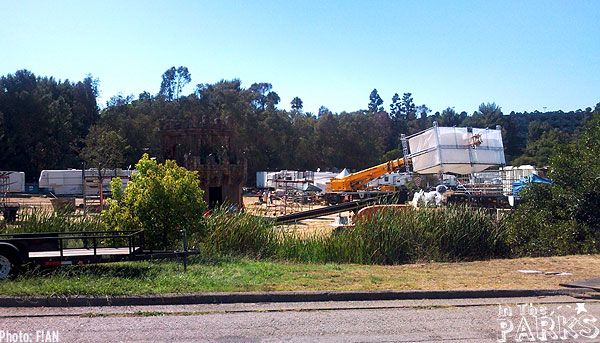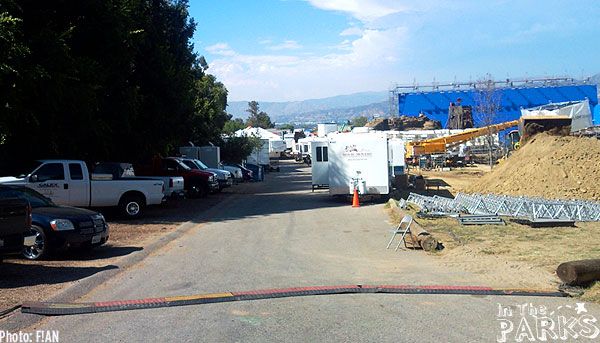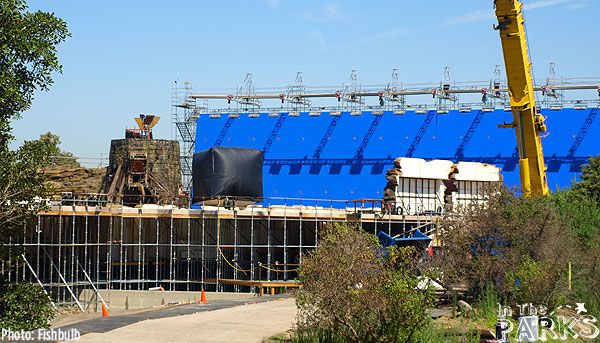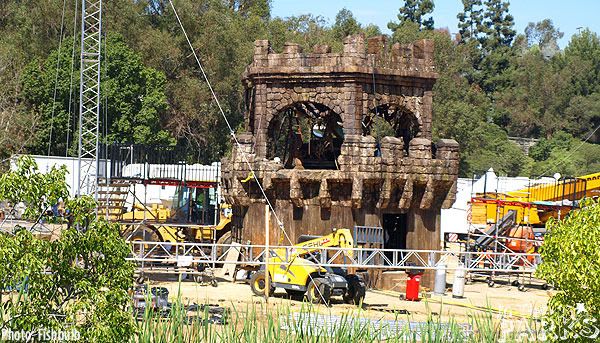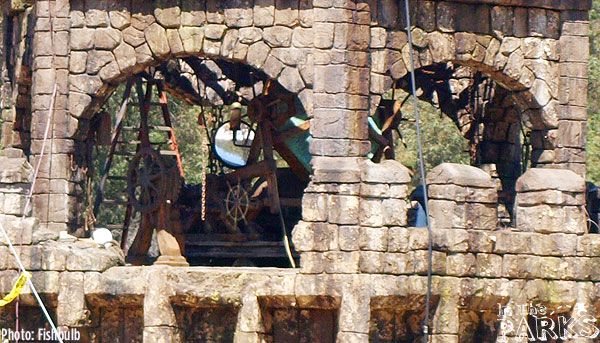 Halloween Horror Nights:

Universal has announced all of their mazes and scare zones for 2010

Mazes:

A Nightmare on Elm Street: Never Sleep Again All New!

Friday the 13th: Kill, Jason, Kill. All New!

Saw: Game Over New traps!

Vampyre: Castle of the Undead All New!
Scare Zones:
La Llorona

Klownz

Freakz

Nightmarez

Lunaticz

Pigz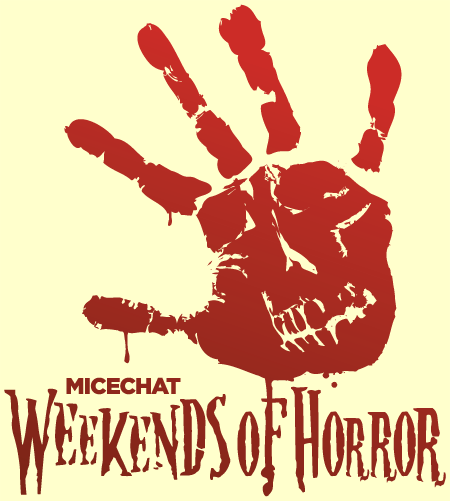 Saturday October 2nd $44.00
($59.00 night of the event)
Universal Studios First Annual
Halloween Horror Nights Meet
Join MiceChat as we hold our very first Halloween Horror night meet at Universal Studios. This year, there will be 5 mazes at Universal Halloween Horror nights including the Terror Tram. Add to that the shows and regular attractions and you have a full night of fun. Don't miss out! Haunt Meet Information Thread On MiceChat HERE



Friday the 13th, Kill Jason Kill:


The new Friday the 13th Maze that was just announced is already taking shape in the Wild West Stunt Show arena. Based on the reboot version of the film, this maze promises plenty of blood and fresh scented pine. Can't wait.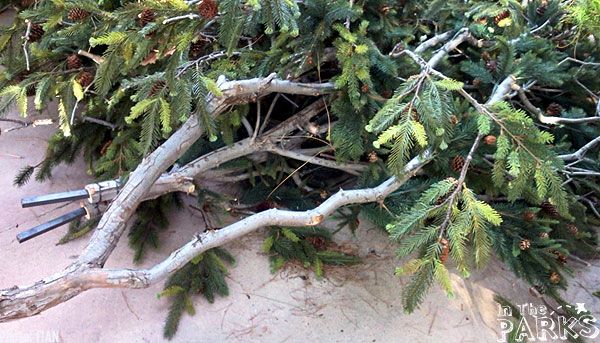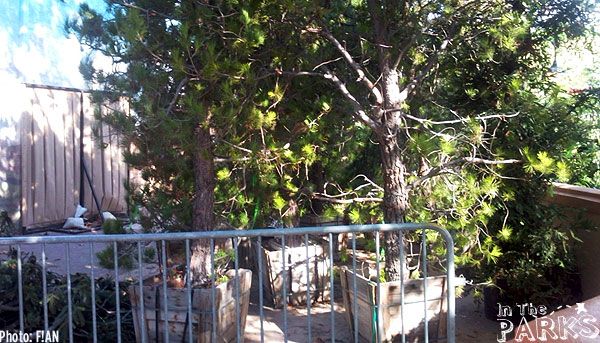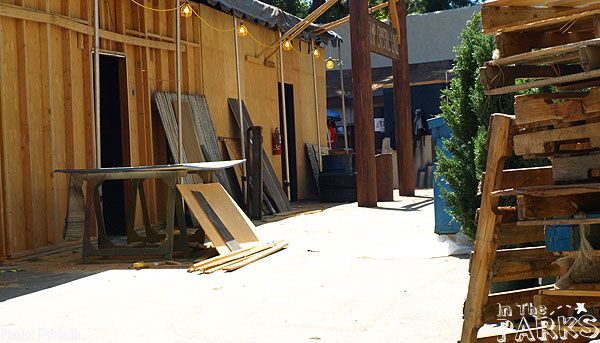 Rob Zombie's House of 1,000 corpses
in (Zombievision 3D):
Details are beginning to emerge like window panes and carpeting. Carpeting in a maze? Yeah, that's how Universal rolls.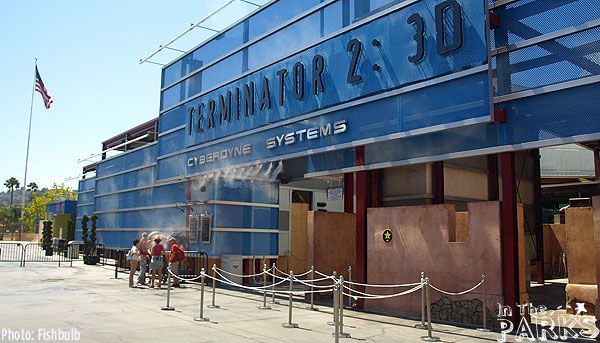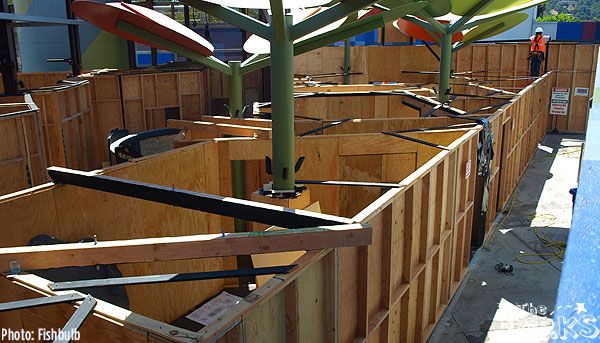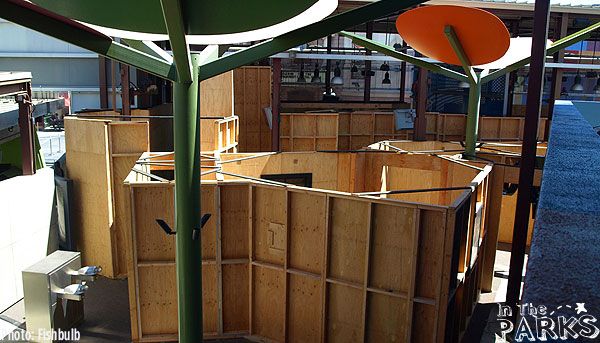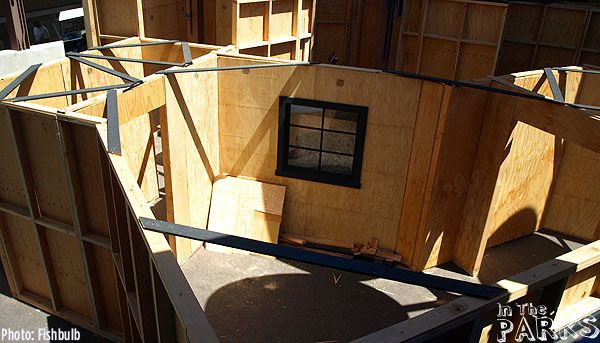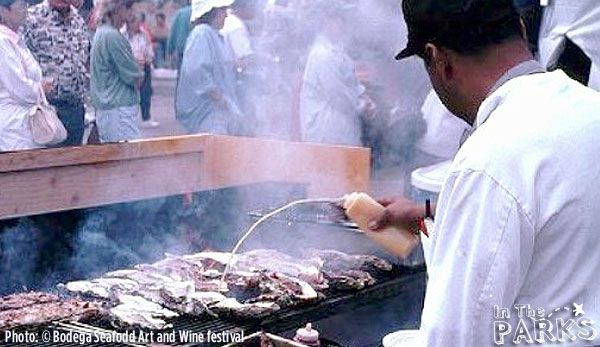 Bodega Seafood Art & Wine Festival, and Rubber Duck Race

The 16th annual event. Watts Ranch, Bodega Bay. Includes barbecued oysters, crab cakes and other seafood specialties; wines and microbrews; live music; rubber duck races; a wild animal "safari" and more. $12 admission; discounts seniors and children; free children 12 and under. winecountryfestivals.com.
British Invasion, A Tribute to the 60s British Rock & Roll
Paso Robles Winery & Vineyards | Vina Robles
Red Car Museum
Noon to 3 p.m. Visit the past with a look at this historic rail car that used to drive between Los Angeles and Seal Beach daily. Transformed into a museum with videos, pictures and a great collection of memorabilia, it is well worth a stop and look. Open 2nd & 4th Saturdays, the museum provides the most comprehensive look into the history of Seal Beach. Donations are accepted. Location: Electric Avenue near Main St., next to Mary Wilson Library.
The 16th Annual E Hula Mau
Na Mamo

. Returning to the

Terrace Theatre

at the "Long Beach Performing Arts Center" August 27, 28, 29, 2010. E Hula Mau will feature live performances, arts and crafts, interactive workshops, and the flavor of island foods. The Mahalo Bash Concert will again be on Saturday night at the Long Beach Terrace Theater. E Hula Mau
Firefighters Pancake Breakfast
Sat, Aug 28, 7 am - Lake Park, 1000 Main Street, Huntington Beach
HB Firefighters Association Pancake Breakfast benefiting the Seagrave Restoration Project. $5.00 donation - tickets available for purchase at the event. Games, entertainment, Bounce House and more!


Rancho Los Cerritos Summer Concert Series in Long Beach
Concerts in the Park
. Free Friday night concert in Downtown Paso Robles City Park Bandstand, Paso Robles, CA. Time: 5:30 to 7:30 p.m. pasoroblesdowntown.org

Jazz by the Bay
. Free concert. Time: 6:30 to 8:30 p.m. Cost: Free. Location: Gabrielson Park, Anchor Street and Bridgeway, Sausalito, California 94965. ci.sausalito.ca.us


Summer Concerts in Central Park

. Begin at 5 p.m. Usually includes jazz band. 7111 Talbert Ave., Huntington Beach, CA

Say, "Cheese" Long Beach 24-Hour Digital Photo Contest

Sat, Aug 28, Noon - Sun, Aug 29, Noon - Various Long Beach Locations, Long Beach
You're invited to participate in a one of kind photo contest. The goal of SAY, "CHEESE," LONG BEACH is to visually record all aspects of the community during a 24-hour period that will culminate with a major photography exhibit, reception, and awards ceremony featuring the entrants' best snapshots. Anyone can enter -- just start snapping digital photos from noon to noon on Aug. 28 to Aug. 29 of whatever and whomever you like during the day and/or night. Say ?Cheese? Long Beach! 24 Hour Photo Contest Returns :: Long Beach, CA

Living History Tours: Visitors of the Past

Sun, Aug 29, 1 - 4 pm - Rancho Los Cerritos, 4600 Virginia Road Long Beach
Tour the 166-year-old adobe house with "visitors from the past" who step forward in time to conduct tours of the Rancho. Explore the Rancho through the eyes of previous owners, workers or guests as they share their personal stories and experiences. FREE

Dance Downtown: Throwback Night - 60's Dances
Fri, Aug 27, 6:30 - 10 pm - Music Center Plaza, 135 N. Grand Avenue, Downtown Los Angeles
Calling all with two left feet! No experience necessary - dance and sway the night away with beginner lessons and DJ/live music under the stars. FREE admission, donations welcomed. First come, first served. Parking is available in Music Center garage for $9 on evenings and weekends.

Buskerfest
Sat, Aug 28, 5 - 11 pm - East Village Arts, Linden Ave and First St, Long Beach
The SUMMER AND MUSIC Concert Series ends with The crown jewel of the celebration of local music "Buskerfest". Enjoy top-tier local acts as they take it to the streets for an opportunity to open the main stage when the nationally celebrated (but still local) headliner takes over the neighborhood. FREE

Prelude to the Festival
Sat, Aug 21 - Sun, Aug 22, 11 am - 5 pm - Thousand Oaks Civic Arts Plaza, 2100 Thousand Oaks Blvd., Thousand Oaks,
Preview the art of local artists featured at upcoming Thousand Oaks Arts Festival. Art of honorary chair Scott Medlock and actress Jane Seymour will be on display. Admission is FREE.

Used Book Sale
Sat, Aug 28, 10 am - Studio City Branch Library, 12511 Moorpark Street, Studio City
Come to the Studio City Library for a one of a kind book sale featuring paperbacks, hardcovers, CDs, videos, DVDs, etc.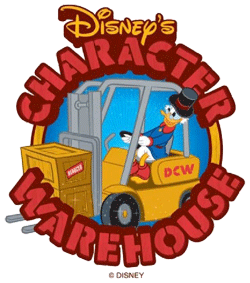 As a proud MC sponsor we want to give all our readers a chance to save.
Stop by one of our stores today.
Character Warehouse Store Locations HERE
Somehow, we magically pull these updates together week after week. Much thanks to all of the folks who sent us news, photos and tips this week. But mostly, we'd like to thank you, our wonderful readers, for reading our little updates.

We hope you have a wonderful weekend.
And if you happen to run across some interesting news or have photos that you'd like to share with us, w
e'd really appreciate hearing from you.
Contact dustysage@micechat.com with your news, photos, or comments
. Still looking for photos and news from the theme parks you love? There's a
world of fun information to read

elsewhere on MiceChat, might we suggest:



Weekend Update

Offers a world of Disney theme parks and other sights and landmarks!



Dateline Disneyland which is packed with great news and photos from the Disneyland Resort.
MiceChat is giving away 4 $25 Amazon Gift Cards in the month of August. You still have time to win our final gift card this coming monday. All you have to do to be entered is follow us on Twitter or Facebook. We'll contact the winners via direct message on Facebook or Twitter and if they respond within 48 hours, we'll send them a gift card! If you are already following us, then you are already entered! And if you haven't followed us yet, just click the Facebook or Twitter link below:



Tell your friends about MiceChat and In The Parks, sharing is caring!

Today's update was brought to you by our fantastic and talented crew of
photographers and news contributors
Pratt55, SirClinksalot, Captphoebus,
Coheteboy,
F!an,
Fishbulb and Dustysage
.

And that brings us to the end of another wonderful update . . .