Tranquility base here, the pumpkins have landed! And the skeletons, and spiders and . . . well, you get the picture.
The Fall season is upon us once again at theme parks everywhere. And we've got the photos of all the new decor and construction going on. Pirates of the Caribbean has received some new mood lighting at Disneyland and Pirates of the Caribbean 4 is filming at Universal Studios in Hollywood. In sad news, Sea World has lost one of their Orcas, which resulted in a temporary closure of the Shamu show. Knott's and Universal are in construction overload to get everything ready for their massive Haunt events. Even Madame Leota is getting into the spirit this year. California Adventure puts up the long walls of construction again as Cars Land moves into the Farm and Paradise Pier gets the 2nd phase of renewal.
Sit back, stretch your scrolling finger, and let's get started . . .




It was an off-season week at Disneyland with several major attractions down for Holiday makeovers. Crowds were thin and wait times relatively short all week.

Let's take a look at what's been happening in the Magic Kingdom.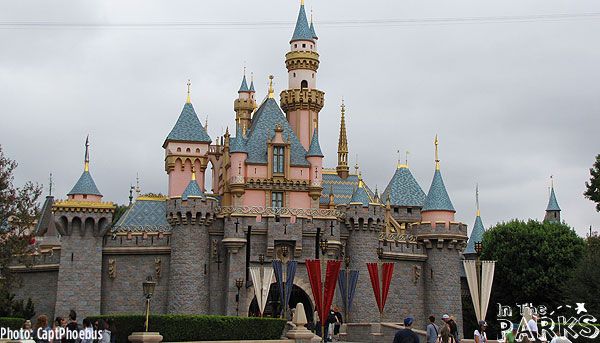 The Castle welcomes visitors from near and far.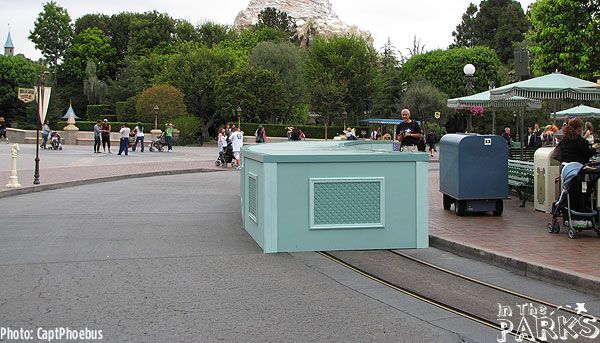 minor track work around the hub keeps the horse-drawn carriages from running.
Haunted Mansion Holiday:

Haunted Mansion Holiday has made its presence evident on the exterior of the attraction. Although quick, the annual Haunted Mansion rehab is running a few days longer than normal this September. George Kalogridis has a few tricks and treats waiting for Haunted Mansion Holiday fans this fall, as he aimed a chunk of the seasonal budget at plussing up the Haunted Mansion Holiday beyond just the traditional gingerbread house and overall TLC. New technology is being utilized to the fullest, and Madame Leota in particular is in a very decorative mood this year. We won't ruin the surprise, but we feel that this is a great move by the park to keep the seasonal overlay fresh and is a nice gesture to loyal fans as well.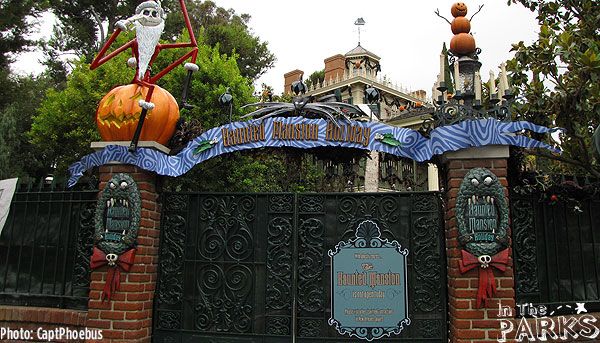 Jack Skellington patiently awaits the opening.


Pirates of the Caribbean:
Some Changes popped up in Pirated of the Caribbean recently.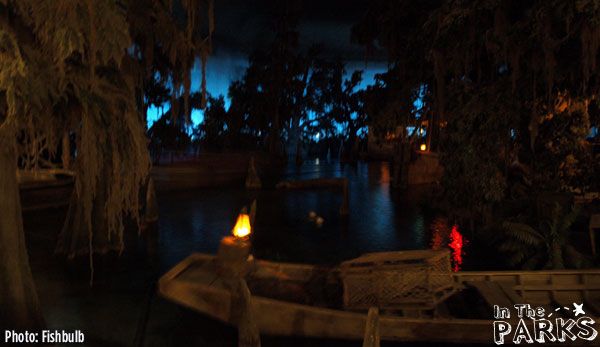 The Blue Bayou Beckons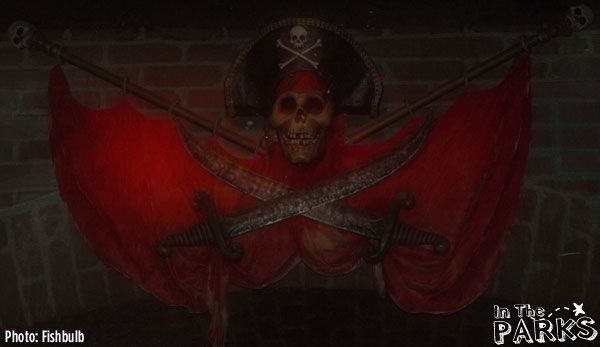 Some claim that talking skull has been improved to more closely resemble the version that appears in the film.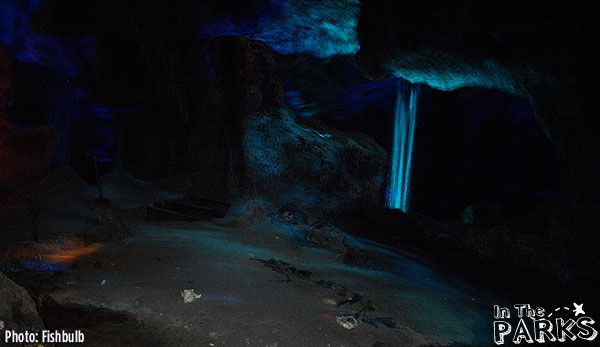 The lighting in the waterfall grotto scene has been significantly subdued, creating a more dramatic feel.

Village Haus:

As the Fantasyland Candy Shoppe is transformed into the Rapunzel meet-n-greet, Village Haus is getting some attention as well. Are you praying for better quality food and menu? We are!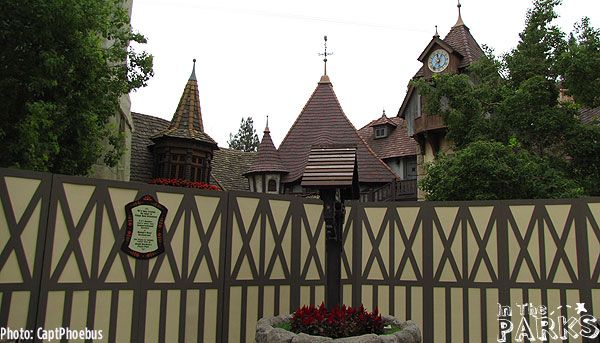 No food at the Haus today.


Work seems to be humming along
Space Mountain:

This past Tuesday Space mountain closed due to problems with Lap bars in the cars. The next morning the ride opened briefly and was closed once again. The attraction will now remain closed until it returns on the 17th with its Ghost Galaxy overlay.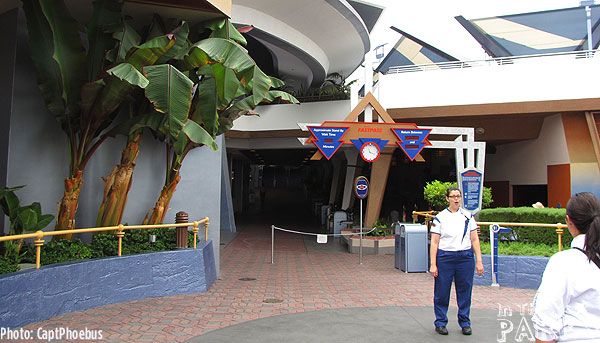 Space will reopen on Sept 17th as Ghost Galaxy.
Marathon:
Thanks to some kind MiceChatters, we have some interesting shots of the backstage areas of Disneyland visible from the recent Disneyland 5K run. Let's take a look shall we?
Reader, Rick Muirhead, prepares for the start of the race, and shares his photos and video:
<object width="500" height="405">
<embed src="http://www.youtube.com/v/VRpfsmMl6rM?fs=1&hl=en_US&color1=0x006699&color2=0 x54abd6&border=1" type="application/x-shockwave-flash" allowscriptaccess="always" allowfullscreen="true" width="500" height="405"></object>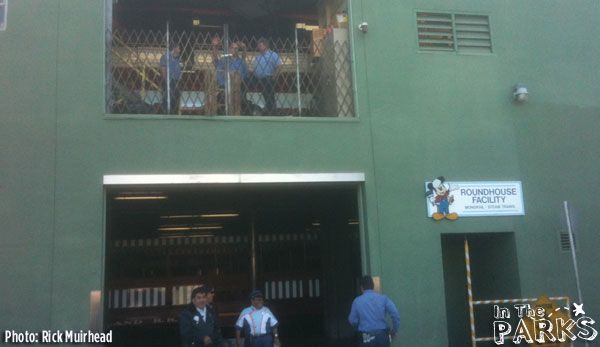 The Roundhouse

Even the C.K. Holliday got into the act:
<object width="500" height="405">
<embed src="http://www.youtube.com/v/Rv8oWeqD7GQ?fs=1&hl=en_US&color1=0x006699&color2=0 x54abd6&border=1" type="application/x-shockwave-flash" allowscriptaccess="always" allowfullscreen="true" width="500" height="405"></object>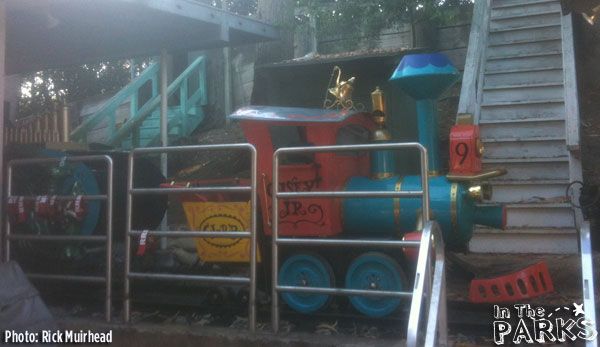 Casey Jr. taking a rest.

Thank you for sharing the fun Rick!
Some additional photos from the race are included in our Cars Land section below.

Nearly every last reminder of Glowfest has been removed from DCA as Fall descends upon Southern California. We take a look at the repainting of the Hyperion Theatre backdrop and check up on the construction progress of Carsland and The Little Mermaid, among others.

Glowfest:

The stage and bar kiosks for Glowfest have all finally been removed from the park. Aside from a lone banner that we spotted the festival is now a glowing memory.


Ahh the beautiful hubcap.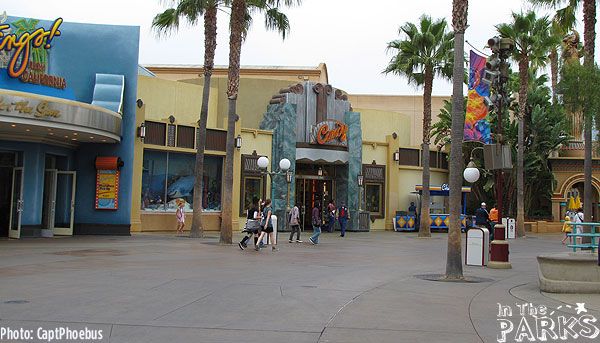 Spot the glow in this picture.
Carsland:

The Bountiful Valley Farm area of the park has now, officially become part of DCA's sordid past as a far better theme has now staked claim to the land.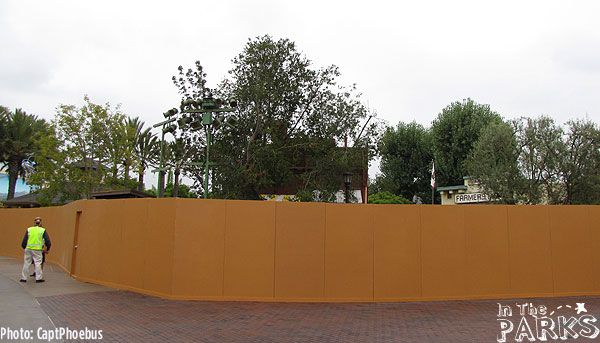 Construction walls along the parade route will be a site visitors will have to get used to until 2012 when Cars Land opens.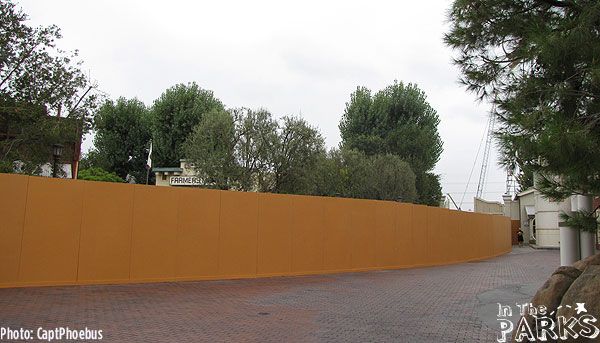 We are sure the wait will be very much worth it.

No more farms. We don't mind though
This past weekend, Disneyland hosted the Disneyland 1/2 Marathon. The route took the runners through several back stage areas. We are delighted to share some of them with you now, thanks to Sir Clinksalot. He wanted you to know that he took them on his phone while he was on the move, so please excuse the blurry nature of some of these interesting shots.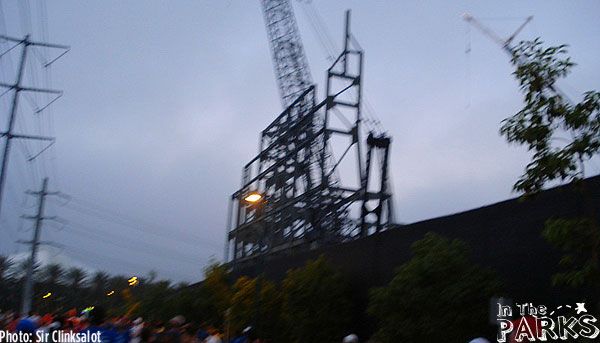 Behind the park we get a look at the back side of the Carsland construction.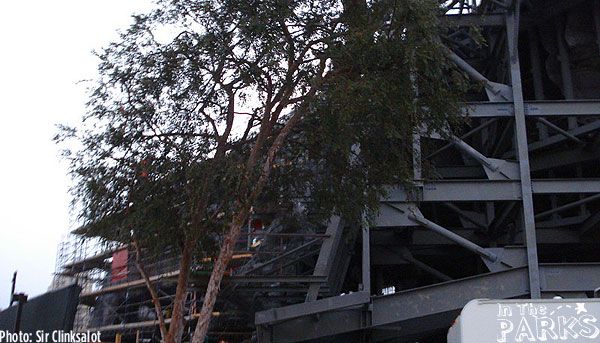 The back side of Cars Land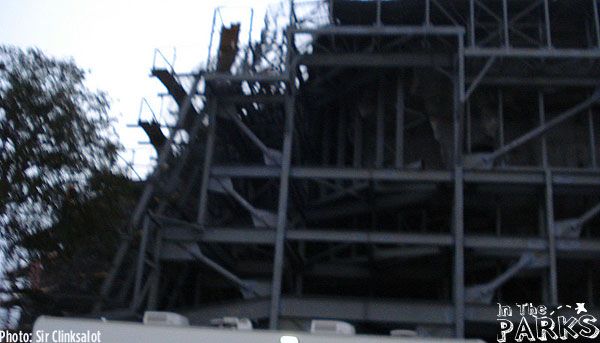 A BIG THANKS and congratulations to Sir Clinksalot who not only ran the Marathon this past weekend but also snapped these shots for us.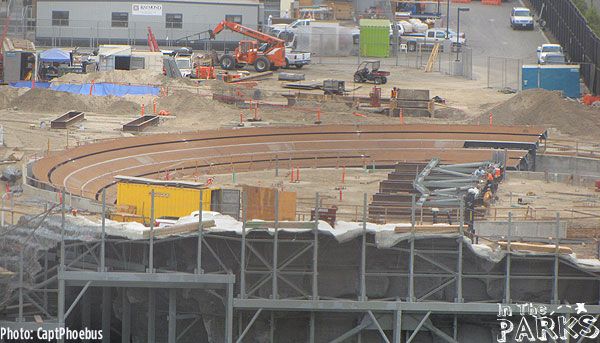 The dual track is very clear here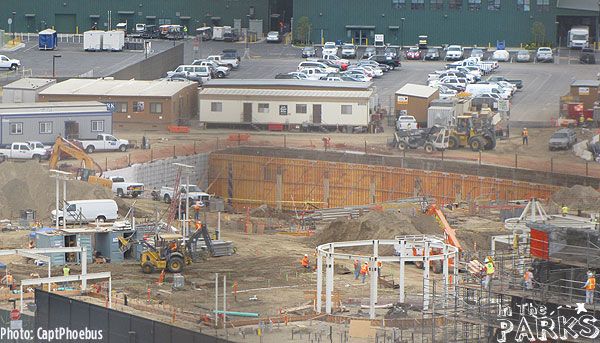 Luigi's Tire pit

Work continues on the 6 acres of carved rock scenery.
Red Car Trolley:

As work on the Red Car proceeds in front of the Hyperion, its cloudy backdrop gets a freshening. Nice to see, but does this mean that they won't be building a real theater facade after all? We sure hope that project is still in the cards for the not too distant future.



Don't it make your brown skies blue.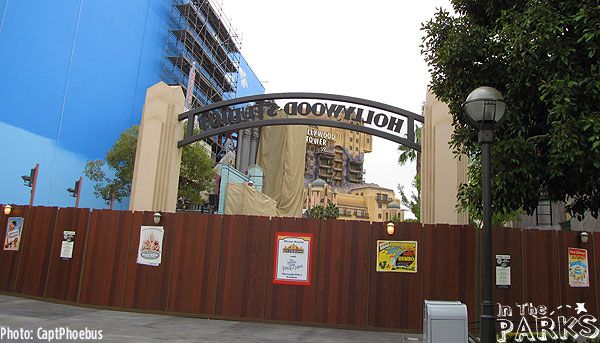 Access to Tower is obtained through Bug's land
.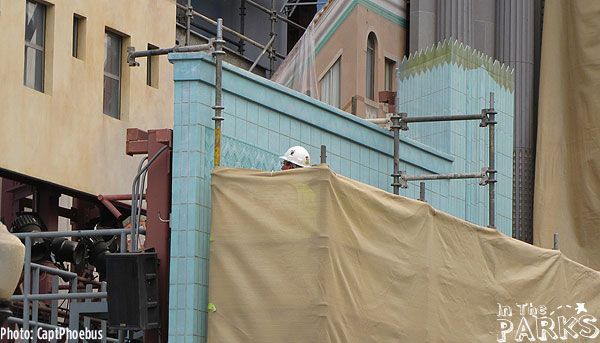 Touch up to the "Scenery" as well.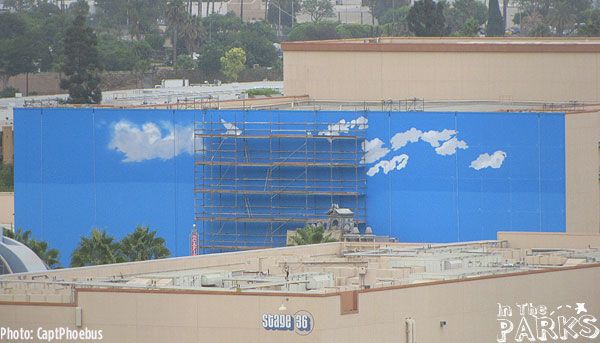 The view from Jafar.
The Little Mermaid: Ariel's Undersea Adventure:

The steel frame work on the roof of the little Mermaid building was enclosed with panes of sheet metal this week. It's nice to see the details of a nicely themed building emerging. Few other parks go to these lengths with their show building construction.



Metal domage.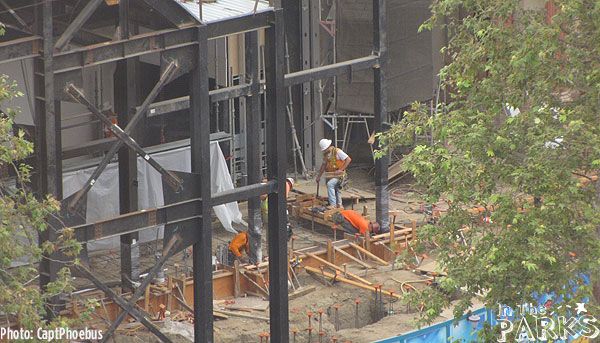 The front of the building and it's queue.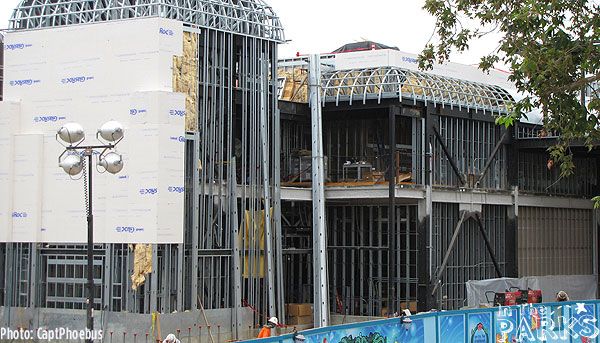 Soon this will be enclosed as well.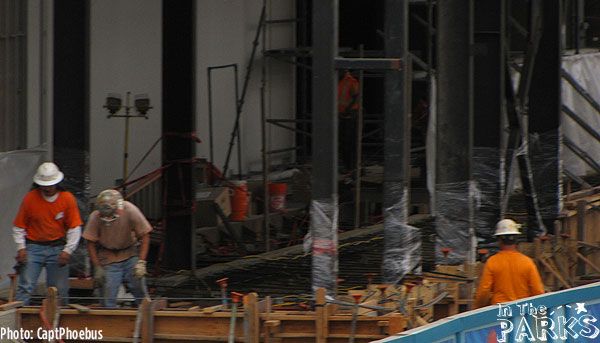 The omnimover mechanism appears to be getting installed as well.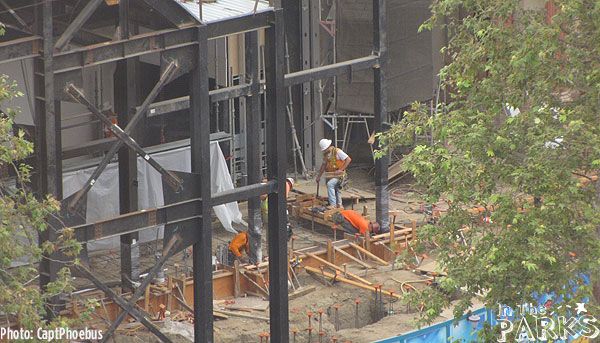 Soon we will all be able to kiss the girl

Toy Story Midway Mania:

Toy Story Midway Mania is set to reopen in a few weeks after a short rehab. Although no mention of additions or improvements has been made, we hear it is just normal maintenance and new safety gates.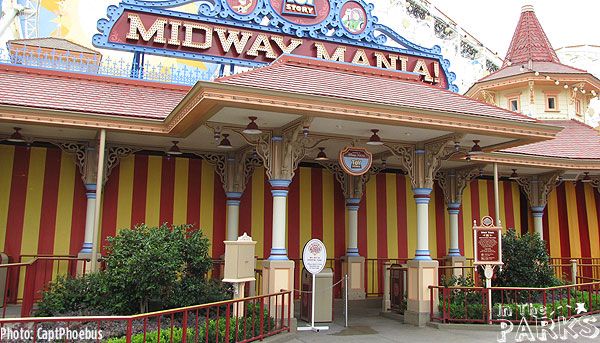 Still festive even during its down time.


California Screamin':
The Scream tubes are still being repainted.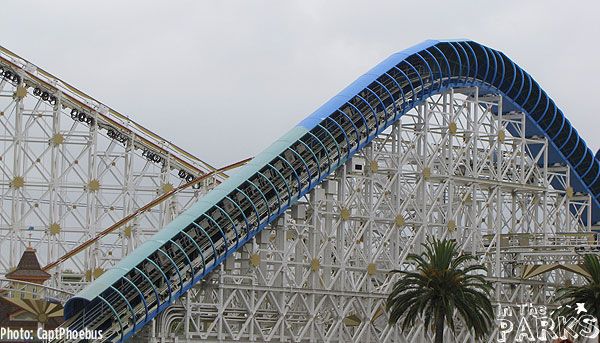 I think they can, I think they can



Paradise Pier Food Court:
The stretch of attractions and restaurants from the Maliboomer to Mullholland Madness's exit (which is open until October 12th) has been walled off in order to bring us a more thematically correct experience.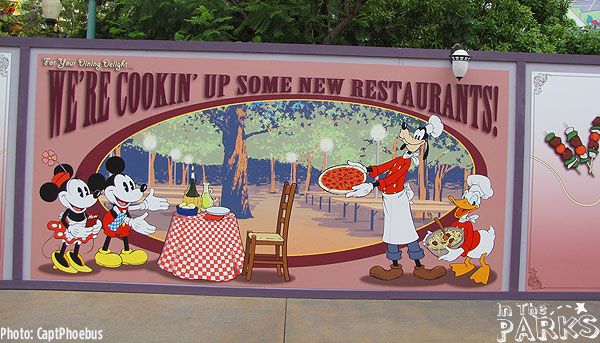 Thank goodness for the building skills of the fab five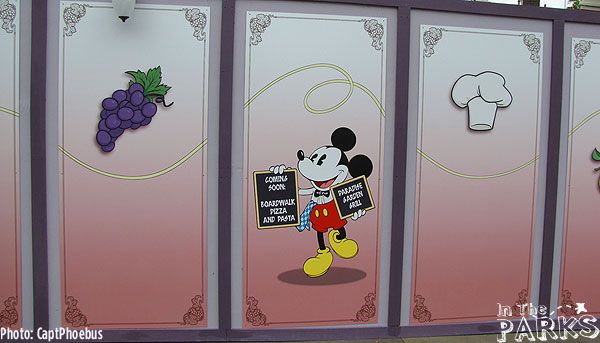 The dining is sure to be better.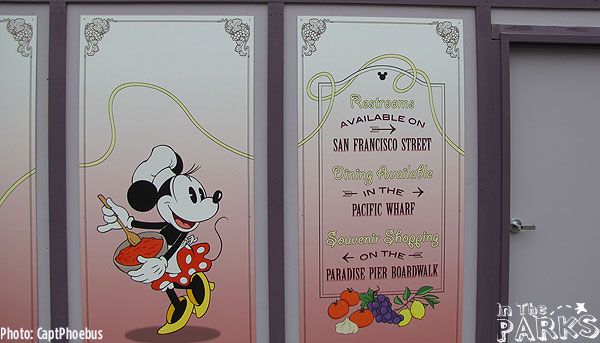 The construction wall gives some alternative suggestions.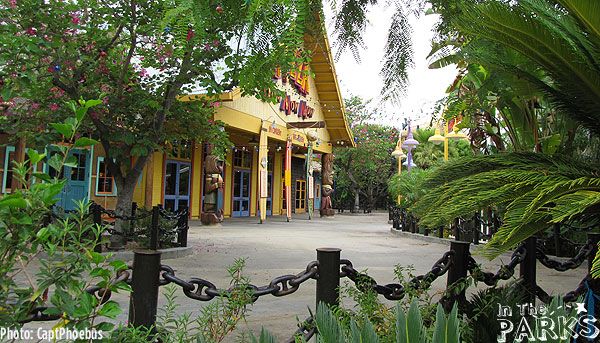 Mow Mow
no more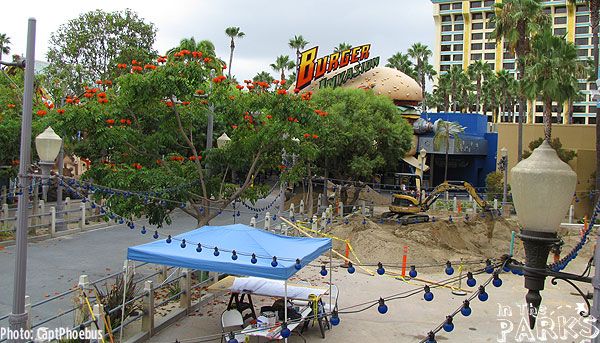 The burger is being invaded.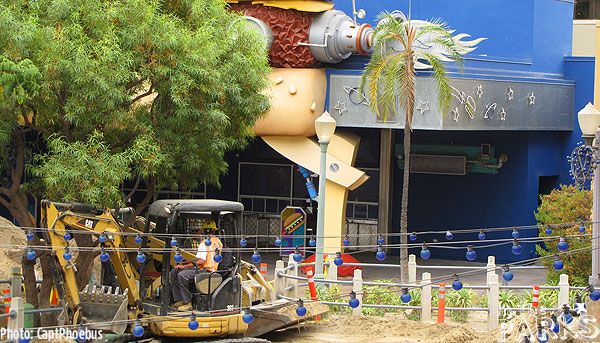 Thank heavens for better dining
Maliboomer:
Well, we know there are a few fans, but we couldn't be happier that the Maliboomer has shot its last riders into space and is being dismantled as we speak. The skyline of Paradise Pier is changing once again.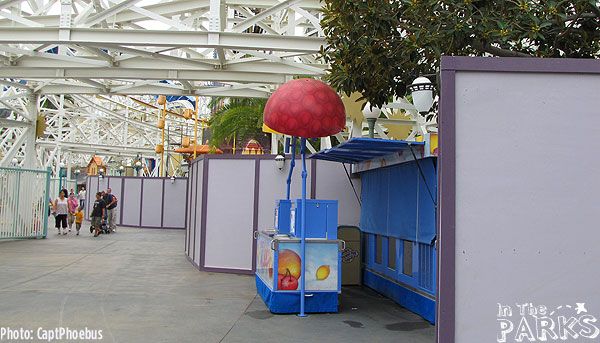 Mali-bye-bye
Nothing to see here folks, this attraction is closed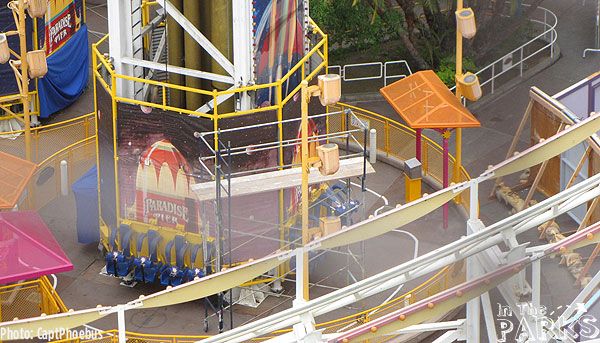 Perhaps a small carnival somewhere will buy it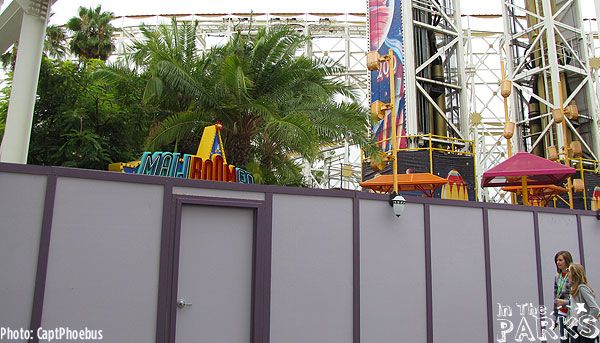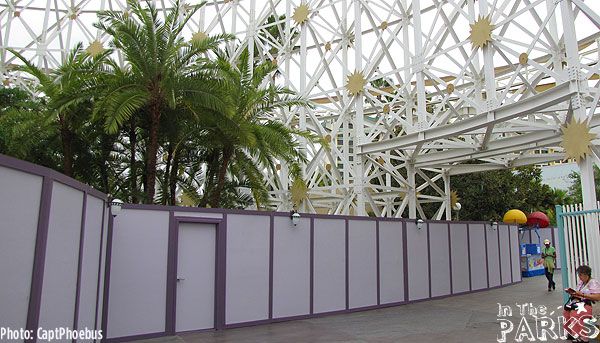 Oh Purple walls of majesty.





We all know about Knott's famous Halloween Haunt. But did you know that MiceChat is having it's own special meet there with it's own special price on two special nights? Click HERE to learn more.

The haunt really begins to really move into the park this week, with decorations going up in plain sight. Renovations continue on Goldie's Place in Ghost Town and want applaud Knott's for finally taking care of the heart and soul of the park, Ghost Town. Let's take a look.

Ghost Town Renovation:

They have recently restored Hop Wing Lee's laundry, the Assay office, the Undertaker, the Toy Shop, The Barber's place and now Goldie's is getting the love.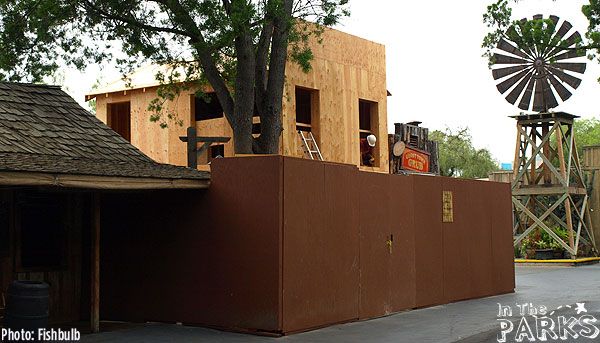 Yeah, this is a relatively small project compared to what we are seeing at Disneyland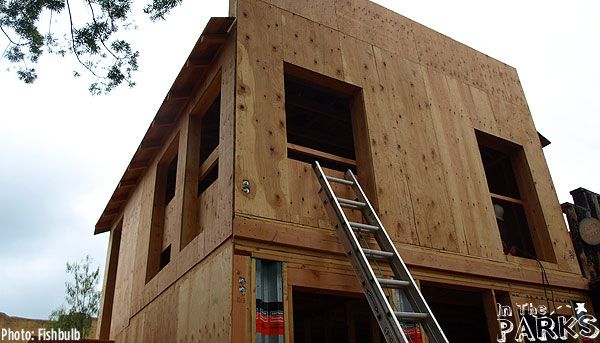 But it is every bit as important to the future of Knott's visitors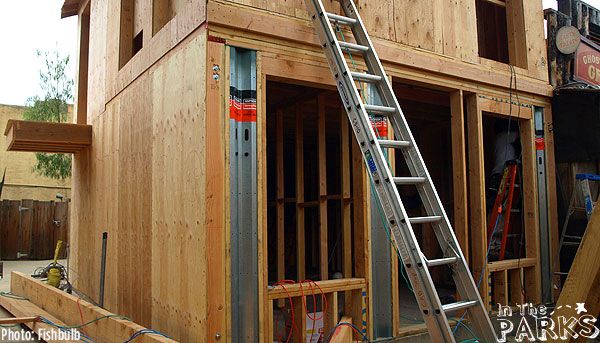 Ghost Town
is the heritage of Knott's and it is as important as Main Street is to Disneyland.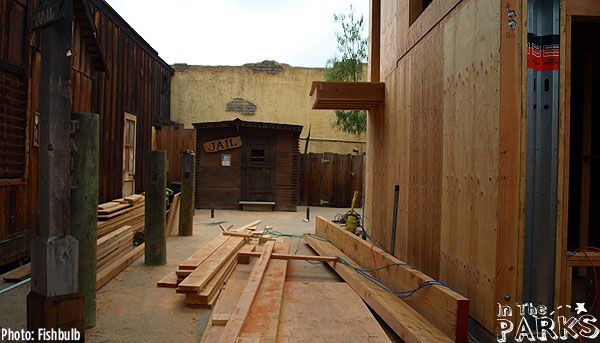 Keep up the good work Knotts! Oh, and don't forget Goldie's leg.

Knott's Scary Farm Halloween Haunt:
Halloween Haunt is arriving in a very apparent way to the park. Mazes are now taking on fiendish hues and shapes. The Log ride and Mine Train are gaining a spooky tone. And, Calico Square's stage is being transformed into the granddaddy of Haunt show's, The Hanging.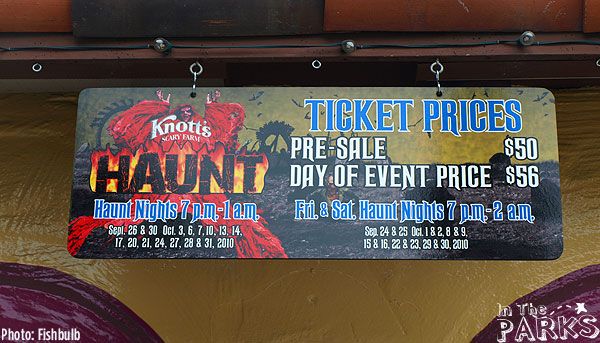 If you Join MiceChat on the first you get dinner too
for just $5 more
.


Ghost Town:
The residents of Ghost town are putting on their Sunday best to come out and scare the pants off of new visitors.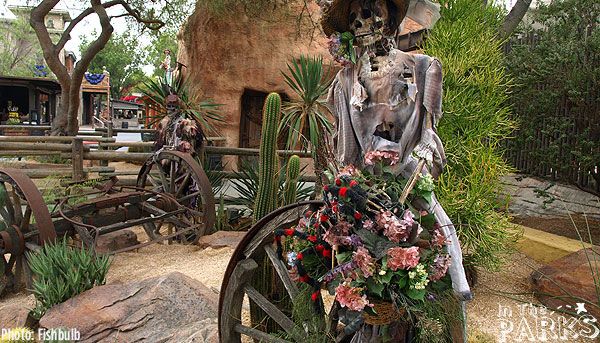 Welcome to Haunt!

Arachnids invade Ghost Town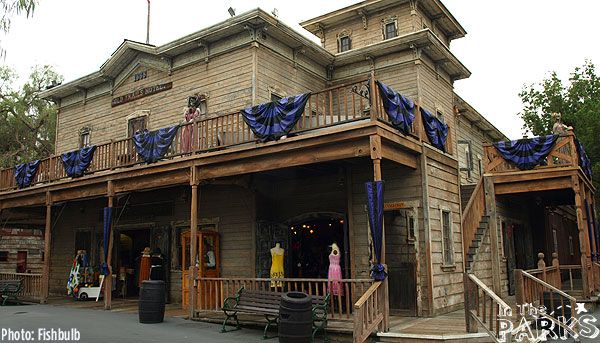 Bunting is up along Knott's Main Street

The Hanging:
In what is probably the most famous, certainly one of the most entertaining Haunt shows around, The Hanging prepares for show time. Last year they made fun of everything from Twilight to Murphy the reluctant Fantasmic dragon. Let's hope this year is just as good.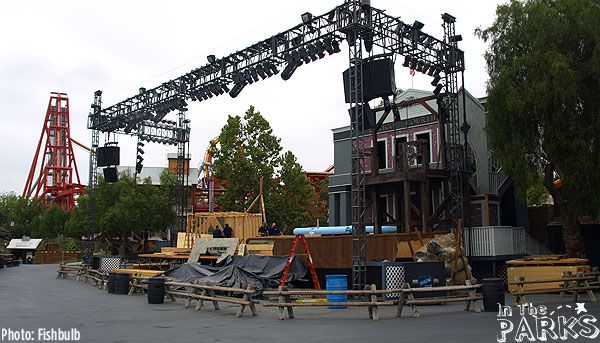 The massive Hanging stage.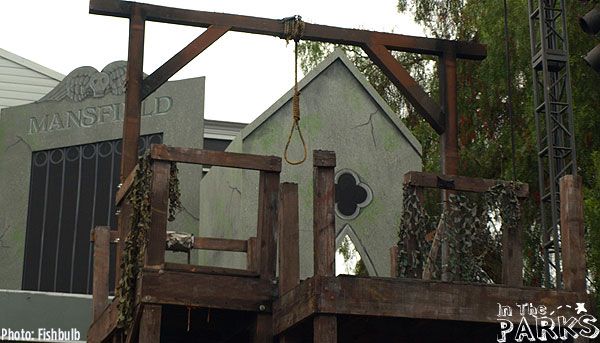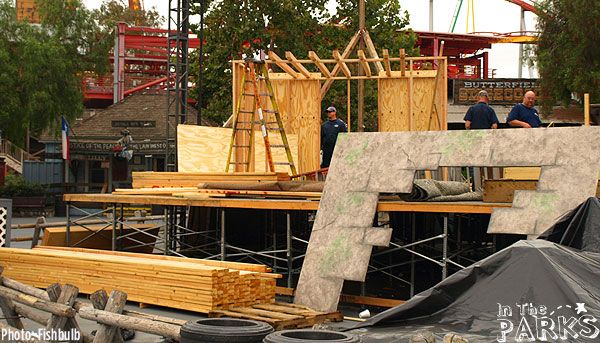 Sets are being readied
.


The Doll Factory:
The Doll factory maze continues to form inside the walls of the Wilderness Lodge.
What evil lurks in the hearts of Knott's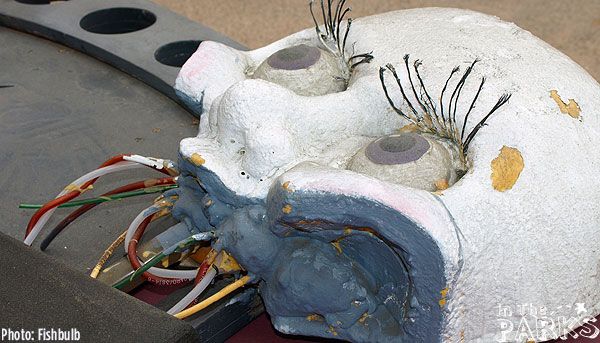 "You've got the cutest little baby face"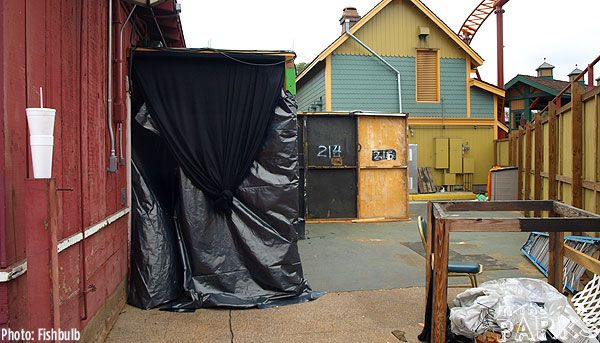 A maze too big for the structure housing it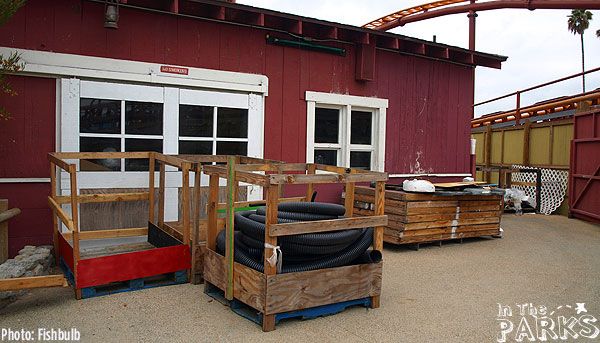 More is waiting to be installed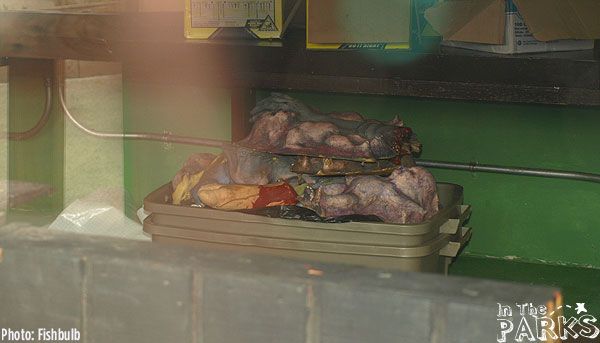 Extra parts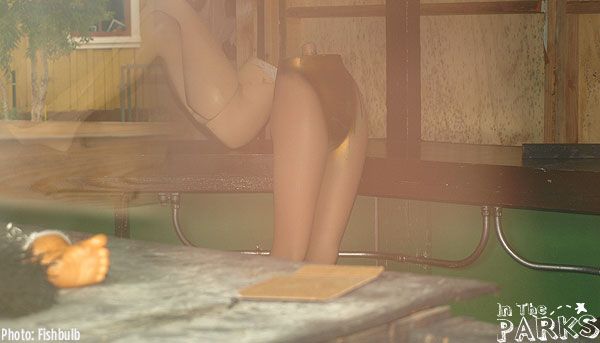 Hubba Hubba


Fallout Shelter:

We can't wait to experience Fallout Shelter. The entrance invites visitors into the depths of the Earth for "Protection" from radioactive mayhem.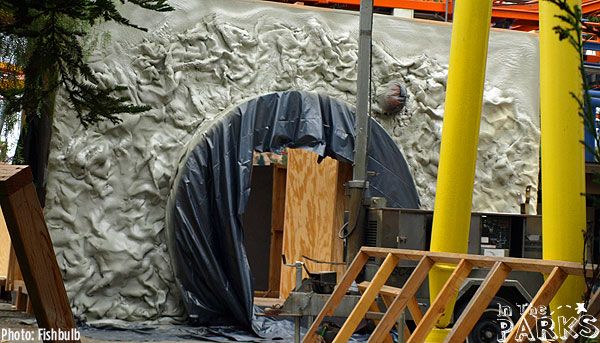 Pretty cool.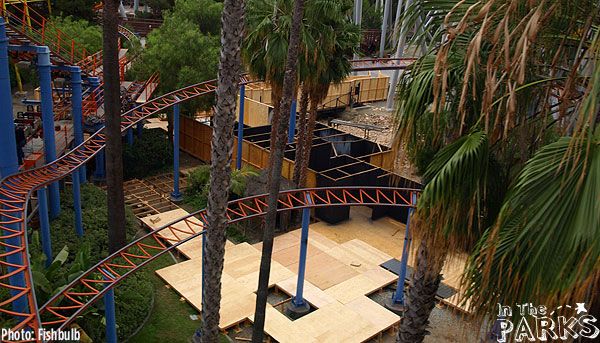 What amazes us about this maze is the size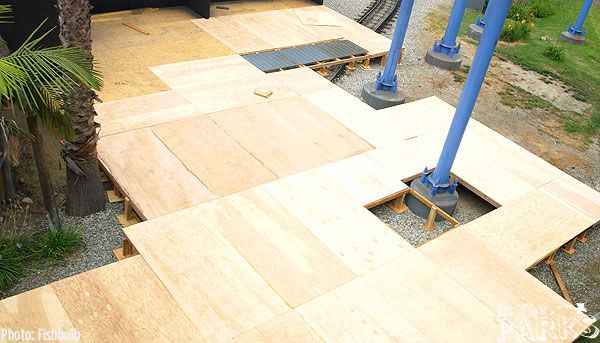 A massive layout stretches under Jaguar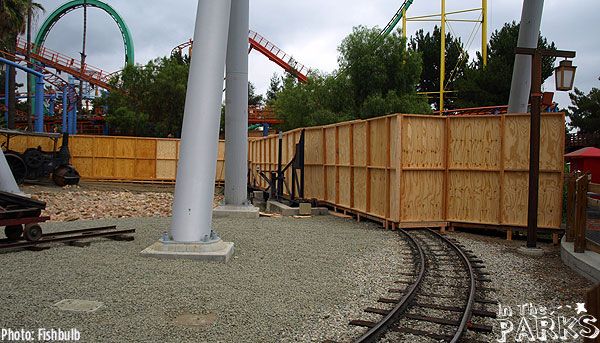 And stops the train in it's tracks.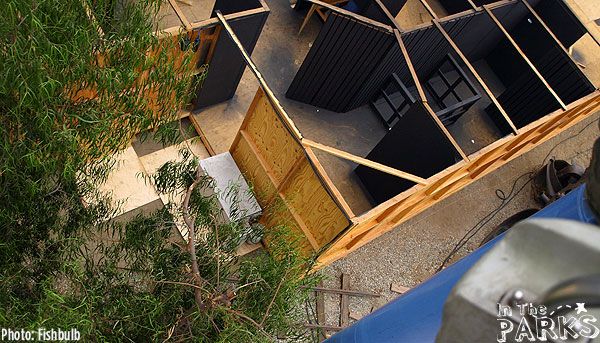 Cages and mazes
Labyrinth:

The fairytale walls of Labyrinth rise from the ether to taunt, beguile and horrify.


The vine covered walls are ready for installation.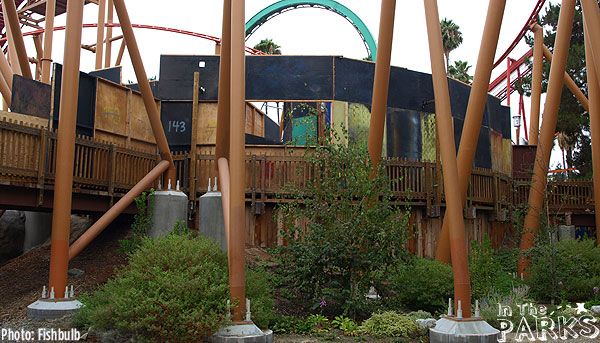 The Balloon race platform serves as the base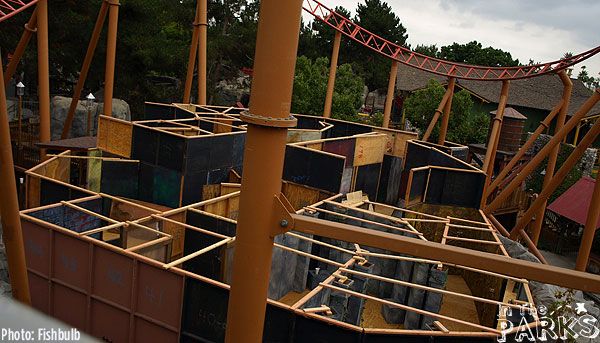 a baroque mirror maze is forming to the right.
Cornstalkers:

The Cornstalkers maze is finally taking shape. The new farm house entrance is already nice and creepy looking and it isn't even painted yet. Great angular lines.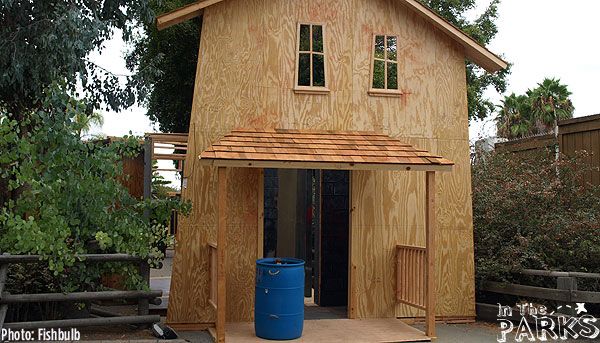 Welcome to the freak farm house.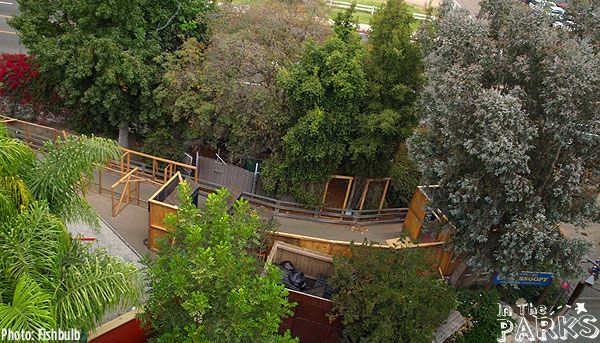 The maze stretches along the Stagecoach trail.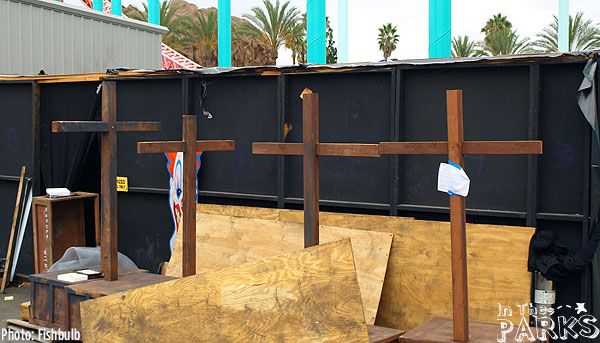 Scarecrow stands have been staged behind Uncle Bobo's.
Sleepy Hollow Mountain:

Sleepy Hollow Mountain is getting the haunt treatment as LED lighting fixtures are being installed along the flume route and sets begin to take shape. This ride is always one of the major highlights of haunt.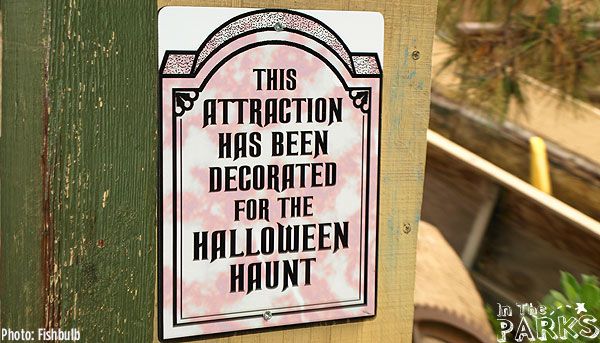 Signs like this have popped up at the entrance of the Timber Mountain Log Ride and Calico Mine Train warning daytime visitors to the park that they may see spooky decor during their ride.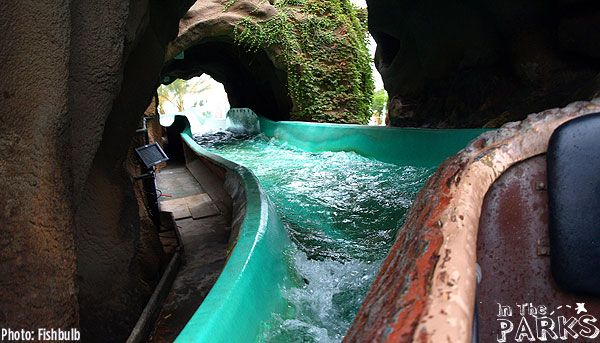 Along the route, LED lighting is being installed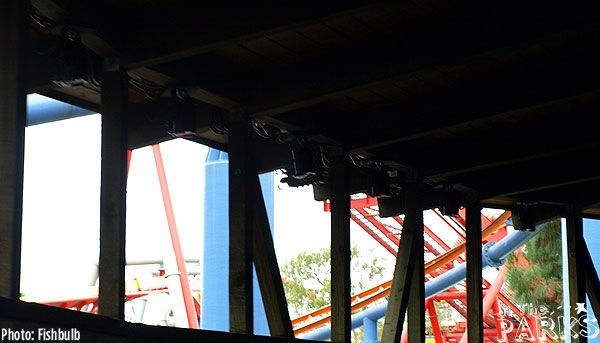 Lights along the awning promise interesting effects.

Don't lose your head.
Black Widow's Cavern:

The spiders return to the Calico Mine train this year. If the


Spiders are infesting the mine train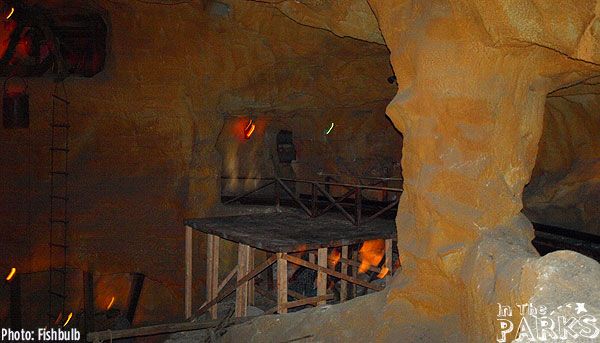 The platform for the centerpiece animatronic spider has been built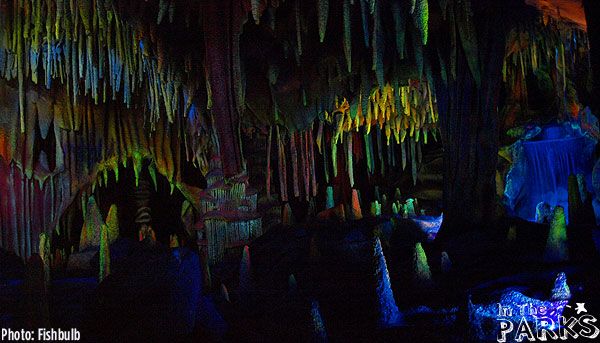 Lovely scene in the ride
Virus Z:

The most anticipated maze this year, Virus Z continues to take on the form of a town overrun buy Zombies. Don't worry, they just want your brains.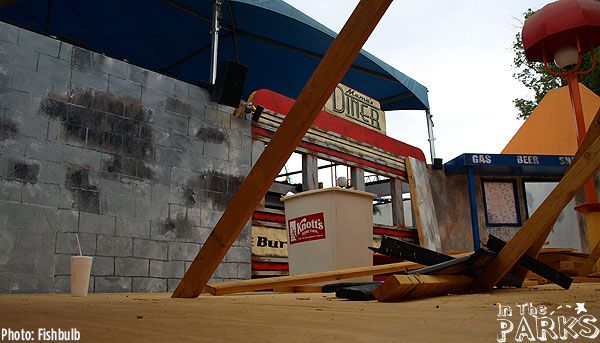 The special today is YOU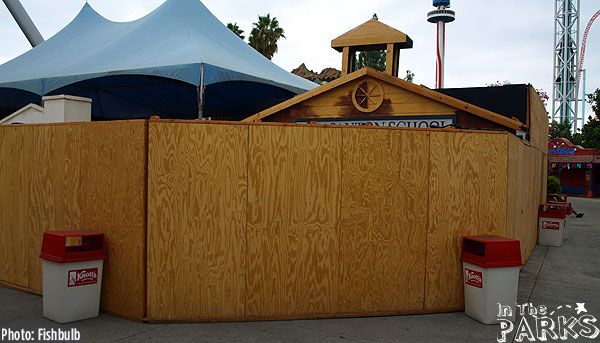 Aren't you glad you didn't go to school here
?

Pleasanton . . . how ironic
Dia De Los Muertos:

The Day of the dead will be celebrated every night in this great maze forming in the Wheeler Dealer.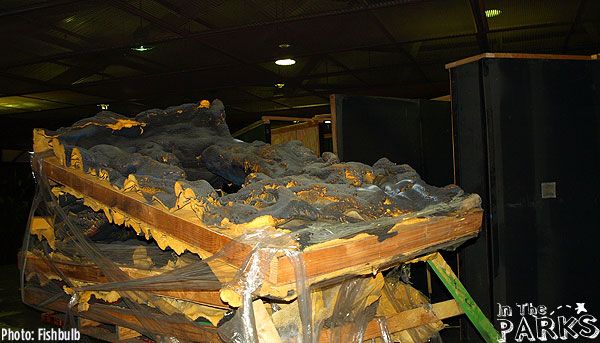 The catacombs
MICECHAT'S KNOTT'S SCARY FARM MEETS!

Don't get scared alone! Join the MiceChatters for two funtastic Knott's Haunt events! Tickets are on sale right NOW. Discount tickets, mazes, shows, dinner, Knott's celebrities, VIP access . . . and Fishbulb! What more could you want?!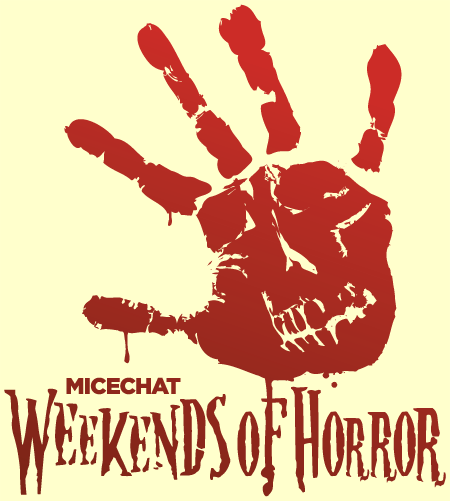 Fourth Annual MiceChat Knott's Scary Farm Halloween Haunt Maze Meet.
Knott's Scary Farm - Behind the screams tour and Haunt Shows.

Join us for the very first MiceChat "Behind the Screams" tour. This is the VIP access event of the season. Includes:

Come scream on October 1st. Then come back again and scream for more on October 9th. Includes admission and amenities for both the October 1st meet and October 9th meet all for one low price.
Haunt Meet Information Discussion on MiceChat HERE


This week we take a look at Universal which is enjoying an increasing amount of film projects along the tram route. We also stop to watch the Blues Brothers show and share some thoughts with you.


Finger scan machines are used at the front gates.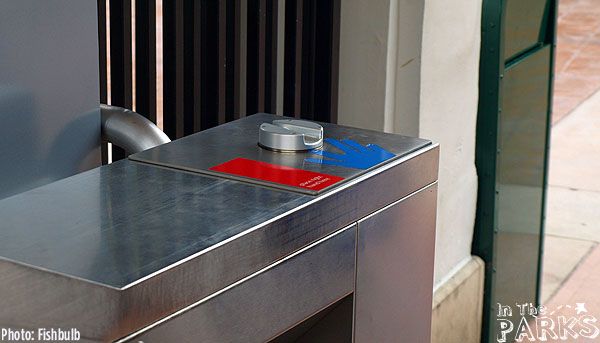 Any chance of some hand sanitizer dispensers?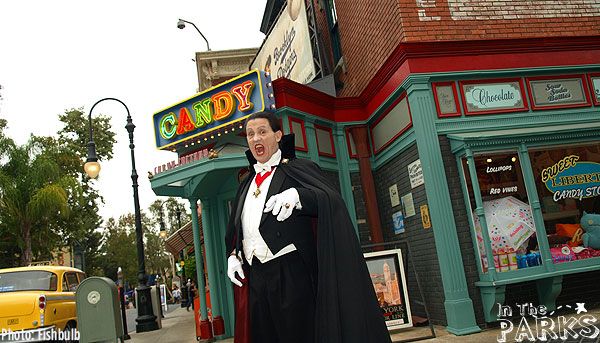 Vampire in Brooklyn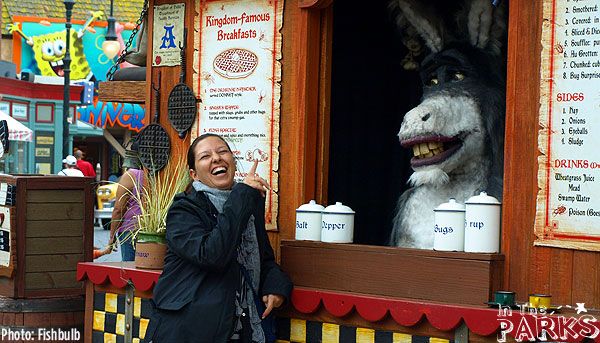 Donkey charming the tourists
BORT:

Last week, we shared that we couldn't find Bort ANYTHING in the Cartooniversal shop. This week, we decided to go to the Kwik-E-Mart - surely they know their Simpson's history. . .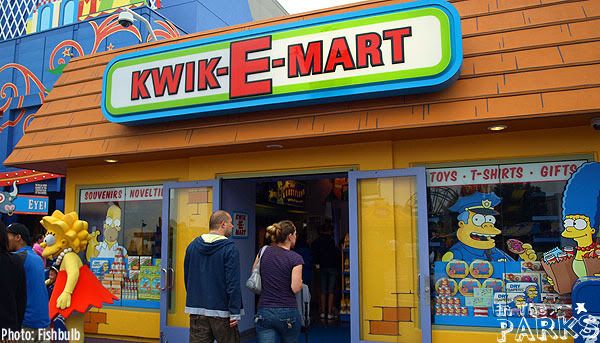 Thank you come again!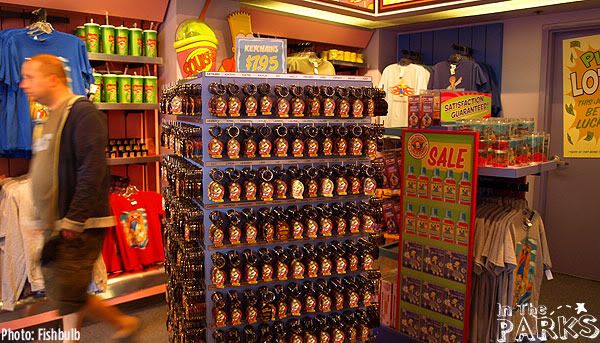 They do carry Bort Key Chains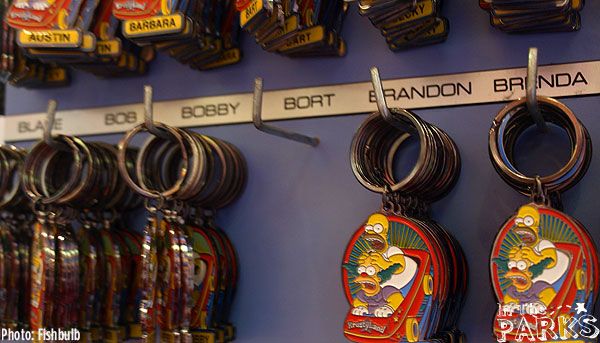 But they are always out. It's a perfectly
cromulent name afterall.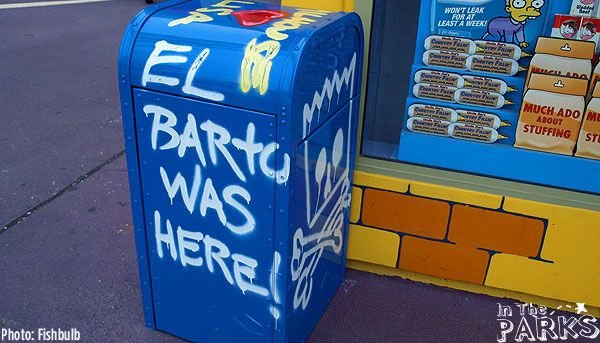 Nice touch
The Blues Brothers Show:

We had the chance to take in one of the oldest shows on the lot, the Blues Brothers revue. The stage is right next to the entrance of the House of Horrors on the upper lot and, for what it is, it's a fun diversion.



The Blues Brothers roll onto the scene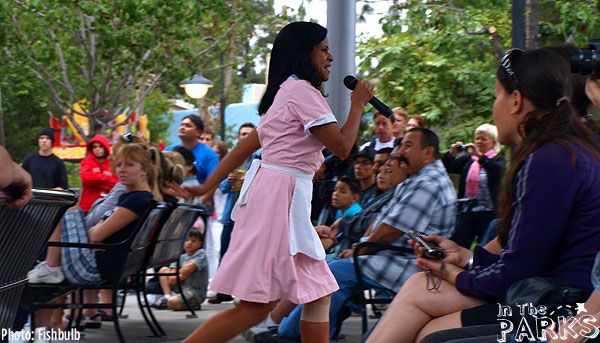 The performers are all very good, with great voices.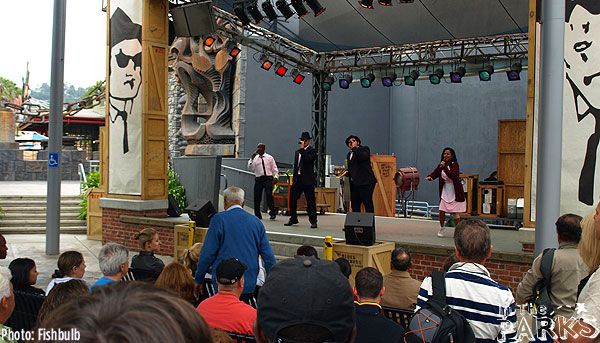 The crowd, despite the fact that
there hasn't been a blues Brothers film out for ten years, still seemed to enjoy the show.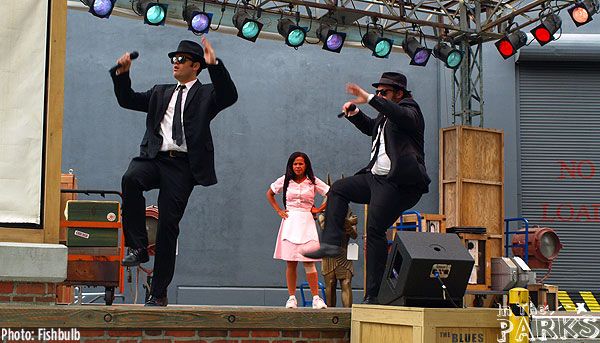 This was probably due to the choice of hit standards peppered with inconsequential banter
.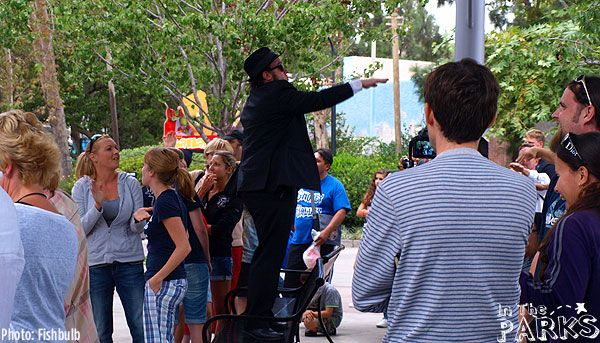 But no matter. The voices were great, the music was fun and it entertained.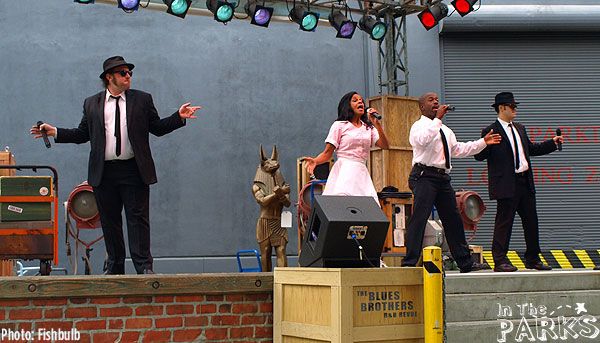 Universal is filled with really tallented performers. That is one of the perks of being in Hollywood.
The Studio Tour:

The studio tour was hopping this week. Many more quiet zones along the route due to filming led to some interesting encounters. Again, I have to say that Universal's customer service continues to consistently impress above all other parks in the area.



Victor was particularly helpful and friendly.
New York Sets:

Portions of the New York streets were being dressed for an upcoming episode of How I met Your Mother.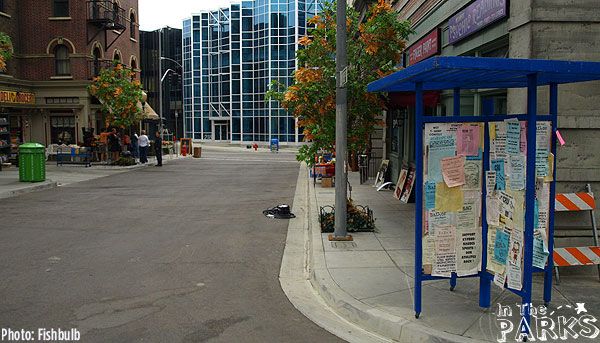 Desperate Housewives:

Wisteria Lane was closed off from trams as it is being dressed for filming. Looks like it will be an episode taking place around Halloween.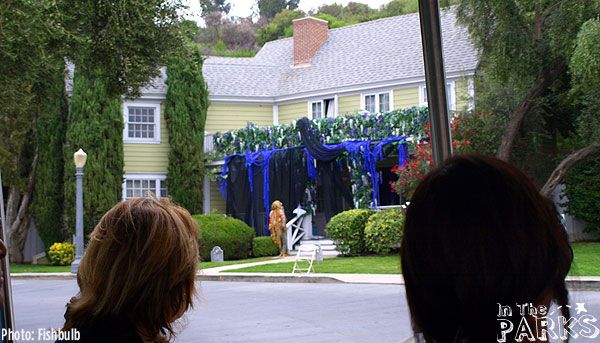 Parenthood:

The new show Parenthood was filming in multiple locations along the Tram route.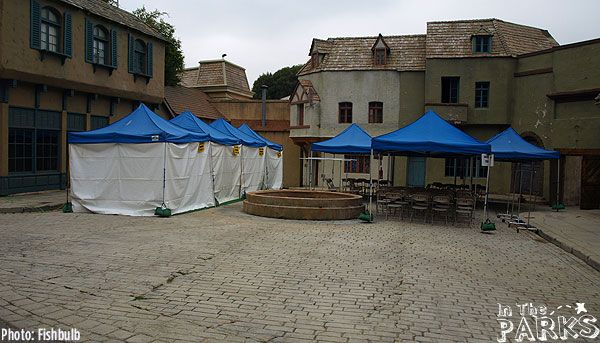 Court of Miracles has turned into the dressing room for Parentood's cast.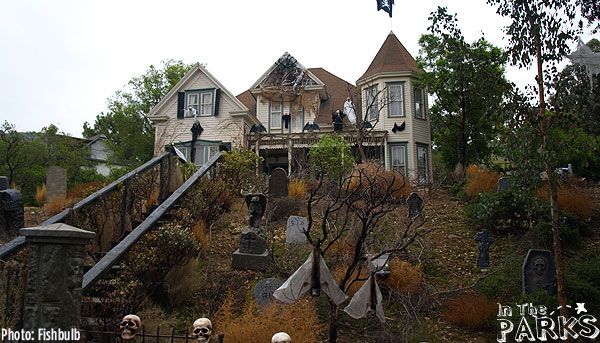 A set for their Halloween episode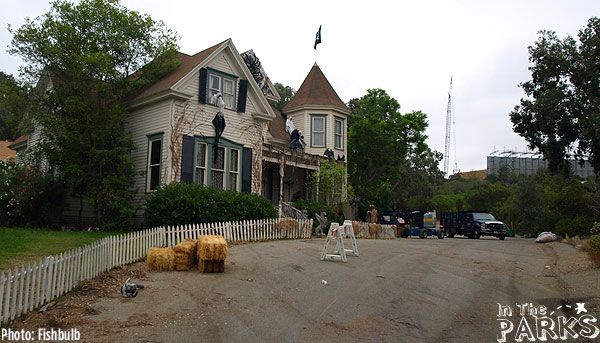 Nifty set indeed.
Pirates 4 set:

Apparently, filming is still happening on the Pirates 4 set as missing set pieces have returned and the boats from last week rest on new pedestals along the tram route.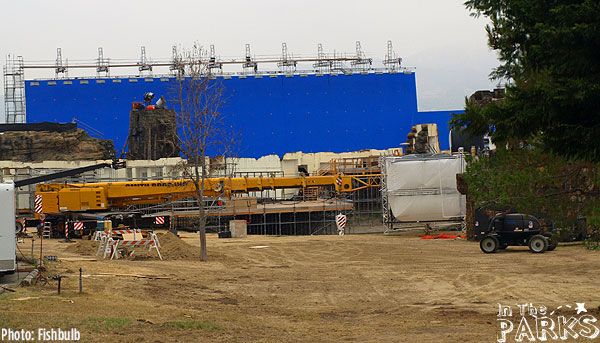 The big blue backdrop is still there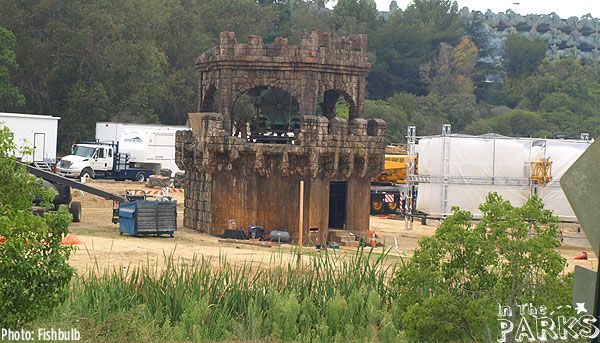 The mechanism in the tower has returned.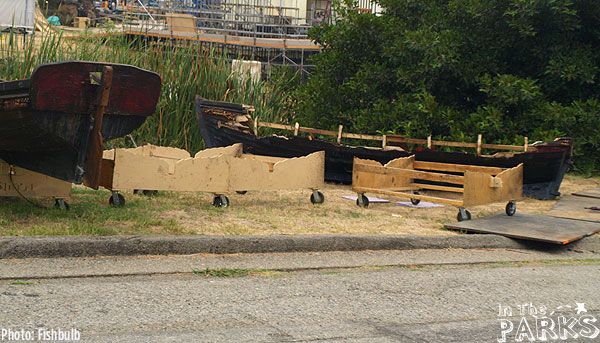 Boats on rollers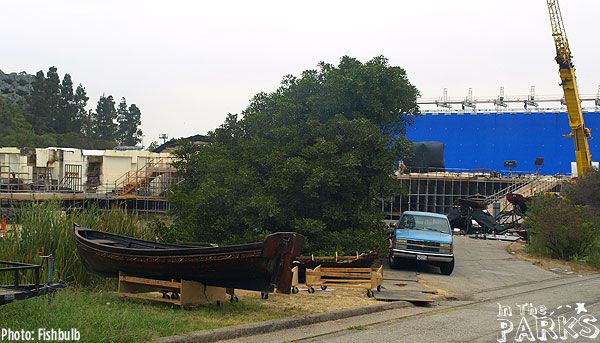 pirate dingy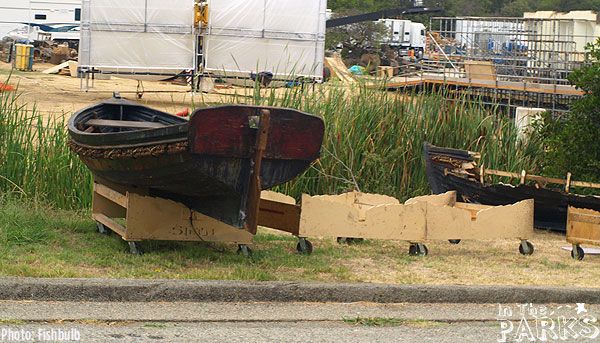 They are pretty cool looking

Halloween Horror Nights:
Tickets for Halloween Horror Nights are now available at the parks Hollywood ticket outlets.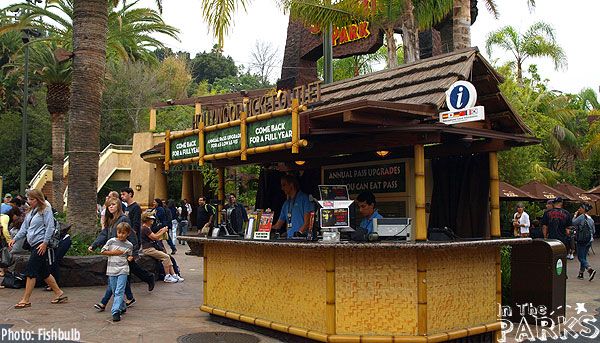 Don't forget the location in the lower lot.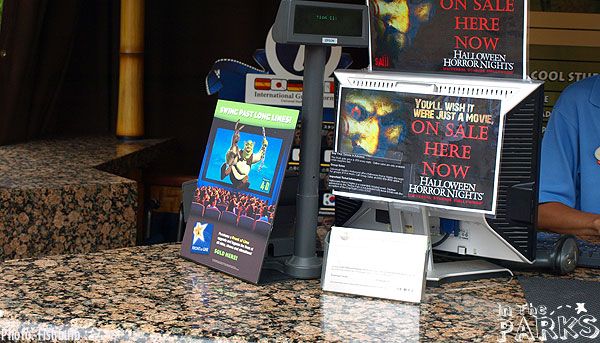 Get your tix now
Don't forget that we are holding a MiceChat night at Universal's Halloween Horror nights this years:

Join MiceChat as we hold our very first Halloween Horror night meet at Universal Studios. This year, there will be 5 mazes at Universal Halloween Horror nights including the Terror Tram. Add to that the shows and regular attractions and you have a full night of fun. Don't miss out! Haunt Meet Information Thread On MiceChat HERE
Terror Tram:

Things have been cropping up along the tramn route in preparation for Chucky's Terror Tram.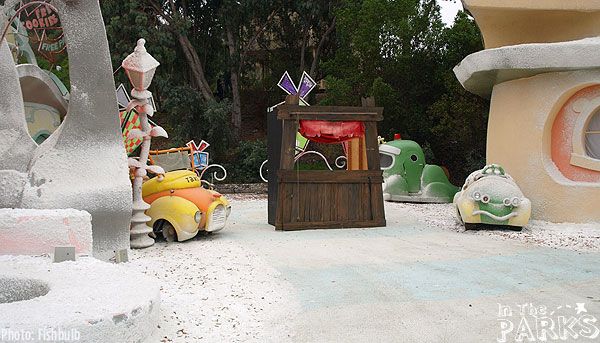 Oh my, a demented Puppet show stand?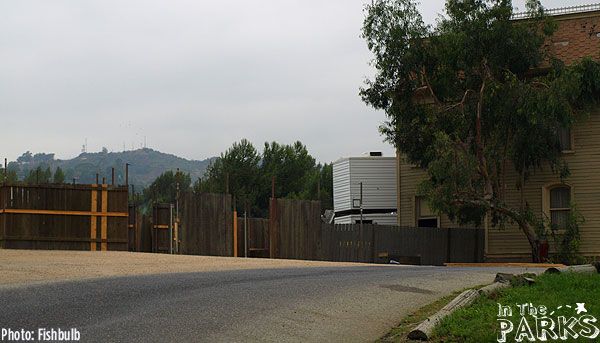 Will the sheet maze return?
Saw:

The Saw maze returns this year with new traps and ways to torture.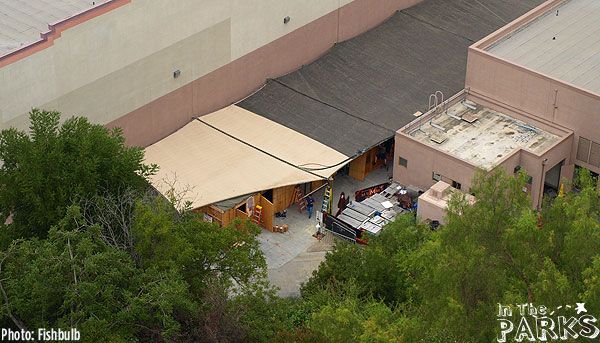 The maze was a buzz with activity.
House of 1,000 Corpses:

The Rob Zombie maze will soon come together as the set has been built and it just needs to be dressed.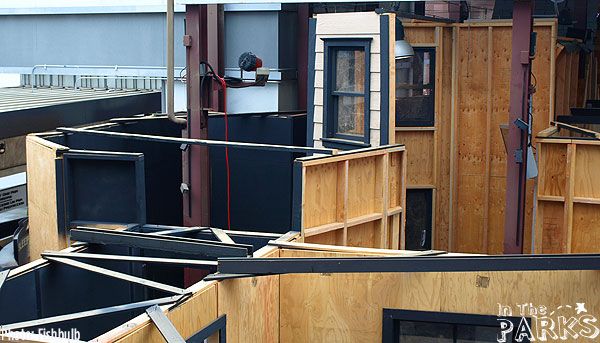 Nice exterior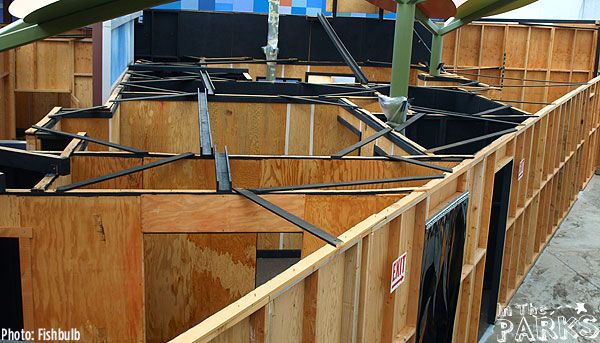 A web of Pine

Transformers:
The Transformers show building continues to dig deeper as our theories about a two story attraction layout increasingly gain evidence.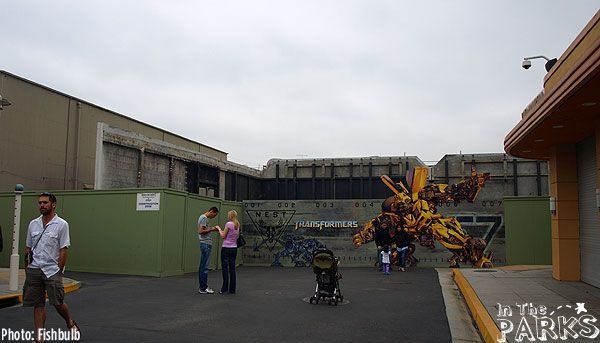 The mammoth project behind the walls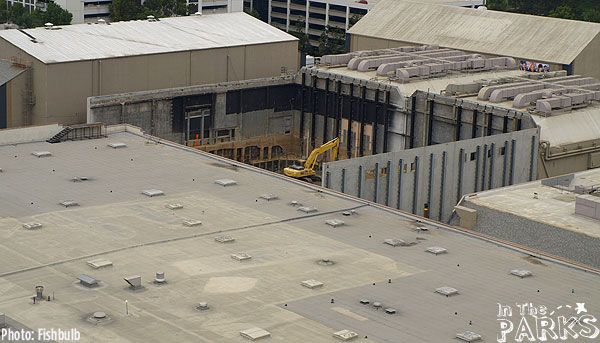 An overview shot.

The pit gets bigger and bigger.

Big hole indeed.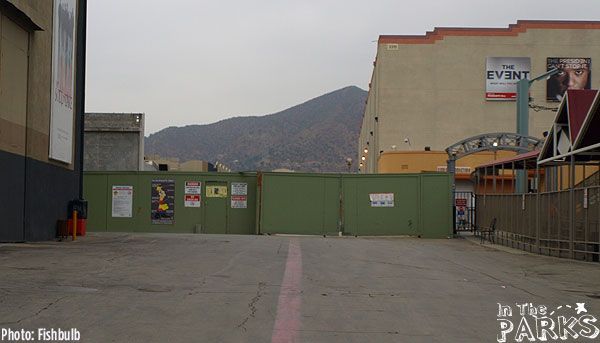 Not much to see from the tram.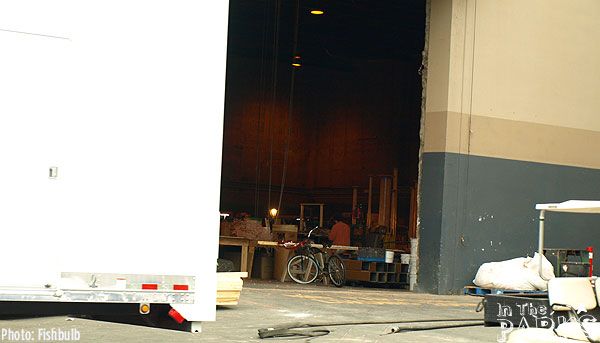 The soundstage just behind the construction site is still being used.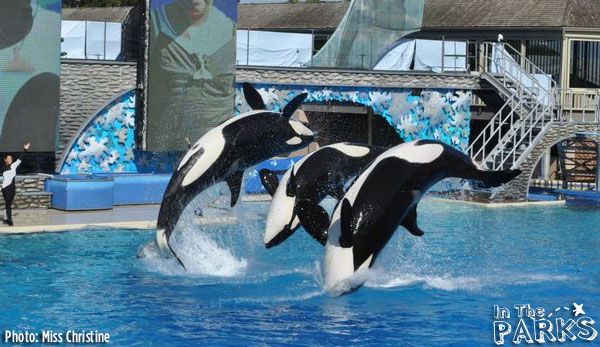 From Seaworld we have the very sad news that the 12 year old orca, and star of Sea World's Shamu show, died this past Wednesday. This forced the cancellation of Orca shows at Shamu Stadium for a day, but the show is back on schedule.
The San Diego Union-Tribune has a good story on the death and controversy about Sea World's Killer Whales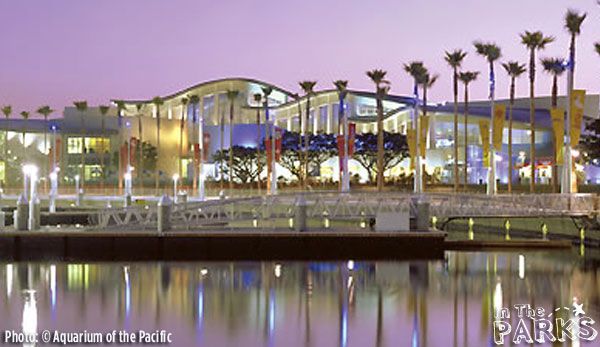 Urban Ocean Festival




Long Beach
Lobster Festival at Rainbow Lagoon September 10-12, 2010
The Original Long Beach Lobster Festival also features an international food court with ribs, chicken, Jamaican, Asian fusion, arts & crafts booths, delicious desserts, beer & wine, and themed drinks. Kids entertainment includes storytellers, magicians and inflatable bounces. Also, International food court, beer & wine gardens, arts and crafts booths, amazing live entertainment, dancing and a special kids stage and moon bounces! Stay for the Fun! Admission discounts at orignallobsterfestival.com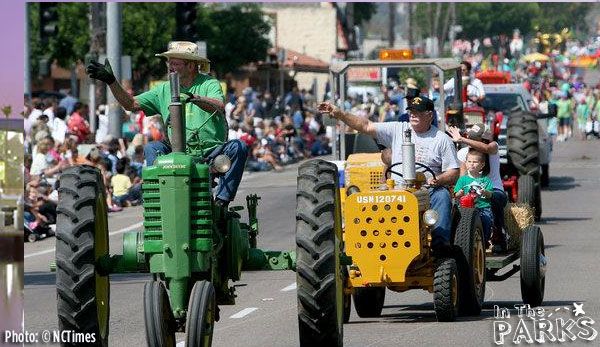 Poway Days - formerly Pow Wow Days - lasts much of September and this is just the first event.
* The complete list is at poway.com.*
The following weekend (after the 11th) is when many, if not most, if the events take place.
BBJazz Festival

.
Day-long concert in Central Park runs from Noon to 10 p.m. featuring top smooth jazz artists such as Maysa, BK Jackson, Bob Baldwin, Art Sherrod, Jr., and many more. Location: 7111 Talbert Ave., Huntington Beach, CA. Cost: $45 -205. Call (714) 377-7574 or (323) 864-8690. bbjazz.com
Los Angeles County Fair.
Runs through Oct. 3. Includes carnival, entertainment, fairway, exhibitions, livestock, and horse racing.
Sierra Madre
A Taste of Sierra Madre
Sat, Sep 11 - Kersting Court, Sierra Madre
"A Taste of Sierra Madre" is a community celebration of fine arts, culinary arts, drama and live music hosted on Kersting Court. This inaugural event raises awareness and equal funding for the Sierra Madre Youth Activity Center and the Rotaplast Foundation which serves kids & adults who require cleft palate surgery. Their theme is Children's Smiles Around the World. Tickets start at $20
LA Greek Fest 2010
Fri - Sun, Sep 10 - 12 - Saint Sophia Cathedral, 1324 S. Normandie Avenue, Los Angeles
Eat, Drink and be Greek!...at least for the weekend. Delicious food, lively music, and amazing fun awaits you at this family friendly festival. "Fest proceeds help fund the worthy ministries and charities, philanthropic programs and youth initiatives of Saint Sophia Cathedral". Admission: $3/Fri, $5/Sat & Sun, Under 12 years/Free.
Taste of Downtown
Wed, Sep 15 & Thu, Sep 16, 6 - 9 pm - Downtown Long Beach, Pine Ave, Long Beach
The popular series Taste of Downtown returns to Pine Avenue for two nights of food-focused fun. Many of your favorite Downtown restaurants will be serving up sample sized portions of their signature dishes, while live music fills the street. Tickets are $1 each or 12 for $10
Orange empire Railway Museum
Access to the Museum Grounds is free, (except during certain special events). On regular weekends, an all-day pass to ride the trains costs $12 for adults, $8 for children 5-11, free for kids under 5. A family pass (for members of one family) is available for $40. Parking is always free.

http://oerm.org/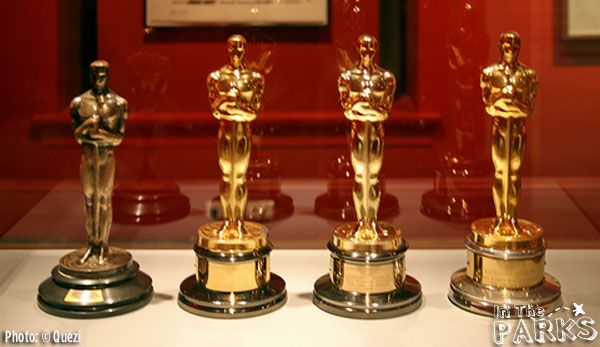 Enter in a random drawing for
Registration begins Mon, Sep 13, noon ET/9 am PT and close Sun, Sep 19, midnight ET/9 pm PT
Capitola Art & Wine Festival.
Sept. 12, 2010 28th
Annual event includes over 150 fine artists, 17 Santa Cruz Mountain wineries, gourmet food, children's art area, entertainment all day both days and so much more! All in the beautiful, beach-side setting of Capitola Village-by-the-Sea.
22nd Annual Belmont Shore Car Show
Sat, Sep 12, 9 am - 3 pm - Belmont Shore, Long Beach
Long Beach
Yacht and Boat Show
Thu - Sun, Sep 9 - 12 - Shoreline Village Marina, Long Beach
No where else on the Pacific Coast will you receive a more authentic feel for boating and the lifestyle it affords than at the Long Beach Yacht and Boat Show. And the seaside atmosphere is enhanced with over 200 in-water sail and power boats at Shoreline Village Marina, a popular tourist destination that exudes everything positive about living on and near the water. At Shoreline Village, dockside boats are literally surrounded by quaint shops and stellar restaurants, adding to your total boat show experience.
The Orange County Brew Ha Ha!
Sat, Sep 11, 11 am - Hidden Valley Park, 8790 Irvine Center Dr, Irvine
In keeping with a theme of "a day of remembrance," Off-Duty Orange County Firefighters will participate and a portion of the proceeds will go to their Fallen Fire Fighters Relief Fund. 2010 OC Brew Ha Ha Features Over 100 Craft Beers from over 50 Top Breweries. Ten 4 oz Tastes (Additional tastes may be purchased), Park Setting with Lots of Shaded Seating, Homebrew Vendors, Beer Tasting Seminars, Free soda and water, and Free Parking.
Toshiba Tall Ships Festival
Fri - Sun, Sep 10 - 12
Ocean Institute, Dana Point
Celebrate the 26th annual Toshiba Tall Ships Festival at the Ocean Institute, the largest annual gathering of tall ships on the West Coast. The festival features an array of family-fun activities including live sea-faring music, art shows, interactive living-history encampments, and a variety of food.
Summer may be over, but Fall really brings a lot for us to talk about in Halloween events and construction everywhere. There are still lots of wonderful days in the park ahead.


If you happen to run across any interesting theme park or attraction news or have photos that you'd like to share with us, please consider contacting us at
dustysage@micechat.com
. Still looking for photos and news from the theme parks you love? There's a
world of fun information to read

elsewhere on MiceChat, might we suggest:



Weekend Update

Offers a world of Disney theme parks and other sights and landmarks!



Dateline Disneyland which is packed with great news and photos from the Disneyland Resort.

Tell your friends about MiceChat and In The Parks, sharing is caring!

Today's update was brought to you by our fantastic and talented crew of
photographers and news contributors
Captphoebus,
Fishbulb,
Pratt55, SirClinksalot,
and Dustysage
.

And that brings us to the end of another wonderful update . .