Two quick items of interest to get us started:
This Sunday, October 3rd, 2010 - 2:30 pm At Disney California Adventure -
Eye Spy
! Our fun and FREE adventure which lasts less than 90 minutes.
We'll be giving away 4 new iPod Nanos
to the winning team.
Fun, Fancy and Free! Come join us!!!
AND...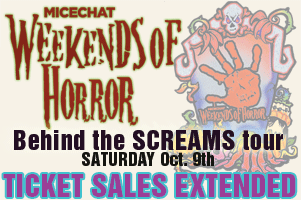 MiceChat Behind the Screams Tour, Saturday Oct 9th:
Next weekend MiceChat will be holding the Behind the Screams event at Knott's Berry Farm's Halloween Haunt and tickets are still available.


The event includes:
A tour of the new maze "Fallout Shelter" before opening.

All you can eat buffet dinner with Haunt Legends, Todd Faux, John Waite, Andrew Strain, and more.

Early entry into Haunt

VIP seating for all shows

Front of the line access to mazes
(excluding mine ride and log ride)

This year Halloween Time seems to be coming off a little lite. Sure, the improved Haunted Mansion Holiday deserves all the compliments it receives and the fun Ghost Galaxy overlay on Space is wonderful. But the decor somehow seems minimal. Couple that with the frequent breakdowns on Space, lackluster decor in Frontierland and Main Street, and NO decorations in Disney California Adventure and you have yourself a not so scary Halloween. We were looking forward to Halloween growing year after year, but the opposite seems to be happening.

Maintenance and refurb:
A few things throughout the park are in some need of attention. Try as they might, Disney seems to be a bit maxed out on the number of projects they can get done right now and we're sure they are doing their best.


Pizza Port: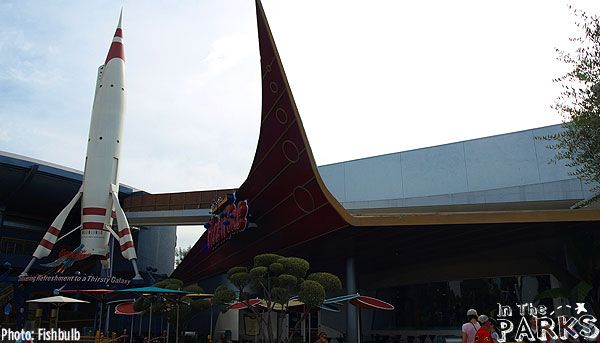 Pizza Port looks okay from here.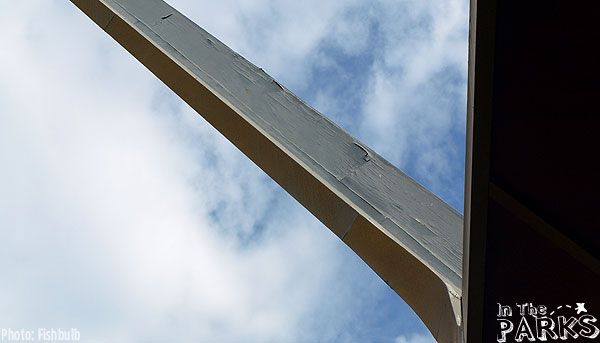 But the trademark Googie spike has seen better days.
Space Mountain:
Space Mountain just can't seem to catch a break. Before going down to install the Halloween overlay it was dealing with lap bar issues. Following its return, a flash bulb blew and hit a guest. Now it may be having lift hill issues.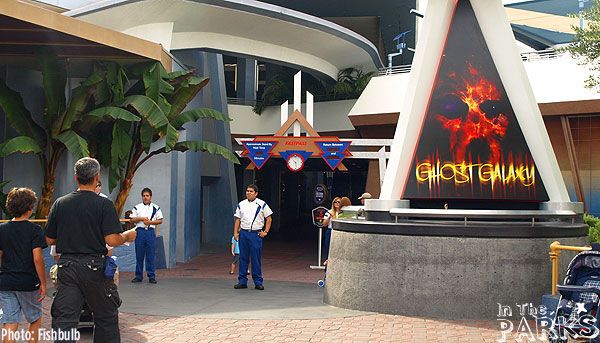 No Space here
Space is still a safe, solid ride, but it continues to have a hard time. Its average capacity is 1,200 people per hour and that is a respectable number. But running at full throttle clearly takes its toll on the workhorse attraction. What is more, with all of the other construction projects going on at the resort it is unlikely that Space will be able to go down for any extended maintenance in the near future.

For now, just be patient and don't get mad at the CM's who tell you that your space journey has been put in a holding pattern. Just check back later.

Plaza Inn:
The patio area around the far right hand side of Plaza Inn is getting a little TLC.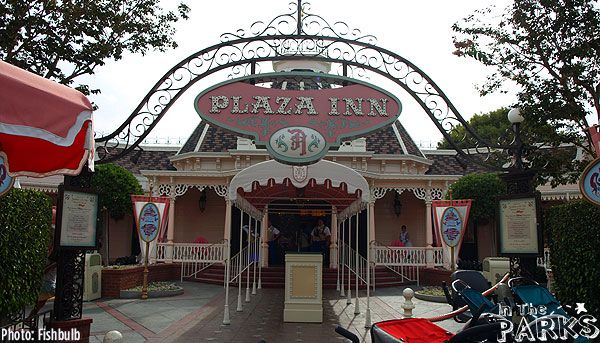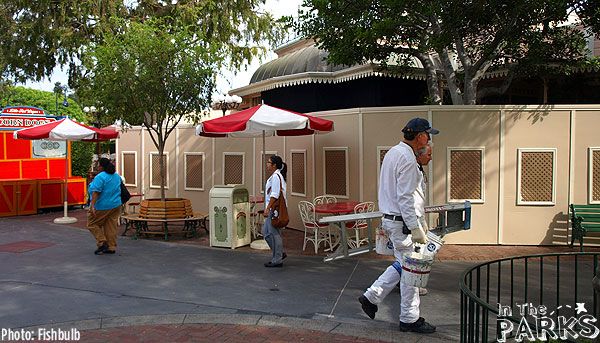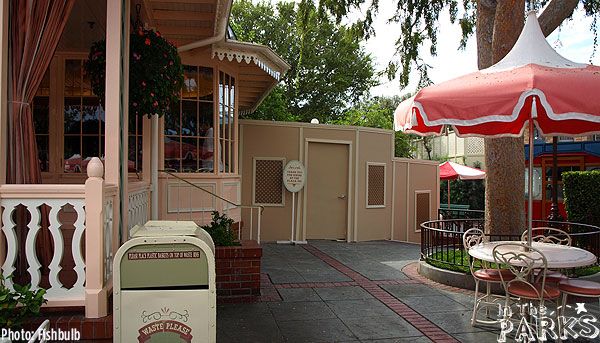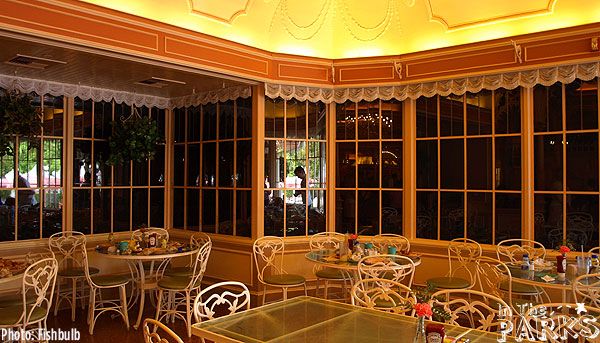 Onstage Maintenance:
Okay. Yes, it is a peeve of ours here at MiceChat. We admit it. But seeing crews doing maintenance onstage during operating hours is kind of like watching a play while the set is still being constructed. It's just not good show.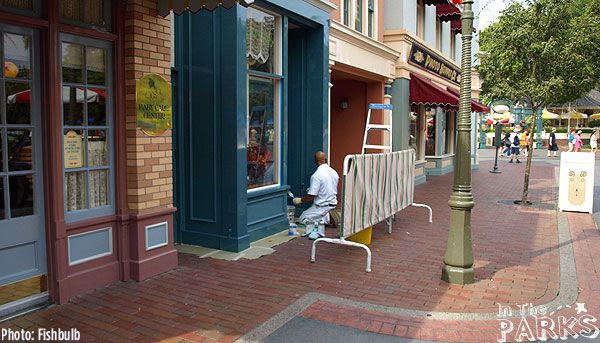 The photo shop is getting some paint.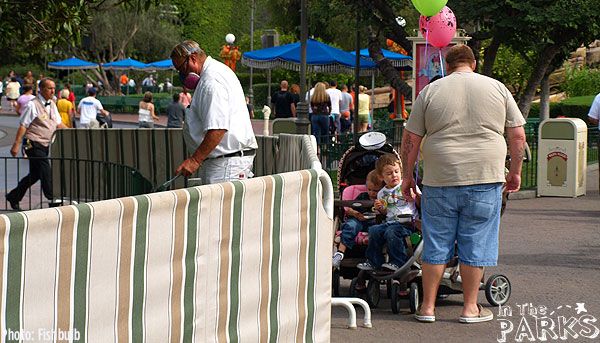 While we are pleased that Disneyland insists that their crews wear protective masks, those fumes can't be good for the three year old in the stroller.
Mark Twain:
During the recent Destination D event, Tony Baxter mentioned that the Mark Twain would be going down to get all of it's floor planks replaced. But also that it would be returning with a new narration. Interesting.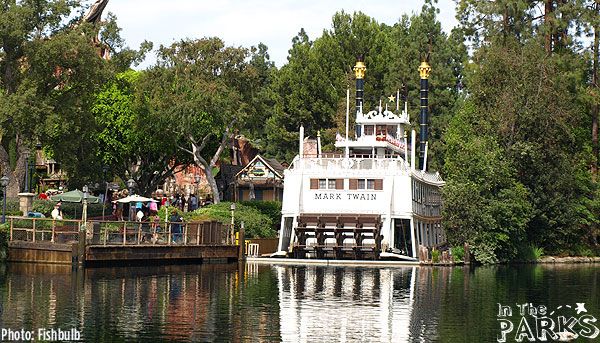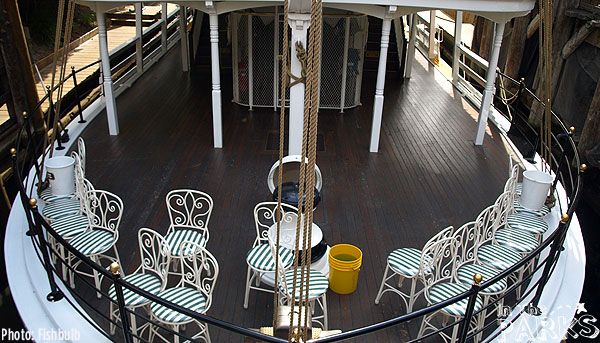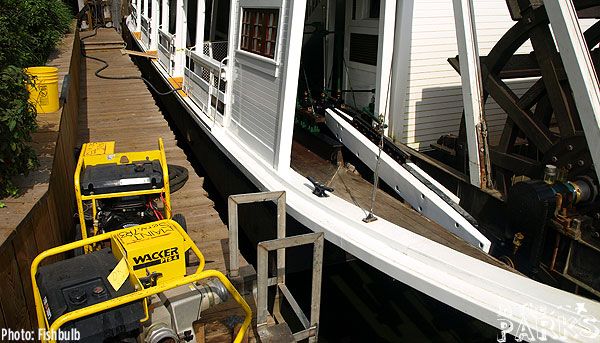 The Mark Twain in dry dock.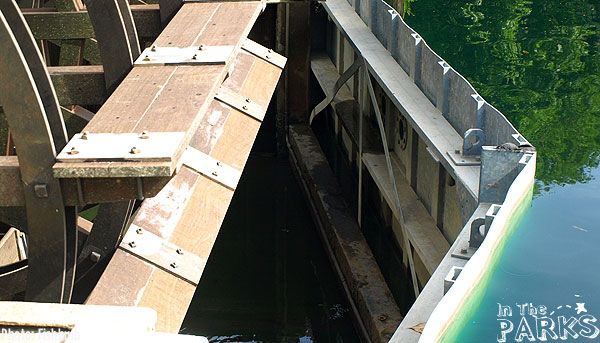 Keeping the green water back.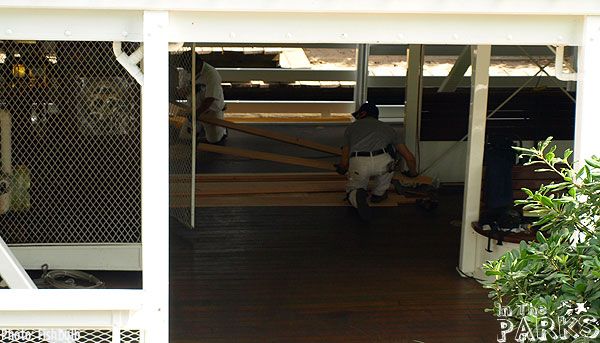 The floor is being replaced.
Village Haus:
While the soon-to-be Rapunzel meet and greet area of the VH complex has come out from under wraps, the rest is still being worked on. What has been completed looks beautiful.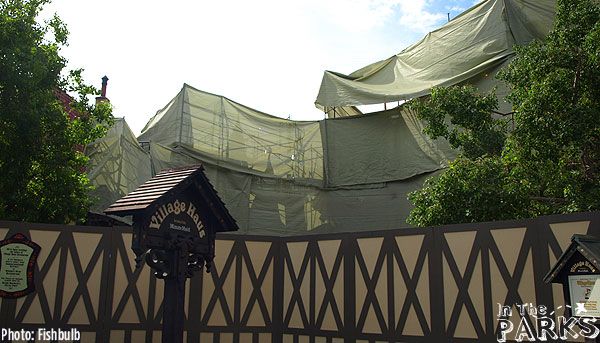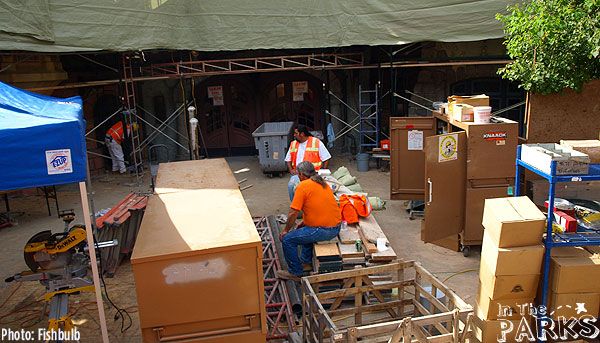 Lots of work still being done behind the walls.
Indiana Jones:
Tony Baxter also let it out that a new figure had finally been installed at the end of the Indiana Jones thrill ride. Unlike the replacement of the first indy figure a while back, this figure looks and moves identically to the original, just smoother.
Mickey and Minnie's Houses:

Minnie's house and meet and greet came out from under refurb this past week. It is clear that it was only an exterior repaint as some elements on the inside were not addressed.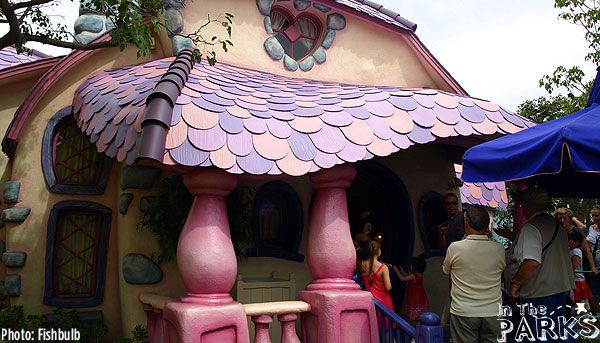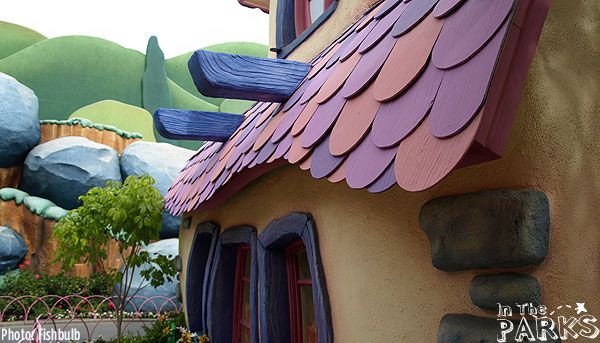 Minnie's house sparkles with color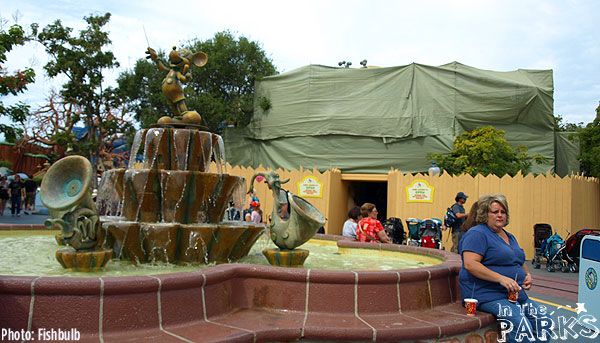 Mickey's House facade is now being repainted.
Winnie the Pooh:
The Many Adventures of Winnie the Pooh is down ...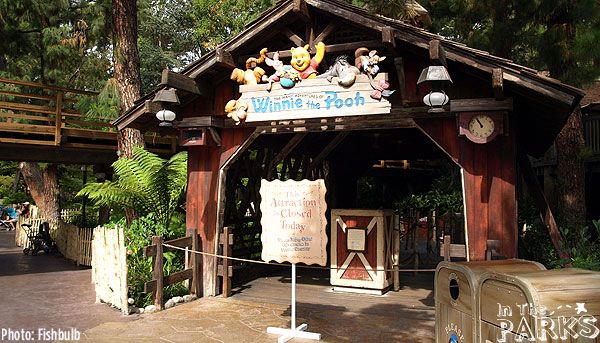 Pooh is closed. Don't thank us, thank Disneyland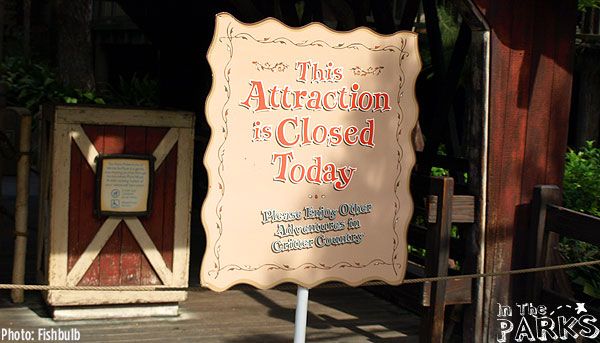 Disney's first Destination D took place this weekend at the Disneyland Hotel. MiceChat was there and provided live coverage of the event with pictures and commentary.
View the information here.

DCA has now become Disney Construction Adventure. No matter. The park is still operating with plenty of promising things for the future. Right away there is ElecTRONica which starts on October 8th Let's take a look.
ElecTRONica:
The gangbuster success of a brightly colored, high energy Glowfest has given birth to a more sophisticated Hollywood Pictures Backlot overlay - ElecTRONica - which is set to open October 8th and has almost completely taken over the HPB area.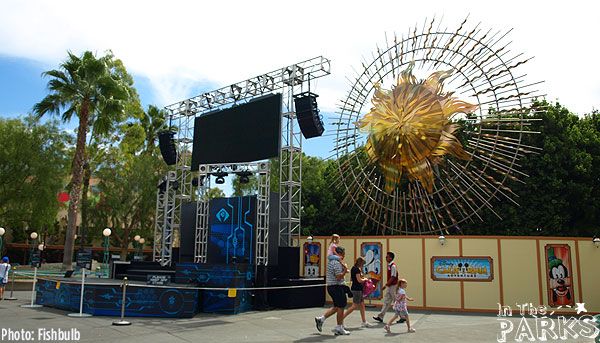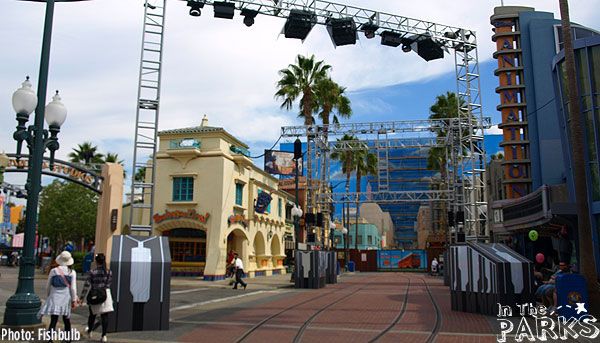 Heavy on image mapping projector technology used in the recent Snow white improvements, this promises to be eye popping.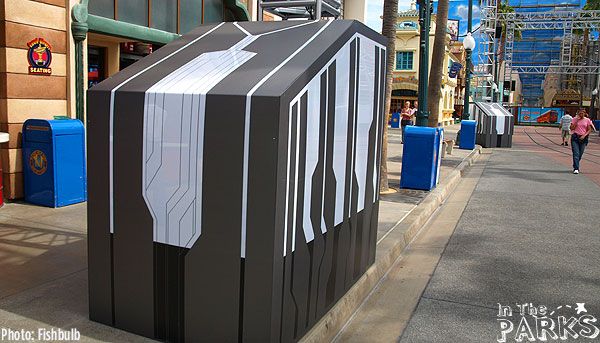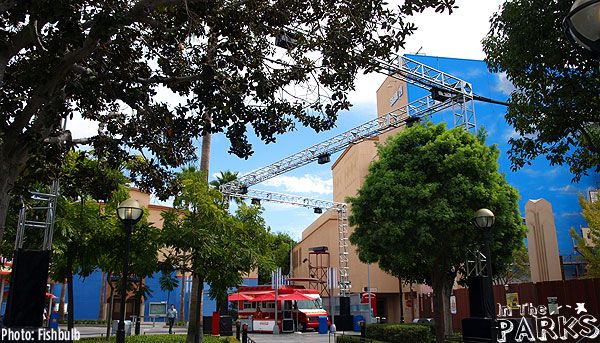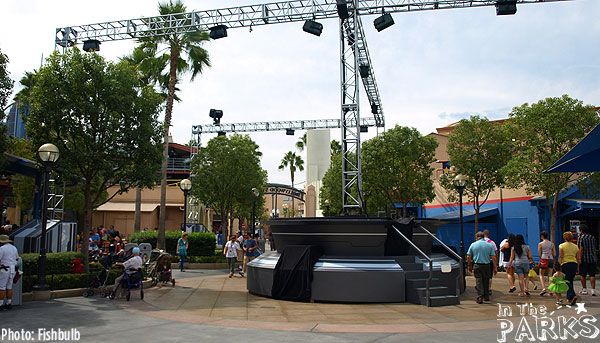 The vacant Hollywood and Dine building will now be Flynn's Arcade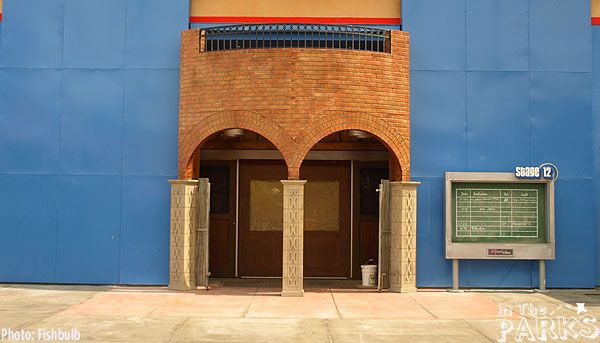 Looks cool already!
Carsland:
Carsland grows week by week slowly taking over DCA's skyline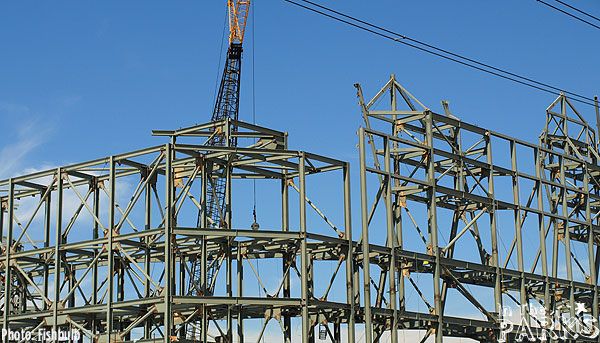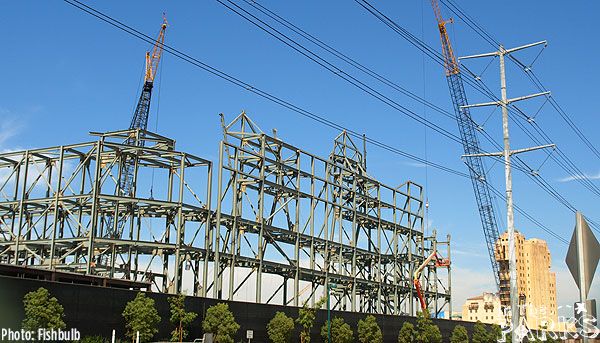 But it isn't just DCA's skyline which is being dominated by Cars Land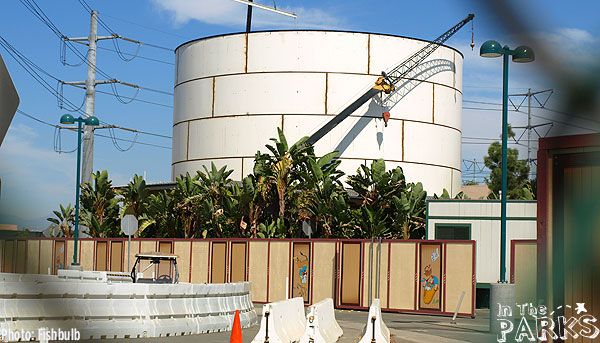 A water tower has sprung up back stage.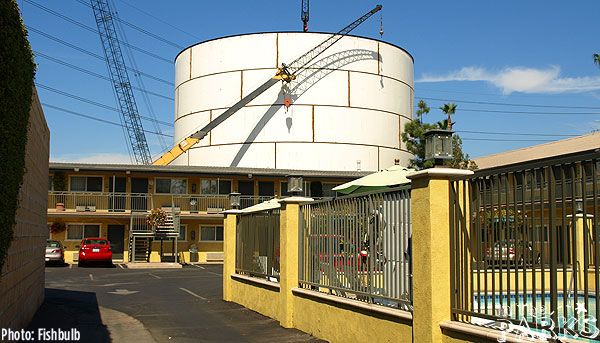 The water tower dwarfs the poor little hotel just outside Disney property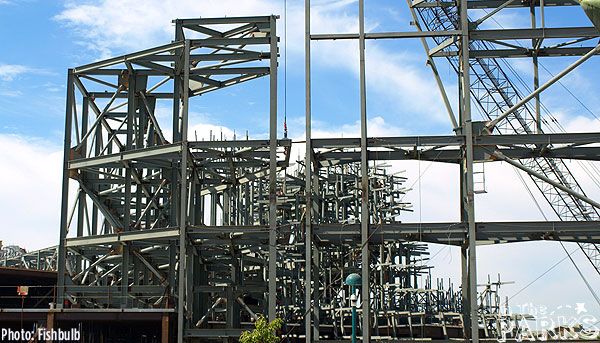 From this angle, it looks like a mad mouse coaster.


Knott's Berry Farm, the Grand Daddy of Haunt parks, began its Halloween Haunt event last Friday. Despite a frightening darkside, the park is still a very family friendly destination during the day.

Camp Spooky:
Camp Spooky is an area of the park geared towards family entertainment and it operates during normal park hours.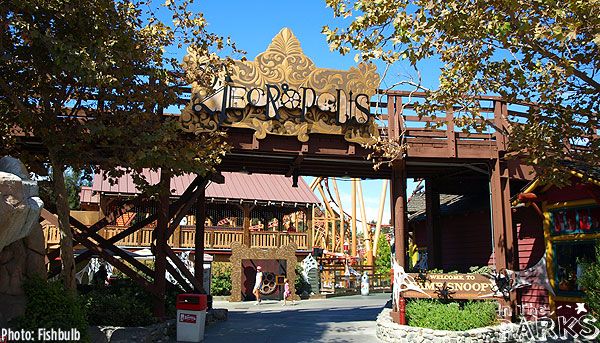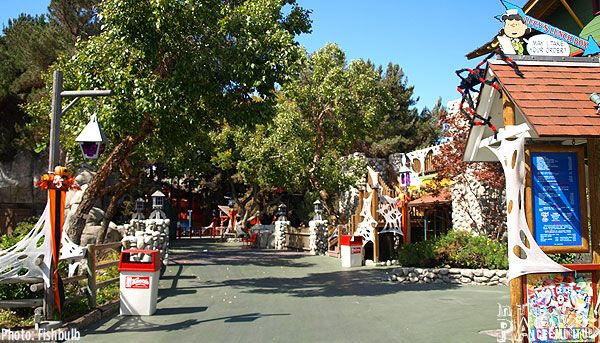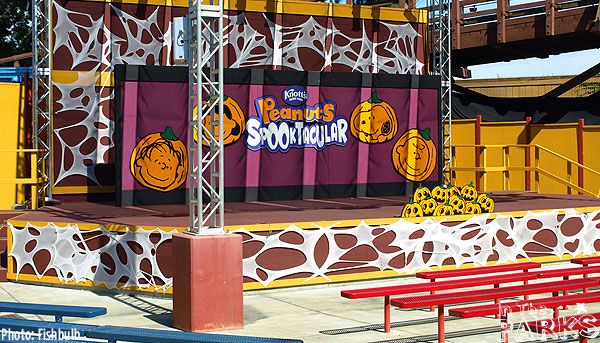 A lively stage show is presented several times through the day.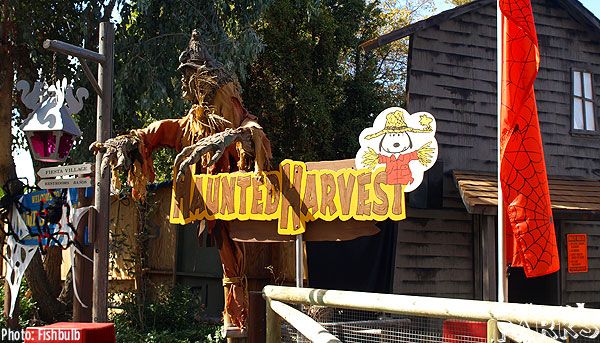 The Timber Mountain Log Ride:
Beware! Although you may visit the park during the day, the indications of something scarier are still all around you. The best log ride in Southern California, Knott's Log Ride has been fully rethemed as Sleepy Hollow Mountain. Fortunately, little is given away if you ride it during the day.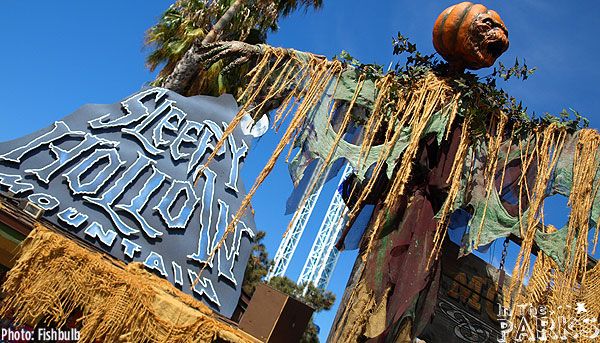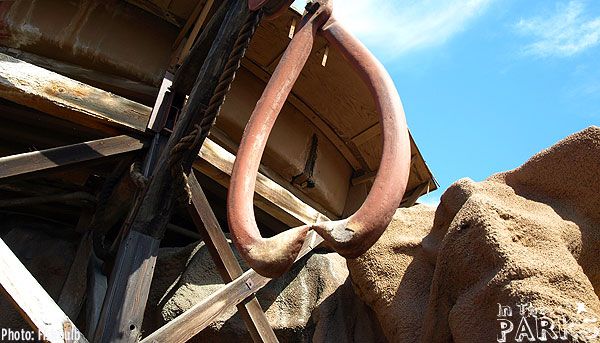 This prop hangs precariously above the queue.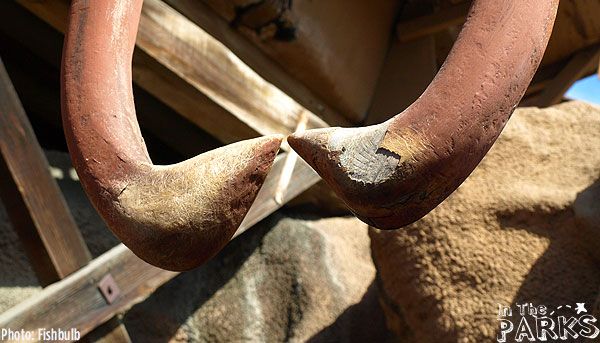 Any chance of fixing this? I used to think was real steel.
Next week MiceChat will be hosting a
behind the screams tour of Knott's Scary Farm
on Saturday October 9th. You don't want to miss it.
Calico Mine Train:
The Calico Mine Train and the Black Widows Cavern theme are ready for Haunt. But for some reason all of the water is turned off in the attraction. Drag.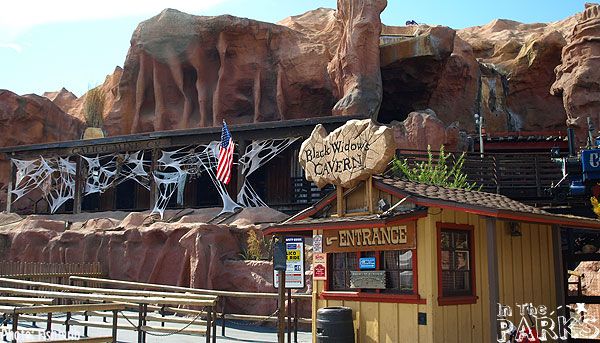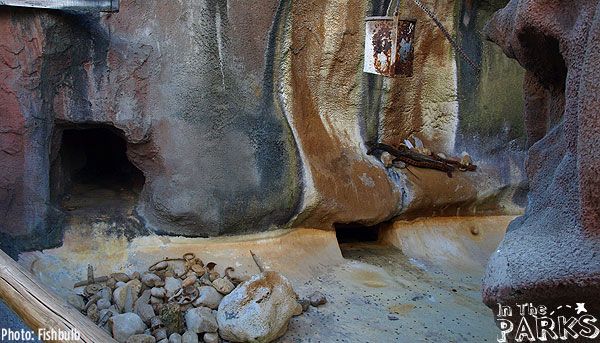 No water in this water fall.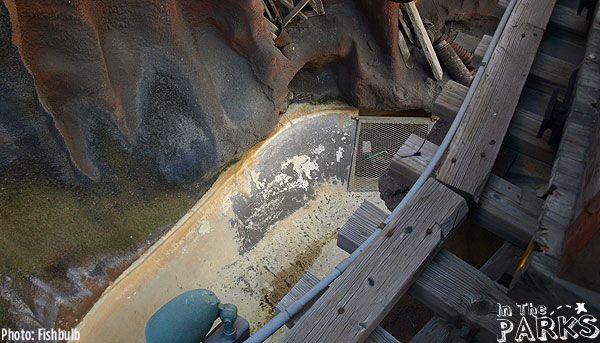 Going over the bridge just doesn't seem as frightening without water.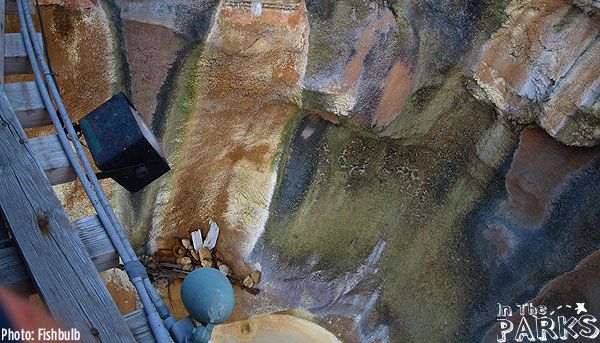 Goldie's Place:
Goldie's Place is nearly ready to return to Ghost town glory. The leg is still missing from the side window, but I am sure they will get to it soon.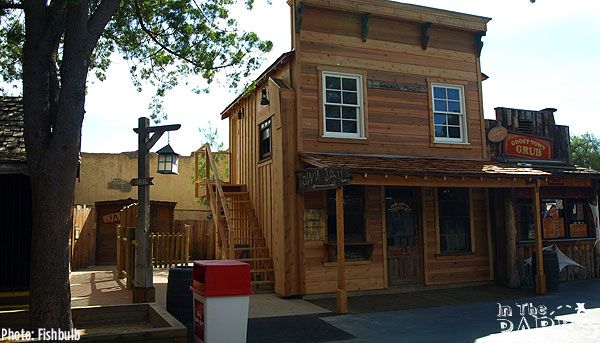 Although not aged to blend in yet, it looks great!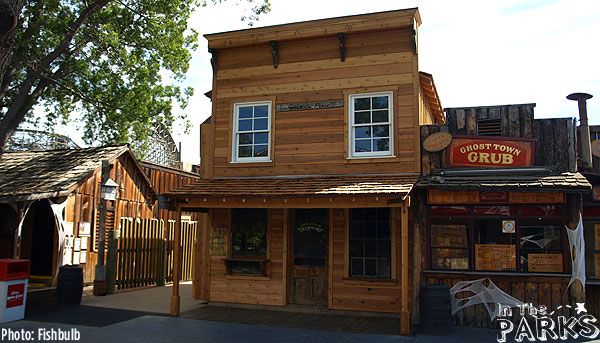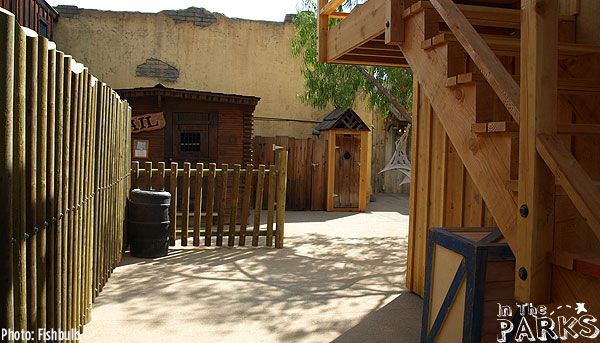 Joe will be able to receive visitors soon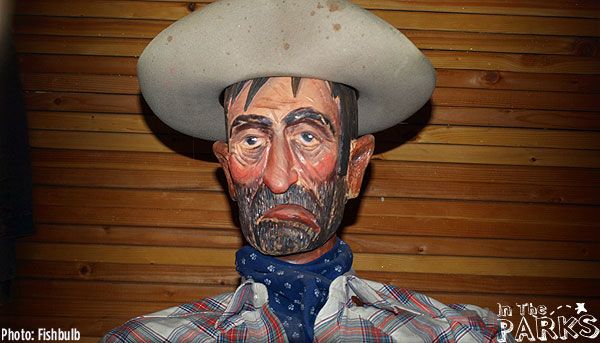 He will remain sad until then.
Ghostrider:
Last week Ghostrider returned from a refurbishment. The real question is this: Is the ride any smoother? In short, NO!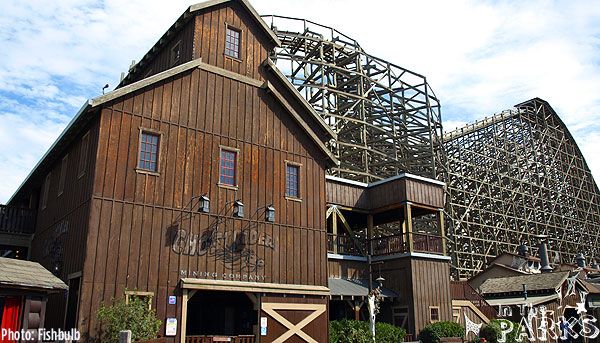 This celebrated coaster was the reigning champion of woodies when it opened, being voted best in California and in the top five in the World.

It has since slid into a less than enjoyable rough ride. We recently took a ride on the attraction to see how things were after refurbishment. Sadly, the ride is still rough as ever.

PLEASE Knott's! Please restore this ride to it's original glory. This was one of the best Wooden roller coasters in the country but it has become a painful experience. We would love to see 2 hour waits for this classic ride again.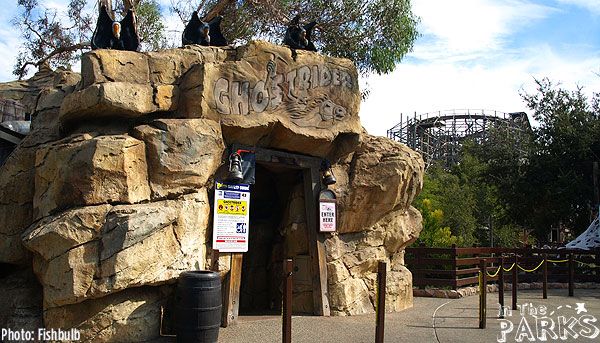 MiceChat Behind the Screams Tour, Saturday Oct 9th:
Next weekend MiceChat will be holding the Behind the Screams tour and VIP access to Knott's Scary Farm's Halloween Haunt and tickets are still available but sales end on Sunday October 3rd, so don't delay!
The event includes:
A tour of the new maze "Fallout Shelter" before opening.
All you can eat buffet dinner with Haunt Legends, Todd Faux, John Waite, Andrew Strain, Eric Linxwiler and more.
Early entry into Haunt
VIP seating for all shows
Front of the line access to mazes
(excluding mine ride and log ride)

Universal is now in full Halloween mode. This Saturday MiceChat will be holding our Universal Halloween Horror Nights meet. We invite you to
Join us.
We will be covering the event in greater detail next week. But this week we take another look at some changes in City Walk, and a few dining options.
City Walk:
Johnny Rocket;s has FINALLY added a Burger and shake to their huge sign! We also offer some great dining alternatives to be had right outside the theme park entrance.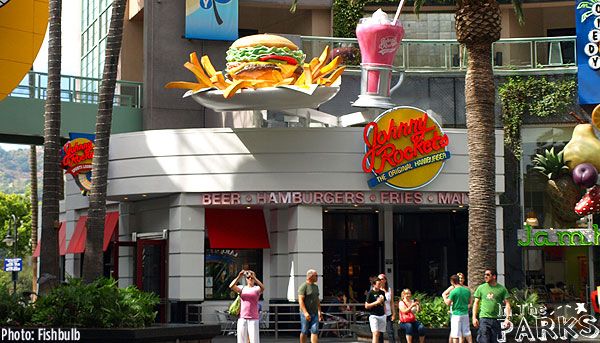 We thought it looked a little barren before.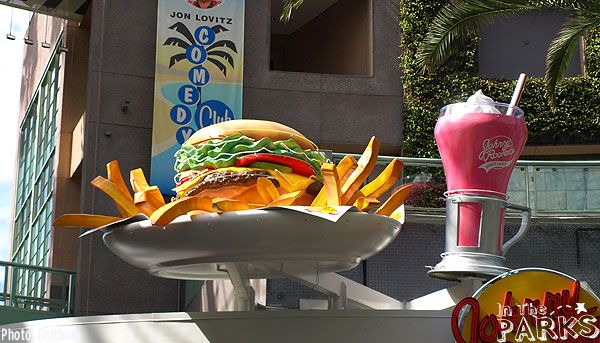 "I ordered the Large!"
Wolfgang Puck:
We mentioned this last week, but we ate here again this week and wanted to make sure you know about this awesome lunch deal. Just inside City Walk as you exit the park, Wolfgang Puck L.A. Bistro is a great alternative.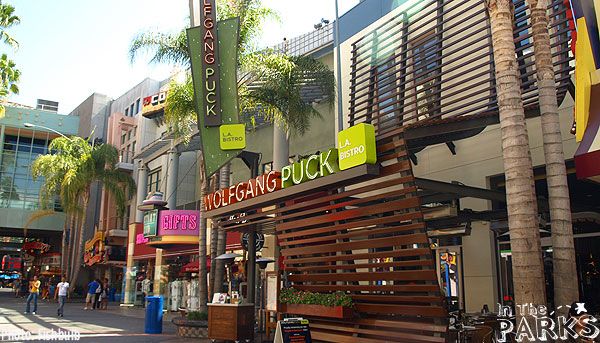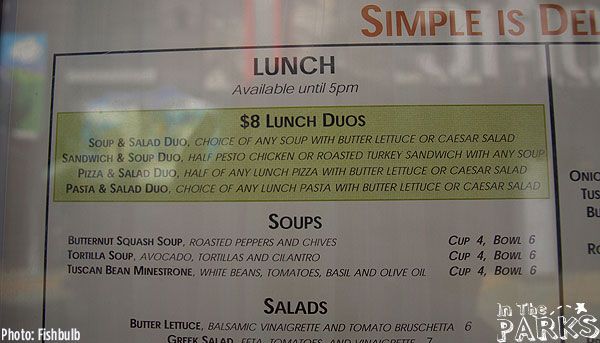 The $8.00 lunch Duos at the top are our favorites
no need to wait for a host during lunch.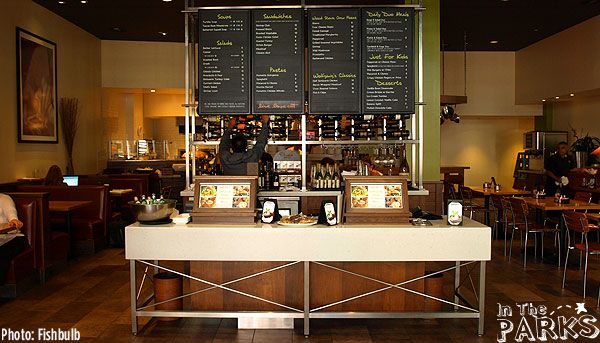 Walk straight up to the counter inside, order your food and pay for it.
For as little as $8.00 you can sit back, in a comfortable air conditioned dining room and enjoy a gourmet lunch. The staff is friendly and helpful, the food is great, and we love the wine selection and ambiance. This place is a class act on a budget.


Front Gate:
Banners have appeared above the entrance and ticket booths.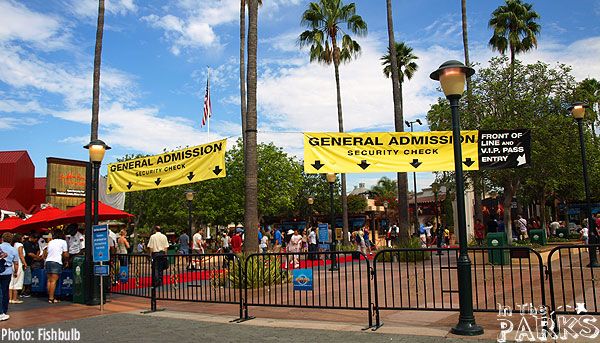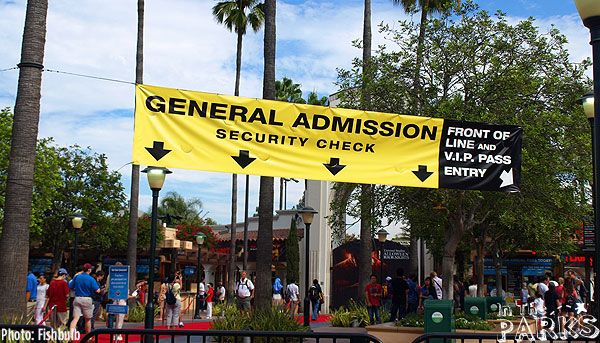 Transformers:
A new crane has appeared at the construction site. Could vertical construction be on the way?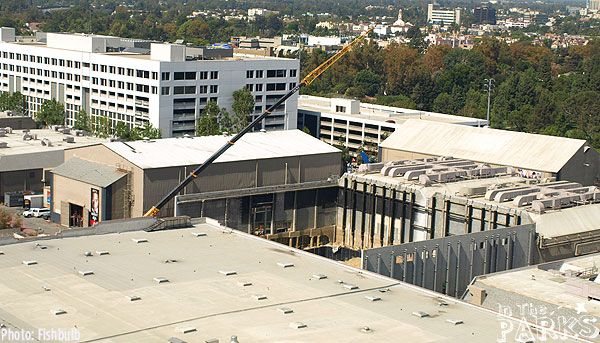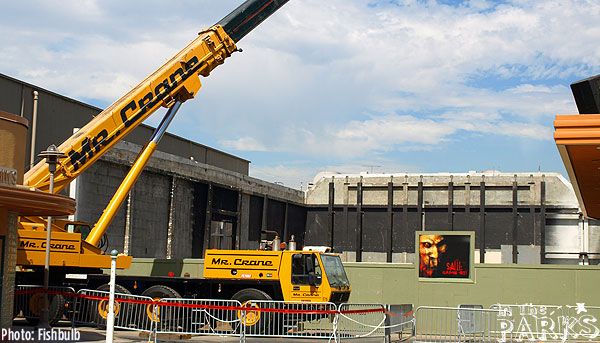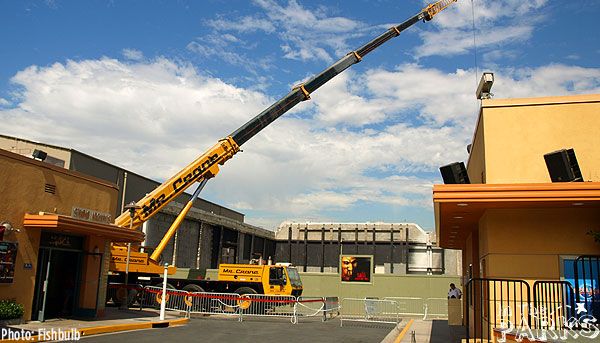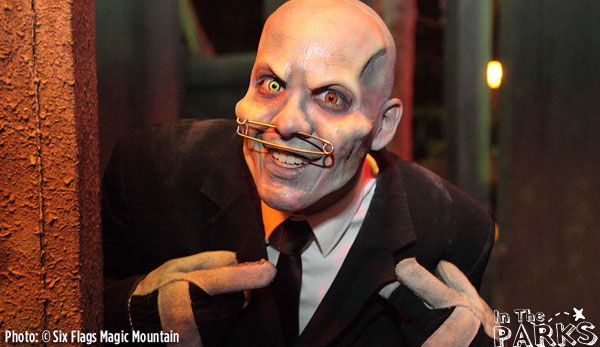 Sir Clinksalot takes us to Six Flags Magic Mountain, which is transformed from a "theme park" to a haunted "scream park" for Fright Fest, beginning October 8 and running for four frightfully fun weekends through October 31.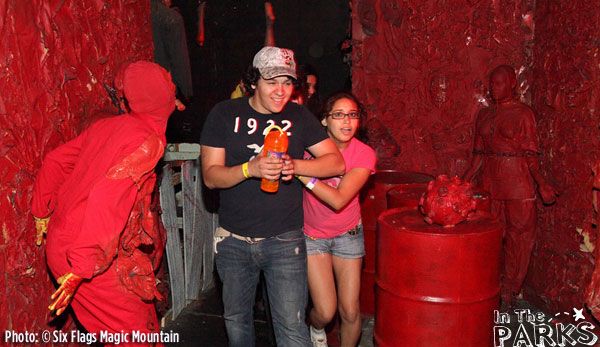 Fright Fest offers 12 days of terrifying haunted mazes, roaming zombies, the scariest clowns on the planet and new shows ... leaving no tombstone unturned to bring the ultimate sensory overload for every range of fear.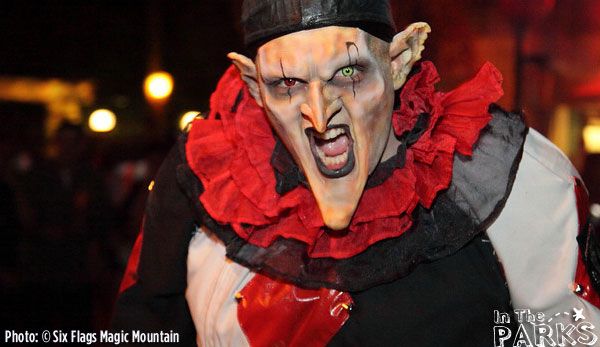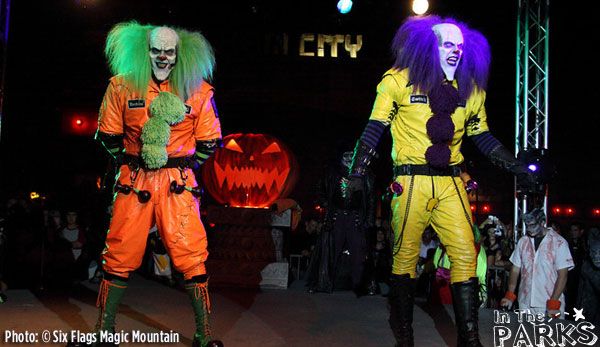 The Heckles and Twitch show

For the little monsters, a Trick or Treat Trail Presented by Walgreens, Scaryoke and Crafts in Bugs Bunny World round out the activities.
Halloween Character meet and greet.
October 8-10, 15-17, 22-24 and 29-31.
Grab your camera and meet your favorite Looney Tunes characters in their Halloween costumes.
ONLY CHILDREN AGES 12 & UNDER ARE ALLOWED TO WEAR COSTUMES TO SIX FLAGS MAGIC MOUNTAIN. NO SCARY OR GORY COSTUMES ALLOWED.
Front Gates:
The entry area is getting some Fright Fest decor as well
Wharehouse 13:
Heading into the park, Warehouse 13 (in the Log Jammer queue) is under construction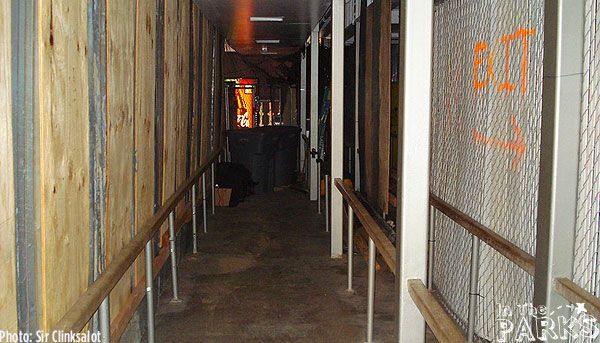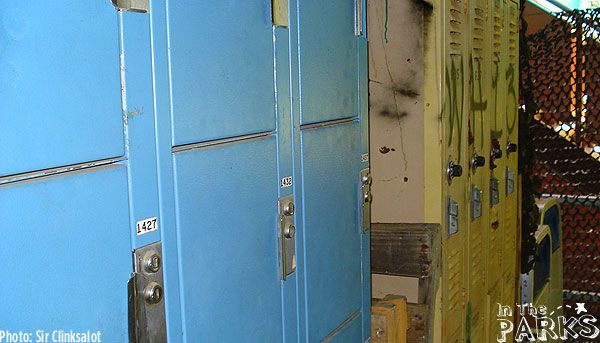 Goliath Entrance Area:

Across from Goliath, spider webs are everywhere.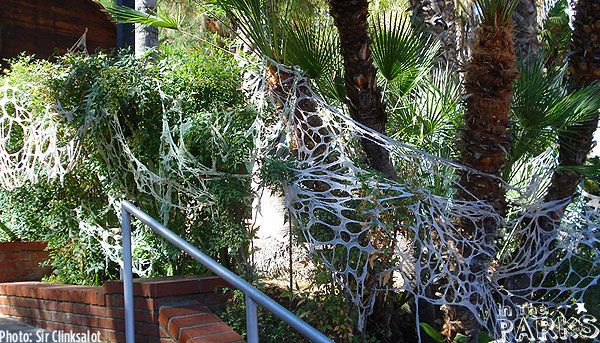 Colossus:
At Colossus, the Psyclone trains are on the track for Colossus Backwards

The Heckles and Twitch show:
The stage is being set up for Heckles and Twitch Show

Thumper Cars:
The Sandblasters is getting ready to become "Thumper Bumpers" which features rock music and disco lighting.


Escape of the Zombies:

Tidal Wave is closed in preparation for "Escape of the Zombies"
Roaring Rapids Camp:
The Frights stretch all the way up the path to Roaring Rapids.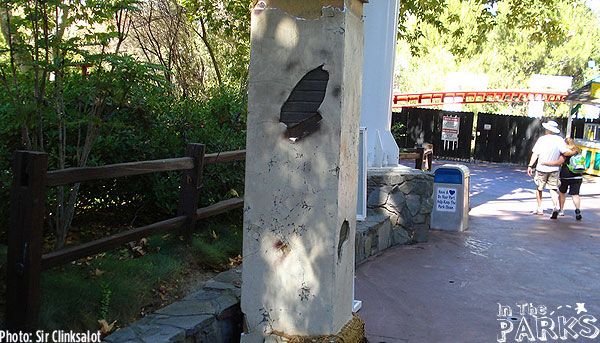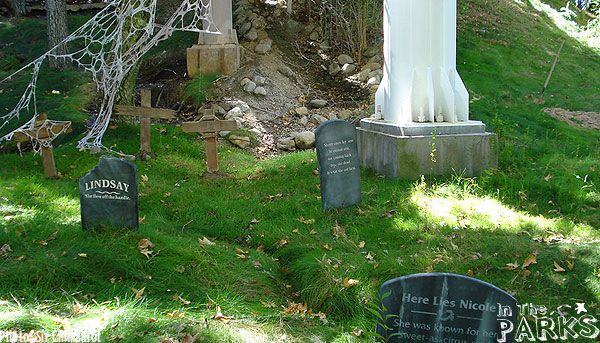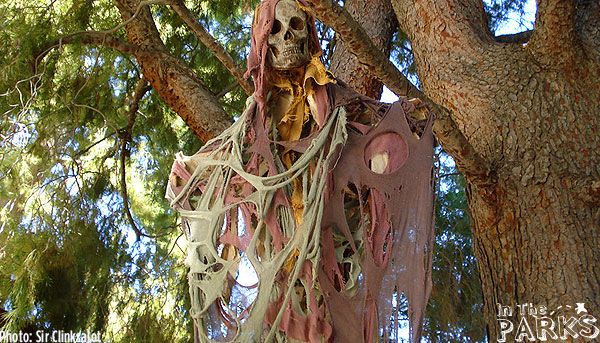 Heading up to Samurai Summit, more Fright Fest awesomeness
We can't wait to see this one in action.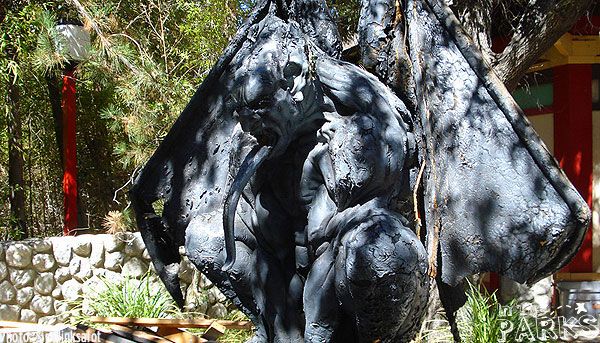 We hope to have more for you from Six Flags Magic Mountain soon. But so far, Halloween is shaping up to be quite the event for this park.


Brick-or-Treat Party Nights Admission
(included in the price of regular one-day admission). Guests can pre-purchase exclusive PARTY NIGHTS ONLY tickets online for $30, valid for admission from 5pm - 9 pm only.
Brick-or-Treat Trail
expands this year with a second Brick-or-Treat Trail, during Party Nights only*, atop the Model Shop in Miniland USA. Both kid-sized cul-de-sacs feature 7 LEGO-themed treat stations and offer a safe, fun and entertaining trick-or-treating experience for kids 12 and under.
Brick-or-Treat Costume Contest.
The much-anticipated costume contest returns to Brick-or-Treat Party Nights where children 12 and under show off their boo-tiful costumes in three categories including Heroes, LEGO-themed and Creative.
Also, enjoy ghoulish entertainment, including:
LEGOLAND pumpkin patch building activity

Haunted Hideaways

Howler of the Hour contest

Dance Party in the Imagination Zone with wonderful witch sisters Hubble Bubble and Zany Zelda
October 2, 9, 16, 23 and 30
5:00pm - 9:00pm

SeaWorld Spooktacular
Even Shamu is getting into the haunted spirit with

Sea World Halloween Spooktacular

! Every year

SeaWorld San Diego

and

SeaWorld Orlando

hold the

Halloween

Spooktacular event where kids are encouraged to come dressed in their

Halloween costumes

and enjoy a safe trick-or-treat around the park, as well as special Halloween shows and their favorite

Sesame Street

and

SeaWorld

characters.
As you make your way through the park, you will see an octopus candy garden, fun-loving Sea Witches, and other festive creatures. Spooktacular San Diego
Main Gate Entertainment: When you arrive at SeaWorld San Diego, guests will be treated to photo ops with their favorite Sesame Street characters including

Cookie Monster

. Also available will be

Pete & Penny Penguin

and

Shivers the Polar Bear

.
The Sesame Street characters host the Countdown to Halloween show featuring Count Von Count, Elmo and your other favorite Sesame Street characters.
Use Spooktacular maps to guide you to 10 sea-themed stations where kids can trick-or-treat among

flamingos

,

octopus

es,

fish

and more. The treat stations are in the center of the park around the Skytower pond. Treats include an assortment of

candy

as well as healthy treats.
SeaWorld's Halloween Spooktacular is included with the price of admission

Corn Maze, Harvest Festival and Pumpkin Patch
Forneris Farms in Mission Hills, CA 15200 Rinaldi St., Mission Hills, CA (San Fernando Valley)
Weekdays 2 - 5 p.m. - Weekends 9 a.m. to 5 p.m.
Market with farmCorn Maze, Harvest Festival and Pumpkin Patch at Forneris Farms in Mission Hills, CA
Cost: Fee charged for Corn Maze (under $10) - Corn maze is closed on Wednesdays for watering. fresh produce sales open daily 9 a.m. to 6 p.m.
Mighty Rubber Ducky Derby
.
17th Annual event invites the public to participate and watch 15,000 rubber ducks float down the lazy river. Buy a duck and help a special cause. Time: 11 a.m. to 4 p.m. Cost: Nominal fee for duck. Location: Wild Rivers Waterpark, 8770 Irvine Center Dr., Irvine, CA. duckyderbyoc.com
PumpkinLiner Trains
Sat & Sun, Oct 2 through Oct 31, Departures: 10 am, 12 noon, 2 & 4 pm, Fillmore & Western Railway, 364 Main Street, Fillmore
Ride a vintage train to "Ichabog" their pumpkin patch at Loose Caboose Garden Center. Pick the perfect pumpkin to make your Jack-o-lantern. Enjoy Jolly Jumps, Arts & Crafts Booths, BBQ food, face painting and more. Fun for the entire family. Tickets: Adults/$19, Children 4-12/$12, Children 2 & 3/$10. Pumpkins from $1. For Reservations Call (800) 524-2546.
Discovery
Science Center Orange County
Spooky Science: Bug Invasion!
October 2 - October 31
http://www.discoverycube.org/
Queen Mary, Long Beach
The Queen Mary's Dark Harbor
The Event
Three shipboard and two onshore mazes confuse and ensnare visitors, and although visitors will have every opportunity to turn back, the food, drink and entertainment inside will ensure leaving is unthinkable.
The Gory Details:
18 Nights
Oct. 1, 2, 3, 8, 9, 10, 15, 16, 17, 21, 22, 23, 24, 27, 28, 29, 30 and 31
7:00 p.m. through the darkest hour of midnight
Tickets for sale online at

Ticketmaster.com

or each night of the Event starting at 5pm.
General Admission - $35.00
Fast Fright Pass (Cut to the front of the line) - $55.00

Costumed Superheroes Gather for Guinness World Records
Sat, Oct 2, 10 am - LA Live, Downtown LA
Join Will Ferrell and 1,500 of his closest costumed superhero friends as they attempt to make heroic history and claim the Guinness World Records title for Largest Gathering of Superheroes. The Mega-event is open to all caped crusaders wishing to join the fun. To qualify for the record attempt, all interested participants must arrive dressed as an easily recognisable superhero that has appeared in a published book, comic, television program or film, as stipulated by the record guidelines. A minimum of 1,501 superheroes must gather for the event to break the current world record.
Tustin Tiller Days

Tustin TIller Days has been a regular event in Tustin since 1957. The event provides an opportunity for Tustin to celebrate Orange County's agricultural heritage. Features Parade (on Saturday at 10 am), carnival, rides, food and entertainment Columbus Tustin Park Located at the corner of Prospect and Irvine Blvd
Annual Sandcastle Contest
Sunday, October 3, 2010 10:00 AM - 4:00 PM
Hosted by the Commodores Club of the Newport Beach Chamber of Commerce, thousands of sightseers will descend on "Big Corona Beach" to view amazing sand sculptures created by participants ranging from the novice to the expert.
Whether you're a participant or a spectator, it's a perfect way to spend the day with family and friends. Corona del Mar State Beach (Marguerite & Ocean Blvd., Corona del Mar)
Irvine Park Railroad's Pumpkin Patch
Open daily at 10:00 AM. Activities include train rides, a haunted house, carnival games, hay rides, a moon bounce and more.
http://www.irvineparkrailroad.com/
If you happen to run across any interesting theme park or attraction news or have photos that you'd like to share with us, please consider contacting us at
dustysage@micechat.com
. Still looking for photos and news from the theme parks you love? There's a
world of fun information to read

elsewhere on MiceChat, might we suggest:
Weekend Update

Offers a world of Disney theme parks and other sights and landmarks!



Dateline Disneyland which is packed with great news and photos from the Disneyland Resort.
Tell your friends about MiceChat and In The Parks, sharing is caring!
Today's update was brought to you by our fantastic and talented crew of
photographers and news contributors SirClinksalot,
Captphoebus, Pratt55,
CoheteBoy, Fishbulb,
and Dustysage
.


And that brings us to the end of another In The Parks update . .
.