What a difference two weeks makes! Last week we were in the far off kingdoms of Harry Potter and Walt Disney World. Now we are back in our home parks of Southern California to find them nearly transformed from Halloween to Christmas. We'll be taking a look at a record 9 parks total this week. Tron, Cars Land, Transformers, Harry Potter, Fantasyland Forrest expansion and much, much more. Hope you are buckled in because this one is big one featuring parks on both coasts!


<script src="http://connect.facebook.net/en_US/all.js#xfbml=1"></script><fb:like href="http://micechat.com/forums/blogs/in-the-parks/1656-parks-wdw-harry-potter-land-disneyland-dca-universal.html" font="verdana"></fb:like>


Spooky is rapidly giving way to sparkly as pumpkins vanish and holiday lights and decorations take their place. It may seem like an odd time to visit the resort while it is in the middle of changing its seasonal clothes. However, this is actually a wonderful time for a visit with crowds expected to be manageable this week and temperatures finally expected to return to normal (after an uncomfortable heat wave this week).

CHRISTMAWEEN:

Christmas and Halloween are seemingly colliding as the transition between holidays takes place - as if Jack Skellington had his way with the park, pumpkins and snow are everywhere.

But what really makes this period between Halloween and Christmas (Disneyland's holiday season begins November 12th) is that it is one of the last remaining off season weeks left in Disneyland's entire calendar year. Now is the time to visit the park as even the biggest E-Tickets rarely break the 30 minute wait time. And if you can visit mid-week, you'll likely enjoy Disneyland at its magical uncrowded best.


Main Street:

The orange and yellow bunting is down and Christmas is poised to jump on stage. But for a brief moment, Disneyland can be seen in its natural state (which is very rare these days)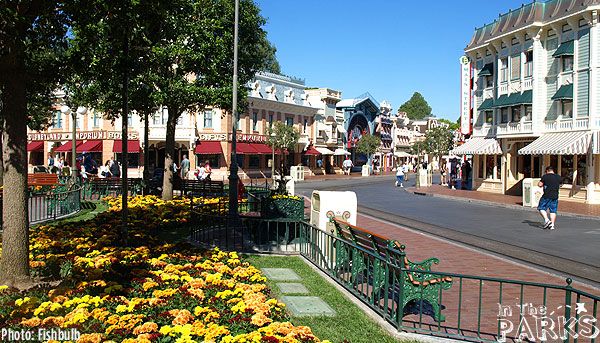 Only the mums say "Fall".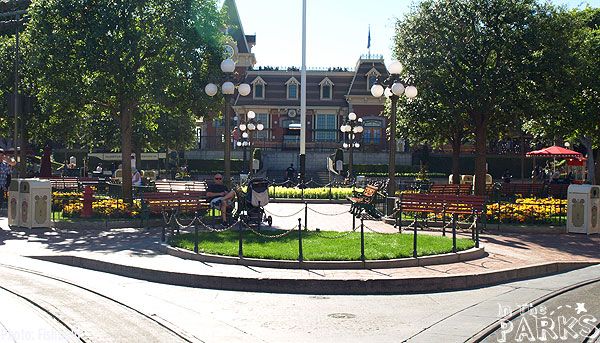 Just waiting for the big tree.
Sleeping Beauty's Castle:

Pumpkins in the hub, snow on the Castle.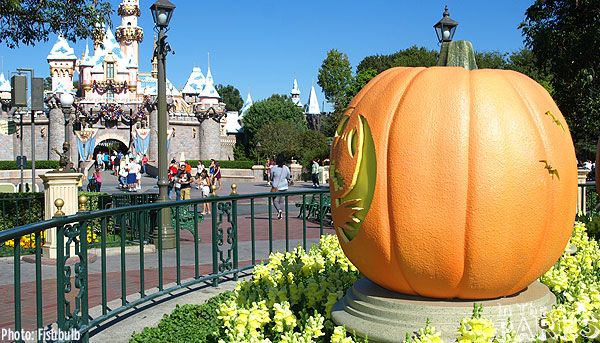 What's this?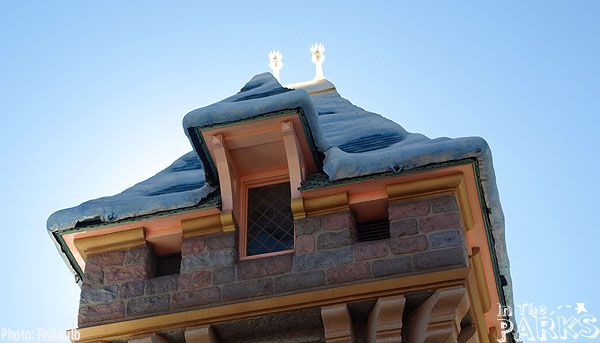 The castle snow covering has been done right this year.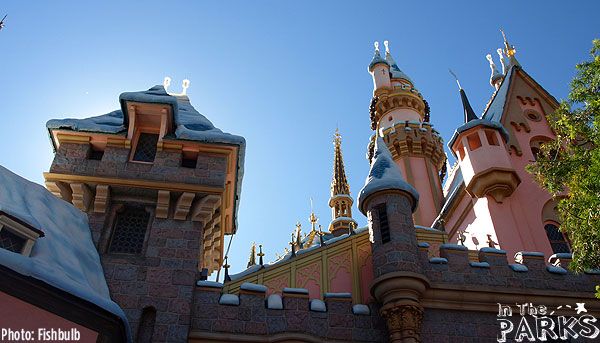 The Snow goes all the way around the Castle and there isn't a wire in sight. This is a BIG improvement over last year.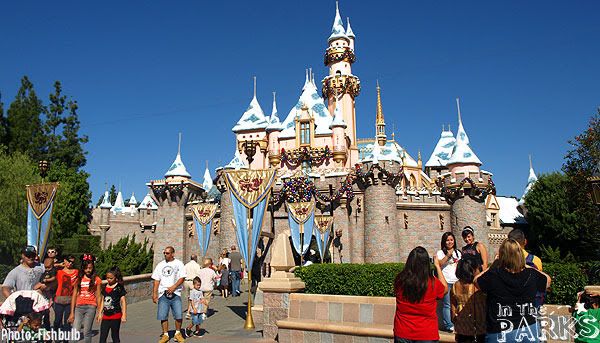 There's no turning back now, the holidays are nearly here.
Tomorrowland:

In the future, everyone will wear holiday hats.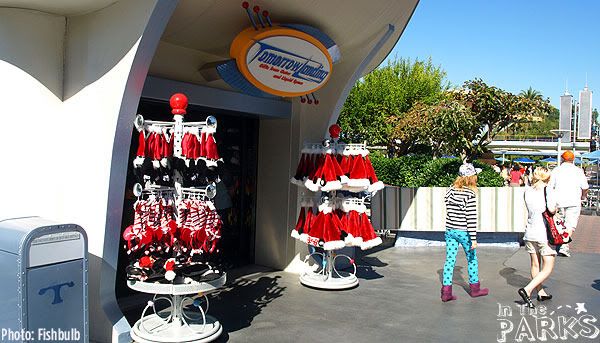 Tomorrow Landing, along with other stores in the park, have begun to stock festive hats.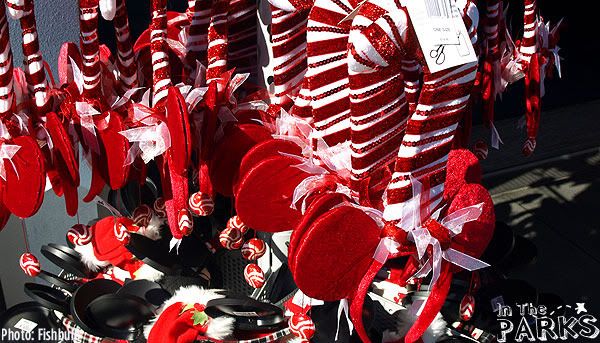 Candy heads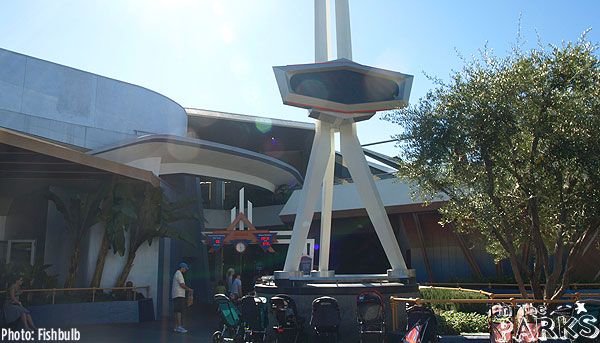 Space Mountain barely spent half of an operating day transitioning from Ghost Galaxy back to normal space travel. That's impressive!
Frontierland:

Garland has been strung in the ol' west while Big Thunder Ranch is still getting work done.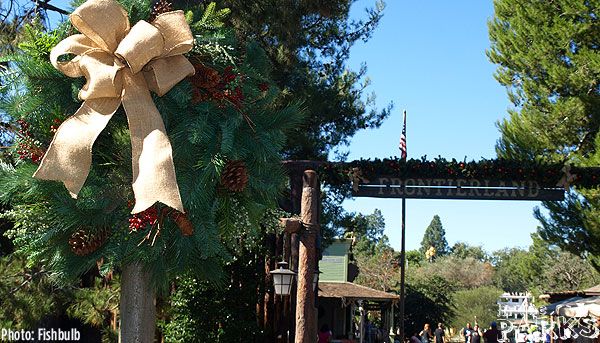 Happy Holidays Pardner.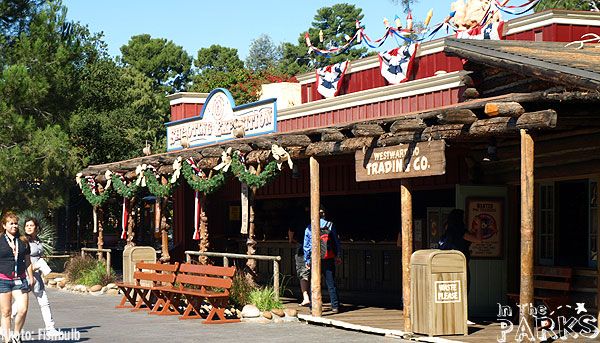 Merry Shootin'!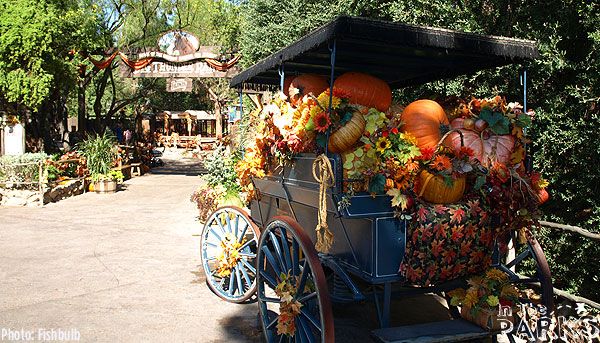 The Fall pumpkins still occupy the surrey. They will soon be gone.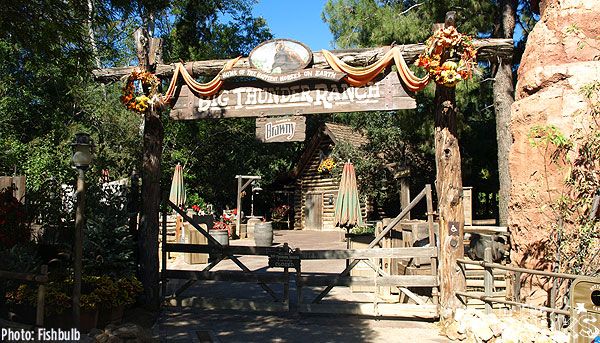 The Cabin at Big Thunder Ranch is undergoing the Holiday transformation.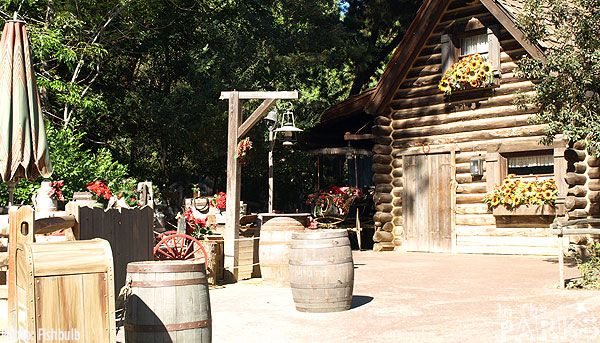 Look closely. You can see the poinsettias.
New Orleans Square:

Chrismaween? Mardi-mas? Whatever it is, it looks fabulous and New Orleans Square is nearly finished getting the Holiday treatment.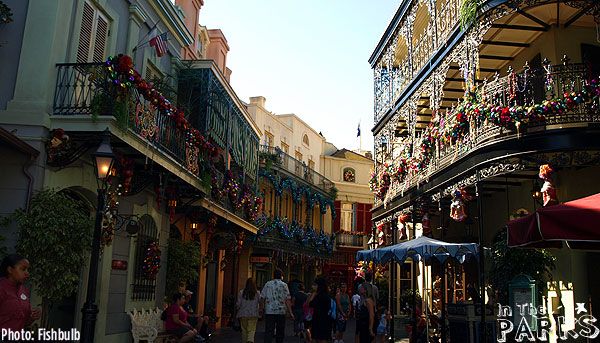 Always the most striking area of the park during Christmas.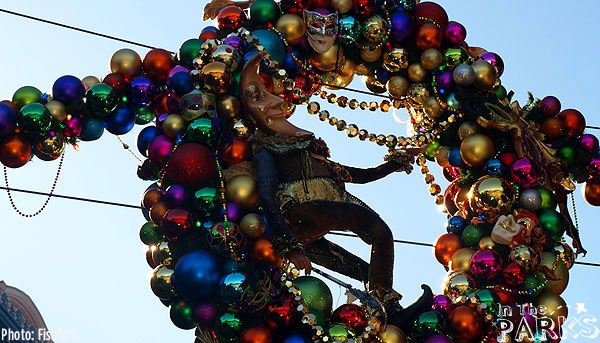 Just beautiful.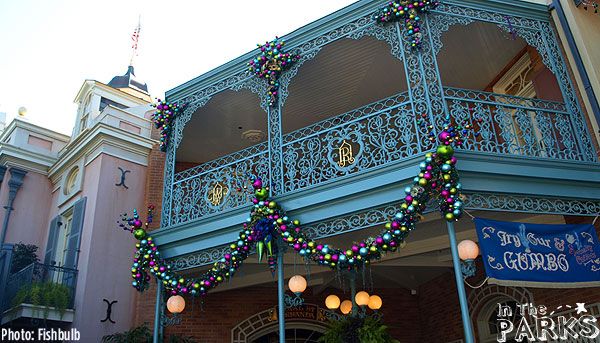 The dormant Dream Suite balcony.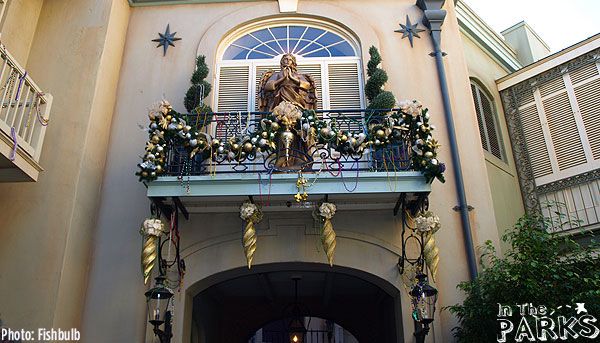 The Court of Angels is again turned into a seasonal store.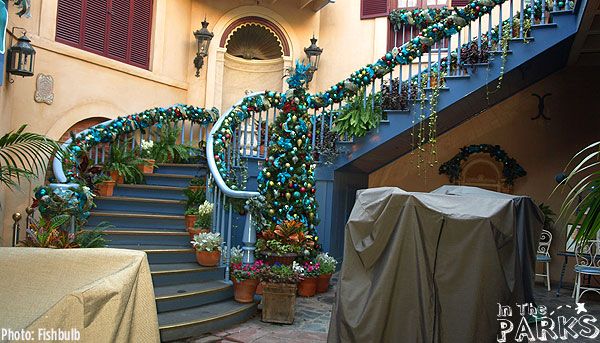 We are fine with this as long as it's only seasonal.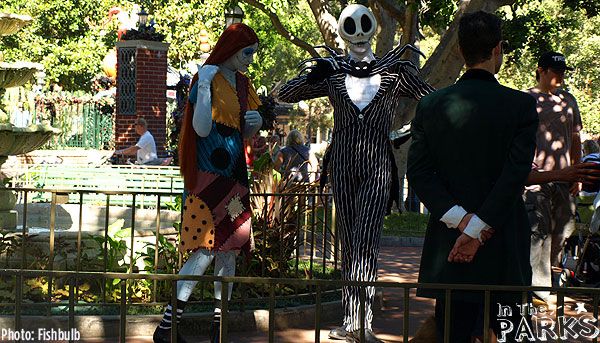 Jack and Sally pose for pics.
Plaza Inn:

The Plaza Inn's construction walls came down revealing work on a restored pathway to a kitchen door.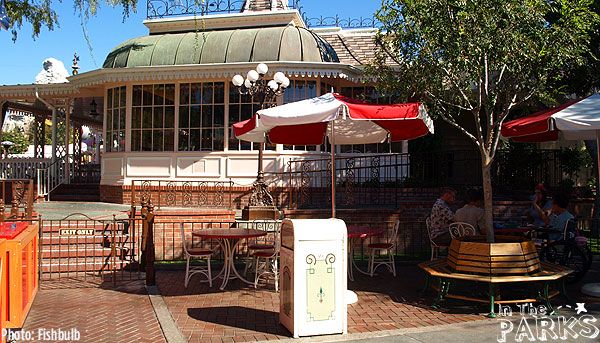 Nice work here.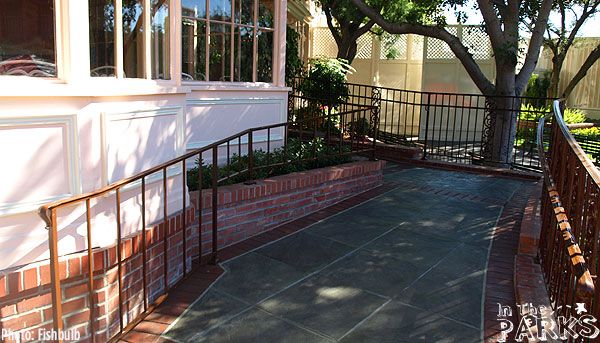 Clean stone and brick work.

Disney California Adventure is constructionland at the moment, but still manages to pack in the crowds for ElecTRONica as well and World of Color. But, like Disneyland, the week days have been far less crowded. From Hollywood Pictures Backlot to Paradise Pier the renovation of this once maligned park kicks into full gear. While we are happy and excited for this, it comes at the cost of one of our favorite events for the next two years.

Disney's Food & Wine Festival:
According to the Disney Parks Blog The Disney California Adventure Food and Wine Festival will not be returning for 2011 or 2012. While it is understandable that they may suspend this "Guest Favorite" until construction is completed on Cars Land, the article stops short of promising a return of the event. Sad news indeed.


Entrance:
As the giant concrete letters don the Candy Cane colors for what may be the last time, the postcard mural is fully removed on one side and beginning removal on the other.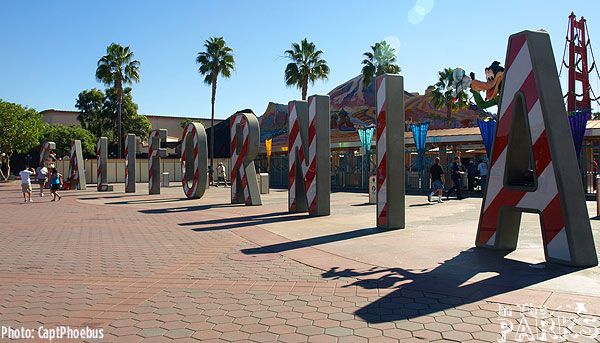 Don't eat the letters.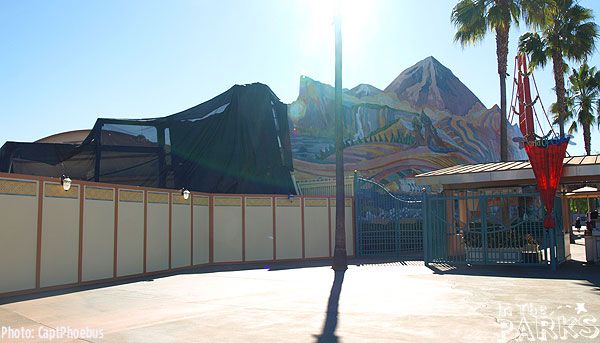 The left side of the tile mural has begun removal.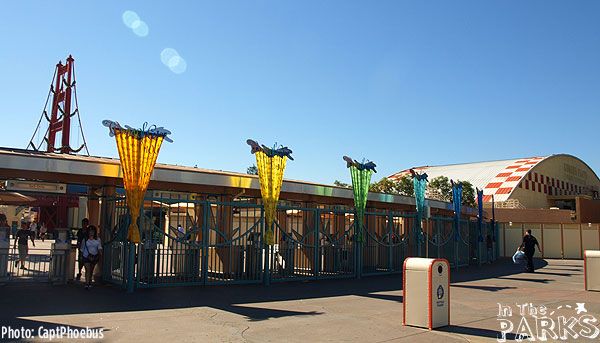 Wide open on this side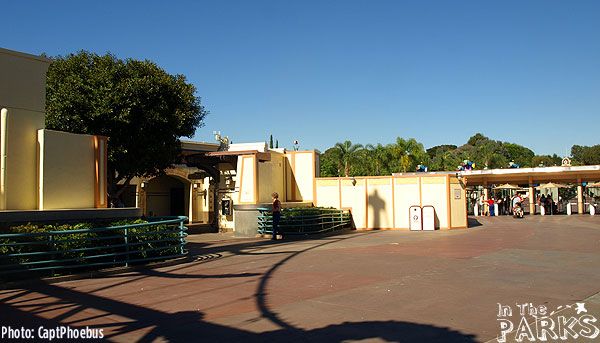 All gone - no mural here

Christmas:
With all of the construction, Christmas isn't much of a priority at DCA. Still, they are taking a stab at it.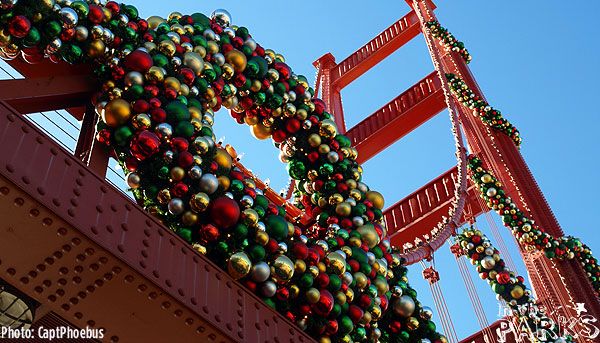 The Golden Gate Bridge has been decorated.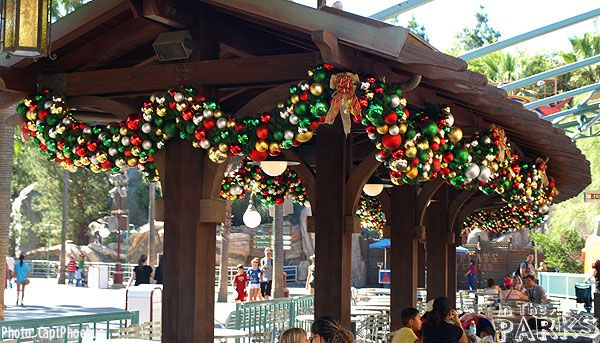 The awning in front of the Train.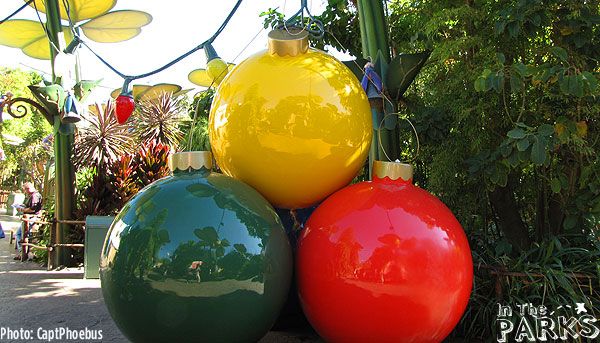 Bug's land features the usual large ornaments.


World of Color, TRONcore:
While World of Color continues to work through some operational obstacles, it still manages to wow audiences nightly. Due to the flexible technology used to program the show, they are able to change up the show as necessary. And just months after opening, a new Tron themed segment has been added to the ending of this already popular show.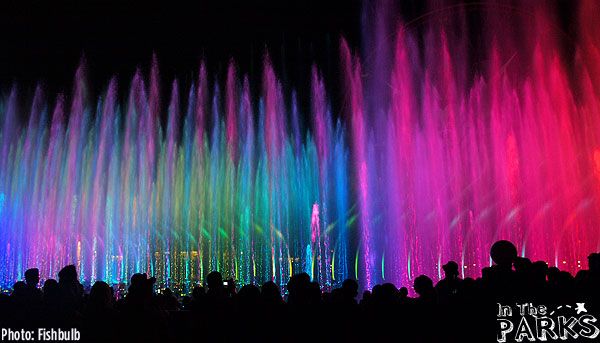 The fountains still sparkle.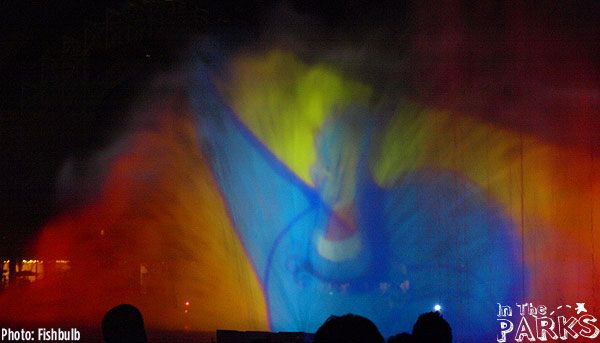 The projectors could use a little TLC.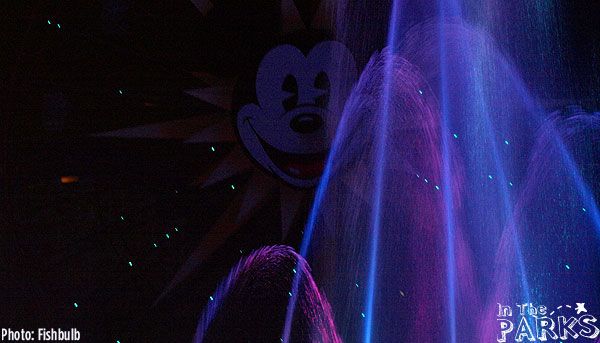 It is still an impressive spectacle.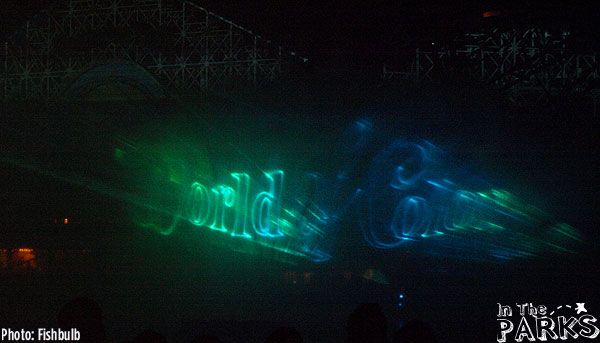 But at the end of the show . . . the World of Color logo begins to malfunction . . .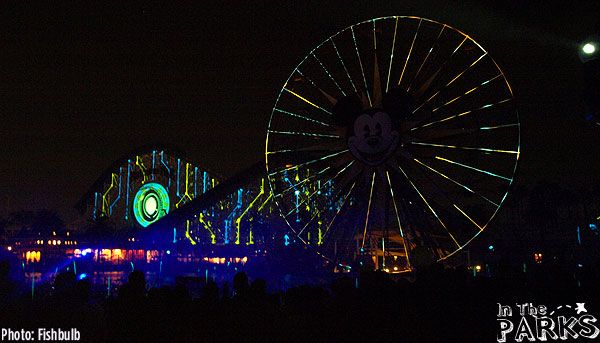 Suddenly the whole coaster and the Fun Wheel are "Digitized"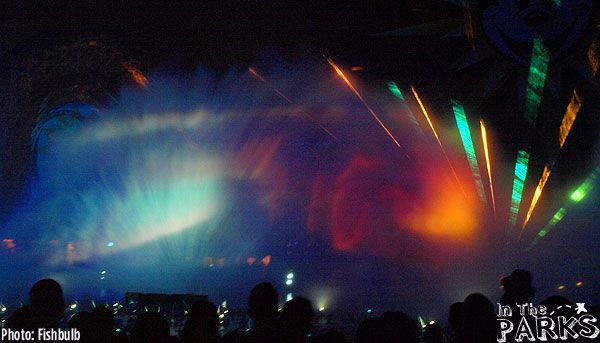 and the new TRON-core begins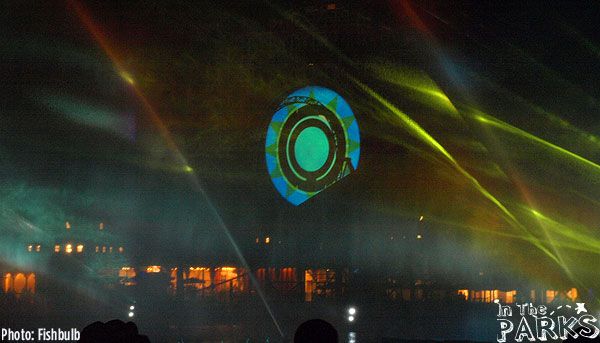 The loop of Screamin' gets involved.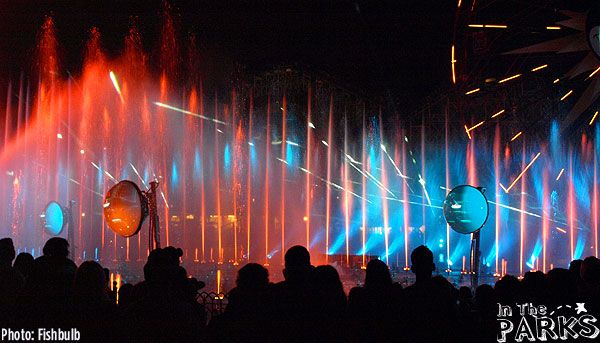 and Tron comes to life in water, lasers and lights.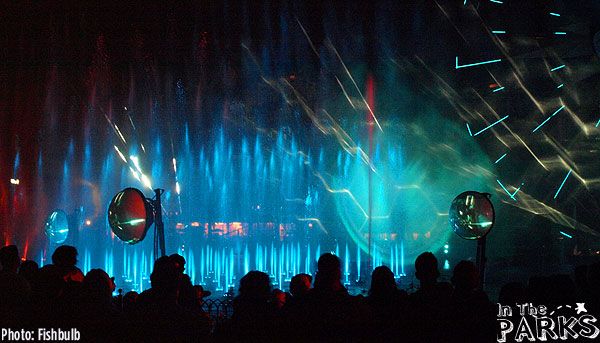 This, folks, is the power of the World of Color technology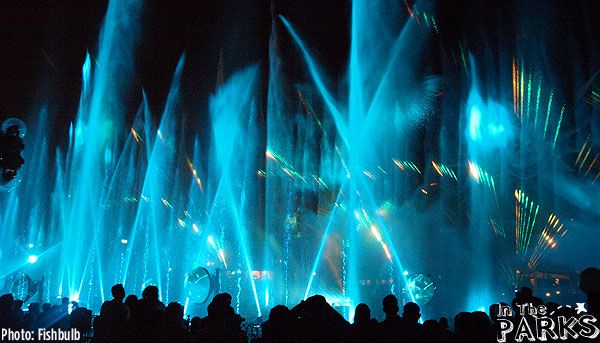 It is a striking, vibrant and wonderful addition to the show.
<object width="640" height="385">


<embed src="http://www.youtube.com/v/skHVnnVUEhk?fs=1&hl=en_US&color1=0x006699&color2=0 x54abd6" type="application/x-shockwave-flash" allowscriptaccess="always" allowfullscreen="true" width="640" height="385"></object>
Dusty's iPhone video of the new Troncore
We'd love to see a Holiday version of the show!
A Very Duffy Christmas:

Lil' Duffy has already begun to sport his Christmas sweater in hopes of being taken home.



He sure is cute.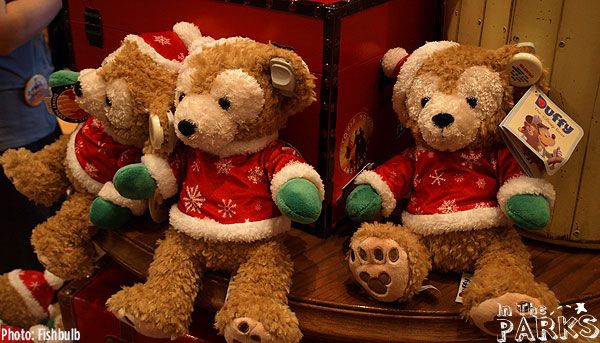 But he just doesn't seem to be moving off the shelves in either Anaheim or Orlando
Carsland:
Carsland topped out this past week reaching its highest point. Stonework will soon envelope the steel structure and Cars Land will be here before we know it.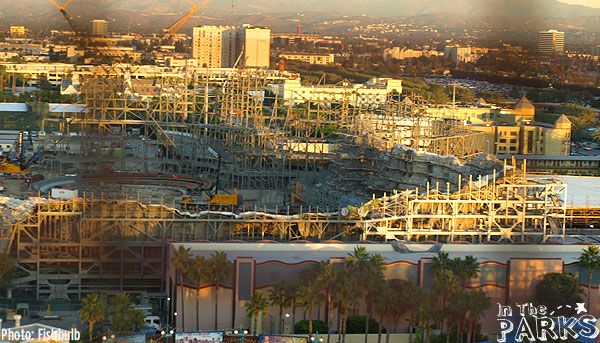 The expanse of the new land is breathtaking.

Bountiful Valley farm is now but a memory.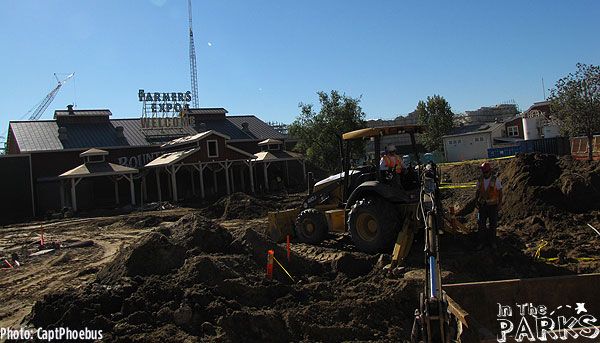 Totally flattened.
Red Car Trolley:
New progress along the Red Car Trolley route - walls near the Hyperion Theatre have been removed. We are almost back to the point of being able to walk through Hollywood Pictures Backlot to get to Tower.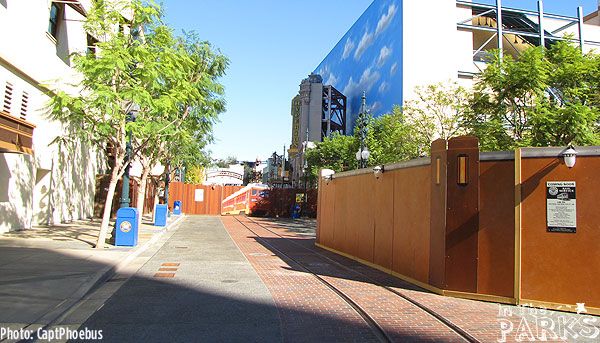 Almost there.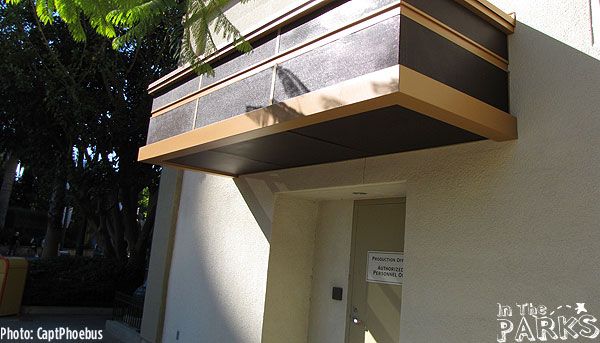 A new awning has appeared above this door to back stage.

The Little Mermaid: Ariel's Undersea Adventure:
The Little Mermaid continues to swim toward completion. With a target soft opening of May the animatronics and set construction are most likely well underway.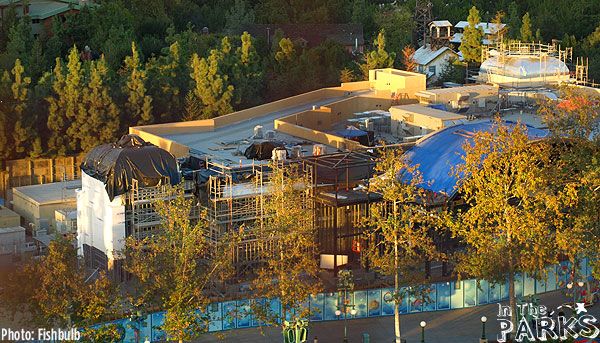 A view from the Fun Wheel.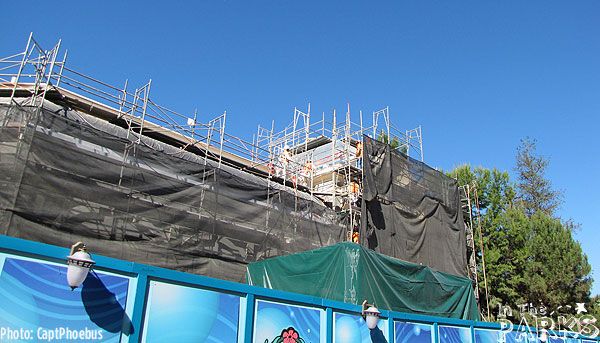 Along the route towards Grizzly Peak.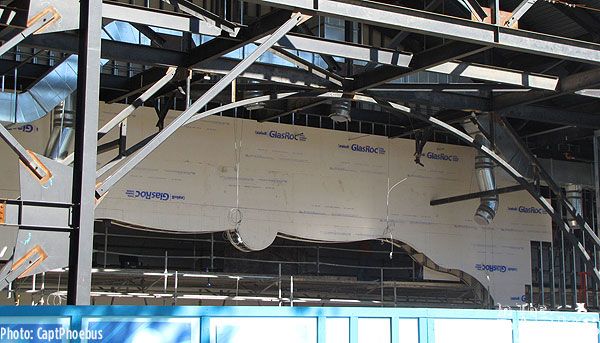 The archway above the ride entrance has been defined.



Paradise Garden:
More has been stripped away and redevelopment is just around the corner.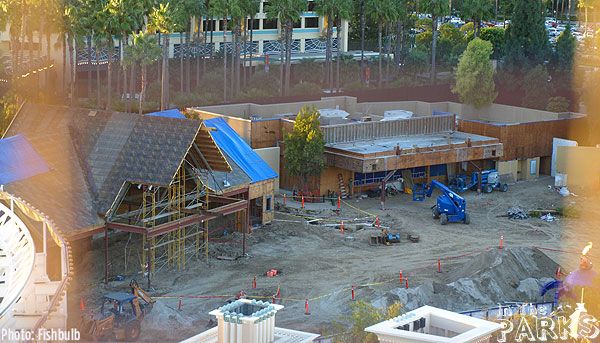 a Portion of Pizza Oo Mow Mow's Awning has been removed.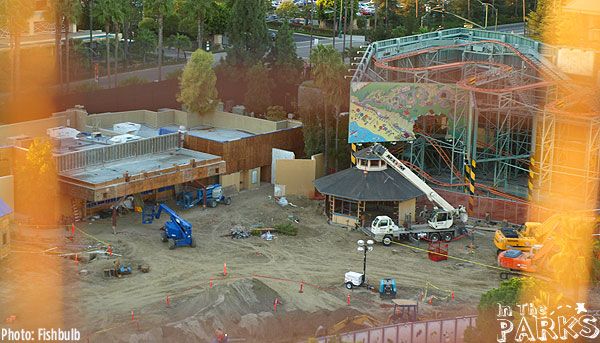 No more burgers, but beer is on the way.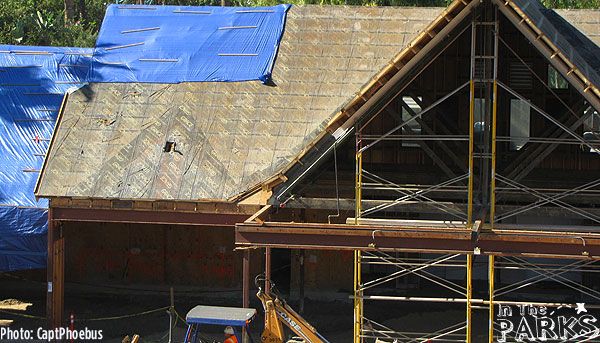 Better things to come
.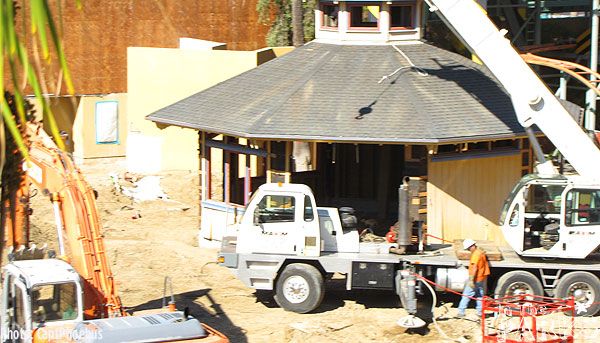 Another look.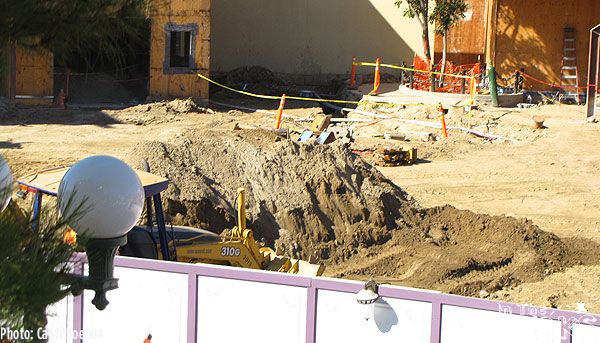 Dirt being pushed around.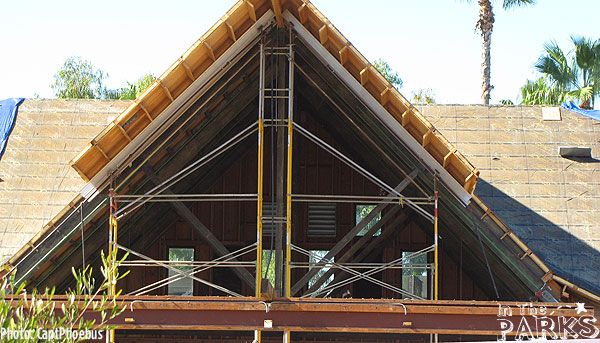 Soon to be a seaside dining place.

Goofy's Sky School:
The transformation of this coaster is rolling along and the lackluster map walls are being stripped away.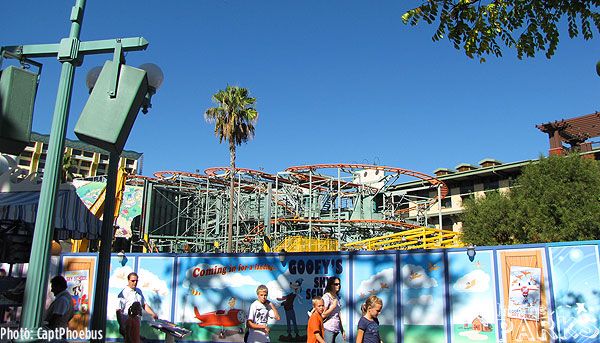 Orange, blue and yellow.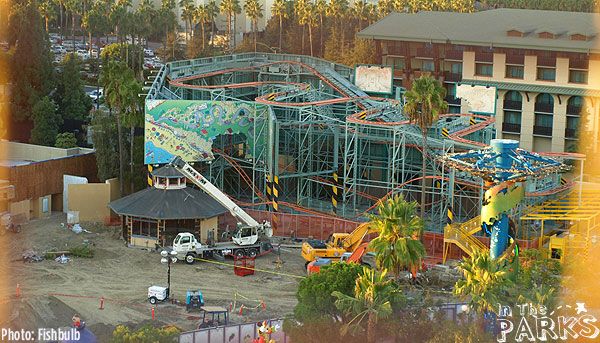 Nearly all of the tacky facade is gone.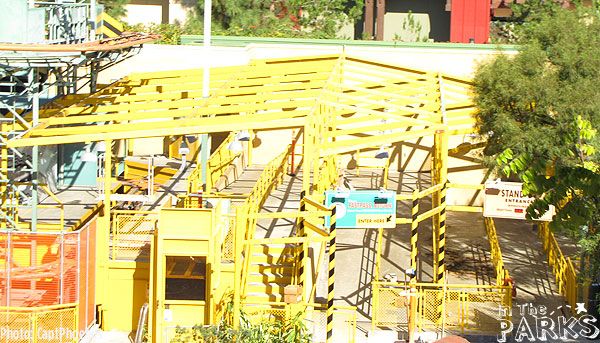 The queue is ready for a better look.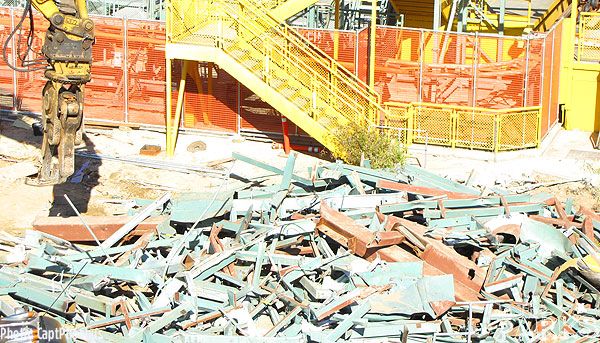 Pile of Madness.


A CHARLIE BROWN CHRISTMAS
BUENA PARK, Calif. (November 2010) – Knott's Berry Farm will be filled with the magic of the season this year as it is transformed into Knott's Merry Farm and celebrates "A Charlie Brown Christmas" with seasonal entertainment, spectacular decorations including a 65 foot tall Christmas tree, and a colorful Christmas parade starting Thanksgiving day and running through December 30, 2010.

"A Peanuts' Holiday Parade" offers seven elaborately themed floats featuring the Peanuts Gang and accompanied by students from Orange County Song and Dance Company. Children and adults alike will be able to get into the holiday spirit along with CHARLIE BROWN, LUCY, LINUS, SALLY, SCHROEDER and of course SNOOPY, as they ready for the holidays. Join them as they partake in all the holiday festivities including candy making, tree trimming, and even toy building! "A Peanuts' Holiday Parade" will run November 25-28; December 4-5, 11-12, 18-23, 26-30, 2010 and January 1, 2011.


Also in the spirit of the season, Knott's Merry Farm is proud to present the ice spectacular, "It's Christmas, Snoopy!" The show, performed in the 2,100-seat Charles M. Schulz Theatre, is hosted by the famous skating Beagle and features Knott's ensemble skaters, dazzling sets, colorful costumes and plenty of surprises. "It's Christmas, Snoopy!" will be presented November 25-28; December 3-5, 10-12, 17-21 and 23-24, 26-28, 30-31, 2010 and January 1-2, 2011.

(more)


2010 KNOTT'S MERRY FARM

Knott's 1880s Ghost Town will again be transformed into Knott's Christmas Crafts Village, inviting mall-weary guests to explore one-of-a-kind treasures created by more than 100 artisans in a Victorian holiday wonderland of strolling carolers, musical groups, community choirs and lavish holiday decorations.

The show and parade are included with regular Park admission and available to Christmas Crafts Village guests for a nominal additional charge.


Adding to the unique Village atmosphere are live performances of Charles Dickens' "A Christmas Carol" and O'Henry's "A Gift of the Magi" in the Bird Cage Theatre.


Elf Mountain Christmas is also back. The world famous Timber Mountain Log Ride has once again been transformed this holiday season giving guests an up-close and-personal view into the world of Santa's Elves. Sneak a peak as Santa's helpers get ready for Santa's busiest day of the year. Rich with lights, music and the merriest of times, this attraction will remain open until Jan. 2, 2011.


Guests can also experience the wonder of "Snoopy's Christmas Light Spectacular." Hundreds of thousands of twinkling white and multicolored lights merrily light up the nighttime sky accompanied by a festive soundtrack that bring the Christmas spirit alive from dusk to Park closing.


A trip to Knott's Merry Farm would not be complete without a visit with the man of the hour – Santa! Stop by Santa's Toy Barn for a little one-on-one with the big guy. Here, in Santa's cozy hideaway, kids can share their wish lists with St. Nick, and Mom and Dad can take home a picture of the occasion (photo requires additional fee).


Village guests can also indulge in the ultimate comfort foods with Knott's world-famous holiday treats, including fresh-baked pies, cakes, cookies, muffins and gingerbread men, as well as daily specials and the legendary cooking at Mrs. Knott's Chicken Dinner Restaurant. For an all you can eat buffet, try Joe Cool's Backyard BBQ Holiday Style starting November 28 and running Saturdays and Sundays through December 27. For only $21.95 for adults and $19.95 for seniors (62+) and $12.95 for kids (3-11), you can partake of a holiday feast that includes Mrs. Knott's famous fried chicken, roast turkey, vegetarian lasagna, roast beef, mashed potatoes, boysenberry pie and much more! For reservations, call 1-800- PICNICS.


Another holiday treat is "Snoopy's Calico Christmas Tree Lighting" each evening in Calico Square. Join SNOOPY, LUCY, LINUS, SALLY and CHARLIE BROWN as they host a song-and-dance show complete with carolers and a Christmas sing-along then light a beautifully decorated Christmas tree. The Peanuts gang is also featured in their very own live musical show, "Winter Wonderland" shown daily in Camp Snoopy.
Knott's Mobile.

Knott's Christmas Crafts Village is included with regular Knott's Berry Farm admission daily. Monday through Friday guests may purchase Crafts Village only tickets; $10 for adults, $5 for seniors (62+) and $5 for kids (3-11). Village guests can enjoy the ice show, "It's Christmas, Snoopy!" or take a spin on GhostRider for nominal fees.


And now let's feast our eyes on Universal Studios Hollywood which is undergoing a massive transformation.

Park Hours

Friday 10/5 10-6pm
Saturday 10/6 10-7pm
Sunday 10/7 10-7pm
Monday 10/8 10-5pm
Tuesday 10/9 10-5pm
Wednesday 10/10 10-5pm
Thursday 10/11 10-6pm
CityWalk
Fountain Court is getting a little TLC and almost all of the individual fountains work again. More work needs to be done but the improvement is obvious.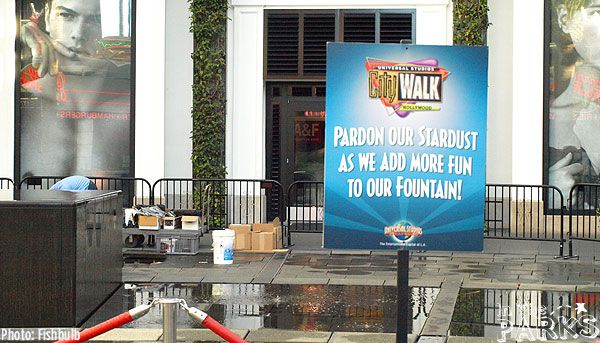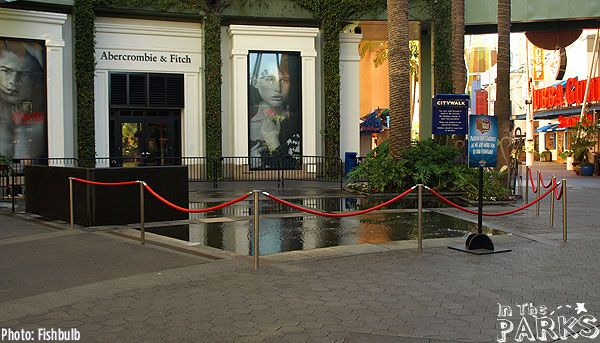 This week there is a lot going on at CityWalk. This Saturday, November 6, is the 4th Annual "Day of Days" Days of Our Lives Meet and Greet. "Days" stars scheduled to attend are John Aniston, Camila Banus, Nadia Bjorlin, Molly Burnett, Shawn Christian, Crystal Chappell, Casey Deidrick, Judi Evans, Galen Gering, MarkHapka, Shelley Hennig, Jay Johnson, Renee Jones, Lauren Koslow, Wally Kurth, Eric Martsolf, Joseph Mascolo, Chandler Massey, Peggy McCay, Peter Reckell, Melissa Reeves, James Reynolds, Suzanne Rogers, James Scott, Louise Sorel, Alison Sweeney, Josh Taylor and Arianne Zucker.


Schedule:

10:00 to 10:15 a.m. Day of Days introduction
10:30 a.m. to 12:30 p.m. Meet & Greet with the cast of Days of our Lives
12:30 to 1:30 p.m. Lunch break
1:45 to 4:00 p.m. Meet & Greet with the cast of Days of our Lives
4:15 to 5:00 p.m. Q&A panel with the stars
5:00 to 6:00 p.m. Event finale including the selection of a grand-prize raffle winner, cast goodbyes and a screening of an upcoming episode of Days of our Lives.


Also at CityWalk on Sunday, November 7, LA Weekly will be presenting LA 101 at Gibson Amphitheatre. Saint Motel, Red Cortez, and Voxhaul Broadcast will be performing live on the new CityWalk stage as part of the LA 101 experience from 3:00pm - 6:00PM.

Finally, every Friday and Saturday until November 20 there will be free live music at night on the CityWalk stage featuring several local bands and a few surprises.

CityFood
Salad Creations at CityFood is now open between Taco Bell and Tommy's. Salad Creations offers a huge variety of salads, wraps, and sandwiches all customizable and made to order.
HALLOWEEN SAYS GOODBYE:

Halloween is not fully removed from Universal Studios Hollywood either but it is very much on sale. Just outside the park entrance procrastinating Haunt lovers can find great bargains on shirts they almost bought but didn't.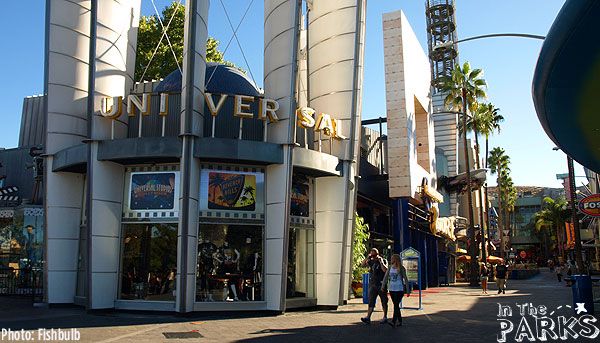 All of the Halloween merch has been moved to just outside the park.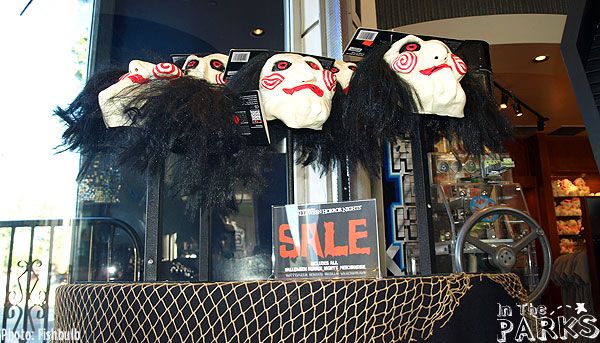 See? Saw Sale.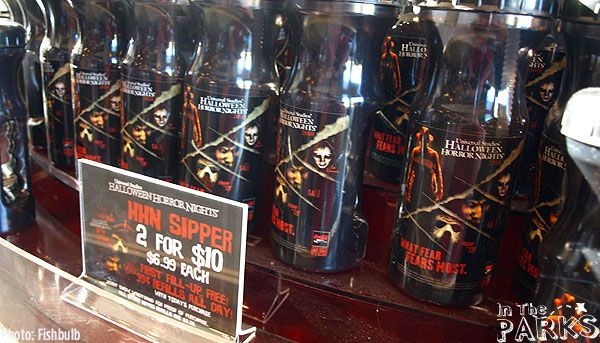 A two for one sale on all sippers.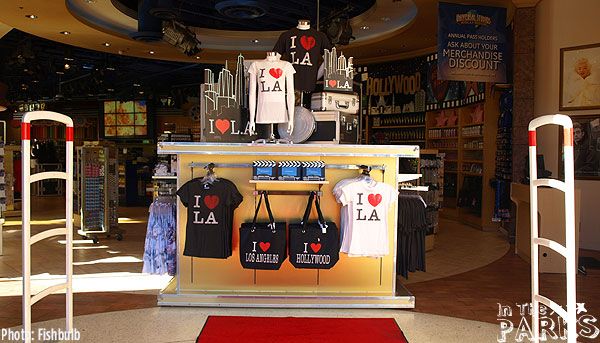 Just INSIDE the park, generic merch has been moved to where Halloween once was.
Leftovers:

The de-haunt-ification of the park should be completed by next week, if not sooner.
The Freddy themed decor is down from the entrance arch but the HHN banner is still up as well as all of the extra lighting.


As you enter the park, the Freddy Fly Girls platforms are still standing as is the lighting truss but they are in the process of being taken down.


Paris Street is still haunted. Remaining are Gypsy Wagons, corpses, and skeletons. Baker Street is almost back to normal. There are still some props as well as some lighting and special effects scattered around. But, all of this will soon return to normal.
TRANSFORMERS:

We take another look at Transformers developing showbuilding. A crane has taken up residence and additional vertical construction will become evident soon.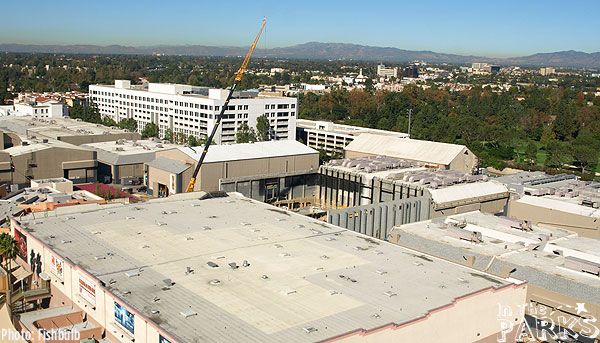 From above.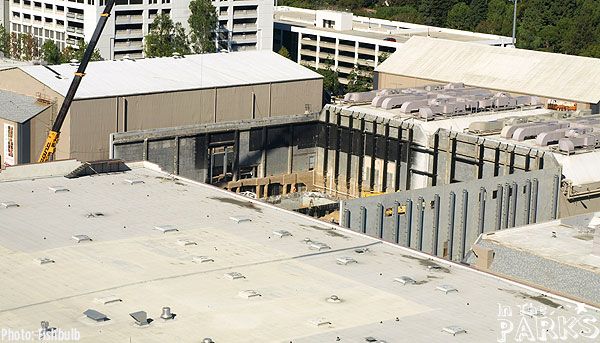 A closer look.
UPPER LOT WORK:

As the Christmas season approaches, the Studios they have taken the time to start a few projects while business is slow.


Western Street (between the empty Wild West Arena and the Carnival Games) is closed until the end of the month for some major construction. Currently one whole side of the street (the part that also served as the Wild West Arena wall) has been reduced to splinters.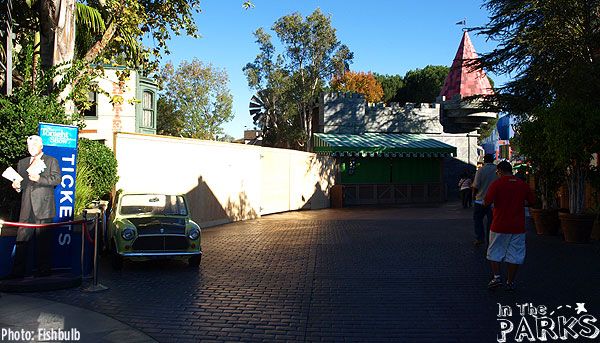 the path leading to the left has gone behind walls.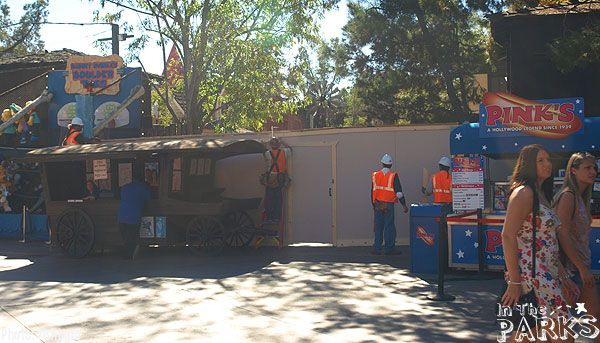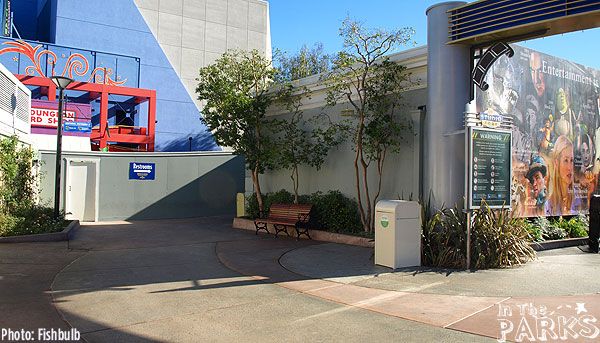 Near the entrance of the Studio Tour a seating area has gone behind construction walls.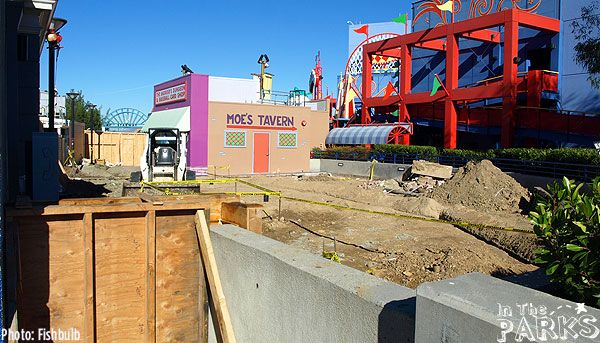 The concrete has been torn up and it appears plumbing is being run.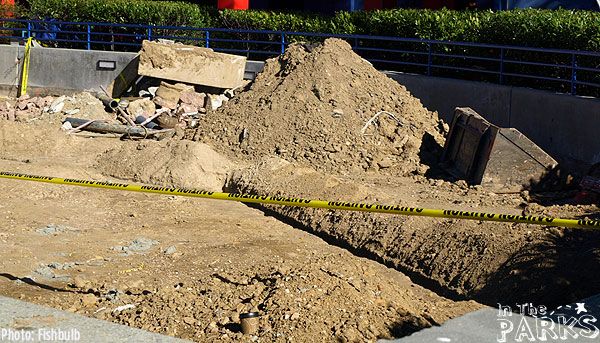 We will look into what this is all about.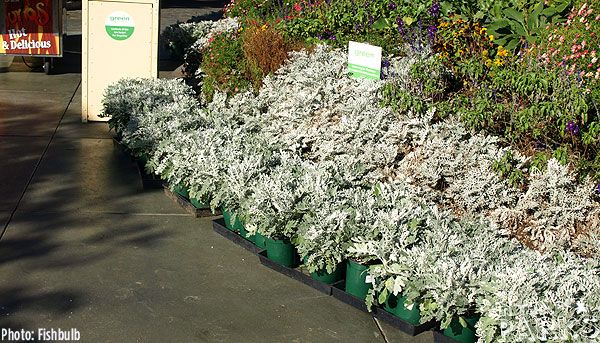 The nursery area of Universal? No, just unfinished landscaping.
INTERNATIONAL CAFE: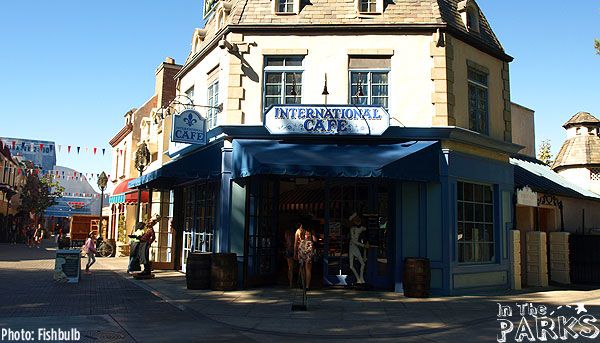 In The Parks has been singing the praises of this location for months. Now it has been formally recognized as an award winning eatery. Kudos to the Uni staff for taking a chance on the word "Healthy" in a theme park setting!
STARWAY:

Along the Starway there is landscaping work being conducted.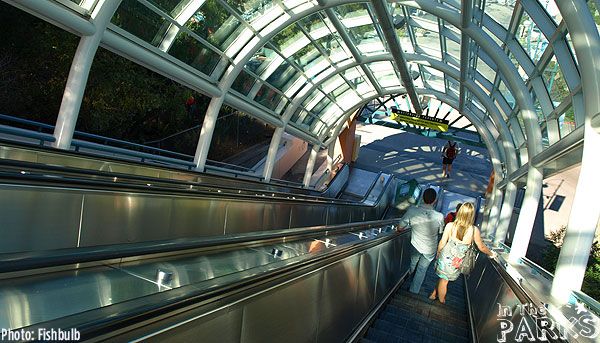 Let's all go to the Starway.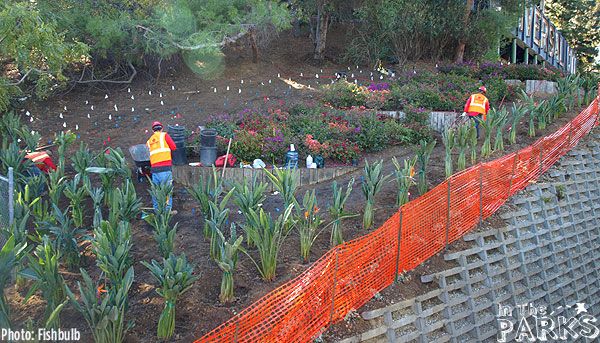 Lots of foliage.
Should be very pretty when they are done.

STUDIO TOUR:

Things are pretty quiet on the studio tour. Although there are a few things happening here and there.


New York Streets:

Additional construction is underway on the New York Street sets near London Square. The construction will extend the facade of New York buildings to facilitate a new film shoot.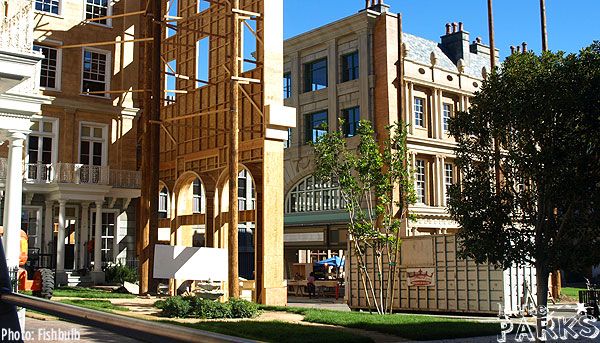 Construction on the streets.


Red Sea/Kong Miniature :

The King Kong miniature at the Red Sea portion of the tour has seen better days as weeds and other flora and fauna have been allowed to ruin the illusion.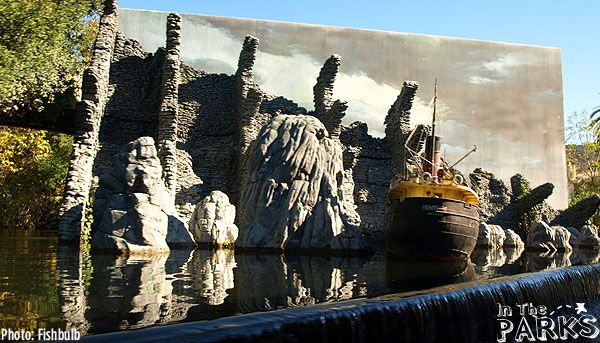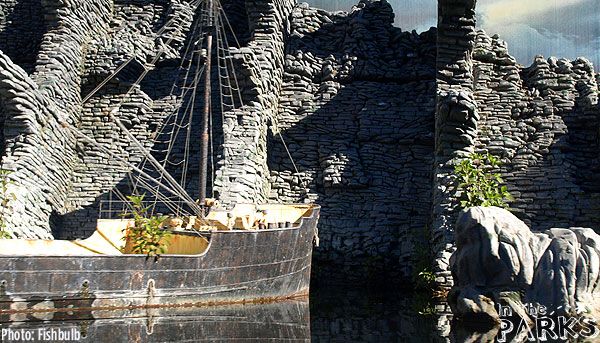 Anybody have some clippers?

Pirates 4:

The Pirates 4 set has been struck and tour guides are now allowed to mention what was being filmed there. A film called, "On Stranger Tides."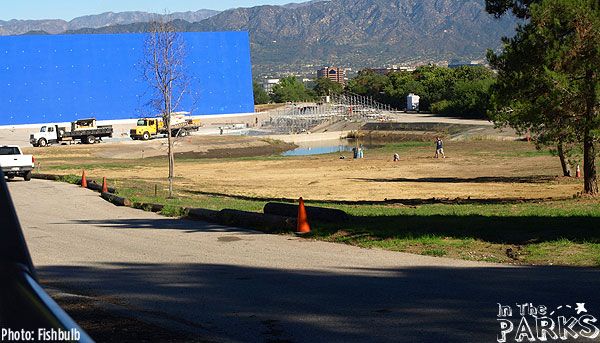 Not much left.

Desparate Housewives:

Filming has continued on Wisteria Lane and silence is enforced in this area.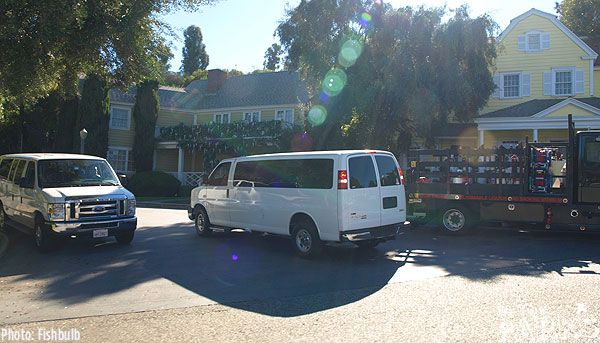 Tours are not allowed here today.



SPECIAL ORLANDO COVERAGE:
While readers may have noticed that last week was a best of Halloween column with no new photos of Disneyland, there was a good reason for that. We, along with a group of nearly 50 MiceChatters, took a fantastic trip to Orlando organized by the wonderful Teresa Cory of Fairy Godmother Travel.
Fishbulb will be posting a full trip report in the WDW section of MiceChat within the next few days. But what follows is a little teaser of the trip and some of the amazing things that we got to see and do.


MAGIC KINGDOM:

This year, the Magic Kingdom rivaled Disneyland in Halloween festivities and decorations. While some of the Magic Kingdom was in spirited Halloween mode, other portions of the park resembled Disney California Adventure with a collection of construction walls and passageways.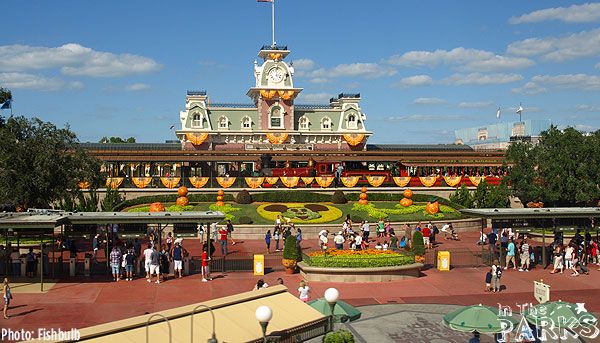 This was Halloween! This was Halloween!

Fantasyland:

Step through Cinderella's Castle and one finds that the back side of Fantasyland has been torn off. From the Small World Show building on the left, all the way to Mickey's Toontown on the right stands the longest construction wall since Paradise Pier's blue corridor. This is a GOOD THING folks. Seriously. But the plans have changed since last year's D23 announcement about the Fantasyland Forrest.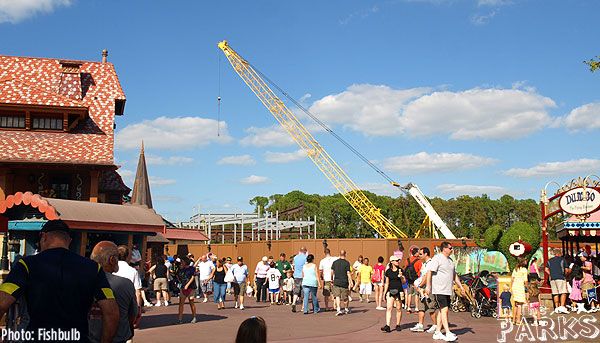 Framework of the new restaurant spikes upward.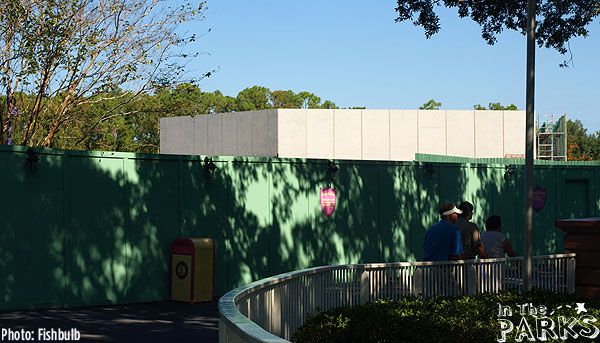 The Little Mermaid: Ariel's Undersea Adventure is being constructed on virtually the same spot as the 20,000 Leagues attraction once called home. Ironic, No?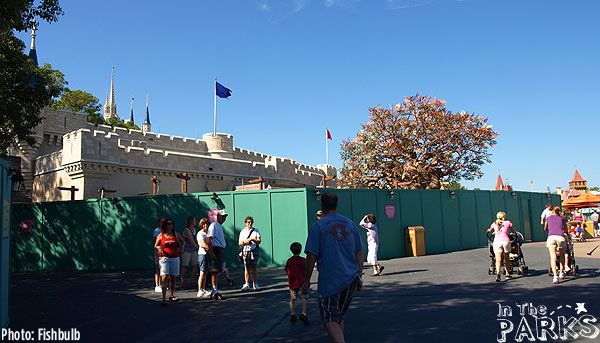 While remaining open, the area in front of Winnie the Pooh is receiving a major makeover.


Those Plans you heard about:
Yes it is true. The plans for the Fantasyland redo have changed. But only partially. You see, The brand new Little Mermaid Ride and the Beauty and the Beast Restaurant and meet and greet broke ground first and were well underway when Disney Theme Park President, Tom Staggs began to question the girl-centric direction that this major part of the Magic Kingdom was taking.

In a shrewd move, Staggs asked that things be reconsidered in a way that would not alienate the rest of the family, most importantly, young boys. After all, why go after one target when you could easily hit both?

A new 7 Dwarfs themed Mine ride Roller coaster is being kicked around imagineering as a possible solution. Of course this will probably come at the expense of another existing attraction.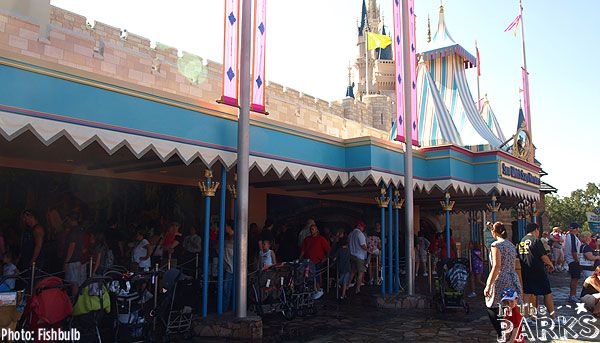 Rumor has it that Snow White's Scary Adventure will be closed soon to make room for a temporary meet and greet, and later a new darkride experience.


This lesser attended attraction is an obvious target for redevelopment, even if it is fondly considered a classic by fans.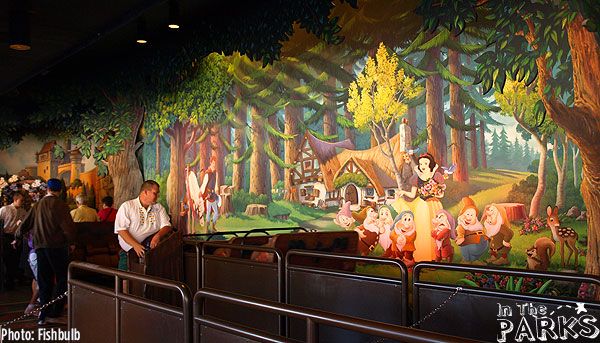 I'm wishing

Tomorrowland Grand Prix:

Walls have gone up along the course for Tomorrowland Grand Prix.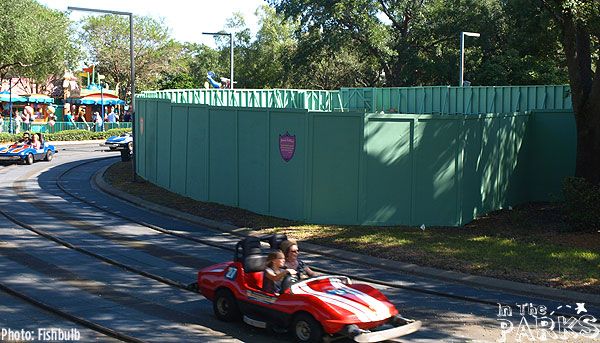 Even the rides are getting construction walls

Haunted Mansion:

Meanwhile Haunted Mansion's graveyard queue has been walled off. Rumor is that this is to install a new type of interactive queue. Much of the new Fantasyland as well as future Tomorrowland attractions will also receive interactive queue enhancements. Love it or hate it, the future is on the way to the Magic Kingdom.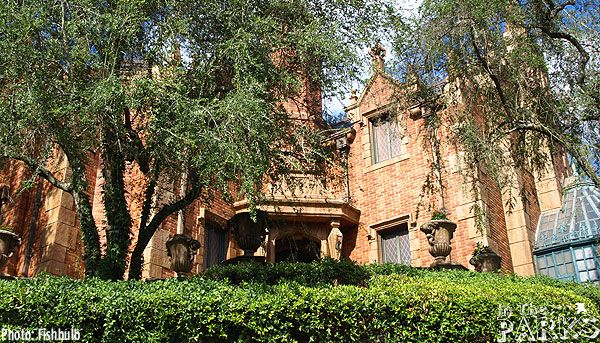 Still the best.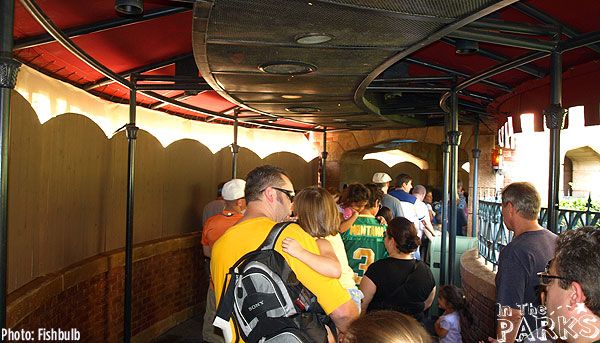 Nothing to see beyond the construction walls to your left, move along.

DISNEY HOLLYWOOD STUDIOS:

Saddly, we have little positive to report from Disney's Hollywood Studios. Aside from the superior Tower of Terror, The (in need of an update) Great Movie Ride, and Rockin' Roller Coaster, there is very little at this park to enjoy at the moment. This is a park that has some wonderful things about it, but has somehow lost its way through the years due to a series of quick fix solutions that were never intended to last as long as they have.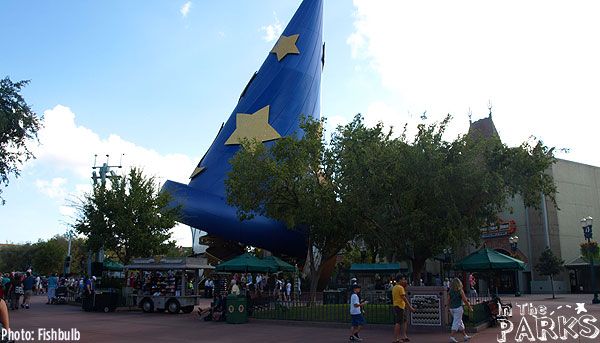 If you look behind the hideous hat...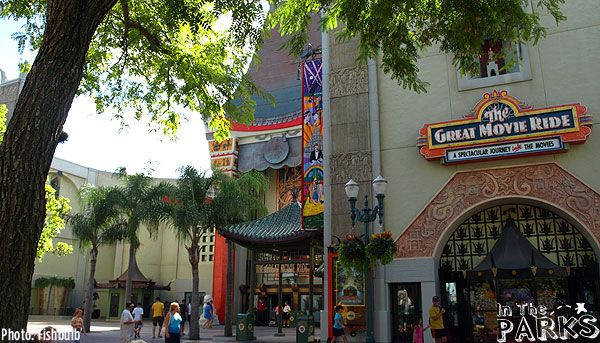 There is a park icon which actually matches the theme of the street.


DHS has four stadium shows. FOUR! That does not include the other stage based attractions like, Voyage of the Little Mermaid, Playhouse Disney, Sounds Dangerous and American Idol Experience. Shows aren't bad, per say, but many of the shows have fallen from their former glory, and many are nearly unrepeatable if you've visited them in the past.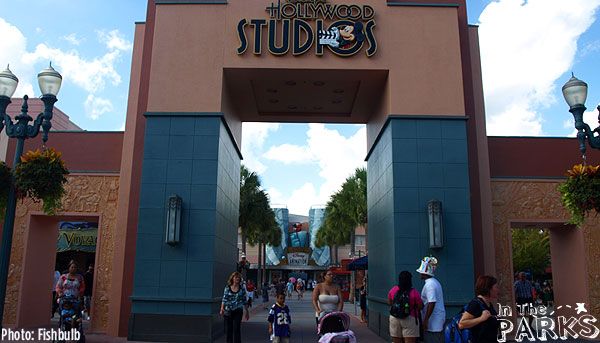 Don't bother with this area of the park.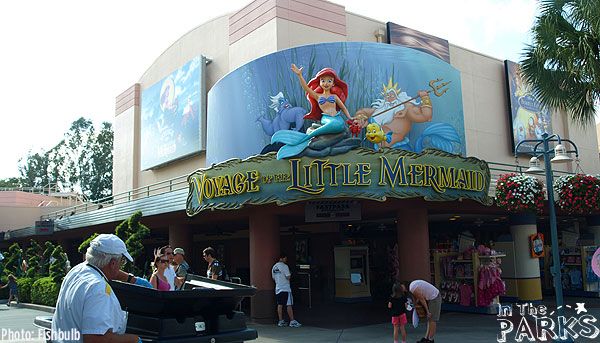 This once great show is now all wet.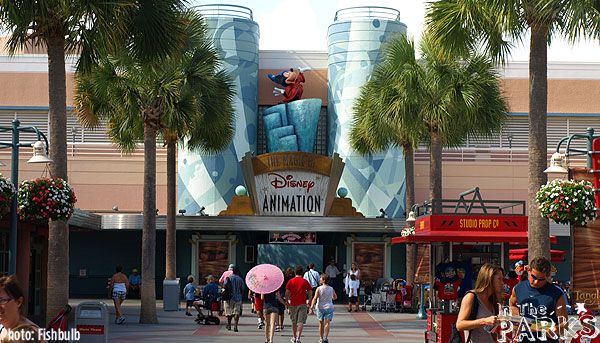 The cobbled together layout of the park really doesn't help much either. Initial plans were to mirror Disneyland's Wagon wheel model with a central hub and logical fanning out. But afterthought, quick fixes, last minute decisions by MBA's who had never set foot in the park dictated a meandering, incomprehensible outer layout.

The Studios park does has some lovely areas. What's more, we feel that it is entirely savable. They could start by getting rid of the awful Hat at the end of Hollywood Blvd and giving the Chinese theater its proper place as the park's icon. Management could then give some attention to the Great movie ride and the other existing attractions in the park to freshen them up and make them more relevant to today's visitors.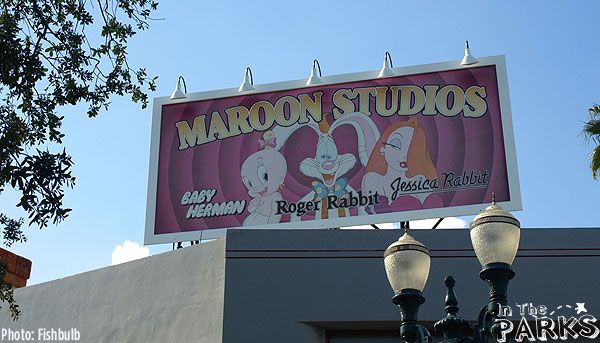 An homage to more creative days.


They next need to abandon the pretense of this being a working studio. Please. Universal Orlando gave that up years ago because it simply doesn't work. Get rid of the stadium shows that pretend to be shooting a movie. In fact, get rid of the "Studio" Tour as well. Nobody is buying it anymore and it is a sad attraction and a total waste of time.

Disney needs to treat this place as a theme park. It IS a theme park. It has some wonderful things but needs to come to terms with the fact that it needs to be revitalized. Disney, Please fix this park! Or perhaps even close it for a few years and redevelop it.

ANIMAL KINGDOM:

While not flawless, Animal Kingdom is one of our favorite WDW destinations. The property was built, not only with the animals in mind, but with a real sense of show and presentation.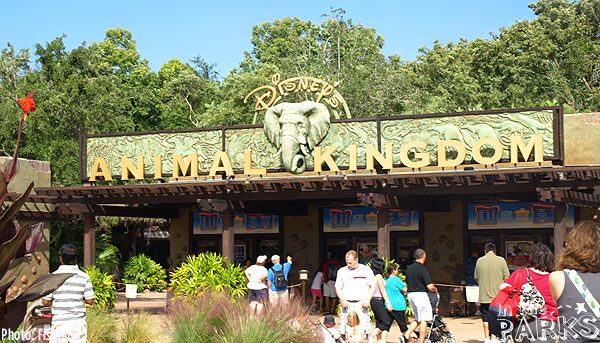 JAMBO!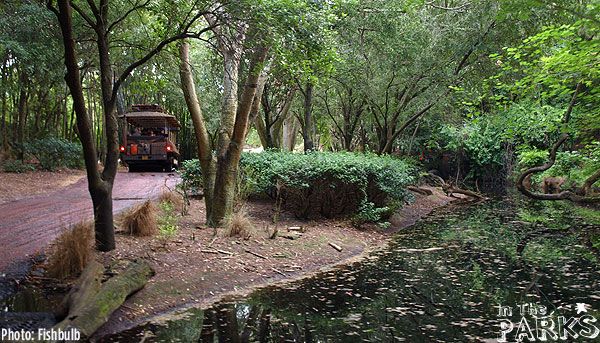 The Kilamanjaro Safari ride is still wonderful.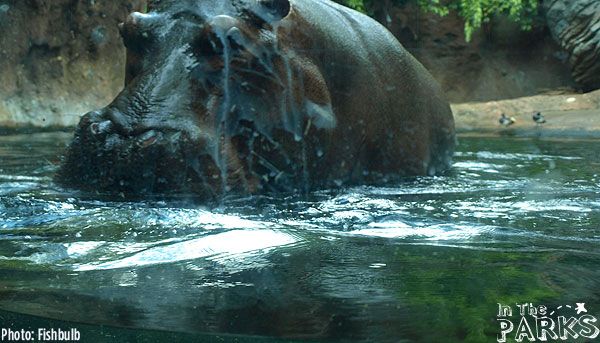 These are real folks. They don't just wiggle their ears and blow bubbles.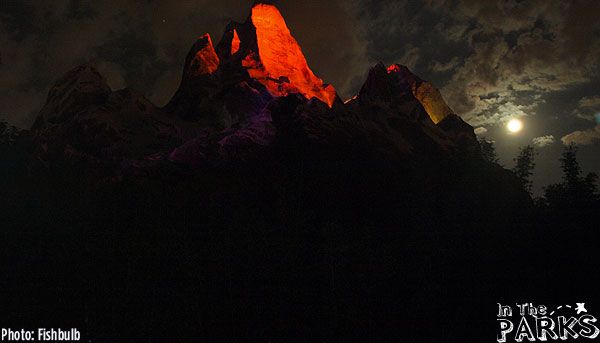 If you are lucky, you can see the park at night (extra magic night hours are a wonderful opportunity to see this park in a new light).

EPCOT:

Good ol' Epcot. With the Food and Wine Festival in full swing the park looked wonderful. Somehow we always get sucked back into Epcot multiple times on every trip. It is a park with some huge operational challenges (due to size and aging attractions) but it is also one of the most unique theme parks in the world.


Illuminations:
Fairy Godmother Travel organized an amazing event for our trip, a fireworks cruise that culminated in an unobstructed, water level viewing of Illuminations.

We all met at the Disney Beach Club and hopped aboard a pair of boats to begin our cruise around the water ways of the resorts near Epcot. Then, just before showtime, our boat parked under the bridge between the France and U.K. Pavilions.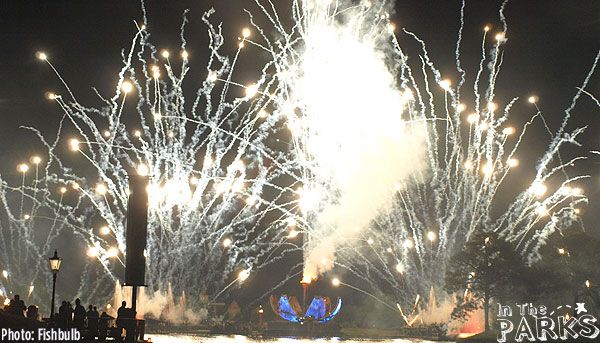 It was magic!


<object width="400" height="224">


<embed src="http://www.facebook.com/v/452034029470" type="application/x-shockwave-flash" allowscriptaccess="always" allowfullscreen="true" width="400" height="224"></object>

HAUNTED CARRIAGE RIDE:

A little known seasonal attraction exists at the Fort Wildernes Campgrounds. The Haunted Carriage ride takes four visitors at a time through the campgrounds and deep into the surrounding trails into the wilderness while listening to the story of the Legend of Sleepy Hollow. Being Halloween fans, Fairy Godmother Travel knew that this would be right up our alley.
It was a spooky and fun little ride.

As the carriage passes by scenery from the story riders go deeper into the dark woods.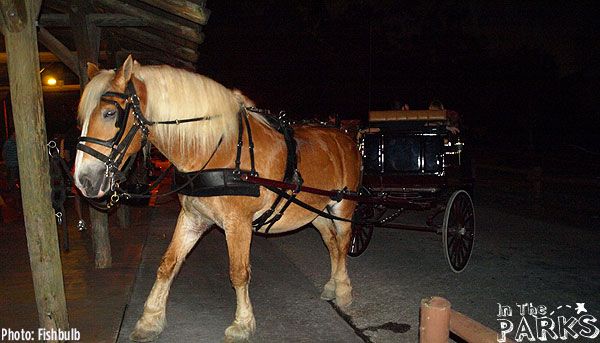 Hop into the carriage.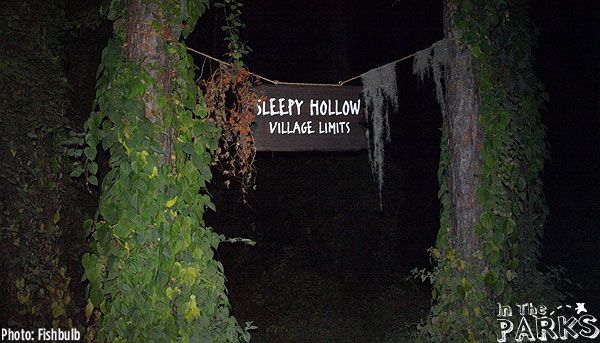 Spooky.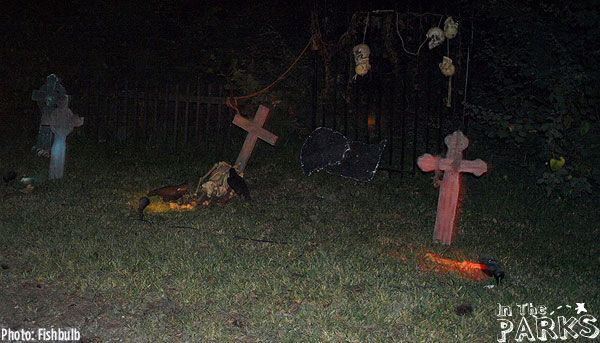 Super Spooky.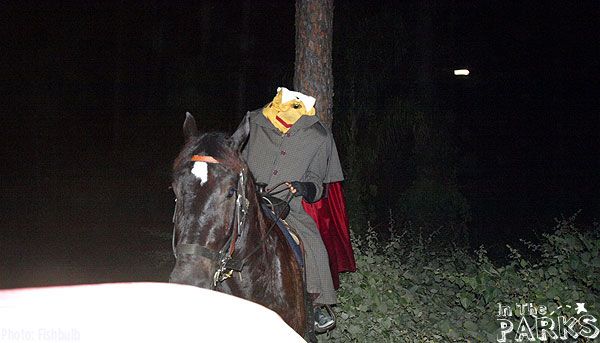 AAAAAAAA The Headless Horseman!


Hoop Dee Doo Review:
The Hoop Dee Doo Musical Review presented at the Fort Wilderness Campgrounds is a rousing dinner theatre presentation that is a total must see. This is one of the most upbeat, fun, classically Disney attractions at Disney World. If you love old school Disney, don't miss the Hoop Dee Doo on your next trip. It is an absolute jem!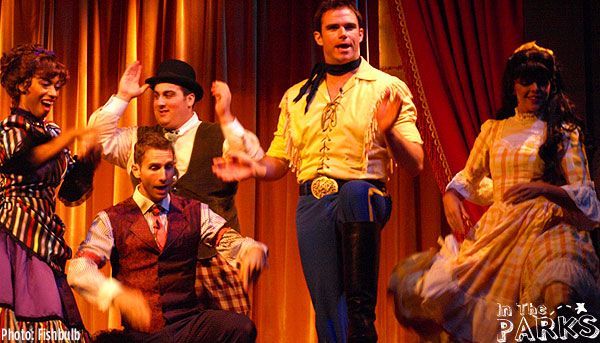 Dinner served included salad, lip smacking ribs, finger lickin' fried chicken and, mashed potatoes, biscuits and service with a smile.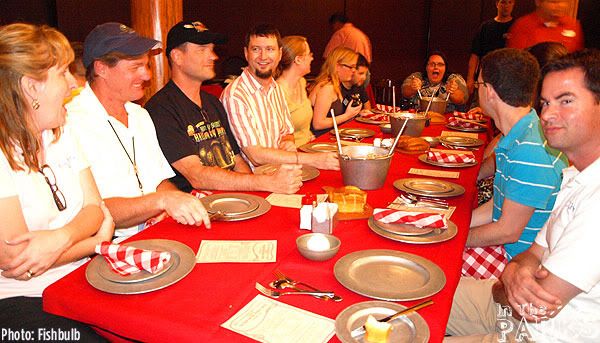 Soup's ON!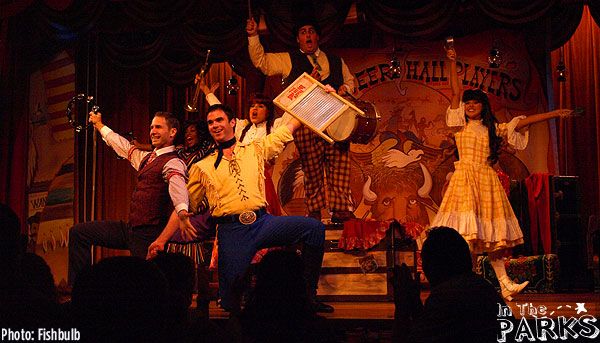 The lively cast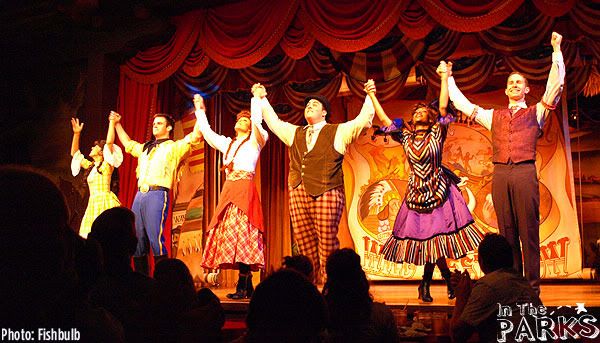 The cast takes a bow.


The Hoop Dee Doo Musical review is one of those things you always hear about but rarely think to plan. Well we are so glad we got to see it and that Fairy Godmother Travel took care of all the planning so we wouldn't miss it. SO much fun.


While this was more of a Disney-centric trip, some of us wanted to see the new Harry Potter land at Universal's Islands of Adventure park. We also stayed late to experience Halloween Horror Nights at Universal Studios Orlando. Our Fairy Godmother arranged a shuttle to pick us up from our Disney hotel. There was hardly enough coffee to make us chipper at 7am but we did it! And we were richly rewarded.

THE WIZARDING WORLD OF HARRY POTTER:
Harry is all grown up now. Buy that we mean that this brand new land, which has helped Universal Orlando increase attendance by 36%, has begun worked out most of the kinks in operation and has helped make Universal's Islands of Adventure THE must-see attraction in all of Orlando.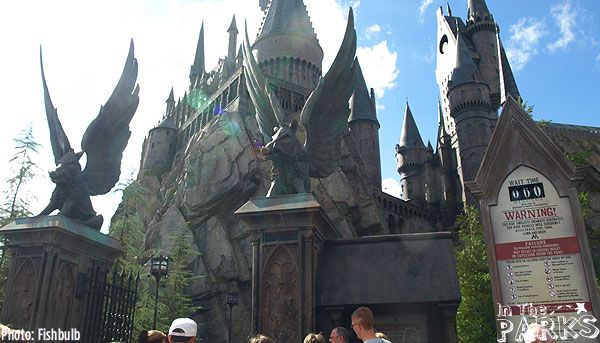 A 60 minute wait that is mitigated by a lovely queue which is an attraction in its own right.

Yes the big saving grace is that the E ticket in the area, Harry Potter and the Forbidden Journey, has an impressive capacity with a line that just keeps moving. But what about those oppressive lines you may have heard about just to get into the new Wizarding World? They are being handled expertly by Universal staff.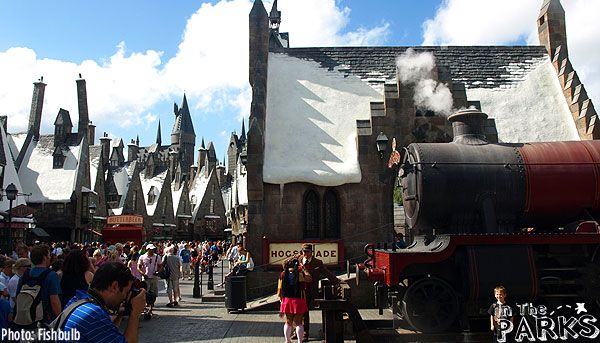 Only Tokyo's Disney Sea park exceeds the level of quality here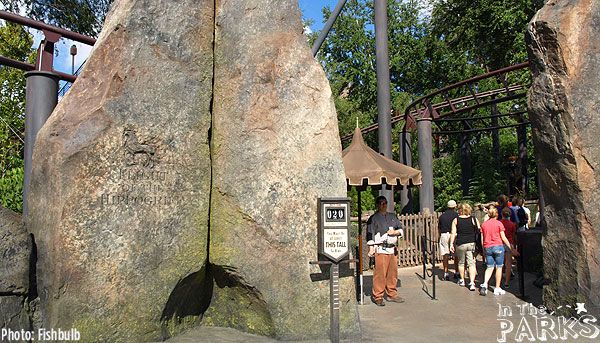 Flight of the Hippogriff was running tightly with two trains being cycled on the small track.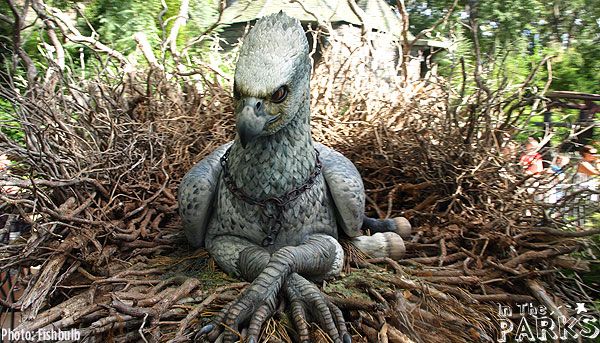 This animatronic helps keep guests in line distracted from the wait

In fact all of the lines do a fine job. The lines aren't the problem. It's the capacity of the shops in the land. But most problematically, Olivander's Wand shop.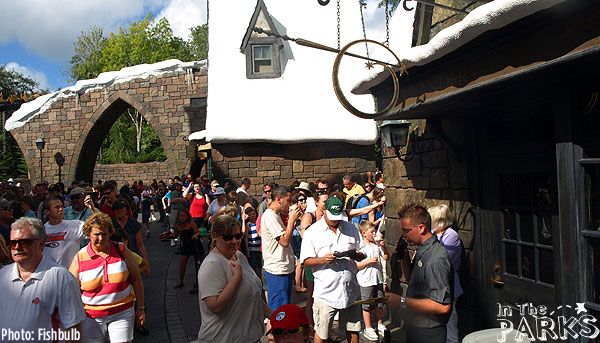 The wait for this shop EXCEEDED the wait for the E-Ticket Attraction in the land.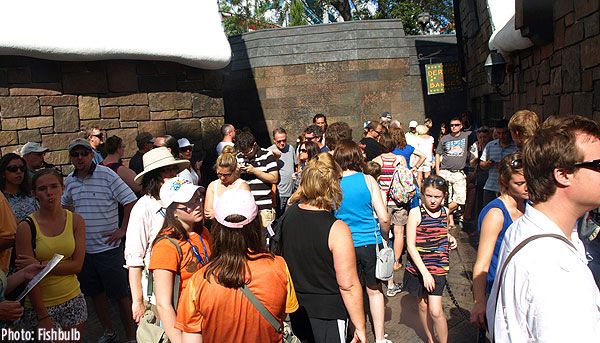 At 11:00am the wait to experience the Olivander Wand experience stretched to 1 hour 15mins.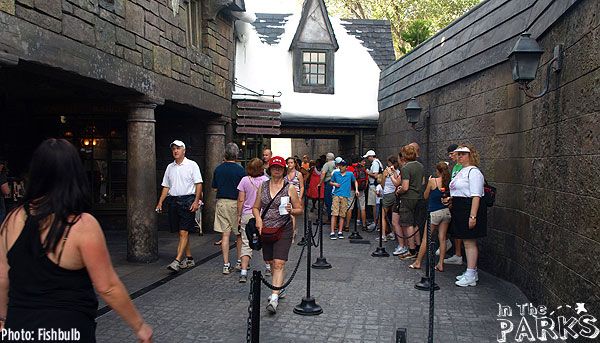 There was even a separate 10 minute queue just to enter the shop without seeing the mini Olivander show.
Honeydukes, on the other hand has made some accommodations to allow for greater capacity.

One full aisle of shelves was removed in order to improve guest experience.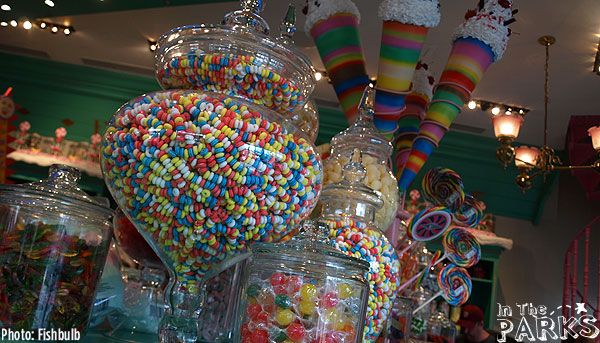 SWEEEEEEEEET.


Islands of Adventure Overall:
Islands of Adventure has certainly benefited from the boost in attendance it has experienced. While the park is still an expertly designed wonderland of theme and immersion it now needs to just go a little bit further and finish off the rough edges.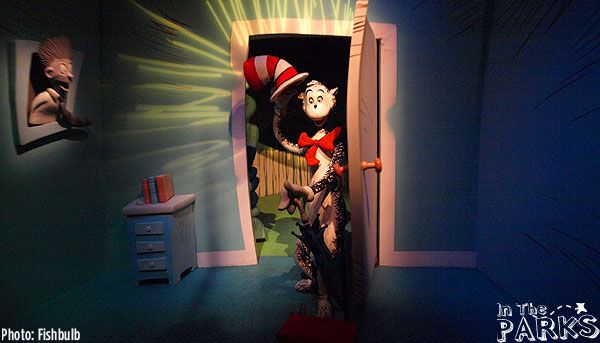 The lovely Cat in the Hat ride still delights.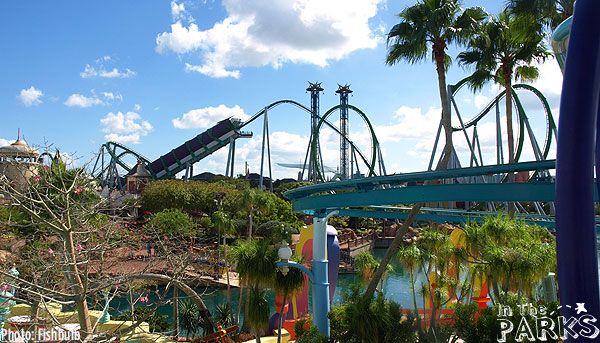 Hopefully with the surge in attendance and uptick in revenue this park will finally realize its full potential. They are certainly already giving Disney a run for their money and most agreed that this park was a highlight of the entire trip.

There is much more of our trip that we'll be sharing soon, some amazing meals, tours, celebrities, Dusty and Fishy get all wet . . . and a big mouse got into our hotel room while we were in the parks one day . . .


<object width="480" height="385">


<embed src="http://www.youtube.com/v/NyCdLK9L90U?fs=1&hl=en_US&color1=0xe1600f&color2=0 xfebd01" type="application/x-shockwave-flash" allowscriptaccess="always" allowfullscreen="true" width="480" height="385"></object>


We would like to thank Teresa of Fairy Godmother Travel for organizing what was one of the very best trips we have ever taken to the Walt Disney World area. The entire trip was planned, thought out expertly, and exceeded our expectations in nearly every way. We did not have to think of anything. All was handled for us by our travel agent and we were allowed, for the first time in ages, to just experience the magic of Disney World and relax. It was certainly a wish come true. Thank you Fairy Godmother Travel!

Join us next October as we take a cruise on the brand new Disney Dream: MiceChat Dream Cruise October 23rd through 27th 2011



<object width="640" height="385">


<embed src="http://www.youtube.com/v/Ai8dWffWrns?fs=1&hl=en_US&color1=0x234900&color2=0 x4e9e00" type="application/x-shockwave-flash" allowscriptaccess="always" allowfullscreen="true" width="640" height="385"></object>

Irvine Holiday Faire
Friday, Nov 5 5:00p to 9:00p
at Irvine Fine Arts Center, Irvine, CA
Price: $2 per person
Phone: (949) 724-6880
Handmade and one-of-a-kind items are the hallmark of the Irvine Fine Arts Center's annual Holiday Faire. More than 150 talented artisans will showcase a variety of unique holiday arts and decorations for purchase including hand-blown glass, ceramics, jewelry, porcelain dolls, clothing and more. The faire also features live music and a selection of delicious foods and desserts, including the ever-popular handmade ceramic collector bowls filled with piping hot chili.
Taste of San Clemente - San Clemente
November 5, 2010
Held under the stars, this annual event serves up culinary masterpieces from over twenty of the areas finest restaurants, as well as sixteen premium wineries from throughout California, ice cold Microbrews and more. Everyone is sure to find something pleasing to the palette.
The Autumn Festival of the Aquarium of the Pacific
Delve into the arts, cuisines, cultures, and marine environments of Asia during the Aquarium of the Pacific's ninth annual Autumn Festival. The Autumn Festival highlights the traditions and cultures of Japan, China, Korea, and the Philippines through a weekend of learning opportunities and family entertainment, celebrating the richness and diversity of Asian and Asian American cultures. The festival will feature traditional crafts, music, dance, demonstrations, cultural arts exhibits, ethnic cuisine, storytelling, and much more. Move to the sounds of taiko drumming, watch dancers, acrobats, and martial arts demonstrations. Try your hand at origami, and purchase hand-made crafts. The Autumn Festival is a joint project of the Aquarium of the Pacific and RYOMA.
Hear NoHo
Thu, Nov 4, 8 pm - NoHo Arts District, North Hollywood
Come to the NoHo Arts District for HEAR NoHo and join the local arts community in celebrating the talents of EMERGING MUSICAL ARTISTS. Businesses throughout the NoHo Arts District participate by hosting events, extending business hours, offering discounts and specials to those attending, and by donating their time and services, thus making Hear NoHo a true grass-roots, community event. Admission: $10
AFI Fest
Thu, Nov 4 - Thu, Nov 11 - Various Locations throughout Hollywood
International work from emerging filmmakers, global showcases of films from the great masters and red-carpet gala premieres. Last year, AFI FEST broke new ground by offering free tickets to all of its screenings. With the support of Audi, the festival's presenting sponsor, and other committed sponsors, they are happy to continue offering free tickets to all screenings this year.

14TH ANNUAL LONG BEACH VETERANS DAY PARADE
Date: November 6, 2010
Times: 9a.m.
This years Long Beach Veterans Day Parade promises to be better than ever. From the Grand Marshal to our line of march, there will be something for everyone. Make sure you mark your calendars for Saturday, November 6, 2010 as the City of Long Beach plays host to Southern California's best known Veterans Day Parade.
Thank you for reading!

Don't forget to move your clocks back one hour this Sunday (Nov 7th at 2am) for the end of Daylight Saving Time!
We hope you enjoyed this epic edition of In The Parks, we'll be back next week with even more fun thoughts and photos from the parks and entertainment locations you love!
There's a
world of Disney and theme park fun

on MiceChat, might we suggest:
Weekend Update

Offers a world of Disney theme parks and other sights and landmarks!



Dateline Disneyland which is packed with great news and photos from the Disneyland Resort.
Tell your friends about MiceChat and In The Parks - sharing is caring!
Today's update was brought to you by our fantastic and talented crew of
photographers and news contributors

F!an,
Sir
Clinksalot

,
Captphoebus,

Pratt55,
Fishbulb,
and Dustysage
.

If you have photos or news to share, please contact dustysage@micechat.com. We'd love to hear from you!


And that brings us to the end of another In The Parks update. Until next week . .
.