Like sands through the hour glass, Summer gives way to Halloween and pumpkins give way to Christmas. Thanksgiving is all but a lost tradition for theme parks these days in the mad dash to get those Christmas items on the shelves as early as possible. But it does give us a bit more time to enjoy the ever expanding holiday activities in the SoCal area. This week, we have a couple of
HOLIDAY
SPECIAL
ALERTs
for you. Keep an eye out for your chance to win some prizes in today's update. You'll want to read all the way through. Let's get to it, Santa and his elves are waiting for us.


<script src="http://connect.facebook.net/en_US/all.js#xfbml=1"></script><fb:like href="http://micechat.com/forums/blogs/in-the-parks/1663-parks-ho-ho-holiday-hoedown-disneyland-knotts-universal.html" font="trebuchet ms"></fb:like>

Park Hours:
Fri. 11/12 - 8:00am-12am
Sat.
11/
13 -
8:00am-12am
Sun.
11/
14 -
8:00am-11:00pm
Mon.
11/
15 -
10:00am-8:00pm
Tues.
11/
16 -
10:00am-8:00pm
Wed.
11/
17 -
10:00am-8:00pm
Thurs.
11/
18 -
10:00am-8:00pm
On your mark, get set, GO! Christmas officially starts November 12th and Disneyland is decorated and ready to go. The Christmas tree has sprung to life in Town Square at the start of Main Street U.S.A. and festive music fills the air. The last touch is to flip the switch on small world holiday and it's time for holiday cheer. Let's take a look at what is shaping up to be another very merry Christmas.
MAIN ENTRANCE:
Snowflakes have replaced the pumpkins above the main entrance to the park. Plenty of sparkle and shine.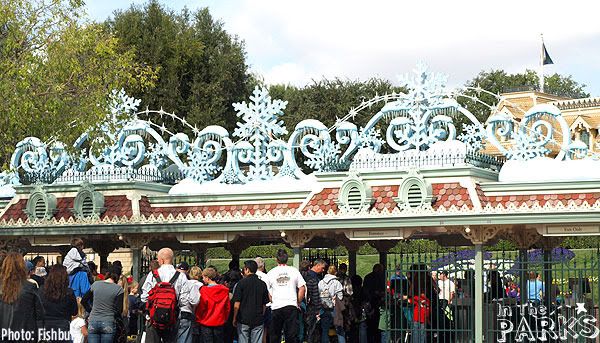 So pretty, so chilly.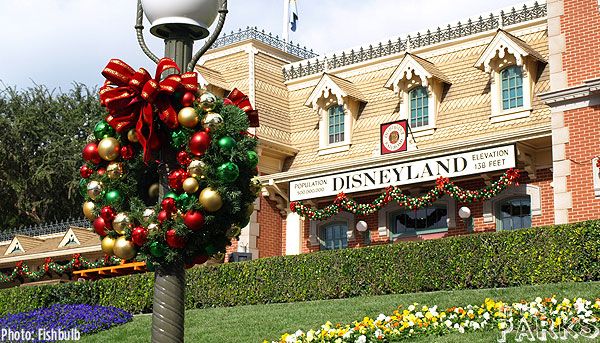 A lovely way to begin your visit.

MAIN STREET:
The Tour garden just to the left of City Hall is under refurbishment. This has not affected tours and all continues to operate normally.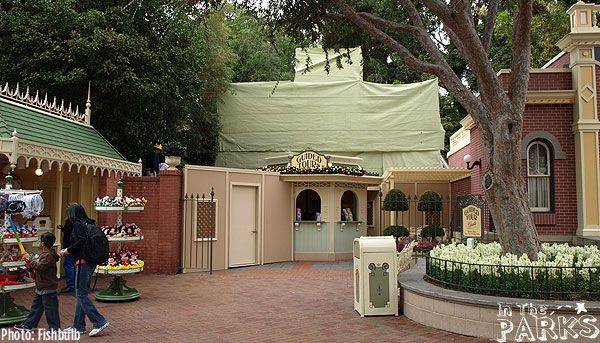 Despite refurbishment, tours continue.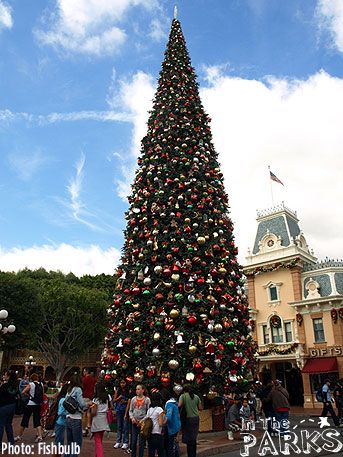 Forced perspective makes this tall tree seem even taller.
The same decorations are used throughout, but larger
versions appear at the bottom and smaller ones at the top.
It is the same illusion used on the buildings of Main Street as well.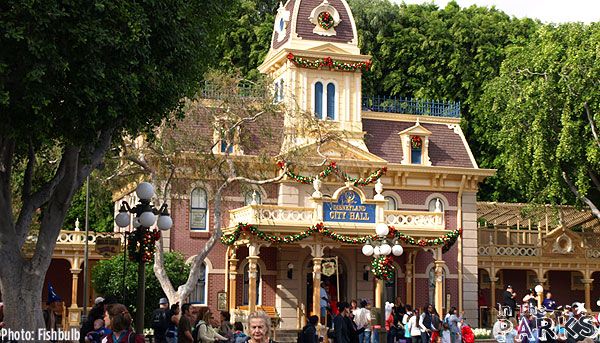 City Hall dons her holiday garlands.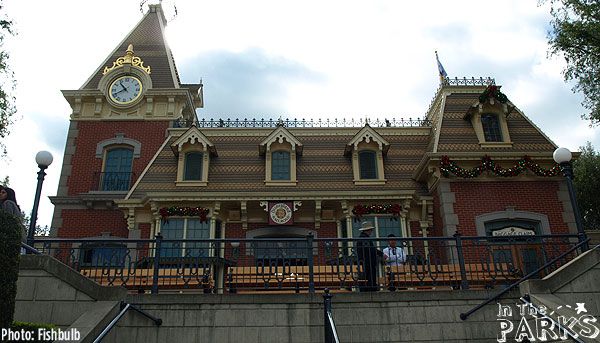 Main Street Train Depot.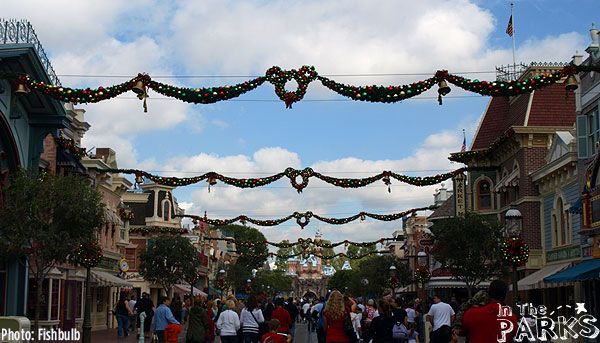 The garland has been strung above Main Street with care.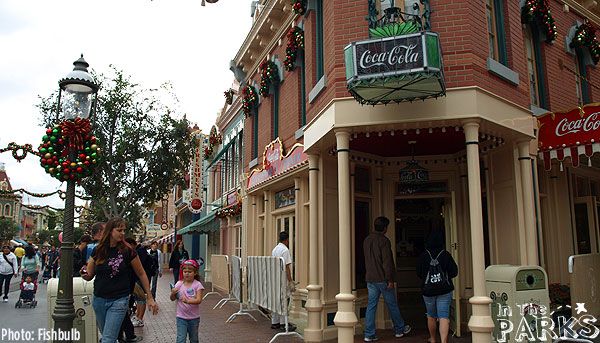 In hopes that a cola fix soon will be there.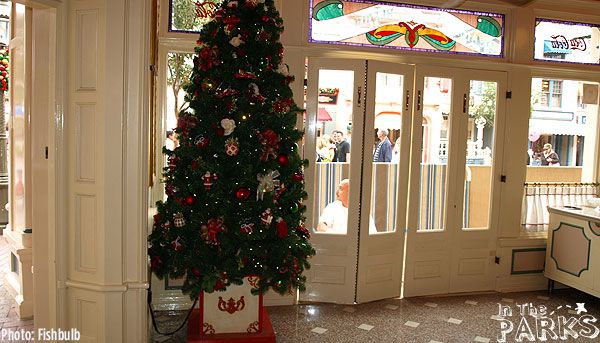 Have a Coke-y Christmas!



Truly a magical place.


Disney Showcase:

The Disney showcase store on the right hand side of Main Street has been fully stocked with all the Christmas goodies.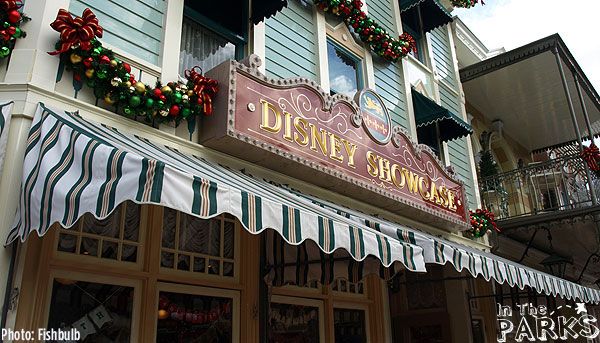 Disney Showcase ready for shopping.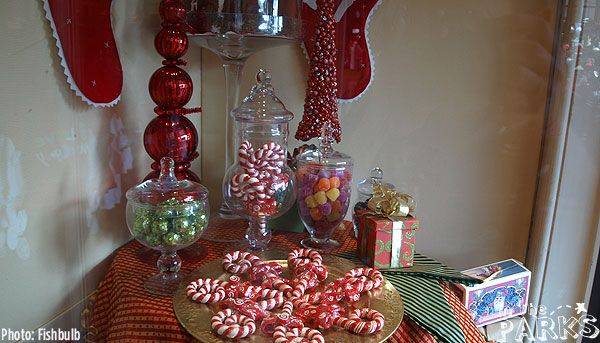 Some great window dressing.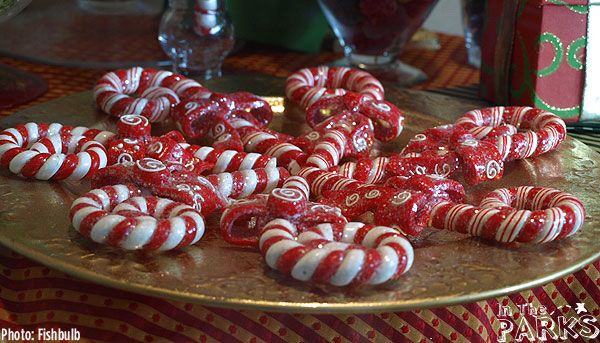 Pretty, but please don't eat the glass candy canes.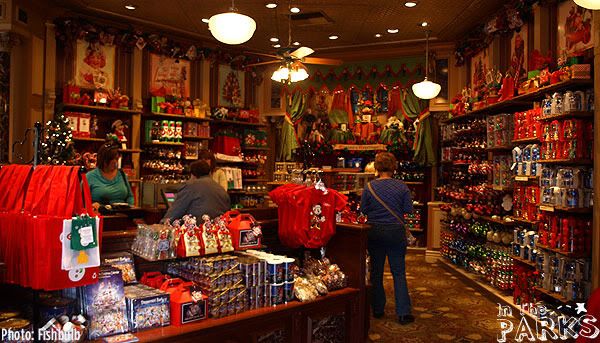 An inviting Christmas shop.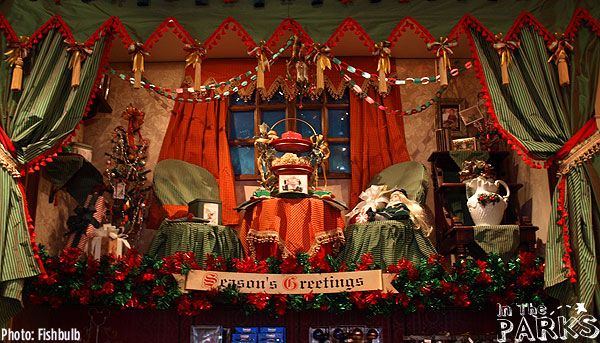 It's the little details that make the magic.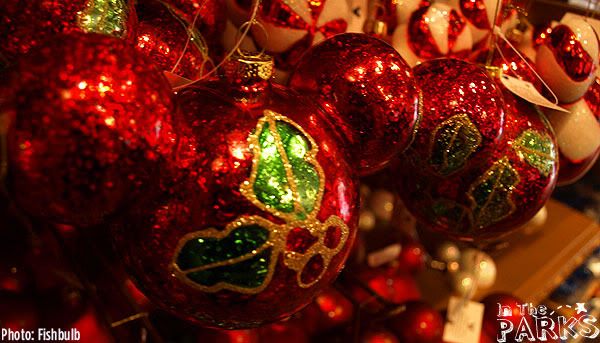 Your choice of ornaments.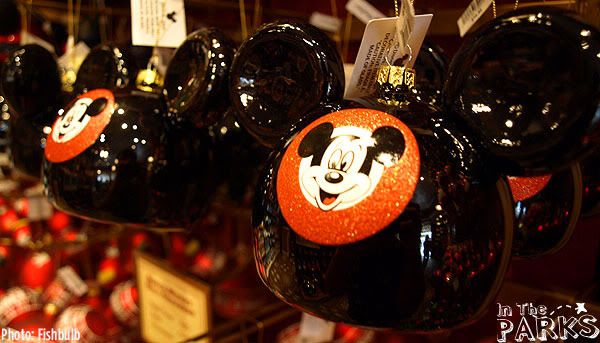 Any Mousketeers out there?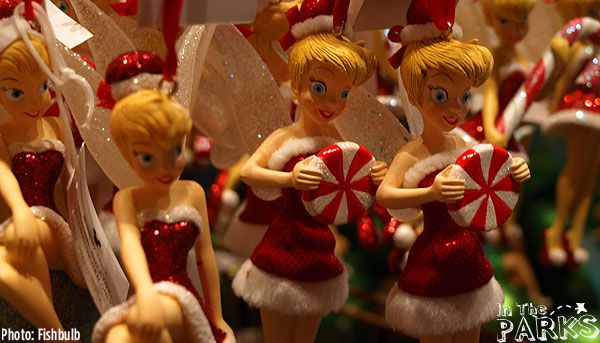 Tinkerbell likes peppermint.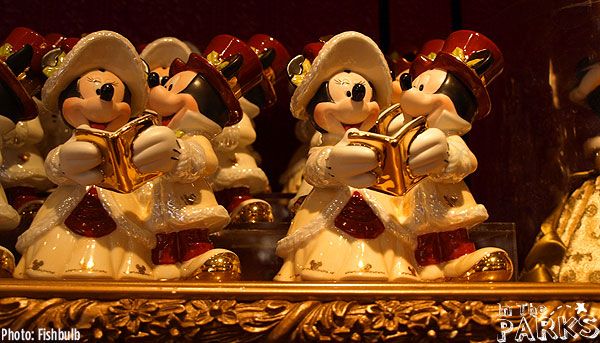 There are also some classic style decorations.



SLEEPING BEAUTY'S CASTLE:
Sleeping Beauty's Castle has been fully frosted. While beautiful at night, the castle's "icicles" still exude cheapness during the day.This is the only sour note on an otherwise stunning decoration on the centerpiece of the park. Hopefully this is the last year for the messy stringed lights posing as icicles.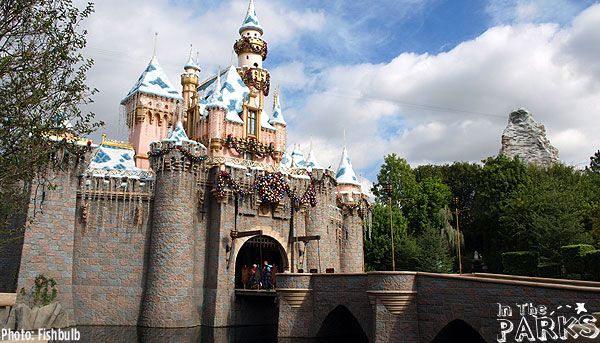 O' Caslte Baum o' Castle baum.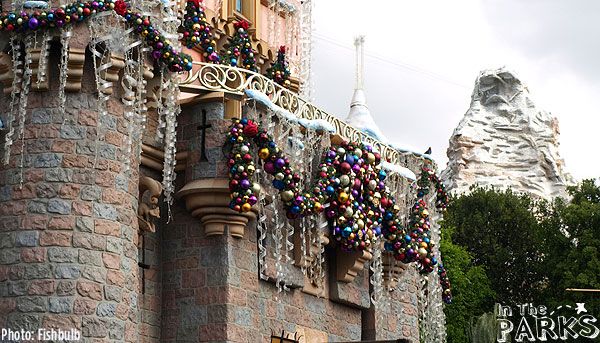 Replace your ugly streamers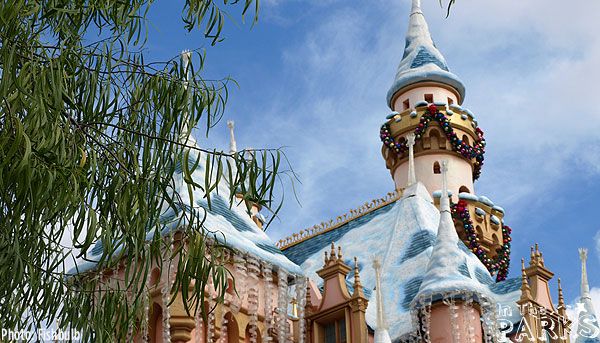 The snow looks amazing though, as do the Christmas decorations.


FRONTIERLAND:
The wild west is poised for another lovely Holiday Season. Nearly all corners of Frontierland have been festivised.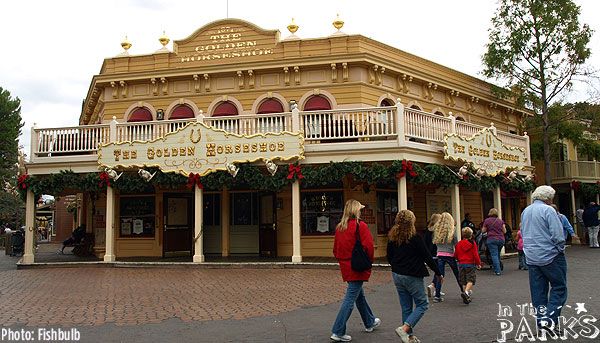 The Golden Horseshoe.

Big Thunder Ranch:

While the cabin at Big Thunder Ranch is still being worked on, the reindeer have settled in.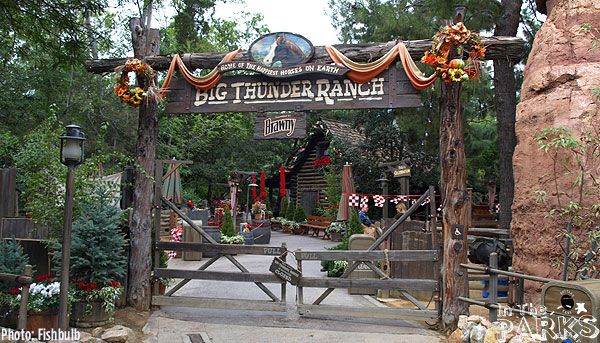 Despite the Fall arch decorations...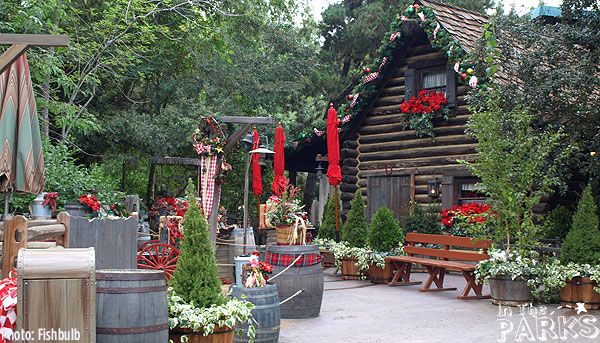 The cabin is decked out in Christmas red and green.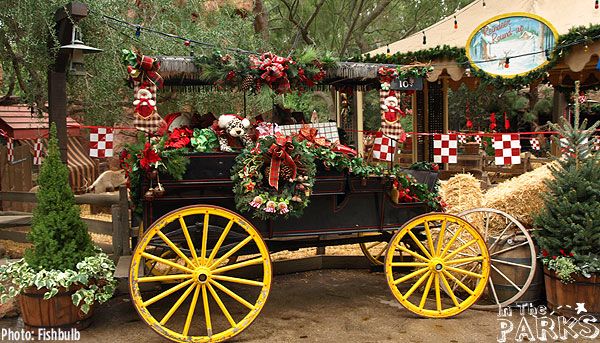 On the opposite side of the corral, near the barbecue, the surrey is decorated with wreath and presents.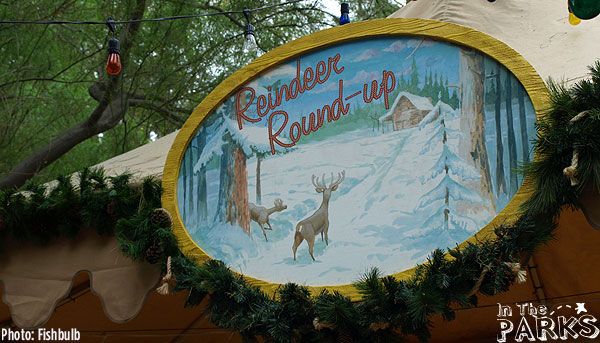 It's time for reindeer.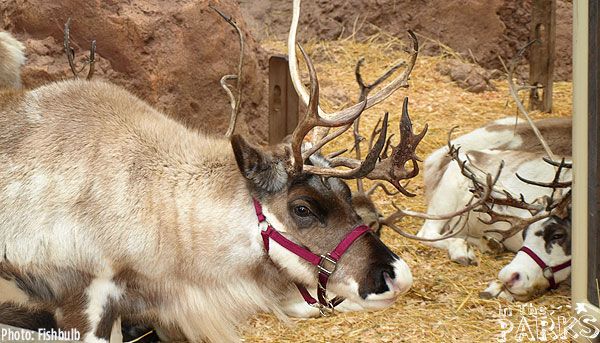 On Donald, on Rootbeer, on Checkers, and Blintzes! (Don't listen to Dusty, he doesn't know their names)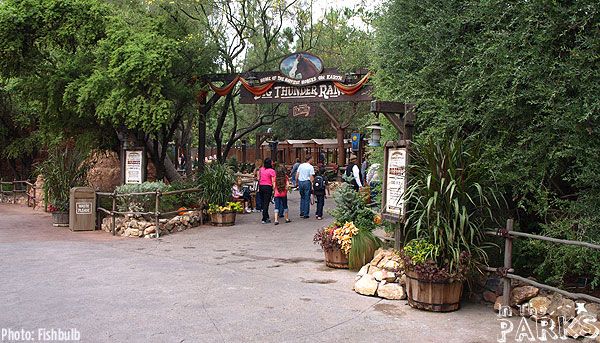 The BBQ remains open during the transition.


MICKEY'S TOONTOWN:
A temporary bed sheet type sign hangs above the tunnel to ToonTown, but the cartoon world is open and has joined in on the Holiday fun. These are some of the most vividly colorful and fun decorations in the entire park.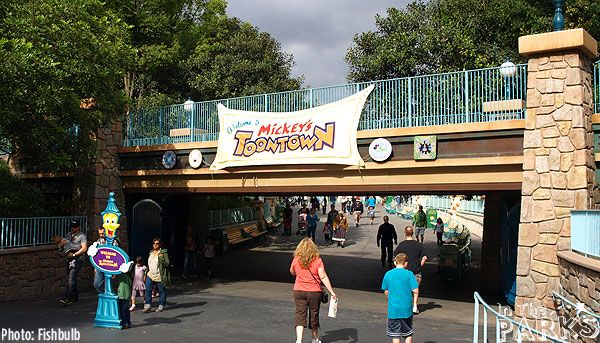 The sign is still being worked on.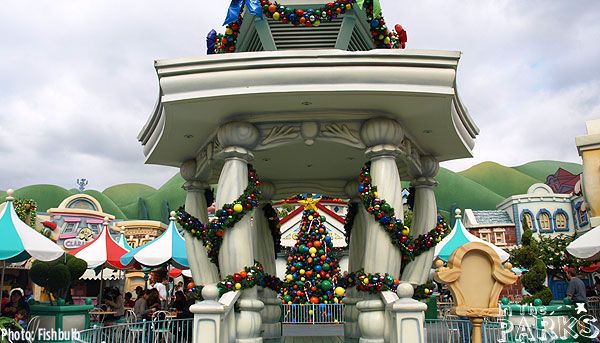 City Hall and the gazebo.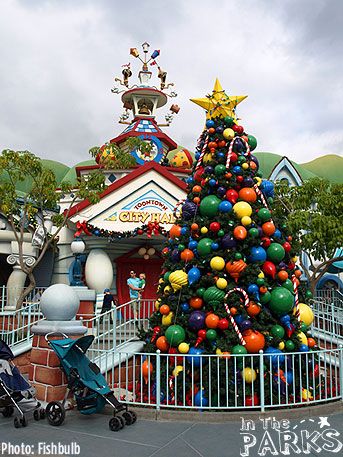 Awesome toon-tree.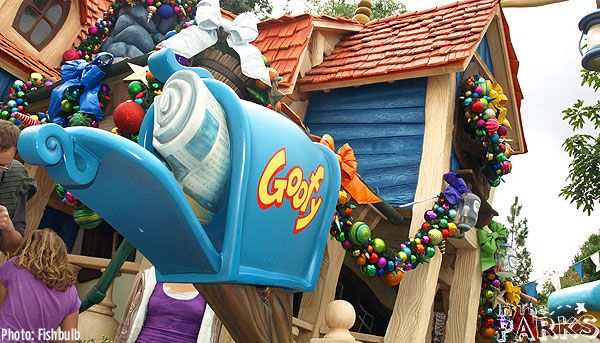 Goofy has put up his decorations.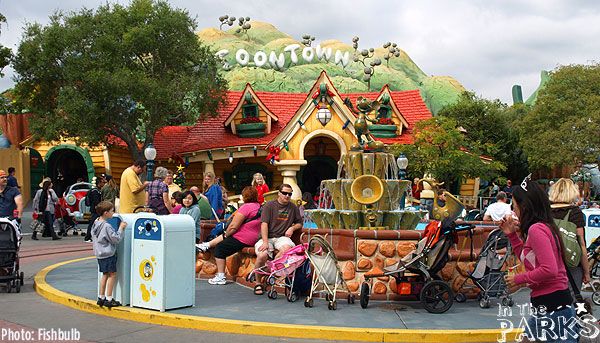 The fountain has come out of refurbishment and looks fabulous.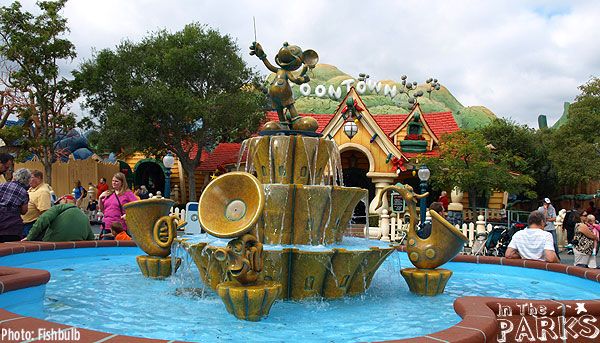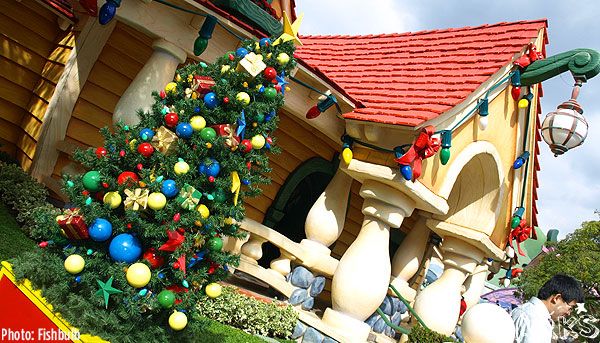 Mickey's tree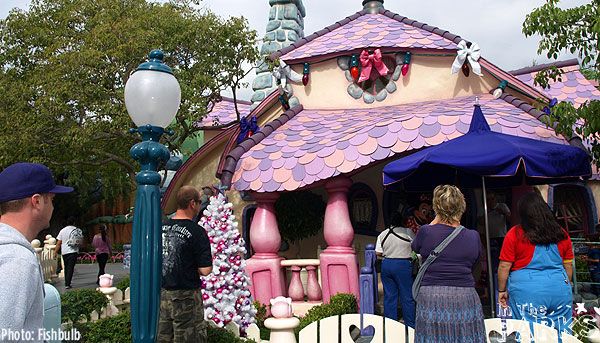 Minnie has kept her decorations in purple tones, naturally.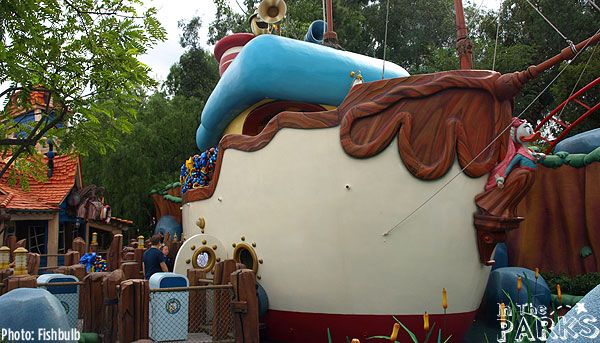 Donald's Boat has returned from refurb as well and is . . . wait for it . . . all DECKED out.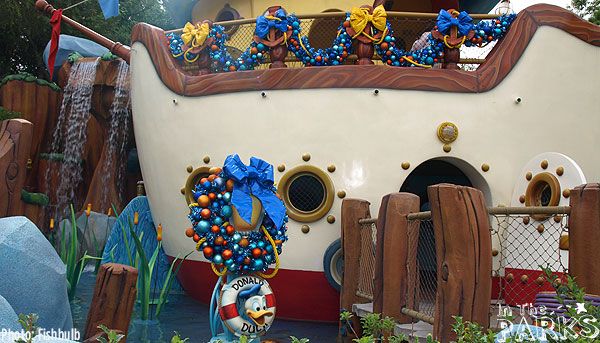 Happy Holidays!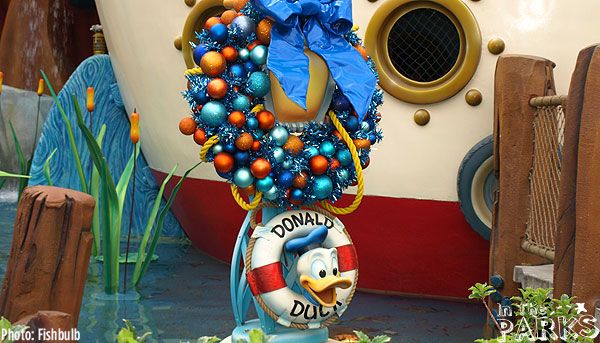 Pretty!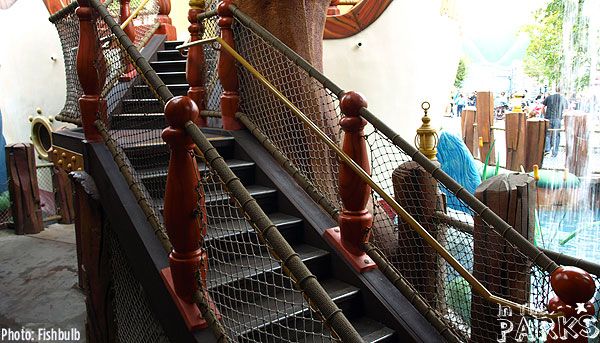 The new, rebuilt stairway behind the boat.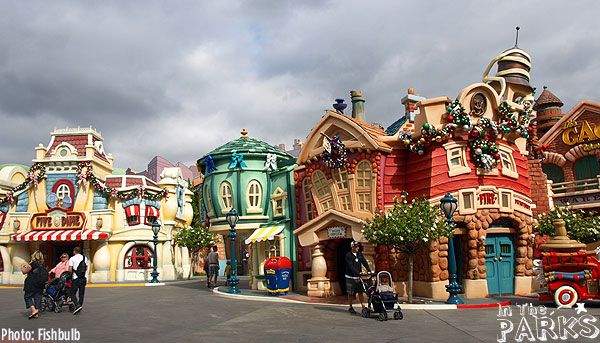 The rest of Toontown.

it's a small world:
Small World Holiday opens today, Friday the 12th, all will be merry and bright. This truly is a delightful sign of the season and something for the whole family to enjoy together.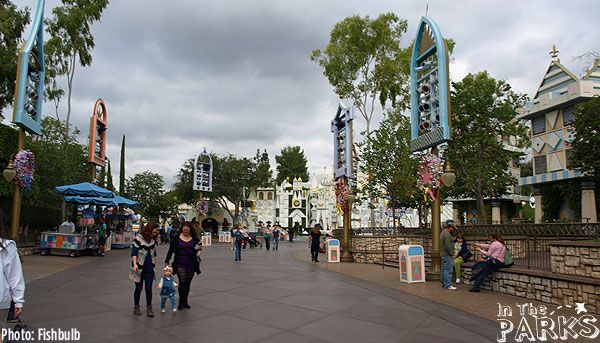 Small World Mall's wreaths are back.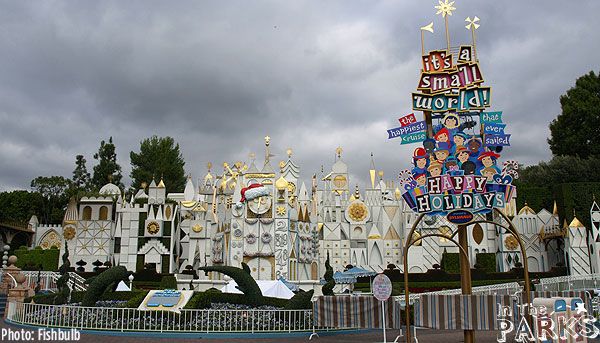 The sign has been modified.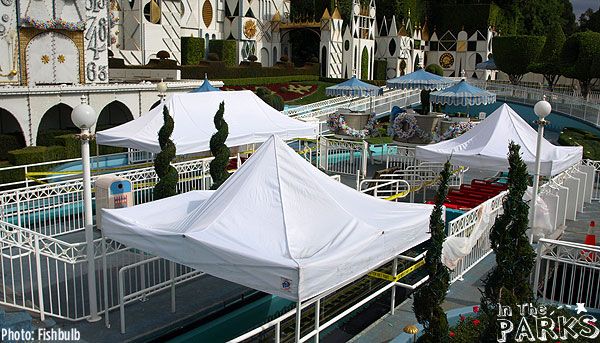 Temporary work tents were in place as this classic old attraction was transformed.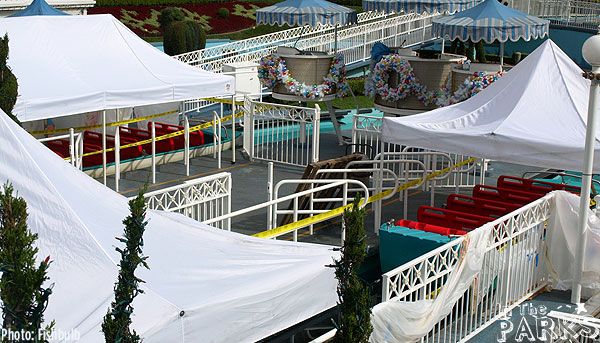 Countdown to Holiday magic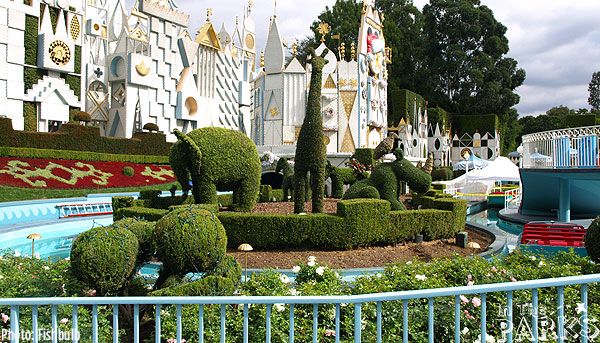 The topiary have been covered in lights as well.

BUZZ LIGHTYEAR'S ASTRO BLASTERS:

Astro Blasters has been shuttered for a brief refurbishment of the ride and the fast pass distribution area. This has caused the entrance of Tomorrowland to look, temporarily, like DCA.
The ride is set to re-open on Friday November 18th.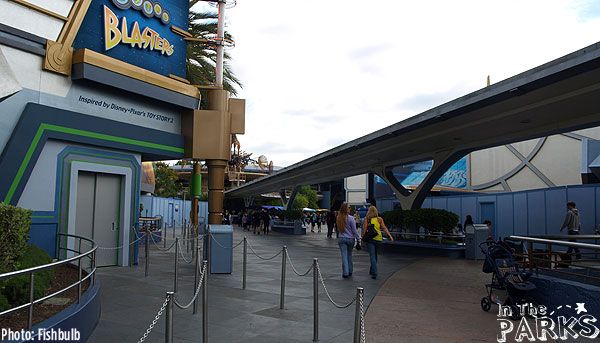 Big blue corridor.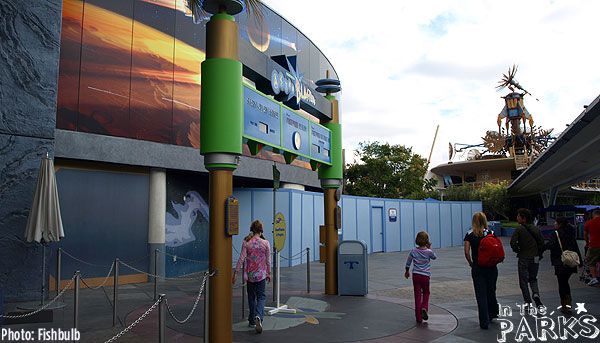 The Fast Pass distribution area behind walls.



Before we get to the rest of today's update, we have the first of two
HOLIDAY
SPECIAL
ALERTs
for you
WIN A BRAND NEW iPOD NANO JUST IN TIME FOR CHRISTMAS

MiceChat is holding a contest through December 15th 2010. Just follow us on Twitter and retweet the following message up to once a day:
Follow @MiceChat on Twitter and you could win an iPod Nano in time for Christmas! Post and Retweet #disneyland #contest
Winner will be notified on Twitter, so be sure to follow us so we can contact you.
That's all there is to it. There is no cost to enter, you just need to be following us on Twitter and retweet the message above.
Full contest details HERE
.

Park Hours:
Fri.
11/
12 - 10:00am-10:00pm
Sat.
11/
13 -
10:00am-10:00pm
Sun.
11/
14 -
10:00am-10:00pm
Mon.
11/
15 -
10:00am-8:00pm
Tues.
11/
16 -
10:00am-8:00pm
Wed.
11/
17 -
10:00am-8:00pm
Thurs.
11/
18 -
10:00am-8:00pm
This past week, Christmas has taken up residence in one of the last remaining open spaces in Disney California Adventure, and major changes have taken place at the entrance of the park. Plus, Cars Land, Mermaid, and Paradise Pier construction continue to pick up speed.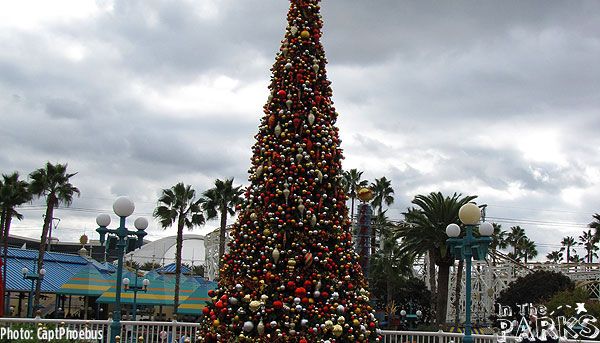 The Christmas Tree for DCA in Paradise Pier


ENTRANCE:
The Tile mural is 3/4 gone now and soon will soon become a footnote in a sad chapter of Imagineering history. With removal, comes progress. And we couldn't be happier to see so much work doing on here.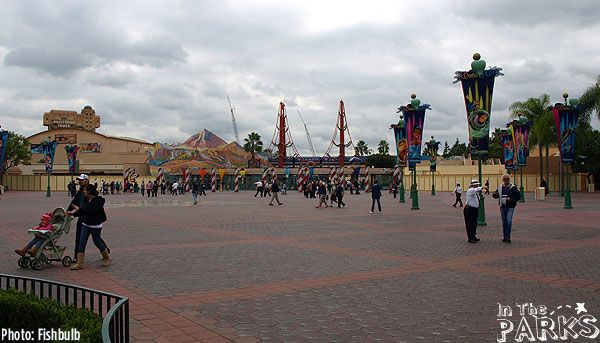 Construction walls on both sides of the entrance.

<strike>SUNSHINE PLAZA</strike> BUENA VISTA STREET:

Even more striking is the demolition of the Sunshine Plaza. Electronica's wall and stage were pushed out to the outer walk way, the Sunshine hubcap was dismantled, and the interior of the plaza is now fully enclosed by construction walls. Now the trees and foliage that obscured the show building for It's tough to be a bug have also been cleared away. Work can now begin in earnest on Buena Vista Street.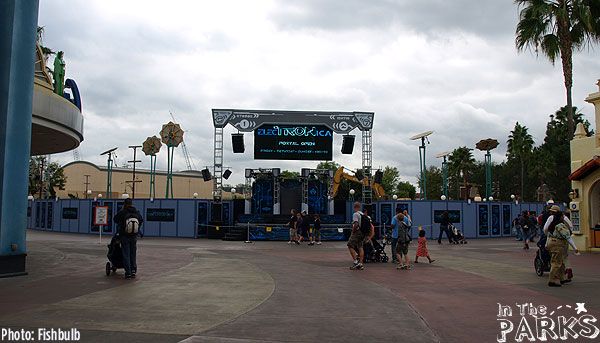 Wow! Notice what's missing behind they ElecTRONica sign?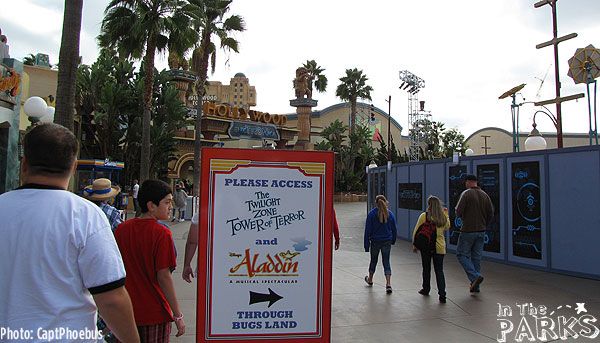 Hollywood Pictures Backlot is still split in half by construction.



With our back to Condor Flats, looking at Tower.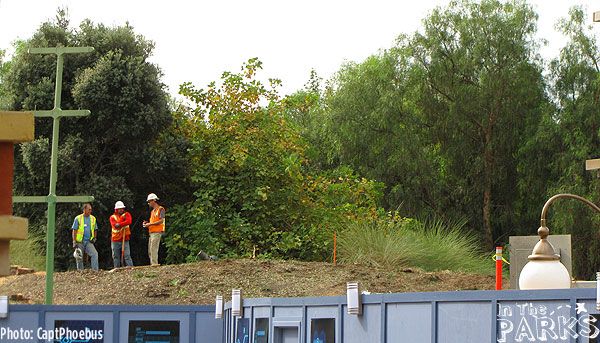 Where the Hubcap once stood.

RED CAR TROLLEY:

More of the Red Car's route has been exposed. This area is just to the left of Tower and will also become the start of the new parade route.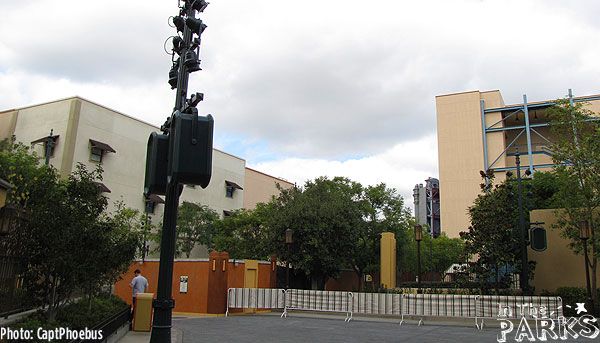 Looking at the Hyperion from the exit of Tower.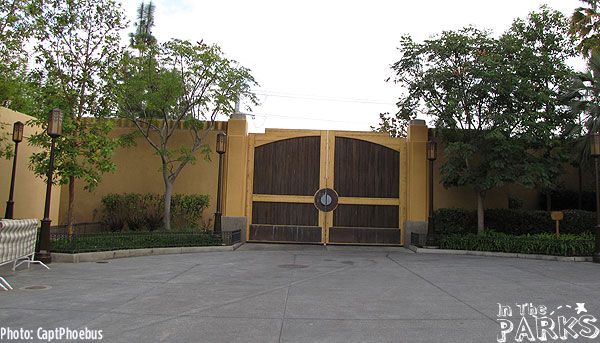 The new gate

CHRIS-MERCH:

Although there aren't many decorations throughout the park, there is no short of merchandise. It's actually some pretty nice stuff.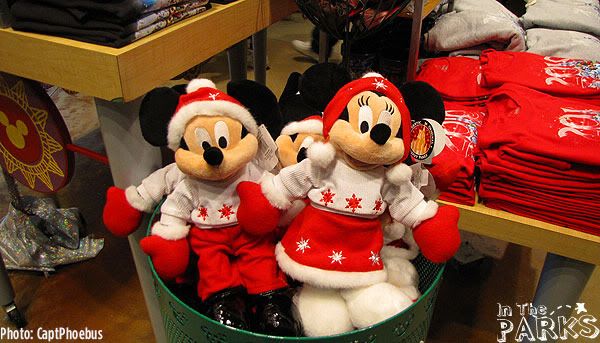 Merry Christmas Mickeys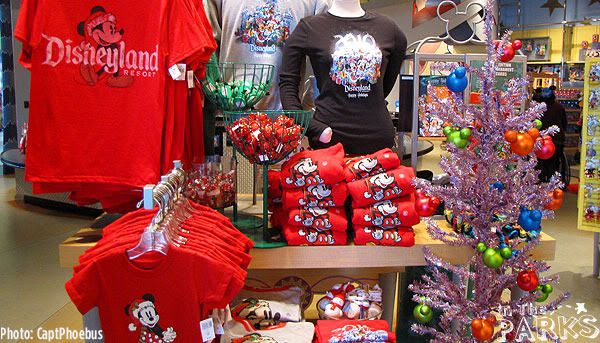 Red shirts and colorful ornaments abound.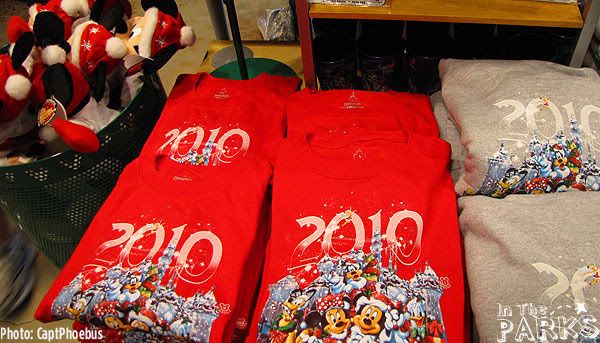 If you are into the year 2010 here is your shirt.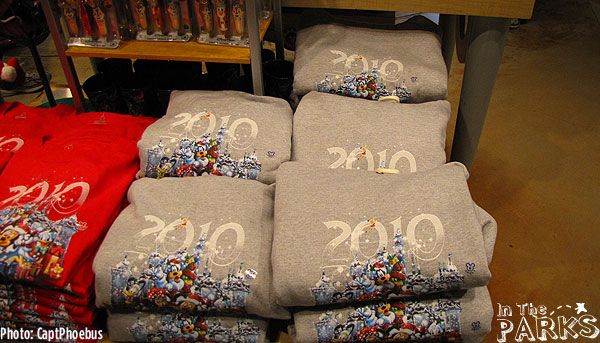 Available in other styles.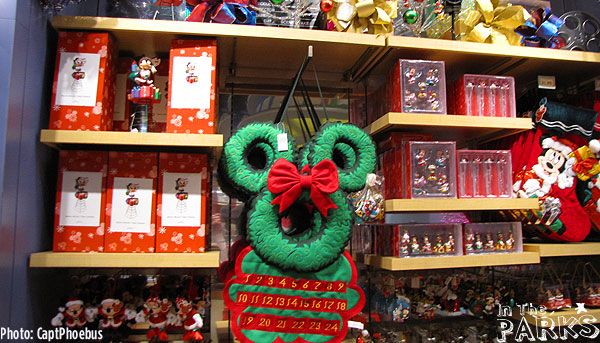 Advent calenders and ornaments.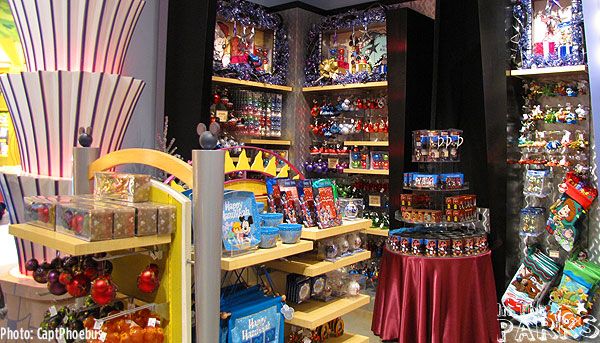 And still more Christmas goodies.

CARSLAND:

Carsland topped out recently and the rock work continues to envelope the metal structure.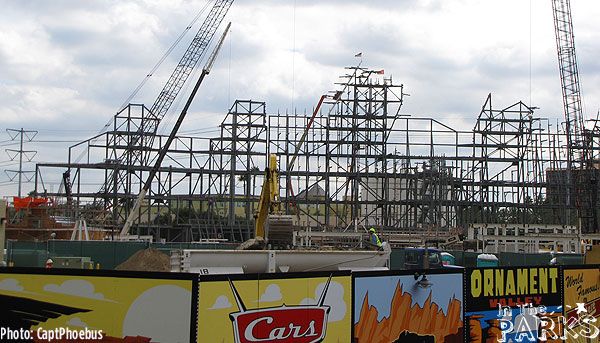 Radiator Springs rock work will almost hide the huge power lines behind them.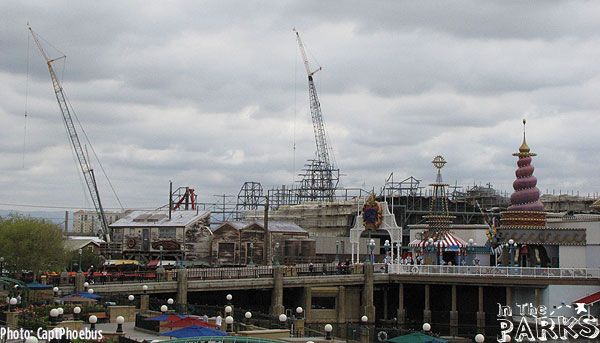 The fins of Radiator Springs from the Golden Zephyr.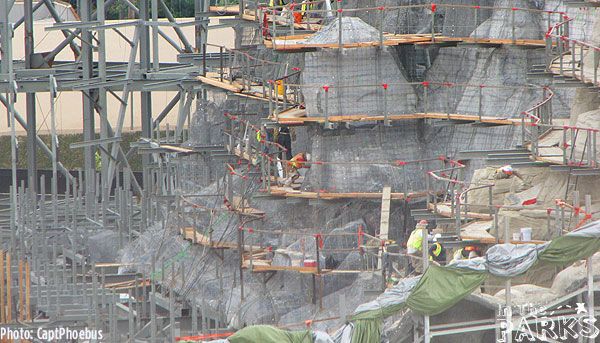 A look at the workers and the rock work.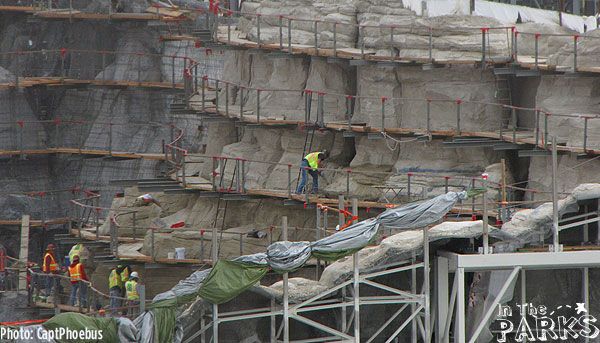 The size of this attraction is spectacular.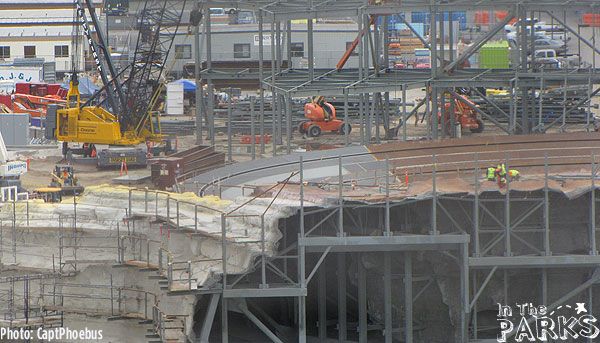 But the rock work stops suddenly on the wall facing the rest of Paradise Pier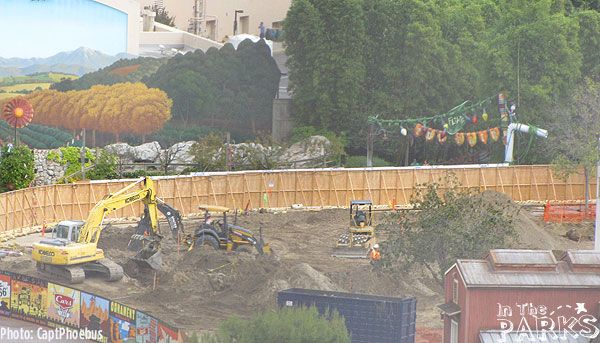 The old farm.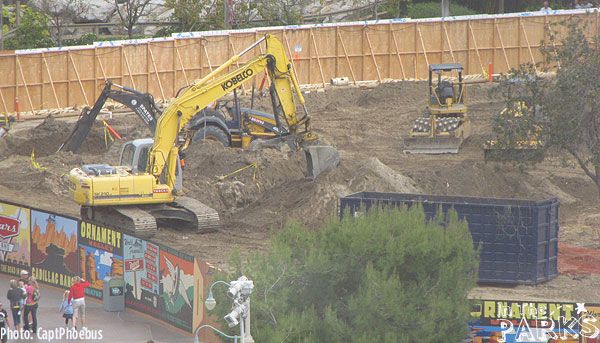 Is the new Cars Land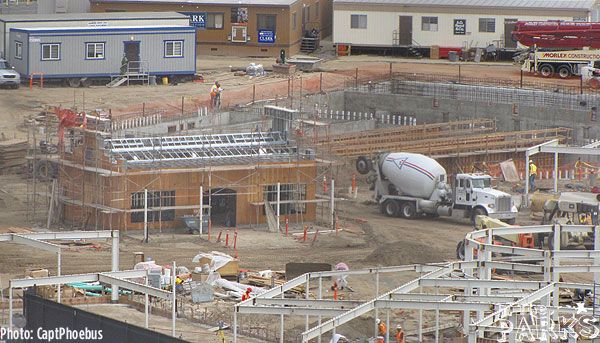 Luigi's tire shop.


PARADISE GARDEN:
The new Paradise Garden eating area is in rapid transition. The awning to the main restaurant (formerly Pizza Oom Mow Mow) has been stripped down and gutted. The inside is receiving a reinforced foundation as well.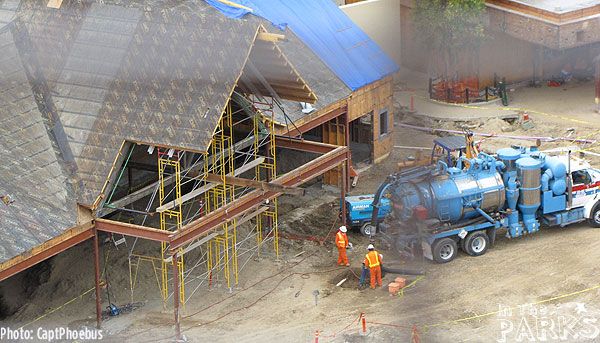 More detailed architecture is soon to come.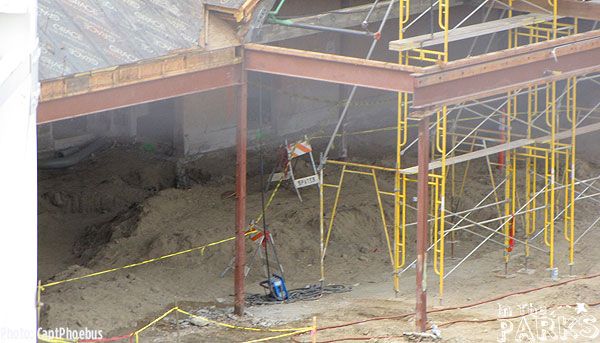 Hard to believe a boat used to be here.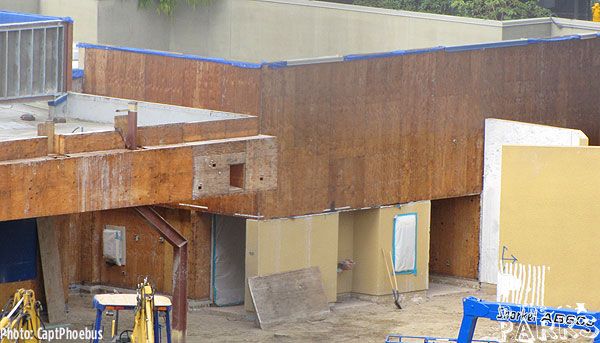 The bathroom building is now fully exposed.
FUNLAND:
Our good friend Brady of the LA Times Funland Blog has some exciting news. His site has been fully updated and shines with a brand new layout and design. It looks fantastic and we know you'll enjoy reading it as much as we do. Give it a look for yourself:

Park Hours:
Fri.
11/
12 - 10:00am-6:00pm
Sat.
11/
13 -
10:00am-10:00pm
Sun.
11/
14 -
10:00am-7:00pm
Mon.
11/
15 -
10:00am-6:00pm
Tues.
11/
16 -
10:00am-6:00pm
Wed.
11/
17 -
10:00am-6:00pm
Thurs.
11/
18 -
10:00am-6:00pm


Fall adds an edge of crisp, cool to the air and brings festive changes to Knott's. As Haunt is removed, more and more bunting and holiday wreath's begin appearing throughout the park. And, by Thanksgiving day, all of the wonderful Holiday festivities will be in full swing. Think Disneyland has a lock on Christmas? Think again, with a craft village filled with unique homespun holiday gifts, a Christmas Parade, Ice Show, A Christmas Carol performances, an elf themed ride, great holiday food, baked goods and Snoopy's Christmas Lights Spectacular - Knott's puts on quite a charming and old school Christmas. There's less glitz here but lots of Christmas cheer. They are still a couple of weeks from being done, but
let's take a look at the park and see how things are coming along.
Happy Veteran's Day: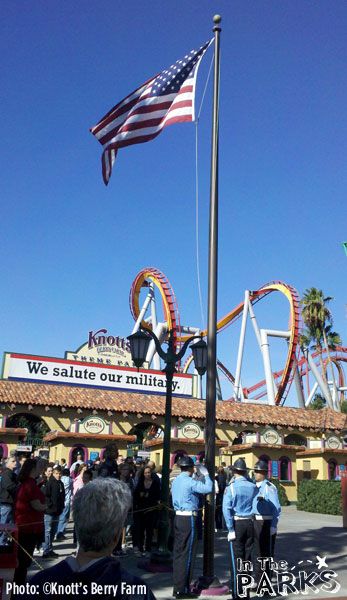 This past Thursday Knott's honored all veterans in an early morning service before park opening.
A CHARLIE BROWN CHRISTMAS
Main Entrance:

This past Thursday was Veteran's Day and Knott's saluted the troops with free admission! As you might expect, the park was packed! It was also the day that Knott's valiantly attempted to install the 65 foot Christmas tree at the front of the park. But, as luck and winds would have it, installation had to be delayed as mother nature was howling. Knott's is still well on track to have everything up by Thanksgiving Day.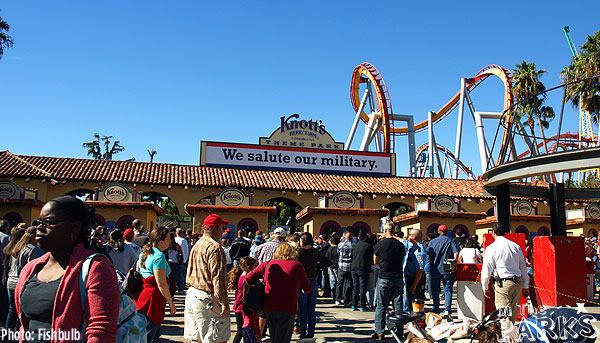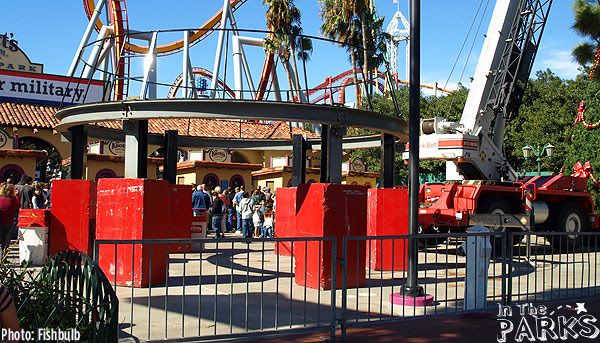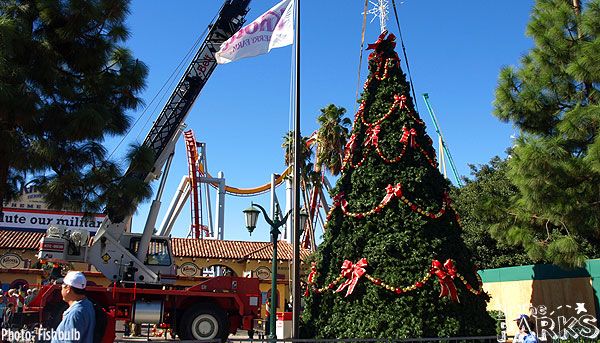 Ghost Town:

The dusty old west adds a little warmth in its heart. Let's wander through the streets and see what we can rustle up.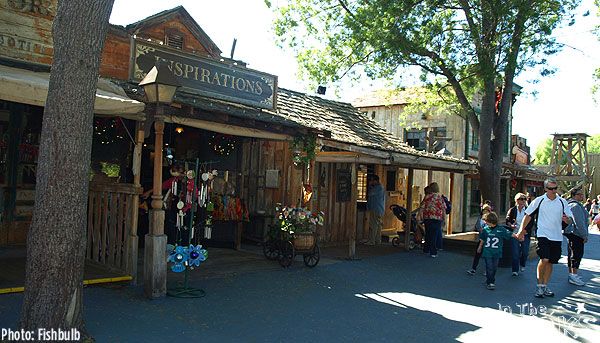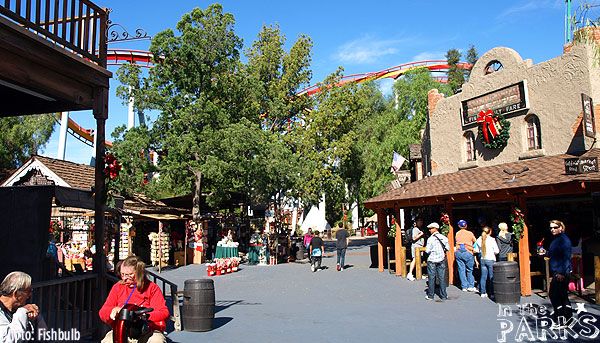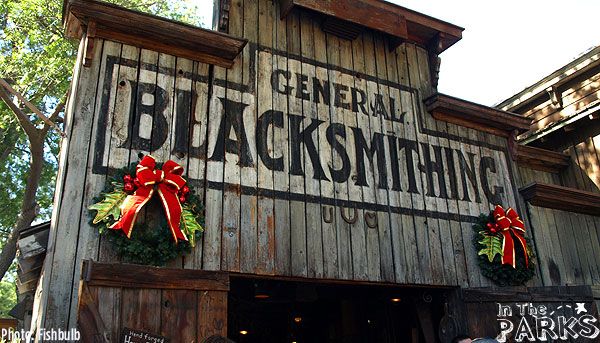 It's nice to see the original Blacksmith shop still standing and being decorated.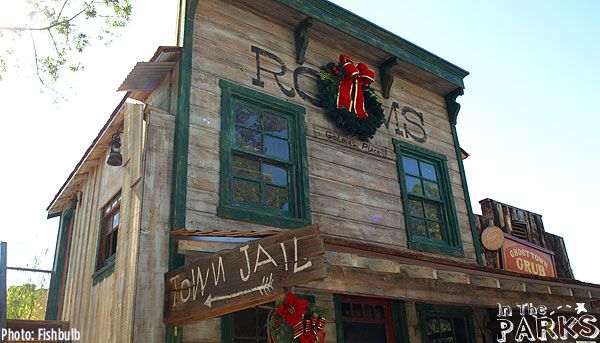 Goldie's and the Town Jail sign.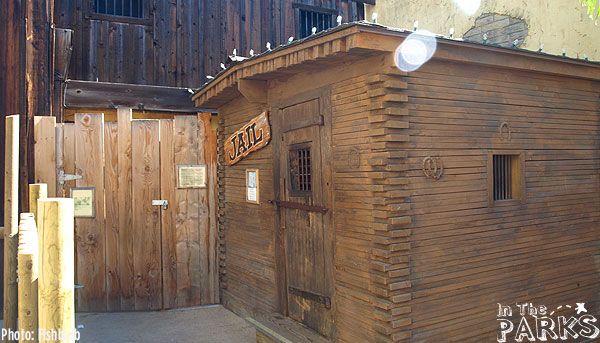 Sad eyed Joe has been reinstalled, but has yet to begin speaking again.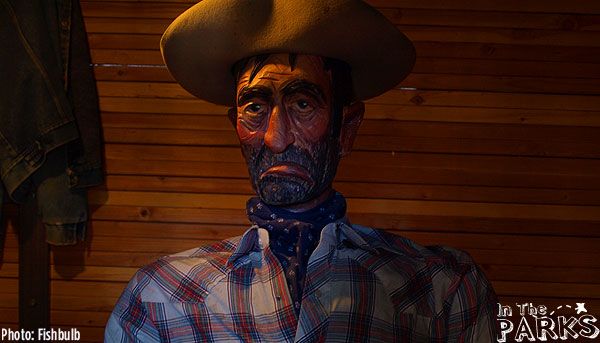 No talking right now. Too sad.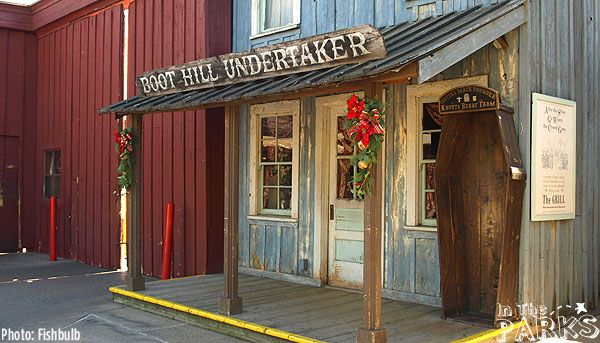 The ghost Town undertaker is in the holiday spirit.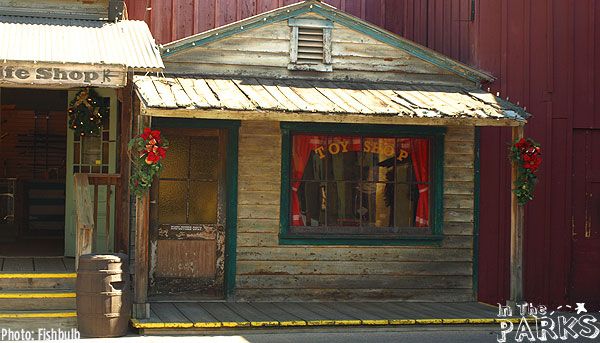 Of course the Toy Shop is decorated.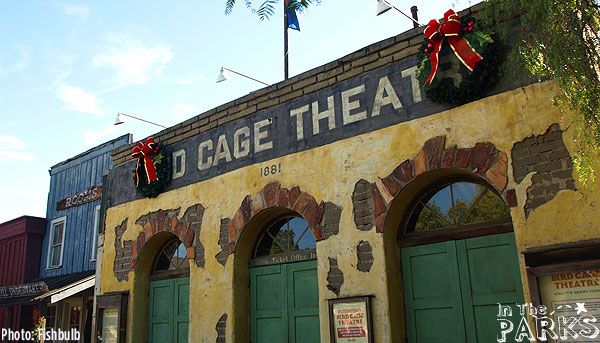 The Birdcage Theater.


Knott's Christmas Crafts Village:

If you aren't in the mood to take in the park, but would love to see the parade and ice show while shopping, Knott's is selling tickets to these two offerings for a nominal fee. Of course, if you DO buy a ticket into the park, then the whole park, along with shopping and shows is all there for you.


Set up has begun for the Crafts village and some vendors are already selling.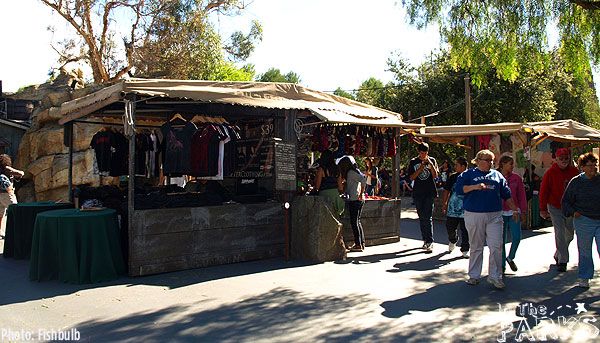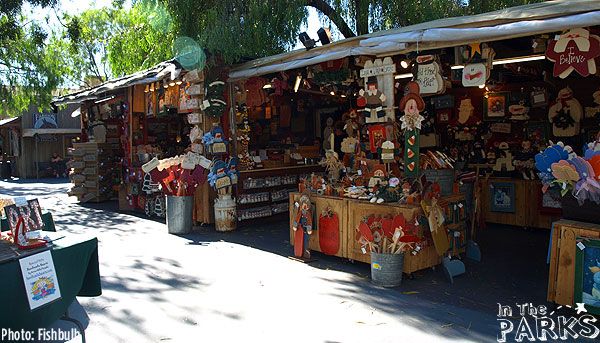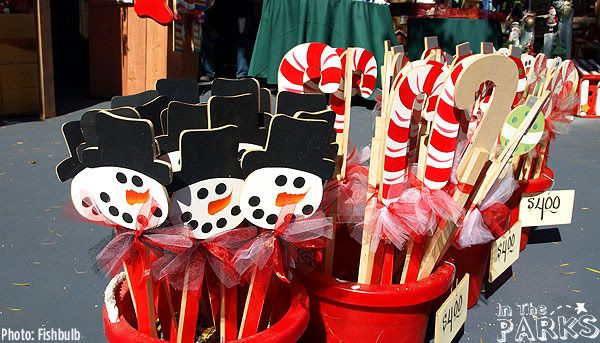 CAMP SNOOPY:
It's nice to see Knott's using the existing show technology to create a new experience.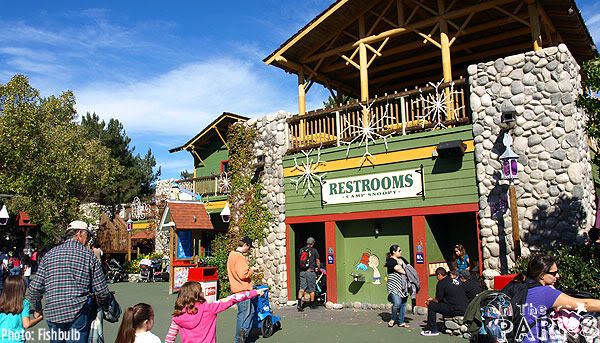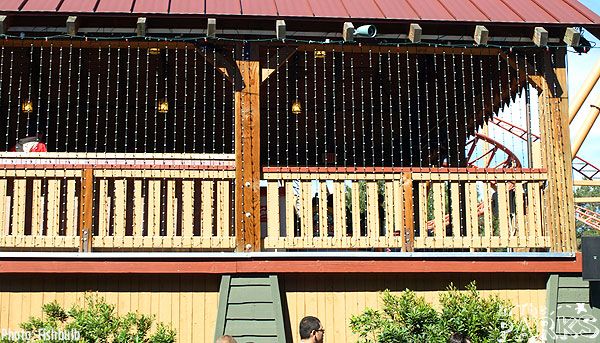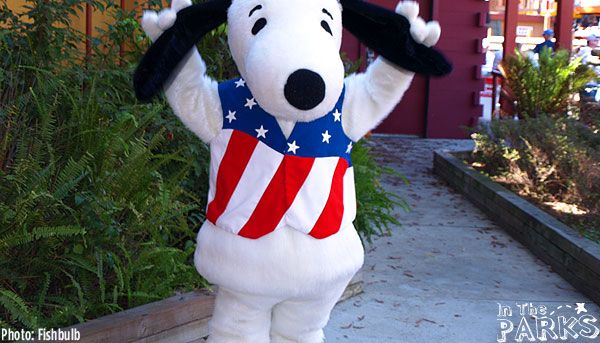 Veteran's Day Snoopy.
Fiesta Village:

Not a whole lot is happening, Christmas-wise, in Fiesta Village yet. Still a few decorations have started to make their way into the area.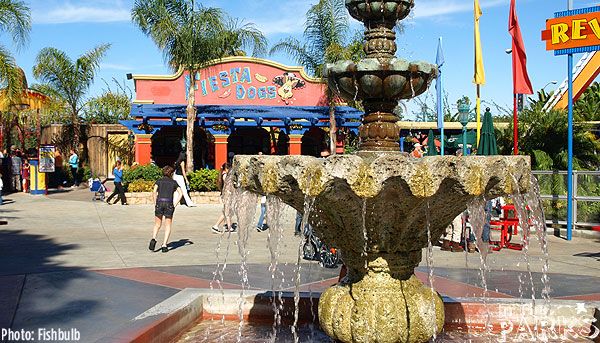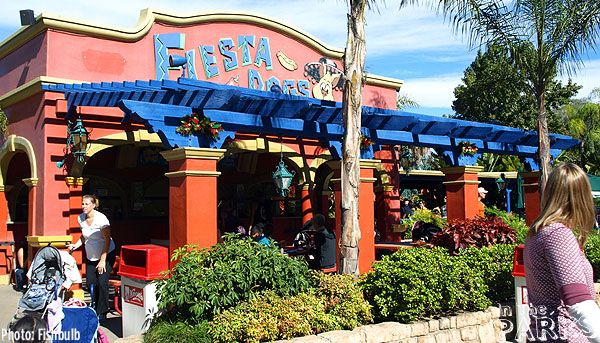 A Peanuts Holiday Parade
:
"It's Christmas Snoopy!" Ice Show
Elf Mountain: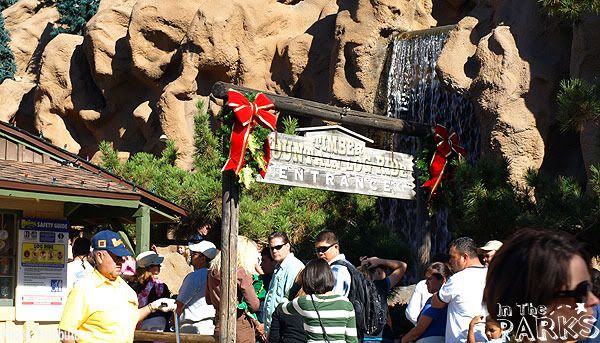 Lots of ribbons and pine.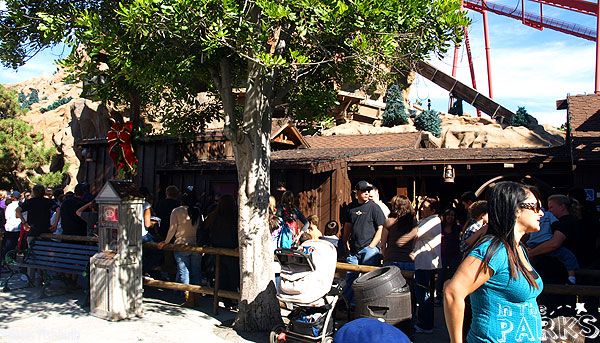 Lights have been hung on the station.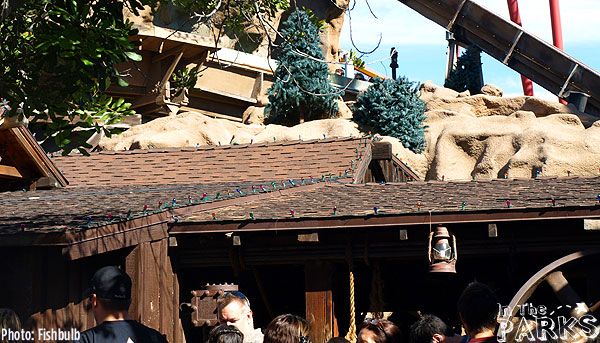 Can't wait to see these all lit up.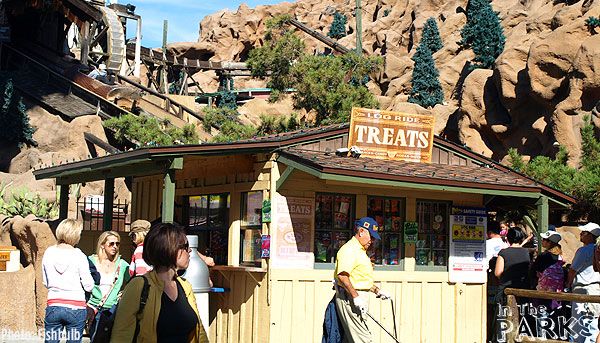 Even the snack shack has been treated.
Snoopy's Calico Christmas Tree Lighting
WINDSEEKER:
So far no ground has been broken on the upcoming Windseeker attraction to be built in the current Sky Cabin location. We had it confirmed that Cedar Fair has already been out to the site, taken measurements, and are preparing the plans to install the newest thrill ride.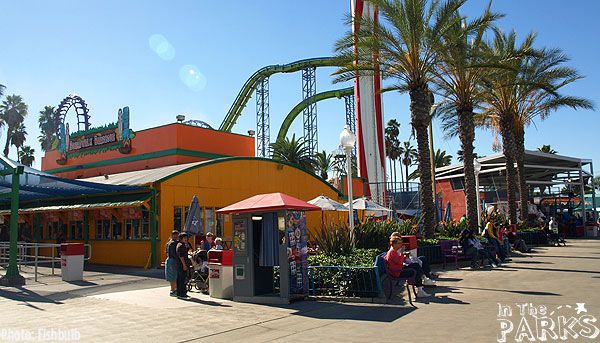 Nothing yet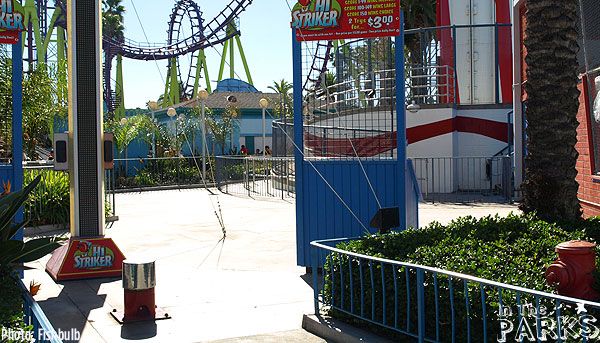 Things will happen fast as they are still aiming for a Memorial Day 2011 opening.

KNOTT'S DEALS:
Adult residents of Southern California zip codes 90000 through 93599 pay just $44.99 and Juniors (3-11) and seniors (62+) are just $23.99. For online specials visit
Knott's Mobile.
The season pass can be renewed online and there is no need to take a new photo if you did so for the 2010 pass. Any guest renewing can go to Knotts.com, renew and avoid lines at the park.

Not to be outdone by Disney and Knott's, Universal is also preparing for the holidays.
Park Hours:

Friday 11/12 10-6pm
Saturday 11/13 10-7pm
Sunday 11/14 10-7pm
Monday 11/15 10-6pm
Tuesday 11/16 10-6pm
Wednesday 11/17 10-6pm
Thursday 11/18 10-6pm


CITYWALK:
Christmas is starting to creep in on CityWalk. The tree is going up in pieces.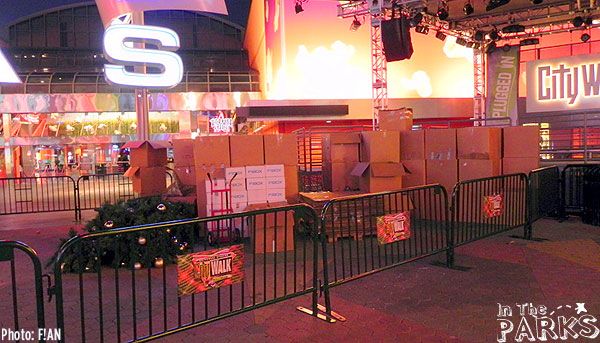 The rest of the tree sits nearby ready to be installed.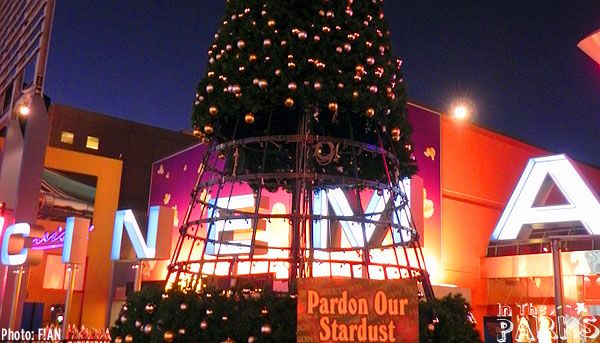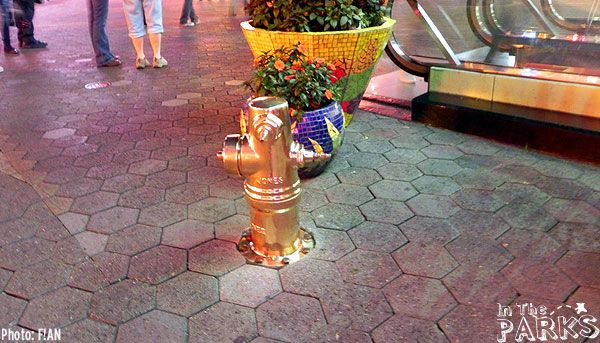 Only in Hollywood are the fire hydrants gold.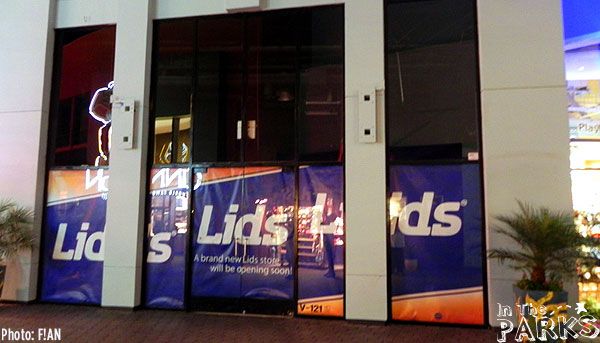 Lids is coming to CityWalk across from Cinnabon and neighbored by the taxi stand to the right and Flip Flop Shops on the left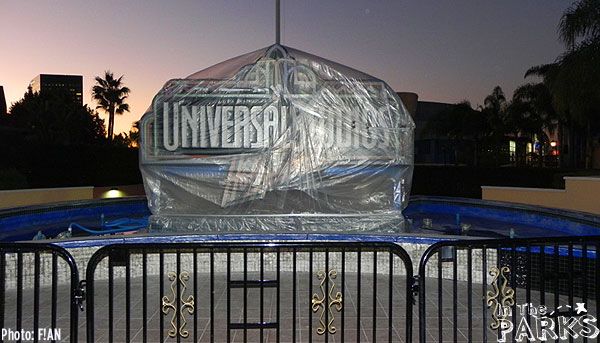 The neon USH sign surrounding fountain at the park exit is under refurb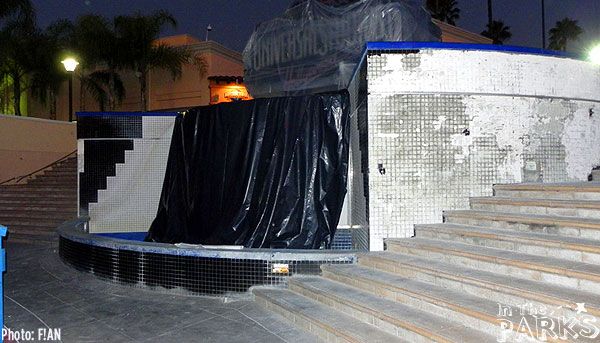 The tile has been removed on the backside facing the drop off area/Frankenstein structure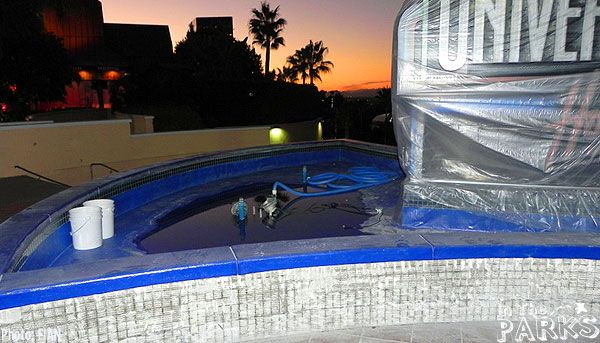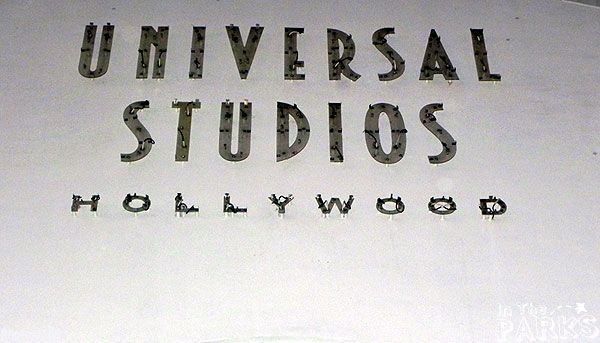 The lettering on the main gate is away being worked on.
FRONT GATE:
The main entrance area transitions from Halloween into a refurbishment. The area is also starting to get the winter treatment in preparation for Grinchmas.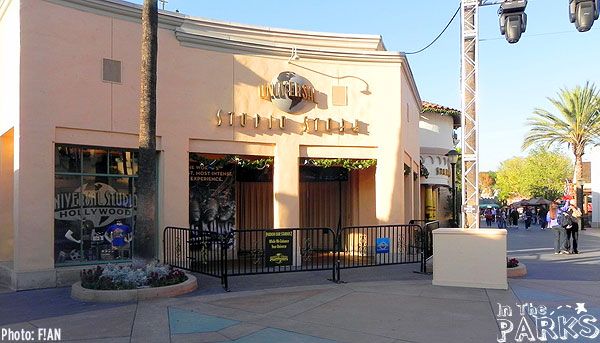 No shopping at the moment. they are working on something.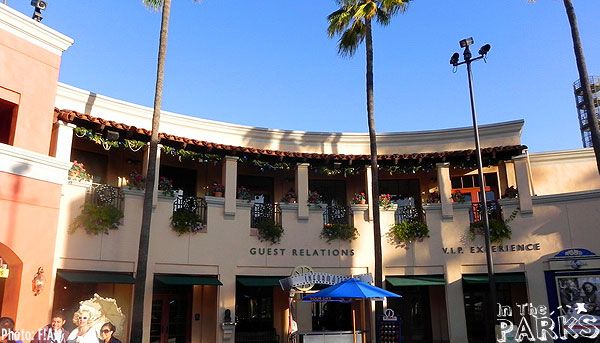 Ooooooo Christmas Cheer!
NO MORE HALLOWEEN:
Halloween has been fully removed from the park. Not the least of which is the terrifying Klownz area.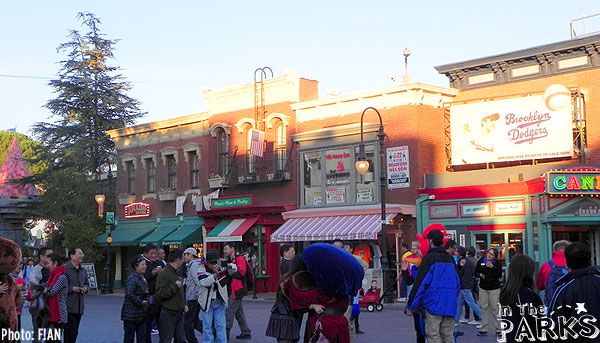 The Klownz are finally gone from New York Street.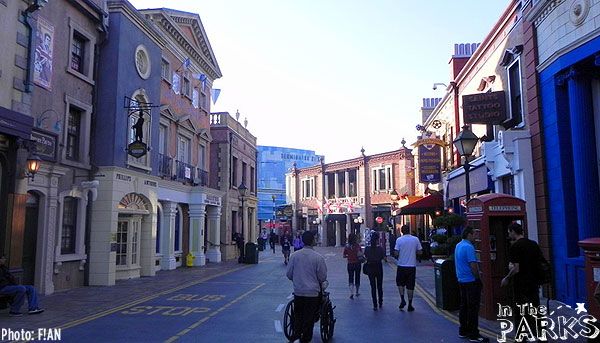 Baker Street back to normal waiting to get its Christmas decorations


FAST & FURIOUS PHOTO OP:
The Fast and the Furious photo op is starting to disappear.


Vin DON'T-sel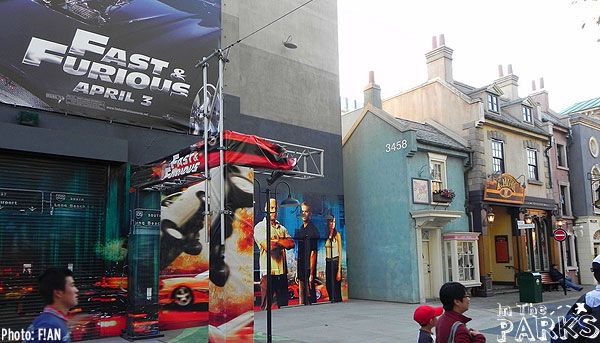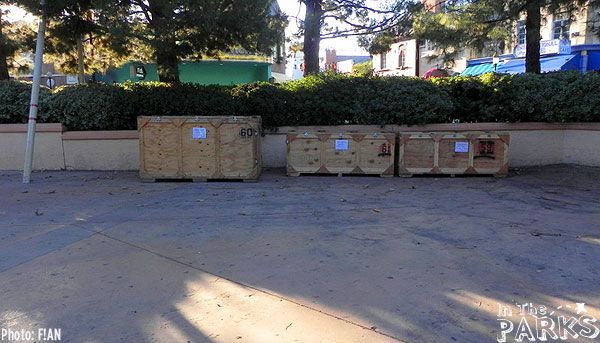 Sitting right next to the Fast &The Furious, crates containing Christmas decorations await being placed in the park
CURIOUS GEORGE PLAY AREA:
Along with the cooler weather comes refurbishment of the popular Curious George Water play area.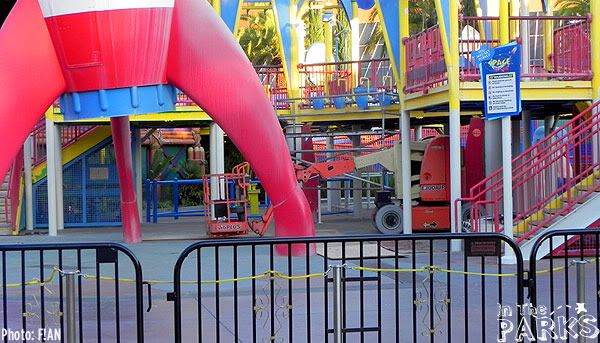 A logical time to refurbish this attraction.


STARWAY: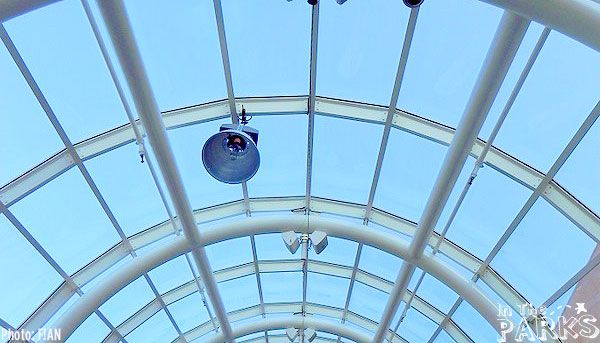 The lights on the Starway are being replaced. Temporary lights have been installed in the interim


TRANSFORMERS:
A massive crane has been erected at the Transformers Ride site. It is apparent that progress will become more evident from this point on.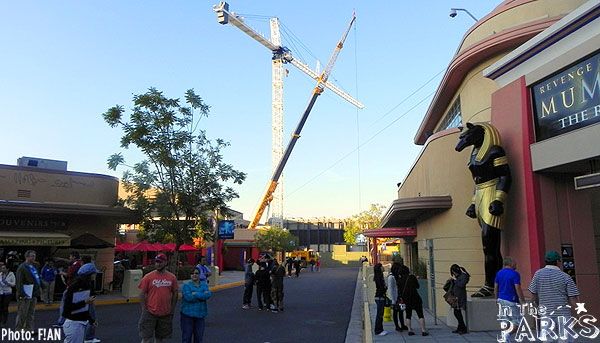 This crane really is huge.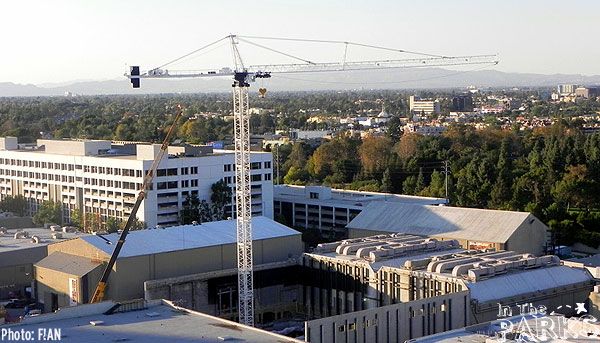 Have you had a chance to take in the Discovery Science Center in Santa Ana? It's actually a pretty cool little place for the younger set to sink their teeth into science with over 120 hands on exhibits that encourage involvement.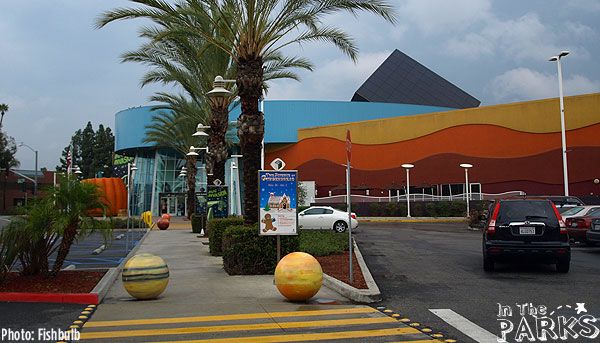 Parking right next to the building.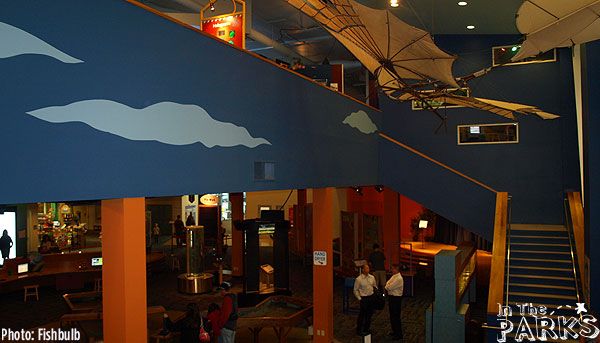 The place may seem small from the outside, but this two story science center is actually huge.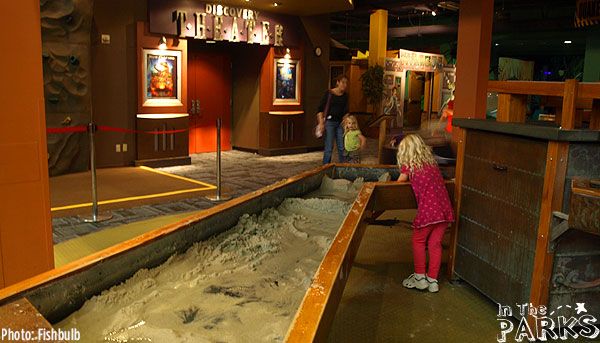 They even have a 4D movie theater.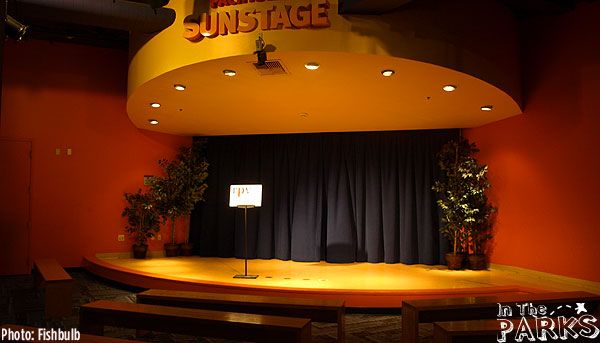 and a stage for special presentations.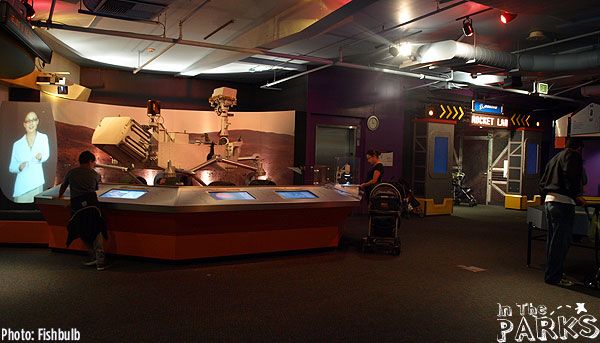 Upstairs is the rocket lab.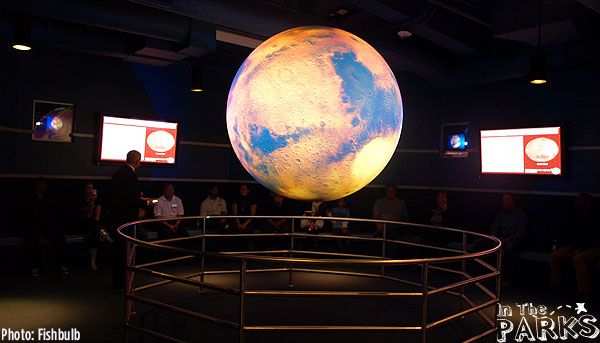 This is actually a very cool planetary exhibit.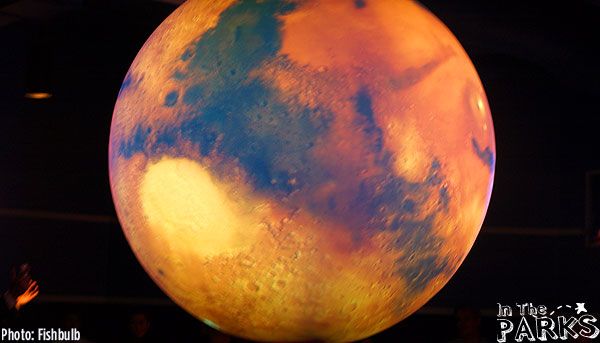 A variety of planets can be studied on this spherical screen.
THE CUBE:

Ever wonder what is actually IN that huge black cube sitting on top of the Science Center? Constructed of black solar panels that help supply power to the facility, the cube was actually first built with nothing inside. However, as guests expectations continued for an exhibit in the iconic cube, the center responded with this interactive display of rocket science sponsored by Boeing.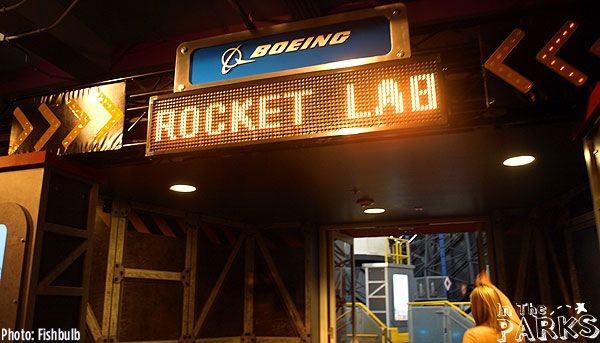 Let's go inside!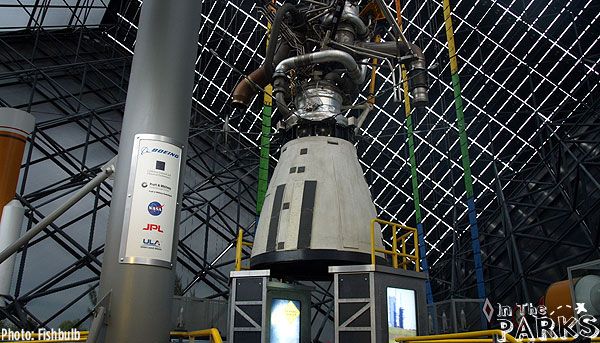 Run through a simulation of a rocket launch.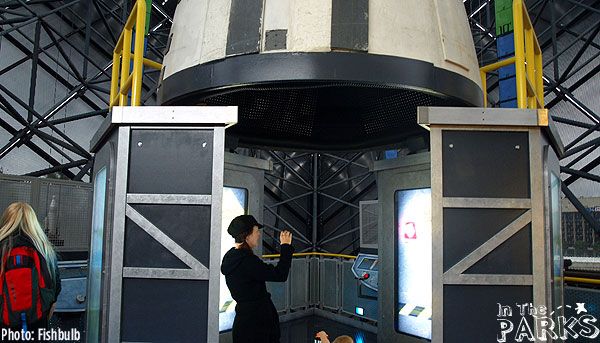 complete with count down...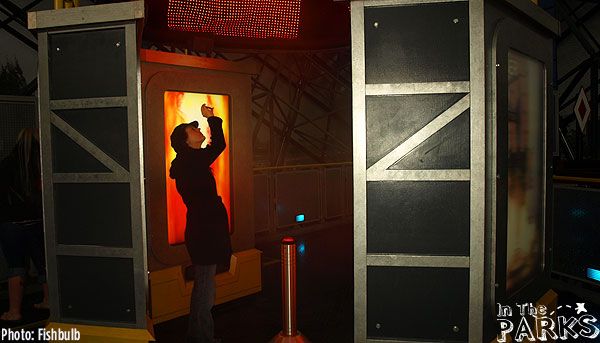 and crazy light and smoke effects.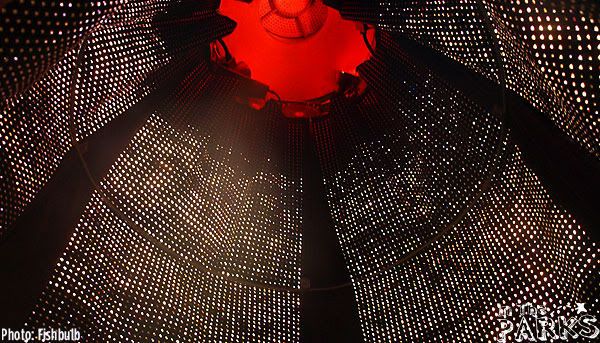 Oooooooh! Pretty!


Coming November 22nd the Discovery Science Center celebrates the 5th Anniversary of the Science of Gingerbread!:
Nov. 26-Jan 2.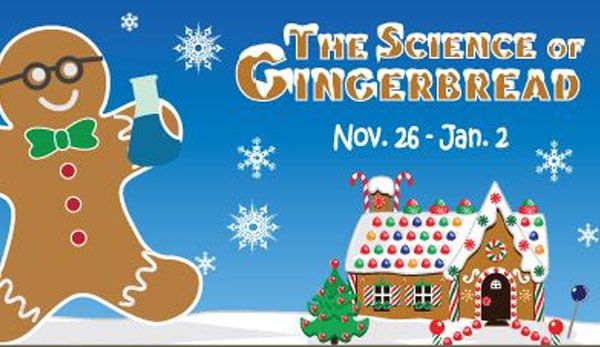 Come see over 100 gingerbread houses on display, play with model trains, decorate cookies and discover your inner kitchen scientist! Check our calendar for special events schedule.



HOLIDAY

SPECIAL

ALERT



DISCOVERY CUBE GIVEAWAY!
Each week for the next four weeks, The Discovery Science Center along with MiceChat.com are giving away a family set of 4 tickets each week in celebration of the new Science of Gingerbread exhibit.
How do you win? Simple. Post the correct answer to the question below in today's update and you'll be automatically entered to win. Here's this week's question.
QUESTION

:

How many types of gingerbread are there?
For hints to the questions please visit the link below
The Science of Gingerbread: Gingerbread Facts
Winners will be narrowed down by correct answer then chosen at random. One winner of four tickets per week.

D23's Armchair Archivists
Did you catch the brand new Armchair Archivists video blog from D23? Hosts Josh Turchetta and Steve Czarnecki give us a rare glimpse at Walt's last publicly shown appearance, thought to be long lost. And then us us an up close look at some of the items from Walt Disney's office! It's pretty fabulous. Take a look:
<object height="385" width="640">


<embed src="http://www.youtube.com/v/wXeUpnkv_ys?fs=1&hl=en_US&color1=0xcc2550&color2=0 xe87a9f" type="application/x-shockwave-flash" allowscriptaccess="always" allowfullscreen="true" height="385" width="640"></object>

Annual La Palma Days

- La Palma
Saturday, November 13, 2010
Agoura Munch Madness:
L.A.'s Top Food Trucks
Sat, Nov 13, 11 am - 5 pm - Agoura Hills High School, 28545 Driver Avenue, Agoura Hills

Art Walk
Sat, Nov 13, 4 - 10 pm - Downtown Long Beach, East Village Arts District, Long Beach
The Art Walk takes place around the streets of Ocean Blvd, Linden Ave, 1st Street, Broadway and Elm. Local art galleries and retail businesses such as gift shops, boutiques, restaurants and coffee shops stay open until late evening. Linden Avenue is closed to the traffic and transformed into a street art fair by local artists. Two stages are dedicated to street performances and live music. Admission is FREE.
Star Party
Sat, Nov 13, 2 - 9:45 pm - Griffith Observatory, 2800 East Observatory Road, Los Angeles
Free public star parties are held monthly with the assistance of the Los Angeles Astronomical Society and the Los Angeles Sidewalk Astronomers at the Griffith Observatory. They are a chance for the whole family to look at the sun, moon, visible planets, and other objects, to try out a variety of telescopes, and to talk to knowledgeable amateur astronomers about the sky and their equipment.
Tree Lighting & Santa's Arrival Ceremony
Thu, Nov 18, 6 pm - South Coast Plaza, 3333 Bristol St, Costa Mesa
Celebrate Santa's arrival as holiday music fills the air during the lighting of the holiday tree at Town Center Park. Students from Orange County High School of the Arts will perform. Free admission
Malibu Marathon & Health & Fitness Expo
Expo: Fri, Nov 12, 11am- 5pm & Sat, Nov 13, 9am - 5pm - Zuma Beach, 30500 Pacific Coast Hwy
Race: Sun, Nov 14, (1:30pm Finish) Finish Line: Zuma Beach, 30500 Pacific Coast Hwy
The Malibu International Health & Fitness expo will bring you a variety of cutting edge exhibitors. Take advantage of the expo experience - try on new running gear, sample delicious electrolytes, water and energy bars, and listen to health experts give tips on running and nutrition. Expo Admission FREE


We wanted you to be the first to know . . .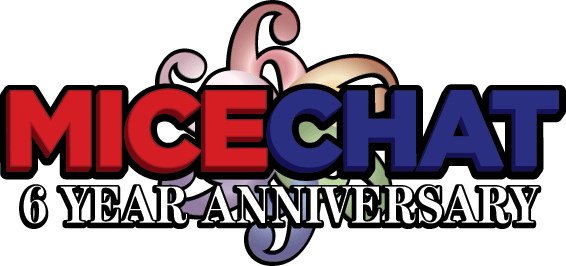 MiceChat is turning a vibrant 6 years old this January. Save the dates of January 28-30th for some good old fashion MiceChat fun. Meets and events at Disneyland and beyond. More information, details, and deals will be posted about this event soon.


Thank you for reading!
Are you getting excited for the holidays? Did you spot our
HOLIDAY
SPECIAL
ALERTS
above?
If not, scroll up to the Discovery Science Center and Disneyland section for a chance to win in two different contests this week!


There's a
world of Disney and theme park fun

on MiceChat, might we suggest:
Weekend Update

Offers a world of Disney theme parks and other sights and landmarks!



Dateline Disneyland which is packed with great news and photos from the Disneyland Resort.
Tell your friends about MiceChat and In The Parks - sharing is caring!
Today's update was brought to you by our fantastic and talented crew of
photographers and news contributors

F!an,
Sir
Clinksalot

,
Captphoebus,

Pratt55,
Fishbulb,
and Dustysage
.

If you have photos or news to share, please contact dustysage@micechat.com. We'd love to hear from you!


And that brings us to the end of another In The Parks update. Until next week . .
.