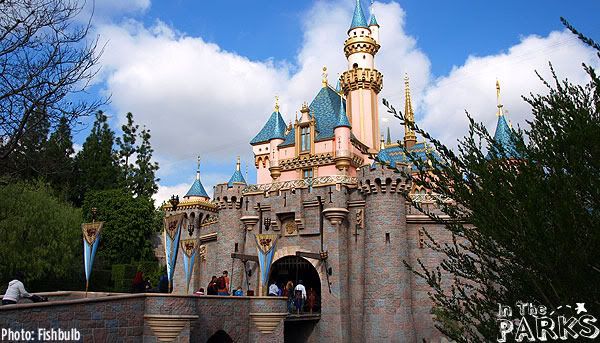 Sleeping Beauty's Castle

MAIN STREET U.S.A.

The repaving project continues on Main Street, resulting in a mass of walls. The project focuses on the left-hand side of the street. Although the park is being worked over, there is still plenty of magic to be enjoyed. When we took our walk through the park, the characters were out in full force along Main Street. Lines of people, undeterred by the nearby walls, were mesmerized by interaction with their favorites.



The hub, although halfway surrounded by walls, is still a nice place to sit, relax and people watch.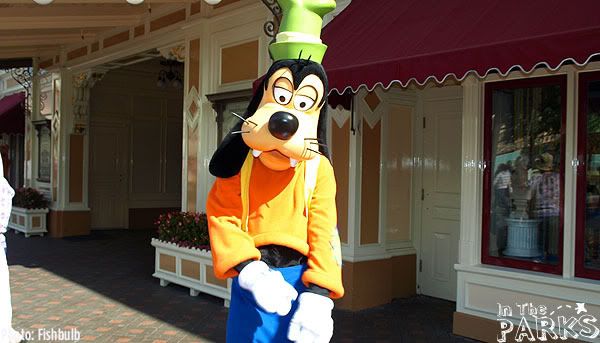 Hi Goofy!
A plucky Pluto plays with park patrons.
Minnie, beautiful as ever, in Town Square.
Mickey greets guests near the Disneyland Showcase shop.
The Disneyland Gallery:
A new exhibit has washed up in the Disney Gallery! It features Disney Magic on the Water. The exhibit coincides with the launch of the Disney Dream on the East Coast. Let's sail on in and see if the new exhibit floats!



The exhibit features art exclusive to the Disney Dream ship.

If you are lucky, you will be able to see an artist working in the studio.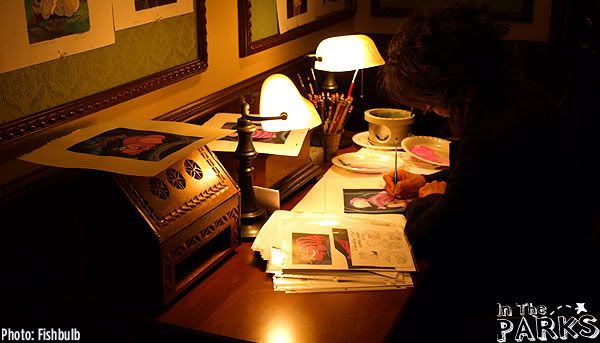 Artwork by the artist adorns the walls.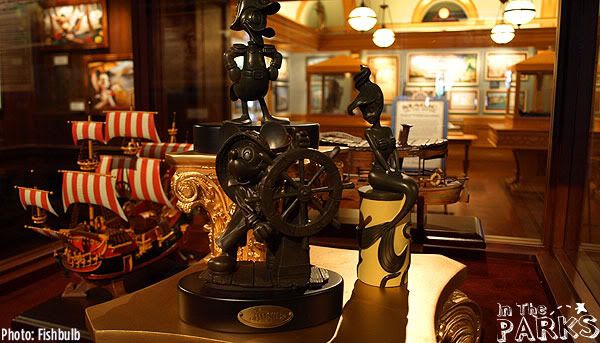 Each of the Disney Cruise line's ships feature a signature statue. Replicas of these statues are on display.



Ariel



Donald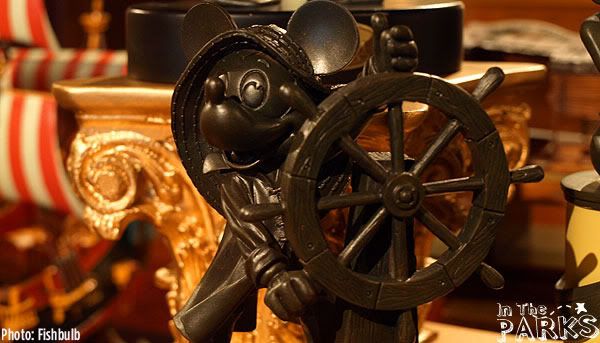 Mickey



The gallery has some really nice pieces on display.



The furthest room in the gallery focuses on park attractions.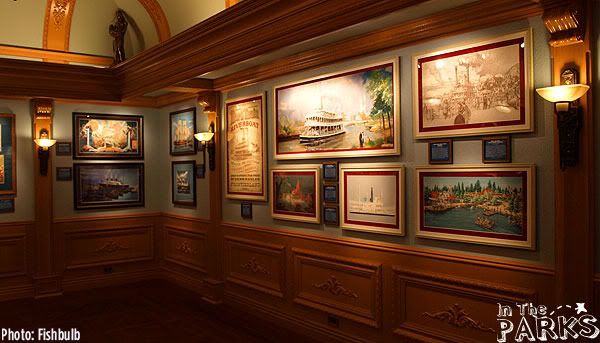 Tokyo DisneySea's Aquatopia


Meet the Disney Dream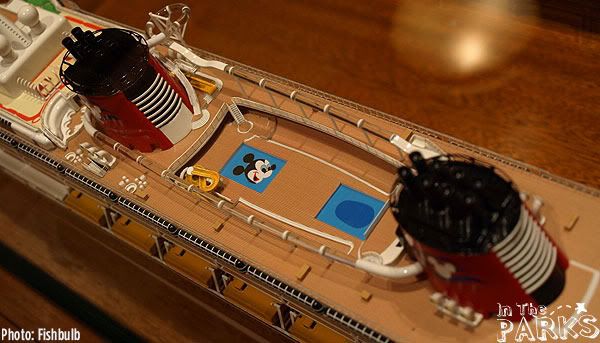 We are looking forward to riding the Aqua Duck on the deck of the Disney Dream on our October MiceChat cruise! Come join us!!!

FANTASYLAND:

The facade of the Castle Heraldry shop is masked in scaffolding and undergoing refurbishment.


King Arthur's Carousel: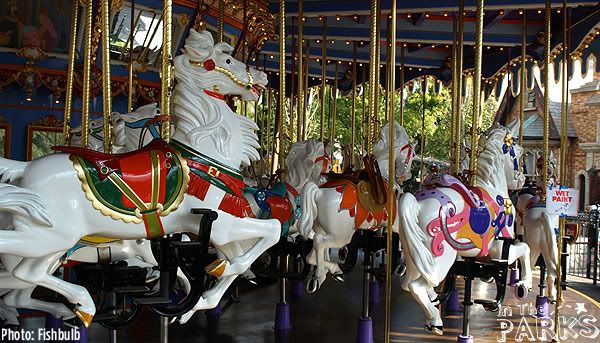 Each horse is now equipped with steps.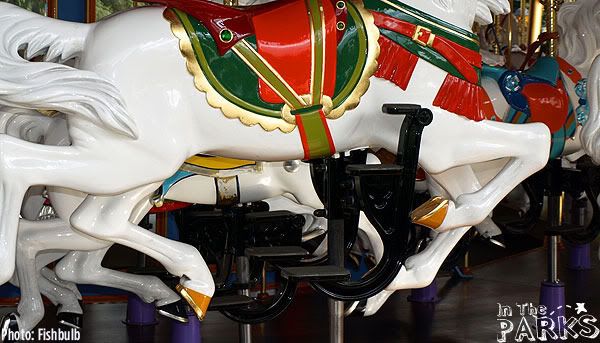 Steps up to the horse.


HAUNTED MANSION:
There is a minor change in front of the Mansion. The carriage/hearse that is normally out in front has been taken back stage for refurbishment.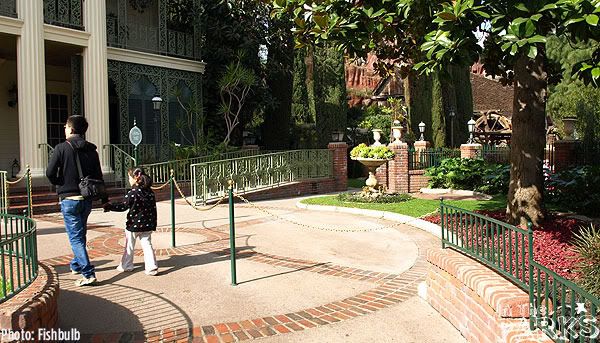 CRITTER COUNTRY:

No critters, just this here new fangled wall


Splash's drop is encased in scaffolding.



This week, we take advantage of the recently added artwork in the Blue Sky Cellar to compare against what is currently under construction in the park.

BUENA VISTA STREET:

Artwork of the new entrance and Carthay Circle Theater (in the upper left of the image)



The current state of the entrance.

Area where the Carthay will rise again.



The Golden Gate bridge will be replaced by iconic, Los Angeles style architecture.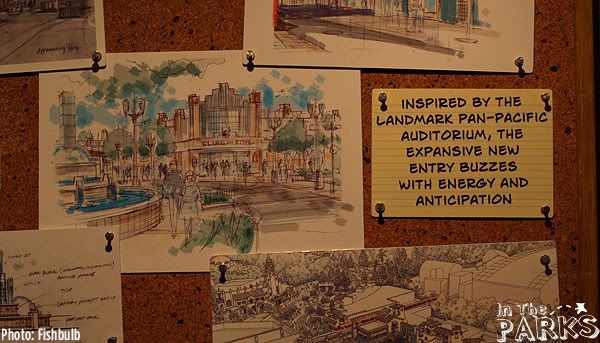 HOLLYWOOD PICTURES BACKLOT/HOLLYWOODLAND:

Hollywood Pictures Backlot is evolving into Hollywoodland. Here we compare phase one and phase two artwork with the current progress.



Disney Junior:
Animation Building:

The Animation Building reopened after a quick re-carpeting to reveal changes that are coming to the animation courtyard screens.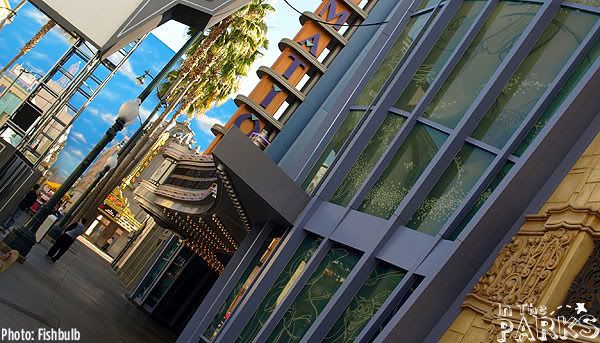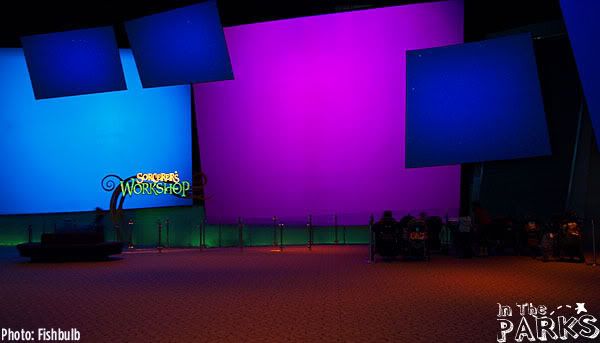 Purple and blue hues sit stagnant on the large screens, as Tinkerbell flies around the room, igniting a message that promises future changes.



Can't wait to see them.
Hyperion Theatre: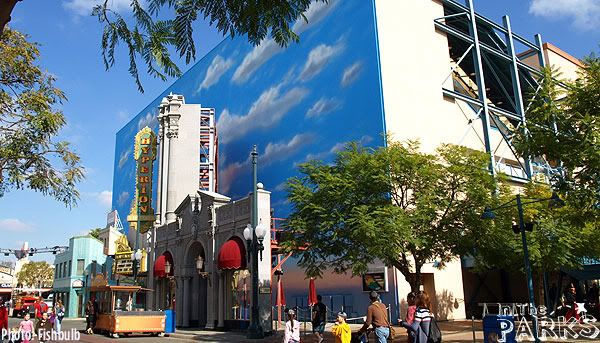 The street leading to Tower of Terror will receive a complete retheme, and will finally look like a real street instead of an outdoor queue for the Hyperion.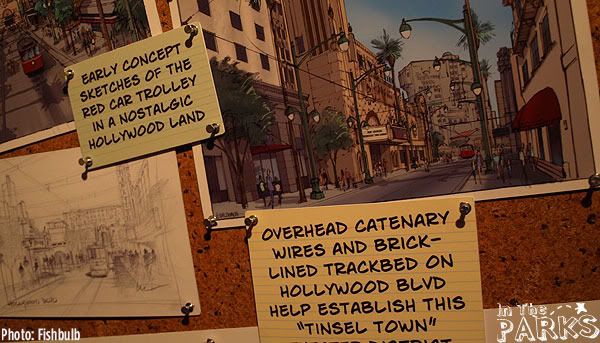 CARSLAND:

As the construction progresses, the rock work will become a berm around most of the land. A new entrance will go from A Bugs Land (in between Tuck and Roll and Heimlich) to the new Cars Land.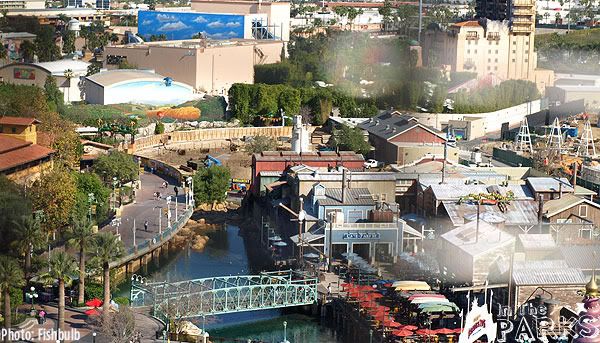 You can see the large show building behind the rockwork.
THE LITTLE MERMAID: ARIEL'S UNDERSEA ADVENTURE:

Let's compare the artwork featured in the Blue Sky Cellar to the current state of the construction site.



The elevation drawing on display.

The front of the building.

The show building.

A detail drawing of the marquee.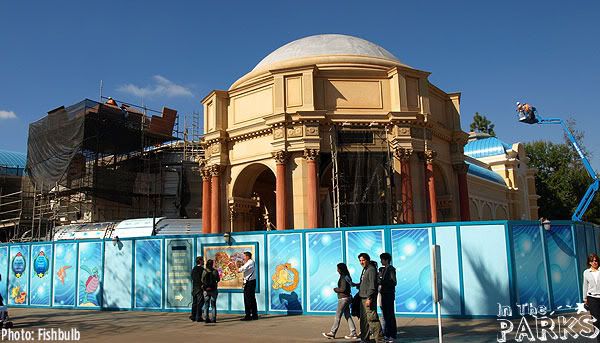 The entrance right now.

Let's view the evolution of the ride track from the first drawings to the final version. This is #1.

Drawing #2.

Drawing #3.



Drawing #4, almost there.

Drawing #5, they just about had it.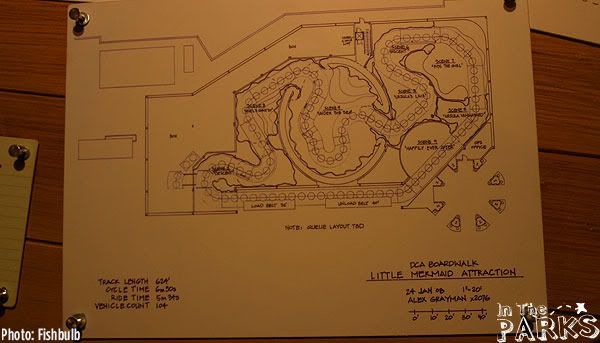 The sixth, and almost final, ride layout.

a model of the Under The Sea show scene.

Drawings of the animatronics

The model of Ursula's Poor Unfortunate Souls scene.
PARADISE PIER:

Some work is being done near the main entrance of Paradise Pier. The meet and greet gazebo has been removed and the area is walled off.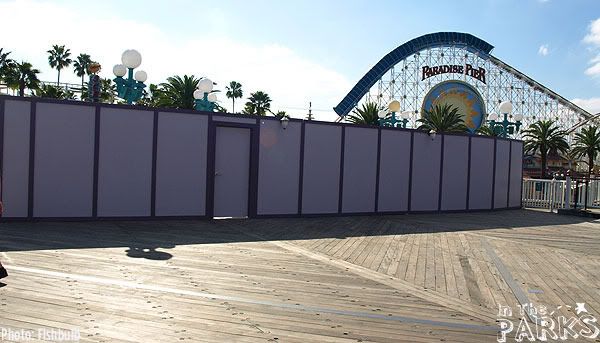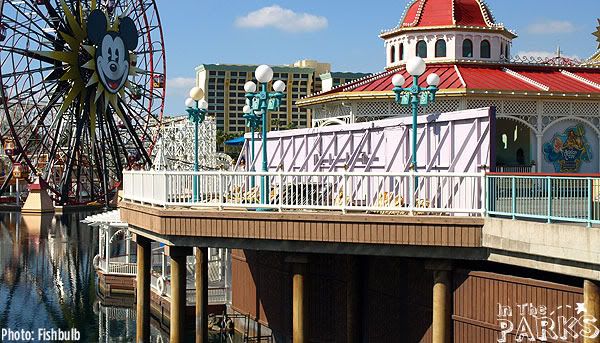 PARADISE PIER RESTAURANTS:
We now look at the progress of the Paradise Pier restaurant area. Pipes are being laid and trees are being planted. There is also some significant change in front of Boardwalk Pizza and Pasta.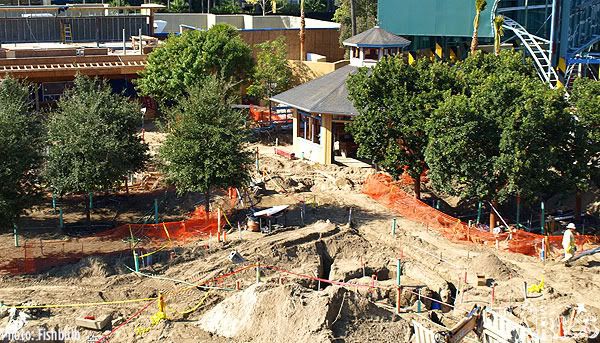 It is just amazing to see so many large trees going in. This area will be lovely when complete.
GOOFY'S SKY SCHOOL:

Almost all the track is painted in sky tones that are meant to evoke flight and some new structures are beginning to go up in the ride's new entry area.




If you have a chance you should really go over and check out the Muzeo's latest exhibit, GOLD. From now until May 29th, Muzeo will feature more than 120 exquisitely crafted pieces of Precolumbian goldwork from Penn Museum's 1940 excavations at the ancient cemetery site of Sitio Conte in what is now central Panama, about 100 miles west of Panama City. The gold objects, created by goldsmiths and artisans 700 to 1100 years after the birth of Christ, will be shown in "River of Gold."

Muzeo is located just minutes from Disneyland and there is free parking for 2 hours as well as a number of places to grab a quick lunch before heading into the exhibit.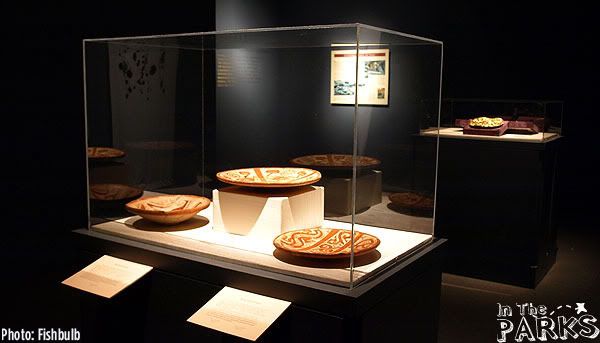 Pottery from near the dig site.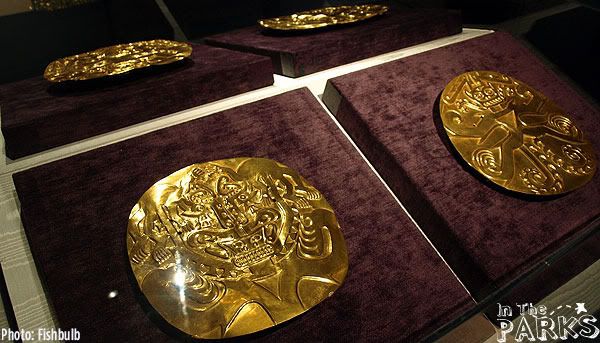 The pieces are values at a total of over $4.8 million.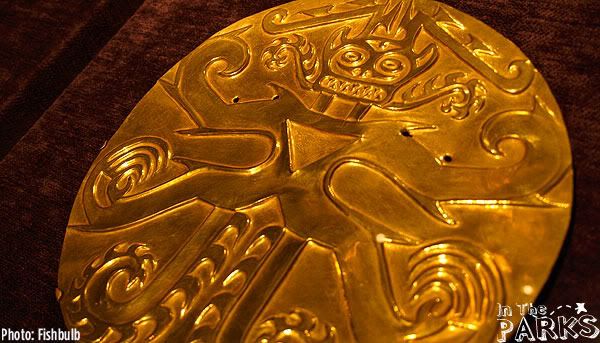 The gold beads are beautiful.

The animal effigies are very interesting.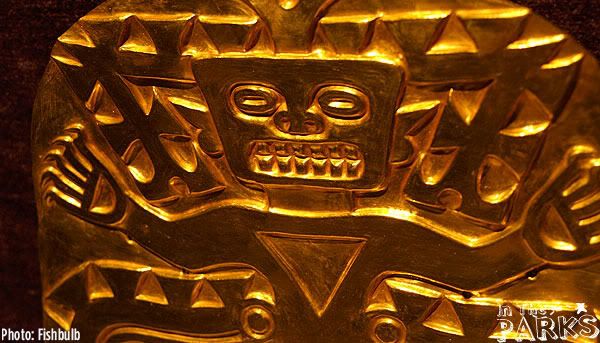 WINDSEEKER:
We take a gander at the recent progress of Knott's latest thrill ride, Windseeker. This 300 ft tall tower ride should be open sometime during the Summer. They've got a lot of work to get done in that short span of time.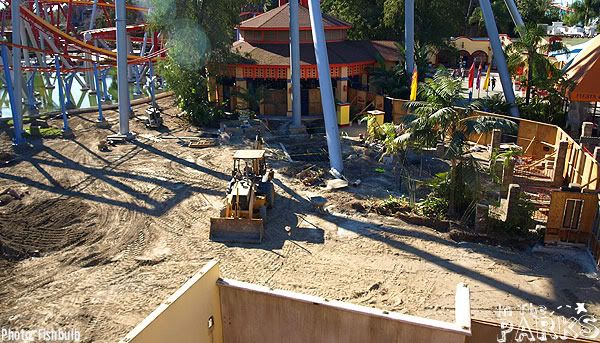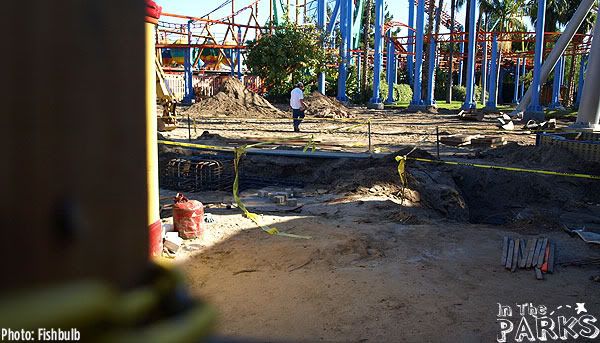 GOLDIE'S:
GOOD NEWS!!! The Kicking leg at Goldie's is back.

Our good friend, Robb Alvey, over at ThemeParkReview.com holds a fantastic coaster enthusiast event at Knott's every year. We highly recommend it.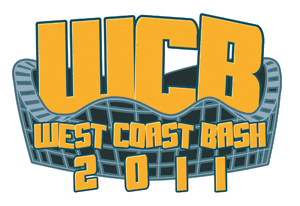 Sunday - March 20th - Knott's Berry Farm
$32 - Knott's (Cedar Fair) Season Passholder
$45 - Knott's KIDS & SENIORS Non-Pass
$60 - Knott's ADULTS Non-Pass
Event Includes:
Knott's Berry Farm:
- 2 Hours Morning ERT on select coasters
- Backstage tour of Timber Mountain Log Ride
- Backstage tour of Xcelerator
- Construction Tour of Windseeker
- Group Lunch
- TPR Quest Game at Lunch
- Presentation at Good Times Theater
- Q&A Session with park management
- 1 Hour Evening ERT on select coasters
- Free parking until 8:00am
- Many more surprises and extras that will be announced soon!
- ERT is planned for Xcelerator!
THIS SCHEDULE IS SUBJECT TO CHANGE WITHOUT NOTICE!
A final event schedule with more details will be emailed to you prior to the event.
Get your tickets NOW before the sell out!!!
This is a great way to see Knotts and enjoy extra ride time with minimal waiting. It is a full day event that comes with lunch and free parking. Really, what more could you ask for at that price?

Get your tickets HERE before they sell out.


"Since June 2010, Funani has gained about 300 pounds," said Matt Akel, a San Diego Zoo animal care supervisor. At this point, the calf has not been named, and keepers do not know its sex. There are no plans for whether the calf will stay at the Zoo after it is weaned, or if it will be moved to another zoo for breeding purposes.


The hippopotamus is listed as vulnerable by the International Union for Conservation of Nature, known as the IUCN. The primary threats to hippos are illegal and unregulated hunting for meat and ivory (found in the canine teeth) as well as habitat loss. Hippos can still be found in a number of sub-Saharan African countries.


The 100-acre San Diego Zoo is dedicated to the conservation of endangered species and their habitats. The organization focuses on conservation and research work around the globe, educating millions of individuals a year about wildlife. The zoo maintains accredited horticultural, animal, library and photo collections. It also manages the 1,800-acre San Diego Zoo Safari Park (historically referred to as the Wild Animal Park), which includes a 900-acre native species reserve, and the San Diego Zoo Institute for Conservation Research. The important conservation and scientific work of these entities is supported in part by The Foundation of the Zoological Society of San Diego.
Snow Days at the L.A. Zoo

PUSHING PINK PEDALS - Wine Fundraiser
Love wine? Enjoy helping worthy charities? We've got a great "Wine Adventure" fundraiser for you this weekend in Pasadena called, PUSHING PINK PEDALS! The purpose of the Pink Pedals is to show all young girls and women that their beauty begins within. Five wineries and a beer master will be presenting as well as educating all of us on the finer points of wines and beer. Join in on an evening of traveling from Italy, Malibu, Central Coast, Sonoma and rounding out with Napa. It will be an evening of great wine and food pairings to suit any taste level. Wine will also be available to purchase if you are so inclined.
When & Where:
Requested Attendee Donation:
Purchase Your Ticket Now!
Please RSVP to:
JanaCari at (626) 450-5594 or janacari@pushingpinkpedals.org
Please RSVP as soon as possible to ensure enough food and beverage.
21 and over will be admitted. Thank you in advance for your cooperation.
All donations are tax deductible and truely appreciated.
The Golden Dragon Parade and Festival Parade
February 5, 2011, 1:00 pm; Festival: February 5 & 6 Parade Route: Hill Street at Temple toward Bernard. Right on Bernard, right on Broadway back to Broadway & Temple.
In celebrating over one hundred years of tradition, the Chinese Chamber of Commerce of Los Angeles presents the 112th Annual Golden Dragon Parade. With over 110,000 individuals lining the parade route and thousands viewing the telecast each year, this colorful celebration along North Broadway in Chinatown has become the premiere cultural event in the Southern California Asian-American Community.
Vintage Paper Fair
February 5, 2011 (10:00 am - 6:00 pm) - February 6, 2011 (10:00 am - 4:00 pm) Glendale Civic Auditorium- 1401 N. Verdugo Rd., Glendale
The biggest antique paper show on the West Coast. Postcards, photography, labels, brochures, scrapbooks, greeting cards, and other interesting old paper items. Admission and parking are free.
Mark

Twain Celebration with Hal Holbrook
Tuesday, February 8, 7:00 pm Hammer Museum, 10899 Wilshire Boulevard, Westwood
The Getty Center
1200 Getty Center Drive, Los Angeles
The Getty Center presents their collection of Western art from the Middle Ages to the present against a backdrop of dramatic architecture, tranquil gardens, and breathtaking views.
Free Admission Every Day
The Getty Villa Malibu
17985 Pacific Coast Highway, Pacific Palisades
The Getty Villa is an educational center and museum dedicated to the study of the arts and cultures of ancient Greece, Rome, and Etruria.
Long Beach Museum of Art
FREE Admission Thursdays
Thursdays, 5 - 8 pm - Long Beach Museum of Art, 2300 E. Ocean Blvd, Long Beach
The Long Beach Museum of Art is FREE every Thursday night. Bring the whole family to see great exhibitions including several new ones that have just opened.
Science in Toyland
Through May 1 - California Science Center, Exposition Park, 39th Street & Figueroa St, Los Angeles
Come play! Spin tops, set up dominoes, build a mini roller coaster and more. Explore what toys teach us about science in this fun, hands-on exhibit. Admission Free.
There's a
whole world of Disney and theme park fun

to discover on MiceChat, might we suggest:
Today's update was brought to you by our fantastic and talented crew of
photographers and news contributors

,
Sir
Clinksalot

,
Captphoebus,
Pratt55,
F!an
,
Fishbulb,
and Dustysage
.
If you have photos or news to share, please contact dustysage@micechat.com. We'd love to hear from you!