It's Friday! Time to see what's new In the Parks! This week we stroll through Disneyland as the walls around Star Tours finally come tumbling down, Splash Mountain is in test mode and DCA continues to grow. We also stop by Knott's Berry Farm and bring you a chance to appear on television! Plus, we have progress reports from Six Flags Magic Mountain, Universal Studios and SeaWorld!. This is what living in Southern California is all about, enjoy this amazing update.


STAR TOURS:
You could be rocketing through the stars any day now. But knowing when a soft opening of an attraction might occur is guess work at best. We've partnered with the good folks over at StarTours2Live.com to bring you news of Star Tours soft openings the moment they occur. They have developed free mobile apps for the iPhone and Android devices that will notify you the instant Star Tours 2 opens and how long the waits are!

We were at the park yesterday when the walls were taken down and stayed until night to catch some photos of the Star Tours sign lit up and animated.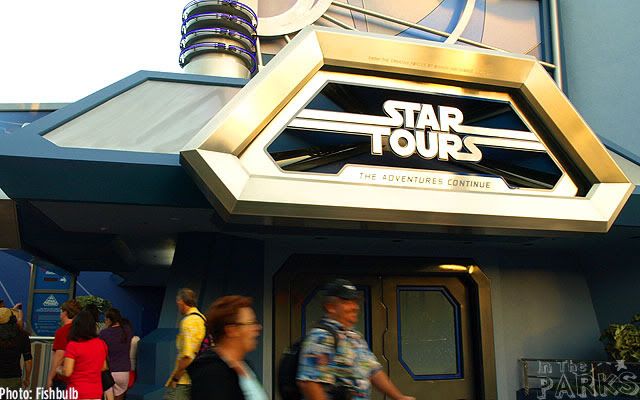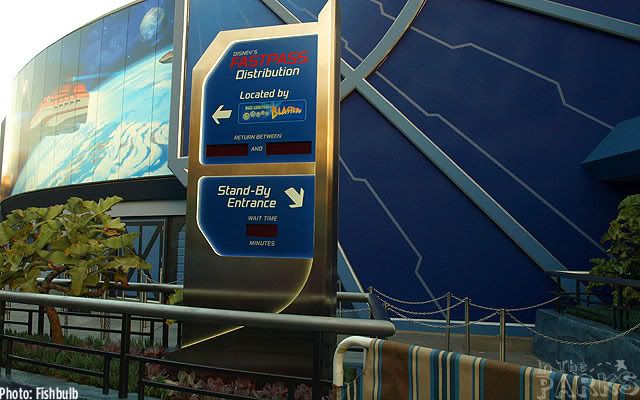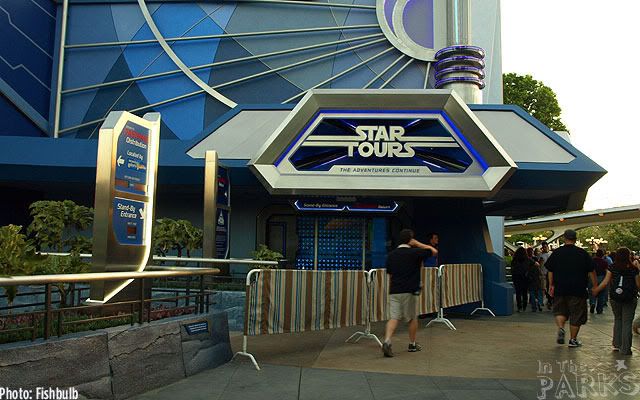 A peek inside shows the pre-show operating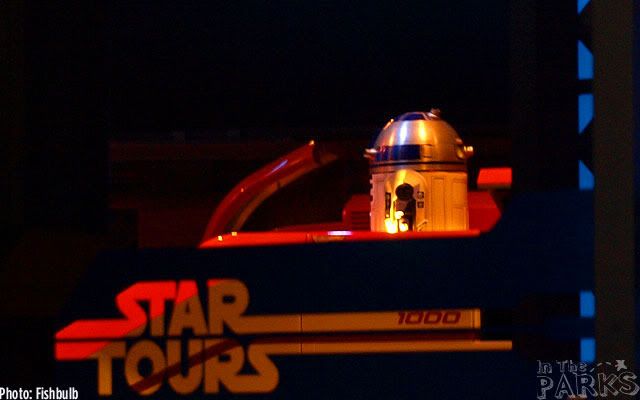 R2 is still working in the star speeder
And the Star Speeder still nearly explodes.

PIRATES PREMIERE:
Disneyland hosted the premiere of Pirates of the Caribbean: On Stranger Tides last weekend and it was quite an impressive event. We've got some video to share of that star studded event and we'll also show you the aftermath one day later.



By Sunday, most of the seats were already down...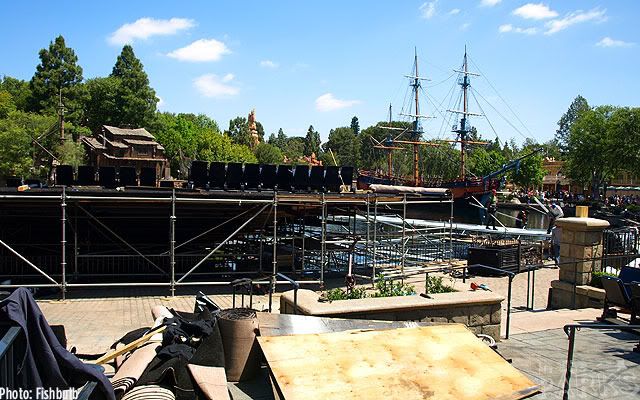 The removal couldn't come soon enough as the small walkways around the area were were clogged with rush hour type traffic.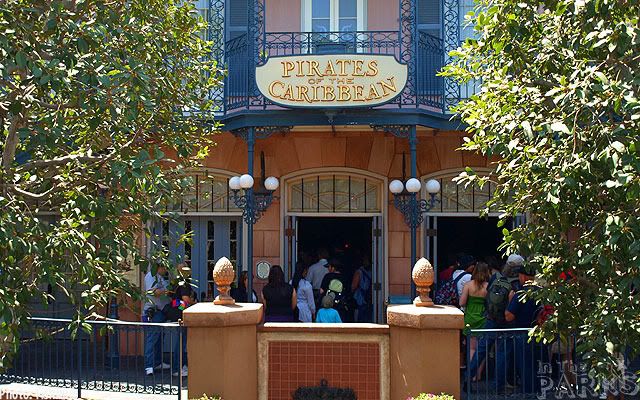 Starting May 20th, the new Blackbeard effect
on the mist waterfall will appear.

MAIN STREET U.S.A.:
Star Tours attraction posters were hung in both tunnels into Main Street while the China Closet and News Stands went behind construction walls for touch ups.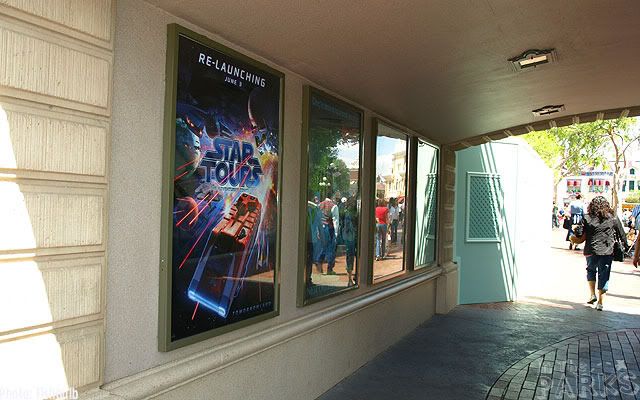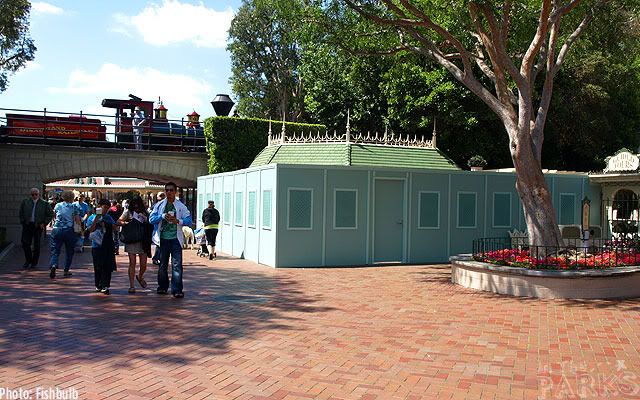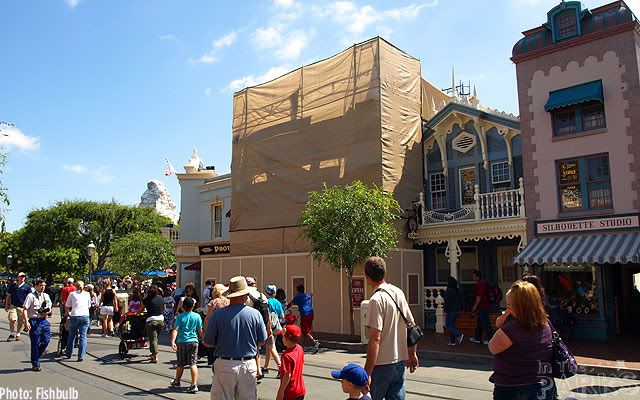 MICKEY'S TOON TOWN:
In Mickey's Toon Town Gadget's Go Coaster is "Closed for beautification".
STORYBOOKLAND CANAL BOATS:
Monstro is a chip off the old block. Or rather he's chipping. Time for a touch up.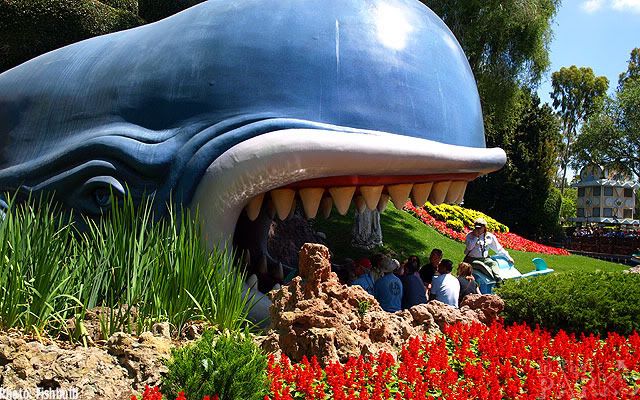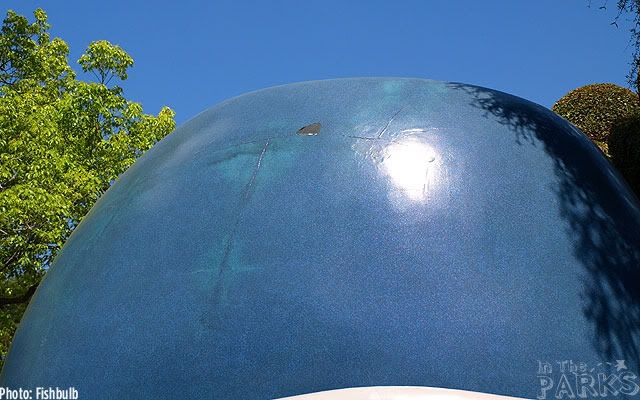 SPLASH MOUNTAIN:
Logs are testing on a regular basis. Splash is on track for a return opening on May 26th if not sooner.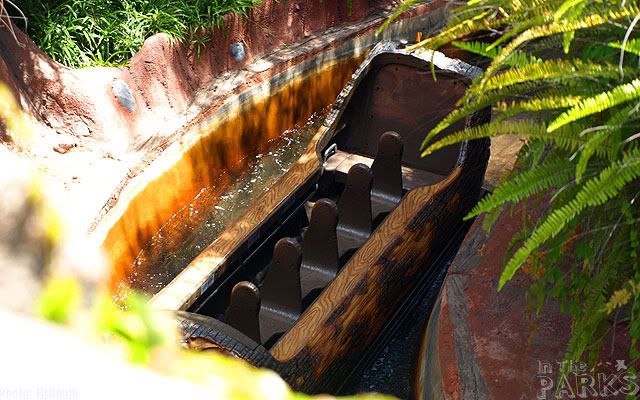 Same old logs.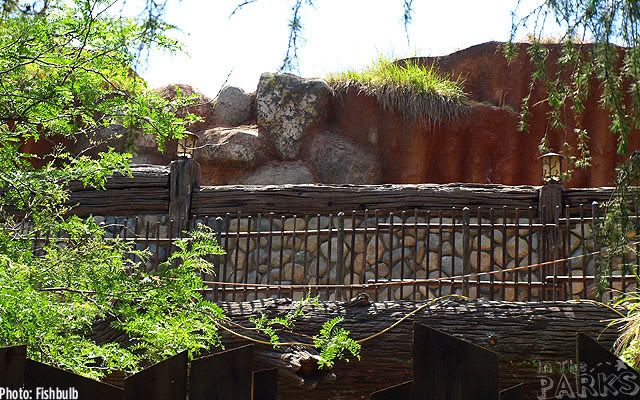 The progress at DCA is stretching past the entrance and out into the Esplanade. Here is your weekly progress report of the ugly duckling that is about to become a swan.

BUENA VISTA STREET:
Aqua-marine paint has been slathered on the Pan pacific entrance as Buena Vista Street progress hits the esplanade again. The guest relations window, lockers and restrooms are behind walls now.



You'll have to hold it.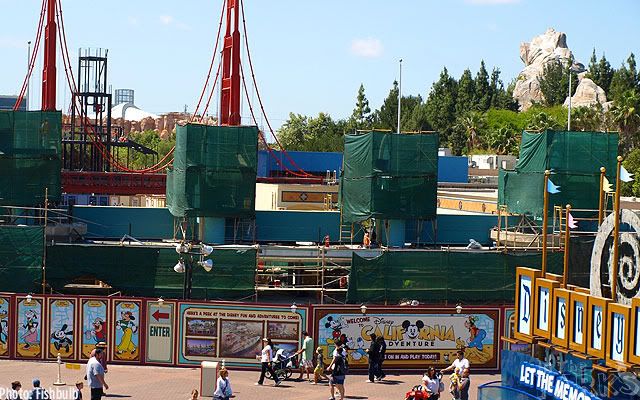 Noticeable progress.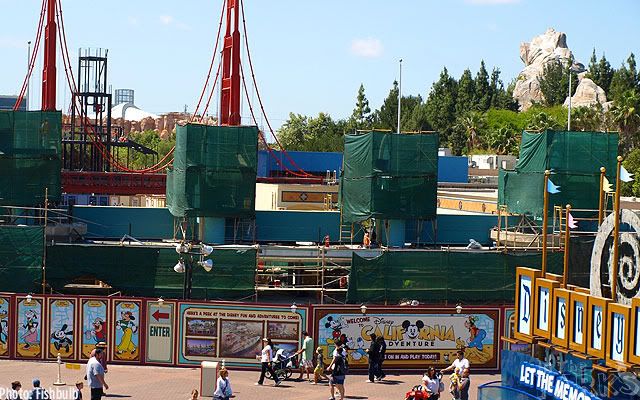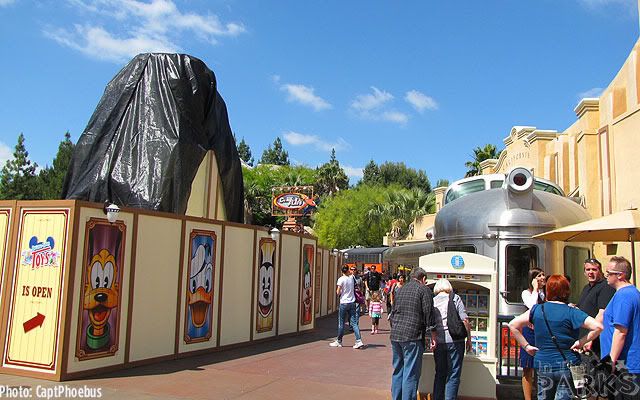 The guest relations tower is going down and the archway is no more.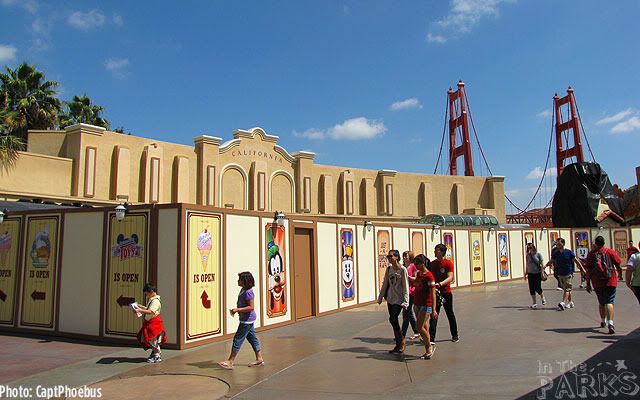 The awning over the seating area has been removed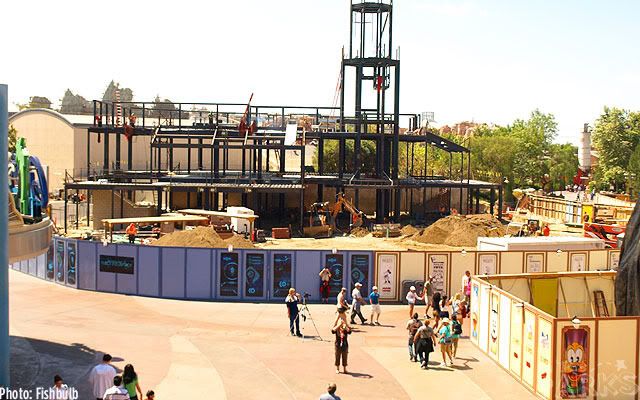 The Carthay Circle Theater.


CARS LAND:

We scan the rocky vista for progress and changes, in the land cars will soon roam.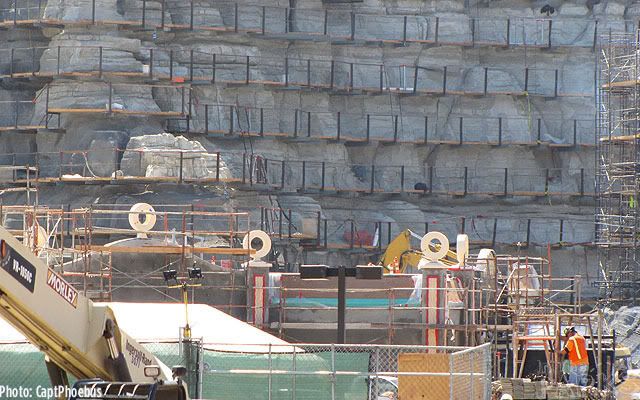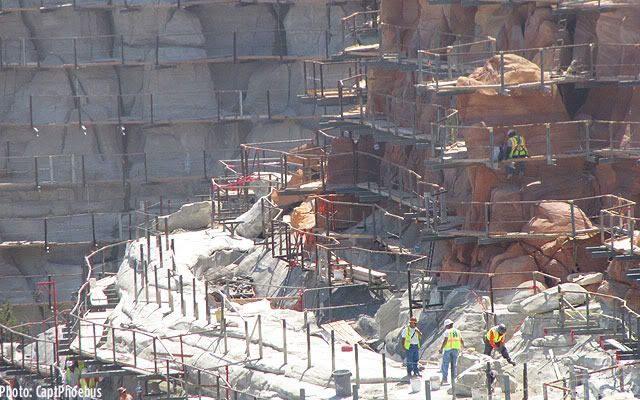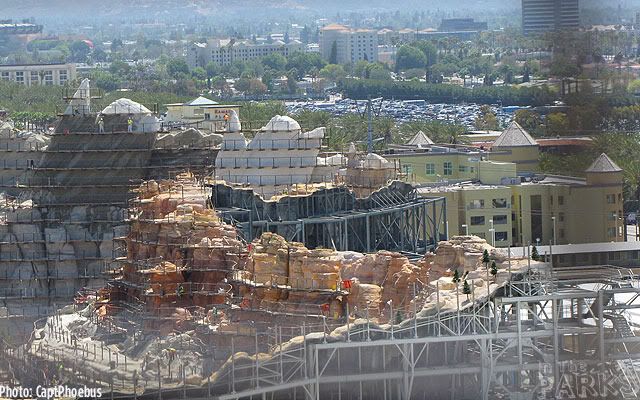 The Junkyard Jamboree.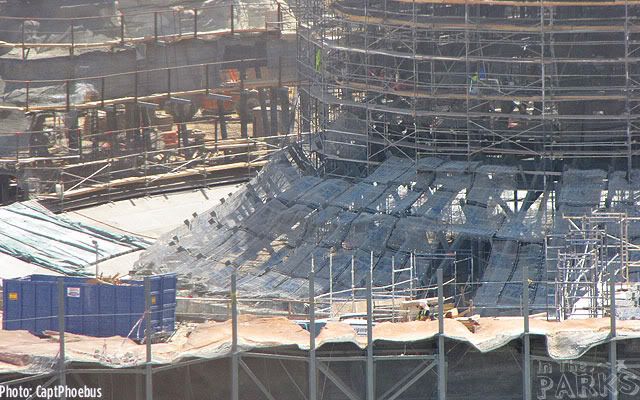 Le Helix.
PARADISE PIER SHOPS AND RESTAURANTS:
Things are coming along by the bay. This area is now scheduled to open July 1st.



Seaside Souvenirs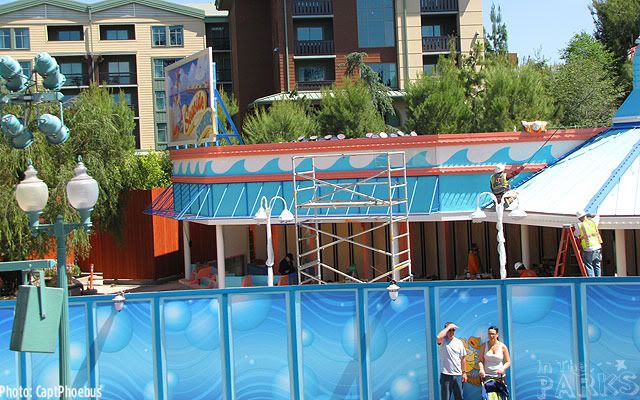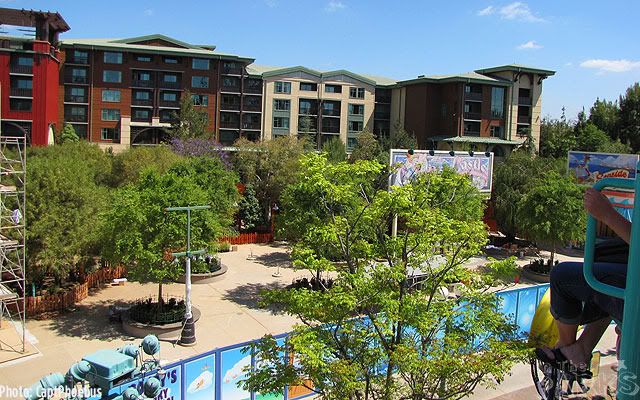 More foliage.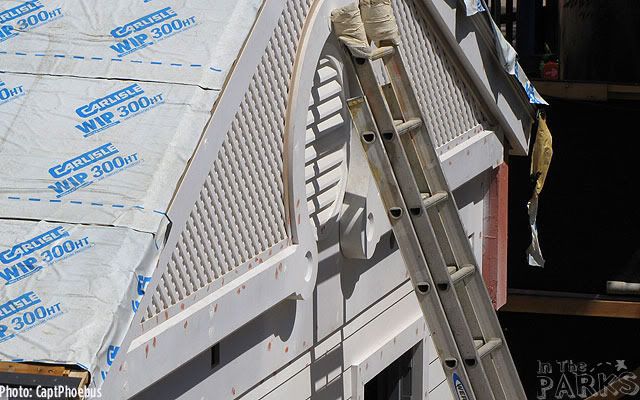 The detail on the beer stand is actually quite nice
.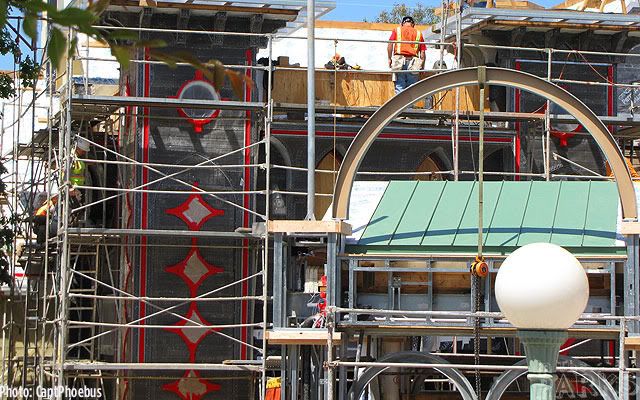 Boardwalk Pizza and Pasta
THE LITTLE MERMAID: ARIEL'S UNDERSEA ADVENTURE:

Our phone is ringing off the hook from cast members who have ridden Little Mermaid during Imagineering's test and adjust for the ride. Nearly all agree that the ride is a wonderful D/E-
ticket
and a high quality musical family dark ride.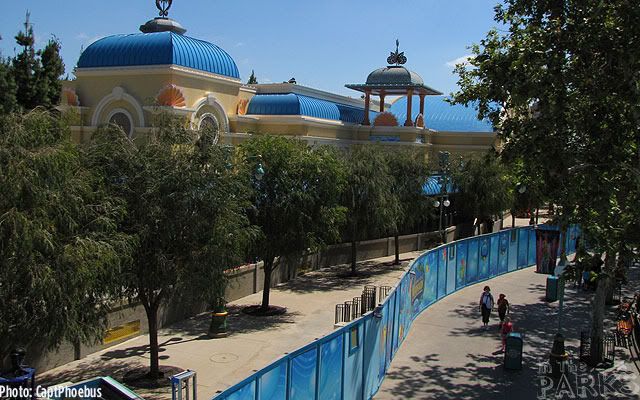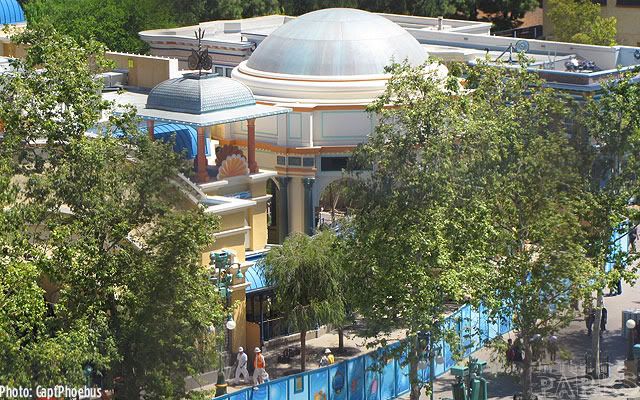 We can't show you photos from inside the ride because they are prohibited for the time being. But, let's just say that the ride is pretty spectacular from what we've seen and heard, but leaves you wanting more from its short ride time.

GOOFY'S SKY SCHOOL:

Goofy's Sky School saw vehicle testing and now the graphics and animated billboards are being installed.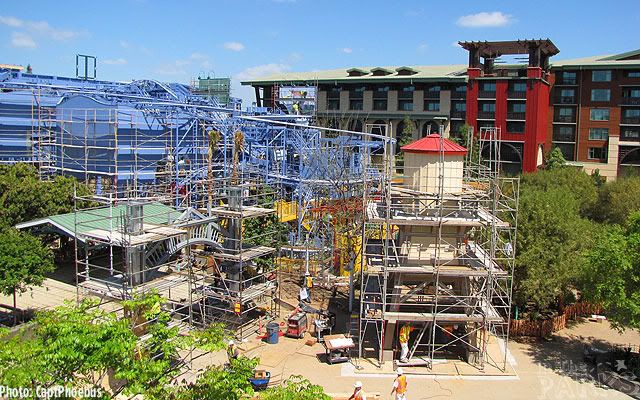 MERCHANDISE:

New merchandise has appeared on the shelf for the July 4th holiday.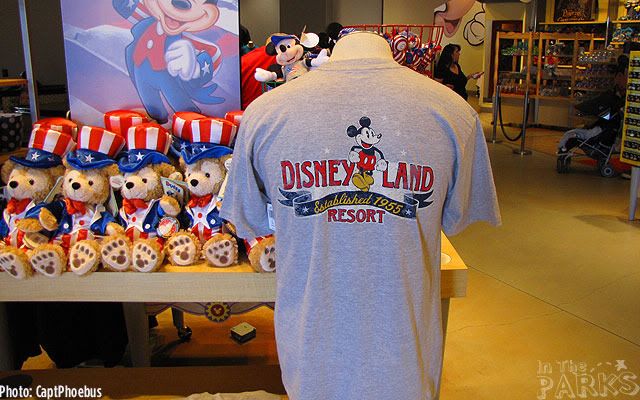 Knott's needs people to be in a T.V. show and we can help 10 of you get FREE admission into Knott's if you can commit to an early morning shoot. Elsewhere in the park, Sierra Sidewinder is down and Windseeker is still being built.

BREAKING NEWS: KNOTT'S ANNOUNCES MAZES
AND SCARE ZONES FOR HAUNT 2011

This year the Calico Mine Train gets a new theme, Labyrinth is no more and Club Blood runs out of Juice. Here is the line up for Haunt 2011
NEW MAZES
Delirium
In the deep recesses of the mind, on the clouded brink of insanity, lies the hellish wasteland of delirium; a place so gruesome that your imagination fails to comprehend the horrors. Illusion and paranoia are your only anchors to reality. Welcome to your worst nightmare!
Invasion Beneath
ENDGAMES: Warriors of the Apocalypse
The world as we know it has ended. The survivors in this barren desert have scavenged to rebuild society. The rich and the powerful have turned all others into slaves for sport. Enter the post apocalyptic arena where gladiators are forced to battle to their deaths for entertainment. Are you game?
RETURNING MAZES
Fallout Shelter (in 3D)
Locked in a cement grave for decades, hidden deep below the depths of the lake, an abandoned fallout shelter is crawling with human /genetic hybrids, toxic mutants, and a host of nuclear freaks all hungry for carnage. Grab your Geiger counters and put on your radiation suits, these residents are ravenous.
Sleepy Hollow
Ghosts and ghouls, witches and goblins, long legged beasts and things that go bump in the night are all at your heels as you travel through Sleepy Hollow. Specters and phantoms and legends of long ago haunt the living. Can you outrun the Headless Horseman? Can you keep your wits, or will you lose your head as well?
Virus Z
Lockdown: The Asylum
Terror of London
Dia De Los Muertos
The Slaughterhouse
The Doll Factory
A trip to the Doll Factory reveals a twisted museum of death and disfigurement as you are pursued by the Marionette Murderer, a psychotic killer who turns his beautiful victims into life-size porcelain dolls.
Corn Stalkers
SCARE ZONES
Gypsy Camp -
NEW SCARE ZONE
The backstreets of Ghost Town are shrouded by moonlit darkness, fearsome howl pierce the silence. In a blur of crimson teeth, werewolves stalk the encampment seeking revenge for an ancient gypsy curse.
Necropolis
A vampire world of flesh and machine, of gears and steam. Journey through the streets of this steam punk influenced city of the dead and discover the only truth in town: Blood is power.
Ghost Town
Carnevil
The Boardwalk has taken an evil turn as gruesome carnival characters perform their bizarre side-shows and evil clowns show their true colors.

Join MiceChat on Saturday September 24th 2011 for the annual MiceChat Nights of Horror, Halloween Haunt meet at Knott's Scary Farm. More info coming soon!

BERT THE CONQUERER:

Knott's bursts onto the scene this week with a special chance for MiceChatters to appear in an episode of Bert the Conqueror. The shoot will be early in the morning on Wednesday, May 25th, from 7am to 10am.

If you would like to come out for the shoot you will have to commit to filming for three hours riding both Xcelerator and Silver Bullet. However, the rest of the day is yours to spend in Knott's. KNOTT a bad deal if you ask us
. Get up early, be in a T.V. show and get a free day at Knott's Berry Farm.

If you would like your shot at fame and free tickets, please type the words "CAST ME" in your comments below. The first ten people who can commit to the time frame will be given the tickets. The rest will be put on hold in case others have to cancel.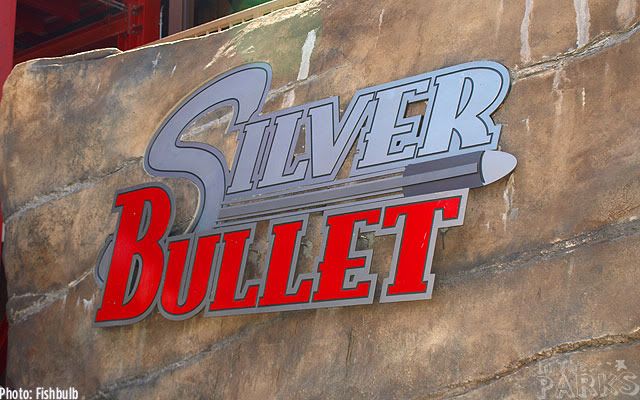 Free Admission to Military Personnel
:
Active and retired members of the U.S. military will also be able to purchase discounted admission tickets for members of their immediate family (maximum of six) for Knott's Berry Farm at $31.99 for each regular ticket and $25.99 for each regular Knott's Soak City ticket.

MAINTENANCE:
This week Pony Express re-opened while Sierra Sidewinder went down for some regular work.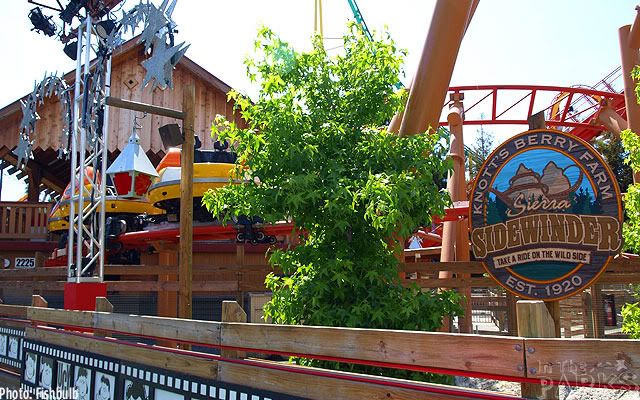 Sad Sierra Sidewinder Sits Sullen
and Sulking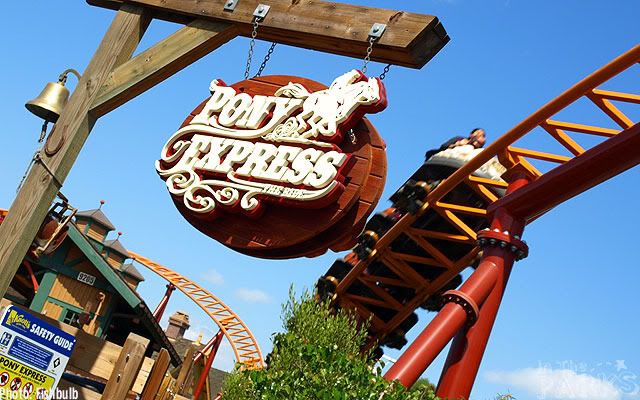 Pony Express rides again!

SNOOPY'S STARLIGHT SPECTACULAR:
The preparations for Snoopy's Starlight Spectacular are being made and we can't wait for the fun, infectious music and magic lights. It is truly a simple delight.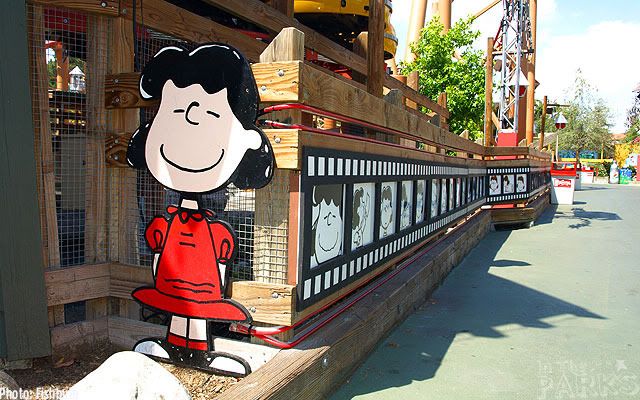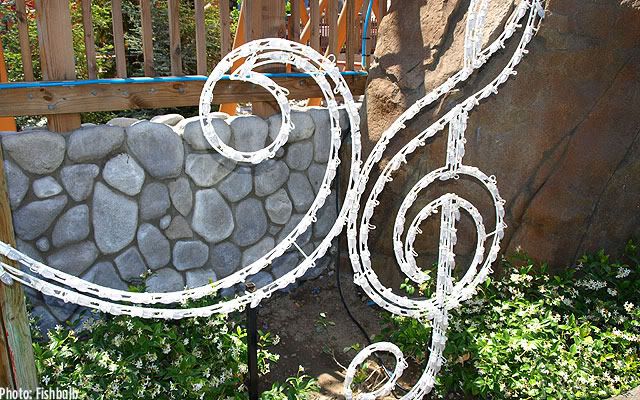 Musical notes everywhere.

Schroder has yet to appear.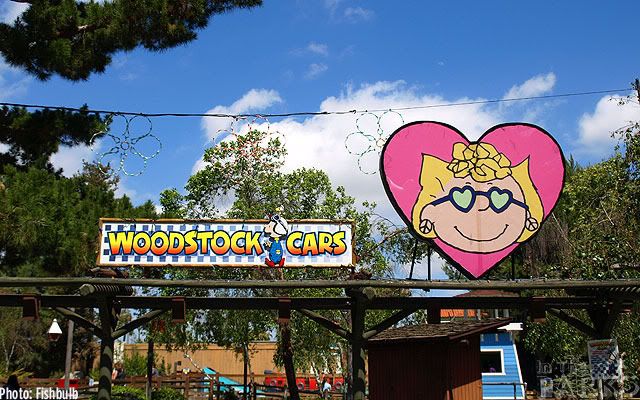 WINDSEEKER:
Windseeker continues to slowly progress. Will this thing ever go vertical?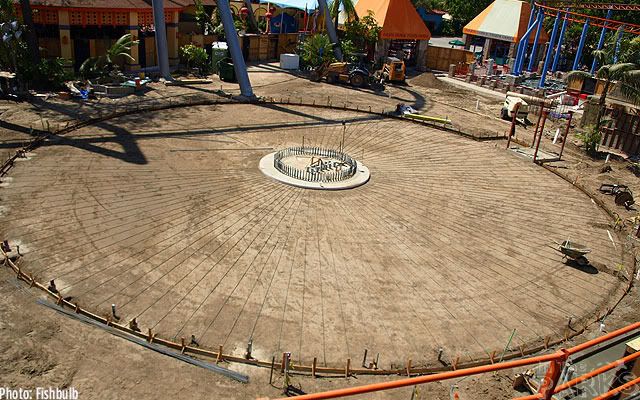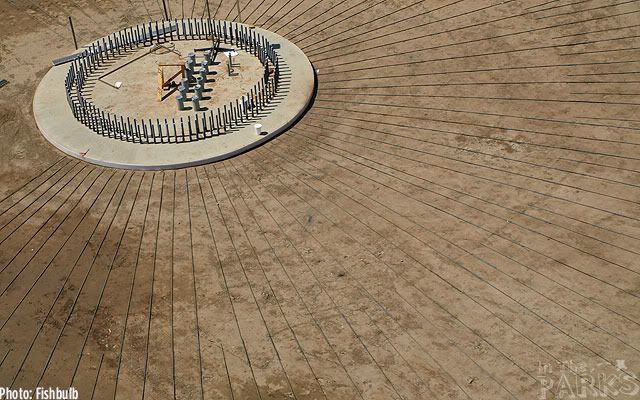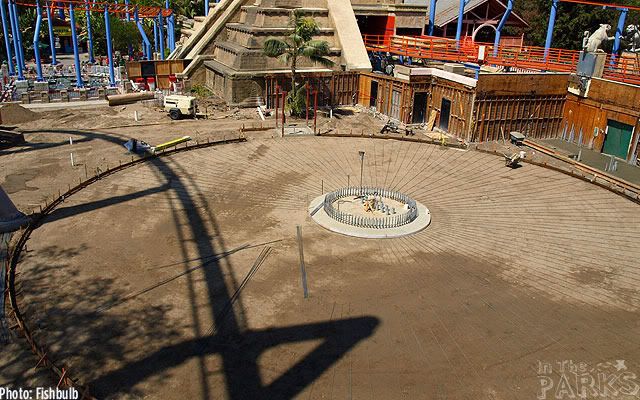 The control booth frame.
ARCADE:
A portion of the arcade below the former Kingdom of the Dinosaurs is being redone. Not to worry. You can still access the other games by going through the Ride Warrior shop.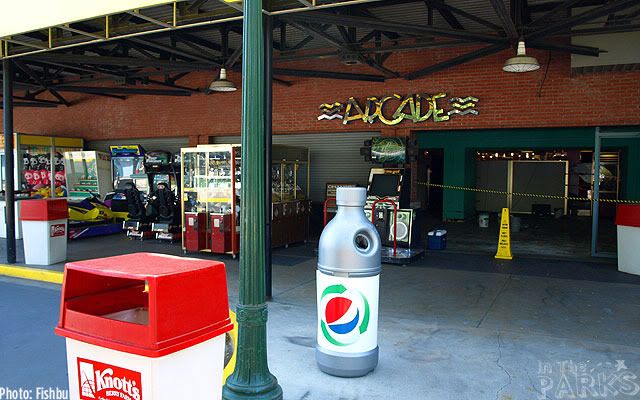 The games are just kind of thrown out on the sidewalk.
.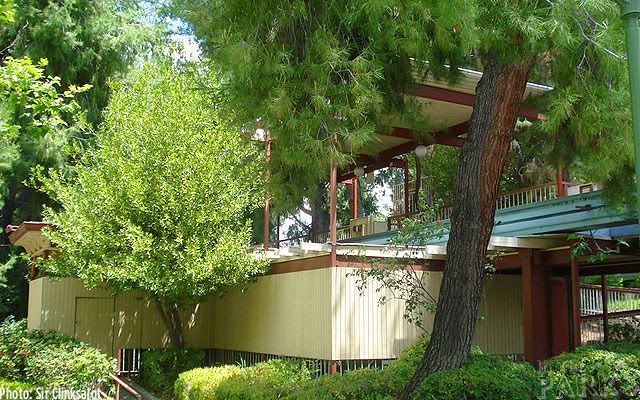 Metro Retro
THE GREEN LANTERN:
Construction at Six Flags Magic Mountain has continued at a fever pitch the past few weeks. Green Lantern's opening has also been pushed back a bit, with a June opening indicated on the construction walls to DC Universe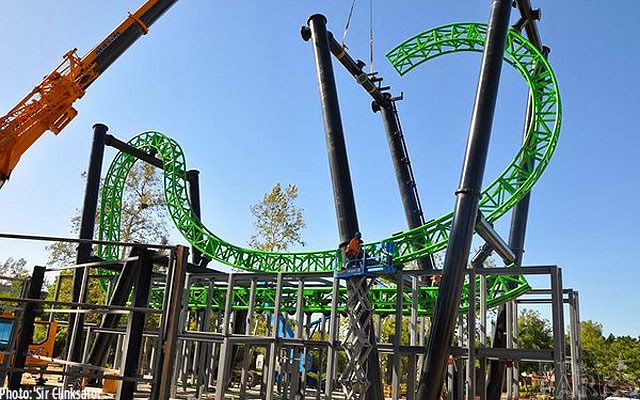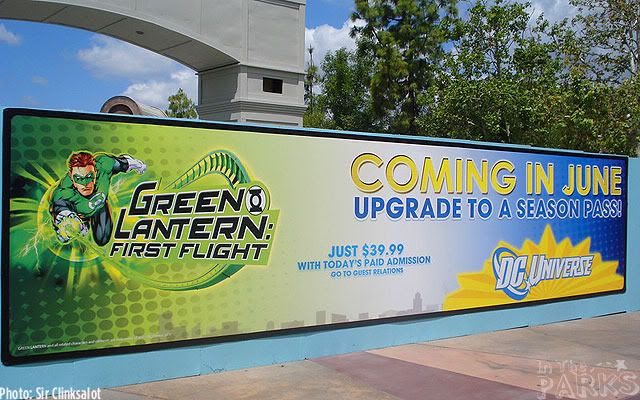 For those with Smart Phones, you can scan below with your QR Reader to get a virtual ride. These signs are also near the DC Universe construction walls for those wanting a sneak-peek.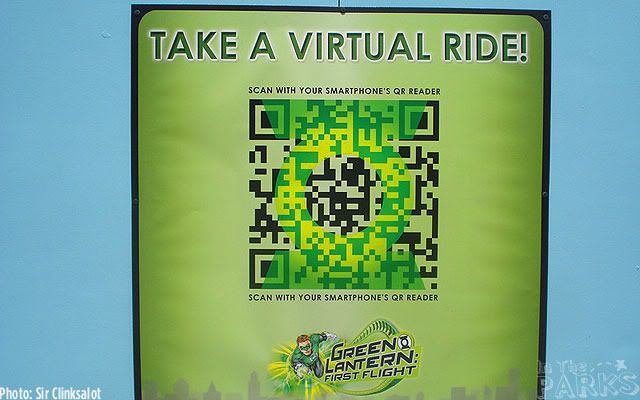 (the link will take you to a YouTube page where you can watch the animation for Green Lantern)


An overview of the area as seen from the Sky Tower. As you can see, track is being installed.

There is still some track sitting behind Apocalypse, waiting to be moved to the construction area.
D.C. UNIVERSE:
The Backlot area is still closed, and this week we can see why. The entrance sign to DC Universe is receiving new paint.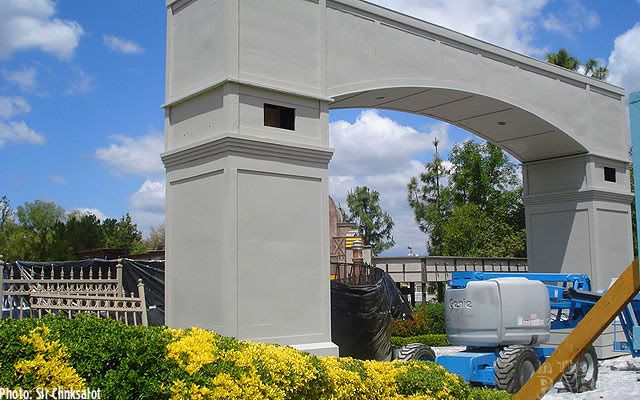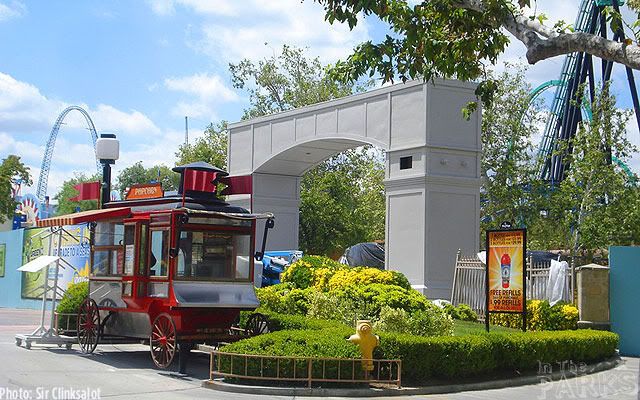 From the other side.

The Round-Up (Wonder Woman's Golden Lasso) is getting a complete rehab. The ride has been taken apart as you can see.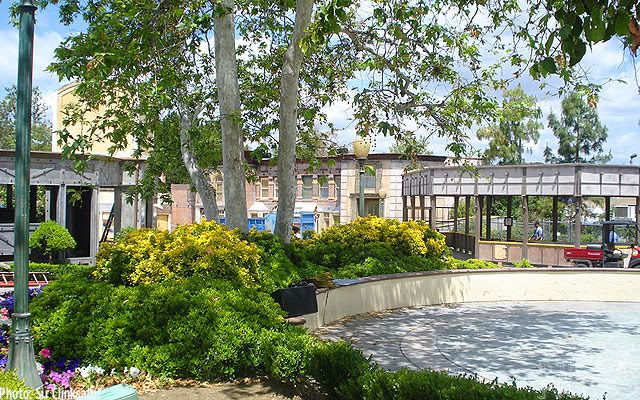 They are hard at work getting this area ready for Green Lantern's opening.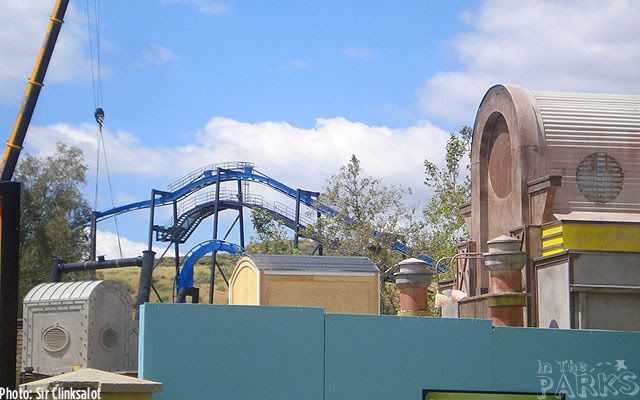 It's kind of hard to see, but the building for Atom Smasher (The Flash) is getting some work done.
ROAD RUNNER EXPRESS:
Lots of work has been done on Road Runner Express since our last update. Mostly landscaping work.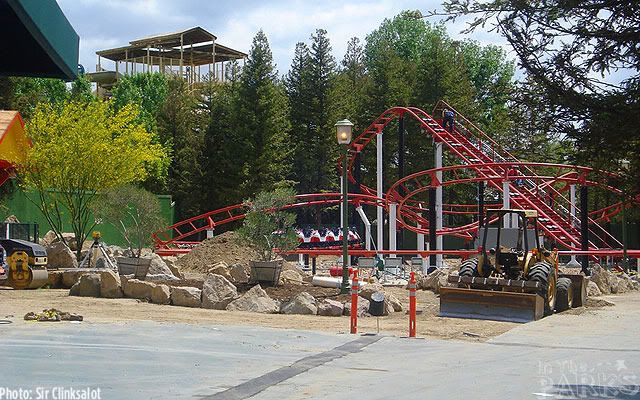 A closer look reveals that the train is on the track.


The train continues the Red, Black and White theme of the track.


Work is also being done on what will most likely be part of the queue.
THIS AND THAT:
Last week, the Metro trains were finally removed from the park. There is no evident work going on near the old station (which was close to the park entrance). Don't expect the Metro to come back.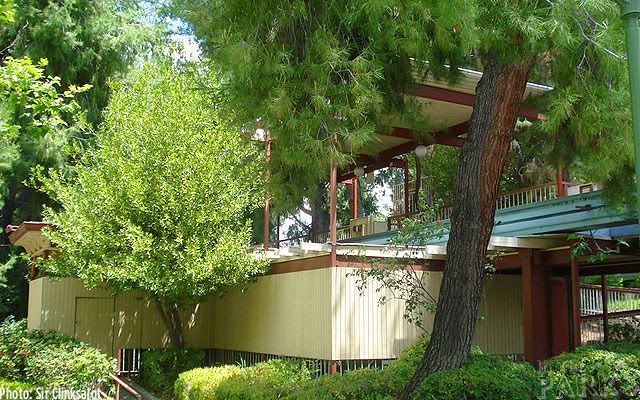 Farewell Metro.



Flowers are blooming in Whistlestop Depot, they have filled in quite nicely.


If you have some weekdays off in May or Early June, I highly recommend going to check out the park during this time. On Monday, when these pictures were taken, there were maybe 1,000 - 1,500 people in the park. You may find some rides only running 1 train, but honestly, that's all that is needed. Every ride is a walk-on during these days.

CITYWALK:
Work has kicked in high gear on CityLoft's newest addition, the Infusion Lounge. Originally scheduled to open Spring 2011, it looks like opening may be pushed back to Summer. Concept art was also released earlier this year.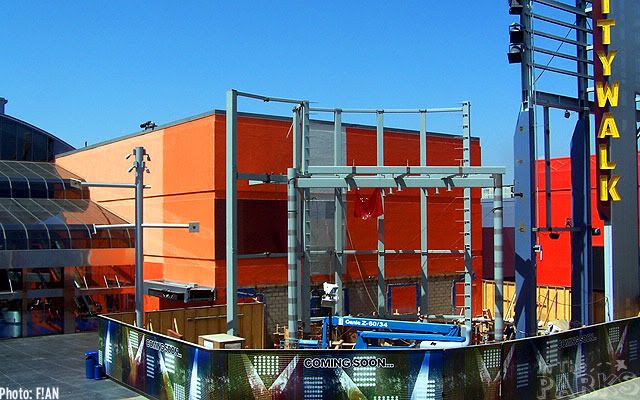 The CityWalk stage is coming along. Looks like a larger video screen may be put in judging by the larger supports that were just installed.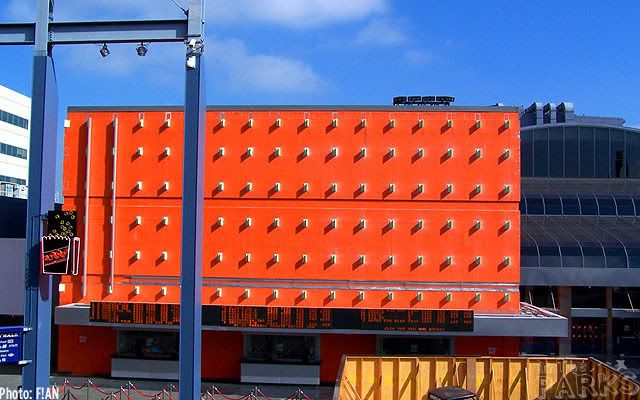 Progress on the facade of the CityWalk Cinemas. Brackets have gone up.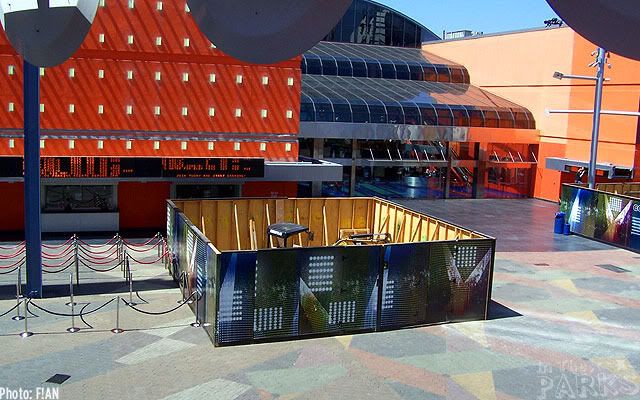 Walls have gone up near the cinema box office. Walls have also popped up at the CityWalk entrances between Sketchers/Andrew's Panda Inn and Jillian's Hi Life Lanes/The Raider Image. Looks like more utility work.


Each time the box moves, it destroys the geometric tile patterns.

The overhead corridor linking CityFood and CityLoft now has a nice little place to get away for the hustle and bustle down below.
Infusion progress
UPPER LOT:
The lighting truss at the main entrance has finally been removed after being up for almost a year.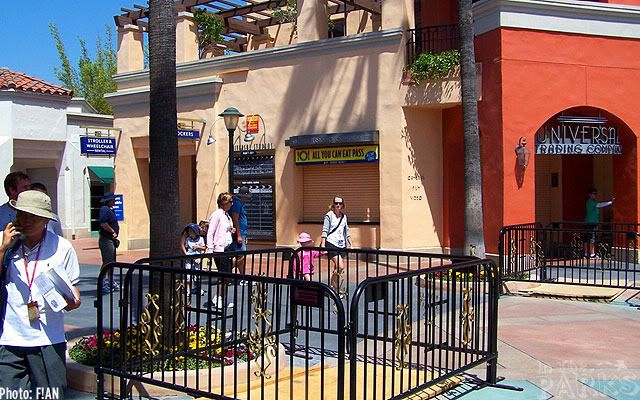 The walls separating Western Street and the old Wild West Arena have come down leaving a huge awkwardly empty area with nothing in it.
TRANSFORMERS:
Here is a look at the work on Transformers.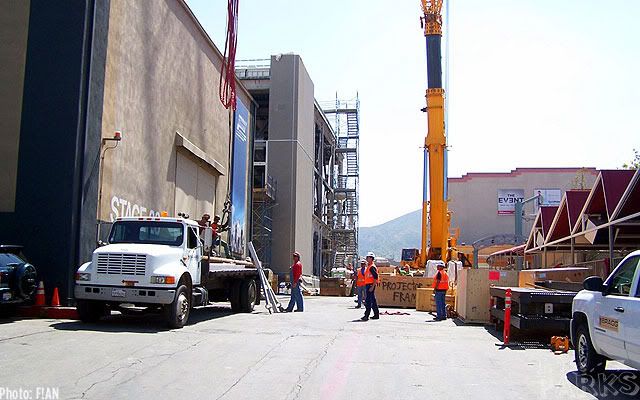 What does that crate say? Projector Frame?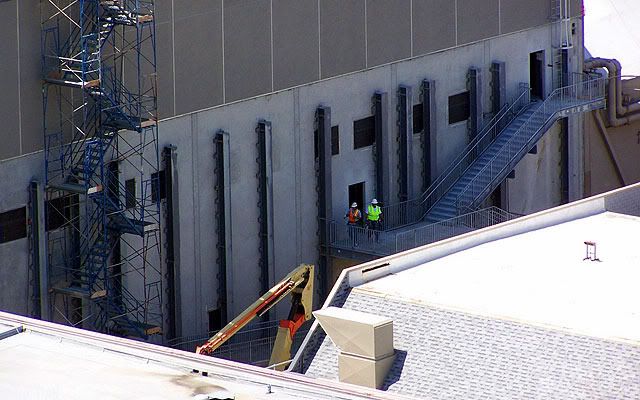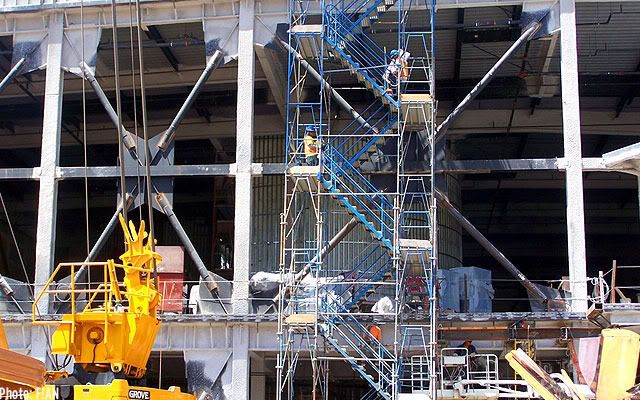 All sorts of things are going on at SeaWorld San Diego.


Turtle Reef Construction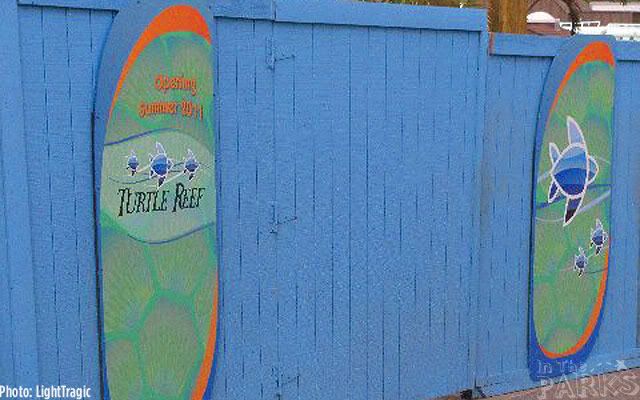 When you exit the park they set up a tent with discounted merchandise.





MANTA:
These are from the Skytower showing how big the Manta site is.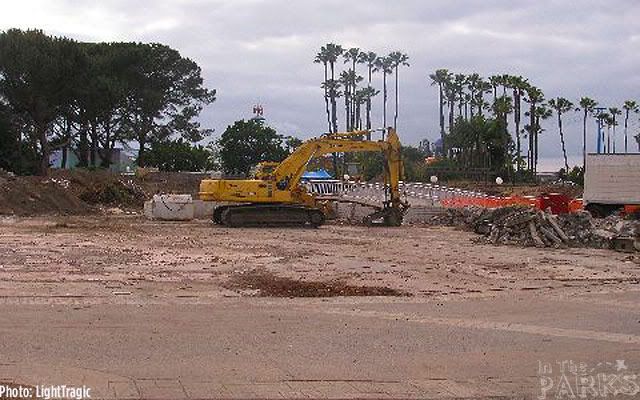 The feeding booth remains virtually untouched while the pool is slowly starting to be demolished.

RIPTIDE RESCUE:
We finish our SeaWorld segment with a pic and a few videos showing testing of the new Riptide Rescue flat ride.




Tommy's 65 Cent Chili Burger Deal
May 15, Original Tommy's is celebrating its 65th birthday with a bash at the original Los Angeles burger shack on Beverly and Rampart Boulevard. From 11 a.m. to 10 p.m., Tommy's will be serving a special 65-cent chili cheeseburger and Coca-Cola combo. The deal is valid ONLY at the original location. Limit five orders per person.
Koroneburg Renaissance Festival

Saturday, May 14 11:00a to 7:00p at

Crossroads Riverview Park

, Corona, CA
http://www.renaissanceinfo.com/riverview/index.html
8th Annual LA 3-D Movie Festival

Saturday, May 14 1:00p at

Downtown Independent Theater

, Los Angeles, CA
The Festival will take place on May 14-15th, 2011, at the Downtown Independent Theater in Los Angeles. A jury of celebrity and film industry judges will award prizes to the top entries. In addition, an award will be given for the audience favorite.
http://www.la3dfest.com/
El Capitan Pirates of the Caribbean on Stranger Tides
starts May 20- June 23rd. Set pieces, props and costumes direct from the movie set will be present.

28th Annual Children's Day Celebration (Kodomo no Hi)
Saturday, May 14 11:00a at

Japanese American Cultural & Community Center

, Los Angeles, CA
Join us for a fun and culturally rich celebration of the traditional Japanese holiday Kodomono Hi (Children's Day) in Little Tokyo. The celebration continues with the Asian Pacific Arts and Crafts Faire, including cultural performances, food vendors, gourmet food trucks, games and crafts for kids, and hands-on Cultural Discovery Workshops.
http://www.jaccc.org/childrensday.php
Freebies:
Saturday Sunrise Car Cruisers

Saturday, May 14 6:00a to 9:00a
at

Adams Avenue Donuts

, Huntington Beach, CA
Billed as the best free car show in the world, this Saturday morning event has been a tradition for more than 20 years. Each and every Saturday you can expect to see everything from backyard rat rods to "America's most beautiful roadster." Classic auto owners known as the Donut Derelicts meet at the parking lot on the corner of Magnolia and Adams near Adams Avenue Donuts to share stories and admire their classic beauties.



Gallery Nucleus
210 E Main St Alhambra CA 91801
Nucleus | Art Gallery and Store
On May 14th, the Gallery Nucleus in L.A will be presenting East to West Flash Trip, a story about the exciting adventures of a boy and his dog, told through a series of lighthearted, colorful gouache paintings by artist Becky Dreistadt and Disney's Lorelay Bove. This exhibit will also feature a collaborative painting that the artists are currently in the process of creating.

MOTA Museums of the Arroyo
Join MOTA for the 22nd anniversary of Museums of the Arroyo Day, where five museums located along the Arroyo Seco in Los Angeles and Pasadena open their doors free of charge from noon to 5 p.m. on May 15, 2011.


JPL Pasadena has an open house May 14-15, 9am to 5pm.
Admission and Parking are free both days. This is a chance to see the technology behind our space program or as I like to say... what Tomorrowland should be like!

Muse Art Walk 2011 is Saturday May 14th.
http://www.lacma.org/membership/Muse...k2011Guide.pdf

Today's update was brought to you by our fantastic and talented crew of photographers and news contributors: LightTragic,

F!an

,

Captphoebus,

Pratt55,

Ericbramey,

Sir Clinksalot,

Fishbulb,

and Dustysage

.







Show us you appreciate this column by sharing this page with your friends!




Would you like to be part of this crew? Do you have a park, zoo or botanical garden that you'd like to share with our readers?

We are looking for Southern California theme park reporters.

We'd love to hear from you!

please contact dustysage@micechat.com.

Don't miss any important news, sign up for MiceChat's monthly newsletter and events email:




<style type="text/css"></style>
<style>.link, .link a, .signupframe { color: rgb(34, 102, 153); font-family: Arial,Helvetica,sans-serif; font-size: 13px; }.link, .link a { text-decoration: none; }.signupframe { border: 1px solid rgb(0, 0, 0); background: none repeat scroll 0% 0% rgb(255, 255, 255); }.signupframe .required { font-size: 10px; }</style>

<form method="post" action="http://app.icontact.com/icp/signup.php" name="icpsignup" id="icpsignup6385" accept-charset="UTF-8">

<input name="redirect" value="http://www.icontact.com/www/signup/thanks.html" type="hidden"> <input name="errorredirect" value="http://www.icontact.com/www/signup/error.html" type="hidden">

<table class="signupframe" border="0" cellpadding="5" cellspacing="0" width="260"> <tbody><tr> <td align="right" valign="top">

* Email

</td> <td align="left">

<input gtbfieldid="25" name="fields_email" type="text">

</td> </tr> <tr> <td align="right" valign="top">

First Name

</td> <td align="left">

<input gtbfieldid="26" name="fields_fname" type="text">

</td> </tr> <tr> <td align="right" valign="top">

Last Name

</td> <td align="left">

<input gtbfieldid="27" name="fields_lname" type="text">

</td> </tr> <input name="listid" value="73601" type="hidden"> <input name="specialid:73601" value="Y87V" type="hidden"> <input name="clientid" value="484459" type="hidden"> <input name="formid" value="6385" type="hidden"> <input name="reallistid" value="1" type="hidden"> <input name="doubleopt" value="0" type="hidden"> <tr> <td>




</td> <td>

View my publisher profile.

</td> </tr> <tr> <td>




</td> <td>

* = Required Field

</td> </tr> <tr> <td>




</td> <td>

<input name="Submit" value="Submit" type="submit">

</td> </tr> </tbody></table>




</form>

Email Marketing You Can Trust