Another "new" attraction is about to open at Disney California Adventure as soon as this weekend. We'll take you to the park to see what's coming 'round the bend. We'll also take a brief visit to Disneyland which is settling into a busy summer season. After that, we poke around the new D.C. Universe at Magic Mountain. And, since we are known for packing as much into a single update as is humanly possible, we visit Knott's where Windseeker is going WAY up Snoopy has a cute new ice show. Then, down to San Diego we go for LEGOLAND Star Wars Days and a very crowded walk through Sea World San Diego. There's a whole summer's worth of fun packed into this single update! Let us know if you enjoy it and what attractions you'd like to see us visit in the near future . . .
Disneyland in the full swing of summer, and though crowded, everything seems fairly mellow (in part due to the moderate temperatures and morning clouds). But, never fear, hot temps and tempers are sure to show up eventually (it is a theme park after all).
MAIN STREET: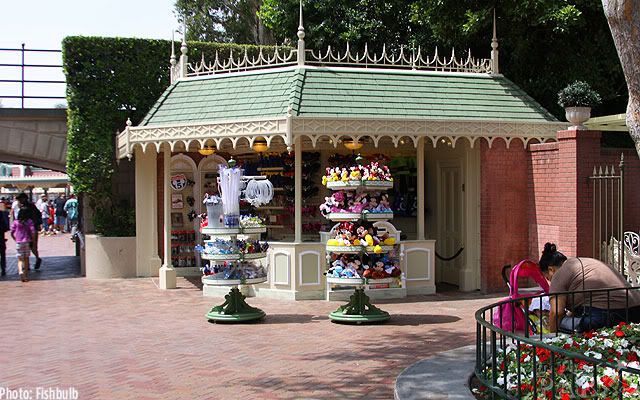 There is still a portion of counter to the left, but you can now walk into the shop on the left. We like it!
The doors have all gone missing at once!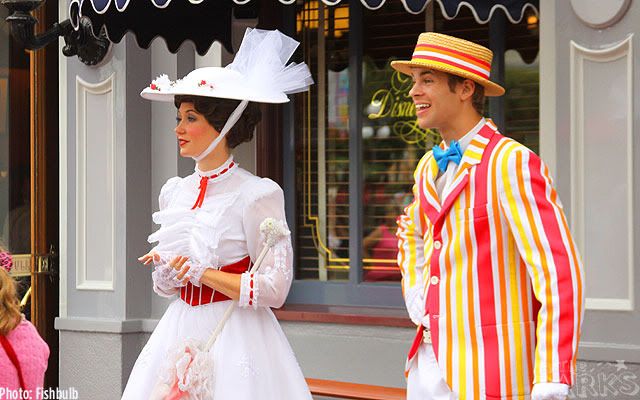 Oh well, Bert and Mary are keeping the guests happy in the meantime.
MATTERHORN:
As a heads up, Matterhorn is planned to go down for a refurbishment from just after the July 4th holiday to Labor Day Weekend. This will be for the first phase of a major, two-phase refurbishment.
Race down those icy slopes while you can
Don't miss the video below from Sarah and our MiceTube station!
CONTEST ALERT

:

Visit our YouTube channel
http://www.youtube.com/micechat
and click the SUBSCRIBE button at the top of the page for your chance to win a $25 Amazon gift card!
Something exciting may be soft opening this weekend (perhaps as soon as today).
BUENA VISTA CIRCLE:
The front gates of the new park are nearing completion and should be ready for use soon. Once this happens in the last half of July, walls will engulf the old turnstiles and the building of the facades on Buena Vista Street will begin.
How will you get into the park if the front is walled off? There is an elaborate plan which will have you taking a trip from the new turnstiles backstage along the backside of Soarin''' and over to the wide pathway where the the character photo op is near Soarin's overflow line.
Get ready. This last push of construction will take extra planning on the part of guests rushing to make their World of Color showtime or to catch that reservation at the trattoria. It isn't a pretty solution, but it works and we are more than willing to put up with this short inconvenience in exchange for a beautiful new entry area.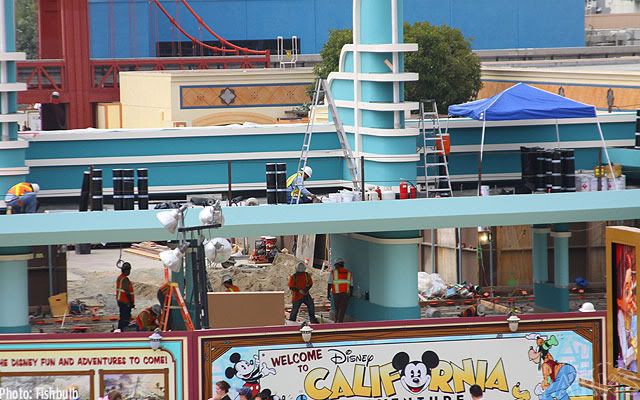 The Carthay Circle Theater suddenly showed a push of progress this past week with masking and metal framing springing up all over the steel framework.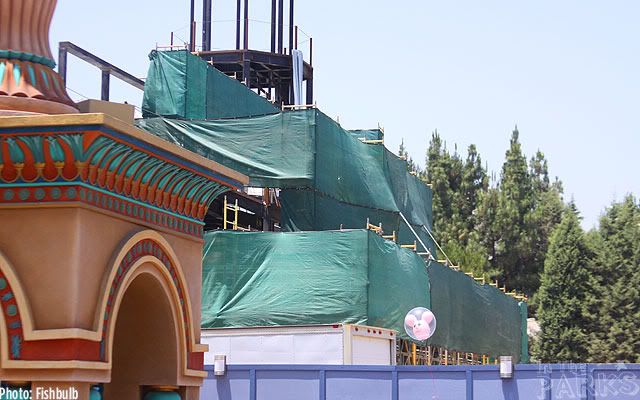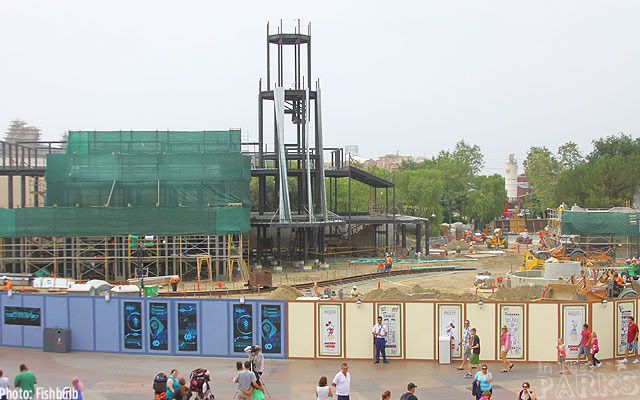 Notice the Red Car Trolley track in front of the theater.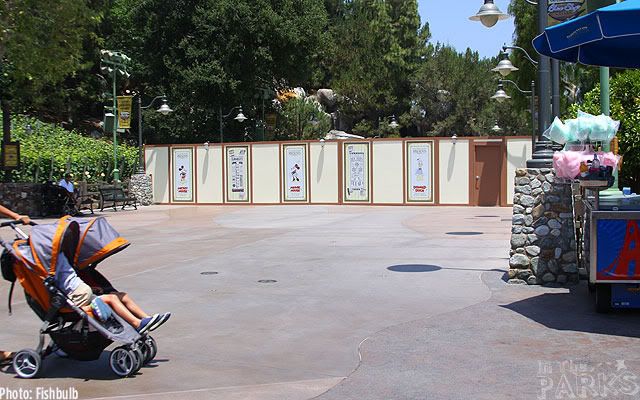 The parade corridor through the center of the park is now closed while major construction expands
.
GOOFY'S SKY SCHOOL:
This weekend could see soft openings of the rethemed wild mouse coaster into Goofy's Sky School. Cast members have been scheduled to man the entrance and explain that the ride is not currently open . . . which is often code that the attraction may in fact soft open.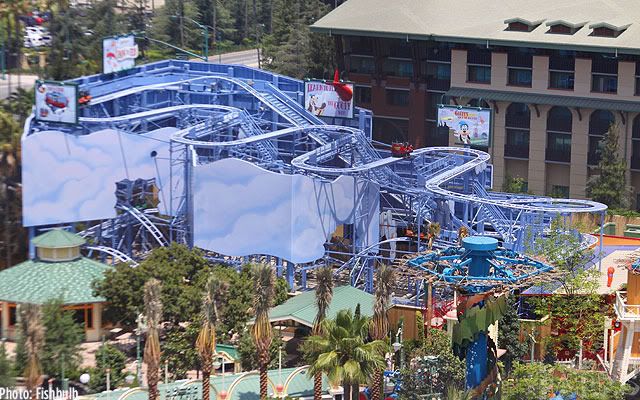 CARS LAND:
Here's our weekly look at Cars Land progress. Interesting changes to note are the rock work at the wheel-house entrance to the ride, as well as the racing helix butte.
The latest from Radiator Springs.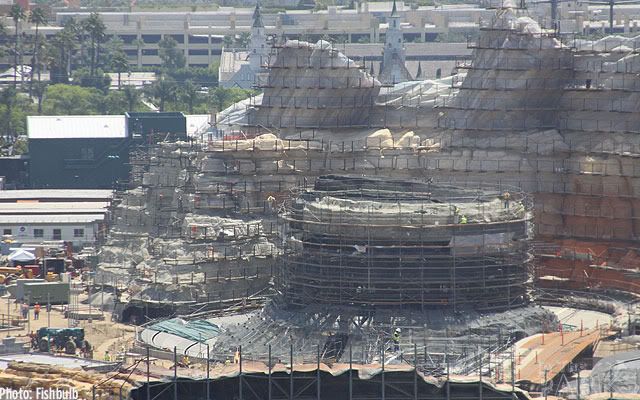 Here is the butte in the helix. The steel mesh is being surfaced now.
That shelf is the wheel house area where guests will enter the show building.
PARADISE GARDEN RESTAURANTS:
Will Paradise Garden restaurants meet their July 1st opening goal? We hope so. But, Al Lutz reports that Paradise Pizza and Pasta may be behind schedule once again. When it is done, it will be done. Regardless, the work we can see from the outside is impressive and a total change from what was there before. It is an astounding transformation, isn't it folks?!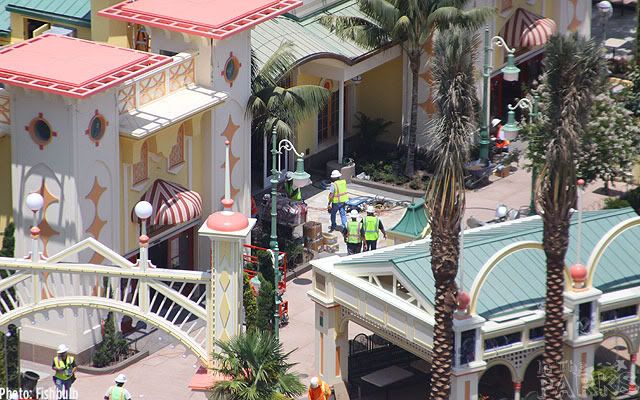 Notice the palm trees and the stacked stone entrance path for Boardwalk Pizza and Pasta.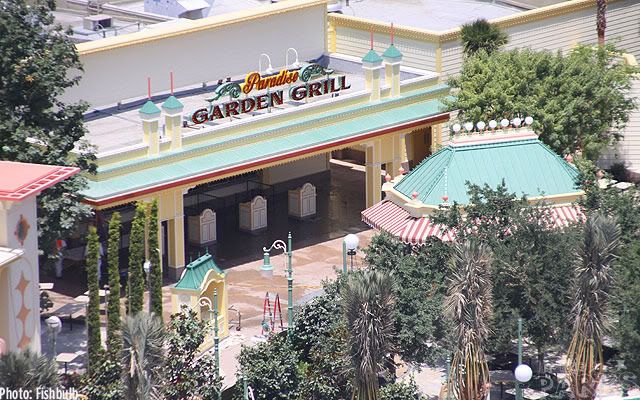 Paradise Garden Grill seems ready to go and will likely open on time or even a bit early.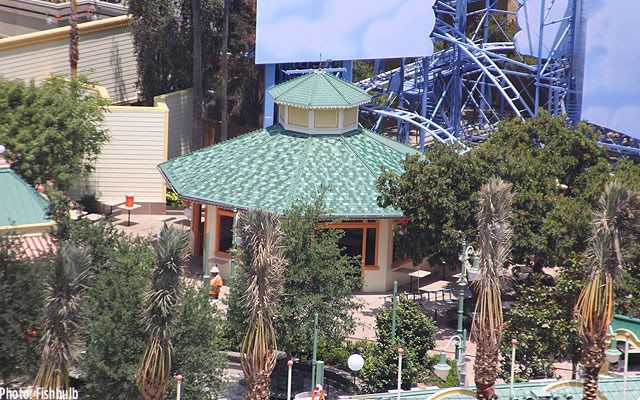 It's almost time for a brew.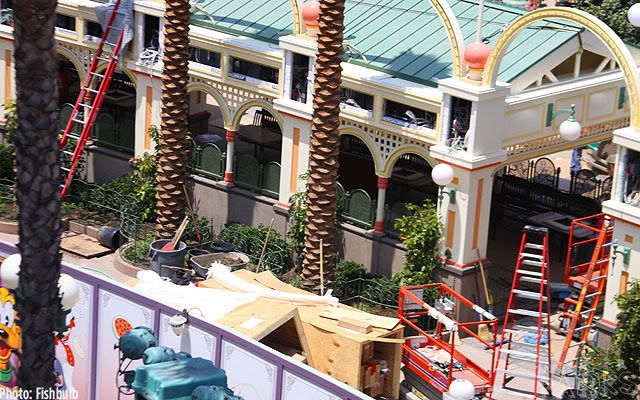 The tables have gone in under the canopy.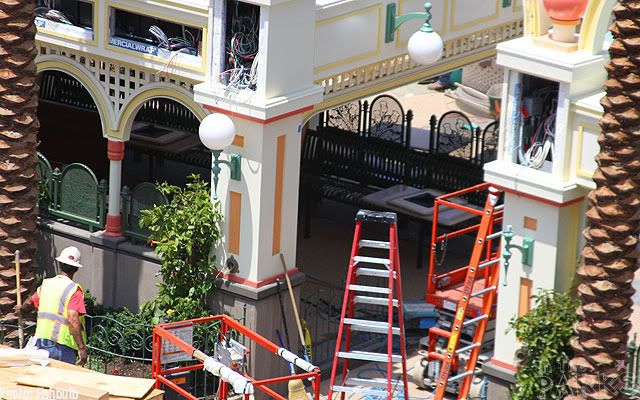 Really nice new benches have been installed as well. You can just make them out behind the tables.
The entrance to the area is nearly complete.

D.C. UNIVERSE:
Sir Clinksalot takes us to DC Universe where final touches to the revamped area of the park and Green Lantern are being completed.
Of course, the crown jewel of the new DC Universe is Green Lantern: First Flight. I'm told the Green Lantern emblem is very bright at night and can actually be seen from the freeway.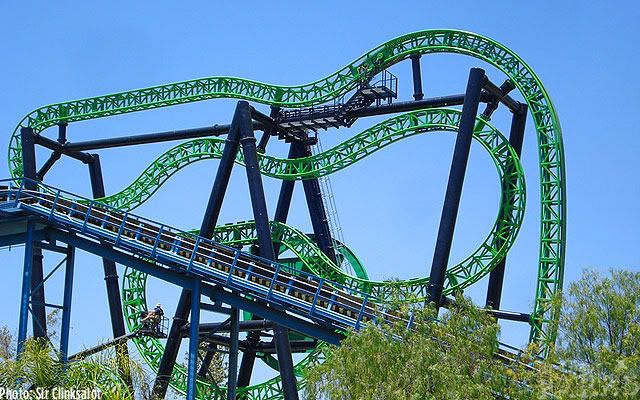 The ride as seen from Tidal Wave. They were working on the ride the day these pictures were taken, so unfortunately, we were unable to get any pictures of the ride testing.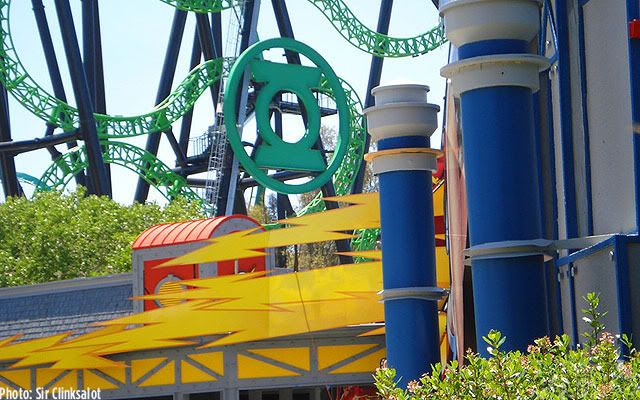 A different angle of the emblem.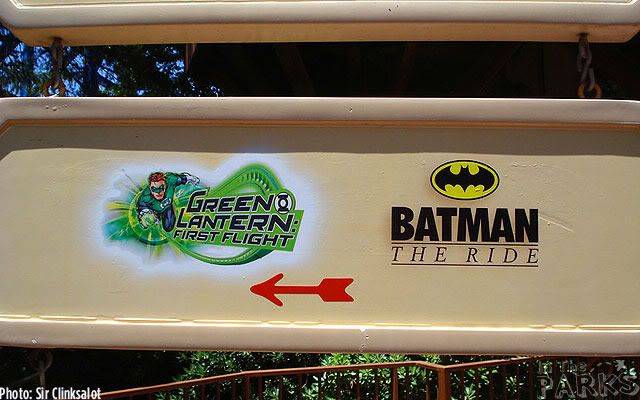 Directional signs are now telling everybody which way to go to get to the new ride
The old Gotham City Archway is now bright and colorful. Just a few more characters to be added to the archway. From Left to Right: Aquaman, Blue Beetle, Green Lantern, Flash, Wonder Woman and Batman.
Elsewhere in DC Universe, signage has been added to Wonder Woman "Lasso of Truth". A slight name change here, as the ride was originally slated to be called Wonder Woman's Golden Lasso. That name is still represented on the parks map.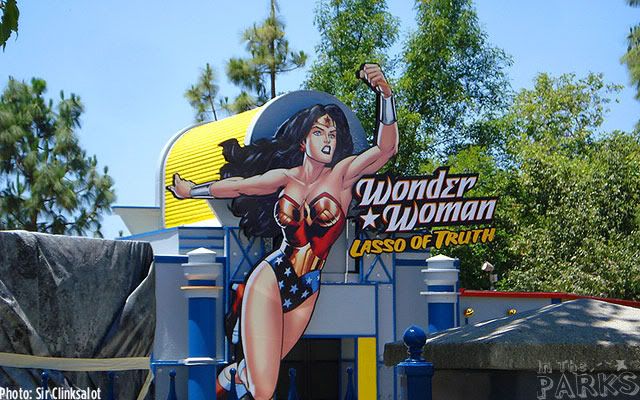 Other Wonder Woman thematic elements have been added to the ride building as well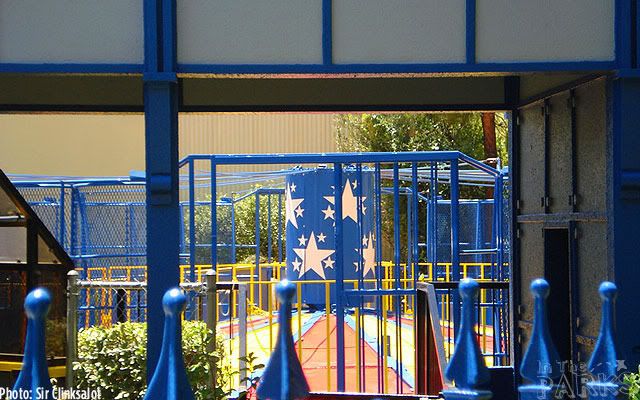 A closer look at the ride reveals some nice details. This really is a blast from the past as it's close to the ride's old "Electric Rainbow" roots.
The Flash has been added to the entrance of the old Atom Smasher. The full name of the ride is The Flash "Speed Force".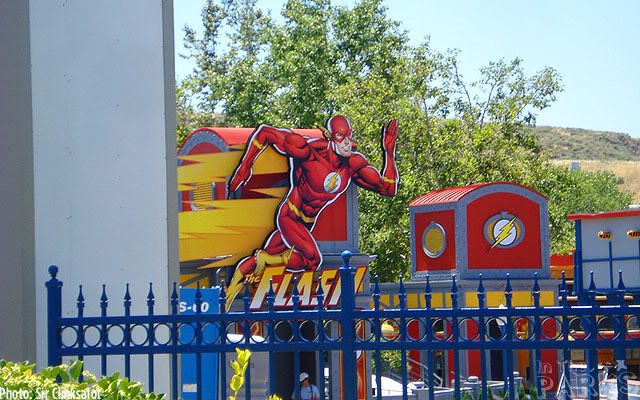 The facades have some great tributes to DC Comics. Clinton Street Apartments is the home of Clark Kent. Wonder if you will be able to go visit Apartment 3-D.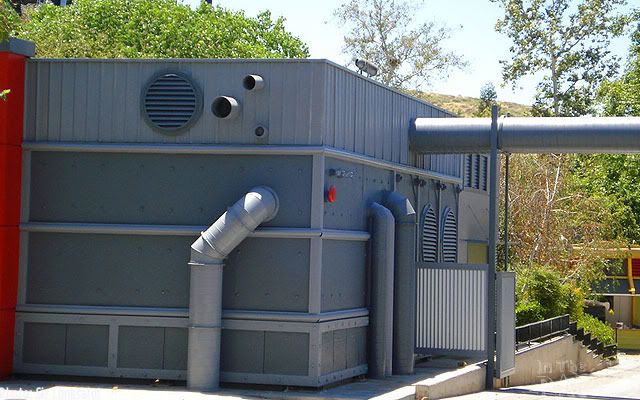 The restrooms have also gotten some paint

As Windseeker continues construction, we take a pause from the extreme attractions to tell you about the opening of the delightful new Snoopy Ice Show, Happiness Is. But before we do we have some news about Knott's and the 4th of July.

FOURTH OF JULY AT KNOTT'S:
FREE
visit knotts.com.
HAPPINESS IS...:
The summer tradition of the Knott's Ice show returns with Happiness is...
Happiness is being a cowboy.
The show is a rumination on what makes the Peanuts gang happy.
Hound dog ho-down
He held this pose for 15 seconds. Just kidding. It was cool though.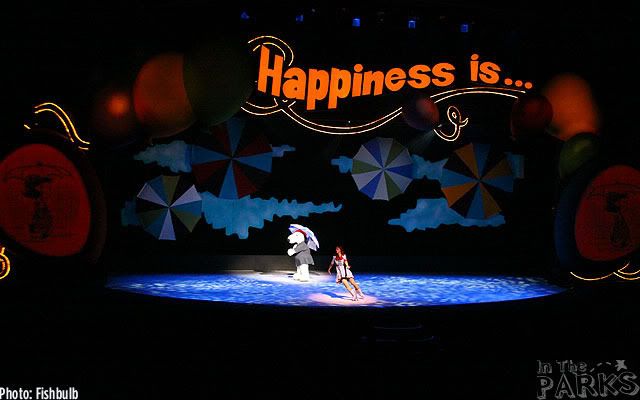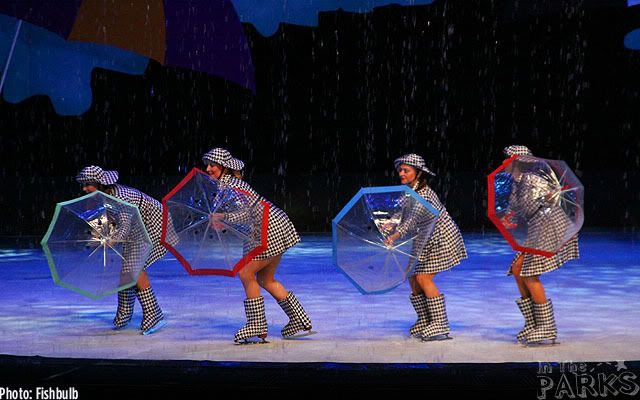 Very Busby Berkley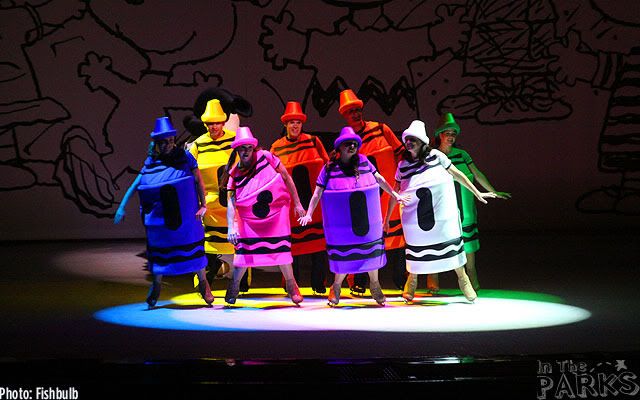 The crayon number was great.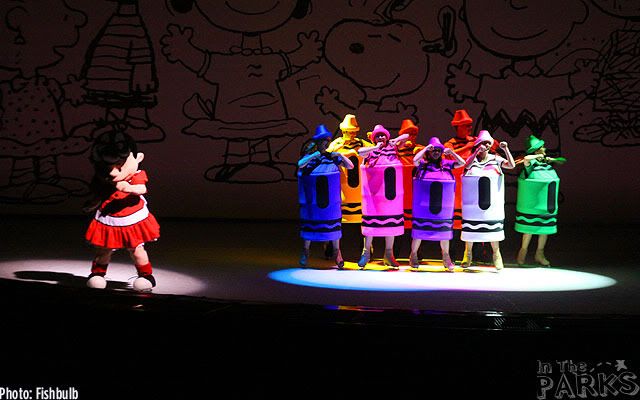 DON'T TOUCH LUCY'S CRAYONS!
The lighting design, in particular, shines.
The costumes are fun too.
This is a risky date move. Never let a woman with blades on her feet wrap her legs around your neck.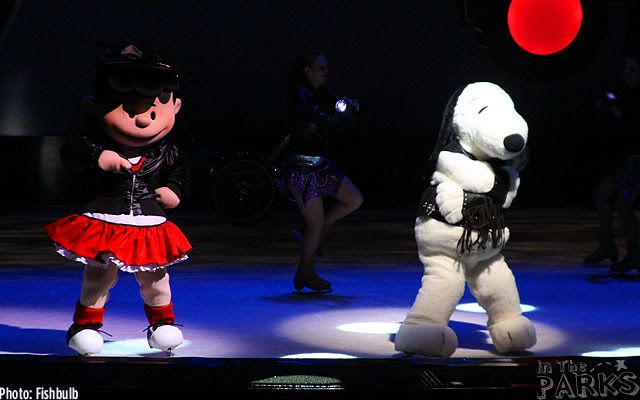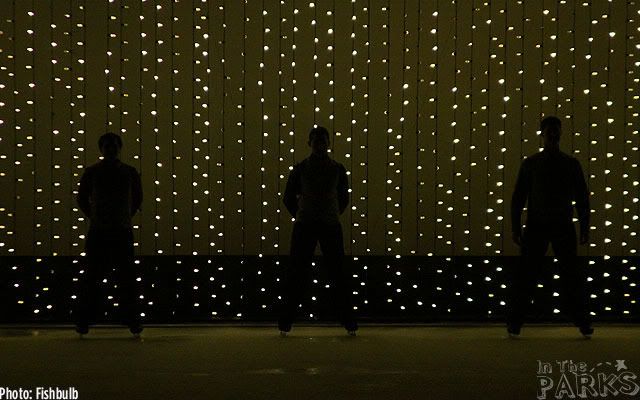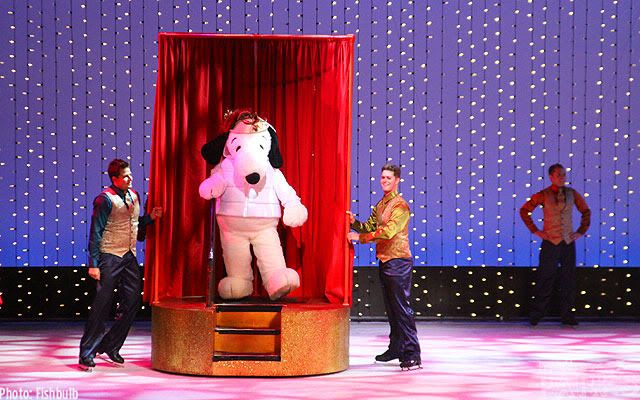 Yes, Justin Beagle. The jokes don't get any better.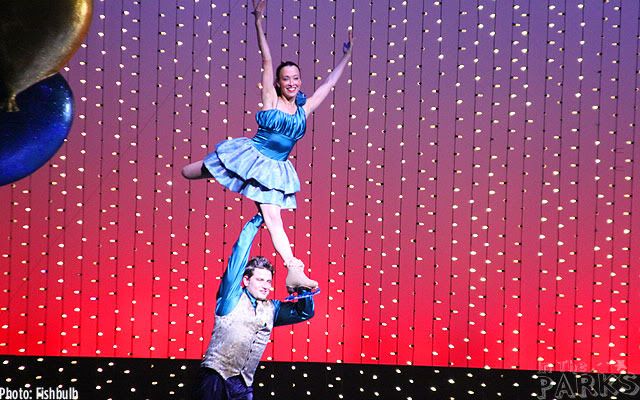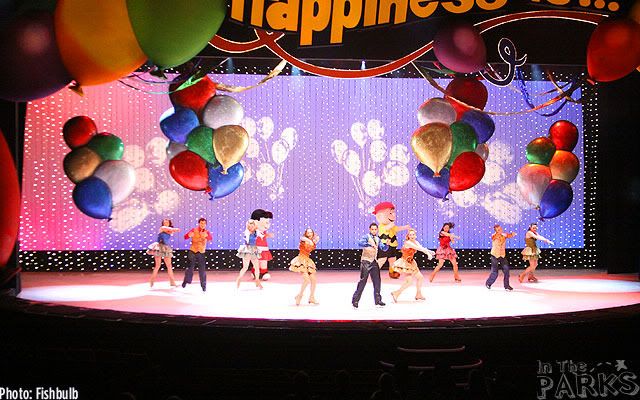 Overall the show is exactly what you would expect.
Happiness is, is a frothy, cheesy piece of family fun. It's filled with some truly talented ice skaters that seem to sometimes defy gravity. The music is always catchy and there are some nice set pieces. If nothing else, it serves as a very welcomed, air conditioned, respite from the summer heat. Take a breather on your next visit to Knott's and check out Happiness Is at the Charles Schultz Theatre.

LEGOLAND California hosted Star Wars Weekend on June 18th and 19th. MiceChat's own Monorail Man and Danny Sciorintino were there to cover the festivities for us.
Darth was let in early. Just do what he says and no Legos will be harmed.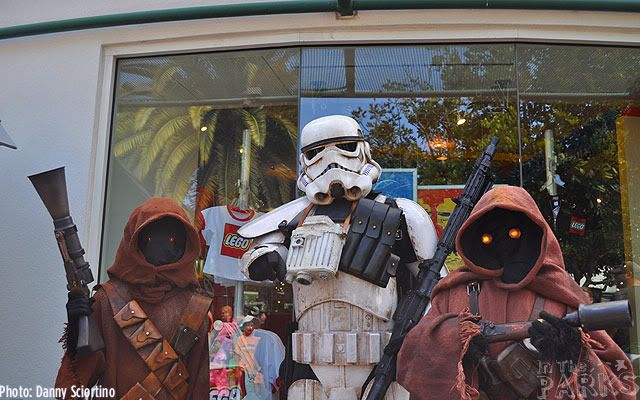 All are welcomed at LEGOLAND
Even this guy.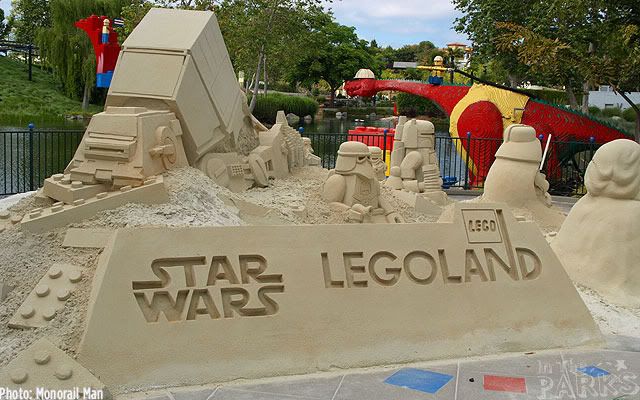 The entrance to the park featured this wonderful sand sculpture.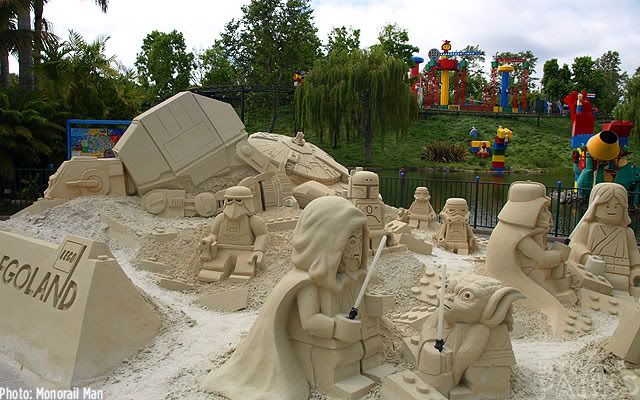 Lego Darth uses his Lego saber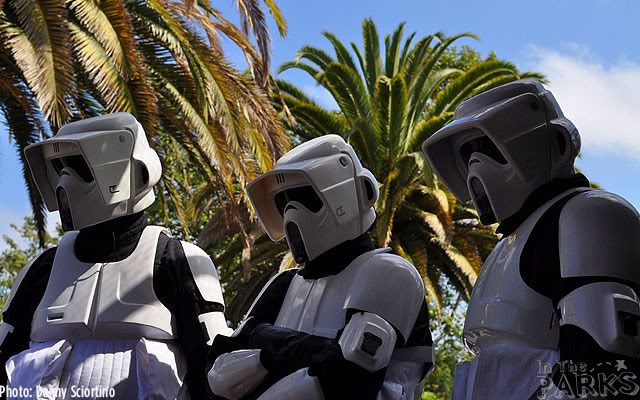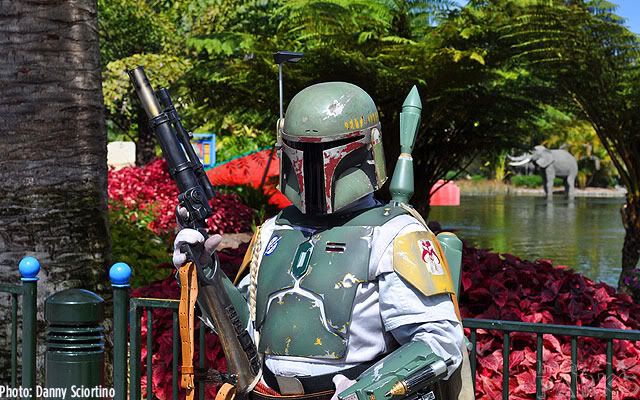 We hope Han wasn't around that weekend.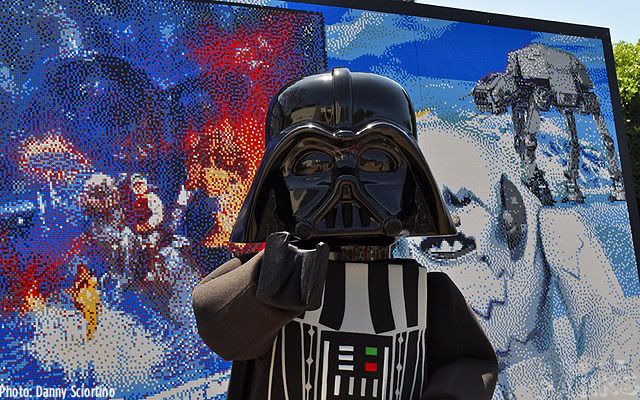 Another Lego Darth. SO CUTE!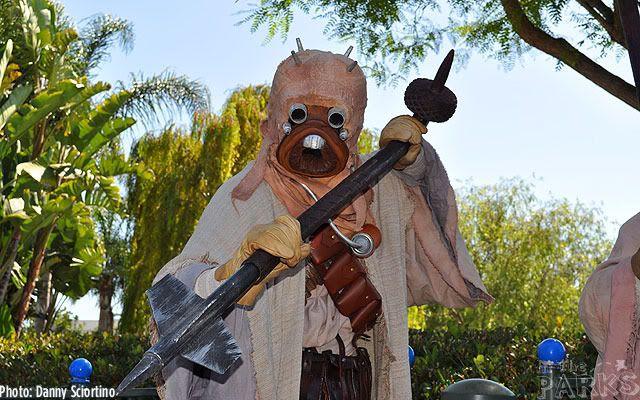 We scared this one away. But, they returned, and in greater numbers.
There was also a tone of amazing fan work on display over the weekend. Let's take a look.
WOW. Endor.
The senate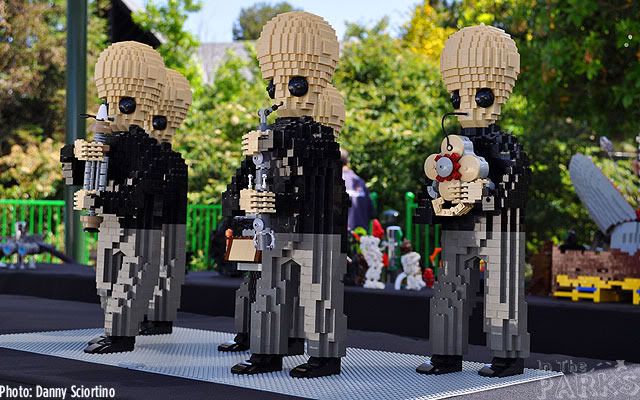 These guys are awesome.
Several chess sets were on display.
Sure it has a few sharp edges, but Lego Star Wars really locks together nicely. If you've got young ones, stop by this summer, you'll be glad you did.


Welcome to SeaWorld, San Diego. We recently took a trip down to check on the park and to see how the new Turtle Reef and Riptide Rescue. A BIG THANKS to Monorail Man and Gap Toothed for these photos.
AROUND SEAWORLD:
Seaworld San Diego has some great new shows and attractions: While Cirque De La Mer isn't new, it does only run during the summer. Make sure you arrive early to see this funny and colorful show.
The show starts with some "guest" interaction.
Lots of wonderful acts and fun things to see. Cirque De La Mer is a Seaworld must-do.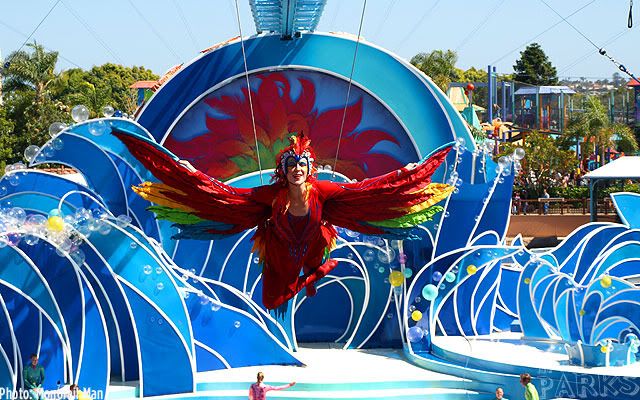 Another don't miss is the all new Blue Horizons dolphin show. So much more than just dolphins doing tricks, this is a Disney caliber show with great music and a nice story.



The sea otter exhibit returns this weekend.

MANTA CONSTRUCTION:
Manta construction has caused massive crowding in the park, due to major walkways being closed. If you go this summer, expect to move slowly through the park and allow plenty of time.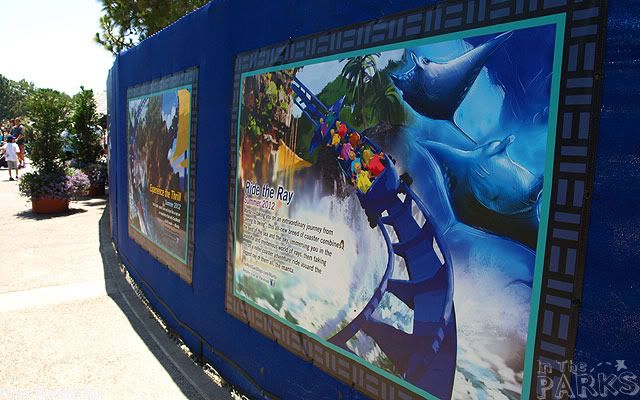 A HUGE block of walls in a central area of the park leads to crowds nearly everywhere.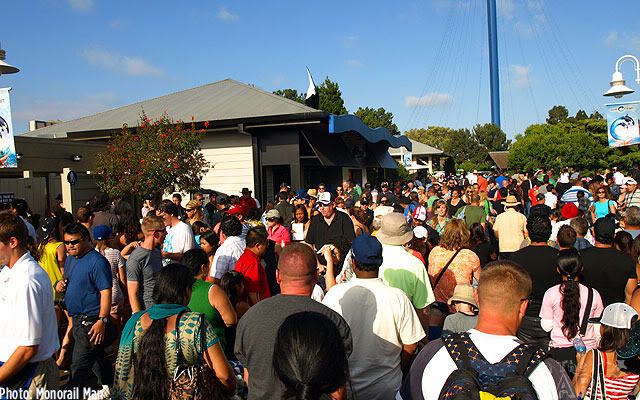 No, a show did not just let out. This is "normal".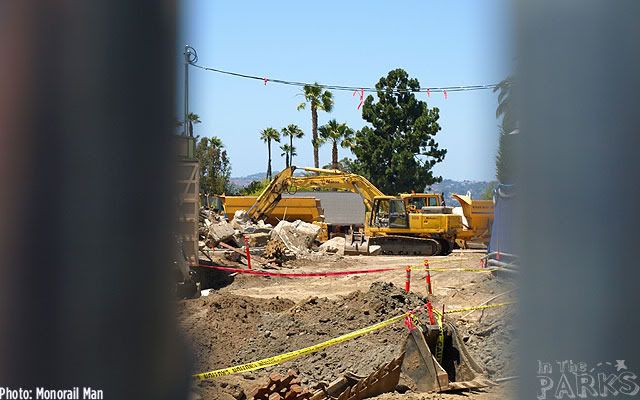 A peek through the fence shows us how comprehensive this construction really is.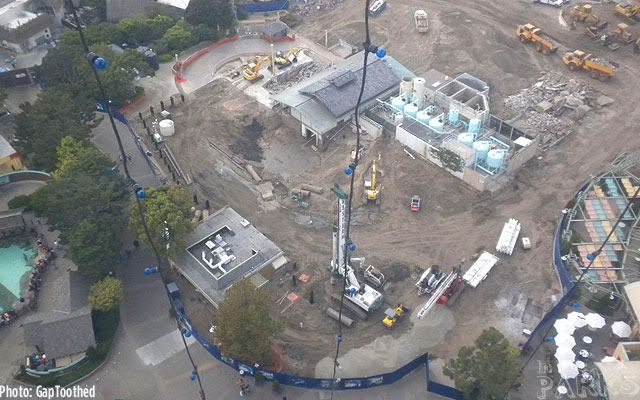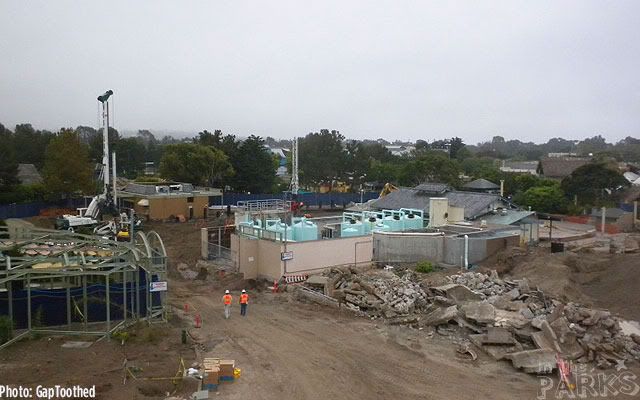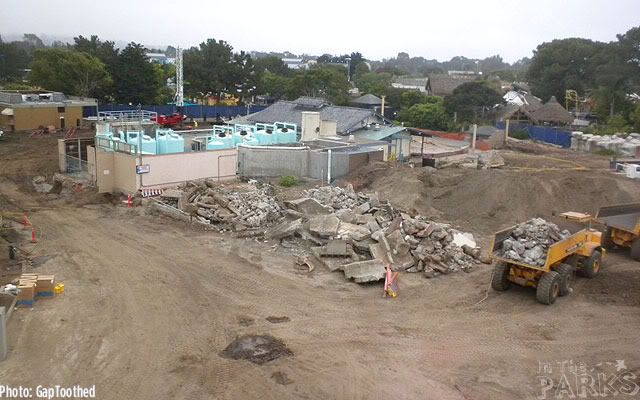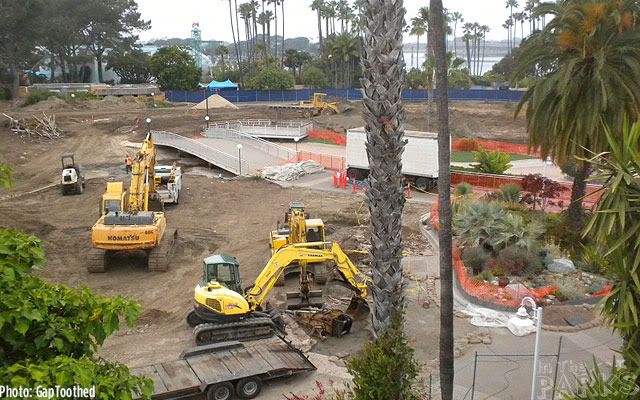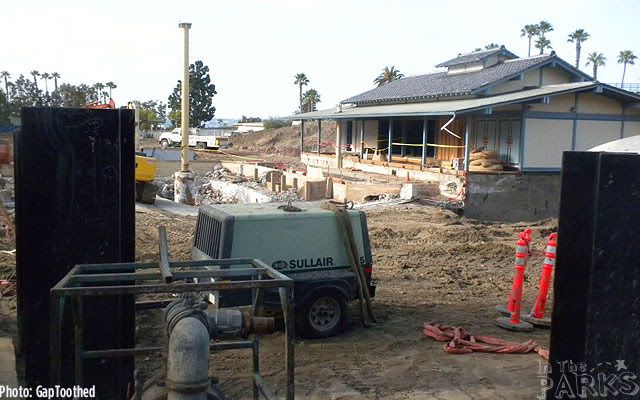 CLUB ATLANTIS:
Every Thursday and Friday night SeaWorld hosts Electroni... I mean, Club Atlantis. This dance area is aimed at the 'tweens.'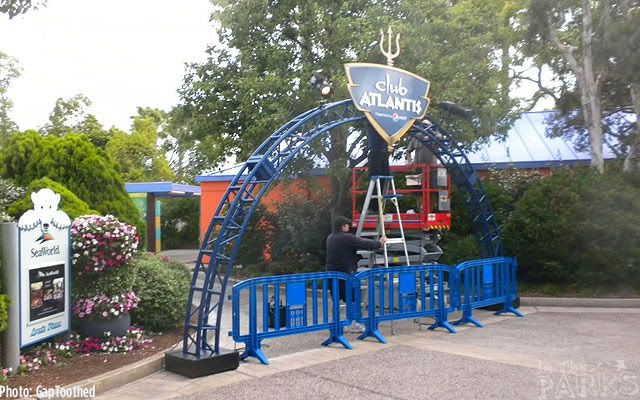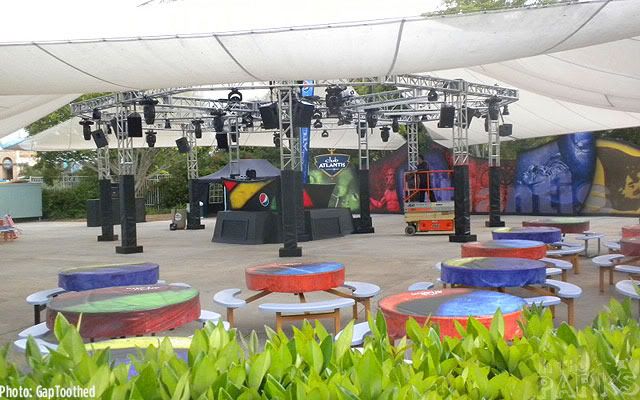 Arctic Plaza is home to this event. Here are some last minute touches being installed.

SHIPWRECK ENTERTAINMENT:
Did you know that when Shipwreck Reef Cafe opened in 1999, there were four stages throughout the dining area? During the course of your meal you would likely see a musical act, an animal interaction with one of the island critters and an island resident such as the millionaire that owned the Dreamboat 2, Fifi Lemonde the famous French film actress, the mayor of the island or Axel Schneider the inventor of Shipwreck Rapids. Needless to say, all that entertainment went away pretty fast! But look, entertainment has returned to the island on the Power Plant stage!



ONE OCEAN:
Due to a tragic accident in Florida, the Shamu show has been changed. Now called "One Ocean", the show has the classic Shamu tricks, but with no trainer interaction in the water.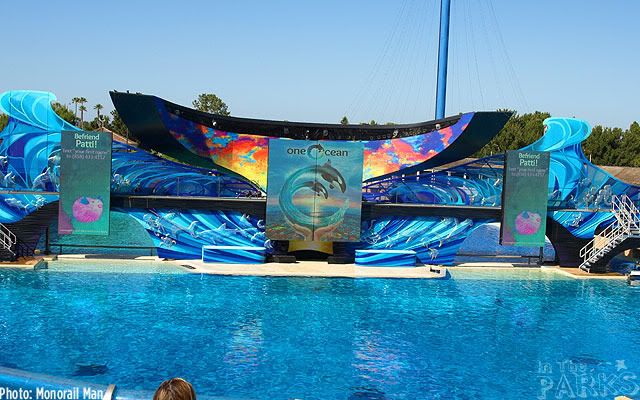 The show still plays off of the childhood dreams of wanting to be a trainer.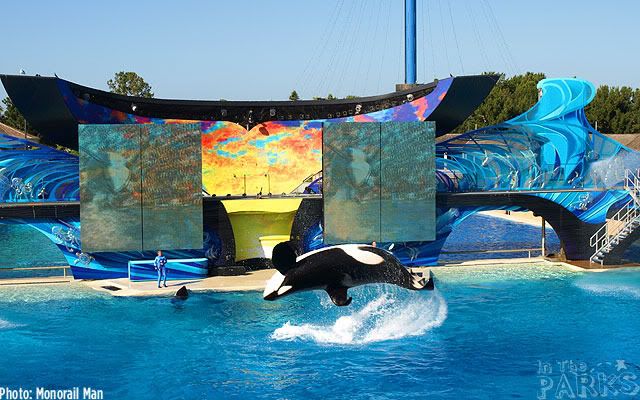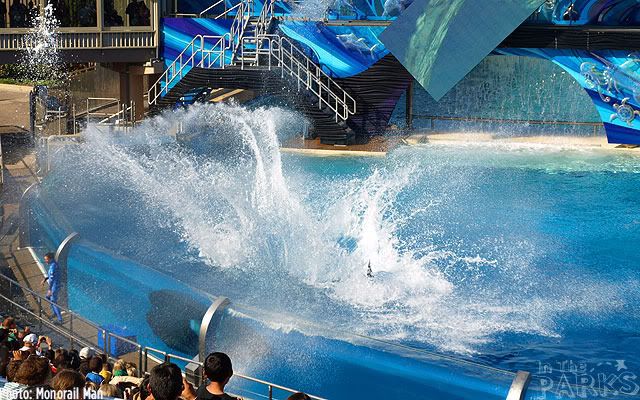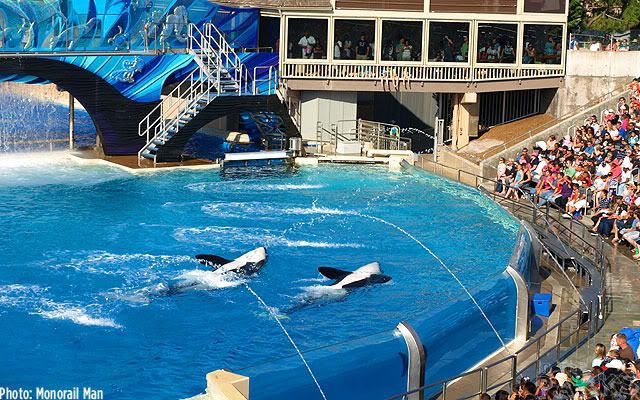 Fountains have been added around the tank
Even though there are some awkward moments in the show, like when the trainers put up metal barricades to hug the whales - this is still classic Shamu fun. At Night, the perform an alternate version of the show called Shamu Rocks.
TURTLE REEF:
Just last Saturday, a new Turtle Reef exhibit opened, which includes a new display and a new flat ride, called Riptide Rescue.
Due to a poor design, a custodial employee has to stand outside ensuring that kids don't climb on the sign.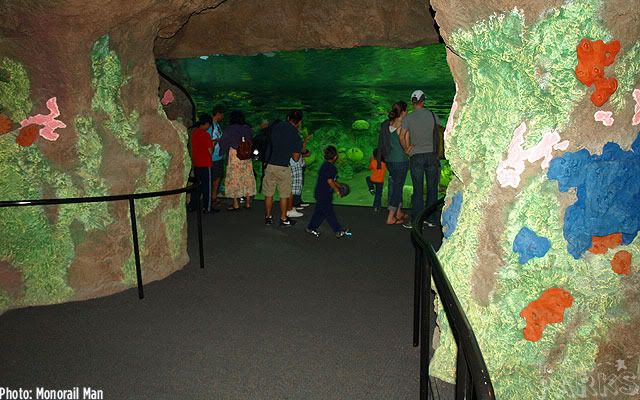 But the exhibit itself is beautiful.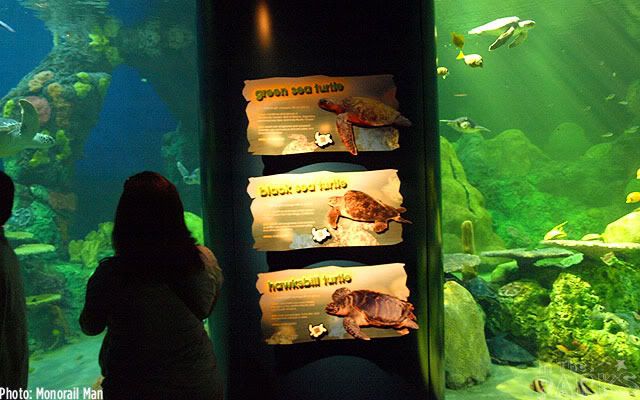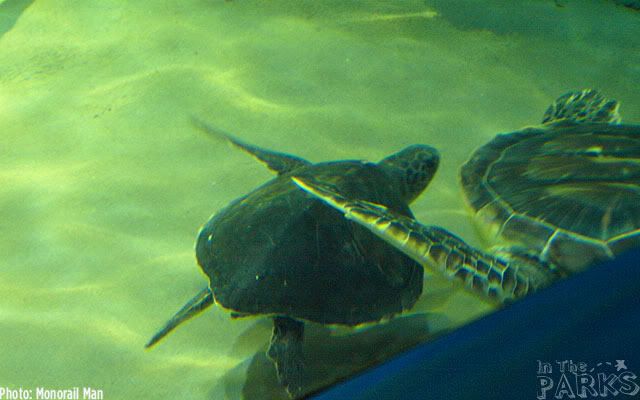 Just outside is a fun photo-op area where kids can play.
RIPTIDE RESCUE:
With Turtle Reef comes a new flat ride, Riptide Rescue.
For a simple ride, it has too long of a load and unload process, which includes holding the vehicles manually with metal locks.
That means SLOW and very long lines!
Overall, for such a short ride that spends more time loading and unloading than riding, we can only recommend it if you happen to catch it at a time the line isn't very long.




There is a lot of progress on the variety of projects at City Walk. New parking lot portals are being built, a new facade on the movie theaters and new City Walk stage, and on top of it all, the brand new Infusion Lounge is nearly ready to open. Let's take a look. Big thanks to F!an for the reporting.

CITYWALK:
The parking structure portals are almost done.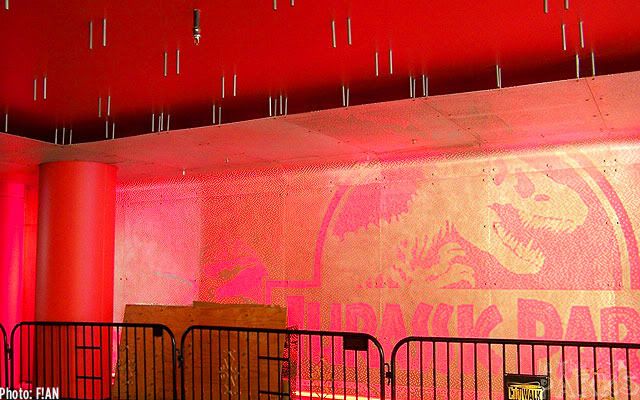 Work is also almost done on the permanent CityWalk performance stage as well as the cinema makeover.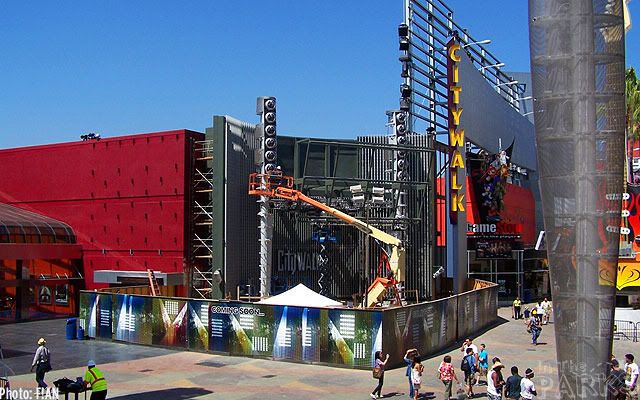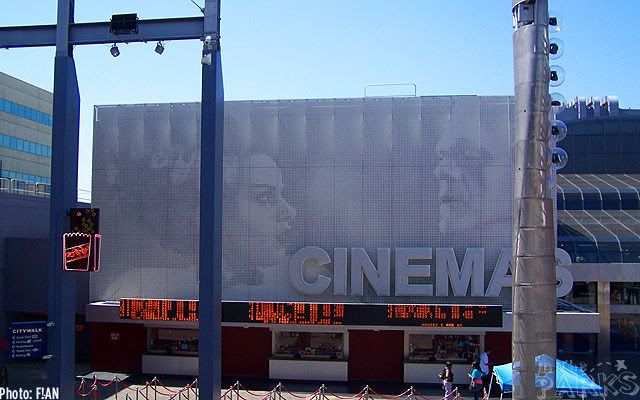 In addition to the three light towers recently installed in the plaza, two light towers were erected on either side of the stage.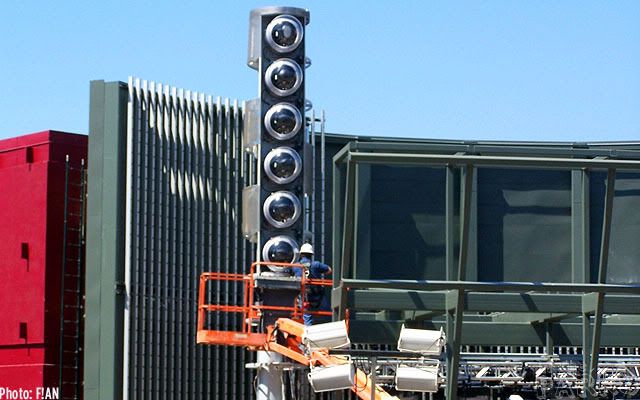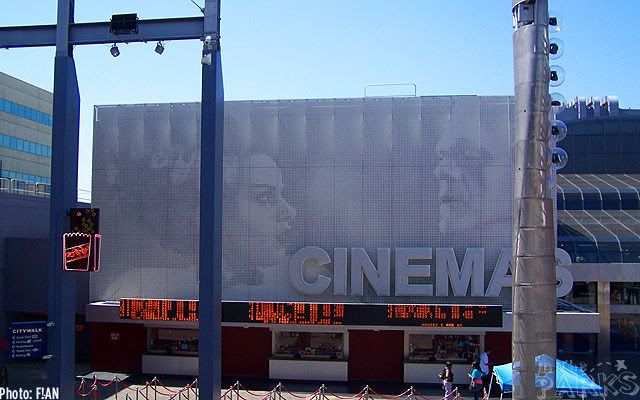 The cinema facade is nearly complete. Similar to the parking structure
portals, the new facade is lit from behind.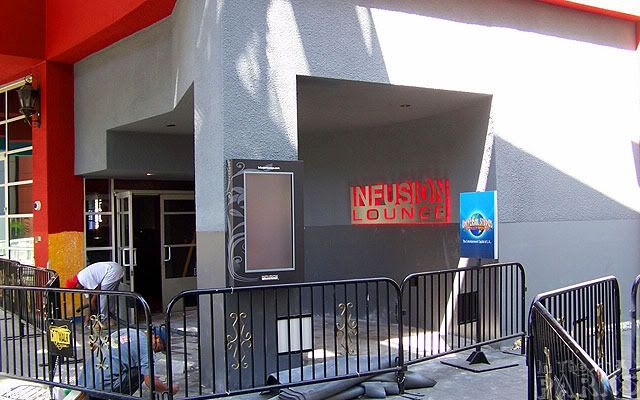 The Infusion Lounge received its signage.


Some new tenants will make CityWalk their home in the near future. The long closed Martin Lawrence Gallery and Mercado Chocolate Loco will be replaced by retailers Francesca's Collections and Element, respectively. Francesca's Collections is an "unique boutique with the latest in women's clothing, jewelry, accessories, and gifts" with several existing locations across the country. The next closest location is in the Glendale Galleria. Element is a skate store selling stake boards and skate accessories as well as apparel from men, women and kids.

UPPER LOT:
In addition to the permanent gates recently installed around the main entrance, the security checkpoint has been reconfigured allowing twice as many guests to access the park. The stands are also permanent.



Did you know you can meet the animal stars of Universal Animal Actors before each show?


STUDIO TOUR:
The video segments in the queue area have been redone again. Billy Bush is back but is mainly there to throw it to Jimmy Fallon who preps the guests for the upcoming tour.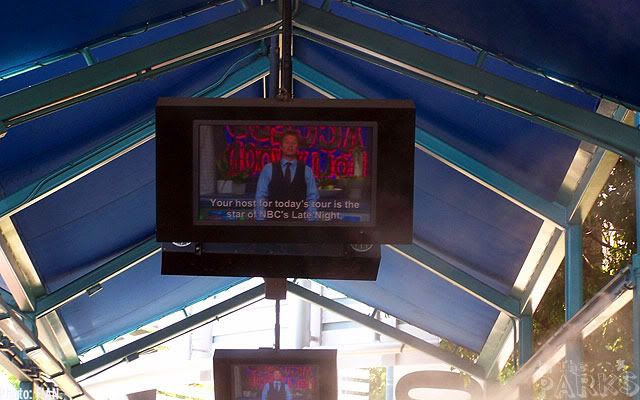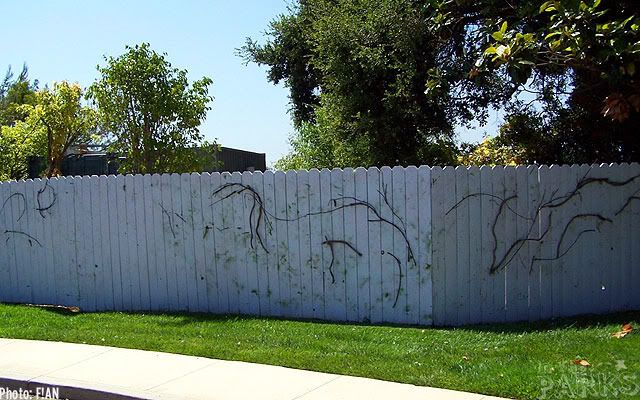 Work being done on Wisteria Lane/Colonial Street. The fake Wisteria
has been taken down for cleaning.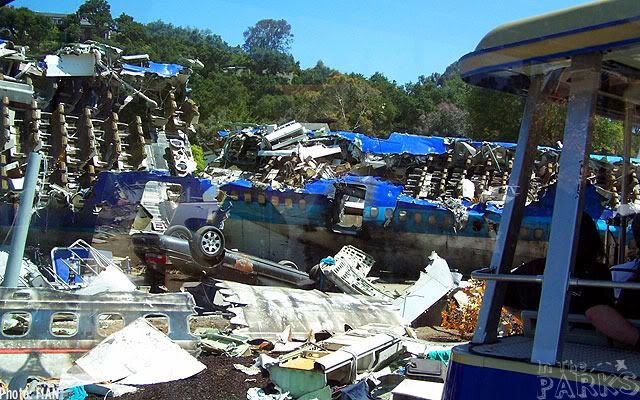 New props have been added to the massive War of the Worlds set. Most noticeable is the addition of a second plane to go along with the 747.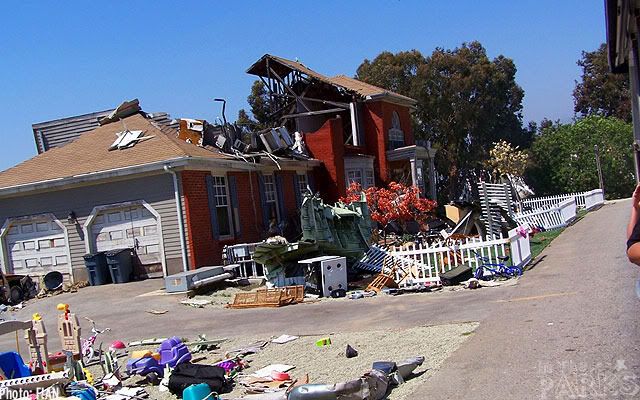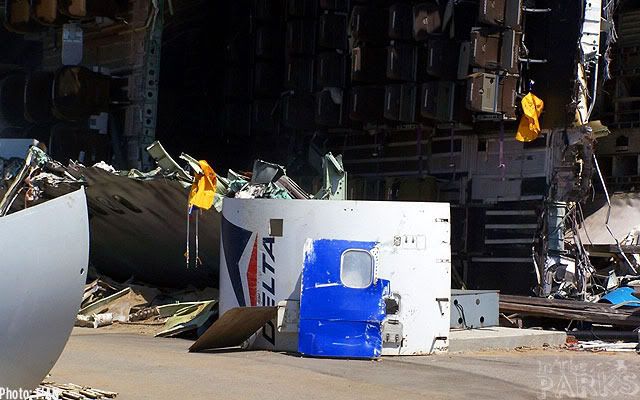 THERE'S ALWAYS SOMETHING TO DO IN SOUTHERN CALIFORNIA!

If you receive our newsletters you should have found our guide to the Top 20 Attractions in Southern California in your email last week. If you don't get our newsletters, be sure to click that link in the sentence above. There is SO much more to do this summer than you probably realize, and much of it is very affordable (and in some cases free).
Don't miss any important news, sign up for MiceChat's monthly newsletter and events email:
<form id="icpsignup6385" accept-charset="UTF-8" method="post" name="icpsignup" action="http://app.icontact.com/icp/signup.php"><table class="signupframe" border="0" cellpadding="5" cellspacing="0" width="260"><tbody><tr><td align="right" valign="top">
* Email
</td><td align="left">
<input name="fields_email" gtbfieldid="515">
</td></tr><tr><td align="right" valign="top">
First Name
</td><td align="left">
<input name="fields_fname" gtbfieldid="516">
</td></tr><tr><td align="right" valign="top">
Last Name
</td><td align="left">
<input name="fields_lname" gtbfieldid="517">
</td></tr><tr><td>
</td><td>
View my publisher profile.
</td></tr><tr><td>
</td><td>
* = Required Field
</td></tr><tr><td>
</td><td>
</td></tr></tbody></table>
</form>
Email Marketing You Can Trust
Today's update was brought to you by the following members of our fantastic and talented crew of photographers and news contributors: Monorail Man, Sir Clinksalot, Captphoebus, Fishbulb, Danny Sciorintino, Gap Toothed and Dustysage.
Show us you appreciate this column by sharing this page with your friends!
Would you like to be part of this crew? Do you have a park, zoo or botanical garden that you'd like to share with our readers?
We are looking for Southern California theme park reporters.
We'd love to hear from you!
please contact dustysage@micechat.com.