Summer isn't even over yet and we can't stop thinking about the spooky season yet to come. We have a very special treat for you this week as John Murdy, the Creative Designer for Universal Studios Hollywood, sits down with us to talk about the upcoming Halloween Horror Nights event. But don't worry, we also take you to Disneyland and check things out at Disney California Adventure where some serious construction progress is being made. We'll even bring you along with us on a visit to Knott's Berry Farm where Windseeker has suffered another delay and preparation for Knott's Scary Farm is well under way. Lastly, we hear from Queen Mary's Dark Harbor and tell you how you can audition to be part of the spooky fun this Halloween!






It's always fun to take a trip to Hollywood, especially when that trip is to meet a theme park heavyweight like the Creative Director of Universal Studios Hollywood, John Murdy. We were fortunate to meet with John the week before last to discuss the upcoming Halloween Horror Nights. Now that we have clearance to share all of the information contained below . . . let's head on down to the lab and see what's on the slab . . .




MiceChat:

We are here to pick your brain about Halloween Horror nights. When did you start planning for HHN 2011?


John: We started planning for 2011 at the start of HHN 2010



MC:

That's a unique answer, usually people say, "November 1st"


John: Well, what can I say, we take this seriously. In fact, I will give you a very specific example. On opening night each year, we hold the Eyegore Awards. The Eyegore Awards is a red carpet event where we honor actors, directors, and other talent for making a memorable contribution to the horror genre. The whole horror community is there, and a lot of times that is where the seed of an idea is planted. Last year, we were presenting an Eyegore Award to Eli Roth, and I ran into him. He was like, "Hey! Hostel!," and I was like, "(pause) Yeah!" I had actually never met Eli before, so it was literally after the award show that Eli told me he comes to Halloween Horror Nights every year and loves it. From there, our conversation turned to how we could make "Hostel" into a maze.



Hostel Maze Construction



MC:

There was a time in the '80s that you tried your hand at Halloween, but it stopped.
John: Yes, that's true. But we brought it back in 2006, and it's been unbelievably successful ever since. I think what's taking Halloween Horror Nights to the next level is that we began taking horror movies and bringing them to life for the fans.

MC:

You have so many great Horror movies at your disposal, so it makes perfect sense.

John: True. After all, Universal Studios invented the film Horror genre, but we also collaborate with other studios to bring some the best films to our event. Over the years, I've cultivated relationships with producers and actors, so I connect with them about bringing their projects to Halloween Horror Nights. It's always a great experience because, as it turns out, they are huge fans of the event. For instance, when I went in to pitch the idea of a maze to the producers of "The Thing" …

MC:

Was that when the film was still in production?


John: Yes, we got involved really early on in the process and we've worked very closely with our partners at Universal Pictures. At our first meeting I asked, "Have you been to Halloween Horror Nights?" and the producer said, "Are you kidding?! I go every year! It's my favorite event!" They know the incredible amount of energy and work we put into it, and they also know the exceptional quality of our mazes. I treat the creation of these haunted attractions as a live version of their movie.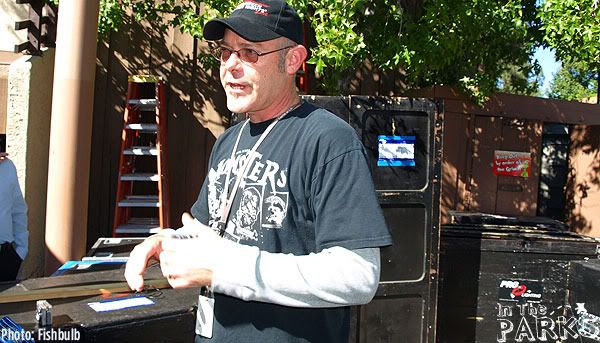 MC:

It makes sense, because the mazes you produce are extremely immersive. That is what is so striking. It's like walking INTO a movie.
John: Well, we are a movie studio. It's such an ingrained part of our culture here at Universal Studios Hollywood, dating back to the silent film era. I looked around and I really didn't see anybody else doing what we are able to do. I thought, if I was a fan - and I am - I would want to go through the Myers house and through the factory from Hostel, or I want to go to the Norwegian outpost from "The Thing." So, we approach it from a fan perspective.


MC:

Yeah, you've certainly gained the reputation.


John: It's almost like running a marathon – you finish and you collapse (laugh). My team and I are there every single night. My Art Director and Production Designer is Chris Williams, and he's my right-hand man. He and I are the creative force behind the event, and we walk around each night - basically doing quality control while literally planning next year's event.


MC:

You just announced a new Alice Cooper maze for this year. Sounds cool.

John: Yeah, I know! I am a huge fan of Alice Cooper. I can honestly say that I would not be doing Halloween Horror Nights or have this career, if it wasn't for Alice Cooper … and that's just the truth.

There are probably two seminal moments in my life that sent me down this path. One was when my mother foolishly let me watch "Frankenstein" when I was about 4 or 5 years old. That's what got me into horror. And I was always into music, and a friend of my brother's had these tapes - "Love it to Death" and "Killer." I was this little kid, and I put those into the player and suddenly I was like, "Who is this?" It combines horror with Rock and Roll.


MC:

He's definitely an original.


John: There are very few people you could point to and say, "Oh, he originated that." Alice, without a doubt, is the one who took music and horror theatrics and married them together. Everything came out of that. I embraced Alice at a very early age. I had a poster almost twice the size of that "Mummy" poster behind you. (Points to a poster that is at least 4'x5'). My Mom was like, "Noooooo!" But he had a hugely positive effect on my life.


MC:

You aren't doing too bad. Have you had a chance to meet him?

John:
Face to face? Not yet. That's coming. Alice is always on tour; he's a busy guy. So I've corresponded with him through his longtime manager and his producer, and we send ideas back and forth. His producer shared all of Alice's notes about the new album, as well as the music, at a very early stage. From that, we crafted the story for the maze. I've actually had six opportunities over the years to meet Alice face to face, but I've always shied away from it. I didn't want to meet him as a fan, I wanted to meet him as someone who was working with him – as a collaborator.



MC:

Have you had a chance to listen to the new album Welcome 2 My Nightmare?

Photos of a finished mask and two sculpts for the Alice Cooper: Welcome to my Nightmare maze were posted by HHN Creative Director John Murdy on his Twitter account.
John: Yes, I have actually. It's cool because the first album, Welcome To My Nightmare, is about a boy named Steven and it's his nightmare. But this new album is set later when Steven is grown up, and that was very intriguing. I looked at it and thought it would be a great idea for a horror movie or a maze. We have guillotines and electric chairs, and there are characters in the maze named after his songs or inspired by them. The idea of it being a nightmare gives us the ability to take our guests anywhere. When you go through the magical portal, which in this case is the little kid's room, and go through the closet – you emerge, and I can take you anywhere. It just works.


It's obviously a little different from what we have done in the past, but I think our fans have come to expect something different from us that they can't experience anywhere else and we don't like to disappoint!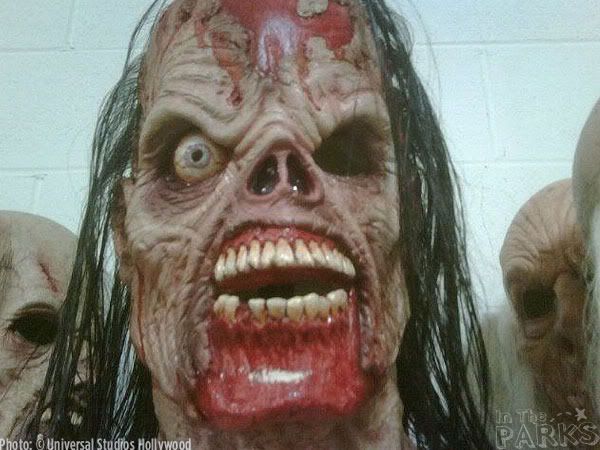 MC: It sounds really great John, we are looking forward to it. Any hints on any of the other mazes?


John: Well, "The Thing," is unique because this is the first time we will be ahead of the movie. It's like being part of the coolest trailer. But what excited me was that I was a huge fan of the 1982 John Carpenter film. What's interesting is that this is not a re-make. It's a prequel. It's a true prequel. It's about the Norwegian camp and what happened there before the story in the film with Kurt Russell. The film makers really approached it with that in mind, and it's great.

MC: So you get to work with all the production departments that put together the actual film?

John: Yes. What's so awesome for us is that, as part of Universal Studios, we get to work with the make-up and special effects team from the film. We partnered with Tom Woodruff and Alec Gillis from ADI, the make-up/effects house that's creating the creatures for the film. Tom and Alec are both Academy Award winners, and they were gracious enough to let me move our make-up team into their shop so we could take advantage of all of the original molds for the film. So when you see the attraction, all of it will look exactly like the film.


MC: Do you have access to all the original separated sound files and tracks?
John: I won't do a haunted attraction if I don't.


MC: How do you go about selecting a property to make a haunted attraction?

John: We have three guiding principles. The first is awareness. We look for something that the guests will have an awareness of … something that markets itself. You want to make sure you are appealing to the broadest demographic, and we've definitely achieved that this year with "The Thing," "Hostel" and Alice Cooper.


The second is environment. We look at properties that have a really strong potential for cool environments. The example I always use is when we did Saw. If we just went with the first film, the entire maze would just be set in a bathroom. But since we had all the other films to pull from, that gave us variety.


And the last rule is … well, I am violating this rule this year, and that's okay! But the rule is that the villain has to be easily played by actors. But when you come to "The Thing," I'm sort of tossing that out the window. When you see it, you are going to say, "WOW!" It was a huge challenge. But as long as we figure out how to do it, we do it.


MC: And you have to train those actors to have the stamina.


John: Yes. Chris and I personally train each one of them. We supervise them heavily because we know no matter how great the maze is scenically, it all rises and falls on the talent.

MC: Are there any other hints you could give us about the mazes that haven't been announced yet? We know you probably can't say anything but your fans would kill us if we didn't at least ask.


To that end, I just sent my 14,000th tweet. I interact as much as I do because there wasn't anything like this when I was growing up as a kid. There was nobody to talk to or to share that passion. There are a whole lot of people that are out there that want to do this for a living, so I try to answer as much as I can. Mostly, I am just thankful for the fans. We are keenly aware that if we didn't have these fans, we wouldn't be here.


MC: Do you have a favorite horror film?


John: Awe man, that's hard.


MC: Top three then.


John: Well, classic horror it would have to be "Phantom of the Opera" with Lon Cheney. That's where my passion started. Modern horror, the film that scares me the most is "The Exorcist."


MC: The re-edit or the original theatrical cut?


John: The original theatrical. That terrified me. I probably saw it too young. And then from the slasher films, I would have to say the original John Carpenter "Halloween." It's "Jaws" on land.

MC: The film Trick r Treat has a huge cult following and it is always rumored as a maze idea that universal might use. Do you think Trick r Treat has potential for a maze? Do you think that might happen some day?


If you are a horror fan, it is a crime not to see this film.

John: Yes, I am a fan of Trick R Treat. Michael, the film's writer/director, is a fan of our event and I've gotten to know him personally. We'd both like to see it happen someday. Some of the properties we've featured at HHN took years to happen. We never give up on something we'd like to do.
MC: What scares John Murdy.

John: I have a strange phobia of cotton balls and wooden spoons. Hard to explain.


MC: A lot is made of Universals use of smells in mazes. Are there any new scents that have been developed for any of the new mazes this year? Were any difficult?


John: At HHN (Halloween Horror Nights), we believe in physically effecting our guests and preying on all their senses- including the sense of smell. Every year we use scents in the mazes to bring certain scenes to life. It really depends on the property, and they're not all repellent. Actually, fried chicken is something we tried to do in House of 1,000 Corpses but it was difficult to pick up. We are trying to make it more impactful this year (along with a few surprises).


MC: What can you tell us about the Terror Tram this year?


John: We haven't revealed the theme as of yet, but I can say this is the biggest cast we've ever had for that experience.


Fishbulb and John

​

John, it was fantastic to speak with you. Your passion for horror films really comes through in the haunted attractions you design. You've cornered the market on walk-through terror! We'd like to share more with our readers about Universal and some of your other projects soon. See you this October. 

MiceChat will be hosting a Night of Horror at Universal Studios Hollywood Friday, September 30th. Save the date, a very special ticket package will be made available soon.




---
HALLOWEEN HORROR NIGHTS 2011:

SAVE THE DATE:

Progress of unannounced maze in JP extended queue.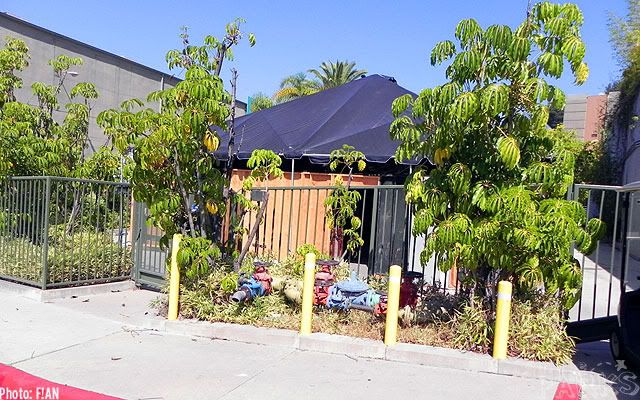 Rob Zombie's House of 1,000 Corpses:
Props have started being placed in the House of 1000 Corpses maze in the Terminator extended queue.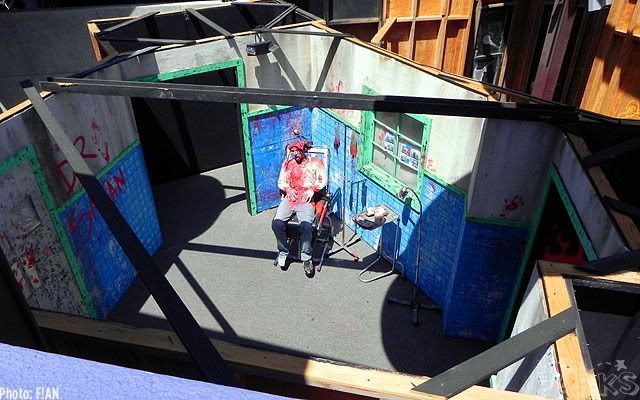 Hostel: Hunting Season
Here is a look at the progress of the Hostel maze in the Mummy extended queue.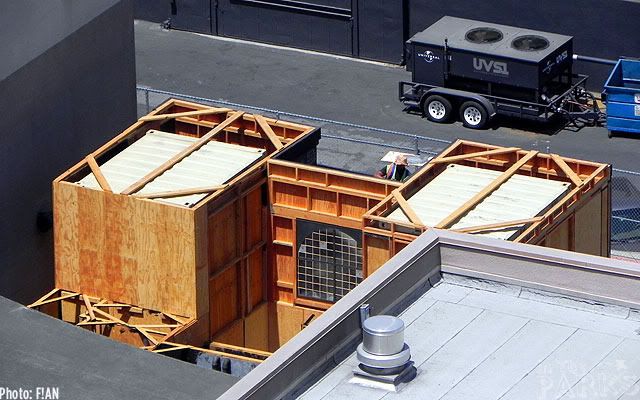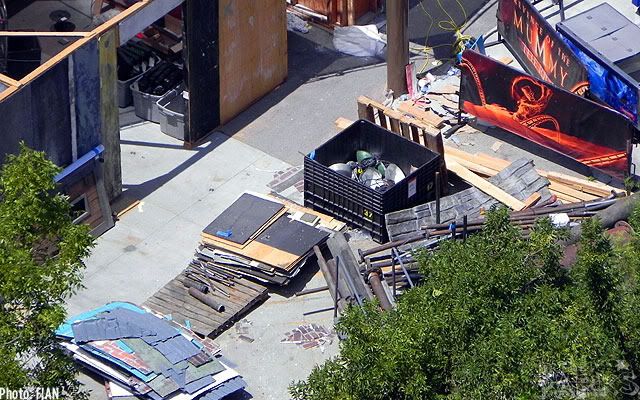 Now through October 2, SoCal residents can get a 6 month pass to Universal Studios Hollywood for just $69, $8 less than a one day general admission. Available exclusively online with some blackout days (only 7 blackout days for the rest of 2011). Visit universalstudioshollywood.com for more details.

UPPER LOT:
Picnic benches have replaced tables in the seating area behind Hollywood Cantina.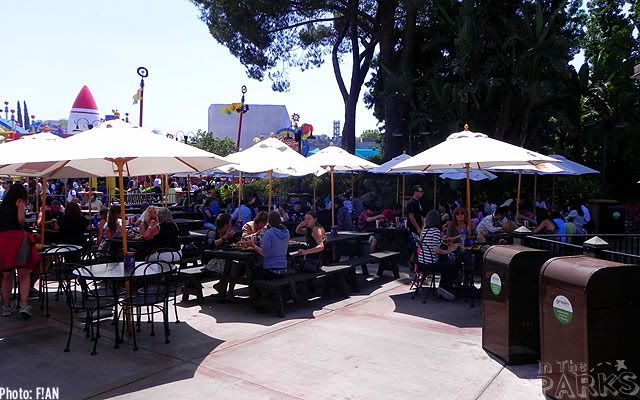 STUDIO TOUR:
Bathrooms near queue area. Filming inside of the houses on Wisteria Lane. These are practical houses so filming can be done inside and out. The black out curtains allow filming of a night time scene during the day.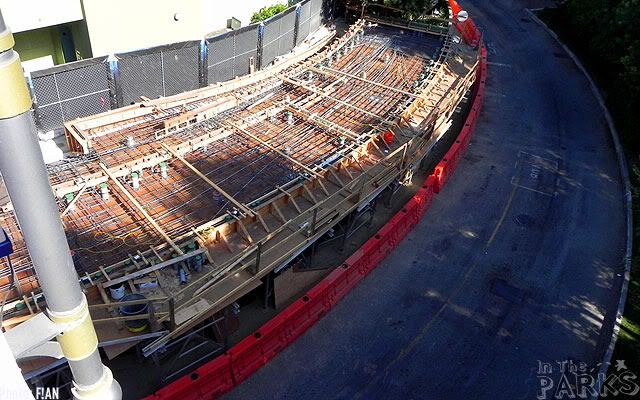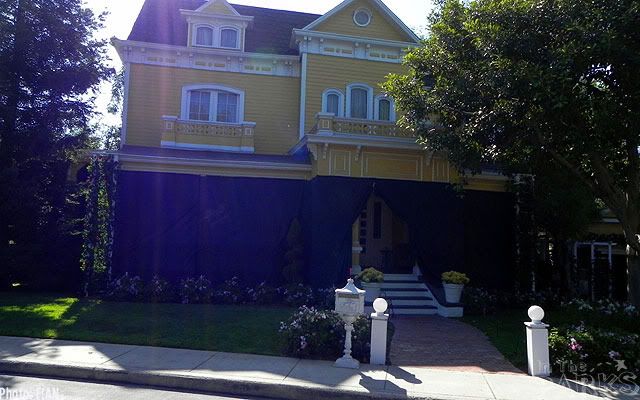 The Munster house.


TRANSFORMERS:
Transformers has been enclosed now and vehicle testing may start at the end of September.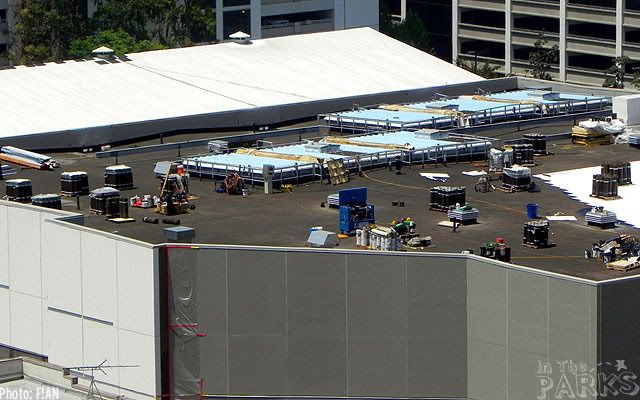 Looks like the final layer of the roof is going down.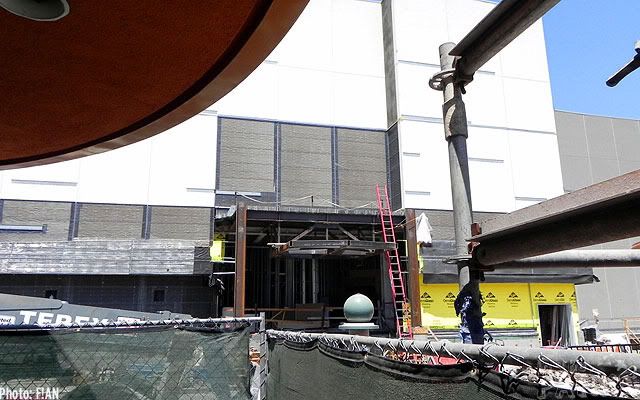 Come see us at the D23 Expo August 19-21. Meet Disneyland's first President, Jack Lindquist, enter to win big prizes including a 2 night stay at the Grand Californian, and find out how you can save lots of money on your future Disney vacations at the MiceChat booth in the D23 Collectors Forum at the Expo! Here's the full D23 Expo events schedule (and discussion).


Disneyland is your land. Your land is currently undergoing spots of maintenance in preparation for the upcoming holiday seasons.

MAIN STREET U.S.A.
There is little visible progress at the two projects on Main Street. Both the window in front of the Disney Gallery and the Main Street Emporium are still behind construction walls. Remember, too, that the Main Street Bakery will be closing its doors at the end of summer to make room for the expansion of the Carnation Cafe.



Get your coffee while you can.

JOLLY HOLIDAY BAKERY:
The Plaza Pavilion passholder processing center is now closed and will soon be converted into the, Mary Poppins themed, Jolly Holiday Bakery. This new food service location will take the place of the Main Street Bakery that is closing at the end of the summer to make way for an expanded Carnation Cafe. It's a complicated puzzle that is all coming together nicely to provide us with vastly improved food service on Main Street.

But where will the Annual Pass processing take place? At the regular ticket booths, of course. Disney has streamlined the whole pass processing system and removed pictures from the passes. Passes will now be purchased at the regular ticket booths and guests can use photopass or their own picture and upload a photo to their passholder account from home. (While the photo is no longer on the pass, it still shows up on the screens at the entry turnstiles.)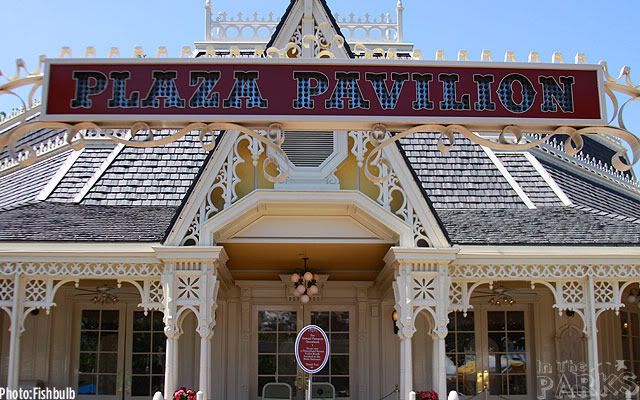 MATTERHORN:
The Matterhorn Bobsled track replacement is still underway. They are on track for a scheduled September 2nd reopening date.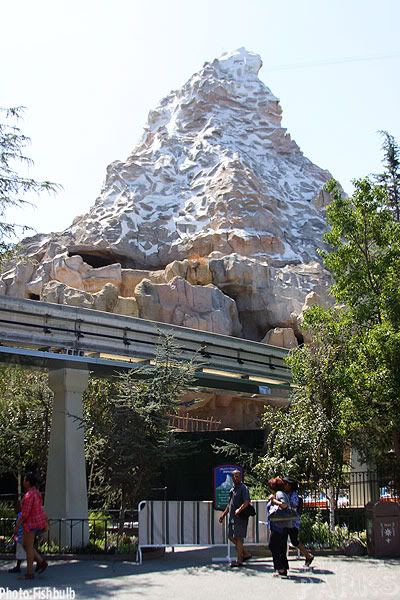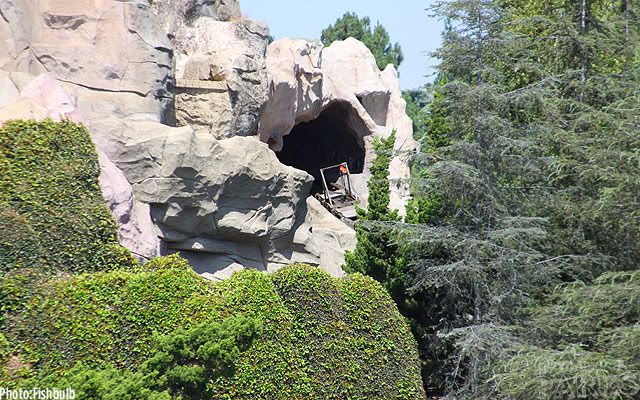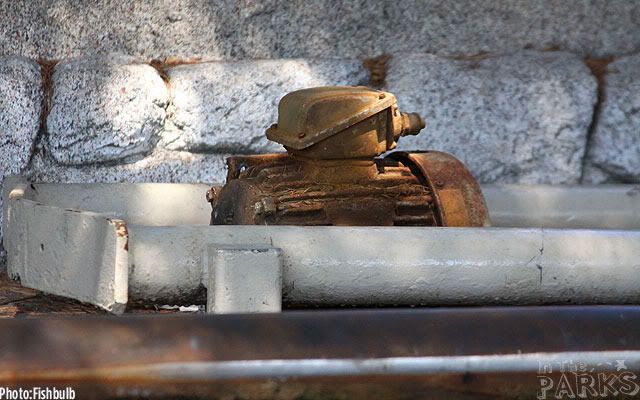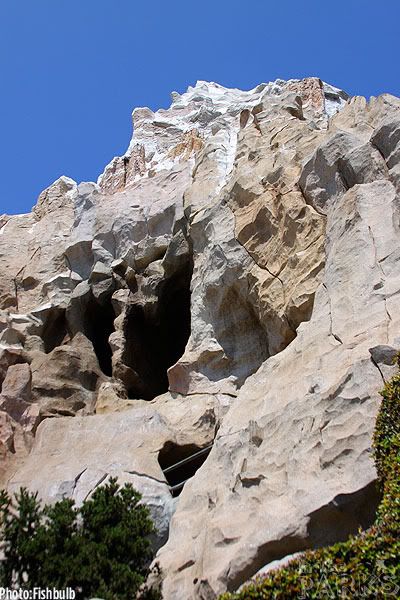 SMALL WORLD TOY SHOPPE:
On a recent trip to it's a small world we wandered through the toy shop at the exit of the ride. What we found was a floor in desperate need of some attention.

The actual flooring itself was fine. But the clear-coat grip coating, that is intended to prevent slipping in the event of rain, has begun to peel and tear away. To add insult to injury, the normal dirt and grime that each guests naturally tracks through the store is scrubbed off, and collects in the damaged spots. It's a grimy world after all.
SPACE MOUNTAIN:
There is some work being done on the roofs of the buildings adjecent to Space Mountain. This could possibly be in preparation for the installation of the Halloween overlay, Ghost Galaxy.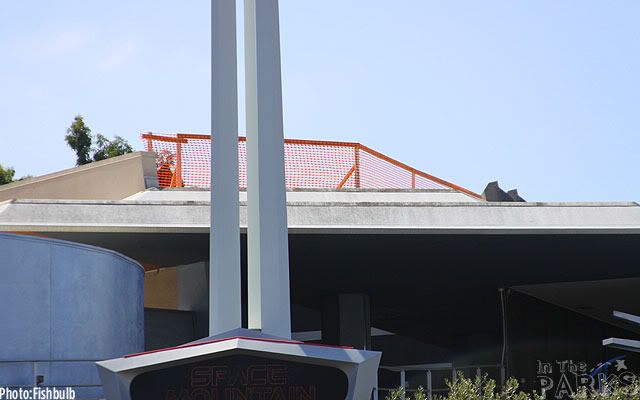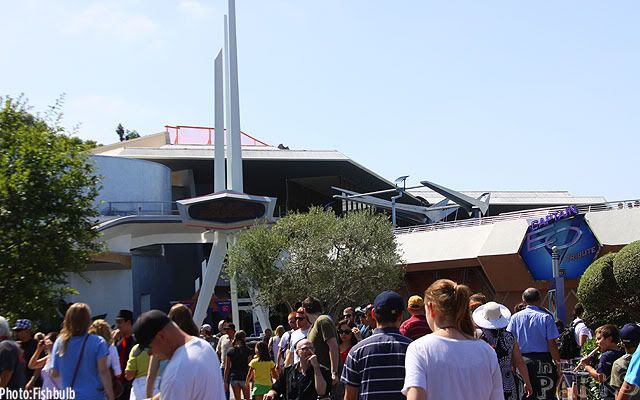 It seems that the balcony seating area of the Golden Horseshoe has been closed off to guest use for the time being.

It's time to check on Disney California Adventure's progress. Is it time to close off the front of the park yet? When will testing begin on Radiator Springs Racers? Let's see what we can find out.

BUENA VISTA STREET:
Another tree has been planted at the new front gates of Disney California Adventure park, as Disney prepares to re-route guests from the front corridor of the park behind Soarin' to a temporary Condor Flats entry point.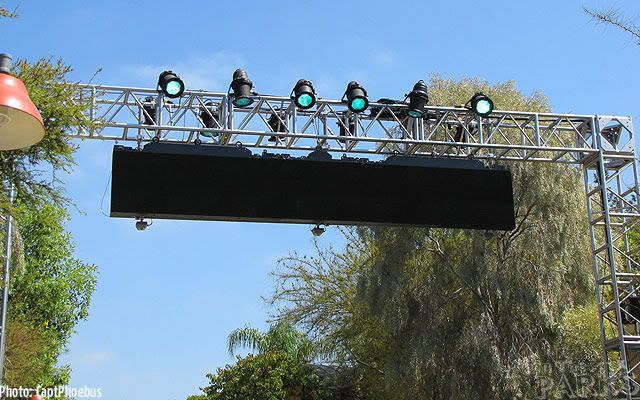 Here is a look at the Carthay Circle Theater building.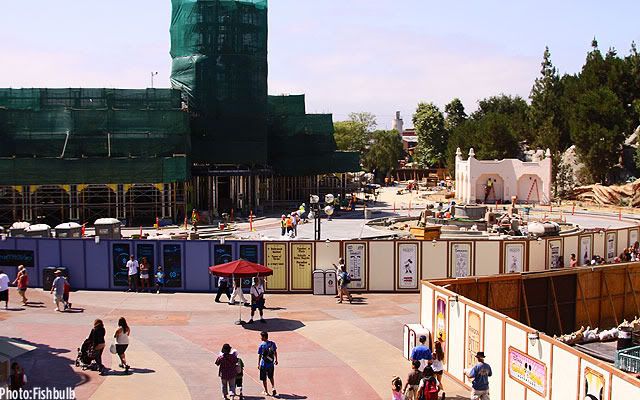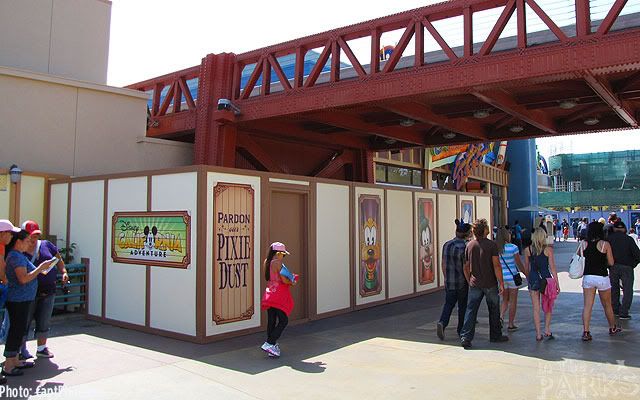 The Golden Gate Bridge, snap-on, theming from 2001 is nearly gone.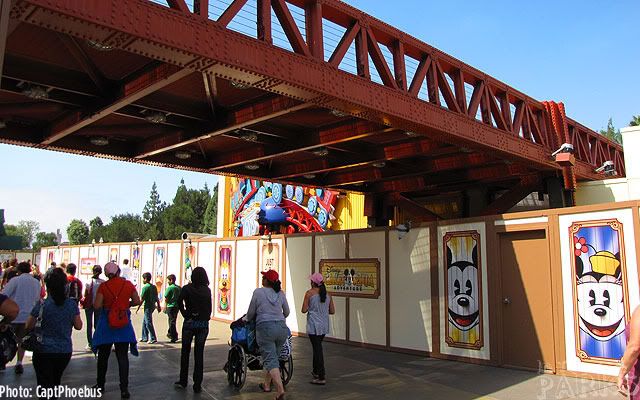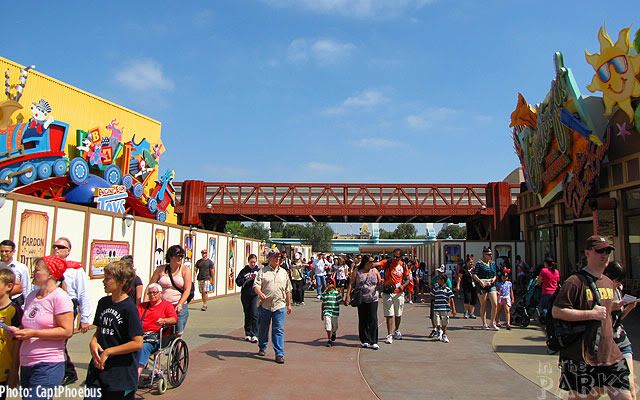 Looking back at the gates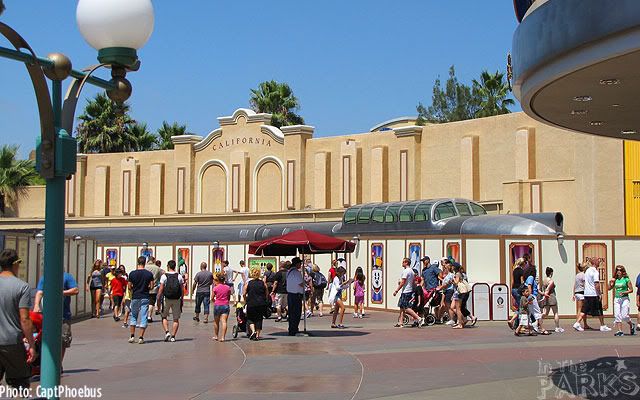 The engine to the Zephyr was removed this past week.



The entry to Hollywoodland gets smaller by the day.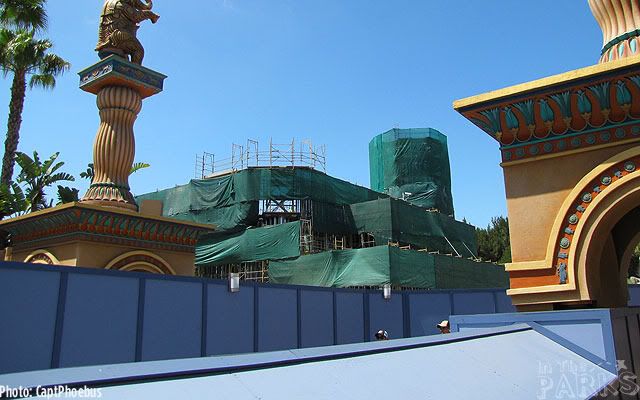 BUGS LAND:
As one cast member so perfectly phrased it, "Francis is out learning a new dance step".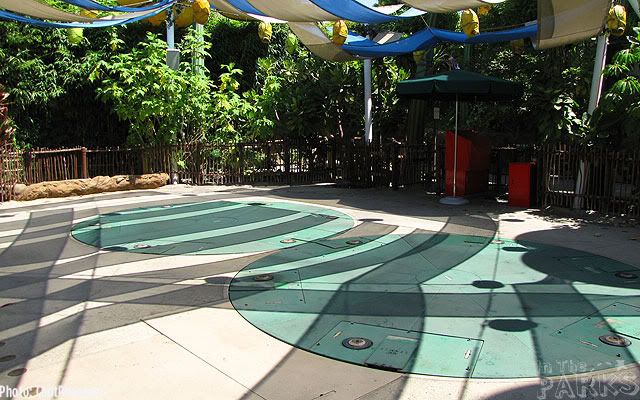 This attraction has been a maintenance headache over the years.
CARS LAND:
Here is our weekly look at the impressive progress in Cars Land.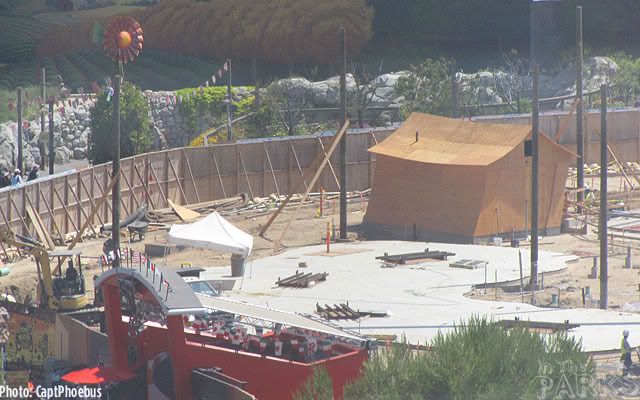 Mater has a wooden shack now!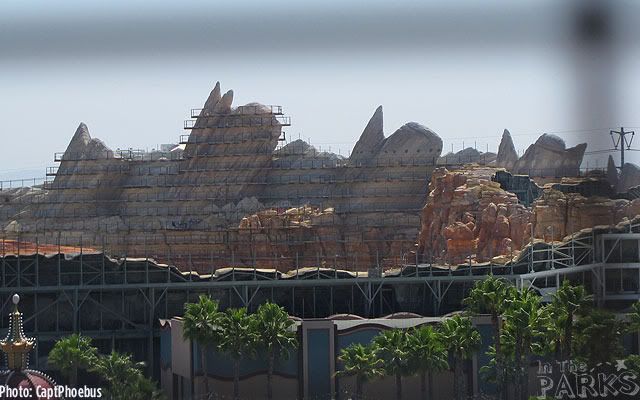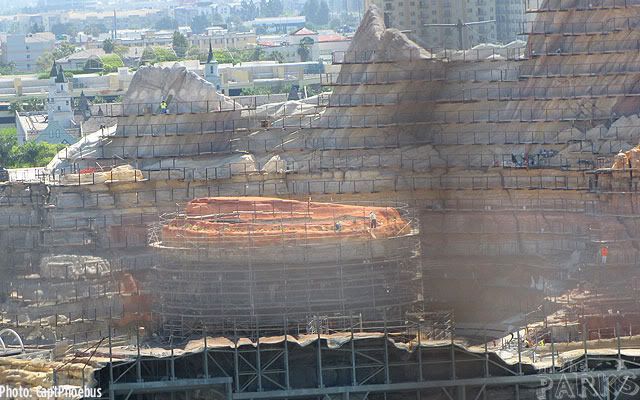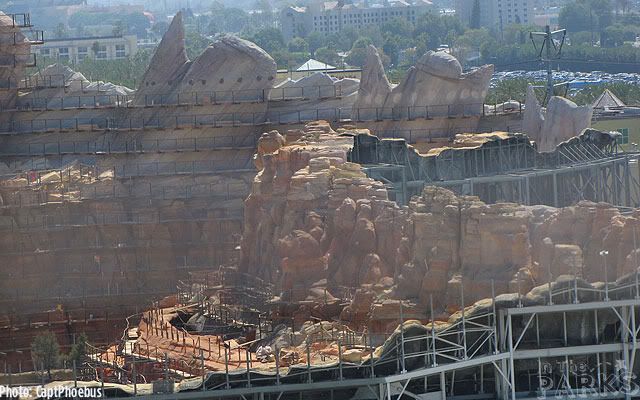 Just look at how beautifully the curve of the track blends into the landscape. Like it was carved out of real earth

We are still wondering about this transition area between Pacific Wharf and Cars Land. I'm sure they have a plan to hide the ugly back side of the Wharf restaurants.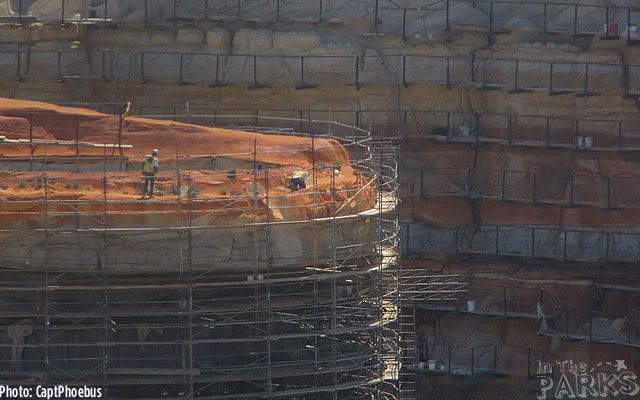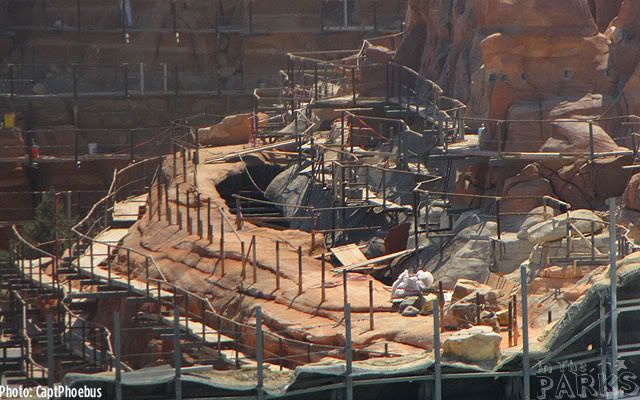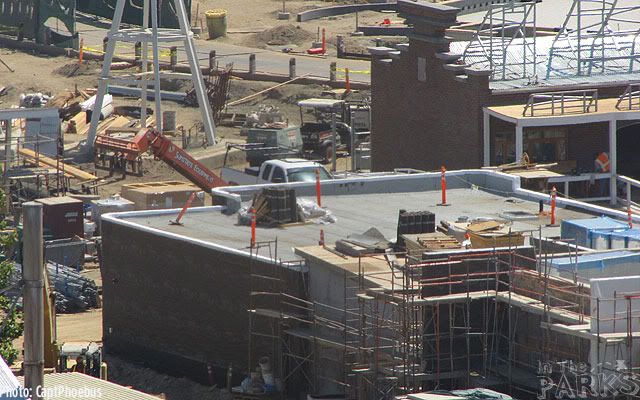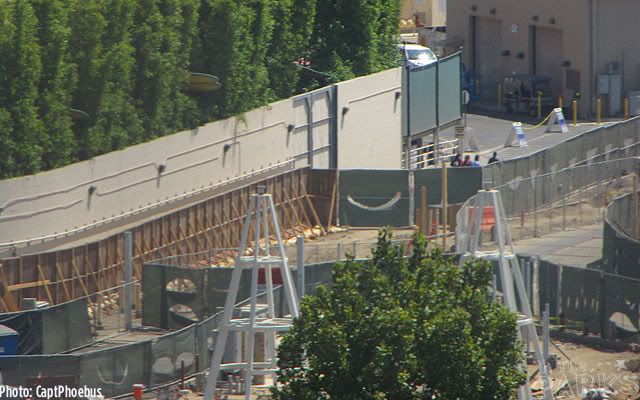 Now, let's take a look at the progress of the Disneyland Hotel project and the new Adventureland Tower lobby.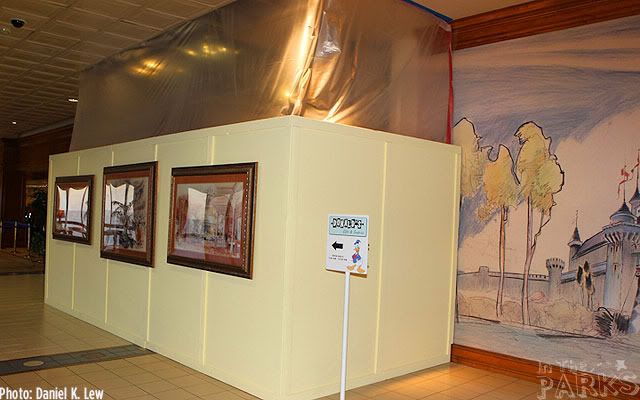 The main lobby is now behind construction walls.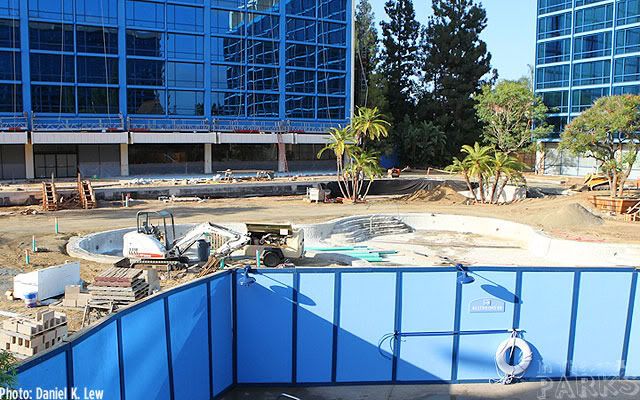 Outside the project continues on the old Neverland pool.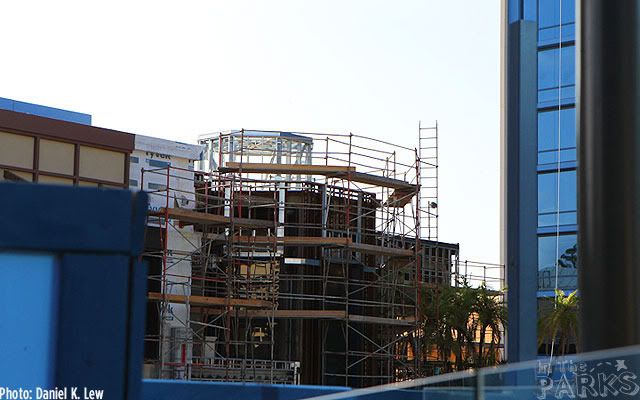 More work began on the exterior of the convention buildings. The former brightly colored roof is now gone


Adventureland Tower:
The lobby of the new Adventureland tower was unveiled recently. It follows the same understated tenants of the new Frontierland Tower lobby in the suggestion of theme through color, tone and music. Very tasteful and clean. Modern with Adventureland flair.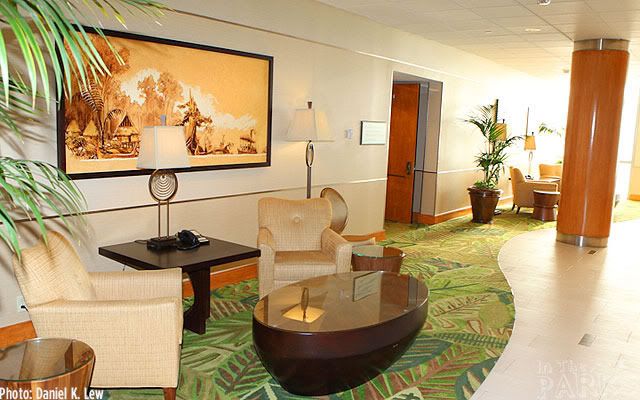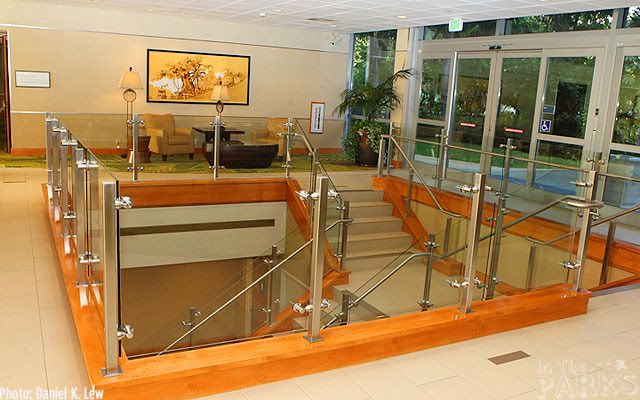 MiceChatter Sarah is back with her latest video on the MiceTube. This time around, she shares some really interesting fan art!




Be sure to leave your comments for Sarah here or on our MiceTube Channel




Knott's Berry Farm is preparing to turn into Knott's Scary Farm and was looking for a few good monsters this past week. We stopped by to check things out and see if anything scary happened. We also get a look at Windseeker at full mast.

SAVE THE DATE:




WINDSEEKER:
Windseeker was seen testing this week and going through the motions. The expected opening of the ride for this weekend has now been pushed back until the weekend of the 27th.




HAUNT AUDITIONS:
New blood was the order for the day. Auditions for veteran haunt monsters have already been conducted, but the new hire auditions were held on Monday, August 8th. With the majority of spots filled by returning monsters, the competition was fierce. Those interested in auditioning were asked to line up no earlier than 3am on Sunday morning to receive an appointment card. Once handed an appointment card, the potential monsters were given an approximate time to return and either, interview for a maze position or audition for the 28 spaces left for street performers.



Despite having appointment cards, those waiting still lined up neatly.



Interview to the left, Auditions to the right.



"Here is your scenario. GO!"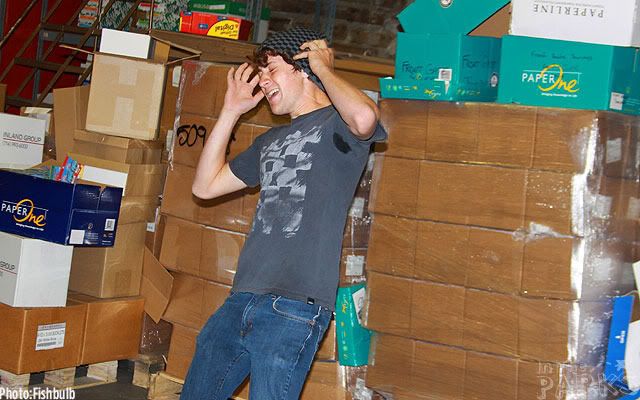 "AAAAA I'm a preacher on fire!"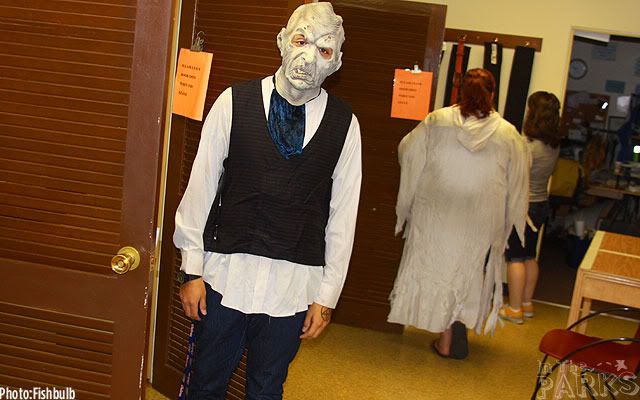 Once cast, the monsters are then fitted for costumes. This one will be fitted for a mask in a moment.
Auditions for "Dark Harbor" are a week from Friday and Saturday (August 19th from 5:00-9:00pm and August 20th from 11:00am-2:00pm).


Dark Harbor is looking for ALL kinds of performers – some with improv skills, some with acting skills, some who just need to be able to move with energy.

Auditions for "Dark Harbor" will be held at the Queen Mary on the following dates:

5:00pm – 9:00pm Friday, August 19th
11:00am – 3:00pm Saturday, August 20th
The Queen Mary is located at 1126 Queen's Highway, Long Beach, CA 90802-6390
The following applies to EVERYBODY – including performers from the 2010 production of "Dark Harbor":
You must attend ONE of the audition sessions.
Please wear comfortable clothes you can move freely in (like you were going to the gym or a yoga or dance class).
If you are hired, you will have to fill out paperwork for the HR department, please bring:

Drivers license and either social security card or passport

Job history, including contact information
The pay is $10.50 per hour.
Below are other key dates you need to know:
Orientations and Rehearsals:
Each performer will be required to attend ONE night of Orientation and Rehearsal. Orientations will be held September 15th, 16th and 17th from 6:00-11:00pm.
Dress Rehearsal:
October 4
Performances:
October 7, 8, 9
October 14, 15, 16
October 20, 21, 22, 23
October 27, 28, 29, 30, 31
For more information or if you are interested in auditioning:
Please email Bonnie Farr at dhtalent@queenmary.com or call 562-480-3616.
---
Before we finish today's update, we'd like to remind you to sign up for the MiceChat monthly newsletter and events email so you are always in the loop on what's new and exciting in the Disney and theme park world. In the next few weeks, we'll share information on a trip you can take to Disney's Aulani Hotel in Hawaii, our long awaited Gumball Rally Lightening Edition (formerly the Half Rally), Halloween Haunt events, Holiday Celebration and more. Don't miss out:
<form method="post" action="http://app.icontact.com/icp/signup.php" name="icpsignup" id="icpsignup6385" accept-charset="UTF-8" onsubmit="return verifyRequired6385();">

<input name="redirect" value="http://www.icontact.com/www/signup/thanks.html" type="hidden"> <input name="errorredirect" value="http://www.icontact.com/www/signup/error.html" type="hidden">



| | |
| --- | --- |
| * Email | <input name="fields_email" type="text"> |
| First Name | <input name="fields_fname" type="text"> |
| Last Name | <input name="fields_lname" type="text"> |
| | View my publisher profile. |
| | * = Required Field |
| | <input name="Submit" value="Submit" type="submit"> |


</form>
Today's update was brought to you by the following members of our fantastic and talented crew of photographers and news contributors: DisneyDaniel, Capt Phoebus, F!an, Fishbulb, and Dustysage.
Are you following us?



Show us you appreciate this column
share this page with your friends and family!

Would you like to be part of this crew? Do you have a park, zoo or botanical garden that you'd like to share with our readers? We are looking for Southern California theme park reporters.

We'd love to hear from you!

please contact dustysage@micechat.com.