Get ready for a truly spooktacular In the Parks. Disneyland is currently under several refurbishment projects, even as Disney California Adventure slowly rebuilds behind a maze of construction walls. Knott's Berry Farm and Universal Studios have both launched their wildly popular Halloween celebrations and miceChat was there to take it all in for you, including our red carpet coverage of the Eyegore horror awards. The fun has only just begun!

---
WE'D LIKE TO INVITE YOU TO JOIN THE FUN:


MICE

CHAT'S

FAMOUS

N

I

G

H

T

S

O

F

H

O

R

R

O

R

EVENTS

Our Universal Studios Hollywood Halloween Horror night has now sold out! But we'd love to have you join us for our spooktacular
Queen Mary Dark Harbor meet Saturday, October 8th
(one of the real haunted spots in LA). AMAZING behind the scenes access, dinner, and front of the line access to the scary fun is available at all of our events. . . . All at a price that won't scare you to death!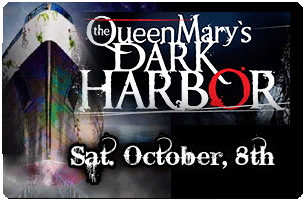 Discusion and updated info on MiceChat HERE.
THE EVENT WILL INCLUDE: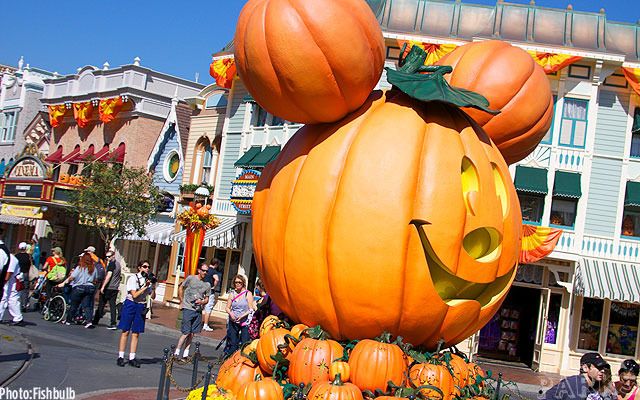 REFURBS:
Before guests set foot inside the park, it is evident that work is underway. The colorful "Celebrate" entry archway along Harbor Blvd. is currently under wraps to give it a more generic, Disneyland feel.

Don't worry. There will be more things to celebrate.



The camera shop continues refurbishment.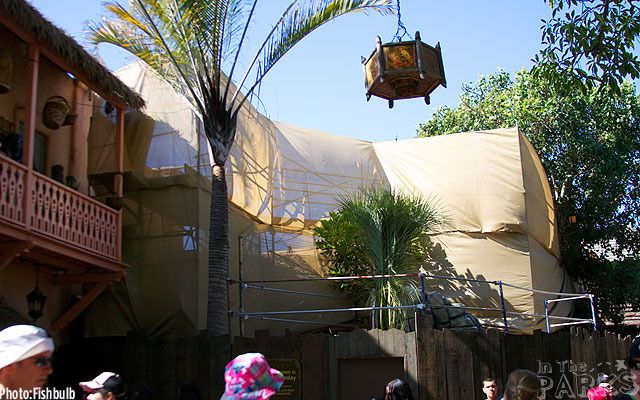 Over in Adventureland the restrooms are being redone again.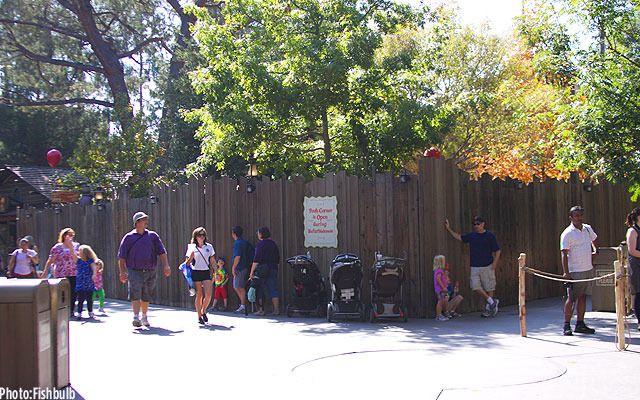 Critter Country's Winnie the Pooh Meet and greet is returning soon. It will be better equipped to handle the large amounts of guests clamoring to hug Tigger and Pooh.




While Pirates of the Caribbean and Blue Bayou are closed for refurbishment, their facades inside New Orleans Square are being touched up.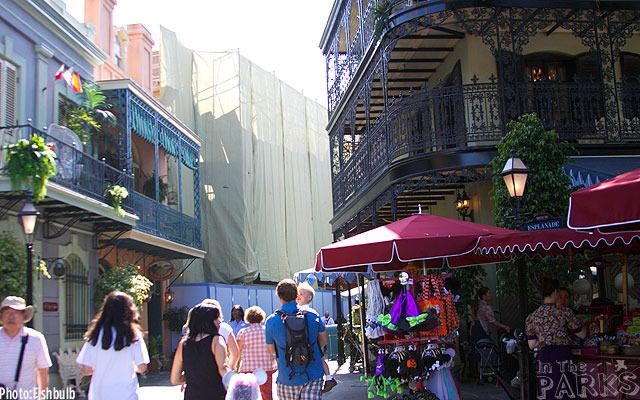 Club 33 is remaining open during this refurbishment.



The Golden Horseshoe is finally finished being re-planked. However, further work is being done to the left of the entrance.


---
Join Us For A Free MiceChat Eye Spy Game at California Adventure


Sunday October 2nd, 2011
Meet us at 3pm on Sunday the 2nd of October in front of Monster's Inc. near the ElecTRONica Stage. For a quick hour and a half family friendly event.

We'll give you a full color game book with images and clues you need to find in the park. It's like a visual scavenger hunt. Anyone of any age will find this event to be a fun diversion. And you might just win some neat prizes too.


Visit this discussion on MiceChat to enter the event (bring your friends and family!).




Disney California Adventure is maturing into a real Disney quality park. But the work isn't done just yet. There is still a massive amount of construction to be completed. Cars Land, the park's largest expansion, is being finished up along with the new Buena Vista Street entrance. We also have photos of the new exhibit in the Blue Sky Cellar that highlights Buena Vista Street's place as the heart of the park.

BUENA VISTA STREET:
Progress behind the walls at the front of the park is moving at a feverish pace. The deadline is June of next year. That is roughly 8 months to turn this area into a fully immersive 1920's, Los Angeles city scape that will transport visitors to another place in time. Al Lutz claims that they may be falling behind and a July or even August completion is looking more and more likely.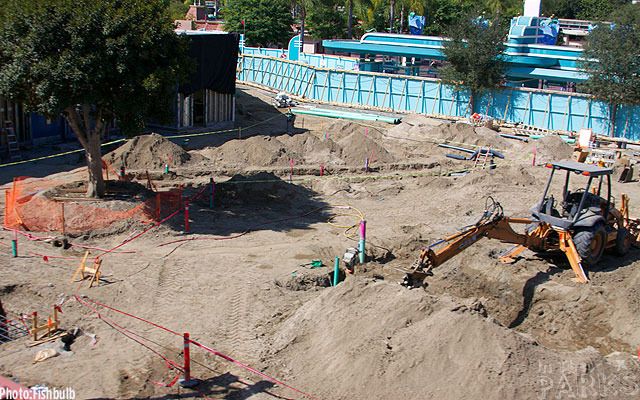 That is the Carthay Circle theatre behind those green tarps.



New spires are peaking pout along the top of the Carthay.


BLUE SKY CELLAR:
With the Little Mermaid exhibit now obsolete, a new feature has been installed to highlight the highly anticipated Buena Vista Street entrance to the park. New posters, maps, models and imagineer videos sell Buena Vista Street with a heavy dose of heart and soul. The video in the screening room is particularly cloying, taking on the mood of an "It gets better" video complete with the plaintive piano score and personal stories from the imagineers. We are supposed to feel an emotional connection to the street, but my goodness do they lay it on thick. Regardless, there are some wonderful things to see in here and some superb design work on display.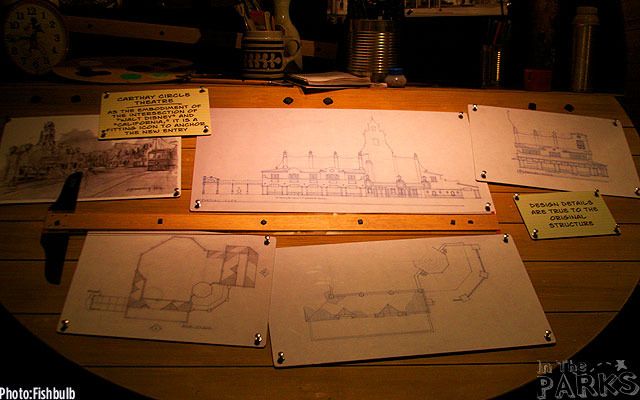 The costumes are going to be amazing.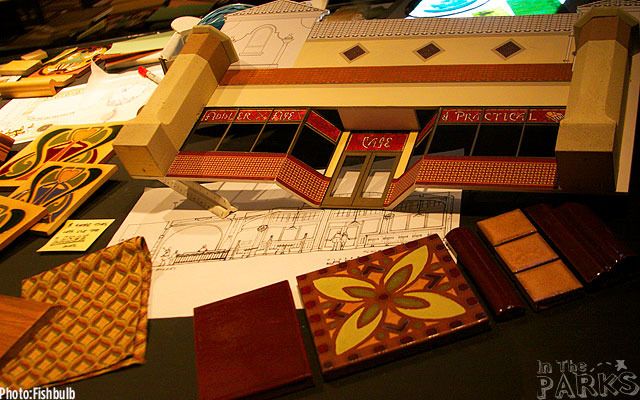 Paper models of the store fronts complete with tile, wallpaper and color samples.



the model that was on display at D23 has been relocated to Blue Sky Cellar.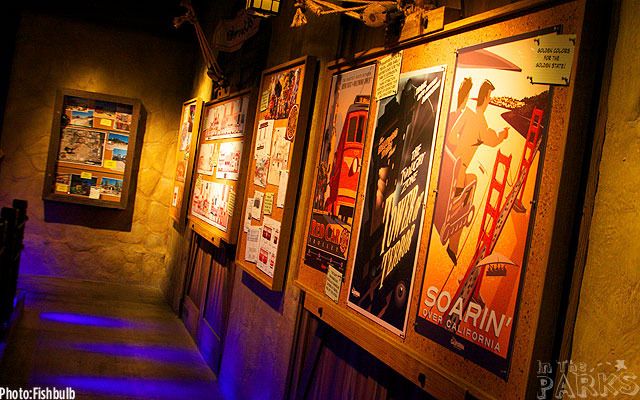 New attraction posters.


CARS LAND:
The town of Radiator Springs is moving further along the road to completion. Our fears of a no-shade wasteland have been put to rest with all of the lush landscaping making its way into the new land. Vehicle testing has begun on each of the new attractions and we hear that all is going very well. This project is on track for a late spring completion.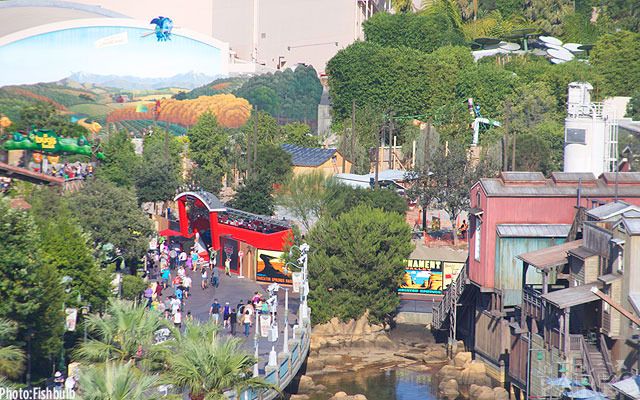 Mater's Junkyard Jamboree is now a forested area.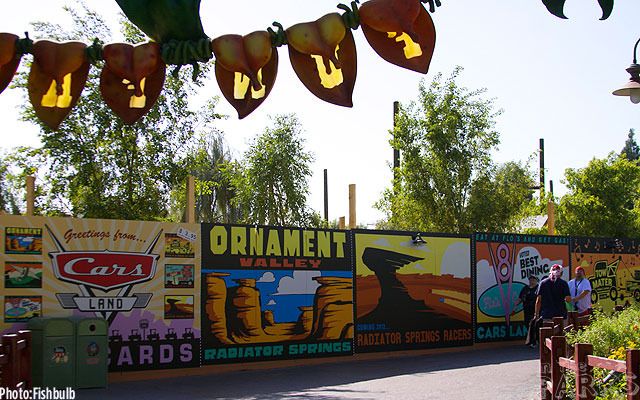 Mater's from Bug's Land.



The leaning shack.



Mater's entrance facade in the foreground.



Looking down the main street we see the court house coming together.



An over view of the town square.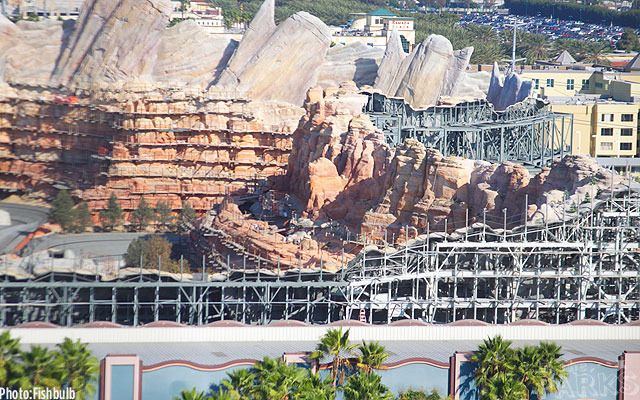 The right-side entrance near Pacific Wharf shows off the enclosure of the back of the mountains.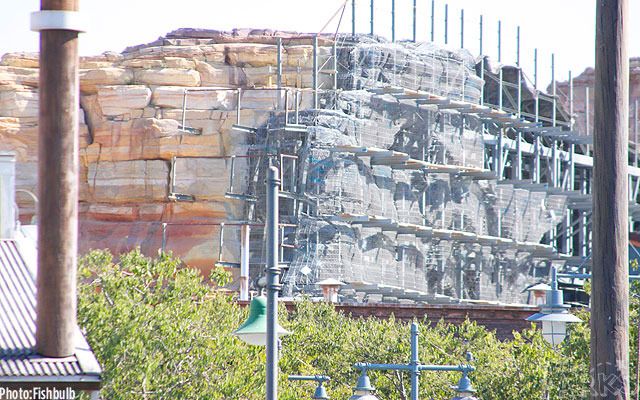 Rock sculpture is beginning to take place on the back side of Cars Land


CALIFORNIA SCREAMIN':
With a brand new, reinforced loop, and a repainted queue, California Screamin' is nearly ready to reopen.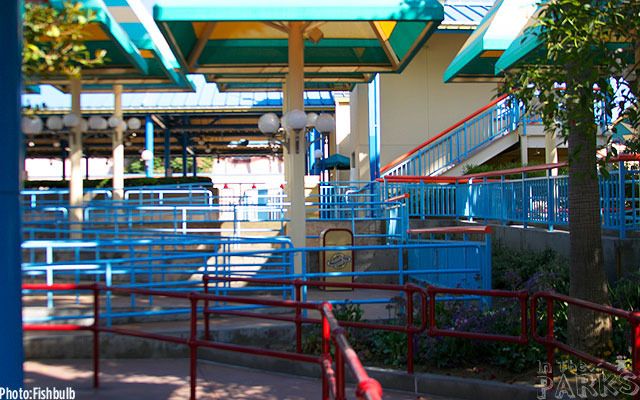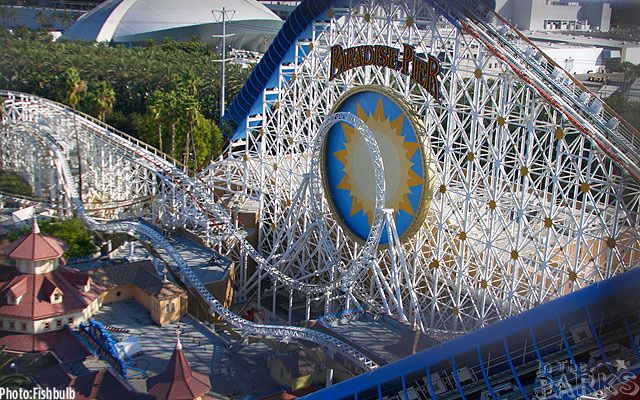 ---
MiceChatter with Sarah from the MiceTube


Knott's Berry farm kicked off its 39th annual Halloween Haunt this past Friday. Over 200 MiceChatters got together on Saturday, September 24th to enjoy a special night of VIP fun at the original theme park Halloween party. The night included backstage tours of the costume and make up departments along with a tour through this years knock-out hit maze, Delirium with its designer Daniel Miller. This was followed by a VIP dinner and meet and greet with Knott's celebrities, then a fantastic night of mazes and shows in the park. Knott's went far above and beyond in delivering one of the very best nights we have ever had at the Scary Farm.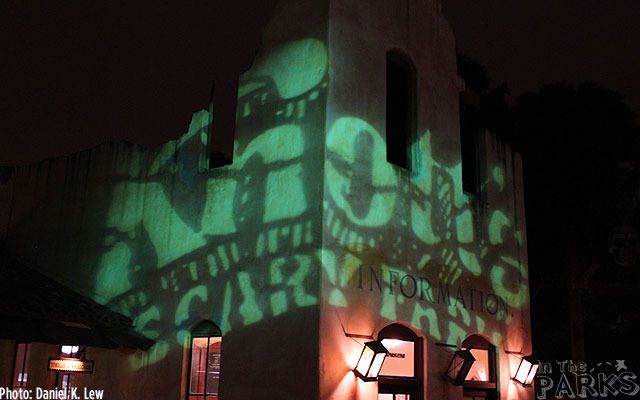 Here are highlights from the evening, along with a full review of the mazes and two of the shows.

THE TOURS:
Hosts Daniel Miller (Maze Designer, Delirium) and Timothy Barham (Costume design) generously spent time taking the MiceChat group backstage at Haunt. The group was taken through the new maze Delirium and the costuming and make up department. It certainly gave us all a new appreciation for all of the work that goes into scaring folks.



Scary even in daylight.


The Costume shop serves hundreds of monsters



DINNER:
After the tours, we were escorted to a VIP dinner in the huge dining hall at Mrs. Knott's Chicken Dinner Restaurant. There we enjoyed the company of Todd Faux (Entertainment Designer), Brooke Walters, (Maze designer), Daniel Miller, (Maze Designer), John Waite and Eric Lynxwiler. 2 lucky MiceChatters won a chance to be monsters in a maze during the evening.

They've eaten their fried chicken but still have a taste for blood!


HAUNT:
39 years ago, Knott's originated the theme park haunt. they spooked up the Log ride and Mine train. Today they have 11 mazes and 2 haunted attractions as well as a half dozen shows for their Halloween Haunt.

There was some really great new work this year and a couple things that still appear to need some work. But the passion for the scare is still there. Here is a brief overview...

Sleep Hollow Mountain (Log Ride):
Sleepy Hollow Mountain is the brilliantly themed overlay to the classic Log Ride. Designed by the imaginative David Ortiz, it re-tells the scary story of the headless horseman. There were more scares this year and an even more cohesive feel of dread. Good work to all on this.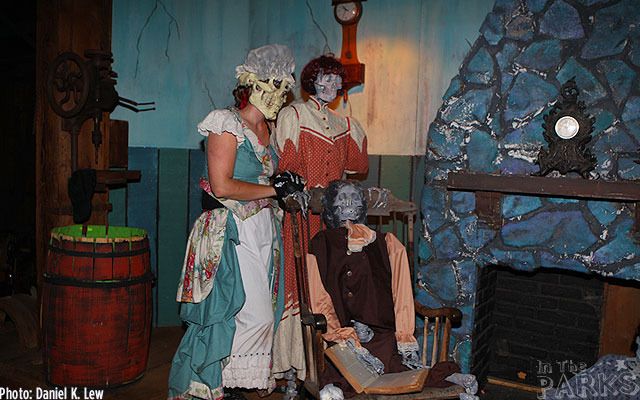 Invasion Beneath (Calico Mine Train):
We do not feel that it would be fair to give a full review to the new Calico Mine Train overlay, Invasion Beneath. What visitors saw on Friday and Saturday night this past weekend was a severely edited version of what was originally designed. Let's just say that they were thrown for an unexpected loop on the opening day of the event and had to remove much of their work. As of this writing, Knott's is fixing the problem and it will be reopening this weekend for Haunt. After the designers are happy with the end product we will then give it a review.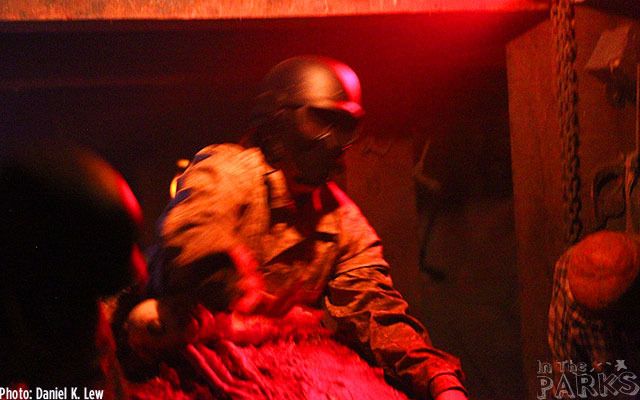 Virus Z:


Virus Z returns to the town of Pleasanton to wreck havoc on small town life. This was a great new maze last year and remains a fun, terrifying, zombie maze this year.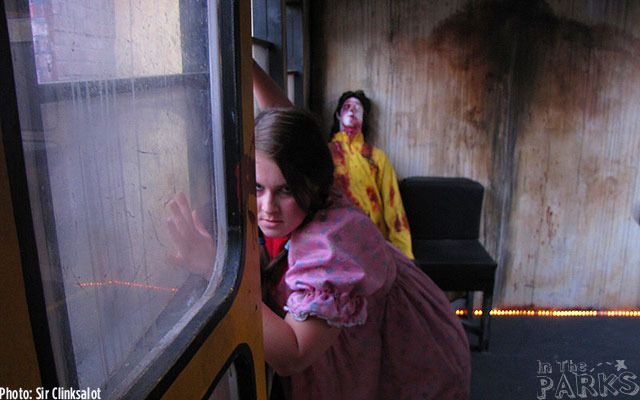 CornStalkers:
Its good to see this maze return for its fourth (and likely last) year as strong as ever. The corn is high, the scares are consistent and the talent good.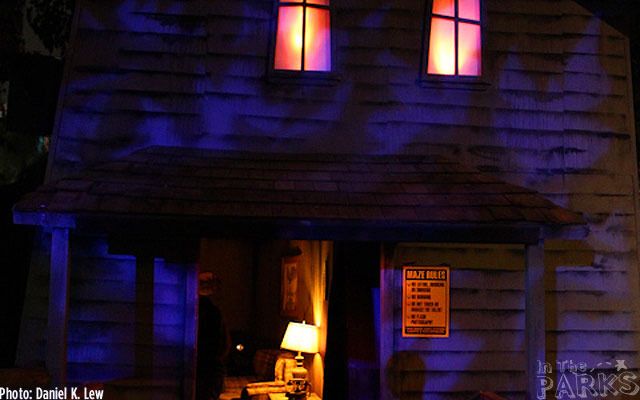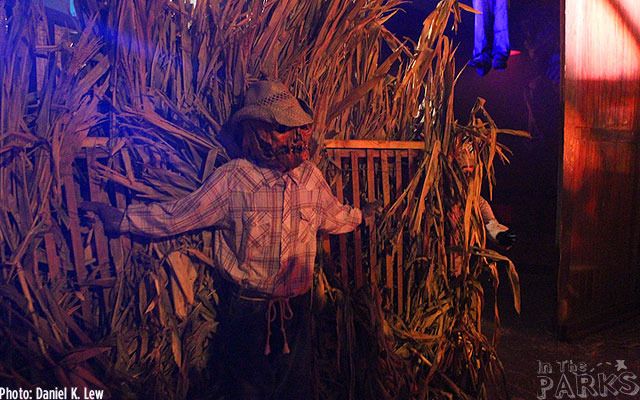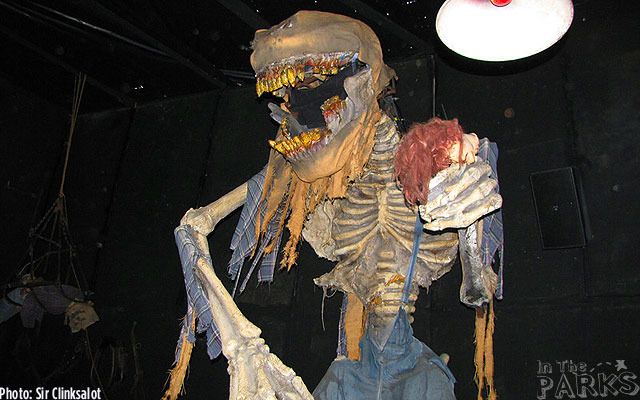 Watch out for the 2 story tall animatronic hillbillies, they're fierce


The Hanging:
The Hanging is another fun mish mash of pop-culture references. While not the best hanging, it had its share of laugh-out-loud moments. The targets include Charlie Sheen, Lady GaGa, The Avengers and so many many more.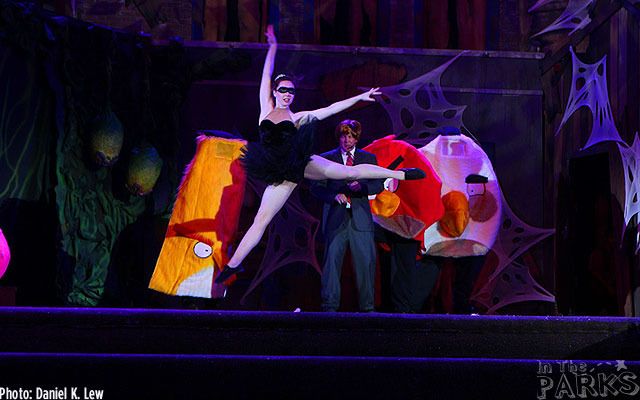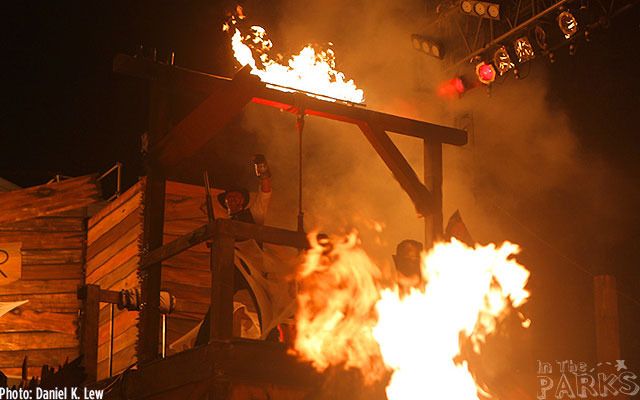 Please don't give away the hanging. We want you to be surprised.

Uncle BoBo's Big Top of the Bizarre:
Clowns. Why does it have to be clowns? I thought last year was scary. This year they reworked the beginning of the maze and paced things differently. The result is a longer feeling, more intense experience that really succeeds in delivering fun and scares. Another great maze.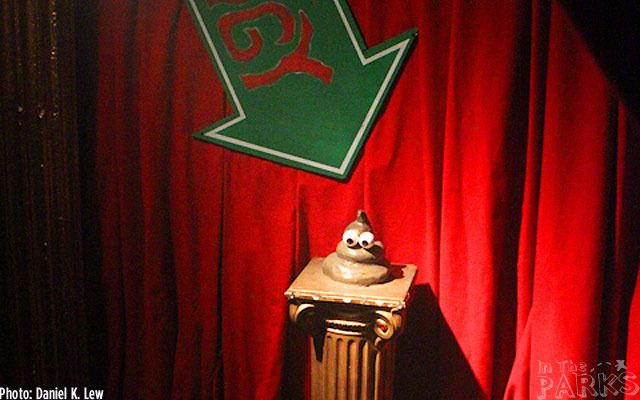 Yes, that's a cute little poo with eyes.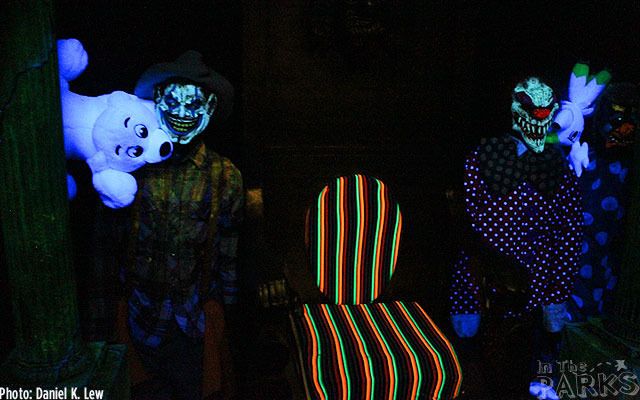 This is a 3D maze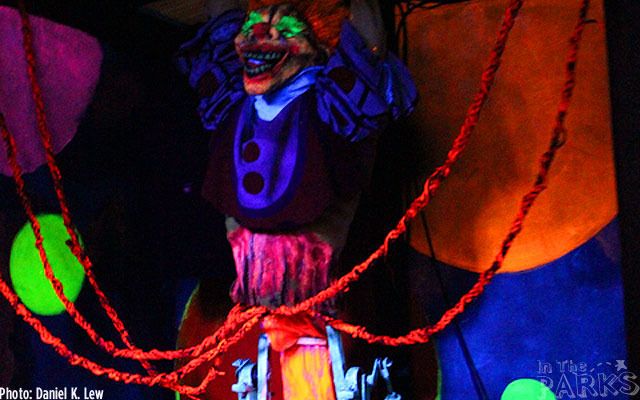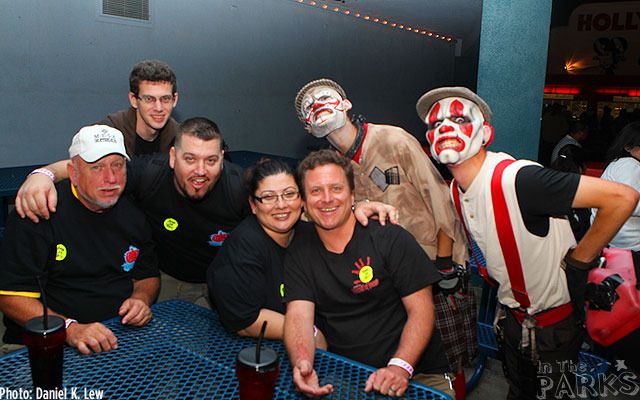 Dia De Los Muertos:
Dia De Los Muertos has overcome the sophomore slump and returned for a third year in a new and improved form. The graveyard set has been expanded and re-imagined. The talent in the maze once again has captured the silly fun and BOO scares. A fun and beautiful maze.


Doll Factory:
Just WOW. Last years Doll Factory was beginning to show its age. This year it has returned for its final year with a new sense of energy and scares that top anything we have seen here in a while. The reworked furnace area works nicely and the talent seems in touch with the creepy vibe of this classic maze. Nice work.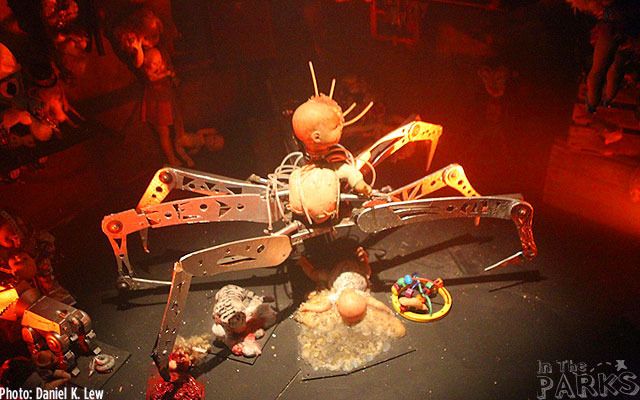 Terror of London:
The Terror of London is a wonderfully atmospheric maze that takes visitors through the back allies of London during the days of Jack the Ripper. The scares here are of the elegant kind. Frightening, sexy, and brutal, the maze returns strong. There is also a new ending to the maze that jettisons the Frankenstein connection and just goes for all out gore. Nice work.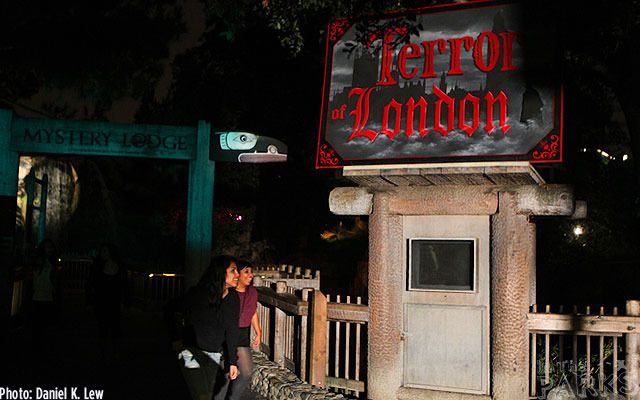 Lockdown:
Lockdown is a trip through a prison during a riot. The lunatics have taken over the asylum here and it's simply crazy. A good energetic maze that stands in contrast to the maze that directly follows it, Delirium.


Delirium:
Daniel Miller is a sick, twisted person who should consider therapy. That's a good thing when considering he is charged with designing haunted attractions. His newest creation, Delirium is a brilliant walk through the mind of a deranged young girl.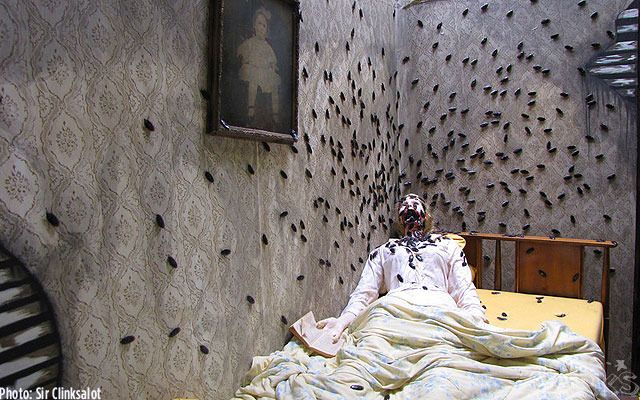 Beginning with the tumescent entrance that bleeds into the recreation of experiencing birth, the maze is striking in its audacity of concept and execution. At first glance the scenes feel disjointed. But, really, any crazy mind wouldn't feel sequential now would it? The montage of nightmarish imagery continues with a visit through a tunnel of eyeballs, a twisted convalescent home, and a sacrificial altar.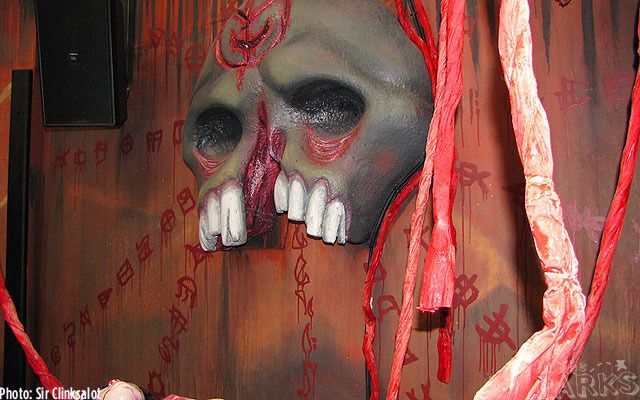 Brilliant sound design is also used to put you inside this poor girl's mind. Hyperactive whispers, a forboding soundtrack, and other disturbing sounds create an audio scape that is as unsettling as the sets you pass through. This is probably the best maze at haunt this year. If you make it through one maze, make it this one.


Fallout Shelter:

Fallout Shelter was last year's sleeper hit maze of the season. The weird mix of cold war nostalgia, black light effects and scares added up to a fun experience.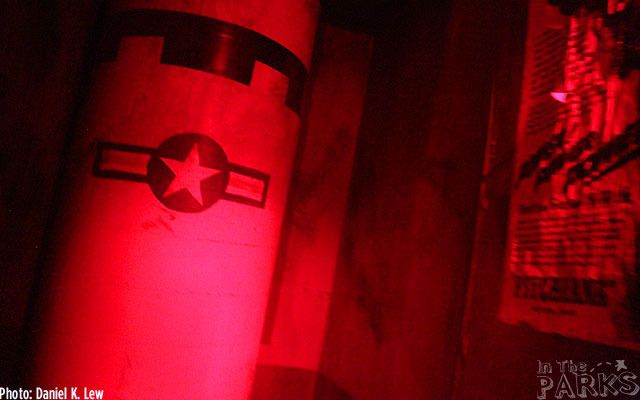 This year though, they removed a few key elements that made last year so uniquely fun and bizarre.

The bubble room is no more, as too many guests complained about them getting on their clothes. LAME. Folks you are going to a theme park for Halloween, don't dress in your most delicate attire. The T.V. at the beginning of the maze was off. No silly Nuke footage to set up the crazy bomb shelter mentality.

But there are some improvements as well. There were some wonderful new laser effects in some of the later scenes. What's more, the talent is still strong in this one. Overall it is nearly as good as last year.

Slaughterhouse:
Slaughterhouse is the classic cannibal maze. Grotesque in execution, guests try to make their way through the hillbilly halls of a human meat shop. We even get to visit the home of the proprietors.

This maze has certainly benefited this year from strong lighting adjustments and reworked sets. The talent is strong and the scares come at a consistent pace. Great job!

Endgames:
Maze designer Brooke Walters conceives a world where life is a novelty and true thrill of the kill is priority. Guests are treated to a beautifully detailed, post-apocalyptic world where humans are killed for sport. The idea behind this maze is an interesting one. But the key to the scares in this maze lie in making the guests feel like they are the hunted. Parts of this maze looked as though they were not quite finished.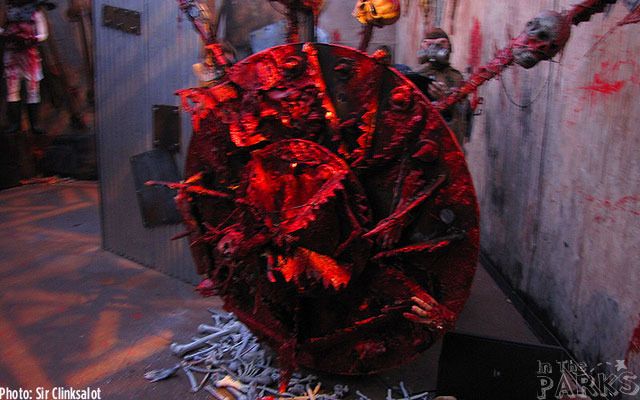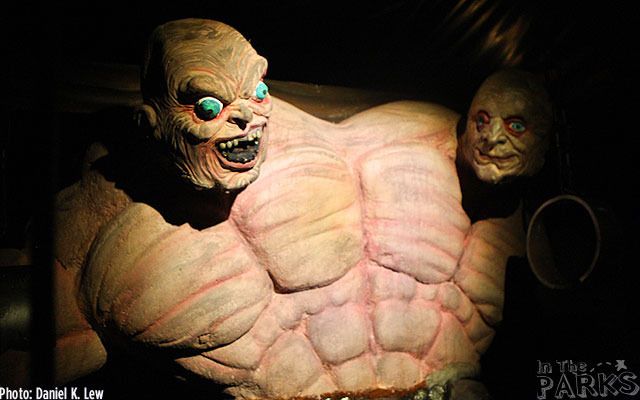 The music is loud, blaring and scary. The design is jagged, rough and savage. What would make this maze more scary is the sickening glee with which the inhabitants of this world kill for fun. Let the guests see what happens when their own kind are caught.


It can happen. They are still early in the run. The performers in the maze certainly have the energy to knock this out of the park they just need a good reason why.

We will be visiting this maze many more times to see how things evolve. We are sure they will hit their stride.

We'll have more to share with you in the coming weeks. One of the highlights of the night for us was the Ed Alanzo show, which we'll cover in detail for you soon.






If you are not a serious fan of horror movies and your answer to "What's your favorite scary movie?" is "Ghostbusters" you may not have heard of the annual awards ceremony for those who cut a path with chainsaws and blood. If your tastes tend more toward "Psycho" than a certain reality show about New Jersey, then you probably know about the Eyegore Awards presented every year on the kick off night of Universal Studio's Halloween Horror Nights.

Honoring those who have made an impact in the horror genre, this year recipients included David Arquette and Jamie Kennedy of "Scream" fame, Rainn Wilson for his work in Rob Zombie's "House of 1,000 Corpses","Don't Be Afraid of The Dark" star Bailee Madison, "Final Destination 5" actress Emma Bell and legendary rocker Alice Cooper. Hosted by Corey Feldman, the award presenters included Alice Cooper's daughter Calico, Mary Elizabeth Winstead from the upcoming prequel "The Thing," Eyegore recipient Rob Zombie, "Frozen" director Adam Green, "Dawn Of the Dead" writer James Gunn, actor Thomas Jane and Brian Gott, publisher of Variety.

Highlights of the awards included the adult grace of Bailee Madison and the comic styling of Rainn Wilson (from "the Office" and "Fishboy" in "House of 1,000 Corpses") who was having a blast with the crowd and Jamie Kennedy whose onstage antics had the audience laughing. The evening was wrapped up with Halloween Horror Night's Creative Director John Murdy and the upcoming "The Thing"'s Mary Elizabeth Winstead presenting Brent Bokovoy with the 2011 "Halloween Horror Nights" Short Film Competition for his entry "Monster In My Swimming Pool" which netted him $1,000 and broadcasts of his work on Chiller and syfy.com.

But, as with many awards presentations, many of the highlights took place on the Red Carpet where masters of the horror community can just relax and be horror fans and talk with the bystanders and members of the invited press. Here are some photos from the Red Carpet event: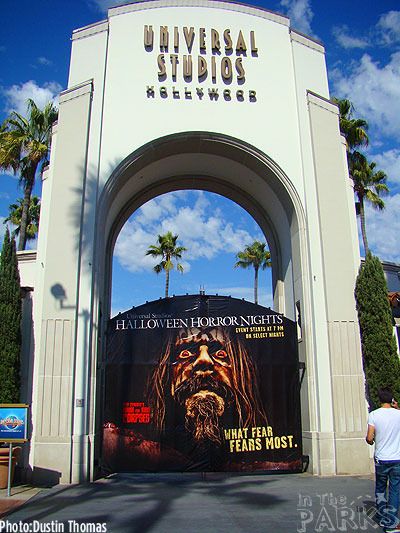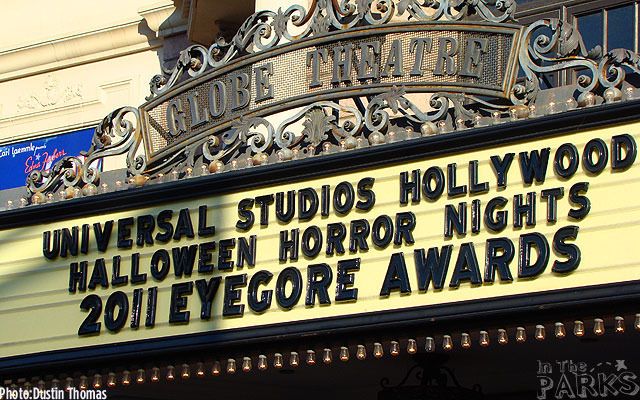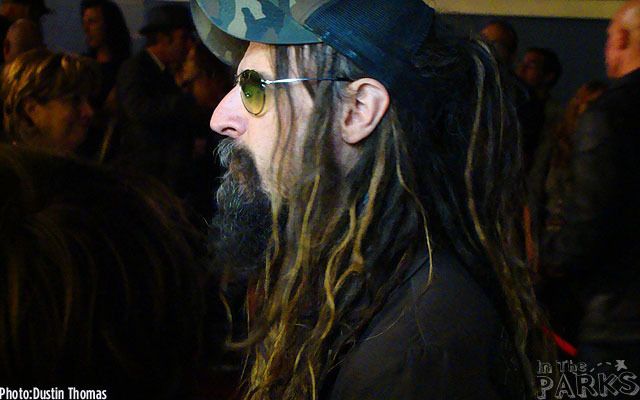 Rob Zombie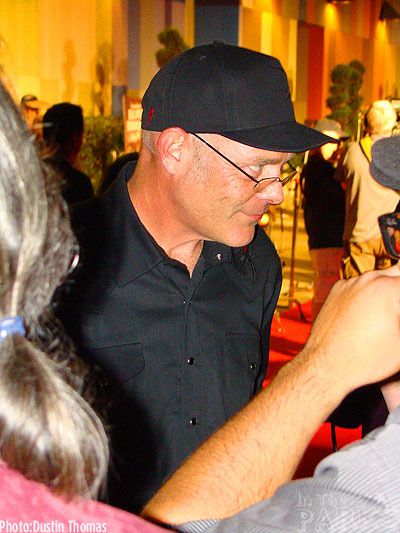 Creative Director, John Murdy



Peter Brady!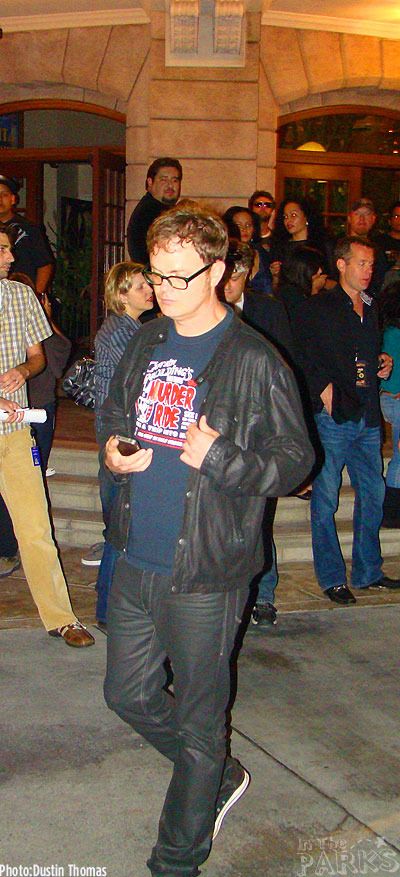 Rainn Wilson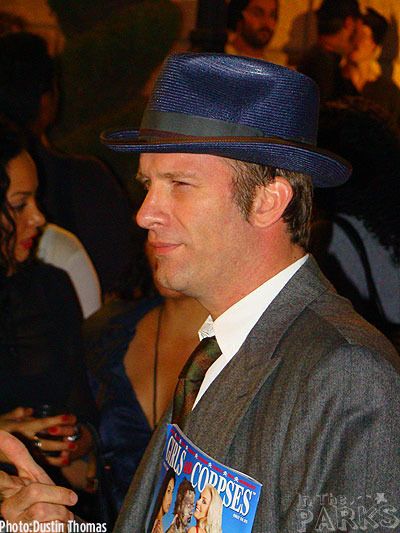 Thomas Jayne


HALLOWEEN HORROR NIGHTS:
After finishing Red Carpet coverage it was time to make our way into the park and get our first taste of Halloween Horror Nights for the season. We stepped in amongst a twisted world of clowns of all shapes and sizes accompanied by chainsaws and belches of fire from a huge arch and immediately found ourselves surrounded by screams and laughter, most of the laughter being of a maniacal and crazy clown manner, It was time to see what fears could be found in the park for our delight and disturbance.

Scare Zones:
We've always found the scare zones at HHN to be a fun way to move from one part of the park to another and this year is no exception. The Freakz scare zone stands out as the strongest one of the night to us. The masks and life breathed into them by their scareactors is just outstanding. They are weird, fright inducing and, of course, freaky. The masked Reapers are a great replacement in the lower lot to the Chainsaw Pigs and make sure you stop and watch the Ringmaster Clown just under the fire jets in the Klownz scare zone in the upper lot. All in all, the scare zones are very entertaining.

LA LLARONA:



This was proving to be the most controversial maze before it even came out due to the La Llorona myth subject matter. Last year this was a subject of a street zone and probably the poorest offering of scares that year, partially due to the crowds reaction and lack of respect to the folklore (taking pictures with the weeping woman carrying her dead baby while the public made bunny ears behind her head). This year the famous Hispanic tale was heavily researched and just about every possible variation of the legend was included in the maze with no punches pulled. We often describe this to a Wikipedia entry where everyone tells their version of what they heard growing up and it is all put into one piece. We don't want to give away too much because it would be very easy to diminish the proper shock value you would have but no matter who complains about any part of the maze there is research to back it and it is done in amazing detail. The visual in the final scene just might haunt you the rest of your night at HHN. It is scary, it is disturbing, and it is executed with the respect such an important cultural tale deserves.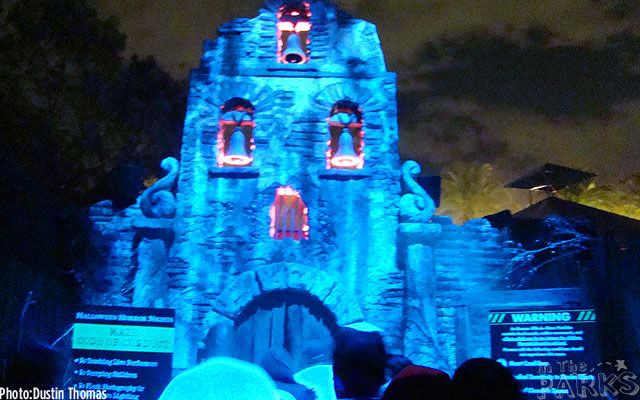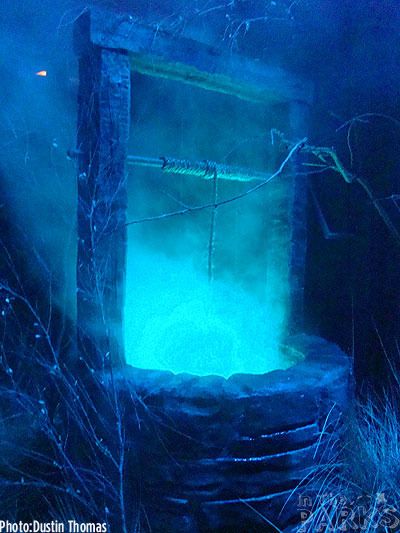 This is why the MiceChat group is paying for the Front of the Line passes.

SCREAM 4 YOUR LIFE TERROR TRAM:

Terror Tram 2011 is such a vast improvement over the disjointed Chucky themeing that 2010 brought us. The premise this year is that you're visiting the various sets for a few new horror movies that are shooting on the Universal Backlot. Of course Ghostface Killer has found his way onto the sets and is making mincemeat out of those unlucky enough to cross his path. One of the coolest things to do at HHN for horror fans is to be able to walk right up to the Psycho house and Terror Tram gives everyone that opportunity, IF you survive the uphill walk that seems to be just teeming with wildlife and who knows what else that goes bump in the night. The Terror Tram theme flows much better this year than last, it's a definite improvement.


Bill and Ted

This annual show full of pop culture parodies returns with Bill and Ted and a slew of guests from the news over the last year. The Bill and Ted show is a mixture of comedy, satire and song. Every year they close the show with a big musical number showcasing some of the past years biggest talents. This year songs are featured by Adele, Chris Brown and Rhianna. The comedy skits fell a bit flat this year we thought and the biggest villain of the night was someone we didn't expect thinking their time in the spotlight was over several months ago. Again, we don't want to spoil anything for those going to HHN this month, but Bill and Ted remains a good show to get some laughs and rest your feet a bit before heading back out to the screams.

ELI ROTH'S HOSTEL:
When this maze was announced there was a lot of concern in the haunt community that this would be too close to Saw and as a result would feel more like a recycling. Luckily this proved to be far from the truth as this maze paid some homage to the scenes in the movie but in many ways were their own beast making you feel like you were walking through another film in the series. The maze starts off before you even go in with a couple of ladies with strong accents talking to the crowd as if picking who would bring them the most finder's fees and continues on until you come back out either stunned or being passed by screaming girls. Once again we don't want to spoil too much and if you have gone a few times over the years you will recognized some reused props, but you won't mind because it still has a whole new feel. Make sure you listen closely to the soundtrack, it can be both amusing and disgusting on how it can twist a scare that much more. Eli Roth was seen laughing and smiling as he exited the maze on opening night so things must have been good!

ALICE COOPER: Welcome to My Nightmare:
Alice Cooper's Welcome To My Nightmare: HHN's Creative Director John Murder had grown up a huge fan of Alice Cooper so when he finally was able to work out an opportunity to work with Alice on a maze, it was one of his greatest, long time dreams come true. So knowing this we knew this was going to be a work of personal passion for John and he was geeking out the whole time he did it. The result is an amazing maze full of both eye candy and scares; when whole scenes are taken in, they start to develop a surreal nightmare appearance.

There are homages to Alice's countless stage illusions and interpretations of songs from his vast library of work. One thing we highly recommend is listening to the music as you go through, since may scenes are artistic interpretation of the songs. The costuming is also fantastic, the Alice masks are so realistic it is like the rocker is there himself scaring you. We are tempted to take 3D glasses into the maze with us because, though the maze wasn't designed in 3D, I can tell that certain sections would work due to the lighting changes. Heck, they almost looked 3D without glasses. Definitely one of the finest mazes at any park we have experienced so far this year.





The Thing-Assimilation:
The upcoming prequel to John Carpenter's 1982 movie The Thing is the basis for the last of the new mazes for HHN 2011. The Thing is the story of some sort of alien species found in the ice in Antarctica that is able to inhabit other lifeforms bodies and take them over . . . leaving you guessing as to who is an alien and who isn't. The 1982 horror classic is known for its state of the art (at that time) special effects and that same amazing detail is to be found in the The Thing maze at HHN this year. Unbelievably detailed prosthetics and nearly full body props are found throughout this maze. After being startled by one of the "Things," we wanted nothing more but to stand there and just admire the craftsmanship that has gone into the monster effects, they are THAT good. Although the prosthetics are fantastic the scares and ability to follow the storyline were a bit light in this maze. The first couple of rooms were pretty bland, but that was forgiven once we caught site of the first monster. The maze is definitely worth the time for The Things alone.


Rob Zombie's House Of 1,000 Corpses:
The only returning maze form 2010, House of 1,000 Corpses was well worth bringing back. The innovative 3-D in this maze is just astounding. The 3-D effects literally shift, as the lighting does, which can create a very spooky and disorienting environment. Casting is perhaps the strongest feature of this maze as the Baby and Otis characters are just as strong this year as they were last year. The actors know the roles well, and it truly feels like you are walking through part of the movie when you pass by. This maze takes us through the entirety of the movie, from Capt. Spaulding's Murder Ride to the Firefly House and finally to Dr. Satan's lair. We were really glad to see this fan favorite maze return this year, as it is already a HHN classic amongst fans.

Universal's Halloween Horror Nights is an event dedicated to the hardcore horror fan and is growing in popularity. While we are HUGE fans of the event, it comes with a warning. This is a hard "R" rated event. The mazes are gory, the language in the shows is pretty salty, and many could walk away offended. Still, the creativity and artistry on display is beyond compare. If you like horror, go to this event NOW.



We'd like to invite you to join us as we tour two of Orange County's top independent haunts:
Come join us for two of the best haunted houses in Southern California. We will start the night off at Anaheim Garden Walk for a little food at the Tavern Grill. We will then experience the Empty Grave. Once finished there, we will venture over to Brea for the wildly inventive Sinister Pointe Haunted Attraction. No tickets are sold in advance for this event as we will buy them at the Box Office at a special MiceChat Rate on the evening of the event. More information HERE.


THE SCREAM ZONE:
The Scream Zone at the San Diego County Fairgrounds (2260 Jimmy Durante Blvd., Del Mar, CA) is San Diego County's largest haunted attraction. It features three haunt zones in one location: House of Horror with rooms filled with terrifying scenes and scares lurking at every turn, a Haunted Hayride through the haunted barns on the Del Mar Thoroughbred Club's race track, and The Chamber with the largest spinning tunnel in San Diego.

Entrance and Parking:
Free in the designated Scream Zone parking lot. Enter the San Diego County Fairgrounds at the Solana Gate, which is on the south side of Via de la Valle (between the Coast Highway and Jimmy Durante Blvd.)

Dates:Hours:
Fridays and Saturdays: 7 p.m.-midnight
Other days: 7 p.m.-11 p.m.

Prices:Triple (Combo) Haunt:Double Haunt:Single Haunt:Fast Track:
Get front-of-the-line privileges by purchasing an additional $10 Fast Track for the House, or an extra $10 Fast Track for the Hayride.

Parents:
There is no cost to enter The Scream Zone complex. Parents who are not touring one of the attactions can have something to eat or drink while waiting for their kids. No refunds or exchanges.

---

And that just about wraps up this week's edition of In The Parks.

In The Parks was brought to you by the following members of our fantastic and talented crew of photographers and news contributors: Dustin Thomas, Daniel K. Lew, F!an, Sir Clinksalot, Fishbulb, and Dustysage. (If you've got breaking news or photos to share, we'd love to hear from you. Contact Dusty today.)




Are you following us?




Show us you appreciate this column
share this page with your friends and family!

Would you like to be part of this crew? Do you have a park, zoo or botanical garden that you'd like to share with our readers? We are looking for Southern California theme park reporters.

We'd love to hear from you!

please contact dustysage@micechat.com.