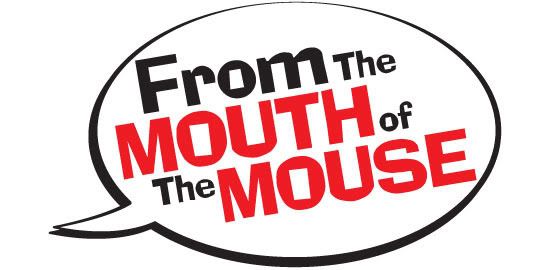 Hello, and welcome to this week's
'From The Mouth Of The Mouse!'
Each week, we spotlight a different Cast Member story to give you more insight into some of your favorite attractions, resorts, and movies from all over the Walt Disney Company.
This week's
From the Mouth of the Mouse
interviewee, Mike, worked at one of the most exclusive restaurants in Disneyland...Club 33!
Club 33 is one of those places that is often spoken of in hushed whispers, and is one of the most sought after dining destinations in the Disney Community. Mike was kind enough to share some of his experiences working at this wonderful place.
---

JEFF: What made you want to work at Disney to begin with?


MIKE:
JEFF: So you applied directly to work at Club 33 right off the bat?


MIKE: When I went to the casting center to fill out an application, I specified that I was applying to be a bus boy at Club 33. During my interview, I was asked why I specified that position and I told them that the Club was looking for people, and that's where I wanted to work.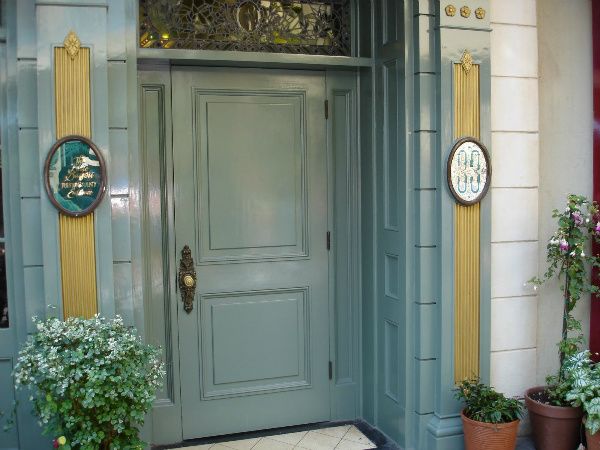 JEFF: How did that work out for you? Did they put you somewhere else first to work your way up to Club 33, or were you able to be placed there right away?


MIKE:


JEFF: That's a great story about being hired, I have to say. I actually don't think I have ever heard of Manager over riding the casting center before, so that really goes to show you Club 33's power in the Park! You must have impressed the manager for him to do that, so kudos to you! I know of people who have worked at Disneyland for years and have tried to transfer there, and haven't been able too! On a personal level, how did it feel to be a first time Cast Member and be welcomed into this place that has a massive air of mystery around it?


MIKE: We all pretty much treated it as any other job. I guess looking back, we were pretty fortunate to be working in such a unique place, but we all pretty much felt that way about working for Disney in general. I will say that it was a lot of fun working up there, and after learning about the Club and its history, it was sort of surreal to think about the story behind the Club, and to imagine the people that had visited and worked there long before I ever did.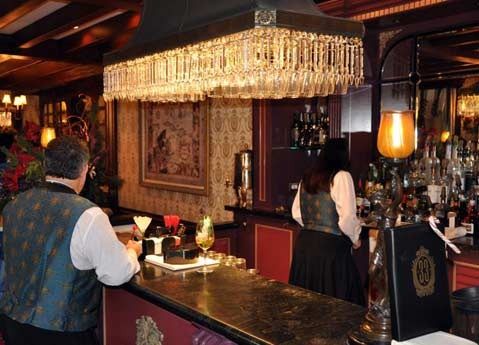 JEFF: Was the casting center surprised by you just putting Club 33 on your application? I would imagine they get their fair share of folks who only write one place they REALLY want to work at on their application. Did you happen to deal with the same person who interviewed you
initially after you were directly hired by the manager?


MIKE: They certainly were surprised I even knew about the club. They asked me about it and I told them I was being referred by someone that worked there. One of the reasons the interview was somewhat weird was because there were two of us in it, so I guess that makes it hard to stand out. When I went back after getting hired by the club manager, I did in fact meet with the same lady to fill out some paperwork. She didn't say much beyond good luck. I'm guessing she wasn't in the mood to talk about being overridden!

JEFF: How long were you there for?


MIKE: About a year. The ultimate position to get there was as server, but it was all based on seniority. There were servers that had already been there for 20+ years, so getting to the server position was not a very easy task. Ultimately, I left to pursue more career oriented options. Fortunately, my career that I have today allows me to work directly with people in Imagineering, so I still get to see some behind the scene stuff, and look at future projects for the parks before they become public when I visit every few months.



JEFF: How did working at Club 33 differ from working at any of the other restaurants?



MIKE: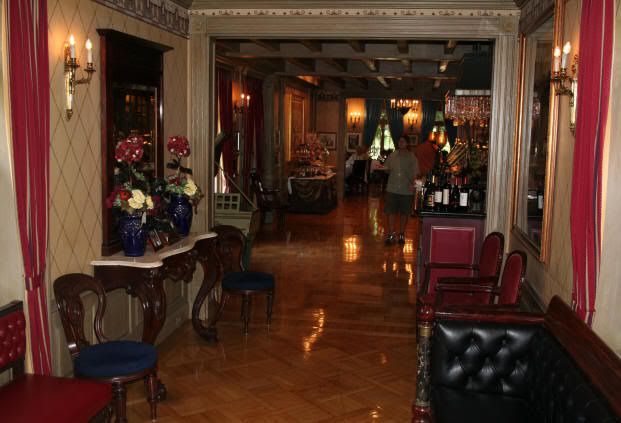 JEFF: Can you give me an overview of what a typical day was like?


MIKE:
JEFF: Why did the chefs pretend to not be nice? Did they have a reputation to protect? Haha! I'm glad to hear they were, though!


MIKE: I think anyone that has ever worked in a restaurant will tell you about the unspoken structure and how the kitchen staff usually thought they were on the top of the totem pole! It was all in good fun for the most part. As long as everyone did their job, everyone got along. The thing the chefs hated the most was when food would sit in the window waiting to go; they didn't want their creations to spoil! But they would also do nice things from time to time like feed the dishwasher, and one year they prepared a turkey for the manager to take home for his family dinner.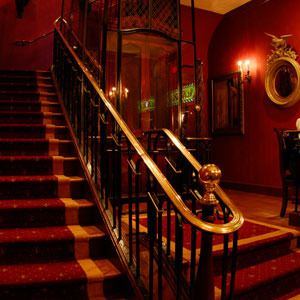 MIKE: Giving tours was a pretty popular thing, actually. About a year ago, I was visiting and took a short trip to check out some stuff backstage near Pirates. I mentioned to the guy I was with about my time at the Club. We took a short detour and went up to the club to see who was around. There were a couple of servers there that were working there when I was. We said hello, took a quick tour, and then got back to business. I mention this because the person I was with was pretty excited to be able to go into the club to see it for the first time.

Another thing we were always asked for was our name tag. Club 33 employees are the only people in Disney that have a name tag that's different from the oval white name tags people are familiar with. We were always getting asked to trade our name tags for something. I never gave mine away and actually 'lost' it on my last day so I could keep a souvenir. When we went up to the top of Matterhorn, we did indeed see the basketball stuff, which pretty much still looks like it does in the pictures online.

JEFF: Any times you can think of that you went out of your way to make a guest's visit more magical?


MIKE:
JEFF: The folding of the napkins while in the restroom is a very nice, and unexpected, touch! And running out to a local wine place definitely shows the attention to detail and love for their guests! How often would you bring guests to a ride before dinner? Did you usually travel across the Park with them?

MIKE: It only happened a few times. Most of the escorts involved taking guests from the main gate to the club during the off season when companies had banquets at the club.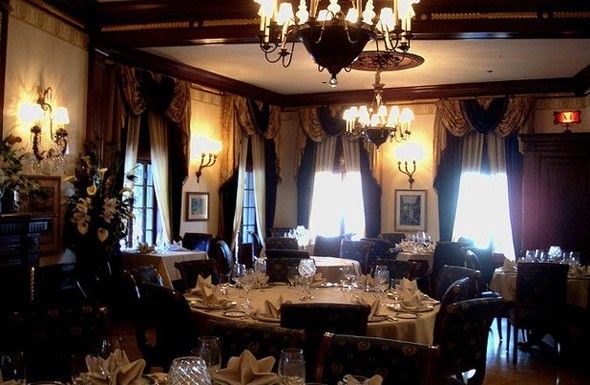 JEFF: Do you have any particular stories that stick out in your mind about your time there that you would like to share?


MIKE: Lots of fun stories! When I worked there, Fantasmic played three times a night. We got the timing of our serving down to a science to work around the 23 minute show. We didn't want to put dishes down on a table just as the show was starting, since most people would go out to one of the balconies to watch the show. Anyhow, while the show was running, we basically would stand around. I got into the habit of walking out the back of the club to a balcony above the French Market where I could watch the show from time to time. The balcony was pretty hidden so guests couldn't see you, but it had a great view of the show. To this day, my love for Fantasmic is because it takes me back to the days of standing up on that balcony, watching the show. Sometimes when I watch the show now-a-days, I glance up to that balcony wondering if I will see a club cast member watching!

Another fun thing we used to do was to explore Pirates, since the hallway we walked through had doors that accessed the ride. We got to know the security guard in the area pretty well and let him come up to the club to see it, in exchange for him letting us walk around the Pirates ride when the park was closed. I have some old pictures somewhere of some of us at various parts of the ride.

At that time as well, the managers would allow club cast members to go in to the club for dinner or dessert as long as there were open reservations. So we would go in for dessert and Fantasmic from time to time. It was also a great place to take a date if you wanted to impress them!

During the off season, when the park would close early, the club would still have corporate events and sometimes they would be buffet style. One night, this company had scheduled 90 people for dinner, and only 65 showed up. So after they were done with dinner and dessert, we escorted them to the main gates like normal, and when we got back to the club, the manager and the lead were wearing chef coats and standing at the buffet line. They told us all to grab some plates, enjoy some good food, and relax for a bit. It was a thanks for all the hard work we had done.

JEFF: How was it walking through Pirates when it was closed? I'm sure that was awesome!

MIKE: It was strange to find out that the pirates on the ship were only half a pirate! It was just cool to see all the lighting and effects used to make the ride look the way it does.



JEFF: Since you told me what a day was like for you, can you tell me a little about what a typical MEAL is like for a Guest? A lot of folks have never experienced Club 33, so I'm sure people would love to know!


MIKE:


JEFF: Based on your answers, it seems like you guys were a close knit group, and really respected each other. Especially because of what your managers did for you, making it special for you guys as well. I'm really impressed!


MIKE: When the managers hosted a party for all of us at their house, that was the ultimate sign of respect. We also had the club summer Olympics that involved scavenger hunts in the park, a foot race between the servers where they had to transport champagne glasses full of water from the kitchen to the main dinning room. The prize for the wining team was dinner at the club served by the managers.



JEFF: I find it very interesting how "secluded" Club 33 is from the rest of the Park, despite being right smack in the middle of it. Based on past stuff, and what you said about them getting almost anything they wanted, it definitely feeds right into that. You guys serve an almost elite cliente. Can you tell me a little more about the folks who come to dine there? And can you talk about the annual members? Isn't there a ridiculously long waiting list to get in for that?


MIKE: The members were pretty unique. During my time there was a member who lived in Australia and he only made it to the club once a year! There was another member that showed up pretty regularly for dessert and drinks. He would normally call in to see if there was a table free, so the managers always made room for him. If I remember correctly, he had been an ODV Cast Member when he was younger. For the most part, the members were corporations, so we rarely saw actual members. The annual member dinner was the one time a year we got to see lots of them. At that time I believe the waiting list was 12 years long.


Thanks, Mike, for talking with me about Club 33!
And thank you for reading! Don't forget come back each week to hear more of the magic directly
From the Mouth of the Mouse
.
---
We're having a
'From the Mouth of The Mouse'
meet up to see FANTASMIC on Sunday, November 27th at 6:30PM! For more information,
check out the Facebook Event for it!
Also, be sure to LIKE the brand new
'From the Mouth of The Mouse' Facebook page
for more information on the meet up!
And finally, a lot of folks who followed me over here from my old stomping grounds have been asking if the Podcast will return anytime soon...and the answer is yes! I have a few lined up that need to be edited, so look for them in the coming weeks. And if you're new to the column, and would like to catch up, you can download them by visiting it's
iTunes page right here!
---
If you are, or know, a Cast Member who would like to share some of their stories and possibly be featured right here on MiceChat, please email me at
jeff@bamferproductions.com
. I'd love to hear from you!
Jeff also writes a MiceChat column titled
The 626
. We invite you to check it out!
LIKE US ON FACEBOOK:
www.facebook.com/ftmotm
FOLLOW ME ON TWITTER:
www.twitter.com/jeffheimbuch
FRIEND ME ON FACEBOOK:
www.facebook.com/jeffheimbuch