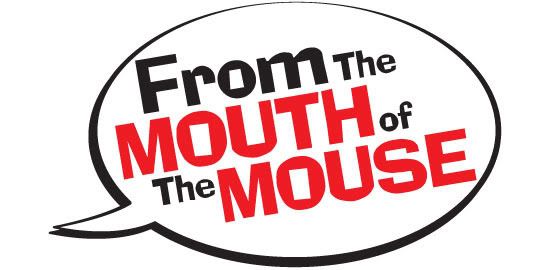 Hello, and welcome to this week's 'From The Mouth Of The Mouse!'

Each week, we spotlight a different Cast Member story to give you more insight into some of your favorite attractions, resorts, and movies from all over the Walt Disney Company.

This week, we talk to Megan, who worked on the Studio Backlot Tour during her time in the College Program. She's got a lot of great stories about her time there, and shares with us some neat tidbits about the attraction BEFORE it became almost completely automated.

And now, here's Megan!


---




JEFF: Tell me a little bit about how you got into the College Program to begin with! What made you want to work there?


MEGAN: My dad, who used to be a great artist, grew up loving Disney movies and the animation it took to create them. When he began visiting Walt Disney World, he couldn't stop. I grew up in Mobile, Alabama, which is an 8-hour drive to Orlando, so it was fairly easy to get there. From the time I was a one year old (I'm 26 now), my family went to Walt Disney World at LEAST once a year during our Mardi Gras holiday.

We would spend the entire week there, and sometimes a week and a half. As we got older, we started taking frequent short trips in between our annual big trip. My brother, sister, and I all caught his love of Disney.

I always thought it would be cool to work at Walt Disney World, if only to see behind the scenes of everything! It also seemed like it would be fun to help create the "magic" for families visiting that I had been experiencing for years. I learned about the college program early on just by talking to Cast Members about where they came from. They told me all about it and how fun it was. I remember thinking how much fun working and living in Disney would be. It had to be the best job ever!

I started college in 2003 and it wasn't long after that I started researching the program. I had decided, however, that I would wait until I was 21 because I wanted to be able to "drink around the world" and have fun in Pleasure Island. I also wanted to do the program in the fall so I could enjoy all the holidays there. So, the fall semester of my senior year of college it was! I was planning on going to law school after college, so I considered this adventure my "last hurrah!"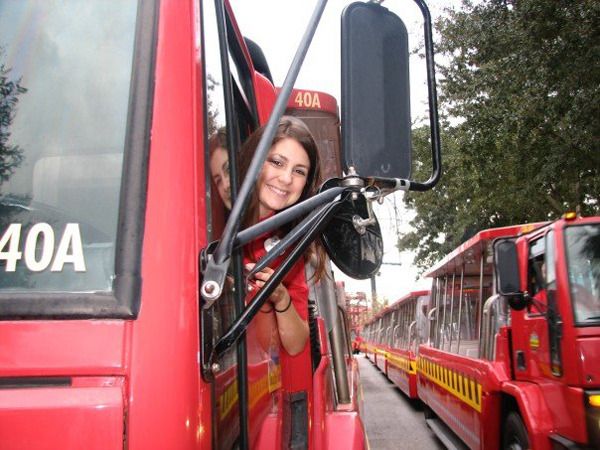 JEFF: How about the application process? Did you want to work at the Backlot Tour?



MEGAN:



JEFF: What were your basic responsibilities for working on the Backlot Tour? Can you give me an overview of what a typical day was like?


MEGAN:




JEFF: Were there any changes you can think of when you were working on the tour?



MEGAN: Definitely. They have changed out many of the props (which was necessary as some were, and still are, falling apart). They have also changed from having a live spieler to an automated spiel. I rode it recently since the automated spiel was added...it's quite boring in my opinion. What was great about the BLT was many of the cast members fancied themselves performers. Many were talented singers, actors, and/or artists. The attraction just sort of lent itself to those sorts of characters. It made every day so much more fun. Therefore, every tour was a little different with those guys.

I stuck to the script most of the time, but many of them had their own "versions." We weren't technically supposed to do that and could get in trouble, but I think it made the ride a lot more fun and interesting, as well as more "magical." As long as the cast members were not saying anything inappropriate, I think veering off script should be encouraged, if it's funny. You can hear the spiel in the cab of the shuttles as you are driving and sometimes a particular spieler would crack me up! I'd be laughing alone in the cab. I, on the other hand, was not so funny. I tried to crack jokes a few times and they did not go over well! Nobody laughed. Therefore, I typically stuck to the script almost exactly. I'm not one of the performer types, so I needed to stick to what I knew. It was great for my speaking skills, though. Speaking to 300 people every hour really cuts down on your public speaking nerves.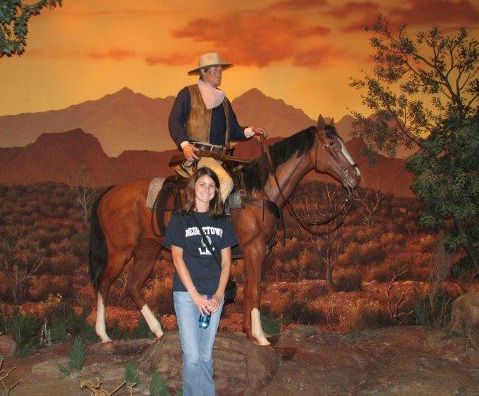 JEFF: You told me before the interview about how you guys did a lot of different things to entertain yourselves. What did you do on your days off?



MEGAN: What didn't we do?! One of the most wonderful things about doing the college program was that, on your days off, your biggest problem was "oh man, what park do I go to today??" I had a couple of buddies who thoroughly enjoyed "playing in the parks," so I visited the parks a LOT. Not all CP cast members took advantage of being so close to WDW, but I did not want to regret a minute of it. There were probably only 2-3 days in the entire semester that I did not go to a park at some point. While there, I bought an annual pass to Universal Studios, so I went there several times, as well. Since my "weekend" was usually in the middle of the week during September, it was great to park hop because the crowds were so light!

Lucky for me, Pleasure Island was still hopping, so we spent a lot of time in the Adventurer's Club (Kungaloosh!). I really miss it. We also went to Halloween Horror Nights several times. We went so many times that I stopped screaming when a zombie or chainsaw killer would try to scare me (that was an accomplishment for me!).

One of my favorite past-times was resort pool-hopping. One of my buddies and I would often go around to different hotels and try out all the different pools. One time we did a "polar plunge" when it was freezing outside at the Wilderness Lodge. That same friend was my favorite park-hopping buddy. Once, he and I were determined to go underground at MK so we just tried to find our way down there. We did...and we got caught because we were clearly lost! You're not supposed to go backstage at any park unless you're there to work. Luckily they did not throw us out. Of course, we went backstage at Epcot and MGM all the time, There were some perks to being a cast member!




JEFF: You also told me a little about shuttle wrecks. Tell me a little more about that!



MEGAN: There were many, many wrecks! Most of the time, new drivers just scrape a curb or door. However, I do remember one incident where a door was pretty much destroyed and partially ripped off. Once you got the hang of driving those big shuttles, they were pretty easy to drive, actually. But it is definitely tough at first. Some of the loops are very tight and you had to turn the wheel at just the right moment in order to not hit something! It could get a little scary!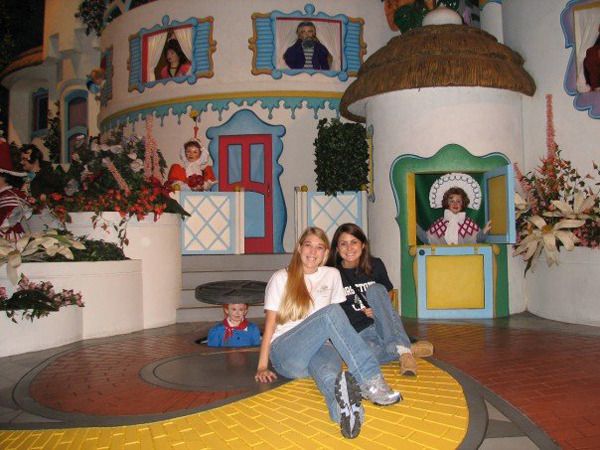 JEFF: As a Cast Member, you told me you took quite a few backstage tours as well. Where did you go?


MEGAN: I had the great opportunity to take private tours of the Great Movie Ride and Spaceship Earth. You could sign up online for these tours (I tried to do Haunted Mansion, but that one is apparently really popular and I could never get in). The tour guides for GMR were GREAT! I remember they called it the "Great Movie Stride." It was so fun! We just basically walked the route and learned all kinds of neat facts about various characters and scenes. We even got to take pictures with some of the animatronics. I also got to walk on the yellow brick road! The Spaceship Earth tour was also interesting. We got to walk alongside the track which was cool. I remember being so out of breath! There were a ton of stairs!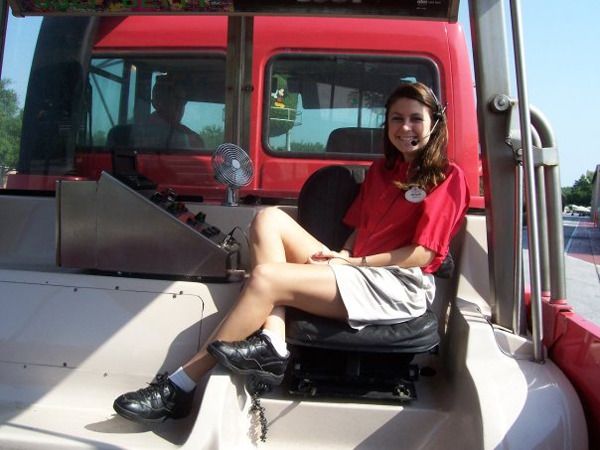 JEFF: So, why do you feel like the Backlot Tour was the greatest ride to work on as a College Program Cast Member?


MEGAN:



Thanks, Megan, for chatting with me!


Don't forget come back each week to hear more of the magic directly From the Mouth of the Mouse.


---

Be sure to LIKE the brand new 'From the Mouth of The Mouse' Facebook page for more information on the meet up! And finally, a lot of folks who followed me over here from my old stomping grounds have been asking if the Podcast will return anytime soon...and the answer is yes! I have a few lined up that need to be edited, so look for them in the coming weeks. And if you're new to the column, and would like to catch up, you can download them by visiting it's iTunes page right here!


---
If you are, or know, a Cast Member who would like to share some of their stories and possibly be featured right here on MiceChat, please email me at jeff@bamferproductions.com. I'd love to hear from you!

Jeff also writes a MiceChat column titled The 626. We invite you to check it out!

LIKE US ON FACEBOOK: www.facebook.com/ftmotm
FOLLOW ME ON TWITTER: www.twitter.com/jeffheimbuch
FRIEND ME ON FACEBOOK: www.facebook.com/jeffheimbuch