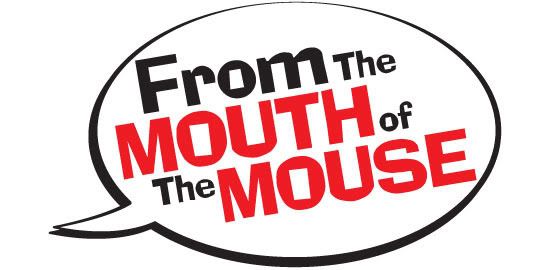 Hello, and welcome to this week's 'From The Mouth Of The Mouse!'

Each week, we spotlight a different Cast Member story to give you more insight into some of your favorite attractions, resorts, and movies from all over the Walt Disney Company.

This week, we talk to Tom Nabbe! Tom worked for Disneyland almost immediately after it opened, and was eventually cast in the role of Tom Sawyer! Not a bad gig for a kid, eh?


Tom has what I like to call a 'hat trick' in the Disney Company: He's a member of Club 55 (which requires a paycheck signed by Walt Disney from the year 1955), he has a window on Main Street, AND he's a Disney Legend! Tom has lots of fantastic stories to tell. In this excerpt from a longer interview (which is available as a podcast!)

Tom will tell us about his early years at Disneyland. To learn about Tom's many, many later jobs at Disneyland and Walt Disney World, which ranged from entertainment to food to operations, get the podcast itself!:



And now, here's Tom!


---

JEFF: Can you tell us about the time when Disneyland was being built?

TOM: Well, I was living in Anaheim and I would ride my bicycle over there all the time. This is when they were just building the overpass over the freeway, so you could go to the top of the overpass and look down into the Disneyland construction site. I watched it grow up from there, over the berm. At that time, it was only dirt. The castle started to come out of the dirt, and then the train station came up.


One of the jobs I had was a Sunday newspaper route, and I'd take them over to the employee gate. I'd get about 25 extra papers from the normal route and sell them to the construction workers as they went home in the morning. I met Ray Amendt, and he said after the park opened, he'd give me a job selling Disneyland newspapers.




JEFF:
When was the first time you went into the park?

TOM: On July 17, opening day! My mother took me and her autograph book and we stood outside. We watched all the celebrities go in. Danny Thomas came out, and she got his autograph. He asked her if she'd been inside, and she said no. So he gave us two tickets and we went in for the press opening! By the time we got inside, though, it was a disaster! Everything was broken down, they were out of food.


JEFF:
That didn't keep you away, though, did it?


TOM: Nope. The next day, the 18th, my neighbor and I went over, bought our tickets, and went in. Back then, it was 50 cents for a child's admission. They didn't have ticket books yet, so every attraction had a booth in front of it and you bought a ticket right there. So you got an admission ticket and then an individual ticket for each attraction. I think Jack Lindquist did the ticket books, and that was early 1956.




JEFF:
So how did you wind up working for Disneyland?


TOM: On the 18th, Ray Amendt offered me that job. On the 19th, I was selling Disneyland News. The deal was if you sold 100 papers outside the gate, they'd let you come inside and sell to the park guests. The paper was printed monthly, and it was a pre-guidebook, really. It told about the park and upcoming events.



I did a lot of other things, too. One of my neighbors was a head cook at Aunt Jemima's, so I washed dishes for him. And the Disneyland circus was there in 1955 and 1956, where the Matterhorn is now, and I worked in the wardrobe for a bit.




JEFF:
How long after that before you became Tom Sawyer?


TOM: I sold the paper that first summer for almost every day. One of those days, toward the end, I was selling inside the park and someone mentioned that Walt decided to build Tom Sawyer Island. And I looked just like Tom Sawyer in my costume for selling newspapers. For a kid, I had a good network in the park, so I went and looked Walt up and introduced myself, and said 'Mr. Disney, I know you are building Tom Sawyer Island and I think you should hire me to be Tom Sawyer!'


He didn't hire me on the spot like I thought he would, but he didn't say no, either. If he would have said no, that would have been the end of the conversation. But he said he'd think about it. So any chance from that point forward, whenever he was in the park, I would find him and ask him if he was still thinking about it.



Around May 1956, I was in the penny arcade and Dick Nunis came up to me. He said that Walt wanted to see me. We went over to Frontierland. Walt and Bill Evans were coming back from the island. Walt looked at me and said, "Do you still want to be Tom Sawyer?" And I said, "Absolutely, yes, Mr. Disney, I do!" He said OK, told me to get a work permit and a social security card, and said he'd put me to work.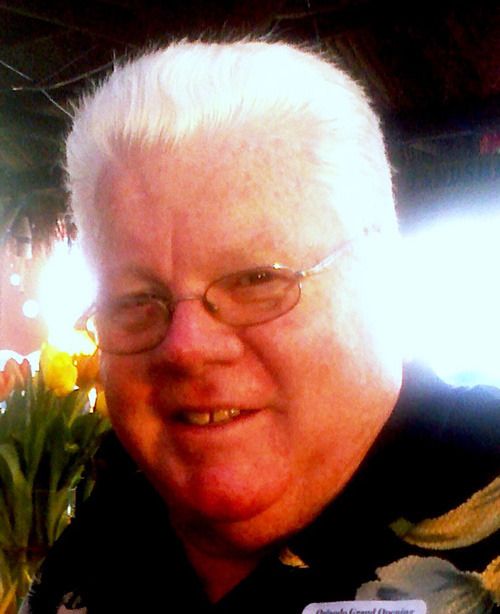 JEFF:
So when did you officially become Tom Sawyer?


TOM: The island opened on June 16th and my hire date was June 18th, 1956. They did invites to all the press for the opening, and I was handing out the invites to people from the press.



I pretty much worked there all through junior and senior high school. The rivers were stocked with cat fish and blue gill, and my job was to ensure the fishing poles were available to the guests. There were 25 for each dock - cane poles with a cork bobber and a sinker and a hook. Originally, if you got a fish, I had to clean it for you. After fish showed up in a few places you wouldn't want to find old, smelly fish, the program changed to catch and release.



JEFF:
Did you consider yourself lucky to be Tom Sawyer?


TOM: Well, it had to be right time and right place. I lived a mile from the park, so I could walk to work. A criterion for keeping my job was that I had to bring my report card in and have a minimum of a C average. Walt insisted on that.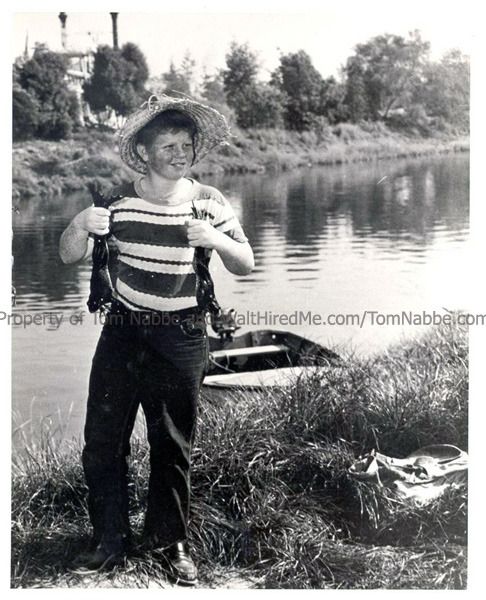 JEFF:
Because you were so young, was there any problem with you working for Disneyland?



TOM: Walt was working with a lot of kids at the time - such as the ones in the Mickey Mouse Club - and so he knew what I'd need for employment. I went to the Disney employment office with my social security number and work permit, and I told the lady behind the desk that I needed to have some forms filled out because Walt Disney had hired me to be Tom Sawyer. She didn't believe me. She told her manager, who also believed that Disney didn't hire kids. But they called Dick Nunis and he confirmed that Walt did, in fact, hire me, and they were to fill out the paperwork. Finally, everything was done, and I started working for 75 cents an hour. Every time minimum wage went up, I got a raise.



JEFF:
Had you read any Mark Twain before you were hired?


TOM: No, but I did afterward. I read both Tom and Huckleberry Finn. And I wasn't just Tom. I was anyone the guest wanted me to be - except Becky Thatcher and Indian Joe!





JEFF:
Did you deal with Walt often or did you have another superior?


TOM: Dick Nunis was in charge of Frontierland. But when I first started working, my title was 'guest aide' in the entertainment division, working for Tommy Walker. That didn't fit, so they moved me to the operations division which was under Dick. But when Walt was in the park, we'd walk around the island together. When they were going to do the rehab, I told him that they should put a treehouse there, and they did. I was proud of that!



JEFF:
How long were you Tom Sawyer?


TOM: Until I was 18. They didn't know what to do with me that last year. I was a little too old for Tom Sawyer, but I had been there for so long. I did more ticket taking that last year. At 18, I went to ride operations and worked the rafts. Once I got out of school, I worked for Disney full-time: 48 hours during the summer, and 40 during the winter!



Thank you, Tom, for sharing with us!
To learn more about Tom, visit his website at
http://tomnabbe.com/

And be sure to listen to the podcast to hear more of Tom's great stories!
Don't forget come back each week to hear more of the magic directly From the Mouth of the Mouse.


---

Be sure to LIKE the brand new 'From the Mouth of The Mouse' Facebook page for more information on the meet up! And finally, a lot of folks who followed me over here from my old stomping grounds have been asking if the Podcast will return anytime soon...and the answer is yes! I have a few lined up that need to be edited, so look for them in the coming weeks.

And if you're new to the column, and would like to catch up, you can download them by visiting it's iTunes page right here!


---

If you are, or know, a Cast Member who would like to share some of their stories and possibly be featured right here on MiceChat, please email me at jeff@bamferproductions.com. I'd love to hear from you!

Jeff also writes a MiceChat column titled The 626. We invite you to check it out!

Jeff also co-hosts the VidCast Communicore Weekly on MiceTube.

LIKE US ON FACEBOOK: www.facebook.com/ftmotm

FOLLOW ME ON TWITTER: www.twitter.com/jeffheimbuch

FRIEND ME ON FACEBOOK: www.facebook.com/jeffheimbuch