Welcome to the Orlando Parkhopper! MiceChat has been growing by leaps and bounds and we're happy to announce that we will now be featuring information, observations and exciting new discoveries from around the Orlando area. We're incredibly excited to bring you weekly updates of what's going on, not only in the land of the mouse, but in any area of Florida that might be of interest to someone visiting the Orlando area.

We have a great team of photographers, writers and contributors just waiting to share their weekly adventures and all of us can't wait to get started. As an added bonus, acclaimed writer of "Walt Disney World Hidden History", Kevin Yee, has graciously agreed to lend his voice to a section entitled "Kevin's Corner" and will bring us his weekly observations and opinions about what's going on in the parks.

We have a lot of surprises in store and hope that you'll visit us every Monday for updates on some of your favorite parks!





MAGIC KINGDOM:
As most of you know, a lot of construction is going on in Fantasyland at the Magic Kingdom but there are a lot of other locations getting some updates as well.

MAIN STREET:
The beautiful multi-purpose area between City Hall and the Chamber of Commerce has partial tarps with construction walls.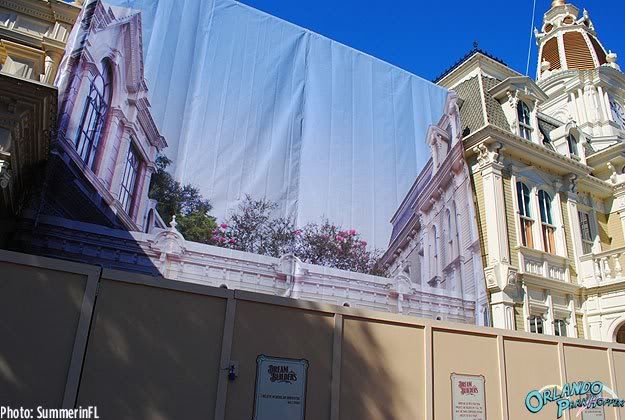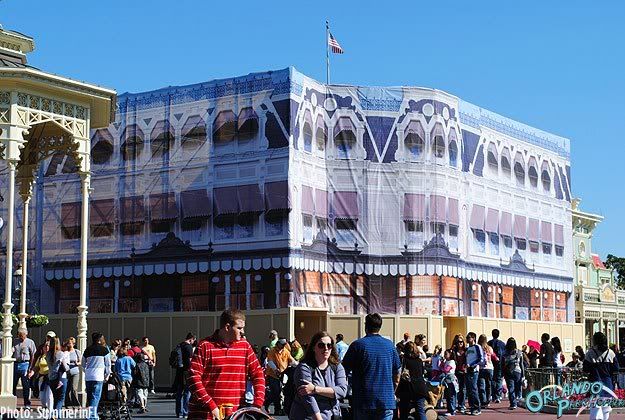 The Confectionery, while open, is surrounded by construction walls and covered completely with tarps.
Cinderella Castle is getting some attention on the backside, facing Fantasyland.

ADVENTURELAND:
The bridge entrance to Adventureland is completely closed off and they are rerouting traffic through what used to be a character meet and greet area.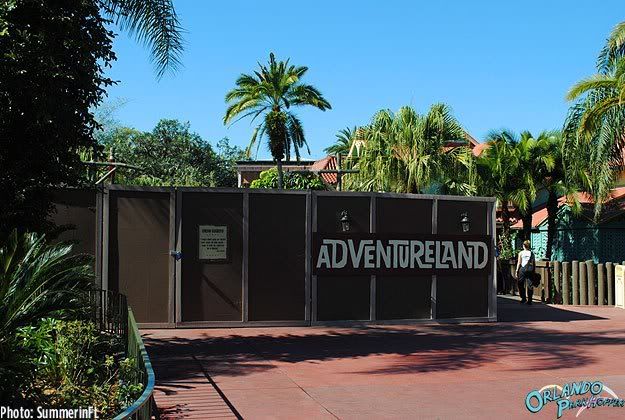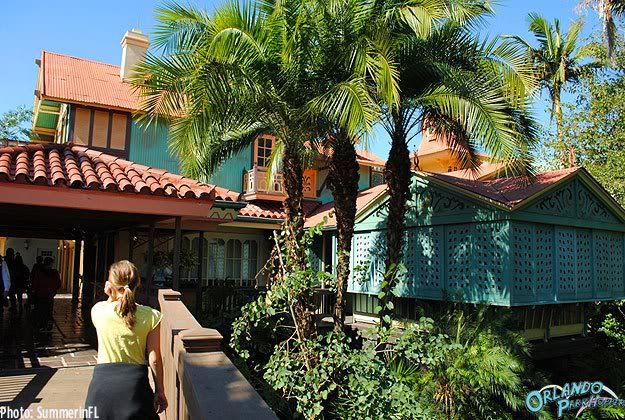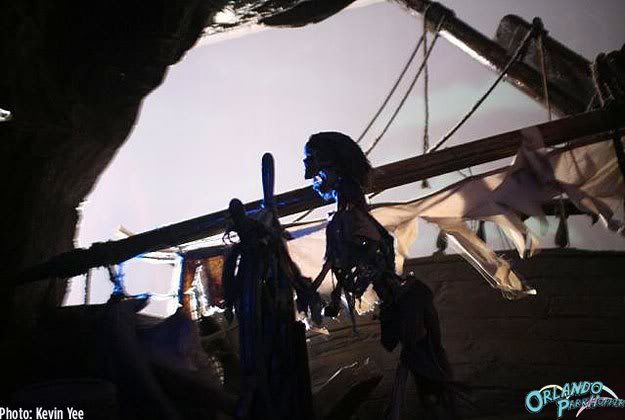 Nothing new here, but it's always worthwhile to celebrate a well-timed (read: lucky) shot. This is Pirates of the Caribbean, in case that wasn't obvious!

FRONTIERLAND:
The backside seating area of Pecos Bill is walled off but the seating inside is open to guests.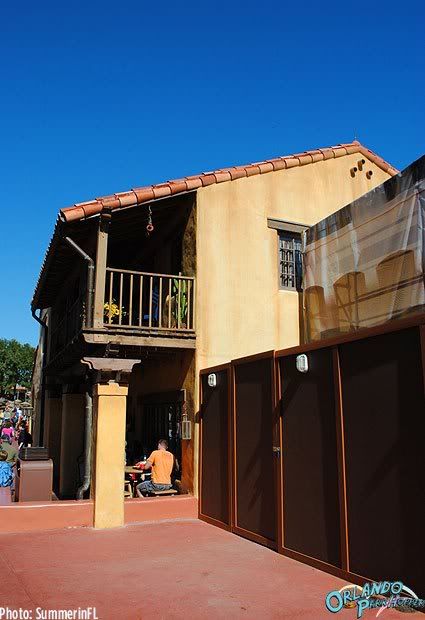 Splash Mountain logs have been replaced. The new models sport lap bars.

LIBERTY SQUARE
More progress on the Haunted Mansion queue expansion.



FANTASYLAND:
A few steel-skeleton spires have appeared in Fantasyland.



With all the exciting changes happening in Fantasyland, it's impossible to keep track of it all, so we're doing it for you! In the MiceChat forums we have compiled a construction tracker to keep you informed of all the latest news and changes happening in this area of the park. Head on over to the Fantasyland Project Tracker and weigh in on all these wonderful developments!

EPCOT:
It's always great to see attraction-specific merchandise. This set of shot glasses honors Soarin', Test Track, Mission Space, and Spaceship Earth.



Duffy's got a new holiday costume...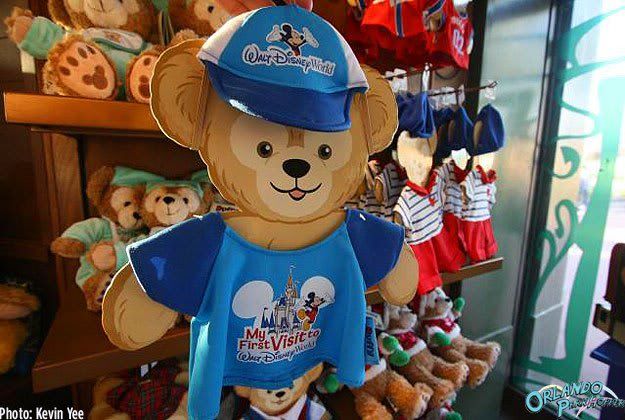 ...and a cute "first trip to WDW" outfit.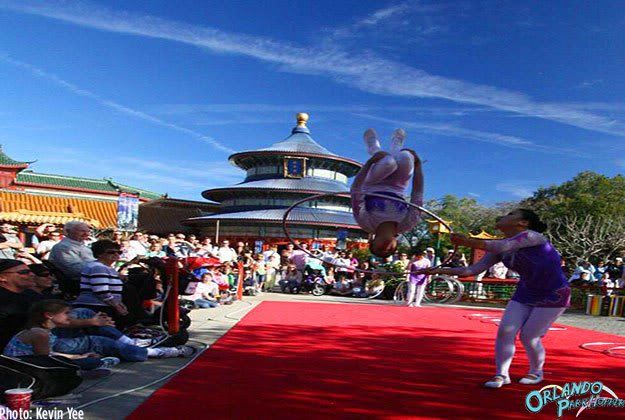 Wave goodbye - the acrobats are leaving the China pavilion permanently.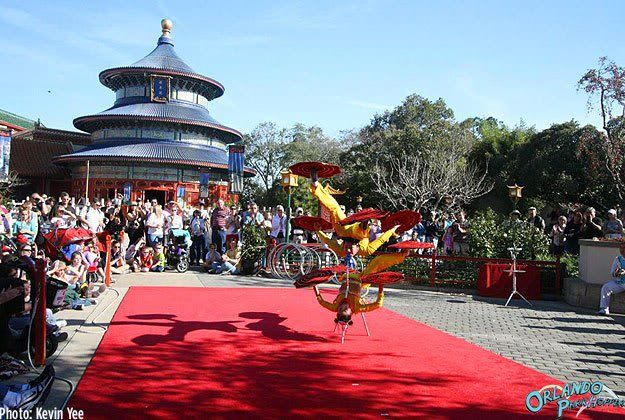 Construction walls are down at the Imagination Pavilion. The goofy "distortion" stations are still there and still let you email your creations home, but now the screens let you create your own Figment, choosing from a menu of features and colors.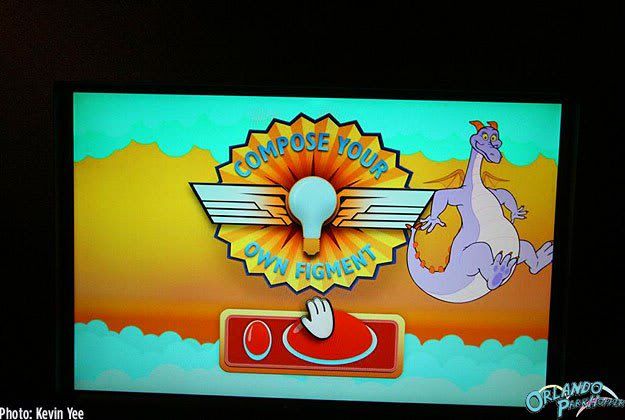 What's Your Problem - the Velcro-sponsored comedy show at Innoventions - held its final performance on Friday, Feb. 4. No word yet on a replacement.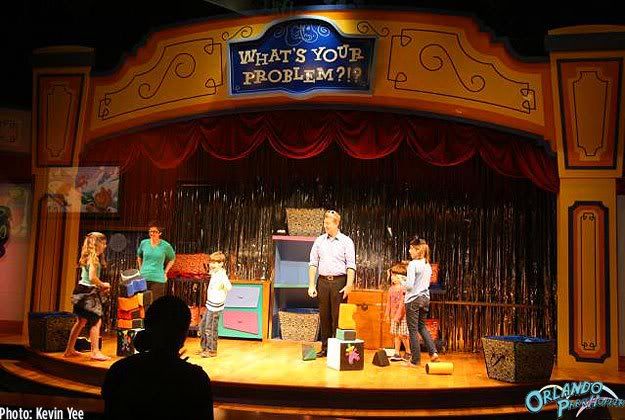 DISNEY'S HOLLYWOOD STUDIOS:
Star Wars Weekends return to DHS every Friday, Saturday, and Sunday in the May 20-June 12 time frame. Expect lots of guests, though the only ones confirmed so far are Ashley Eckstein and Anthony Daniels.

StarWars.com | Star Wars Weekends 2011 Dates Announced

Playhouse Disney has closed; it will reopen as Disney Junior in March.



Some work is being done at the end of Hollywood Blvd, at what must be one of the world's most-themed ATM locations.


A planter near the Sorcerer Hat has walls around it while they construct new topiary.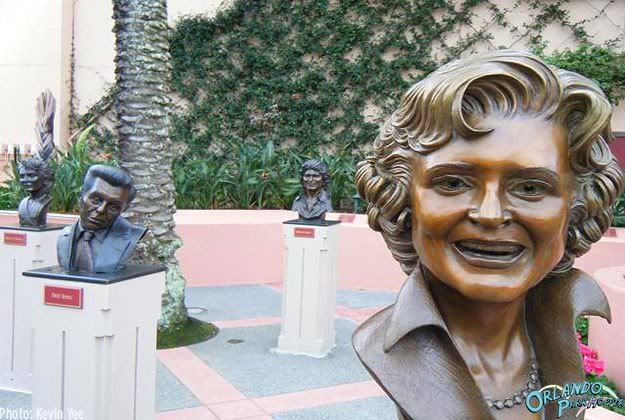 Betty White is back, shinier than ever, after a brief disappearance.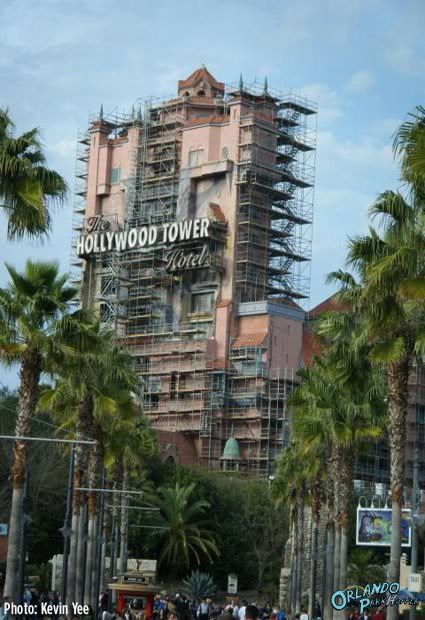 Tower of Terror has had scaffolding on its outside for weeks now, though the ride continues to operate.

DISNEY'S ANIMAL KINGDOM:
Primeval Whirl is down for its annual maintenance.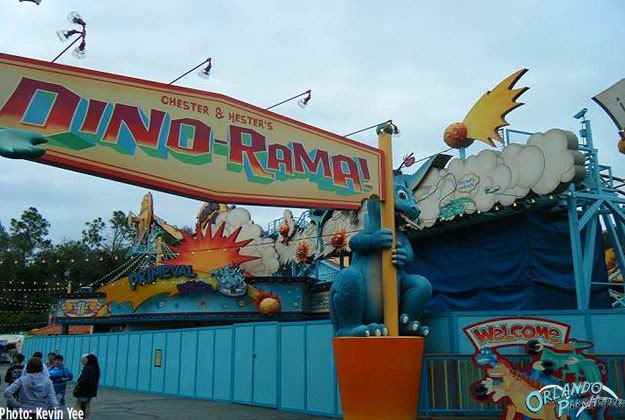 DOWNTOWN DISNEY:
Motion and Rock 'n Roll Beach Club have been demolished at Pleasure Island.



The LEGO store has closed at Downtown Disney. This temporary, tent-based store has sprouted up next to Earl of Sandwich in the meantime.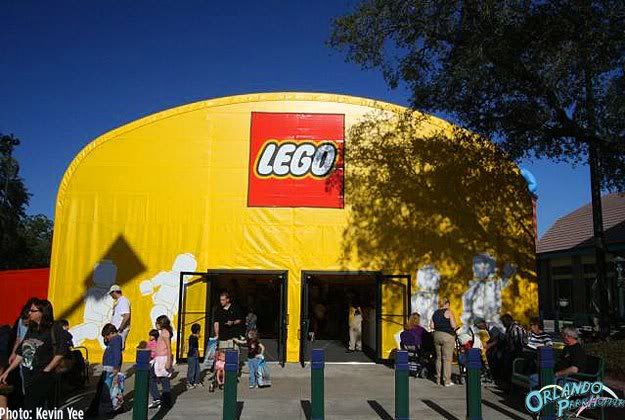 With an operation as large and complex as Disney World, with that many moving parts, it's no wonder that there seems to be an endless supply of new things to look at. They don't all have to be big. Even the small stuff is constantly rotated around, so that each trip reveals something new... even if I was just there a week or two ago. At the Sunshine Seasons food court (in the Land pavilion), I stumbled across two new things: a pizza sandwich kids' meal (we didn't try this one) and a "seasonal fish" that replaces the salmon. Turns out the fish are still salmon, but the menu sign now reflects flexibility; if they wanted to, they could serve Mahi Mahi that day. And the salmon comes on a bed of fresh green beans that were surprisingly yummy, rather than rice plus another veggie. And they've adjusted the seared tuna dish - it's now a Kalamata olive spread now. Rather, it comes with Nicoise sauce, and boy howdy is it flavorful. I'll get that again.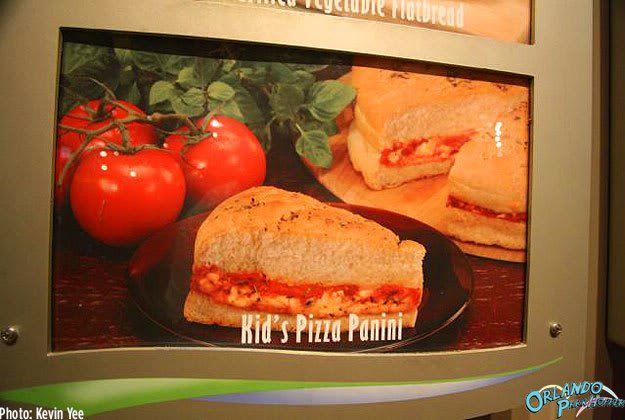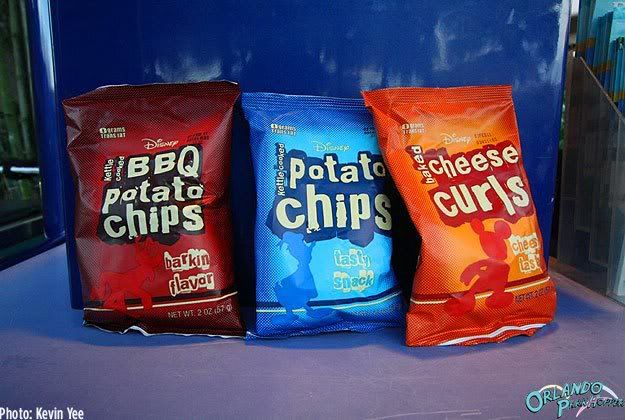 WALT DISNEY WORLD DVC:
According to DVC, Bay Lake Tower is entering the sellout phase, meaning it will soon no longer be available for purchase direct from Disney. While the location and style of the resort has been a controversial topic even before the building was officially announced. Whether you love it or hate it, it cannot be denied that the new DVC offering is extremely popular, both for people trying to stay there, as well as buyers. After staying here, it's clear to see why. The Disney theme is more muted than at other resorts, but it's still a wonderful place with tons of dining and recreation options, both at the Contemporary, and a short monorail ride away at the other resorts nearby.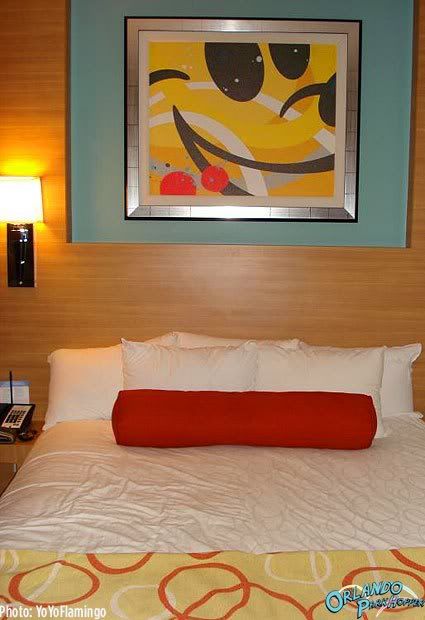 Muted Disney decor (notice the art), but comfortable in every respect!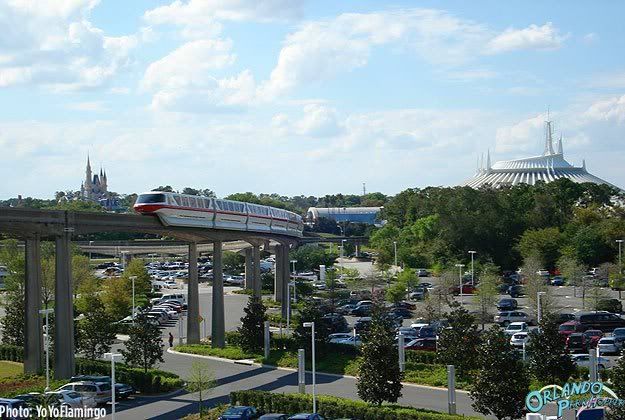 Unique views from the Skyway Bridge.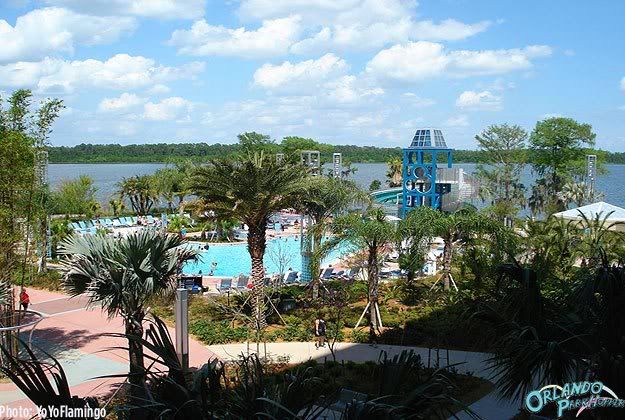 Relaxing bamboo courtyard with the pool in the background.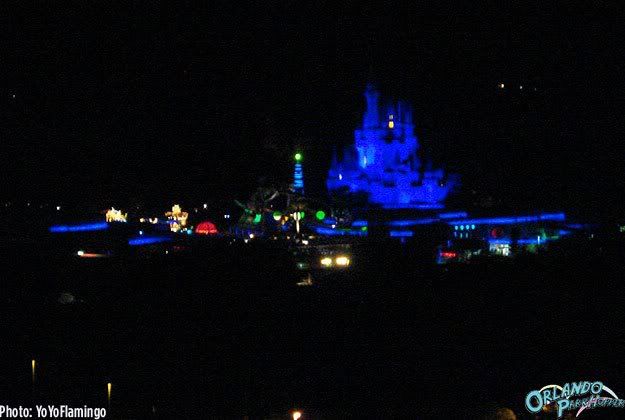 Plus, a spectacular view from the Top of the World!

Announced in the fall, a few changes based on guest comments are also in the cards for the Deluxe Studios. The biggest complaint in these otherwise wonderful rooms was the bathrooms. The sliding bathroom door will now be able to lock (essential to those who value their privacy). In addition, the bathroom sink, inexplicably not located in the bathroom but in the kitchenette area of the room, will be flipped so that the sink is inside the bathroom. Makes sense to us! A full length mirror will also be added to all studios. For the resort as a whole, a jogging trail and firepit will be added.

The changes are currently underway and are scheduled for completion in early 2011, as rooms are being worked on as they become available. This also means that you might get a new room when booking, but it's not guaranteed.



The sink on the right will be moved to inside the bathroom.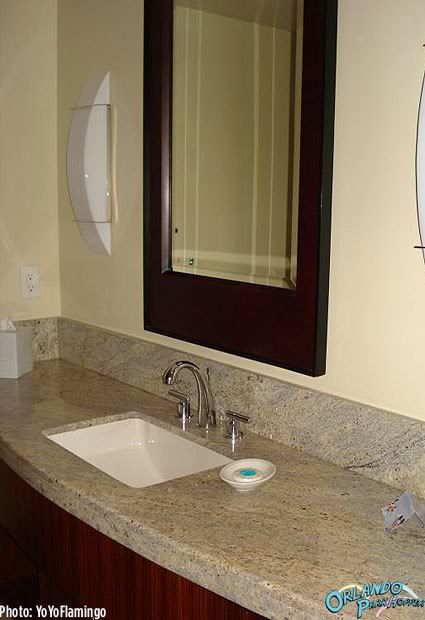 The middle portion will switch; the 2 sides remain as shelves in the kitchenette area.

DVC has filed permits to change the model rooms at the Saratoga Springs resort to rooms featuring Aulani, the new resort set to open in Hawaii in August. If you're interested in seeing what this new resort will look like in person and are headed to Walt Disney World in the near future, it might be worthwhile to stop by the DVC preview center, located at Saratoga Springs, and check them out!

Copy of the permit http://or.occompt.com/recorder/eagle...t=DOC739S21306

Here's a link to the Yesterland article from the Hawaii preview Center. The rooms I am sure will be nearly identical: Yesterland Side Trip: The Model Villa at Aulani




This spring, Sea World Orlando will replace the popular Shamu show "Believe" (and its nighttime variant) with a new show called "One Ocean," reported to be heavier on the conservation message.




Florida State Fair
Feb 10-21
The big state fair in sunny Florida happens in Tampa, about 70 minutes up the road from Walt Disney World. It's coming to town from Feb. 10-21, so if your travel plans allow for it, this is a different way to experience the amusement capital of the world. See the official website for tickets and specifics about entertainment options: Florida State Fair

Strawberry Festival
March 3-13
If the State Fair isn't your thing, how about The Florida Strawberry Festival? It's held in Plant City, quite a bit closer than Tampa to Walt Disney World - just a few exits up I-4. This year, it's open from March 3-13. It's like the fair (and has rides, too), but it's smaller in scale. Oh, and it has a bazillion strawberry-affiliated food items, of course.
The Florida Strawberry Festival

Fantasy of Flight Celebrates Black History Month in February With Visit from Famed Tuskegee Airmen
Meet World War II Heroes at Kick Off for Attraction's
Third Annual "Legends & Legacies Symposium Series"
February 10-12
Fantasy of Flight, World's Greatest Aircraft Collection Hours




There's a whole world of Disney and theme park fun to discover on MiceChat, might we suggest:
• Weekend Update Offers a world of Disney theme parks as well as other sights and landmarks!
• Dateline Disneyland which is packed with great news and photos from the Disneyland Resort.
• And you'll always find something interesting on the forums and on MiceAge.

We want your photos! Contribute to the Orlando Parkhopper by emailing parkhopper@miceage.com with your submissions. We welcome volunteers for single contributions as well as permanent "Parkhopper" staff.


Today's update was brought to you by our fantastic and talented crew of photographers and news contributors , Kevin Yee, YoyoFlamingo, SummerinFL and Fishbulb.