MAGIC KINGDOM:
MAIN STREET:
Town Square Expo Hall was renamed Town Square Theater and while nothing inside is open yet, the new sign has been installed on the outside.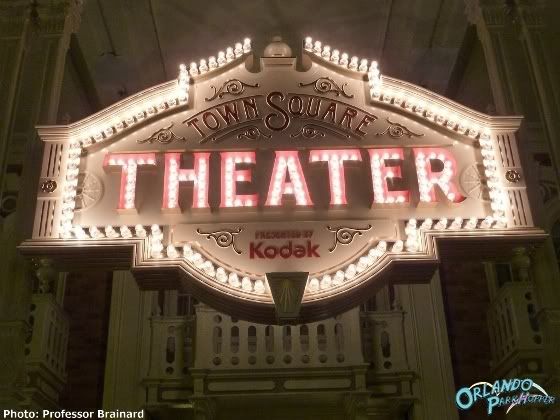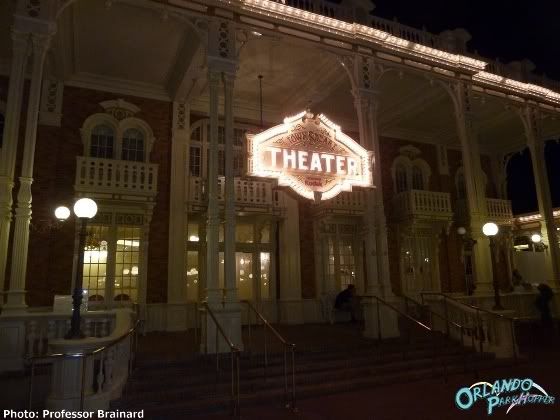 LIBERTY SQUARE:
Construction of the Haunted Mansion Queue is still ongoing and is a week behind schedule. Unfortunately, its because of this that they have been working on loud projects while guests are in the park, luckily for us Professor Brainard was available to capture these moments.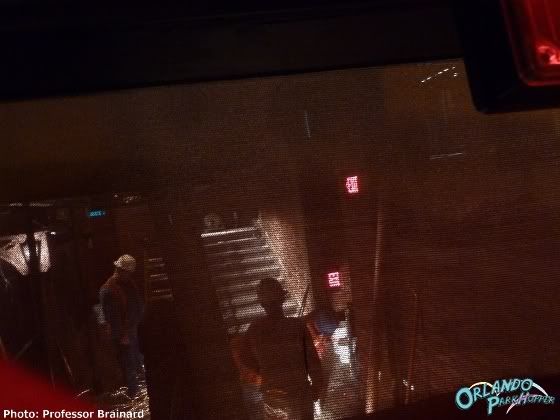 EPCOT:
Tom Bricker Disney Photography
The Vacation Kingdom of the World's Highway in the Sky | Flickr - Photo Sharing!
This is a shot that I first contemplated after seeing something similar in a 1982 EPCOT Center pictorial. While that shot was gorgeous, I wasn't too hopeful that I would be able to accomplish it, as I thought it would require some pretty awesome timing. Knowing that the folks in the Disney photography department probably had perfect conditions (i.e. two parked monorails before the park opened), I doubted there was much a fan photographer like myself could do to make a similar shot happen.

Then, it hit me--I realized I could make the shot happen. In October 2009, I endeavored to do exactly that. Since I wanted my shot to be unique, I decided to go for it at night, when Spaceship Earth would be perfectly lit. Unfortunately, since my monorails would be moving, this made the shot much more difficult. To make a long story short, I pretty much captured what I had in mind with my first attempt, although due to a display for Food & Wine Festival, and because my wide angle lens wasn't quite wide enough, I didn't get my ideal shot. So I tried again in June 2010, with this being the result.

While I won't divulge any of my secrets here, if you click through to the image's Flickr page, you will see my October 2009 shot (and in the comments to that shot, speculation as to how I did it), the 1982 shot that inspired it all, and a shot taken shortly after this one with the (hideous) Tronorail. This shot has now become a signature shot of sorts for me, and I already have plenty of ways to improve it in mind. Now it's just a matter of waiting for the next trip and hoping it works!
Speaking of flowers and Epcot, the International Flower and Garden Festival is in full swing so if you haven't come out to visit your favorite HGTV star or grooved with your favorite Flower Power Concert favorite, you might miss them!
But for those that can't always get to the parks, we have some great event photos to share with you!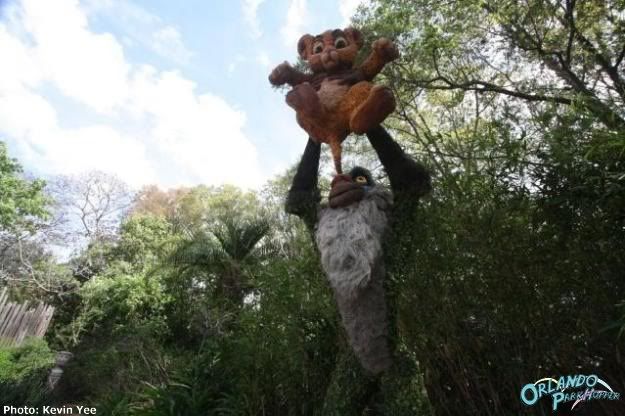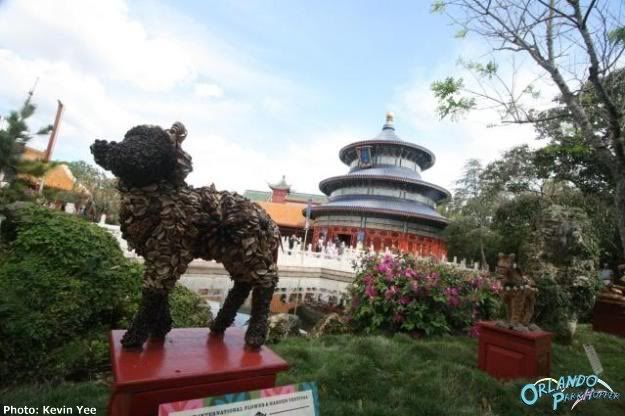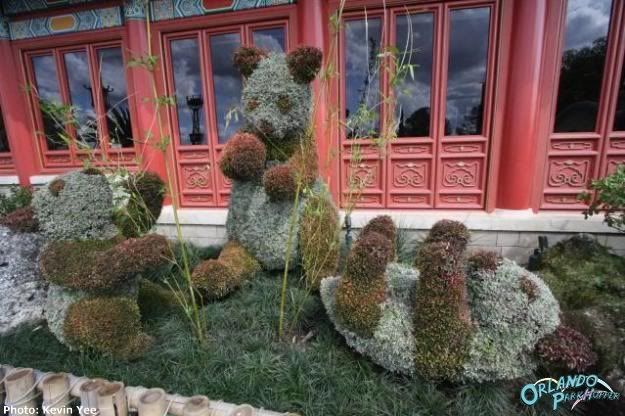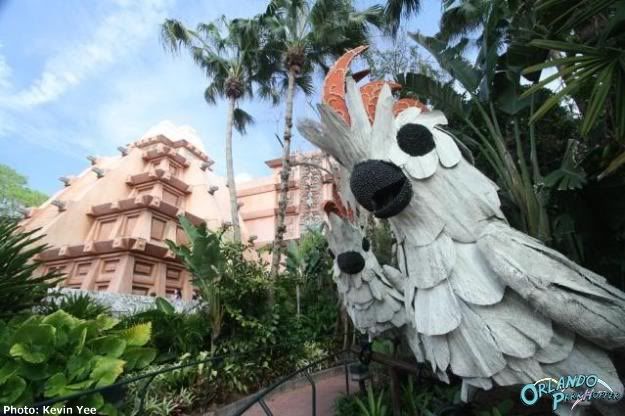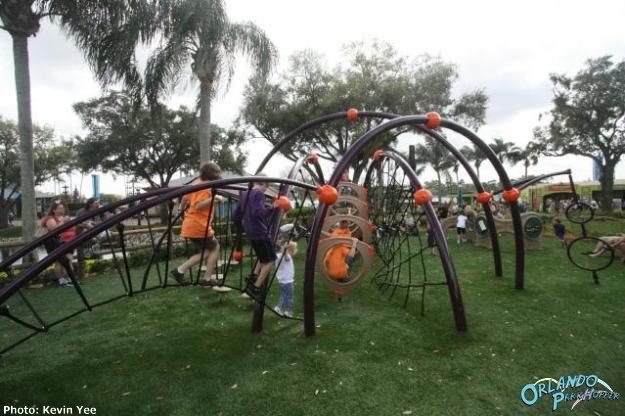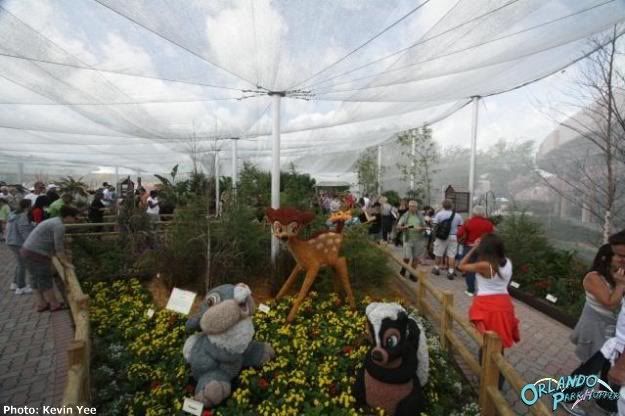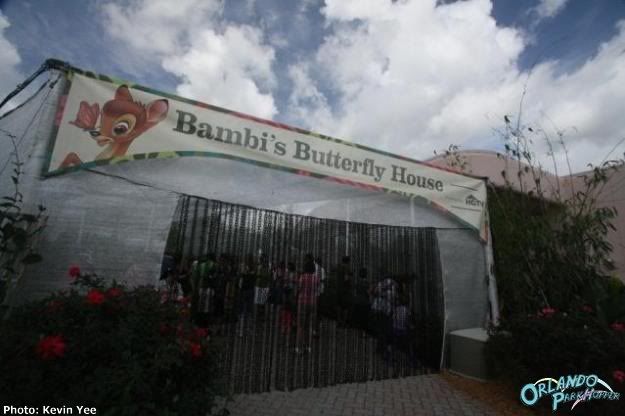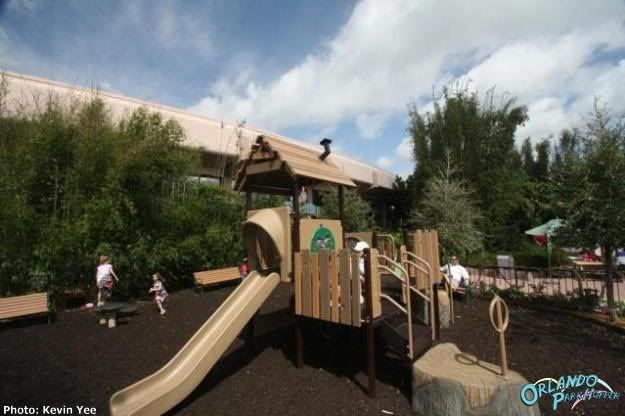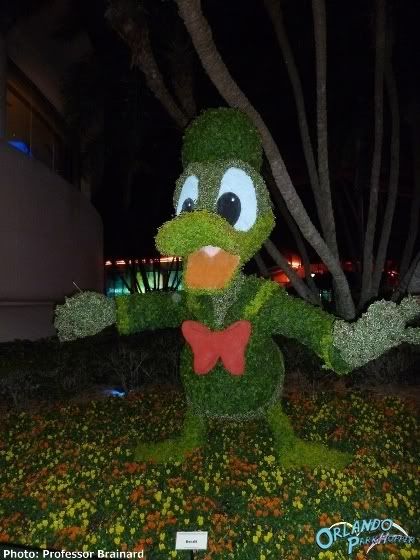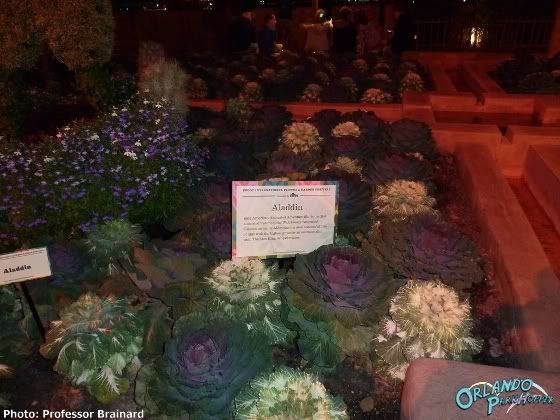 Rapunzel's hair glows on the magical tower topiary made for the Flower and Garden Festival. And yes, she sings too!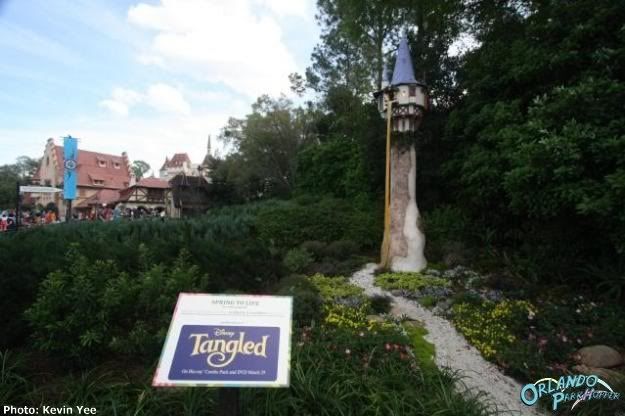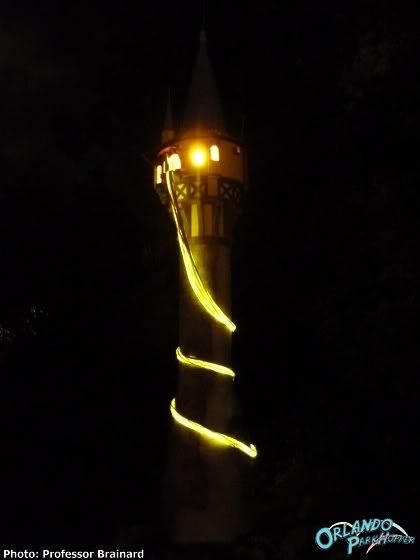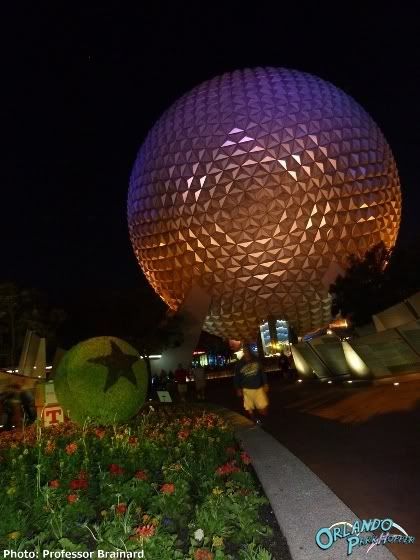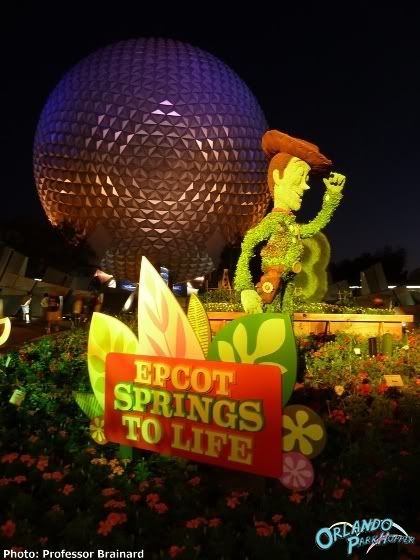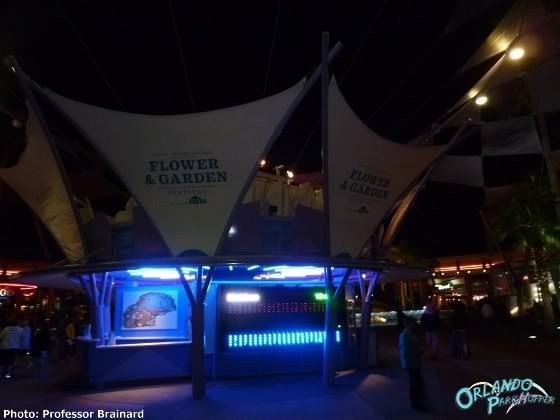 The whirligigs...no idea what you call them really... but those spiral ribbon things in Epcot's Innoventions Plaza are being removed. This shot is of the last one in existence, all the others have been removed due to a pavement replacement project and unfortunately Epcot has definitely lost some kinetic energy in that area.
The African Cats sand sculpture is looking great.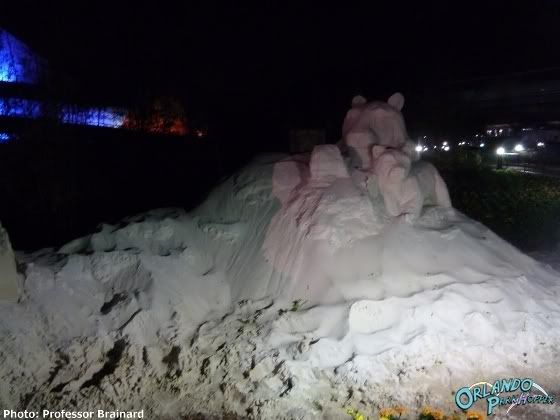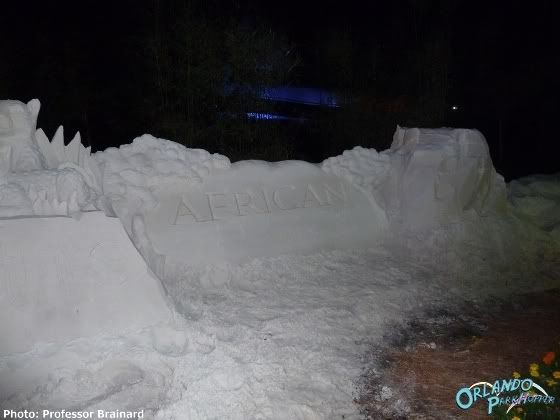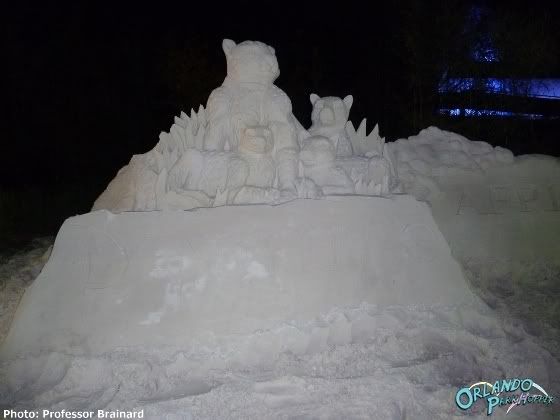 DOWNTOWN DISNEY:

Of the two big festivals in Epcot, I prefer Food and Wine; it just "speaks" to me more than Flower and Garden. But my children like Flower and Garden better—they have temporary playgrounds! Fair enough. But is it my imagination, or are these playgrounds getting more minimal as time goes by?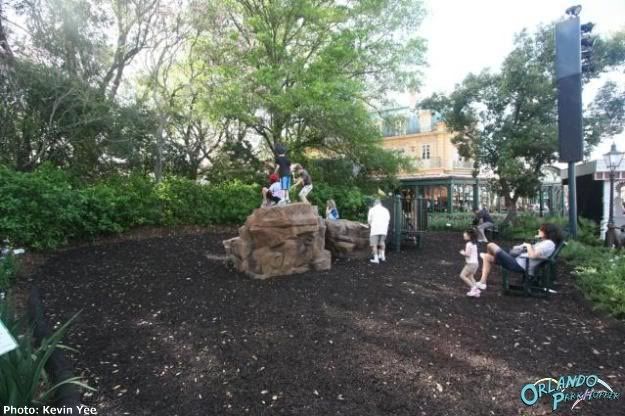 Where are the smaller contraptions on the side they had in previous years?

It's true that HGTV's new sponsorship has brought benefits. The stages in the Festival Center, for one thing, are newly built and seem kind of plush. Of course, they were abandoned when we visited at 4:30pm—apparently, late in the day is not when to drop by the Festival Center.



The Making of Me Theater has a new name. And it plays HGTV shows all the time.

"Abandoned" is a good work for the Festival Center. Not only was the food counter unstaffed except for some plants, they didn't have the secondary merchandise location operating nearby. The building felt empty even by its standards, which says something.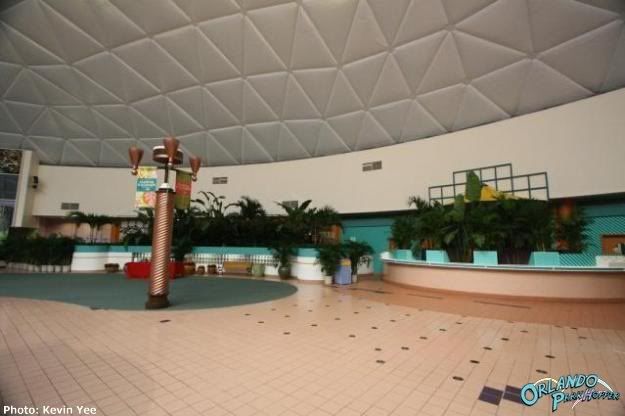 "Forlorn" also comes to mind.

I'm not convinced that this year had as many topiaries as previous years. The centerpiece at the entrance to World Showcase was a fairly inconspicuous wall of hanging plants—is this temporary, I hope? If so, why wasn't it ready for opening weekend?



Didn't there used to be topiary dinosaurs at the Energy pavilion?

It's been a while since we've seen the "streams/ponds" exhibit in Future World, let alone the bamboo clackers from some years back. The cutbacks have so far been relatively small, but they are nonetheless cutbacks, and deserve to be called as such.


KingEric takes a look at a commonly overlooked portion of Universal Studios Orlando.
That little blip on the map is Fieval's Playplace, that is an amazing playground where young and old are shrunk down to the size of a mouse and can play, with a great dry water slide that you can go down with your children or by yourself.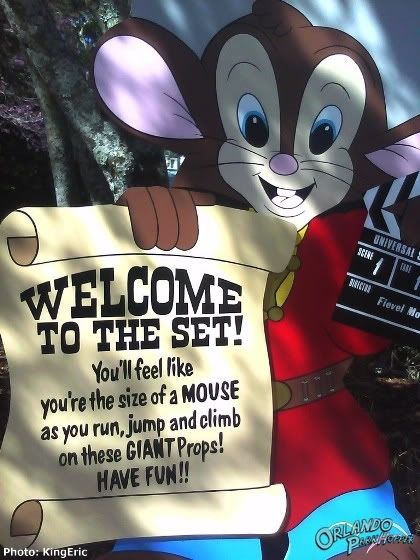 At the entrance
Great themeing in the the signs.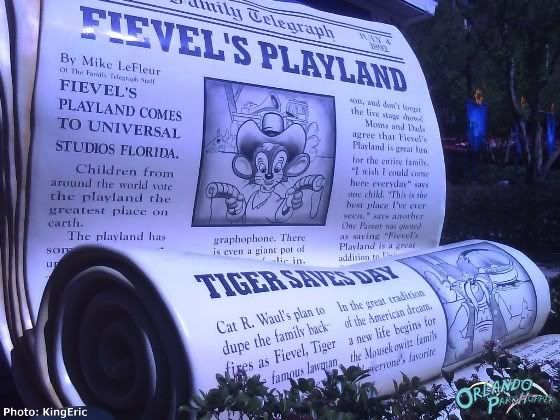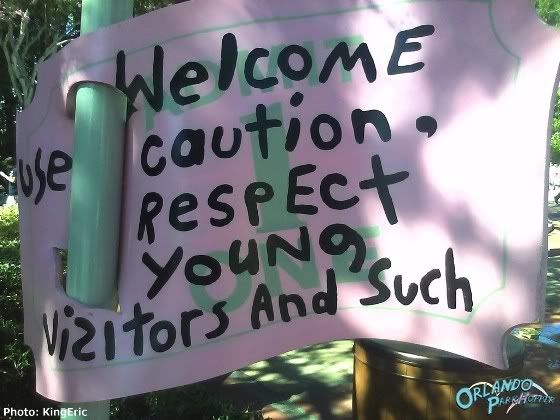 A reminder to us adults that in Kidzone Kids Rule.
There are no cats in America...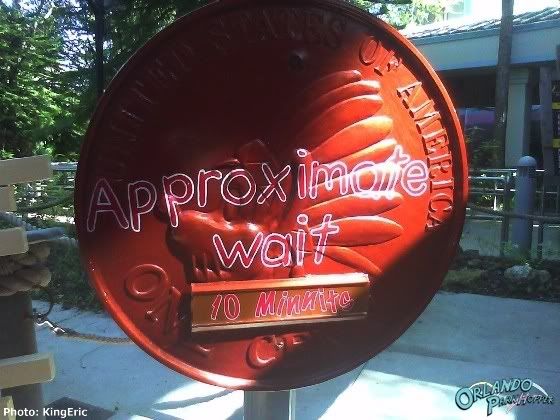 The wait time sign for the water slide
A video of the Dry Water Slide (you don't get wet).
A fun place to explore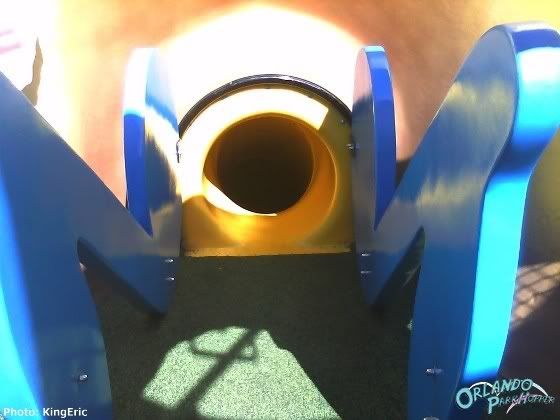 The cool slide and super fast slide
Video of the rockin' the slide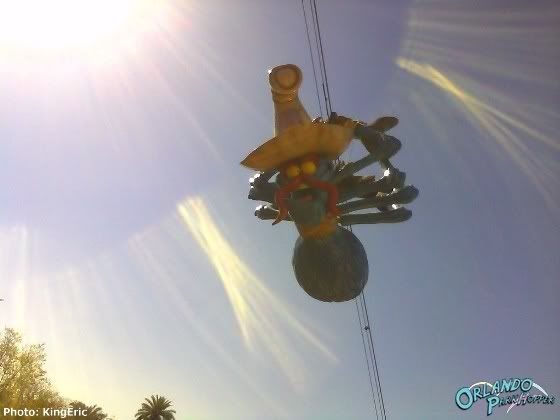 When visiting Universal Studios Orlando whether young or old, take a moment and enjoy Fieval's Playland!

This week Aimster takes a look at Busch Garden's main children's area, Sesame Street Safari of Fun!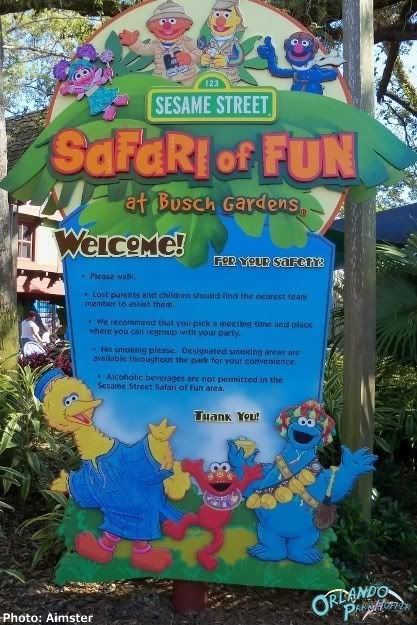 Sesame Street Safari of Fun opened in 2010, replacing the Land of the Dragons kiddie area.
At the entrance to the area is the main store, Abby Cadabby's Treasure Hut.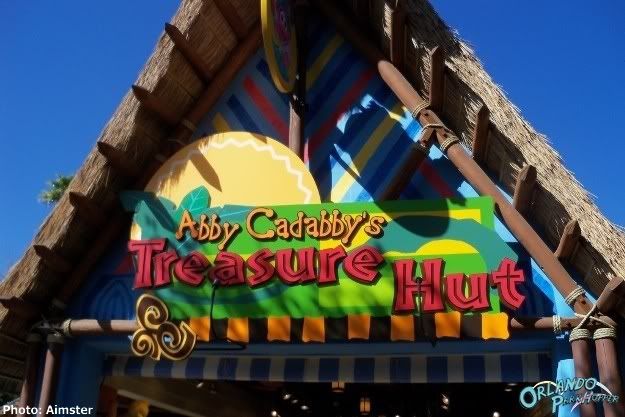 Just about anything and everything Sesame Street can be found here (plush dolls, clothing, DVDs, books, etc.)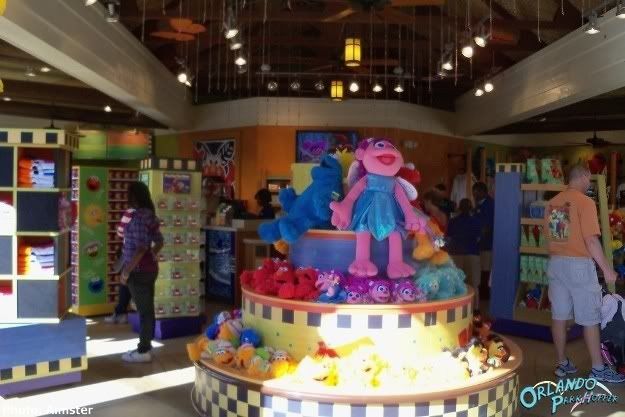 The stage where the show "A Is for Africa" is performed several times a day. Very cute show featuring lots of favorite Sesame Street characters like Elmo, Grover, Cookie Monster, Abby Cadabby and more!
There are meet & greet opportunities with the characters after the show.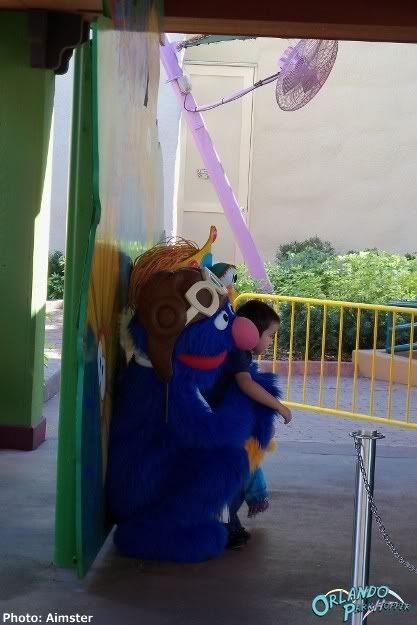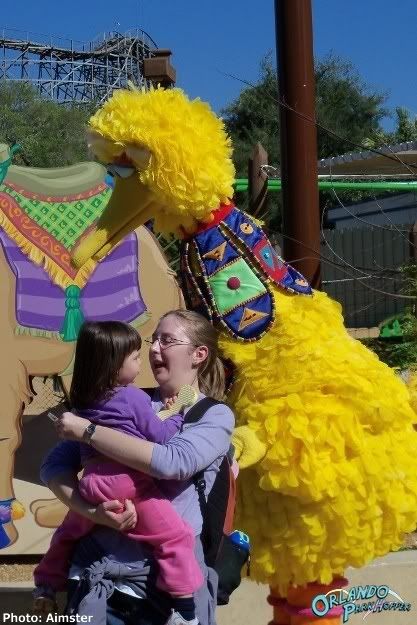 There are several kid-sized rides in Safari of Fun.
Air Grover is a kiddie coaster that's designed so parents can ride with their little ones.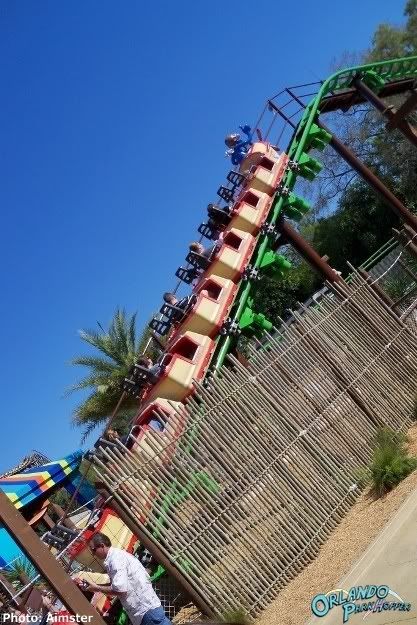 Other attractions are:
Snuffy's Elephant Romp, a Dumbo-like spinner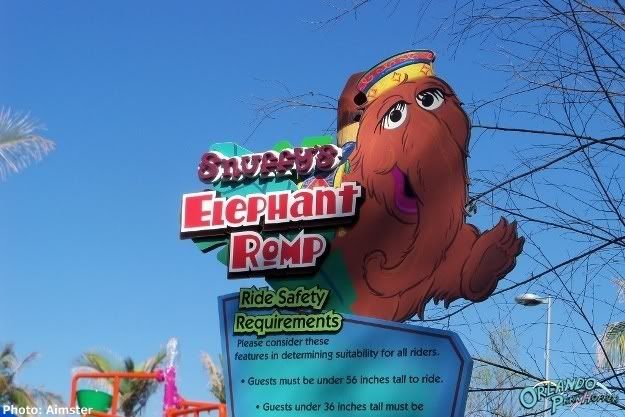 Elmo's Safari Go-Round Carousel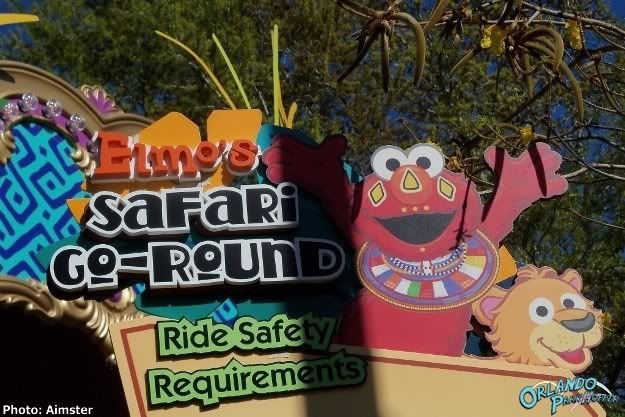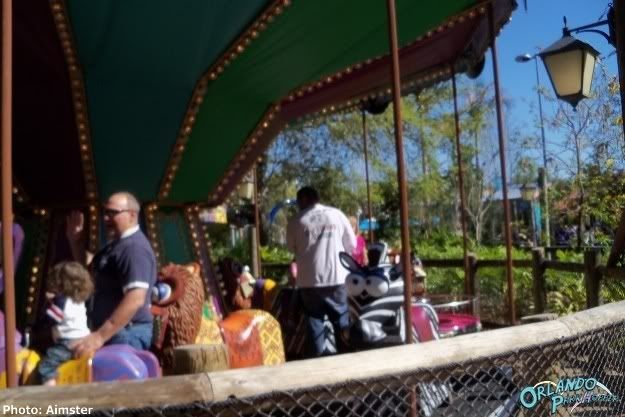 Telly's Jungle Jam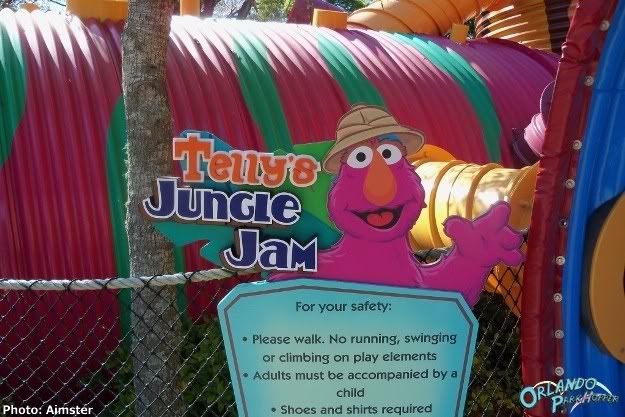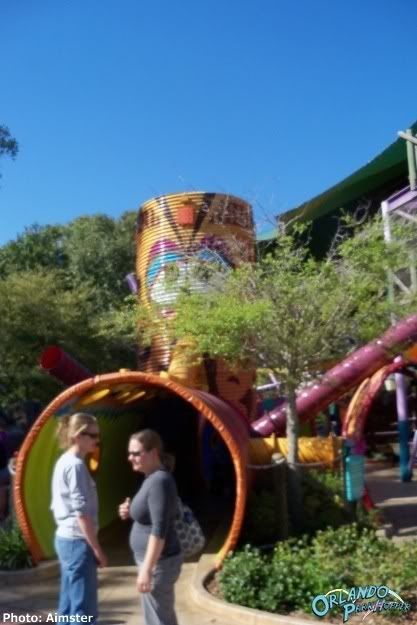 Cookie Monster's Canopy Crawl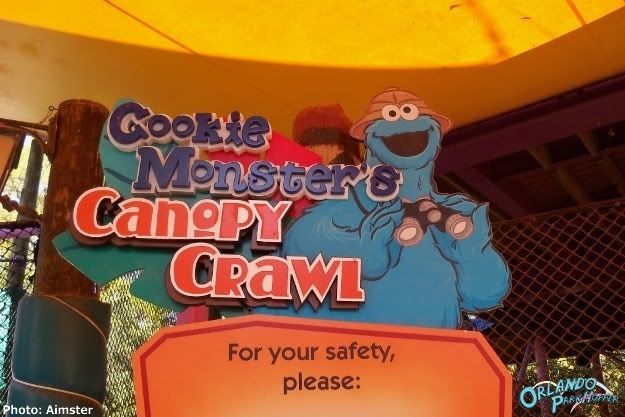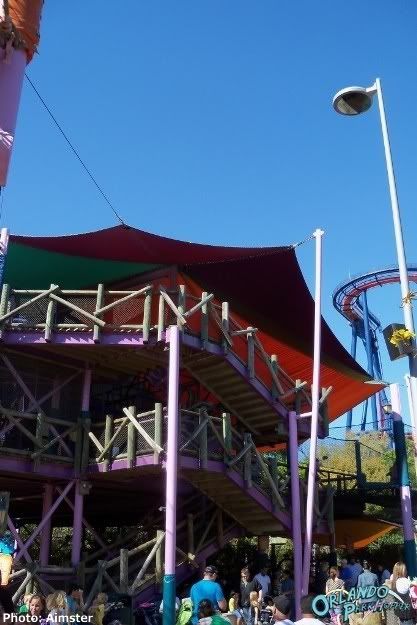 Big Bird's Whirly Birdie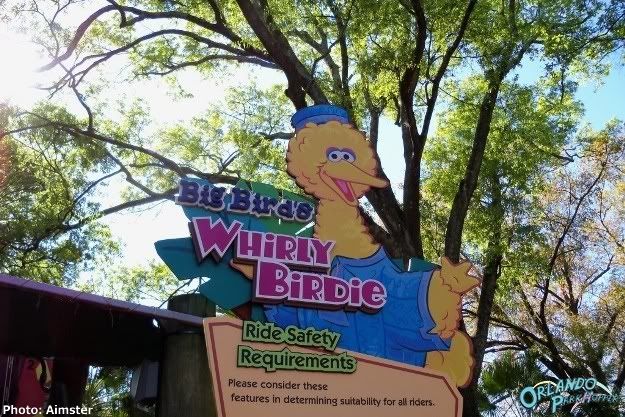 Rosita's D'Jembe Fly-Away
Elmo's Treehouse Trek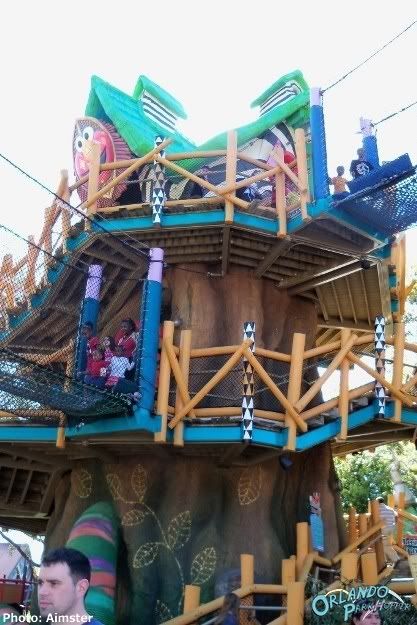 Zoe-Patra and the Hippos of the Nile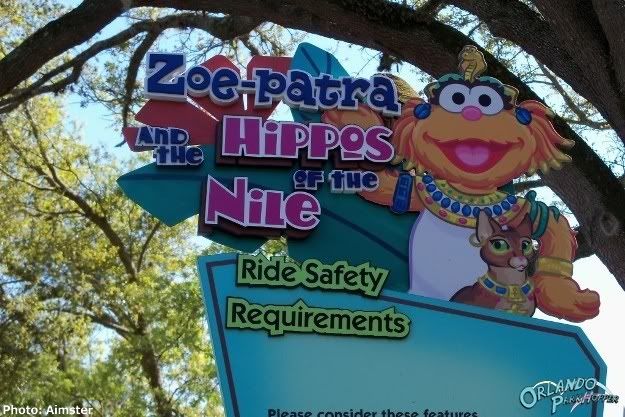 Bert & Ernie's Watering Hole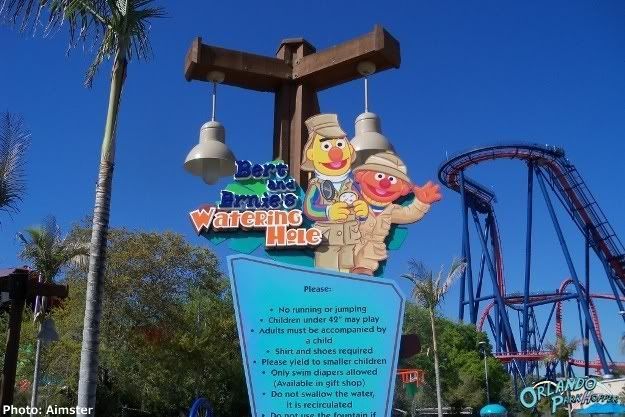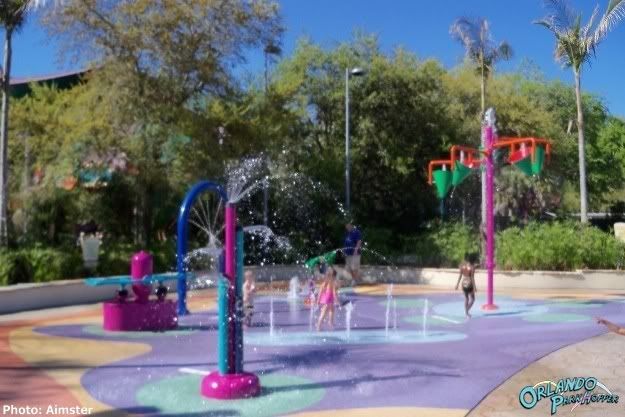 Oscar's Swamp Stomp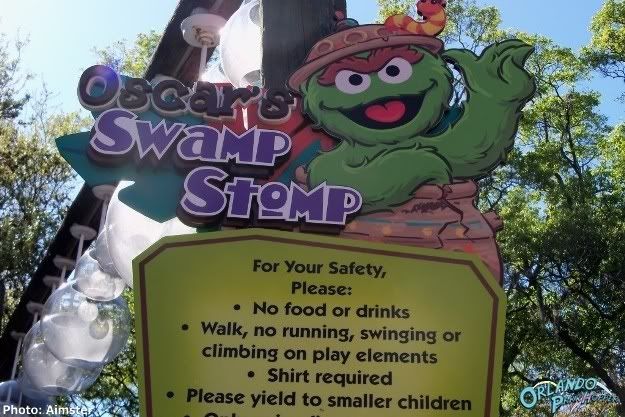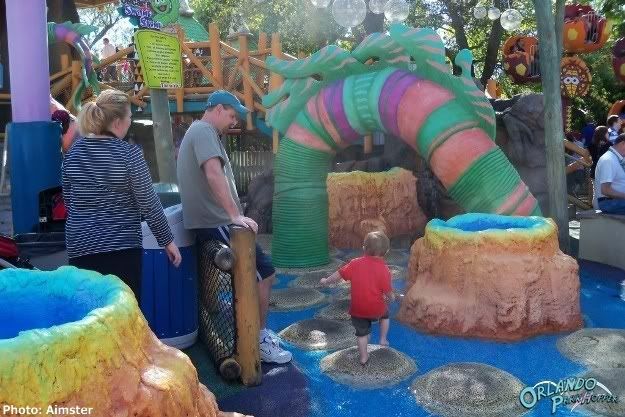 The Count's Zambezi Rally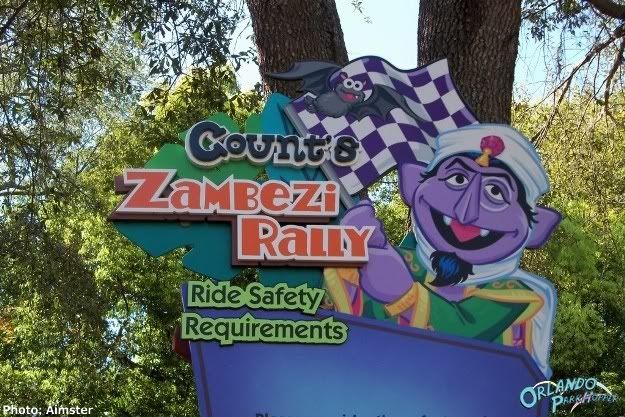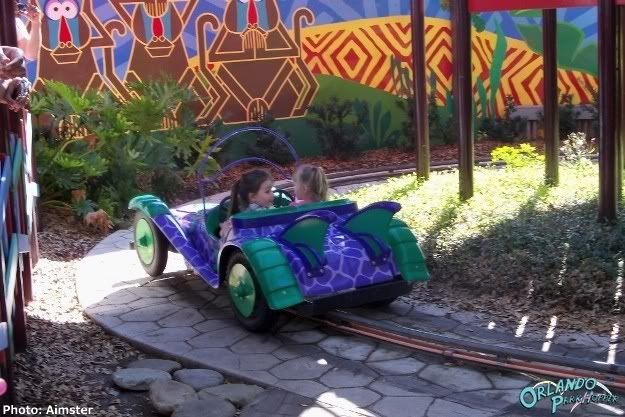 There's a character dining location that's open for breakfast and lunch.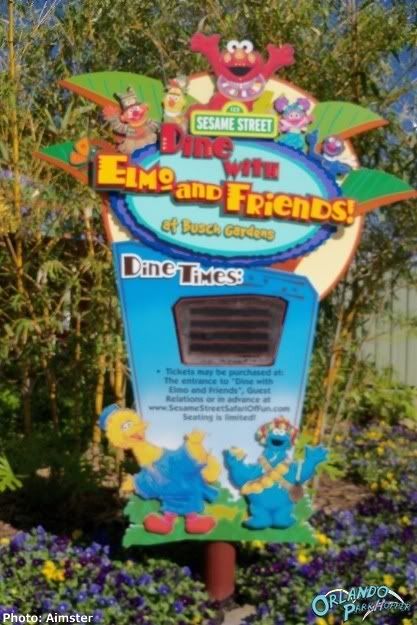 The other shop in the area is Cookie Monster's Trading Post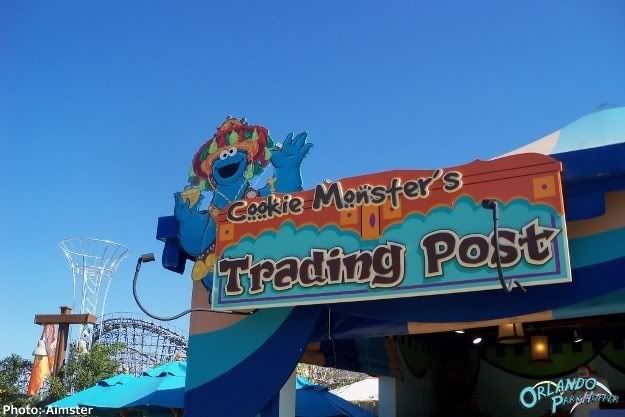 This is a great place to go if you have kids.
Cheetah Hunt construction update! This is coming along great! The drop out of the figure 8 element is pretty much complete and more track has been laid in the 2nd trench just before the jump over the Skyride. A couple of the Skyride towers are being lowered a little to better accommodate the jump.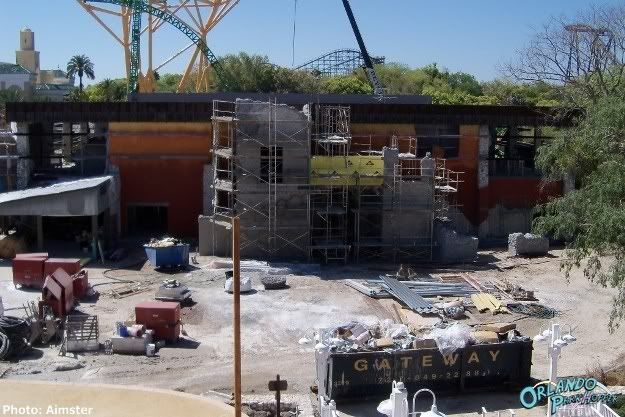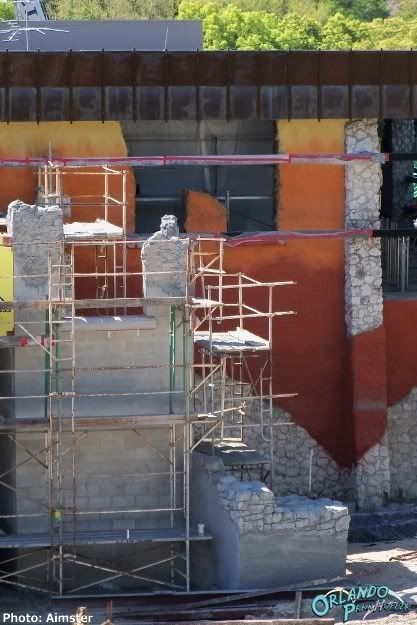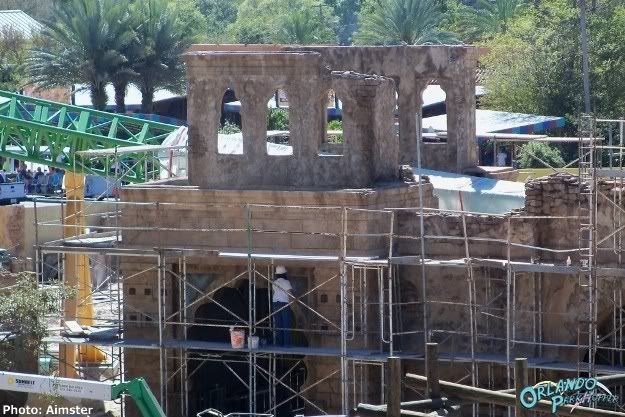 This past week, The Osmonds were at Busch Gardens as part of the park's real Music Series. The Osmonds are touring in celebration of 50 years in the entertainment/music business! It was a surprisingly good show and even more surprising were a few Walt Disney/Disneyland references as they showed footage of the brothers when they were little kids performing at Disneyland (might have been from opening day), a mention how Walt Disney loved them and then a photo of Walt during a musical montage of the Osmond family over the years.
L-R: Jay, Jimmy, Merrill & Wayne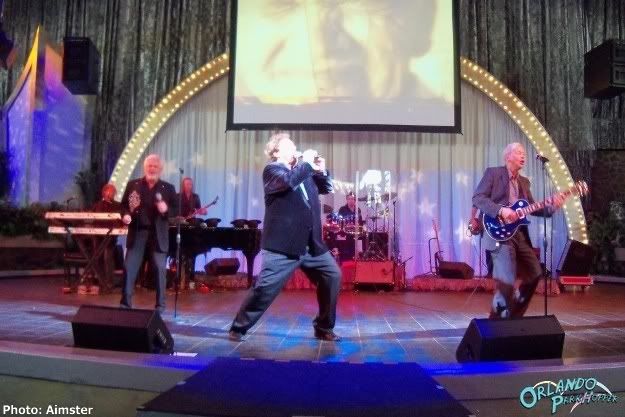 Showing the Blues Brothers a little love