While there has been some speculation, we've asked our resident insiders and are told that the area between the Grand Floridian and the wedding pavilion will become a DVC location. It seems the Disney fandom has been all a buzz regarding this particular rumor and we look forward to seeing how this interesting addition develops! In other news, there have been many permits filed for construction throughout the Magic Kingdom and we take a brief look at a family favorite from Toontown, Goofy's Barnstormer.

If that isn't enough to satisfy your weekly theme park senses, we take a look at some overlooked details within Universal's Islands of Adventure that really put the "theme" in theme park. Then we finish it off with a trip to Busch Gardens Jungala, an area so large and and packed with things to do, it's hard to believe that it wasn't built by Disney. It's interactive, the incorporation of the animal exhibits are flawless and the playground is large enough to consider tagging your children with a GPS locator. (We're kidding about the GPS part, but you get the idea). Enjoy the update!






MAGIC KINGDOM:





After the Grand Floridian find last week, intrepid Disneyphiles have started searching the South Florida Water District Management site for any more news.


One permit has been found for the demolition of the Skyway building in Fantasyland and there's also some new bathroom construction.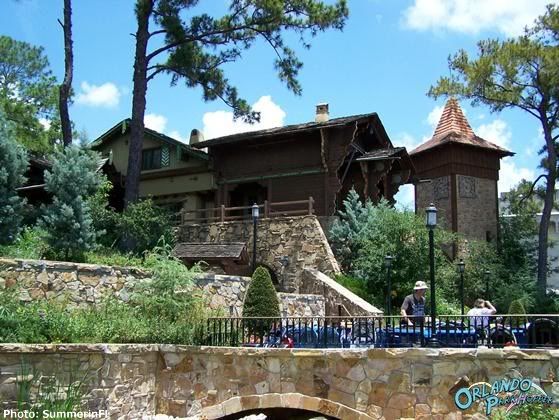 This is also rumored to clear the bathroom between Peter Pan and the Harbor House and to combine that to the Pan queue with (perhaps) an interactive feature?
Permit Link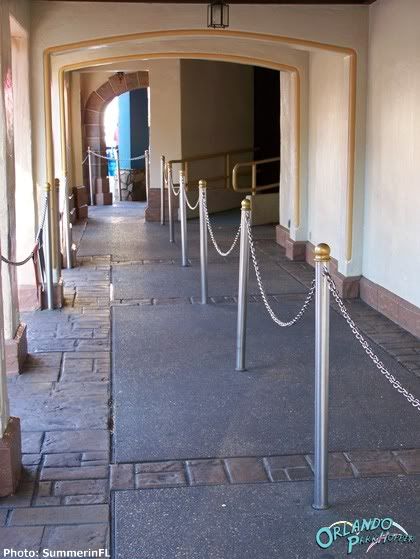 And a new walkway between Mansion and Yankee Trader is also in the works.


Permit Link



If you're interested in reading through this material, the link to the application, plans, and everything else is here:
Full Site Plans
TOMORROWLAND:
Tom shows us the benefits of a fisheye lens and how he uses it to capture the aesthetically pleasing areas of Tomorrowland.

Tomorrowland 1994, Where Art Thou? by Tom Bricker (WDWFigment), on Flickr


Wallpaper Sizes:

427 x 640 683 x 1024



This is another instance of using a fisheye as an ultra-wide angle lens of sorts rather than using it to achieve its characteristic distortion. Here, I used my 10mm fisheye because I wanted a good deal of the detail on the ground, and I also wanted the entire Gateway to the Future in the frame. For some reason, I really love these details on the ground in Tomorrowland, so I wanted to highlight them. I think it's partially because this was the aesthetic I recall from "Tomorrowland 1994," which is my all-time favorite land from any park (EPCOT Center's Future World from the same time period is a close second). While I still love the ambiance in Tomorrowland, some of the attractions, or replacements thereto, have lost their luster. I still love Space Mountain, the TTA, and Carousel of Progress, but the land isn't quite 1994 quality anymore.

Except the aesthetics. With its swooping lines, beautiful neon, and vibrant colors, this land is a photographer's playground. For editing this particular photo, I brightened only the ground, then sharpened the photo and increased its vibrance slightly. Other than that, this shot is essentially straight out of the camera.



TOONTOWN:



With the new expansion its sometimes nice to remember some of the things that are lost or changing. While I'm glad that Goofy's Barnstormer is staying (albeit a theme change), the old Barnstormer has created a lot of memories in my family. So I thought this week I would showcase some photos of a family favorite that served as my youngest daughter's "1st" roller coaster.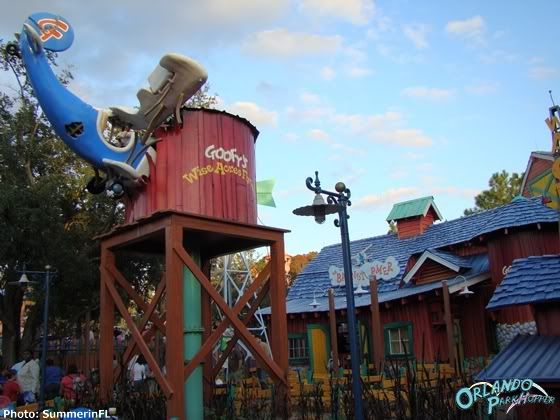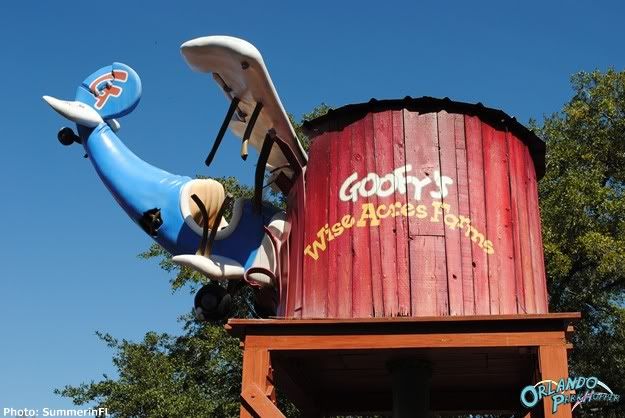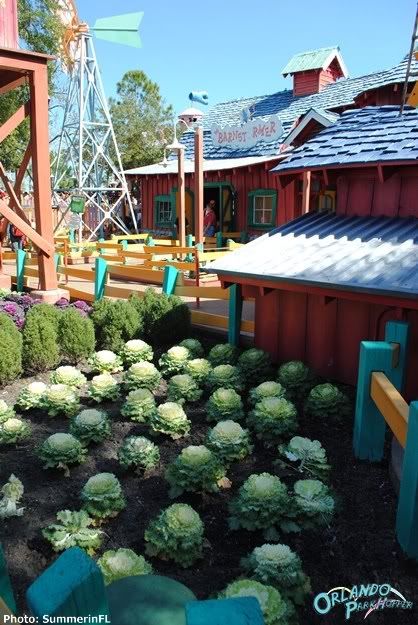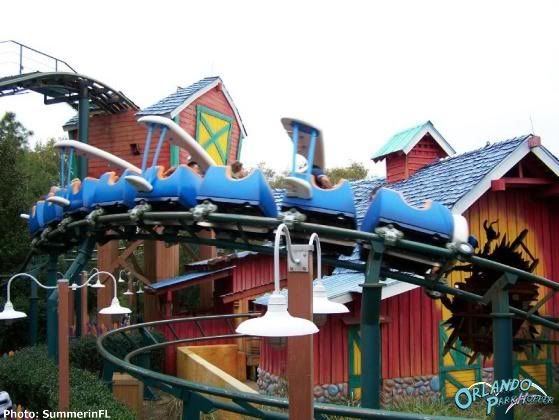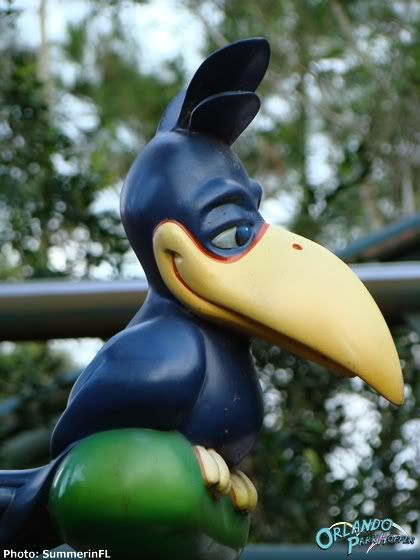 EPCOT:
Flower Power Concert Series Lineup (remaining dates)
April 1-3 - Starship starring Mickey Thomas
April 8-10 - Marilyn McCoo & Billy Davis Jr.
April 15-17 - Juice Newton
April 22-24 - Ricky Nelson Remembered featuring The Nelsons
April 29 - May 1 - Paul Revere & The Raiders
May 6-8 - Davy Jones
May 13-15 - Herman's Hermits starring Peter Noone
In addition to the Concert lineup for Flower and Garden, HGTV, the official sponsor, is bringing you events with a different celebrity host, every weekend during the festival.
HGTV Line Up (remaining dates)
April 1-3 - Taniya Nayak, Designed to Sell and Destination Design
April 8-10 - Ahmed Hassan, Yard Crashers
April 15-17 - Patti Moreno, Garden Girl, HGTV.com
April 22-24 - Michele Beschen, B. Original
April 29-30, May 1 - John Gidding, Curb Appeal: The Block
May 6-8 - Frank Fontana, Design on a Dime
May 13-15 - Vern Yip, HGTV Design Star
A

Festival Guide

is available for those that would like more information.




DOWNTOWN DISNEY:



Further plans have been discovered regarding more demolition scheduled for the DTD area.


Site Plans




While there has been some speculations, our inside source has confirmed that there are plans for a DVC expansion at the Grand Floridian. If you would like to check out the site plan they have currently released, you can view more details on this interesting expansion below.
Site Plan

If you are enjoying Spring Break this year in Orlando, and Universal Studios is on your list, please remember when visiting Islands of Adventure that it is all in the details! Take your time, to smell the roses when you aren't running to get into the Wizarding World of Harry Potter!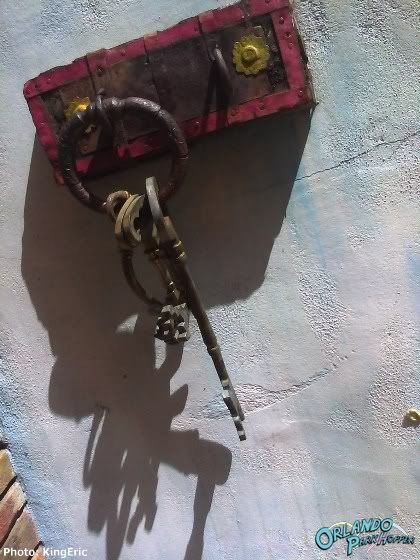 Details easily missed in the Port of Entry... a story is being told.



Toon Lagoon has a lot going on, if you just stop and enjoy.



On Popeye and Bluto's Bildge Rat Barges the queue has fun themeing, and you get soaked on the ride!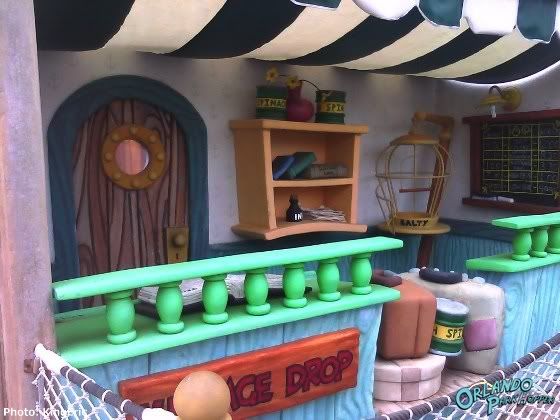 Stop and enjoy the view!

---------------------------------------------------------------------------------------------------

Island of Adventure has Character!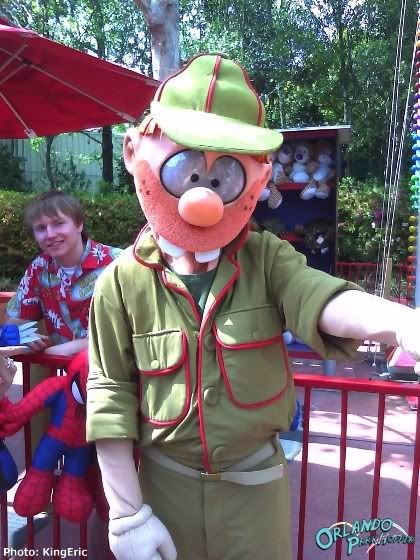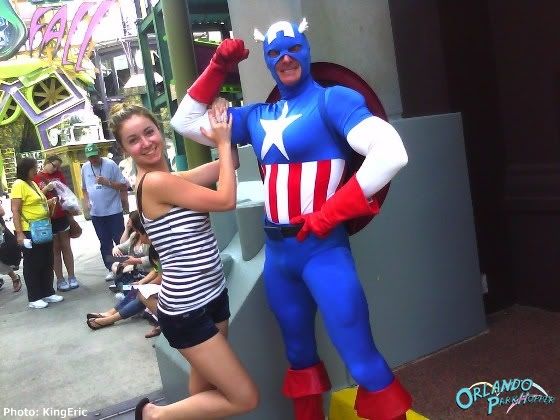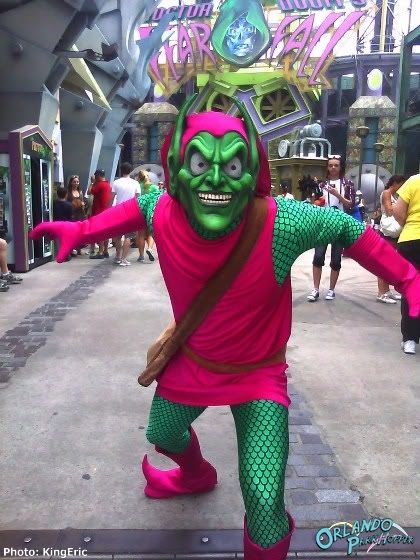 Universal Studios has been putting a lot more Character Entertainment into the streets as of late, and let me just say, it is welcomed!


------------------------------------------------------------------------------------------------------







This week we'll be taking a look at Jungala, a 4 acre family area that opened in 2008, replacing where the Python roller coaster used to be. Jungala is home to the tiger and orangutan habitats, a huge rope/climby area and more!



Entering Jungala from the Stanleyville area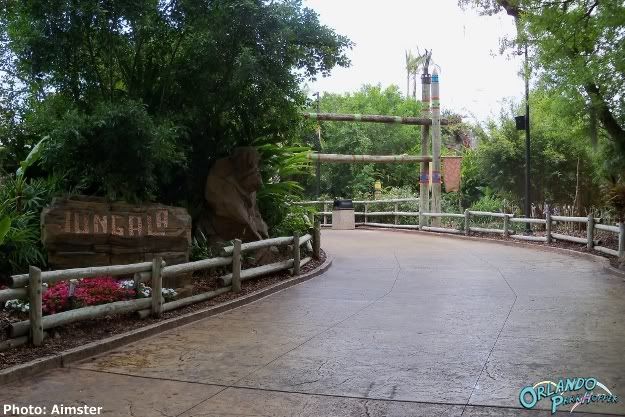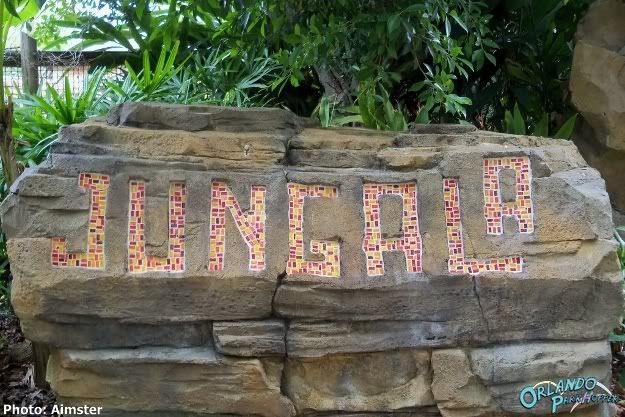 A preview of what's to come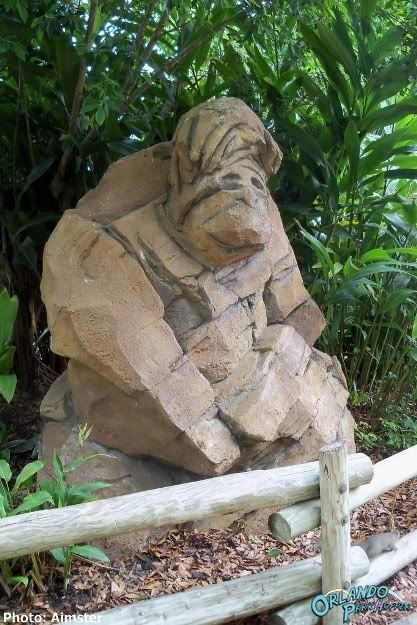 The Tiger Lodge is where you can see one of 2 tiger habitats.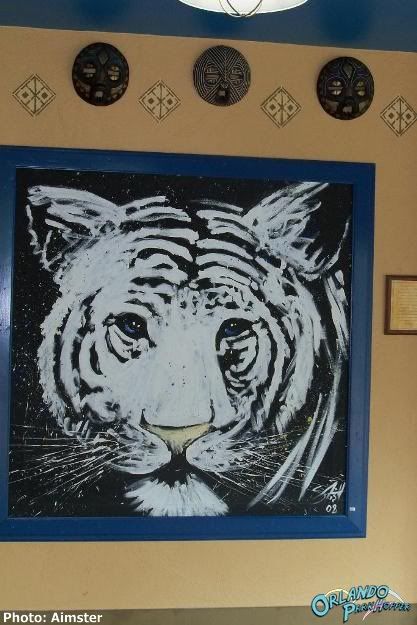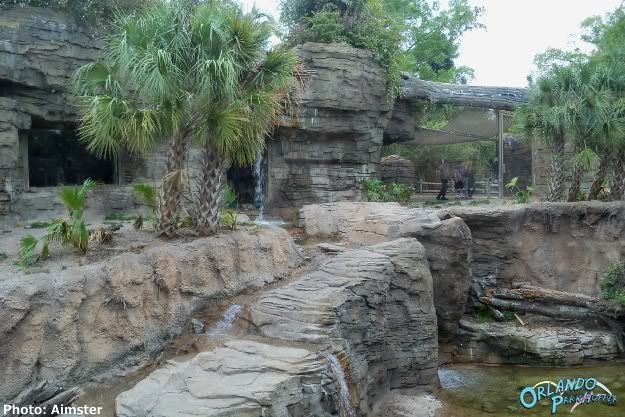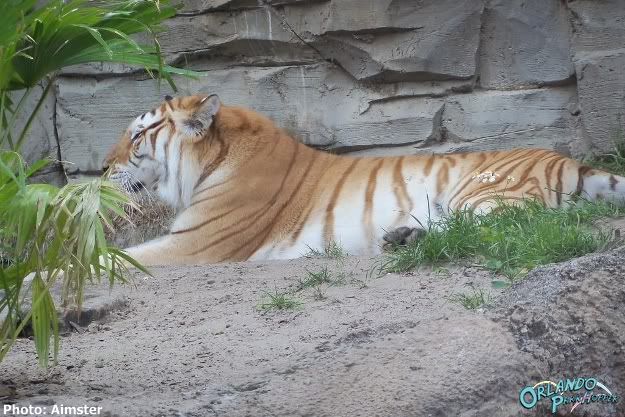 What are YOU looking at?!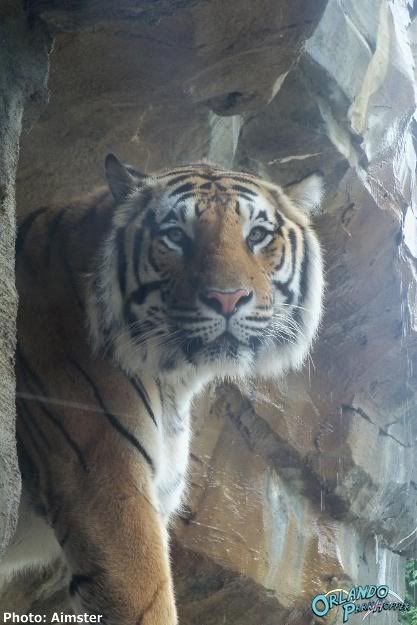 Playing tug-of-war with a tour group... I think Mr. Tiger won.



The other tiger habitat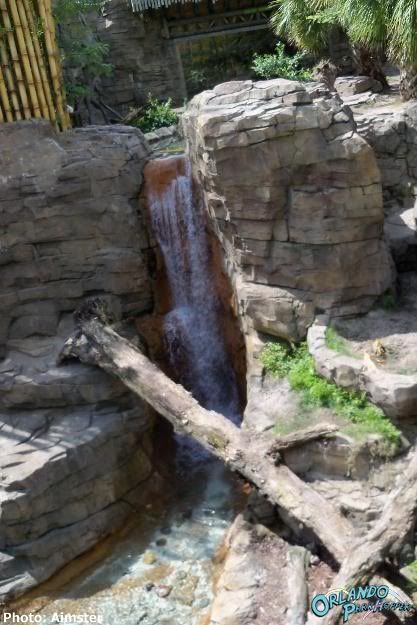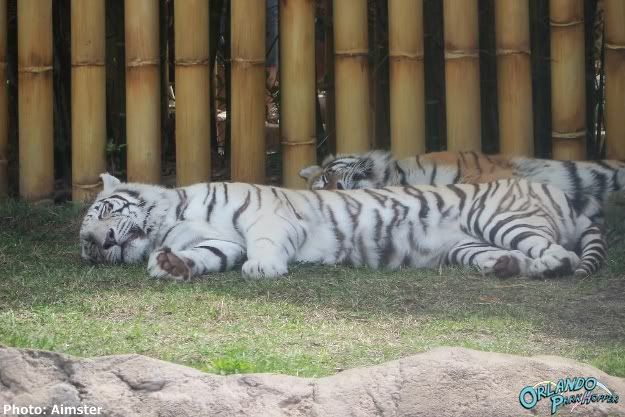 The Orangutan Outpost is home to the orangutan habitat.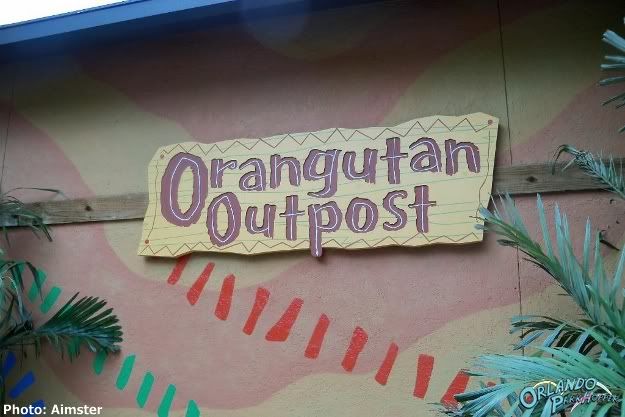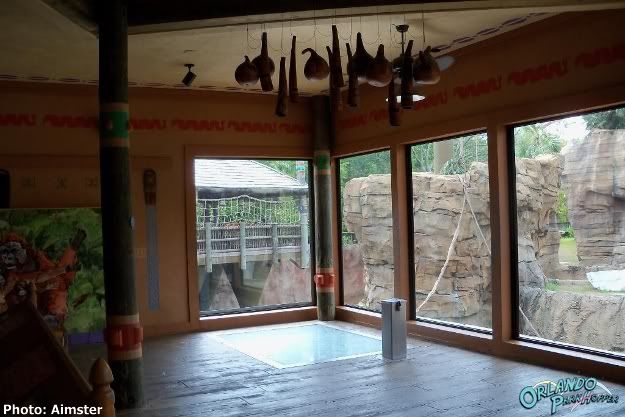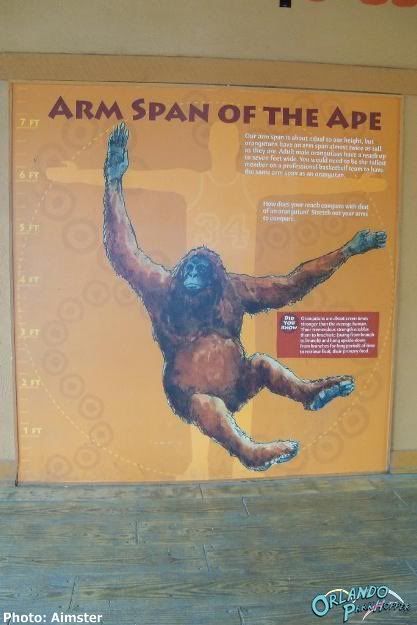 Overview of the habitat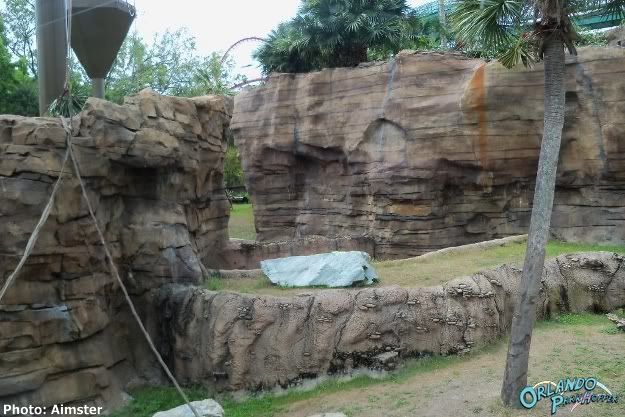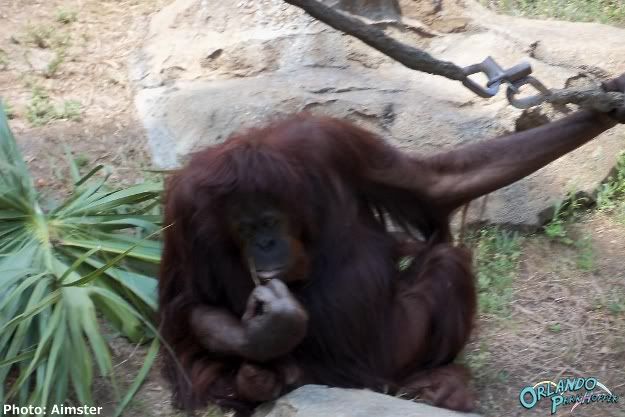 Tree Top Trails is a huge rope/climby area that both kids and adults can explore.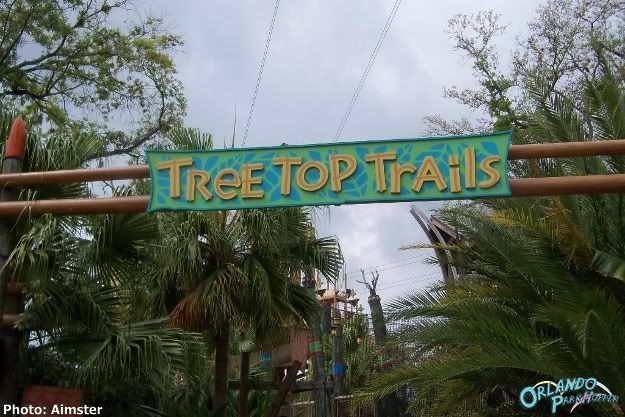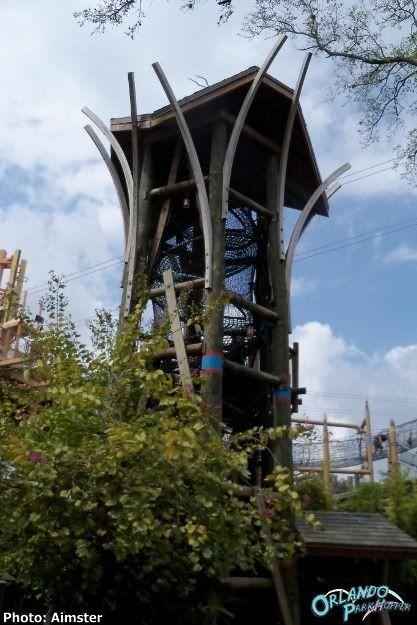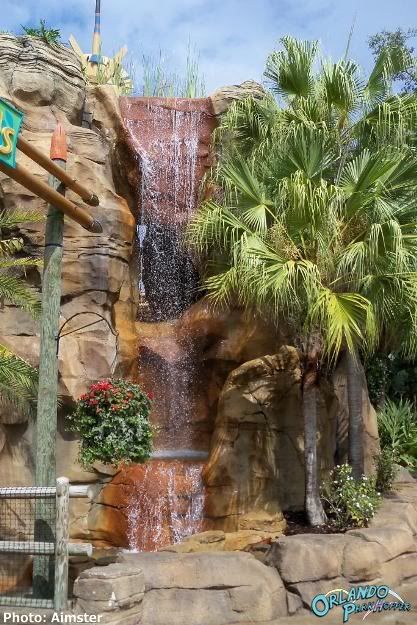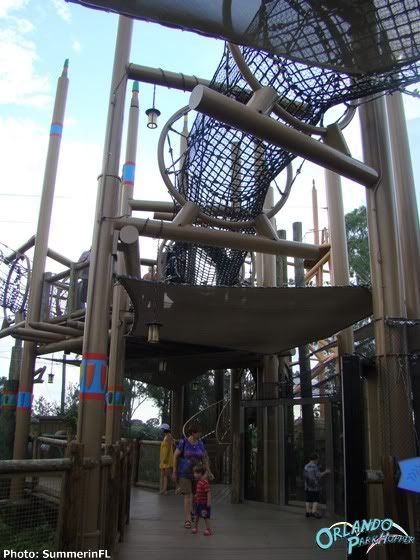 Tree Top Trails is also home to a a couple water play areas.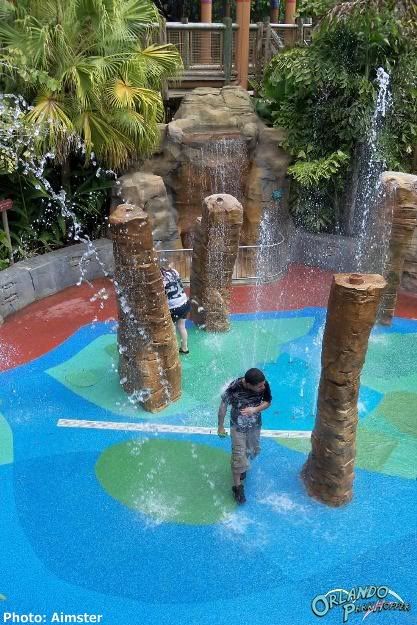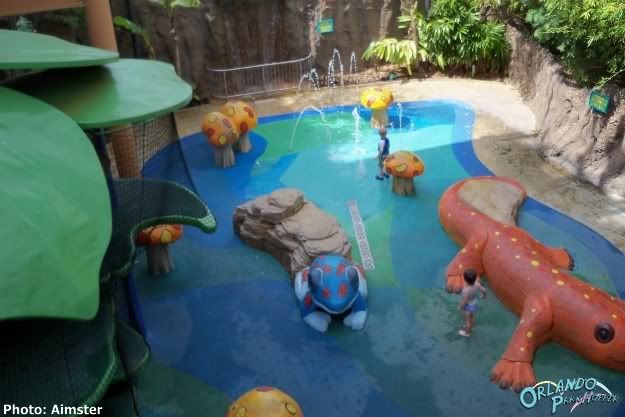 The Wild Surge is a "frog hopper" type ride.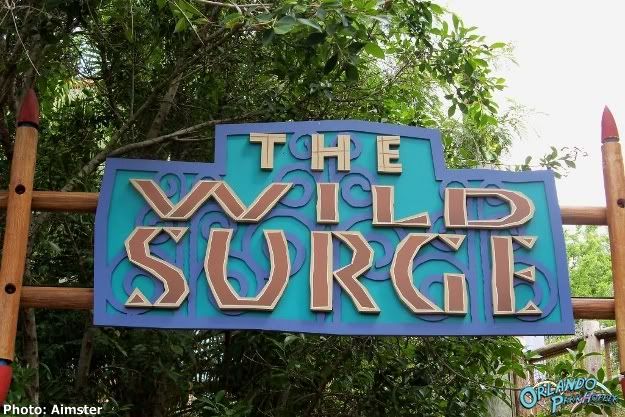 Jungala is home to 2 eateries, the Bengal Bistro and Orang Cafe. Both restaurants are buffteria-style.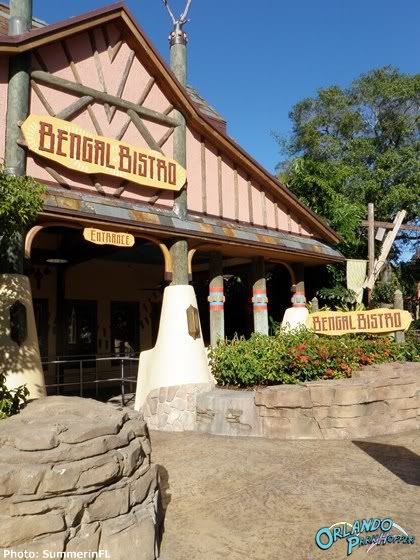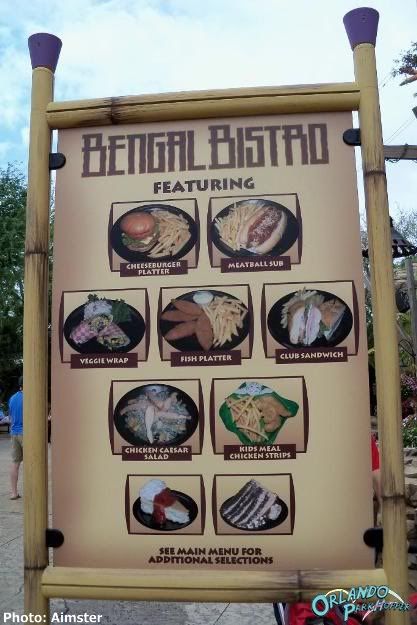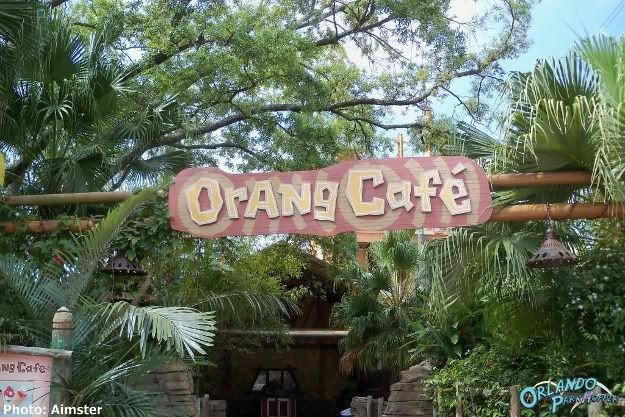 The main gift shop in Jungala is Tiger Treasures, where you can find lots of tiger and orangutan merchandise.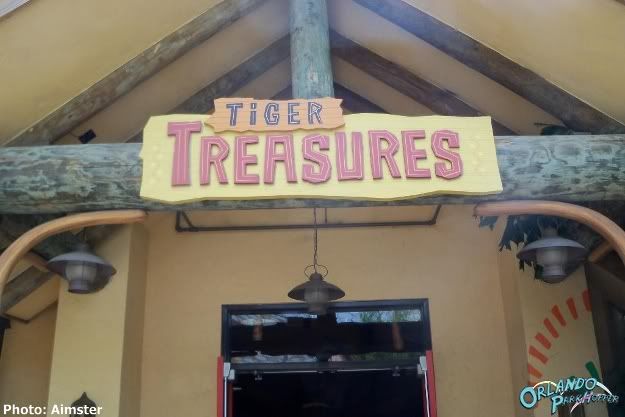 ---------------------------------------------------------------------------------------------------



Elsewhere in Busch Gardens, Aimster checked out the concluding 2011 Real Music Series this weekend with the one and only, Charo.


I hope I look as good as she does when I'm 60!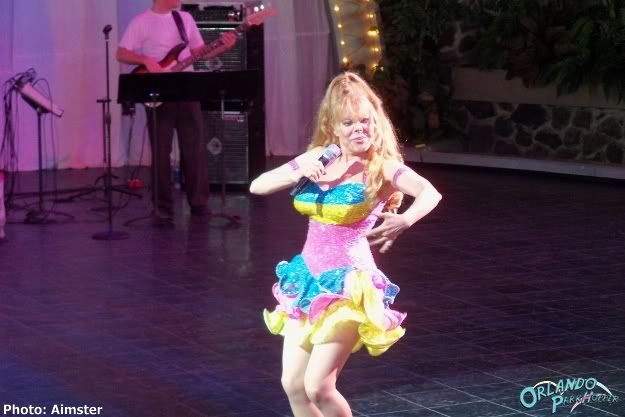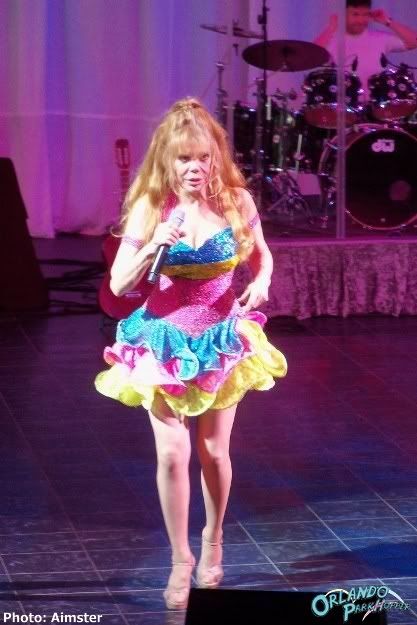 She's an amazing guitarist!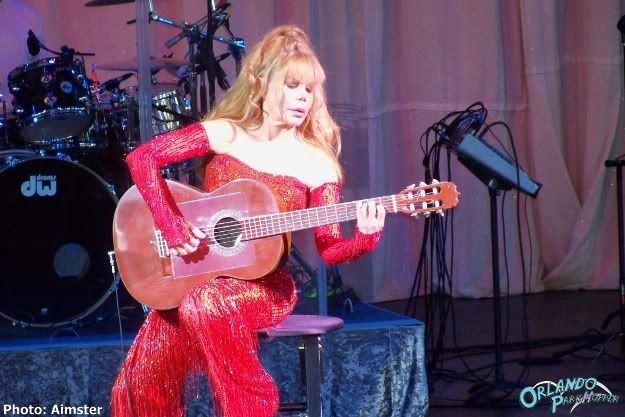 --------------------------------------------------------------------------------------------------



Cheetah Hunt update! With the track of the coaster completed, the park is now doing the ride envelope pull-through test. When I was at the park this past Saturday, they were up to the inversion (a heartline roll).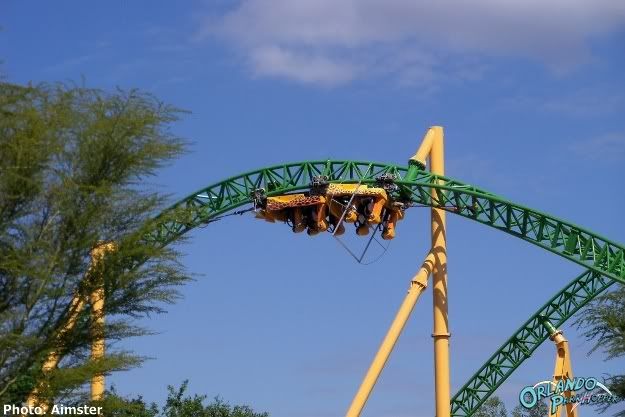 The train happened to come by, which made for a great photo op!



Another angle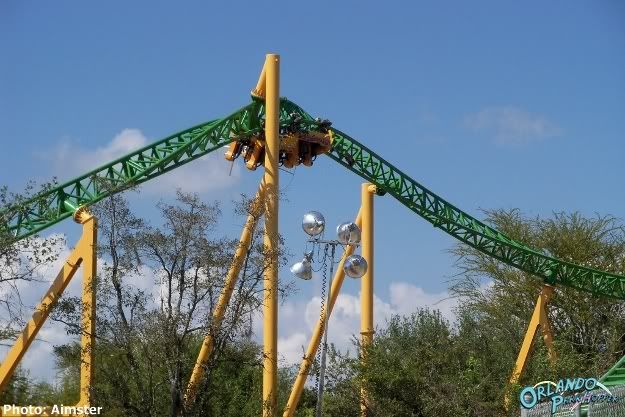 Over at the load station, a TON of progress has happened over the last 2 weeks. More theming has emerged and it looks incredible.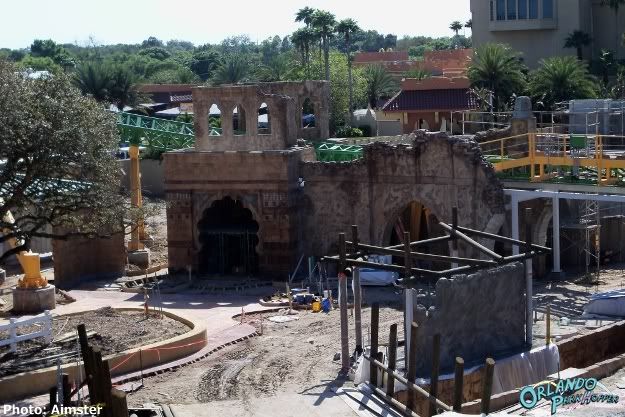 This will be a new outdoor seating area for the Crown Colony restaurant once work has been completed.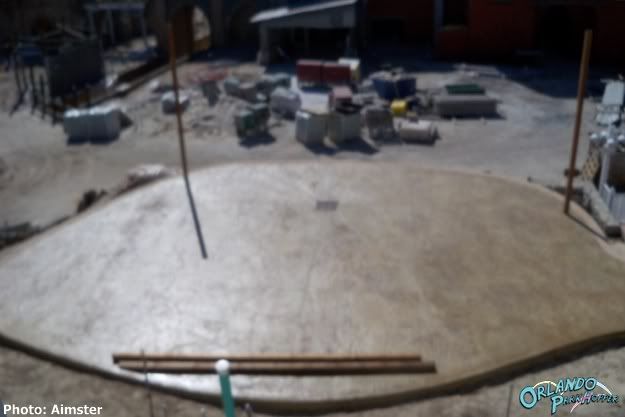 ------------------------------------------------------------------------------------------------------



Ramp Jam at Busch Gardens Tampa Bay April 9 - 10 & April 16 - 17

The ASA Action Sports World Tour amps up the excitement at Busch Gardens with the world's best pro skateboarders, BMX riders and inline skaters shreddin' a 14' tall half-pipe.

Scheduled to appear:
Simon Tabron
Kevin Robinson
Pierre Luc Gagnon
Anthony Furlong
Jimmy Walker
Eito Yasutoko
Viewing of the Ramp Jam events is included with park admission.
Jack Hanna Weekend
April 22-24
Busch Gardens welcomes celebrity animal expert Jack Hanna for an Earth Day celebration. "Jungle Jack" -- recognized world over for his deep knowledge of and boundless enthusiasm for wild animals and wildlife conservation – introduces guests to exotic and endangered animals in his own inimitable way during special shows and exclusive up-close encounters.
Animal shows daily at 2 p.m. and 4 p.m. in the Stanleyville Theatre.
Other events during Jack Hanna Weekend include "Breakfast With Jack Hannah", "Jack Hannah Family Sleepover" and "Jack Hannah Serengeti Night Safari". More details on these events can be found at the link below.
Schedule:
Daily: Animal Show - 2pm and 4pm
April 23 - Breakfast with Jack Hannah
April 22 & 23 - Jack Hannah Family Sleepover
April 22 & 23 - Jack Hannah Serengti Night Safari
Glory at the Gardens Festival
May 7 & 14
Glory at the Gardens is a jam-packed festival of live music and fellowship, plus you get access to all of Busch Gardens' thrills, animal encounters and world-class entertainment.
May 7:

May 14:

Michael W. Smith
Sidewalk Prophets



Great American Pie Festival
April 9 - 10
- Celebration, FL
$10 adults, $5 kids. All you can eat and drink.
Bay Area Renaissance Festival


Now thru Apr 17
- Tampa, FL
Grab a turkey leg, put on your best corset and take in a joust. There is a lot of fun to be had at the Annual Bay Area Renaissance Festival. Get dirty with the Filthy Rotten Scoundrels and then clean yourself up with the Washer Well Wenches. Located on the MOSI grounds in Tampa, off Fowler Ave, there is something for everyone in what promises to be a day of fun and merriment. Huzzah!!
Taste of Pinellas
May 20 - 22
- Vinoy Park - St. Petersburg, FL
A Taste of Pinellas, Tampa Bay's beloved waterfront festival is getting ready for another spectacular year of food, music, and fun!
Disney On Ice: Let's Celebrate
May 20 - 23
- Tampa, FL
Make an ordinary day extraordinary when Disney On Ice presents Let's Celebrate! brings more than 50 Disney characters to your hometown for one colossal party on ice! This action-packed, all-new show features a magical montage of celebrations, and is set to a blend of contemporary music and favorite Disney songs.
Don't forget to check out the other areas of MiceChat that offer news, updates and photos about the other Disney Parks around the World!
We want your photos! Contribute to the Orlando Parkhopper by emailing parkhopper@miceage.com with your submissions. We welcome volunteers for single contributions as well as permanent "Parkhopper" staff.

Thanks to our fantastic and talented crew of writers, photographers and news contributors who work hard every week to bring you the latest information available:
Aimster -
Pictures by Aimster
Kevin Yee -
MiceAge.com - A different look at Disney...
KingEric -
Orlando Theme Park News
SummerinFL -
SummerInFL Photo Galleries
Tom Bricker -
Tom Bricker Disney Photography
YoyoFlamingo