Disney parks on both coasts were busy this week with Star Tours cast member previews and soft openings. But Walt Disney World was full of hardcore Disney fans attending D23's Destination D: Walt Disney World 40th Anniversary Event! Here's what's new:

Feature of the Week: Expedition Everest
Tiki Room is being returned to its classic form (or at least something inspired by it)!!
Art of Animation Resort Concept Art
Star Tours has Soft Opened on Both Coasts! We have D23 drawings to share with you.
Universal/Islands of Adventure are also doing extensive rehabs.
D23 Destination D Quick Highlights! Dreamfinder and Figment paid a visit!!
New Weekly Feature: Dining In a Minute!!
MAGIC KINGDOM:


ADVENTURELAND:



Enchanted Tiki Room Refurb


We learned at the Destination D event that the Enchanted Tiki Room is being refurbished to a show inspired by its original roots! Confirmed at both the Disney Blog and the D23 Event this past weekend. The "Under New Management" version will be no more!

FANTASYLAND CONSTRUCTION:



More updates regarding the construction currently underway.

More walls in Fantasyland.
LIBERTY SQUARE:
An area is currently walled off undergoing construction in Liberty Square.
TOMORROWLAND:
The rotating water globe has construction walls around it as well.
Some color changes to the Carousel of Progress sign??
EPCOT:
Tom Bricker (WDWFigment)

, on Flickr


In looking back at the shots I've posted in the past couple of months in Orlando Parkhopper, it seems as if I might give the impression that I only ever use a wide angle lens or a fisheye. This is definitely not the case. One of my favorite lenses, the 70-200mm f/2.8, I use to obtain perspective compression, which draws the background closer to the subject.

Such is the case here. As most guests who have visited The (Living) Seas will probably know, the colorful mural at the entranceway doesn't appear this close or large behind the seagulls when viewed by the human eye at this distance. However, by moving back and zooming in with the camera, you can achieve this result. Here, I additionally got low to the ground when shooting, and photographed the scene through some tall grass in the foreground, adding the green out-of-focus area in the foreground. I think it gives the photo a little depth.

There are a lot of people who think that zoom lenses are only important for Kilimanjaro Safaris or other attractions on which the subjects are far away. As demonstrated here by the concept of perspective compression, you can use a zoom lens anywhere the parks to achieve creative results!



DISNEY'S HOLLYWOOD STUDIOS:


Phineas and Ferb Character Meet and Greet Delayed

--------------------------------------------------------------------------------------




Star Tours Alert!!


Disney has been holding soft openings for Star Tours this week.

Miles brings us some early photos of the attraction, including blue faced CM's.



Darth Vader
This is the new sign on the Star Tours 2 attraction.
This is one of 2 'talks'. This is a handful of cast members talking in private but in view of the public and with someone with blue face paint?
These Guys very much enjoyed getting their picture taken. Most smiled for the camera and after I took it they started cracking up, I have no idea why.
and Ewok Village, recently detailed and presumably finished. Don't take my word for it though, thats just what I heard.
During the D23 event the Disney team went over some concept art for Star Tours that mirrors both coasts.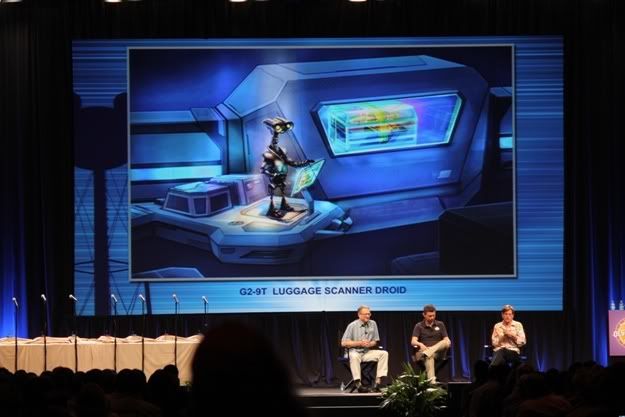 From talking to the fans that have ridden the new attraction I've heard nothing but positive reviews. I can't wait to head over to Hollywood Studios and check out this attraction for myself!! With that in mind, I encourage all of you to check out the West Coast's review of the identical version of the attraction at Disneyland!
Review: Star Tours: The Adventures Continue Views and Reviews
Dining in a Minute: Dockside Diner
We have a new feature that we hope to continue to include each week, its called, "Dining in a Minute", and it showcases various locations throughout the Walt Disney Resort that offer noteworthy food. This week Miles Bresin shows us that sometimes the things we see right in front of our faces, we don't always pay attention to.

I never seem to see people eating at this wonderful quick service location. I find that a lot of the masses at Hollywood Studios don't notice it or even care for quick service at this park. This is odd in my eyes because it's location is in the hub of Hollywood Studios and a perfect place to watch the finale of the American Idol Experience on the big screen, this place is definitely way under-rated.

The Menu consists of really simple foods but in a very unique and delicious package. Hot dogs & chicken caesar sandwiches, but not exactly sandwiches.



This is by far my FAVORITE 'cheaper' dining experience in the park. The chicken caesar sandwich is something unexpected from a Disney quick service restaurant. They dont skimp on any detail of this salad and it's all stuffed in a french bread instead of layered on bread. The french bread complements the salad, stuffed to the brim, perfectly. Not only that but also included is a small side of chips. This meal is definitely one to hit that sweet spot, at least it definitely does that for me.



DISNEY'S ANIMAL KINGDOM:

FEATURE OF THE WEEK


Expedition Everest, what can I say that doesn't some way lead to a discussion on the now infamous "Disco Yeti." Quite a bit, actually. While the attraction's signature effect has been down for years now, there is so much more to enjoy about the attraction. The lush landscaping before the lift hill, the fantastic vistas going up the lift hill (turn around and you get some great view of the Contemporary and the Magic Kingdom, even!), the drop and the backwards portion, etc. While not perfect (Yeti aside) it's an impressive attraction. Why not offer TDO a deal: Sure, TDO, we'll accept the Yeti down, BUT you have to add some new attractions to Animal Kingdom (How about another E Ticket and one or two C or Ds, a Jungle Book themed boat ride would be a nice dark ride). That way, once the new attractions open, you can close Everest to fix the Yeti properly. At least we can enjoy the scenery for now...



Exterior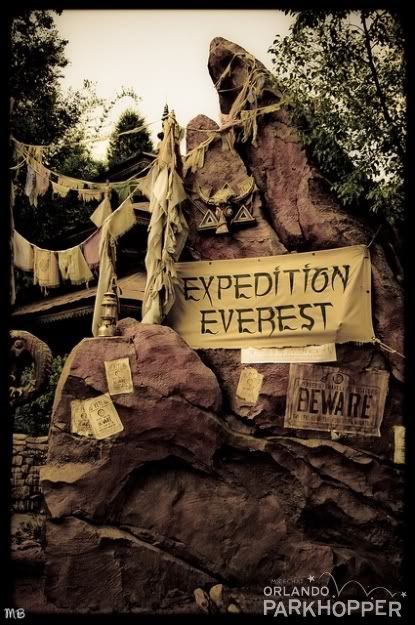 Queue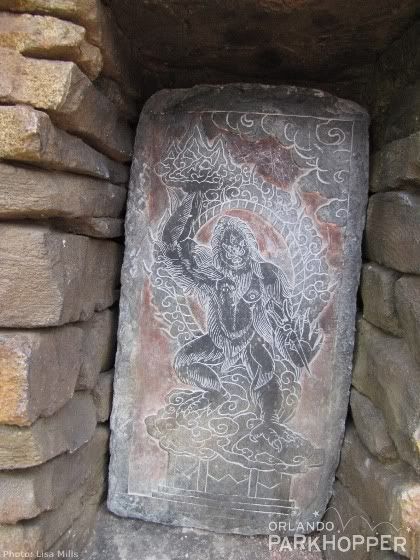 Attraction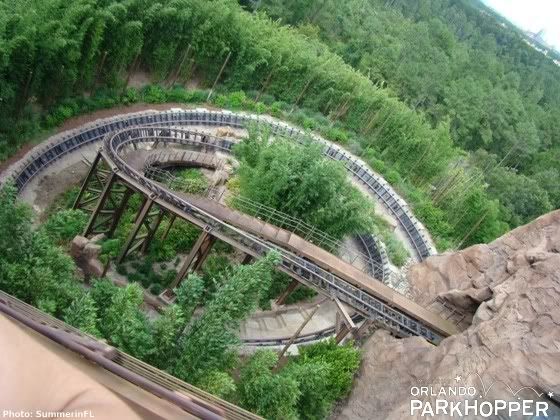 Exit
DOWNTOWN DISNEY:

Refurbishment News!!


Wolfgang Puck Express will be closing for floor repairs and will reopen Saturday, May 21.



------------------------------------------------------------------------------


The AMC Theater at DTD is pretty popular right now with their new offering of dining while you watch a movie. Both RooBear and Kevin Yee got a chance to experience this brand new concept in entertainment dining.

First up, RooBear gives us his opinion of the newly upgraded self serve food at the theater. Then, Kevin Yee chimes in with his review of the dining inside the theater itself!

A trip report about a movie theatre? Even with the weird spelling "theatre?"

Yeah, a trip report about a movie 'theatre.' The fact is, well, I (RooBear) used to work at a movie theater in three different states. I guess I could even claim to be part of the entertainment industry for some time--and when I traveled, I tended to see a lot of films.

It's like there's a Disney Park in every state I went to.

But the fact is, Disney asked American Multi-Cinemas (AMC) to build here and, quite frankly, have one of the nicest theatres around. They have a captive audience with all the resorts nearby and, let's face it, this is a movie-going public. How many times have we all planned a weekend around a title we've wanted to see?

Now, the AMC used to be called the "Pleasure Island" theatres, but changed their name with the new "Hyperion Wharf" direction Disney is going with. It's located on the area of Downtown Disney called the WestSide, about a hop-skip-and-a-jump from DisneyQuest.

We decided that this theatre would handle the crowds that might materialize for the opening weekend of "Thor" and, sure enough, the numbers were absorbed into the three tiered balcony. What makes this picture house different are a few things that you see in larger venues, where the audience tend to be guaranteed.

For example, this is something you don't see in most malls, but surely here at the Downtown Disney. It's called MacGuffins. Now, if you know your Alfred Hitchcock, the MacGuffin is his term for the item in the movie that the plot revolves around-a microchip, a secret, the plans to blow up the Death Star. Here? It means alcohol.



Now it's a common unknown fact that there are two basic incomes in the movie theater business. One goes to the product. That's the box office and that, as a whole goes to pay for the movie (we used to call it the film's rental). A second income is drawn from the concessions. Yes, they charge you the same they would for gasoline. But it also goes to pay for the incidentals, like personnel.

AMC is no different. Considering that this is a massively popular venue, they have a huge selection of foods, snacks and drinks. They even have flavored popcorns.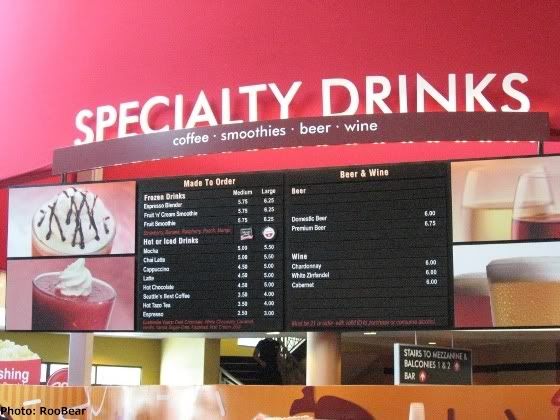 However, to save time, they do make this a grab-and-go operation.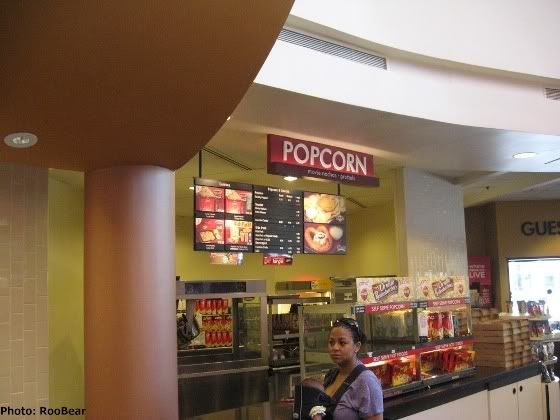 They also require you go get the condiments yourself. So, you'll have to leave the movie to get further butter flavoring.



They do have the fancy new Coke Dream Machines with about 100 options of soda pop. Luckily, every time I've been here, there's enough machines to play with it a bit before making a selection. The other nice part? You can combine flavors. Today I treated myself to a Cherry Vanilla/Orange Fanta concoction that was almost as fabulous as me.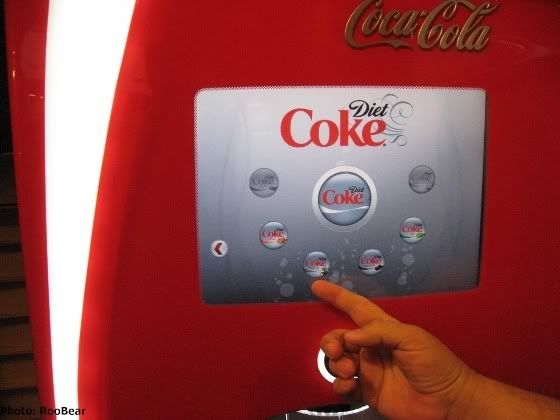 We headed into the movie, and, seriously, you should make an effort to watch a movie here if you want to see a big title released over a summer holiday. Their first three theatres are basically created to handle the crowds and have wide seats with fold-up armrests.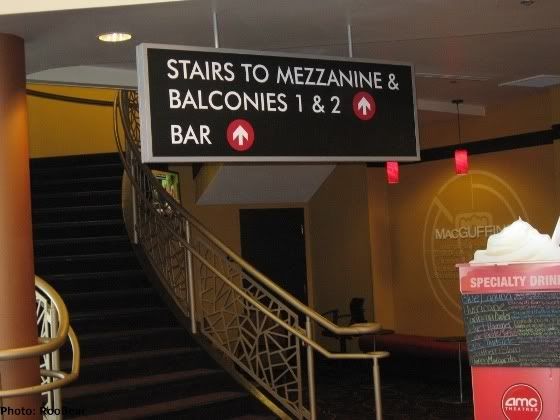 What's really cool? Using new technology, this theater will be one of a handful that will have a dedicated RESTAURANT/CINEMA opening the end of this month (read Kevin below for more details on that).

With the amount of movies I see, I'll be here frequently. And I can't wait until I can get table service at the movies!



What about the movie? Was it good? I was too busy eating to write you a review.
Destination D: Walt Disney World's 40th Anniversary was held this weekend at the Contemporary Resort. Thousands of devoted fans showed up for one information packed weekend of fun, nostalgia and amazing music! Disney Legends graced the stage and told endless amounts of stories to keep us entertained. There was so much that happened this week, its impossible to showcase it all here. Luckily for you though, Orlando Parkhopper was live blogging the entire weekend with the kind assistance of
Andy Castro, of Dateline Disneyland,
who took most of the photos you'll see below! In case you missed any of the action, you can read the full details in this discussion on MiceChat:


D23 Destination D: Walt Disney World's 40th Anniversary Live Blog!!



I'm just going to touch on some of the interesting things that were discussed over the weekend.



First, Dreamfinder and Figment stopped by to sing One Little Spark with Richard M. Sherman, what an amazing performance by both!!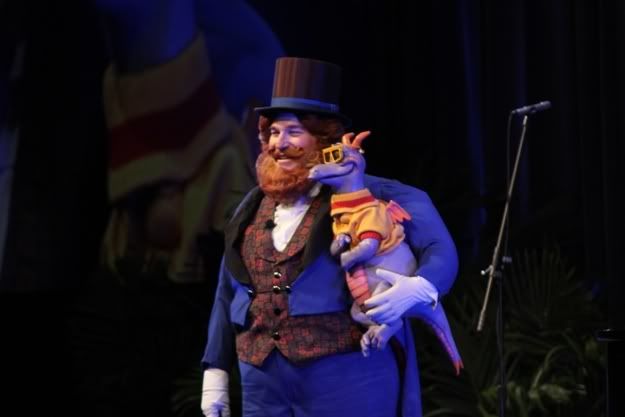 Second, the Enchanted Tiki Room is going to be restored to a version inspired by the original at the Magic Kingdom!!
Third, the Art of Animation Resort looks very promising, it will be interesting to see how they execute it given the concept art shown.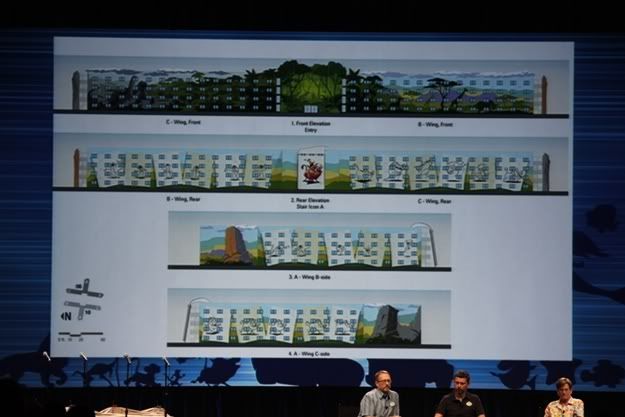 And just a few things that caught my attention....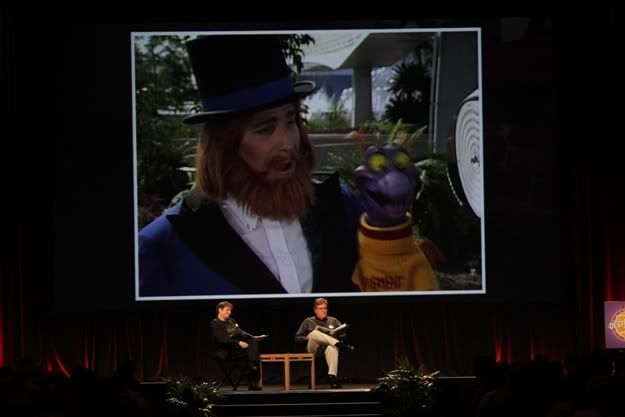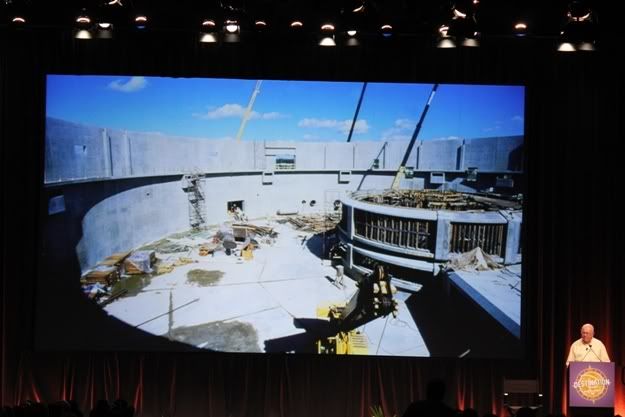 There is MUCH more to discover from Destination D here:
D23 Destination D: Walt Disney World's 40th Anniversary Live Blog!!

Universal Building Miniature Golf Course
Universal Orlando announced plans Wednesday to open a movie-themed miniature golf course at its CityWalk entertainment district by early next year.

"Hollywood Drive-In Golf" will be themed after the drive-in movie era, with elements from vintage horror movies and 1950s science fiction films. The mini-golf attraction will include two 18-hole courses, dubbed "The Haunting of Ghostly Greens" and "Invaders From Planet Putt."



Florida Resident Discounted Vacation Packages



Starting at $99 per adult, Universal is offering discounted vacation packages to Florida Residents which include the following:



-------------------------------------------------------------------------


Eric M. Davis hopped on over to the Universal Orlando Resort this weekend to get some photos of what has been going on! First up, Islands of Adventure!


Sunday was a perfect day to be in the parks!
Currently Jurassic Park River Adventure is closed for a much needed rehab!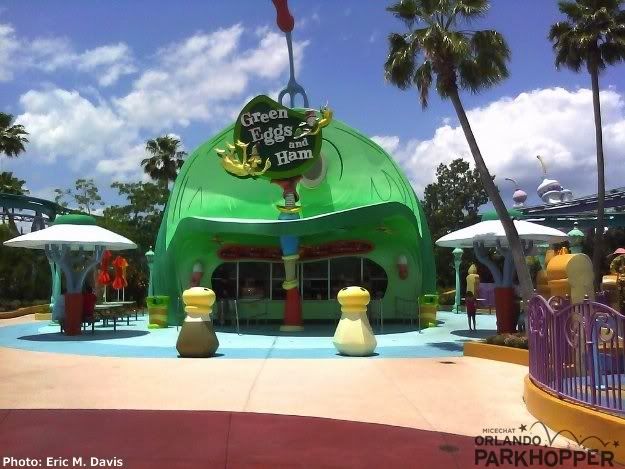 Green Eggs and Ham was open regardless of it being a non-peak day!
This band was back performing at the end of Port of Entry.
Now on to Universal Studios!
Jimmy Nutron is still on the building!
Universal Orlando will be announcing on May 19th what will be replacing Jimmy Nutron!
Some refreshing of this area.
You can still see the characters from HOP in the park!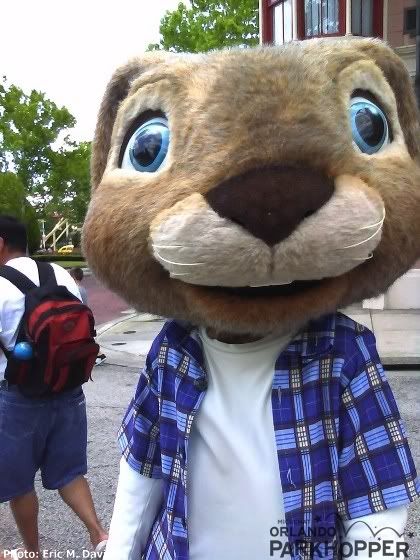 This area is getting refreshed too!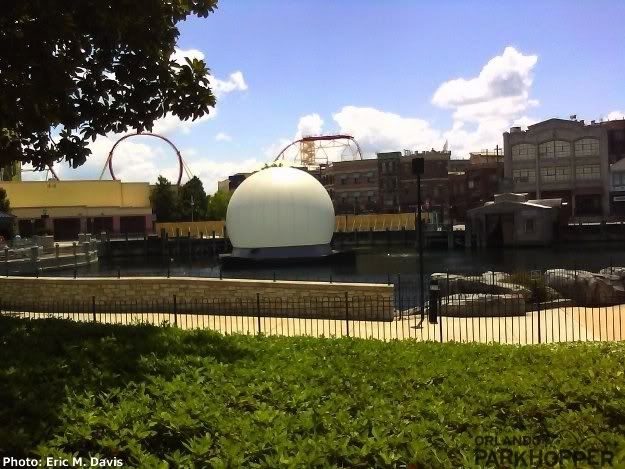 Taste of Pinellas


May 20 - 22 - Vinoy Park - St. Petersburg, FL
A Taste of Pinellas, Tampa Bay's beloved waterfront festival is getting ready for another spectacular year of food, music, and fun!



Mount Dora Blues and Wine Festival


May 20 - 22 - Mt. Dora, FL
Three days of great entertainment from the areas best blues talents, with just a touch of jazz.



Disney On Ice: Let's Celebrate


May 20 - 23

Florida Anime Experience


May 27 - 29 - Orlando, FL
The Florida Anime Experience is a new fan convention designed to focus specifically on Japanese animation, manga and popular culture.

Don't forget to check out the other areas of MiceChat that offer news, updates and photos about the other Disney Parks around the World!


We want your photos! Contribute to the Orlando Parkhopper by emailing orlandoparkhopper@miceage.com with your submissions. We welcome volunteers for single contributions as well as permanent "Parkhopper" staff.

Thanks to our fantastic and talented crew of writers, photographers and news contributors who work hard every week to bring you the latest information available:

We'd like to thank our very special guest columnist this week, Andy Castro of Dateline Disneyland, for his amazing photos and coverage of the Destination D event this past weekend in Orlando. He was a huge help and we really enjoyed spending the weekend with him!