So many events going on in the Orlando area, its amazing anyone has time to see them all! Star Tours kicked off this weekend, Pixar Weekend brought Epcot Flower and Garden Festival to a close and Cheetah Hunt at Busch Gardens Tampa put the finishing touches on its new coaster and the team at OPH was there covering all of it.
New This Week:
Feature of the Week: Tomorrowland Transit Authority People Mover
Dining In a Minute: The Writer's Shop (DHS)
Cheetah Hunt construction at Busch Gardens.
Star Tours Opening Ceremony with George Lucas.
Ending the Epcot Flower and Garden Festival on a "Pixar" note.
Buzz Lightyear Space Ranger Spin is seeing purple??
ADVENTURELAND: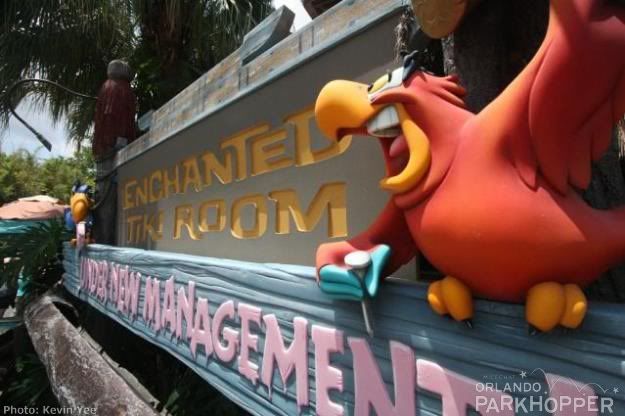 It's anybody's guess how much longer the Under New Management sign will stay.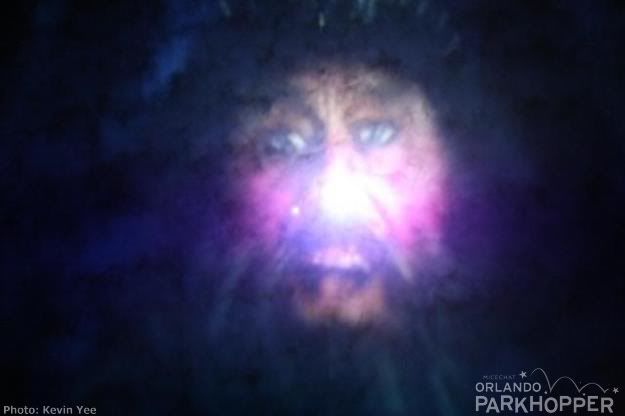 Blackbeard has replaced Davy Jones in the mist waterfall. Arguably, the previous version was better (and more visible).
Fun and games around the park.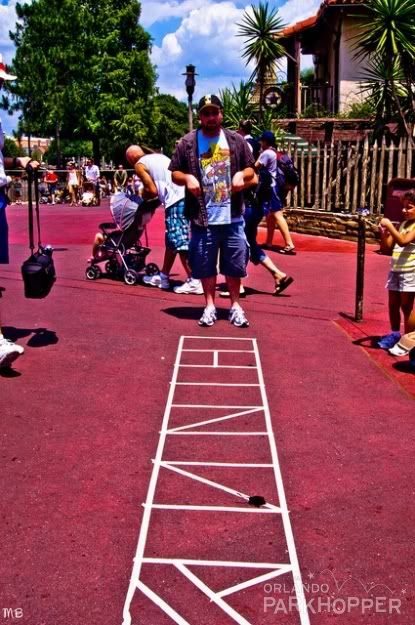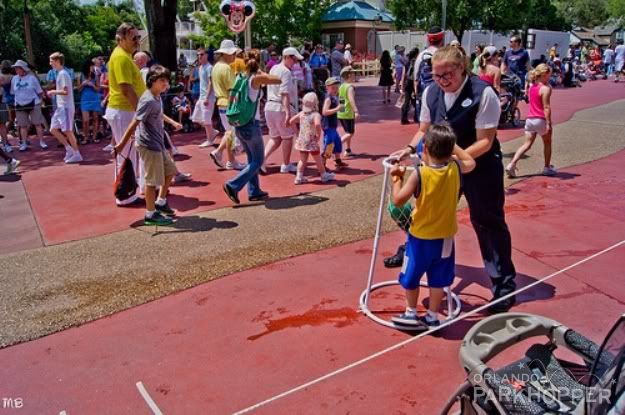 FANTASYLAND: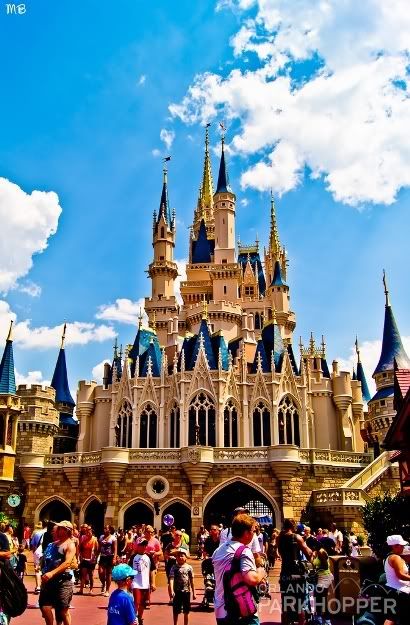 They just put the finishing touches on the new color scheme to match the new look for Fantasyland. It looks great!
MAIN STREET:
This week Tom Bricker shows us how creating a shot in true infrared can give you a more dynamic and visually appealing photo.
This week's shot was taken using a technique known as near-infrared photography. I'm not much on the science behind this, but essentially, the camera I used to take this sees only the near infrared spectrum of light (light beyond that which humans see). Some cameras can see this light by either having their IR blocking filter removed or by adding a filter to the lens.
Besides the channel swap from red to blue (infrared photos come out of the camera mostly red) and some levels and curves adjustments to give the photo proper contrast, this photo is basically straight out of camera. I mention this because there is a misconception that infrared photos are a result of "photoshopping," when in reality, near infrared photos--at least the good ones--are achieved as a result of the camera, not because of wacky Photoshop
filters.
TOMORROWLAND: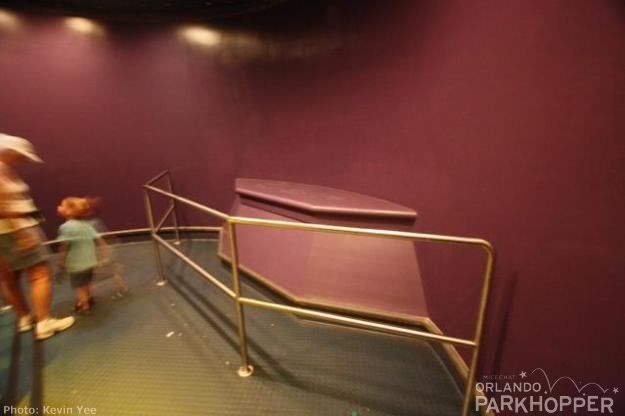 The main queue room of Buzz Lightyear's Space Ranger Spin used to have painted and themed
walls, and "batteries" piled up in the corner. Now, it's all purple. Hopefully this is temporary?
FEATURE OF THE WEEK:
Tomorrowland Transit Authority Wedway People Mover
There is a tradition in my family that whenever we visit the Magic Kingdom, we must always ride the People Mover, or as my daughter calls it, "The Relaxing Ride". There's just something about traveling along, watching people running about trying to get to that next attraction that really makes you sit back and appreciate your surroundings for a few minutes.
Then, if you're really lucky and ask nicely (and there's no line), the CM will usually let you go around again without getting off the attraction. It's one of those timeless classics that pleases everyone in the family, without having a need for three inverted loops.
Entrance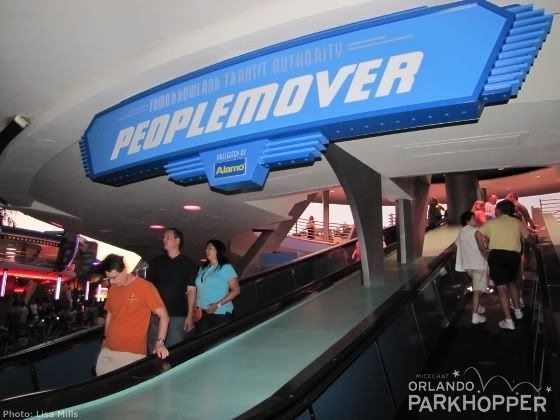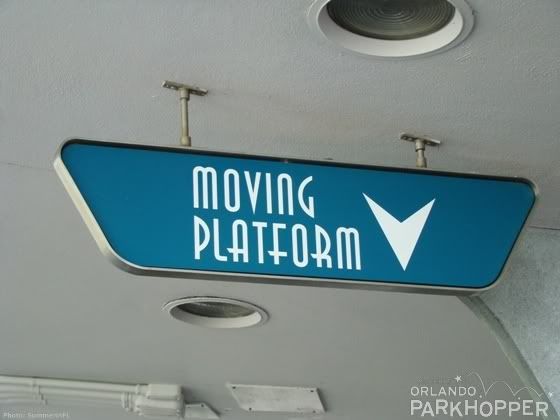 Attraction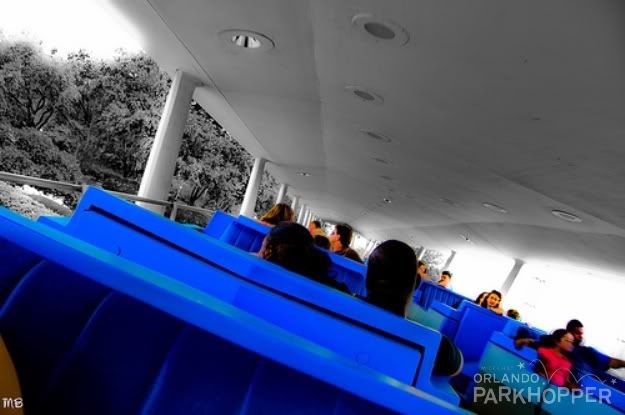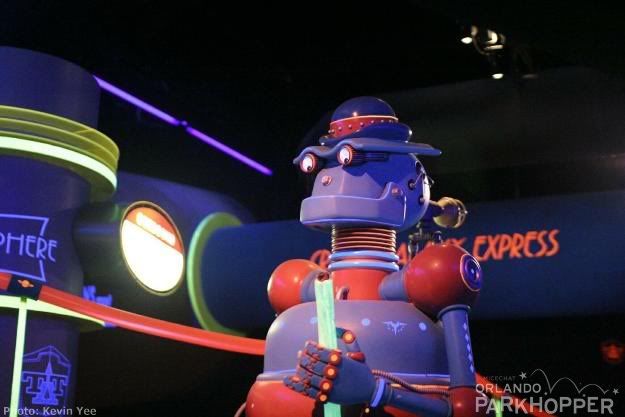 Sometimes you might even get lucky and find yourself stumbling through Space Mountain with the lights on.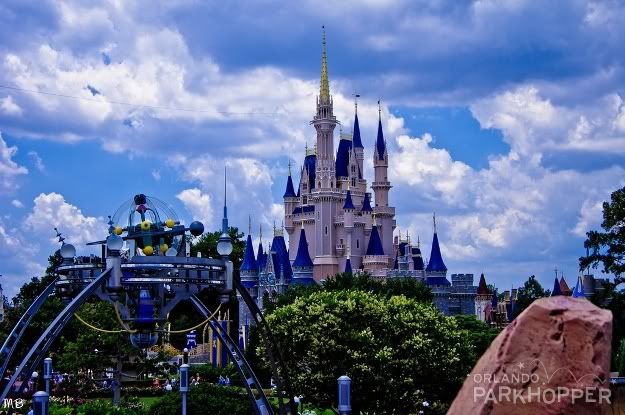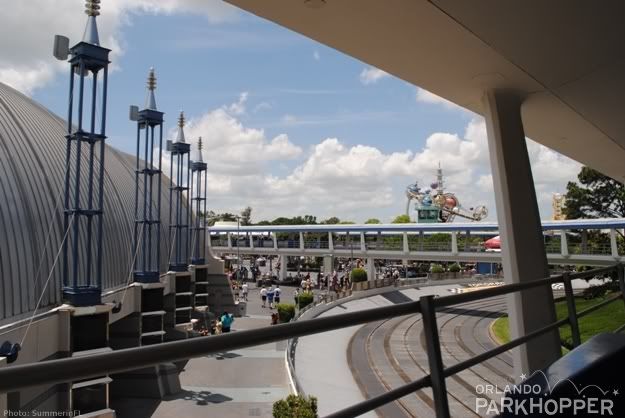 Need a haircut?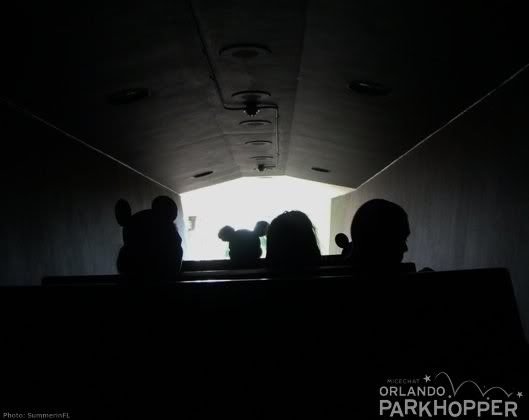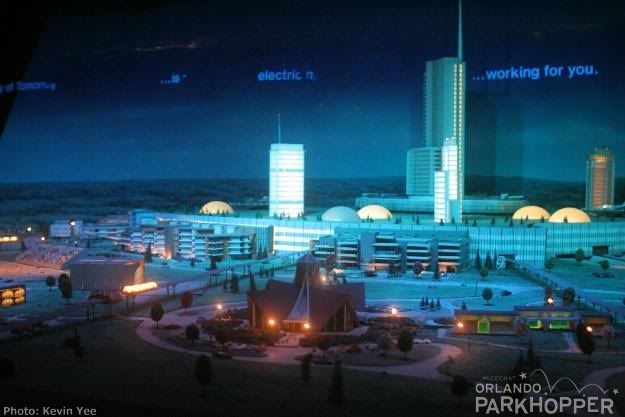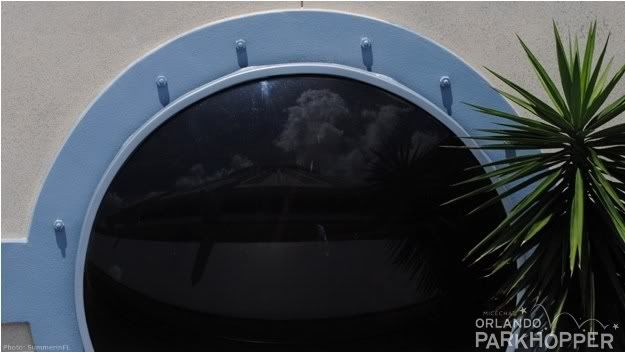 Exit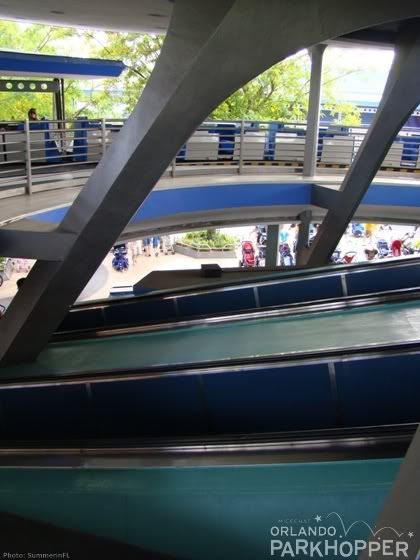 Last weekend Epcot closed out the Flower and Garden Festival with a Pixar themed weekend discussing, what else, Pixar! In this three part series, OPH team member Miles, an avid fan, was on hand to share his experience with all of us.
As I grew up with the Pixar movies, I was always so enamored by them and found them all just amazing. The team that works together to produce these movies are incredible, not just in their art, but as people themselves. When I had the opportunity to attend Pixar Weekend at Epcot, I was ecstatic!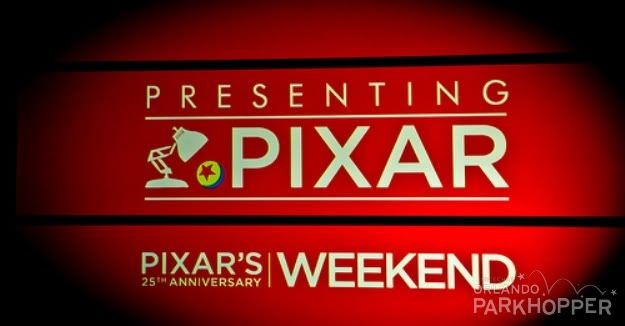 I didn't exactly know what to expect going into this event. What were they going to talk about? Will it just be Q & A? So I prepared myself for anything, thought up a few questions and arrived with an open mind.
When I got to the theater there were green army men asking Pixar trivia questions. While I thought I knew a lot about Pixar, I was amazed at how much I learned during these trivia sessions.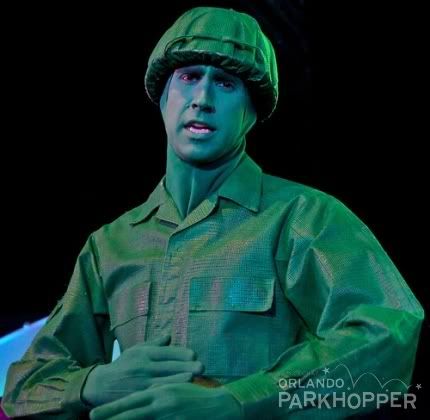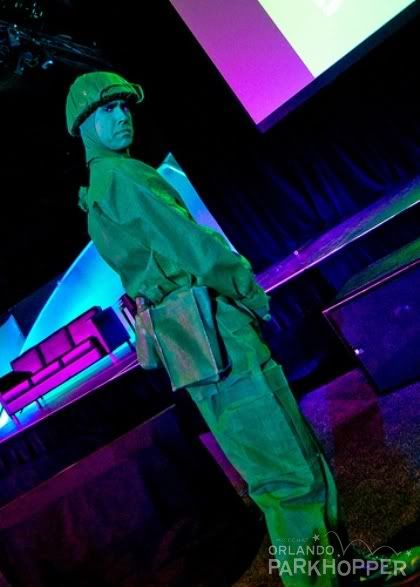 They ended with one final question, "Who out there has seen Cars 2?" and to those that raised their hands it opened them up to the sarge referring to them as "pirates".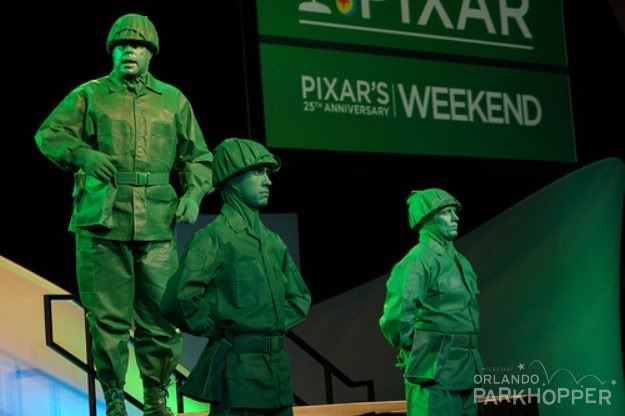 The event began with a preview of the new film, Cars 2.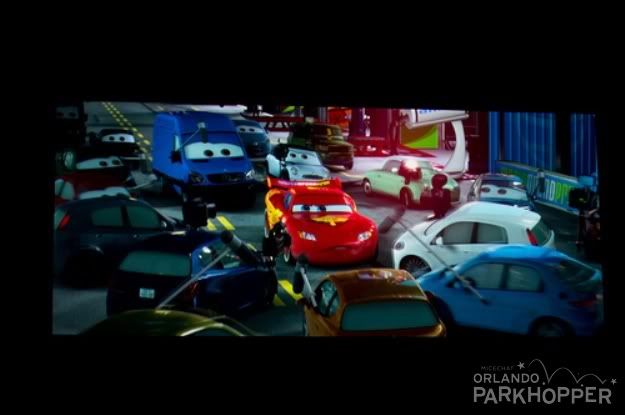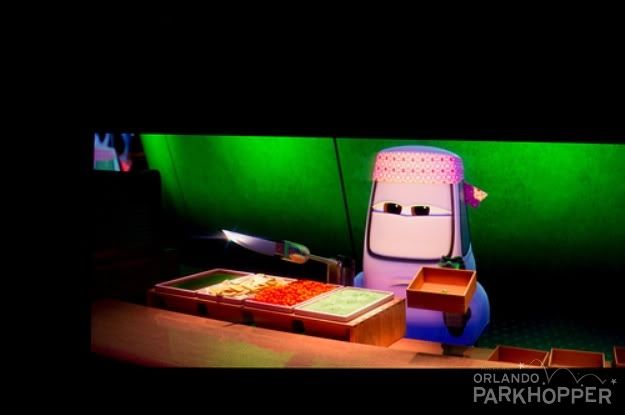 The host then introduced us to our first guest speaker, Jay Ward.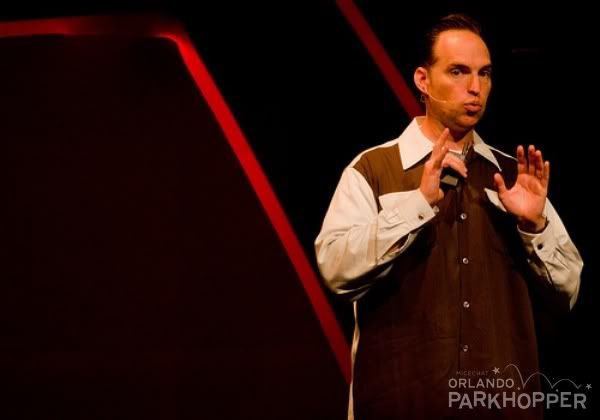 Jay Ward is frequently referred to as the "guardian" of the cars franchise.
His presentation consisted of an enhanced view of all the old and new characters in Cars 2. To give you a brief summary of the new film, Lightning McQueen travels around the world with 10 other cars, racing in 4 different countries. During this time, Mator is mistaken for a spy and everything starts to go a little crazy.
A look at some of the new and improved characters of Cars 2.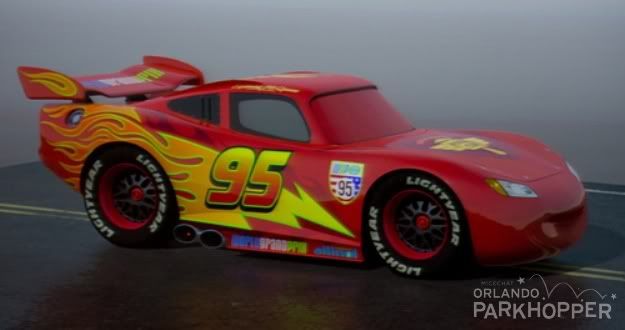 The new Lightning McQueen
Some of his changes include an engine update to help him compete against all of his new opponents, an updated paint job and even a new pair of headlights. You'll also notice a couple of subtle references to the first movie as well.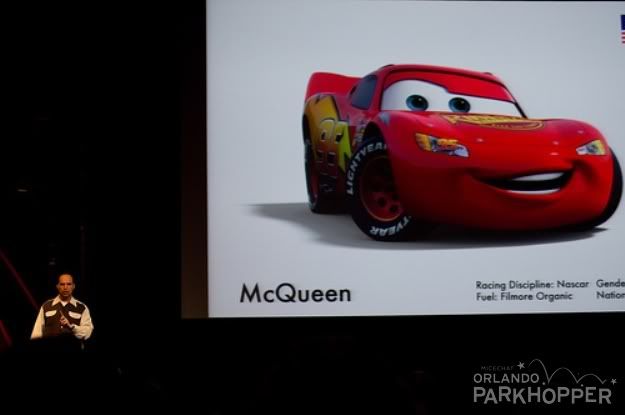 Jay went through the process of creating these various cars by showing us a real life image of the race car drivers that inspired them and how they managed to enhance the animated character without changing much but ensuring the facial features didn't get in the way of the design of each car.
Here is a list of the names of the cars, with photos: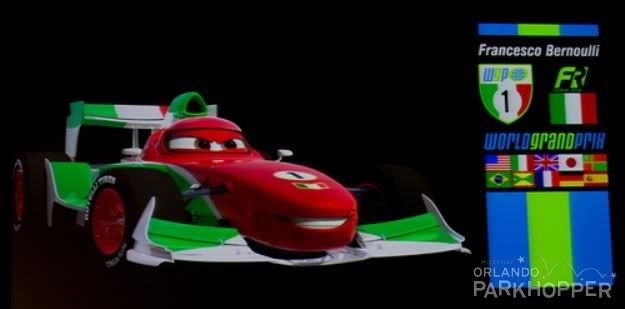 Francesco Bernoulli - Number 1 - Italy.
Raoul Caroule - Number 6 - France
The Cars team were really excited to create another female car but the biggest problem was the front grills of most cars, while they make great mustaches, they don't necessarily look female.
Originally thought up as a Mustang, Sally was quickly changed to a Porsche because the grill looked more "lady like".
Carla Veloso - Number 8 - Brazil
Shu Todoroki - Number 7 - Japan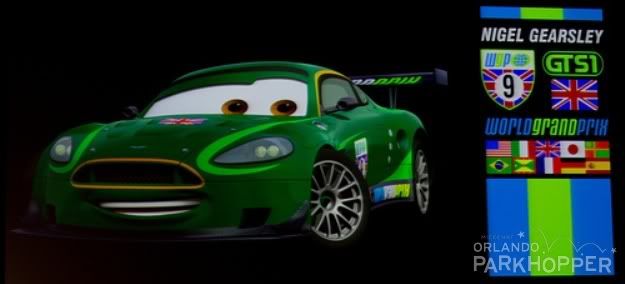 Nigel Gearsley - Number 9 - England.
Fun fact! Jeff Gorvette is voice by none other than Jeff Gordon himself!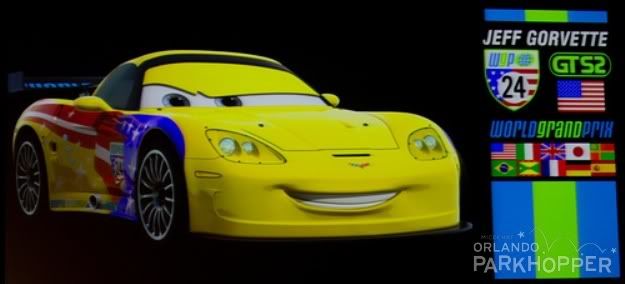 Jeff Gorvette - Number 24 - USA
Miguel Camino - Number 5 - Spain
Originally named Lewis Revington, this character eventually got renamed to reflect the driver it was based off of, Lewis Hamilton.
Lewis Hamilton - Number 2 - Britain & Grenada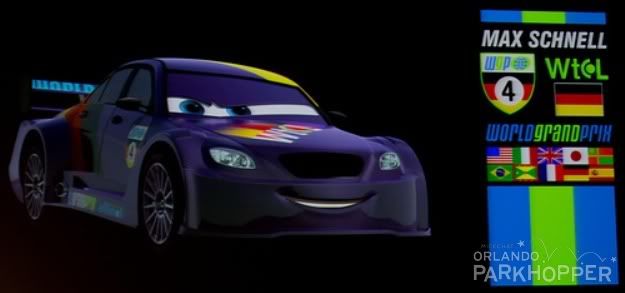 Max Schnell - Number 4 - Germany
Number 10 - Rip Clutchgoneski
At the conclusion of the event, Jay answered questions from both the host and audience.
DISNEY'S HOLLYWOOD STUDIOS:
Star Wars Weekends
May 27 to May 29:

Anthony Daniels (C-3PO)
Bruce Spence (Tion Medon)
Voice Talent Guest: Dee Bradley Baker (Captain Rex, Star Wars: The Clone Wars)

June 3 to June 5:

Ray Park (Darth Maul)
Jeremy Bullock (Boba Fett)
Voice Talent Guest: Matt Lanter (Anakin, Star Wars: The Clone Wars)

June 10 to June 12:

Ray Park (Darth Maul)
Peter Mayhew (Chewbacca)
Voice Talent Guest: Tom Kane (Yoda, Star Wars: The Clone Wars)
---------------------------------------------------------------------------------------
The new Star Tours officially opened to lots of pomp and circumstance, with George Lucas in attendance to kick off the festivities. OPH team member Lisa was there to bring us all the exciting news and photos!
STAR WARS WEEKENDS: STAR TOURS OPENING CEREMONY
Even before your get to Hollywood Studios, familiar faces greet you along the way.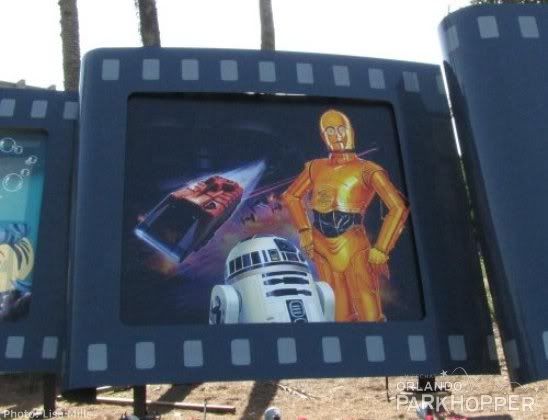 DHS welcomes you with the new StarSpeeder 1000 with C-3PO and R2-D2.
Right as you get off the tram there is an elevated state for news coverage.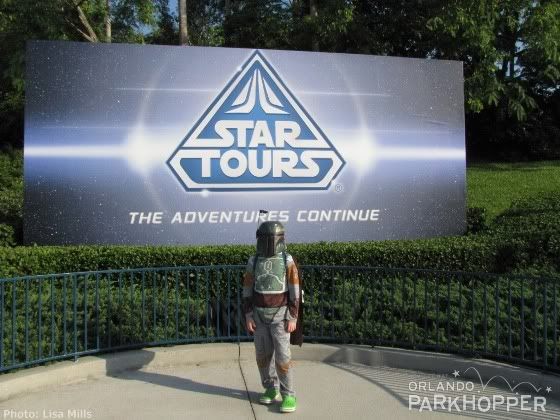 I had Boba Fett greet me before I went into the park.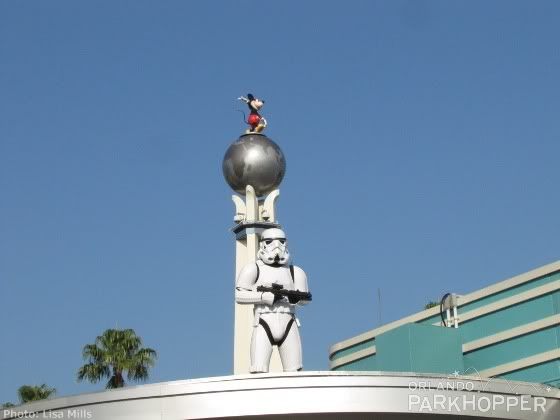 Stormtroopers were keeping us "moving along", at the turnstiles.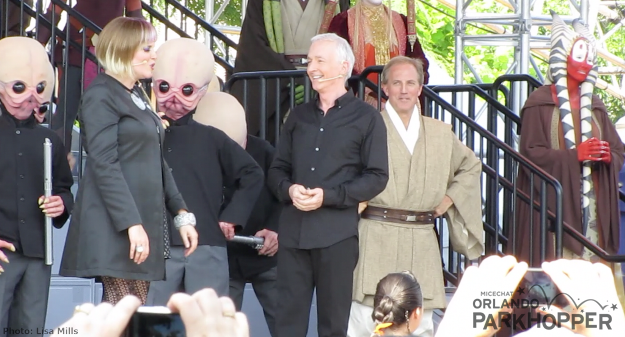 Opening Ceremony with C-3PO himself, Anthony Daniels.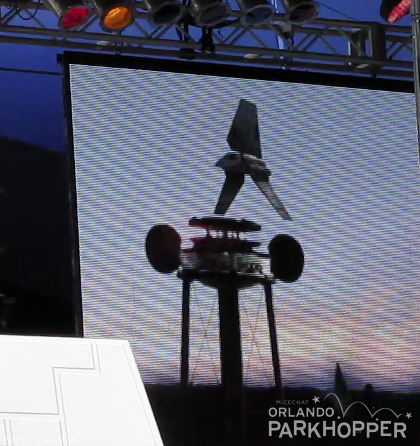 Someone is arriving on the Earful Tower.
Darth Vader trying to close Star Tours forever by putting a force field over the attraction.
Jedi's George Lucas and Bob Iger defeat Darth Vader's plan.
Lucas and Jedi Iger use cannons to destroy Vader's force field.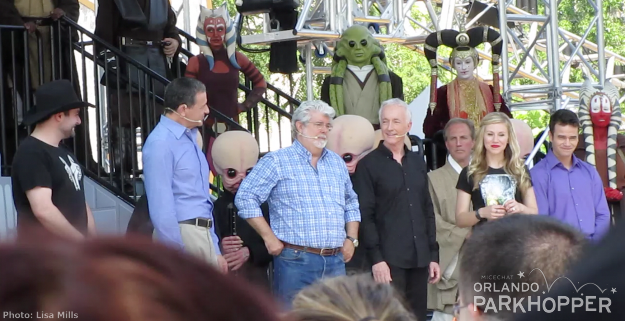 Dave Filoni, Bob Iger, George Lucas, Anthony Daniels, Ashley Eckstein, Daniel Logan. Star Tours is now officially opened.
------------------------------------------------------------------------------------
DINING IN A MINUTE:
Writer's Stop
I guess it's the sign overhead that says, "Writer's Stop", that draws me in every time I'm in DHS; it could be the fact that I see them grinding coffee at this little coffeehouse here in the parks.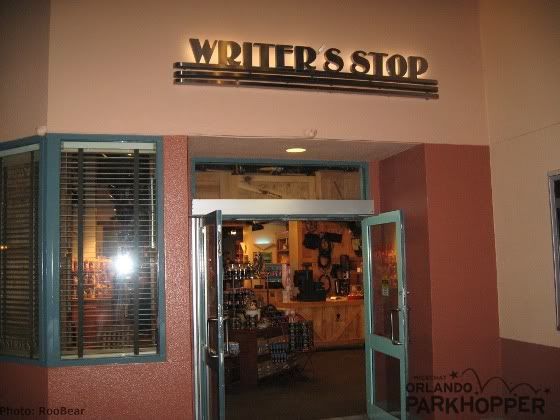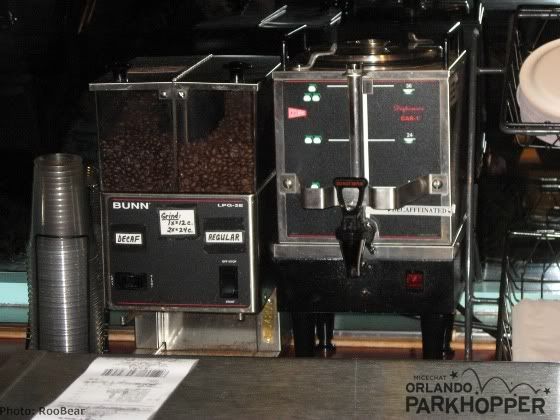 But the fact is, when I saw that little java grinder, yours truly (RooBear), I knew I had found a wee bit of heaven right in the Disney Parks. Disney's coffee varies from location to location, I know this from using myself as the guinea pig and it's very rarely good so I tend to have my coffee before I arrive. Then I saw that grinder and knew, KA-CHOW, they ground their own beans! And you know writer's - I think they are the bread-and-butter of the coffee trade. Can't hurl a Mickey Mouse doll without hitting a writer who loves their java!
Now I did start drinking (coffee) at the ripe old age of 13, haven't looked back since and this little spot attached to the Sci Fi Dine-In Restaurant, as you can see on this super busy Star Wars Weekend, tends to be empty.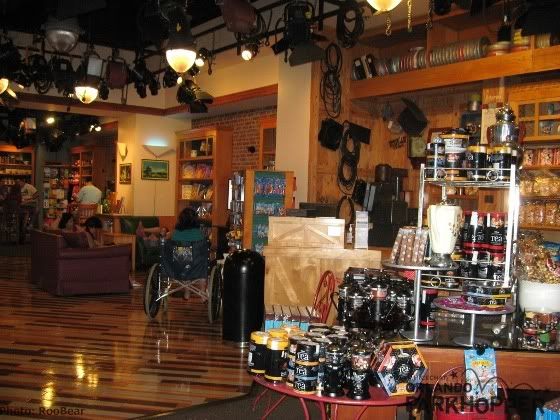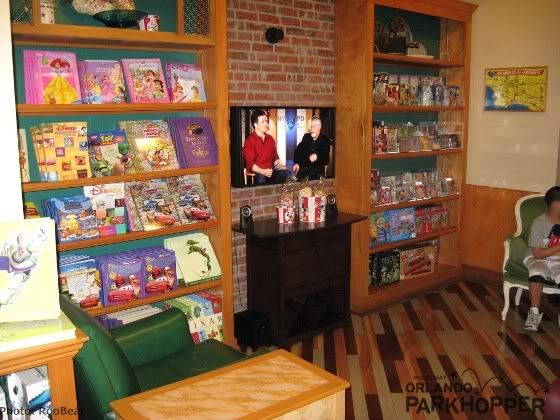 Check out the comfy chairs! The television talks about the importance of writing on the show Castle.
They also live up to the stereotypical name of Writer's Stop with a bevy of hot drinks, books, books and books and the really heavy push of an ABC show that involves a writer.
Sadly, there's no free wifi, otherwise there'd be enough authors floating around to make this more like a bunch of ants around a fruit loop.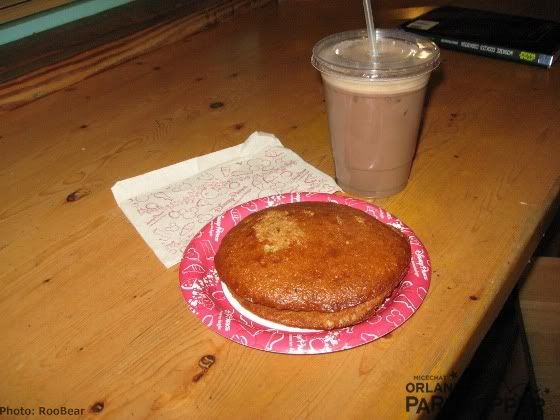 Now there are two food groups in this world. One group of food is good for your body; the other group is good for your soul. This would move into the later. So go pretend you're editing your latest script for Orlando Parkhopper:the Movie and let me know if I can join you…I'll probably be devouring one of these! It is one of those things that has the flavor you know and enjoy; yet is unique enough to add to a very special vacation!
--------------------------------------------------------------------------------------
Conservation Events
Disney's Animal Kingdom works hard to teach the message of conservation and show us that our planet is something that we can't take for granted. Over the following month's there will be specific events taking place within the park that will help educate the guests while they enjoy all it has to offer.
May 25: World Turtle Day
July 27: International Year of the Forest Celebration
August: Cotton-top Tamarin Month Celebration
September 1:International Vulture Awareness Day
October 26:: Year of the Bat Celebration
As mentioned in a previous week, Wolfgang Puck Express was closed for floor repairs and was scheduled to be reopened on May 21st. However, now that date has been extended until May 24th with a new opening date of May 25th.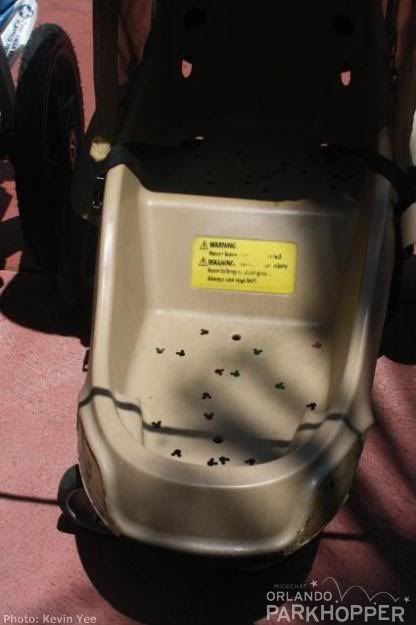 We returned from our trip on Pirates of the Caribbean to see a Cast Member sprinkling Mickey glitter over all the strollers in the parking zone.
It's moments like this which give me hope that the Disney parks will continue to lead the field for years to come. Who cares about Mickey glitter more than a stroller-bound child? No one! It's such a tiny cost to the company, yet the payoff is huge. It may not look huge - the kid's excitement might even appear to wear off in a few minutes - but a magical day at Disney World is built out of moments like that discovery. THIS is the Disney Difference, if you ask me.
Eric M. Davis strolled over to SeaWorld this week, to take a look at the impressive queue for the flying Coaster Manta.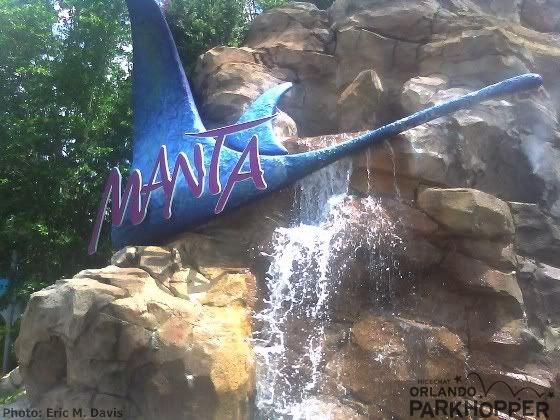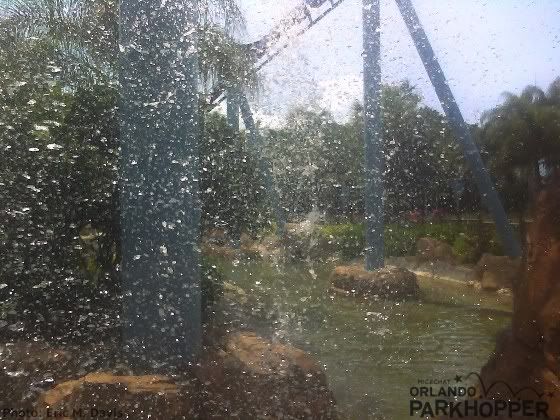 The backside of water.
The queue is full of wonderful aquariums.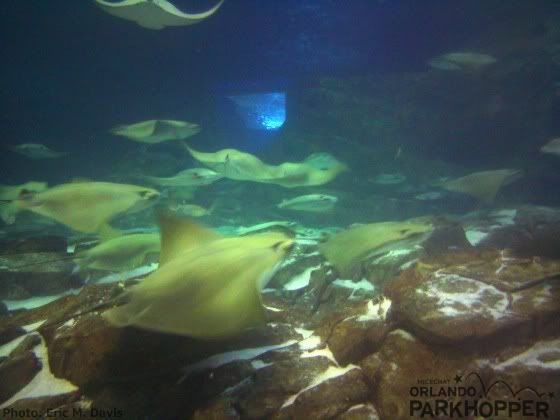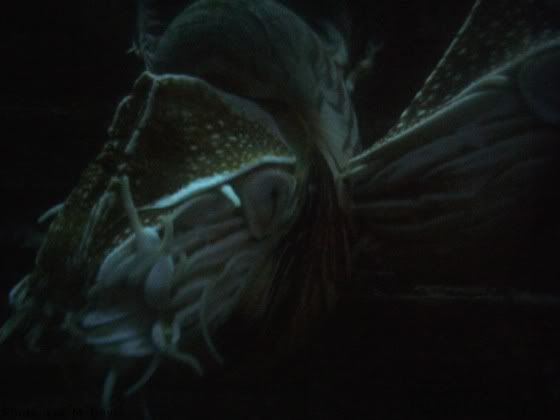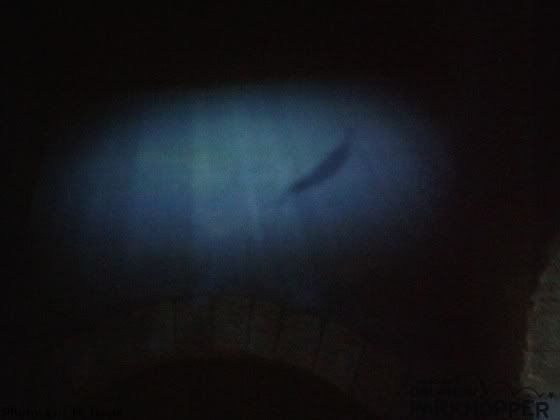 Above animated Mantas glide.
Ever wondered how they get the windows so clean in side the Penguin exhibit?
Ta Da! What an awesome job!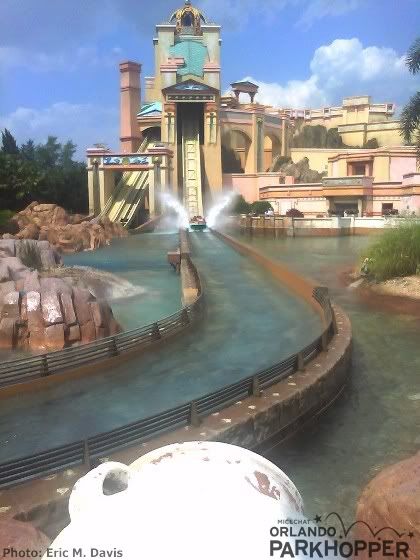 A parting glamor shot of Atlantis!
Aimster brings us another wonderful update regarding the progress on the new coaster area of Cheetah Hunt. One of the wonderful things about Busch Gardens is it does a great job of balancing thrill seeking with the serenity of the animals. So in addition to this great update we also get to see some more adorable photos of their new cheetah, Kasi and her puppy pal, Mtani.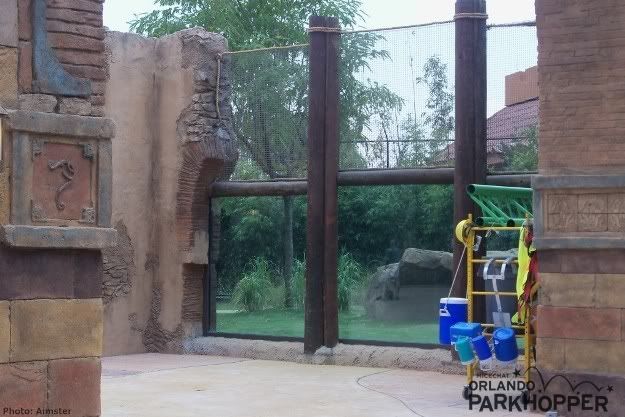 A closer look at the details on the entrance arches.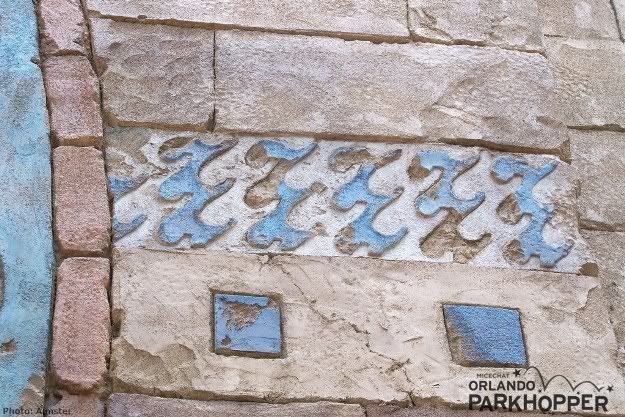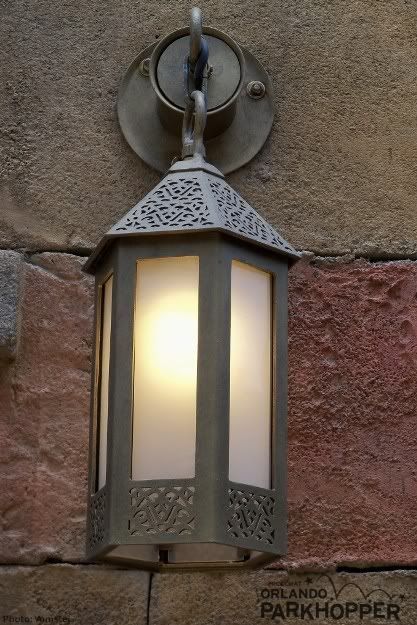 Nice lantern.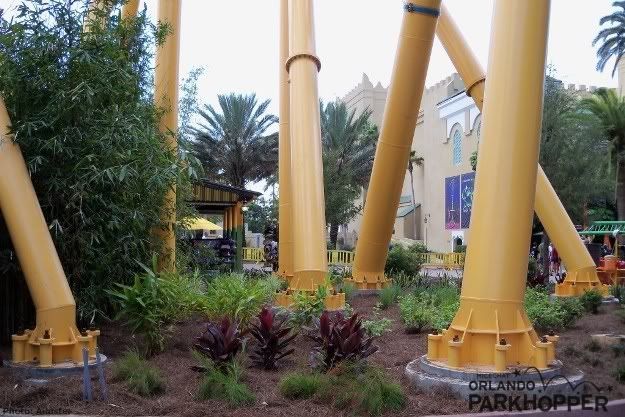 The area around the supports of the figure 8 tour got some landscaping
On the Crown Colony side.
The sign looks great!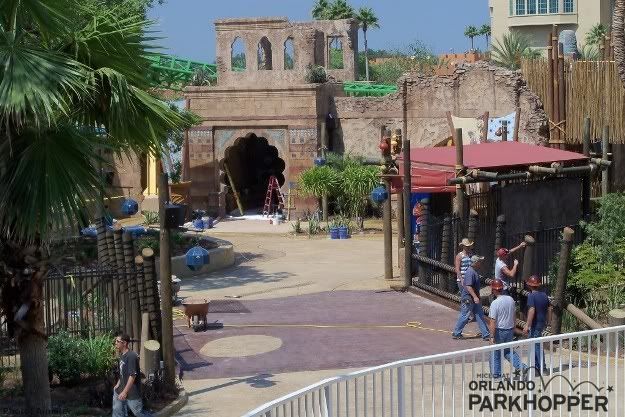 Merchandise is in the Cheetah Gifts shop!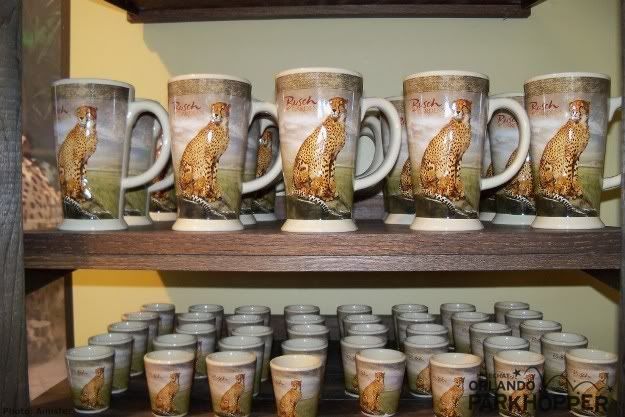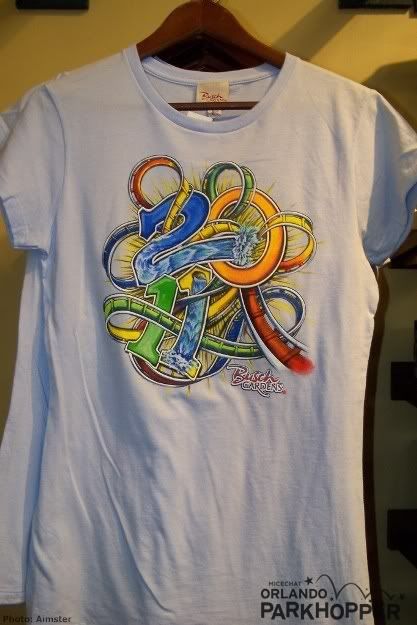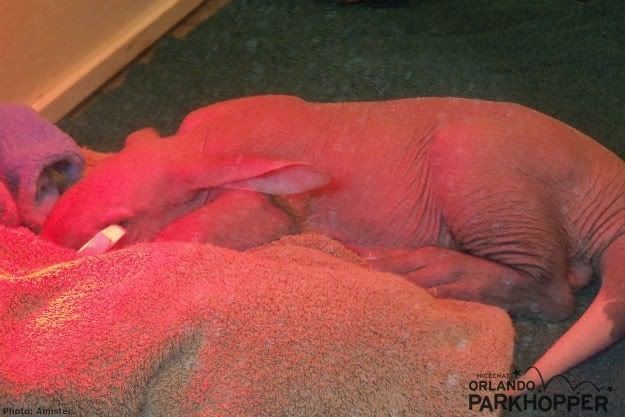 Over in Jambo Junction, a baby aardvark recently made his debut.
Over at the Desert Grill restaurant, the disco tribute show, Dance to the Music is back.
Kasi the cheetah cub and his puppy pal, Mtani, had some fun playing and bonding.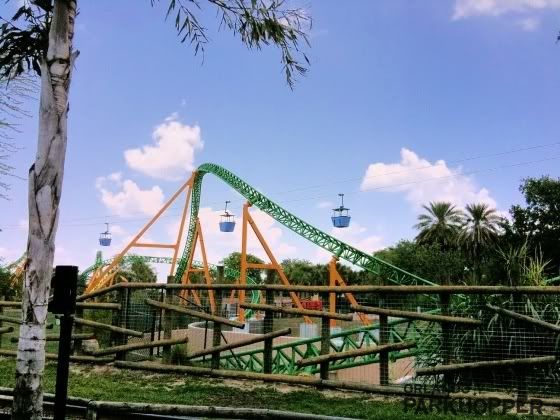 --------------------------------------------------------------------------------
June 10 through August 14th
Although nothing has been updated on the BGT website, annual passholders received a newsletter in the mail stating that the Summer Night Concert Series will run from June 10th - August 14th. We will post more details once they become available.
Island Nights - Adventure Island
June 9th through August 13th - 5PM to 9PM
This summer at Adventure Island, (BGT's water park) when the sun goes down, the fun heats up during Island Nights. From June 9th to August 13th, it's a vacation from the everyday as Busch Garden's water park transforms into a celebration of island life with live music, authentic entertainment and inspiring cuisine.
------------------------------------------------------------------------------------
Don't forget to check out the other areas of MiceChat that offer news, updates and photos about the other Disney Parks around the World!
We want your photos! Contribute to the Orlando Parkhopper by emailing

[email protected]

with your submissions. We welcome volunteers for single contributions as well as permanent "Parkhopper" staff.
Thanks to our fantastic and talented crew of writers, photographers and news contributors who work hard every week to bring you the latest information available: