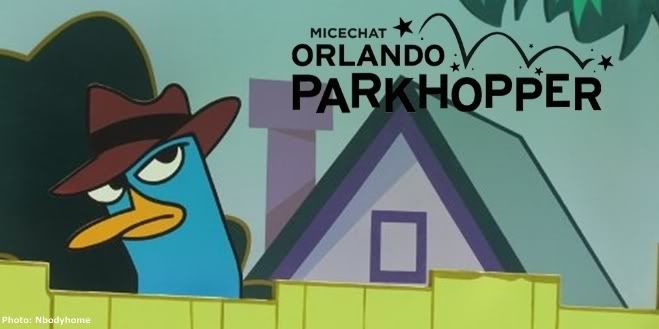 New This Week:
Feature of the Week: Star Tours

New Article!!!

Dining Around the World: Kona Cafe
Phineas and Ferb Meet N Greet
Pixar Weekend: Part 3
A Tale of Two Signs
Star Wars Hoopla and other Star Wars Weekends adventures..
Islands of Adventures: New Marvel character costumes.
A Pretzel Roller Coaster? Busch Gardens Tampa
MAGIC KINGDOM:
MAIN STREET:
CRYSTAL PALACE: A BUFFET WITH CHARACTER
Tom Bricker (WDWFigment)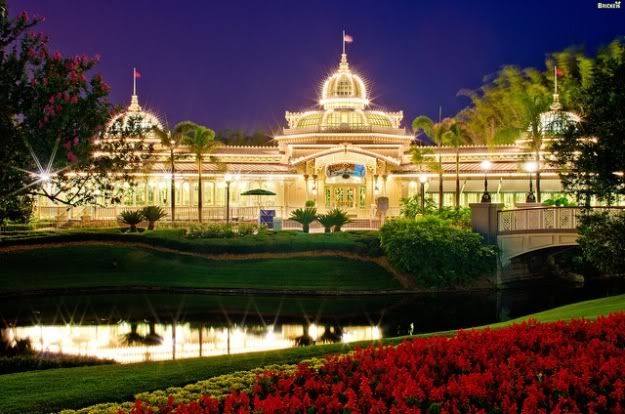 Despite it being one of the most photogenic buildings in the Magic Kingdom, it is one of the most under-photographed. Outside and in, its Victorian architecture is stunning, with the high domed ceilings and lush plant life in the lobby (complete with Pooh and friends topiaries), being the highlights.

Here, I used an aperture of f/13 to produce the small starbursts on the lights in the frame. By stopping down like this, you can get any lens to produce beautiful starbursts without getting the overkill effect of a star filter.

FANTASYLAND:
Construction: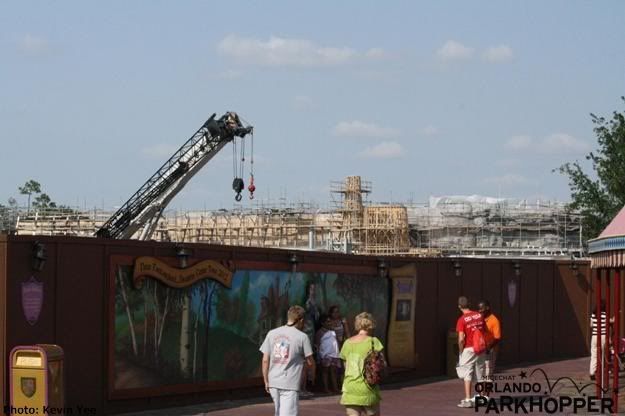 Demolition has finally begun on the Skyway station near its a small world.
LIBERTY SQUARE:
New directional signs are up in the Haunted Mansion queue area.
EPCOT:
PIXAR WEEKENDS: PART 3
Final presentation hosted by Michael Giacchino. (Composer)
By Miles Bresin
A composer for Pixar and various other studios, he's produced scores for movies (Up, The Incredibles), television (Alias, Fringe) and video games (Call of Duty, Medal of Honor).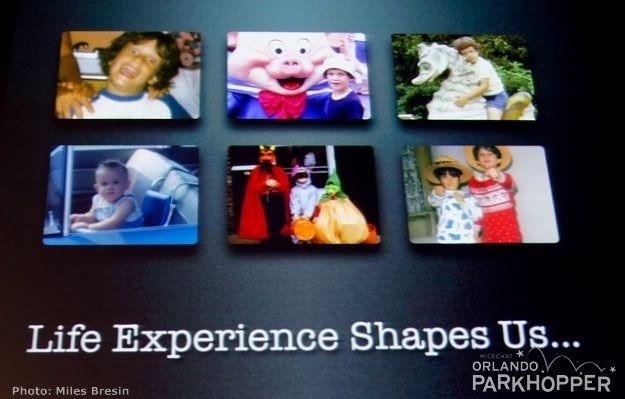 In the presentation he spoke about his past and how he arrived to where he is today, the various things that inspired him and how he used to his genius to make his mark. Specifically the way that the morals of certain films shaped the music within them.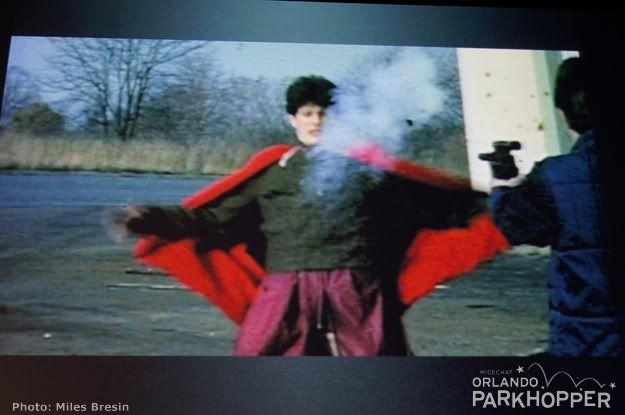 A special treat for the audience, he showcased a movie he created himself and while not necessarily good, it certainly entertained the audience.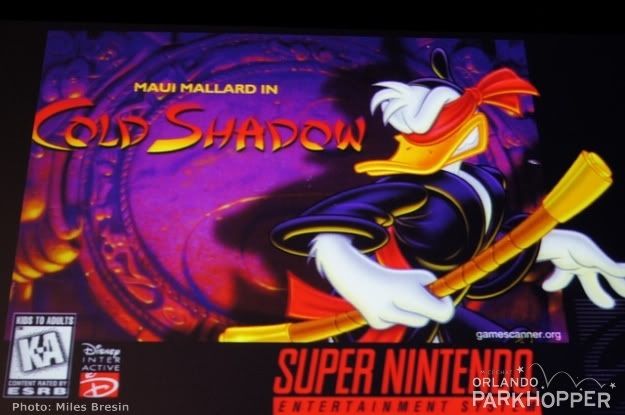 When he produced his first video game for Disney interactive he learned that if you're a producer you get to choose the composer, so of course he hired himself for the job and this lead to his biggest learning curve.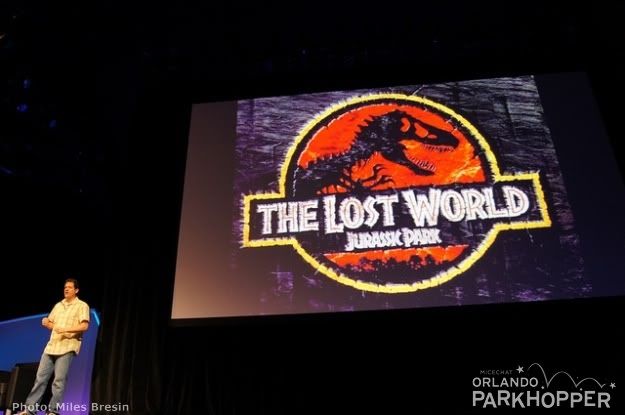 Later on some friends in the industry were presenting a game based on The Lost World: Jurassic Park, to Steven Spielberg, but they wanted to present it with live music, so they asked Michael to throw something together. While the game originally contained no music, after hearing what Michael put together, he insisted that it did. This marked a huge step in his career and just lead to bigger and better things.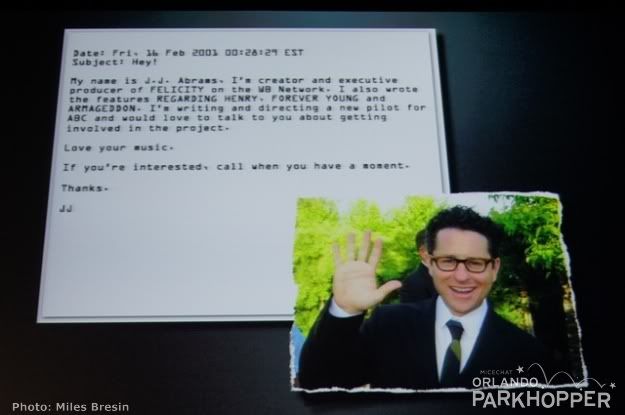 He went on to help with Medal of Honor. As Michael says you never know who plays these games, well as he found out J.J Abrams was one of those people, he had received this email from the man himself.

Soon after that it Brad Bird called him in to hear what he could do for a movie the was about super heroes and he got the job, thus began his Pixar legacy.
Then came his most recent Release in the Pixar realm, besides the upcoming Cars 2. UP.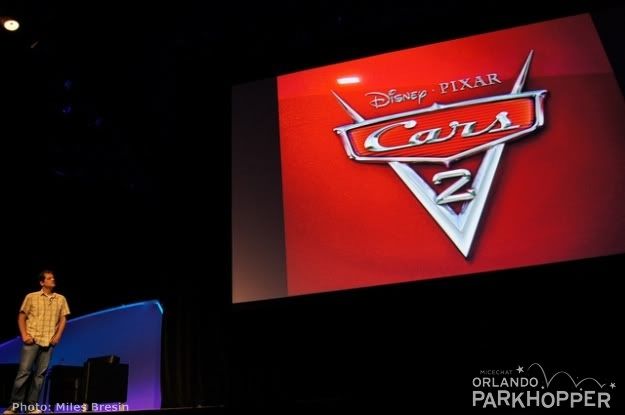 Cars 2 was next, he showed us pictures from the recording sessions as well as a home video of the congas being recorded. This was also his first film with John Lasseter.

The last presentation was a Q&A period concluding the whole day.
So that was Pixar Weekend! It was one of the best experiences of my life. It was interesting and I would highly suggest going next year if do this again, which I am hoping they do because I know I'll be there again!
About Face!
Over and OUT!

DISNEY'S HOLLYWOOD STUDIOS:
Star Wars Weekends
June 10 to June 12:

Ray Park (Darth Maul)
Peter Mayhew (Chewbacca)
Voice Talent Guest: Tom Kane (Yoda, Star Wars: The Clone Wars)
FEATURE OF THE WEEK:
Star Tours
With the new attraction being a hit among many, we thought it would be a great time to take a look back at what it used to be. The stage set forever gone, there was some charm in walking onto the "set" and being wisked away on a space tour!
Entrance/Queue: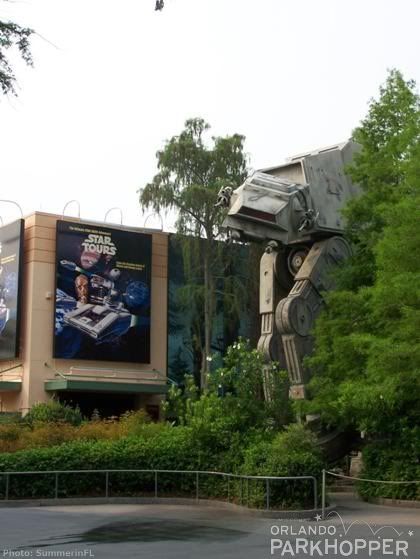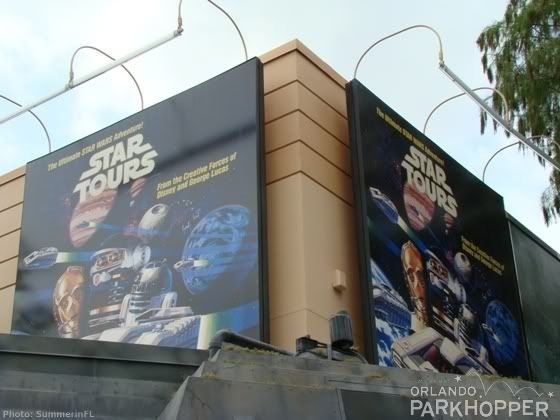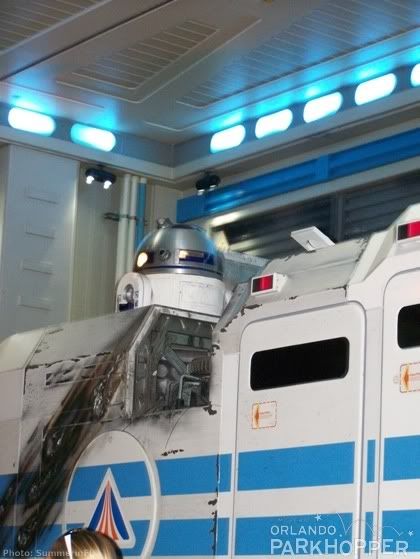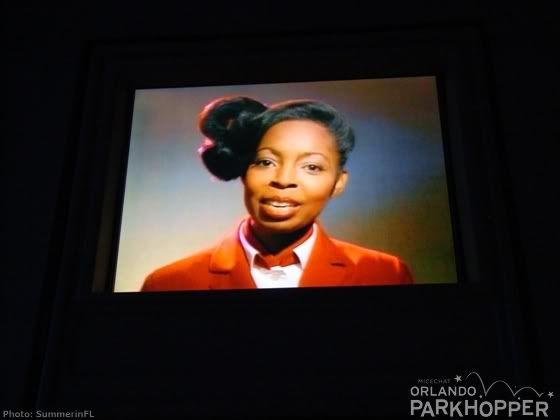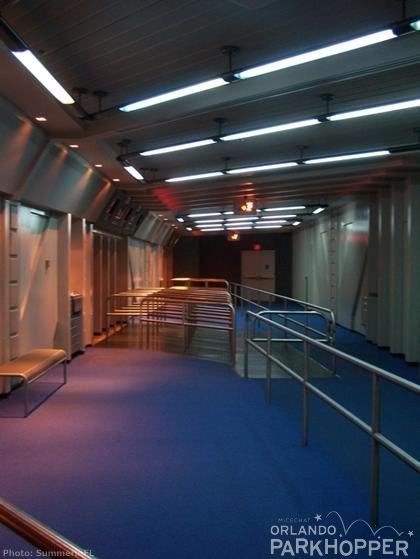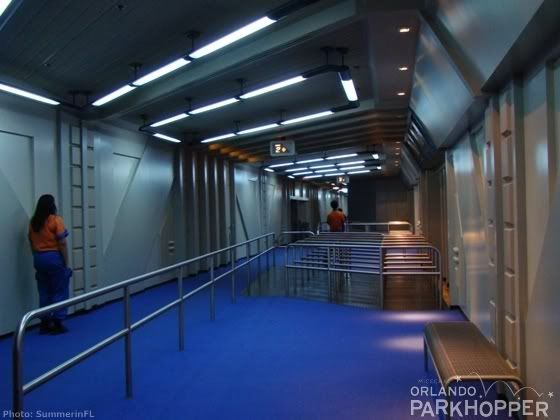 Attraction:
HYPERSPACE HOOPLA
Dance off with the Star Wars stars.
by Lisa Mills & Nbodyhome
This year's theme of Rock and Roll had your favorite Star Wars characters performing on a raised stage in front of the Sorcerer's Apprentice Hat. The new stage was even part of the show itself and it remained a running joke that our hosts Snig and Oopla borrowed money from "E. Palpatine" to pay for it.
Oh-No, not Emperor Palpatine!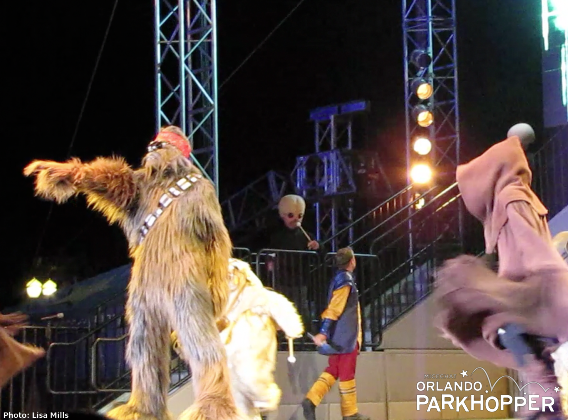 Chewbacca dances to Guns N' Roses' Welcome To The Jungle with the help of Ewoks and Jawas.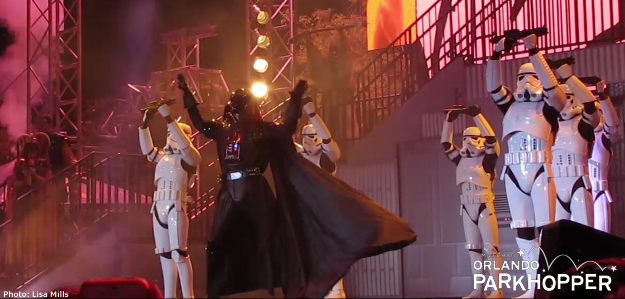 Darth Vader dances to Metallica's Enter Sandman with the help of his Storm Troopers.
Emperor Palpatine, the Imperial Royal Guard, Jango Fett, Boba Fett, and Darth Maul dance off to AC/DC's Back in Black.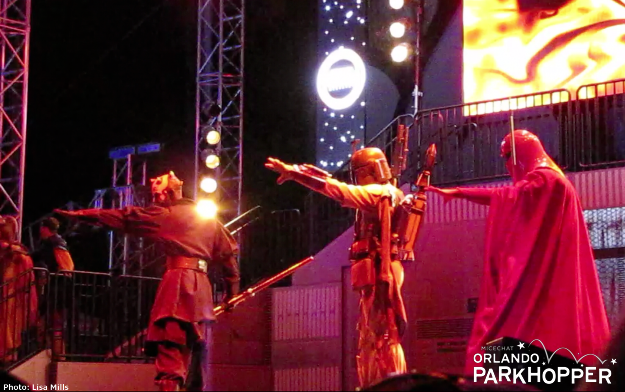 And what would a dance off be without the "Catina Band" performing our favorite Catina Song.
The HyperSpace Hoopla is a great way end a full day at Hollywood Studios for Star Wars Weekends.
We already had gotten pictures of Star Wars Weekends and the Hyperspace Hoopla, but tried the Hoopla from under the Sorcerers Hat. There was an area roped off where we could see the characters walking around (in character) before and during the show.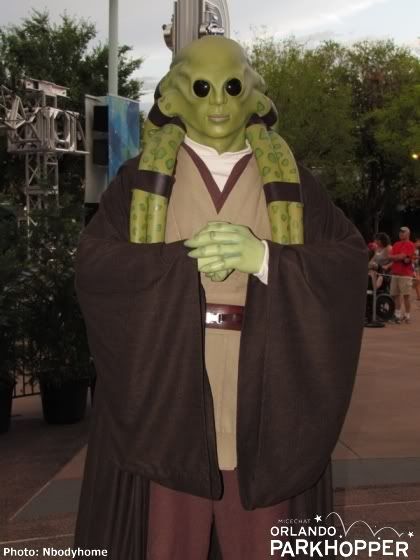 And the Tower of Terror as the storm clouds moved in: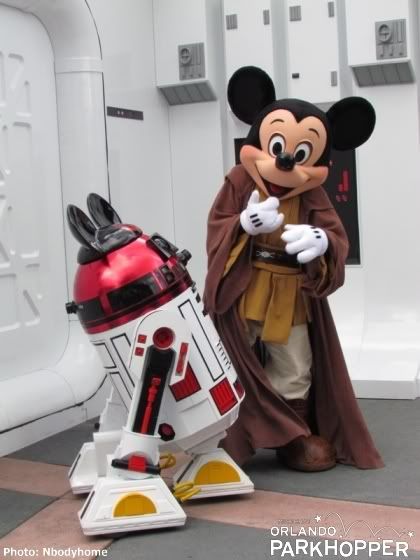 Mickey and R2-MK earlier in the day: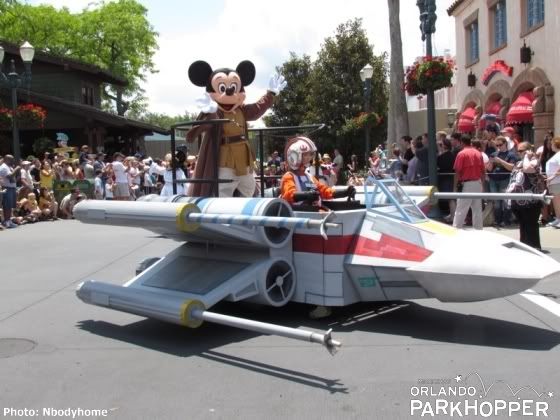 And Jedi Mickey during the motorcade:
JABBA'S HUTT
Star Wars Weekends Event Merchandise
by Lisa Mills
Behind Rock N' Rollercoaster, which is usually behind stage, there is a large tent set up for Star Wars Weekend Event Merchandise.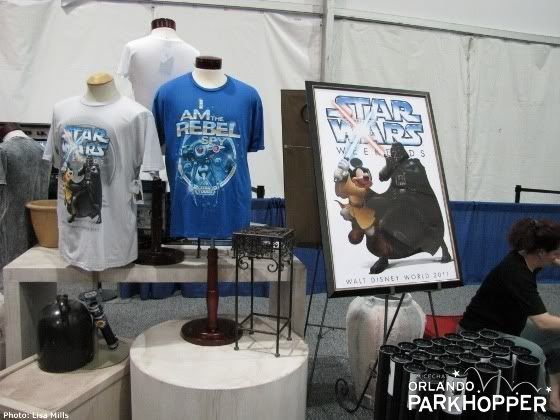 Event T-Shirts and Posters.
Lightsaber's
A life size Boba Fett, but not for sale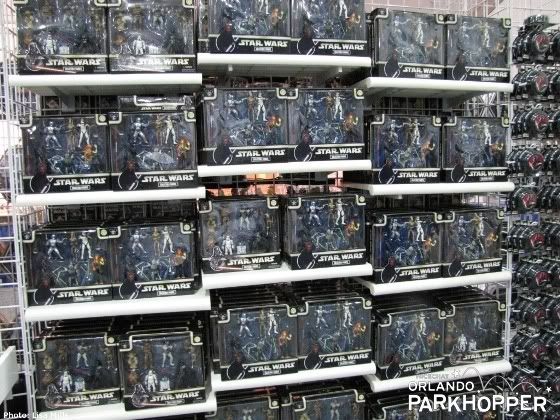 Walls of Star Wars Figures.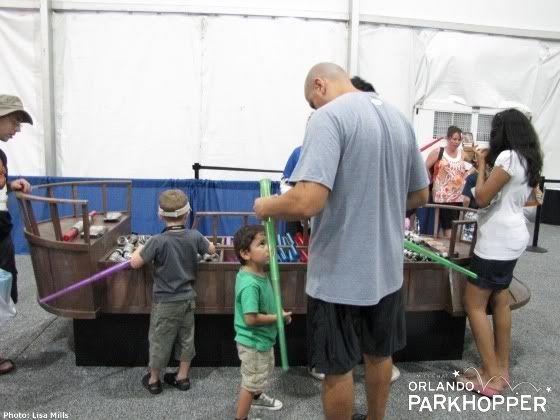 Build Your Own Lightsaber.
Donald Duck in Carbonite.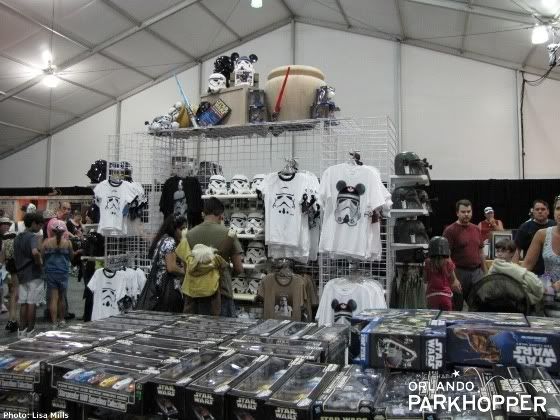 All the Star Wars Merchandise From The Galaxy In One Location.

STARS OF THE SAGA
Hosted by James Arnold Taylor
Guests: Bruce Spence & Anthony Daniels
by Lisa Mills
James Arnold Taylor talks with Bruce Spence who is Tion Medon in Revenge of The Sith. He also was in Matrix Revolutions, The Lord Of The Rings: The Return of the King, Finding Nemo, and Ace Ventura When Nature Calls.
Bruce Spence talked about how it took 4 hours to apply the make-up and how the character Tion Medon was created.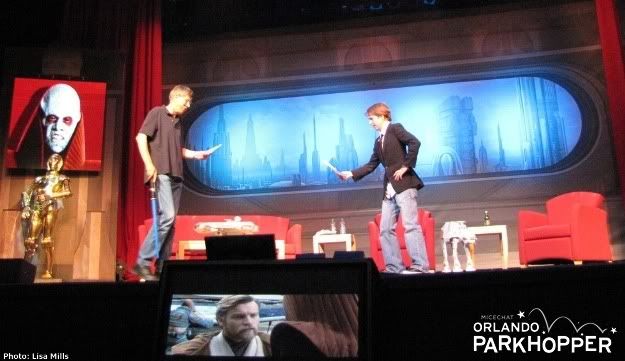 James Arnold Taylor and Bruce Spence recreate his famous scene from Revenge of The Sith.
The show ends with Bruce Spence, Anthony Daniels, and James Arnold Taylor singing The Mickey Mouse March.
BEHIND THE FORCE
Hosted by Ashley Eckstein
Guests: Dee Bradley Baker & James Arnold Taylor
by Lisa Mills
Ashley Eckstein who is the voice behind Ahsoka Tano in Star Wars: The Clone Wars talks with fellow voice actor Dee Bradley Baker who is Captain Rex in The Clone Wars.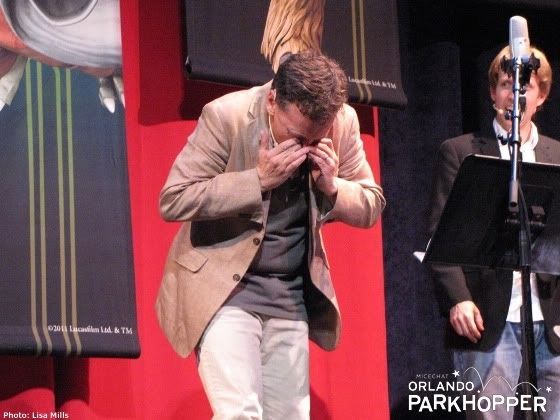 Here is Dee Bradley Baker making one of his famous animal noises.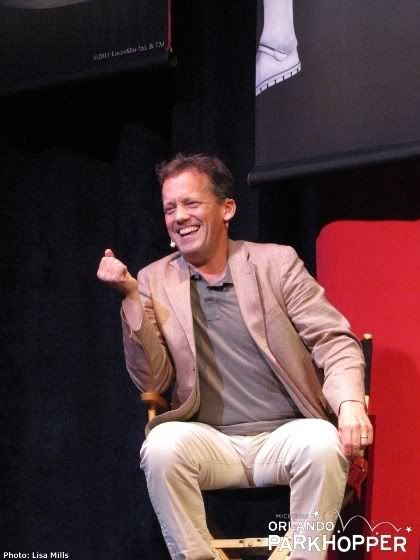 Dee Bradley Baker interacting with the audience.
PHINEAS AND FERB
A review of the new meet and greet location.
by Nbodyhome & Jeff Lange
We covered Phineas and Ferb this week at the Studios, they had a long line all day as guests waited in over 90 degree heat. I spent 3 hours getting photos and video, and was able to see the entertainment portion 3 or 4 times during that time period. The "Play" part of the Meet & Play is different each time, and it's not something all guests will end up experiencing.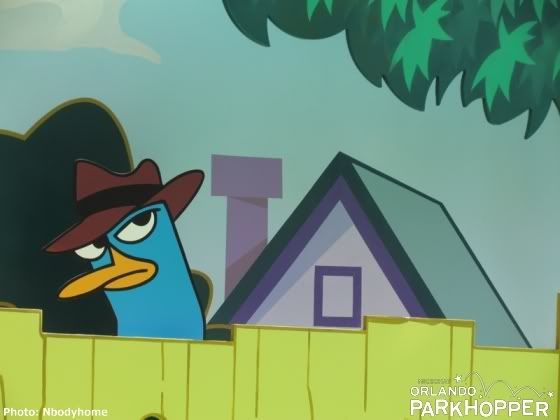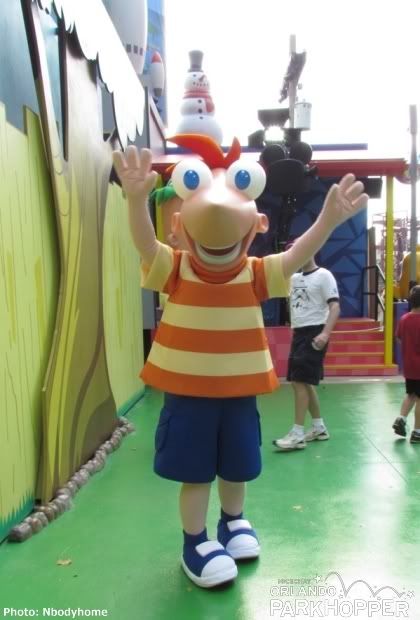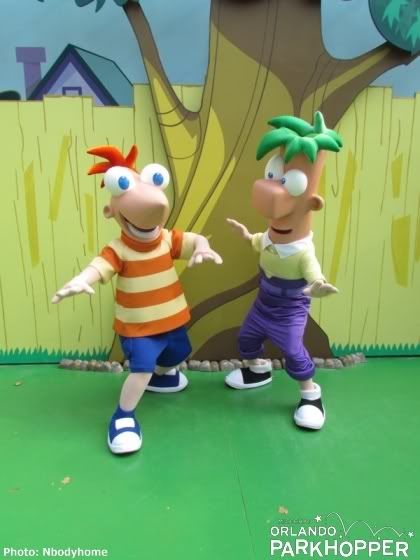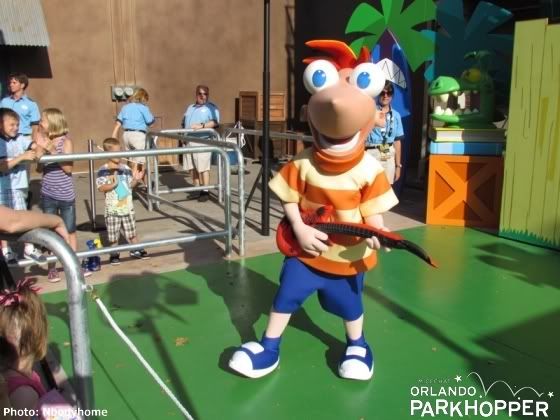 One of our 3 Phineas and Ferb videos:
YouTube - ‪Phineas and Ferb Meet & Play First Day 5/29/11 Disney's Hollywood Studios w/ Fun Ending!‬‏
WALT DISNEY WORLD RESORTS:
DINING AROUND THE WORLD:
Kona Cafe
by TerryTiger
Welcome to the new column "Dining Around the World". I thought I would start out with my absolute favorite breakfast location at WDW, The Kona Cafe at the Polynesian Resort.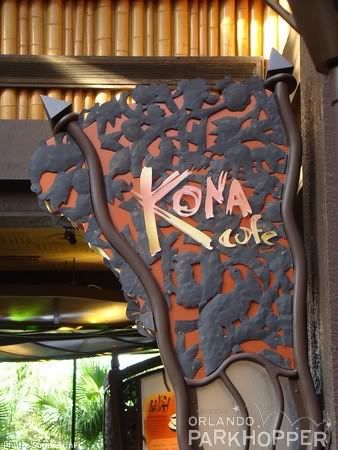 The Kona Cafe is on the second floor of the Polynesian Resort's Great Ceremonial House nestled between O'hana and the Monorail stop. It is open to the rest of the Great Ceremonial House and you can hear the waterfalls tumbling below on the first floor. There are a variety of booths and tables and the restaurant features an on-stage open pastry kitchen (not in use for breakfast tho). Coffee is a major theme in the decor as you look around. Even the light fixtures are shaped like large coffee beans! And don't forget to look for the hidden Mickeys in the large hibiscus flowers of the carpet. Adjoining the restaurant (next to the Monorail stop) is a coffee bar called "Kona Island" that doubles as a Sushi Bar later in the day.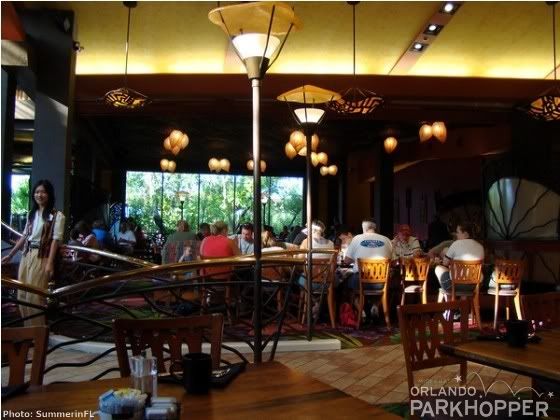 Kona Cafe opens for breakfast at 7:30 AM until 11AM-11:30 AM. It is also open for lunch and dinner but today's focus is on breakfast only. As with most WDW restaurants, Advance Dining Reservations can be made up to 6 months in advance and is always a good idea. However, this is one of the few locations where I usually just walk up without an ADR and have never been turned away!

Most guests agree that the best coffee in all of Walt Disney World can be had here. Kona Cafe serves authentic Kona Coffee here and offers a special "French Press Pot" that serves 2. But you don't need to go that route, even the regular Kona Blend is far better than the usual Nescafe served everywhere else. And here's a little known hint that I always use: Your server will gladly provide a to-go cup when your meal is over upon request. That way you can take a fresh cup of Kona coffee with you as you hop on the monorail to the Magic Kingdom!

Traditional American breakfasts are served here, but why not sample a few of the Polynesian-inspired specialties? Of particular note are the Macadamia Pineapple Pancakes, The Samoan, and of course Tonga Toast!

Let me tell you a Tale of Two Signs.

One sign, the somewhat new "Character Spot" sign at Epcot, is full-colored, full-bodied sign.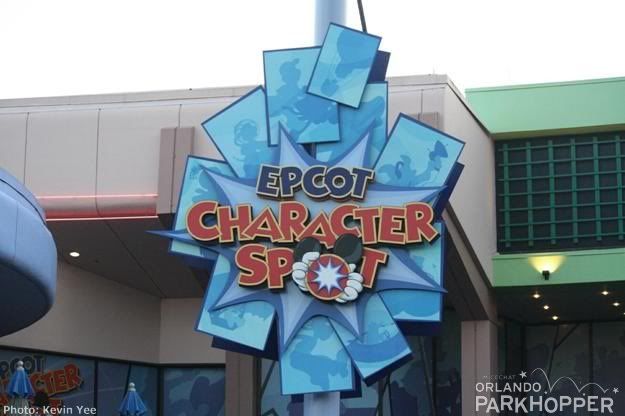 If you will, it's a "regular" sign. It's got character design. One feels the creators might have labored for hours to decide what the backgrounds should be, how the outside outline might look, what the color scheme should look like.

On the other hand, we've got the new Carousel of Progress sign. Have a look:
The wireframe design looks temporary at best, outmoded and old at worst. Is is possible this is just a "temporary" design? Disney isn't talking. But speculation that it might be merely temporary (based mostly on how it's fused in a not-so-permanent-looking fashion at the base) kind of ignores the fact that THEY HAD A SIGN. What good is a temporary sign when you had a permanent one? By replacing the permanent sign, aren't they implying that this is the new permanent one?

I hope this wireframe one turns out to be temporary. It's very hard to see, and strikes the wrong tone in Tomorrowland. Design mistakes happen. The only real sin is if they let it persist.
MARVEL COSTUME UPDATES
A refreshing look at the new Marvel costumes at Islands of Adventures.
By Eric M. Davis
This past week, the Marvel characters got a updated look to their iconic costumes and these new changes are an amazing addition! Islands of Adventure just keeps getting better and better!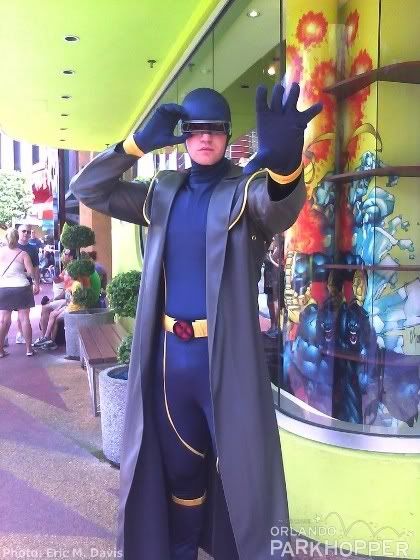 Cyclops... looking awesome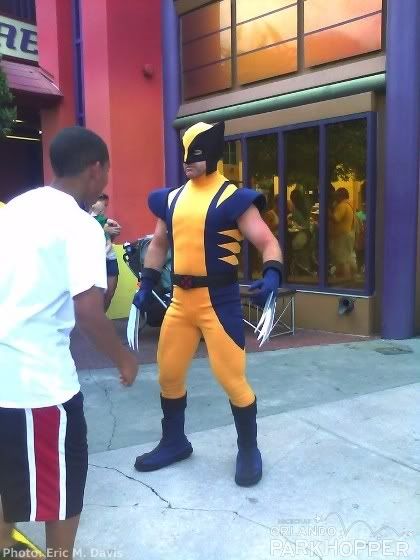 Wolverine looking very traditional!
Rouge and Storm in much more flattering outfits!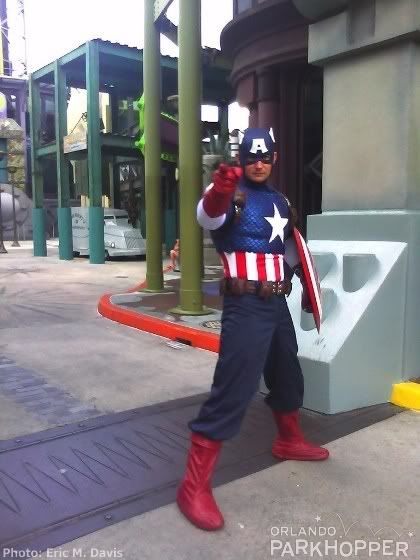 Captain America looking Awesome
With the new costumes the Super Heroes also got some new wheels!
Speaking of improvements, Jurassic Park River Adventure recently reopened from a short refurbishment.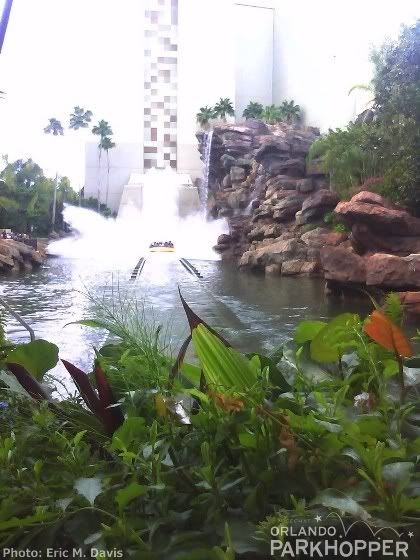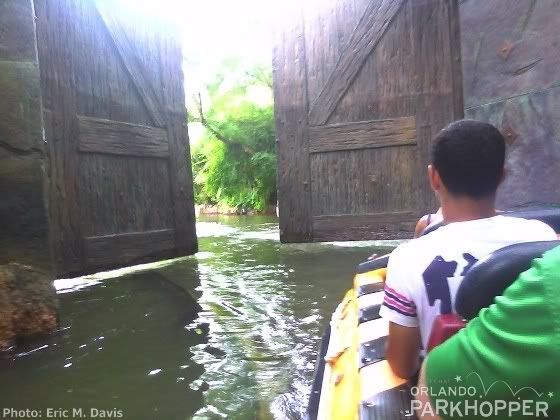 Welcome to Jurassic Park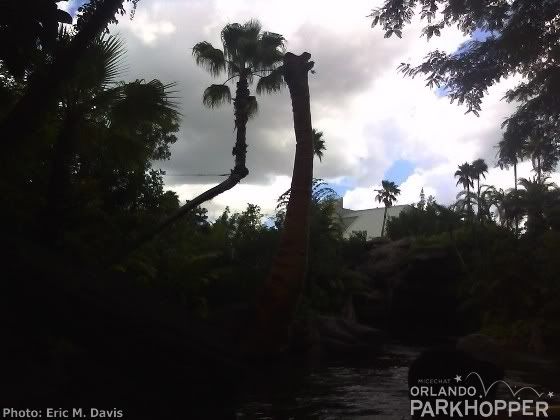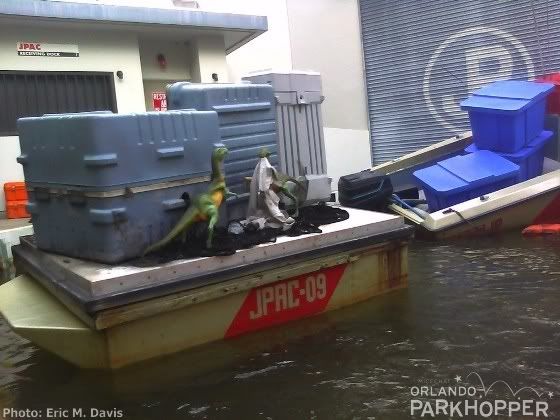 YouTube - ‪Jurassic Park River Adventure ending at islands of adventure‬‏
The T-Rex is back and hungrier than ever!
Over at Universal Studios things are looking great!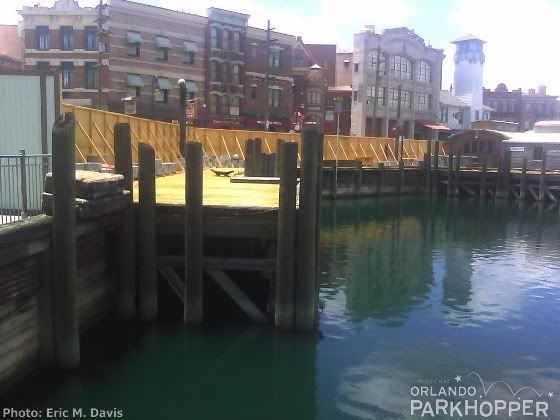 The replanking of this area is coming a long rather nicely.
Summer Night's
June 10 through August 14th
Although nothing has been updated on the BGT website, annual passholders received a newsletter in the mail stating that the Summer Night Concert Series will run from June 10th - August 14th. We will post more details once they become available.
PRETZEL COASTER BAKE OFF
Saturday at Busch Gardens was the Snyders Pretzel Coaster Build-Off. Six teams competed to build a scale model of Cheetah Hunt using only Snyders Pretzels! Guests could then vote on the model they liked the best.
By Aimster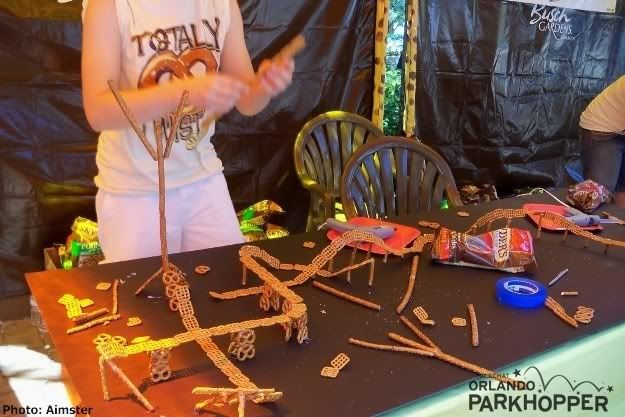 ------------------------------------------------------------------------------------
Island Nights - Adventure Island
June 9th through August 13th - 5PM to 9PM
This summer at Adventure Island, (BGT's water park) when the sun goes down, the fun heats up during Island Nights. From June 9th to August 13th, it's a vacation from the everyday as Busch Garden's water park transforms into a celebration of island life with live music, authentic entertainment and inspiring cuisine.

We want your photos! Contribute to the Orlando Parkhopper by emailing orlandoparkhopper@miceage.com with your submissions. We welcome volunteers for single contributions as well as permanent "Parkhopper" staff.

Thanks to our fantastic and talented crew of writers, photographers and news contributors who work hard every week to bring you the latest information available: