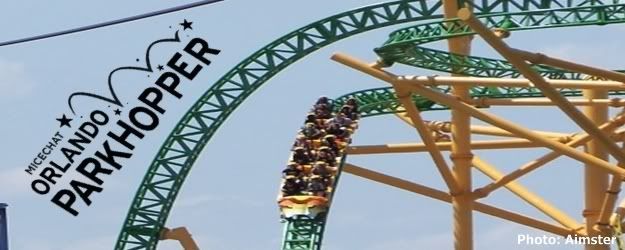 New This Week:
Feature of the Week: Dinosaur
Dining In a Minute: Earl of Sandwich (DTD)
American Idol: Scotty McCreery
Stars of the Saga (Star Wars Weekends)
Halloween Horror Nights Construction
WDW Ticket Prices Increase
Kennedy Space Center : Star Trek Exhibit
Ticket Price Increase!!
The price to get into the parks has gone up, now at $85 for a one day, one park pass, an AP for a non-Florida resident is now $519.00
MAGIC KINGDOM:
FONTIERLAND:
Frontierland Shootin Arcade will be closed for refurbishment June 9th - September 30th.
DISNEY'S HOLLWOOD STUDIOS
AMERICAN IDOL: SCOTTY MCCREERY
Newly crowned American Idol winner Scotty McCreery made a visit to DHS to greet the fans.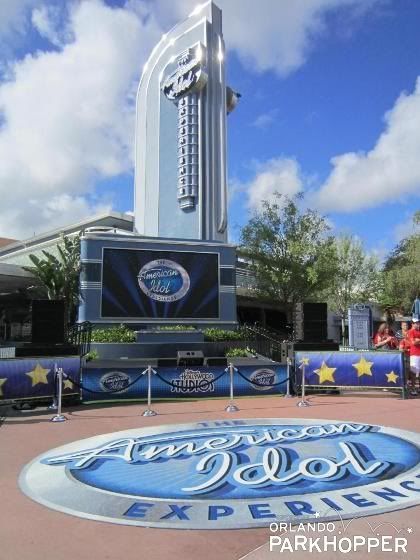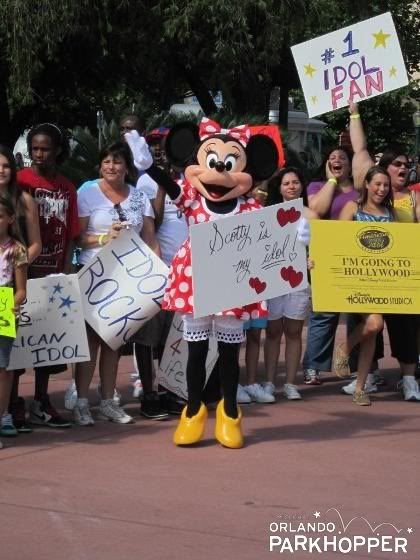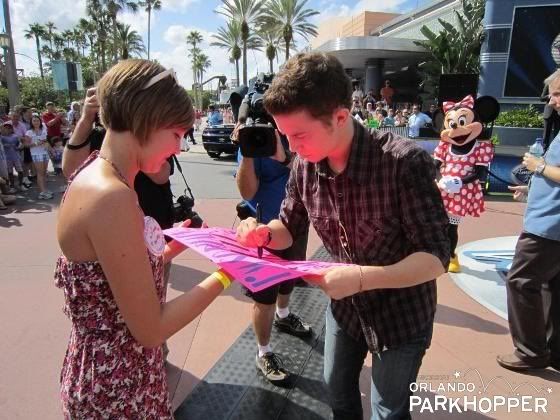 Signing autographs for fans.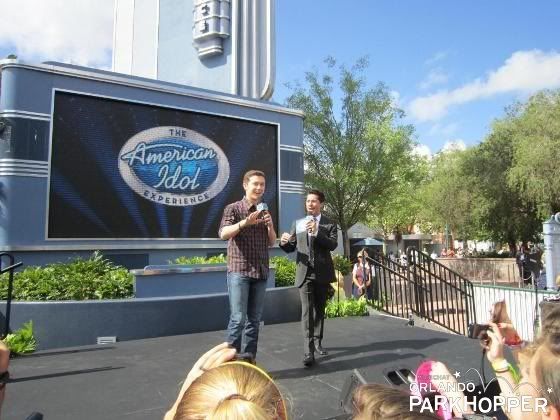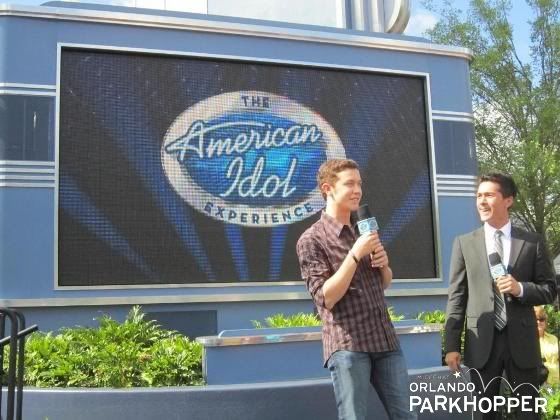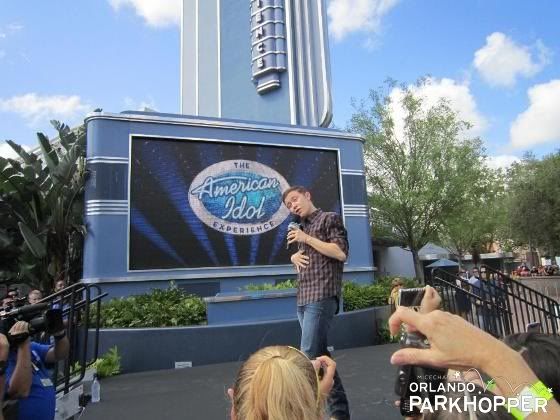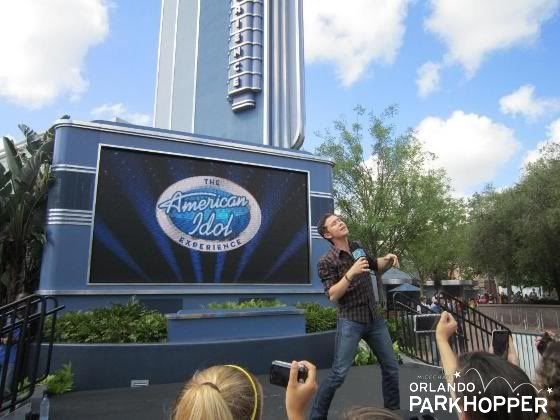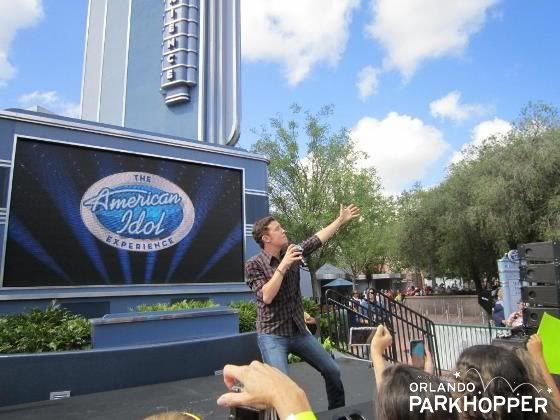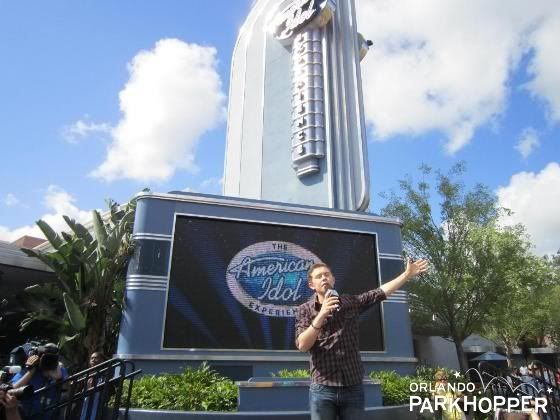 STARS OF THE SAGA
Hosted by James Arnold Taylor
Guests: Jeremy Bulloch & Ray Park
by Lisa Mills
James Arnold Taylor talks with Jeremy Bulloch who portrayed Boba Fett in Star Wars Episodes V & VI and Ray Park who was Darth Maul in the Phantom Menace.
James Arnold Taylor acknowledged it was "Tea Time" for Englishman Jeremy Bullock and had a Storm Trooper bring out tea for Jeremy.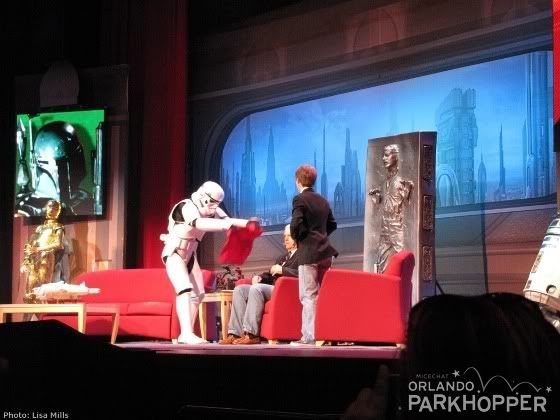 Being "proper" with placing a napkin in Jeremy Bulloch's lap.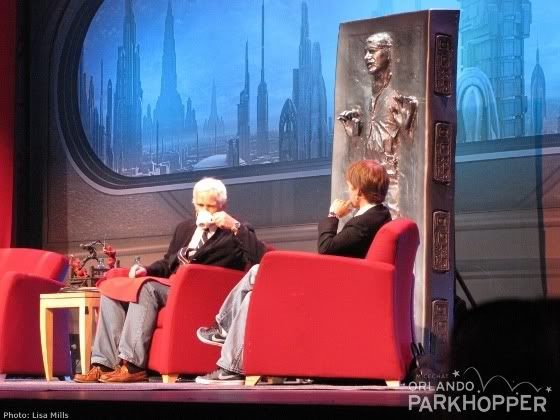 Jeremy enjoying his "Tea Time".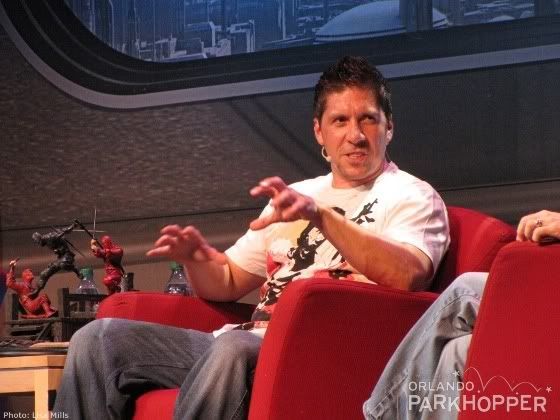 Ray Park discussing getting into the character of Darth Maul.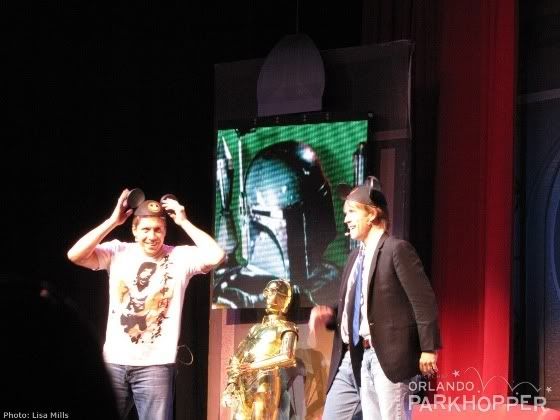 Ray Park putting on his "Ear Hat" getting ready to sing The Mickey Mouse March.
BEHIND THE FORCE
Hosted by Ashley Eckstein
Guest:
Matt Lanter
By Lisa Mills
Ashley Eckstein talks with Matt Lanter who is the voice of Anakin Skywalker from the Clone Wars.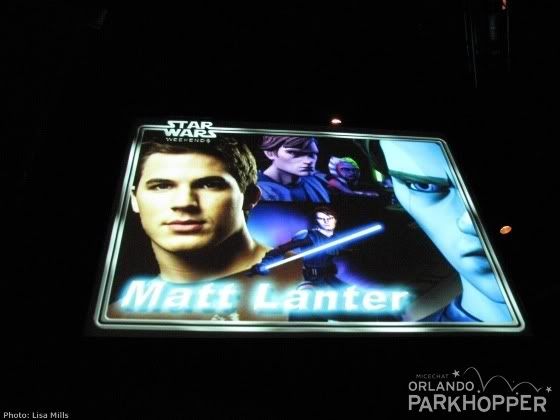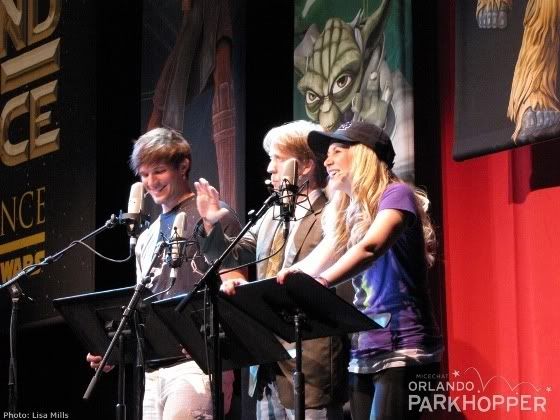 Matt Lanter, James Arnold Taylor, and Ashley Eckstein showing us how they put their voices to film.
Matt Lanter answering questions from the audience.
Matt Lanter voicing Anakin Skywalker as Chewbacca!
VISIT TO THE MAUL
Starring: Ray Park
by Lisa Mills
Ray Park starts off with some Double Lightsaber Wielding while Darth Maul watches in awe.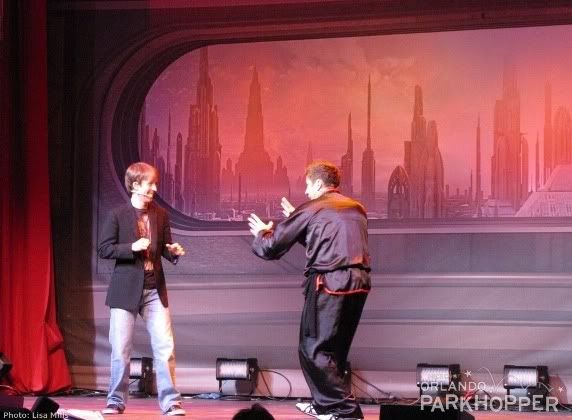 James Arnold Taylor is a little nervous when Ray Park starts to move in his direction.
Ray makes animal movements at James.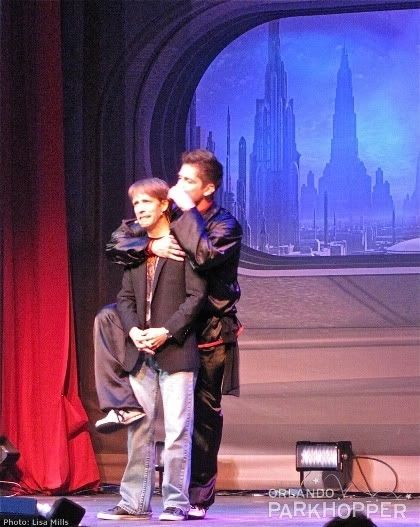 Being a Monkey on James's back!
Getting ready to show us some of his moves.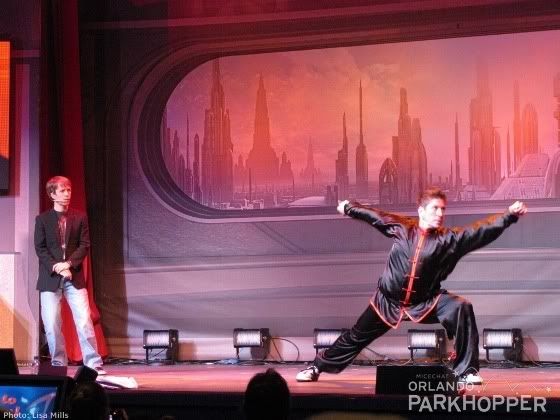 Ray Park showing us Wushu Martial Arts.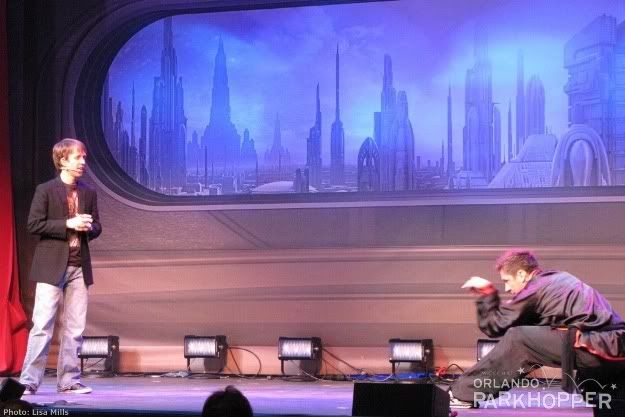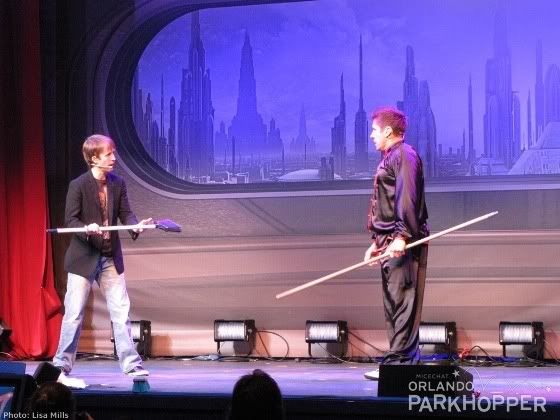 Ray and James showing what can be done with some Imagination and a Broom Stick.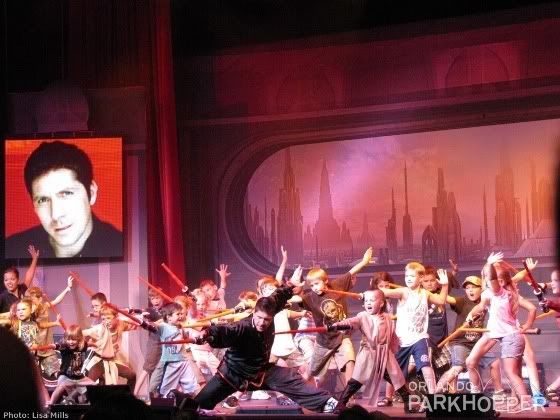 Have some Lightsaber Fun with Younglings.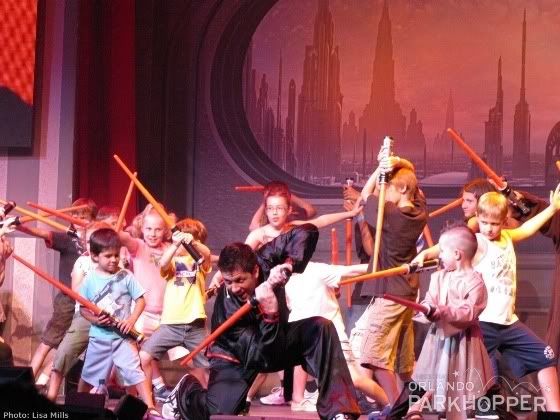 Ending the show with an Awesome Star Wars Stance.
DISNEY'S ANIMAL KINGDOM:
FEATURE OF THE WEEK:
Dinosaur
Dinosaur has a somewhat awkward existence. While Dinosaur is one of the main attractions at Disney's Animal Kingdom, it has the tendency to be compared unfavorably to its West Coast counterpart, Indiana Jones and the Temple of the Forbidden Eye, for which it shares the same ride layout. Clearly, Indiana Jones has the elaborate theming, props, queue, and the property that everyone loves and admires. However, while a lot of Dinosaur takes place in the dark with few effects or things to look at, the animatronics, something that seems to be lacking lately in Disney's repertoire, are impressive, and the "old wing" science institute queue is fun to look at while waiting to enter the preshow. Unfortunately, this is one case of synergy that should be expunged. Unfortunately we have an attraction where a ride's name has been changed to create buzz about a movie release, Dinosaur, that largely didn't develop much at the box office and is all but forgotten. While Aladar and company still are the center of the attraction (at least Iguanadons and Carnotaurs are), let's be reasonable and revert the to old, better, still classic name: Countdown to Extinction. Name preferences aside, here are some shots of this oft forgotten gem in Dinoland.
Entrance/Queue: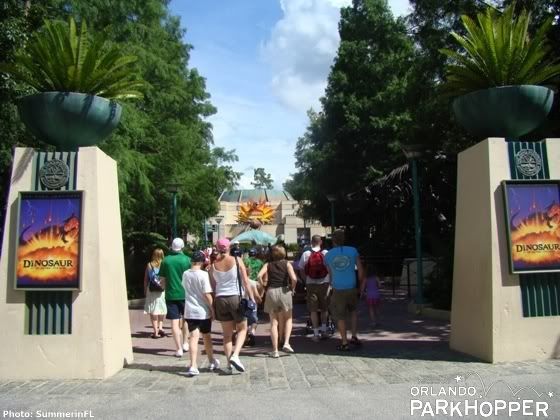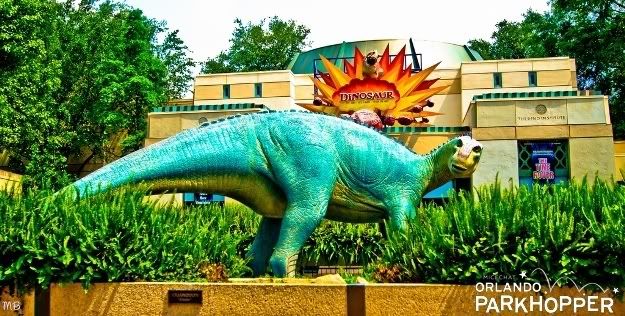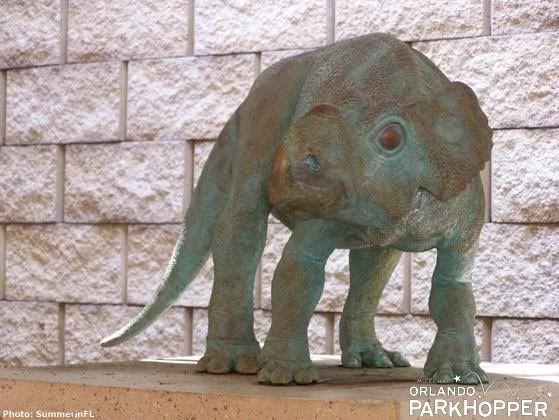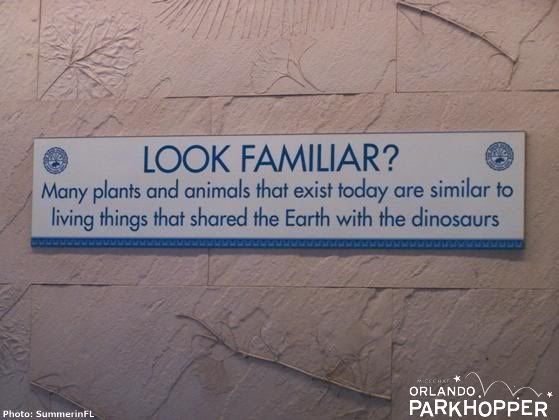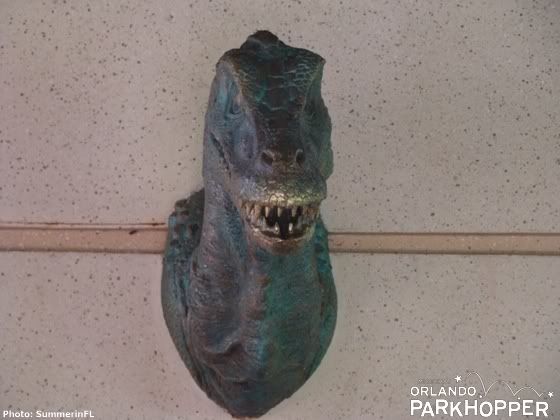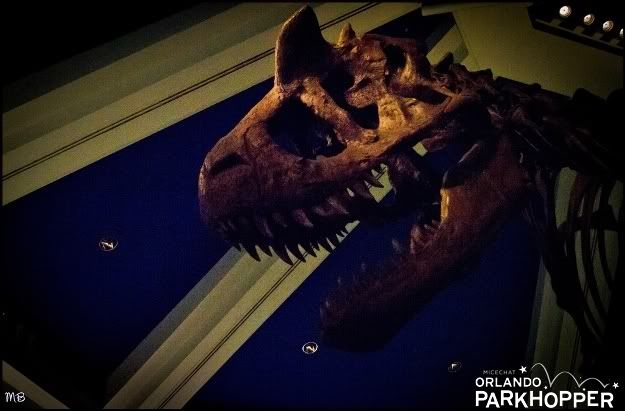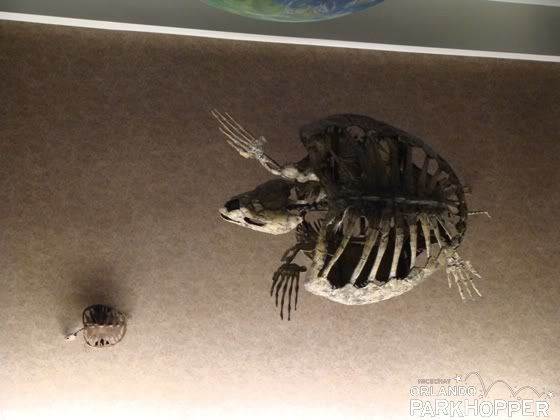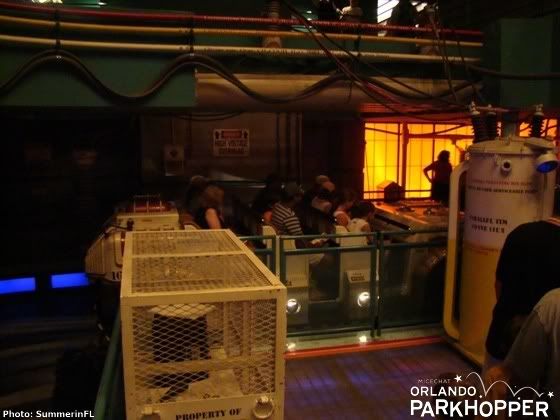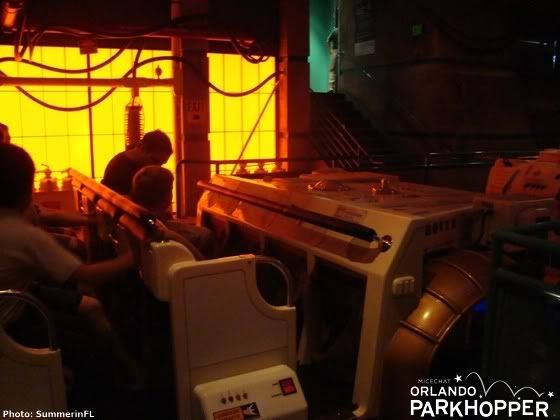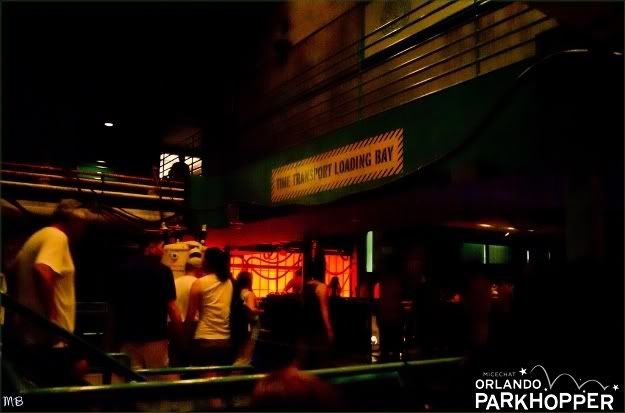 Attraction: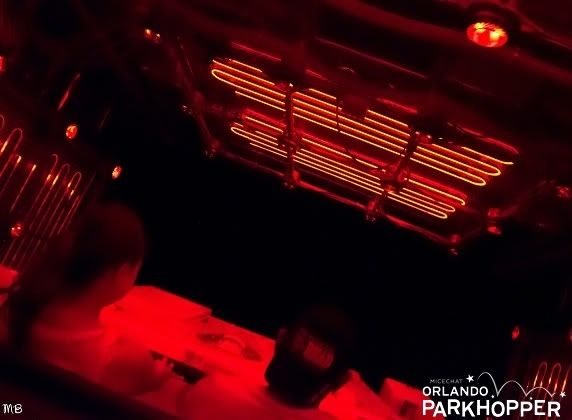 Exit: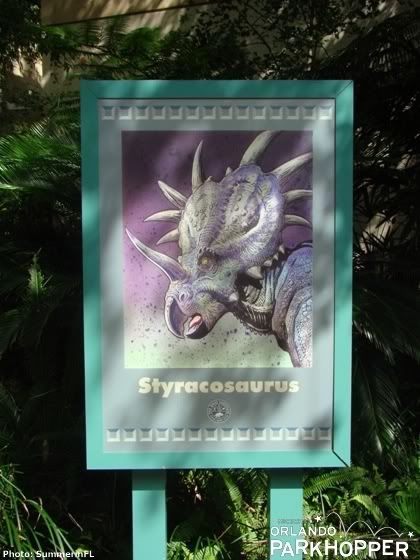 DOWNTOWN DISNEY:
DINING IN A MINUTE:
Earl of Sandwich
By Disnyfan89
Earl of Sandwich store front, photo by Jason Filby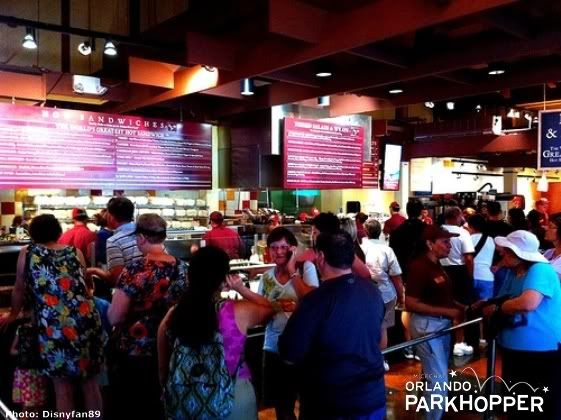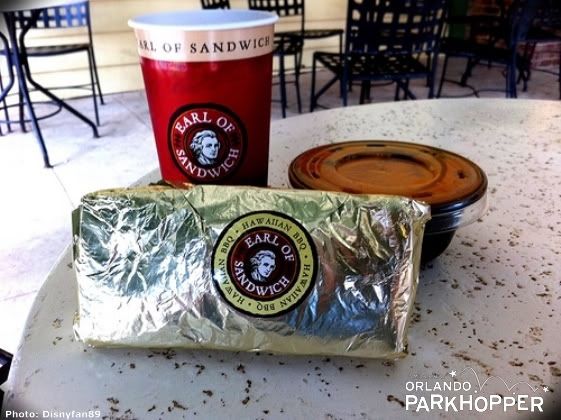 This sandwich is a delight with its many flavors and textures. The grilled Chicken is cooked perfectly and is never to dry or chewy while the Hawaiian BBQ packs a punch of sweet but spicy flavor and melds perfectly with the large, juicy, freshly cut pineapple slices.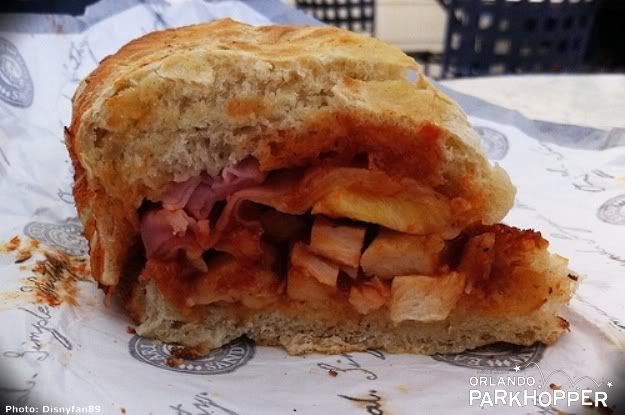 To learn more about Earl of Sandwich you can visit their website at
WALT DISNEY WORLD RESORTS: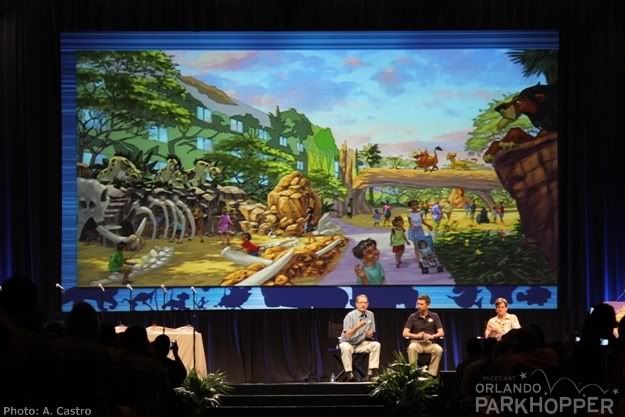 Art of Animation Resort Pricing
Disney's Art of Animation Resort, the newest Value resort on property known for being largely family suites, has now begun accepting reservations beginning June 1, 2012. Pricing seems to be approximately $345 per night for the family suite and $139 a night for a standard hotel room in the value season. Of course, weekends and different seasons and holidays will affect pricing.
HALLOWEEN HORROR NIGHTS CONSTRUCTION
By Disnyfan89
Despite October being four months away Universal Studios has already started working on their annual Halloween Event: Halloween Horror Nights. This year marks the 21st anniversary for this annual event which has been voted the "Best Halloween Event" the past three years in a row by Amusement Today's "Golden Ticket Award."
At the beginning of the month construction kicked into high gear for this event's signature Haunted House and today we wanted to bring you some photos of the action.
Over at Jaws, part of the main queue and the overflow queue has been cleared of all ropes and stations and the windows covered to allow construction of one of this year's eight (8) Haunted Houses.
Here in this photo you can see the main doors to the Jaws queue have been closed and the queue line rerouted around the building. These doors usually mark the exit of the Haunted House during the event.
Around the corner large black drapes have been hung in the openings of the extended Queue.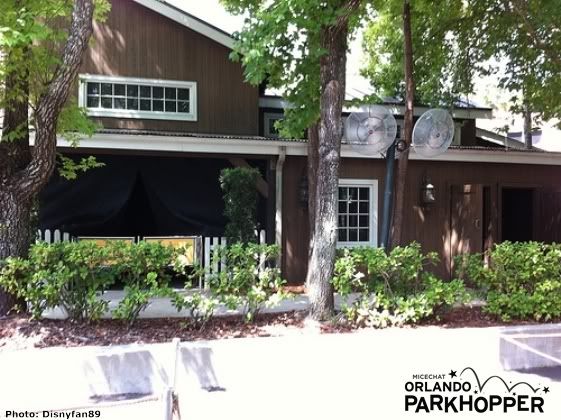 These drapes not only help hide the backstage areas of the Haunted House but also help darken the environment for better control over lighting.
Further down Jaw's outdoor queue one can get a glimpse of the construction. Down here one can hear the cutting of plywood and the sounds of hammers as the walls or frame of the Haunted House is built.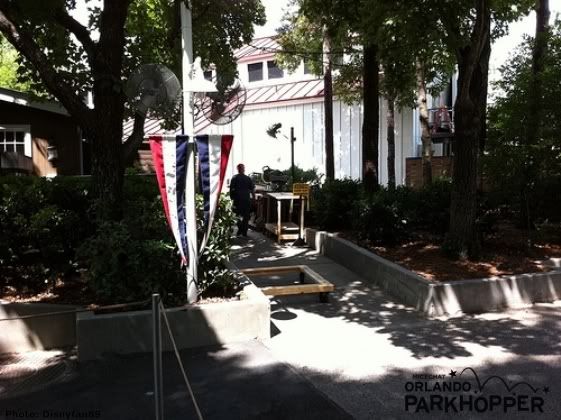 This photo shows the work that is on going at what is usually the entrance to the Haunted House.
Down the street at Disaster the main queue has been cleared and all the major props has been pushed to the side as this site waits for construction to start.
Across the way at Simpsons, while exiting the attraction one can get a glimpse of the two backstage "Tents" that each hold one of the eight Haunted Houses. Progress on these houses is far more advanced as Team Members have reportedly seen props already being moved into the tents. This comes as no surprise since these tents are only used for HHN and many of the previous house walls remain intact with only slight modification to the layout year to year. The Houses are stripped of all previous theming at the conclusion of the event and receive all new theming the next year. This helps cutdown on costs and provides for faster construction of the Haunted Houses.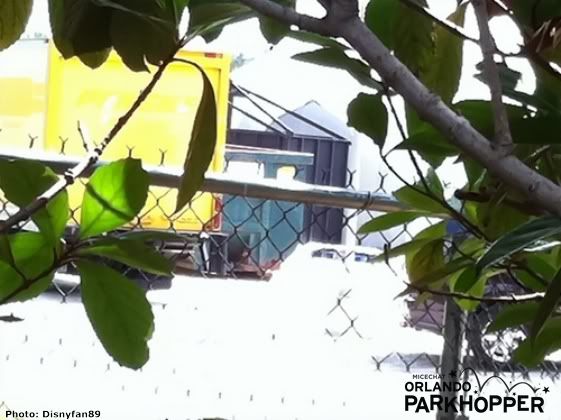 What's really exciting is that the frame work for the elaborate Facades at the entrance of these Tent Houses can already be seen.
Unfortunately we will have to wait till around September before we will get to see any more major construction as that is when set pieces for the Scare Zones in the park will start to materialize. However fear not as we still have much to look forward too because soon Universal will be launching the teaser site for this years event and more details about this year's theme will be revealed. And you can bet we here at Orlando Park Hopper will keep you up to date on all the latest news and developments surrounding this terrifically terrifying event.
*Disclaimer: All Construction photos where taken on stage in open guest areas. At no time should you ever enter a backstage area or construction site without permission and proper safety equipment.*
Summer Night's
Now through August 14th
Although nothing has been updated on the BGT website, annual passholders received a newsletter in the mail stating that the Summer Night Concert Series will run from June 10th - August 14th. We will post more details once they become available.
------------------------------------------------------------------------------------
Island Nights - Adventure Island
June 9th through August 13th - 5PM to 9PM
This summer at Adventure Island, (BGT's water park) when the sun goes down, the fun heats up during Island Nights. From June 9th to August 13th, it's a vacation from the everyday as Busch Garden's water park transforms into a celebration of island life with live music, authentic entertainment and inspiring cuisine.
CHEETAH HUNT / CHEETAH RUN
Photos and video of the newest attraction.
by Aimster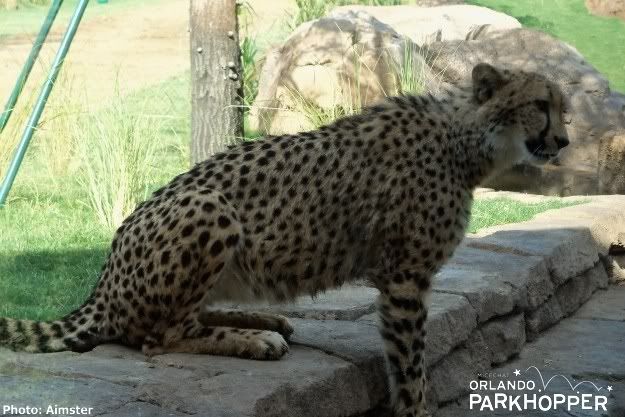 Peek!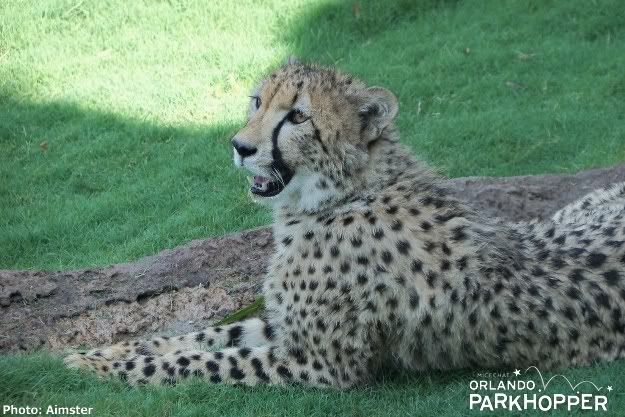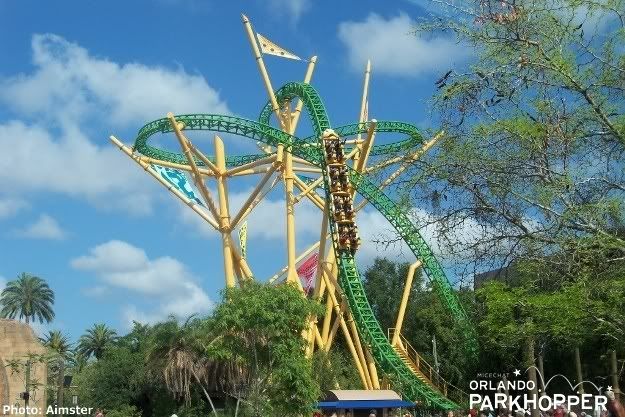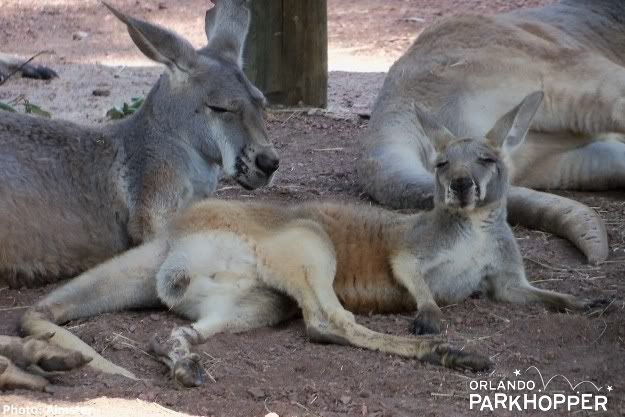 The new baby kangaroo at Walkabout Way

Gatorland - Screamin Gator
Opening Summer 2011
Kennedy Space Center - Star Trek Exhibit
Now through September 5th
Appearing for the first time in Florida, STAR TREK: THE EXHIBITION, presented by EMS Exhibits, Inc., is an interactive exhibit of authentic Star Trek artifacts from the past 45 years, featuring one-of-a-kind costumes, props and filming models from Star Trek television series and feature films. Together these elements offer, Star Trek fans and novices alike, an opportunity to experience first-hand the imagination, artistry, technology and meticulous craftsmanship that have made Star Trek the most enduring science fiction franchise in history.
Orlando Science Center - Guitar: The Instrument that Rocked the World
Now through September 11th
The National GUITAR Museum announced that its touring exhibition, GUITAR: The Instrument That Rocked The World will launch worldwide at the Orlando Science Center. The 5,000 square foot will explore the history and evolution of the guitar-from lutes and lyres to modern high-tech instruments-and show how the instrument became the cultural symbol it is today.
Don't forget to check out the other areas of MiceChat that offer news, updates and photos about the other Disney Parks around the World!
We want your photos! Contribute to the Orlando Parkhopper by emailing orlandoparkhopper@miceage.com with your submissions. We welcome volunteers for single contributions as well as permanent "Parkhopper" staff.

Thanks to our fantastic and talented crew of writers, photographers and news contributors who work hard every week to bring you the latest information available: