MAGIC KINGDOM:
MAIN STREET
FIREHOUSE STATION
Firehouse station set to close on Main Street.
Insider News!!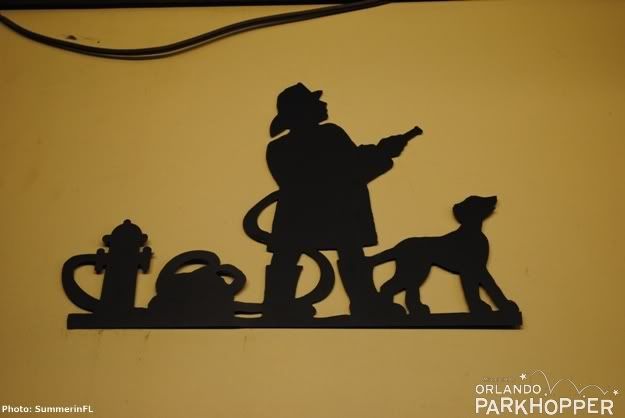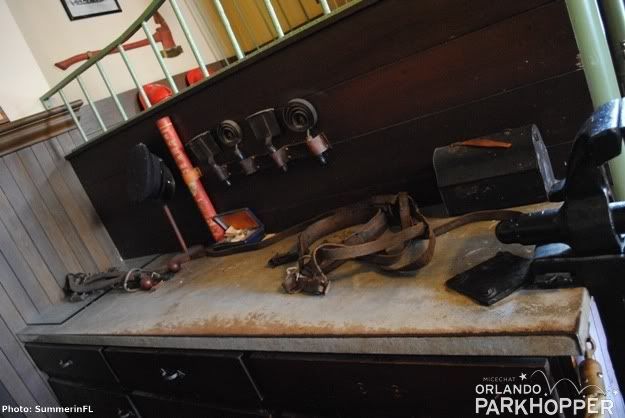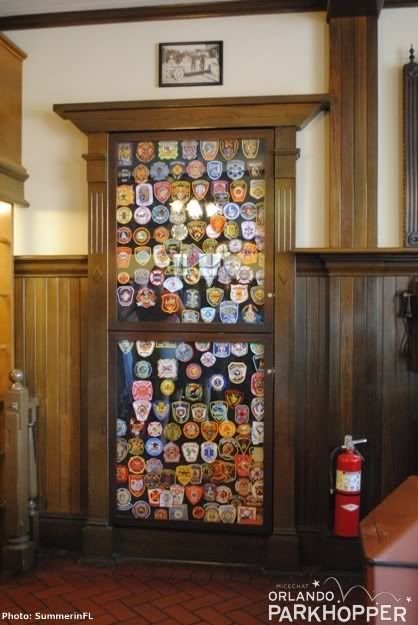 The Confectionary tarps have come down to reveal a new color scheme. Upon further inspection the only thing that caught my attention was the bricks not decreasing in size as you look further up the wall. Someone may be able to clarify this but doesn't that mess with the idea of forced perspective?
A more detailed look at the new changes courtesy of Jeff Lange DVD.
FANTASYLAND:
STORYBOOK CIRCUS
A closer look at the Storybook Section of the new Fantasyland.
by YoyoFlamingo
But while we wait, let's take a look at some construction photos taken this Saturday and check on the progress.
Sadly, the Fantasyland Skyway station is no more.
A more detailed look at the new changes courtesy of Jeff Lange DVD.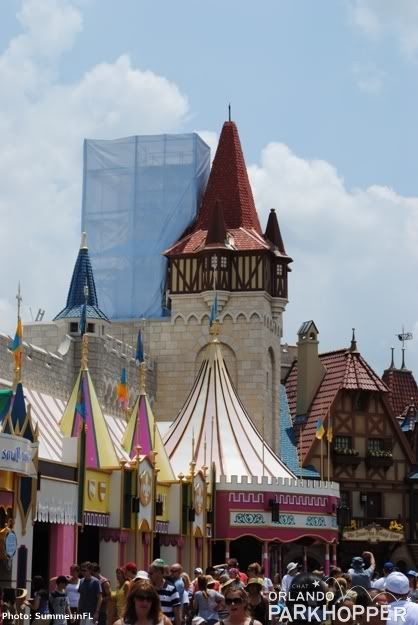 Pinocchio's Village Haus has tarps up behind the tower.
While the roof receives some maintenance as well.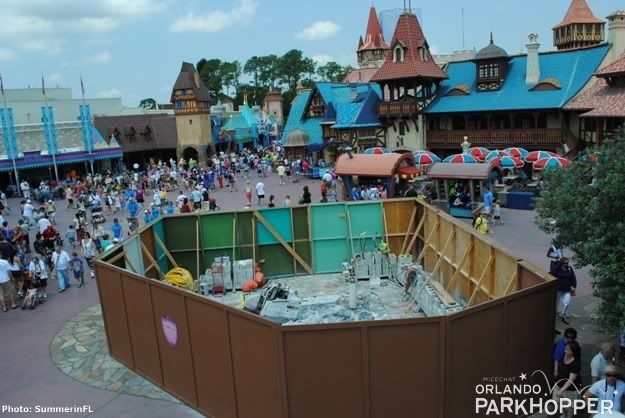 The work is now extending into the common areas of Fantasyland, with groundwork being completed right next to Dumbo.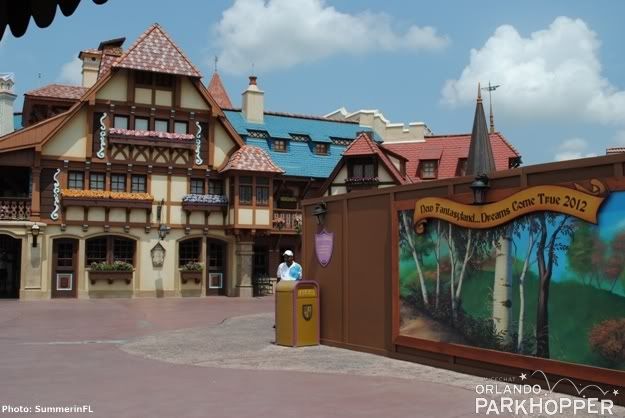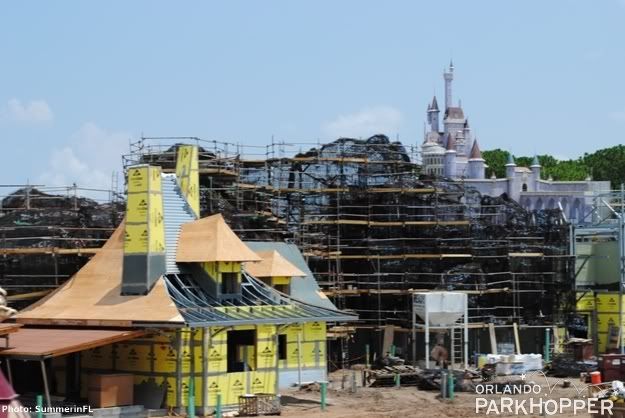 Work on the new expansion is coming along rather nicely, with Belle's Cottage really starting to take shape and reflect what we have seen in the drawings.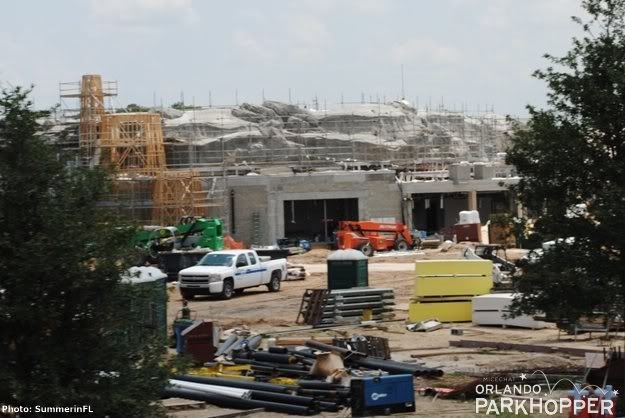 A more detailed look at the new changes courtesy of Jeff Lange DVD.
-----------------------------------------------------------------------------------
TOM BRICKER PHOTOGRAPHY
You Don't Have To Pull The Sword From This Stone To Be A Hero...
by Tom Bricker (WDWFigment)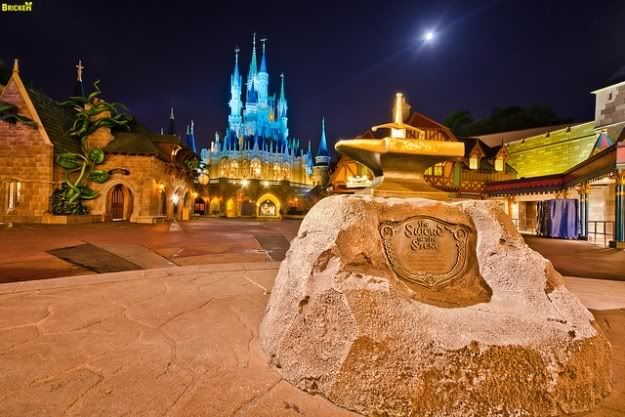 ----------------------------------------------------------------------------------
Most people, when an attraction stops, find themselves wondering how quickly it will get started again. Not me, I wonder how long I have to take photos and secretly hope for an evacuation. How about you? Do you hope for a Disney 101?
ADVENTURELAND:
TIKI ROOM SCRIPT
Tiki Room set to be original show minus Offenbach.
Insider News!!
FEATURE OF THE WEEK:
Swiss Family Robinson Treehouse
Queue: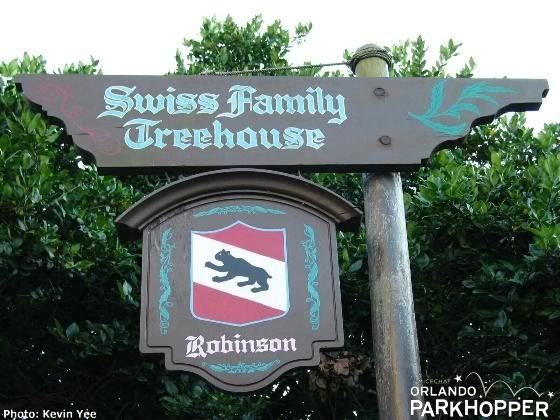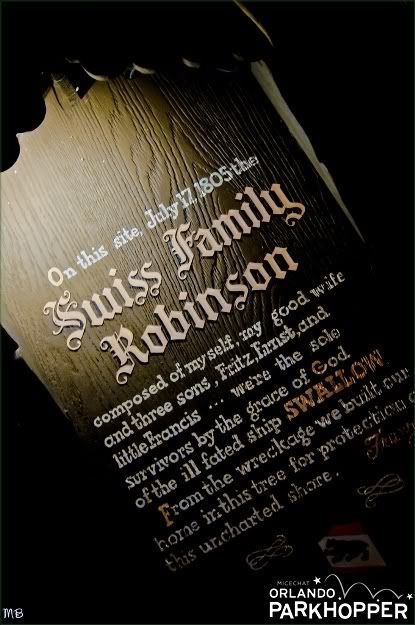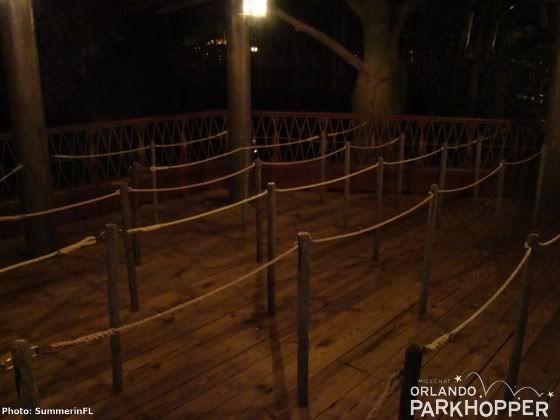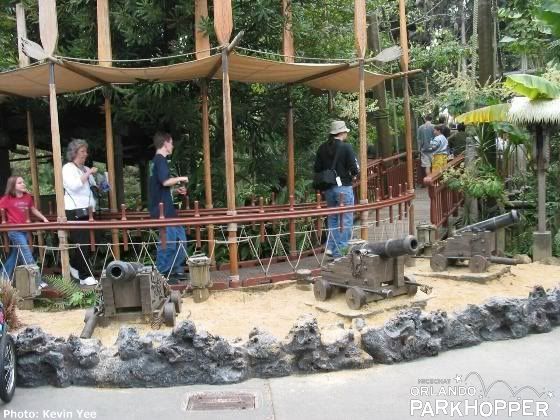 Attraction: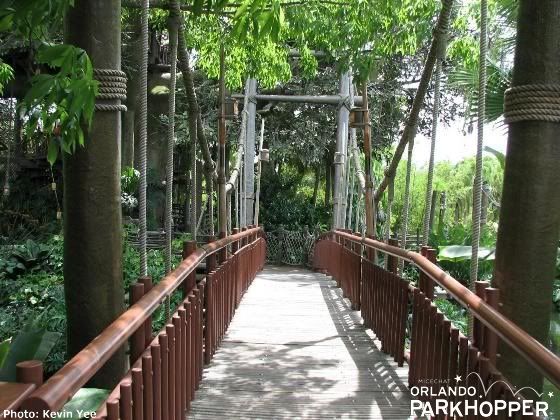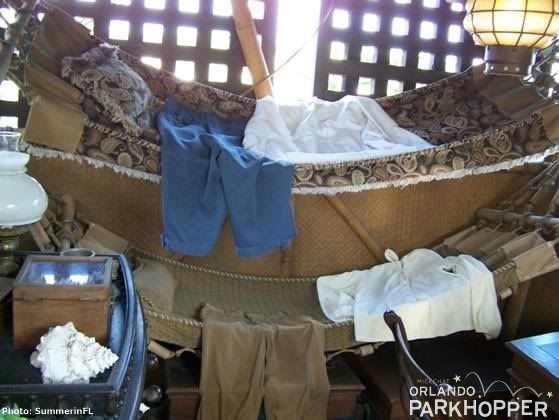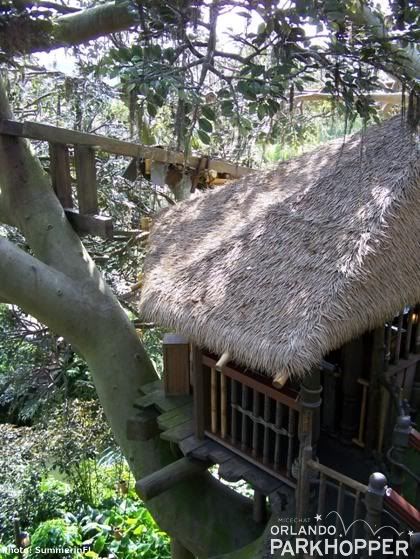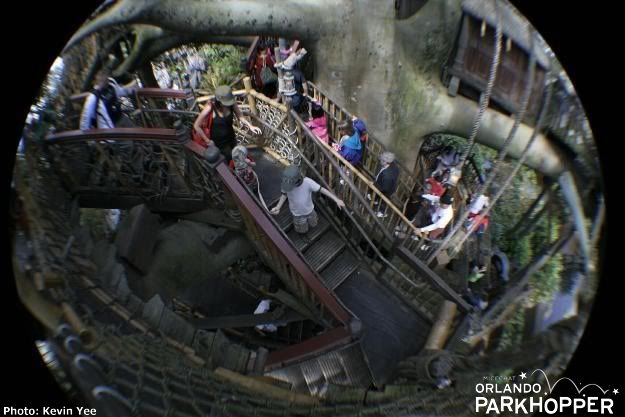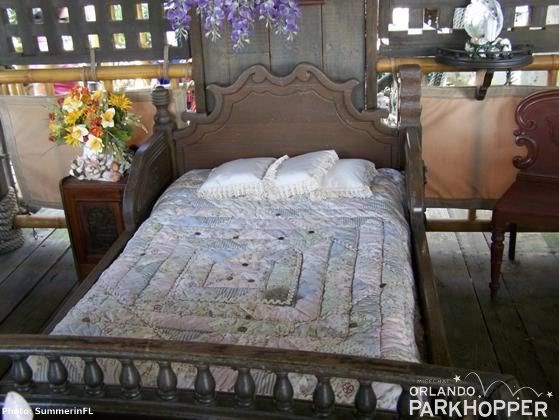 FRONTIERLAND:
Frontierland Shootin Arcade will be closed for refurbishment June 9th - September 30th.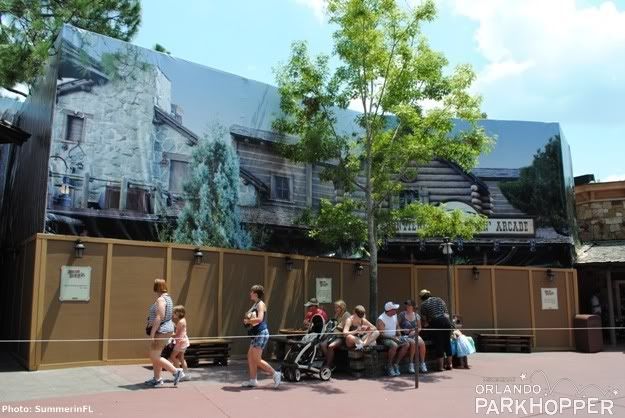 Work continues behind tarped walls on the Frontierland Shooting Arcade
A more detailed look at the new changes courtesy of Jeff Lange DVD.
TOMORROWLAND:
The Carousel of Progress sign had returned in its original form, albeit missing the current year.
Jeff Lange DVD
EPCOT
FOOD AND WINE FESTIVAL EVENTS
Epcot Food and Wine Festival Event Information
by YoyoFlamingo
DISNEY'S HOLLYWOOD STUDIOS
STARS OF THE SAGA
Hosted by James Arnold Taylor
Guests:
Peter Mayhew & Ray Park
by Lisa Mills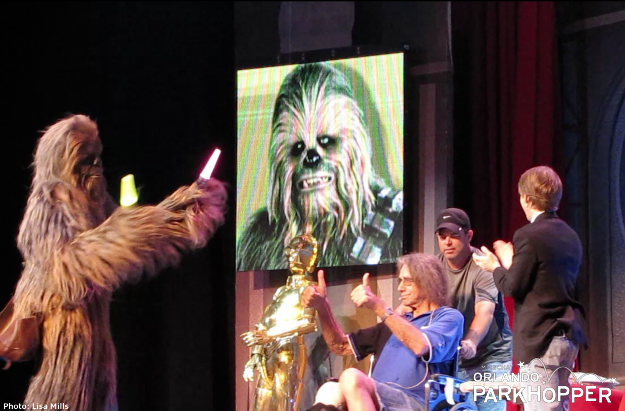 James Arnold Taylor talks with Peter Mayhew who plays Chewbacca in the original Star Wars trilogy and in Revenge of The Sith. Peter Mayhew has just had knee surgery, so he is led in by special guest Chewie.
Peter Mayhew talks about how they developed the personality of Chewbacca.
A question from a special member of the audience-Chewie!
Chewie takes a seat while Peter Mahew answers his question, well..I think so, because only Peter Mayhew understands Wookiee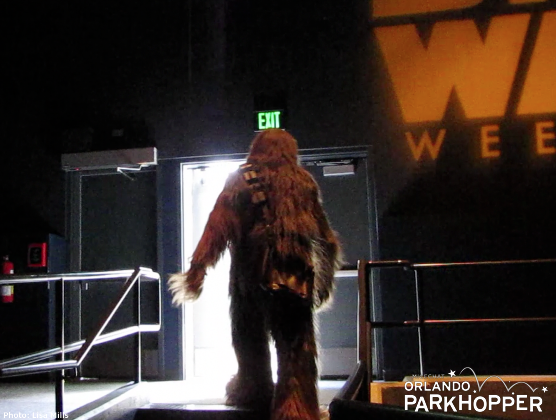 Chewie takes an exit once his question is answered.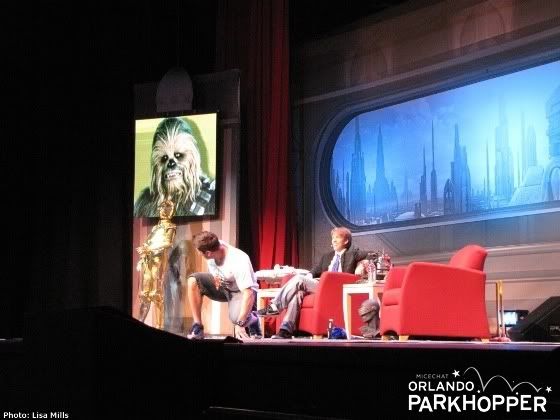 Ray Park is bouncing all over the stage even with suffering heat stroke earlier that morning.
Ray Park has a question from a special audience member-R2D2!
R2D2 wants to know if Ray Park can make any item a "Deadly Weapon"?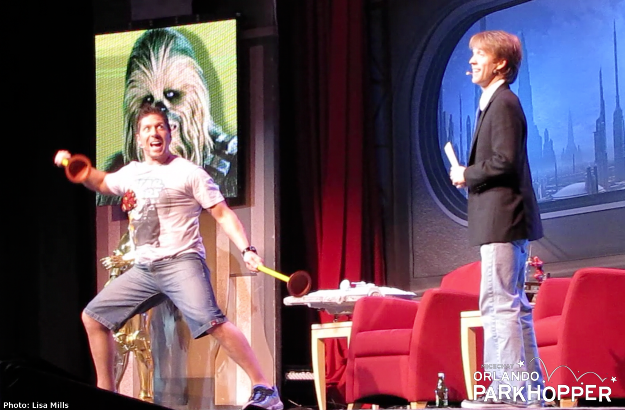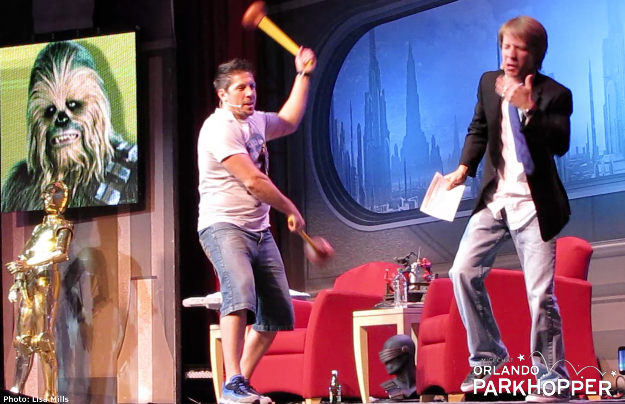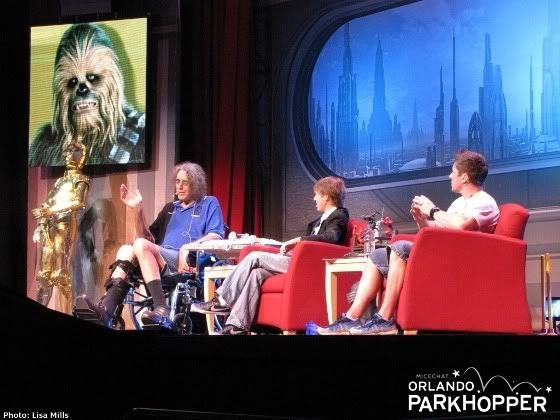 Peter Mayhew, James Arnold Taylor, and Ray Park.
BEHIND THE FORCE
Hosted by Ashley Eckstein
Guests:
Tom Kane
by Lisa Mills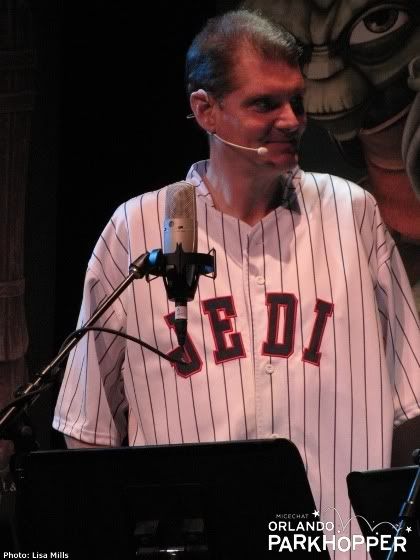 Ashley Eckstein talks with Tom Kane who is the voice of Yoda in Star Wars: The Clone Wars. He is the 6' 5" man who voices Yoda who is under 3' tall!
Ashley Eckstein cracking up at Tom Kane doing excellent Sean Connery voice.
Tom Kane answering questions from the audience.
Tom Kane, James Arnold Taylor, and Ashley Eckstein showing how they provide the voices for the characters of The Clone Wars.
STAR WARS WEEKENDS: WRAP UP
Pictorial Wrap-Up!
by Lisa Mills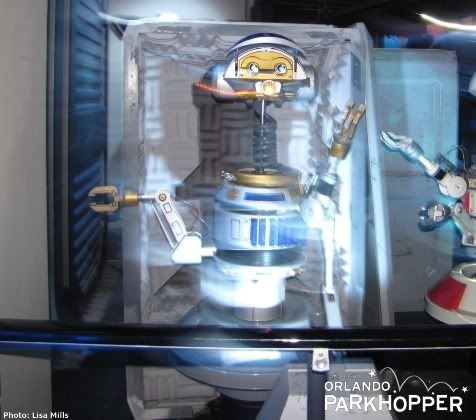 Goodbye to Rex!
Star Tours: The Adventures Continue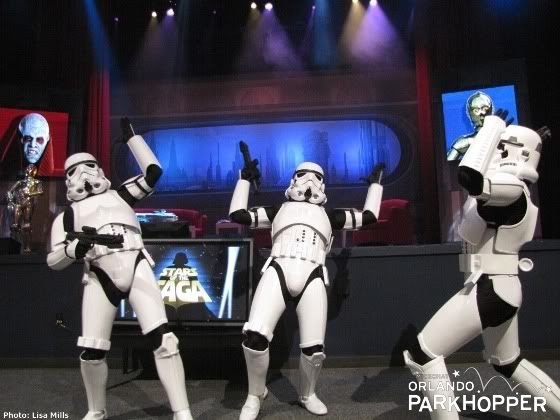 Storm Troopers, Clones, Hero's, Villain's, and other Characters.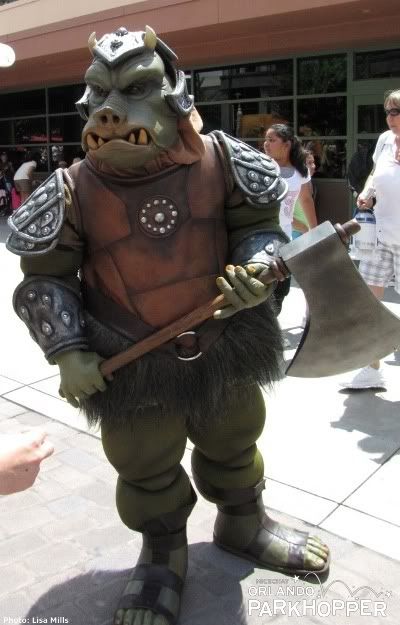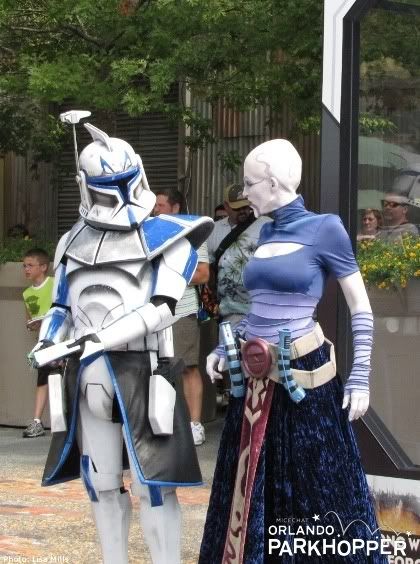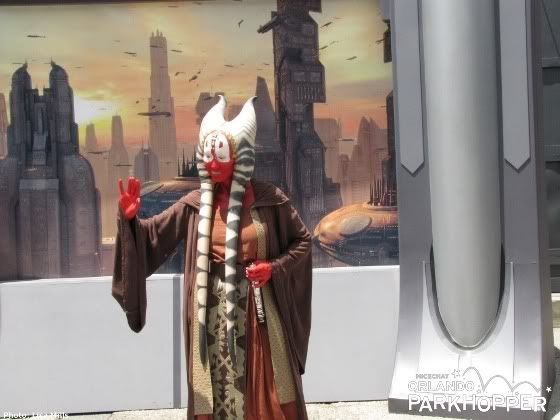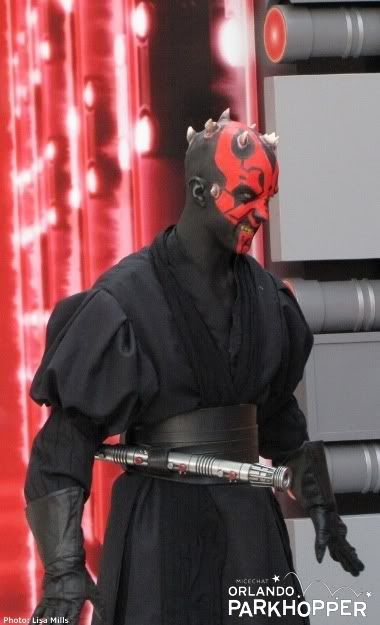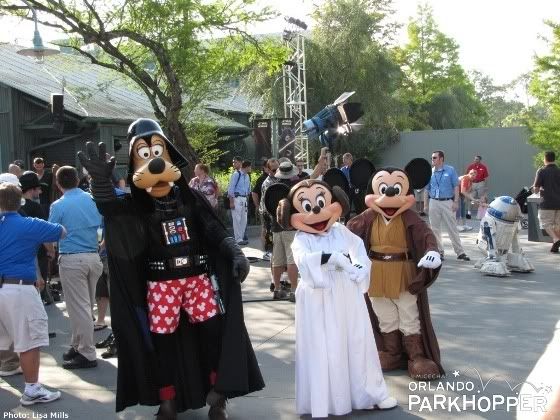 And that is all until Star Wars Weekends 2012.
Thank you Walt Disney World, Special Guests, and all involved-Excellent Job!
See Ya Real Soon!
DISNEY'S ANIMAL KINGDOM:
DINING AROUND THE WORLD:
Tusker House
Lunch at Tusker House in Disney's Animal Kingdom
By TerryTiger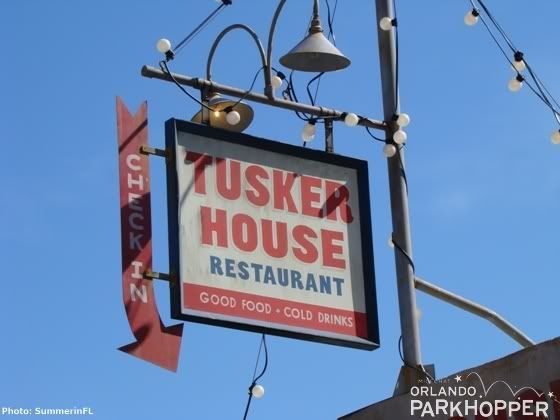 WALT DISNEY RESORTS
ROYAL GUEST ROOMS
Royal guest rooms now available for booking.
by YoyoFlamingo
TYPHOON LAGOON
SWIMMING WORLD RECORD
Guests set a Guiness world record for swimming at Typhoon Lagoon.
by YoyoFlamingo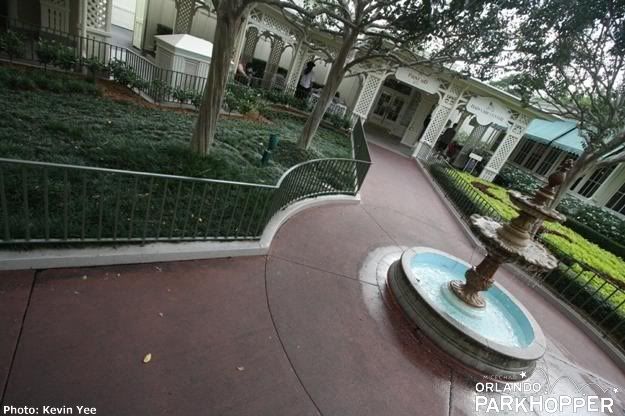 I said "was" because I noticed this weekend that it's not there. Hopefully this is temporary, and they plan to replant the necessary row of flowers to re-make the Hidden Mickey. The circular fence around the fountain was the "head" and there were two "ears" (not even half-circles, but definitely intentional) courtesy of a row of flowers around each of the trees on one side.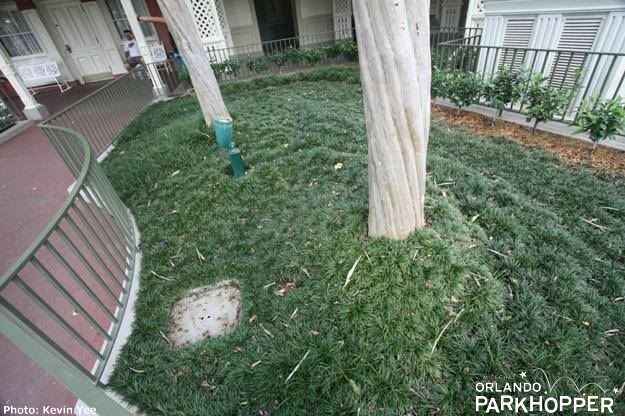 The flowers are gone, and there's no telling if they'll be back. Maybe the current gardeners just didn't know about the purpose of the flowers? Here's hoping for a quick return.
HOLLYWOOD DRIVE-IN GOLF:
Ground clearing for the new miniature golf attraction.
By Dsneyfan89
Ground clearing is underway at Universal City Walk for their brand new "Hollywood Drive-in Golf." These two new 18-hole miniature gold courses will take their cues from classic 1950's horror movies and science fiction movies. Here is a look at some of the work taking place next to the AMC Cineplex and the main walk way into City Walk:
Next to the Movie theater.
Further to right near Valet Parking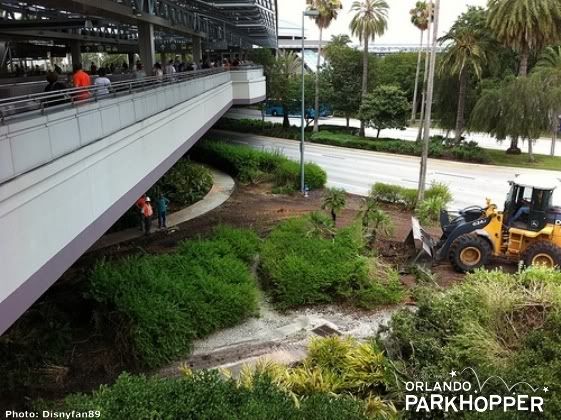 On the opposite side of the walkway.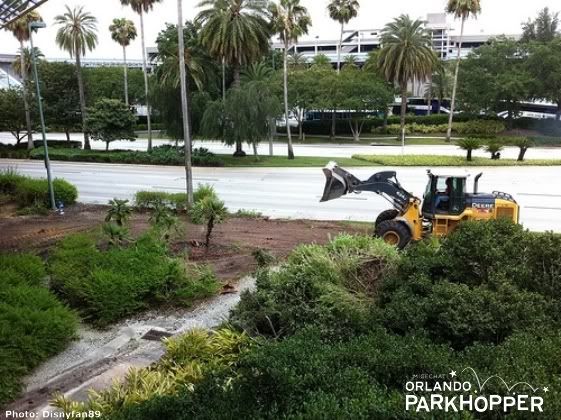 A little further to the right.
Over by the movie theater they removed part of the wall for what will eventually become the entrance.
HALLOWEEN HORROR NIGHTS
Construction photos.
By Dsneyfan89
Over at Jaws we can now see the frame for what will become this house's facade.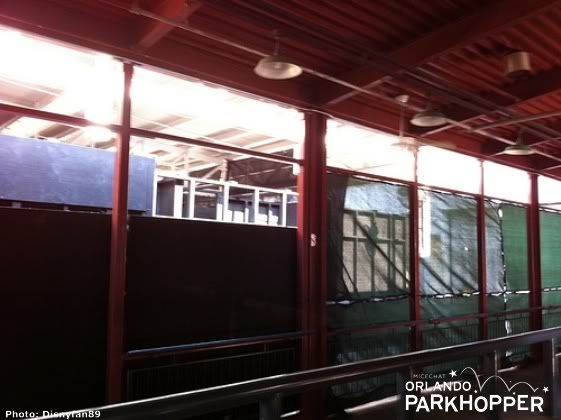 Back over at Disaster construction is now in high gear.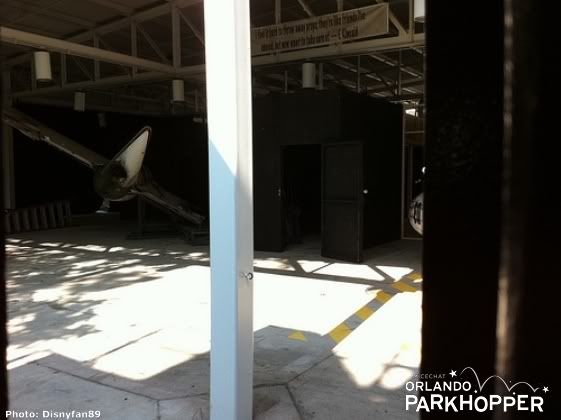 The Disaster queue provides a unique challenge for the HHN designers as when they are building the maze they have to work around large unmovable props in the Disaster Queue such as the airplane in this photo.
BUSCH GARDENS ROUND UP
Random park photos.
By Aimster
Kasi and his puppy pal, Mtani.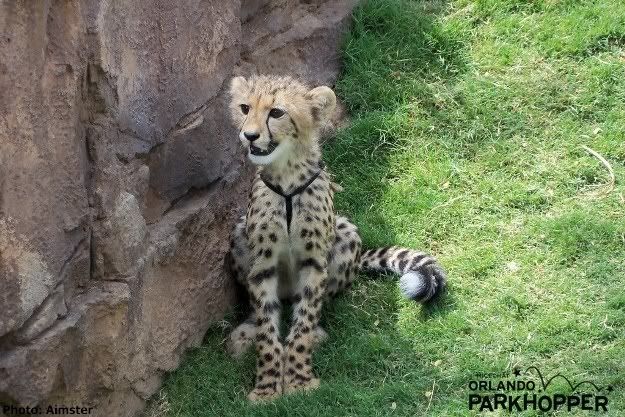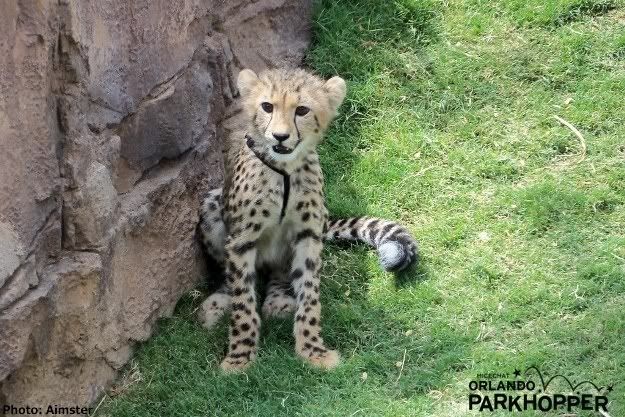 A look at some of the "streetmosphere" at the Crossroad of Culture...
A juggler.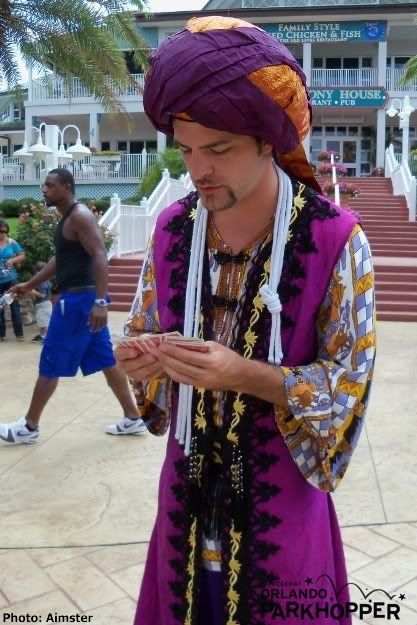 Magician who does some really neat card tricks.