Everyone here at the Orlando Parkhopper hopes you're having a wonderful 4th of July! Let's take a look at what's new in the parks this week!
Feature of the Week: Mission: Space
Dining Around the World: Bongo's Cuban Cafe
July 3rd's Fireworks at the Magic Kingdom!
Hoop-Dee-Doo: Testing New Showtimes!
Rapunzel To Become a Permanent Princess!
Firework Shots Throughout the WDW Resort
Halloween Horror Nights Preview (Universal Orlando)
Busch Gardens Annual Passholder Savings
Saratoga Springs - Paddock Pool Grand Opening
FEATURE OF THE WEEK:
Mission:Space
Mission: Space is an E-ticket that has had a lot of bumps in its short existence. Already having at least one strike against it from most Disneyphiles (it replaced the beloved Horizons), Mission: Space's concept has been around since the beginning, but only in the 21st century did the concept come into being. Of course, several modifications to the original grand design were made, but overall the ISTC is here for the forseeable future. Add to that the Orange/Green switch a few years ago (and the circumstances surrounding it) and M:S is an attraction that tries to be the cutting edge thrill ride, but never really fulfills that place alongside other headliners like Test Track and Soarin'. Like it or loathe it, Mission: Space does offer a truly unique experience that is worth at least a chance, and while I will always look at that space in Future World and wish that gold gem shaped building celebrating the future was still there, I can't help but agree that the replacement building is a pretty grand sight in its own right. Though, I always knew, "If you can dream it, you can do it." - YoyoFlamingo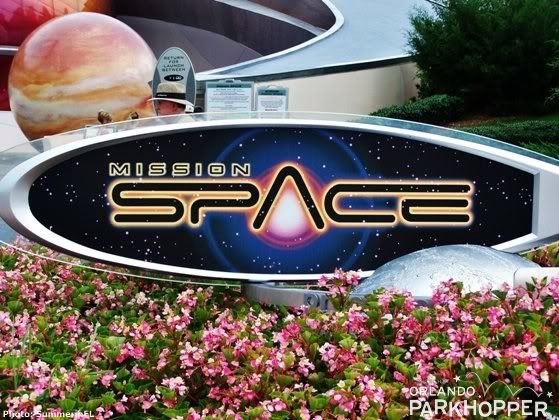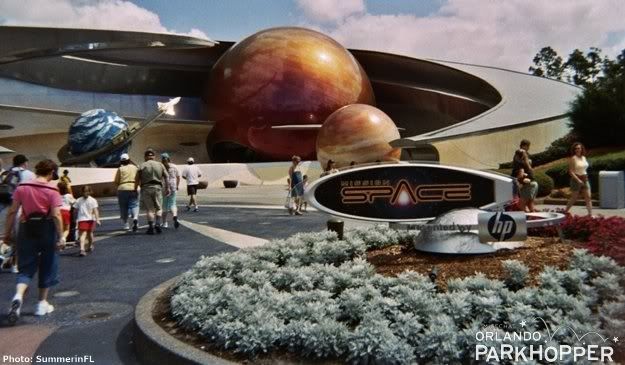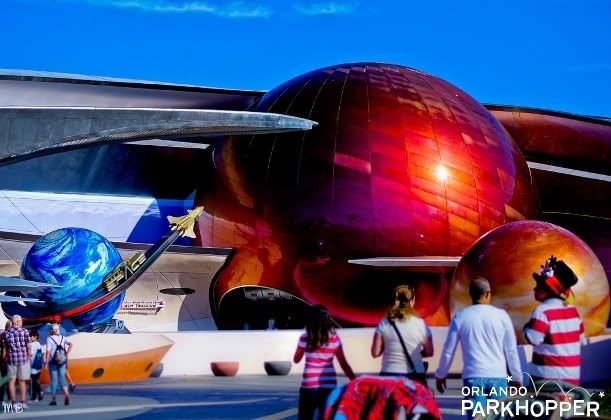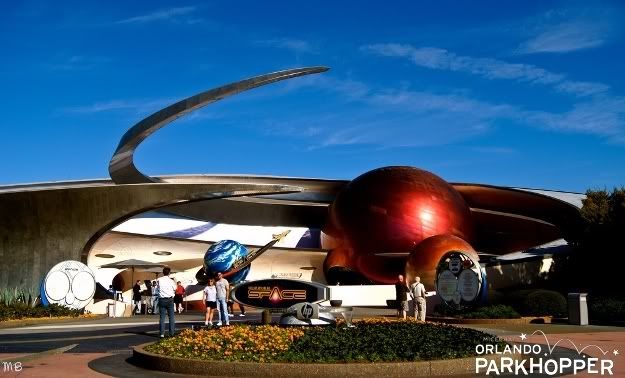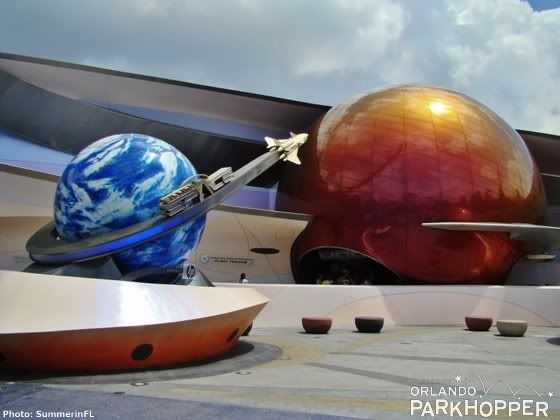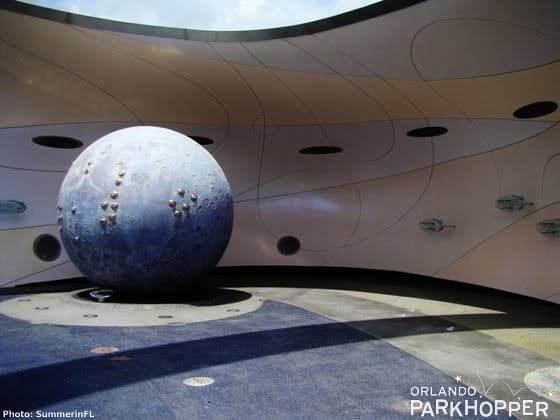 Queue: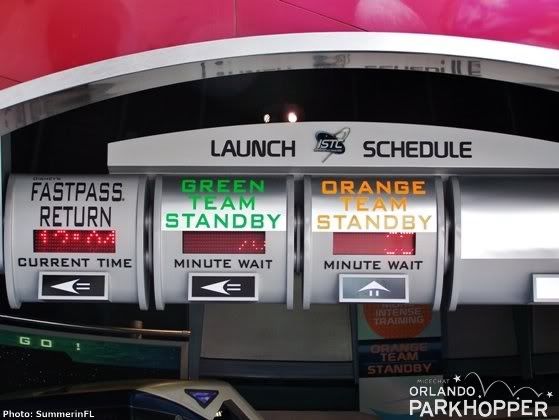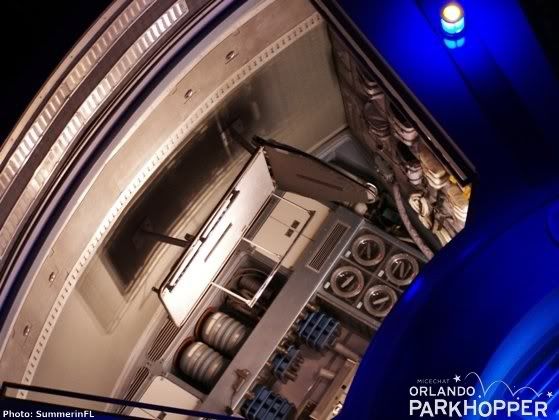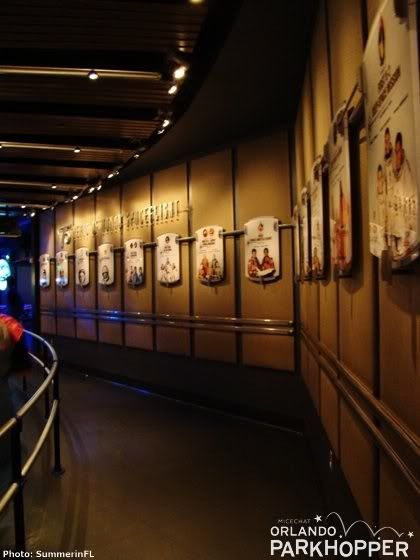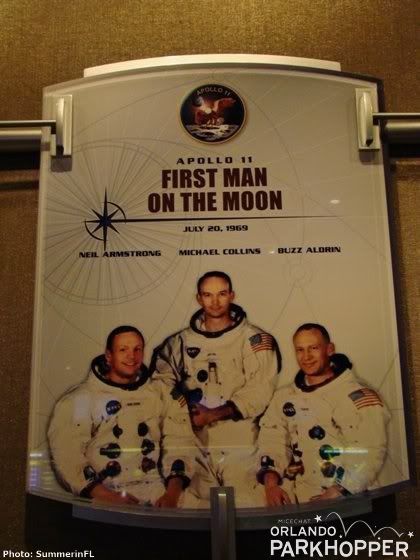 Attraction: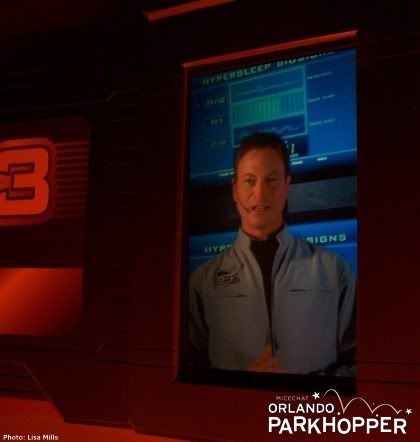 Exit: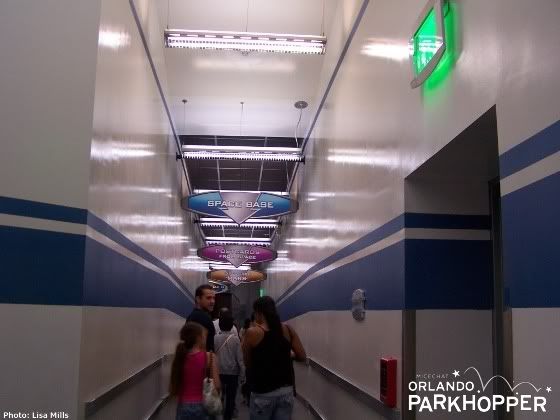 DINING AROUND THE WORLD:
Bongo's Cuban Cafe
(Downtown Disney Westside)
by TerryTiger
Article 3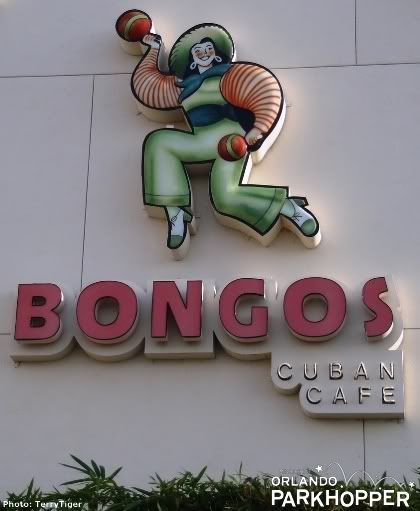 Bongo's Cuban Cafe has been part of Downtown Disney since 1997. The 2-story restaurant/nightclub itself is quite unique. Built in the style of an old Havana nightclub it features a giant pineapple made of adobe in one corner that dominates the Downtown Disney waterfront. Bongo's is most famous for being owned by latin pop stars Gloria and Emilio Estefan.
Bongo's opens for lunch every day at 11 AM and stays open for dinner until 10:30 PM Monday-Thursday and serves until 11:30 PM on Friday and Saturday. Also on Friday and Saturday, the three bars stay open with a live band for music and dancing until 2 AM! Bongo's also has an express window for take-out orders.

The menu is quite extensive and most of the items are titled in Spanish. Each dish has an accompanying description in English which is helpful since this isn't the usual mexican-cuban mix one comes to expect in Central Florida. Here you can get chicken, pork, steak, fish, shrimp, calamari, scallops, and lobster cooked in many different ways: fried, breaded, grilled, sauteed, roasted. Most entrees come with rice, black beans, and plantains. The portions are generous (most large enough to share).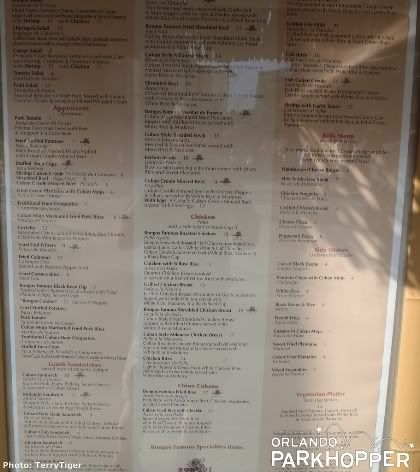 On a recent visit, we started with the Fried Calamari. It arrived promptly and was cooked properly. The breading was light and the banana pepper aioli was a nice (albeit different) alternative to the standard marinara sauce usually accompanying this dish. We skipped soups & salads and went on to the main course which turned out to be good because the portions are huge! I tried the Bistec a la Milanesa (Cuban Breaded Steak topped with Marinara sauce and melted Mozzarella Cheese). It was supposed to be served with Moro Rice (rice cooked together with black beans) and Maduros (sweet fried plantains). Mine came with white rice and black beans in a bowl on the side. I just mixed them together anyway. This entree is kind of like a cuban version of Veal Parmesan. It was delicious but my arteries hardened just a bit as I finished up the gooey fried goodness. My dining companion had the Masitas de Puerco which consists of deep-fried pork chunks marinated in Mojo sauce and topped with seasoned grilled onions. It was accompanied by Moro rice and yuca con mojo. Always a tasty meal, it is a common Cuban dish and is similar to it's Mexican counterpart, Carnitas. We were quite full after we finished our entrees, but we had to sample the Flan. It was simply delicious.
Dinner at Bongo's can run from as little as $15 for soup and a sandwich up to $35 for Surf & Turf. Reservations recommended but not usually necessary. Bongo's accepts all credit cards as well as Tables in Wonderland.
FIREWORKS PHOTOS
In the spirit of the 4th of July our resident photographer Miles Bresin brings us some stunning photos of fireworks throughout the Walt Disney World.
By:
Miles Bresin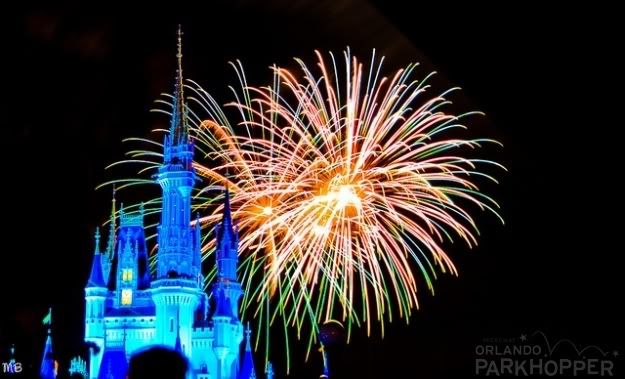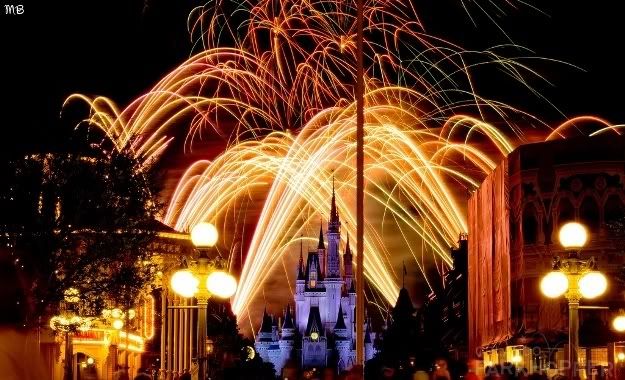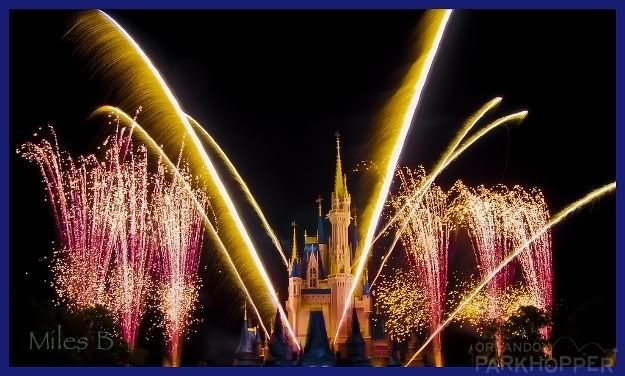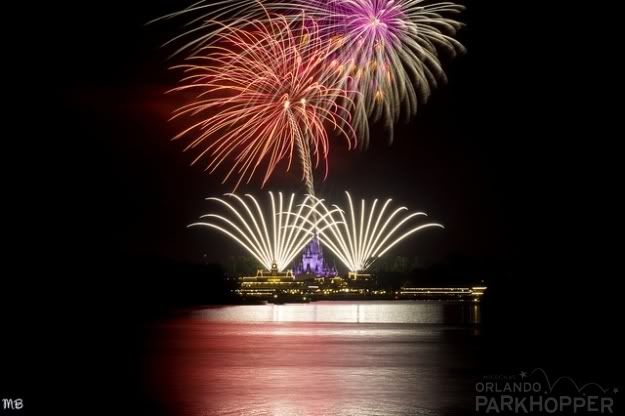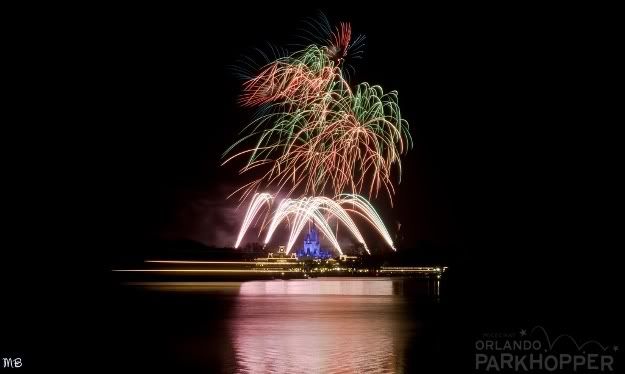 FIREWORKS PHOTOS
ABOMIBOT braved the crowds to bring us some stunning photos of last nights fireworks.
By:
ABOMIBOT
Pre-Show Crowd (Still an hour to go!)
[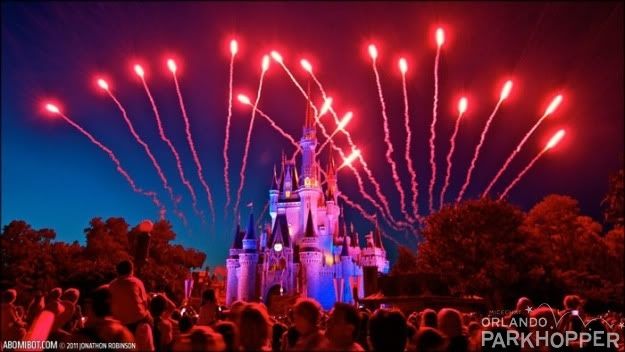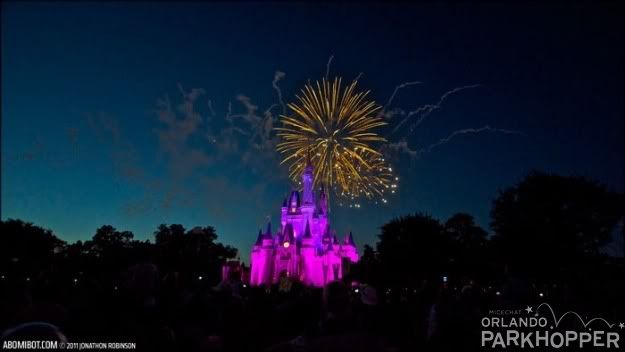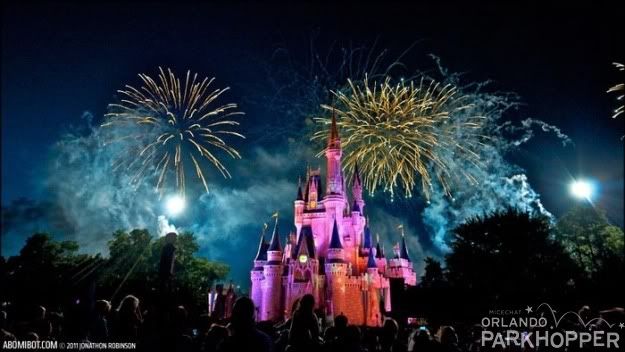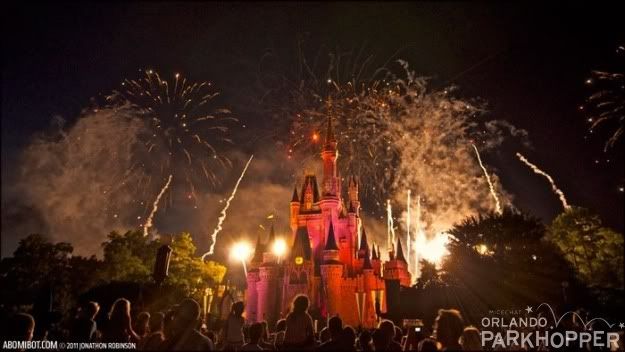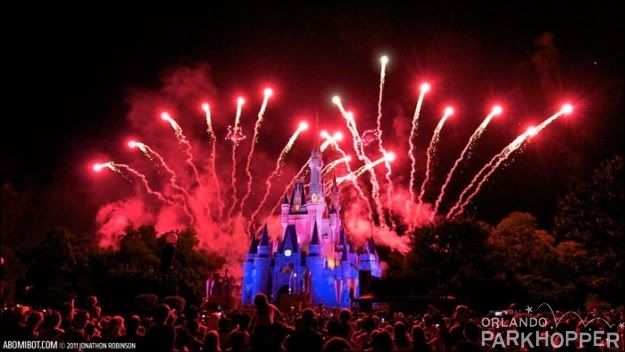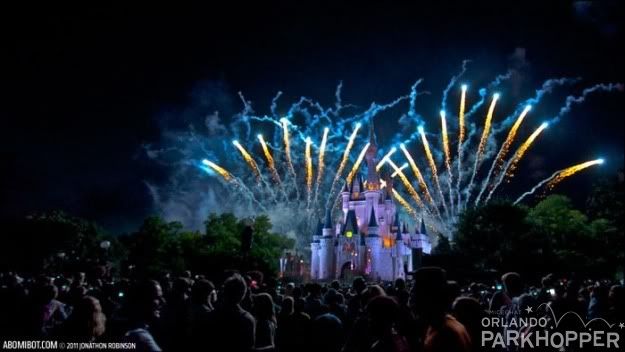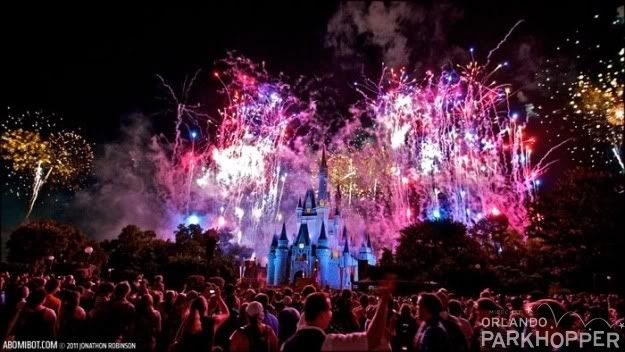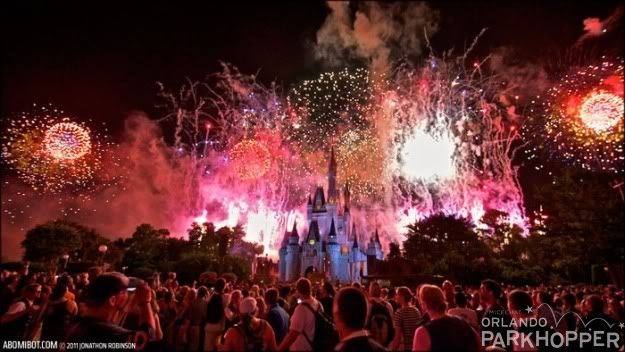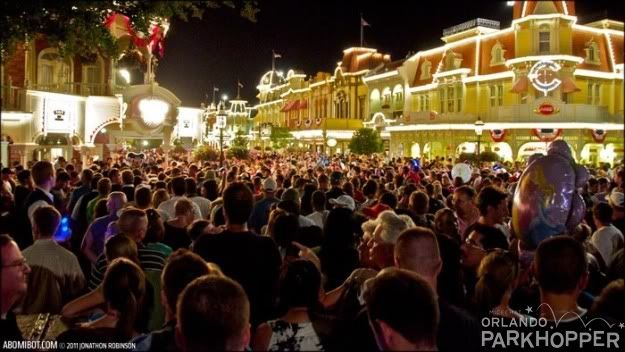 Post-Show Mob. Many an ankle was smacked by many a stroller.
MAGIC KINGDOM:
FANTASYLAND:
Rapunzel Meet and Greet to be Adjusted
Beginning July 3rd, the Tangled meet & greet experience will be adjusted so the experience will focus on Rapunzel, who has become a guest favorite since her addition to the Magic Kingdom park last year. In addition, there will be an official ceremony on October 2nd at Kensington Palace in London, UK, commemorating Rapunzel's addition as an official member of the Disney Princess court. Ariel, Aurora, Belle, Cinderella, Jasmine, Mulan, Pocahontas, Snow White and Tiana are expected to be in attendance to the honor the newest Disney Princess.
A DAY IN THE MAGIC KINGDOM
Character observations.
Abomibot
Editor's Note:

I just wanted to give a warm welcome to our newest team member Abomibot, his photography and story telling are legendary on the west coast, I can't say I'm sorry he now brings his keen eye and sharp wit to the Orlando area.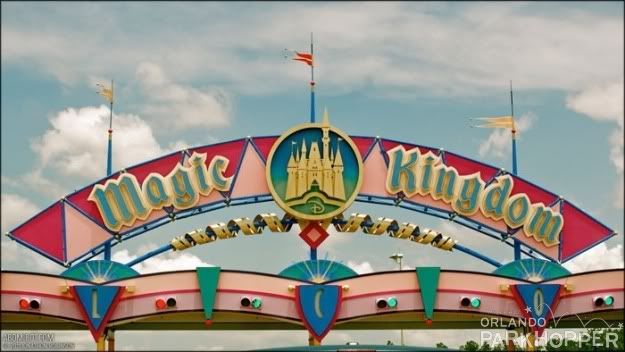 If you haven't been to the Magic Kingdom's Main Street Cinema Saturdays at 2:00pm you're missing out on a fun way to celebrate 40 years of Disney Magic in Florida. Each week, Kevin Yee & company meet and ride one of forty attractions for forty weeks ending October 1st, the fortieth anniversary of Walt Disney World's opening day.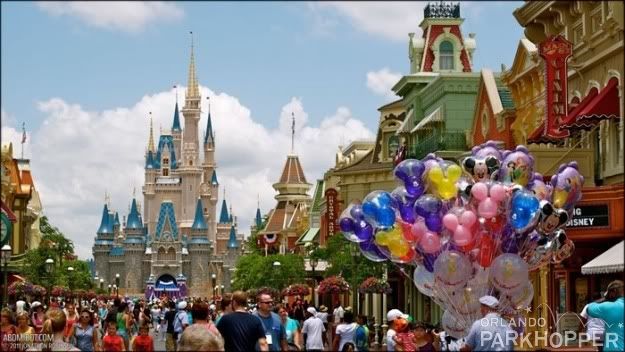 A busy Saturday afternoon on Main Street U.S.A.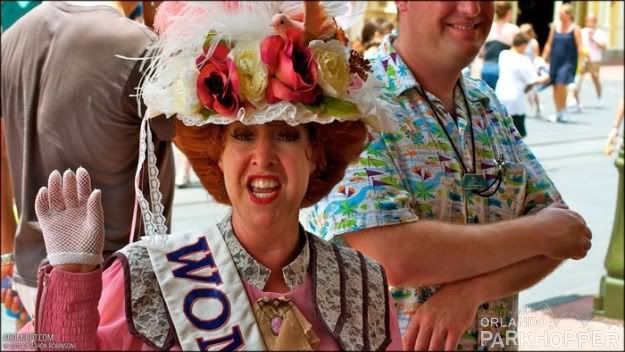 Our group was joined by a local suffragette. Claims one day she'll be mayor.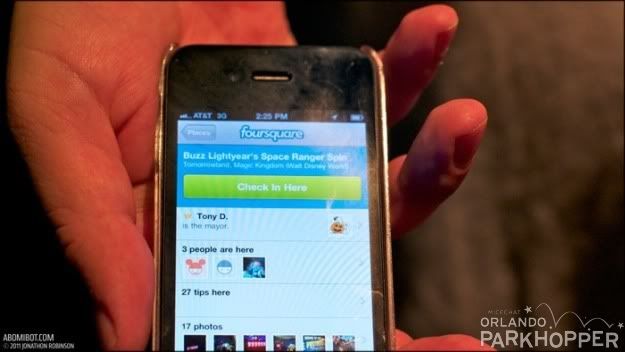 One of the advantages of living in central Florida is frequent check-ins to make your non-Floridian Facebook friends hate you more with each visit. Neener neener.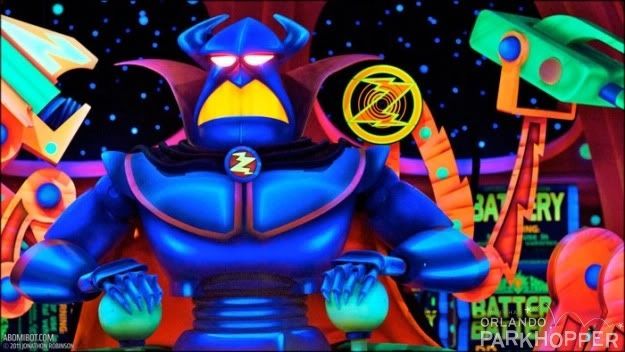 Zurg may have been defeated this time but know he shall return to fight another day!
As you can see from the schedule of remaining 40x40 meet & rides below, some of the best is yet to come. Come on by and join us Saturday for a ride on Jungle Cruise! You'll meet some fellow MiceChatters and have an awesome time! The first person to show up this week and mention code word, "pachyderm" to ABOMIBOT gets rewarded with the rare treat that is his famous elephant impersonation! (Okay, straight up there is no famous elephant impersonation. I just want you to come. But if you show up and say the magic word I'll make some kind of attempt, deal?)


On my way home from this week's 40x40 spin on Buzz Lightyear's Space Ranger Spin, the "Dreams Come True" castle show was starting just as I was passing by.

Here you can see the new(ish) character heads that blink and lip sync recorded dialog. Some have been critical about getting photos of the characters with their eyes fully or partially closed. This clearly shows not all blinks captured on film appear as sleepiness (or worse). Adorable.
Donald lets himself dream... and its a dream of pirates! Aarrhhhhhh!!
Unfortunately Hook & Smee crash the party.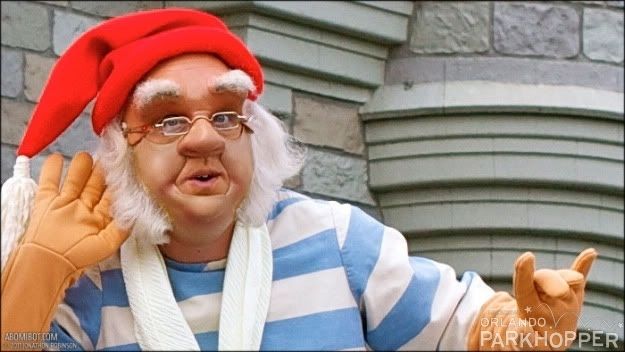 These character faces are hybrids, part human and part mask. They're wholly successful in motion, in context and with a little of what the pros call aesthetic distance. But you can really see the artificiality in a high resolution still. Thanks to the great performances of the cast, however, I honestly didn't know what was prosthetic and what was actor until I got home and really scrutinized the photos.
This is why you hire private security for your parties, people. You wanna keep the riff raff out.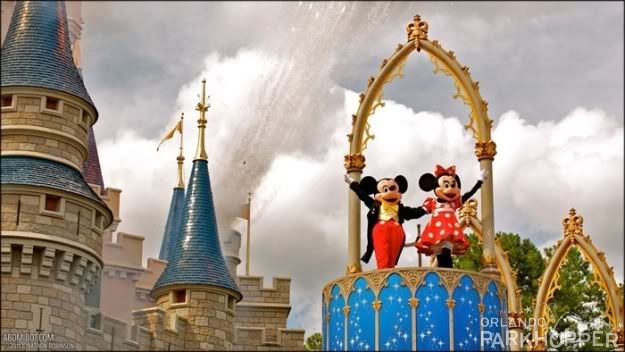 Dreams vanquish nightmares and the world is once again safe from evil!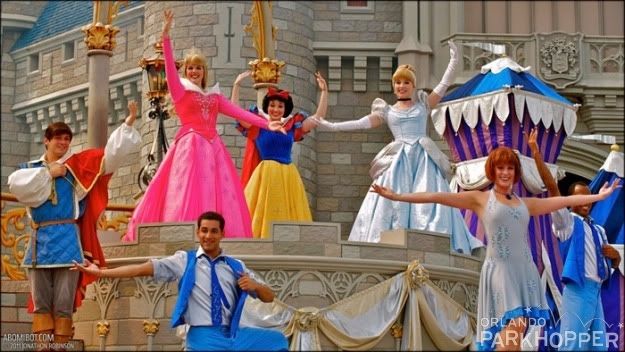 And (say it with me) they all lived happily ever after.
EPCOT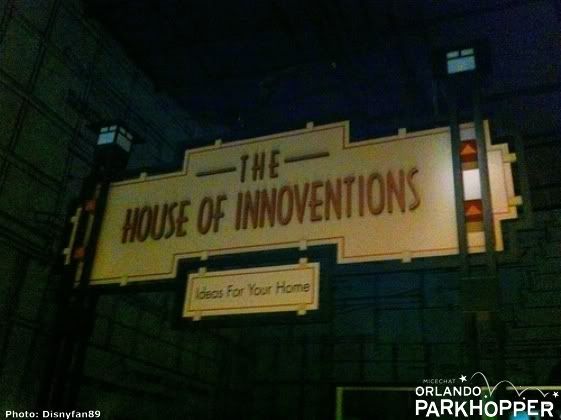 Over in Innoventions East the sign has been returned to "The House of Innoventions," with an expected soft opening sometime this week!
JULY 4TH EVENTS
Entertainment happenings in Epcot!
Disnyfan89
July 4th at Epcot is expected to be a spectacular day with special holiday-themed entertainment, including a thrilling patriotic ending to the popular Illuminations: Reflections of Earth. In addition to special entertainment park hours will be extended one hour to 10pm and all guests will recieve a special American Flag pin when entering the park (while supplies last!)

American Adventure will be the place to be, featuring special decorations and entertainment for this day only.

Atmosphere entertainment at The American AdventureLive shows at America Gardens Theatre
Nighttime spectacular at World Showcase Lagoon: IllumiNations: Reflections of Earth with July 4th tag (10 p.m.)

WALT DISNEY WORLD RESORTS:
HOOP-DEE-DOO MUSICAL REVUE
Testing new showtimes!!
Insider News!
From November 13, 2011 to February 12, 2012, Hoop Dee Doo Musical Revue will be testing out new show times to evaluate the operation and needs of its guests. Show times will be adjusted to start one hour earlier at 4:00 p.m., 6:15 p.m. and 8:30 p.m. (Current show times are 5:00 p.m., 7:15 p.m. and 9:30 p.m.)
For those that have already booked their reservations the new reservation window that went into place on June 28th will reflect the change in time(s). It is not known whether this will become a permanent change once the testing period is over but the results will be analyzed at the end of the testing period.
After February 12th, 2012, the show will revert back to their current times of 5:00 p.m., 7:15 p.m. and 9:30 p.m. However the results of the feedback from guests will help them determine if a change will need to be made.
At this time the show times are the only thing that has changed, pricing, DDP and all other dinner shows will remain unaffected.
Paddock Pool Grand Opening
The Paddock Pool renovation has finally opened at Saratoga Springs Resort. This renovation adds a new, additional feature pool to the DVC resort complete with water slide, hot tub, and children's water play area, and also adds a desperately needed (in my opinion), quick service location, the Paddock Grill. Since Artist's Palette can get extremely busy, it's nice to have another option at the resort.
Summer Night's
Now through August 14th
Returning this year is Kinetix, a 30 minute show that features acrobatics, dancers, singers and pyrotechnics. The show is included with admission and is performed nightly at 9:00pm at Gwazi Park (located behind the Gwazi roller coaster).
Also performing during Summer Nights is magician
Christopher Cool
, who will be performing nightly in front of the Sultan's tent in Morocco. Showtimes are
5:00pm, 6:00pm, 7:00pm & 8:00pm
(except Mondays).
Island Nights - Adventure Island
Now through August 13th - 5PM to 9PM
This summer at Adventure Island, (BGT's water park) when the sun goes down, the fun heats up during Island Nights. It's a vacation from the everyday as Busch Garden's water park transforms into a celebration of island life with live music, authentic entertainment and inspiring cuisine.
PASSHOLDER SAVINGS!
A report on the exclusive savings being offered to annual passholders.
By Aimster
Pass Member Exclusive Dining Offer.Pass Member Exclusive Merchandise Offer.
Save 20% off your entire merchandise purchase of $20 or more at SeaWorld Orlando, Busch Gardens Tampa Bay, Aquatica and Adventure Island.
Offers valid now - September 6, 2011. Offer valid May 31- September 6, 2011. Must present valid Platinum, 2 year or 1 year Pass to receive discount. Discount applies to single transaction. Cannot be combined with any other offers. Offer valid only on gift shop items and not valid for stroller or wheelchair rental.

Mangomania! Fruit Fair
July 30th & 31st
- Pine Island, FL
Adults: $6.00
Children: 10 and Under
FREE
!!
Mango Mania is a summer festival and celebration of Pine Island's Mangos and other tropical fruits.
It is a festive, informal and incredibly fun family event.
Kennedy Space Center - Star Trek Exhibit
Now through September 5th
Appearing for the first time in Florida, STAR TREK: THE EXHIBITION, presented by EMS Exhibits, Inc., is an interactive exhibit of authentic Star Trek artifacts from the past 45 years, featuring one-of-a-kind costumes, props and filming models from Star Trek television series and feature films. Together these elements offer, Star Trek fans and novices alike, an opportunity to experience first-hand the imagination, artistry, technology and meticulous craftsmanship that have made Star Trek the most enduring science fiction franchise in history.
Orlando Science Center - Guitar: The Instrument that Rocked the World
Now through September 11th
The National GUITAR Museum announced that its touring exhibition, GUITAR: The Instrument That Rocked The World will launch worldwide at the Orlando Science Center. The 5,000 square foot will explore the history and evolution of the guitar-from lutes and lyres to modern high-tech instruments-and show how the instrument became the cultural symbol it is today.
Don't forget to check out the other areas of MiceChat that offer news, updates and photos about the other Disney Parks around the World!
We want your photos! Contribute to the Orlando Parkhopper by emailing orlandoparkhopper@miceage.com with your submissions. We welcome volunteers for single contributions as well as permanent "Parkhopper" staff.

Thanks to our fantastic and talented crew of writers, photographers and news contributors who work hard every week to bring you the latest information available: