New this week:
Feature of the Week: Festival of the Lion King
Dining Around the World: Pinocchio's Village Haus (A retro look!)
Celebrate a Dream Come True Parade Time Added
Character Meet and Greets Out for Extra Magic Hour
Tink & Friends Moving Again
Monorails Shifting Availability
DHS Observations
Disney Mugs Dispense System Testing a Change
City Walk Miniature Gold Photos
Busch Gardens Round Up
FEATURE OF THE WEEK:
Festival of the Lion King
While the attraction roster is noticeably light at Disney's Animal Kingdom, it does have some of the most popular attractions in Disney's repertoire. Expedition:Everest, though moving Yetiless, still has a very popular following, Finding Nemo - The Musical, is still one of the most popular shows in Walt Disney World. Kilimanjaro Safaris is a headliner that lives up to its name, and then there's Festival of the Lion King - a performance that rethinks the idea of a stage show at Walt Disney World. While Disney has a habit of rehashing a movie's plot for their shows, or relying on the concept of good vs evil (Fantasmic!) or dreams and believing (Dream Along with Mickey), Festival of the Lion King takes the Disney Stage Show to a new level. It really is a celebration of the events of the Lion King, using characters and animatronics (left over from the Lion King Celebration Parade at Disneyland) as a framework more for acrobatics and skillful performers rather than the characters from the movie. It's truly an impressive sight. As someone who doesn't care for the show, I can see the talent the performers bring to each performance, and truly appreciate why it's as popular as it is. So, join the Orlando Parkhopper team as we attempt to share the majesty to Festival of the Lion King. - YoyoFlamingo

Entrance: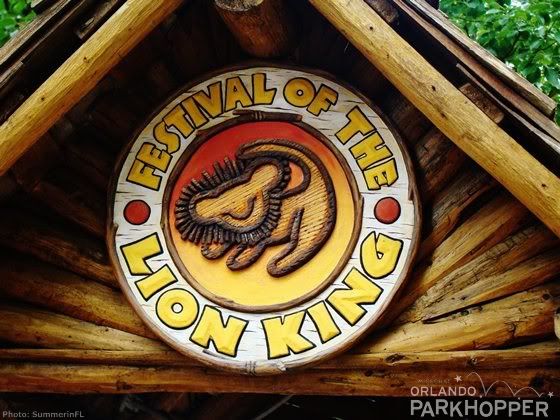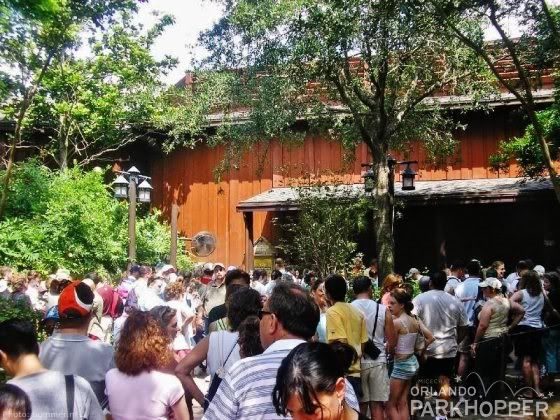 Show: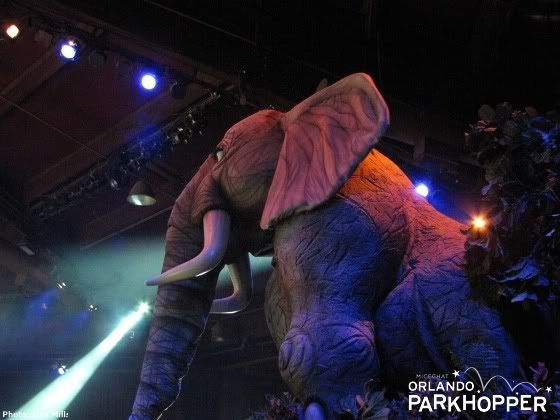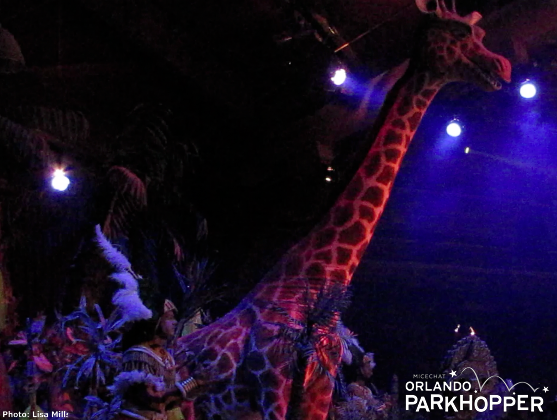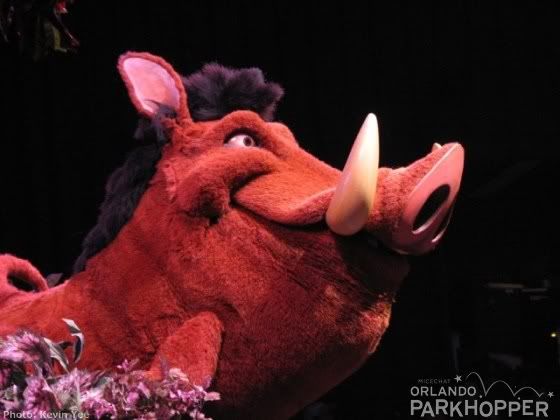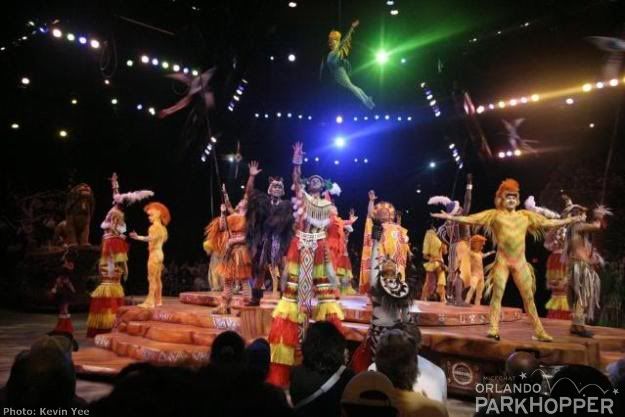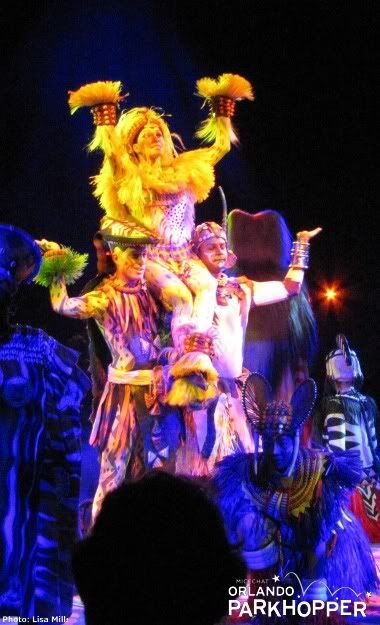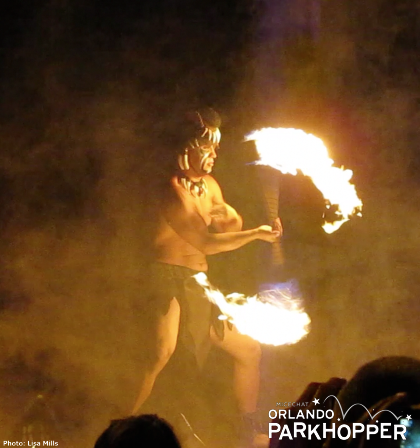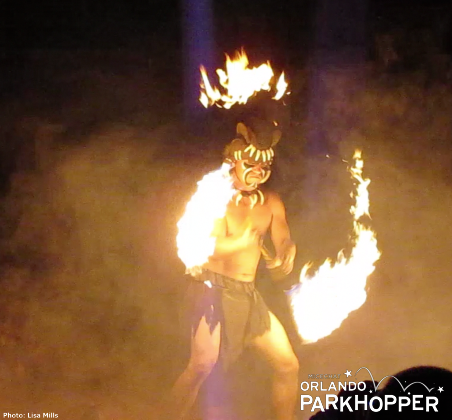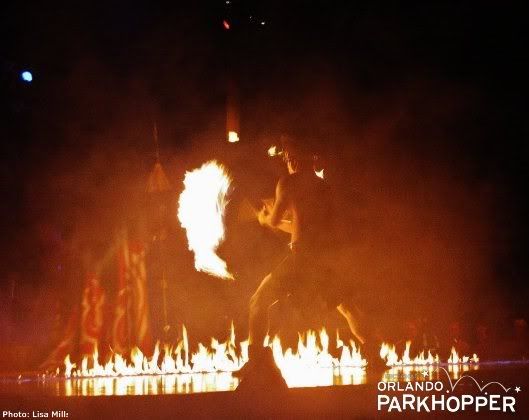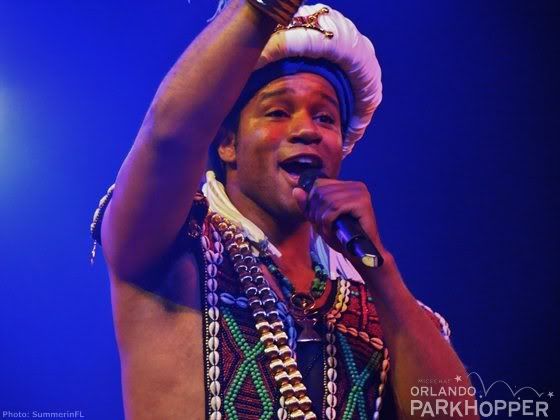 Acrobatic Monkeys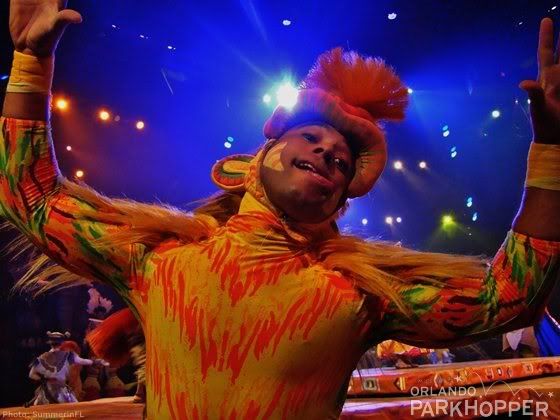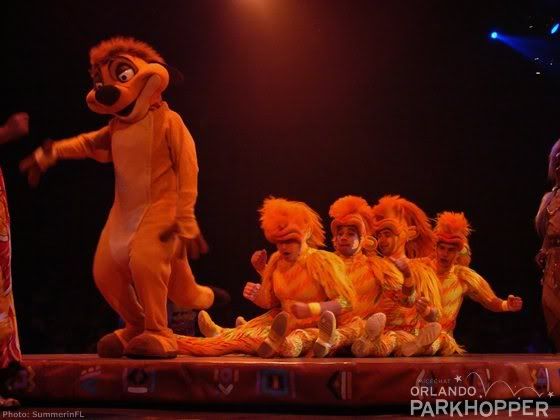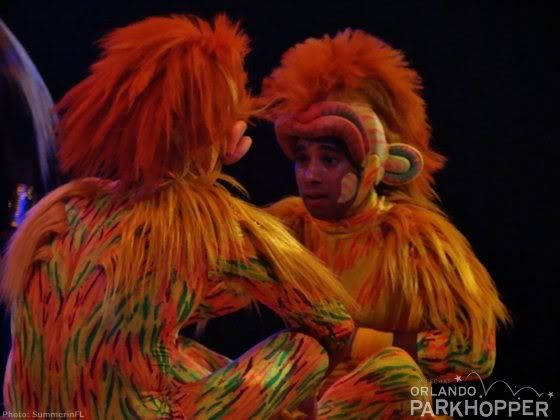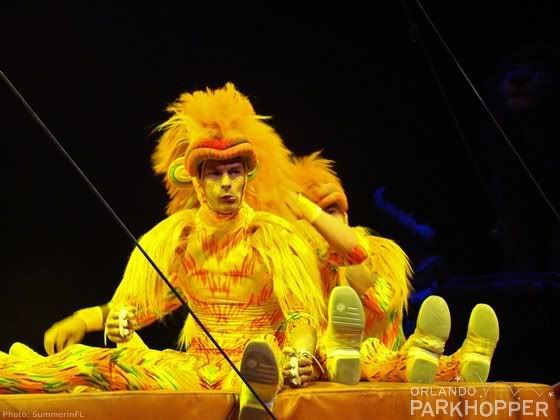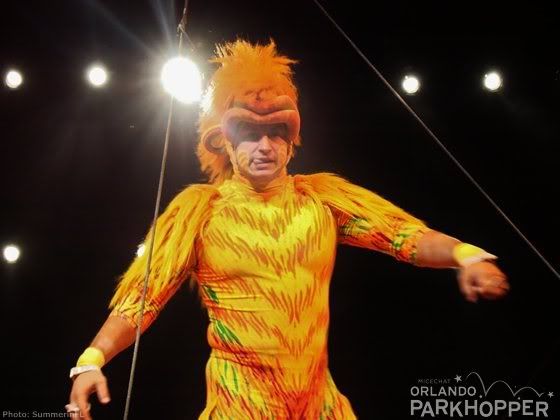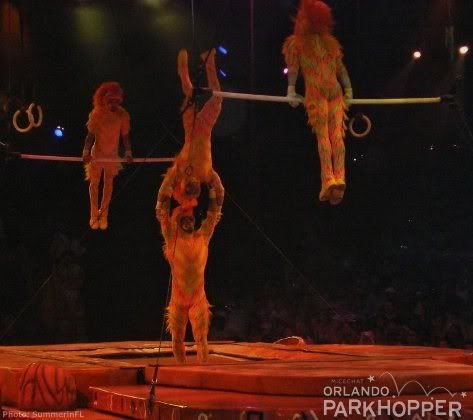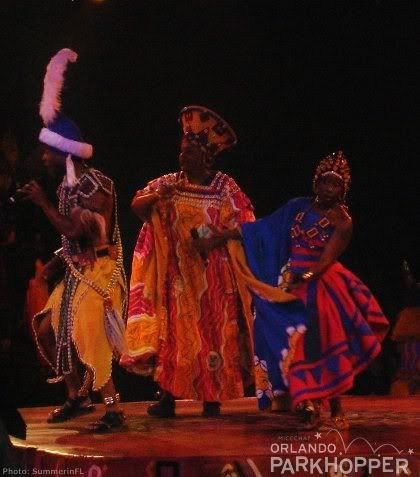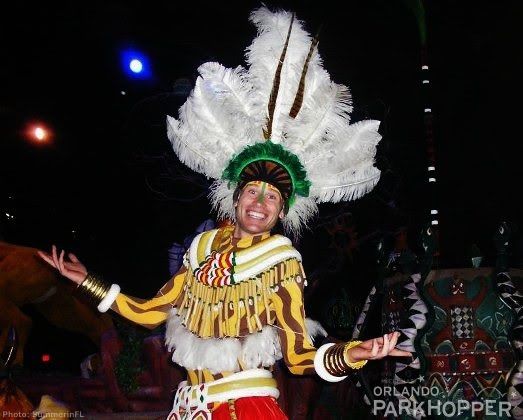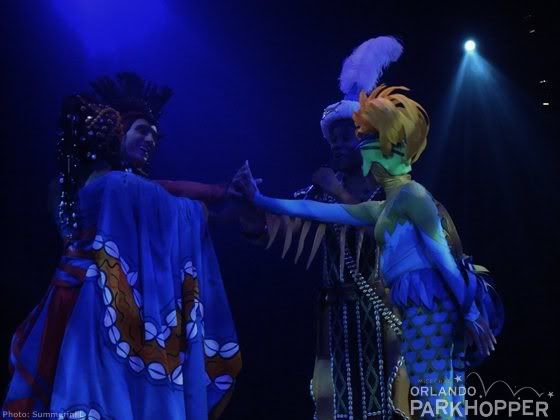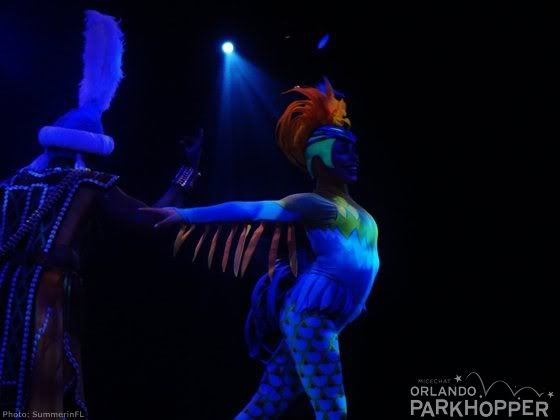 DINING IN A MINUTE:
Pinocchio's Village Haus
A look back at this classic dining counter service.
by SummerinFL
A few years ago Pinocchio's Village Haus was a must stop location for my family. Unfortunately, when the Figaro fries and the pressed turkey sandwich (my personal favorite) were removed from the menu, we tend to find ourselves drifting toward other locations inside the Magic Kingdom, but there is still a nice variety of foods available here.
Figaro Fries & Pressed Turkey Sandwich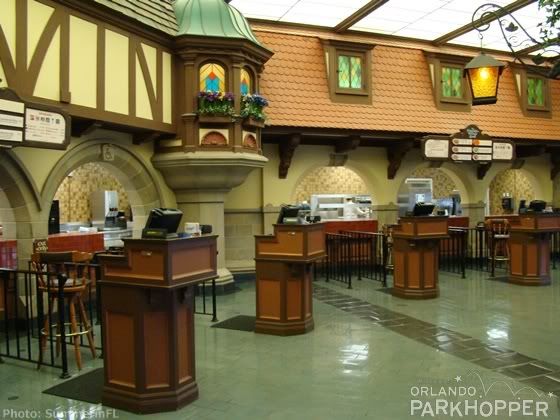 Themed after its namesake
the movie
, there is plenty to look at around every corner and the theming is mildly extensive.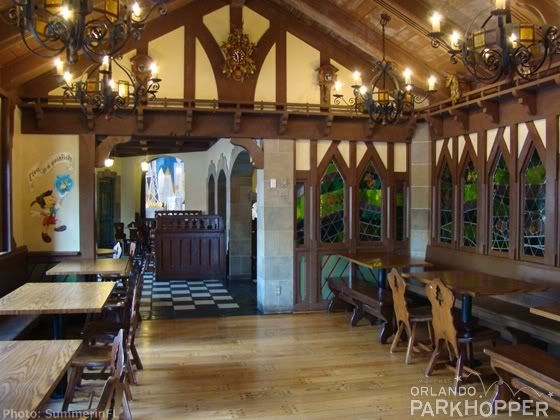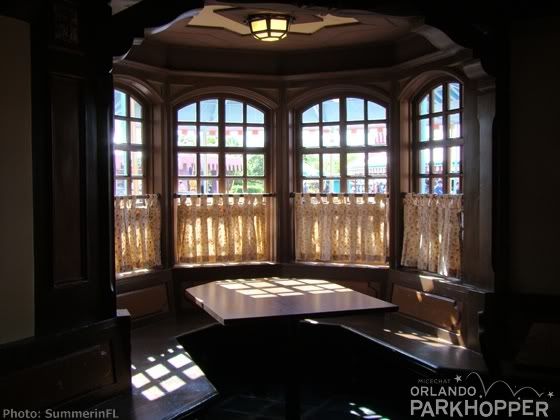 On previous occasions I've personally witnessed cast members engaging the guests with songs and even with a miniature puppet we all know and love.
One of the main complaints across the board is that its getting harder and harder to find unique items in different locations. However, as you can see below, they do have some items that you won't find on every menu, like the chicken parmesan, the Mediterranean salad and tomato basil soup.

Bread Sticks - $3.99
Chicken Caesar Salad - $7.79
Chicken Breast Nuggets - $7.89
Chicken Parmesean - $8.99
Meatball Sub - $8.39
Mediterranean Salad - $8.49
Penne Pasta - $8.19
Pizza Combo - $8.69
Tomato Basil Soup - $2.59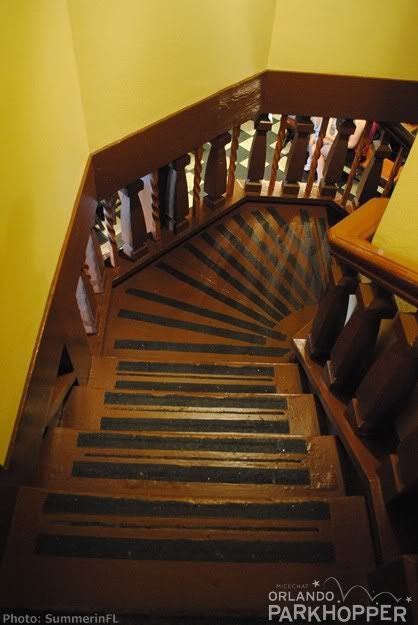 So, if you find yourself eating at this haus I would recommend climbing the staircase to the 2nd floor seating, the kids will love how high up you are and its a great perch to people watch from.

MAGIC KINGDOM:
From July 18-31, Celebrate a Dream Come True Parade will run two performances at noon and 3:30 p.m. daily during the busiest days of summer.

During this time, Move it, Shake it, Celebrate it! Street Party will be held during 10:00 a.m., 5:30 p.m. and 7:00 p.m. The parade will resume its normal parade time of 3:00 p.m. on August 1st.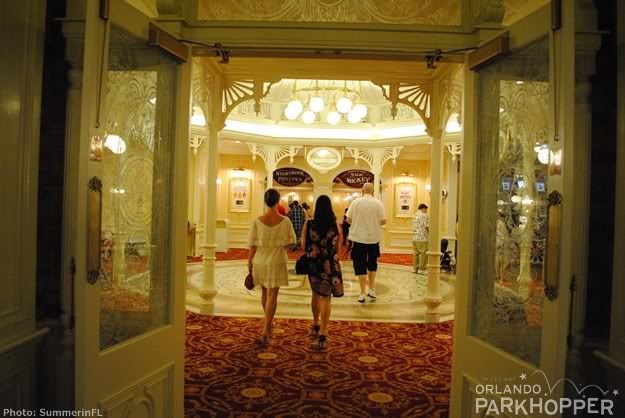 Magic Kingdom will no longer be offering character meet and greets during Extra Magic Hours. The park claims that guests have indicated that they prefer to focus on attractions during these times and visit characters during regular park hours (what do you think?).
ADVENTURELAND:
Tinkerbell and her friends will be relocating from their temporary home in Epcot to a new location inside the Adventureland Veranda on July 28th. Until that time, guests can continue to meet and greet Tinkerbell and her fairy friends in Epcot through July 27th, near MouseGear in Future World.
EPCOT
Operating hours for the Epcot Monorail system will change to one hour after normal park close beginning July 11, 2011, the Magic Kingdom Monorail system will also operate one hour after regular park close beginning August 1st, 2011. Officially, these changes are to accommodate for transportation maintenance.
DISNEY'S HOLLYWOOD STUDIOS
ABOMIBOT ROUND UP
Various observations within the parks.
ABOMIBOT
How is it that a quick trip to Disney's Hollywood Studios for dinner never ends up being just a quick trip for dinner? Run in, get a great meal at Hollywood Brown Derby, run out. Quick and easy, right? "But it's after five and there's still FastPasses left for Rock 'n' Roller Coaster. Well, okay, just one ride after dinner why not? A little time to kill, how bout we run in and check out the Walt Disney: One Man's Dream exhibit. Oh, and there's a film? Okay, so a film and a ride and dinner... and... and..." and so it went. What follows is our dinner-only trip in photos that included a lot more than just dinner.
I want to go to there.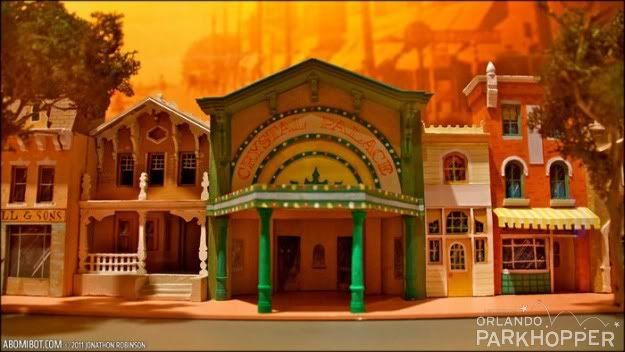 The Crystal Palace in a scale model of Disneyland's Main Street U.S.A. in Walt Disney: One Man's Dream. There's a ton of really amazing stuff in there, especially if you like scale models!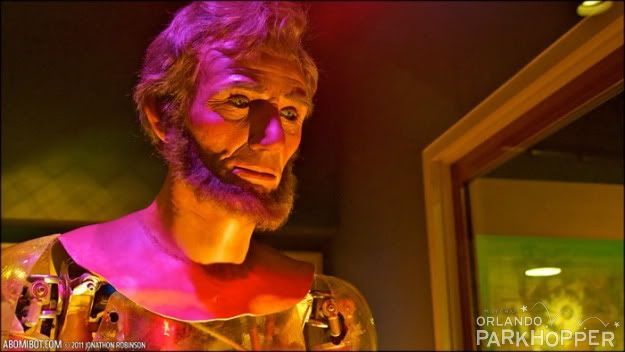 Lincoln is the first in a series of three robots in this report, a serendipitous and recurring thematic element. Yes I said serendipitous. Look it up.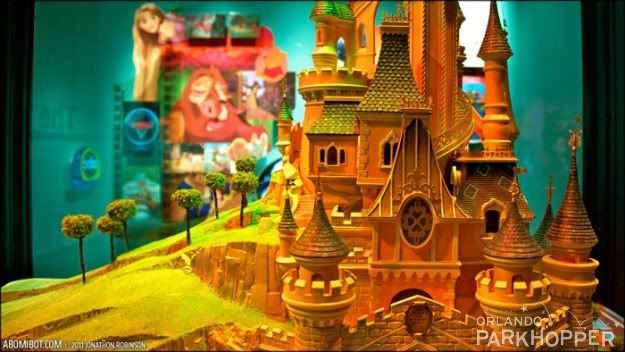 I want to go to here, too, but only after they fix it up again and France outlaws smoking in theme park common areas.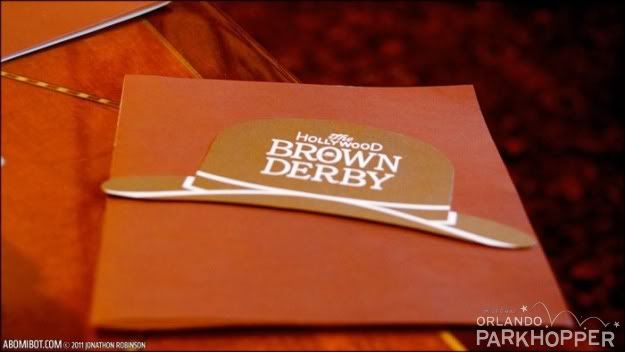 The reason for our little visit was the Brown Derby restaurant. If you haven't tried this place, I highly recommend it. Y U so stingy? Go . . . try it! You'll eat some food, you'll drink some booze, you'll have a laugh. We each tried the Flight of Martinis. It's a little carousel with three, two-ounce mini-martinis. One with Skyy Vodka, dry vermouth and a twist, one with Bombay Sapphire Gin, extra dry vermouth and an olive and a third with mlah mlah mlah it didn't really matter by that point mlah!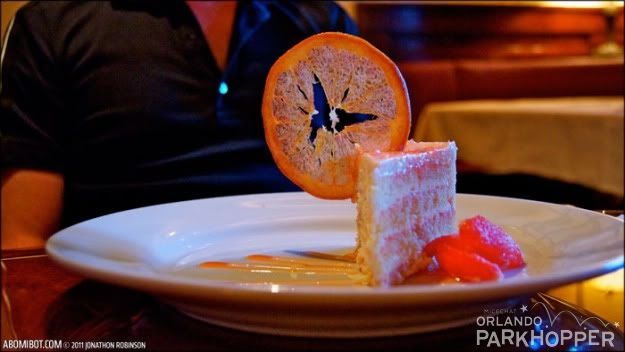 And you CANNOT leave without having the famous grapefruit cake. Mmm. Mmm. How good is that? Mmm. I put it in mah belly!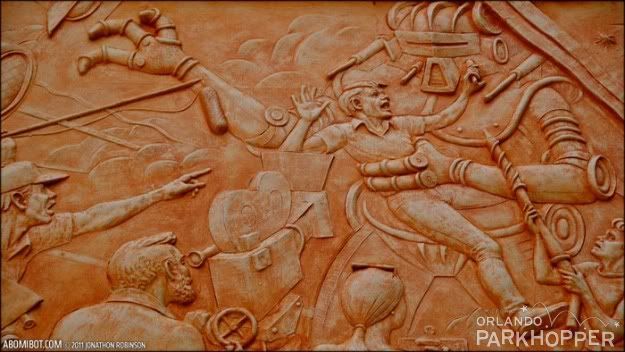 Robot Number Two: Giant Killer Robot Goes Wild on Movie Set in Bas-Relief. Look it up. Clearly the flight of martinis and grapefruit cake has gone to my head and one unintended consequence is my string of five dollar words in this trip report.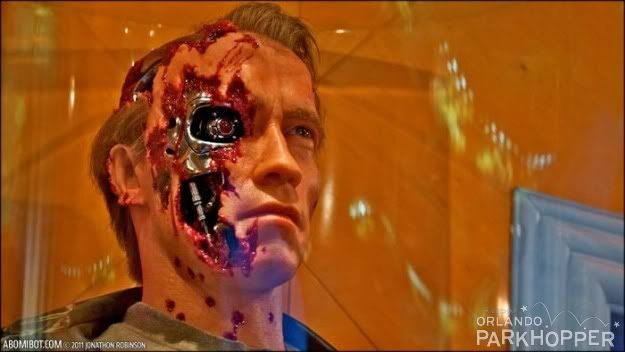 Ladies and Gentlemen I give you Robot Number Three The Terminator a.k.a. How I Learned to Stop Worrying and Love the Maid. Too soon?
A Villains in Vogue Window. What can we glean from this? That Vinylmation is the rotten black core in the apple of Disney Parks merchandising? I didn't just say that. I asked it. There's a difference.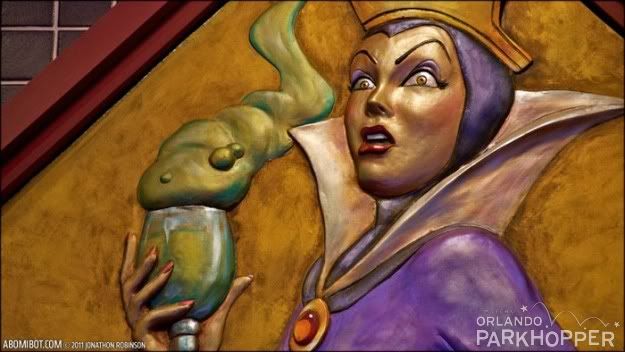 I'm not the only one tippled by the third martini!
I guess you think this sign is about you don't you don't you?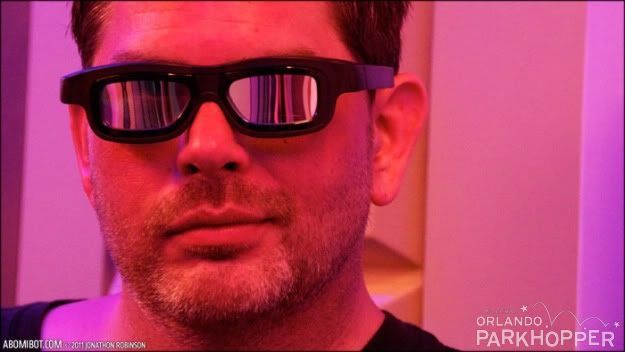 3D never looked so scruffy. Yours truly pretending 3D glasses aren't a gateway to dorkdom.
Just get me as far away from Illeana Douglas as quickly as possible. Worst. Pre-show performance. Evar. Look her up.
Wee!
See what I mean about how a dinner is never just a dinner? In for a penny in for a pound, I guess.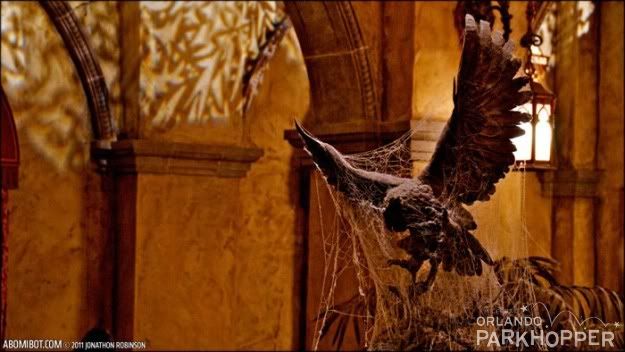 It is so hard to find a good housekeeper. And when you do, she doesn't do windows. Or birds, apparently.
And now I give you the Sunset at... (wait for it)...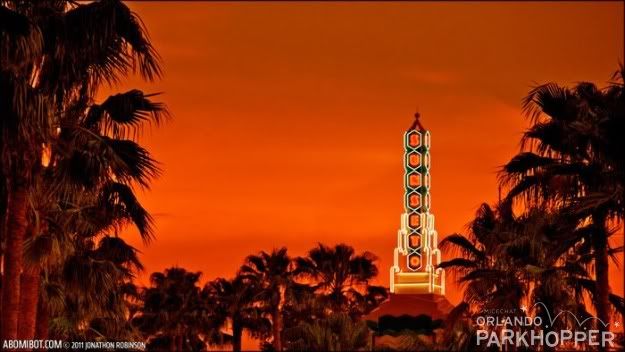 Sunset! (Cue angelic chorus.)
And we run to the car before the Fantasmic! Horde runs us down, nipping at our ankles with their strollers. Goodnight, DHS thanks for dinner plus, plus, plus, plus, plus!
WALT DISNEY WORLD RESORTS:
Dining With an Animal Specialist
Unlimited Fill Mugs
You know the resort mugs that Disney has had for years? You could purchase them and then refill them as often as you like for the length of your stay. Well, unfortunately, too many guests have cheated the system for too long, bring the mugs back from previous visits, bringing non-Disney mugs or using "water" cups to get drinks from the fountains. Disney has begun installation on a new drink machine with software to restrict and limit use of the fountains for only currently valid mugs. Once you purchase a mug, it will allow you to refill your drink for a certain duration (which is probably longer than you are staying there) on their machines. In fact, these machines will dispense a certain amount of soft drink, from any combination every five minutes. Older mugs will not work on the new machines and will not dispense anything but ice and water for the expired mugs, just like a glorified water cup. If you buy an individual drink cup from the location instead of a mug, it will work for a certain period of time while you dine, but not for a long period after your meal. Other resorts have used the same set up (Dollywood for example) but no one has tried this system on the scale which would be required at Disney. Disney's All-Star Sports End Zone Food Court is the first and only Disney Resort to currently use this system.
It should be interesting to see how this test period works out and if it is picked up and begins to appear in more resorts. The Disney Dining Plan (regardless of type) may include mugs next year.

Machine setup is a bit different. No more "PUSH" buttons, instead just put your mug or cup against the new, longer, levers and your drink will dispense

Obviously WDI needs new signage to give directions as many guests appear confused in how to get the drink machine to work. I saw many trying to "push" where the button would be and young kids banging their mugs against the machine.



Dispensers before. Note the lack of levers. Guests would push a button instead.



The rumored DVC wing at the Grand Floridian has picked up a little bit of steam. Apparently, the past week has seen a change in the plans filed with the state for the new wing, requiring a little more of Seven Seas Lagoon being filled in for an access road around the addition. In the new plans, there are also more pathways clearly defined and what appears to be new rockwork by the feature pool, amongst other things.


Disney appears to be serious about this addition since they have filed multiple documents with the state, though nothing official has been announced to the public. Perhaps they are waiting for the D23 Expo, but even still, it's important to note Disney has a habit of building these units while not even acknowledging their existence (Bay Lake Tower at the Contemporary for example). This is something we'll keep an eye on, but things seem to be moving forward with this Vacation Club expansion.
Here's the
link
to the altered permit for anyone interested.
There have been a few times I've seen traces of the Marvel universe in the Disney parks. One notable instance was the placing of a Marvel encyclopedia book next to a Walt Disney World book (in Mouse Gear).

Here's another instance: hats in a store on Main Street. My wife picked these out before I could; amid the WDW-branded logos and happy colors could be seen these Marvel logos:

Admittedly, they were on the lowest two shelves, but I still find it jarring to have the two universes mixing - more jarring than the Pixar/Disney merger ever was.

One row away was a hat celebrating Walt Disney. I wonder what he would have made of all this?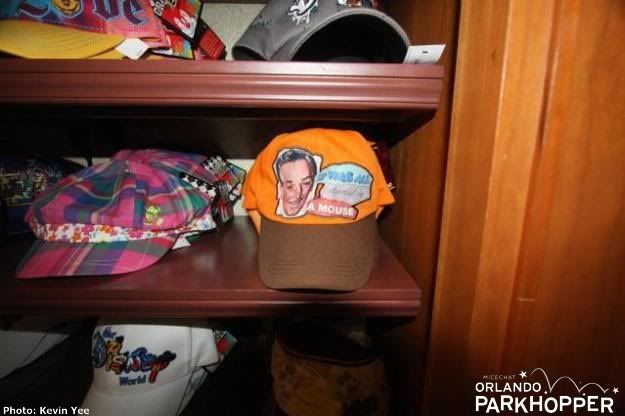 UNIVERSAL OBSERVATIONS
A few, quick glimpses at what's going on in the Universal Orlando Resort.
Kevin Yee
Miniature golf course under construction at Universal Orlando: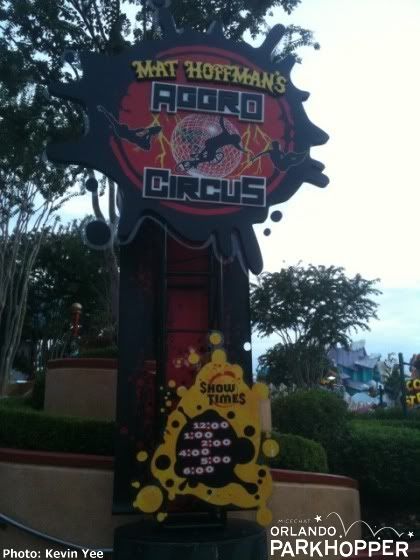 What is this Extreme Sports show at IOA? Haven't heard of it before.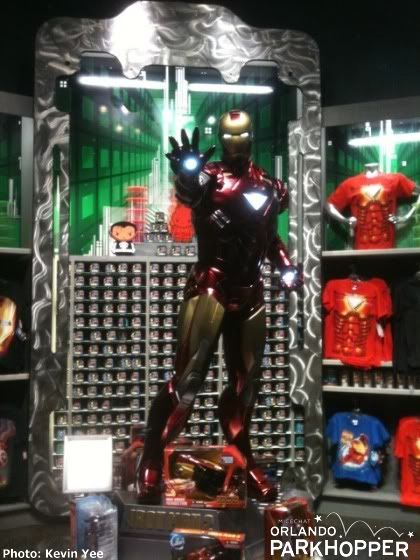 Iron Man in IOA means WDW can't have it (East of the Mississippi and contracts and all).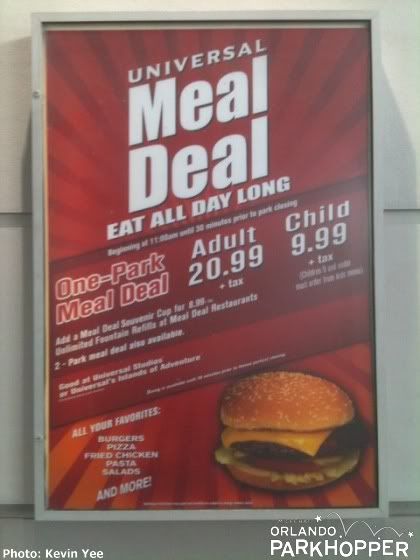 The meal deal is cheaper than past years, isn't it?
Summer Night's
Now through August 14th
Returning this year is Kinetix, a 30 minute show that features acrobatics, dancers, singers and pyrotechnics. The show is included with admission and is performed nightly at 9:00pm at Gwazi Park (located behind the Gwazi roller coaster).
Also performing during Summer Nights is magician
Christopher Cool
, who will be performing nightly in front of the Sultan's tent in Morocco. Showtimes are
5:00pm, 6:00pm, 7:00pm & 8:00pm
(except Mondays).
Island Nights - Adventure Island
Now through August 13th - 5PM to 9PM
This summer at Adventure Island, (BGT's water park) when the sun goes down, the fun heats up during Island Nights. It's a vacation from the everyday as Busch Garden's water park transforms into a celebration of island life with live music, authentic entertainment and inspiring cuisine.
BUSCH GARDENS ROUND UP
Summer Nights entertainment, Cheetah gifts, Kinetix and July 4th photos.
By Aimster
Over in the Crossroads of Culture area, a new entertainment offering has sprung up with a troupe of acrobats who do some amazing tumbling, balancing and end a little limbo!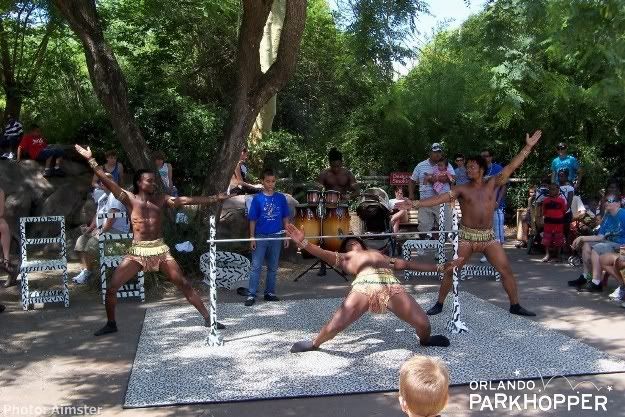 A few new items have shown up at Cheetah Gifts: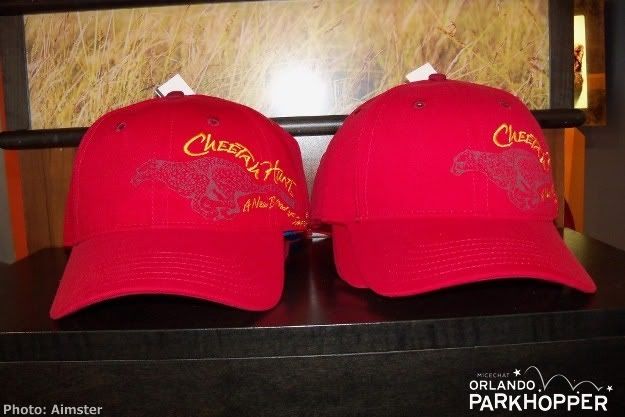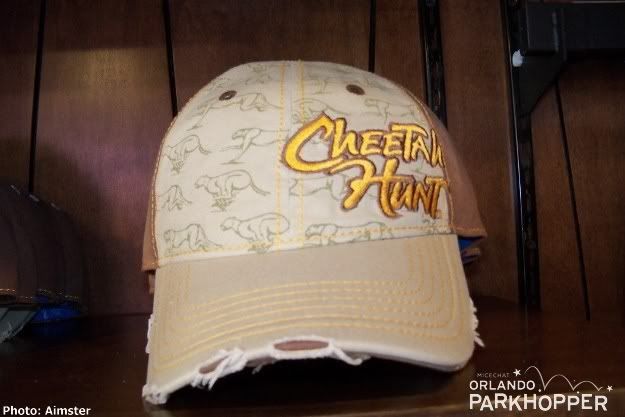 Part of this year's Summer Nights entertainment offering is Christopher Cool and his street magic. He's quite good and very engaging.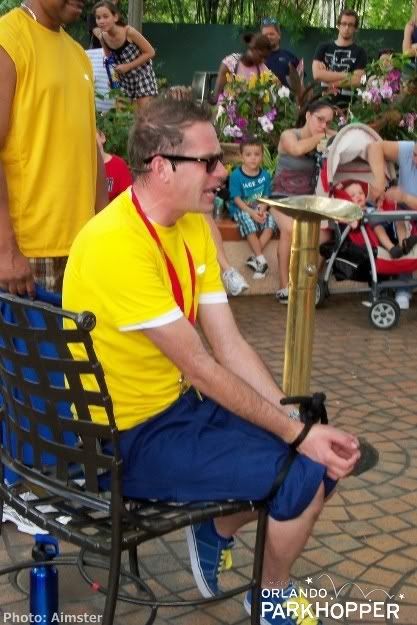 Another Summer Nights offering is the return of the wildly popular show, Kinetix.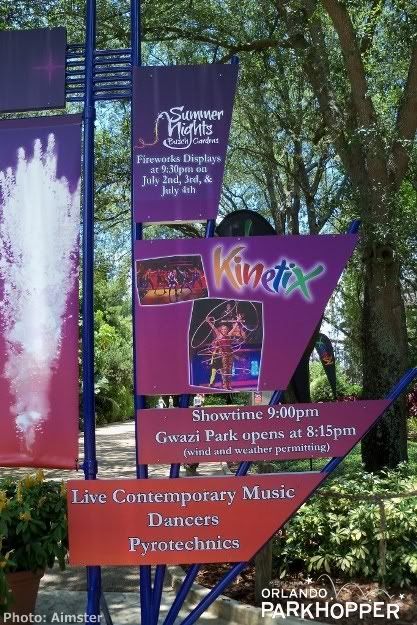 The show is performed nightly at 9:00pm (weather permitting) and really a sight to behold.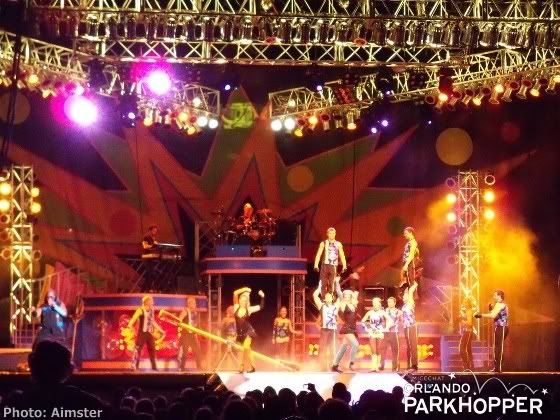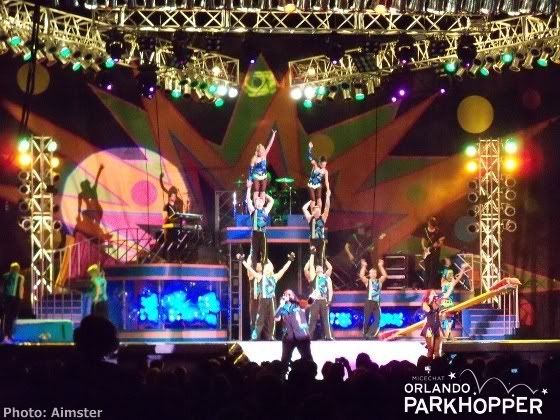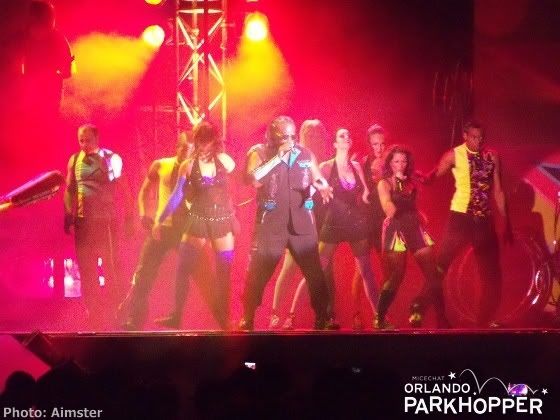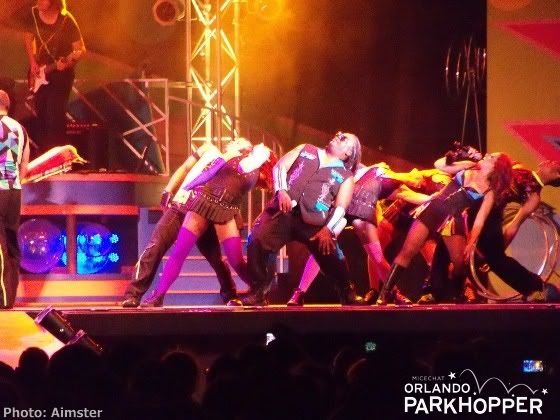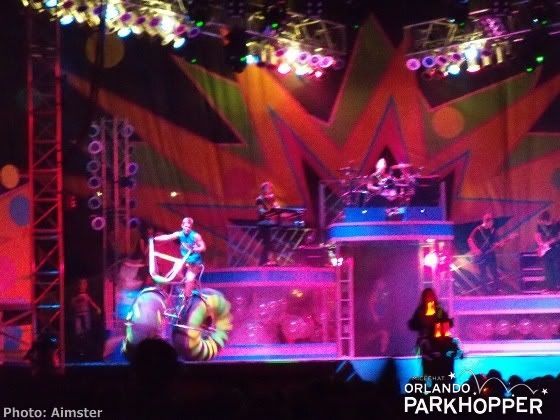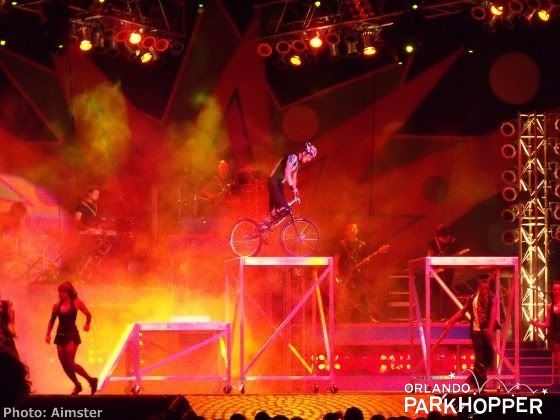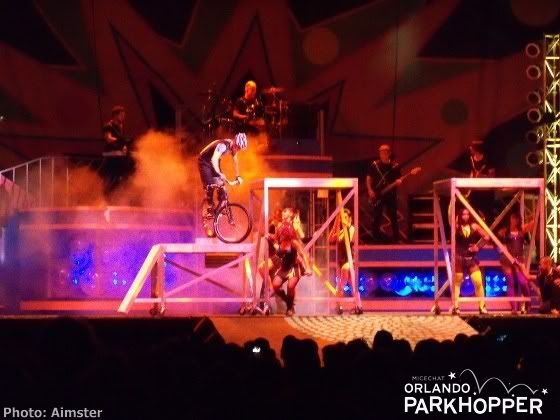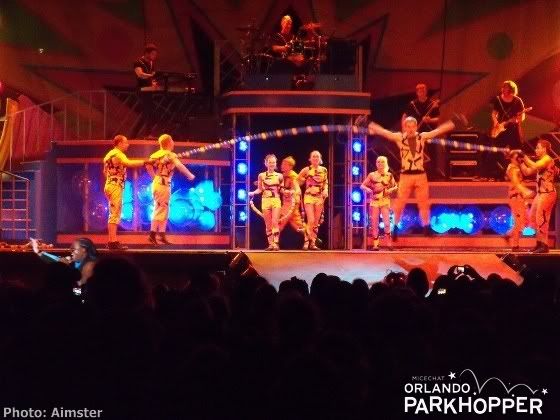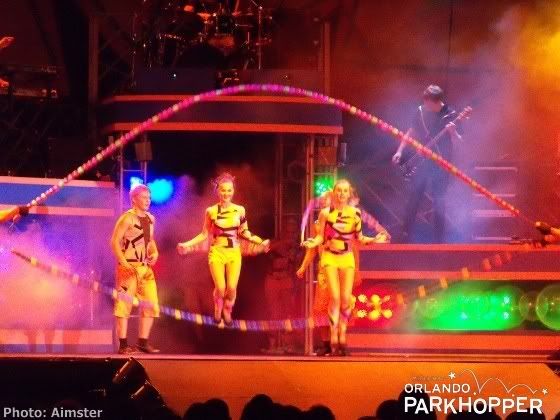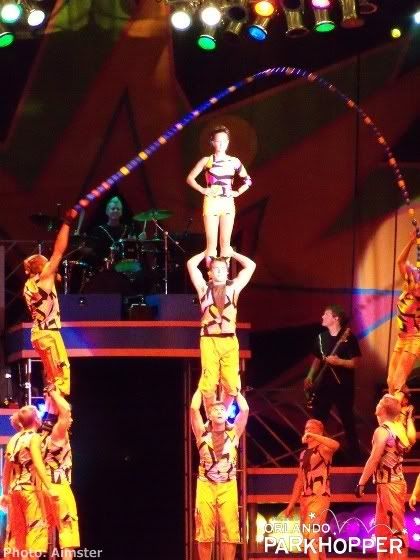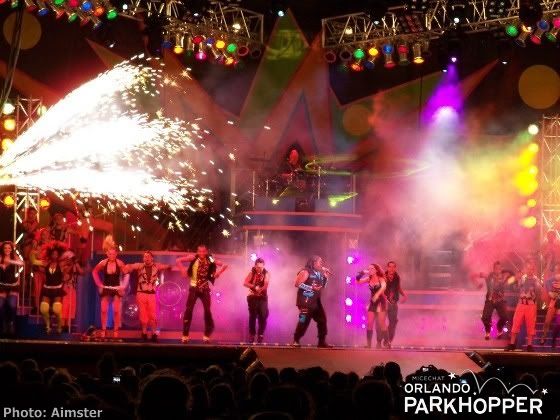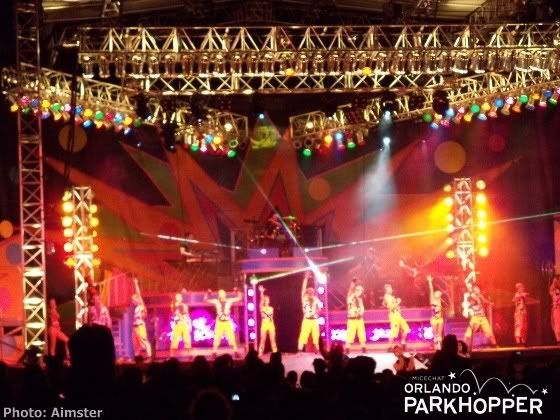 Video of the awesome hula hoop act:
If you get the chance, definitely see this show as it is really amazing. Kinetix runs through August 14.
As part of the 4th of July festivities, Busch Gardens had fireworks July 2-4. While the show was pretty generic, considering the is one of the only times the park has fireworks (due to the animals), it was a nice treat.

Mangomania! Fruit Fair
July 30th & 31st
- Pine Island, FL
Adults: $6.00
Children: 10 and Under
FREE
!!
Mango Mania is a summer festival and celebration of Pine Island's Mangos and other tropical fruits.
It is a festive, informal and incredibly fun family event.
Kennedy Space Center - Star Trek Exhibit
Now through September 5th
Appearing for the first time in Florida, STAR TREK: THE EXHIBITION, presented by EMS Exhibits, Inc., is an interactive exhibit of authentic Star Trek artifacts from the past 45 years, featuring one-of-a-kind costumes, props and filming models from Star Trek television series and feature films. Together these elements offer, Star Trek fans and novices alike, an opportunity to experience first-hand the imagination, artistry, technology and meticulous craftsmanship that have made Star Trek the most enduring science fiction franchise in history.
Orlando Science Center - Guitar: The Instrument that Rocked the World
Now through September 11th
The National GUITAR Museum announced that its touring exhibition, GUITAR: The Instrument That Rocked The World will launch worldwide at the Orlando Science Center. The 5,000 square foot will explore the history and evolution of the guitar-from lutes and lyres to modern high-tech instruments-and show how the instrument became the cultural symbol it is today.
Don't forget to check out the other areas of MiceChat that offer news, updates and photos about the other Disney Parks around the World!
We want your photos! Contribute to the Orlando Parkhopper by emailing orlandoparkhopper@miceage.com with your submissions. We welcome volunteers for single contributions as well as permanent "Parkhopper" staff.

Thanks to our fantastic and talented crew of writers, photographers and news contributors who work hard every week to bring you the latest information available: