New this week:

Feature of the Week: Indiana Jones Epic Stunt Spectacular
Dining Around the World: SciFi Dine In

Lights Motor Action Extreme Stunt Show: Cars Addition

Living With the Land's New Sponsor is Bananas!

Pre-Show Testing at the Tiki Room!

Kakigori Cart Expands at Epcot

Osborne Family Passing

DHS Video Round Up!

Its Tough To Be A Bug Refurb Canceled

Photos: Miniature Golf Update at City Walk

Triceratops Discovery Trail: A Trip Report - Islands of Adventure

Kennedy Space Center: A Star Trek Heavy Trip Report - Part II
WALT DISNEY WORLD
FEATURE OF THE WEEK:
Indiana Jones Epic Stunt Spectacular
One of the few guest interactive shows left at Hollywood Studios, Indiana Jones Epic Stunt Spectacular renacts scenes from Raiders of the Lost Ark, of the Indiana Jones film franchise. Various pyrotechnics, spikes and coordinated stunts bring the entire audience in on the action. Having opened on August 25th, 1989, this daily show continues to dazzle and amaze guests with its dangerous stunts and acrobatics.

- SummerinFL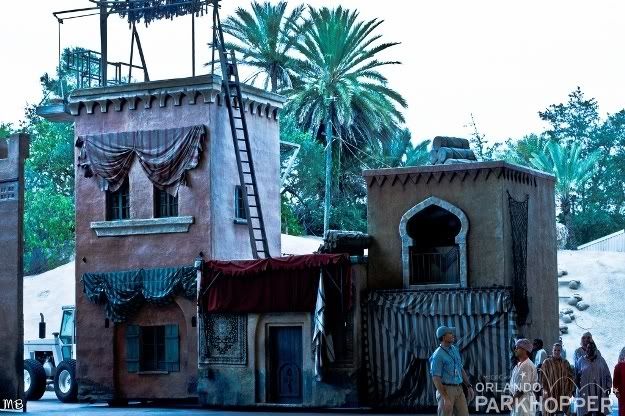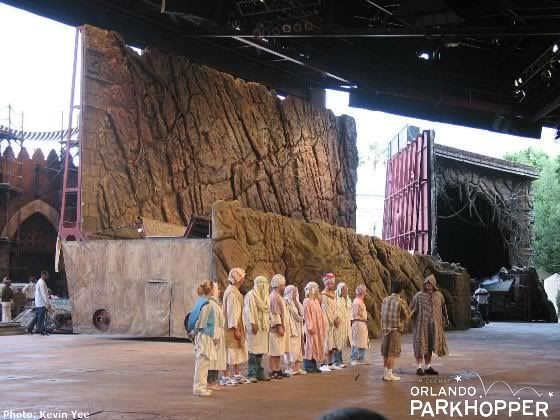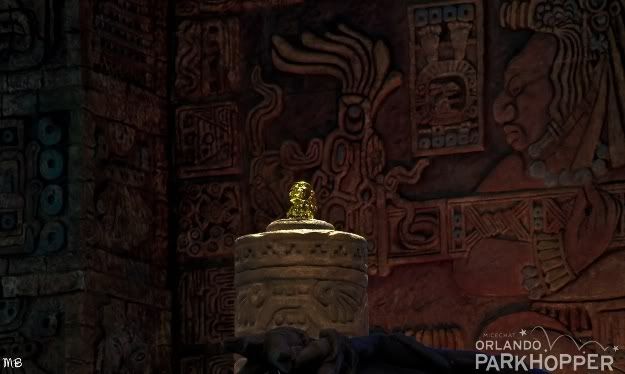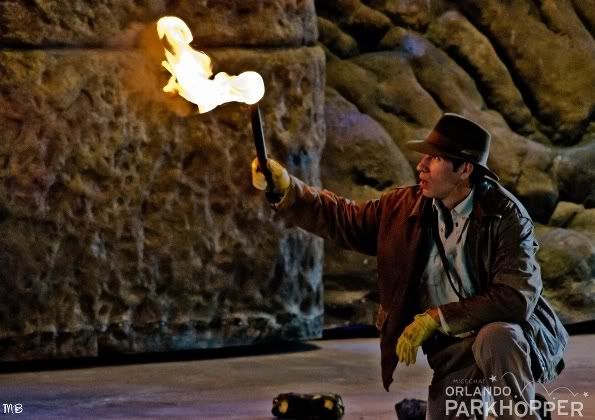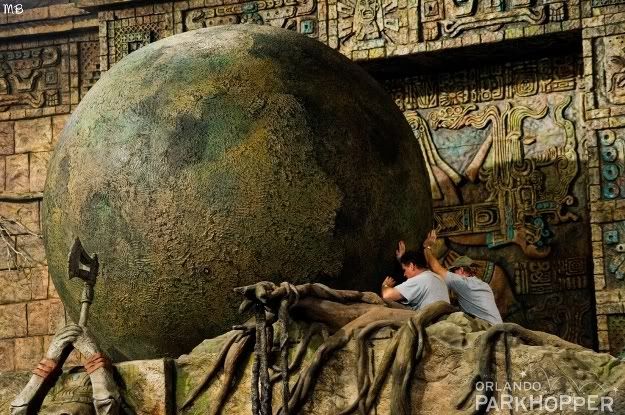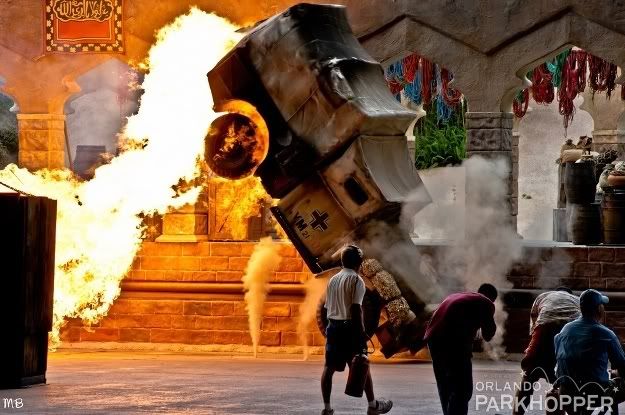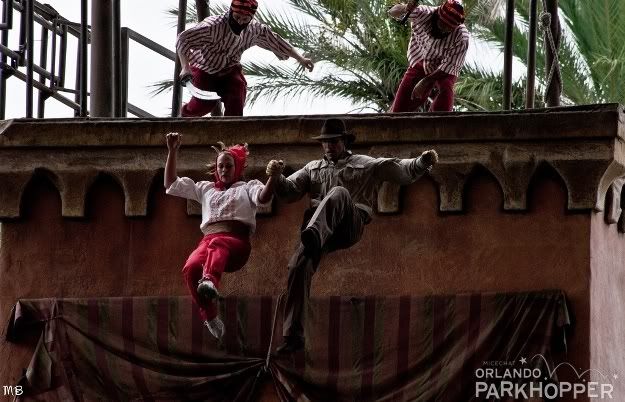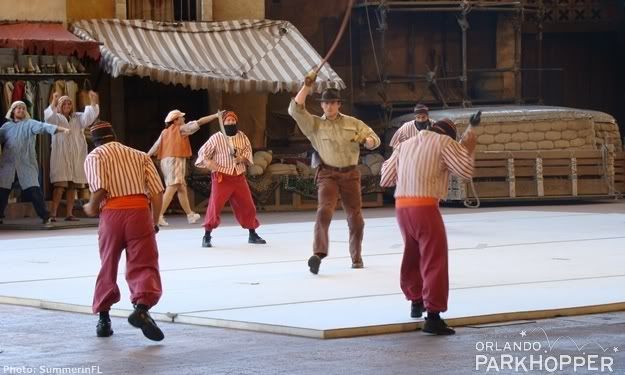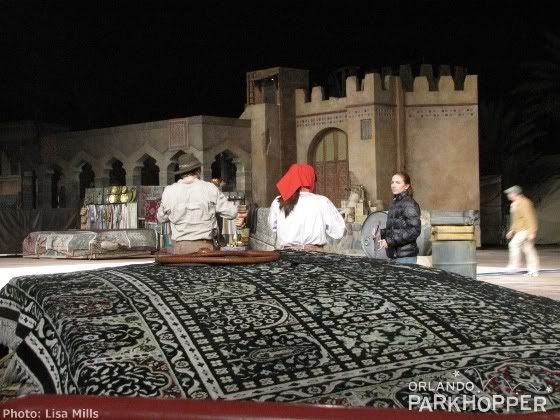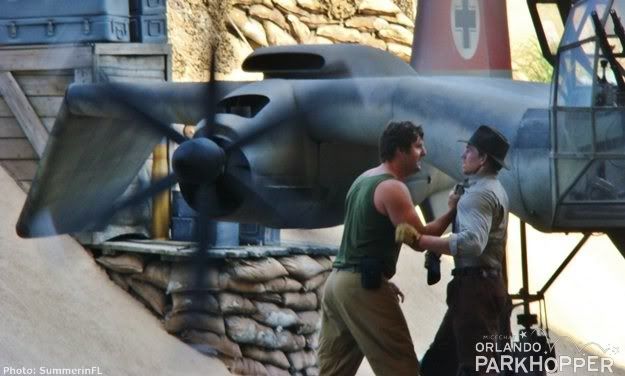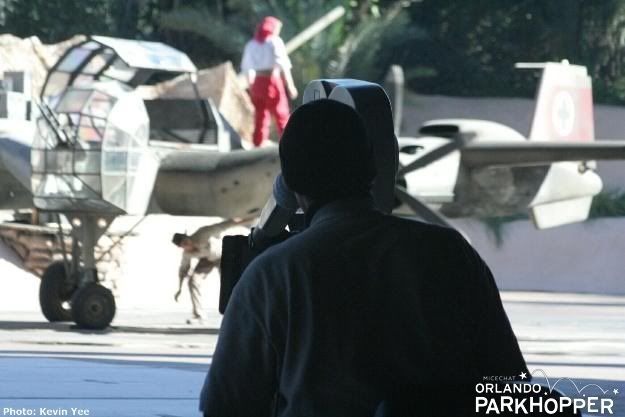 For your viewing pleasure, Eric M. Davis has provided us with a full video of the show! Enjoy!
DINING AROUND THE WORLD:
Lunch at Sci-Fi Dine-In Theater in Disney's Hollywood Studios
by Terry Tiger
Article 5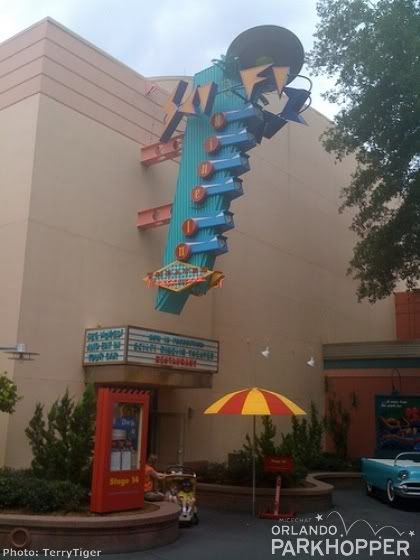 (Sci-Fi Dine-In Theater Entrance)


Dine in cars under the stars! This "Drive-in Movie Theater" is one of the most unique and fun dining experiences in all of Walt Disney World.
(Sci-Fi Dine-In Theater Checkin Counter)


Step through the theater doors under the marquee and you will find yourself "backstage" on a movie set. Behind the check-in counter are lots of cables, lights, and movie-making paraphernalia scattered around the plywood backside of a movie set. Old 1950's Sci-Fi Monster movie posters hang on the walls behind you. Through the nondescript doors on the left , the adjoining Writer's Stop functions as an additional waiting area. Once your table is ready and your party is called to "Park", you will be escorted down a dark narrow hallway and on to the set of an outdoor 1950's style Drive-In Movie Theater complete with a starry sky overhead and lots of old convertible cars parked in front of a giant movie screen showing old vintage movie trailers like "Attack of the 50 Ft. Woman" and "The Blob".
(Sci-Fi Dine-In Theater Menu)


This is one restaurant where you really should make an Advance Dining Reservation (ADR) or risk a long wait (if they seat you at all). Keep in mind, the majority of seating in this restaurant is 3 rows of 2 seats side-by side in each car all facing toward the screen. Odd-numbered parties will likely have 1 person sitting alone in a row. There are a few open table cars that seat larger groups as well as several "Flying Saucer" tables in the back by the "snack bar".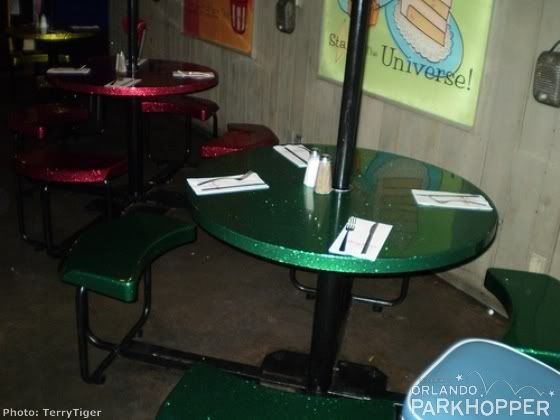 (Flying Saucer Table)


The food ranges from sandwiches like The Reuben, Smoked Turkey Sandwich, and Angus Chuck Burger to Shrimp Pasta, Beef and Blue Salad, and Smoked St. Louis-style Ribs. Appetizers include Onion Rings, Spinach and Artichoke Dip, and Chili. Milk Shakes are a specialty here as well as old-fashioned Cherry or Vanilla Coke. Of course, alcoholic beverages are also available here.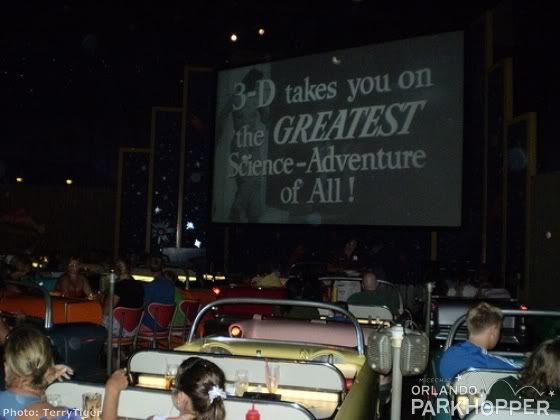 (Sci-Fi Dine-In Theater Movie Screen)


If you saved room for dessert (in addition to the aforementioned Milkshakes), there is a Cheesecake with Raspberry Sauce, an Apple Crumble, Peanut Butter-Chocolate Cake, and of course, a Hot Fudge Sundae!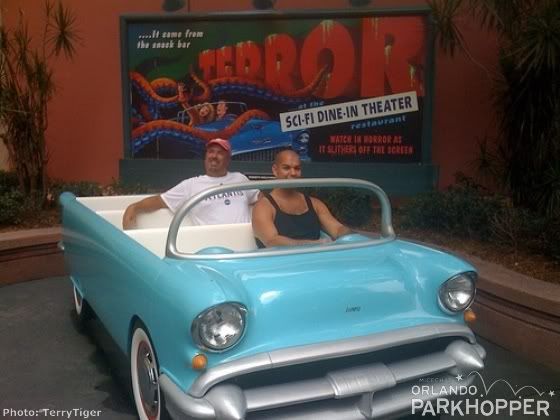 (Driving Away)


In addition to the 1950's Sci-Fi Monster movie trailers, the program includes space-age cartoons, "futuristic" newsreels, old snack bar ads, and even a segment of the Disneyland TV program featuring Walt Disney and his robot friend Garco! Just don't forget to hang your speakers back on the pole before driving away!
MAGIC KINGDOM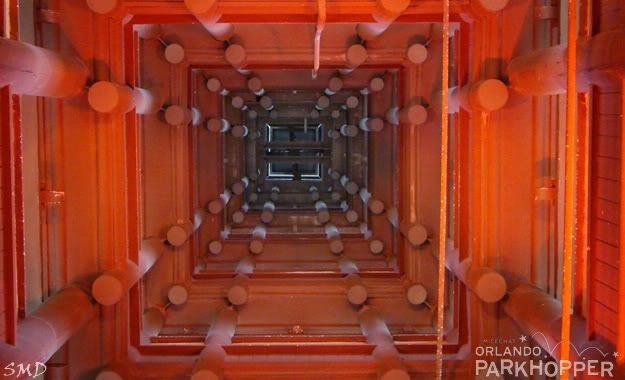 They've started doing some pre-show testing of the newly revamped Tiki Room!
We are excited to see this classic attraction returning very soon. If all goes well, the attraction could reopen to guests as early as August 15th.


EPCOT
The

Kakigori shaved ice cart in Japan at Epcot has received some changes, including a new name.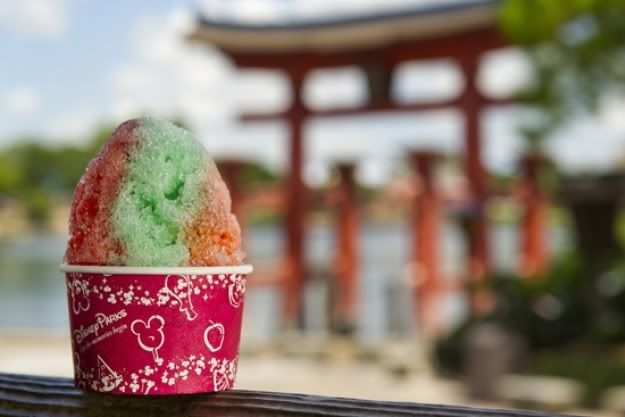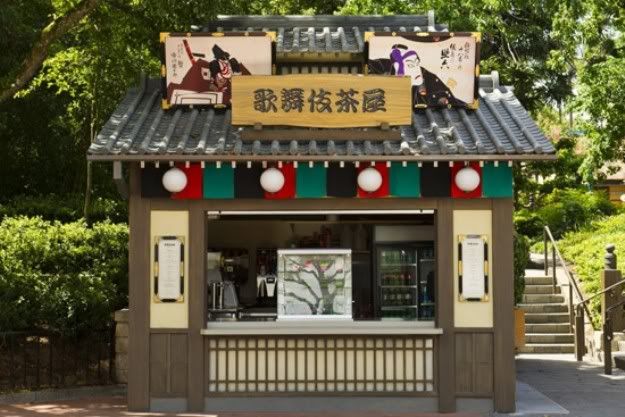 The shaved ice still is there, but now the menu includes edamame (steamed soybeans in the pod) and meal-in-a-bowl miso soup, plus sweet plum wine and sake, smoothies and ice cream cups.

Photo Credits: Disney Parks Blog
Disney Goes Bananas!

Disney and Chiquita form a partnership. Besides bringing in more Fresh Express items to the parks, as well as participating in runDisney events, they are also sponsoring 2 Disney attractions: Crush N Gusher at Typhoon Lagoon, and Living with the Land in EPCOT.

DISNEY'S HOLLYWOOD STUDIOS
NEWEST CARS ADDITION
Miles takes a look at the newest addition to the Light's Motor Action Extreme Stunt Show
by Miles Bresin
I recently experienced the new Cars insert within the DHS show Lights, Motors, Action. This small scene has replaced the spot that Herbie the Love Bug used to fill. Basically what happens is there is a short video about Lightning McQueen that is soon interrupted by Mater with a short transmission where he talks about being a spy and that Lightning was helping him out. Mater then states that Lightning was dropped of somewhere close by, fade to real life. Lightning shows up, not saying how, thats a secret.
Lightning is talking to Mater and from behind one of the henchmen from Cars 2 sneaks into the scene. Mater tells McQueen about the other car and they then play a cat and mouse game. Finally Lightning catchs on and chases after the Henchman.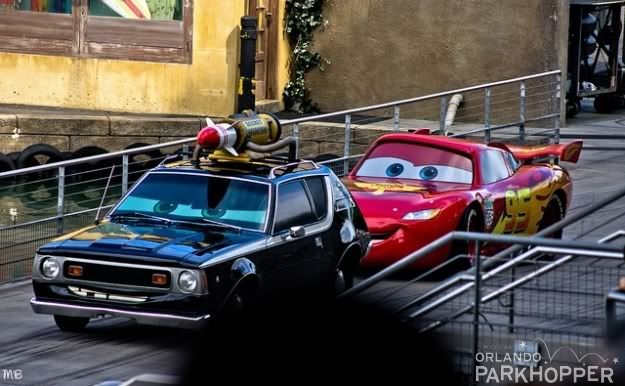 He does his little 'I am speed' soliloquy and then speeds up to a whopping 20 mph. It was very anti-climatic. after the 'super fast' chase the henchman ends up crashing, off stage, and a firework symbolises it. It was definitely a change of pace after seeing that Herbie scene way to many times, but the way it was set up, it seemed like a misplaced advertisement, considering the movie has been out for almost a month.
OSBORNE FAMILY PASSING
Sad news within the originator's family of the Osborne Family Spectacle of Dancing Lights.
by YoyoFlamingo
The founder of the Osborne Family Spectacle of Lights, Jennings Osborne has passed away this week at the age of 67. Started at his home as a tribute to his daughter, the light display became too big for the house, so Walt Disney World offered to display them at the then Disney MGM Studios. The display, now known as the Osborne Family Spectacle of Dancing Lights, has become a holiday staple at now Disney's Hollywood Studios, and is quite a sight to behold. Besides the light display, Jennings was a generous philanthropist.

Little Rock businessman Jennings Osborne dies at 67



Disney Parks Blog post:
Remembering Jennings Osborne at Walt Disney World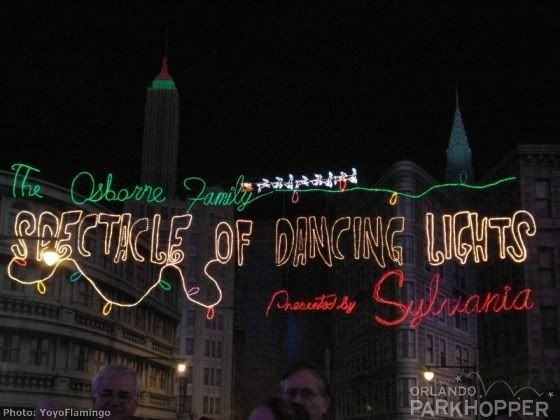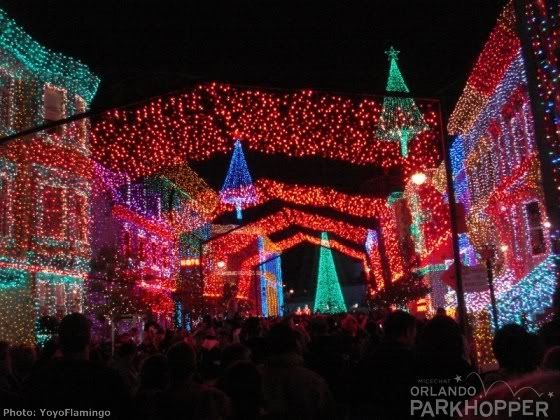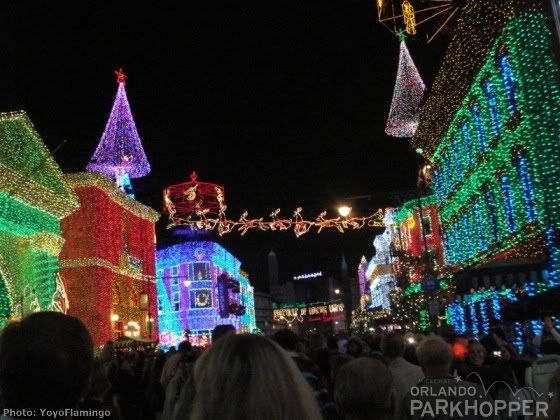 DHS ROUND UP VIDEOS!
Eric does some people watching at Disney's Hollywood Studios and gets us moving to a number performed by the folks at Disney Channel Rocks!
by Eric M. Davis


People watching in Disney's Hollywood Studios


Here is a number from the super "hip" and "relevant" Disney Channel Rocks show at Disney Hollywood Studios
ANIMAL KINGDOM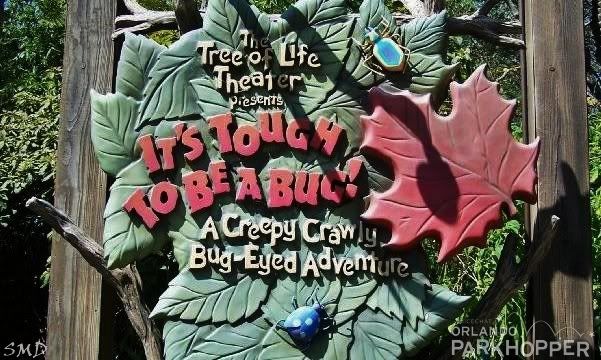 The August 15th to September 30th, 2011 refurbishment of It's Tough To Be a Bug has been canceled.


The Wizarding World of Harry Potter November Celebration


This November, Universal Orlando is offering a weekend celebrating 10 years of the Harry Potter movies. The packages, which begin at $369 per person, include cast and crew experiences, as well hotel and park tickets, as well as a copy of the complete Harry Potter movies on Blu Ray.

Also, more progress on the construction of the miniature golf complex at City Walk.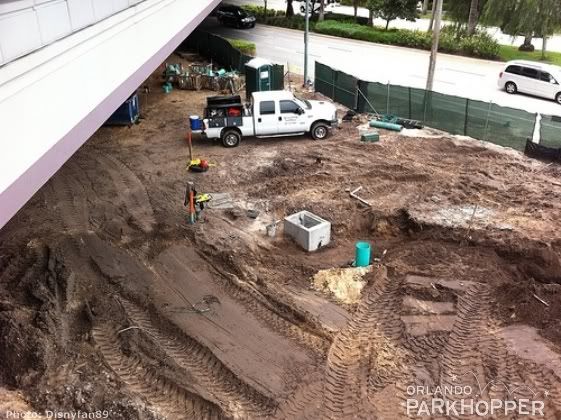 TRICERATOPS DISCOVERY TRAIL
A closer look at this often closed attraction.
By Disnyfan89


Over at Jurassic Park's Isle Aventura, along with the great River Adventure and Camp Jurassic, guests can sometimes get a very special up close and personal look at one of the many REAL Dinosaurs that roam through the park. We at the OPH where lucky enough to get that chance when we heard they had a real live Triceratops quarantined from her heard for a medial inspection.
From Wikipedia: "Triceratops Discovery Trail (formerly Triceratops Encounter) is a walkthrough attraction where guests can get up close and interact with a full-scale animated replica of a Triceratops, while a "veterinary technician" performs a semi-annual exam on the Trike. [The Discovery Trail was an opening day attraction but unfortunately] due to maintenance and staffing issues, the trail was closed off in 2005. But after a total of five years, the attraction reopened in December 2010 for seasonal operation [to help off set the increased crowds from Potter]."

On our trip we got to meet the Triceratops Topper, who was having he bi-annual examination hosted by Dr. Hooper.
Entering the attraction we where greeted buy this cute girl (ah hem, we mean the Baby Triceratops)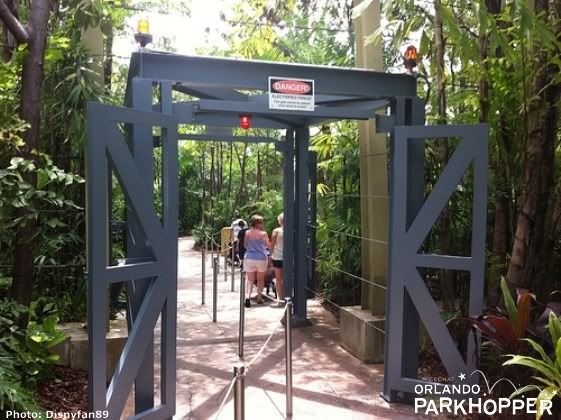 Wandering down the path we pass through the Electrified Fences used to keep the Dinosaurs out of guest areas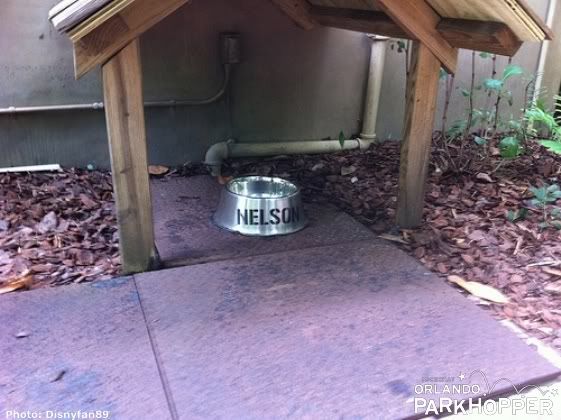 Getting closer to the Medic Paddocks we spot this interesting house:


We later found out from Vet-Tech Marsh at the "Discovery Center" that they have a young compsognathus that has gotten free of her habitat and they've taken a liking to her almost like a pet dog.
Some equipment used by the medical and park staff to inspect the Dinosaurs


Sadly the version of the Discovery Trail we see today is not the complete experience that opened with the park. These props block off the original beginning of the attraction where we would learn all about the Trikes, their eating habits and migrating habits before going into one of the medical paddocks to meet the actual dinosaur: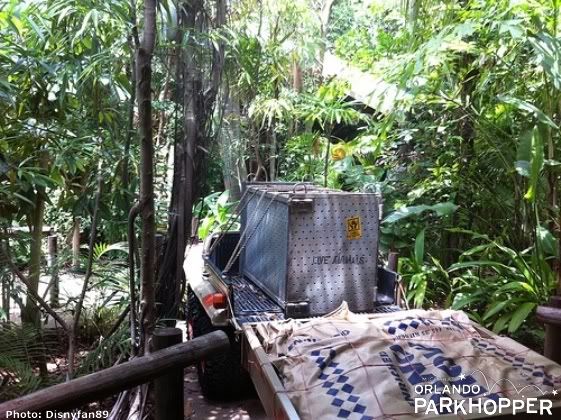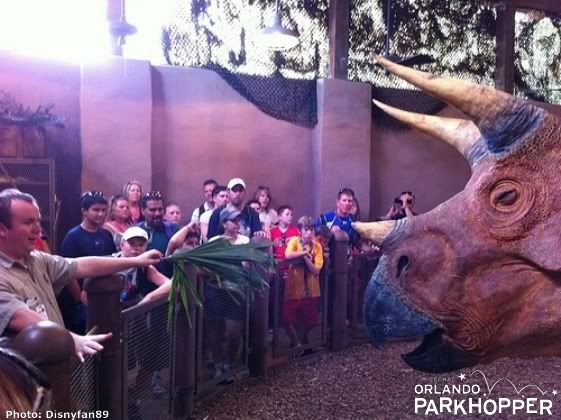 Once inside the Paddock we meet Dr. Hooper who explains Toppers medical examination as well as answers questions from the guest about Triceratops: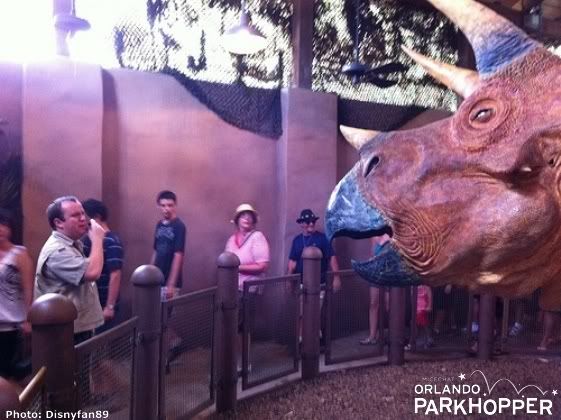 While a short experience the interaction is fun and we cant wait for it to return this December: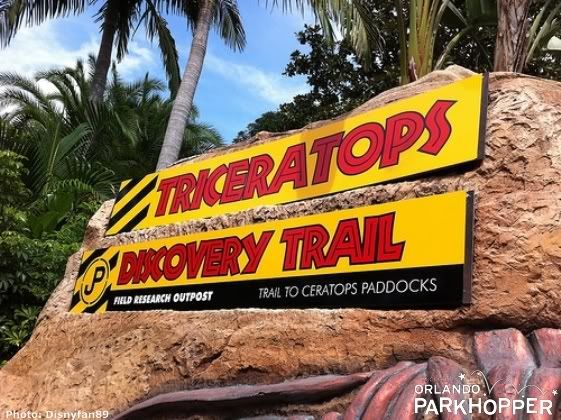 Hopefully with all of the original components:



KENNEDY SPACE CENTER: PART II
A family day trip to the Kennedy Space Center, heavy on the Star Trek exhibits.
By SummerinFL


As our visit progressed we found more props and costumes from the show that tweaked our interest.
Dr. Zefram Cochrane costume from Star Trek: First Contact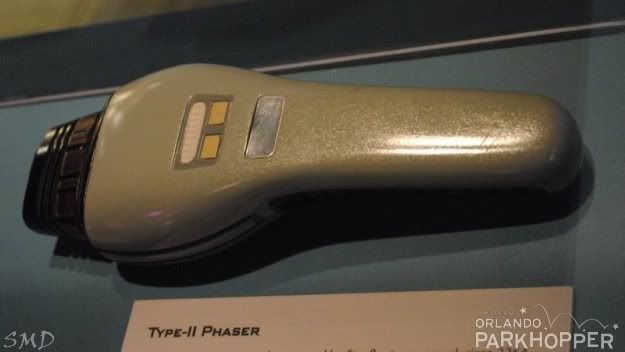 "Set phasers to stun."


Captain Jean-Luc Picard's Uniform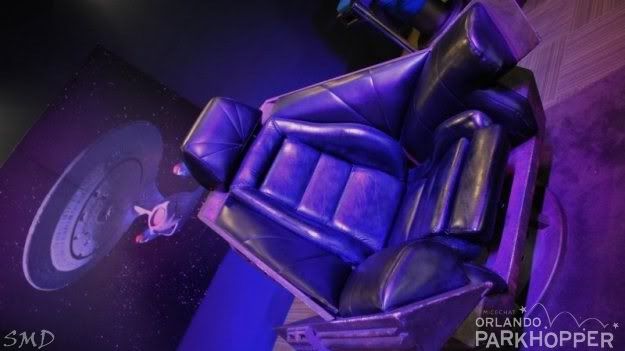 A Klingon Captain's chair for those that like their Star Trek a little more evil. (Yes, you could sit in it)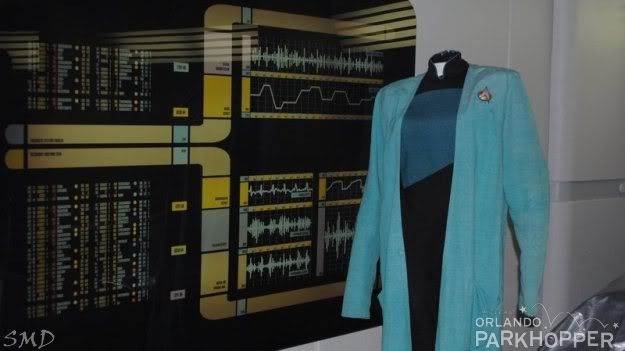 Doctor Crusher's sick bay recreation and costume.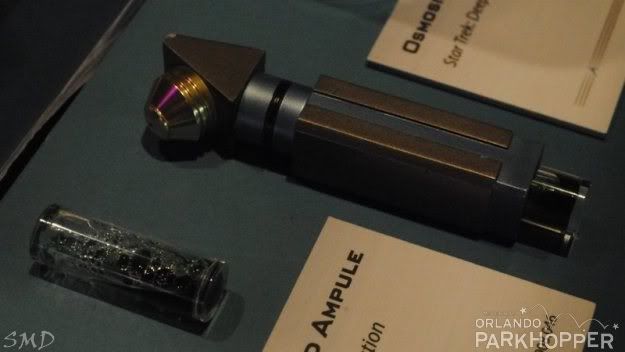 And a common injector used to treat illnesses.


Anyone remember the episode where Captain Picard played Robin Hood? Here is that costume.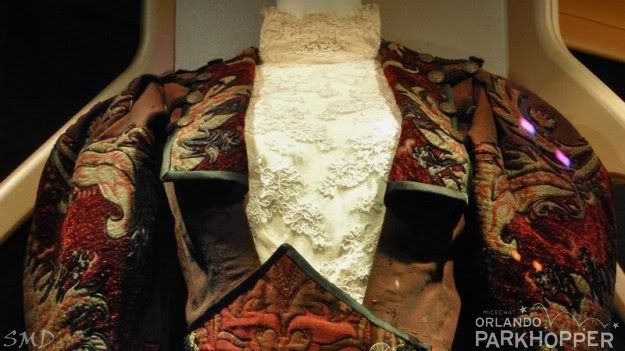 Dr. Crusher's uniform from an episode where the team travels back in time and meets Samuel Clemons.


Geordi's visor that allowed him to "see".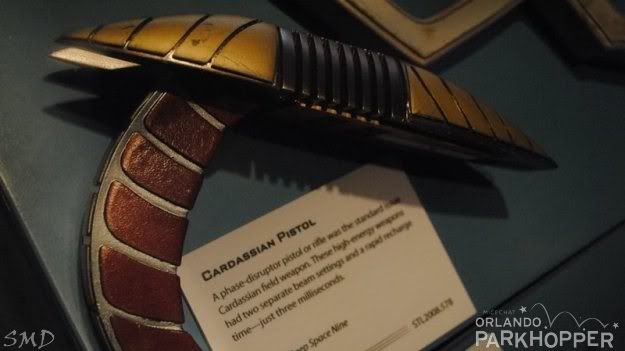 Engineering.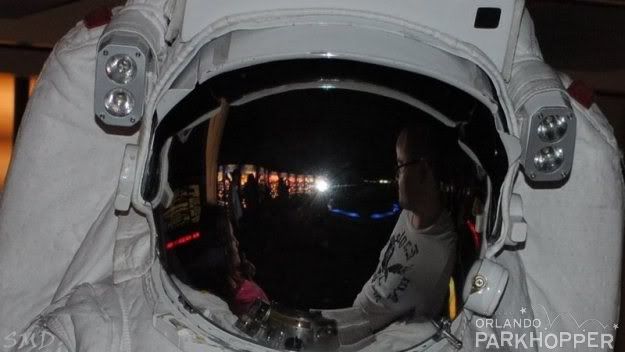 Space, the final frontier....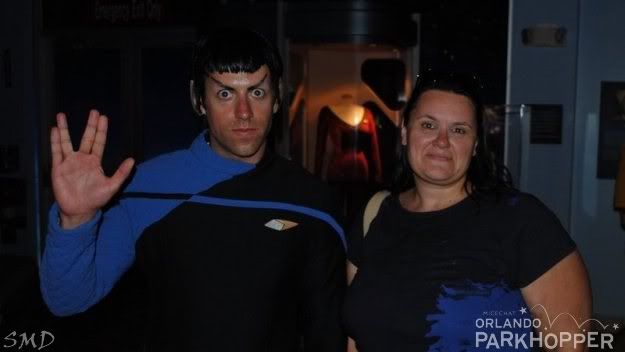 This Vulcan was kind enough to pose for photographs and as I walked away I heard him say, "silly human and their memories."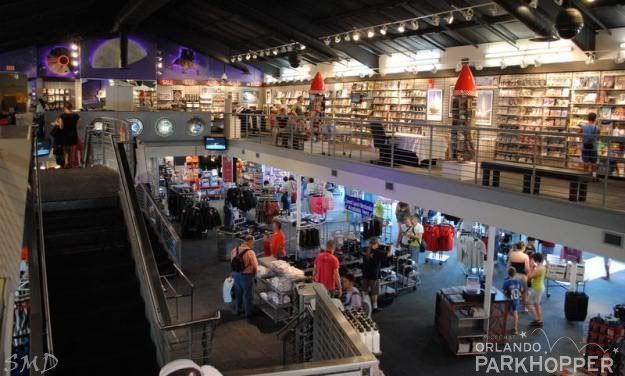 Upon exiting we headed over to the largest space store in the world (they even had a sign saying so) and picked up some souvenirs!


They had all manner of space related items, even

Tektites

!


After filling our bags with space goodness, we decided to get some lunch before checking out the rest of the complex.


After finishing our meals we couldn't help but have fun with the standees available outside the restaurant.

That covers the second part of our day at the Kennedy Space Center, next week we'll visit finish off our day on the Space Center Tour where we catch a bus to the observation platform, stop by the hanger to see some
massive rockets on display and even see a lot of the equipment they've used in the history of space travel.


Kennedy Space Center - Star Trek Exhibit
Now through September 5th

Appearing for the first time in Florida, STAR TREK: THE EXHIBITION, presented by EMS Exhibits, Inc., is an interactive exhibit of authentic Star Trek artifacts from the past 45 years, featuring one-of-a-kind costumes, props and filming models from Star Trek television series and feature films. Together these elements offer, Star Trek fans and novices alike, an opportunity to experience first-hand the imagination, artistry, technology and meticulous craftsmanship that have made Star Trek the most enduring science fiction franchise in history.

Games People Play
Now through September 10th - Orange County Regional History Center - Orlando, FL

Starting with the pinball machine, journey through time to discover how electronic games have evolved, through the first computer games and rise and fall of the arcade, to the advanced game consoles of today.



Orlando Science Center - Guitar: The Instrument that Rocked the World
Now through September 11th

The National GUITAR Museum announced that its touring exhibition, GUITAR: The Instrument That Rocked The World will launch worldwide at the Orlando Science Center. The 5,000 square foot will explore the history and evolution of the guitar-from lutes and lyres to modern high-tech instruments-and show how the instrument became the cultural symbol it is today.



Where the Past Meets the Future: The Art of Fay Grajower
Now through September 28th - Florida Holocaust Museum - St. Petersburg, FL
Women of Ybor: 125 Years of Influence


Now through October - Ybor City Museum - Ybor City, FL

A new exhibit honoring the amzing contributions women have made to Ybor City throughout its 125-year history is on display at the Ybor City Museum State Park. History is often told from a male perspective, while the equally-important female story often goes untold. This exhibit seeks to tell that story by exploring the role some of Ybor's earliest women had in shaping the town, as well as the positions women would hold as Ybor's history unfolded. You will learn of womens' contributions to almost every aspect of the community, including business, education, medicine, the arts, and civic life.

Don't forget to check out the other areas of MiceChat that offer news, updates and photos about the other Disney Parks around the World!
We want your photos! Contribute to the Orlando Parkhopper by emailing orlandoparkhopper@miceage.com with your submissions. We welcome volunteers for single contributions as well as permanent "Parkhopper" staff.

Thanks to our fantastic and talented crew of writers, photographers and news contributors who work hard every week to bring you the latest information available: